---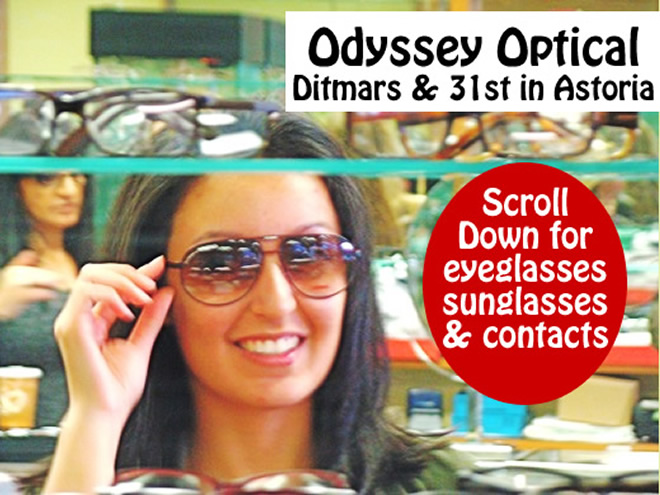 22-38 31st Street at Ditmars Blvd - Last stop on the N & Q subway lines
Call us at 718.278.3600
Click for Odyssey Optical - Eyeglasses in Astoria - map.
Click to view eyeglasses & sunglasses in Astoria at Odyssey Optical
Store Hours: Mon, Tues, Thurs 10 A - 7.30 P / Wed & Fri 10 A - 6 P / Sat 9.30 A - 5.30 P
---
For a Limited Time - Holiday Special Offer
Buy now, while in stock. For a limited time only.
Currently we're offerring a lens & frame for $69.99 for select frames and single vision lens. Some restrictions may apply. Not good with any other discounts or promotions.
See some of the select frames in the slide show below - but note that the special offer is only for the ones with the golden Odyssey Optical backdrop at the beginning of the slideshow.
Walk in or call 718.278.3600 for an appointment or to ask about eyeglasses, contacts, or insurance. You may also click this link to re-order your contact lens in astoria online.
Thanks for shopping at Odyssey Optical. At the foot of the Ditmars N, Q & W subway station in Astoria. See map below.
---
Contact Lens & Eyeglasses - Astoria
Eyeglasses In Astoria

We carry most of the top brands for eyeglasses in Astoria
Click on the link above to view some of the eyeglasses in our store
We offer

Prescription eyeglasses and sunglasses
High index lens
Varilux lens
Transition lens
Polarized lens
Anti-reflection lens
Poly carbonate lens
Contact Lens In Astoria

Specialty contact lens [keratoconus]
Custom soft lens
High astigmatism contact lens
Corneal dystrophy lens
Lens for cosmetic prosthetic
Optometrists & Opticians In Astoria - Services

We do in house optometrist eye exams to make sure you get the right prescription. And our in house optician makes sure you get the best set of lens features for your eyeglasses.
We Have An In House Lens Lab

We have an in-house lens lab so we can turn around most orders within an hour or two
---
Follow Odyssey Optical On Facebook
Click the following link to view the Odyssey Optical Facebook page - for contacts & eyeglasses - Astoria.
---
Eyeglasses, Sunglasses & Contact Lens In Astoria
The following is a slideshow of the eyeglasses and sunglasses that are generally in stock at the Odyssey Optical in Astoria Queens. This should give you an idea of the kind of eyeglasses and sunglasses we carry at our optical store. Odyssey Optical is home to some of the best eyeglasses, sunglasses, contact lens & optometrists in Astoria.
---
Eyeglasses Astoria - Insurance Plans Accepted
We accept many insurance plans, of which the following are just a few:
Eye Med
Spectera
Vision Service Plan
We also accept many Union Insurance Plans
CALL 718.278.3600 NOW - TO SEE IF WE ARE A PARTICIPATING PROVIDER IN YOUR PLAN
---
Eye Exams - Astoria
Odyssey Optical Optometrist & Optician Services Astoria

Eye exams
Diagnosis and treatment of ocular disease and injury
Contact lens services including all specialty lens
Co-management for laser and cataract surgeries
Eyeglasses frame styling to complement your appearance
All eyeglass prescriptions welcome
---
Some Of The Best Optometrists In Astoria
Dr. Hope Muller-McGovern - Optometrist

Graduated from the New England College of Optometry. Has over ten years experience in private practice. Specializes in all phases of primary eyecare and contact lens fitting.
Dr. Susan Lee - Optometrist

Graduated from the Illinois College of Optometry. Completed residency at a VA Hospital. Specializes in low vision eyecare.
---
Odyssey Optical - Eyeglass Stores Ditmars Astoria - Map
This Odyssey Optical home page also shows the location of Odyssey Optical eyeglass store near Ditmars Blvd in Astoria is shown below. Hover over the marker for the address.
Click this link for a map to Odyssey Optical for sunglasses, contact lens & eyeglasses in Astoria, including transit directions into the Astoria neighborhood.
---
Store Hours & Contact Information
22-38 31st Street at Ditmars Blvd - Last stop on the N & Q subway lines
Store Hours: Mon, Tues, Thurs 10 A - 7.30 P / Wed & Fri 10 A - 6 P / Sat 9.30 A - 5.30 P
---
Eyeglass Stores In Astoria
Click this link to go our website for additional information and articles about various eyecare issues that we address at Odyssey Optical for eyeglasses in Astoria, as well as contacts, prescription sunglasses, opticians & optometrists in Astoria. Our business is eye care, contacts and glasses.
Keywords: eye, eyes
---
This page is an advertisement