31-12 23rd Ave / 718.274.4881
Hours: Tues - Sat 7.30 A - 3.30 or 4 P / Sun & Mon Closed
Scroll down for a list of the grocery stores that carrry our fresh pasta products. The listings include addresses and telephone numbers.
---
Zagat Survey - Cassinelli Pasta in Astoria Queens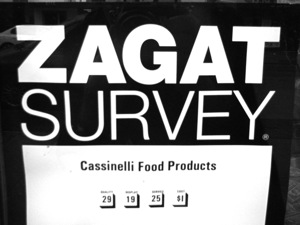 Cassinelli Pasta was rated by Zagat in December of 2011 with 29 out of 30 for the quality of the pasta and 25 out of 30 for the in-store service. And for the food quality, you can't beat our prices which start with a few bucks and don't rise much beyond that. Here are a few choice comments quoted in Zagat Survey:
"phenomenal, fresh ... partisans praise the carborific goods' unbelieveable flavor and texture ..."
But tasting our pasta is the surest way to discover for yourself what makes Cassinelli a different kind of pasta. We make pasta using time honored recipes and traditions so you get great flavor, instead of using the latest and greatest recipes and technologies that enable our larger competitors to produce more, faster, cheaper. You can find Cassinelli Pasta at the stores below which carry our pasta in their freezer cases ... or come visit us in Astoria.
---
Fresh Made Pasta at these Stores in Queens
* Look & ask for Cassinelli Pastas in the freezer cases of these Queens stores
Buenos Aires - 90-09 Roosevelt Avenue - Corona - 718.672.4046
C&J Meats - 69-08 Roosevelt Avenue - Woodside - 718.457.7343
D&F Deli - 35-13 Broadway Street - Astoria - 718.728.2422
Dave & Tony Deli - 35-18 30th Avenue - Astoria - 718.728.4850
La Nueva Bakery - 86-10A 37th Avenue - Jackson Heights - 718.507.4785
Rio De La Plata - 94-65 Corona Avenue - Elmhurst - 718.271.5422
Robert Prime - 205-09 35th Avenue - Bayside / Flushing - 718.423.1414
Rosarios - 22-55 31st Street - Astoria - 718.728.29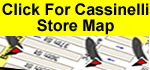 Click here to see Queens Grocery Stores that carry Cassinelli Astoria Made Pasta in their freezer cases.
---
Fresh Pastas In Astoria
Our fresh pastas are made daily in Astoria. Our pastas are made the old fashioned way, with fresh flour, eggs and water. The dry pastas, like those you buy by the box in in the store, aren't made with eggs and hence taste differently.
The Cassinelli Food Company is an old fashioned family run business. The history of the company dates back to the early part of the 20th century when the Cassinellis came over from Italy and started making pasta. Today the company is run by two American Italian families that have been living and working in this country since the 1950's and who learned the fine art of pasta making as apprentices of the original Cassinelli family. Pasta isn't just our business, it's a way of life.
---
Fresh Pastas Made Daily In Astoria
We make our pastas fresh every day and then freeze them so you can take them home with you and keep them for a while.
Tortellini, Fettuccine, Ravioli, Fusilli, Rigatoni, Penne, Manicotti
We make a wide variety of fresh Italian pastas. Our staff has experience totaling over one hundred years in the business. We don't make a lot of pasta, we just make good pasta.
We make the following cuts of pasta fresh in our Astoria factory / store:
Ravioli with cheese, meat or spinach; Penne, Fusilli, Cappelletti with meat, Cappeloni plain or green, gnocchi, manicotti, cavatelli, tortellini with cheese or mushrooms, fettucine with spinach or egg, trenette with egg or spinach, taglioni with egg, paglia e fieno, black trenette, black fusilli, plain pasta sheets, green pasta sheets, ravioli sheets [fusi], rigatoni, gemelli, fusilli, ziti, penne rigate, orecchiette, whole wheat.
We Sell Locally Made Pasta At Retail & Wholesale
We sell our many cuts of fresh frozen pasta at retail at our factory located at the end of the N and W subway line a couple of blocks from Ditmars Blvd off 31st Street - see map below.
We also sell our fresh frozen pasta to restaurants and grocery stores. See a partial listing of our Queens-based grocery stores below.
We deliver to wholesale customers.
---
Cassinelli Food Products - Slide Show
The following is a slideshow of some of the pastas sold by Cassinelli Food Products in Astoria Queens. This should give you an idea of the kind of fresh or frozen pastas you can hope to find daily at Cassinelli.
To see the entire photo album at a glance or to maximize photo sizes click here to go into the Cassinelli Food Products photo album on this site.
---
Cassinelli Food Products In Astoria - Map
The location of Cassinelli Food Products is shown below. Hover over the marker for the address.
Click this link for a map with transit directions into the Astoria neighborhood.
---
---
Cassinelli Food Products - Real Italian Pasta in Queens
31-12 23rd Ave / 718.274.4881
Store Hours: Tues - Sat 7.30 A - 3.30 or 4 P / Sun & Mon Closed