Hotels In Queens - Long Island City
Long Island City Real Estate "On The Rise"
March 21, 2011 / Long Island City LIC / Long Island City Real Estate / Queens Buzz. Continued / If needed use the search function to find story introduction.
Dutch Kills & Long Island City - Brief History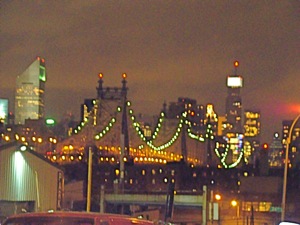 Dutch Kills is named after a Long Island City creek, which was once an adjunct to Newton Creek, prior to the erection of the Queens Borough Bridge in 1909. The Dutch were the first Europeans to settle in New York and in the Dutch language the term 'kills' means creek. The area was comprised of farmland and it was taken over by the British during the Revolutionary War in the late 1700's.
A view of the Queens Borough Bridge is shown, taken from the Dutch Kills neighborhood in Long Island City, in the photo to your left.
Long Island City Re-zoning & New Hotels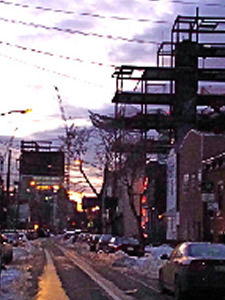 Today Dutch Kills is a neighborhood of light industry, wholesalers and residential homes. In 2005 the area went through a real estate zoning review, during which the community was to begin de-emphasizing commercial land use in favor of residential construction.
During the transition process, while awaiting the results of an environmental assessment, somewhere between 11 and 14 entities [corporations or people] began construction on high-rise buildings in accordance with the existing Long Island City real estate zoning regulations.
In the photo to your right you can see the plethora of construction that was in process during the winter of 2010. And some hotels are still in the process of being built.
Long Island City Hotels In Dutch Kills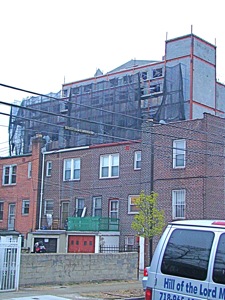 Some of the new construction / high-rises went up alongside homes, much to the consternation of those living in them. A conflict arose between at least one hotelier and a group of long-time community residents. It is believed that during the process of erecting the new hotel, there were some negative effects on the infrastructure of at least one of the nearby homes.
The original inhabitants of the neighborhood are concerned about what effect the erection and operation of all of these new hotels in the neighborhood might have. Some of that will depend on what sort of visitors these hotels attract, as well as how responsibly the hotels are managed. As you can see in the background of the photo to your right, construction continues on some of the new high rises in the Dutch Kills section of Long Island City.
Long Island City Hotels - New In Dutch Kills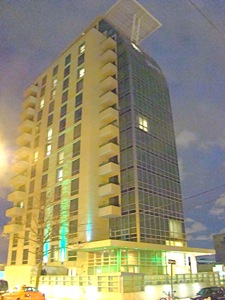 The new Long Island City hotels currently in operation in the Dutch Kills neighborhood include:
1) Holiday Inn – 39-05 29th Street - see photo to left
2) Quality Inn – 30-03 40th Avenue
3) Verve Hotel – 40-03 29th Street - see photo below
4) Country Inn & Suites – 40-34 Crescent Street
5) Comfort Inn – 42-24 Crescent Street
6) Hotel Vetiver - 29-11 39th Avenue
Long Island City & Queens – Hotels Galore
We'll post information about the other new hotels opening as we become aware of them opening their doors. It's worth noting that we counted an additional nine other hotels in the Long Island City area, and we may not yet have a full count.
Long Island City Hotels Near Dutch Kills
There are a number of additional hotels in the area including:
1) Ravel Hotel –
2) Fairfield Inn – 52-34 Van Dam Street
3) La Quinta Inn - 37-18 Queens Blvd
4) Howard Johnson Inn - 38-71 13th Street
5) Best Western Plaza Hotel - 39-34 21st Street
6) Best Western City View Motor Inn - 33-17 Greenpoint Avenue
7) Days Inn - 31-36 Queens Blvd
8) Four Points Sheraton - 27-05 39th Avenue
9) Silver Cup Hotel - 29-11 39th Avenue

Hotels In Queens & Things To Do
There's a wealth of things to do in nearby Long Island City and Astoria for hotel guests. Check the Queens Events section of this site along the top tool bar, or click into the neighborhood sections to look for restaurants, tourist attractions and stories of prior events. There are also maps of shopping, a business directory and for those planning far longer stays, a real estate section by neighborhood.
---
Long Island City & Queens Real Estate - Related Stories
Click this link to go to the Long Island City LIC Neighborhood News / Long Island City Real Estate / Queens Real Estate.
Click here to view a story about Queens Real Estate in general with links to stories about Jackson Heights real estate, Sunnyside real estate & Woodside real estate, and Astoria real estate. And click here to go to the Queens Real Estate section of our site.
---
Queens Realtors, Queens Insurance & Banking - Links
Click here to go to the home page of Halvatzis Realty - real estate in Astoria, MPC Properties - Realtors in Jackson Heights and Welcome Home Real Estate in Sunnyside.
Home Insurance / Mortgage Lenders in Queens. Click here to go to the home page of Allstate Home Insurance In Queens. Click here to go to the home page of Ponce Bank - mortgage lending in Queens.
---
Real Estate In Long Island City- Related Info
Click this link for promotions and discounts by merchants in Queens.
See links above for related stories, maps, neighborhood reports about Long Island City in Queens.
Site Search Tips. 1) For best results, when typing in more than one word, use quotation marks - eg "Astoria Park". 2) Also try either singular or plural words when searching for a specific item such as "gym" or "gyms".
Click this link to search for something in our Queens Business Directory.
---
---
Click the log in link below to create an ID and post an opinion.
Or send this story to a friend by filling in the appropriate box below.
---