Things To Do In Queens - Memorial Day
May 24, 2013 / Things To Do In Queens Memorial Day Weekend / Queens Buzz. Weather. Highs will be around 70 and lows around 60. A 60% chance of rain is forecast for Friday and most of Saturday. It will be sunny on Sunday and Monday.
Click here for a list of things to do Memorial Day Weekend in Queens. Click here for Member posted events happening over the Memorial Day Weekend in Queens. And click here for things to do in Queens, showing some of the specific events going on in Queens.
We'll post more specific events later today.
Click into the Queens events calendar and then click on the [event category] shown in parentheses for more details. And check the Member Events Calendar to view the complete listings of events posted by some of our audience.
Click here for special promotions, sales & deals by local shops in Queens most of whom are supportive clients. Use the Business Directory to your right to find contact info, website links and maps for events posted herein; or the search function top left to find related stories, maps, restaurants or anything else on this site.
---
Yankees Join Sheik For NYC Soccer
Sheik & Yankees Team Up For NYC Soccer Team
May 21, 2013 / Queens Buzz. The Yankees joined the Sheik to acquire an MLS NYC soccer team, thus adding an influential local owner to the roster of MLS stadium supporters. The Sheik's Manchester Club would own the majority shares.
MLS is seeking to locate a 13 acre stadium in the middle of Flushing Meadows Corona Park. If professional soccer continues growing in popularity, MLS could quickly outgrow the proposed 25,000 seat stadium, and need to expand. Plans are to begin MLS soccer play in NYC in 2015.
Click here for related story on the history / issues associated with building stadiums in Flushing Meadows Corona Park. The photo above was taken at an out-of-league soccer game played at CitiField in 2012.
---
Personal Journey Thru LIC Arts Open
... I took several brief journeys into the LIC arts world, encountering painters, sculptors, photographers, clothing designers, jewelry makers and a Queens cultural curator ...
May 20, 2013 / Long Island City Neighborhood / Art in Queens / Queens Buzz. I had the opportunity to visit the Z Hotel during the LIC Arts Open on an overcast Saturday afternoon. In the subterranean lounge there were a number of exhibitors showing their works, ranging from photos, to paintings, to fashionable clothing and jewelry.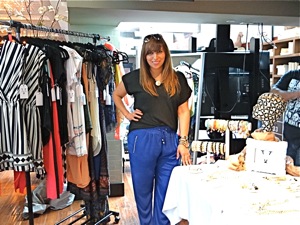 In the black and white photo above are three Queens LIC Arts Open participants [shown l to r]: photographer Greg Stowell; Ann Margaret O'Connor - Curator of Zoescope [where community and culture meet]; and Cynthia Radalj of showroombyc.com and former owner of Candy Plum of Astoria.
Ann had collaborated with Adriana Vanina [in photo to left] and Cynthia to put together the subterranean exhibits. Adriana is the Fashion Stylist at VioletDoll.com and former owner of the Ethereal Boutique of Vernon Blvd in LIC.
The mood was calm and cool as folks mingled through the exhibits, sharing stories while finding little gems found nowhere else in the world. These exhibits were part of the LIC Arts Open, of which we'll have more about late this week.
---
---
LIC Real Estate Market Update
LICP Real Estate Forum Projects Confident Tone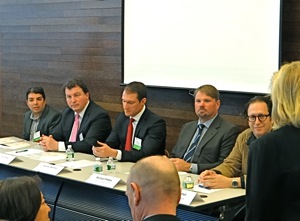 May 14, 2013 / LIC Neighborhood / LIC Real Estate / Queens Buzz. The LIC Partnership hosts an annual real estate forum that has sold out for the past several years. Each year they invite a cross section of speakers to opine on different facets of buying, selling and renting real estate in Long Island City.
I've attended the forum the past four years and find the forum to be an informative update of what's doing in the LIC real estate market. This year the speakers talked about the LIC market as one that has not only arrived, but of a real estate market that will stay.
You'll be able to click here later this week for a full report of the LIC Partnership Real Estate Forum. In the photo above are the guest speakers seated at the table with LICP Chairman, Gary Kesner and LIC President, Gayle Baron with their backs to the camera.
---
---
---
5 Boro Bike Ride In Queens: Astoria Park Rest Stop Photos
32,000 Bikers Pass Thru Queens: 5 Boro Bike Tour
May 5, 2013 / Long Island City & Astoria / Biking Queens / Queens Buzz. This Sunday some 32,000 bicyclists rode through Astoria and LIC on their way to completing a 40 mile bike ride through all five boroughs of NYC. Photographer Abdel Berrera caught up with them at the Astoria Park rest station where many took a moment to catch their breath.
Many of the cyclists come from other countries and other states. The bikers see this as a nice way to see all of New York City, not just Manhattan.
There are two 5 Boro Bike Tour rest stops: the first in Astoria Park and the second at the Con Ed rest station along the East River. Many took some time out to make adjustments to their bikes, gear and selves; and consumed a bit of food before resuming the relaxing trip and heading on to Brooklyn and Staten Island.
Click here to read a brief report and to see a photo slide show of the 5 Boro Bike Ride in Queens shot by Astoria photographer Abdel Berraha.
---
Tour De Queens Changes Starting Location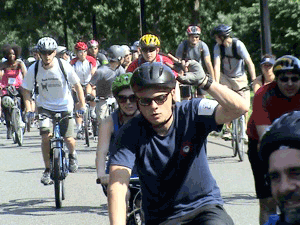 April 22, 2013 / Biking in Queens / Queens Buzz. The Tour De Queens will be starting and ending in western Queens this year. This year the Tour De Queens will start and end in Astoria Park in northwestern Queens. The Tour De Queens is scheduled for Sunday, July 7th and registration begins on June 4th. The Tour De Queens bike ride is sponsored by Transportation Alternatives and the police escorted bike ride will travel through the following Queens neighborhoods: Astoria, Long Island City, Ridgewood, Maspeth, Rego park, Middle Village, Forest Hills, Corona, East Elmhurst and the rest stop will be held in Juniper Park. The cost of registration is $15 / $20 and you can click here to read the registation details on the Tour De Queens website.
The Tour De Queens [see related stories below] is a roughly 20 mile, family-friendly bike ride [casual & slow] through several neighborhoods around the borough of Queens. The neighborhoods change each year, giving the cycliing participants an opportunity to really 'tour Queens'. This is the 6th annual Tour De Queens, and you can view reports and photos of prior Tours De Queens by scrolling down.
---
---
Jamaica Performing Arts Center
Jamaica & The Performing Arts
Dance Out Loud Receives Thunderous Applause
March 16, 2013 / Jamaica NY / Dance in Queens / Queens Buzz. I attended the Dance Out Loud benefit for the Jamaica Center for Arts and Learning. It was held at the renovated First Dutch Reformed Church, which is now the 400 seat Jamaica Performing Arts Center. The First Dutch Reformed Church was built in 1858, and made a landmark in the mid 1970's after a community effort saved it from being demolished in 1975. After twenty years of limbo and renovations, the building was reopened as the Jamaica Performing Arts Center in 2009. But I digress.
Tonight we would watch some of the best dance companies in the NYC metro area perform a variety of original works, a pleasure that is difficult to find anywhere – even in Manhattan.
Click here to read the rest of our report on the Dance Out Loud benefit dance performances at the Jamaica Performing Arts Center, including a photo slide show of the performances.
---
---
---
Indian Lifestyle in Queens & Hinduism
Celebration of Swaminarayan Jayanti & Lord Rama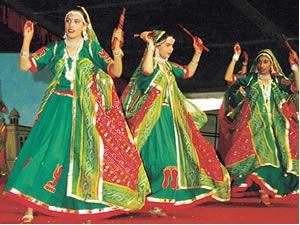 April 28, 2013 / Flushing / Indian Culture in Queens / Queens Buzz. I attended the BAPS Center or Shri Swaminarayan Mandir this past weekend, to partake in one of the most important Hindu celebrations of the year – that of Swaminarayan's birthday as well as Lord Rama's.
Hinduism is to Indian culture, what Judaism, Christianity and Islam are to the west. What I mean by this is that Hinduism is the aggregate moniker for a wide variety of religions, which evolved in Indian culture over the past five millennia ... and even longer.
The BAPS Center [Bochasanwasi Shri Akshar Purushottam Swaminarayan Sanstha] is located at 43-31 Bowne Street in Flushing. It was founded in 1974 in the basement of a house which once stood near the current Mandir. Mandir is the name of the building in which the Swaminarayan religion is practiced, similar to a church in the Christian faith, a synagogue in the Jewish faith or a mosque in the Muslim faith. The BAPS Mandir in Flushing was erected in 1977 and has been evolving ever since.
The mandir contains a murti, which has some similarities to an altar … click here later this week to read the rest of our report about Hinduism in Queens and the celebration of the Swaminarayan's jayanti.
---
Flushing Meadows Corona Park Update
USTA Proposal Moves Ahead / QMA Hosts Visioning
April 22, 2013 / Queens Neighborhoods / Queens Buzz. In early April, there was a meeting held to vote on whether to give up 0.68 of an acre of Flushing Meadows Corona Park to the USTA to allow them to proceed with their expansion plans.
Most Queens elected officials have now taken public stands on the issue, as it is a matter of some concern with Queens voters. Nonetheless, in spite of their public statements, only a few City Councilmembers made the effort to show up to vote on it. According to a story in the Queens Chronicle, the only Queens City Councilmembers who showed up to vote on the proposed USTA Expansion Plan were: Daniel Dromm of Jackson Heights, Peter Koo of Flushing, Donovan Richards of Rosedale and Ruben Wills of Jamaica. As we reported earlier this year, the Queens Community Boards representing the neighborhoods that had surrounded the park, had split votes on the matter with three Community Boards voting for it, and three voting against it.
Outgoing [term limited] Borough President, Helen Marshall, was the Queens elected official who made the decision for the borough, supporting the USTA expansion. According to the Queens Chronicle story, she was quoted as saying that she insists the alienated parkland be replaced. Her statement is at odds with the Bloomberg Administration position taken earlier this year, where they said that the Flushing Meadows Corona parkland doesn't have to be replaced by the USTA, even though NY State law requires it [apparently there is some wiggle room given to the municipal executive].
The Queens Museum of Art hosted a visioning session to see what the general public would like to see come of the park. Julissa Ferreras, City Councilmember representing Corona was on hand to speak, as well as several students from the Pratt Institute of Brooklyn which has a highly respected program for sustainable urban development. Participants included over 100 local residents as well as representatives of the USTA.
Whose park is it? And whose park will it be? Stay tuned - as you are likely to decide the matter by whomever you vote for in this upcoming election. Click here to read an early account of Flushing Meadows Corona Park history and click here to read our second account about early Flushing Meadows Corona Park development with relevant analogies to some of the proposed developments working their way through the governing process today.
---
---
---
CB Votes Split On USTA Expansion Plan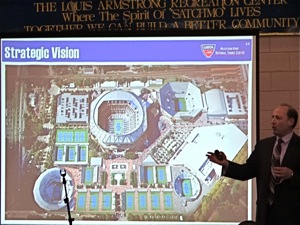 March 14, 2013 / Flushing Corona / Issues Facing Queens / Queens Buzz. The USTA has asked the city of New York to give it .68 of an acre of Flushing Meadows Corona Park so that it can proceed with an expansion plan. The expansion plan is estimated to increase the sports complex capacity for the U.S. Open by about a third, while increasing the USTA footprint in the park by .68 of an acre. The USTA informed the audience attending the Community Board 3 meeting that this will result in more jobs in Queens. They also talked about the positive estimated annual $784 million economic impact that the USTA has had on NYC - according to a study done by a private consulting firm named AKRF, Inc.
The detractors informed the audience that this is the first step in a much larger effort toward a massive privatization of Flushing Meadows Corona Park by several large, well-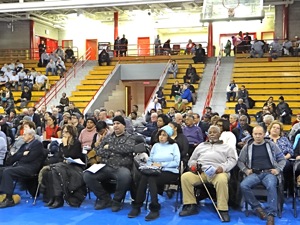 funded corporate interests. The opponents talked about three other proposals which were not a part of the USTA plan. These other proposals to develop private interests on public parkland include: 1) the development of a shopping mall by a private investment group in tandem with the owners of CitiField; 2) a condominium / hotel complex done by another group of private investors; and 3) a 13 acre soccer stadium by Major League Soccer, which is also a privately held corporation.
Community Board Tally & Boro Prez Candidates Positions
In the end Community Board 3 voted against the expansion plan, citing among other things, promises not kept when the USTA asked to expand its footpint in 1993. All six Community Boards have now voted on the USTA Expansion proposal, with three voting for it and three voting against it. We'll post a far more complete report on this Community Board Meeting at a later date.
While I was attending the Community Board 3 Meeting in Corona, all six Queens Borough Presidential candidates were attending a forum about the issues facing Queens at the Greater Astoria Historical Society in Astoria. The issue of turning over public parkland to private interests came up during the forum. To date only City Councilmember Tony Avella has come out against giving up public parkland to private interests. NY Senator Jose Peralta is the only other candidate to take a stance on the issue, but only on one of the four proposed developments, namely the erection of the MLS Soccer Stadium on 13 acres of FMC Parkland [which he conditionally supports if MLS fulfills all of their promises]. All four other Borough President candidates have taken a wait-and-see stance on the issue.
Click here to read our past reports related to the proposed development plans for Flushing Meadows Corona Park. The first report provides an early history of Flushing Meadows Corona Park I and the second report provided an intermediate history of Flushing Meadows Corona Park II which included a number of relevant historic lessons related to sports complex developments in FMCP as well as NYC.
---
---
No New Bike Lanes For Queens in 2013
April 30, 2013 / Biking in Queens / Queens Buzz. Last fall I attended one of the Community Board Meetings on Bike Lanes in Queens. At the time the Department of Transportation had come to solicit input from the Community with the idea of building additional bike lanes in the borough. At the time they were talking about adding 50 miles of new bike lanes in NYC in 2013, of which about 10 miles were planned for Queens.
In a recent visit to the DOT website, I found quite a changed picture. Currently they are planning about 31 miles of bike lanes and no new bike lanes for Queens. I wonder what happened?
| | | |
| --- | --- | --- |
| Location | Borough | Miles |
| 14th and 15th Street Traffic Calming and Bicycle Lanes | Brooklyn | 1.9 |
| Columbus Avenue Bicycle Path Extension (update) | Manhattan | 1.6 |
| Brownsville and East New York Bicycle Network | Brooklyn | 7.2 |
| Crotona Avenue-Southern Boulevard Bicycle Route | Bronx | 4.2 |
| Bronx River Greenway Southern Connections | Bronx | 1.9 |
| West 15th and 16th Street Bike Routes | Manhattan | 2.1 |
| West Midtown Crosstown Route Extensions | Manhattan | 2.9 |
| Ocean Avenue Shared Lanes | Brooklyn | 3.4 |
| Union and Sackett Street Connections | Brooklyn | 1.6 |
| Queensboro Bridge Connections | Manhattan | 0.6 |
| Co-op City corridor safety improvements | Bronx | 3.6 |
| Brooklyn and Manhattan Bridges Bicycle Access Improvements | Brooklyn | 0.6 |
| NEW QUEENS BIKE TRAILS | QUEENS | 0000 |
| 2013 Total Lane Miles Planned | NYC | 31.6 |
Why did they indicate we were going to get ten new miles of bike trails last fall? Are we still going to get them, but at a later date? Or is something else going on? Stay tuned.
---
---
---
Restaurants In Long Island City LIC - The Waters Edge
Restaurants In Long Island City LIC
Dining At The Waters Edge
Long Island City Neighborhood / LIC Restaurants / Restaurants In Queens / Queens Buzz. So if you're considering whether to go to Waters Edge Restaurant let me give it to you in a nutshell. The food was nearly perfect, the setting has a view that's nearly beyond compare, and the service hit that mark rarely seen – politely being there with information about the food or the menu, or the plate or beverage precisely when you wished it, while floating in the background the rest of the time. The prices were a good value even by the competitive Queens standards. The Waters Edge provides world class food, service and ambiance at reasonable prices and is a steal when compared to its neighbors across the river. Appetizers range from $12 to $21 and entrees range from $28 to $39. The Waters Edge Restaurant is located at the East River on 44th Drive.
So you can skip the rest of this review if you wish, but we have a lot from our experience to impart to the interested reader and some photos to match. Let's start with the ambiance. Click here to read our report and view photos of the Waters Edge Restaurant in LIC. Click here to view our section on Valentines restaurants in Queens.
---
---
---
---
Astoria Furniture Stores Have It All - Queens
Astoria Shops / Astoria / Queens Buzz. The furniture stores located on the southern end of Steinway Street in the Astoria neighborhood of Queens seem to have something to offer to just about everyone. This part of Steinway is a furniture shopper's mecca, offering plenty of choices from classical colonial, to urban apartment living to bedding to suit nearly every spine.
I took a quick trip there, which is easily accessible via the N, W, G, R or V subway lines and within a sturdy walking distance from Long Island City, Astoria, Sunnyside and Woodside. Just up the street from Steinway is Broadway, where you'll find the Omonia Cafe where after a good morning or afternoon of shopping, you can kick back along one of the sidewalk tables ane enjoy a bit of coffee and some delicious baked goods. Click here to learn more about the furniture stores in Astoria Queens.
---
Click to buy eyeglasses in Queens / opticians in Queens or for hair salons in Astoria and for things to do in Queens, including the 5 Boro Bike Tour in Queens.
---
Mens Clothing Styles - Queens
Shopping Queens / Astoria / Queens Buzz. Esquire Men's Clothing Store continues to serve the greater Astoria and Queens area, as it has for nearly thirty years.
The shop is owned and managed by Frank and Kevin Adhami, and their father, who is in his eighties, still visits the store on an almost weekly basis.
Esquire is located along Steinway Street between 30th and 31st streets. The store contains a wide selection of men's coats, suits, casual wear, shoes and men's accessories like belts and ties.
This story will provide some information about the store itself as well as fashion recommendations for the Spring and for job hunters.
Click this link to view a story written on Men's Clothing In Astoria Queens NY.
---
Queens Farmers Markets
Talk of New Farmers Market in LIC
Astoria Sunnyside Woodside Jackson Heights Long Island City LIC Flushing Jamaica / March 10, 2013 / Queens Buzz. There's talk of a new farmers market opening in Hunters Point this year. Down To Earth Markets, formerly Community Markets, is in discussion with Community Board Two about opening a farmers market in Hunters Point this Spring.
Currently all of the Queens Farmers markets have closed, except the Jackson Heights Farmers Market which operates year 'round.
Queens farmers markets will begin opening up shop starting in May / June of 2013. Most of the farmers markets open in June, and all of them are open around the 4th of July weekend. As mentioned above, the Jackson Heights Farmers Market is the first, and still only, year round farmers market [began year 'round in Queens in 2011].
Click the link below to see a listing of the Queens Farmers Markets 2012 including links to maps. Click the other link below for a listing of the Queens Street Fairs schedule of 2012 including dates and maps showing their locations. We'll be updating this info before the first Queens street fair begins in April.
Click here for our updated posting of Queens Street Fairs - Queens NY. Click here for a listing of the Queens Farmers Markets. You will always find both street fairs and farmers markets for the current month in the Queens Events section of the site [see top tool bar for button / link]. Click here to view the map of the Jamaica farmers market.
---
---
Queens Real Estate
Real Estate in Astoria, Jackson Heights, Long Island City LIC, Sunnyside, Woodside, Flushing, Jamaica
Queens NY / 2013. These links will take you into sections & reports on the Queens real estate market in Queens beginning in 2009.
These reports include reviews of apartment rental prices, as well as condo, co-op and home prices and availability in the Queens market.
We have also done neighborhood specific reports about Astoria real estate, LIC / Long Island City real estate, Jackson Heights real estate, Woodside & Sunnyside real estate, Flushing Real Estate and Jamaica Real Estate. Click here for our report about women's fashions in Queens.
While we found these neighborhoods mirrored / trailed many of the national trends, we found some interesting differences, including differences from neighborhood to neighborhood.
Click here to read the Queens Real Estate market analysis 2009.
---
Queens Buzz Voluntary Subscriptions
You can help us continue and possibly expand our coverage, by voluntarily subscribing to
Queens Buzz. Click button for details.
---