Giving Thanks In Queens
Sunnyside Reformed Church Hosts Communal Feast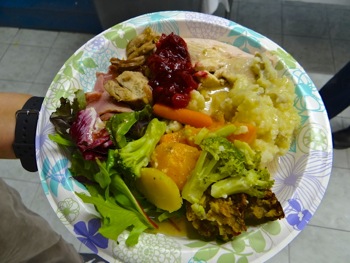 November 24, 2014 / Sunnyside Neighborhood / Queens Culture / Queens Buzz. I attended the fourth annual Thanksgiving Dinner hosted by the Sunnyside Reformed Church. The purpose of the feast is to commemorate the Thanksgiving holiday and to celebrate community.
Reverend Neil Margetson and his wife, Gretchen, hosted the event along with the help of the Elder Vice President Marie Joyce and many others in the community [see slide 8 of the photo slide show]. The culinary crew, creators of the repast, included Chris and Karen Demarecaux who were ably helped by David Feffer [see slide 6 of the photo slide show]. There were a host of other helpers who set up the chairs and tables and attended the serving line. Reverend Margetson remarked that "Folks just chipped in and it all came together".
In the neighborhood of one hundred and fifty people came to celebrate the holiday, enjoy a good meal, and to socialize with others in the community. It was a record turnout for the event. The reverend started the feast with a prayer and the dinner was followed with spirited conversation. In the past the dinner has been followed by story telling and / or musical performance.
The next event is the ecumenical tree lighting on Thursday December 4th at 7 pm starting outside the church with a procession down to Queen of Angels Catholic Church followed by an appearance by Santa with hot chocolate and cookies. It's ecumenical because five neighborhood churches will be participating including All Saints Episcopal, the Grace Fellowship Presbyterian and the Christ Lutheran Church in Woodside. Reverend Margetson said that the Sunnyside Reformed Church is working to build a spiritual community through the hosting of cultural events.
Click here to view a slide show of the Thanksgiving Dinner photos at the Sunnyside Reformed Church. And click here to read a story about the Sunnyside Reformed Church.
---
Weather. It will be partly cloudy most of the week, with highs descending from the 60's Monday, to about 50 Tuesday, and then around 40 through the week. The lows will drop from 50 Monday, to 40 Tuesday, 30 Wednesday and the 20's by Thursday and Friday. There's a 100% chance of several inches of rain or snow beginning Wednesday afternoon.
---
Thanksgiving Celebrations in Astoria & Forest Hills
Tuesday evening from 5.30 - 8. pm the Queens Community House will be hosting a Thanksgiving Potluck Dinner at 108-25 62nd Drive in Forest Hills.
Thursday beginning around 12 noon there's a free Thanksgiving Community Lunch hosted by the Greek American Homeowners Association at 23-49 31st Street in Astoria. The public is welcome and no rsvp necessary it runs as long as the food lasts.
---
Damn I Look Good
Art Exhibit At Topaz Arts In Woodside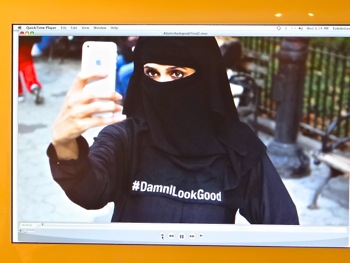 November 17, 2014 / Woodside Neighborhood / Art In Queens / Queens Buzz. On Wednesday I attended a performance of the Theater of the Oppressed NYC at Topaz Arts in Woodside. The performance is one of a number of artistic and theatrical programs organized in conjunction with a year long effort entitled, Beyond Sacred: Unthinking Muslim Identity, by the LaGuardia College Performing Arts Center.
On exhibit at Topaz Arts was a related art exhibit entitled Beauty, created by Qinza Najm of Manhattan. Qinza's work included a couple of oil on canvas paintings and a video, a photo still of which, you can see in the photo to your right. The intent of the art project was to challenge people's perceptions about Islam and Islamic garb.
The 911 terrorist attack on the World Trade Center killed 2,977 people and irreversibly changed the lives of the countless more who loved them. It also created a negative perception of all Muslims in the public eye, and hence also changed the lives for many millions of Muslims living in America who had nothing at all to do with 911. It's estimated that between five and ten million Muslims live in the U.S. - of which a third are believed to be from Africa, another third from southern and eastern Asia, and the remaining third from the Middle East. Is it estimated that there are 1.6 billion Muslims in the world, representing nearly a quarter of the world population.
Qinza's video has her wearing a black burqa in public places in New York City taking selfies [photos of herself as shown in the photo above]. The burqa has enscribed on it a Twitter hash tag followed by the art project name '#DamnILookGood'. The video includes Qinza's artistic statement that this is America and people of all cultures are free to wear what they want. In her video Qinza approaches people to try to get them to wear Islamic clothing for just a few minutes in public places in order to sensitize them to the current prejudicial feelings against them which is manifested through people's reaction to them while wearing traditional Islamic clothing. The burqa is the most conservative Muslim garb worn by Muslim women and is part of the ancient Islamic tradition of women completely covering their entire bodies when out in public.
We'll have more on this art exhibit and the Theater of the Oppressed at a later time.
---
Luke Adams 1938 - 2014
Luke Adams 1938 - 2014
Small Town In The Big City
November 13, 2014 / Sunnyside Neighborhood / Queens Buzz. A warm hearted, quick-witted, long-time Sunnysider passed away earlier this week. He was a giver, not a taker. A lot can be said about Luke Adams, as there are as many tales to tell about the man as there are leaves on the trees in Sunnyside Gardens in summertime.
Luke grew up in Queens and as a fairly young man settled into Sunnyside. He ran a travel agency and took folks to places around the world. Lily Gavin of Dazies Restaurant shared Luke's passion for travel and she joined him on a number of trips. Luke was, by nature, an adventurer.
Luke's travel agency was adjacent to the office of the Woodside Herald. He became good friends with Joseph Sabba and his son Buster, both of whom were publishers of the Woodside Herald [in respective succession]. Luke assumed the role of a reporter and photographer for the paper, and he enjoyed those roles, which he would play in some manner for the rest of his life.
Click here for the rest of the story about Luke Adams Sunnysider.
---
Air Beam: What Are You Breathing?
Adventurous Bike Ride With TA Queens ... On The Road To Find Out
November 10, 2014 / Queens Neighborhoods / Biking Queens / Queens Buzz. I just returned from a bike ride that began at the Central Park Boathouse and ended in Jackson Heights at 34th Street and the BQE Expressway. Celia Castellan, who is the organizer for Transportation Alternatives Queens [aka TA Queens] collaborated with me on this story which is about Queens & Manhattan air quality and also about biking. Celia is shown in the photo to your right, atop the Queensboro Bridge around 6 pm Monday night as we bike commuted from Manhattan to Queens.
It was a beautiful night with clear, dry air and temperatures around 60. Our mission was to test the Air Beam, a new device designed to enable people to measure the air quality, and then map the information to a public website, so that the public can begin to see what's going on with the air they breathe. The Air Beam is a blue, slightly-larger-than-a-cell-phone device, that you wear to measure the air [quality].
We began the ride in Central Park. We were on our way after receiving only a couple minutes of instruction. The device is brand-spanking new and must be sync'ed to an Android cell phone. The inventors work for a non-profit and are trying to raise a bit of money to mass produce it.
I'm going to take you on the rest of the ride, including a sampling of the air quality readings along the way, and provide some photos of the Queensboro Bridge bicycle commute a bit later this week. In the meantime, check out the Air Casting website and if you want to help, there are a few more days left on their Kickstarter campaign.
---
Jackson Heights Halloween Parade Photos
Parade More Like A Community Costume Party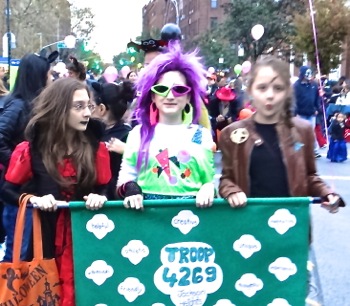 November 3, 2014 / Jackson Heights Neighborhood / Queens Parades / Queens Buzz. I attended the annual Jackson Heights Beautification Group's Kids Halloween Parade on Friday evening. I arrived shortly after it began and started photographing all of the parents and children in costume.
Unlike other parades, given this one was dedicated to the kids, there didn't seem to be the boundaries between parade marchers and the parade audience that one normally encounters. Those in the parade interacted with the audience, many of whom were family, friends and neighbors. And the parade more meandered than marched, with the kids in charge. It kind of felt like one big mega block party / Halloween costume ball.
We took many photos like the one you see to your right. It seems the Girl Scouts dress a bit differently than they did when I was that age. We'll post a photo slide show later today. And I have to give kudos to many of the parents, who seemed to embrace the holiday as much - or more than - their children.
---
The Changing Face Of LIC Retail
LIC Partnership Conferences Retailers & Realtors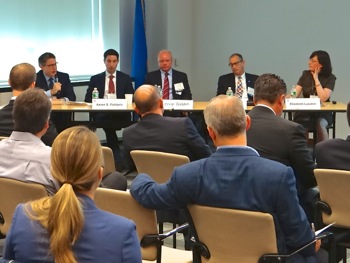 October 29, 2014 / LIC Neighborhood / LIC Shopping / LIC Real Estate / Queens Buzz. I attended a conference entitled Queens: The New Retail Frontier. The event was co-hosted by the LIC Partnership in tandem with the International Council of Shopping Centers. The International Council of Shopping Centers [ICSC] mission is to advance the shopping center industry and to promote its role in the commercial distribution of consumer goods and services. The LIC Partnership's mission is to promote neighborhood economic development and a vibrant and authentic mixed-use community.
The meeting was preceded with a bit of networking in conjunction with coffee and bagels. I spoke to an NYC mortgage professional who, in the course of our conversation, provided me with the following informational tidbits.
NYC Construction Spending At All-Time High
Construction spending is at an all-time high. The New York Building Congress confirmed this statement and estimated that NYC construction spending will be in excess of $37 billion dollars in 2014 and accounting for more than 130,000 [likely well paid] jobs. This is up from about $32 billion in 2013. This spending has been fueled in part by government spending since hurricane Sandy hit on October 22nd, 2012. According to the New York Building Congress, government spending accounted for half of construction spending in 2012 and is estimated to be somewhere in the 30% - 40% of construction spending in 2013 and 2014.
The mortgage broker went on to say that this construction in NYC was necessary as over 70% of New York City housing is more than 50 years old. I checked, and according to Fannie Mae, this compares with a national average of 56% of U.S.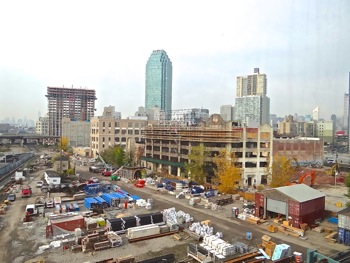 housing being more than 50 years old. Boston, by comparison, has only 38% of its housing stock built prior to 1960. A non-profit, Eye On Housing, notes that New York, Pennsylvania and Massachusetts are states with the oldest median aged housing in the nation. The median age of the housing stock in these states is estimated to be 57 years old.
I was told that the cost of land was one of the major issues facing developers / builders. The mortgage broker noted that the cost per square foot of land in Manhattan was about $500 per square foot south of 96th Street, and that the cost per square foot of land in LIC was $300. He opined that at these prices one could only develop to sell residential space – not rent.
Based on what I learned from this attendee, I expected the conference to be chock-full of usable information. Click here to read the rest of our report on the LIC Partnership & International Council of Shopping Centers conference about retail / commercial real estate in LIC.

---
The Legend Of Hell Gate Horror
Hell Gate Horror Myth May Have Real Origins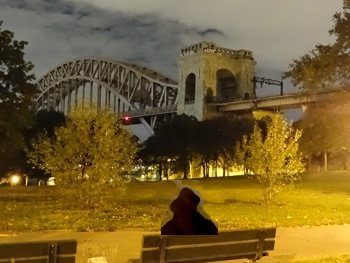 October 19, 2014 / Astoria Neighborhood / Queens Culture / Queens Buzz. It's not often one stumbles upon a legend and then finds himself riddled in its mysteries. But so it was last Saturday evening, while biking through Astoria Park to photograph the Hell Gate Horror Halloween Walk that I encountered an older gentleman sitting on one of the park benches who summoned me for help. It was shortly after dusk as the sun had set behind the skyline and the park was dimly lit by the ambient light of the city.
The man was sitting on the park bench [in the photo to your right] overlooking the Hell Gate Bridge and dressed in clothing of years gone by. I sized him up as I approached and determined that he was probably ok. Although he had not shaved in days and his hair was a bit disheveled.
"Hi. What's up?" I asked.
"I need help." He replied. I looked at him inquisitively as he didn't appear to be in any immediate predicament, near as I could tell.
"How can I help you?" I asked.
"I see by your bag that you work for a newspaper. Are you a reporter?" I nodded affirmatively while explaining to him that I worked for a web magazine. He didn't seem interested in my explanation as he pulled some photos from his coat and handed them to me.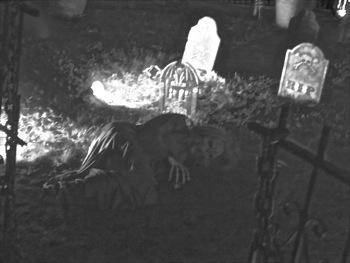 I started thumbing through them, seeing what seemed to be photos of ghosts arising from a cemetary. The photos weren't that clear and in black and white. I didn't really know what to make of them.
The man looked at me intently, as if to measure my interest. "I'm trying to get back in." He said. I looked at him stupefied. "What?" He repeated, "I'm trying to get back in."
"I heard you the first time, but I don't understand what you mean." I replied.
He went onto explain. "The Hell Gate Bridge began construction over one hundred years ago. The construction went on between 1912 and 1916. I was one of the construction workers.
"Anyhow, around Halloween time in 1914, a circus which came to Astoria Park. After a few drinks, I took one of my co-workers up on a dare to walk through the cemetery which was nearby. I don't know what happened, but once inside the cemetery I saw things I never imagined were real. Ghosts, goblins, magicians, fortune tellers and hobbits … I took photos of them with my camera. That's what you see here."
Click here to read the rest of the story about the Legend Of Hell Gate Horror.
---
Bolivian Parade In Jackson Heights NYC
Parade Showcases Bolivian Culture In Queens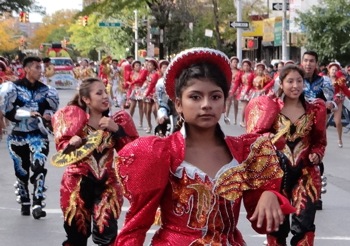 October 20, 2014 / Jackson Heights Neighborhood / Ethnic Culture In Queens / Queens Buzz. Jackson Heights is the home away from home for many cultures around the world. On numerous occasions throughout the year the community is provided an opportunity to celebrate and enjoy the pageantry showcasing many different cultures from Latin America, Asia and a bit of modern day Americana.
On Sunday, the Bolivians showcased their culture by providing a panoply of dancers and musicians in costumes of eras gone by. It was a cool day and the performers used that to their advantage by performing a number of synchronized dance steps to the great amusement of the parade audience standing on the sidewalks along 37th Avenue.
We'll have a bit more to add at a later date including a photo slide show.
---
Durga Puja Ends
Hindu Celebration Of The Goddess Mother Of Life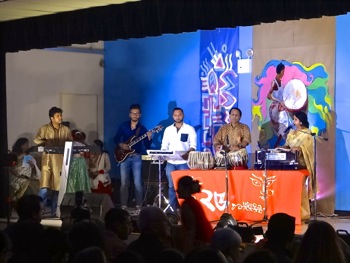 October 13, 2014 / Queens Neighborhoods / Queens Ethnic Culture / Queens Buzz. Sunday evening I was walking home along Queens Boulevard in Sunnyside. Near 42nd Street one of the buildings was all lit up and a small group of people were standing outside conversing. I could tell by some of the signage that this was the Hindu celebration of Durga Puja so I asked if I might take a few photos and talk to some of the people. And the folks from the Bangladesh Puja Samiti of New York cordially invited me in.
There were two floors of activity. On the top floor there was a musical performance in process. It was a Bangladeshi group playing traditional Hindu music with a female vocalist singing the beautiful operatic songs similar to those heard in the Hindu movies. The room was filled to capacity, with entire families sitting together enjoying the music. There were hundreds or more in attendance.
I made my way back to the front of the building and Das Gupta, President of the Bangladesh Puja Samiti of New York, invited me to visit the shrine downstairs and to break bread with them. We headed downstairs ... more to come about Durga Puja in Sunnyside - including photo slide show - at a later date.
---
SS Oktoberfest Draws Large Crowd
Through Rain & Cold Oktoberfest Goes On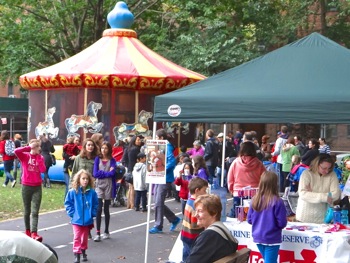 October 13, 2014 / Sunnyside Neighborhood / Queens Buzz. On Saturday afternoon I headed into Sunnyside Gardens Park to attend their annual Oktoberfest. As the neighborhood continues to attract younger families the event has grown in size and attendant events and facilities. This year seemed to be a continuation of that trend, as new rides were added alongside some of the old ones.
It was a cold damp overcast day. The temperatures were hovering around 60 accompanied by an intermittent drizzly rain. But the weather didn't seem much to dampen the Oktoberfest attendance nor the spirits of those who attended.
In addition to the rides, which this year included a kiddy ferris wheel, there was a beer bar, a number of arts and crafts vendors and a number of performers who entertained many of the kids and their parents.
A photo slide show will be posted at a later date.
---
Shakespearean 'Titan' In The Park
First Play By 'Theatre Company In Residence' At Queens Theatre In The Park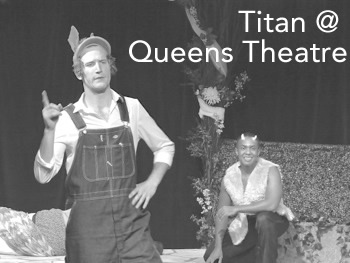 October 6, 2014 / Flushing Neighborhood / Queens Theater & Theatres / Queens Buzz. I made my way into Flusing Meadows Corona Park to preview Titan Theatre Company's production of the Shakespearean comedy A Midsummer Night's Dream. The play is an adapted version of the old bard's work.
In the adaptation Titan Theatre Company added a dash of 'gay-eity' to it and also edited down the play in both verbiage and performance time. The intent of the adaptation is to make performances of the 400 year old play more modern and appealing to present-day audiences.
I sat down in the little theatre of Queens Theatre In The Park shortly after the show had begun. Puck, the fairy, was administering the love potion - per his master Oberon's orders. But alas - Puck makes a mistake - and a string of comedic errors is set into motion.
In the photo at right is Bottom, one of the actors in the play-within-the-play, who's been transformed into an ass by a fairy Puck. Seated in the background is the devlish Puck who administered the magical serum.
We'll have more about Titan Theatre Company's performance at Queens Theatre In The Park, including a photo slide show, at a later date.
---
Hunters Point South Opens Spring 2015
'Affordable' Housing Applications Set To Begin Mid October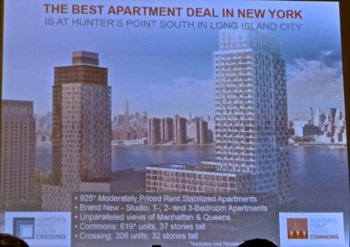 September 29, 2014 / Sunnyside NY / Sunnyside Real Estate / News & Analysis / Queens Buzz. On Monday evening I headed over to Sunnyside Community Services Center to attend the Hunters Point South Affordable Housing meeting. Several years ago the Hunters Point South development was approved by Community Board 2 and subsequently approved by the New York City Council and Mayor. Click the link above to read the earlier report.
The site has been under construction for years, and according to a Related Companies spokesperson at the meeting, the two towers containing affordable housing are to open to residents in the Spring of 2015. Naturally this assumes that all goes according to plan.
Hence on Monday evening, Related Companies representatives in tandem with Community Board Chairman Joe Conley, NY CCM Jimmy Van Bramer and NYS Assemblywoman Cathy Nolan, began the outreach to the community regarding the application process for the low income and affordable housing units in the two buildings.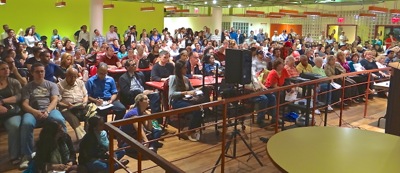 Attendance and interest by the community was very high and folks who arrived late were turned away as the Sunnyside Community Service Center was filled to capacity. That said there are two more of these outreach programs scheduled, the details of which you can find in our Things To Do calendar in the Business section. Click these links to gain a broader perspective of the Long Island City Neighborhood in which these units reside, as well as of the LIC real estate market for apts and condos or the Long Island City real estate market in general.
Full Report Contains Slides & Info On Qualification & Application Process For Hunters Point South Affordable Housing Units In LIC & Evaluation Of Affordability Versus Income & Apt Rents In LIC
Click here to read the rest of our report, including a photo slide show of the presentation of Affordable Housing in Hunters Point South in LIC Queens. I left out most of the presentation that dealt with how to set up a Housing Connect Profile and how to fill out the online application as it seemed pretty straightforward and you can also call the NYC Housing Authority [aka NYCHA] if you need help.
---
Can One Connect Communities Through Culture?
Islam & America: LaGuardia College Performing Arts Center Artistically Explores Muslim Culture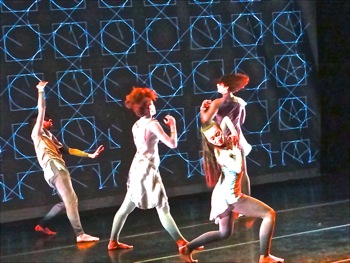 September 29, 2014 / Long Island City Neighborhood / Queens Theater / Queens Buzz. On September 11th, 2001 the Muslim culture came front and center into America's consciousness. It was a disastrous day for Americans including Muslim Americans. But for Muslim Americans it also created, and left behind, a long lasting negative bias toward all Muslims - not just those associated with the 911 atrocities.
Most of what America hears and knows about Muslim culture comes through the war torn lens of the Middle East, even though more than 80% of Muslims in the world live outside of that region. The reason America pays so much attention to the Muslims of the Middle East is that they are inextricably tied up with the world's - and our own - oil energy needs. Hence many of the stories we see and hear are generally associated with either the terrorists involved in 911 or the multi-millenia old blood feuds of the Middle East. Yet examining Muslim culture using the battles of the Middle East as the peephole, is akin to learning about German or Japanese culture through the narrow lens of World War II.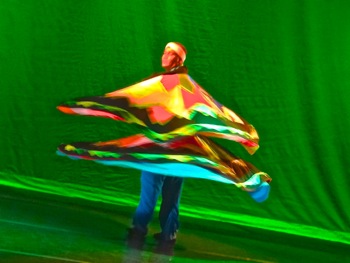 Historically America has had a generous heart, even toward those with whom we've fought. Two centuries ago we fought the Revolutionary War For Independence against Great Britain. And it was less than 70 years ago that both Germany and Japan were our nation's greatest enemies. Germany attacked our Atlantic crossing ships and Japan dropped bombs on our Navy at Pearl Harbor. Yet today we now count all of these nations among our closest friends.
There are an estimated 1.6 billion Muslims around the world, making it the second largest religious / cultural group in the world [there are 2.2 billion Christians]. And Muslim culture spans the globe, from the Middle East [317 million], to Europe [44 million], Africa [248 million], Asia [986 million] and the Americas [4 million]. But that said, only between four and five million of Muslims live in the Americas.
Hence, to broaden and deepen our understanding of Islamic culture beyond the Middle Eastern crises, the LaGuardia College Performing Arts Center applied for and won grants from the Association of Performing Artists, the Doris Duke Charitable Foundation and the Doris Duke Foundation for Islamic Art to widen our lens of Muslim culture. And they added more than a dash of NYC spice to it.
Thus on Friday evening, I attended a dance performance entitled Leap of Faith, the second event of the year long series entitled Beyond Sacred: unthinking Muslim identity. The performances included a belly dancer, a swirling dervish, and three modern interpretive dances - two of which explore personal journeys by Muslim Americans who are children of both cultures. We'll post more later today including a photo slide show of the performances.
---
Viva La Comida
Jackson Heights Celebrates Queens Food & Culture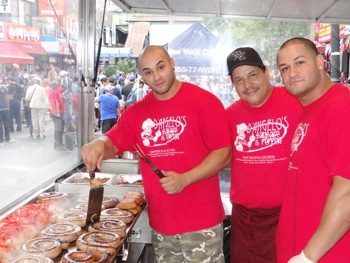 September 22, 2014 / Jackson Heights Neighborhood / Jackson Heights Restaurants / Queens Buzz. Saturday afternoon I headed over to Dunningham Triangle at 82nd Street & Baxter in Jackson Heights. The third annual Viva La Comida Festival had begun earlier in the day and I decided to check it out.
They had blocked off 82nd Street between Roosevelt Avenue and Baxter and had converted the short one block adjacent to Dunningham Triangle into a performance area - complete with elevated stage.
Along 82nd Street there was a musical / dance performance going on with a distinctly Latin flavor, reflecting the indigenous roots of many of Jackson Heights and neighboring Corona residents. My first stop was the D'Angelo food truck for a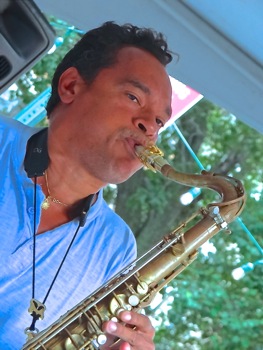 spicy Italian handmade sausage with sauteed peppers and onions on a fresh semolina bread. It tasted even better than it sounds. We'll have more about D'Angelo's later in the story, including a couple more photos of the sandwich I devoured.
I headed over to the main stage to see what was going on. By late afternoon the Jay Rodriguez Trio had taken the stage and began playing some really good Latin flavored jazz tunes. They played their instruments like jazz magicians, deftly transitioning the melodious rhythm from one musician to another in a string of rhythmic solos that had the audience jamming to the beat.
I started photographing them doing their thing and came up with a separate photo slide show which will show them gettin' down. I visited the Jay Rodriguez website and the music on the site, is a bit more artsy and esoteric than what they played for us at Viva La Comida.
Special thanks goes to outgoing 82nd Street Partnership Executive Director Seth Taylor, as well as iwantmorefood curator Jeff Orlick. We'll have more about both of them and their past and future endeavors in the full report later this day / week.
Buena Salud.
---
Fashion Week In Queens
Miss Queens, Giorgio's Hair Salon & Carina Boutique Showcase Queens Style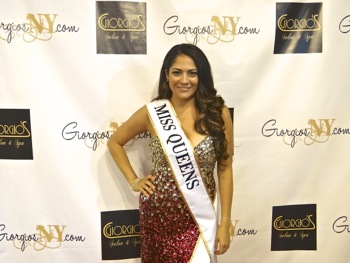 September 15, 2014 / Whitestone Neighborhood / Queens Fashion / Queens Buzz. In early September, as New York Fashion Week was walking down the runway, I spent a fun evening at Giorgio's hair salon in Whitestone. The Whitestone neighborhood is easily accessible by car via the Whitestone and Cross Island expressways and by public transit via buses.
Jessenia Vargas, Miss Queens, headlined the Whitestone Queens fashion show. Jessenia is a Queens native who is scheduled be featured on a Women's Entertainment [WE] TV show called America's It Girl. The show is a 12 episode series that features enterprising young women competing to become the first America's It Girl.
Click to view a photo slide show of the Whitestone Fashion Show and to learn more about Miss Queens Jessenia Vargas, WE TV's show America's It Girl, and the fashion show at Giorgio's hair salon featuring Carina Boutique dresses & Trattoria Neo's Italian food in Whitestone Queens.
---
They Disco'ed Silently In The Park
Lincoln Center Local Hosts Silent Disco In Hunters Point South Park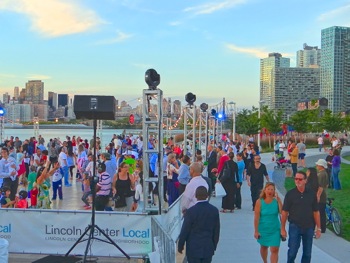 September 15, 2014 / Long Island City Neighborhood / Music In Queens / Queens Buzz. It was a beautiful summer evening as I made my way south along the East River waterfront in Long Island City.
Just ahead, in the borough's shiny new park - Hunters Point South - there was an end-of-summer gala organized by Lincoln Center Local. This was, to be sure, the second last weekend of the summer.
In the neighborhood of one or two hundred people were corralled inside the Lincoln Center Local Silent Disco. They had arrived early enough [sign up started at 5.30 pm] to obtain a set of wireless headphones so that they could listen to the rhythm and beat of a couple of NYC DJ's - Bill Coleman and Bobby Morales.
At 6 pm those who came early were treated to a free dance lesson, and then from 7 pm - 10 pm they danced along the waterfront.
Click here later today for the rest of our story and a slide show of the Silent Disco in Hunters Point South Park in LIC. The event was organized by Lincoln Center Local with the support of Queens Borough President Melinda Katz and City Councilmember Jimmy Van Bramer.
---
Queens Library CEO Put On Administrative Leave
September 12, 2014 / Queens Library / Queens Buzz. The Queens Library Board of Trustees met Thursday evening. Three new trustees have been added to the Queens Library Board since the court denied the temporary restraining order and preliminary injunction requested by six Queens Library Trustees who were dismissed.
The Board approved a motion that places Queens Library CEO Thomas W. Galante on paid administrative leave, effective immediately. Bridget Quinn-Carey, the current Executive Vice President and Chief Operating Officer, will serve as Interim President and CEO.
The Board directed its Audit Committee to provide Comptroller Stringer full access to all financial documents from state, federal and private sources that he has requested. The Board will also investigate opportunities to resolve the current dispute through mutual agreement.
Click here for full coverage of the Queens Library Reform Bill, the Queens Library Trustees' dismissal and the important community issues and precedents associated with the Queens Library Trustees' lawsuit against Queens Borough President Melinda Katz.
---
Queens Election Results
Cuomo Wins, Avella Retains Seat, Comrie Unseats Smith
September 9, 2014 / Queens Politics / Queens Buzz. NYS Senator Tony Avella defeated challenger former NYC Comptroller and NYC Mayoral candidate John Liu for the District 11 NYS Senate seat in the primaries on Tuesday. John Liu was backed by the Queens Democratic party because of Avella's independent streak.
Leroy Comrie handily defeated incumbent Malcolm Smith for the District 14 NYS Senate seat by a margin of 3:1. NYS Senator Toby Stavitsky defeated challenger S. J. Jung by 15 percentage points, although Jung beat expectations by capturing the lion's share of the ethnic Asian vote [Jung is Korean].
Assemblywoman Margaret Markey defeated challenger Dmytro Fedkowskyj by a margin of 3:1 for the Assembly District 30.
And Andrew Cuomo and Kathy Hochul both garned in the neighborhood of 60% of the votes defeating their challengers. The challengers significantly beat expectations by capturing in the neighborhood of 40% of the votes. Neither challenger was well known and neither had much in the way of funding or large voting block support.
---
Century Bike Tour In Astoria Park & Queens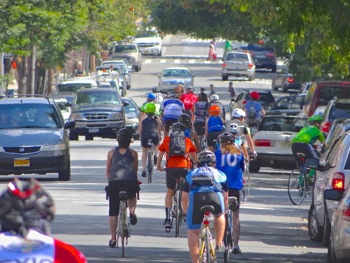 September 8, 2014 / Astoria Neighborhood / Biking Queens / Queens Buzz. The Century Bike Tour came rolling through Queens all day Sunday. It's a 100 mile bike ride, but designed to also accommodate those with less ambitious plans of 25 and 50 mile bike rides too.
The course includes four of the five boroughs [not Staten Island] and it is neither police escorted, nor are the roads blocked off to accommodate the ride. NYC has become far more bike-friendly over the past decade. So while riding along with the other bikers, you'll find drivers become aware that this is a big bike day. One biker also told me that the police are stationed at key artery intersections - like the Brooklyn Bridge - to handle the traffic management complexities.
It costs $65 and registration remains open up to the event day as the tour is designed to accommodate large numbers of bikers. About 6,000 bikers registered this year which is near an all time high. The event is sponsored by Transportation Alternatives which uses the funds to advocate for safer streets. We'll have more on this including a photo slide show at a later date.
---
U.S. Open Ends
Marin Cilic Wins Men's & Serena Williams Wins 18th Slam
September 9, 2014 / Queens Sports / Queens Buzz. After two hard fought weeks, the U.S. Open tennis tournament is over. Newcomer and very much a long shot [66/1 by odds makers], Croatian born Marin Cilic won the men's singles.
Serena Williams, the dominant female tennis player of the past decade, made a comeback of sorts after poor showings in prior slam tournaments earlier this year. She won the women's championship and it was her 18th slam win.
CBS lost the bidding for the broadcast rights for the next decade of U.S. Open tennis tournaments. ESPN picked up the games for $825 million. CBS had broadcast the games for the past 46 years [since 1968].
We heard grumblings about the new configuration for watching the preliminary games. The grumblers complained that the new seating was inadequate enabling only the first slew of spectators to be seated and that the inexpensive tickets were seated too far away from the action. The USTA is in the process of making significant modifications to the tennis center which are expected to be completed in 2018.
---
Tuesday - Primary Elections
The Real 'Choice' Is In The Primaries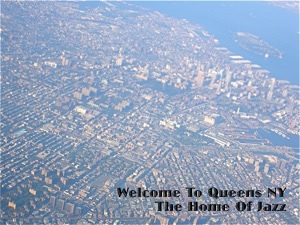 September 8, 2014 / Queens Politics / Queens Buzz. Tuesday, September 9th, is an important election day as most Queens races are decided at that time given the borough of Queens is comprised of about 80% - 90% Democrats.
On Tuesday the polls open at 6 am and close at 9 pm for the primary elections for New York state and federal offices. The polls are primarily staffed by civic volunteers.
There are a few races of interest this primary season. Leroy Comrie is hoping to win the NY Senate seat of embattled Democrat Malcolm Smith after stepping down as Queens Deputy Borough President earlier this year. And John Liu is hoping to make a comeback after a poor showing in the NYC Mayoral election last year, by unseating incumbent Democrat NY Senator Tony Avella.
The number of people who vote in the primaries is about 10 - 25% of the electorate, generally ending up on the lower end of that range. Hence, every vote carries far more weight than in the general election.
Knowing who the candidates are, what they really stand for and voting for them is one of the key pillars of our democracy. Many of our ancestors died fighting for this right and almost all of our early American ancestors took great risks to come here to exercise that right.
One of my favorite quotes of Thomas Jefferson is, "If a nation expects to be ignorant and free . . . it expects what never was and never will be".
I know you're busy with all kinds of other responsibilities. But I hope you'll do your best to stay informed about who the candidates are and make the effort to vote for those who best represent your point of view. It's a small investment to make to ensure we maintain our rights and freedoms. You needn't look far around the world to see what life is like in places that don't enjoy the right to elect / choose those who govern them.
Click here to find your Queens polling place - and again polls are open from 6 am - 9 pm.
---
Not Laboring On Labor Day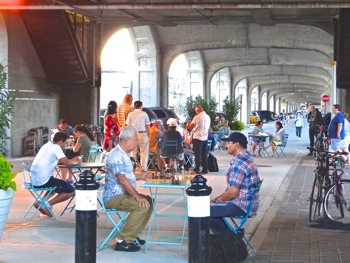 September 1, 2014 / Sunnyside Neighborhood / Queens Buzz. Labor Day was signed into law by Grover Cleveland in 1887. The day was designed to commemorate the achievements of the American working class.
At the time Labor Day was made a holiday, the union labor movement was growing in strength due to the abuses of laborers by their employers. At the time the nation was emerging as an economic powerhouse and mining, agriculture and manufacturing were the primary sources of jobs. Long hours, child labor and poor working conditions fed the desire of workers to unite to bargain collectively with their employers.
Things have changed quite a bit since then, and agriculture which accounted for half the jobs and mining and manufacturing which accounted for another third of them, now collectively account for about 15 - 20% of the entire economy. America has become a nation of white collar and service workers.
Unions lost a lot of popularity in the latter part of the last century - not just because of the changing nature of employment - but also because union pay was invariably much higher than that of non-union workers, and many of the union jobs were paid for directly or indirectly by the government [eg. government employees, teachers, air traffic controllers, highway & other public construction, law enforcement, military gear manufacturers]. Perhaps more significant was that as international trade tariffs were decreased or abolished; American companies began exporting American jobs to other nations where worker compensation was far lower, and workers' rights and collective bargaining were not well established.
In the photo above a number of folks enjoy time off at a recently refurbished plaza underneath the subway line along Queens Blvd and 46th Street in Sunnyside.
---
U.S. Open Begins
All Queens Tennis Tournament In Flushing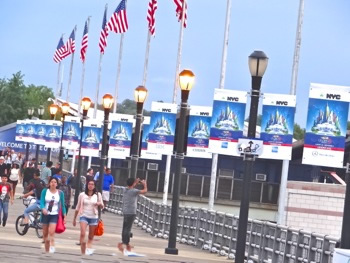 August 25, 2014 / Sports in Queens / Queens Buzz. The U.S. Open began Monday, August 24th with its usual bit of fanfare and stylistic splash. The tennis tournament features mens and womens singles and doubles, mixed doubles and juniors.
The U.S. Open is held at the Billie Jean King USTA National Tennis Center in Flushing Meadows Corona Park. The tournament will last two weeks, ending on September 8th. The number 7 subway line is one of the primary conduits for transporting people from Manhattan to the tournaments and back again. So you can expect to see an influx of new faces amidst your public transit travels.
The U.S. Open has been held at the USTA in Flushing Meadows Corona Park since 1978. The tournament is the last of the Grand Slam tournaments - the Austrailian & French Opens & Wimbledon comprise the rest. And the U.S. Open is one of the oldest tennis tournaments in the world. The tournament began as the U.S. National Tennis Championship - the forerunner of the U.S. Open - and it was first played in 1861 by men only.
So who's favored in the Men's & Women's Singles? Men's Singles. Djokovic was upset the past couple weeks and Nadal is injured, so it appears the Men's Singles championship is wide open. A few of those mentioned as the next champion include Federer, Wawrinka and Murray as a long shot. Women's Singles. Serena Williams is the most formidable contestant, but she's had some issues this year. Agnieszka Radwanska, Sloane Stephens, Petra Kvitova and Maria Sharapova will be the others to watch with an interesting and winding road ahead for most of them.
You can find updates and live play at usopen.org.
---
Ecuador Independence Parade Photos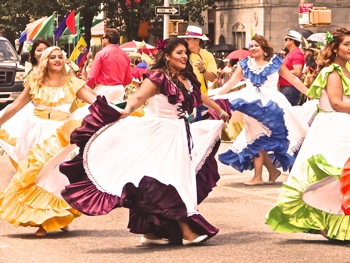 August 2014 / Jackson Heights / Queens Parades / Queens Buzz. I attended the Ecuador Independence Parade a couple of Sundays ago in Jackson Heights & Corona. Ecuador achieved its independence from Spain in 1822 during a time when many of its Latin American neighbors were also fighting for, and winning their independence. These wars for independence took place in the second and early part of the third decades of the 1800's, which was not long after the United States won its war for independence against Great Britain in the late 1700's.
Simon Bolivar was instrumential in leading these rebellions against those in power [Spanish royalty]. Bolivar enlisted English support in these wars for independence from Spain, just as Ben Franklin had enlisted French support in the American War for Independence. In both cases they got it, as France wanted to undermine the English in the late 1700's just as the English wanted to undermine the Spanish in the early 1800's.
In Ecuador the Spanish and the native South American Indians mixed racially, so that today about two thirds of the 12.5 - 14.5 million population is of mixed Spanish and Indian blood. The remainder of the population is a mix of Indian, AfroEcuadorian and Caucasian [primarily Spanish]. Spanish is the official language, but it's estimated that about 15% of the population can speak or understand Quichua, which is the native Indian language of the South American Incas. Ecuador uses American currency as its official currency.
We'll post a slide show at a later date, including the Mayor's late arrival, which corresponded to ours.
---
Astoria Cove Real Estate Development
East River Waterfront Transformation Moves North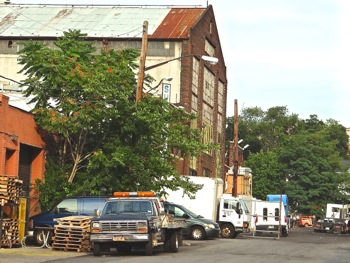 August 18, 2014 / Queens & Astoria Real Estate / Astoria Neighborhood / Queens Buzz. Unbeknownst to at least a few of the folks who live in the far northwest corner of Astoria and Queens, big plans for changes have been taking shape over the past couple of years.
The Hallets Point development passed Community Board One in May of 2013 and the Astoria Cove development is making its way through the governmental gauntlet of real estate development approvals.
The plan calls for a large new complex along the East River which will occupy the location where the building in the photo now stands, along with several other blocks of territory which will become its footprint. The building shown above is about a block east of Build It Green.
Community Board One and the Queens Borough President had issues with the development, primarily calling for a buildout of public infrastructure to support the development as well as for the inclusion of a higher number of affordable housing units. The development will be built completely on privately purchased land, which is in contrast to the Hallets Point development which was done using NYCHA [NYC Housing Authority] property.
We'll have more about this at a later date. By Michael Wood.
---
Judge Recuses Self In Queens Library Trustees' Lawsuit
Judge Mauskopf Recuses Herself As Queens Library Trustees' Lawsuit Includes Reference To Whistleblower Complaint Currently Being Investigated By Close Friend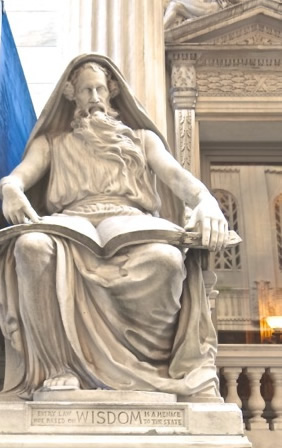 Updated August 12 / August 11, 2014 / Queens Issues / News Analysis & Opinion / Queens Buzz. The lawsuit filed by the Queens Libary Trustees took a bit of turn in the road as the Judge, Roslynn Mauskopf recused herself today, citing close relations to the attorney retained by the Queens Library who is working on an investigation of a whistleblower complaint reviewed by the six Queens Library Trustees. The whistleblower complaint investigation is ongoing and preceded the plaintiffs' dismisslas and subsequent filing of the Queens Library Trustees' lawsuit. The photo of the statue to your right was taken in Manhattan in front of the State Supreme Court Appellate Division building.
The six trustees' review of the whistleblower complaint is alleged to be a seminal event relative to the First Amendment claims made by the Queens Library trustees against Queens Borough President Melinda Katz as an individual. This was Claim 3, which is outlined with the other claims as well as the Queens Borough President's defense, in a story about the Queens Library Trustees' Lawsuit.
Queens Library Whistleblower Complaint
As we understand it, the Whistleblower complaint was presented to the Queens Library Board on July 2, 2014 by George Stamatiades, one of the Queens Library Trustees. The complaint requests the investigation of the leaking of confidential board matters because the public leaks were interfering with the trustees' ability to conduct Queens Library business. George Stamatiades is shown in the photo below right - on the left.
The Whistleblower complaint alleges:
"[Queens Borough President Melinda] Katz Orchestrated Negative News Coverage [of the Queens Library & Trustees] Then Fired Plaintiffs Shortly After I [one of the plaintiffs] Lodged A Whistleblower Complaint To Investigate The Leaks Of Confidential Information."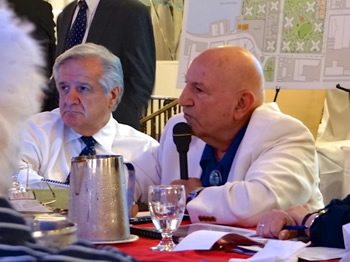 On July 10, 2014 the Queens Library retained former judge Barbara S. Jones to investigate the leaks of confidential information.
On July 17 the trustees met to discuss the retention of the judge for purposes of this investigation, where supporters of the Queens Borough President were in attendance, as well as those who were supportive of the investigation into the Queens Borough Public Library Trustees' confidential information leaks.
Six days later, on July 23, 2014, the six trustees who were supporting the whistleblower investigation into the leaks of confidential information were dismissed by the Queens Borough President. This timeline was provided in the complaint.
Judge Mauskopf Recuses Herself From Queens Library Trustees' Lawsuit
Judge Mauskopf said in her statement recusing herself that:
".. the [whistleblower] investigation and its outcome are directly relevant to the plaintiff's claims."
Judge Mauskopf went on to say she believed that she could fairly judge the trial, but that according to Canon 2 of the law she must recuse herself. Here is an excerpt of her public statement.

"So let me explain the basis for the recusal. I do have a very longstanding and very close friendship with the attorney retained by library to do the investigation. The relationship I would characterize is like that of a close relative and of a degree not just with the investigator, but the broader family of the investigator.

That raises an appearances problem under Canon 2, particularly given the fact that the investigation and its outcome are directly relevant to the plaintiff's claims. Indeed, the plaintiffs raised the facts that are being investigated as key and relevant in their supplemental papers.
As you all know, the investigation, the internal investigation was prompted by a whistleblower complaint filed by Plaintiff Stamatiades and was supported at a board meeting by all of the other plaintiffs here. And as the supplemental papers indicate, all of the plaintiff's were fired six days after the filing and the discussion of this whistleblower complaint.
The results of the internal investigation are central to the claims here, both the contract laws claim and the First Amendment retaliation claims. The investigation, the internal investigation appears to be central to the fact development in this case.
It is likely that the results of that investigation will be the subject of discovery. Given the tenor of the dispute between the parties, there is a potential for discovery disputes related to that internal investigation.
Certainly, the results of the internal investigation -- its credibility may likely be an issue in this case. There is also the potential for the investigator to be a witness in this particular case, either in discovery or in some other capacity.
And while I am fully confident that I could be fair and impartial, given the nature of the relationship, the degree of that relationship and the critical nature of the internal investigation and its results to the claims in this case, Canon 2 of the code of conduct and the guidance given by the advisory opinions require my recusal in this case."
So the clerk will be reassigning this case to another judge.
Queens Borough President's Office Response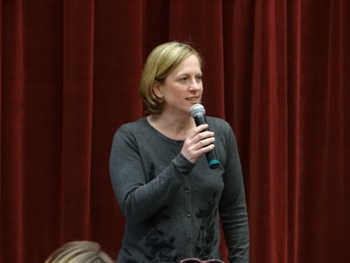 August 12, 2014. Today the Queens Borough President's Office informed us that the magistrate judge made a report and recommendation to deny the temporary restraining order and preliminary injunction [this was previously done by the judge who recused herself]. The new judge assigned to the case is expected to decide upon this recommendation within the next couple of days. In the photo at right is Queens Borough President Melinda Katz.
We asked the Queens Borough President's Office for comments related to the whistleblower complaint and judge recusal. The following is their statement:
"It is disturbing [to Queens Borough President Melinda Katz] that Mr. Galante [Queens Borough President CEO], without Board approval, can direct Library resources to be used in this manner.  These resources should be going toward providing Library services to communities like the Rockaways, who still have their branch being run out of a trailer.  These are all diversionary tactics and they are tiresome.  The QPL doesn't belong to one trustee or to one executive director.  We need to let the remaining Trustees move on with the business of the Library, including opening up the records to New York City Comptroller Scott Stringer."
To fully understand the background, context and issues involved is this very complicated, very heated and very public battle for control of the Queens Borough Public Library, click on the following two links to prior reports published about it. And stay tuned.
Click here for the first story we posted about the Queens Library Reform Legislation which talks about how the conflict began, including a review of the [at the time] pending NYS legislation. And click here for our report about events since passage of the law including about the Queens Library Trustees' lawsuit. By Michael Wood.
---
New Bridge Over Troubled Water
Kociuszko Bridge Begins Transformation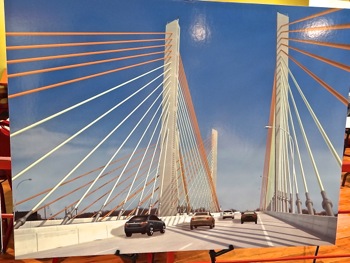 August 11, 2014 / Sunnyside Neighborhood / Queens Business / Queens Buzz. I attended a town hall meeting at the Sunnyside Community Services Center in July where the Department of Transportation presented its plans for the erection of a new bridge over Newtown Creek, replacing the current Kosciuszko Bridge. The Kosciuszko Bridge is the main thoroughfare connecting Queens and Brooklyn.
We were told that this bridge represents the largest infrastructure investment by New York State ever. It's important to note that this statement was made based on total dollars, not the value of the dollars as measured in real terms [meaning a million dollars a century ago was worth far more than $1 million today].
The effort has already begun as the project has been awarded and the companies working on the effort have begun their preparatory work. Actual physical construction of the bridge will likely begin in Spring of 2015. The project will be done in phases. The first phase will be the erection of half of the new bridge alongside the current bridge. Once that is completed, they will tear down the Kociuszko Bridge and move traffic onto the new half bridge. Finally they will erect the second half of the bridge. The new bridge will include bike lanes and will have a far less steep rise than the old Kosciuszko Bridge. A rendering of the new bridge is shown above.
We'll post more, including a photo slide show later this week.
---
Landmark Case: Battle For Queens Library Stewardship
Six Sacked Queens Library Trustees' File Lawsuit Alleging Queens Borough President Violated Constitutional Rights & That NYS Law Changing Queens Library Charter Is Invalid
Temporary Restraining Order Fails But Lawsuit Goes On
August 5, 2014 / Queens Politics / Queens Issues / News & Opinion. Queens Buzz. On August 1st, the six Queens Library Trustees who were sacked by Queens Borough President Melinda Katz on July 23rd, filed a lawsuit against her in both her official capacity as well as that as an individual. Eric Schneiderman, the NYS Attorney General [in his official role], and NY State were also named in the lawsuit.
Sacked Queens Library Trustees File Lawsuit
The six trustees and plaintiffs are Jacqueline Arrington, Joseph Ficalora, William Jefferson, Grace Lawrence, Terri Mangino and George Stamatiades. Two others were sacked by Mayor Bill de Blasio - Patricia Flynn and Stephen Van Anden - and they are not participating in the suit. There are a total of 19 Queens Library Trustees.
Click here to read the rest of the story about sacked Queens Library Trustees filing lawsuit.
---
Where For Art Thou?
Hip To Hip Theatre In The Park Keeps Wisdom Of Old Bard Alive In Queens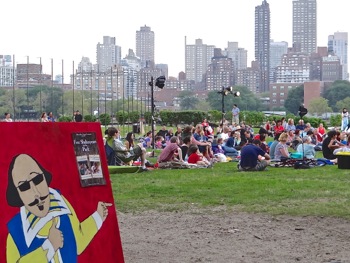 August 4, 2014 / Sunnyside Neighborhood & LIC Neighborhood / Queens Buzz. I attended one of the four Shakespeare in the Park performances this past weekend in Queens. Two Gentlemen of Verona was performed in Cunningham Park on Thursday and in Gantry State Park on Saturday and Cymbeline was performed in Sunnyside Gardens Park Friday evening and in Socrates Sculpture Park in LIC on Sunday evening.
Hip to Hip Theatre Company of Woodside was the theater company performing the 400 year old works which contain themes of love, friendship, greed, envy and (dis)trust that remain relevant to this day.
The actors wear microphones connected wirelessly to speakers, so that the audience is now able to hear every word they utter. In the early years of outdoor theater this wasn't possible. Thus technology has made watching outdoor theater far more enjoyable, not to mention easier on the actors' and actresses' vocal chords so that this weekend four performances were possible without so much as hearing one hoarse voice.
The free Shakespeare in Queens parks continues through the coming two weeks.
---
Making Vision Zero Happen
Corona Residents Respond To Call To Action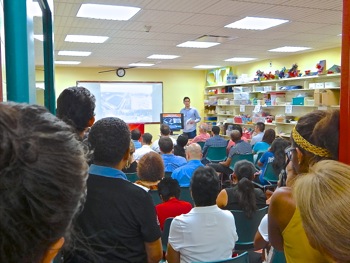 July 27, 2014 / Jackson Heights & Corona Neighborhood / Queens Issues / Queens Buzz. I attended a Vision Zero Workshop at the Corona Library on July 16th. The event was sponsored by Transporation Alterantives in conjunction with a host of other organizations and some local government officials, all of whom I will name at the end of this story when I complete it.
As you can see from the photo, there was no shortage of interest in the effort, as Jackson Heights and Corona are one of the 'Ground Zero' places where pedestrians are being killed or injured by motorists.
The effort had a number of components to it including education, law enforcement and untangling a road, biking and pedestrian system that was put together piecemeal instead of as a holistic approach to human movement ... like dance.
We'll post more about this at a later date including photo slide show.
---
Wynton Marsalis @ Queensbridge Park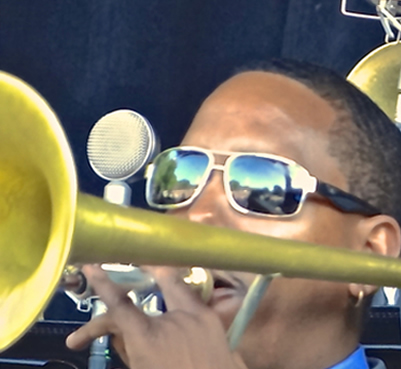 July 20, 2014 / Long Island City Neighborhood / Live Music in Queens / Queens Buzz. It was a perfect summer day with the highs in the 80's, fairly dry and sunny as I made my way to attend the SummerStage Family Day in Queensbridge Park.
When I arrived a crowd of many hundreds had already found comfortable seating, lawn space and standing room in the park. Michael Mossman and Copland Jazz of Queens College were on stage playing jazz tunes to an appreciative and relaxed crowd.
I listened to them play as I took photos of them and the crowd. Wynton Marsalis and the Lincoln Center Jazz Orchestra were due to perform at 5 pm. The crowd was totally mixed, with young and old alike, and a mixture of people with a diversity of genetic backgrounds, representing the borough and the world.
There was a short break between the two gigs and I watched the Lincoln Center Jazz Orchestra warm up in the VIP section just off the stage. They started with a tune and dedication to Duke Ellington and Louis Armstrong, both local NYC musicians of a bygone era.
We'll post more, including a photo slide show a bit later. The photo above shows one of the jazz musicians at SummerStage in Queensbridge Park.
---
Summer Stage In Queens This Week
QueensBridge Park In LIC Hosts Concerts Now Thru Weekend*
July 14, 2014 / Long Island City Neighborhood / Music In Queens / Things To Do Queens / Queens Buzz. There are so many things to do in Queens this summer that it's challenging to keep up with them. But this week, almost all week, Summer Stage comes to Queens at QueensBridge Park in Long Island City.
Last weekend there was a free Summer Stage concerts in Manhattan given by Cibo Matto. They performed to a near capacity crowd in Central Park likely because of the location, their popularity and fairly good weather [see photo at right].
This week, beginning Tuesday, July 15 Ismael Miranda, Rebel Tumbao & Joe Clausell will be on stage at QueensBridge Park beginning at 7 pm. On Wednesday, J Holiday & Jon B perform beginning at 7 pm.
On Thursday, Mobb Deep & Lyricist Lounge will begin performance at 7 pm. Friday Harambee Dance Company will be there beginning at 7 pm. And on Sunday beginning at 4 pm it's Queens Family Day with Jazz at Lincoln Center and the Kupferberg Center for the Arts at Queens College. All are free and the public is welcome to attend.
*Except Saturday.
---
Three Graces & The Struggle For Rights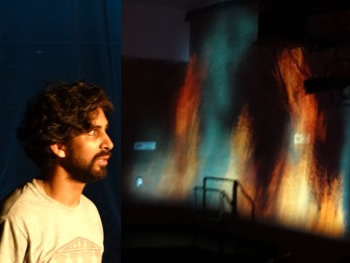 July 7, 2014 / Long Island City LIC / Theater In Queens / Queens Buzz. On June 28th I attended the final performance of Three Graces at the LaGuardia College Performing Arts Center.
The title, Three Graces, has a historical reference to Greek mythology. The three graces include beauty, delight and creativity. These characteristics were oftentimes depicted by three young, frequently nude, women who were meant to fill the world with pleasant moments and goodwill. In art these three women are frequently shown dancing around in a circle to the divine music of Apollo. Since the play was written by an American woman with Greek roots, Ruth Margraff, I assumed the historical references had relevance.
The play opens in modern day Istanbul. Istanbul has long been both the cultural and economic capital of Turkey, while Ankara is the political capital of the nation. This is similar in kind to the national role of New York City in the U.S. vis a vis the governing role of Washington, D.C.
The play references recent modern day events - the Spring 2013 riots of Taksim Square / Gezi Park in Istanbul, where reportedly 11 people were killed and thousands significantly injured when the Turkish government / police cleared the park of a sit-in to protest a new government-lead real estate development in Taksim Square and Gezi Park.
Click here for the rest of our review of the Three Graces play w/ photos at the LaGuardia Performing Arts Center in LIC.
---
July 4th Fireworks Queens & Weekend
4th of July Fireworks Return To East River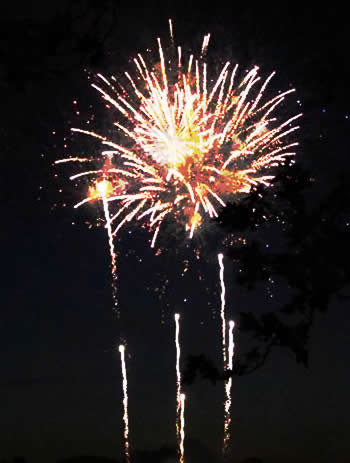 July 4th, 2014 / Things To Do Queens / Queens Buzz.
Weather. Not ideal for fireworks. Friday it will be in the high 70's with about 65% humidity all day. Rain will hit between 3 & 4 pm and thereafter - until about 10 pm - there's a 50% chance of it. So for the fireworks display it's a 50 / 50% chance you may get wet.
For the rest of the weekend, the highs will climb to the mid 80's and it will be sunny and dry Saturday, with humidity climbing back to 50 - 65% Sunday.
Macy's 4th of July fireworks in Manhattan NYC. The Macy's 4th of July fireworks will likely begin around 9.30 pm which is when it gets dark enough to support a good show. But that said, you should probably get to where you're going to watch them no later than 9 pm, because the cloudy skies may allow them to get off to an early start.
Best Locations to view Macy's 4th of July fireworks in Queens NYC. There will be three barges in the East River from where the fireworks will be launched - two just south of the Brooklyn Bridge and one just north of it. The best viewing locations would be in and around the bridge including the South Street Seaport. But spots along the East River should allow for a pretty fair view, including Gantry State Park and Hunters Point South.
We'll post weekend events later today and Saturday.
---
Summer Solstice & Great Weekend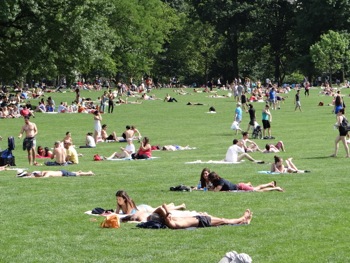 June 23, 2014 / Queens Neighborhoods / Queens Buzz. It was one of the near perfect weekends. The sun was shining, but not too hot and the air was warm and dry during the day and cool at night.
It was also the summer solstice - the longest day of the year - that point in the calendar from which the amount of daylight will begin to shrink. This was not lost on the general population as folks were out and about enjoying the weather.
There were sunbathers along the East River at Astoria Park and Gantry Park. And lots of sun worshippers in between. Make Music NY organized about 1,000 performances throughout the city, including quite a number of them in Queens. I hope you had a nice weekend and wish you the best in the coming week.
---
Guiding LIC Neighborhood Evolution?
LIC Summit Conference Takes Holistic View Of Community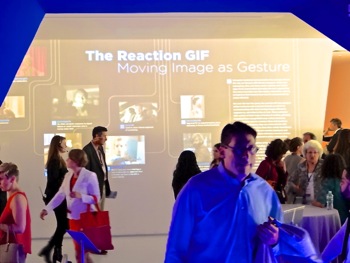 June 17, 2014 / Long Island City Neighborhood / Queens Business / Queens Buzz. I attended the first annual LIC Summit which was held at the Museum of the Moving Image and organized by the LIC Partnership. The conference ran all day, with lectures and panel discussions about all things Long Island City.
The first half of the day included discussions about the film industry and the LIC commercial and industrial real estate market. And the second half of the day included panels on residential real estate, but also on the possibilities of evolving a technology sector in LIC and an end-of-day session dedicated to the ongoing evolution of arts and culture in the neighborhood.
I attended the afternoon sessions to listen to the panel discussions about developing a technology sector in Long Island City, and a panel discussion on how to continue nurturing arts & culture in the LIC neighborhood, as many rents and real estate prices have risen to Manhattan-comparable levels.
Click here to read our report on the LIC Summit & photos.
---
Queens Library Reform Bill: Quality & Controversy
A Trojan Horse: Queens Library Reform Bill
NYS Senator Ushers Bill Through Assembly Calling For Czar-Like Control Of Queens Library Trustees
In Whose Best Interest Is This ... Really?
**** UPDATE June 12, 2014 / Queens Education / Op Ed Queens / News Analysis & Opinion / Queens Buzz.
This report goes behind the fanfare and political posturing that have gone on the past few months, and looks at the issues surrounding legislation that is currently working its way through the New York legislature. It also compares the legislation to a similar prior bill which was passed into law less than a year ago. And ultimately we provide rationale for intelligently asking whether this legislation is a political play or good for the Queens Library and its constituents. The report contains links to our Queens Opinion section which contains the comments of two informed sources who have been following the controversy from different vantage points.
Click here to read our report on the Queens Library Reform Bill: Quality & Controversy.
---
Queens Library Leads The Pack
Teams With Google To Bridge Digital Divide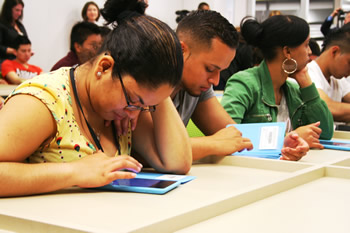 June 6, 2014 / Jamaica NY / Queens Education / News Analysis & Opinion / Queens Buzz. In November of 2013 the Queens Libary teamed with Google to roll out 5,000 tablets via Queens Library card checkouts to help provide information access to people living in areas affected by Hurricane Sandy.
The tablets contain online as well as offline information which is updated when the tablet is within the Queens Library. Queens Library President Thomas Galante said that this program was part of the Queens Library initiative to help bridge the information divide by using digital resources to provide additional access to information and education to Queens Library constituents.
The library's interface was given the Library of the Future Award by ALA / Information Today. The interface is icon driven to facilitate use by non-technological people and contains content curated by the Queens Library so that some portion of the information is available whether the user is online or offline. Given the language diversity of the Queens Libary constituency, Google Translate was made availabe on the tablet so that users can obtain translations into their native languages.
Award Winning Queens Libraries: Governance & Politics
This year the governance of the Queens Library has become the subject of much public posturing and political debate by Queens & NYC government officials. While the issues in question continue to be debated, it's worth mentioning that the Queens Library has long been recognized by national library publications and organizations as one of the nation's best libraries.
In addition to being named in the award above, the Queens Library won the Top Innovator Award in 2013 by the Urban Libraries Council, the Library of the Year Award in 2009 from the Library Journal and just last year the Corona Library was among the first to win the 2014 NYC Neighborhood Library Awards with citations for helping people who are learning English as a Second Language, providing after school homework facilities, school course book access and internet access.
The Queens Tribune published an editorial which they've given us permission to post in our Queens Op Ed section which we thought you might find of interest. Learn on.
Click here to read our report on the Queens Library Reform Bill: Quality & Controversy.
---
---
Jamaica Collection Silences Critics
Event Showcases Top Fashion Designers & Models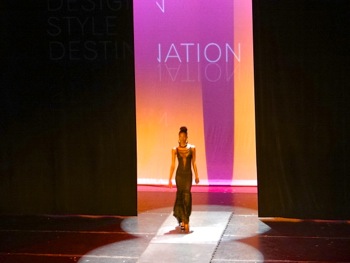 June 7, 2014 / Jamaica NY / Fashion In Queens / Queens Buzz. Queens is a paradise of cultural surprises. And the neighborhood of Jamaica Queens is no exception.
Hundreds of years ago Jamaica was one of the transportation hubs for receiving agrarian products from Long Island in exchange for other goods from around the nation and around the world. While Jamaica continues to be transportation hub, with connections to Penn Station, JFK and an entire web of NYC Metro buses and subways, it is also emerging as one of the great cultural hubs of Queens.
So on Saturday night, I made my way down to Jamaica town. And what I found, looking around, was a paradise of beautiful women, rugged and handsome men, with evocative knits and sculpted shapes reflecting a diversity of style spanning the modern metro universe - from the hip hop of the street to the garb of the classical women and men of Manhattan's Midtown. Step aside Fashion Week, there's a new show in town.
We'll post more later today or this week including photo slide show. The photo above was taken at the Jamaica Collection Fashion Show on June 7th 2014.
---
Curated Cuisine At The Taste Of LIC
Watery Weather 'Dampens' Attendance But Not Mood
June 3, 2014 / LIC Neighborhood / LIC Restaurants / Queens Buzz. It was a dark and stormy evening as I began preparing to head down to the Long Island City waterfront to cover the 9th Annual Taste of LIC. I could hear the raindrops falling on my airconditioner, making a sporadic tinny pitter patter that told me I should not go.
An angelic voice whispered in my ear, "You're going to miss the Chocolate Factory's signature event". My tummy grumbled, "I'm sick of your cooking" ... thus making it's voice heard and it's vote counted too ... so soon I was on my way, umbrella opened, walking through the rain to the fabulous #7 subway line - the main artery of public transit in Queens.
As I came up the stairway onto Vernon Blvd, I began to feel like I had made the right decision. To be sure, clouds were overhead, but there weren't any raindrops fallin' on my head. E'nuf said.
I sauntered down to the ticketing tent where I picked up my entrance band. I asked the ticketing agents to pose for a photo, which I'll post into the event photo slide show at a later date.
As expected, the inclement weather had impacted attendance and thinned out the crowd relative to prior years - but there was still a good turnout - of likely over a thousand people. The attendance provided more opportunity for relaxed interactions and more space to photograph and converse with the restaurateurs. Some of them remarked the same, telling me that in the past they were so busy serving folks that they scarcely had a moment to talk to any of them. But tonight Mother Nature, as sometimes it is her way, took control of the remainder of the day.
Next Monday we'll take you into the tent of the Taste of LIC, share with you a sampling of some of the fine foods, a bit of the fun & fancy, and introduce you to a few beverage makers and a new chocolatier too. Included with this account will be an accompanying photo slide show of the curated cuisine event. Proceeds go to the Chocolate Factory Theatre in LIC and many thanks to Sheila Lewandowski and Brian Rogers, both of whom organized the event.
Bon Appetit & Bon Jour.
---
Queens Schools - NYC Public Education Issues
People For Public Schools – In Jackson Heights
Dromm Discusses Educational Issues & What Can Parents Do To Help
May 28, 2014 / Jackson Heights / Queens Schools / Queens Buzz. I attended what was essentially a communal sit down dialogue Daniel Dromm, Chair of the NYC City Council Education Committee. He met with a six-month-old group that goes by the name of the Jackson Heights People For Public Schools. And together they discussed the plethora of issues being grappled with by educators, policymakers, parents and pupils in the wake of the Bloomberg Administration's departure.
I consider myself to still be in the learning mode of trying to understand all of the issues faced by those managing public education so what follows is essentially a partial record of the discussion.
As background based what I do know from prior coverage in the Queens educational arena, the Bloomberg Administration embarked on an effort that appeared in some respects to favor de-unionizing and privatizing the NY Public School system via the closing of public schools which were staffed with generally experienced, unionized teachers; and opening privately run charter schools, generally run by fairly new teachers who worked for non-union wages. The Bloomberg Administration also moved toward splitting schools into smaller entities.
Click here to read more about a dialogue with Daniel Dromm, NYC City Council Chair of the Education Committee, about education & public schools in Queens.
---
Relaxing Rooftop Repast On The Grange
Edible Queens Hosts Farm Fresh Dining Days @ Brooklyn Grange
FYI - STILL A WORK IN PROCESS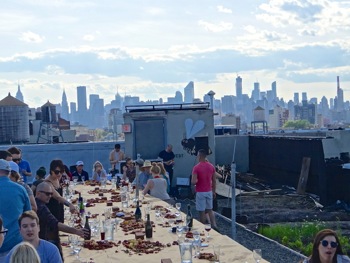 May 25, 2014 / Astoria LIC & Sunnyside / Food, Beer & Wine In Queens / Queens Buzz. I just returned from a very relaxing Memorial Day Weekend afternoon, spent out in the country, on a farm, enjoying a farm fresh dinner with a very laid back Queens crowd from many different walks of life.
I didn't leave the city. I didn't even leave Queens. And in fact, I barely left Sunnyside. But I felt like I had gone many, many miles away; into the rolling green farmlands and golden sunshine of … well … rooftop Queens.
I took the elevator up to the Brooklyn Grange, high atop the Standard Motor Lofts Building along Northern Blvd in LIC. It was like entering a tele-porter, that took me up and away from the city into Queens farm country.
Edible Queens, a quarterly magazine about dining & culture, organized the dinner which is one of a series they've entitled Butcher Paper Dinners. They have planned and scheduled five more of these afternoon / evening dinners between now and October so you'd best rsvp if you're interested because once word gets out about these dinners, tickets are likely to go fast.
The afternoon consisted of sipping unique blends of local beers made in LIC and crisp golden Reisling wines grown and made in upstate New York; while sampling freshly cooked tasso beignets and boiled crawfish by one of NYC's celebrated chefs.
Click here to read more about the Edible Queens dinners at the Brooklyn Grange rooftop farm in Queens.
---
Taste of Sunnyside in Photos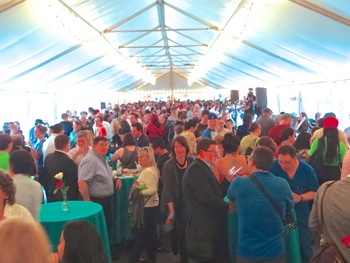 May 20, 2014 / Queens Restaurants / Sunnyside Restaurants / Queens Buzz. I attended the New Taste of Sunnyside which was held underneath the #7 subway line at 46th Street in Sunnyside.
One might think that this location could be distracting with the subway moving to and fro overhead, but with the live musical performances going on in the foreground, I didn't once - during the hour and a half that I was there - notice the subway overhead.
The crowd attending this event has changed over the years. This year the people in attendance seemed to be primarily in their 20's, 30's and 40's. In prior years, many of the attendees had already endured an additional decade or two of wear and tear.
I was informed that there were well in excess of 600 paying attendees, and a number of additional tickets were distributed for business and charitable purposes. Rachel Thieme, Sunnyside Shines Executive Director, was the primary organizer supported by the Board including John Vogt, Chairman and Artie Weiner, Treasurer - all of whom are shown in the slide show included in this report.
Click here to read the rest of our report including a slide show of photos of Taste of Sunnyside 2014.
---
Fireworks Commemorate 50th Anniversary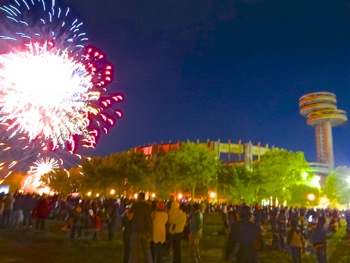 May 19, 2014 / Flushing / Queens History / Queens Buzz. I attended the fireworks display in Flushing Meadows Corona Park on Sunday night. There were thousands there to view them standing in front of the New York State Pavilion [see photo at right].
The fireworks were part of a day long program of events commemorating the 50th anniversary of the 1964 World's Fair. The program included a rare opportunity to walk through the NYS Pavilion and a bandshell had been set up to accommodate the musicians, which included a group playing Beatles tunes and the pre-fireworks celebration ended with the Queens Symphony Orchestra playing the Stars & Stripes.
We'll post a slide show of the fireworks and the crowds, most of which appeared to be from surrounding neighborhoods. Several Manhattanites did make the journey as I met a couple on the subway.
---
Randall's Island Bike Ride
Weekend Day Ride Feels Miles Away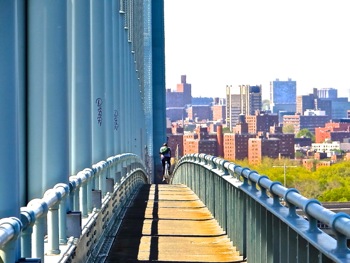 May 12, 2014 / Astoria / Queens Bike Paths / Queens Buzz. I decided to attend the Frieze Art Fair on Randall's Island this past weekend. There are three ways to travel to Randall's Island: the ferry service from LIC, driving a car along the Grand Central Parkway part way over the RFK / Triborough Bridge or walking / biking on the pedestrian / bike path over the RFK / Triborough Bridge. I decided to take the latter and bike to Randall's Island.
Randall's Island is located in the middle of the East River, just across from Astoria Park. It is home to Icahn Stadium, an important NY Fire Department complex, a police station and a psychiatric hospital. There are also a number athletic fields which on this particular weekend seemed to be put to good use by a number of soccer leagues.
I started my journey at 27th Street on the north end of Hoyt Avenue which runs alongside the Grand Central Parkway leading to the RFK / Triborough Bridge. The entrance is inconspicuous and you have to carry your bike up a healthy set of stairs. For a while you'll be biking in a partitioned bike lane alongside the incessant flow of speeding traffic of the Grand Central Parkway, before you're taken above the din, up into the lofty heights of the Triborough Bridge. If you have a great fear of heights, this is not the journey for you.
We'll post more about the bike path to Randall's Island, including a photo slide show, at a later date.
---
Steinway Mansion SOLD
Steinway Mansion LLC Purchases Mansion For $2.65 Million
May 5, 2014 / Astoria Real Estate / Steinway Mansion / Queens Buzz. On Friday May 3rd, 2014, the Steinway Mansion was sold for $2.65 million. The mansion went on the market in August of 2010 and was handled by a number of brokers - including Southebys International Realty, Halvatzis Realty Astoria and Prudential Douglas Elliman - before being turned over to Amorelli Realty of Astoria, which closed the deal.
At present, we understand that the land parcel remains intact, which last we heard was between one and two acres. This acreage is down from the 700 acres that Benjamin Pike, the original owner, purchased in the mid 1800's [circa 1858]; and the 70 acres owned in tandem with the mansion by the Steinways [circa 1870]. The most recent owners, the Halberians, held about a two acre lot in tandem with the mansion, which includes the grounds with which those who have visited the mansion in modern times are familiar.
The Steinway Mansion is currently zoned as residential and we were told that - as of this date - that nothing was underway to change that. Rumors have been circulating for months that the mansion would be turned into a restaurant, but we could not find anyone close to the owners who could confirm that.
Bob Singleton of the Greater Astoria Historical Society and Friends of the Steinway Mansion said that those two organizations continue to have an interest in helping preserve the Steinway Mansion an historic jewel for Astoria, Queens and NYC.
As we understand it, the Steinway Mansion is landmarked at federal, state and city levels, which means the outside of the structure may not be alterred nor may it be torn down. We were informed that Steinway Mansion LLC is a locally owned company, but the names of the owners have not yet been made public.
The realtors who closed the deal include Lauren Cornea, Christina Halvatzis and Paul Halvatzis - all of Amorelli Realty.
---
Caught In The Act - The 13 Most Wanted
Queens Museum Opens Incredible Art Exhibit Grounded In History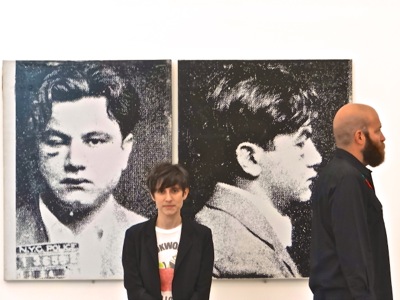 April 28, 2014 / Flushing Neighborhood / Art In Queens / Queens Buzz.
I visited the Queens Museum [they dropped 'of Art' from the name] this past weekend to view their new exhibit - The 13 Most Wanted Men.
The exhibit is a tie into the 50th anniversary of the opening of the 1964 World's Fair and the preservation of the New York State Pavilion in Flushing Meadows Corona Park.
Andy Warhol was one of several celebrity artists of the day, invited to create an artwork to post on the wall of the Theaterama [now Queens Theatre In The Park] which was one of the structures of the New York State Pavilion. It was a real honor as the work would be seen by tens and likely hundreds of thousands who would pass by it during the 1964 World's Fair.
Warhol decided to post the mug shots of the 13 Most Wanted Men in America. One can never know exactly what he was thinking, but it was an artwork designed to get people's attention, shock them and get them to think, perhaps a bit differently, about some of the things going on at the time.
The powers-that-be decided having 13 large mug shots of thirteen criminals in the midst of a fun family fair wasn't a good idea. So they whitewashed it off the building [sound familiar? - see our story about the Whitewash art exhibit in LIC]. This is the quick and dirty report of what happened, which the Queens Museum in a collaboration with the Warhol Museum of Pittsburgh, did an incredible job of presenting in an exhibit which is both art and history.
In the photo above is Curator, Larissa Harris, and Director of External Affairs, David Strauss. David is also one of the troika managing the Queens Museum while they search for a replacement for former Executive Director, Tom Finkelpearl. Tom was recently appointed New York City Cultural Affairs Commissioner.
We'll post our full report at a later date.
---
LIC Real Estate
LIC Partnership Breakfast Projects Confident & Competitive Tone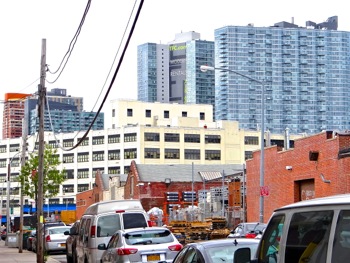 April 23, 2014 / LIC Neighborhood / LIC Real Estate / Queens Buzz. I attended the LIC Partnership Real Estate Breakfast on Wednesday morning at the Con Edison Learning Center in LIC. The past couple of years the event had been held at Court Square Place on 44th Road in LIC, to a standing-room-only crowd. The event attendance continues to grow, and the move to the Con Ed Learning Center made seating possible for everyone in attendance.
The 8 am breakfast is followed by a moderated discussion panel of speakers representing a cross section of LIC real estate investors, real estate managers, retail or restaurant operators and a reporter who covers and is familiar with the LIC real estate market. The discussion provides a mix of perspectives and opinions about what's happening in LIC.
A conglomeration of LIC real estate commercial, industrial and housing stock is shown in the photo to your right. Quite a number of aspects about it were discussed at the breakfast as recorded in this report.
This year the panel included … click here to read the rest of our report about LIC real estate, including photos of the LIC Partnership Real Estate Breakfast.
---
New York State Pavilion - Photos & Opening
The New York State Pavilion Opens For 3 Hours
Philip Johnson's 1964 World's Fair Relic Comes Back To Life
April 22, 2014 / Flushing Neighborhood / Queens History / Queens Buzz. The New York State Pavilion was reopened for three hours in commemoration of the 50th anniversary of the 1964 - 1965 World's Fair ... and thousands came to see it. An announcement that the structure was named to the National Trust For Historic Preservation was made at the opening.
I had an opportunity to view the NYS Pavilion during the three hours it was open on April 22nd 2014. As mentioned above, the date marked the 50th anniversary of the opening of the 1964 - 1965 World's Fair. The NY State Pavilion was a structure commissioned for the Fair, which was held in Flushing Meadows Corona Park. The New York State Pavilion was built to honor and celebrate all things of New York State.
The complex encompasses three categorical elements: 1) the three observation decks shown in the background of the photo, 2) the Tent of Tomorrow - the inside from which this photo was taken, and 3) the Theaterama, which is shown in the background on the right. The Theaterama had been converted into Queens Theatre In The Park some time ago, and was renovated in 2008.
Interest in the NYS Pavilion began with a pilot project by the NYC Parks Department in 2007. The project was intended to explore its restoration / restore some of it [urban archeology]. And in 2009 a couple of guys decided they wanted to bring it back to life by [re]painting it. Since then, interest in the NYS Pavilion has been gradually gathering steam. Most recently a film maker crowd sourced funding to make a movie about it. And today it was named into the National Trust For Historic Preservation.
Click here for the story about the NYS Pavilion, including many details and a slide show containing photos of the New York State Pavilion.
---
Greek Orthodox Easter Tradition In Astoria
St. Demetrios Cathedral Holy Friday Procession With Epitaphios In Astoria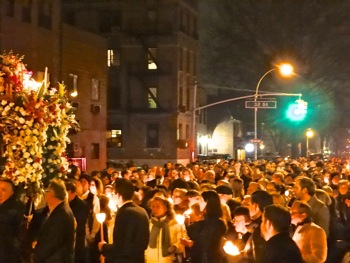 April 21, 2014 / Astoria Neighborhood / Ethnic Culture In Queens / Queens Buzz. Friday night I made my way into Astoria to watch the St Demetrios Cathedral Holy Friday procession with the epitaphios. I arrived a bit after 9 pm, and they had just left the cathedral. The service began at 7 pm and it's followed by the public procession into the Astorian streets to commemorate the death of Jesus Christ, some 2014 years ago.
A contingent leads the parade, including a man carrying a crucifix, symbolizing the cross that Jesus was nailed to, when he was executed as a threat to the Roman Empire. Following behind the first contingent is another group of men who carry the epitaphios. The epitaphios is a floral covered structure that looks a bit like a carriage and coffin. And following the epitaphios are the parishoners, which in the case of the St. Demetrios Cathedral procession likely numbered in the low single digit thousand(s).
In the photo to your right you can see the epitaphios at left and the St. Demetrios parishoners on Holy Friday night in Astoria. We'll post a photo slide show later this day or week.
---
Tax Prep Down To The Last Minute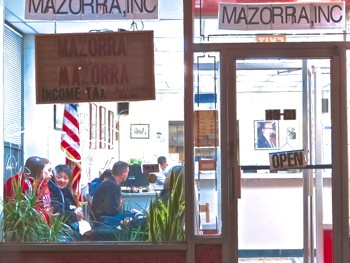 April 15, 2014 / Sunnyside Neighborhood / Queens Buzz. As I made may way home late Tuesday night, on a miserably rainy evening, I couldn't help but notice that a tax preparation office was bustling with activity [see photo].
It was April 15th, the last day for posting one's taxes without having to file for an extension. And there in the offices of a local tax preparer were easily a half dozen people who appeared to be waiting to meet with a tax specialist in order to complete their 2014 taxes.
As in the past I've been in this situation myself, I am not making any judgments about waiting until the last minute. Just happy, I guess, that this year I actually beat the crowd.
The same thing happened with the Affordable Care Act applications [see story below], as over one million people filed their applications in the last week. I guess we're all getting used to doing things in 'real time'.
---
Epitaph To An Era: Whitewash In LIC
Long Island City Loses A Bit Of Its Heart & Soul
Jeffrey Leder Art Gallery Showcases Demise Of 5 Pointz Through Artwork Of Its Circle Of Graffiti Artists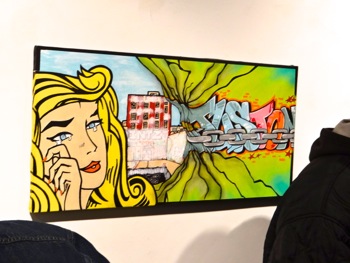 April 5, 2014 / Art In Queens / Long Island City LIC Neighborhood / Queens Buzz. Saturday evening I made my way into Long Island City to attend the opening night of the Whitewash art exhibit at the Jeffrey Leder Gallery. Whitewash is an exhibit of the art works of a collection of the 5 Pointz graffiti artists. These artists recently lost their artistic and spiritual home – the 5 Pointz building in LIC - and the exhibit opening was part funerary rites and celebration of a new beginning. The photo to your right shows one of the paintings on exhibit at the Whitewash art exhibit at the Jeffrey Leder Gallery in LIC.
As I got off the #7 train, I decided to swing by the building to witness its whitewashed walls. I took a couple of photos of them, recalling prior visits to the outdoor art gallery, where every five to ten feet, in vivid living color, one could witness the creation of a local graffiti artist. The outdoor gallery exhibits would change, piece by piece, week by week, month by month and year by year. There always seemed to be a few artists working the walls. The 5 Pointz building is southeast of the Court Square subway stop, and for drivers it's just across from PS1 MoMA on Jackson Avenue between Crane & Davis Streets.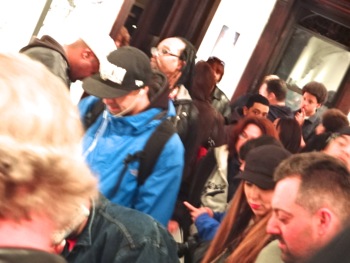 As I shot photos of the walls and loading dock area, I could still see in my mind, the outdoor parties of the past. I recalled the art exhibits that had been thrown over the years, with music emanating from somewhere. Intellectually we all know it was within the building owner's rights to whitewash his own building. And it isn't hard for anyone to understand why the building owner would want to reap a huge profit by razing the building and erecting a new structure from which the cash will flow. I reckoned we were lucky to have had the years we had, to enjoy the beauty and the beat of the graffiti on the street, seen from the windows of the subway train as it snaked its way through LIC.
So with these thoughts, I headed onto 45th Road, to the Jeffrey Leder art gallery to witness and participate in the Whitewash art exhibit opening night reception. Click here to read our report about Whitewash art exhibit / 5 Pointz in LIC.
---
---
World's Fairs 1939 & 1964 Redux
Those Crazy Middletons Return To Queens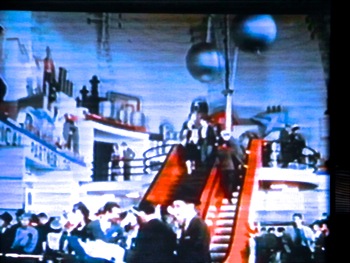 March 25, 2014 / Astoria Neighborhood / Queens History / Queens Buzz. I attended the first film of a Greater Astoria Historical Society month long program featuring films, lectures and a walking tour of the fairgrounds of the 1939 and 1964 World's Fairs in NYC. Both fairs were hosted in Flushing Meadows Corona Park just south of CitiField Stadium.
There was a great deal of promotion surrounding the 1939 World's Fair as NYC rolled out the red carpet for travelers from around the nation and around the world. Robert Moses, the NYC Parks Commissioner, had chosen the site as he planned to use development funds to continue his efforts to convert the old ashpile into the beautiful park it is today [although it could use a bigger maintenance budget].
The Middletons returned to Queens via celluloid, as shown in the film still above right. In this photo the Middletons are at the 1939 World's Fair in the Westinghouse area, which they never left since Westinghouse had produced the film.
The theme was the World of Tomorrow, and the 1939 World's Fair showcased science and consumerism in a utopian vision of the future. But WWII was around the corner, and helped contribute to the fair financial woes.
The Greater Astoria Historical Society continues its journey into the past with a second film to be shown Saturday at 1.30 pm at their Astoria location. The film on Saturday will be about the 1964 World's Fair. Lectures and walking tour to follow later in March and April.
Click here to read a report we filed last year about the 1939 World's Fair in NYC.
---
---
Steinway Mansion Under Contract
Updated - Steinway Mansion Under Contract To Private Buyer
Historic Mansion Was Built By Early NYC Technologist & Later Bought By Renaissance Man
Great Opportunity For Queens Officials To Act On Their Speeches About Nurturing Culture, Historic Preservation & Tourism
March 12, 2014 / Astoria Neighborhood / Real Estate In Queens / News & Opinion. Queens Buzz. Well, the saga is almost over. NYC and Queens government officials are about to let slip into private hands, the greatest historical relic of the 1800's in Queens. And what could have been - and could still be - one of the greatest historic sites / historic tourist attractions of Queens.
IMAGINE YOURSELF HANGING OUT ON THE MANSION GROUNDS ... & read on ...
It's not that Queens and NYC government officials haven't had a chance to save it. The historic mansion, which was landmarked for its historic signficance decades ago [landmarking prevents changes to outside of the structure], came on the market in August of 2010. The asking prices has been between $2 and $4 million, which given that far smaller homes with no significance are already selling for over $1 million in the Astoria neighborhood, it seemed like a reasonable asking price.
Click here to read the rest of our report about the Steinway Mansion Under Contract. The story includes photos and links to other stories we've done over the years about the Steinway Mansion and it's inhabitants and their endeavors. The story also includes the business case for taking the Steinway Mansion public and transforming it into a museum / cultural destination for all of Queens, NYC & the world.
---
---
---
St Patricks Day Parade in Queens & Photos 2014
De Blasio Presence @ St Pat's Day Parade ...
Creates Media Frenzy As New Mayor Makes A Statement About Inclusion
March 2, 2013 / Ethnic Culture in Queens / Sunnyside & Woodside / Queens Buzz. I attended the St Pat's For All Parade in Queens on Sunday afternoon. It was an overcast day, with temperatures in the 30's. Speeches and an Irish cultural celebration began at 1 pm, followed by the parade which was to begin at 2 pm, but didn't get going until about 2.45 pm.
This year I skipped most of the pre-parade show and, like many in the crowd, awaited the presence of Mayor Bill de Blasio. De Blasio is the first Mayor of NYC to politely decline to march in the Manhattan St Patrick's Day Parade because it bans gays from marching in it.
The Mayor's presence included an increase in the presence of NYC elected officials who attended the parade. This included the new Queens Borough President, Melinda Katz, which is worth noting since it's the first time a Queens Borough President has attended this parade since I began covering it in 2008.
Click here to read our report about and view photos of the St Pat's Parade in Queens, including a photo slide show.
---
---
Chinese New Year Parade In Queens
The Year of the Horse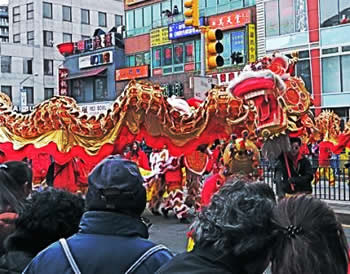 February 10, 2014 / Flushing Neighborhood / Ethnic Culture in Queens/ Queens Buzz. On Saturday February 8th at 11 am Flushing Queens celebrated the year of the horse with a traditional Chinese New Year Parade. The parade encompassed a cast of over a thousand and lasted nearly two hours.
The year of the horse in Chinese culture symbolizes kindness, strength and gregariousness. It's also a symbol in the Chinese zodiac and falls into the wood category which signifies strength and flexibility. In the photo to your right is a dragon in the Flushing Queens Chinese New Year Parade taken in 2013.
---
Queens Community Boards
CB Application Deadline Is January 31st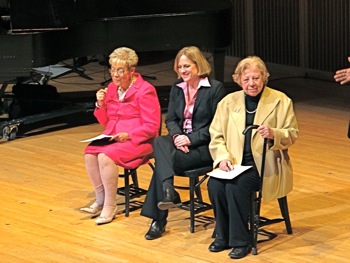 January 13, 2014 / Queens Politics / Queens Buzz. The new Queens Borough President, Melinda Katz, was sworn in on Thursday, January 9th. During her campaign and since she was elected, Ms. Katz indicated her top priority is going to be economic / real estate development in the borough, including borough infrastructure.
In reviewing Melinda Katz's background, it appears she has spent her entire life preparing to be Queens Borough President, with an eye toward economic / real estate development.
Melinda has worked with Community Boards as a liaison for a previous administration, chaired the Land Use Committe as a member of City Council, and took a position as a development lobbyist for a large international law firm in Manhattan. Melinda stated during her campaign and since taking office that she's very interested in bringing new economic and real estate developments to the borough.
New development will create new construction and service jobs, and increase demand for private goods and services; as well as public services such as private and public transit, parking space, open space / parks and schools. Hence, there are a wide variety of considerations that must be taken into account as new developments move through the governmental process.
Community Boards are the primary mechanism in the governmental process for the provision of community input. For decades they have played, and will continue to play, a key role in community development.
The deadline to apply for a position on a Queens Community Board is January 31st. Click this link to obtain an application from the Office of the Queens Borough President. Community Board members are selected by the Queens Borough President and the City Councilmember of the District. The new Community Board terms begin April 1, 2014.
---
---
Queens School Changes
Educational Infrastructure Lags Population Growth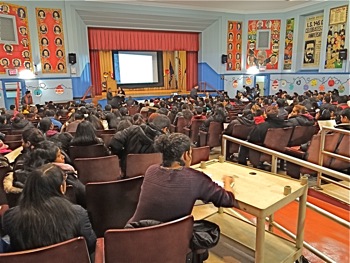 January 28, 2014 / Jackson Heights & Woodside Neighborhood / Queens Schools / Queens Buzz. I attended a Department of Education meeting to discuss the proposed changes scheduled for Intermediate Schools 230 and 145 in Jackson Heights. The plan calls for adding new space to I.S. 230, and then redrawing the district map for the two schools, so that going forward some children who would have attended I.S. 145 will enroll in I.S. 230. The children currently attending I.S. 145 will not be affected.
The intent of the plan is to alleviate the overcrowding in I.S. 145 which is operating above capacity. The overcrowding would be addressed by redrawing the school district maps following the completion of the new building at I.S. 230, so that fewer students would enroll in I.S. 145 going forward. The meeting was well attended as the I.S. 145 auditorium was fairly full when I arrived.
About half or better of the attendees were spanish language speakers and the Department of Education had not brought enough Spanish translation headsets to conduct the meeting bilingually without having the English presentation followed by a Spanish translation by a volunteer in attendance. A couple of community leaders drew my attention to this, and one of whom - an educator himself - was very irate. He explained that by not having enough headsets, the meeting would now accomplish about half as much in the same time period because of the time consumed in explaining things first in English and then in Spanish. With the headsets, the explanations would be been communicated simultaneously. He also noted that the translator was a volunteer and there wasn't any mechanism in place to ensure that the volunteer's translations were correct.
I.S. 145 recently suffered a tragic loss, as a student was killed by a motorist only blocks away from the school. Within the past six months three school age children living in the Jackson Heights vicinity have been killed by motorists, and the safety plan for the new building was one of the many concerns on the agenda. We'll post more about the meeting, and include an update about some of the proposed changes to address overcrowding in a Woodside school as well.
It seems that Queens schools, like other aspects of Queens public infrastructure [the #7 subway line / mass transit] and affordable housing, are lagging well behind Queens population growth and private development.
---
---
Jamaica Real Estate - The Art Of Selling
Jamaica Center BID Talks About The Re-Emergence Of An Age Old & Vibrant Commercial Center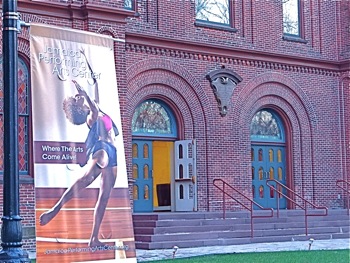 December 30, 2013 / Jamaica NY Real Estate / Jamaica NY / Queens Buzz. Earlier this month I attended an event hosted by the Jamaica Center BID to talk about real estate and commercial opportunities in the Jamaica neighborhood of Queens.
Jamaica is one of the largest and most vibrant commercial areas in Queens, and the event was designed to talk about Jamaica in that light.
I arrived a bit early and met with Felicia Tunnah, the new Executive Director of the Jamaica Center. It seems the subways and traffic congestion had conspired to delay speakers, attendees and possibly the event, but it wasn't too long before it began. Click here later this week to read more about real estate in Jamaica NY.
---
---
ACA Deadline Extended To 12/23
Registration For January 1st 2014 Insurance Coverage Extended To Dec 23rd In Queens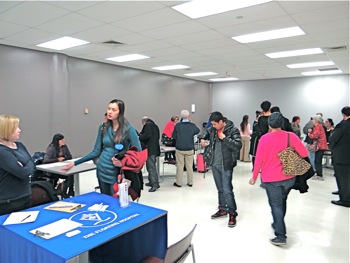 December 17, 2013 / Healthcare in Queens / Queens Buzz. The deadline for registering with the New York State healthcare / insurance exchange for January 1st, 2014 insurnace coverage has been pushed back a week from December 15th to December 23rd. We understand that implementation of the Affordable Care Act [ACA aka Obamacare] continues to be affected by executional problems, but according to experts, the problems are being addressed and the number of issues are abating.
In the photo to your right are Queens residents talking to Affordable Healthcare Act navigators who provide free assistance to people in selecting a healthcare plan. This event was sponsored by the office of City Councilmember Jimmy Van Bramer at LaGuardia Community College in LIC.
There are a few things we've picked up over the past week that are worth mentioning at this point.
First be aware that the providers listed on any given insurer's website is subject to change and sometimes the providers listed have quit the program and sometimes there are providers who are participating in the program who are not listed. This situation also oftentimes occurs with other insurance providers / health maintenance organizations. According to a policy expert from the Robert Wood Foundation, a healthcare focused non-profit, the listing / not listing issue on insurers' sites has increased by about 10% since the implementation of the Affordable Healthcare Act began in Queens on October 1st. The reason for this is that healthcare providers and insurers continue to analyze and evaluate how they are going to manage their networks to accommodate the influx of new patients / clients.
Another thing participants need to pay attention to is that participants need to obtain a card or member number from the insurance company in order to obtain / use the benefits from the listed healthcare providers. As we understand it, a number of people have registered using the NYS exchange and thought they had completed the process prior to obtaining their member number / insurance card. Exchange registrants need to follow up with the insurers to obtain the card. We also understand - but this has not been confirmed - that participants need to make their first payment for the plan they choose, prior to being able to obtain the benefits / use the healthcare system.
Lastly, another item we picked up refers to a clause in the program with respect to people who switch plans. Healthcare Plan Switchers are able to change providers during the year, but those who do so will be subject to higher co-pays. So try to choose a provider you think you will work for the long haul. We'll have more on the implementation of the Affordable Healthcare Act in Queens later this month.
Click here for prior coverage of the Affordable Healthcare Act in Queens [aka Obamacare in Queens].
---
---
Restaurants In Jackson Heights - La Portena Argentine Steakhouse
Restaurants In Jackson Heights
LaPortena Argentine Steakhouse
Jackson Heights Neighborhood / Jackson Heights Restaurants / Queens Buzz. La Portena Argentinian Steakhouse isn't exactly the kind of restaurant that would come to mind when you think of Jackson Heights ... that is unless you live there. La Portena Argentinian Steakhouse is located at 74th Street and 37th Avenue in Jackson Heights. It's quite a popular restaurant which is what first caught my attention. While Indian, Bangladeshi, Thai and Nepalese restaurants first come to mind when thinking about Jackson Heights / Elmhurst restaurants, there's an entire Latin American flavor to the restaurant mix in the neighborhood - and the food and service are both very good. Click here to read a the full review of La Portena Argentinian Steakhouse, including more photos.
---
---
---
---
Astoria Furniture Stores Have It All - Queens
Astoria Shops / Astoria / Queens Buzz. The furniture stores located on the southern end of Steinway Street in the Astoria neighborhood of Queens seem to have something to offer to just about everyone. This part of Steinway is a furniture shopper's mecca, offering plenty of choices from classical colonial, to urban apartment living to bedding to suit nearly every spine.
I took a quick trip there, which is easily accessible via the N, W, G, R or V subway lines and within a sturdy walking distance from Long Island City, Astoria, Sunnyside and Woodside. Just up the street from Steinway is Broadway, where you'll find the Omonia Cafe where after a good morning or afternoon of shopping, you can kick back along one of the sidewalk tables ane enjoy a bit of coffee and some delicious baked goods. Click here to learn more about the furniture stores in Astoria Queens.
---
Click to buy eyeglasses in Queens / opticians in Queens, for hair salons in Astoria, for Midtown dentists & Midtown Chiropractors, sales on small business Saturday in Queens and for things to do in Queens. Eyeglasses in Jamaica NYC.
---
Mens Clothing Styles - Queens
Shopping Queens / Astoria / Midtown Buzz. Esquire Men's Clothing Store continues to serve the greater Astoria and Queens area, as it has for nearly thirty years.
The shop is owned and managed by Frank and Kevin Adhami, and their father, who is in his eighties, still visits the store on an almost weekly basis.
Esquire is located along Steinway Street between 30th and 31st streets. The store contains a wide selection of men's coats, suits, casual wear, shoes and men's accessories like belts and ties.
This story will provide some information about the store itself as well as fashion recommendations for the Spring and for job hunters.
Click this link to view a story written on Men's Clothing In Astoria Queens NY. Click here for men's clothing stores in NYC, and here to buy Stone Rose shirts in NYC, and here to buy Alberto pants in NYC, and here to buy Eton shirts and here to buy Hugo Boss sneakers in NYC.
---
Queens Farmers Markets
Astoria Sunnyside Woodside Jackson Heights Long Island City LIC Flushing Jamaica / May 20, 2014 / Queens Buzz. Two farmers markets are in full swing - in Jackson Heights & Forest Hills. Most will begin opening between May & early July. The Jackson Heights & Forest Hills markets operate year 'round.
Click the link below to see a listing of the Queens Farmers Markets 2014 including links to maps. Click the other link below for a listing of the Queens Street Fairs schedule of 2014 including dates and maps showing their locations.
Click here for our updated posting of Queens Street Fairs - Queens NY. Click here for a listing of the Queens Farmers Markets. You will always find both street fairs and farmers markets for the current month in the Queens Events section of the site [see top tool bar for button / link]. Click here to view the map of the Jamaica farmers market.
---
---
Queens Real Estate
Real Estate in Astoria, Jackson Heights, Long Island City LIC, Sunnyside, Woodside, Flushing, Jamaica
Queens NY / 2014. These links will take you into sections & reports on the Queens real estate market in Queens beginning in 2009.
These reports include reviews of apartment rental prices, as well as condo, co-op and home prices and availability in the Queens market.
We have also done neighborhood specific reports about Astoria real estate, LIC / Long Island City real estate, Jackson Heights real estate, Woodside & Sunnyside real estate, Flushing Real Estate and Jamaica Real Estate. Click here for our report about women's fashions in Queens.
While we found these neighborhoods mirrored / trailed many of the national trends, we found some interesting differences, including differences from neighborhood to neighborhood.
Click here to read the Queens Real Estate market analysis 2009.
---
Queens Buzz Voluntary Subscriptions or Payments
You can help us continue and possibly expand our coverage, by voluntarily subscribing to

Queens Buzz. Click button for details & for New Years & Valentines Special Ad offer for Restaurants.
---