Queens Things To Do - This Week
Two Weeks Left - Public Pools Open Thru 9/11 - NYC Public Schools Begin 9/8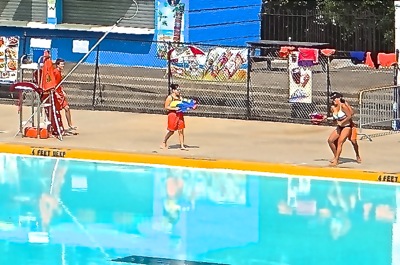 *Weather Forecast as of August 26, 2016 for week of 8/29 - 9/1/16
This week the temperature highs will be around 90, dropping into the low 80's on Thursday. The temperature lows will be in the low 70's dropping to the mid 60's on Thursday. Currently there is a 40% chance of a minuscule amount of rain on Wednesday. The humidity will be in the 50% to 60% range. Winds will be about 10 mph throughout the week.
*Swimming Pools Open Past Labor Day Weekend. The photo at right shows folks haning around the beautiful pool in Astoria Park. The mini pools close Labor Day, but the Olympic sized pools are slated to stay open an extra week this year - thru Sunday September 11.
Monday - U.S. Open Begins
The U.S. Open begins in Flushing Meadows Corona Park and runs through Sunday September 11. See photo at right.
This Week - Many Summer Public Programs End
There are free dance lessons at the pier at Gantry State Park at LIC Landing from 10 to 11 am [member calendar].
Free Summer Concerts, Movies & Theater in Queens
*The details for most of these events may be found on the Member Calendar for Queens Events which contains listings by arts, non-profits & community orgs.***
Also see events that run through the Weekend as noted above as well as clicking into the September events calendar which has a list ofvenues that have ongoing things to do. Click on the link above to go to the Member Events Calendar to view events. And click here tofind art, theater or film open calls, jobs openings, affordable housing, government sponsored classes & funding. The Queens Golfing season is also in full swing.
---
Queens Things To Do - This Weekend
Summer Seasons Ending - Final Shakespeare, LANDMARK Closing at Socrates, Silent Disco, Last PS1 Warm Up Party, Flux Workshop, APAC Stars in Time Travel Adventure, U.S. Open, Art, Swimming
August 26, 2016 / Things To Do Queens / Queens Neighborhoods / Queens Buzz.
*Weekend Weather - 8/26 - 8/28/16
The temperature highs will be around 90 and the temperature lows will be in the low 70's through the weekend. There isn't any rain in the forecast and the humidity should be about 50%, so it looks like a nice weekend. Winds will be about 5 - 10 mph throughout the weekend.
Queens Subways. The 7, N, E, F, and G trains look to be operating normally, with some local stop issues where you have to backtrack, and the Q doesn't operate on weekends in Queens. Click here for details on the MTA Weekender.
*Silent Disco. In the photo at right you can see people dancing at Hunters Point South in the Silent Disco of last year. To those watching it's quiet and to those dancing, there's no vibrations from the music - because all the music is in their headset. Silent Disco returns Friday evening - see below.
Friday & Weekend - Julius C. Shakespeare Flushing, Silent Disco,
*Final Summer Shakespeare Performances. The photo at right shows the Hip To Hip Theatre Company performing a Shakespeare play. This weekend are their last two performances in Queens.
*The second last performance of Shakespeare in the Park by Hip To Hip Theatre Company will be performed at the Voelker Orth Museum at 149-19 38th Avenue in Flushing beginning at 7.30 pm [theater / free].
*There's a Silent Disco at Hunters Point Park tonight beginning at 7.30 near the ferry landing.
*Weekend. The Queens Museum in Flushing Meadows Corona Park hosts a number of long term art exhibits / installations including the World's Fairs, the panoramic map of NYC and Tiffany Glass [art].
*Weekend. The Fisher Landau Center for Art at 38-27 30th Street in LIC has a new exhibit entitled Intuitive Progression featuring 75 artworks by 20 artists [art / free - thru 11/28 & open Thurs - Mon 12 noon - 5 pm].
*Weekend. The Noguchi Museum on 9-01 33rd Road & Vernon Boulevard in LIC / Astoria [art].
Saturday - APAC Stars in Time Travel Adventure, Family Fun Day, Season Ending Shakespeare in the Park, Last PS1 Warm Up Party & Swimming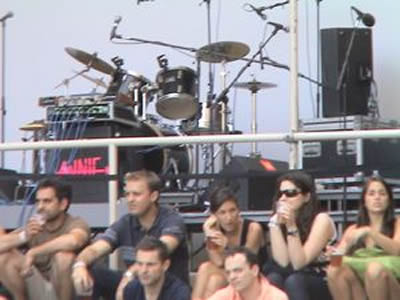 *PS1 Warm Up Party. The photo at right shows a photo of a PS1 Warm Up Party in a prior year.
*Click to Queens Events Member Calendar to view a number of additional weekend events.
*The Swimming pools are open at Astoria Park and Flushing Meadows Corona Park Natatorium and other Queens public pools [kids / sports]. Click here for a list of swimming pools in Queens.
*The PS1 Warm Up Party at MoMA at 22-25 Jackson Avenue in LIC runs from 3 pm to 9 pm - Stretch Armstrong & Bobbito NY /
DJ Paypal / Teklife + Brainfeeder + LuckyMe Germany / A Boogie Wit Da Hoodie / Highbridge Label Bronx / Elysia Crampton / Break World / Sacramento, CA + Bolivia
Ash Koosha / Ninja Tune London [music / art - $25 / $22].
*The Astoria Performing Arts Center at Good Shepherd United Methodist Church at 30-44 Crescent Street on 30th Road in Astoria is hosting two performance of the Century Train which is an original work about a time-travel adventure to Queens in 1916 including a rap song written by the stars [summer workshop students & adults]. Performances begin at 4 and 6 pm [$15 / $12 / $5].
Also SEE FRIDAY & WEEKEND EVENTS ABOVE that run on Saturday & Sunday. Also see Queens swimming pools, Queens farmers markets & Queens street fairs.
Sunday - Flux Workshop, LANDMARK Closing Reception, Last Travers Park Summer Concert & Art
*Shooting Hoops. The photo at right shows a skilled pick up basketball game in Queens at one of the public parks.
*There's a workshop from 2 - 6 pm at the Flux Factory at 39-31 29th Street in LC in association with a new exhibition entitled Artificial Retirement which explores the relationship between humans and their devices. The workshop is entitled In Honor of Imperfection and is geared toward opening up the artists within [art / $10 / $30 includes materials - rsvp at www.fluxfactory.org].
*Flushing Town Hall at 35 Northern Blvd is hosting Arts & Antiques Auction Benefit Brunch which includes brunch and an auction of items to help raise funds from 11 am to 4 pm [$45 / music].
*There's free closing reception for LANDMARK at Socrates Sculpture Park at Vernon Blvd & Broadway in Astoria / LIC beginning at 4 pm [art /free].
*There's free theater beginning at 2 pm City Parks Puppet Mobile does Puss in Boots, followed at 4 pm by Theater for a New City performing Teach It Right Or Right to Teach at Travers Park at 78th and 34th Avenue in Jackson Heights [kids / free].
*Weekend. The Queens Museum in Flushing Meadows Corona Park hosts a number of long term art exhibits / installations including the World's Fairs, the panoramic map of NYC and Tiffany Glass [art].

Also SEE FRIDAY & WEEKEND EVENTS ABOVE that run on Saturday & Sunday.
---
Panorama Music Fest on Randalls Island
Three Day Musical Festival Strikes a Grammy Chord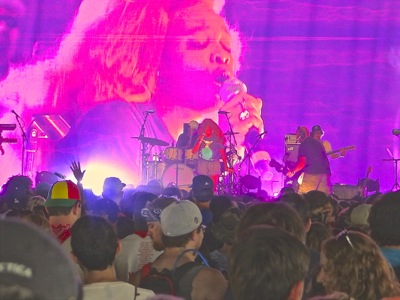 July 25, 2016 / Randall's Island near Queens / Music in Queens / Queens Buzz.
I attended the Panorama Music Festival on Randall's Island this past weekend. The music festival featured dozens of top and second tier bands and musicians with the event starting Friday and ending Sunday night. Some of the music festival headliners included award winning groups like Kendrick, Alabama Shakes and the return of LCD after a ten year hiatus. Panorama also featured a number of other highly regarded, well known groups - many of which are likely to continue gaining recognition.
In the photo at right, vocalist Sza, is performing in the Pavilion at the Panorama Music Festival on Randalls Island on Sunday.
The weather over weekend was a very seasonal hot, with temperatures hitting nearly 100 on Saturday [high 98], before descending into the low 90's on Sunday. But the island breeze coming across the East River on Randall's Island and not-too-high humidity, made strolling around the event campus not only doable, but enjoyable. There was also a public water station where you could refill your water bottle [free] and there was ample shade within the tree filled park.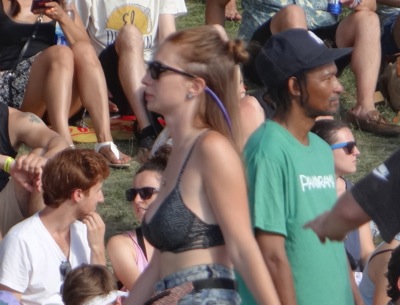 The crowd dressed for Panorama to beat the heat, more than anything else. This translated into a near beach-like scene for people-watching, with many youthful men and women enjoying the glow of their Adonis-like years. In 1992 there was a gender equality lawsuit, which contested women's right to go topless without being arrested - a right men enjoyed in this country since its founding. More than a decade later, in 2015, panhandlers in Times Square began asserting that right by painting their bare breasts with American flags and other designs, while soliciting tips from resident and tourist passers-by, for the pleasure of viewing them. These 'performance artists' were nicknamed the 'Desnudas'.
NYS and NYC Government officials found a way to reign in this practice - as it was creating quite a stir - by confining the solicitations to specified areas within the Times Square Plaza. Fast forward to 2016 and things continue to evolve, with women now wearing swimsuit / lingerie-like tops as fashion statements, some of which were on display at the Panorama Music Festival.
In the photo at right, a woman sports a fashionable swimsuit / lingerie-like top, at the Panorama Music Festival on Randall's Island.
We'll have a bit more later this summer, including video and a discussion of some of the art on exhibit at the Panorama Music Festival on Randall's Island in NYC.
---
Marty's Museum & Camera Repair Shop
Marty's been Helping Folks take Pictures & Videos for Decades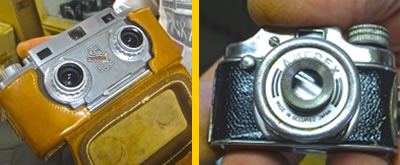 July 19, 2016 / Forest Hills Neighborhood / Queens Shopping / Queens Buzz.
I headed down to Marty's Camera a couple of weeks ago, with a camera that wasn't working well. I bounded up to the second floor shop and was greeted by a saleswoman who queried me about the problem while writing up a ticket. As she took the photographic patient into the operating room, she told me to call back at the end of the day to find out when to return to pick it up.
I did as instructed and returned the following day. When I arrived at the repair shop, Marty emerged from the operating room having successfully completed surgery on the photographic patient. We started talking about the problem [I dropped the camera and it wasn't focusing properly] and the conversation meandered onto the changing technologies in the image capturing business.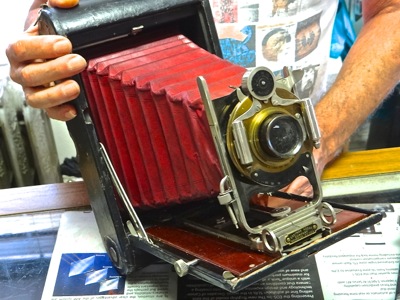 Marty told me that cameras were once mechanical miracles fullof delicate springs and levers, and today are even more miraculous, less delicate and full of a multitude of computer chip components and assemblages. The camera surgeon was tired that day, and said he'd like to give his brain a rest, so the conversation moved onto the history of cameras themselves.
I asked him about some of the more interesting cameras with which he'd comeinto contact. Marty wasn't at a loss when it came to camera history, and soon produced a Japanese made camera that contained the inscription "Made in Occupied Japan". He had another camera from the 1950's that was a 'stereo camera', which would take two photos simultaneously. I asked him if there were many of these made and he guessed that these weren't a big hit and might not have been in the market very long.
Marty had a collection of cameras, the prizes he cherished were the cameras made in New York. Possibly the crème de la crème was a1909 camera made in Rochester, New York that came in a dark black case and opened up with a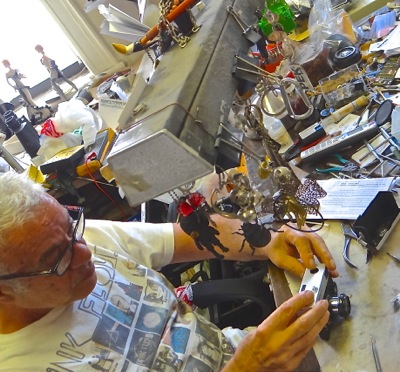 flashy, red-colored, old-fashioned funnel. It was likely state of the art over a century ago. I began to think of Marty's shop as something of a camera museum and Marty as its curator.
The conversation rolled onto the photographers and videographers and film makers Marty had met over the years. A number of photographers had given Marty samples of their work which he put on display in the waiting room of his office. Marty had started out in the late 1960's / early 1970's as a photographer himself, before become a camera doctor in 1973. He spent decades working in camera repair in Manhattan before leaving Photo Tech Manhattan in 1999, when he started out on his own in Forest Hills in the basement of a building across the street. He moved into the offices he now occupies over a decade ago and he continues to serve struggling, emerging and hobbyist photographers and filmmakers.
I knew as I was departing, that Marty had many more stories to tell. And although I don't want my cameras to break, I always look forward to visiting Marty in his camera repair shop which is located on the 2nd floor of 71-25 Austin Street in Forest Hills [just off the #7 subway].
---
Jamaica Just My Style Fashion Show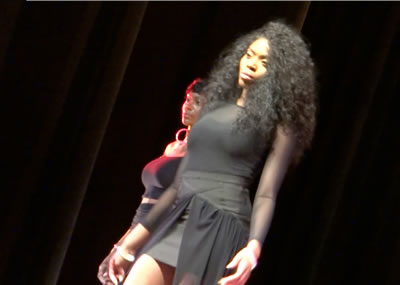 June 28, 2016 / Jamaica Neighborhood / Queens Fashion / Queens Buzz.
The following was a video shot at the Jamaica Just My Style Fashion Show on June 18th.
We had to pull the video because of copyright issues related to recording the music used in the show.
The show included a number of attractive models - of both genders who sported the clothing sold by Jamaica Avenue retailers, as well as designed by some of Queens own fashion designers.
Although Queens is not yet known as a fashion capital, it is the home to a number of up-and-coming fashion designers and models. Cazal eyewear is just one example of a raised in Queens fashion brand.
We'll have the full story later this summer.
---
Only in Queens
Muslims & Jews Organize Iftar Ramadan Dinner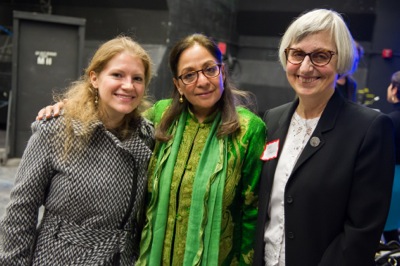 June 7, 2016 / Forest Hills Neighborhood / Religion & Culture in Queens / Queens Buzz.
Only in Queens. On Thursday June 9th, the Turkish Cultural Center and the Central Queens Y will break bread together at an Iftar Ramadan dinner beginning at sundown [7.30 pm] at the Central Queens Y at 67-09 108th Street in Forest Hills.
Ramadan is the ninth month of the Muslim year and the holiest month of the Islamic year. During this time Muslims pay special attention to praying, fasting and reflecting upon their lives. The Islamic Holy Month has similarities to the Christian Lenten season, as well as the Judaic Day of Atonement, Yom Kippur.
Islamic cultural traditions are based upon the lunar calendar, so the Ramadan Holy Month moves slightly around the solar calendar, from year to year. This year Ramadan began on June 5th and will end on July 5th. Attendees of all faiths are welcomed, as are families. The intent is to embrace a harmonious understanding of our shared planetary cultural identities, which the framers of the U.S. Constitution had envisioned centuries ago when they founded this nation.
The Iftar Dinner will be a dairy Middle Eastern meal catered by Meal Mart from Kew Gardens Hills. Meal Mart is Glatt Kosher and is under the supervision of the Vaad Harabonim of Queens. The meal costs $15 per adult and children under 12 are $5 each. Reservations may be made by registering online at www.cqy.org/tickets or you can call 718.268.5011 - ext 151, or email pkurtz@cqy.org.
---
---
---
The Garden School Jackson Heights - Private Schools in Queens
Cultivating Character at the Garden School
Jackson Heights Garden School Evolves with Community
July 17, 2016 / Jackson Heights / Schools in Queens / Queens Buzz.
This Spring I spent some time becoming better acquainted with the Garden School in Jackson Heights. The Garden School is a private,non-profit, neighborhood school that primarily serves the Jackson Heights and Queens community- and which has begun to pursue the growth in interest from the nearby boroughs of Manhattan and Brooklyn.
What makes the Garden School unique? The answer to that question is quite possibly as long, as the history of the school itself.
One of the first aspects of the school uniqueness I discovered, stood squarely in the midst of a photograph of its Founding Fathers of 1923. It turns out that Edward MacDougall, the Founder of the Queensboro Corporation, was one of the leading forces behind the creation of the Garden School. The Queensboro Corporation was the leading and largest real estate developer of the Jackson Heights neighborhood nearly a century ago.
In addition to investing in the erection of some of the highest quality residential buildings in all of Queens - and for that matter all of New York City - the Queensboro Corporation alsoinvested in developing the human infrastructure of the Jackson Heights community through the creation of the Garden School.
The photo at right was taken of a theatrical production, in the early days of the Garden School, in the playground thatlies adjacent to the school. This playground recently served a pivotal role in the Garden School history, and has emerged as an opportunity for both the school and the community to come into even more harmonious goal alignment.
Today, nearly a century later, the vision and the quality of a Garden School education endures. In some manner, one might say that the quality of a Garden School education has withstood the passage of time, as well as the high quality construction of the pre-war buildings of the Jackson Heights neighborhood. The high quality of the historic buildings in the Jackson Heights neighborhood remains head and shoulders above the construction quality of most of the other buildings of that time - and likely by an even a larger margin - way ahead of the quality of the glass and steel skyscrapers being erected today.
In some similar measure, the Garden School has maintained a standard of educational value that compares well with its public and private school peers. Amidst all of the turmoil surrounding the efficacy of the public school system, and when measured in value against the soaring costs of a private school education, the Garden School has thrived, survived and is beginning to grow again.
To be sure, nearly a century ago - the schools, the buildings and the real estate developers were different than they are today, which we will see as we journey back into the past, and return to the present, of the Garden School in Jackson Heights, Queens.
Click here to read the rest of our story about the Garden School in Jackson Heights, one of the oldest & most prestigious private schools in Queens.
---
---
Astoria International Cultural Festival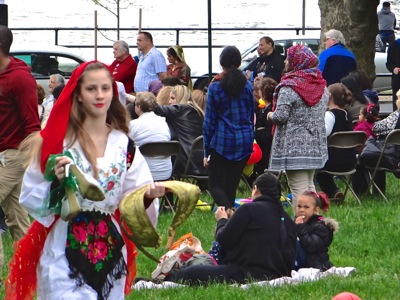 May 31, 2016 / Astoria Neighborhood / Ethnic Culture in Queens / Queens Buzz.
On Saturday May 21st from 1.30 until past 6 pm, there was a series of cultural performances held on the Great Lawn of Astoria Park. The event was hosted by the Central Astoria Local Development Coalition [CALDC] to showcase the multi-ethnicity of tne neighborhood.
Nearly a dozen local cultural groups performed, including Ballet Los Pampas representing Argentina, KUD Halaturko representing Bosnia, Croatian Franciscan Fathers Youth Club, Ayazamana Cultural Center representing Ecuador, Cretan Association representing Greece, NYC Bhangra representing India, McManus School of Irish Dance, The Braata Folk Singers representing the Caribbean / Jamaica, and the Korean Traditional Music and Dance Center.
There was a crowd that numbered in the hundreds over the course of the afternoon. Many brought lawn chairs and blankets to sit upon while they watched the show. The weather cooperated as the temperature was in the 60's and while at times cloudy, it was dry.
Several food vendors came out to augment the cultural celebration, now in its second year. As I came late in the afternoon, I had missed the prime time of that part of the event. In the photo at right you can see one of the performers walking up the Astoria Park Great Lawn after her performance.
Click here for a brief video of some of the 2016 International Culture Festival in Astoria Park.
---
---
5th Annual Queens Fashion Show
Jamaica Just My Style Hits the Runway Saturday 6/18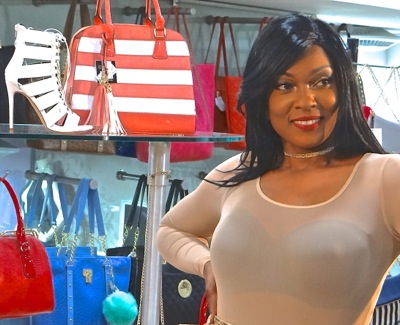 June 13, 2016 / Jamaica Neighborhood / Queens Fashion & Style / Queens Buzz.
The 5th Annual Jamaica Just My Style Fashion Show arrives Saturday at the Jamaica Performing Arts Center. Mrs. Queens, Nadine Grisby, will be headlining the event, which showcases local Jamaica and Queens designers, models and retailers.
I had an opportunity to get a small preview of some of the glitz and glamour in early May when the Jamaica Center BID [Business Improvement District] held a photo shoot at Pretty Women and Hotpoint Fashions, two leading women's clothing stores located along Jamaica Avenue near 165th Street.
It was a cool Spring day as I made my way to the photo shoot. The first photos were to be taken in the upstairs of Pretty Women, which is located in a large, spacious early 20th century store located along Jamaica Avenue just west of 165th Street.
Fashion Photo Shoot on the Ave - Mrs. Queens at Pretty Women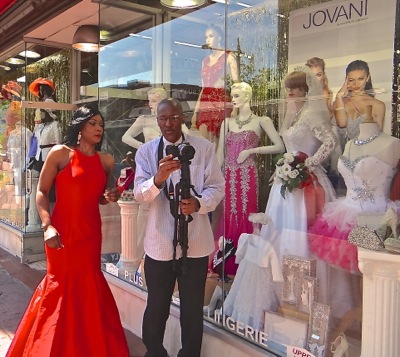 I walked up the steel framed staircase, appreciating the vintage beauty of the old department store. As I walked out onto the second story floor, the nearly century old wooden floorboards announced my presence. The flooboards provided an ever-so-soft reassuring cushion, like an old fashioned gymnasium allowing me to glide along toward the center of the store where Mrs. Queens, Nadine Grisby, was being photographed by Teddy Wilson. Jamaica Center Director of Business Services and Operations, Valerie Stevens, was also there facilitating the entire photographic event.
I joined in the festivities, photographing Nadine, as she danced and showered us with her theatrical persona. Pretty Women had arranged to have a few formals photographed for the shoot. In between the posing, while Mrs. Queens was changing outfits, I took a few photos of the store, which I've included in the video below.
Before departing I was introduced to Bert Salih, who has been operating the Pretty Women clothing store for 22 years on Jamaica Avenue. Pretty Women moved into this building only two years ago and has filled it with women's formals and evening wear for weddings, formals, proms and Quinsera, in sizes ranging from 2 to 24 and in names brands including Jovani, Colours, Serendipity and Mary's Bridal of Texas. He went on to tell me that this was the first time he had decided to participate in the Jamaica Just My Style Fashion Show, but that he was very excited to do so.
Click here to read the rest of the story about the Jamaica Just My Style Fashion Show in Queens, including links to prior years coverage, a video of some of the photo shoot, an interesting tale about Mrs. Queens and a link to free tickets to the show on Saturday.
---
---
Taste of Sunnyside 2016 Photos & Video
Serving Sunnyside a Taste
Neighborhood Businesses Provide Samplings of Beverages & Cuisine
May 24, 2016 / Sunnyside Neighborhood / Queens Food & Wine / Queens Buzz.
Lowerys Wine & Liquor Prepares for Taste of Sunnyside 2016
On Tuesday afternoon on my way home from a gig, I found myself stopping in at Lowerys Wine & Liquors for a brief hello. Lowerys has long been an institution serving the Sunnyside community, and I found Owner Anthony Lodati and Manager Janet Rios hard at work, preparing for the 7th Annual Taste of Sunnyside, which was to be held later in the day.
Along the casked walls there was an ample selection of wines, and I found Anthony moving about the store like a sommelier in pursuit of a mix of wines for the evening. Meanwhile, back in the office and staging area, I found Janet preparing party favors for the event, which were to be gifted at half-hour intervals, during the Annual Sunnyside Taste 2016.
As they were both pre-occupied, I shot a few photos and continued my journey home.
Later that afternoon, I headed over to the Taste of Sunnyside, for a few nibbles and sips. This year the Taste of Sunnyside featured seven beverage companies and 25 Sunnyside restaurants.
7th Taste of Sunnyside 2016 in Photos & Video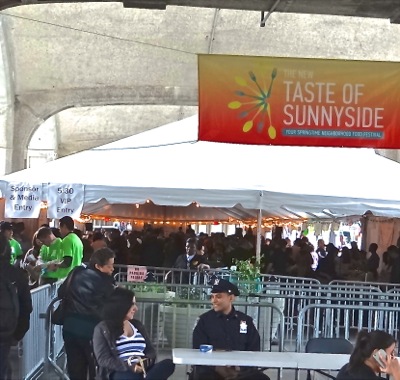 The Taste of Sunnyside 2016 is in its 7th year, the first of which started at Queens Boulevard and 39th Street in 2010. The intent of the Taste of Sunnyside event is to raise awareness of some of the restaurants and beverage companies serving the neighborhood, while simultaneously raising funds for the Sunnyside Shines Business Improvement District [BID].
The Sunnyside Shines BID's mission is to promote a specified commercial district of the neighborhood running from about 50th Street down to about 38th Street along Queens Blvd and the eastern section of Greenpoint Avenue through a combination of area maintenance and business enhancement services.
Click here to read the rest of the story about the Taste of Sunnyside 2016 with photos & video.
---
Click here for things to do on the Upper East Side UES, or things to do in Midtown NYC, or things to do in the East Village and here for Whitestone hair salons.
---
---
Corona History Comes Alive
Queens Authors Revive Over a Century of Vanishing History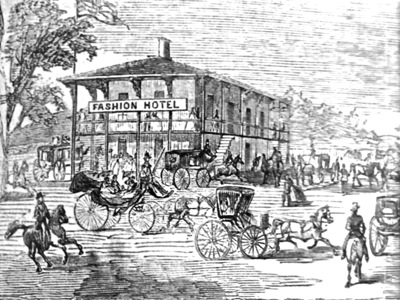 May 16, 2016 / Corona Neighborhood / Queens Historical Society in Bayside / Queens Buzz.
I spent an evening at the Bayside Historical Society at Fort Totten listening to two Queens historians recount the glorious past of what is now known as the Corona neighborhood. Historians Jason Antos and Constantine Theodosiou teamed up to research what I'd call 'ancient' Corona, which recounts the history of Corona prior to the first Worlds Fair in 1939.
The photo to your right is a print of The Fashion Hotel, which was adjacent to the Corona Race Track, on a race day.
The history was far more interesting than I had expected, as I had preconceptions that the history of Corona had been told in prior works about Jackson Heights and Flushing. But the two intrepid historians, whose ethnic affiliation dates back to Thucydides, one of the first great historians of the western world, unearthed a treasure trove of historical lore which brought the neighborhood back to life, as an entity in its own right.
Among their findings was the tale of Tiffanys, Typhoid Mary, homestead mansions, early country and suburban living, and what I came to think of as the forerunners of the Belmont and Aqueduct Race Tracks. There is also a section about an early modern Corona real estate development, which had a character and quality very different from what was going on in neighboring Jackson Heights.
The two authors will be presenting their book at the Queens Historical Society this coming Sunday, May 22nd from 2.30 to 4.30 pm where they will also be signing books.
---
Who's Behind NY Post's Media Hazing of Mayor?
Will Billionaire Rupert Murdoch Profit from NY POST's Attack Stories?
Updated May 13, 2016 / Manhattan Neighborhoods / Manhattan Politics / News Analysis & Opinion / Gotham Buzz.
The NY Post's incredible barrage of attack stories on NYC Mayor de Blasio this past month led us to believe that something was amiss.
Is the NY Post Disinforming the Public?
After a month of a barrage of negative attack (ads?) stories regarding the Mayor's campaign funding, someone reading the NY Post might come away believing that Mayor de Blasio had already been convicted of numerous counts of breaking the law. As you will see later in this story, this would not be the first time the Murdoch organization's audience was not uninformed - but rather disinformed.
That said, if they read a newspaper that generally conforms to the professional standards of American journalism, like the New York Times, they would know that,
"It is not clear how direct a role, if any, the mayor played in some of these matters." - NYT April 29, 2016
Infomercials Presented as News?
Given that some of what Murdoch's organization [includes NY Post, Fox News, the Wall Street Journal and hundred(s) more properties] publishes and broadcasts appears to make significant departures from the American professional standards of journalism - one has to wonder if Murdoch's organization hasn't found a way to skirt campaign finance laws - as some of their 'news reporting' looks more like long-winded political infomercials.
Just Because They Say it's So, Doesn't Mean it's So
The NYS Board of Elections says,
"Independent Expenditures Do Not Include Expenditures in Connection with... A written news story, commentary, or editorial or a news story, commentary, or editorial distributed through the facilities of any broadcasting station, cable or satellite, unless such publication or facilities are owned or controlled by any political party, political committee or candidate ..."
Has Murdoch's organization found a way to skirt campaign finance laws by making huge, undisclosed, payment-in-kind, independent media expenditures to support or attack political candidates and push an issue agenda by running infomercials as news stories?
Does this practice enable the Murdoch organization to become the STRING PULLER, who makes their candidates POLITICAL PUPPETS?
Rupert's NY Post Goes After Mayor like Rabid Dog
There were 80 stories published about the Mayor by Billionaire Media Mogul Keith Rupert Murdoch's NY Post in the first 24 days of April.
That's more than three stories per day - and not a single one was positive [a few were neutral]. The stories were authored by 20 reporters, some of whom shared the bylines. This is the equivalent of having the entire editorial staff of a medium-sized daily newspaper, working full time on publishing stories about just one government official.
I'm pretty sure that the Washington Post didn't dedicate this kind of resource to covering the Nixon Watergate scandal in the early 1970's. It seems like overkill, which is generally indicative that something is not right.
I say not right because it has been my experience that this kind of overzealous attack oftentimes reflects more upon the prosecutor than the prosecuted.
Abusive, Power-Hungry Media Moguls in Film - 1941 & 1997
What I found while working on this story had some parallels to the 1997 James Bond movie, Tomorrow Never Dies. In the movie, Eliot Carver is the Media Mogul, and he uses his presses and TV stations to hype a war between China and Britain. In 2002 the NYT did a piece which they entitled 'Mr. Murdoch's War' which was about Murdoch's urging the U.S. and Britain to go to war in Iraq, which we'll have more about later in this story.
During my research a character profile of Billionaire Murdoch began to emerge that was something right out of the film Citizen Kane, who was portrayed by Orson Welles in 1941. It's interesting to note that 1941 was the same year that the FCC capped TV media ownership by a single person / entity at 35%. And this FCC ownership limit was overturned, some say because of Media Mogul Rupert Murdoch, and this will also be covered in more detail a bit later in this story.
The image to your right shows a page out of The Guardian, one of Britain's most respected newspapers, about the culture of Billionaire Media Mogul Keith Rupert Murdoch's organization.
Consider The Source
I. Criminal Acts: Murdoch Declared 'Unfit'
In 2012, only four short years ago, Billionaire Media Mogul Keith Rupert Murdoch was declared "Not a Fit Person" to lead his company by a British public official who led a commission that investigated the criminal operations conducted by people working for Billionaire Mogul Murdoch's media empire.
Click Link & Scroll down for rest of story & Video
Murdoch's NY Post appears to be used as propaganda machine working to oust the NYC Mayor
---
---
Grand Central Atelier: Artists in our Midst
Classical Drawing, Painting & Sculpture Studios Participate in LICAO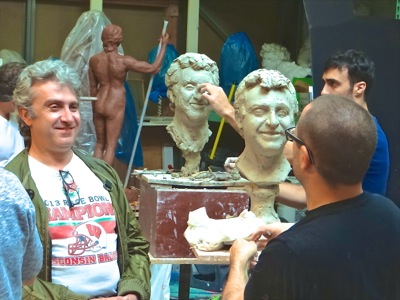 May 23, 2016 / LIC Neighborhood / Arts in Queens / Queens Buzz.
The 6th Annual LIC Arts Open [LICAO] ended yesterday evening. While the weather on Saturday was mixed, Sunday seemed to make up for it. The mission of the LICAO program is to provide a venue for local artists to showcase their studios and works.
A local writer and playwright, Joy Tomasko, has been involved with the Grand Central Atelier for a number of years. I first met her while attending a performance of a theatrical production of hers at the LaGuardia Performing Arts Center, where she was the Playwright in Residence at the time.
I found the play, entitled Surrender, to be deeply philosophical. It was an audience interactive production, which took us on a multi-dimensional journey - so when Joy announced she was doing an interactive art exhibit at Grand Central Atelier during the LIC Arts Open Weekend - I decided to check it out.
In the photo at right are sculptors at Grand Central Atelier creating a bust of an unknown man, who thousands of years from now, will become famous by virtue of the plentitude of busts depicting his personage.
We'll have more on this event later this summer.
---
Which Queens 'Democratic' Pols Support $8 Tolls?
Several Queens Officials Support $8 Tolls on Queensborough & Other East River Bridges & at 60th Street to Raise Capital for the MTA
Queens Democratic Party Chairman Joe Crowley & NYS Governor Cuomo Supported Congestion Traffic Pricing in the Past
March 29, 2016 / Queens Neighborhoods / Queens Politics / News Analysis & Opinion / Queens Buzz.

The new Congestion Traffic Pricing Plan has been making its way into the legislative process over the past year. Just last week NYS Assemblyman Robert Rodriguez, a Democrat from Manhattan introduced the bill on March 23, 2016. The Move NY Congestion Traffic Pricing Plan is being sold into the legislature as a means to raise revenue to fund MTA Capital projects.
Currently NYS Senator Jose Peralta, Cuomo's Deputy of Legislative Affairs Mark Weprin & CCM's Van Bramer, Richards & Reynoso publicly support installing $8 tolls on the Queensborough & other East River bridges to raise capital for the MTA.
Governor Cuomo's Words Are ...
Governor Andrew Cuomo supported the Congestion Pricing Plan put forth years ago, which wasn't popular with many of the voters in Brooklyn & Queens. The two boroughs have a combined population which rounds to 5 million or 25% of the 20 million people who live in New York State.
Cuomo was quoted as making the following statement by the Observer in an article published a year ago on March 15, 2015,
"It's not, 'Can I support it?' Will the people support it? Can you get it done? Can you get a congestion plan passed and we've gone through this a couple of times and it was an overwhelming 'no' and I haven't seen anything happen that would change my opinion,"

The Governor has essentially been repeating this position publicly ever since.
Inconsistent with Governor Cuomo's Staff Actions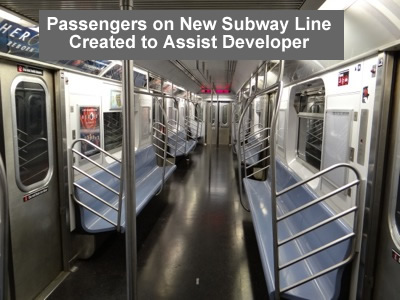 But while the Governor is publicly distancing himself from the measure which is unpopular in Queens and Brooklyn, former NY City Councilmember Mark Weprin, who is now Cuomo's Deputy of Legislative Affairs, has supported the Move NY Congestion Traffic Pricing Plan.
Weprin vehemently oppposed Congestion Traffic Pricing in 2008 when he was a NY City Councilmember, but in 2015 Weprin began publicly supporting the revised Congestion Traffic Pricing Plan as he transitioned from NY City Councilmember to becoming Cuomo's Deputy of Legislative Affairs. NYS Assemblyman David Weprin, Mark's brother, continues to publicly oppose the plan.
It's worth mentioning that the Weprins and the Cuomos have had close family political ties spanning two generations.
Congressman Crowley's Position Circa 2007
Queens Democratic Party Chairman, U.S. Congressman Joseph Crowley, supported the Congestion Traffic Pricing Plan backed by former Mayor Bloomberg, according to a June 11, 2007 report by the New York Times which quoted Crowley as saying,
"the overall [2007] plan — and congestion pricing is just a part of it — will make this a more livable city and make it easier to attract the best and the brightest not only from around the country but from around the world."
We've not yet seen any comments by Congressman Crowley on the current Move NY Plan which was recently introduced.
Move NY's 'New & Improved' Congestion Traffic Pricing Plan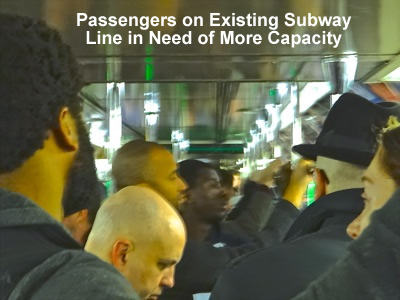 We studied the Move NY Traffic Congestion Pricing proposal by first taking a closer look at what groups are pushing the plan [follow the money]. Gridlock Sam Schwartz Consulting LLC is one of the primary promoters of the plan, and the consulting company is owned in part by a large, multi-national, transit infrastructure contractor. We also evaluated the assumptions they used to create the estimates provided in the plan, which we found to be inconsistent with fairly recent independent studies by respectable institutions, and we also looked at what happened in one of the other cities around the world that implemented the plan.
In essence the plan retrofits [re-prices] the fossil fuel infrastructure, by making a significant investment to install and operate tolling around the center of Manhattan. The remaining proceeds would then go to fund other MTA capital projects [in London this was about half the proceeds]. The pricing would require those who can't afford the $8 tolls [each way] to either use mass transit [recent NYC metro studies have shown this switching doesn't happen] or to cross the bridge at other times at which time the tolls would cost less. The proponents say this would enable those who can afford the tolls to cross the East River bridges and 60th Street more quickly and move around mid Manhattan more easily [less traffic congestion with the rest of the community priced out of their way]. How 'democratic' is this?
Previously MTA Invests Billion$ in New Subways Appearing to Accommodate Billionaire Manhattan Developer(s) & Now Pols Want Metro Residents & Employees to Fund a System to Toll Tax Them to Fund MTA Capital Budget
The MTA during the Bloomberg (Republican) Administration made approximately $8 billion in MTA capital investments for about 30 to 40 blocks of Manhattan subway lines. One line travels from Times Square to the Javits Center [$2.4 billion mostly paid by city] and the other, which was strongly supported by NYC Comptroller Scott Stringer, is expected to travel along Second Avenue from
about East 60th Street to about East 86th Street when it is completed [ran way past budget and time estimates - currently about $5.2 billion].
The latter subway line has been called the 'subway to nowhere', while the other isn't much different - as it terminates at the Javits Center and billionaire real estate developer Steven Ross' & Related Companies' new Hudson Yards development - without any other subway connections. Pundits have opined that one [new #7 Hudson Yards station] and possibly both of these multi-billion dollar investments were made to accommodate Manhattan real estate developers [such as Ross], more than to facilitate transit for commuters and residents of New York City.
When I confronted an MTA spokesperson with this perspective, they told me that the Q line extension would alleviate a considerable amount of the congestion on the north / south east side Manhattan subway line, but made no comment regarding the Hudson Yards station.
The photos above show no passengers on the Javits subway [at an admittedly random time and not long after it was installed], while the second photo shows the #6 subway along the Upper East Side, also at a random time [I have #7 photos that look the same, but didn't have time to find one]. The map to your right shows the new #7 subway line extension ending as an unconnected spur.
Perhaps if the MTA and the government officals who oversee MTA capital project spending were more judicious in their selection of multi-billion dollar projects and allocation of funds, they wouldn't need to make a huge investment of the public's money in the creation and operation of an expensive new tolling system which they plan to use to charge taxpayers $8 tolls to cross 60th Street and the East River Bridges.
This plan essentially aids the wealthy by making their lives easier, while economically discriminating against those with less wherewithal, by making their lives harder. This doesn't strike me as a solution that's 'democratic' at all. There must be less costly, more fair ways to raise additional revenue for transit that NYC commuters - not Manhattan real estate developers - really need.
CLICK HERE TO SCAN / READ THE FULL REPORT on the Move NY Congestion Traffic Pricing Plan.
---
---
Jamaica Jerk Festival Photos - Caribbean Cuisine in Queens
Jamaican Jerk Festival
Afro Caribbean Cultural Event In Queens
July / Jamaica Neighborhood / Ethnic Food in Queens / Queens Buzz. It was a warm, dry, sunny Sunday, as I made my way into Roy Wilkins Park in Jamaica. Today was the 2nd annual Jamaican Jerk Festival, that I'd been waiting in anticipation for over the past few weeks. The Jamaican Jerk Festival is a combination reggae concert and food festival.
I entered through the gates of Roy Wilkins Park in the southern Jamaica neightborhood of Queens, as a slight breeze willowed its way through the trees and crowd. There were retail vendor tents to my left, with displays of vibrantly colored clothing and fashion jewelry Afro Caribbean style. Caps, hats, dresses, shirts and scarves hung loosely in little white tents, as shoppers and merchants mingled and did business.
Click here to read our report and view photos of the Jamaican Jerk Festival.
---
---
---
Astoria Furniture Stores Have It All - Queens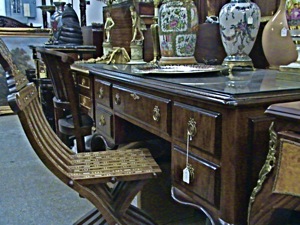 Astoria Shops / Astoria / Queens Buzz. The furniture stores located on the southern end of Steinway Street in the Astoria neighborhood of Queens seem to have something to offer to just about everyone. This part of Steinway is a furniture shopper's mecca, offering plenty of choices from classical colonial, to urban apartment living to bedding to suit nearly every spine.
I took a quick trip there, which is easily accessible via the N, W, G, R or V subway lines and within a sturdy walking distance from Long Island City, Astoria, Sunnyside and Woodside. Just up the street from Steinway is Broadway and two blocks further north is 30th Avenue, where you'll find a number of great Queens restaurants where after a good morning or afternoon of shopping, you can kick back in an enjoyable ambiance - or in the good weather along one of the sidewalk tables - ane enjoy a bit of coffee and some delicious food. Click here to learn more about the furniture stores in Astoria Queens.
---
Click for free checking in Queens or to buy eyeglasses Astoria, for Astoria hair salons, for Astoria wine stores, for Jackson Heights immigration lawyers, for Midtown dentists & Midtown Chiropractors, and for things to do in Queens. Eyeglasses in Jamaica NYC and bike stores Queens.
---
Mens Clothing Styles - Queens
Shopping Queens / Astoria Neighborhood / Queens Buzz. Esquire Men's Clothing Store continues to serve the greater Astoria and Queens area, as it has for over thirty years. The shop is owned and managed by Frank and Kevin Adhami, and their father, who is in his eighties, still visits the store on an almost weekly basis.
Esquire is located along Steinway Street between 30th and 31st streets. The store contains a wide selection of men's coats, suits, casual wear, shoes and men's accessories like belts and ties.
This story will provide some information about the store itself as well as fashion recommendations for the Spring and for job hunters.
Click this link to view a story written on Men's Clothing In Astoria Queens NY. Click here for men's clothing stores in NYC, and here to buy Stone Rose shirts in NYC, and here to buy Alberto pants in NYC, and here to buy Eton shirts and here to buy Hugo Boss sneakers in NYC. Click here for Astoria / LIC Queens tile stores serving Brooklyn, Greenpoint & Williamsburg or here for abayas in Queens & Brooklyn NYC and for hijabs in Queens & Brooklyn NYC.
---
Queens Farmers Markets
July 17, 2016 / Astoria Sunnyside Woodside Jackson Heights Long Island City LIC Flushing Jamaica / Queens Buzz. All of the seasonal farmers markets have opened.
The Sunnyside Farmers market on Skillman Ave & 43rd Street was approved to operate year 'round in 2014. The Sunnyside Farmers market became the third farmers market to operate year round. Jackson Heights was the first & Forest Hills was the second, so now Queens has three farmers markets operating year 'round.
Click the link below to see a listing of the Queens Farmers Markets operating during the 2016 season including links to maps. Click the other link below for a rolling update of Queens Street Fairs schedule of 2016 through the end of the year, including dates and maps showing their locations.
Click here for our updated posting of Queens Street Fairs - Queens NY. Click here for a listing of the Queens Farmers Markets. You will always find both street fairs and farmers markets for the current month in the Queens Events section of the site [see top tool bar for button / link]. Click here to view the map of the Jamaica farmers market.
---
---
New York City Economic Outlook 2016 - NYC Economy
Queens Economy - 2016 Outlook NYC
Currently Full Employment, Low Interest Rates, Low Inflation But Possible International Shocks
January 4, 2016 / Queens Neighborhoods / Queens Business / Queens Buzz.
We took a look into the crystal ball over the holiday break to see what may lie ahead for the NYC economy in the coming year. We studied the stats and facts put out by many of the national data producers at the Bureau of Labor Statistics, the Federal Reserve, the Treasury Department and the AIE. What follows is a brief summary of some of the statistics we gathered on the global, national and New York City economy including unemployment statistics by borough for 2015.
U.S. & NYC Economy Near / At Full Employment
Currently Queens and Manhattan are doing the best with respect to employment, with unemployment rates below 5%, which economists consider to be full employment as the 5% unemployed are viewed as normal 'friction' in the economy, accounting for people coming into, leaving and changing jobs within the labor force.
In 2009 - 2010, during the first two years of the Great Recession, the nation's unemployment rate hit 9.4%, while the unemployment rate for New York City hit 10.4%. The employment picture for the nation and the five boroughs of New York City has slowly but steadily improved since then, with unemployment trending lower, reaching full employment this year at 5% for the nation and 4.8% for New York City this fall.
Employment Impact / Relationship to Inflation
Employment affects inflation, as when everyone is fully employed, recruiting firms bid up the price of labor and workers feel secure enough to spend aggressively, bidding up the price of goods. The Federal Reserve attempts to reign in inflation - because it creates economic instability - by raising interest rates which increases the cost of capital needed to expand operations or make large purchases more expensive. On December 16, 2015, the Federal Reserve raised its key short-term interest rate by 25 basis points (0.25%) to begin to get ahead of potentially inflationary issues that may lie ahead. We'll look into a few of these later in this report.
Economists in one of the banking reports I received believe that there is still slack in the labor market that is not reflected in the numbers as many people have part-time jobs, while they would like full time jobs. Also the labor force participation rate fell during the Great Recession and it became more difficult to find work. Now with a full employment economy it is believed that some of those folks who gave up looking will try to re-enter the workforce. An example of the decline in participation rate might be a spouse who helped supplement household income but couldn't find the right work, and now starts looking again.
Click here to continue reading our report about the New York City NYC Economy Outlook 2016 which delves into full employment impact on inflation, interest rates, consumer debt levels, oil & commodity prices, domestic and international currencies & economic growth, the financial markets and how all of this may impact the different sectors of the Queens & New York City economy.
---
Queens Real Estate
Real Estate in Astoria, Jackson Heights, Long Island City LIC, Sunnyside, Woodside, Flushing, Jamaica
Queens NY / 2016. These links will take you into sections & reports on the Queens real estate market in Queens beginning in 2009.
These reports include reviews of apartment rental prices, as well as condo, co-op and home prices and availability in the Queens market.
We have also done neighborhood specific reports about Astoria real estate, LIC / Long Island City real estate, Jackson Heights real estate, Woodside & Sunnyside real estate, Flushing Real Estate and Jamaica Real Estate. Click here to view Long Island City apartments for rent LIC.
While we found these neighborhoods mirrored / trailed many of the national trends, we found some interesting differences, including differences from neighborhood to neighborhood.
Click here to read the Queens Real Estate market analysis 2009. Click here for Jackson Heights realtors and Jackson Heights real estate.
---
Queens Buzz Voluntary Subscriptions
We work very hard to help keep you informed by providing you with independent news coverage, as well as information about events in the arts, culture and business in the borough.

You can help us continue to provide you with independent, first-person, fact-based, contextural reporting by purchasing an annual subscription. As it's voluntary, there are a variety of price options, one of which should fit within your budget.
Thanks for your encouragement & support.
---