Gas Shortage In NYC Metro Area
Local Relief Efforts & Hurricane Sandy in Queens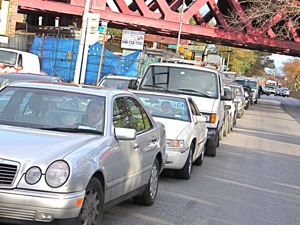 November 1 - 5, 2012 / Queens Neighborhoods / Queens Buzz. Thursday night we saw gas lines at local stations as many didn't receive their usual shipments due to disruptions caused by Hurricane Sandy. The situation is expected to abate in the coming week, but in the meantime conservation is recommended.
On Saturday the lines at gas stations continued, with people lining up with gas cans on foot at one station in Astoria [see photos]. Governor Cuomo has put certain regulations on hiatus in order to bring gas into New York City as shipments had been disrupted during
Hurricane Sandy.
We also noticed the shelves at some of the grocery stores looking a bit picked through in some areas. I asked one of the grocers if shipments / replenishments had started coming in and he informed me that yes, shipments were coming in and that things would be back to normal sometime in the coming week.

MTA: As of Saturday morning the 7 is running from Flushing Main Street to Times Square. The N is operating from Ditmars Astoria to 34th Street Manhattan. The F is running from 179th Street Jamaica to 34th Street in Manhattan. The Q, E, G, C & Z are suspended. The J train is operating between Jamaica Center and Hewe St. For any other subways click here for the MTA website.
And lastly, a number of local relief efforts began last week by gathering food, clothing and other supplies from local residents for Rockaways residents. The Jackson Heights Beautification Group, the NY Irish Center, and the offices of NY Senator Peralta, and City Councilmembers Daniel Dromm and Jimmy Van Bramer are the efforts about which we were contacted. You can Google them to see how you can help.
Click here for our Hurricane Sandy in Queens coverage.
---
Queens Gets Back To Basics
All East River Bridges Are Open / HOV's Only
Updated 7 pm / October 31, 2012 / Queens Neighborhoods / Queens Buzz. All East River Bridges are open, but they are only allowing HOV [High Occupancy Vehicles - 3 or more people per car] to pass through. As of 2 pm, traffic along Queens Blvd, particularly on the inbound lane, is moving at a crawl [see photo to your right].
There are police stationed along the Blvd to expedite traffic movement, but given the subway service has not yet been restored, people have taken to their cars.
Subways, Schools & Libraries in Queens
Subways. Three of the seven flooded East River subway tunnels have been drained and they will conduct electrical testing in hopes that limited subway service on the F line in Queens will be restored Thursday morning. The #7 and E trains will NOT be back up Thursday morning.
Most Queens libraries will open Thursday, except in the Rockaways area. Queens Schools will remain closed until Monday November 5. Click here for prior Hurricane Sandy in Queens coverage. Thanks to City Councilmembers Daniel Dromm & Jimmy Van Bramer, QEDC & NY Senator Peralta for keeping us informed.
Business Relief Services From Government Agencies
The government has a number of programs designed to help small businesses that have been impacted by Hurricane Sandy. They include: 1) getting up to $10K of small business emergency interruption loans, 2) Small Business Disaster Recovery Loans and 3) help from the NY Tech Meetup Group which you can contact jessica @ nytm.org.
Halloween Trick Or Treating in Jackson Heights
The Jackson Heights Halloween Parade has been cancelled due to manpower constraints on the NY Police Department in the wake of Hurricane Sandy. Nonetheless the Jackson Heights Green Alliance is holding a Trick or Treat on the Street beginning at 5 pm tonight at 78th Playstreet [at 34th Avenue]. They are asking residents to show up with kids in costume and some candy to share which will be distributed at tables.
---
Queens Weather - Hurricane Sandy in Queens
Click here for prior reports for preparations for Hurricane Sandy in Queens, and for Lessons Learned From Hurricane Sandy in Queens.
Click here to read our report before Hurricane Irene in August 2011 and click here to view the LIC / Sunnyside Emergency Evacuation Center in a story we did following hurricane Irene in August of 2011.
---
---
Site Search. 1) For best results, when typing in more than one word, use quotation marks - eg "Astoria Park". 2) Also try either singular or plural words when searching for a specific item such as "gym" or "gyms".
Click this link to search for something in our Queens Business Directory containing over 1,000 listings.
Send this story to a friend by filling in the appropriate box below.