Queens Mass Transit & Transportation
---
$element(bwcore,article_picker,1095,Y,N,page_title_home,N)$
MTA Rush Hour Power Outage
#7 Subway Line Down For Hours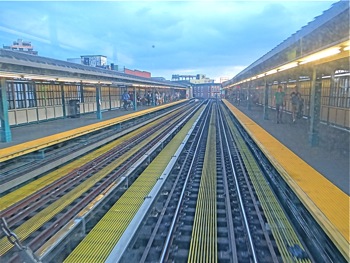 December 10, 2013 / Queens Neighborhoods / Queens Buzz. What's wrong with this picture? There aren't any subways running on these tracks during rush hour on Tuesday evening.
The #7 subway is the busiest single subway in NYC and it's the second busiest subway line, after the 4, 5, 6 line that runs north and south along the east side of Manhattan.
According to an attendant there was a power outage along the entire line beginning around 5 pm Tuesday, which was partially repaired within several hours. The trains were running limited service by about 9 pm Tuesday due to ongoing signal problems at a few stations. The MTA expects to have the #7 subway back into full operations by rush hour Wednesday morning, but be prepared.
Ironically this outage comes only weeks after the MTA spent two months of weekends [October / November] doing upgrades / maintenance work on the #7 subway line. It's also worth mentioning that the #7 subway line was one of the last of the major lines to go back into operation following Hurricane Sandy in 2012. The reason for the delay in resumption of service in 2012 was that they couldn't turn on the power because of flooding in the tunnels.
I wonder if any of these issues / activities are related, and what the MTA is doing to address them?
Ridership on the #7 subway line is expected to continue growing because of the significant amount of real estate development going on in the Long Island City and Flushing neighborhoods of Queens. Lagging infrastructure development could hamper growth. Queens Borough President-elect Melinda Katz stated that this would be one of her top priorities upon assuming the office. It seems this might be a good place to start.
---
$element(bwcore,article_picker,930-904-742-679-274-130-725-539,Y,N,page_title_home,N)$
$element(adman,groupads,Sectional Ad)$
---
Queens Mass Transit & Transportation Related Info
$element(adman,groupad,Promo Buttons)$
Click this link for promotions, discounts and coupons in Queens.
Click this link to go to the Astoria Neighborhood / Long Island City LIC Neighborhood / Sunnyside Woodside Neighborhood News / Jackson Heights Elmhurst Neighborhood / Flushing Corona Neighborhood / Jamaica Neighborhood.
$element(adman,groupad,Catgry Queens)$
Site Search Tips. 1) For best results, when typing in more than one word, use quotation marks - eg "Astoria Park". 2) Also try either singular or plural words when searching for a specific item such as "gym" or "gyms".
---
Archives - TBD
---
$element(bwcore,insert_search,N)$
Click this link to search for something in our Queens Business Directory.
---
$element(adman,groupads,Sectional Ad)$
Click the log in link below to create an ID and post an opinion.
Or send this story to a friend by filling in the appropriate box below.
---