Click on the header above to view the monthly events calendar for Queens Neighborhoods.
July 4th Fireworks In Queens
4th of July Fireworks in Queens 2015
July 3, 2015 / Queens Neighborhoods / Queens Buzz. The Macy's 4th of July fireworks will be shown along the East River this year. They were shown along the East River in 2014 for the first time since 2008. Mayor de Blasio had lobbied the change.
Weather. Highs will be in the mid 70's during the day and in the mid 60's at night. There's a 50% chance of light rain in the afternoon, dropping to 20% by evening. So it could be a near perfect night.
The Astoria Park Fireworks on June 30th were done by the Grucci Brothers, the same fireworks company doing the Macy's 4th of July fireworks in NYC. The Astoria Park fireworks in Queens were shown on Tuesday evening with an easy view from the Astoria Park location right alongside the East River. See story below about the Astoria Park Fireworks show of 2013 in Queens.
But for those looking for fireworks on 4th of July 2015, you'll have ample opportunity to view the fireworks as the pyrotechnic performance has been expanded this year. Click here for a report about the 4th of July Fireworks in Queens NYC & surrounding areas, including times and locations for the Macy's 4th of July fireworks in NYC and Jones Beach on Long Island.
---
4th of July Queens
Happy Birthday America
Musings About the 4th of July in Queens
July 1, 2015 / Astoria Neighborhood & Long Island City Neighborhood / Queens Culture / Opinion Column / Queens Buzz.
It seems every six months or so, I get a chance to reflect on life. Since the July 4th holiday will soon be upon us, I'm going to expand that reflection to encompass the "life, liberty and the pursuit of happiness" put forth in the Declaration of Independence.
It seems the older folks who surrounded me in my youth were right. They told me that as you get older, the years will pass by more quickly. As a youngster I thought, "How can that be?" And while technically my youthful query was correct - perceptually it was not.
When I was ten years old, a year represented a tenth of my life. At 25 it represented only 4% of my life, and at 39 it's a mere 2.5% [heh]. So the years do spin by more quickly, perhaps because they represent less and less a portion of the whole.
Julius Caesar, Mahatma Ghandi & American Independence
One might use this approach to looking back at things as a method to put in perspective so much else that has passed through time. Julius Caesar was said to have ruled the world, when in fact he primarily ruled the parts of Europe and the Middle East surrounding the Mediterranean Sea. And while he presided over a population that was about a fifth of the world's population at the time, today the Roman Empire headcount is less than the population of Mexico.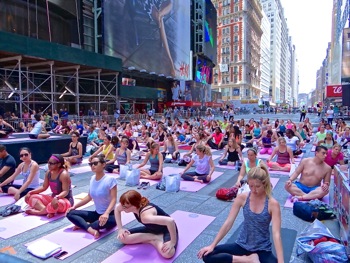 Fast forward to the 20th century and compare the legend of Julius Caesar to the legacy of Mahatma Ghandi. Ghandi was instrumental in organizing and freeing ten times as many people from British Empire rule, as lived under the rule of Julius Caesar in the Roman Empire. And Ghandi helped free his Indian people without the use of a single arrow, sword or gun.
About two centuries prior to Ghandi's effort - in 1776 - the thirteen American colonies declared themselves free of British Empire rule. These colonies today comprise the states along the eastern seaboard of the United States, excluding Florida, but including a few of the states' inland neighbors, such as Pennsylvania.
The population of the American colonies, at the time the colonists declared their independence, was about 2.5 million or only a few hundred thousand more people, than the number of people that currently reside in Queens NYC today.
God, Home & Country
When I was a boy, I was taught to hold God, Home and Country in the highest regard. What each of these concepts meant to me at that time has changed over the years, as I accumulated knowledge and experience about the world, which challenged many of the assumptions taught to me in my youth.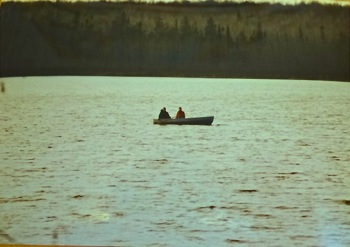 Some measure of what I learned growing up, was in a sense, what anthropologists call tribal knowledge. It was a body of information / understandings / perspectives about the world that the community shared that had been passed from generation to generation.
The 'tribal knowledge' teachings were assumed to be fact – by all of us in the 'tribe' – even though the teachings were essentially a narrative developed by those in charge, interpreted by the tribal scribe, and based upon the group's understanding of the world / universe at the time. The narrative included messages about what's important, how to properly conduct oneself and in some measure our communal identity.
The written 'tribal' narrative evolves in tandem with the 'tribal' culture and it is reinforced, and at times reinterpreted, by the communal elders and institutions through ritual, ceremonies and celebrations. Celebrating our American independence on July 4th is one such 'tribal' cultural ritual and every year it gives us pause to reflect upon where we have come from, discuss who we are and think about where we are going.
Our 'tribe' has grown to be a nation that spans from sea to shining sea, and is home to nearly 320 million people.
Click here to read the rest of our story about 4th of July in Queens.
---
New York City Makes 'Budget Handshake'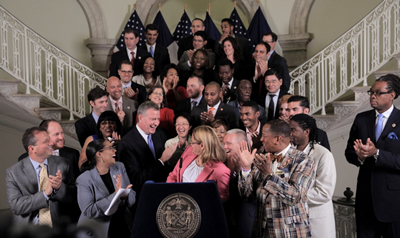 June 23, 2015 / Queens Neigbhorhoods / Queens Politics / Queens Buzz.
We received this missive from New York City Councilmember Helen Rosenthal of the Upper West Side. We've made few edits, but the text is essentially a reprint of her email.
Over 100 hours of budget hearings revealed much information that helped to shape the final agreement. [Helen Rosenthal said that] As a member of the City Council's Finance Committee and the Budget Negotiating Team, I can honestly say that all 51 members of the Council had input to ensure that New Yorkers in every borough will get the services they need. In addition to major investments in neighborhood police, there is additional funding for mental health services, veterans, and Vision Zero education.

Photo Credit: William Alatriste for the New York City Council
Education and Youth
• There will be an increase of 80 school crossing guards citywide, and the Upper West Side will gain more crossing guards. Renewed focus on recruitment and retention will happen in discussions over the summer.
• There are unprecedented amounts of funding for our young adults from summer jobs and year-round jobs to support for City University of New York (CUNY) students to keep them in college and help them graduate. 
• The additional $39 million for libraries will yield 6-7 day a week service in every borough. 
• The free lunch program in middle schools will continue, and there will be an expansion of the "breakfast after the bell" program, so that all elementary schools will offer it by 2018.
• Teachers will receive up to $125 in reimbursement for school supplies that they bring into the classroom. While this is an improvement, it is not enough. We must give teachers all the tools they need to teach well, and I will continue to work to improve this system in the next fiscal year.
Tenant Protections
• Over $35 million for lawyers, clinics, and advocacy to support tenants who experience harassment by landlords - the largest the City has ever dedicated to this issue.
• Dedicated legal advice for public housing (NYCHA) residents in housing court at 250 Broadway.
• Dedicated team of inspectors to investigate particularly egregious landlords.
Seniors and Safety Net
• Elimination of the wait list for seniors needing home care services.
• Commitment to build 5,000 new units of senior affordable housing over the next five years with dedicated on-site social services.
• Additional funding for the emergency food program and local food banks.
• The largest investment in addressing elder abuse through outreach and social services.
Small Business Support
• Dedicated funds to local Business Improvement Districts (BIDs) and civic associations. Council members will be able to designate money to support small business in their area.
• Double the investments in worker cooperative support yielding an additional 30-40 new worker-owned businesses throughout the City.
Contract Services 
• Community-based organizations providing EarlyLearn NYC services will receive wage parity with DOE employees providing that service.
• Increase of the minimum wage of "Human Service" contract workers to $11.50/hour with targeted career ladder support.
• Funding to continue providing local services from small, community non-profits that lost contracts through the citywide process. 
The City Council will formally "adopt" the City's budget at a Stated meeting later this week. At that time, we will have additional information about my dedicated funding for the Upper West Side. 
Again, this a reprint of an email from New York City Councilmember Helen Rosenthal of the Upper West Side.
---
Sunnyside Yards
Sunnyside Yards: Finding Our Place In Space & Time
Part II. History Of Transit & Housing In Queens: Sunnyside Yards
March 18, 2015 / Sunnyside / Queens Real Estate / News Analysis & Opinion / Queens Buzz.
In Part I of this report series about Mayor de Blasio's proposed development of Sunnyside Yards, we saw how Queens evolved from the rolling woods and farmlands of the early 19th century, into an industrial and manufacturing center along the East River waterfront in the second half of that century. In 1898 Queens became a part of New York City and the dawn of the 20th century had begun.
Work On The Steinway Tunnel Resumes & Begins The Era Of The Commute
In 1892 William Steinway [he died in 1896] began digging a tunnel underneath the East River between Queens and Manhattan. He had envisioned completing it to enable mass transit flows between Queens and Manhattan to enhance the value of his vast Astoria / Long Island City real estate holdings, but he died before that vision came to fruition. The Steinway Tunnel, which was named in his honor and which it carries to this day, is now the underground tunnel for the #7 subway line between Flushing Main Street in Queens, and Times Square in Manhattan. I shot the photo to right at LaGuardia Community College in LIC which shows a newspaper account of a 1907 test run of the line, three years after the completion of the Steinway Tunnel between Manhattan and Queens in 1904.
Large Scale Real Estate Development Begins In Queens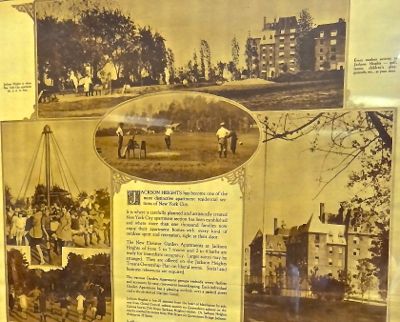 Following the creation of the interborough subway lines, affordable housing developments followed in Jackson Heights, Forest Hills and Sunnyside. The photo at right shows a 1922 real estate development in Jackson Heights built for the upwardly mobile growing middle class. I shot this photo at the Jackson Heights Beautification Group's Historic House [Garden] Tour Weekend.
We ended Part I talking about Public Housing that ultimately became low income housing, and which had systemic problems attributed to the civil rights struggle of the mid 20th century, and which was followed by social upheaval accompanied by narcotics. While remnants of the past remain with us, the most egregious aspects of these historical issues have been ameliorated.
And so we begin Part II by taking a deeper dive into the evolution of New York City's transportation system and housing development, with an eye toward how mass transit and the auto enabled the daily movement of millions of people / workers between their workplaces in Manhattan to their homes in the outer boroughs - most notably of Queens.
What follows is Part II of a deeper look into the Mayor's proposed development of the Sunnyside Yards.
---
MTA: Subway Fare Increases March 22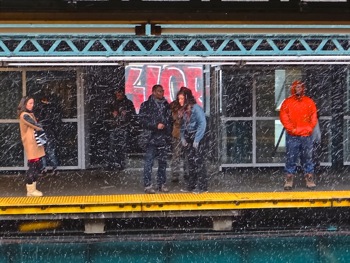 February 13, 2015 / Queens Neighborhoods / Queens Buzz.
The Board approved increasing the base fare for the subway, bus, and MTA Staten Island Railway by 25 cents to $2.75, while also more than doubling the bonus amount added to MetroCard® purchases of at least one round-trip.
The combination of the increased fare and the increased bonus creates an effective fare increase of 4.1%, or 10 cents, for the Bonus MetroCard, which is used for 43% of trips. The 30-Day Unlimited Ride MetroCard, which is used for 29% of trips, will increase 4% to $116.50. The 7-Day Unlimited Ride MetroCard, which is used for 21% of trips, will increase 3.3% to $31. The remaining 7% of trips are made using non-bonus MetroCards, cash on buses or Single Ride Tickets, which are largely purchased near major tourist destinations.
---
Snow Storm Skirts NYC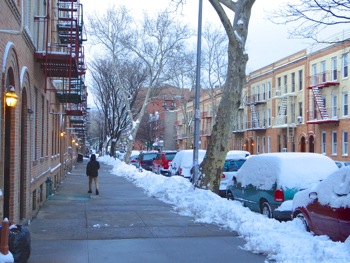 January 29, 2015 / Queens Neighborhoods / Queens Buzz. On Monday evening NYC's mass transit system was shut down. It was announced that NYC public schools would be closed. And everyone was advised to prepare for a snowstorm that might bring 24 to 36 inches of snow to the city.
On Tuesday morning, things looked quite a bit brighter. The city received far less than a foot of snow. In most places the inches of snowfall didn't even break the single digits. And so it was, a snow day without too much snow.
NYC has a long history of under reacting and over reacting to weather conditions. When government officials under react they generally lose some face. When they over react, the proverbial political storm blows over.
And so it was on Tuesday, January 27, 2015 that Queens enjoyed an unscheduled day off, with all the shopping done.
---
Battle For Public School Budget Underway
Constitutional Right To Education & Public School Funding
January 12, 2015 / Jackson Heights / Queens Schools / Queens Buzz News & Analyis. I attended a Town Hall Meeting entitled State Of Our Schools at PS 69 in Jackson Heights on Thursday evening. The town hall included a number of panelists who spoke about some of the top concerns and issues facing NYC and Queens public schools in the current round of budget negotiations currently underway in the NYS state capitol of Albany.
Cathy Nolan, NYS Assembly Chair of the Committee on Education, and Daniel Dromm, Chair of the NYC Council Education Committe, were joined by speakers representing The Alliance for Quality Education, Make The Road NY, Jackson Heights People For Public Schools, Community Education Council 30 and the Parent Association of PS 69.
The intent of the town hall was to inform residents about the issues currently being debated in the NYS State Capitol as the Assembly and Senate work on budget bills to fund public education in the state of New York.
Some of the issues discussed included every citizen's constitutional right to a quality public education, which was interpreted by the Courts to mean providing every citizen with the skills to compete in the 21st century economy and the capacity to function as a contributing member of society.
Other issues included discussion of the current tax cap bill - which would cap property taxes at 2.5% - and thus limit the money available for public education. Currently about 30% of NYC residents are property owners. Over the past decade an increasing percentage of city property has been acquired by large corporations known as Real Estate Investment Trusts. It's worth noting that one of the NYC tabloids, the NY Daily News, is owned by the billionaire founder of an NYC Real Estate Investment Trust.
Property owners say they already pay too much in taxes. One homeowner opined that government and school officials need to manage the funding more efficiently, and develop innovative / technological methods to achieve their educational goals. Many of the older, original charter schools were opened to do just that by exploring different approaches to educating the public.
Another initiative underway is to cap charter schools expansion. As mentioned above, many of the original charter schools were founded to explore different approaches to providing a quality public school education. In recent years some of the newer charter schools, particularly the charter school groups [Ed Note: such as Success Academy Charter Schools], have been seen as limiting the promise of an equal opportunity in public school education.
Charter School groups have been accused of targeting areas where they can attract high performing students away from the publicly run schools and then demand equivalent public funding per child. Charter school groups allegedly claim their test scores are attributable to their educational efforts, not the higher quality of their student enrollment [this alleged claim is at odds with independent studies]. As of this date only a small percentage of the charter schools have been audited as one of them - Success Academy - filed and won a lawsuit that prevented the NYS Comptroller from auditing them based on a NYS Supreme Court Justice Thomas Breslin ruling in June 2013. Its worth noting that Success Academy Charter Schools also reportedly receives funding from Hedge Fund b/millionaires who may also have stakes in Real Estate Investment Trusts.
Public educators note that the schools that service the broader based demographic population have higher per student funding requirements in order to assist students with special needs. They go on to note that standardized testing doesn't account for progress made with a broad based diversified student population that includes students with special needs such as: children with disabilities, children from troubled homes, children with less aptitude or less motivation, and children who need to learn English [English Language Learners ELL] in addition to the general curriculum. Additional resources are required to fund different approaches / programs designed to reach, motivate and develop these children's intrinsic abilities [eg. band students perform higher in math] and enable them to become contributing members to their families, their employers and the community.
A tax break for private education is also being debated at the state level. The tax break for private education was portrayed by one of the speakers as another tax break for those who already have the means and have chosen to send their children to non-public schools. Just as the property tax cap is expected to limit public education funding, so too the private school tax break is expected to limit the total funding available to educate those who attend public schools.
Families who send their children to private schools argue that they are reducing the strain on public school resources. They note that they are not asking for a total reimbursement [meaning total payback of private tuition] but rather a deduction, which would reduce their tax bill by some percentage of their private school tuition payments. It's worth mentioning that according to the 2012 Census update, the NYC Public School system paid over $20,000 per student per year, which is a far higher cost per student than any other public school system in the nation. The Boston public school system was a close second and the Washington DC public school system came in third.
This is just a summary of some of the challenges and issues discussed at the Town Hall related to NYS public school education funding. We'll delve into these in a bit more detail at a later date.
---
Air Beam: What Are You Breathing?
Adventurous Bike Ride With TA Queens ... On The Road To Find Out
November 10, 2014 / Queens Neighborhoods / Biking Queens / Queens Buzz. I just returned from a bike ride that began at the Central Park Boathouse and ended in Jackson Heights at 34th Street and the BQE Expressway. Celia Castellan, who is the organizer for Transportation Alternatives Queens [aka TA Queens] collaborated with me on this story which is about Queens & Manhattan air quality and also about biking. Celia is shown in the photo to your right, atop the Queensboro Bridge around 6 pm Monday night as we bike commuted from Manhattan to Queens.
It was a beautiful night with clear, dry air and temperatures around 60. Our mission was to test the Air Beam, a new device designed to enable people to measure the air quality, and then map the information to a public website, so that the public can begin to see what's going on with the air they breathe. The Air Beam is a blue, slightly-larger-than-a-cell-phone device, that you wear to measure the air [quality].
We began the ride in Central Park. We were on our way after receiving only a couple minutes of instruction. The device is brand-spanking new and must be sync'ed to an Android cell phone. The inventors work for a non-profit and are trying to raise a bit of money to mass produce it.
I'm going to take you on the rest of the ride, including a sampling of the air quality readings along the way, and provide some photos of the Queensboro Bridge bicycle commute a bit later this week. In the meantime, check out the Air Casting website and if you want to help, there are a few more days left on their Kickstarter campaign.
---
Queens Election Results
Cuomo Wins, Avella Retains Seat, Comrie Unseats Smith
September 9, 2014 / Queens Politics / Queens Buzz. NYS Senator Tony Avella defeated challenger former NYC Comptroller and NYC Mayoral candidate John Liu for the District 11 NYS Senate seat in the primaries on Tuesday. John Liu was backed by the Queens Democratic party because of Avella's independent streak.
Leroy Comrie handily defeated incumbent Malcolm Smith for the District 14 NYS Senate seat by a margin of 3:1. NYS Senator Toby Stavitsky defeated challenger S. J. Jung by 15 percentage points, although Jung beat expectations by capturing the lion's share of the ethnic Asian vote [Jung is Korean].
Assemblywoman Margaret Markey defeated challenger Dmytro Fedkowskyj by a margin of 3:1 for the Assembly District 30.
And Andrew Cuomo and Kathy Hochul both garned in the neighborhood of 60% of the votes defeating their challengers. The challengers significantly beat expectations by capturing in the neighborhood of 40% of the votes. Neither challenger was well known and neither had much in the way of funding or large voting block support.
---
Tuesday - Primary Elections
The Real 'Choice' Is In The Primaries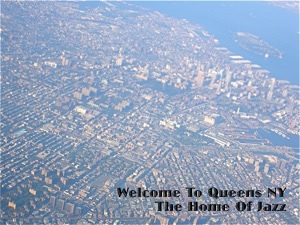 September 8, 2014 / Queens Politics / Queens Buzz. Tuesday, September 9th, is an important election day as most Queens races are decided at that time given the borough of Queens is comprised of about 80% - 90% Democrats.
On Tuesday the polls open at 6 am and close at 9 pm for the primary elections for New York state and federal offices. The polls are primarily staffed by civic volunteers.
There are a few races of interest this primary season. Leroy Comrie is hoping to win the NY Senate seat of embattled Democrat Malcolm Smith after stepping down as Queens Deputy Borough President earlier this year. And John Liu is hoping to make a comeback after a poor showing in the NYC Mayoral election last year, by unseating incumbent Democrat NY Senator Tony Avella.
The number of people who vote in the primaries is about 10 - 25% of the electorate, generally ending up on the lower end of that range. Hence, every vote carries far more weight than in the general election.
Knowing who the candidates are, what they really stand for and voting for them is one of the key pillars of our democracy. Many of our ancestors died fighting for this right and almost all of our early American ancestors took great risks to come here to exercise that right.
One of my favorite quotes of Thomas Jefferson is, "If a nation expects to be ignorant and free . . . it expects what never was and never will be".
I know you're busy with all kinds of other responsibilities. But I hope you'll do your best to stay informed about who the candidates are and make the effort to vote for those who best represent your point of view. It's a small investment to make to ensure we maintain our rights and freedoms. You needn't look far around the world to see what life is like in places that don't enjoy the right to elect / choose those who govern them.
Click here to find your Queens polling place - and again polls are open from 6 am - 9 pm.
---
Making Vision Zero Happen
Corona Residents Respond To Call To Action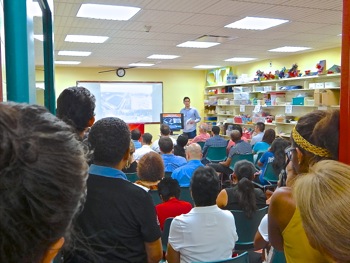 July 27, 2014 / Jackson Heights & Corona Neighborhood / Queens Issues / Queens Buzz. I attended a Vision Zero Workshop at the Corona Library on July 16th. The event was sponsored by Transporation Alterantives in conjunction with a host of other organizations and some local government officials, all of whom I will name at the end of this story when I complete it.
As you can see from the photo, there was no shortage of interest in the effort, as Jackson Heights and Corona are one of the 'Ground Zero' places where pedestrians are being killed or injured by motorists.
The effort had a number of components to it including education, law enforcement and untangling a road, biking and pedestrian system that was put together piecemeal instead of as a holistic approach to human movement ... like dance.
We'll post more about this at a later date including photo slide show.
High School Directories Now Available
July 31, 2014 / Queens Neighborhoods / Queens Schools / Queens Buzz. Students applying to a NYC public high school for the 2015-2016 school year can now access the 2014-2015 High School Directory online in nine languages: Arabic, Bengali, Chinese, French, Haitian Creole, Korean, Russian, Spanish, and Urdu.
 
Click here for complete information and the English directory. Questions regarding the 2014-2015 High School Directory may be directed to the High School Admissions Team at HS_Enrollment@schools.nyc.gov. 
---
Queens Library Reform Bill: Quality & Controversy
A Trojan Horse: Queens Library Reform Bill
NYS Senator Ushers Bill Through Assembly Calling For Czar-Like Control Of Queens Library Trustees
In Whose Best Interest Is This ... Really?
June 12, 2014 / Queens Education / Op Ed Queens / News Analysis & Opinion / Queens Buzz / By Michael Wood & Edited by Patrick Wood.
This report goes behind the fanfare and political posturing that have gone on the past few months, and looks at the issues surrounding legislation that is currently working its way through the New York legislature. It also compares the legislation to a similar prior bill which was passed into law less than a year ago. And ultimately we provide rationale for intelligently asking whether this legislation is a political play or good for the Queens Library and its constituents. The report contains links to our Queens Opinion section which contains the comments of two informed sources who have been following the controversy from different vantage points.
Click here to read our report on the Queens Library Reform Bill: Quality & Controversy.
---
July 4th Fireworks Queens & Weekend
4th of July Fireworks Return To East River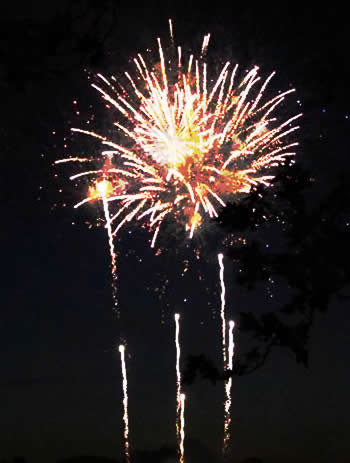 July 4th, 2014 / Things To Do Queens / Queens Buzz.
Weather. Not ideal for fireworks. Friday it will be in the high 70's with about 65% humidity all day. Rain will hit between 3 & 4 pm and thereafter - until about 10 pm - there's a 50% chance of it. So for the fireworks display it's a 50 / 50% chance you may get wet.
For the rest of the weekend, the highs will climb to the mid 80's and it will be sunny and dry Saturday, with humidity climbing back to 50 - 65% Sunday.
Macy's 4th of July fireworks in Manhattan NYC. The Macy's 4th of July fireworks will likely begin around 9.30 pm which is when it gets dark enough to support a good show. But that said, you should probably get to where you're going to watch them no later than 9 pm, because the cloudy skies may allow them to get off to an early start.
Best Locations to view Macy's 4th of July fireworks in Queens NYC. There will be three barges in the East River from where the fireworks will be launched - two just south of the Brooklyn Bridge and one just north of it. The best viewing locations would be in and around the bridge including the South Street Seaport. But spots along the East River should allow for a pretty fair view, including Gantry State Park and Hunters Point South.
We'll post weekend events later today and Saturday.
Summer Solstice & Great Weekend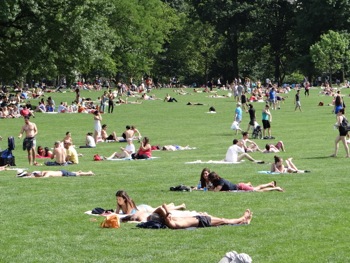 June 23, 2014 / Queens Neighborhoods / Queens Buzz. It was one of the near perfect weekends. The sun was shining, but not too hot and the air was warm and dry during the day and cool at night.
It was also the summer solstice - the longest day of the year - that point in the calendar from which the amount of daylight will begin to shrink. This was not lost on the general population as folks were out and about enjoying the weather.
There were sunbathers along the East River at Astoria Park and Gantry Park. And lots of sun worshippers in between. Make Music NY organized about 1,000 performances throughout the city, including quite a number of them in Queens. I hope you had a nice weekend and wish you the best in the coming week.
Fireworks Commemorate 50th Anniversary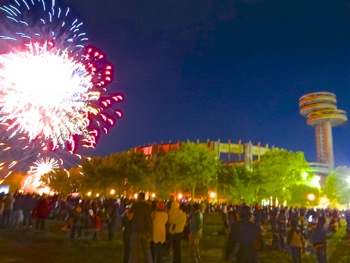 May 19, 2014 / Flushing / Queens History / Queens Buzz. I attended the fireworks display in Flushing Meadows Corona Park on Sunday night. There were thousands there to view them standing in front of the New York State Pavilion [see photo at right].
The fireworks were part of a day long program of events commemorating the 50th anniversary of the 1964 World's Fair. The program included a rare opportunity to walk through the NYS Pavilion and a bandshell had been set up to accommodate the musicians, which included a group playing Beatles tunes and the pre-fireworks celebration ended with the Queens Symphony Orchestra playing the Stars & Stripes.
We'll post a slide show of the fireworks and the crowds, most of which appeared to be from surrounding neighborhoods. Several Manhattanites did make the journey as I met a couple on the subway.
---
Tax Prep Down To The Last Minute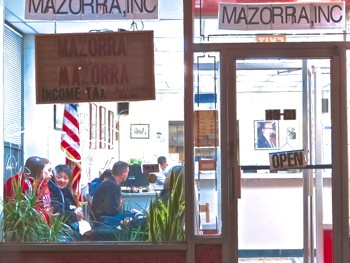 April 15, 2014 / Sunnyside Neighborhood / Queens Buzz. As I made may way home late Tuesday night, on a miserably rainy evening, I couldn't help but notice that a tax preparation office was bustling with activity [see photo].
It was April 15th, the last day for posting one's taxes without having to file for an extension. And there in the offices of a local tax preparer were easily a half dozen people who appeared to be waiting to meet with a tax specialist in order to complete their 2014 taxes.
As in the past I've been in this situation myself, I am not making any judgments about waiting until the last minute. Just happy, I guess, that this year I actually beat the crowd.
The same thing happened with the Affordable Care Act applications [see story below], as over one million people filed their applications in the last week. I guess we're all getting used to doing things in 'real time'.
Snowstorm Blankets Queens & NYC
February 3, 2014 / Queens Neighborhoods / Queens Buzz. Around 4 am this morning, the light drizzly rain that began falling late in the evening, turned to snow. The snow kept coming in a slow steady stream and as of about 1 pm Queens & NYC had received between three and five inches of snow. The National Weather Service is predicting that we will receive between five and eight inches of snow.
Alternate side parking has been suspended as have trash pickup and recycling operations. After school sports and activities have also been cancelled. Traffic conditions aren't good and the snow advisory is in effect until about 7 pm.
Weird Weather & Implications
Starting The New Year In A Regenerative State Of Mind
January 7, 2014 / Queens Buzz. The end of 2013 and the beginning of 2014 share at least one thing in common - unusual weather patterns. Over the holidays we went from unseasonallly warm weather to the frigid temperatures normal for the season [teens to 20's] and back again a couple of times.
In late December and early January we've witnessed a zig zag weather pattern of warm / cold / warm / cold. As you can see in the time series photos to your right, we experienced snow on December 14th. Temperatures sank into the 20's. The snow completely disappeared just prior to the Christmas holiday.
On December 22nd, we found Smidge and Dallow playing in Sunnyside as folks were walking by without coats. The temperatures were in the 60's.
The new year began with temperatures in the teens and 20's and the snow returned on January 3, 2014 as the area received between 6 and 11 inches [Ozone Park].
Less than two days later on January 5th, 2014 we experienced a new high for the day of 70 degrees. It seems Florida has less appeal when it's 70 degress up here.
Today temperatures are in the teens and for the week temperatures are expected to climb from the teens into the 50's by Saturday, although there will be more cold days along the way.
So what to make of it? It would seem global climate change is very much a possibility. To completely deny that 7 billion humans, who occupy a third of the planet [land], have cut down billions of trees and put billions of tons of fossil fuel exhaust into the air over the past century, is to deny one of the most likely causes of the changing weather.
In the short term, during the winters, it's nice to have 70 degree days. But in the summer when the tempatures rise to the high 90's for days on end, it's far less appealing.
It seems we can expect that the seasonal temperatures will become less marked - as we no longer see the lows of the past during winter, and we're starting to see new highs in the summer. Over time it will just get warmer and warmer and warmer.
The rising temperatures will disrupt the eco system and those disruptions include an impact on our food supply. And as we know from history, this is when people start fighting.
We need to begin treating our planetary eco-system like a farmer treats his soil. In days of old, farmers would plant the same crops over and over and deplete the soil of it's minerals. The crop yield would decline as the minerals were depleted. In time science taught the farmers to rotate the crops in order to replenish the minerals to the soil. I think in some fashion we need to take a similar approach to our eco-system. We can't keep taking from it without also nuturing it or we will deplete it.
So what to do? As individuals this means transitioning toward a greener lifestyle. And leaning on government officials and businesses to do the same. Each of us can make a difference because problems like this are cumulative where lots of little bits add up to billions and trillions of bits.
The cumulative nature of things is how we got into this situation in the first place. Thus, by working to do our bit as individuals, we can also cumulatively change it before the implications of these changing weather patterns becomes a crisis of epic proportions.
Can one person change the world? Yes ... and although we might not have the personal power of a human being like Mahatma Ghandi - quietly and cumulatively we can all make a difference.
How you can help. Pick one or more items from the following is a list of some things you can do to help preserve the ozone layer / planetary eco-system: 1) recycle your garbage, which most New Yorkers are required to do already, 2) walk, bike or use public transit when you can, 3) use a high gas mileage vehicle, 4) invest in solar power for your home [click link for info about tax breaks], 5) improve insulation in your home for less energy consumption in both winter & summer, 6) buy energy efficient appliances like air conditioners, 7) use blinds, curtains, shades to keep your home cooler in the summer, 8) use sweaters to lower the use of heat in the winter, and 9) shop and buy local because it requires less of a carbon footprint to produce / ship and it's good for the local economy. Every little bit helps.
MTA Rush Hour Power Outage
#7 Subway Line Down For Hours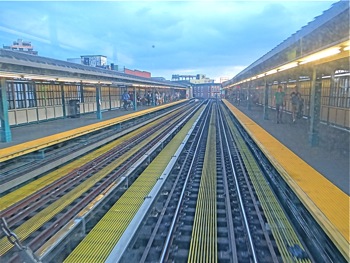 December 10, 2013 / Queens Neighborhoods / Queens Buzz. What's wrong with this picture? There aren't any subways running on these tracks during rush hour on Tuesday evening.
The #7 subway is the busiest single subway in NYC and it's the second busiest subway line, after the 4, 5, 6 line that runs north and south along the east side of Manhattan.
According to an attendant there was a power outage along the entire line beginning around 5 pm Tuesday, which was partially repaired within several hours. The trains were running limited service by about 9 pm Tuesday due to ongoing signal problems at a few stations. The MTA expects to have the #7 subway back into full operations by rush hour Wednesday morning, but be prepared.
Ironically this outage comes only weeks after the MTA spent two months of weekends [October / November] doing upgrades / maintenance work on the #7 subway line. It's also worth mentioning that the #7 subway line was one of the last of the major lines to go back into operation following Hurricane Sandy in 2012. The reason for the delay in resumption of service in 2012 was that they couldn't turn on the power because of flooding in the tunnels.
I wonder if any of these issues / activities are related, and what the MTA is doing to address them?
Ridership on the #7 subway line is expected to continue growing because of the significant amount of real estate development going on in the Long Island City and Flushing neighborhoods of Queens. Lagging infrastructure development could hamper growth. Queens Borough President-elect Melinda Katz stated that this would be one of her top priorities upon assuming the office. It seems this might be a good place to start.
---
NYC Cyclists Rights - Bicycle Laws NYC & NYS - NYC Bike Laws
Cyclists Rights In NYC / Queens
Knowing Your Rights & Responsibilities As An NYC Cyclist
Updated Spring 2015 / Long Island City Neighborhood / NYC Cylists Rights In Queens / Queens Buzz. By Philip Papas. The introduction to the Cyclists' Rights Forum was given by Christina Vassallo, Executive Director, Flux Factory. She told us that the event came about after she and a friend were stopped for cycling violations, which they thought were not illegal, or had erroneously been applied as violation points to their motor vehicle driver's license. As a result she saw the need for a forum to clarify laws, rights and proper procedures for cyclists to follow.
Click here to read our full report about NYC Bike Laws / Cyclists' Rights Forum in Queens at the Flux Factory in LIC.
---
Obamacare Comes To Queens
Affordable Care / Obamacare Comes To Queens
Queens Prepares For The Affordable Healthcare Act
November 13, 2013. Update - Over 197,000 New Yorkers Have Completed Applications of which over 48,000 have already selected and enrolled in a plan. Over 142,000 people were helped by the New York State of Health which runs the health plan marketplace for New York State. Note that open enrollment for the tax year 2014 ends on March 31, 2014.
November 7, 2013 / Astoria Neighborhood / Healthcare in Queens / Queens Buzz. I just returned from the United Civic Community Association [UCCA] sponsored forum on Obamacare at the Museum of the Moving Image. The forum did a nice job of providing what appeared to be a good summary look into what the federal government's Affordable Healthcare Act [also known as Obamacare] is really all about.
The forum was moderated by Rose Marie Poveromo, President of the United Community Civic Association of Astoria and included a panel of experts. The panel included U.S. Congressman Joseph Crowley, Rebecca Jackson, a NY State of Health Project Coordinator, Caryn Schwab Executive Director of Mount Sinai Queens, Judy Trilivas Chief Operating Officer of Mount Sinai Queens and Minna Elias Congresswoman Maloney's Chief of Staff. They are shown seated from left to right in the photo above, at the UCCA hosted Obamacare Forum at the Museum of the Moving Image in Astoria.
Click here to read more about Affordable Care / Obamacare comes to Queens.
---
Queens Neighborhoods Directory
Click on the following links to go directly to a specific Queens neighborhood or a specific Queens News section:
Halloween Parties In Queens
Halloween Parties - Queens
October 25, 2013 / Queens Buzz. There are a lot of parties planned for the Halloween Weekend of 2013. Costume Parties and Live Music for adults, and parades and parties for the kids. Today we'll focus on the adult parties, giving you a sampling of possible party venues around the borough of Queens on Halloween Weekend 2013, which is less than two weeks away.
In the photo to your left is a scene from the Halloween party at Cavo Astoria last year. Click here to read about Halloween Parties In Queens 2013.
Also click into the Queens Events link above for a look at our monthly events calendar for Queens.
---
Jackson Heights Beautification Group - JHBG
JHBG Celebrates 25 Years Of Service
Jackson Heights Beautification Group Celebrates 25
September 30, 2013 / Jackson Heights Neighborhood / Queens Issues / Queens Buzz News. I had the pleasure of spending some time at the celebration of the 25th anniversary of the Jackson Heights Beautification Group's existence. During the course of the evening I had the opportunity to talk to a number of members, many of whom had been with the organization for decades. And during the course of these conversations I came away having learned something about their collective accomplishments, and in some senses, the early to modern history of Jackson Heights.
Some of the JHBG's Accomplishments
The Jackson Heights Beautification Group [also known as JHBG] started when a group of residents decided to 'take back the neighborhood' from vandals doing property damage [grafitti], real estate developers knocking down high quality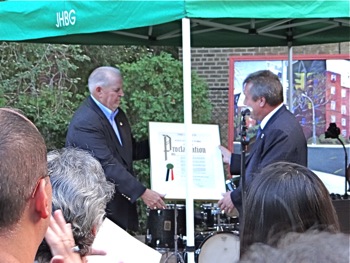 historic buildings, people breaking sanitation laws [doggie doo], and developers trying to obtain zoning variances that would downgrade the neighborhood. But the community organization was not just about participating in the governance process and ensuring that the city laws and ordinances were enforced; they also sought to enhance the quality of neighborhood life.
Hence the Jackson Heights Beautification Group sought funding for summer concerts, helped bring a farmers market to Jackson Heights, worked collaboratively to create more public parkland [78th Playstreet & the Garden School Athletic Field], and most recently helped start an orchestra. They will be the first to tell you that they didn't do these things by themselves, but however modest, they did play an important role.
In the photo above City Councilmember Daniel Dromm gives an award to Jackson Heights Beautification Group President Edwin O'Keefe Westley honoring the neighborhood group's service to the community.
And so you may click here to learn a bit about the formation and history of the Jackson Heights Beautification Group, as well as a bit about the 20th century life in Jackson Heights as told by those who lived it.
---
Queens Borough President Election 2013
Queens Borough President Election
Democratic Party Hierarchy & NYC Developers Back Katz & Quinn
September 9, 2013 / Queens Politics / Queens News Analysis & Issues / Opinion / Queens Buzz. So after answering countless annoying and largely uninformative robocalls from those seeking to govern us [what happened to our ability to 'Opt Out' of telemarketing?], and receiving voluminous junk mailers, tomorrow we get to decide who's going to govern us.
Tomorrow matters, because about 80% of the elections in NYC are decided in the primaries.
In the photo above right, Peter Vallone takes Melinda Katz to task for sending out mailers that attempt to demonize him with distorted visuals and labels.
NYC Mayoral Candidates - Final Polls & Agendas & You Decide
There are five major candidates running for Mayor on the Democratic side [de Blasio, Quinn, Weiner, Thompson & Liu] and two on the Republican side [Lhota & Catsimatidis]. The most recent polls show DeBlasio well ahead of the pack, but he needs 40% of the vote to avoid having a runoff election later in the month. Thompson is the runner up and Quinn, once the leading candidate, is running a distant third.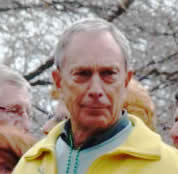 Quinn has sometimes been referred to as Mayor Bloomberg's lapdog because of her 'dogged' support of his agenda. In spite of that moniker, the Mayor did not endorse her even though she had helped Bloomberg reverse a plebiscite on municipal office term limits and passed the majority of his agenda. Both Quinn and Katz did win the endorsement of the Democratic Party hierachy and the monied support of NYC real estate developers.
Runoffs Weaken Mayoral Candidates
The last time we had an open NYC Mayoral election [meaning no incumbents] it resulted in a Democratic primary runoff. Fernando Ferrer won the primary with 279,000 votes [35.5%]. Mark Green won enough votes [243,000 votes] to compete in a runoff. In the runoff Mark Green prevailed, and then went on to lose against Michael Bloomberg by 35,000 votes. A hotly contested Democratic primary runoff weakens the Democratic candidate shortly before the final election.
Queens Borough President Candidates 2013
There are three Democrats running for Queens Borough President [Vallone, Katz & Brown] and one on the Republican side [Arcabascio]. Tony Avella is on the ballot, but he has dropped out of the race.
There are also a number of City Councilmember races, which we don't have the time to discuss today.
Click For More About Queens Borough President Candidates 2013
Click here to read more about the NYC Primary Elections, with more about the backgrounds of the Queens Borough President candidates, and including a link to find your Queens polling place.
---
Queens Primary Election Results
Katz Wins Boro Prez / de Blasio May Face Runoff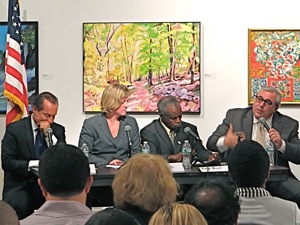 September 11, 2013 / Queens Neighborhoods / Queens Politics / Queens Buzz. Melinda Katz received nearly 45% of the vote in the race for Queens Borough President. Peter Vallone was the runner up with nearly 34%. Everly Brown captured nearly 13% and Tony Avella whose name was on the ballot, but had dropped out of the race, won 9% of the vote. Katz will go onto face Republican Tony Arcabascio in November.
In the photo to your right, Republican candidate Tony Arcabascio speaks as Peter Vallone, Melinda Katz and Everly Brown listen at the Queens Borough President Forum held at Flushing Town Hall on August 26th.
Bill de Blasio was the winner of the Mayoral primary, but it remains unclear whether he won over 40% of the vote which would preclude any runoff against Thompson who was the runner up with 26% of the vote. Some paper ballots remain to be counted which could sway the tally. Christine Quinn, once the front runner, won only 16% of the vote and Queens' John Liu came in fourth place with 7% and Anthony Weiner netted 5%. On the Republican side Joe Lhota won 53% of the vote, beating out billionaire John Catsimatidis who netted 43%.
As for Queens City Council races, many incumbent candidates went uncontested in the primaries. Paul Vallone appears to have won with 31% of the vote in the 19th District but there could be a runoff. Costa Constatinides handily won the 22nd District [currently Peter Vallone's District] with 56% of the vote. Rory Lancman won the 24th District with 62% of the vote. Ruben Willis won the 28th District with 49% of the vote. Donovan Richards won the 31st District with 52% of the vote. Lew Simon won the 32nd District with 65% of the vote. And Antonio Reynoso won the 34th District with 49% of the vote beating out Vito Lopez. And Daneek Miller is ahead with 24% of the vote in the 27th District.
The general election will be held on Tuesday, November 5th.
---
Queens News - Queens Neighborhood News
MTA Fare Hike This Weekend - Queens
March 9, 2013 / Queens Neighborhoods / Queens Buzz. The MTA fare hike becomes effective this weekend. Subway and bus rids will rise from $2.25 to $2.50 on a MetroCard and a single purchase fare will rise from $2.50 to $2.75. New cards will cost an additional $1. The monthly card will rise from $104 to $112 and the weekly will rise from $29 to $30. Weekly express bus passes will rise from $50 to $55.
Tolls on the MTA's seven bridges and two tunnels will rise from $6.50 to $7.50 per single pay riders, and from $4.80 to $5.33 for
The funds will raise an additional $450 million per year and help fund operations and infrastructure maintenance. Click here for other Queens News briefs.
---
Athens Square Park History - Astoria
Sophocles Arrives In Athens Square Park
A History Of Athens Square Park In Astoria
March 30, 2015 / Astoria Neighborhood / Ethnic & Religious Culture In Queens / Queens Buzz. A new statue of Sophocles arrived in Athens Square Park on Saturday. The statue was erected as part of the Greek Independence celebration festivities in Astoria last weekend.
But for some it was a day to bear witness to the completion of a thirty-one year community effort to complete the vision of the park as first set forth by former Athens Square Park Dennis Syntilas over three decades ago.
And it was a bittersweet day, as Dennis Syntilas passed away only three prior to this event, in January of 2015.
Standing in the photo at right [from left to right] is Captain Dennis Mullany of the 114 Precinct, George Alexiou former President of the Greek Homeowners Association, George Delis current President of Athens Square Park, Sophocles [statue], George Stamatiades a longtime supporter and Community Board Member, and the woman standing at street level with the wavy auburn hair is Rita Syntilas who is the widow of Dennis Syntilias the former President of Athens Square Park.
Click here to read our full report regarding the history of Athens Square Park in Astoria, and the erection of the Sophocles statue during the Greek Independence celebrations in NYC in March of 2015.
---

Astoria News - News About Astoria NY
Rewired State @ MOMI
Kids Converge In Astoria To Build Apps
July 1, 2013 / Astoria / Film in Queens / Queens Buzz. On Sunday afternoon I headed down to the Museum of the Moving Image [MOMI] to view the results of a weekend long program at MOMI, entitled Rewired State. The program invited area kids in grade school and high school to spend a good part of the weekend at the museum, building software applications that leveraged datasets made available by various bodies of government.
The kids ranged from very young to ready to go to college. Many of the apps leveraged public datasets into maps, but there were several that went beyond. In the photo to your right are a brother / sister team that built an app showing where many of the graffiti spots are in NYC. Given they only had two days to complete their work, they weren't able to finish it.
We'll have more on this program later. It was a great learning experience for kids - not just in terms of learning how to build software applications - but also how to work on a team.
Click here to go to the Astoria Neighborhood section of this site, or on the photo above for other Astoria News briefs.
We'll have more on this seminar later in the quarter. In the meantime click here for other Astoria News briefs.
---

New York State Pavilion - Photos & Opening
The New York State Pavilion Opens For 3 Hours
Philip Johnson's 1964 World's Fair Relic Comes Back To Life
April 22, 2014 / Flushing Neighborhood / Queens History / Queens Buzz. The New York State Pavilion was reopened for three hours in commemoration of the 50th anniversary of the 1964 - 1965 World's Fair ... and thousands came to see it. An announcement that the structure was named to the National Trust For Historic Preservation was made at the opening.
I had an opportunity to view the NYS Pavilion during the three hours it was open on April 22nd 2014. As mentioned above, the date marked the 50th anniversary of the opening of the 1964 - 1965 World's Fair. The NY State Pavilion was a structure commissioned for the Fair, which was held in Flushing Meadows Corona Park. The New York State Pavilion was built to honor and celebrate all things of New York State.
The complex encompasses three categorical elements: 1) the three observation decks shown in the background of the photo, 2) the Tent of Tomorrow - the inside from which this photo was taken, and 3) the Theaterama, which is shown in the background on the right. The Theaterama had been converted into Queens Theatre In The Park some time ago, and was renovated in 2008.
Interest in the NYS Pavilion began with a pilot project by the NYC Parks Department in 2007. The project was intended to explore its restoration / restore some of it [urban archeology]. And in 2009 a couple of guys decided they wanted to bring it back to life by [re]painting it. Since then, interest in the NYS Pavilion has been gradually gathering steam. Most recently a film maker crowd sourced funding to make a movie about it. And today it was named into the National Trust For Historic Preservation.
Click here for the story about the NYS Pavilion, including many details and a slide show containing photos of the New York State Pavilion.
---

Flushing & Corona News - Queens NY
Moon Parade & The Asian Harvest
September 17, 2013 / Flushing Neighborhood / Queens Culture / Queens Buzz. I attended the Moon Parade and celebration in the Flushing neighborhood of Queens. The parade at 5 pm on Saturday at 40th Road and Main Street and was provided a police escort [Main Street is quite busy, even on Saturdays] down to the Queens Botanical Gardens where it ended at the Kissena Park Corridor.
The parade included the moving dragon and other traditional Chinese parade costumes, as well as banner bearers, a marching band and a number of Ninja and Halloween-costumed characters. I met with a couple of the parade participants to find out more about the significance of the Moon Parade.
Essentially it's a Fall Harvest Celebration - Asian style. The moon parade and celebration includes feasting on chicken and pigs and eating traditional Moon Cakes. I found some of these in one of the stores nearby, where the tins, made in Hong Kong, have elaborate artistic renditions of a woman eating a cake with the moon shining brightly outside. The moon cakes are made of lotus paste. Happy Lunar / Moon Harvest.
---

Queens Schools - NYC Public Education Issues
People For Public Schools – In Jackson Heights
Dromm Discusses Educational Issues & What Can Parents Do To Help
May 28, 2014 / Jackson Heights / Queens Schools / Queens Buzz. I attended what was essentially a communal sit down dialogue Daniel Dromm, Chair of the NYC City Council Education Committee. He met with a six-month-old group that goes by the name of the Jackson Heights People For Public Schools. And together they discussed the plethora of issues being grappled with by educators, policymakers, parents and pupils in the wake of the Bloomberg Administration's departure.
I consider myself to still be in the learning mode of trying to understand all of the issues faced by those managing public education so what follows is essentially a partial record of the discussion.
As background based what I do know from prior coverage in the Queens educational arena, the Bloomberg Administration embarked on an effort that appeared in some respects to favor de-unionizing and privatizing the NY Public School system via the closing of public schools which were staffed with generally experienced, unionized teachers; and opening privately run charter schools, generally run by fairly new teachers who worked for non-union wages. The Bloomberg Administration also moved toward splitting schools into smaller entities.
Click here to read more about a dialogue with Daniel Dromm, NYC City Council Chair of the Education Committee, about education & public schools in Queens.
---

Jackson Heights News & Corona News - Briefs
Passover in Jackson Heights
Kehillat Tikvah Celebrates 5th Passover in Queens
April 1, 2013 / Jackson Heights / Judaism in Queens / Queens Buzz. On March 26th I attended the fifth annual Kehillat Tikvah Tuesday evening at St. Mark's Episcopal Church in Jackson Heights. This Passover was hosted by Kehillat Tikvah, which is a relatively new community of hope, located in Jackson Heights. Rabbi Laurie Gold led the evening of festivities.
I arrived around 6 pm as the organizers were finishing up last minute details for the event. A U shaped table formation in the middle of the large room had been set, and there were containers of warm food laid out along a long table in front of the kitchen. People within the community were conversing, and without much effort I was drawn into a conversation with the folks sitting next to me.
Click here to read the rest of our report on the Kehillat Tikvah Passover in Jackson Heights later this month and click here for other Jackson Heights News briefs.
---

Jamaica JAMS Music Festival - Cultural Collaborative
Jamaica JAMS Festival
Queens, The Home Of Jazz, Hits Another High Note
August 16, 2015 / Jamaica Neighborhood / Music Scene in Queens / Queens Buzz.
Two weekends ago I headed down to Jamaica town, to partake in the Jamaica JAMS festival of music, which begins the eve before the big festival day. It was a near perfect summer evening as I ascended from the underground tunnels of the MTA's E train, and up onto the bustling streets of Jamaica, Queens.
I headed west along Jamaica Avenue before turning north at 153rd Street which runs along the eastern side of Rufus King Park. There were plenty of people out and about. I saw parents watching their kids at the playground as they all enjoyed the lazy midsummer evening, there were energetic teenage boys playing spirited half-court games of basketball, and an entire field filled with soccer moms, dads and kids passing, rollling and kicking the ball around. But in the northwest corner of the park, something else was a happenin'.
I crossed the field and came up behind the Jamaica JAMS [Jamaica Arts & Music Summer] audience that had gathered on the lawn and on the chairs facing the JAMS festival stage. Emcee and saxophonist Craig Crawford was conversing with the winner of a dance contest that had just ended [see photo above].
Click here to read more about the Jamaica JAMS musical festival in Rufus King Park, including a short, less-than-two-minute music video with saxaphonist Craig Crawford, followed by vocalist Toni-Ann-Semple.
---

Jamaica News - Brief Reports About Jamaica NY
King Manor Makes Merry
January 2013 / Jamaica News / Queens Buzz. King Manor Museum hosted some old fashioned holiday festivities just before the Christmas holiday. They set up a workshop in the back room where families and kids could come to create tree decorations out of the materials used back in the days of Rufus King.
We participated in the workshop, making stringers out of popcorn, cranberries and the like.
And click here to read more Jamaica News briefs.
---

Rough Draft Festival LPAC: Beyond Sacred: Unthinking Muslim Identity
Real-Time. Off Line. Interactive. Online. Theater.
LaGuardia College Performing Arts Center Takes Center Stage With Rough Draft Festival
April 13, 2015 / Long Island City LIC / Queens Theater / Queens Buzz.
A bit more than a week ago I headed down to the LaGuardia College Performing Arts Center to watch / participate in one of the performances of the week-long Rough Draft Festival.
The Rough Draft Festival is the creation of Managing Director Steven Hitt and Assistant Director Handan Ozbilgin of LaGuardia College Performing Arts Center. The festival was the evolution of experimental dance and theatrical work the two had been collaborating on with Queens and New York City performing artists over a number of years. In 2013 they launched the first Rough Draft Festival to attract, audition, present and refine original choreographed and theatrical works probing themes relevant to the Queens community.
The work I would view today was entitled The Art of Hijab. Kohl Black and the Right Way to Pray. This production dovetailed with another project undertaken by the LaGuardia College Performing Arts Center dubbed Beyond Sacred, which is a grant-sponsored exploration of Islamic cultural identity.
Click here to read our report about the Rough Draft Festival at the LaGuardia College Performing Arts Center. Report.
---

LIC News / Long Island City News
New Supermarket - Queens Plaza 2014
August 29, 2013 / Long Island City LIC / Food & Wine / Queens Buzz. In June of this year, Foodcellar & Co inked a deal with Rockrose Corporation on a lease for 14,500 square feet on the ground and subterranean levels near Queens Plaza. The deal appears to be a win for both parties as the Queens Plaza neighborhood is in need of an modern supermarket which will facilitate Rockrose's business and residential real estate sales and rentals into the area. And it is also a win for Foodcellar & Co because Queens Plaza is an emerging business and residential center because of its location with regard to public and private transportation.
The new supermarket will be the second Foodcellar & Co store in Long Island City. The first Foodcellar & Co store was opened in August of 2008 on 47th Road just off Center Blvd. The store recently celebrated its fifth anniversary with an in-store all evening event where they had set up food and beverage booths so customers could sample unique food products around the store.
The new store will be configured a bit differently than the current Foodcellar to suit the tastes of a different area. I spoke to the management team who told me that they expected to be servicing both a business office clientele during the day and a rapidly growing residential population at all times.
Click here to read other brief reports with LIC news.
---

First Calvary Cemetery Maspeth - Memorial Day Fiction in Queens
Memorial Day With Chief Joseph
A Conversation in First Calvary Cemetery in Queens
May 24, 2015 / Woodside & Maspeth Neighborhoods / Queens Culture / Queens Fiction / Queens Buzz.
On Memorial Day, I decided to make a trip to the First Calvary Cemetery to visit the graves of those who gave their lives defending this nation where the founding charters promise all [wo]men the right to life, liberty and the pursuit of happiness. They fought for a noble cause I thought as I made my way, on a beautiful day, to the Calvary cemetery in Queens.
The First Calvary cemetery opened in the late 1840's [circa 1847 – 1848] and was located only a short ferry ride away from Manhattan, up Newtown Creek. A couple more cemeteries were opened as the 19th century wore on, as most of Queens was still rural farmlands and woodlands. Many of the burials of the first century of operation were of Catholic Irish, Italian and Polish immigrants - including many children. And many soldiers had been buried here as well, most of whom were from the Civil War era.
As I was viewing a collection of the tombstones, reflecting on the lives sacrificed in the war over slavery, as well as the more recent wars that pulled nearly the entire planet into battle, a human figure in the distance caught my attention. A man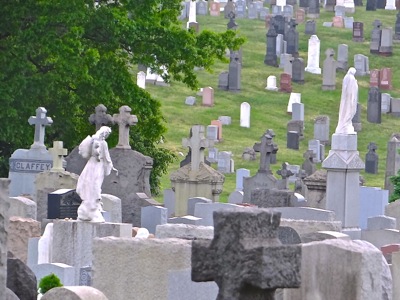 appeared to be making his way toward me, in this lonely empty section of the cemetery. I pulled out of my musings, and began to focus on his emerging presence as he made his way up the hill.
He was an old man, of medium height, with long black and grey hair and a weathered, leathery skin. He was wearing an old work shirt and dark trousers and beaten leather shoes. No, they were mocassins.
His countenance resembled that of a legendary Indian: Chief Joseph. Chief Joseph was a tribal leader of the Nez Perce tribe in the Wallowa Valley in northeast Oregon. Chief Joseph was born in 1840, only years before this cemetery was founded. And he had visited New York City in 1897 to march alongside Buffalo Bill in a Wild West Parade.
He slowly raised his right arm, palm open and fingers standing straight up like a Boy Scout, and in a deep full voice he said,
"How."
I stood a bit at attention as I returned the greeting.
"Hi. How are you doing?"
He spoke again, this time in a language I did not understand.
"Mumba goycha tay."
I looked at him and shook my head back and forth indicating that I did not understand what he'd just said.
Click here to read the rest of our Memorial Day fiction in Calvary Cemetery in Queens.
---

Sunnyside News / Woodside News
Smidge & Dallow Under The 'L'
Nimble Fingered Trumpet Player With Gravelly Voice & Acoustic Accordion Player
December 23, 2013 / Sunnyside NY / Sunnyside News / Queens Buzz. For the second time in the past six months, I found myself drawn under the vaulted arches of the elevated train along Queens Boulevard in Sunnyside, to treat my ears to the seasonal music of Smidge & Dallow. It's been an ad hoc treat as they 'just do it' when the spirit moves them.
Smidge has a gravelly voice that reminds me of the old Louis Armstrong recordings and he's a trumpet player extraordinaire. Folks in Sunnyside may have heard him perform in the annual Bix Beiderbecke concert sponsored by Sunnyside Shines last July.
Dallow is a modest accordion player whose acoustic accompaniment provides a gracious complement to the jazzy tunes & vox vibrations of Smidge. The duo was playing a number of holiday tunes including an old Armstrong hit. They're pretty busy, but always looking for new gigs. They can be contacted via the Facebook page named Matt Dallow Music.
Click here to read more Sunnyside News & Woodside News briefs.
---

Queens News - Queens Neighborhood News
MTA Fare Hike This Weekend - Queens
March 9, 2013 / Queens Neighborhoods / Queens Buzz. The MTA fare hike becomes effective this weekend. Subway and bus rids will rise from $2.25 to $2.50 on a MetroCard and a single purchase fare will rise from $2.50 to $2.75. New cards will cost an additional $1. The monthly card will rise from $104 to $112 and the weekly will rise from $29 to $30. Weekly express bus passes will rise from $50 to $55.
Tolls on the MTA's seven bridges and two tunnels will rise from $6.50 to $7.50 per single pay riders, and from $4.80 to $5.33 for
The funds will raise an additional $450 million per year and help fund operations and infrastructure maintenance. Click here for other Queens News briefs.
---
Site Search Tips. 1) For best results, when typing in more than one word, use quotation marks - eg "Astoria Park". 2) Also try either singular or plural words when searching for a specific item such as "gym" or "gyms".
Click this link to search for something in our Queens Business Directory containing over 1,000 listings. Click here to view the home page of one of the leading chiropractors in Queens. Click here to view the home page of one of the leading spas in Queens. Click here to view the home page of one of the leading wedding halls in Queens.
Click here to view a story about furniture stores in Queens.
---
Click the log in link below to create an ID and post an opinion. Or send this story to a friend by filling in the appropriate box below.
---