Click on the header above to view the monthly events calendar for Queens Neighborhoods.
Table of Silence Transcends 911
Lincoln Center Dance Commemoration Transcends Hate through Love
September 11, 2017 / Upper West Side Neighborhood / Modern Dance Manhattan / Manhattan Buzz NYC.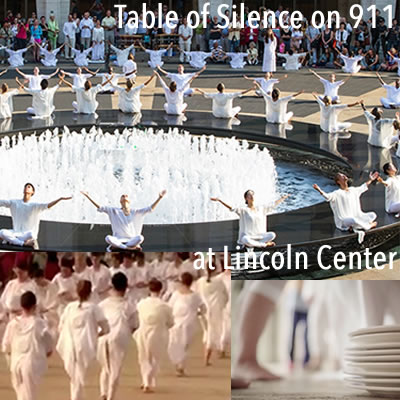 This morning at 8.15 am over one hundred dancers began a spiritual commemoration of the events of 911 with a modern dance performance in the main plaza at Lincoln Center on the Upper West Side. This was the seventh year of the performance, and its meaning seems to grow - rather than diminish - with time. It's about the classic and timeless struggle, between giving into hate, or striving to love.
The dancers were all dressed in white, and they created a resplendent symmetry mimicking nature's own. The performance was accompanied by a bit of minimalist music - originating from a beating drum, the air passing through a conch shell, and the human vocal cords.
The dancers transformed the plaza at Lincoln Center into a table, with the bountiful water fountain in the middle. Plates appeared, signifying the sharing of a feast ... a spiritual feast ... a prayer for all humanity.
We feel a heavenly sharing of being together, in a single place, at a single time. It's a solemn place, a sagely peace, a peace with each other, a peace within, and a peace with all the world ... even as the world continues to swirl around us, as does the NYC traffic ... but we remain centered ... as one.
At exactly 8.46 am the performance stops. All is still in Lincoln Center Plaza as we observe a minute of silence together. It's a silence within, as we are surrounded by the ambient noise of the city during rush hour. Sixteen years ago at 8.46 am the second of two planes struck the World Trade Center wreaking havoc. Taking lives. Creating chaos.
Cleansed of hate and vengeance - we depart to go on with our days. We have defeated the terrorists, by not giving into their desire for an endless cycle of violence and hate.
Election 2017 Tuesday 9/12 - Please Vote
September 11, 2017 / Queens Neighborhoods / Queens Politics & Government / Queens Buzz.
The New York City primary election is tomorrow, Tuesday September 12th.
The polling booths will be open from 6 am to 9 pm Tuesday.
To find your poll location click on the graphic at right.
Once on the website, input your address, and then click the small icon to the right of it to get the results of the search. I hope the NYS Board of Elections does better cyber security than they do web design, as the tiny arrow is easily overlooked.
If there is a runoff to this election, it will be held on Tuesday, September 26th and the general election is Tuesday, November 7th, 2017.
NYC Crime Continues To Drop, Breaking Records
Mayor de Blasio & NYPD Discuss City Safety & Ongoing Improvements
February 7, 2017 / Crime in Queens Neighborhoods / Queens Government / Queens Buzz.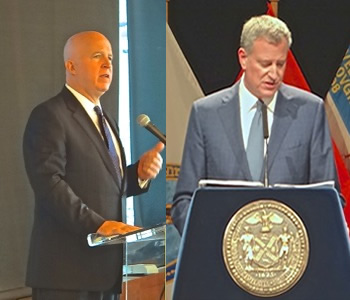 This just came in on the heels of our coverage of the Public Safety discussion below. Mayor de Blasio and NY Police Commissioner O'Neill spoke in the Bronx regarding ongoing efforts and results in improving safety in the city. The following are some of the crime statistics noted in their meeting taken directly out of a press release sent by them.
 
Chief of Crime Control Strategies Dermot Shea, NYPD: Thank you, Mr. Mayor. Good afternoon, everyone. As you've heard, we have begun a strong start to 2017 in terms of overall crime reduction. Strategies that have been put in place to address repeat offenders, illegal gun possession and gangs are having the desired effect. We're building on the momentum of the last few years.
So, some of the highlights for crime statistics from this January – overall index crime is down 0.2 percent for the month of January. When you carry it over to this morning, we are now down 2.7 percent in overall index crime in New York City.
To note – with the overall index crime, January marks the tenth consecutive month of reduced index crime. That's the momentum we've been talking about. Currently, four out of five boroughs in New York City – all but Queens – are down to start the year.
Homicides – we recorded 20 homicides in January. That's down two from 22. That 20, as the Mayor alluded to, is the lowest January that we have ever recorded going back a minimum into the 1960s.
Shooting incidents – down 1.7 percent in January. Last January we hit the modern mark with 59 shooting incidents. We came in with 58 this January.
Talking about momentum again – nine of the last 13 months we've had a reduction in shooting incidents. Nine of the last 13.
Three months in a row we've had a reduction in shooting incidents in New York City. We have now, when you look at New York City as a whole, we now have 24-hour periods where we do not record a shooting incident in New York City. That kind of thinking was impossible in the not too distant past.
This is the new normal. We want to build on it and we feel that we will build on it but there's still plenty of work to do.
Stabbings and slashings for January – down 7.2 percent.
Robberies – down 7.5 percent. Lowest January robbery number we've seen.
Felony assaults in New York City – down 5.4 percent.
Burglaries tied the lowest mark set last year.
Transit crime – down 1.4 percent.
And housing crime – not to be outdone – down 1.9 percent.
Clearly, a wide breath of crime across New York City – property and violent crime, down.
 
But there is, I alluded to, there is still work to do – three categories we saw increases in January.
Grand larceny, specifically, credit card related skimming and forging of checks – those two drove grand larcenies. And grand larceny was up for the month of January 4.7 percent.
And lastly, rounding out the crime totals – stolen vehicles which we have seen drop to unprecedented lows saw an increase of ten cars for January. So, that's 480 versus 470 – a two percent increase.
Commissioner O'Neill: Okay, thanks, Dermot. We'll take your questions.
 
Question: Do you think it's possible, really to keep driving crime down further at this point? And how could you achieve that?
O'Neill's response was yes, with some added context.
Shave the Stache - QSAC Quality Services for Autism Community
Shaving the Stache & Making the World a Better Place, One Human at a Time
Benefit for Quality Services for Autism Community [QSAC] at the Redken Saloon Salon in Astoria, featuring Art 4 Healing
January 10, 2017 / Astoria Neighborhood / Queens Neighborhoods / Queens Buzz.
It was the first weekend night of the New Year, which after the relaxing holidays generally tends to be fairly low key. The streets were quiet on a clear, cold January evening as I made my way up 30th Avenue toward Steinway Street. I didn't really know what to expect at the Shave the Stache benefit at the Redken Saloon Salon, where the event has been hosted for the past five years.
Unlike the silent streets, the Redken Saloon Salon was bustling with life when I arrived. I was warmly greeted by members of the Quality Services for Autism Community [aka QSAC], as I made my way into the salon.
William Balash: Man About Town
One of the first people I met was William Balash. He's a big man, who at the time, was sporting a hearty crop of whiskers, which he told me he'd been growing since October. He introduced me to Patricio Barrientos, External Affairs Coordinator of QSAC, who provided me with a bit of background information about the group, including that it was founded in 1978 by Queens parents of children with autism who were searching for more productive ways to raise autistic children, than were currently available at the time. Today QSAC serves 2,100 people with autism in NYC and on Long Island.
In the photo at right are the men who had their whiskers shaved, alongside those who shaved them. Back row from left to right are: Mike Christoforotos, Spiro Aganastopoulous, Janos Kanta, Nicholas Halvatzis, Jerry Crisafis, Joe Vaccaro, Sofia [hair stylist], Ken Marzocco, and Paul Halvatzis. The two men kneeling are Nicholas Zikos and Bill Balash, while the two men seated are Steve Sirgiovanni and Larry Litwack, with Redken Saloon Salon owner Frank Arcabascio standing between them. Last, but not least, is Jim Halvatzis standing far right.
Art 4 Healing Obtains Art Donations for Benefit Auctions
William and Patricio introduced me to Katrizyna [aka Katrina] Kozena, of Art for Healing NYC. Katrina told me that the group was founded circa 2001 and gets artists to donate works which are auctioned off at fundraising benefits to help those in need. The proceeds from the auctioned art are shared by both non-profits and the artist receives free publicity. Art for Healing doesn't provide art therapy, which oftentimes includes interpretation of artworks after they've been completed; but rather Art 4 Healing uses art as a means of enabling people to emotionally connect with themselves in ways that may not be available in daily life.
Katrina showed me the work being auctioned off this evening, which was a wood painting by a Latin American artist. The artist's name is Angelo Romano who currently lives and works in NYC, but is a Spanish artist immigrant from Latin America. The work was a hand painted wooden totem pole – acrylic on wood. In the photo at right is Katrizyna Kozena of Art4Healing.org.
Click here a bit later today for the rest of the story including more photos and video about Shave the Stache benefit for QSAC in NYC.
---
Sunnyside Shorts Film Festival Friday
Films Shorts from Queens & Around the World Describe a bit of the World Around Us
October 3, 2016 / Sunnyside Queens / Film Festivals in Queens / Queens Buzz.
On Friday and Saturday the Sunnyside Shorts Film Festival returns after going on hiatus in 2011. The films will be shown in the historic Sunnyside Reformed Church on 48th Street and Skillman Avenue in Sunnyside. We covered the festival in the past and you can find prior stories about it by clicking these links to the Sunnyside Shorts Film Festival in prior years.
History of Sunnyside Shorts Film Festivals in Queens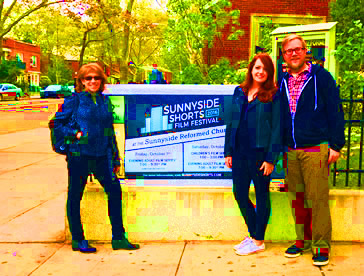 The first Sunnyside Shorts Film Festival was organized in 2001 by a visiting Japanese student at Hunter College. The Founder, Shinichi Murota, after running the first festival then returned Japan.
Theresa Ward & Sherry Gamlin were volunteers for the first festival and after the festival lied dormant for a few years, they decided to revive it in 2007. For five straight years the festival continued along with the help of another Sunnysider Susan Walsh - before going back on hiatus in 2011 when Sherry left Sunnyside to care for her mother. In the photo at right [from left to right] stand Sherry Gamlin along with Ashley and Bryan Brinkman in front of the Sunnyside Reformed Church where the Sunnyside Shorts Film Festival begins Friday.
Sherry's mother died in 2014 and a year later Sherry returned to Sunnyside which has been her home since 1975, and her Queens roots go back even further. Last Spring Sherry attended a concert at Sunnyside Reformed Church and she inadvertently found herself scouting out the church as a venue for the return of the festival. She spoke to Pastor Neil Margetson about the possibility of using the church as the film festival venue. Margetson liked the idea … and hence the Sunnyside Shorts Film Festival was born again.
Organizing Sunnyside Shorts Film Festival Queens 2016
Sherry told me that they had received 1255 film submissions from around the world, literally all six continents [none from Antarctica which is melting fast], citing films from South Africa, Zimbabwe, Latin America, Iran, India, Japan, China, Australia, Europe and North America / NYC / Queens. The photo at right is from the film Bionic Girl from France showing Friday night.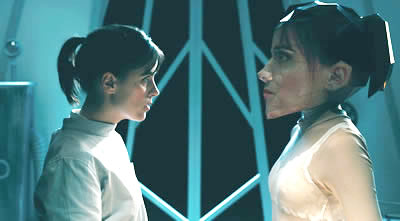 She received most of the submissions in May of 2016 and there were six people who reviewed the films including Bryan and Ashley Brinkman who had helped with the last Sunnyside Shorts Film Festival in 2011. Bryan Brinkman is a cartoonist animator for Jimmy Fallon and his wife Ashley Brinkman is a package designer for advertising company that does food products. Ashley did the poster [see photo below] and website, while Bryan helped review the films.
The four other reviewers were Kevin Keating, who Sherry described as a notorious film buff, Sandra Statner is an avid TV and old movies screener, Dr. Caryn Goldberg is a psychologist who regrets not going into stand-up comedy, and Matt Simnowitz was described as someone who knows everything there is to 'no' about filmmaking.
Screening the Films for Sunnyside Shorts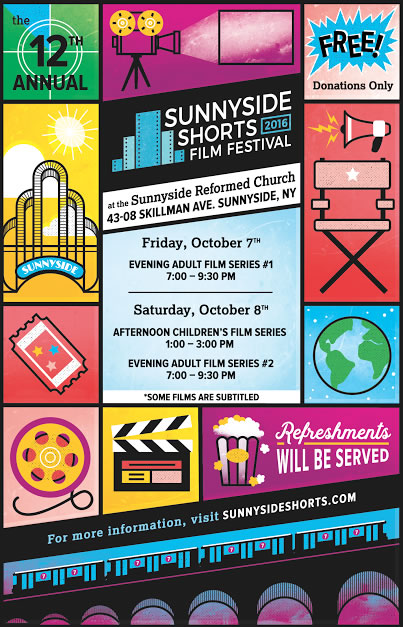 In reviewing the films, those that contained inappropriate content were quickly discarded, as were some that were just so bad. Sherry said the films allowed into the show were screened to be sure there wasn't anything demonic or distasteful. Sherry told me that she had inquired as to whether the Church guidelines would permit the showing of films with some cursing, and Pastor Margetson quipped, "I'm sure God has heard it all."
And while 1255 films sounds like a lot – which it is – they are short films, so 1 to 20 minutes in length means you can review 60 to 6 in the time it takes to watch one two-hour long film. What about themes I asked? "No themes" she said, "the festival is about nothing and it's about everything." There's drama, comedy, animation and documentaries. They are showing 13 films on Friday and 12 films on Saturday evenings beginning at 7 pm and showing 13 films for the kids on Saturday from 1 to 3 pm.
Why are you doing this, I asked. "Because I love all aspects of putting a film festival together" she replied.
Click here for a preview of many of the films that will be shown at the Sunnyside Shorts Film Festival this Friday and Saturday.
Panorama Music Fest on Randalls Island
Three Day Musical Festival Strikes a Grammy Chord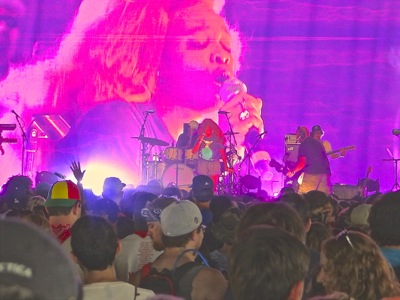 July 25, 2016 / Randall's Island near Queens / Music in Queens / Queens Buzz.
I attended the Panorama Music Festival on Randall's Island this past weekend. The music festival featured dozens of top and second tier bands and musicians with the event starting Friday and ending Sunday night. Some of the music festival headliners included award winning groups like Kendrick, Alabama Shakes and the return of LCD after a ten year hiatus. Panorama also featured a number of other highly regarded, well known groups - many of which are likely to continue gaining recognition.
In the photo at right, vocalist Sza, is performing in the Pavilion at the Panorama Music Festival on Randalls Island on Sunday.
The weather over weekend was a very seasonal hot, with temperatures hitting nearly 100 on Saturday [high 98], before descending into the low 90's on Sunday. But the island breeze coming across the East River on Randall's Island and not-too-high humidity, made strolling around the event campus not only doable, but enjoyable. There was also a public water station where you could refill your water bottle [free] and there was ample shade within the tree filled park.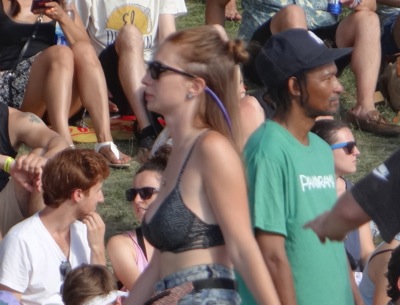 The crowd dressed for Panorama to beat the heat, more than anything else. This translated into a near beach-like scene for people-watching, with many youthful men and women enjoying the glow of their Adonis-like years. In 1992 there was a gender equality lawsuit, which contested women's right to go topless without being arrested - a right men enjoyed in this country since its founding. More than a decade later, in 2015, panhandlers in Times Square began asserting that right by painting their bare breasts with American flags and other designs, while soliciting tips from resident and tourist passers-by, for the pleasure of viewing them. These 'performance artists' were nicknamed the 'Desnudas'.
NYS and NYC Government officials found a way to reign in this practice - as it was creating quite a stir - by confining the solicitations to specified areas within the Times Square Plaza. Fast forward to 2016 and things continue to evolve, with women now wearing swimsuit / lingerie-like tops as fashion statements, some of which were on display at the Panorama Music Festival.
In the photo at right, a woman sports a fashionable swimsuit / lingerie-like top, at the Panorama Music Festival on Randall's Island.
We'll have a bit more later this summer, including video and a discussion of some of the art on exhibit at the Panorama Music Festival on Randall's Island in NYC.
Marty's Museum & Camera Repair Shop
Marty's been Helping Folks take Pictures & Videos for Decades
Updated October 4, 2016 - MARTY'S CAMERA APPEARS TO HAVE CLOSED. The telephone number has been temporarily disconnected.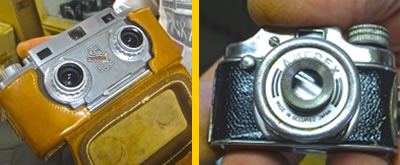 July 19, 2016 / Forest Hills Neighborhood / Queens Shopping / Queens Buzz.
I headed down to Marty's Camera a couple of weeks ago, with a camera that wasn't working well. I bounded up to the second floor shop and was greeted by a saleswoman who queried me about the problem while writing up a ticket. As she took the photographic patient into the operating room, she told me to call back at the end of the day to find out when to return to pick it up.
I did as instructed and returned the following day. When I arrived at the repair shop, Marty emerged from the operating room having successfully completed surgery on the photographic patient. We started talking about the problem [I dropped the camera and it wasn't focusing properly] and the conversation meandered onto the changing technologies in the image capturing business.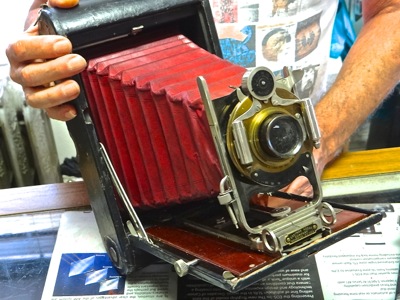 Marty told me that cameras were once mechanical miracles fullof delicate springs and levers, and today are even more miraculous, less delicate and full of a multitude of computer chip components and assemblages. The camera surgeon was tired that day, and said he'd like to give his brain a rest, so the conversation moved onto the history of cameras themselves.
I asked him about some of the more interesting cameras with which he'd comeinto contact. Marty wasn't at a loss when it came to camera history, and soon produced a Japanese made camera that contained the inscription "Made in Occupied Japan". He had another camera from the 1950's that was a 'stereo camera', which would take two photos simultaneously. I asked him if there were many of these made and he guessed that these weren't a big hit and might not have been in the market very long.
Marty had a collection of cameras, the prizes he cherished were the cameras made in New York. Possibly the crème de la crème was a1909 camera made in Rochester, New York that came in a dark black case and opened up with a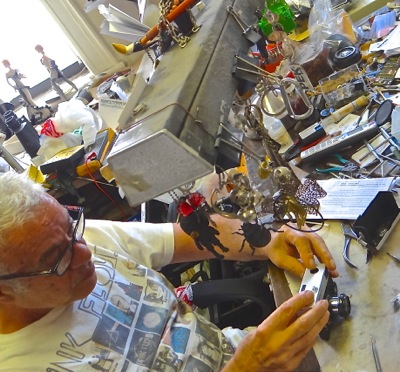 flashy, red-colored, old-fashioned funnel. It was likely state of the art over a century ago. I began to think of Marty's shop as something of a camera museum and Marty as its curator.
The conversation rolled onto the photographers and videographers and film makers Marty had met over the years. A number of photographers had given Marty samples of their work which he put on display in the waiting room of his office. Marty had started out in the late 1960's / early 1970's as a photographer himself, before become a camera doctor in 1973. He spent decades working in camera repair in Manhattan before leaving Photo Tech Manhattan in 1999, when he started out on his own in Forest Hills in the basement of a building across the street. He moved into the offices he now occupies over a decade ago and he continues to serve struggling, emerging and hobbyist photographers and filmmakers.
I knew as I was departing, that Marty had many more stories to tell. And although I don't want my cameras to break, I always look forward to visiting Marty in his camera repair shop which is located on the 2nd floor of 71-25 Austin Street in Forest Hills [just off the #7 subway].
Only in Queens
Muslims & Jews Organize Iftar Ramadan Dinner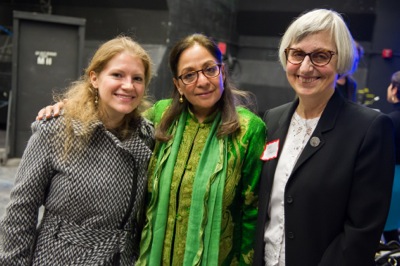 June 7, 2016 / Forest Hills Neighborhood / Religion & Culture in Queens / Queens Buzz.
Only in Queens. On Thursday June 9th, the Turkish Cultural Center and the Central Queens Y will break bread together at an Iftar Ramadan dinner beginning at sundown [7.30 pm] at the Central Queens Y at 67-09 108th Street in Forest Hills.
Ramadan is the ninth month of the Muslim year and the holiest month of the Islamic year. During this time Muslims pay special attention to praying, fasting and reflecting upon their lives. The Islamic Holy Month has similarities to the Christian Lenten season, as well as the Judaic Day of Atonement, Yom Kippur.
Islamic cultural traditions are based upon the lunar calendar, so the Ramadan Holy Month moves slightly around the solar calendar, from year to year. This year Ramadan began on June 5th and will end on July 5th. Attendees of all faiths are welcomed, as are families. The intent is to embrace a harmonious understanding of our shared planetary cultural identities, which the framers of the U.S. Constitution had envisioned centuries ago when they founded this nation.
The Iftar Dinner will be a dairy Middle Eastern meal catered by Meal Mart from Kew Gardens Hills. Meal Mart is Glatt Kosher and is under the supervision of the Vaad Harabonim of Queens. The meal costs $15 per adult and children under 12 are $5 each. Reservations may be made by registering online at www.cqy.org/tickets or you can call 718.268.5011 - ext 151, or email pkurtz@cqy.org.
Traffic Fatality at 21st Street - Hit & Run at 30th Road
Person of Interest
'Irrelevant' Person Dead, 'Relevant' Person Still at Large
April 11, 2016 / Long Island City Neighborhood LIC / Astoria Neighborhood / Queens Community Issues / News Analysis & Opinion / Queens Buzz.
On Wednesday, April 6th shortly before 11 pm an unidentified motorist traveling south on 21st Street hit a pedestrian near 30th Road.
According to PIX11 News,
"The driver traveled a half a block with the victim on the hood of the car, slammed on the brakes, leaving the victim to fall on the roadway before fleeing the scene, according to a police source."
PIX11 News also noted that the car may have been a Toyota [guess for yourself by watching the video], of a dark or red color, and that there was glass on the road, indicating that the car may have been damaged in the fatal hit & run. As of Monday noon, police had still not released the name of the dead man, pending family notification. The man was crossing 21st Street outside of the painted crosswalk lines.
This was a real homicide, but not pre-meditated murder, like the crimes that Harold Finch, John Reese and Detective Lionel Fusco attempt to solve before they happen in the CBS television series Person of Interest. But like the crimes pursued by the citizen heroes of the CBS television miniseries, there's some reasonable probability that this hit and run homicide along 21st Street could have been prevented. In fact we documented the members of TA Queens trying to stop this fatality before it happened, wherein they assumed roles with moral parallels to the leading characters in the show Person of Interest.
Let's examine the evidence. Click here to read the rest of our report about the hit and run fatality on 21st Street in Astoria / LIC at 30th Road including a graphic NYPD video of the collision.
---
NYC Congestion Pricing - Move NY Congestion Pricing Plan
Which Queens 'Democratic' Pols Support $8 Tolls?
Several Queens Officials Support $8 Tolls on Queensborough & Other East River Bridges & at 60th Street to Raise Capital for the MTA
Queens Democratic Party Chairman Joe Crowley & NYS Governor Cuomo Supported Congestion Traffic Pricing in the Past
March 29, 2016 / Queens Neighborhoods / Queens Politics / News Analysis & Opinion / Queens Buzz.

The new Congestion Traffic Pricing Plan has been making its way into the legislative process over the past year. Just last week NYS Assemblyman Robert Rodriguez, a Democrat from Manhattan introduced the bill on March 23, 2016. The Move NY Congestion Traffic Pricing Plan is being sold into the legislature as a means to raise revenue to fund MTA Capital projects.
Currently NYS Senator Jose Peralta, Cuomo's Deputy of Legislative Affairs Mark Weprin & CCM's Van Bramer, Richards & Reynoso publicly support installing $8 tolls on the Queensborough & other East River bridges to raise capital for the MTA.
Governor Cuomo's Words Are ...
Governor Andrew Cuomo supported the Congestion Pricing Plan put forth years ago, which wasn't popular with many of the voters in Brooklyn & Queens. The two boroughs have a combined population which rounds to 5 million or 25% of the 20 million people who live in New York State.
Cuomo was quoted as making the following statement by the Observer in an article published a year ago on March 15, 2015,
"It's not, 'Can I support it?' Will the people support it? Can you get it done? Can you get a congestion plan passed and we've gone through this a couple of times and it was an overwhelming 'no' and I haven't seen anything happen that would change my opinion,"
The Governor has essentially been repeating this position publicly ever since.
Inconsistent with Governor Cuomo's Staff Actions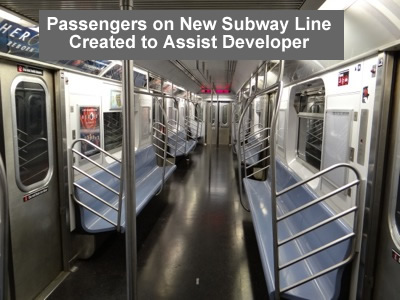 But while the Governor is publicly distancing himself from the measure which is unpopular in Queens and Brooklyn, former NY City Councilmember Mark Weprin, who is now Cuomo's Deputy of Legislative Affairs, has supported the Move NY Congestion Traffic Pricing Plan.
Weprin vehemently oppposed Congestion Traffic Pricing in 2008 when he was a NY City Councilmember, but in 2015 Weprin began publicly supporting the revised Congestion Traffic Pricing Plan as he transitioned from NY City Councilmember to becoming Cuomo's Deputy of Legislative Affairs. NYS Assemblyman David Weprin, Mark's brother, continues to publicly oppose the plan.
It's worth mentioning that the Weprins and the Cuomos have had close family political ties spanning two generations.
Congressman Crowley's Position Circa 2007
Queens Democratic Party Chairman, U.S. Congressman Joseph Crowley, supported the Congestion Traffic Pricing Plan backed by former Mayor Bloomberg, according to a June 11, 2007 report by the New York Times which quoted Crowley as saying,
"the overall [2007] plan — and congestion pricing is just a part of it — will make this a more livable city and make it easier to attract the best and the brightest not only from around the country but from around the world."
We've not yet seen any comments by Congressman Crowley on the current Move NY Plan which was recently introduced.
Move NY's 'New & Improved' Congestion Traffic Pricing Plan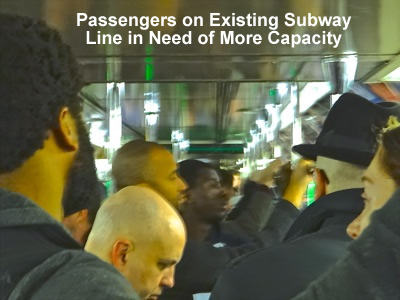 We studied the Move NY Traffic Congestion Pricing proposal by first taking a closer look at what groups are pushing the plan [follow the money]. Gridlock Sam Schwartz Consulting LLC is one of the primary promoters of the plan, and the consulting company is owned in part by a large, multi-national, transit infrastructure contractor. We also evaluated the assumptions they used to create the estimates provided in the plan, which we found to be inconsistent with fairly recent independent studies by respectable institutions, and we also looked at what happened in one of the other cities around the world that implemented the plan.
In essence the plan retrofits [re-prices] the fossil fuel infrastructure, by making a significant investment to install and operate tolling around the center of Manhattan. The remaining proceeds would then go to fund other MTA capital projects [in London this was about half the proceeds]. The pricing would require those who can't afford the $8 tolls [each way] to either use mass transit [recent NYC metro studies have shown this switching doesn't happen] or to cross the bridge at other times at which time the tolls would cost less. The proponents say this would enable those who can afford the tolls to cross the East River bridges and 60th Street more quickly and move around mid Manhattan more easily [less traffic congestion with the rest of the community priced out of their way]. How 'democratic' is this?
Previously MTA Invests Billion$ in New Subways Appearing to Accommodate Billionaire Manhattan Developer(s) & Now Pols Want Metro Residents & Employees to Fund a System to Toll Tax Them to Fund MTA Capital Budget
The MTA during the Bloomberg (Republican) Administration made approximately $8 billion in MTA capital investments for about 30 to 40 blocks of Manhattan subway lines. One line travels from Times Square to the Javits Center [$2.4 billion mostly paid by city] and the other, which was strongly supported by NYC Comptroller Scott Stringer, is expected to travel along Second Avenue from
about East 60th Street to about East 86th Street when it is completed [ran way past budget and time estimates - currently about $5.2 billion].
The latter subway line has been called the 'subway to nowhere', while the other isn't much different - as it terminates at the Javits Center and billionaire real estate developer Steven Ross' & Related Companies' new Hudson Yards development - without any other subway connections. Pundits have opined that one [new #7 Hudson Yards station] and possibly both of these multi-billion dollar investments were made to accommodate Manhattan real estate developers [such as Ross], more than to facilitate transit for commuters and residents of New York City.
When I confronted an MTA spokesperson with this perspective, they told me that the Q line extension would alleviate a considerable amount of the congestion on the north / south east side Manhattan subway line, but made no comment regarding the Hudson Yards station.
The photos above show no passengers on the Javits subway [at an admittedly random time and not long after it was installed], while the second photo shows the #6 subway along the Upper East Side, also at a random time [I have #7 photos that look the same, but didn't have time to find one]. The map to your right shows the new #7 subway line extension ending as an unconnected spur.
Perhaps if the MTA and the government officals who oversee MTA capital project spending were more judicious in their selection of multi-billion dollar projects and allocation of funds, they wouldn't need to make a huge investment of the public's money in the creation and operation of an expensive new tolling system which they plan to use to charge taxpayers $8 tolls to cross 60th Street and the East River Bridges.
This plan essentially aids the wealthy by making their lives easier, while economically discriminating against those with less wherewithal, by making their lives harder. This doesn't strike me as a solution that's 'democratic' at all. There must be less costly, more fair ways to raise additional revenue for transit that NYC commuters - not Manhattan real estate developers - really need.
Click here for the rest of our story about the Move NY Congestion Traffic Pricing Plan as we explore in greater detail a connected web of people, lobbyists and organizations behind Move NY Congestion Traffic Pricing Plan and their possible motivations. We critique the plan including a review of the assumptions, and a closer look at independent studies done with regard to motorists response to toll prices and changes.
---
Vintage Subway Trains & Rides in Manhattan & Queens NYC
Vintage Subway Trains & Rides in Manhattan & Queens
December 21, 2015 / Queens Neighborhoods / Queens History / Queens Buzz.
I decided to take a ride on one of the Vintage Subway Cars that run through Manhattan & Queens on each Sunday in December from 10 am to 5 pm. You can ride the vintage subway cars for the regular fare of $2.75, even though back in the day, the ride only cost 10 cents. It's a fun outing and some of the people dressed up for the occasion, only a bit of which is shown in the video.
Click here to read the rest of our report about riding the Vintage Subway Trains & Rides in Manhattan & Queens over the holidays, including the subway lines and stops to which it pertains, as well as the approximate schedule as they only run about every hour and a half.
In 2015 the last day of this special offer is Sunday, December 27th.
---
Holiday Events In Queens - Christmas, Hanukkah & Kwanzaa Events Queens
Holiday Events In Queens
Christmas Tree Lightings, Hanukkah Menorah Lightings, & Kwanzaa Candle Lightings in Queens
December 7, 2016 / Astoria / Long Island City LIC / Sunnyside / Woodside / Jackson Heights / Corona / Flushing / Jamaica / Whitestone / Queens Buzz.
Holiday lighting festivals and ceremonies have been on the rise in Queens in recent years. While some date back many years, most are traditions that started within the past five or ten years.
What does an increase in holiday lightings mean? It means you have ample opportunity to go yourself, or with friends, or to take your kids to one or more of them to learn a bit more about your own culture or the culture of others.
Each lighting is a bit different, as some are community and business-oriented, some are religiously oriented, a few have arts organizations behind them, and some are backed by non-religious cultural organizations. Please feel free to send us a notice of your holiday lighting event if it's not posted herein.
Queens Christmas, Hanukkah & Kwanzaa Holiday Events Begin in Earnest
This is not meant to be a complete list, but rather a list of the holiday lighting events, many of which I've attended one or more times since late 2007. The holiday lighting events are organized individually by each Queens neighborhood including Astoria, Long Island City LIC, Sunnyside, Woodside, Jackson Heights, Corona, Flushing, Jamaica and Whitestone. Many include the serving of some beverage like hot chocolate and generally something to munch on like cookies.
Click here for a schedule of the Xmas / Christmas Tree Lightings, Hanukkah Menorah Lightings, Kwanzaa Candle Lightings - Holiday events in Queens - Kwanzaa, Hanukkah & Christmas Queens.
---
Sales & Promotions in Queens - Holiday Sales Christmas Xmas Sales
Sales & Shopping In Queens
Holiday Sales / Christmas Sales in Queens - Sales & Shopping In Queens
December 2015 / Queens Shopping / Queens Buzz. Throughout the holiday shopping season, many local shops are making special offers, offering special holiday promotions and deals on merchandise at their local stores in the Astoria, LIC, Sunnyside, Flushing, Jamaica and Jackson Heights neighborhoods of Queens. To take advantage of these Christmas sales and holiday special offers, discounts and deals in Queens, click the link below. Be sure to mention that you saw their ad [here] to qualify for the promotional offer.
Click here to view a full listing for sales, promotions & shopping in Queens -Holiday Sales Xmas Christmas Sales over the holidays.
---
LaGuardia Airport - Airplane Noise - LGA NYNJPA FAA
LaGuardia Airport - Airplane Noise
Jackson Heights, Corona & Queens Voice Concerns Regarding LGA Airplane Noise
FAA Considering Extension of LaGuardia Airport Hours & Other Changes
October 19, 2015 / Jackson Heights Neighborhood / Queens Issues LaGuardia Airport Noise LGA / Queens Neighborhoods / News Analysis & Opinion / Queens Buzz.
I attended a town hall meeting about the airplane noise coming from LaGuardia Airport at PS 69 in Jackson Heights. The town hall had been organized by NYS Senator Peralta's office and the panel of speakers included local government officials and representatives of the Federal Aviation Administration [FAA] and the New York New Jersey Port Authority [NYNJPA].
Standing Room Only at PS 69
The auditorium was packed and there were people lined up along the walls as well as standing in the back of the auditorium. Airplane noise has emerged as a big issue for Jackson Heights due to a couple of construction projects going on at the airport – both of which will be completed at the end of November.
Cynical Audience Member's Point of View
The timing of the town hall meeting, only six weeks before the construction was to end, led one of the local pundits to cynically suggest that this was merely political theater, rather than an effort to accomplish anything substantive.
There was an earlier town hall meeting organized about two years ago by NYC City Councilmember Dromm, to tackle the problem in its early stages, and while it was happening - not after it was all over - which is what we're close to today.
But that said, these town hall meetings are not just political theater, although inevitably that is some of it, which you will see in the video. And while the immediate problem will subside, we discovered that there a number of efforts either underway or in the planning stages, in which the community has a vested stake in the outcomes.
Not Said In Meeting: Federal Register States That Consideration Is Being Given To Extending LGA's Operational Hours & Slots
In doing follow up research I found a piece on the Federal Register government website that informed me that the FAA is considering changing the operational hours and slots for LaGuardia Airport. This was not discussed at the town hall [click into story for additional detail]. We also found other things that were either scarcely touched upon or not addressed, which we included in this report.
Click here to read the rest of this report about LaGuardia Airport Airplane Noise and the NYNJPA & FAA in Queens. The report includes video presentations, including some audience interaction, and a photo slide show and other information about FAA air traffic changes, airplane noise and what you can do about it.
---
---
Chatpati Mela Jackson Heights - Chhaya's South Asian Indian Bangladeshi Celebration
Chatpati Mela
Chhaya's Celebration Of South Asian Food, Fashion & Cultures
September 21, 2015 / Jackson Heights Neighborhood / Ethnic Culture In Queens / Queens Buzz.
It was a beautiful day as I made my way to 78th Playstreet in Jackson Heights to attend the 5th Annual Chatpati Mela Festival. Each year the festival seems to enhance its dimensions through food, performance, cultural costumes and wares.
They had a number of vendor tents lined up along the 78th Playstreet corridor [it ceased being a city throughway years ago], as well as food tents. Toward the northern end of the street there was a stage where musical and dance performances were in session.
Click here to see the food, fashion and a video of the music and dance performances at Chatpati Mela in Jackson Heights.
---
July 4th Fireworks 2016 Queens
4th of July Fireworks 2016 Queens
July 1, 2016 / Queens Neighborhoods / Queens Buzz.
The Macy's 4th of July fireworks will be shown along the East River this year. They were shown along the East River in 2014 for the first time since 2008. Mayor de Blasio had lobbied the change, which now spans three years.
Weather. Highs will be in the mid 80's during the dayand in the high 60's at night. As no rain is forecast it should be a near perfect night.
The Grucci Brothers will be doing the Macy's 4th of July fireworks in NYC. They have been doing fireworks for many years and the Macy's July 4th fireworks in Manhattan for decades.
The Astoria Park Fireworks on June 30th were also done by the Grucci Brothers, the same fireworks company doing the Macy's 4th of July fireworks in NYC. The Astoria Park fireworks in Queens were shown on Thursday evening with an easy view from the Astoria Park location right alongside the East River. See story below about the Astoria Park Fireworks show of 2013 in Queens.
But for those looking for fireworks on 4th of July 2016, you'll have ample opportunity to view the fireworks as the pyrotechnic performance has been expanded this year.
Click here for a report about the 4th of July Fireworks in Queens NYC & surrounding areas, including times and locations for the Macy's 4th of July fireworks in NYC and Jones Beach on Long Island.
---
---
Albany Legislative Session 2015
Final Bills: Public School Funding & Rent Stabilization Law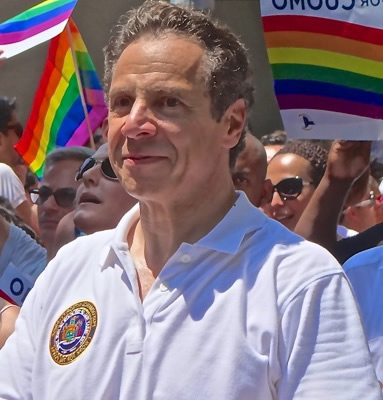 June 15, 2015 / Queens Neighborhoods / Queens Politics / Queens Buzz.
There are two important bills expected to be finalized by the New York State Legislature this week: 1) one having to do with taxation and funding for the public schools and 2) the second having to do with NYC rent stabilization law.
I've been paying some modest measure of attention to both of these bills, and the following is a brief snapshot of a critical talking point in each bill.
Use Public Money To Fund Private Education?
From what I can gather, perhaps the most contentious item in the public education funding bill is the provision for sizeable tax deductions for those who choose to send their children to private, not public schools.
As I understand it, these tax deductions would be included as part of the funding for the public schools budget and therefore will reduce what's left for the NYS / NYC public school systems.
It's worth noting that private school tuition in NYC can cost in the range of about $5,000 to $30,000 per year per student. And that there are about 900 private schools in NYC alone, so depending on how these proposed deductions are ultimately structured, the funds reallocated from the public schools to private individuals would be in the tens to hundreds of millions of dollars and possibly more.
You might want to contact Governor Cuomo's office at 1.518.474.8390 to let him know you support or oppose the measure, since we understand that he's been the major force pushing for this public school funding change. You can also send him an email via the Governor's contact form.
Albany & Expiring Rent Stabilization Laws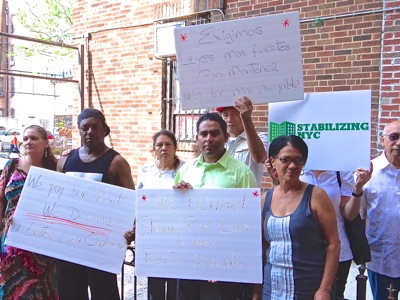 The Rent Stabilization Laws are due to expire tonight, June 15, 2015.
There was talk earlier this year that there would be a push to expand or strengthen the Rent Stabilization Laws given the rapid growth in homelessness in New York City. The NYC homeless population is currently estimated at over 60,000 or nearly 1% of the entire NYC population. About 70% of New York City residents are renters, of which about two million of less than eight and a half million residents, live in rent stabilized apartments.
Over the past decade or so, the Rent Stabilization Laws have been curtailed in the favor of the free market and landlords. The curtailment of rent price control legislation is believed to have spurred additional real estate development investment, as the profits of most new buildings are no longer affected by rent stabilization laws.
Much of the rapid growth in homelessness over the past decade is believed to be the result of tenants losing their rent stabilized apartments, as new owners of buildings have found ways to circumvent the laws. A recent NYU Furman Center Study has shown the loss of over 330,000 unsubsidized affordable apartments since 2002, due in part to the rent stabilization legislative changes referenced above.
NYS legislative insiders told me that tenants rights supporters were hoping to make legislative gains this year, but that the NYS Assemblypeople and NYS Senators opposing the changes, were going to allow the rent stabilization laws to expire as a negotiating tactic.
Vicki Been, Commissioner of NYC Department of Housing Preservation and Development, informed us that the current rent stabilization laws remain in effect through the term of existing leases and leases up for renewal that are already in the hands of the tenants. She also said that tenants should call 311 with any questions or problems.
Cuomo & NYS Officials - Quinnipiac Poll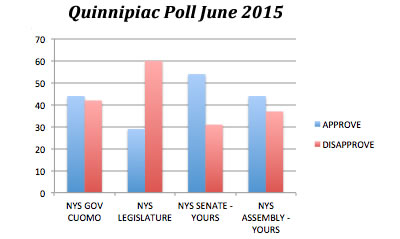 On June 3, 2015 Quinnipiac released a poll showing voters are feeling negatively about the NYS Legislature as a whole, while continuing to favor their local representatives. In the poll Governor Cuomo has only a 2% margin of those favoring him.
Governor Cuomo had a 44% approval rating versus 42% disapproval rating, as voters are not satisfied with his handling of the corruption scandals that have plagued Albany this year. In February 2015 Assembly Speaker Sheldon Silver [Democrat Manhattan] was indicted on federal corruption charges. And in May 2015 NYS Senate Leader Dean Skelos [Republican Long Island] was indicted by a federal Grand Jury.
Less than a year ago, NYS gubernatorial candidate Zephyr Teachout, a law professor at Fordham University surprised polls by garnering nearly 2 votes for every 3 won by the governor in the NYS Democratic primary. Ms. Teachout did not have much in the way of significant private backing or union support, but won nearly 40% of the vote waging an online campaign.
According to the Quinnipiac poll, voters by a margin of 52% - 32% said that with respect to Albany's corruption problem:
"... the Governor is part of the problem, not part of the solution."
As for the NYS Assemblymembers and NYS Senators the Quinnipiac Poll reported the following:
"Voters disapprove 60 - 26 percent of the job the State Legislature is doing, but approve 44 - 37 percent of their own Assembly member and approve 54 - 31 percent of their own state senator."
"At the same time, 45 percent of voters say their state senator should be thrown out in a general house-cleaning, while 40 percent say their senator deserves reelection."
"Voters are divided 41 - 41 percent on whether their Assembly member should be reelected or thrown out."
As you can see, the sentiments collected in the Quinnipiac poll seem a bit contradictory, as the answers received depend on how the questions are stated. Nonetheless, this looks to be an interesting legislative week as things wind down in Albany, and as the 2016 election cycle begins to ramp up.
---
Sunnyside Yard: Special Section About Sunnyside Yards LIC Astoria Queens
Sunnyside Yards - Special Report Series
January 2017 / Queens / Queens Buzz. The following is a series of reports we have run and continue to evolve to provide background and context for the residents and voters of Sunnyside, Long Island City, Astoria, Queens, and perhaps NYC, to use to evaluate the respective pros and cons of public policy with regard to the future development of Sunnyside Yards.
The first report provides a summary overview of the development of Queens in the 19th and 20th centuries. Showing how the development of transportation affected real estate development in Queens.
The second report takes a deeper dive into the 20th century development, exploring the same line of thought with regard to the interwoven importance of transportation and real estate development.
The third report is expected in late April, which will show the 20th century history of development - the specifics of which will be arriving shortly.
Click here for our section dedicated to Sunnyside Yards.
---
MTA: Subway Fare Increases March 22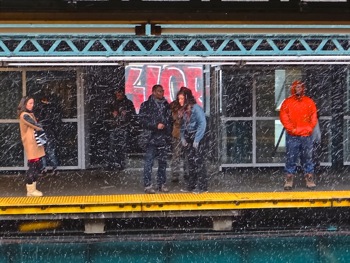 February 13, 2015 / Queens Neighborhoods / Queens Buzz.
The Board approved increasing the base fare for the subway, bus, and MTA Staten Island Railway by 25 cents to $2.75, while also more than doubling the bonus amount added to MetroCard® purchases of at least one round-trip.
The combination of the increased fare and the increased bonus creates an effective fare increase of 4.1%, or 10 cents, for the Bonus MetroCard, which is used for 43% of trips. The 30-Day Unlimited Ride MetroCard, which is used for 29% of trips, will increase 4% to $116.50. The 7-Day Unlimited Ride MetroCard, which is used for 21% of trips, will increase 3.3% to $31. The remaining 7% of trips are made using non-bonus MetroCards, cash on buses or Single Ride Tickets, which are largely purchased near major tourist destinations.
Battle For Public School Budget Underway
Constitutional Right To Education & Public School Funding
January 12, 2015 / Jackson Heights / Queens Schools / Queens Buzz News & Analyis. I attended a Town Hall Meeting entitled State Of Our Schools at PS 69 in Jackson Heights on Thursday evening. The town hall included a number of panelists who spoke about some of the top concerns and issues facing NYC and Queens public schools in the current round of budget negotiations currently underway in the NYS state capitol of Albany.
Cathy Nolan, NYS Assembly Chair of the Committee on Education, and Daniel Dromm, Chair of the NYC Council Education Committe, were joined by speakers representing The Alliance for Quality Education, Make The Road NY, Jackson Heights People For Public Schools, Community Education Council 30 and the Parent Association of PS 69.
The intent of the town hall was to inform residents about the issues currently being debated in the NYS State Capitol as the Assembly and Senate work on budget bills to fund public education in the state of New York.
Some of the issues discussed included every citizen's constitutional right to a quality public education, which was interpreted by the Courts to mean providing every citizen with the skills to compete in the 21st century economy and the capacity to function as a contributing member of society.
Other issues included discussion of the current tax cap bill - which would cap property taxes at 2.5% - and thus limit the money available for public education. Currently about 30% of NYC residents are property owners. Over the past decade an increasing percentage of city property has been acquired by large corporations known as Real Estate Investment Trusts. It's worth noting that one of the NYC tabloids, the NY Daily News, is owned by the billionaire founder of an NYC Real Estate Investment Trust.
Property owners say they already pay too much in taxes. One homeowner opined that government and school officials need to manage the funding more efficiently, and develop innovative / technological methods to achieve their educational goals. Many of the older, original charter schools were opened to do just that by exploring different approaches to educating the public.
Another initiative underway is to cap charter schools expansion. As mentioned above, many of the original charter schools were founded to explore different approaches to providing a quality public school education. In recent years some of the newer charter schools, particularly the charter school groups [Ed Note: such as Success Academy Charter Schools], have been seen as limiting the promise of an equal opportunity in public school education.
Charter School groups have been accused of targeting areas where they can attract high performing students away from the publicly run schools and then demand equivalent public funding per child. Charter school groups allegedly claim their test scores are attributable to their educational efforts, not the higher quality of their student enrollment [this alleged claim is at odds with independent studies]. As of this date only a small percentage of the charter schools have been audited as one of them - Success Academy - filed and won a lawsuit that prevented the NYS Comptroller from auditing them based on a NYS Supreme Court Justice Thomas Breslin ruling in June 2013. Its worth noting that Success Academy Charter Schools also reportedly receives funding from Hedge Fund b/millionaires who may also have stakes in Real Estate Investment Trusts.
Public educators note that the schools that service the broader based demographic population have higher per student funding requirements in order to assist students with special needs. They go on to note that standardized testing doesn't account for progress made with a broad based diversified student population that includes students with special needs such as: children with disabilities, children from troubled homes, children with less aptitude or less motivation, and children who need to learn English [English Language Learners ELL] in addition to the general curriculum. Additional resources are required to fund different approaches / programs designed to reach, motivate and develop these children's intrinsic abilities [eg. band students perform higher in math] and enable them to become contributing members to their families, their employers and the community.
A tax break for private education is also being debated at the state level. The tax break for private education was portrayed by one of the speakers as another tax break for those who already have the means and have chosen to send their children to non-public schools. Just as the property tax cap is expected to limit public education funding, so too the private school tax break is expected to limit the total funding available to educate those who attend public schools.
Families who send their children to private schools argue that they are reducing the strain on public school resources. They note that they are not asking for a total reimbursement [meaning total payback of private tuition] but rather a deduction, which would reduce their tax bill by some percentage of their private school tuition payments. It's worth mentioning that according to the 2012 Census update, the NYC Public School system paid over $20,000 per student per year, which is a far higher cost per student than any other public school system in the nation. The Boston public school system was a close second and the Washington DC public school system came in third.
This is just a summary of some of the challenges and issues discussed at the Town Hall related to NYS public school education funding. We'll delve into these in a bit more detail at a later date.
---
Air Beam: What Are You Breathing?
Adventurous Bike Ride With TA Queens ... On The Road To Find Out
November 10, 2014 / Queens Neighborhoods / Biking Queens / Queens Buzz. I just returned from a bike ride that began at the Central Park Boathouse and ended in Jackson Heights at 34th Street and the BQE Expressway. Celia Castellan, who is the organizer for Transportation Alternatives Queens [aka TA Queens] collaborated with me on this story which is about Queens & Manhattan air quality and also about biking. Celia is shown in the photo to your right, atop the Queensboro Bridge around 6 pm Monday night as we bike commuted from Manhattan to Queens.
It was a beautiful night with clear, dry air and temperatures around 60. Our mission was to test the Air Beam, a new device designed to enable people to measure the air quality, and then map the information to a public website, so that the public can begin to see what's going on with the air they breathe. The Air Beam is a blue, slightly-larger-than-a-cell-phone device, that you wear to measure the air [quality].
We began the ride in Central Park. We were on our way after receiving only a couple minutes of instruction. The device is brand-spanking new and must be sync'ed to an Android cell phone. The inventors work for a non-profit and are trying to raise a bit of money to mass produce it.
I'm going to take you on the rest of the ride, including a sampling of the air quality readings along the way, and provide some photos of the Queensboro Bridge bicycle commute a bit later this week. In the meantime, check out the Air Casting website and if you want to help, there are a few more days left on their Kickstarter campaign.
---
Making Vision Zero Happen
Corona Residents Respond To Call To Action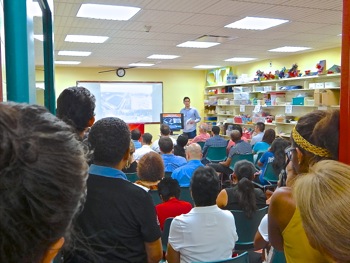 July 27, 2014 / Jackson Heights & Corona Neighborhood / Queens Issues / Queens Buzz. I attended a Vision Zero Workshop at the Corona Library on July 16th. The event was sponsored by Transporation Alterantives in conjunction with a host of other organizations and some local government officials, all of whom I will name at the end of this story when I complete it.
As you can see from the photo, there was no shortage of interest in the effort, as Jackson Heights and Corona are one of the 'Ground Zero' places where pedestrians are being killed or injured by motorists.
The effort had a number of components to it including education, law enforcement and untangling a road, biking and pedestrian system that was put together piecemeal instead of as a holistic approach to human movement ... like dance.
We'll post more about this at a later date including photo slide show.
High School Directories Now Available
July 31, 2014 / Queens Neighborhoods / Queens Schools / Queens Buzz. Students applying to a NYC public high school for the 2015-2016 school year can now access the 2014-2015 High School Directory online in nine languages: Arabic, Bengali, Chinese, French, Haitian Creole, Korean, Russian, Spanish, and Urdu.
 
Click here for complete information and the English directory. Questions regarding the 2014-2015 High School Directory may be directed to the High School Admissions Team at HS_Enrollment@schools.nyc.gov. 
---
July 4th Fireworks Queens & Weekend
4th of July Fireworks Return To East River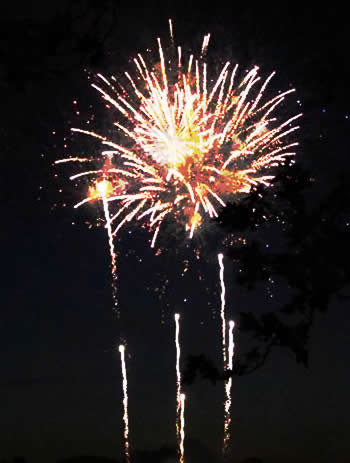 July 4th, 2014 / Things To Do Queens / Queens Buzz.
Weather. Not ideal for fireworks. Friday it will be in the high 70's with about 65% humidity all day. Rain will hit between 3 & 4 pm and thereafter - until about 10 pm - there's a 50% chance of it. So for the fireworks display it's a 50 / 50% chance you may get wet.
For the rest of the weekend, the highs will climb to the mid 80's and it will be sunny and dry Saturday, with humidity climbing back to 50 - 65% Sunday.
Macy's 4th of July fireworks in Manhattan NYC. The Macy's 4th of July fireworks will likely begin around 9.30 pm which is when it gets dark enough to support a good show. But that said, you should probably get to where you're going to watch them no later than 9 pm, because the cloudy skies may allow them to get off to an early start.
Best Locations to view Macy's 4th of July fireworks in Queens NYC. There will be three barges in the East River from where the fireworks will be launched - two just south of the Brooklyn Bridge and one just north of it. The best viewing locations would be in and around the bridge including the South Street Seaport. But spots along the East River should allow for a pretty fair view, including Gantry State Park and Hunters Point South.
We'll post weekend events later today and Saturday.
Summer Solstice & Great Weekend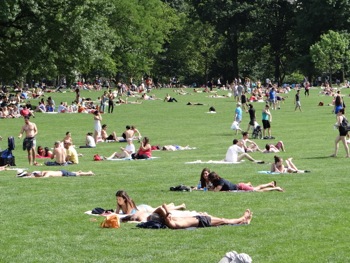 June 23, 2014 / Queens Neighborhoods / Queens Buzz. It was one of the near perfect weekends. The sun was shining, but not too hot and the air was warm and dry during the day and cool at night.
It was also the summer solstice - the longest day of the year - that point in the calendar from which the amount of daylight will begin to shrink. This was not lost on the general population as folks were out and about enjoying the weather.
There were sunbathers along the East River at Astoria Park and Gantry Park. And lots of sun worshippers in between. Make Music NY organized about 1,000 performances throughout the city, including quite a number of them in Queens. I hope you had a nice weekend and wish you the best in the coming week.
Fireworks Commemorate 50th Anniversary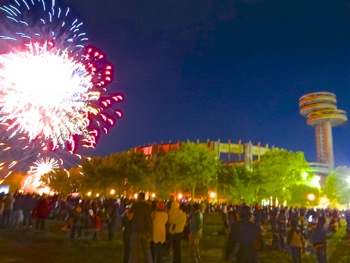 May 19, 2014 / Flushing / Queens History / Queens Buzz. I attended the fireworks display in Flushing Meadows Corona Park on Sunday night. There were thousands there to view them standing in front of the New York State Pavilion [see photo at right].
The fireworks were part of a day long program of events commemorating the 50th anniversary of the 1964 World's Fair. The program included a rare opportunity to walk through the NYS Pavilion and a bandshell had been set up to accommodate the musicians, which included a group playing Beatles tunes and the pre-fireworks celebration ended with the Queens Symphony Orchestra playing the Stars & Stripes.
We'll post a slide show of the fireworks and the crowds, most of which appeared to be from surrounding neighborhoods. Several Manhattanites did make the journey as I met a couple on the subway.
---
Tax Prep Down To The Last Minute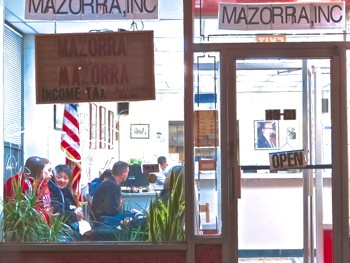 April 15, 2014 / Sunnyside Neighborhood / Queens Buzz. As I made may way home late Tuesday night, on a miserably rainy evening, I couldn't help but notice that a tax preparation office was bustling with activity [see photo].
It was April 15th, the last day for posting one's taxes without having to file for an extension. And there in the offices of a local tax preparer were easily a half dozen people who appeared to be waiting to meet with a tax specialist in order to complete their 2014 taxes.
As in the past I've been in this situation myself, I am not making any judgments about waiting until the last minute. Just happy, I guess, that this year I actually beat the crowd.
The same thing happened with the Affordable Care Act applications [see story below], as over one million people filed their applications in the last week. I guess we're all getting used to doing things in 'real time'.
MTA Rush Hour Power Outage
#7 Subway Line Down For Hours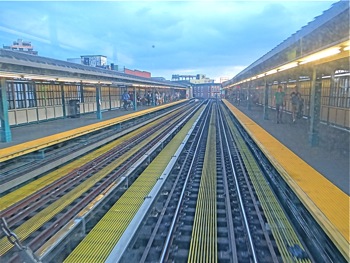 December 10, 2013 / Queens Neighborhoods / Queens Buzz. What's wrong with this picture? There aren't any subways running on these tracks during rush hour on Tuesday evening.
The #7 subway is the busiest single subway in NYC and it's the second busiest subway line, after the 4, 5, 6 line that runs north and south along the east side of Manhattan.
According to an attendant there was a power outage along the entire line beginning around 5 pm Tuesday, which was partially repaired within several hours. The trains were running limited service by about 9 pm Tuesday due to ongoing signal problems at a few stations. The MTA expects to have the #7 subway back into full operations by rush hour Wednesday morning, but be prepared.
Ironically this outage comes only weeks after the MTA spent two months of weekends [October / November] doing upgrades / maintenance work on the #7 subway line. It's also worth mentioning that the #7 subway line was one of the last of the major lines to go back into operation following Hurricane Sandy in 2012. The reason for the delay in resumption of service in 2012 was that they couldn't turn on the power because of flooding in the tunnels.
I wonder if any of these issues / activities are related, and what the MTA is doing to address them?
Ridership on the #7 subway line is expected to continue growing because of the significant amount of real estate development going on in the Long Island City and Flushing neighborhoods of Queens. Lagging infrastructure development could hamper growth. Queens Borough President-elect Melinda Katz stated that this would be one of her top priorities upon assuming the office. It seems this might be a good place to start.
NYC Cyclists Rights - Bicycle Laws NYC & NYS - NYC Bike Laws
Cyclists Rights In NYC / Queens
Knowing Your Rights & Responsibilities As An NYC Cyclist
Updated Spring 2015 / Long Island City Neighborhood / NYC Cylists Rights In Queens / Queens Buzz. By Philip Papas. The introduction to the Cyclists' Rights Forum was given by Christina Vassallo, Executive Director, Flux Factory. She told us that the event came about after she and a friend were stopped for cycling violations, which they thought were not illegal, or had erroneously been applied as violation points to their motor vehicle driver's license. As a result she saw the need for a forum to clarify laws, rights and proper procedures for cyclists to follow.
Click here to read our full report about NYC Bike Laws / Cyclists' Rights Forum in Queens at the Flux Factory in LIC.
---
Queens Neighborhoods News Briefs
The following are compendiums of newsbriefs by neighborhood posted over the years.

Astoria News - News About Astoria NY
Rewired State @ MOMI
Kids Converge In Astoria To Build Apps
July 1, 2013 / Astoria / Film in Queens / Queens Buzz. On Sunday afternoon I headed down to the Museum of the Moving Image [MOMI] to view the results of a weekend long program at MOMI, entitled Rewired State. The program invited area kids in grade school and high school to spend a good part of the weekend at the museum, building software applications that leveraged datasets made available by various bodies of government.
The kids ranged from very young to ready to go to college. Many of the apps leveraged public datasets into maps, but there were several that went beyond. In the photo to your right are a brother / sister team that built an app showing where many of the graffiti spots are in NYC. Given they only had two days to complete their work, they weren't able to finish it.
We'll have more on this program later. It was a great learning experience for kids - not just in terms of learning how to build software applications - but also how to work on a team.
Click here to go to the Astoria Neighborhood section of this site, or on the photo above for other Astoria News briefs.
We'll have more on this seminar later in the quarter. In the meantime click here for other Astoria News briefs.
---

Flushing & Corona News - Queens NY
Only in Queens
Muslims & Jews Organize Iftar Ramadan Dinner
September 2017 / Forest Hills Neighborhood / Religion & Culture in Queens / Queens Buzz.
Only in Queens. On Thursday June 9th, the Turkish Cultural Center and the Central Queens Y will break bread together at an Iftar Ramadan dinner beginning at sundown [7.30 pm] at the Central Queens Y at 67-09 108th Street in Forest Hills.
Ramadan is the ninth month of the Muslim year and the holiest month of the Islamic year. During this time Muslims pay special attention to praying, fasting and reflecting upon their lives. The Islamic Holy Month has similarities to the Christian Lenten season, as well as the Judaic Day of Atonement, Yom Kippur.
Islamic cultural traditions are based upon the lunar calendar, so the Ramadan Holy Month moves slightly around the solar calendar, from year to year. This year Ramadan began on June 5th and will end on July 5th. Attendees of all faiths are welcomed, as are families. The intent is to embrace a harmonious understanding of our shared planetary cultural identities, which the framers of the U.S. Constitution had envisioned centuries ago when they founded this nation.
The Iftar Dinner will be a dairy Middle Eastern meal catered by Meal Mart from Kew Gardens Hills. Meal Mart is Glatt Kosher and is under the supervision of the Vaad Harabonim of Queens. The meal costs $15 per adult and children under 12 are $5 each. Reservations may be made by registering online at www.cqy.org/tickets or you can call 718.268.5011 - ext 151, or email pkurtz@cqy.org.
---

Jackson Heights News & Corona News - Briefs
Passover in Jackson Heights
Kehillat Tikvah Celebrates 5th Passover in Queens
October 19, 2016 / Jackson Heights / Judaism in Queens / Queens Buzz.
On March 26th I attended the fifth annual Kehillat Tikvah Tuesday evening at St. Mark's Episcopal Church in Jackson Heights. This Passover was hosted by Kehillat Tikvah, which is a relatively new community of hope, located in Jackson Heights. Rabbi Laurie Gold led the evening of festivities.
I arrived around 6 pm as the organizers were finishing up last minute details for the event. A U shaped table formation in the middle of the large room had been set, and there were containers of warm food laid out along a long table in front of the kitchen. People within the community were conversing, and without much effort I was drawn into a conversation with the folks sitting next to me.
Click here to read the rest of our report on the Kehillat Tikvah Passover in Jackson Heights later this month and click here for other Jackson Heights News briefs.
---

Jamaica News - Brief Reports About Jamaica NY
Queens State of the Borough Address
Katz Delivers Her Third State of the Borough Address
September 2017 / Jamaica Neighborhood / Queens Politics & Government / Queens Buzz.
Last Friday I headed down to Jamaicatown to watch Queens Borough President Melinda Katz deliver her third State of the Borough Address at the Milton G. Bassin Performing Arts Center at York College.
I entered the auditorium shortly after she began her address where she was talking about her role in the good progress that the de Blasio Administration Education Department, headed by Carmen Farina, is having in moving the needle in enhancing both infrastructure and performance in the NYC Public School System.
As an example about of third of the trailers have been removed, with plans for another third to be removed this year. This means kids are back in regular classrooms - after possibly decades long neglect by prior Administrations [need to confirm this statment].
And click here to read more Jamaica News NYC briefs.
---

LIC News / Long Island City News
New Supermarket - Queens Plaza 2014
August 29, 2013 / Long Island City LIC / Food & Wine / Queens Buzz. In June of this year, Foodcellar & Co inked a deal with Rockrose Corporation on a lease for 14,500 square feet on the ground and subterranean levels near Queens Plaza. The deal appears to be a win for both parties as the Queens Plaza neighborhood is in need of an modern supermarket which will facilitate Rockrose's business and residential real estate sales and rentals into the area. And it is also a win for Foodcellar & Co because Queens Plaza is an emerging business and residential center because of its location with regard to public and private transportation.
The new supermarket will be the second Foodcellar & Co store in Long Island City. The first Foodcellar & Co store was opened in August of 2008 on 47th Road just off Center Blvd. The store recently celebrated its fifth anniversary with an in-store all evening event where they had set up food and beverage booths so customers could sample unique food products around the store.
The new store will be configured a bit differently than the current Foodcellar to suit the tastes of a different area. I spoke to the management team who told me that they expected to be servicing both a business office clientele during the day and a rapidly growing residential population at all times.
Click here to read other brief reports with LIC news.
---

Sunnyside News / Woodside News
Smidge & Dallow Under The 'L'
Nimble Fingered Trumpet Player With Gravelly Voice & Acoustic Accordion Player
December 23, 2013 / Sunnyside NY / Sunnyside News / Queens Buzz. For the second time in the past six months, I found myself drawn under the vaulted arches of the elevated train along Queens Boulevard in Sunnyside, to treat my ears to the seasonal music of Smidge & Dallow. It's been an ad hoc treat as they 'just do it' when the spirit moves them.
Smidge has a gravelly voice that reminds me of the old Louis Armstrong recordings and he's a trumpet player extraordinaire. Folks in Sunnyside may have heard him perform in the annual Bix Beiderbecke concert sponsored by Sunnyside Shines last July.
Dallow is a modest accordion player whose acoustic accompaniment provides a gracious complement to the jazzy tunes & vox vibrations of Smidge. The duo was playing a number of holiday tunes including an old Armstrong hit. They're pretty busy, but always looking for new gigs. They can be contacted via the Facebook page named Matt Dallow Music.
Click here to read more Sunnyside News & Woodside News briefs.
---

Queens News - Queens Neighborhood News
MTA Fare Hike This Weekend - Queens
October 2016 / Queens Neighborhoods / Queens Buzz. The MTA fare hike becomes effective this weekend. Subway and bus rids will rise from $2.25 to $2.50 on a MetroCard and a single purchase fare will rise from $2.50 to $2.75. New cards will cost an additional $1. The monthly card will rise from $104 to $112 and the weekly will rise from $29 to $30. Weekly express bus passes will rise from $50 to $55.
Tolls on the MTA's seven bridges and two tunnels will rise from $6.50 to $7.50 per single pay riders, and from $4.80 to $5.33 for
The funds will raise an additional $450 million per year and help fund operations and infrastructure maintenance. Click here for other Queens News briefs.
---
Weather Snowstorms Rainstorms Hurricanes In Queens NYC
Queens Weather: Snowstorms, Rainstorms & Hurricanes in Queens NYC
March 2017 / Queens NY / Queens Buzz.
This section is about Queens activities such as biking, golfing, concerts, museums, horse races, historical places of interest and parks. These are more county wide stories, than reports focused on one particular place of interest. This section also includes occasional weather stories that aren't parked in individual locales.
Click here to view the section about Queens Activities and Weather.
---
Queens Weather - Snowfall, Rainfall & Big Weather Systems In Queens Since 2010
Queens Weather
First Big Snowstorm Of 2010 Hits Queens
February 10, 2010 / Queens NY. This will take you into a history of some of the big weather systems in Queens NYC.
The first big snowstorm of 2010 arrived in Queens this morning. By the time of the early morning commute there was only an inch or two on the ground, so it was more a nuisance than a mess. But by the afternoon commute over four inches had accumulated and appeared to be destined to slow everything down.
But the kids weren't complaining since they were let out of school. We found them sledding and some mischief makers were found making snowballs.
Click here to read the rest of our report on the great Queens snowstorm of 2010 which includes a brief account of some of the big Queens weather systems NYC since then.
---
Site Search Tips. 1) For best results, when typing in more than one word, use quotation marks - eg "Astoria Park". 2) Also try either singular or plural words when searching for a specific item such as "gym" or "gyms".
Click this link to search for something in our Queens Business Directory containing over 1,000 listings. Click here to view the home page of one of the leading chiropractors in Queens. Click here to view the home page of one of the leading spas in Queens. Click here to view the home page of one of the leading wedding halls in Queens.
Click here to view a story about furniture stores in Queens.
---
Click the log in link below to create an ID and post an opinion. Or send this story to a friend by filling in the appropriate box below.
---