Things To Do In Queens
Queens Economy, Traditional Holiday Music, Theatre, Festivities, Kwanzaa, Nutcracker & Shopping
December 12, 2013 / Things To Do In Queens / Queens Buzz. Weather. The high temperatures will be around 30 and the lows around 20 [brrr], with continued winds. There's a 100% chance of light snowfall [1 - 2 inches] Saturday and 90% chance of some precipitation [snow or rain] on Sunday morning.
We have several more events which we'll post later in the day Friday. You can also check the Queens events calendar by clicking on the photo above. Enjoy.
This Weekend the Regift of the Magi is playing in LIC at the Chain Theater beginning at 8 pm [theater]. The Heartbeat of Latino America continues through the weekend at the Thalia Theatre in Sunnyside beginning at 8 pm [theater / Sunday matinee]. And the Secret Theatre in LIC continues its run of Oliver, the musical beginning at 8 pm [theater].
Friday morning beginning at 11 am there will be a presentation by State Comptroller Thomas DiNapoli on the state of Queens economy at SilverCup Studios in LIC [business]. In LIC at Green Space hosts Take Root modern dance performances on Friday evening beginning at 8 pm [dance]. Flushing Town Hall plays host to jazz musician Amanda Monaco beginning at 8 pm Friday and Master Gye Ok Kim and the Project World Music Ensemble beginning at 7 pm on Saturday - click on link above for link to buy tickets [music].
On Saturday, there's a Kwanzaa celebration at the Langston Hughes Library & Cultural Center beginning at 10 am and running through the day [history / culture]. Sunnyside Community Service Center is hosting a kids Christmas party beginning at 12 noon [kids]. The Nutcracker & Toyland return to LaGuardia College Performing Arts Center beginning at 3 pm - click on the link above for link to rsvp tickets. The play That Night Before Christmas comes to York College Performing Arts Center at 8 pm Saturday and performances on both Sunday & Monday - click on the link above for link to rsvp tickets. There's a holiday celebration in King Park in Jamaica beginning at 6 pm [kids].
On Sunday in Jackson Heights at the Diversity Plaza at 74th Street and 37th Road there's a holiday festival hosted by Sukhi NY beginning at around 6 pm [kids]. Green Space in LIC hosts Fertile Ground dance performances beginning at 7 pm [dance]. PS1/ MOMA in LIC is hosting a series dedicated to understanding the influence of Mike Kelley's influence in shaping the future beginning at 1 pm [art]. The Astoria Symphonic Choir will be singing traditional Christmas Carols beginning at 5 pm at St Joseph's Church in Astoria [music].
Also click into the Things To Do In Queens calendar to find things to do with the kids, as well as ongoing art exhibits. And the Member Calendar which includes member submitted events such as dance and art classes in Astoria & Jackson Heights, a Thalia Theatre performance in Sunnyside, a Toastmasters in Elmhurst, Kids Church in Jamaica and dance performances in LIC.
Click on the image to your left for shopping deals in Queens this holiday season.
Use the Business Directory to your right to find contact info, website links and maps for events posted herein; or the search function top left to find related stories, maps, restaurants or anything else on this site.
---
Queens Adds 12,000 New Jobs vs 2012
Unemployment Down & Labor Force Size Up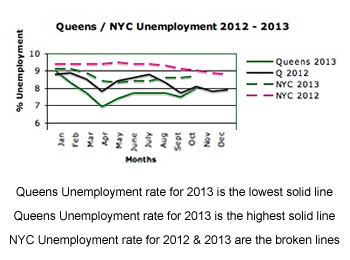 December 8, 2013 / Queens Business / Queens Buzz. Queens County continues to beat NYC handily with respect to having a lower unemployment rate. Queens had an unemployment rate of 8.0% in October 2013 versus an unemployment rate of 8.7% in NYC as a whole. Both of these numbers are improved versus 2012 when the NYC rate was 9.0% and the Queens County unemployment rate was 8.1%.
You can see in the chart to your right that the unemployment rates for both NYC [broken lines] and Queens [solid lines] in 2013 are lower than in 2012.
While the unemployment rates remain high relative to historic norms, part of the reason is that the labor force is growing again as people enter or re-enter the workforce in search of jobs in an improving economy. In NYC as a whole, employment has grown by nearly 65,000 positions versus October of 2012, and now stands at 3.7 million jobs. Queens employment is up about 12,000 new jobs and now stands at approximately 882,000 positions. Queens makes up about a quarter of the workforce of NYC.
---
---
---
Leroy Comrie Named QBP Deputy
Katz Names Comrie Deputy Queens Borough President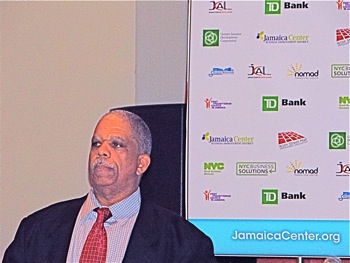 December 3, 2013 / Jamaica Neighborhood / Queens Politics / Queens Buzz. We attended a business meeting in Jamaica on Tuesday afternoon where we learned that Leroy Comrie had just been selected to be the Deputy Queens Borough President. Melinda Katz, Queens Borough President-elect made the announcement earlier in the day.
We've covered a number of events sponsored by or in which Leroy Comrie participated and found him to be well versed in borough issues, hard working and a soft spoken government official who works behind-the-scenes. City Councilman Comrie served two terms in the NYC Council serving the Jamaica and surrounding neighborhoods of St Albans, Rosedale, Cambria Heights and Hollis. During his tenure in office Comrie served as the Democratic Majority Whip, and for a period was head of the Queens delegation.
Shortly after Comrie took office in 2002 [succeeding former City Councilman Archie Spigner] the JFK Airtrain began operations between JFK Airport and the Jamaica railroad and subway station [December 2003]. Comrie was also City Councilmember during the transformation / renovation of the First Dutch Reformed Church into Jamaica Performing Arts Center - which was completed in 2009. During Comrie's tenure as City Councilmember, the Jamaica area was re-zoned [along with the rest of Queens] to accommodate building and growth.
We'll post more about these evolving events at a later date.
---
Langston Hughes - Queens
Langston Hughes' Dream Weaver
A One Man Show At The York Performing Arts Center
November 12, 2013 / Jamaica Neighborhood / Theater in Queens / Queens Buzz. I had the pleasure of attending David Mills' one man show at the York Performing Arts Center on Saturday. The show was about the life and times of Langston Hughes, likely the most celebrated poets of the Harlem Renaissance.
David Mills has an interest in and connection to Langston Hughes that transcends the bounds of my vocabulary. David had lived in Langston Hughes house in Harlem on 127th Street for three years, touched the typewriter keys that Langston had pounded away on to make a living and to express himself, and has read a plethora of the written material left behind by one of the great African American authors of the early and mid 20th century.
To deliver a successful one-man-show, with only a simple chair as the prop, takes both talent and a gift ...
Click here to read the rest of our report about the performance of Langston Hughes in Queens as delivered by David Mills at the York Performing Arts Center.
---
---
---
Thanksgiving Filipino-American Style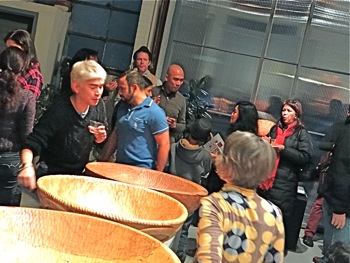 December 1, 2013 / Sunnyside Neighborhood & Woodside Neighborhood / Ethnic Culture In Queens / Queens Buzz. On Saturday I attended a fundraiser co-hosted by Bliss On Bliss Studio of Sunnyside with Topaz Arts in Woodside. The proceeds of the benefit were to go to the Filipino survivors of the Typhoon Haiyan / Yolanda. The event was scheduled for the Thanksgiving Weekend.
A donation of $25 was made at the door and there was a table of light fare and beverages provided along the far wall. Inside Topaz Arts were wooden sculptures on display from Mamerto Tindogan's solo exhibit entitled Unearthing The Magic, which ended this weekend. Mamerto is a native carver from the island of Luzon in the Philippines and I would soon see him perform an ancient chanting ritual.
Click here a bit later in the week to view the rest of our report, including a photo slide show of some of the art and performances provided to raise funds for the survivors of the Typhoon Haiyan / Yolanda.
---
---
---
Can Local Pols Sing, Dance & Act?
Legislative Acts - Fundraiser At Queens College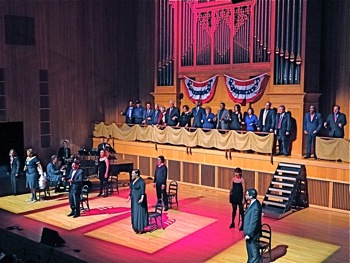 November 25, 2013 / Flushing Neighborhood / Theater In Queens / Queens Government / Queens Buzz. Saturday evening I attended the biennial revue, acted out by Queens government officials, at the LeFrak Concert Hall at Queens College. The name of the revue was Legislative Acts.
The all star cast included NYS State Senators, NYS Assemblymembers, NYC Councilmembers, a former NYC Council Speaker, a U.S. Congresswoman, one past Queens Borough President, one current Queens Borough President and the Queens Borough President-elect [some of the performers are on stage in the photo to your right].
The performance including a couple of solo vocals by incoming Queens Borough President Melinda Katz who was accompanied in one skit by Helen Marshall and Claire Shulman. There was also a game of Jeopardy hosted by Jimmy Van Bramer using questions about Queens pols and Queens College alumni, a Rockaways skit including a guest apearance by James Bond, a trip to the North Pole by Wonderwoman to visit Superman at his Fortress of solitude [it seemed futuristic, as they both appeared to have retired from public service], an Albany based performance by Mark Weprin, vocal performances by Julissa Ferreras and Leroy Comrie and a skate boarding and music performance by John Liu ... and more.
They parodied each other, themselves, and some not pols not present - referring to events of the past year(s) in the revue dialogue. We'll post more about the performance, including a photo slide show of Legislative Acts at the LeFrak Concert Hall at Queens College - later this week.
---
Flushing Restaurants - Korean, Chinese, Italian, Indian, Indonesian & Latin American Dumplings At Flushing Town Hall
Dumplings From Five Distant Cultures
Flushing Town Hall Hosts 'Round The World' Dumpling Tour
November 18, 2013 / Flushing / Ethnic Food In Queens / Flushing Restaurants / Queens Buzz. This past weekend I attended a workshop entitled Harvesting Our Diversity at Flushing Town Hall. They had invited five restaurateurs to come to discuss and present the dumplings indigenous to their homelands which they serve in their Flushing restaurants. The presenters would first talk a little about the history of the dumpling in their culture and then provide us with a sample dumpling made in their restaurants.
In the photo to your right the audience is being served samples of Indonesian, Korean and Chinese Korean dumplings at Flushing Town Hall.
The Harvesting Diversity event was designed to take us around the world on a dumpling tour, where we would sample dumplings made by the Italians, the Indians, the Indonesians, the Puerto Ricans / Latin Americans and the Koreans / Chinese. Click here to read the rest of our report on a world tour of dumplings at Flushing Town Hall - served by Flushing restaurants.
---
---
---
NYC Cyclists Rights - Bicycle Laws NYC & NYS - NYC Bike Laws
Cyclists Rights In NYC / Queens
Knowing Your Rights & Responsibilities As An NYC Cyclist
November 7, 2013 / Long Island City Neighborhood / NYC Cylists Rights In Queens / Queens Buzz. By Philip Papas. The introduction to the Cyclists' Rights Forum was given by Christina Vassallo, Executive Director, Flux Factory. She told us that the event came about after she and a friend were stopped for cycling violations, which they thought were not illegal, or had erroneously been applied as violation points to their motor vehicle driver's license. As a result she saw the need for a forum to clarify laws, rights and proper procedures for cyclists to follow.
Click here to read our full report about NYC Bike Laws / Cyclists' Rights Forum in Queens at the Flux Factory in LIC.
---
---
---
Obamacare Comes To Queens
Obamacare Comes To Queens
Queens Prepares For The Affordable Healthcare Act
November 13, 2013. Update - Over 197,000 New Yorkers Have Completed Applications of which over 48,000 have already selected and enrolled in a plan. Over 142,000 people were helped by the New York State of Health which runs the health plan marketplace for New York State. Note that open enrollment for the tax year 2014 ends on March 31, 2014.
November 7, 2013 / Astoria Neighborhood / Healthcare in Queens / Queens Buzz. I just returned from the United Civic Community Association [UCCA] sponsored forum on Obamacare at the Museum of the Moving Image. The forum did a nice job of providing what appeared to be a good summary look into what the federal government's Affordable Healthcare Act [also known as Obamacare] is really all about.
The forum was moderated by Rose Marie Poveromo, President of the United Community Civic Association of Astoria and included a panel of experts. The panel included U.S. Congressman Joseph Crowley, Rebecca Jackson, a NY State of Health Project Coordinator, Caryn Schwab Executive Director of Mount Sinai Queens, Judy Trilivas Chief Operating Officer of Mount Sinai Queens and Minna Elias Congresswoman Maloney's Chief of Staff. They are shown seated from left to right in the photo above, at the UCCA hosted Obamacare Forum at the Museum of the Moving Image in Astoria.
Click here to read more about Obamacare comes to Queens.
---
---
---
Jackson Heights Beautification Group - JHBG
JHBG Celebrates 25 Years Of Service
Jackson Heights Beautification Group Celebrates 25
September 30, 2013 / Jackson Heights Neighborhood / Queens Issues / Queens Buzz News. I had the pleasure of spending some time at the celebration of the 25th anniversary of the Jackson Heights Beautification Group's existence. During the course of the evening I had the opportunity to talk to a number of members, many of whom had been with the organization for decades. And during the course of these conversations I came away having learned something about their collective accomplishments, and in some senses, the early to modern history of Jackson Heights.
Some of the JHBG's Accomplishments
The Jackson Heights Beautification Group [also known as JHBG] started when a group of residents decided to 'take back the neighborhood' from vandals doing property damage [grafitti], real estate developers knocking down high quality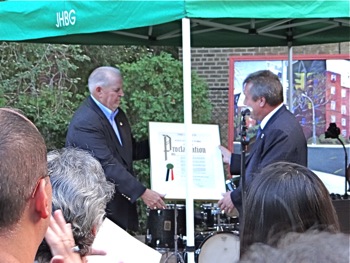 historic buildings, people breaking sanitation laws [doggie doo], and developers trying to obtain zoning variances that would downgrade the neighborhood. But the community organization was not just about participating in the governance process and ensuring that the city laws and ordinances were enforced; they also sought to enhance the quality of neighborhood life.
Hence the Jackson Heights Beautification Group sought funding for summer concerts, helped bring a farmers market to Jackson Heights, worked collaboratively to create more public parkland [78th Playstreet & the Garden School Athletic Field], and most recently helped start an orchestra. They will be the first to tell you that they didn't do these things by themselves, but however modest, they did play an important role.
In the photo above City Councilmember Daniel Dromm gives an award to Jackson Heights Beautification Group President Edwin O'Keefe Westley honoring the neighborhood group's service to the community.
And so you may click here to learn a bit about the formation and history of the Jackson Heights Beautification Group, as well as a bit about the 20th century life in Jackson Heights as told by those who lived it.
---
---
---
Dutch Kill Gentrification: Restaurants & Real Estate in LIC
Dutch Kills Gentrification: Restaurants & Real Estate
The Making Of The Crescent Grill Restaurant in LIC
July 13, 2013 / Dutch Kills LIC / Restaurants in Queens / Real Estate in Queens / Queens Buzz. Last fall I embarked on a bit of an adventure when Michele Beaudoin of Beaudoin Realty Group [a QB client] introduced me to Daniel and Shaun Dougherty. She had just sold the brothers a two-story, corner building that had been a Beauty Supplies store along Crescent Street in the Dutch Kills neighborhood of Long Island City. The Doughertys had plans to convert the building into a restaurant. Likely the first restaurant of its kind in the Dutch Kills neighborhood of Long Island City.
I went to meet the brothers at the site of what would eventually be their new restaurant. I was given a tour of the facility while it was still, in essence, a recently vacated Beauty Supplies store. But not for long ...
Click here to read the rest of the story about the gentrification of the Dutch Kills neighborhood of Long Island City and the making of the Crescent Grill restaurant in LIC. The story includes information and photos about the design and construction of the renovated building, as well as a review of some of the culinary delights that await those who patronize the restaurant.
---
---
---
---
Astoria Furniture Stores Have It All - Queens
Astoria Shops / Astoria / Queens Buzz. The furniture stores located on the southern end of Steinway Street in the Astoria neighborhood of Queens seem to have something to offer to just about everyone. This part of Steinway is a furniture shopper's mecca, offering plenty of choices from classical colonial, to urban apartment living to bedding to suit nearly every spine.
I took a quick trip there, which is easily accessible via the N, W, G, R or V subway lines and within a sturdy walking distance from Long Island City, Astoria, Sunnyside and Woodside. Just up the street from Steinway is Broadway, where you'll find the Omonia Cafe where after a good morning or afternoon of shopping, you can kick back along one of the sidewalk tables ane enjoy a bit of coffee and some delicious baked goods. Click here to learn more about the furniture stores in Astoria Queens.
---
Click to buy eyeglasses in Queens / opticians in Queens, for hair salons in Astoria, for Midtown dentists & Midtown Chiropractors, sales on small business Saturday in Queens and for things to do in Queens.
---
Mens Clothing Styles - Queens
Shopping Queens / Astoria / Queens Buzz. Esquire Men's Clothing Store continues to serve the greater Astoria and Queens area, as it has for nearly thirty years.
The shop is owned and managed by Frank and Kevin Adhami, and their father, who is in his eighties, still visits the store on an almost weekly basis.
Esquire is located along Steinway Street between 30th and 31st streets. The store contains a wide selection of men's coats, suits, casual wear, shoes and men's accessories like belts and ties.
This story will provide some information about the store itself as well as fashion recommendations for the Spring and for job hunters.
Click this link to view a story written on Men's Clothing In Astoria Queens NY. Click here for men's clothing stores in NYC, and here to buy Stone Rose shirts in NYC, and here to buy Alberto pants in NYC, and here to buy Eton shirts.
---
Queens Farmers Markets
Astoria Sunnyside Woodside Jackson Heights Long Island City LIC Flushing Jamaica / September 12, 2013 / Queens Buzz. All farmers markets are in full swing. Most stay open into November and only the Jackson Heights Farmers Market operates year 'round.
Click the link below to see a listing of the Queens Farmers Markets 2013 including links to maps. Click the other link below for a listing of the Queens Street Fairs schedule of 2013 including dates and maps showing their locations.
Click here for our updated posting of Queens Street Fairs - Queens NY. Click here for a listing of the Queens Farmers Markets. You will always find both street fairs and farmers markets for the current month in the Queens Events section of the site [see top tool bar for button / link]. Click here to view the map of the Jamaica farmers market.
---
---
Queens Real Estate
Real Estate in Astoria, Jackson Heights, Long Island City LIC, Sunnyside, Woodside, Flushing, Jamaica
Queens NY / 2013. These links will take you into sections & reports on the Queens real estate market in Queens beginning in 2009.
These reports include reviews of apartment rental prices, as well as condo, co-op and home prices and availability in the Queens market.
We have also done neighborhood specific reports about Astoria real estate, LIC / Long Island City real estate, Jackson Heights real estate, Woodside & Sunnyside real estate, Flushing Real Estate and Jamaica Real Estate. Click here for our report about women's fashions in Queens.
While we found these neighborhoods mirrored / trailed many of the national trends, we found some interesting differences, including differences from neighborhood to neighborhood.
Click here to read the Queens Real Estate market analysis 2009.
---
Queens Buzz Voluntary Subscriptions
You can help us continue and possibly expand our coverage, by voluntarily subscribing to
Queens Buzz. Click button for details.
---