Flicks & Jazz in Sunnyside Gardens Park
7th Annual Flicks & Jazz in the Garden Continues its Popularity
September 18, 2017 / Sunnyside Neighborhood / Film & Music Sunnyside Queens / Queens Buzz NYC.
I headed down to Sunnyside Gardens Park to attend the 7th annual Flicks & Jazz in the Garden. The program started in 2011 as Flicks in the Garden featuring independent films, and morphed the following year into a kids film program - thanks to the curatorial efforts of an avid local animation film collector - Tommy Jose Stathes of Flushing.
Jazz at Sunnyside Gardens Park
It was a warm clear evening and the moon was out. There were kids playing in the open yard and on the basketball courts. Along the southern walkway, filling the picnic tables underneath the tall London plane trees, there families and friends finishing their late afternoon and early evening repasts.
In the main field there was a band – the TBD - playing at home plate. Filling the baseball diamond and inner fields, there were dozens of families spread out upon blankets … sitting, dancing and chatting along. I shot a short piece of video, which is shown below.
In the photo at right you can see friends and families enjoying themselves under the London Plane Trees in Sunnyside Gardens Park.
Flicks in the Garden - Sunnyside Gardens Park Events
Later in the evening the animated films - or as we say in the gardens – flicks – were shown as the night descended upon us. Popeye the Sailor Man, with his goyle, Olive Oil, showed the kids what eating your spinach is all about. Big Sailor Man Muskles and of course winning the goyle, the tall slim Olive Oil. And of course another lesson embedded in some of Popeye's tales was that one shouldn't forget to look out after their old friends, like Wimpy, who will "gladly pay you Tuesday for a hamburger today". Betty Boop, a starlet who's always been popular with men and women of all ages, made a special return appearance – even though the Emmy Awards were only a day away. This may only be a rumor, but I heard that she might be a nominee.
I had a chance to speak to Tammy Arnstein and Jennifer TBD, the two organizers of the event [see photo at right]. They told me that about 700 parents attended the event, and they were likely accompanied by half as many or more children. The cost of the event was $5 for members and $10 for non-members.
Sunnyside Gardens Park - Events Open To Public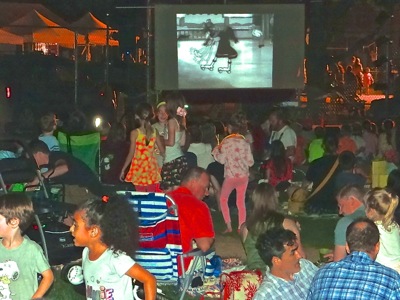 The Flicks & Jazz in the Garden event was open to the public, as Sunnyside Gardens Park has been a privately owned park since its inception in 1926.
In the photo at right you can see numerous kids and their dads enjoying an opportunity to watch ; ) animated films at Sunnyside Gardens Park.

There are currently about 500 [UNCONFIRMED] families which are park members and there is a waiting list of about half that size to get in. Members must live within a specified area in close proximity to the park, dues are $xyz per year, and members must volunteer to help at a couple of events each year, like this one.
Sunnyside Gardens Park is hosting six events open to the public this year. In 2017 the events open to the general public hosted by Sunnyside Gardens Park were: Queens United International in July, Shakespeare in the Park in July and August, a Yard Sale, and Flicks & Jazz in the Garden in September.
And the next and final next event of the year that is open to the public at Sunnyside Gardens Park is Oktoberfest on Saturday, October 7th [rain date the Sunday October 8th].
Click REFRESH if video controls don't appear when you first visit this page.
---
Things To Do in Queens This Weekend
Flicks & Jazz in the Garden, Viva La Comida, Sculpture Art Reception, CAST at Chocolate & Love is Dead at Secret, The Arts @LPAC, Peace Lanterns & Making Moves Dance Festivals, Brooklyn Armchair Brewery Tour, Ballet Folklorico & Queens Museum Re-opens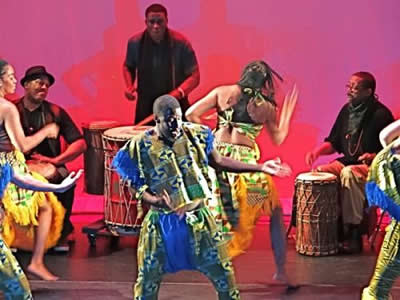 September 15, 2017 / Things To Do Queens / Queens Neighborhoods / Queens Buzz NYC.
*Weather. The temperature highs will be around 80 and the lows will be in the mid 60's. No rain is forecast and the winds will be around 8 mph and humidity between 60 - 80%. Looks like another nice weekend. Click for Queens Weather.
*In the photo at right are dancers at the Jamaica Performing Arts Center. There's a Making Moves Dance festival there this Saturday - see details below.
Friday & This Weekend - The Arts @LPAC, CAST at Chocolate Factory, Love is Dead at Secret
*The photo at right was taken at the Viva La Comida Festival in a prior year.
*The LaGuardia Performing Arts Center presents The Arts beginning at 7 pm on Friday, September 15th & 22nd, and on Saturday September 23rd. The program is described as,
"Sponsored By Nobody present workshop showings of ... "THE AЯTS" a new work of interdisciplinary theatre that investigates the history of public funding for the arts ... Part One covers the period 1963-1965, during the formation of the National Endowment for the Arts. Part Two covers the chaotic "culture wars" period of 1989-1996, which culminated with the NEA budget being cut in half and the elimination of direct grants to individual artists."
*Yanira Castro's CAST is being performed at the Chocolate Factory at their current location at 5-49 49th Avenue [off Vernon Blvd] through September 23 on Wednesdays, Fridays and Saturdays at 7pm [$20 / theater]. The production was described as,
"CAST brings together a rotating cast of four performers, different each night, who negotiate a new script at each performance in front of a live audience. A computer generates a unique script culling from transcripts of over 100 hours of conversation with CAST's 15 performers regarding casting, performing and the complexities of representation. It is a concentrated study of what constitutes a cast."
*An original serial play entitled Love is Dead is being performed at the Secret Theatre at 44-02 23rd Street in LIC Friday, Saturday & Sunday beginning at 8 pm [thru Sat 9/23]. It's described as
"A paralytic presentation of murder, deceit, and sexism [in a series] with a thin thread of correlation, attempt to prove whether its title holds true ..." and is for mature audiences [$18 / theater].
*The Queens Museum re-opened September 11th following its closure due to security concerns during the U.S. Open [art].
*PS1 MoMA Museum is also open at 22-15 Jackson Avenue in LIC.
*The Clearview and Douglaston public golf courses are open all weekend.
Saturday - Viva La Comida, Peace Lanterns Festival, Flicks & Jazz in the Garden, Making Moves Dance Festival
*The photo at right was taken at Flicks in the Garden at Sunnyside Gardens Park in a prior year. It returns today - see details below.
*Please note the theater productions listed on Friday / above are also playing Saturday.
*Viva La Comida food and music festival returns to Jackson Heights from 12 to 7 pm along 82nd Street between Roosevelt and Baxter Avenues [free, but pay for food by item / food / music].
*Sunnyside Gardens Park at 39th Avenue and 49th Street in Sunnyside is hosting Flicks & Jazz in the Garden from 5 - 9 pm [Suggested donation $10 & $5 for park members / kids / film]. Open to the public - see details in Member Calendar Listing.
*The Jamaica Performing Arts Center at 153-10 Jamaica Avenue is hosting the Making Moves Dance Festival with a free outdoor performance beginning at 2 pm and a paid performance beginning at 7.30 pm [$10 / dance]. The progam is,
"an annual dance celebration ... designed to promote new and emerging dance companies ... in New York City ... choreographers ... take on and perform bold ideas with a progressive/contemporary nature, and heavily emphasizes the authentic expression and representation of cultures and languages."
*From 2 to 8 pm there will be a Peace Lanterns Festival on the East River at Gantry Park at Center Blvd and 49th Avenue in LIC. The festival is described as,
"... The public ... decorate(s) 100 floating lanterns made from ... compostable materials with pictures and messages of hope for a peaceful and healthy planet ... This event kicks off a week of celebrations for the United Nations International Day of Peace ... [the] theme is ""Together for Peace: Respect, Safety and Dignity for All" ... Speakers ... Ambassador Anwarul K. Chowdhury, Former Under-Secretary-General and High Representative of the UN ... Bhikku Bodhi, founder of Buddhist Global Relief and environmental peace activist."
NOT UPDATED YET _ The Museum of the Moving Image at 36-01 35th Avenue (at 37th Street) is hosting a TBD from 11 am to 4 pm and it's free with admission [$15 / $11 / $7 - kids 13 & under / film].
Sunday - Brooklyn Brewery Armchair Tour, Sculpture Center & Dorsky Art Openings, Love is Dead & Ballet Folklorico
*In the photo at right you can see some of the Buddhist Monks at the Peace Lanterns Festival last year.
*There's an art exhibit opening & reception for Nicola L. & Kelly Akashi from 5 - 7 pm at the Sculpture Center at 44-19 Purves Street [off Jackson Ave] in LIC [Suggested donation $5 / $3 / art]. The exhibits will run through 12/18.
*There's also an art opening reception at the Dorsky Gallery | Curatorial Programs at 11-03 45th Avenue from 2 - 5 pm for a new exhibit entitled First I Was Afraid. The exhibit runs through 11/19 and was described as,
"Fear, anxiety, unease and instability are on the rise ... Though there is consensus that those facets of modern life are disturbing and unsettling, no consensus exists as to exactly what prompts those feelings nor how we each react to them. The present exhibition seeks to address what living in an age of anxiety means; what it means to live in a time in which expectations are routinely dashed and predictability becomes evasive ... [featuring] eleven artists ..."
*The Voelker Orth Museum at 149-19 138th Avenue in Flushing is hosting a talk about the Brooklyn German Beer Breweries by Chris Heuberger beginning at 2 pm [$10 / history]. The talk which will be followed by a tasting was described as an,
" armchair version of Chris Heuberger's popular walking tour of the now forgotten Bushwick breweries [which encompasses] German immigrant brewers brought their technical and culinary know-how to their new homes in NYC in the mid-19th century. Though none remain today, Bushwick became home to a number of thriving breweries that served the greater metro area. Critical to Bushwick's success was its ready access to quality water from the Ridgewood Reservoir and hops grown in upstate New York. Fifty years ago most New Yorkers could still sing the advertising songs of our remaining local brands. Many of today's micro-breweries draw on the tastes and legacy of those brewers."
*The Ballet Folklorico will perform at Socrates Sculpture Park at Vernon Blvd and Broadway beginning at 3 pm [free / dance].
*An original serial play entitled Love is Dead is being performed at the Secret Theatre at 44-02 23rd Street in LIC Friday, Saturday & Sunday beginning at 8 pm [thru Sat 9/23]. It's described as
"A paralytic presentation of murder, deceit, and sexism [in a series] with a thin thread of correlation, attempt to prove whether its title holds true ..." and is for mature audiences [$18 / theater].
Queens Farmers Mkts, Street Fairs, Member Events Calendar
*Click here for stories about Queens street fairs, Queens farmers markets & some shopping venues in Queens.

Also see Friday & Weekend Events above and / or click to Queens Events Member Calendar to view a number of additional weekend events. And click here for free summer concerts in Queens, free summer movies in Queens and free things to do and free summer theater in Queens & things to do.
---
Table of Silence Transcends 911
Lincoln Center Dance Commemoration Transcends Hate through Love
September 11, 2017 / Upper West Side Neighborhood / Modern Dance Manhattan / Manhattan Buzz NYC.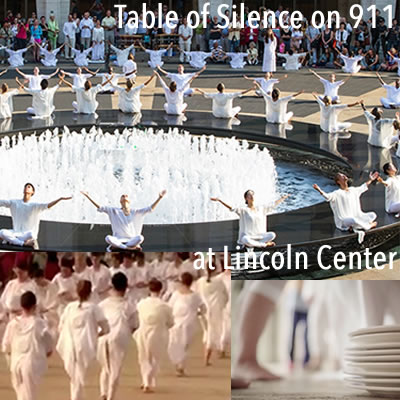 This morning at 8.15 am over one hundred dancers began a spiritual commemoration of the events of 911 with a modern dance performance in the main plaza at Lincoln Center on the Upper West Side. This was the seventh year of the performance, and its meaning seems to grow - rather than diminish - with time. It's about the classic and timeless struggle, between giving into hate, or striving to love.
The dancers were all dressed in white, and they created a resplendent symmetry mimicking nature's own. The performance was accompanied by a bit of minimalist music - originating from a beating drum, the air passing through a conch shell, and the human vocal cords.
The dancers transformed the plaza at Lincoln Center into a table, with the bountiful water fountain in the middle. Plates appeared, signifying the sharing of a feast ... a spiritual feast ... a prayer for all humanity.
We feel a heavenly sharing of being together, in a single place, at a single time. It's a solemn place, a sagely peace, a peace with each other, a peace within, and a peace with all the world ... even as the world continues to swirl around us, as does the NYC traffic ... but we remain centered ... as one.
At exactly 8.46 am the performance stops. All is still in Lincoln Center Plaza as we observe a minute of silence together. It's a silence within, as we are surrounded by the ambient noise of the city during rush hour. Sixteen years ago at 8.46 am the second of two planes struck the World Trade Center wreaking havoc. Taking lives. Creating chaos.
Cleansed of hate and vengeance - we depart to go on with our days. We have defeated the terrorists, by not giving into their desire for an endless cycle of violence and hate.
---
Election 2017 Tuesday 9/12 - Please Vote
September 11, 2017 / Queens Neighborhoods / Queens Politics & Government / Queens Buzz.
The New York City primary election is tomorrow, Tuesday September 12th.
The polling booths will be open from 6 am to 9 pm Tuesday.
To find your poll location click on the graphic at right.
Once on the website, input your address, and then click the small icon to the right of it to get the results of the search. I hope the NYS Board of Elections does better cyber security than they do web design, as the tiny arrow is easily overlooked.
If there is a runoff to this election, it will be held on Tuesday, September 26th and the general election is Tuesday, November 7th, 2017.
---
---
The Clay Club: SculptureCenter Returns to its Roots
Clay Club Program Celebrates SculptureCenter Origins
August 22, 2017 / Long Island City Neighborhood / Arts in Queens / Queens Buzz NYC.
Last Saturday I attended the Clay Club program hosted by the SculptureCenter. Five years ago, in 2012, the SculptureCenter began hosting a block party. The outdoor party made use of its unique location on Purves Street in LIC, which was across from an open unused lot and located in a quiet dead end street. Hence the block party was able to fill the vacant space with guests who spilled out onto the dormant, decayed urban landscape, in a celebration of Long Island City's past and imminent future.
Fast-forward to today, and Purves Street is now occupied by several shiny new high rises towering over it, bringing hundreds of new residents to the once quiet street. Thus in the Winter / Spring of 2017, the Sculpture Center staff - lead by Executive Director & Chief Curator Mary Ceruti – began the discussion of the upcoming block party with an open ended conversation about approaching it from a new angle. Mary and her artistic staff eventually arrived and settled upon an idea – throw a Clay Club event.
Click here to read the rest of our story about the origins of the SculptureCenter & the Clay Club event in LIC.
---
Click here for things to do on the Upper East Side UES, or things to do in Midtown Manhattan NYC, or things to do in the East Village and here for Whitestone hair salons.
---
---
The Solar Eclipse of 2017 in NYC
The Solar Eclipse: A Shared American Communal Experience
August 21, 2017 / Queens Neighborhoods / Manhattan Neighborhoods / Gotham Buzz NYC.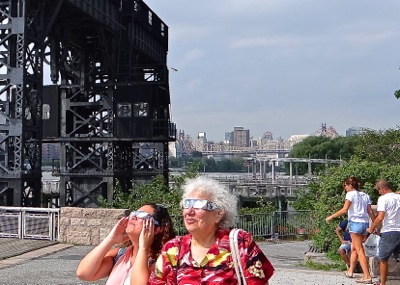 I set about to experience the solar eclipse of 2017, departing for Manhattan at about 1.30 – a bit after the eclipse was to begin. As I made my way to the subway, I met a woman who was heading to Hunters Point South Park to do the same. She offered me the use of her eclipse glasses, which I examined but it was far to early to really use.
The eclipse glasses were opaque and I couldn't see through them. Apparently they only work when you're looking at the sun. The glasses this woman had were sponsored by Cisco Systems through a science camp in Rochester, NY. Consumers were advised to be careful about which eclipse glasses to use, as apparently some would not filter out the harmful, eye-damaging rays of the sun. One eclipse audience member told me that the glasses were being sold online – ten for $100. I'll have more about the protective glasses a bit later as I used the glasses to take what I would call 'meaningful' photos.
There were many reports published about how one can damage their eyes by looking directly at the sun. The Washington Post noted that the damage can begin in as little as one and a half minutes, and that looking at the sun in a sequence of little peaks at a time, may not prevent you from doing real damage. It's worth noting that one can also damage their camera by pointing it directly at the sun for a long period of time. The New York Times noted that the longest the full eclipse will last, is less than three minutes, and that in many places in America it will last less than a minute.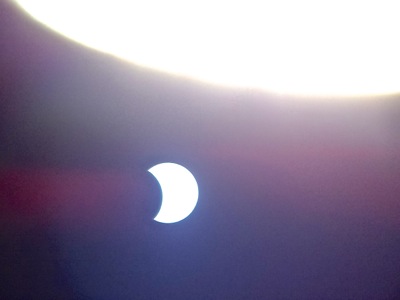 Historically, it's worth noting that the moon eclipsing the sun happens every 18 months, but most eclipses happen over the oceans which cover about two thirds of the planet earth surface. According to the New York Times, the last time America experienced a full solar eclipse was in 1918, a full 99 years ago, so few if any who are old enough to experience the eclipse this time, are likely to see it again.
The eclipse began along the west coast in Oregon at about 1.15 pm, the peak was at about 2.45 pm and the final was at about 4 pm. I'll note a few of my times as we run through the rest of this report.
Anyhow, I arrived at Lexington and 77th Street about 2 pm, about 45 minutes before the peak of the eclipse. A few folks were standing in the street looking up, so I shot a photo of the sun at that time, but it didn't look like much at the blinding rays of light blocked any real photo clarity.
Rest of story with plenty more photos coming later Tuesday 8/22.
---
---
InSitu: Choreographed Communal Catharsis
InSitu Dance Festival Brings Dancing Dument to Waterfront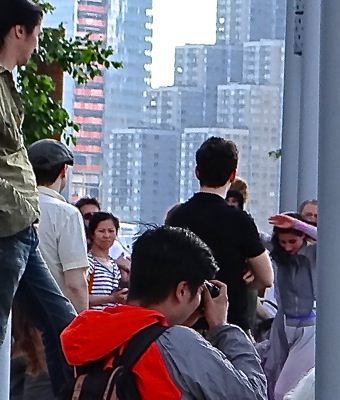 August 15, 2017 / LIC Neighborhood & Astoria Neighborhood / Dance & Choreography in Queens / Queens Buzz NYC.
It was a warm summer day as I made my way down to the Long Island City waterfront parks to witness the possibility of the dawning of a new age of dance along the East River waterfront. There were 24 local choreographers who had organized 75 performances to be given at four Queens parks along the East River waterfronts of Long Island City and Astoria.
InSitu Dance Time: Gantry State Park
I arrived at Gantry State Park in the late afternoon and made my way to the North Basin at the north end of the park. There was an audience gathered, watching the performance of Timepiece, Or: Another Imperfect Measurement by Melissa Riker and the Kinesis Project Dance Theater. The dance explores the measurement of time through the metaphor of sand being released through motion. And the soundtrack reverberates with the constant acoustics and vocal reminders of how trapped in time we have made ourselves.
InSitu Dance Gender: Queensbridge Park LIC
As the performance wound down, I hopped aboard my bike and made my way north along Vernon Blvd in search of the next InSitu dance performance in Queensbridge Park. I arrived early for this performance, which was scheduled to begin shortly after I arrived. Fragile, a piece choreographed and performed by Red House / Project 44 began with the dancers making their way up the park walkway, in some measure like small children clumsily learning how to walk. The piece explores male gender identity and how to enable masculinity and tenderness to coexist in the same man.
InSitu Founder & 'The Great Dictator' in Socrates Sculpture Park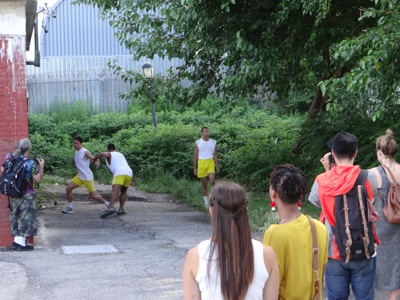 My next and last stop was Socrates Sculpture Park and Hallets Cove. There I met Svea Schneider, the driving force behind InSitu, as well as her urban dance company, Kinematik Dance. Svea was excited at how well the weekend had turned out both weather-wise and performance-wise. The first performance in Socrates Sculpture Park was underway, so I hurried over.
The performance was by the Blue Bus Project + Tyler Gilstrap, performing a piece entitled The Great Dictator. The piece references an old movie made in 1940 as WWII was breaking. It's satire about a Jewish boy who replaces the Great Dictator who is persecuting the Jews. Charlie Chaplin, who had a mustache cut similarly to Hitler's and representative of the times, played the star role and made a famous plea to humanity at the end of the film. The performance used the music of the time and the speech as the soundtracks which accompanied the dance.
InSitu Dance Ecology: Modern Dance at Hallets Cove & East River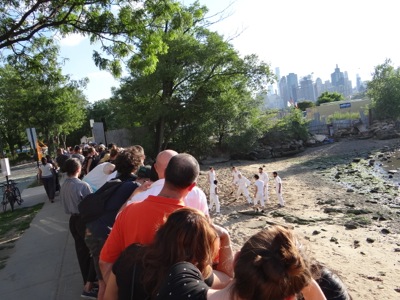 The next piece was performed along the Hallets Cove shore along the East River. This performance was by violetsound who did a piece they named Terroroir. In this piece they fabricate an allegorical exploration of who to blame for the earth's troubles, while unearthing underlying currents of human wonderment. People lined the rail along Vernon Blvd to watch the InSitu spectacle ... which would be the final performance of the day and weekend.
I departed the East River waterfront dance performances with plenty to contemplate. It was an interesting late afternoon, early evening of human sculptured art forms in motion. I shot some video along the way and hope to post it when I get the time to do it right.
InSitu was performed on Saturday and Sunday, July 8th & 9th, at Hunters Point South Park, Gantry State Plaza Park, Queensbridge Park and Socrates Sculpture Park. InSitu was a collaboration between the Jacob Riis Neighborhood Settlement and Kinematik Dance Theater.
---
---
Bix Beiderbecke Concert Sunnyside - Bix Beiderbecke History NYC
Davenport & Sunnyside: The Bix Jazz Connection
Jazz Musician Bix Beiderbecke is an Evolving Link Between Davenport Iowa & Sunnyside Queens
August 8, 2017 / Sunnyside Neighborhood / Jazz in Queens / Queens Buzz NYC.
So a week ago I took a walk 'On the Sunny side of the Street' as I ambled down to Queens Blvd at 46th Street to take in the music of the annual Bix Beiderbecke Concert. As I approached I could hear the music wafting through the hallowed halls of the #7 train tracks.
There was a full crowd at the 46th Street Plaza where kids were dancing to the jazzy tunes alongside a couple who knew their steps. The weather was nearly perfect, in the low 80's and not too humid.
In the photo at right, standing in front of the building on 46th Street in Sunnyside where Bix spent the last few months of his life, are [from left to right] drummer Paul Maringelli and trumpeter Jordan Sandke in the first row, and cornetist Bix Beiderbecke [brought back to life], clarinetist Joe Licari, pianist John E. Halsey, saxophonist Carol Sudhalter and bassist Fred Berman [Harvey Tibbs is not present] in the second row.
The Sunnyside Wolverines - Playing Bix Tunes Nearly 20 Years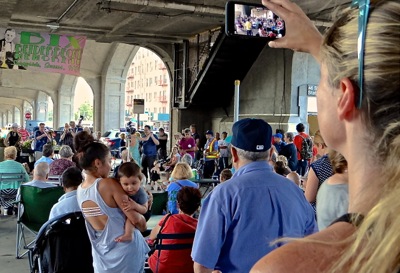 All of the musicians are accomplished in their own right. In addition to playing with the Sunnyside Wolverines - a band formed by drummer Paul Maingelli and named after Bix's band the Wolverines - each musician performs either individually or with other collaborators - quite frequently around the NYC metro area, as well as further afield. I'll include their contact information at the end of this report, in the event you're looking for (a) musician(s) to perform at a party or event.
On the Sunnyside of the Street was one of the last tunes played by the group on this balmy summer evening. The tune was first played as part of a 1930 Broadway Musical, just a year before Bix passed away on August 6, 1931. The group also played the tunes from the last of Bix's final recording session, which was made during the last year of his life.
Bix's life started in Davenport, Iowa in 1903. In his teens Bix taught himself how to play the cornet. He started performing for the public soon thereafter, including on Mississippi River boats which had become big entertainment venues. By the time he was 20, Bix had become a famous jazz musician performing in jazz towns like Chicago and Detroit.
In the photo above right you can see the crowd enjoying the Bix Beiderbecke concert which was sponsored by the Sunnyside Shines BID. In the photo below right you can see the Mississippi River near Davenport, Iowa where Bix grew up. The latter photo compliments of trumpeter Jordan Sandke.
Click here to read the rest of the story, including photos from Davenport, Iowa where Biz was born, and a short video of the Bix Beiderbecke concert in Sunnyside, Queens.
---
---
The Taste Shines in Sunnyside
Taste of Sunnyside Hits Another High Note
May 23, 2017 / Sunnyside Neighborhood / Sunnyside Restaurants / Queens Restaurants / Queens Buzz NYC.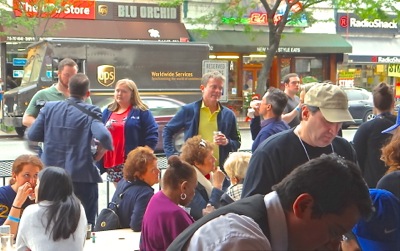 I had the opportunity to attend the eighth annual Taste of Sunnyside on Tuesday evening last week. I arrived right on time for the General Admission tickets and was soon let in under the big tent. Music was playing in the background as I started to make my way to the food and beverage tables lining the tent walls.
It was slightly dark inside the tent, but the walls along the side had been opened to allow guest diners to make their way to the picnic tables lining the outer perimeter of the tent. Unlike in prior years, this year groups of people started gathering at the tables in large, casual groups - possibly because the corridors leading to the tables were more apparent - and it seemed like there were more tables made available for guests. In the photo at right you can see Sunnysiders enjoying themselves along the outer perimeter of the Taste of Sunnyside tent, underneath the #7 subway line at Queens Blvd and 46th Street.
The great benefit of this was that it had the effect of opening up the crowd flow in a very favorable manner, and enabled more moving around from serving table to serving table to sample the food and beverages that the Taste of Sunnyside had to offer. It also enabled more mingling in between the samplings.
The extra space was a good thing too, because the local bands that came to perform made people want to move with the music. In the latter part of the evening there was a Latin Jazz band, the afro-latineers, that kicked up one helluva dance storm at the far end of the tent … or so it seemed.
The net, net of it all was good food and drinks and music and people - which translates into one helluva Sunnyside party. Naturally I met some people I knew, and also some people I didn't know ... until this night. In the photo at right you can see some of the food and beverage tables where people were sipping, munching and mingling.
To be continued later this week, with a photo slide show and a video.
---
---
NYC Mayoral Debates: De Blasio & Albanese
Democratic Candidates Discuss Issues Facing NYC
September 4, 2017 / Upper West Side Neighborhood / NYC Politics & Government Manhattan / Gotham Buzz NYC.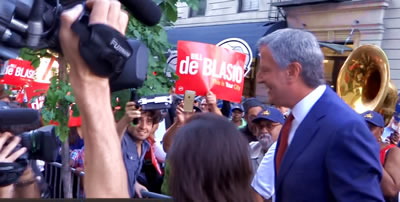 On Wednesday evening, August 23, I made my way to Symphony Space on the Upper West Side to watch the two Democratic candidates for mayor of New York City debate the issues.
Sal Albanese Democratic Challenger
Sal Albanese is the Democratic challenger, who raised just enough money to qualify for the NYC Campaign Finance Board qualification, which mandates debates between candidates who receive matching funds.
Albanese hails from Brooklyn and served as a member of the NYC City Council from 1983 to 1998. In the twenty years since he left public office, Sal has run for mayor on two previous occasions as a reformer. Since leaving office, Albanese spent ten years working in financial services and the rest of the time as an attorney, doing related work. Based on his political career efforts, Albanese appears to support many of the same progressive causes as Mayor de Blasio.
Conservative Commentator Sliwa Backs Albanese Bid
I ran into conservative talk show commentator Curtis Sliwa of the Guardian Angels who told me he was there to support liberal reformer Sal Albanese. I found this to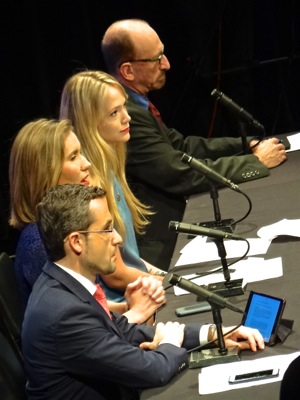 be ironic - given that Sliwa is a conservative Republican commentator who a couple years ago publicly announced that he was going to run as a Republican for Queens Borough President, challenging Democrat Melinda Katz. When I asked him if he still planned to run as a Republican against Democrat Katz, he replied no, and said he was here tonight supporting Sal Albanese and the Reform Party.
NYC Mayoral Debates 2017
What follows is probably less a summary, than a full accounting of the debate.
As I came out of the subway, I saw people gathered in front of Symphony Space. Some were supporters of the Mayor and some supporters for Goodwin, a challenger to the Upper West Side NYC City Councilwoman, Helen Rosenthal.
Inside I found that the free tickets had been fully subscribed, and while the auditorium was generally filled - it was not full - as not everyone used the tickets they booked.
Errol Louis of NY1 was the debate moderator and the debate panelists included: Brian Lehrer of WNYC, Laura Nahmias of Politico, Grace Rauh of NY1 and Juan Manuel Benitez of Noticias on NY1.
Each candidate opened with brief statements.
Albanese: Cites The Issues Facing NYC & America
Albanese started by talking about many of the major issues facing not just New York, but in many respects, all of America. He mentioned class warfare, pay to play politics, public transit investment, empty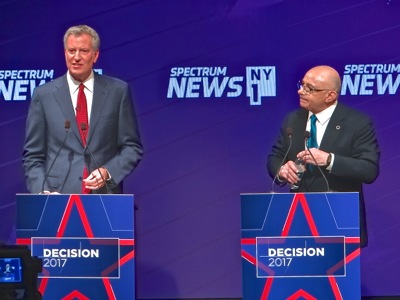 storefronts, lawless developers, and the negative impact of gentrification on communities, public space and tenants.
De Blasio: Cites Administration Accomplishments
De Blasio started by talking about the accomplishments of his administration over the past three and a half years. He noted that his administration is in the process of building affordable housing for 500,000 tenants and is on time and on budget. That Stop N Frisk is down 93% while the NYC crime rate has continued to fall, so that NYC is now one of the safest big cities in America. And that 78,000 children are now attending pre-school. He said while his Administration has achieved a lot, there's a lot more to do.
Later this week I'll post the rest of the report about the Mayoral Debate between Sal Albanese and Mayor Bill de Blasio.
---
---
Fiery Dragon Heats Up Boat Festival
August 2017 / Flushing Neighborhood / Part Fiction & Part Fact / Chinese Culture in Queens / Queens Buzz NYC.
It was a warm weekend at the Hong Kong Dragon Boat Festival in the Flushing neighborhood of Queens. But not too warm to prevent the legendary fiery dragon, a symbol of good fortune, to grace the Hong Kong Dragon Boat Festival with his presence [see photo to right].
The fiery dragon came rampaging through the festival lawn, seeming to blow flames from its mouth, out into the hot air. Thankfully Meadow Lake was nearby.
Is this a fictitious tale you may ask? Only the dragon knows for sure.
The 27th Annual Hong Kong Dragon Boat Festival was held in Queens on Meadow Lake. Meadow Lake is located in the southern end of Flushing Corona Meadows Park, well past the Unisphere and roller rink. The races were held on both Saturday and Sunday during the day. There were reportedly over 2,000 participants in the races, which included serious racers and racers just out to have a fun time. And many thousands of spectators.
---
---
Taste of Sunnyside - Sunnyside Restaurants Queens
Whistle Stop Tour: Asian, European, Latin & American Cuisines
Taste of Sunnyside: An Enticing Blend of Modern & Exotic Culinary Delights & Beverages
May 16, 2017 / Sunnyside Neighborhood & Woodside Neighborhood / Sunnyside Restaurants in Queens / Queens Buzz NYC.
Late yesterday afternoon I joined writers from - the Queens Chronicle, the Sunnyside Post and Queens Eats - to sample some of the exotic cuisines and familiar foods that lie ahead …
On what might be called a whistle stop tour that we took through a few of the participating restaurants and beverage providers, who will be serving attendees at the Taste of Sunnyside 2017 next Tuesday, May 23rd.
As we all know, Sunnyside has been changing at a fairly rapid rate, and the neighborhood restaurants now represent of an even more eclectic mix of modern and ethnic cuisines, that is serving a steadily changing residential population as well. In the photo at right is a platter of lamb, beef and chicken kebobs served by Mangal Kebab on Queens Blvd near 47th Street.
Our Taste of Sunnyside Preview Includes Asian, Latin & American Fare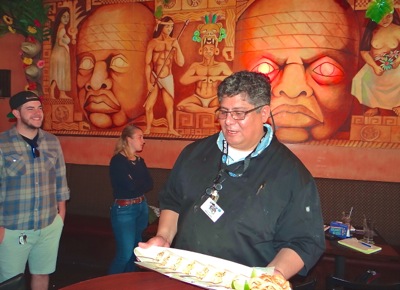 The Sunnyside Shines Business Improvement District [aka BID] is hosting its 8th annual Taste of Sunnyside to give longstanding and new residents an opportunity to sample the fare of some twenty of the new and well established restaurants participating in it, for the price of what it would cost to sample just one [$40 general admission & $70 for VIP]. The event also features seven beverage purveyors including some of the local micro-breweries, a vintner, a cider maker and the historic Lowerys Wine & Liquor store. And there will be live entertainment as well.
So All Aboard, as I take you along on an abbreviated preview tour to give you a sampling of some of what you might expect to encounter - should you climb aboard the culinary choo choo train next week. Sunnyside Shines BID Director, Jaime-Faye Bean was our hospitable hostess and conductor. In the photo at right is Luis Munoz serving a platter of fresh esquites at Arriba Arriba on Queens Blvd near 40th Street.
Our first stop was Old Mexico, the land of the Aztecs & Mayans, at the Arriba Arriba restaurant on Queens Blvd near the 40th Street / Lowerys subway stop. Click here for a sample preview of some of the tastes that will be served at Taste of Sunnyside 2017.
---
Late Night Dining in Jackson Heights
BQE Billiards Serves Eclectic Mix of American, Greek & Latin Favorites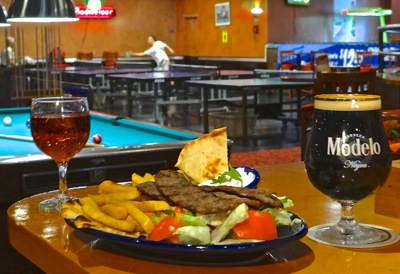 October 18, 2016 / Jackson Heights Neighborhood / Jackson Heights Restaurants / Queens Buzz.
I headed over to BQE Billiards and Bar for a photo shoot last week. They were working on developing a new website and I was helping them create the food photos. The side benefit of this excursion was that I was also able to partake in the feast that followed, where we all sat around and enjoyed sampling much of the food that was photographed. In the photo at right is the gyro plate sitting atop a counter space located within the pool area and overlooking the ping pong and arcade sections of BQE Billiards and Bar in Jackson Heights.
This story is going to include a review of some of the food I sampled, as well as delving into the history of one of Jackson Heights intrepid small businesses. BQE Billiards and Bar was founded 25 years ago by four partners, two of whom remain involved in the business today. So get comfy as we begin by traveling back in time, to the not-so-ancient Greece of the 1960's.
One of the founding partners, Nick, told me that as a boy he used to keep a watch in a Grecian winemaker's vineyard. As he grew older he was given the responsibility for tending a flock of sheep on the hills of Greece. Around the time he became a legal adult, Nick talked to his father about leaving the small town he grew up in, to seek out places and opportunities where he might be able to make a better go of things. His father, while reluctant to see his son depart, understood the calling of the young man, and sent him on his way.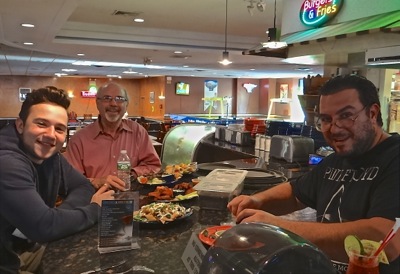 Nick sought work aboard a ship, the SS Andreas Panou. The ship ran into technical difficulties in the Greek port of Piraeus, so Nick and his crewmates were sent ashore to get a bite to eat, since the mess hall had no electricity. The foreman wanted the young lads to return before they had been able to get some food and they refused. The foreman and the Captain subsequently discharged Nick and his friend in October 1965.
Nick recalled how he sought and secured passage working aboard another ship. Less than six months later, in March of 1966, while on a transition in Vancouver, Canada; he noticed a newspaper written in Greek. Since he had not read anything in Greek for weeks, he bought the paper where he learned that the SS Andreas Panou had crashed off the coast of Spain.
In the photo at right, from left to right, are Andreas, Nick and Theo of BQE Billiards and Bar in Jackson Heights.
Click here to read the rest of our story about the history and the late night restaurant dining at BQE Blliards and Bar in Jackson Heights.
---
---
Astoria Furniture Stores Have It All - Queens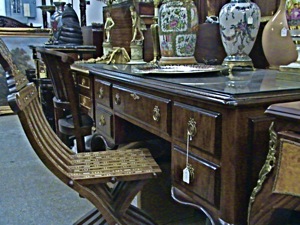 Astoria Shops / Astoria / Queens Buzz. The furniture stores located on the southern end of Steinway Street in the Astoria neighborhood of Queens seem to have something to offer to just about everyone. This part of Steinway is a furniture shopper's mecca, offering plenty of choices from classical colonial, to urban apartment living to bedding to suit nearly every spine.
I took a quick trip there, which is easily accessible via the N, W, G, R or V subway lines and within a sturdy walking distance from Long Island City, Astoria, Sunnyside and Woodside. Just up the street from Steinway is Broadway and two blocks further north is 30th Avenue, where you'll find a number of great Queens restaurants where after a good morning or afternoon of shopping, you can kick back in an enjoyable ambiance - or in the good weather along one of the sidewalk tables - ane enjoy a bit of coffee and some delicious food. Click here to learn more about the furniture stores in Astoria Queens.
---
Click for free checking in Queens or to buy eyeglasses Astoria, for Astoria hair salons, for Astoria wine stores, for Jackson Heights immigration lawyers, for Midtown dentists & Midtown Chiropractors, and for things to do in Queens. Eyeglasses in Jamaica NYC and bike stores Queens.
---
Mens Clothing Styles - Queens
Shopping Queens / Astoria Neighborhood / Queens Buzz. Esquire Men's Clothing Store continues to serve the greater Astoria and Queens area, as it has for over thirty years. The shop is owned and managed by Frank and Kevin Adhami, and their father, who is in his eighties, still visits the store on an almost weekly basis.
Esquire is located along Steinway Street between 30th and 31st streets. The store contains a wide selection of men's coats, suits, casual wear, shoes and men's accessories like belts and ties.
This story will provide some information about the store itself as well as fashion recommendations for the Spring and for job hunters.
Click this link to view a story written on Men's Clothing In Astoria Queens NY. Click here for men's clothing stores in NYC, and here to buy Stone Rose shirts in NYC, and here to buy Alberto pants in NYC, and here to buy Eton shirts and here to buy Hugo Boss sneakers in NYC. Click here for Astoria / LIC Queens tile stores serving Brooklyn, Greenpoint & Williamsburg or here for abayas in Queens & Brooklyn NYC and for hijabs in Queens & Brooklyn NYC.
---
Queens Farmers Markets
September 12, 2017 / Astoria Sunnyside Woodside Jackson Heights Long Island City LIC Flushing Jamaica / Queens Buzz NYC.
Jackson Heights was the first year 'round farmers market in Queens, Forest Hills was the second year 'round farmers market, and Sunnyside was the third year 'round farmers market in Queens. So now Queens has three farmers markets operating year 'round and nearly a dozen seasonal farmers markets.
Click the link below to see a listing of the Queens Farmers Markets operating during the rest of the 2017 season including links to maps. Click the other link below for an updated list of Queens Street Fairs schedule of 2017 through the end of the 2017 season, including dates and maps showing their locations. The first half of the 2018 season will be likely be updated in Winter of 2017.
Click here for our updated posting of Queens Street Fairs - Queens NY. Click here for a listing of the Queens Farmers Markets. You will always find both street fairs and farmers markets for the current month in the Queens Events section of the site [see top tool bar for button / link]. Click here to view the map of the Jamaica farmers market. Click here for Bronx street fairs.
---
---
LIC Real Estate Boom Appears to be Slowing
A Near Doubling of New Units Coming on the Market this Year, so there Appears to be a Pause, as Investors see how Quickly the Market Adjusts to the new Inventory & new Interest Rates
March 28, 2017 / LIC Neighborhood / Queens Real Estate in LIC / Queens Buzz.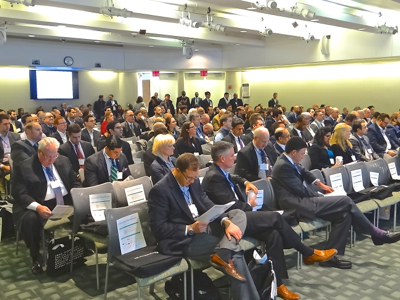 I attended the LIC Partnership Real Estate Breakfast just over a week ago. For the first time in a long while, I could actually find a seat. There had been a snowstorm the day before, so that may have contributed to my luck in finding a seat, but the event also did not appear to sell out as quickly as in prior years either.
This is not to say that LIC development is over ... and likely not by a long shot. But for the moment, the urgency seems to be abating as we all watch to see how things play out; while another 22,000 modern, fairly upscale apartment units come on the market.
According to the LIC Partnership, in the past decade nearly 12,000 new units have been created in LIC. Of those, less than 3,000 were sold to owners. In 2017 nearly 9,000 new units are coming into the market.
The principles of economics state that when supply goes up, if demand doesn't go up by an equal amount, then it is likely that prices will go down. So it's likely that a near doubling of new apartment supply in LIC this coming year could dampen rental prices for a while, and possibly sale prices too.
Interest rates are also rising. And again according to the principles of economics, when interest rates rise, generally the prices of high dollar value purchases decline, because interest rate increases add to the cost of the monthly payments associated with large purchases like real estate.
More regarding the discussion held at the LIC Partnership Real Estate Breakfast - which as always was very informative - at a later date.
---
How Duplicitous was James Murdoch's Donation?
Like Father Like Son: Is Rupert's Son also a Talented Deceiver?
Does Murdoch's Fox News RACIAL - ize to SENSATIONALIZE?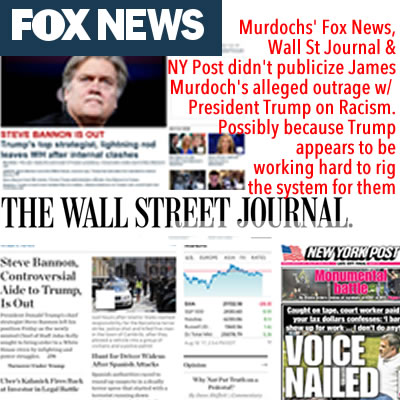 Updated September 3 / August 28, 2017 / NYC Neighborhoods / NYC Government & Politics / News Analysis & Opinion / Gotham Buzz NYC.
On Thursday, August 17th, 2017 a huge amount of publicity went out to the people of the United States and the world, that James Murdoch, the CEO of 21st Century Fox and Chairman of British Sky PLC, gave a $1 million donation to the Anti Defamation League.
The Anti-Defamation League [ADL] is a worthy cause, as according to the ADL website,
"The mission of ADL is to stop the defamation of the Jewish people and to secure justice and fair treatment to all."
James Murdoch and Fox News probably couldn't have come even close to securing this kind of positive publicity by spending ten times that amount of money on advertisements.
Murdoch's the Name & Mass Media Manipulation is the Game
Given the recent human tragedy of the Charlottesville terrorist attack, and in a time where Neo Nazis and the KKK are back on the march, the donating to the Anti-Defamation League certainly seems like a timely and good cause.
But the public relations aspect of James' donation is only where the story begins - as James Murdoch is the Chief Executive Officer of 21st Century Fox - a position he appears to have secured by virtue of his Royal Birthright. James is the son and one of the heirs to the media empire of multi-billionaire global propagandist Keith Rupert Murdoch - who coincidentally is the Chairman of 21st Century Fox. According to Rupert Murdoch's own words he is also a "good friend" of Donald Trump.
How Racist the Sly Fox (News)?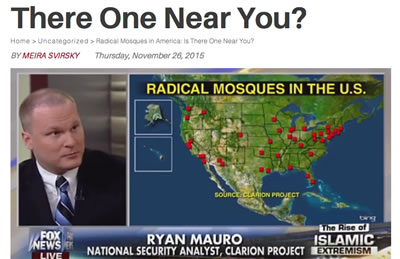 So while Fox CEO James Murdoch made a $1 million donation to fight discrimination, one could make the case that one of the more significant (indirect) contributing factors in the rise in anti-Muslim, anti-Semitism and / or racism in America is what appears to be the distorted RACIAL - izing reporting done by Murdoch controlled 'news' outlets - the most notable of which is Fox News.
I'm going to give you three examples of what appears to be Fox News implicit nod to racism by skewed presentations of the facts - including significant omissions, out-of-context distortions and fictionalizations. I encourage you to look for other appearances of this by Murdoch media outlets, whenever you're getting your news from them. The Murdochs control literally hundreds of different media outlets around the globe.
In NYC alone the Murdodchs control the Fox TV Network, NY Post, Wall St Journal and two local TV stations WWOR-TV [Channel 9] and Fox [Channel 5].
And it's worth mentioning that there is a pending lawsuit against the Murdoch's Fox News regarding employment discrimination. I won't delve into the allegations of illegal sexism at the organization as this has already been widely reported. An April 25, 2017 report in the NYT noted,
"Eleven current and former Fox News employees filed a class-action lawsuit in New York against the network, accusing it of "abhorrent, intolerable, unlawful and hostile racial discrimination."
Fox News Appears to RACIAL -ize a Rape to SENSATIONALIZE it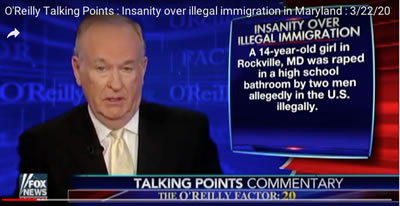 On March 22, 2017 the Murdochs' Fox News had Bill O'Reilly do a report about the rape of a high school girl allegedly by two illegal immigrants. The thrust of Bill O'Reilly's distorted commentary appeared to be the implication that illegal immigrants are rapists.
Murdochs' Fox News report went on to bash the other media which Murdoch's Fox News has called dishonest, propagandist, fake, elitest, liberal and left wing for not reporting the rape.
What O'Reilly doesn't tell you is that,
"... according to the United States Department of Justice document Criminal Victimization in the United States, there were overall 173,610 victims of rape or sexual assault, or 0.1% of the US population 12 or older in 2013 [source Wikipedia]."
O'Reilly Fails to Acknowledge his own Allegedly Sexist Past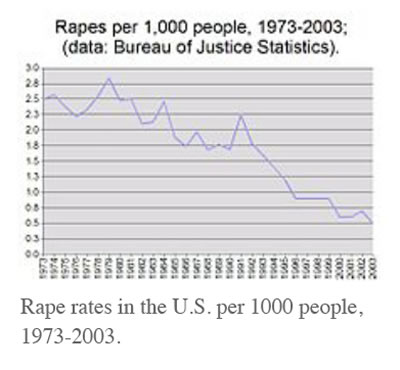 What alleged sexist Bill O'Reilly didn't tell his audience in his immigrant rapists report - less than two weeks before the story broke - was that,
"Bill O'Reilly, Fox News pay $13M to settle sexual harrasment suits from five women" [NY Daily News headline on April 2, 2017]
Is Bill O'Reilly a hypocrite who wants to have things both ways?
Murdochs' Fox News and Bill O'Reilly would have to do broadcasts about rape 482 times per day to report all of the rape / sexual assault crimes in this nation.
Why was this particular rape the one to report out of hundreds of thousands committed in the United States? One might conjecture it was reported because James & Rupert Murdoch's Fox News could win ratings with Bill O'Reilly RACIAL - izing the story in order to SENSATIONALIZE the story. A practice which, like Murdoch's Fox News alleged sexism, and what seems the Murdochs' organization penchant for illegally hacking people, appears to be a part of the Murdoch organization ethos or corporate culture.
The silver lining of the rape landscape in America is that the number of rapes per thousand people in the USA has been declining fairly steadily for decades. See graph posted in Wikipedia above.
So if James Murdoch REALLY wanted to make a statement against racism and Nazis - it seems he could have done far more good by terminating this sort of racial-ized reporting on the Murdochs' own news outlets - than by making a highly publicized donation using the Main Stream Media to tell the world that the Murdochs don't embrace racism.
Based on how the Murdochs' organization reports things, it seems James - like his father - wants people to believe he's one way, while he profits from doing things another way.
Is Racist Reporting done on Fox News?
Fox Fiction Factory: O'Reilly's Fictional Swedish Security Expert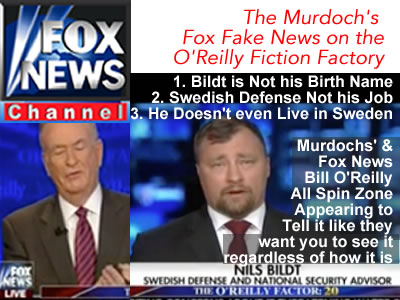 The first example was a piece by former Fox News commentator Bill O'Reilly in February of this year.
The O'Reilly Factor on Murdoch's Fox News presented Nils Bildt, whose birthname is Nils Tolling, as a Swedish security expert. Tolling / Bildt was asked to comment as an 'expert witness' about the current security problem that Sweden was (allegedly) having with immigrants.
O'Reilly used a Wall Street Journal report [the Wall St Journal is also controlled by the Murdochs] for his story. Murdoch's Wall Street Journal had published a report about Swedish immigration problems which failed to include important facts [I couldn't find the story so they must have pulled it down, but it's mentioned in the broadcast].
Apparently the WSJ article reported that about of third of women in Sweden feared for their safety. The WSJ failed to note that it was a third of the IMMIGRANT women who were fearful for their safety in Sweden, leaving Murdoch's Wall St Journal audience with the erroneous impression that it was the Swedish women who were fearful.
Nils Tolling aka Nils Bildt turned out to be something of an imposter as he used a second name - not his birthname, and O'Reilly / Fox claimed for him a title and position he never held, and Fox / O'Reilly appeared to give us impression that he was living in Sweden, when in fact he lives in Montana. O'Reilly seemed 'to lead his expert witness' Tolling / Bildt, who told O'Reilly viewers that Sweden was experiencing significant immigration problems. O'Reilly's other guest, Anne-Sofie Naslund, was correctly billed as a Swedish reporter who told O'Reilly's audience that what he was reporting was not true.
Fox News Fake News: Is Murdochs' Fox News a Racist Fiction Factory?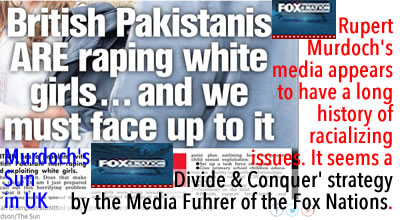 Murdoch's Fox News O'Reilly, a 42 year news / propaganda veteran, was confronted with the torrent of fictions included in his broadcast. O'Reilly responded by admitting he and Fox News had made errors - but told the reporter that the rest of the story was true. Click here for a more detailed accounting of Bill O'Reilly interview with Nils Bildt or Nils Tolling.
In the graphic at right, The Sun, a Murdoch-controlled British newspaper seems to play the Murdoch organization's racist card against Pakistani immigrants in Britain. While one can be against immigration without being racist - implying that immigrants are lawbreakers and rapists at a higher level than the general population is Fox fake news. As a point in fact, based on studies done in the U.S., immigrants appear to commit crimes at lower levels than the general population.
Click here to CONTINUE - Is Fox News Sensationalizing by Racial - izing?
Click here to continue and read more about James Murdoch's donation to the ADL - Anti-Defamation League & how it appears that Murdoch's organizations sensationalize by racial - izing issues.
---
Queens Real Estate
Real Estate in Astoria, Jackson Heights, Long Island City LIC, Sunnyside, Woodside, Flushing, Jamaica
Queens NY / 2017. These links will take you into sections & reports on the Queens real estate market in Queens beginning in 2009.
These reports include reviews of apartment rental prices, as well as condo, co-op and home prices and availability in the Queens market.
We have also done neighborhood specific reports about Astoria real estate, LIC / Long Island City real estate, Jackson Heights real estate, Woodside & Sunnyside real estate, Flushing Real Estate and Jamaica Real Estate. Click here to view Long Island City apartments for rent LIC.
While we found these neighborhoods mirrored / trailed many of the national trends, we found some interesting differences, including differences from neighborhood to neighborhood.
Click here to read the Queens Real Estate market analysis 2009. Click here for Jackson Heights realtors and Jackson Heights real estate.
---
Queens Buzz Voluntary Subscriptions
We work very hard to help keep you informed by providing you with independent news coverage, as well as information about events in the arts, culture and business in the borough.

You can help us continue to provide you with independent, first-person, fact-based, contextural reporting by purchasing an annual subscription. As it's voluntary, there are a variety of price options, one of which should fit within your budget.
Thanks for your encouragement & support.
---