Kids Halloween Parties In Queens
Halloween Parties For Kids In Queens 2018
Fun Kids Halloween Parties Open To Public In Queens
October 22, 2018 / Queens Neighborhoods / Queens Things To Do / Queens Buzz NYC.
There are quite a few events and Halloween parties planned for kids in Queens this year. Costume Parties, mask making, parades and entertainment abound for kids in Queens.
This report will focus on the kids Halloween parties and events, giving you a sampling of possible Halloween party venues and events around the borough of Queens on Halloween and Halloween Weekend 2018.
In the photo to your right is a scene from the Halloween party at either the Queens Museum [woman with painted face] or from the Astoria Halloween Parade [with the page preview only].
Click here to read our report on things to do with kids for Halloween in Queens. Also see our related report on Halloween parties in Queens for adults.
---
Things To Do in Queens This Weekend
11:11 Celebrate Mexico Now Dance, Concert Friday Nite at St Sebastians in Woodside, Astoria Halloween Parade & Party, Bolivian Day Parade in Jackson Heights, My Fair Lady Film, Fall Fest, Carnegie Concert, Art Talk & Fringe NYC
October 19, 2018 / Things To Do Queens / Queens Neighborhoods / Queens Buzz NYC.
Weather. The Temperature highs will be near 60 on Friday & Saturday, falling to about 50 on Sunday. Thetemperature lows will be in the mid 50's Friday, the mid 40's Saturday and about 40 on Sunday. No Rain. There's a 20% chance of almost no rain early Saturday morning, and a 10% chance of the same on Sunday. Winds will rise from about 10 mph on Friday, to 15 mph Saturday to 20 mph on Sunday. The Humidity will be about 40% Friday,rising to 60% Saturday and falling to 50% Sunday. Click for Queens Weather.
MTA / Public Transit / Click here for the MTA Weekender. The #7 is undergoing some improvements this month, so the local stops will be affected, causing you to have to double back, so allow more travel time.
The photo at right shows a dance performance of shear art in an earlier year. The Celebrate Mexico Now Festival is performing at the LaGuardia Performing Arts Center Friday nite and there's a concert at St Sebastians in Woodside - see details below.
Friday - eGALitarian Concert at St Sebastian's Church in Woodside & 11:11 Celebrate Mexico Performance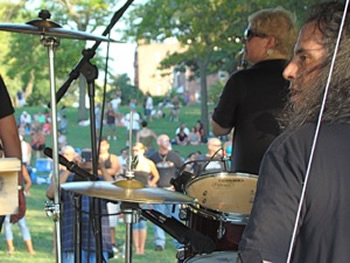 In the photo at right you can see a musical performance in an earlier year in Queens.
There's a concert beginning at 7.30 pm at St. Sebastian Church at 58th and Roosevelt Avenue in Woodside. It's free, but donations are welcome, as they want to raise money for instruments and the homeless.
One Night Only beginning at 7 pm, in the Little Theater at the LaGuardia Performing Arts Center at 31-10 Thomson Avenue in LIC presents an award winning work entitled 11:11 [$10 / $20 at www.lpac.nyc]. It's a dance performance which is part of the Celebrate Mexico Now Celebration going on throughout the city.
The Noguchi Museum at 9-01 33rd Road at Vernon Boulevard in LIC / Astoria is hosting Free First Fridays [art / donations welcome].
Saturday - My Fair Lady Film, LIC Fear Exhibit, Fringe NYC, Carnegie Concert & Fall Festival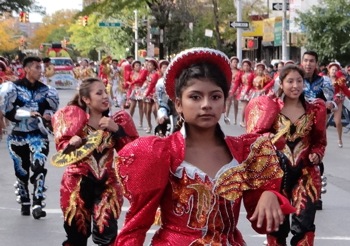 The photo at right shows a scene from the Bolivian Day Parade in Jackson Heights Queens in an earlier year. The parade returns this Sunday - see details below.
There's a showing of the film My Fair Lady beginning at 1 pm at the Greater Astoria Historical Society at 35-20 Broadway on the 4th floor - free.
LIC FEAR, a fine art horror exhibition and independent horror film festival, returns to the The Plaxall Gallery at 5-26 46th Avenue in Long Island City starting October 4th through November 4th. The opening reception was from 7 - 10 pm on Saturday, October 6th and the Horror Film Festival is on Oct 26 & 27 from 7 - 10 pm.
There's a Fall Festival at King Manor on Jamaica Avenue and 153rd Street in Jamaica from 12 noon to 4 pm. It's free and includes a cider making demonstration and other colonial exhibits.
Beginning at 3 pm, at the LaGuardia Performing Arts Center at 31-10 Thomson Avenue there's a FREE Carnegie Hall Neighborhood Concert featuring Corey Scott an acclaimed vocalist [it's useful to rsvp www.lpac.nyc because these occasionally sell out].
The Fringe NYC comes to the Secret Theatre at 44-02 23rd Street in Long Island City Friday from Saturday, October 20th to Wednesday, October 31st at various times with various shows lasting abouit two hours [$16 / $22 at www.fringenyc.org].
Sunday - Astoria Halloween Parade & Party, Archtober Tour, Bolivian Day Parade, Art Talk & Fringe NYC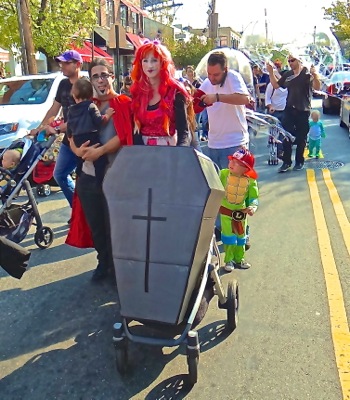 In the photo at right you can see folks enjoying the Astoria Halloween Parade in a prior year. The parade returns to the Ditmars neighborhood on Sunday - see details below.
There's an Astoria Halloween Parade and Party kicking off from Ditmars Blvd and 31st Street and marching west to Astoria Park, where beginning at 12.30 pm there will be a family party. All free and the public is welcome to participate.
There's also a Bolivian Day Parade kicking off at 69th Street and 37th Avenue in Jackson Heights begining at 12 noon. The parade marches east to 86th street.
The Dorsky Gallery in LIC is hosting an art talk / tour in LIC from 3.30 to 5 pm [free but rsvp@dorsky.org].
There's an Archtober Tour at King Manor on Jamaica Avenue and 153rd Street in Jamaica beginning at 4 pm. It costs $20 and is a tour of the architecture of King Manor which went through three construction phases - 1750, 1790 and in 1810. Rufus King was a signer of the Constitution and lived in the house from 1805 to 1827.
LIC FEAR, a fine art horror exhibition and independent horror film festival, returns to the The Plaxall Gallery at 5-26 46th Avenue in Long Island City starting October 4th through November 4th. The opening reception was from 7 - 10 pm on Saturday, October 6th and the Horror Film Festival is on Oct 26 & 27 from 7 - 10 pm.
The Fringe NYC comes to the Secret Theatre at 44-02 23rd Street in Long Island City Friday from Saturday, October 20th to Wednesday, October 31st at various times with various shows lasting abouit two hours [$16 / $22 at www.fringenyc.org].
Also see art exhibits and film above in the Friday & Weekend section.
MOSTLY DONE. Asterisked events have NOT been updated.
* PS1 MoMA at 22-25 Jackson Avenue in LIC is hosting an Art Book Fair through the weekend. There will be 365 exhibitors with books of all sorts, including antiquities and collectors items. Entry to the fair is free and the times are Friday 1 pm to 7 pm, Saturday 11 am to 9 pm, and Sunday 11 am to 7pm.
* The Museum of the Moving Image in Astoria at 35th Avenue & 36th Street has an exhibit entitled Behind the Scene [ongoing] about film production, the Jim Henson exhibit about the creator of Sesame Street [ongoing], as well as numerous film screenings throughout the week. This month they are running a series about xyz [film / $9 / $11 / $15 - series ends xyz].
* The Drag Queens Show opens at Thalia Theatre at 41-17 Greenpoint Avenue in Sunnyside and runs weekends through November 4th at 8 pm Friday & Saturday and at 4 pm on Sunday. It's a performance of Queens Latin trans actors, artists and female impersonators. Tickets are $45 / $42 & Fridays $37 / $40.
JPAC
Week Beginning 10.22.18 - Terrific Freight opens, SS Yards Meeting, LIC Fear continues
LIC FEAR, a fine art horror exhibition and independent horror film festival, returns to the The Plaxall Gallery at 5-26 46th Avenue in Long Island City starting October 4th through November 4th. The opening reception was from 7 - 10 pm on Saturday, October 6th and the Horror Film Festival is on Oct 26 & 27 from 7 - 10 pm.
The Fringe NYC comes to the Secret Theatre at 44-02 23rd Street in Long Island City Friday from Saturday, October 20th to Wednesday, October 31st at various times with various shows lasting abouit two hours [$16 / $22 at www.fringenyc.org].
Beginning Wednesday, October 24, the Chocolate Factory at 5-49 49th Avenue in LIC is hosting performances of Terrific Freight, a modern theaterical dance performance, beginning at 8 pm through Saturday [$20 / theater - tickets sell fast at www.chocolatefactorytheater.org].
Also on Wednesday, October 24th from 6 - 8 pm in the Atrium of Building E at the LaGuardia College at 31-10 Thomson Avenue in LIC there will be the first public meeting for the Sunnyside Yard Master Plan [free / currently sold out / government & business].
On Friday, October 26, there's an event of music and light refreshments entitled Musique Macabre at King Manor on Jamaica Avenue and 153rd Street in Jamaica beginning at 6.30 with music starting at 7 pm [$15 at www.kingmanor.org].

Farmers Mkts, Street Fairs & Member Events Calendar
Click here for reports about Queens farmers markets, Queens street fairs, shopping venues in Queens and / or click to Queens Events Member Calendar to view a number of additional weekend events.

Also see Friday & Weekend Events above and click here for free summer concerts in Queens, free summer movies in Queens and free things to do and free summer theater in Queens & things to do.
BOOK REVIEW NEXT WEEK: Under the Mets Grandstands by Seymour Butz.
---
Halloween Parties In Queens
Halloween Parties Queens 2018
Halloween Parties in Astoria, LIC, Sunnyside, Woodside, Jackson Heights & Flushing
October 21, 2018 / Queens Neighborhoods / Queens Restaurants & Bars / Queens Buzz NYC.
Here's a listing of some of the Fun Parties Open To Public In Queens.
There are a lot of parties planned for Halloween Weekend and Halloween Day of 2018. There are costume parties and live music for adults, and parades and parties for the kids. This report will provide you with a sampling of party opportunities around the borough of Queens for adults on Halloween Weekend 2018, which is a little more than two weeks away, and this page also includes links to the kids Halloween parties page, and Halloween parties in other boroughs.
The photo to your right was taken of a Halloween party crowd in Queens in an earlier year. Halloween allows the latent artist and theatrical actor in us all, to come out of its inhibition. In earlier times it was said that masquerade events were to give the upper and lower classes a chance to mingle without being scandalized - as everyone was in costume.
Click here to read about Halloween Parties In Queens this year.
---
Things To Do In Queens - Columbus Day Weekend
Things To Do Columbus Day Weekend Queens
Things To Do In Queens Over The Columbus Day Weekend
October 6, 2018 / Things To Do Queens NY / Queens Buzz NYC.
Columbus Day Events In Queens
Click here to obtain information about things to do Columbus Day Weekend in Queens. This events calendar is updated monthly with about 100 different Queens fun / cultural events.
Columbus Day Parade - Astoria Queens
There's a Columbus Day Parade in Astoria Queens on the Saturday before Columbus Day. Check the front page of this website for other things to do on Columbus Day in Queens.
Queens Public & Private Parks
Queens has one of the best collection of parks and golf courses in the NY Metro area, if not the best. Queens has at least 17 great parks. Click here for a listing of the Queens Parks including maps showing their locations along with a bit of park history.
Golfing In Queens - Columbus Day Weekend
Queens has four golf courses and all of them are open this weekend. Click here for details about Queens Golf Courses including maps and links to the operators' websites.
---
Queens Dominican Parade
Jackson Heights & Corona - Home to 3rd Largest Concentration of Dominicans in NYC
October 7, 2018 / Jackson Heights & Corona Neighborhoods / Queens Neighborhoods / Queens Parades / Queens Buzz NYC.
It was an unseasonably warm and humid Sunday, as the 11th Annual Queens Dominican Parade stepped off at 37th Avenue and 69th Street in Jackson Heights just after 12 noon. The parade was to make its way up to 86th Street where the parade ended, but not the celebration as there was an after parade festival organized in Flushing Meadows Corona Park near the NY Hall of Science.
The streets were lined with well wishers all the way up 37th Avenue, but possibly a bit less so than in prior years. According to one report in the middle of this decade, the Dominican population in Queens experienced a double digit decline. This decline may possibly due to the high rents, and many Dominicans may have moved to either the Bronx or Washington Heights / Inwood, where there the housing may be more affordable and there are far larger concentrations of Dominicans and Dominican culture.
Dominicans & Dominican Culture in Queens & NYC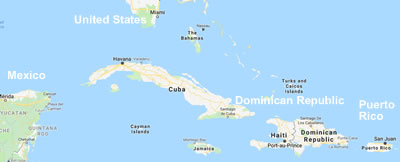 The highest concentration of Dominicans can be found in the Washington Heights / Inwood area. The south and central Bronx is also home to a large concentration of Dominicans, and they are also well represented in other parts of the Bronx borough.
In the 2014 census update, it was reported that the Dominican population had edged out the Puerto Rican population in NYC for the first time as the largest segment of Latinos. According to a November 13, 2014 report in the NY Daily News,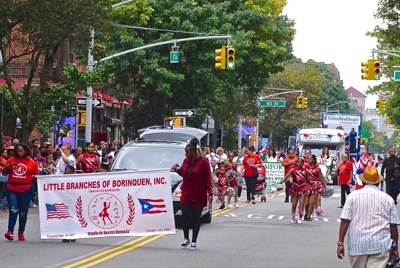 "There were about 747,473 Dominicans in the five boroughs in 2013, compared with 719,444 Puerto Ricans, according to a Census data analysis by CUNY's Center for Latin American, Caribbean & Latino Studies."
The two largest Dominican Parades in NYC are found in Washington Heights / Inwood in Manhattan and in the Concourse / Tremont neighborhoods of the Bronx. I was told by a well wisher that both of the other two Dominican Day Parades in NYC (and attendant celebrations) are held in August, celebrating the second independence day in Dominican culture called Restoration Day. On Restoration Day the Dominican Republic was restored to its independence following a war with Haiti, which occupies the western half of the island. The Dominican Republic is located just west of Puerto Rico.
Hispanic Culture in NYC Dominated by Puerto Rican & Dominican Culture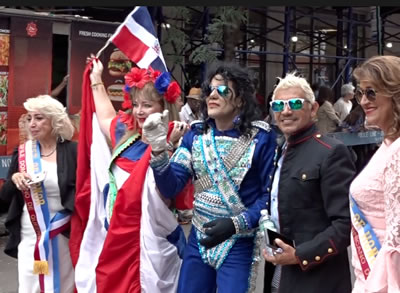 Puerto Ricans have long been the largest block of Hispanics in the city, as Puerto Rico has been a U.S. possession following the Spanish American War in 1898. In the Spanish American War the U.S. defeated Spain, who relinquished control of Cuba, and also ceded control of the Philippines and Puerto Rico to the U.S. in exchange for $20 million. The Philippines became independent from the U.S. in 1946, following WWII. And Puerto Rico is a U.S. possession.
In 2016 there was an estimated 2.5 million population of Hispanics living in NYC, which is about 29% of the total NYC population. In 2010 Whites represented 33% of the people living in NYC, while Hispanics and African Americans each represented 26% of the NYC population, and Asians represented 13% of the NYC population in the last census.
Queens Dominican Parade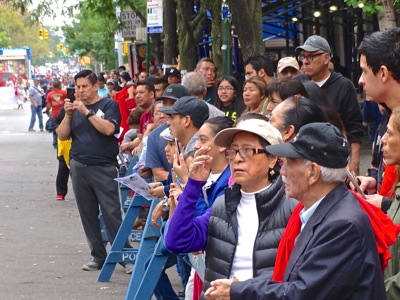 The parade marched east along 37th Avenue with marchers dressed in a few indigenous cultural outfits as well as a few Americanized outfits. One man had dressed as a Michael Jackson look-alike and he was rather convincing. There were also a number of business floats in the parade and a group from a dancing school.
The ethnicity of the Dominicans is generally multi-racial as the Caribbean, during the early years of the New World, the island was something of a melting pot where Africans, Indians and Spaniards congregated.
After taking some photos, I headed north to the Farmers market in Jackson Heights, which moved a couple of blocks east this summer, while the construction on the Travers Park upgrade continues.
---
Kavanaugh: Have Republicans Abandoned Family Values and Law & Order?
Are Trump & Republicans Rushing the Nomination of a man who may be a Lying, Partisan, Alcoholic, Sex Offender with a Gambling Problem?
October 2, 2018 / NYC Neighborhoods / NYC Politics & Government / News Analysis & Opinion / Gotham Buzz NYC.
Over the past couple of weeks, we've been treated to a new season of a made-for-TV series, the Unreal Presidency of Donald J. Trump. The Donald is the star TV shock jock protagonist. He is an elderly man who appears hell bent on seeing just how far he can exercise executive privilege to serve his own ends, before some of the other 320 million people in the nation will actually stand up to stop him.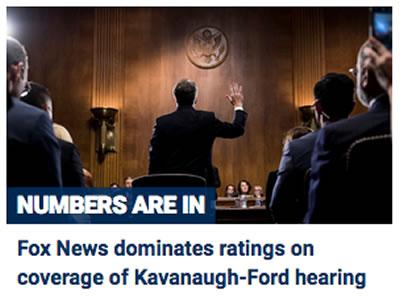 There are many antagonists including those who have filed a lawsuit accusing Trump of violating the Emoluments Clause of the U.S. Constitution [using the office of the presidency for personal profit] and there are many grassroots Democrats who are pushing their representatives on the idea that Trump was exactly the kind of president the Founding Fathers had in mind when they included the Impeachment process in the Constitution.
The past and current episodes of the Unreal Presidency of D.J. Trump have been a made-for-TV-News ratings sensation. The current episodes have been focused on Trump's rush to confirm Brett Kavanaugh, a nominee with hair-raising disqualifications, to the Supreme Court. The Trump propaganda machine - friend Rupert Murdoch's Fox Fake News - has been the ratings winner of this taxpayer funded drama.
And Murdoch's Fox News proudly declared that on Friday, September 28, 2018 with the following headline [see above],
"Fox News dominates ratings on coverage of dramatic Kavanaugh-Ford hearing."
Murdoch's Fox Fake News uses red, white and blue iconography all over its broadcast studio, calling themselves 'America's Newsroom'. Their hijacking of America's colors and flag, is reminiscent of how the Nazis hijacked German nationalism in the 1930's for their own ends. The Nazis claimed to be the one true patriotic party of Germany.
The Appearance of Due Process for TV Cameras?
The reality comes from Trump and the Republicans using Executive Privilege to withhold critical documents from the Senate, also limiting the time Senators were given to question Kavanaugh, and at first denying an authorized investigation into some of the most egregious allegations that have arisen against Trump nominee Brett Kavanaugh.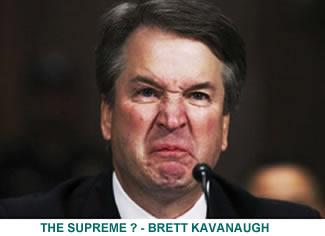 Trump's opposition, the minority political party in both the Senate and House, want access to documents surrounding one of the two roles that Kavanaugh played in the Bush Administration [2003 – 2006], when it is believed Kavanaugh ignored or supported illegal torture, illegal surveillance of the American people, and possibly worked with documents Kavanaugh knew to be obtained illegally.
What's more, the allegations surrounding Kavanaugh's character seems serious enough to disqualify him, including lying under oath, attempted rape, alcoholism and that he has a gambling problem. These allegations, if true, would impugn the integrity of the Supreme Court, as an impartial body that deliberates over the laws that govern our society.
Supreme Court Justice Nominee or a Supreme What?
The photo at right shows Kavanaugh at the hearing, demonstrating some of his famous anger management issues. His lying about his inability to control himself is at the core of the Senate's reluctance to confirm him - as he is alleged to have gotten into a bar dispute after repeatedly drinking too much, to have repeatedly sexually offended several women where alcohol was also involved, and to have erupted in rage following a gambling bout.
---
World Maker Faire at the NY Hall of Science
Ye Old World Maker Faire was Everything but … old
September 24, 2018 / Corona & Flushing Neighborhoods in Queens / Queens Things To Do / Queens Buzz NYC.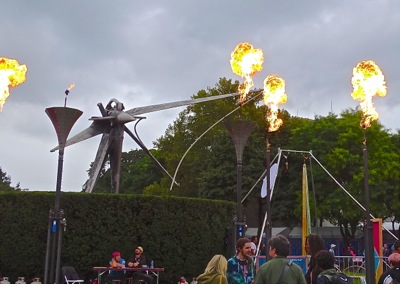 The 7th annual World Maker Faire was held last weekend at the NY Hall of Science in Flushing Meadows Corona Park. I had been meaning to attend the festival since it had first opened years ago, but never quite squared away the time. Thankfully, that was not the case this year.
The World Maker Faire is billed as a fair of, "invention, creativity, and curiosity [that] showcases … more than 600 projects … focused on making for social good, health, technology, electronics, 3D printing & fabrication, food, robotics, art …".
The faire really surprised me on the upside. While I had heard of it for years now, I had the impression that it was a bit of a nerd fest. And while there's certainly some of that embedded in the program, it goes way beyond that. It was like attending an old time county fair, but instead of seeing rides, rodeo contests and animal exhibits, we saw robotics contests, robotics exhibits and feats of mechanical / AI prowess. A bit nerdy, perhaps, but as you will see from the video below – far, far more than that.
One of the first exhibits to catch my attention was a good old-fashioned cock fight – where the roosters were replaced with robots. It seemed kind of an adolescent use of all those majestic brainwaves, but I have to admit that I, along with the rest of a large crowd, found it pretty entertaining.
---
The Flushing BID Hosts Shopping Market
Flushing Hosts Open Air Market with Food & Shopping
September 18, 2018 / Flushing Neighborhood / Queens Restaurants / Queens Shopping / Queens Buzz NYC.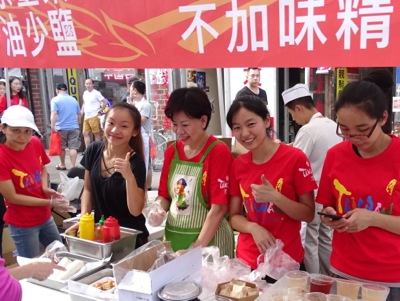 Last Saturday was a great day to be out and about. The temperatures had finally cooled down a bit and the humidity had subsided. The Business Improvement Districts of Jackson Heights and Flushing were prepared to take full advantage of the changing seasons with event programming designed to draw crowds into their shopping and dining districts.
I arrived at the Flushing BID fair on a two block stretch that included Prince Street and 40th Road off of Main Street and Roosevelt Avenue. Like many things in Flushing Queens Chinatown, it was crowded with all sorts of people – from the very old to the very young.
The very young were enjoying themselves inside inflated romp a rooms, while the adults were busy shopping or grabbing a quick bite to eat. I made my way up Prince Street past many of the shopping stalls and then headed east along 40th Street to take a closer look at many of the offerings.
Behind all the activity are a few of the restaurants serving the Chinese food for which Flushing is well known, but on today's outing, I forewent that pleasure in favor of the open air.
Perhaps what caught my eye most on this trip was the variety of shopping options, more than the food. I had expected the event to be more food oriented, as other events done by the Flushing BID were. But today it was the shoppers who appeared to have won out, as there was a myriad of offerings, from pots and pans, to fishing gear, to cosmetics, clothing, various foods and all sorts of unique Chinese and Asian objects.
It was a little like traveling through a real Chinese market, complete with sounds and smells, that was only a subway ride away.
---
Viva La Comida in Jackson Heights
Food & Entertainment Festival at 82nd Street & Roosevelt Ave
September 18, 2018 / Jackson Heights Neighborhood / Queens Restaurants / Queens Shopping / Queens Buzz NYC.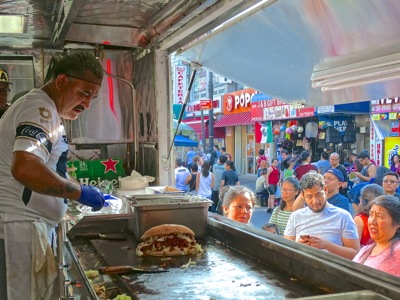 My next stop was the Viva La Comida Festival at Dunningham Triangle at 82nd Street in Jackson Heights. This event had originated as a food truck event about a half dozen years ago, and has continually been morphing into something more.
Each year the configuration changes and this year they had sprinkled picnic tables throughout the venue to enable folks to sit and enjoy the food fare after purchasing it. In prior years the picnic tables were not as plentiful and as I recall many standing in the same area.
The benefit was a more accommodating eating venue, as well as a more integrated social one. There was a cost, and that was that that the foot traffic didn't move as quickly as the picnic table occupied some of the space. All tolled it seemed a good trade.
As I made my further in, there was music coming from a stage near the Triangle. I had arrived about 5 pm and the Salsa Marsala was entertaining one of the biggest crowds I had seen at this event. Again part of this was owing to a better configured use of the space. And over the years the event has also become a showcase for Jackson Heights performance talent.
While listening to the Salsa Marsala I met a man from the Queens Council for the Arts. He told me how the QCA organization had helped the band with a grant, as well as in providing the group with some of their arts and cultural organization expertise. The band is about to release a new album this fall called Jackson Heights Block Party.
As mentioned above, Viva La Comida has evolving and includes a number of cultural offerings. There was a booth there run by the Queens World Film Festival, with founders Katha and Don Cato on hand to talk about all of the programs that their organization has undertaken.
Also, not far from the stage, there were a couple of booths associated with the John Lennon Bus Tour. Last year they did an event in Travers Park, and this year they were doing it in conjunction with the Viva La Comida festival. The John Lennon Bus Tour brings along buses that have a lot of equipment that their staff introduces to kids interested in pursuing an arts or cultural occupation.
As I made my way back to the subway I was disappointed I couldn't stay longer. Perhaps next year.
---
No IDC NY Wins Big & Cuomo Buys Back In
No IDC NY Supported Candidates Won Six of Nine Senate Contests & Cuomo's Donors Spent $21 per Vote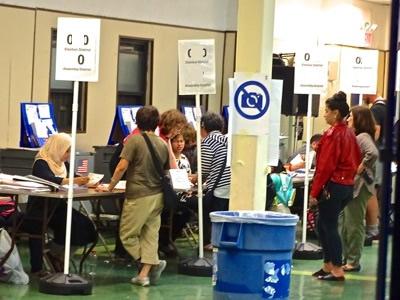 September 14, 2018 / NYC Neighborhoods / NYS Politics & Government / News Analysis & Opinion / Gotham Buzz NYC.
Andrew Cuomo and his wealthy corporate backers appear to have won him a third term as NYS Governor. The win reportedly cost them over $21 million – thus reducing the the return on their political investment by requiring a significant upfront payment.
But you needn't worry about Cuomo or his wealthy corporate backers, as campaign contributions are reportedly very good investments, providing returns that range from modest to excessive. Do a search for studies conducted in 2004 by Harvard University, and in 2017 by Kellogg Graduate Business School at Northwestern for greater detail.
The photo at right shows voters on Thursday evening, September 13th, signing in to cast their votes.
Cuomo Defeats Nixon - Voting Interest Nearly Triples vs 2014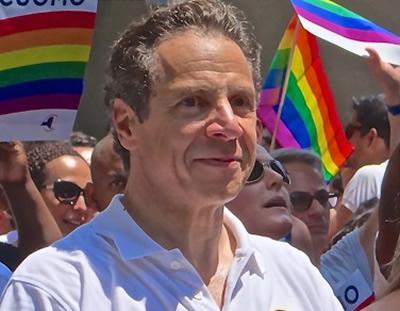 With 99% of the precincts reporting, Andrew Cuomo won 975,552 votes to Cynthia Nixon's 511,585 votes – that's 65.6% for Cuomo and 34.4% for Nixon. Nixon won many of the counties surrounding Albany, Tompkins County and Lewis County near Syracuse.
Cuomo won the rest of the state, but won by smaller margins in Manhattan and Brooklyn, while winning by wider margins in the other boroughs. Please note that the September 13, 2018 election totals and percentages shown in this story were reported by the New York Times this morning. The contextual and historical figures and percentages were reported by a multitude of other generally reliable sources.
In the photo at right is Andrew Cuomo marching in the June LGBT parade in the West Village of Manhattan in a prior year.
Had Cuomo only won as many votes as he'd secured in the 2014 primary against Zephyr Teachout, Nixon would have trounced him. In 2014 Andrew Cuomo received 327,150 votes to Zephyr Teachout's tally of 180,336 votes, with the percentages reflecting about the same as this year [64% / 36%] - but the ad spending by the Cuomo campaign was up significantly and so were the vote tallies on both sides. Thus in 2018, almost three times as many voters showed up at the polls during the primary election, but as you will see below - that's still only about 10% of the total potential electorate.
Cuomo Outspends Nixon by 8:1 - Pays $21 per Vote
Andrew Cuomo's campaign reportedly spent over $21 million this year, versus Cynthia Nixon's $2.5 million. Thus Cuomo outspent Nixon by over eight to one. And Cuomo's campaign spending in the primary of 2014 was reportedly under $10 million, thus translating into a doubling of what corporations and wealthy donors must pay to keep Cuomo in office.
Campaign Contributions by the Rich Few, Beat the Multitude of Small Contributions of the Middle and Working Classes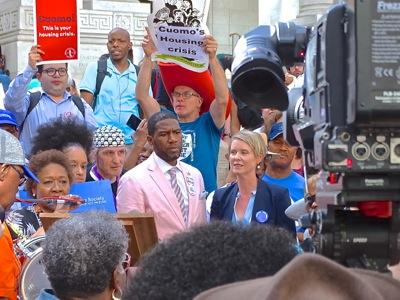 Nixon reportedly received donations from 43,000 individual contributors [reportedly a state record], while Cuomo received donations from well under 4,000 contributors. This is why campaign finance reform will never happen with the same people in office [regardless of whether they are Democrats or Republicans] – because while the system may not be working for the people, it is certainly working for the pols and their donors.
The way things work today - pols appear to receive campaign contributions from corporate / wealthy donors who appear to essentially 'buy' the office. And then the corporate / wealthy donors appear to be able to pass or block legislation with the help of the pols they supported. As for the government by the people and for the people – well that only happens if the people pay attention to what's going on, get involved in the political process, and show up to vote.
A quote that was attributed to Jefferson, appears to have originated from Reagan, seems appropriate here: A people that believes they may be ignorant and free, believes in something that never was and never will be.
In the photo at right are Jumaane Williams, candidate for Lieutenant Governor and Cynthia Nixon, candidate for Governor at a June rent rally on the steps of the NYC Public Library on 5th Avenue just south of 42nd Street.
The Real News is How Few Participate in our Democracy
Approximately 1.5 million New Yorkers showed up to vote yesterday – in a state with a population of nearly 20 million. In the 2016 census report, 15.7 million New Yorkers were eligible voting age citizens – so about 10% of the potential electorate decided this electoral primary outcome. Honestly it's shameful, especially when you take note of the fact that people in Russia and China are literally risking their lives / freedom to enable people participation in the process of choosing those who make the laws, establish and enforce public policy and control the government apparatus.
Here a quote from Jesus Christ seems appropriate: Father forgive them, for they know not what they do.
NYS Lieutenant Governor Race - Hochul Defeats Williams - Upstate Beats NYC
The Lieutenant Governor's race was closer, as Jumaane Williams put in a solid performance winning 640,530 votes to Kathy Hochul's 731,459 votes. Hochul won 53.3% of the vote to Jumaane Williams's 46.7% of the vote. Williams won big in Brooklyn [his home], Manhattan, Columbia and Tompkins Counties, losing the rest of the state.
What I found surprising here, is that the Bronx which is mostly Latin and African American, went for Hochul instead of Williams who is an African American. I surmised that this was likely made possible through the efforts of the establishment Democratic party apparatus, which is controlled by Bronx Borough President Ruben Diaz Jr.
NYS Attorney General Race - James Defeats Teachout & Maloney who Split the Upstate White Vote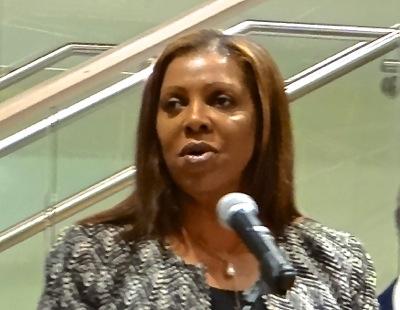 Letitia James won the Attorney General position, beating out Zephyr Teachout and Sean Patrick Maloney. James received 578,412 votes to Teachout's 441,567 votes and Maloney's 356,602 votes. The percentages were James with 41.6%, Teachout with 31% and Maloney with 25% of the vote. James won all of the boroughs of New York City, the two counties on Long Island, as well as Westchester and Rockland counties [the latter two counties are suburban outreaches of NYC].
Teachout won most of the eastern part of the state running from north of Westchester to the Canadian border – including most of the counties around Albany, while Maloney won most of the western part of the state, and a couple of counties just north of Westchester. Teachout and Maloney appear to have split the upstate White vote.
In the photo at right, Letitia James, candidate for NYS Attorney General at a community function in Queens, earlier this year.
No IDC NY Candidates Trounce Most of the Former IDC Members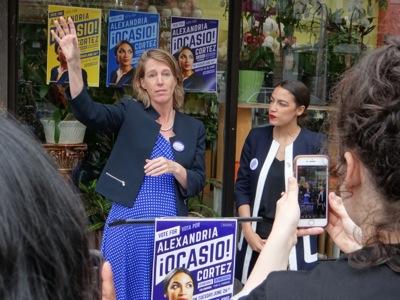 One of the big issues to be decided during this primary season was the fate of the nine Democrats who had caucused with the Republicans, thereby giving the Republicans majority control of the NYS Senate. Eight of the senators became members of the Independent Democratic Caucus [IDC] which was founded by Bronx NYS Senator Jeffrey Klein, only a year or two into Cuomo's first term. The creation of the IDC was said to be with the tacit approval of Andrew Cuomo, so that the NYS Governor could prevent the Democratic agenda from becoming too progressive.
Prior to the beginning of the 2018 primary season, an all-volunteer group formed, calling themselves the No IDC NY. The No IDC NY set as its mission, to dislodge those Democrats who had caucused with the Republicans. The No IDC NY effort proved fairly successful, as six of the nine Democrats who had caucused with the Republicans, were defeated. The following is a short tally of those races.
In the photo at right, Zephyr Teachout endorsing Alexandria Ocasio-Cortez, just as Teachout was making her candidacy for the office of NYS Attorney General known.
Queens NYS Senate Races
In the NYS Senate in Queens. No IDC NY supported candidate John Liu defeated incumbent Tony Avella in Queens with 53% to 47% of the vote. No IDC NY supported candidate Jessica Ramos trounced incumbent Jose Peralta with 55% to 45% of the vote.
Manhattan NYS Senate Races
In the NYS Senate in Manhattan. No IDC NY supported candidate Robert Jackson handily defeated incumbent Marisol Alcantera in the Washington Heights / Inwood area with 56% versus 39% of the vote.
Bronx NYS Senate Races
In the NYS Senate in the Bronx. No IDC NY supported candidate Alessandra Biaggi decisively defeated the IDC Founder incumbent Jeffrey Klein winning 54% of the vote to Klein's 46%.
Brooklyn & Staten Island NYS Senate Races
In the NYS Senate in Brooklyn & Staten Island. No IDC NY supported candidate Zellnor Myrie defeated incumbent Jesse Hamilton 54% to 46%. But both incumbent Diane Savino of Staten Island and incumbent Simcha Felder of Brooklyn handily defeated their No IDC NY supported challengers. Incumbent Savino won 67% of the vote to No IDC NY supported candidate Jasmine Robinson's 21% of the vote and incumbent Simcha Felder won 66% of the vote to No IDC NY supported candidate Blake Morris's 34% of the vote.
Upstate NYS Senate Races
In the NYS Senate in Upstate NY. No IDC NY supported candidate Rachel May won 52% of the vote to incumbent David Valesky's 48%. But incumbent David Carlucci held onto his seat with 54% of the vote to No IDC NY supported candidate Julie Goldberg's 46%.
---
Election Day Thursday 9/13 - Please Vote
September 12, 2018 / Queens Neighborhoods / Queens Politics & Government / Queens Buzz.
The New York State primary election is tomorrow, Thursday September 13th.
The polling booths will be open from 6 am to 9 pm Thursday.
To find your poll location click on the graphic at right.
Once on the website, input your address, and then click the icon to the right of it to get the results of the search. You have to look for the super-tiny icon near the lower right corner of the screen.
Remember that if you really want things to change, then you can't keep electing the same representatives.
---
Has the Democratic Party Tipped the Scales … Again?
Democratic Machine Releases Direct Mail Ad, Falsely Attacking Cynthia Nixon
September 11, 2018 / NYC Neighborhoods / NYC Politics & Government / News Analysis & Opinion / Gotham Buzz NYC.y
A Democratic Machine Big Lie?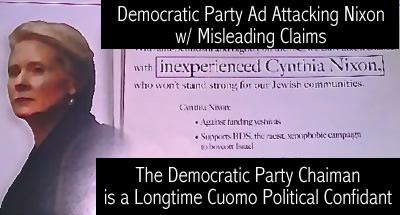 Over the weekend, the NYS Democratic Party Committee, sent out a mailer which falsely claims that,
"… inexperienced Cynthia Nixon. Who won't stand strong for our Jewish communities."
The claim in this Democratic Party mailer is akin to Hitler's Big Lie. Hitler's Big Lie, according to Wikipedia is,
"… [Hitler's] 1925 book Mein Kampf, [talks] about the use of a lie so "colossal" that no one would believe that someone "could have the impudence to distort the truth so infamously".
It's a big lie because Cynthia Nixon is a mother to three Jewish children with whom she attends a local synagogue.
Andrew Cuomo's Implausible Denial?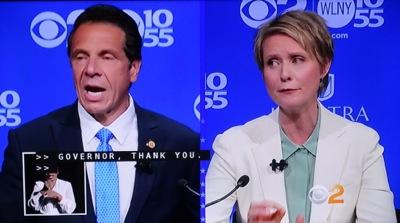 Governor Andrew Cuomo, when queried about who was behind this 'dirty politics' mailer replied on Sunday in Manhattan,
"I didn't know about the mailer. I haven't seen the mailer."
The New York Times wasn't buying it. After having endorsed Cuomo less than a week earlier, on September 4th, the Times Editorial Board in a September 9th opinion said the following,
"Sorry, Mr. Cuomo, but that strains credulity."
They went on to note that,
"Mr. Cuomo dominates the state Democratic Party. It acts ethically or abominably at his direction, or at the very least, with his campaign's blessing."
Byron Brown – NYS Democratic Party Chair & Cuomo Ally
It's worth noting that the new Chair of the New York State Democratic [Party] Committee is Byron Brown. Brown was appointed to the post on May 23, 2016, and is a Cuomo political confidant. So it would seem Cuomo's ignorance of the mailer is either extreme incompetence – or more likely – an outright lie. Let's briefly examine the facts.
Democratic Party Chair Byron Brown was born and raised in Queens in the 1950's, as was Andrew Cuomo. Brown went on to become the Mayor of Buffalo from 2005 – 2017, and as early as 2006, when Andrew Cuomo began campaigning for NYS Attorney General, Byron Brown was described in a November 23, 2006 New York Times report as a "political confidant" of Andrew Cuomo's.
A May 30, 2006 report in the Buffalo News states that Byron,
"... seconded Cuomo's nomination [for NYS Attorney General] at the convention on May 30, 2006."
---
Jeff Klein's IDC: Republicans Running as Dems?
The Independent Democratic Caucus Aligns with Republicans which Enables Republicans to Control the NYS Senate
Updated September 7, 2018 / March 21, 2018 / Bronx Neighborhoods & Bronx News / Bronx Politics / News Analysis & Opinion / Bronx Buzz NYC.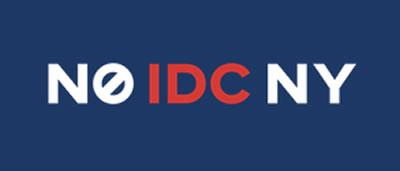 There's an NYS State primary election this month. The primaries will be held on Thursday, September 13th; instead of on Tuesday, September 11th, in recognition of 911. And the general election will be held on Tuesday, November 6th.
As in any year, the elections are important, but perhaps made more so this year, by what appears to be the anarchistic destruction and disrespect, for our government institutions and processes, by Republican President Donald Trump.
Trump Republicans: Debt Bomb Deficits Levied on America's Children to Enrich the Richest?
The Donald passed a stimulus tax bill that is expected to increases the deficit by $1.5 trillion over the next ten years, and there are some pundits who put the figure higher. He and the Republicans passed this budget busting stimulus tax bill, while the economy was operating at levels considered above a full employment economy [5% unemployment is considered standard / normal] and at a time when wages were rising over 2%.
Inflation above 2% is considered to be detrimental to economic stability by the Federal Reserve, so stimulating the economy while it's at full employment with rising wages is about the opposite of what makes sense, especially when you consider the funding for it is coming from America's children and most of the benefits for it are going to the wealthiest people on the planet. We posted a report analyzing the Trump Tax Reform Bill slightly before it was finalized, which includes a lot of facts and figures to help provide context to better understand what was in the bill they passed.
The Independent Democratic Caucus Aligns with NYS Senate Republicans & Gives Them Control
In 2010 / 2011 NYS Senator Jeffrey Klein broke away from the Democratic Party and formed the Independent Democratic Caucus which aligns with the Republican Party, thereby giving them control of the NYS Senate. The effect of this is that bills passed by the Democratic controlled NYS Assembly are indefinitely tabled, or in lay man's terms pretty much killed, in the Republican-controlled NYS Senate. The Republicans control the NYS Senate, because eight NYS senators who run as Democrats [IDC Independent Democratic Caucus], either vote with or kill bills with the Republicans.
Democratic NYS Assembly Bills Effectively Killed by IDC
According to the Democratic Senate Conference, the Republican controlled NYS Senate - with the help of their Republicans running as Democrats allies - have effectively killed one education bill providing full day kindergarten funding, three wage / leave bills, four voting rights bills including the allowance of early voting, four immigration bills including one related to the DREAM Act, four housing bills including several pertaining to NYC rent laws that help renters, three criminal justice bills including creation of correctional ombudsman and sealing of marijuana possession records [as marijuana is rapidly being legalized in states across the country], one related to LGBTQ issues, and six regarding healthcare, several of which pertain to women's reproductive rights.
The IDC Deception: REPUBLICANS RUNNING AS DEMOCRATS?
The net effect of this is that Democrats are, in a sense, cheated or tricked out of their majority by what appears to be Republicans running as Democrats. The Independent Democratic Caucus or IDC includes Jeffrey Klein of the Bronx, who founded the IDC, David Valesky of Oneida and Madison Counties in upstate New York, David Carlucci of Rockland and Westchester Counties, Diane Savino of Staten Island / Brooklyn, Tony Avella of Queens, Jose Peralta of Queens, Jesse Hamilton of Brooklyn, and Marisol Alcantera of Washington Heights / Manhattan. Simcha Felder of Brooklyn also runs as a Democrat and caucuses with the Republicans.
The following is a list of challengers, eight of which I obtained off the NoIDCNY.org website. For some reason Blake Morris - Simcha Felder's challenger - was not included on their website. I have just contacted them to find out why.
Jessica Ramos is challenging Jose Peralta in District 13 in Queens.
John Liu is challenging Tony Avella* in District 11 in Queens.
Robert Jackson is challenging Marisol Alcantera in District 31 in Washington Heights / Inwood / Manhattan.
Alessandra Biaggi is challenging Jeff Klein in District 34 in the Bronx.
Zellnor Myrie is challenging Jesse Hamilton in District 20 in Brooklyn.
Blake Morris is challenging Simcha Felder in District 17 in Brooklyn.
Jasmine Robinson is challenging Diane Savino in District 23 in Brooklyn / Staten Island.
Julie Goldberg is challenging David Carlucci in District 38 in nearby upstate New York.
Rachel May is challenging David Valesky in District 53 in upstate New York.
* A Word About NYS Senator Tony Avella as He Appears to be a Real Independent
Of all of the IDC candidates listed above, NYS Senator Tony Avella deserves special consideration. NYS Senator Avella CHALLENGED Republican Mayor Michael Bloomberg and Queens Country Democratic Party Chairman Joe Crowley when both of these men, and many in their parties, supported real estate developments in Flushing Meadows Corona Park. Queens Borough President Melinda Katz took a position that appeared somewhere between supportive of the developments to - at best - indifferent.
NYS Senator Avella advocated on behalf of the community to thwart billionaire and mega millionaire real estate developers from grabbing Queens parkland - AND WON. In doing this, NYS Senator Tony Avella, appears to be more like a Maverick or Independent, resembling legislators like deceased U.S. Senator John McCain (Republican) and U.S. Senator Bernie Sanders (Democrat), both of whom have charted their own path through party-dominated politics.
Avella is an important independent voice in the Queens, NYC and NYS community, which the Democrats in his district will have to decide whether or not to keep.
---
Things To Do In Queens - Labor Day Weekend 2018
Things To Do Labor Day Weekend Queens
Things To Do In Queens Over The Labor Day Weekend
August 31, 2018 / Things To Do Queens NY / Queens Buzz NYC.
Labor Day Events In Queens
Click here to obtain information about things to do Labor Day Weekend in Queens. This events calendar is updated monthly with about 100 different Queens fun / cultural events.
U.S. Open - August 27 - September 9
The U.S. Open is being played out in Flushing Meadows Corona Park at the U.S.T.A complex.
Queens Public & Private Parks
Queens has one of the best collection of parks and golf courses in the NY Metro area, if not the best. Queens has at least 17 great parks. Click here for a listing of the Queens Parks including maps showing their locations along with a bit of park history.
Golfing In Queens
Queens has four golf courses and all of them are open this weekend. Click here for details about Queens Golf Courses including maps and links to the operators' websites.
---
Farmers Mkts, Street Fairs & Member Events Calendar
* Click here for reports about Queens farmers markets, Queens street fairs, shopping venues in Queens and / or click to Queens Events Member Calendar to view a number of additional weekend events.

* Also see Friday & Weekend Events above and click here for free summer concerts in Queens, free summer movies in Queens and free things to do and free summer theater in Queens & things to do.
BOOK REVIEW NEXT WEEK: Under the Mets Grandstands by Seymour Butz.
---
Is Donald Trump a Hostage of Russian Murderers, Capitalists & Thieves?
Is the Trump & Bambino Crime Family so Criminal or Financially Compromised, that They are Betraying America?
Updated August 27 - August 23, 2018 / NYC Neighborhoods / NYC Politics / News Analysis & Opinion / Gotham Buzz NYC.
The first part of this report will show you some of the many known Trump family 'social' interactions with key Russian Oligarchs [Kleptocrats?] close to Putin, and of the Trump campaign officials and consultants known meetings with Czarist President Vladimir Putin's government officials.
Do Americans really think all of the following interactions were just coincidence? Just a couple of billionaire women and campaign officials just have a little old fashioned czarist fun?
Part I: Trump Family & Campaign Russian Interactions 2016
I can't help wonder whether Ivanka Trump and her Russian-Oligarch-loving friend Wendi Deng Murdoch [Rupert Murdoch's ex-wife rumored in March of 2016 to be Putin's girlfriend (denied much later by Deng)], weren't conduits through which information passed between then candidate Donald J. Trump and Russian czarist President, Vladimir Putin?
Why hasn't the FBI called them in for interrogations about what they may know, based on their numerous interactions with the Oligarchs throughout the presidential campaign season of 2016?
Why haven't they called in billionaire propagandist Rupert Murdoch who controls Fox Fake New, the Wall Street Journal and the NY Post - all of which unabashedly promoted the Trump candidacy with distorted, and at times false news reporting, as well as the suppression of stories relevant to the election? Murdoch was reported to speak somewhere between daily and weekly to Trump, following the election, as was his surrogate pseudo anchorman Sean Hannity. Both had business with the federal government and - as far as I know - neither has registered as a lobbyist, even though both men appear to have profited handsomely since the election of Trump as a result of Trump policies, FCC rules changes and for Hannity a new multi-million loan agreement with far more generous terms.
Trump Family & Campaign Officials Hold Nearly a Dozen Meetings with Russians Close to Putin Throughout 2016
On March 2, 2016 Rupert Murdoch, who controls two of America's six largest media content companies, tweeted that the GOP "would be mad not to unify" around Trump, if he's the Republican nominee. Murdoch controls the Fox News, WSJ & NY Post propaganda machine that catapulted Trump into the Oval Office in November 2016, along with the help of the Russians.
Some of Known 2016 Interactions of Trump Family & Campaign w/ Putin's Russia
1. In March [NEED TO VERIFY THAT IT WAS 2016 & THAT IT WAS RYBOLOVLEV'S or another Oligarch's] yacht was spotted in same harbor / next to Bob Mercer, a Trump friend. Bob Mercer, publisher of the National Enquirer, was recently given immunity. Mercer had bought and sat on a story damaging to Trump regarding an alleged extra marital affair. Did Mercer, who reportedly had a stake in Cambridge Analytica, meet with Rybolovlev on behalf of Trump?
Are Ivanka Trump & Wendi Deng Murdoch Shills for Billionaires / Oligarchs?
2.a. Less than a month later, on March 31, 2016 US Weekly, a gossip magazine, reported that the former wife of Rupert Murdoch, Wendi Deng Murdoch, was dating Vladimir Putin. Two days later, on April 2, 2016 Murdoch's former wife, Wendi Deng Murdoch, was seen on a boat associated with the yacht of Roman Abramovich, a Russian Oligarch considered among Putin's closest 'friends'. Abramovich's wife, introduced to Ivanka years earlier by Deng, is reported to be a friend of Ivanka's.
2.b. A month later, on May 2, 2016, Wendi Deng Murdoch was seen at the Met Gala along with her close friend Ivanka Trump. Wendi Deng Murdoch was, at the time, rumored to be Putin's girlfriend, and she had named Ivanka Trump as the trustee for Wendi Deng Murdoch's children's $300 million trust, which was reported in 2015 to hold numerous shares in Rupert Murdoch's 21st Century Fox. Ivanka served as a trustee for Deng until December of 2016 when she stepped down.
In 2014, following the Murdoch's divorce, Rupert Murdoch reportedly accused his ex-wife Wendi Deng Murdoch of being a Chinese spy. This appears to have been corroborated by U.S. Intelligence, which warned Ivanka Trump and Jared Kushner that Deng was a spy, following Trump's Electoral College victory in December of 2016.
3. In May of 2016 Roger Stone, a long time friend of Donald Trump [attended two of three weddings], who had worked for him on prior occasions, met with a Russian who offerred him dirt on Clinton. Stone initially denied the meeting took place, before admitting it. According to Wikipedia, two Stone associates claim he collaborated with Julian Assange of Wiki Leaks to release dirt on Clinton. In August of 2015, Roger Stone stepped down from his official role in the Trump campaign.
4. On June 9, 2016 Don Trump Jr. and Ivanka's husband Jared Kushner met with a Russian spy, Natalai Veselnetskya, at Trump Tower in Manhattan to get dirt on Clinton. At first Donald Trump Jr. lied to Americans about the real purpose of the meeting claiming it was about adoption, before admitting it was to get dirt from the Russians on Clinton.
The Trump / Murdoch Mob? The Donald Publicly Invites Russian Interference
Murdoch's ex-wife, Wendi Deng Murdoch, waited until July 25, 2016 – nearly four months after the reports broke – to deny that she was dating Vladimir Putin.
On July 27, 2016, two days after Wendi Deng Murdoch's denial of a relationship with Putin [she was reportedly never seen with him, but seen on Russian Oligarch yacht(s)], Trump publicly invited Russia to hack and release Clinton's emails, when he stated the following at a nationally televised press conference in Florida.
"I will tell you this: Russia, if you're listening, I hope you're able to find the 30,000 emails that are missing. I think you will probably be rewarded mightily by our press."
Did he mean they will be rewarded by the propaganda press of unrelenting Trump supporter, multi-billionaire Rupert Murdoch, or by the entire American press?
The Trump Family & Campaign Meetings with Russia Continue
5. In July 2016, Carter Page, a financial and oil man, who spent years in Russia and was reportedly sympathetic to Russia, traveled to Moscow to give a speech. He met with a former cabinet member of ex-president of Russia, Dmitry Medvedev. Page initially denied this meeting took place and later his 'memory came back to him'. Page was the Trump Campaign Foreign Policy Advisor from March 21, 2016 until September 2016, when it was disclosed that Page had allegedly met with at least one U.S. sanctioned Russian Oligarch, Igor Sechin of Russian conglomerate Rosneft.
6. On August 14, 2016 Wendi Deng Murdoch, Ivanka Trump and her husband Jared Kushner vacationed together in Dubrovnik, Croatia. Likely not coincidently, Russian Oligarch, Rybolovlev's yacht was reportedly moored there at the same time, and his private plane was reported to have landed there too.
Seven years earlier, following the real estate bubble crash in 2008 / 2009, Russian Oligarch Rybolovlev paid Donald Trump $95 million for a house Trump had purchased for $41 million only four years earlier. Rybolovlev, a member of Putin's inner circle, eventually demolished the home, leading people to question whether Rybolovlev had financially bailed Trump out during the real estate and stock market crash of 2008. At the time Trump was again allegedly in serious financial straits, following a string of six bankruptcies that began in the 1990's and bled into the 2000's.
Around that same time in 2008, while the American real estate bubble was bursting, Elena Baronoff, a former Russian 'attaché of cultural affairs' [spy?], began helping Trump sell property in Sunny Isle, Florida. She sold nearly $100 million of Trump real estate to Russians, reportedly at top dollar [inflated?] prices, which led some pundits to question whether the Trump's were laundering money via real estate sales. In 2007 Ivanka got her start with her father's company, also working on a project in Panama, which reportedly was suspected of laundering what was believed to be Russian and drug cartel money.
Trump sales agent Baronoff reportedly contracted leukemia in 2014 and conveniently died in 2015, right around the time Donald Trump began testing the waters for his presidential candidacy.
7. On September 12, 2016 Ivanka Trump, Wendi Deng Murdoch and Oligarch Abramovich's wife Dasha Zhukova were photographed attending the U.S. Open together. One report credits Wendi Deng Murdoch with introducing Ivanka Trump to Dasha Zhukova, billionaire Russian Oligarch Abramovich's wife, and there are reports that the two have been friendly for nearly a decade.
Was the Murdoch Propaganda Machine Colluding with Russia & Trump?
Murdoch's WSJ was reported to have held a story in the fall of 2016 about the Donald and his mob connected past - allegedly for editorial reasons. But if I recall correctly, the WSJ Editor, Paul Gigot, also said something along the lines of holding it to stave off a Clinton victory. I NEED TO VERIFY THIS.
Eleven days prior to the election, on October 28, 2016, the case involving Clinton's emails was reopened, because some of them were found on Anthony Weiner's laptop. Rupert Murdoch's Wall Street Journal had issued related reports about them a couple of months earlier, and Murdoch Fox News regular Rudy Giuliani [now Trump's lawyer] foreshadowed the timely release of the news - that there were more Clinton emails - on Fox News. Giuliani is reportedly paid over a half million dollars to be a paid contributor on Fox Fake News.
Within days the FBI had sifted through them, informing the public that there wasn't anything new.
7. Russian Oligarch Rybolovlev was tracked to North Carolina by the Daily Kos, just five days before election day 2016 at the same airport where candidate Donald Trump had landed only 20 minutes earlier to make a campaign stop. Rybolovlev reportedly paid $95 million to Trump for a mansion he demolished, and for which Trump had paid $45 million only four years earlier. It was reported to be worth about $25 - $30 million less at the time.
I found it interesting that Rybolovlev's battery company in America was reported to build batteries in what look like storage containers, and upper management is mostly comprised of ex-Russian government people [agents?]. Rybolovlev recently closed down the company and Russia is reportedly withdrawing money from America, as Mueller probe gets closer to closing in on Trump. I can't help wonder whether the Russians were planning to use these 'batteries in containers' to ship other things - like say weapons technology, people, drugs - in and out of our country?
666. On November 8, 2016, Devilish Donald Trump was elected president. Numerous Oligarchs planned to attend Trump's Inauguration. Even Putin was rumored to be planning to attend.
Going into the voting booths, most Americans were not fully aware of Trump's mobster ties dating back into the 20th century, nor even remotely aware of all of the ties Trump has had with what appears Russian-like mobsters over the past 20 to 30 years.
The Inauguration of Benedict Donald - J. Trump
Several Oligarchs showed at Trump's Inauguration [and helped fund it?] including Vekselberg and Maskevitch. Reports said they were expecting great things during the Trump years. Are / were they expecting to convert American democracy into a Putin kleptocracy, Russian style?
PRIME COLLUSION PARTICIPANTS? Ivanka Trump, Wendi Deng Murdoch, Rupert Murdoch & Sean Hannity
Is Wendi Deng Murdoch, the ex-wife of the powerful, multi-billionaire Rupert Murdoch who controls the Fox Fake News propaganda machine above the law? Is the President's daughter, Ivanka Trump Kushner, who appears to be a shill for the Trump Organization above the law?
Is Rupert Murdoch, whose WSJ buried a negative Trump story before election above the law? Is pseudo anchorman Sean Hannity, who Michael Cohen advised on real estate & who famously ordered Trump to fire ALL U.S. Attorneys - which Trump did the next day - immune from questioning? Murdoch's Fox Fake News & Hannity went on to do a very sympathetic, propagandistic interview with Assange in captivity in the Ecuadorian Embassy in London following the election. Both men have, during the Trump presidency, been reported to be in constant contact with Trump [daily to weekly phone calls].
CLICK here to read the rest of our report about whether a financially compromised president who appears a hostage of the Russian mob-like kleptocrats who appear to be possible murderers and thieves of the Russian people's wealth.
---
What I Found: Unite The Right Rally in D.C.
Media Reality Distortion - How Out of Whack is America's News / Information System?
August 13, 2018 / Government, Media & Politics USA / Washington, D.C. / Gotham Buzz NYC.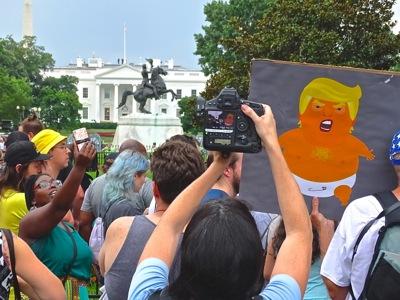 Just over a week ago, I made the decision to travel down to Washington, D.C. to cover the Unite The Right Rally scheduled Sunday, August 12th, on the anniversary of the same rally organized by the same group in Charlottesville, Virginia. Charlottesville is located about 100 miles south / mostly west of Washington, D.C.
In the rally a year ago, White Supremacists, Ku Klux Klansmen, neo-Confederates and neo-Nazis participated in the rally and it became violent. One person was killed in the event when an alleged neo-Nazi drove his car through the crowd, and two officers monitoring the event in a helicopter died, when the aircraft crashed [I believe it was an accident]. And somewhere between 19 and 34 people were injured in clashes between the Unite The Right rally participants and Antifa along with other counter protesters.
The D.C. event was scheduled in D.C. because Jason Kessler, the Unite The Right Founder, couldn't get a permit in Charlottesville for the first year anniversary of the Unite The Right event. After some skirmishing over the permitting with the local Washington, D.C. authorities, Kessler prevailed and was given a permit to hold a march and rally ending in Lafayette Park, just south of the White House.
At one point there were discussions about arranging separate public transit buses for the Unite The Right rally members from their staging area a several miles west of the White House, to the march starting point at Foggy Bottom Metro Station. But the D.C. public transit union resisted, as the majority of their members are African Americans, and the union reportedly opined that they didn't want to do anything to facilitate the Unite The Right rally.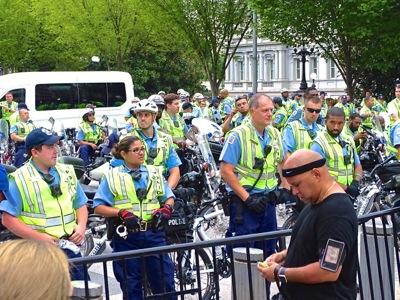 Meanwhile there were somewhere between a half dozen and dozen counter protester groups that organized to protest the Unite The Right rally. Several of them also sought and received permits.
On Friday Christian and Jewish groups joined forces for an interfaith teach-in and interfaith vigil. This was according to The DCist, which I found to be the best source of information regarding planning / preparing to cover the event on Sunday. The DCist also noted that Black Lives Matter DC in collaboration with several other activist groups held a workshop at an Episcopalian Church.
On Saturday, a Presbyterian Church held a prayer service at Foggy Bottom Station in advance of the rally, where they prayed and chalked some of the sidewalk where the Unite The Right marchers would begin on Sunday.
On Sunday a counter protest, Shut It Down DC, organized a permitted counter protest in Freedom Plaza a few blocks east of Lafayette Park, from where they would march to Lafayette Park beginning at 3 pm. The DCist reported that the Shut It Down DC group included the D.C. Antifascist collective, Hoods4Justice, March for Racial Justice, and others.
Black Lives Matter DC organized to meet a couple of blocks north of Lafayette Park, and would then march south to the park. A group from NYC began their march on August 3rd to D.C. where they planned an event at the MLK monument from 12 noon to 4 pm on Sunday [#AgapeMarch]. And a group, The Real White People's Rally, led by a local tour guide, Tim Krepp, was scheduled to counter protest at Lafayette Park from 1 to 4 pm.
The DCist also mentioned about a half dozen other counter protest group events, but for the most part those noted above, were the ones most relevant to my planned coverage.
I headed down to D.C. a bit anxious, given the violent skirmishes that occurred at the rally a year ago in Charlottesville, and the following instructions on the unitetherightrally.com website.
Do NOT bring these items:
-Guns
-Pepper spray, clubs, knives or other weapons
-Shields
-Non-approved flags
ALWAYS Be aware of your surroundings. Do not talk to the media.
Do not engage in any fighting.
ALWAYS be a good representative for our cause.
My thoughts were that if you have to provide instructions like these to the people you expect at your rally – there's a good likelihood that some of the unwanted weapons will be there. I had read that last year people brought guns to the rally in Charlottesville – but I also reasoned that in Washington, D.C. the gun laws are likely far less permissive than in Charlottesville, Virginia. And there were reports that the D.C. police were preparing for the worst.
Anyhow, I arrived at Union Station in Washington, D.C. Sunday afternoon at about 3 pm. It was hot, humid and rain was in the forecast for later in the afternoon. I took the Metro subway from Union Station to the Metro Center stop, which was only a few blocks away from Freedom Plaza. Once on the street, as I began to get my bearings, I asked a young woman if she could tell me in which direction Freedom Plaza was. She was also headed to the counter protest, so we walked over there together. Ironically, her name was Hope.
CLICK here to read the rest of my report about covering the Unite The Right Rally in Washington, D.C. on August 12, 2018. COMING THIS WEEKEND 8/18 - 19/18. The story has become something bigger than I first envisioned. It's in a rough draft which I hope to finish, edit and add photos to this weekend.
---
InSitu Dance: Sweat & Tears
InSitu Dance Graces the East River Waterfront in Queens
August 6, 2018 / Long Island City Neighborhood / Dance in Queens / Queens Neighborhoods / Queens Buzz NYC.
It was a hot muggy afternoon as I made my way to the East River waterfront in Long Island City to watch the InSitu dance performances scheduled on the East River waterfront at Hunters Point South Park.
As We Get Weaker Together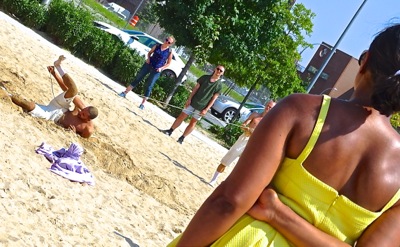 The first performance began in the sandfield at the south end of the park where Cesar Brodermann and Sebastian Arbabanel did a dance entitled As We Get Weaker Together. The brochure talked about the dance theme, which was about uncovering one's true self amidst the burdens and obstacles we all face in this world. Surviving, entangled, flying and trying.
The dance struck me as one of captivity, where one of the dancers was tied with a rope, like a barn animal, struggling - it seemed - to free himself. Pulling, digging, writhing to break free ... of the rope or was the rope a metaphor for the web of life in which we are all entangled?
The relentless, hot sun beat down on the dancers and us. The humidity wrapped us in sweat, dancers and audience alike, in a bond of a short ten minute performance experience. I stood behind an African American woman wondering what the dance meant to her.
After emerging out of what seemed a grave, the dance flew into the air, dancing or flying? Did we prevail or were we all weakened by the hot, humid air?
Bodies of Water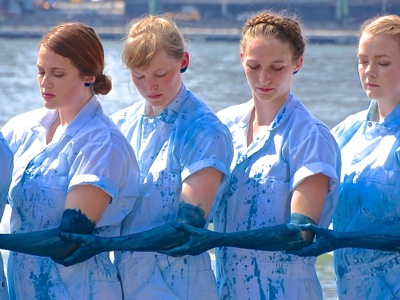 The next dance was performed on the LIC Landing, just north of the LIC Ferry Terminal. The piece was created and choreographed by Alice Gosti, who I had an opportunity to meet. She told me that what we would see today was ten minutes out of a five hour long piece she had created for the opening of a waterfront park in Seattle, Washington where she resides. The original piece was commissioned by the Velocity Dance Center in Seattle.
She had arrived here just over a week ago with seven dancers from Seattle, who were joined by seven dancers from NYC. Together they worked on the piece, which Alice had redone to fit into the NYC landscape, the location of its performance, just across from the New York City skyline, including the Empire State Building, the Chrystler Building and the United Nations.
The core theme of the dance was mankind's relationship to water. We use it to exist, and thus must preserve it, but we also use it for transportation and fight over the
abundance it provides - including fishing rights. This weekend was the premiere public performance of the Bodies of Water adaptation.
It started with the slow, undulating, seemingly relentless movement of the waves. This was followed by a movement that portrayed the expansion and contraction, the physical properties of water, in human form. The fourteen dancers moved in unision. The never ending gracefulness of the effervescent liquid was captured and released in human sculptural form.
A patrol boat on the East River circled around, moving in closer, for a gander. Water and boats and humans have long been around ... and so has dance, as a means of portraying the essence and emotions of life, and other natural things that are far bigger than us.
InSitu was organized by Svea Schneider in conjunction with sponsorship by a number of local businesses, the NYC Parks Department and community groups. For further details see www.insitudancefestival.com.
---
July 4th Fireworks 2018 Queens
Queens 4th of July Fireworks 2018
Great Views from Locations Along the East River in LIC
July 2, 2018 / Queens Neighborhoods / July 4th Holiday in Queens / Queens Buzz NYC.
The Macy's 4th of July fireworks will be shown along the East River this year. They were shown along the East River in 2014 for the first time since 2008, and have remained on the East River ever since. Mayor de Blasio had lobbied the change, which now spans five years.
Weather. Highs will be in the mid 80's during the day and in the high 70's at night. There's a 40% chance of rain in the forecast in the morning, but only 5 - 10% chance of rain at night, so it should be a fair night.
The Grucci Brothers will be doing the Macy's 4th of July fireworks in NYC. They have been doing fireworks for many years and the Macy's July 4th fireworks in Manhattan for decades.
The Astoria Park Fireworks on June 28th were also done by the Grucci Brothers, the same fireworks company doing the Macy's 4th of July fireworks along the East River on July 4th, 2018 in NYC. The Astoria Park fireworks in Queens were shown on Thursday evening with an easy view from the Astoria Park location right alongside the East River. See story below about the Astoria Park Fireworks show of 2013 in Queens.
For those looking for fireworks on 4th of July 2018, you'll have ample opportunity to view the East River fireworks, as the pyrotechnic performance was expanded in 2016 to provide more viewing access along both side of the East River.
Click here for a report about the 4th of July Fireworks in Queens NYC & surrounding areas, including times and locations for the Macy's 4th of July fireworks in NYC and Jones Beach on Long Island.
---
Decisive Victory for Ocasio & Progressives
Democratic Party Insider Joe Crowley Loses in Stunning Defeat
June 27, 2018 / Bronx Neighborhoods / Queens Neighborhoods / Queens Politics / Bronx Politics & Government / News Analysis & Opinion / Queens Buzz NYC.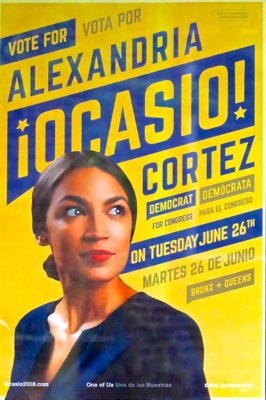 Congressman Joseph Crowley suffered an astonishing defeat Tuesday, when Alexandria Ocasio - Cortez defeated him in the 14th district NYS primary for U.S. Congress. According to Vox, with 97% of the precincts reporting, Ocasio-Cortez had received 15,897 or 57% of the vote, while Crowley had received 11,761 or 42% of the vote.
Crowley, age 56, inherited his office and the Queens Democratic Party Chairmanship from Thomas Manton in 1999. Crowley has spent the last two decades in Washington, D.C. rising to the top levels of the Democratic party leadership, considered by many to be one of the top contenders to succeed Nancy Pelosi as the House Democratic Leader.
Ocasio-Cortez is a youthful 28 years old, the daughter of a Bronx native and Puerto Rican mother. She graduated from Boston University with a BA in Economics and International Relations. Since then she has worked at a Bronx start up and in the Bernie Sanders presidential campaign of 2016.
Crowley reportedly had a campaign budget of $1.5 million versus $0.3 million for Ocasio-Cortez, raised via small and online donations.
Crowley, Pelosi, Schumer & the Democratic Party of Appeasement
Alexandria ran a spirited campaign, tapping into some of the energy and frustration of an increasingly rigged system, which Donald Trump has been hyper rigging since he took office in 2017.
The Donald tweeted that Joe lost because he opposed President Donald. But as oftentimes seems the case with Trump tweets - the reality is quite the opposite. The electorate that supported Ocasio-Cortez are more likely to view Crowley, Pelosi and Schumer as leaders of a Democratic Party of Appeasement who need to be replaced by people who will vigorously fight for the democratic principles upon which this nation was founded. Pelosi, Schumer and Crowley are seen as wet noodle leaders of the opposition - telling their supporters to hush up about any possibility of impeaching Trump.
Appeasers Say Don't Talk About Trump Impeachment ...
Some pundits believe that Trump is exactly the type of president for which the process of impeachment was included in the U.S. Constitution, as he appears to have colluded with a hostile foreign power to win the election, appears to be in numerous violations of the emoluments clause of the U.S. Constitution and is aligning the U.S. with dictators while undermining democracies around the globe with disruptive breaks in our military and economic alliances.
The party of appeasement references British Prime Minister Neville Chamberlain's appeasement of Hitler in 1938 when Chamberlain signed the Munich Agreement. The Munich Agreement basically ceded the German speaking segment of the Sudetenland in Czechoslovakia to Adolph Hitler. Emboldened by Chamberlain's lack of courage to stand up to him, Hitler invaded Poland in 1939 and WWII began.
Bernie Sanders championed the "government by the people for the people" wing of the Democratic party in 2016 and Cynthia Nixon, Jumaane Williams and the NYS Senate IDC challengers are running as the voice of this segment of the electorate in the NYS September 13th primaries.
Trump Aligns with Dictators Around the World, While Undermining Democracies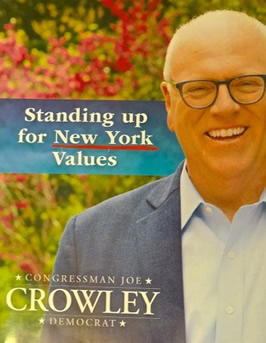 Trump has been aligning the U.S. with leaders of totalitarian states and dictators around the world including Supreme Leader Kim Jong-un of North Korea, President Vladimir Putin of Russia, King Salman bin Abdulaziz Al Saud of Saudi Arabia, President Xi Jinping of China and President Rodrigo Duterte of the Philippines.
Trump has been undermining our historical allies - comprised of the real democracies around the world - such as Canada, Britain, France, Germany, Japan, Mexico and most, if not all, of the rest of Europe and most of Latin America.
Left unchecked, this policy of appeasement by the Democratic and Republican parties could, over the long haul, result in the loss of democracy on the planet. Nancy Pelosi, Chuck Schumer and Joseph Crowley are all seen as the appeasers - and last night Crowley as one of them - took a big loss.
Crowley's Congressional District Changed from the 7th to the 14th in 2013
In 2013 the congressional district that Joe Crowley had historically run in [7th District] changed. The 7th district covered the northern and western rim of Queens. Since 2013 Crowley has been running in the 14th congressional district which covers the northern rim of Queens and the southeastern part of the Bronx. The changed district resulted in changes to the demographic composition of the electorate by increasing the Hispanic representation in the district. Also, by including the Bronx in the district, it included an area where the electorate had little familiarity with Crowley.
All of the above likely contributed to Crowley's loss. Joseph Crowley was a gracious loser, complimenting Alexandria Ocasio-Cortez on her well run and hard fought campaign.
Jamaica Just My Style Fashion Show
JJMS Runway Hits ... Delight the Audience Again
June 19, 2018 / Jamaica Neighborhood / Fashion in Queens / Queens Buzz NYC.
I attended the Jamaica Just My Style Fashion Show last Friday at the Jamaica Performing Arts Center in Queens. The show highlights some of the great shopping opportunities in downtown Jamaica as it is organized and hosted by the Jamaica Center Business Improvement District [BID].
In the lobby there was food and shopping opportunities, and in the auditorium there was a show not to be missed, featuring the clothing and designs offerred by about a dozen downtown Jamaica retailers which are listed at the end of the video below, along with the Jamaica Center sponsors.
There wasn't any multi-media going on in the background as in previous years, which at first I thought might be a liability. But I found instead, that I soon lost myself in an undistracted focus on the models and the clothing coming down the runway.
There were also about a dozen and a half models, about two thirds of which were female, and all of whom did a great job of keeping our attention on their sculpted forms, theatrical poses and dancer flair. Click the video below to feast your eyes on fashion, form and function and a bit of show biz, provided by rapper Roxanne Chante. A photo of entertainer Destiny Johnson is also included at the end of the video.
Break a leg.
---
Is Nixon the One for NYS?
Cynthia Nixon & Jumaane Williams Support Real Rent Reform
June 14, 2018 / NYC Neighborhoods / NYC & NYS Politics / Gotham Buzz NYC.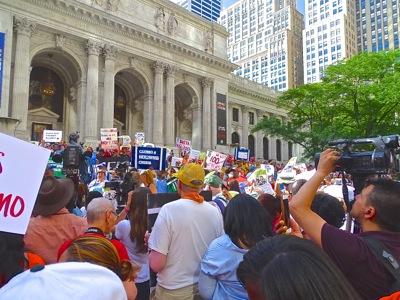 On Thursday afternoon I headed to the NY Public Library at Bryant Park to attend a Rent Reform Rally organized by RealRentReform.org. I had heard that Cynthia Nixon and Jumaane Williams, candidates for NYS Governor and NYS Lieutenant Governor, respectively, were to speak at the event - so given the relevance of rent reform and the growing interest in the challengers to the status quo ... I decided to go.
As I emerged from the subway, I wasn't disappointed. There were a thousand plus protesters gathered on the steps of the central library along Fifth Avenue, just south of 42nd Street, gathered to make their voices heard. What struck me as I surveyed the crowd was the cross sectional nature of the people who had gathered. From the young student activists, to the elderly handing out pamphlets, to people of all colors ranging from black to white.
I shot some photos and talked to some of the organizers and attendees to find out what they had come to say. Essentially they were disappointed with Governor Andrew Cuomo's inaction on strengthening rent regulations - which struck me as comparable to the inaction on housing and the rapid rise in homelessness in NYC as happened under former Mayor Michael Bloomberg.
NYS Department of Housing & Community Renewal
NYC Mayor de Blasio helped arrest the rising tide of homelessness in NYC by his actions since taking office in 2014, but there was plenty more to be done, and the Governor and the State of New York hold many of the cards. One of the complaints I heard was that the NYS Department of Housing & Community Renewal [DHCR] budget had been cut since Cuomo took office, and that there were only eleven lawyers to help tenants avoid evictions and unfair landlord and developer actions statewide.
Cuomo Decreases DHCR Staff While 'Appearing' to Increase Real Estate Development Incentives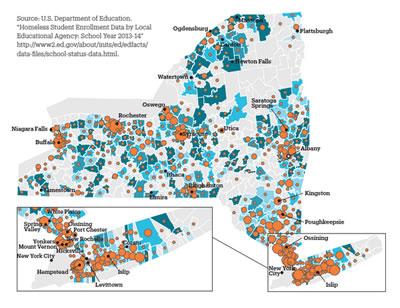 I went online and looked up the budget for the NYS Department of Housing & Community Renewal budget where the agency staff portion of the budget between 2011 and 2017 had been cut from $745 million to $682 million, which is a net reduction of 8.5%. The funds being allocated to the development of housing looked like it had increased substantially [+715%] from $314 million in 2011 & 2012, to $2,245 billion in 2018. But - as I found out - this multi-billion dollar increase is misleading ... so please spend a bit more time and keep on reading.
The 'added billions' goes toward categories entitled State Operations, Aid to Localities and Capital Projects. All of the increase went into a category entitled Capital Projects, which was comprised of two subcategories - Infrastructure Investments and a Housing Program Fund. But the budget increase was saddled with an MOU. The funds were allocated to incent and aid real estate developers to build affordable housing. The net result is that it looks like Governor Andrew Cuomo has cut DHCR agency staff who help residents stay in their homes, while 'appearing' to increase the state money to aid real estate developers to build affordable housing.
Governor Cuomo added $2 billion to the DHCR budget in 2016 referencing a Memo of Understanding [MOU]. While Cuomo claimed to commit $2 billion to building 20,000 new affordable housing units, he saddled the budget increase with a legislative tactic - the MOU. I was told - and the DHCR budget appears to confirm - that most of this money remains unspent and appears to be a revolving budget item that allows Cuomo to claim he's making the investment in affordable housing while not actually going through with it. Real Rent Reformers at the Rally last Thursday alleged that this is a part of a revolving budget game by Governor Cuomo, while the NYS affordable housing shortage continues.
This reminds me of another game allegedly played by Governor Cuomo, which was the use of the now disbanded 'Independent Democratic Caucus' [IDC], which Governor Cuomo is reported to have supported. The IDC was comprised of NYS Senate Democrats who caucused with the Republicans - thus essentially making them Republicans running as Democrats. I did a story earlier outlining this subterfuge which you can view by clicking the link.
NYS Losing Affordable Housing Stock?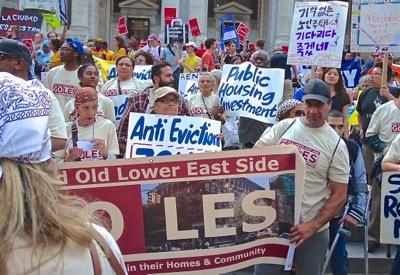 Another protester complaint was that somewhere between 75,000 and 100,000 affordable homes have been lost during Andrew Cuomo's two terms as Governor and that he has turned a blind eye to landlords and developers cashing in on his inaction. Cuomo's DHCR staff budget cuts would seem to support this allegation, as does Cuomo's inaction on closing loopholes used by developers and landlords to convert rent stabilized apartments to market rate housing stock.
One protester told me that homelessness has risen 36% since Cuomo took office. As of this writing I haven't had time to totally verify this claim - which I hope to do between now and when the primary season ends on election day Thursday, September 13th, 2018 [the election date was moved because Tuesday is 9/11]. But I did find that, at least directionally, these claims are correct.
An example of the growing statewide housing crisis is that in the school year 2012 - 2013, a bit less than halfway through the eight years Andrew Cuomo has been governor, New York had the third highest percentage of homeless students in the U.S. [source: Institute for Children Poverty & Homelessness - aka ICP]. I had thought that homelessness was largely a New York City problem, but as you can see by the map / chart the ICPH published - the problem is statewide.
Jumaane Williams & Cynthia Nixon Running for NYS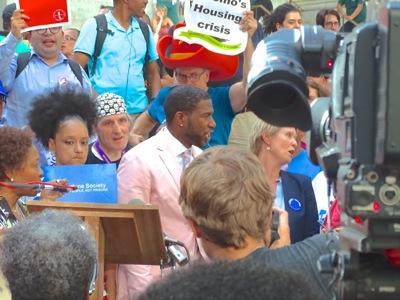 After speaking to the protesters a number of people rose to speak. Among them was Jumaane Williams, the NYC Councilmember of the 45th district in Brooklyn. He's challenging NYS Lieutenant Governor Kathy Hochul who he said was party to NYS Governor Cuomo's inaction.
The following is a video primarily of NYS Gubernatorial candidate Cynthia Nixon speaking at the rally. It was the first time I had seen her look like a real contender for the governorship since she announced her intention to run on March 19, 2018. Nixon talked first about rent regulations and one of her own personal experiences, and then she went on to mention other issues that separate her and Jumaane from Cuomo and Hochul.
This is just the beginning of our NYS state elections coverage 2018. I still have a fair amount of research to do to become more familiar with the state's role in so much of what affects us in NYC including affordable housing, the MTA, NYC public education and possibly corruption.
Petitions to Help Challengers get on the NYS Ballot
Nixon and Jumaane have about three weeks left to obtain the required signatures to get on the ballot. If you want to help them you can by copying & pasting this link into your browser for Cynthia Nixon for Governor and for Jumaane Williams for Lieutenant Governor
https://cynthiafornewyork.com/wp-content/uploads/2018/06/Cynthia-Jumaane-Petition.pdf
---
Jamaica Just My Style Fashion Show Preview
June 12, 2018 / Jamaica Neighborhood / Queens Fashion NYC / Queens Buzz NYC.
I traveled down to Jamaica town on Tuesday afternoon to see a short preview of the upcoming Jamaica Just My Style Fashion Show. The show is organized by the Jamaica Center BID and Executive Director Whitney Barrat was on hand to talk about the upcoming show. The gracious Barrat talked about the vibrancy of the downtown Jamaica business district, the excitement of the upcoming show, and commended Jamaica Center BID Associate Valerie Stevens for her efforts in organizing the event. The designs by Michele Walden Mcphee were alluring, complementing the models' shapely figures in an artistic display of finely chosen fabric.
The show begins at 6 pm Friday at the Jamaica Performing Arts Center on Jamaica Avenue at 153rd Street. There will be food, music and plenty of fashion not just on the stage but in the crowd as well. It's free but you must rsvp at the Jamaica Center BID website - using the link below.
CLICK - Jamaica Just My Style Fashion Show Friday, June 15 at 6 pm to rsvp for a free ticket.
---
Restaurants In Long Island City - Taste of LIC Restaurants Bars & Brew Pubs
Taste of LIC 2018 Feeds the Hungry
Culinary Tasting Event at Kaufman Astoria Studios Lot A
June 5, 2018 / Long Island City Neighborhood / Astoria Neighborhood / Long Island City Restaurants / Queens Restaurants / Queens Buzz NYC.
The afternoon before the 2018 Taste of LIC it had rained. I paused from my work, contemplating whether the rain would affect attendance at the Taste of LIC which was to begin at 5.30 pm. But by late afternoon, as I began getting ready, it was a beautiful Spring evening full of sunshine and clouds and a slightly warm breeze. Perfect, I thought, … for the Taste of LIC tonight.
Taste of LIC at Kaufman Astoria Studios Lot
I arrived at the Kaufman Astoria Studios Lot, situated in a very changed neighborhood, compared to just ten years ago. After picking up my wristband I made my way under the big top tent sheltering the event. There were in the neighborhood of fifty restaurants and beverage companies participating in the event tonight. I knew I couldn't sample them all, but I would try to photograph as many as I could. See the slide show at the end of the story to view some of the photos I took.
The first item I sampled was a burger named Priscilla. She was a tall, shapely burger filled with Thai peanut sauce, triple smoked bacon, pepper, cheddar cheese, sea salt and served in a pretzel brioche bun. Yes, she wasn't your every day burger … and I could tell that from the first bite. The juicy, finely ground beef fought hard to compete for the attention of my taste buds, winning only some of the time.
---
The Ridiculous & Scary Presidency of Benedict Donald
If Trump is so Innocent, Why is his Legal Team Spending so Much Effort on Asserting he can Pardon Himself?
June 4, 2018 / NYC Neighborhoods / NYC Politics / News Analysis & Opinion / Gotham Buzz NYC.
This would be funny, if it wasn't so real.
While Trump loudly and continuously proclaims his innocence, both he and his legal team are aggressively claiming that the president is above the law and can self pardon. These actions and concurrent narratives don't seem very innocent to me.
Is this a Shakespearean comedy of errors by fools?
Do They Think Americans Are Morons?
Is Democratic Rule of Law being Ceded to Billionaire Oligarchs?
Rudy Giuliani, once a lawyer who prosecuted the mob, seems to have sold out by becoming a lawyer who now represents mob-like characters, including Donald J. Trump and Turkish Iranian businessman Reza Zarrab.
Not long after Trump began his career in the real estate business in the 1970's, Trump is believed to have associated with the mob, doing business with them on deals relating to the construction of Trump Tower, and in developing casinos in Atlantic City, New Jersey. Trump reportedly admitted he was friendly with mobsters and I've seen photos of Trump with some. Trump has also sold in the neighborhood of a hundred million dollars or more in real estate to Russians, including an Oligarch, according to Haaretz, an Israeli English language publication. The Oligarchs are considered to be the Russian equivalent to what was the American mob by some. Click here for a brief and likely very incomplete accounting of some of what seem like Trump's nefarious dealings - Donald Trump & the Art of the Steal.
Rudy Giuliani was also hired by Reza Zarrab's defense lawyers - not to plead their case as their attorney - but to do something else, possibly akin to what Trump fixer Michael Cohen does. Giuliani was a staunch candidate Trump supporter in 2016, an unofficial Trump security adviser in 2017, and most recently became a member of the Trump legal team. According to an April 3, 2017 Seattle Times report,
"[Guiliani and former Attorney General Michael Mukasey] were hired by Zarrab's defense. But oddly, neither is involved in pleading the case in U.S. District Court, leading prosecutors to wonder if the defense is trying to circumvent the regular judicial process by going above prosecutors' heads. ... He [Zarrab] and several others are accused of conspiring to evade U.S. sanctions against Iran, using a network of companies to mask the true nature of transactions and defraud multiple banks. Prosecutors say they processed hundreds of millions of dollars for Iran and claim to have thousands of pages of bank, email and phone records to prove it. Zarrab pleaded not guilty."
To make a long story short, Trump subsequently fired Preet Bahara, the U.S. Attorney for the Southern District of New York who was prosecuting the Zarrab case [and also prosecuting a couple of cases against a company controlled by Trump propagandist billionaire Rupert Murdoch - see link below]. At the time it was believed that Marc Mukasey, Michael Mukasey's son, would replace Bahara. Instead Trump left the position vacant for about a half year, before a New York judge appointed a temporary replacement. The position may not have been filled to avoid the appearance of what it really may have been ... another example of Trump obstruction of justice.
Democracy Destroying Don: Trump Claims He's Above the Law
On Saturday, June 2, 2018 the NYT published a story that included the following,
"In a brash assertion of presidential power, the 20-page letter — sent to the special counsel, Robert S. Mueller III, and obtained by The New York Times — contends that the president cannot illegally obstruct any aspect of the investigation into Russia's election meddling because the Constitution empowers him to, "if he wished, terminate the inquiry, or even exercise his power to pardon."
According to a June 2, 2018 report by The Hill quoting Nick Akerman, the Assistant Watergate Prosecutor,
"First of all, the whole idea that he [Trump] can't be charged with obstruction of justice — the last time that ever happened in this country is when we were ruled by King George ... That's what the whole rule of law is about. The president has to faithfully execute the laws." [Akerman told MSNBC]
Axis of Evil: Trump, Giuliani & Rupert Murdoch's Media
Rudy Giuliani began doing rounds on the media circuit, most notably, Rupert Murdoch's propaganda machine outlets including Fox News, where he appeared to assert that the president of the United States is above the law. To become better acquainted with what seems to be in it for Rupert Murdoch - who controls Fox News, Wall Street Journal, NY Post, Barron's, Market Watch, WWOR-TV, Fox 5 and Harper Collins Books - in exchange for his unapologetic propagandistic support of Trump - click the link above.
Trump Corruption Makes the Clintons Look Like Amateurs?
During the 2016 campaign Benedict Donald repeatedly labeled Hillary Clinton as Crooked Hillary. That resonated with the American people because the Clinton's appear to have a history of questionable political maneuvering and the billion dollar Clinton Foundation oftentimes seems self-serving.
But in the one and a half years since Trump took office, he's managed to make the Clintons look like small potato amateurs, and you're hearing that from someone who is no fan of the Clintons.
Not Serving the Nation but Criminals Serving Themselves?
Taxpayers Spend Added $60 Million on Trump's Golf Game & Family Travels. In 2017 the U.S. Secret Service budget had to be increased $60 million to keep apace with the Trump family travels. A good portion of that spending appears to be to provide protection for Trump's 100 days of golf which he did in his first 408 days in office.
D.C. Swamp Now a Trump-sized Cess Pool
Middle East Wars: American Foreign Policy & Security For Sale?
Jared Kushner, Trump's son-in-law, secured a $30 million investment from an Israeli finance company, Menora Mivtachim shortly after Kushner accompanied Trump on a trip to Israel in May of 2017. In December 2017 the U.S. Embassy in Israel was moved to Jerusalem following receipt of the investment.
A March 22, 2018 report by MSNBC states that The Intercept noted that the Saudi Royal Prince said he had Jared Kushner "in his pocket". Kushner, who has national security clearance, is reportedly an avid reader of Trump's daily security briefing.
U.S. to Pay For Murdoch . Cheney . Prince Black Ops?
Blackwater / Academi, Erik Prince, Dick Cheney, Rupert Murdoch & Syria - You Know This Can't be Good
According to a May 3, 2018 report in the NYT, the U.S. has quietly deployed Special Forces to Yemen, in what appears to be an escalation of help to the Saudi government's involvement in the Yemeni Civil War. The Trump Administration says America is providing refueling, logistics and intel sharing help and the Trump Administration never lies - do they? According to reports in the NYT in 2011 and in 2015 the United Arab Emirates and the Saudis have hired Blackwater [now called Academi] mercenaries and there have been reports of countless civilian casualties in Yemen and torture prisons either in Yemen, or elsewhere in the Middle East, or both.
Betsy De Vos' brother, Blackwater billionaire & Founder Erik Prince, is interested in going to the mercernaries-for-hire business again in the Middle East. According to an April 18, 2018 report in the WSJ,
"... the Trump administration is seeking to assemble an Arab force to replace the US military contingent in Syria and help stabilise the north-eastern part of the country ... [and that Erik Prince] has been informally contacted by Arab officials about the prospect."
It's worth mentioning that Rupert Murdoch, the global billionaire propagandist, went into business with former VP Dick Cheney through Genie Energy which bought energy rights from Israel in 2013 in the illegally-occupied Syrian Golan Heights. In 2007, on Cheney's watch, Erik Prince's Blackwater allegedly murdered dozens of unarmed Iraqi civilians - of which the most notable incident was the Nisour Square Massacre. And Erik Prince is also suspected of attempting to establish a back channel for Trump / Putin in the Seychelles [islands off the coast of Africa] in December of 2016.
It seems like the gang is back in town and American's reputation and government taxed money may be used again by these millionaires and billionaires to further enrich themselves. This time it seems they will make themselves even more fabulously rich on the stolen energy rights of the Syrian people, using the American taxpayer Defense budget to pay for it. An effort to defund some of these operations in March / April 2018 was stopped by one of Rupert Murdoch's many puppets, Senate Majority 'Leader' Mitch McConnell [his wife Elaine Chao was previously on Murdoch's 21st Century Fox Board].
Banking Deregulation For Sale?
Kushner also secured a half billion dollars in loans during Trump's first year as U.S. President. After multiple meetings at the White House in Spring of 2017, Citibank made a $325 million loan to Kushner. In November 2017 Apollo Global Management made a $184 million loan to Kushner. The loan they made to Kushner was reportedly triple the size of the average property loan in their portfolio. Apollo's slogan is "We take many paths to value."
In March 2018, Mouse McConnell, the Republican Senate Majority Leader announced that the Senate had passed a bank deregulation bill that pulls back the bank reforms made after a bank bailout and economic recovery that cost the American taxpayer over $4 TRILLION DOLLARS. In May 2018 Trump and the Republican Congress, led by Paul Ryan, passed a similar banking deregulation bill.
Chinese Trade Deals & American Security For Sale?
A May 23, 2018 report on Bloomberg states,
"Press reports in early May centered on $500 million in expected loans [to a Trump Partnership in Malaysian tycoon developer Hary Tanoesoedibjo] from a Chinese state-owned institution. This was particularly piquant because of Trump's unexpected announcement on May 13, via Twitter, that he was working with Chinese President Xi Jinping to give the Chinese phone maker ZTE Corp., which has been cut off from U.S. suppliers for violating sanctions against trading with Iran and North Korea, "a way to get back into business, fast." That produced accusations that Trump had engaged in a quid pro quo with Xi."
CLICK here to continue reading our report about the Ridiculous Presidency of Benedict Donald including the alleged sale of access to Russian Oligarchs, sale of U.S. federal land and mineral rights, potential corruption at Betsy De Vos' Department of Education, 187 former lobbysists working in the swamp-turned-cesspool, Melania's friend's multi-million dollar windfall, taxpayer funded federal government luxury, possibly a Cabinet member's Mile High Club enrollment on a U.S. Air Force jet and the Trump $1.5 trillion robbery of America's children.
---
Taste of Sunnyside Moves to New Venue
Sunnyside Shines Taste moves to the PC Richards Parking Lot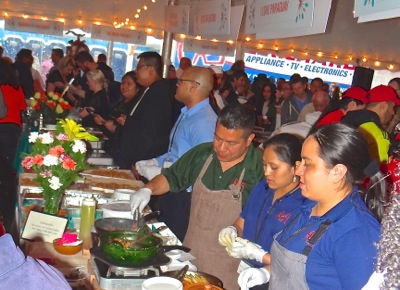 May 22, 2018 / Sunnyside Neighborhood / Sunnyside Restaurants / Queens Restaurants / Queens Buzz.
It was early in the evening on a reasonably warm damp Tuesday, as I headed over to the PC Richards & Sons parking lot on Queens Blvd at 50th Street for the 9th Annual Taste of Sunnyside. The event was scheduled to open at 5.30 pm for the VIPs and at 6.30 pm for the general public. The cost of the general public ticket was $40.
I arrived around 7 pm and the Taste of Sunnyside tent was bustling. There was a line leading out from under the tent as people checked in to sample 22 restaurants and 12 beverage providers from the nearby Sunnyside area.
The first folks I recognized were Jaime-Faye Bean [Executive Director of Sunnyside Shines] and Jimmy Van Bramer [NYC Council]. Both were all dressed up for the occasion, and they brought to mind a couple greeting people at a wedding reception [see photo below].
Taste of Sunnyside Returns but in a New Venue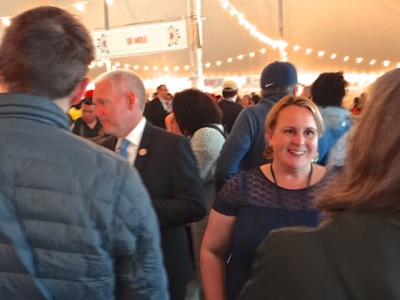 I made my way past the food tables looking at all the delectable edibles that the 22 restaurants had brought to serve the general public. By the time I had made my way to the back of the tent, Jaime and Jimmy had taken the stage to make a few remarks about Sunnyside and its restaurants.
After listening to their remarks I headed east along the back wall where there were a number of beverage providers. Iconic Beer was serving on tap and Lowery's Wine and Liquor had brought a selection of wines including a Pinot Noir, a Cabernet Savignon, a lightly bubbled Rose, a Chardonnay and a New Zealand Rose. All seemed like perfect wines to suit different tastes to kick off the summer.
Food, Music & True Love at Taste of Sunnyside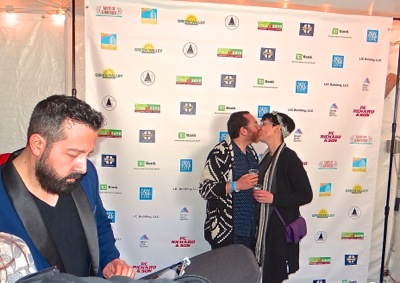 In the back corner there was a step and repeat, where folks could have their photos taken in front of the Taste of Sunnyside banner. I photographed a couple kissing for the cameras in front of the step and repeat.
But in the photo foreground you can see that Sunnyside Chamber of Commerce Board Chairman Manny Gomez seemed impervious to the love scene occurring behind him.
I wondered … was this true love or was it the hot sauce?
The good news was that representatives from Mount Sinai Hospital were on hand, just in case any heart palpitations got out of control. As I made my way out I continued photographing folks being served. And near the exit I found Sunnyside Shines Board Chairman John Vogt engaged in conversation with some of his friends.
To be continued later this week.
---
Queens Economy Snapshot
NYS Comptroller Di Napoli Provides Queens Economy Overview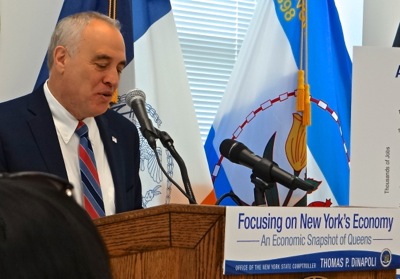 May 21, 2018 / Queens Neighborhoods / Queens Business & Economy / Queens Banks & Loans / Queens Buzz NYC.
Last Friday I attended a presentation by NYS Comptroller Thomas Di Napoli which provided an overview of the Queens economy. In general the economic statistics provide insights into what's been happening over the past couple of decades, showing a continuation of trends which began in the early part of the last decade, were interrupted by the Great Recession, and which have resumed ever since.
Good Paying Queens Jobs Added in Healthcare & Transportation
Private sector employment fell following 911, resumed growth in 2004, fell again in 2009 [Great Recession] and resumed growth in 2011. At the time of Thomas Di Napoli's May 2018 report, Queens was home to 567,800 private sector jobs, lead growth in the healthcare sector which accounts for 105,200 jobs, that carried an annual salary of $46,200 which is below the average borough income of $52,520 [the latter figure is an annualized figure from a Bureau of Labor Statistics report in Q1 2017]. This sector grew 38%, adding 29,100 jobs since the Great Recession ended in 2009.
Transportation is the second largest industry in Queens, employing 67,100 jobs that paid an average annual salary of $63,400. This sector added 13,100 jobs, up 24% since the Great Recession. Queens accounted for 96% of all air transportation jobs as it is home to LaGuardia and JFK airports. And the air transportation jobs contributed greatly to Queens accounting for 58% of all transportation jobs in NYC - about double the rate of its population representation. Queens population represents roughly 27% of the population of New York City [Wikipedia.org].
Lower Paying Queens Jobs Added in Leisure & Hospitality, Retail and Possibly Business Services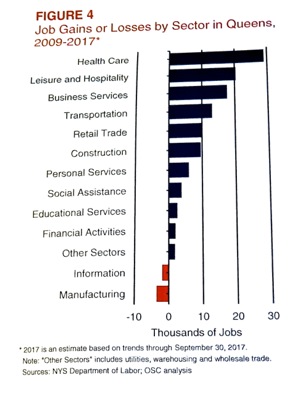 Leisure and Hospitality accounted for 58,200 jobs with an average salary of $28,200 - a bit more than half the average Queens borough income of $52,520 mentioned above. This sector was the second largest contributor to job growth adding 20,300 jobs, up 54% from the Great Recession. Howard Beach and Ozone Park accounted for over half the gains, due to increased activity from the hotels near JFK Airport, activity in the Rockaways and Resorts World Casino in Richmond Hill, which is the only casino in New York City. Di Napoli noted that 62 new hotels were erected in the Long Island City [near Manhattan], Flushing [near LaGuardia Airport] and Jamaica [near JFK Airport] since the Great Recession.
The Retail industry is the third largest jobs category in Queens, accounting for 63,700 jobs. In spite of rising rents and fierce competition from big box and internet retailers, this sector added 10,100 jobs, growing by 19% since the Great Recession. These jobs had an annual salary of $31,500, which is about 40% below the average Queens borough income. The Rego Park mall and the Sky View mall in Flushing both opened in 2010 adding about 2 million square feet of commercial retail space in Queens, and both LaGuardia and JFK airports have been in the process of expanding their retail space as well.
We'll have more later this week on NYS Comptroller Thomas Di Napoli's informative economic snapshot of Queens.
---
Queens Taste Features Queens Restaurants
The 16th Annual Queens Taste was Held at the NY Hall of Science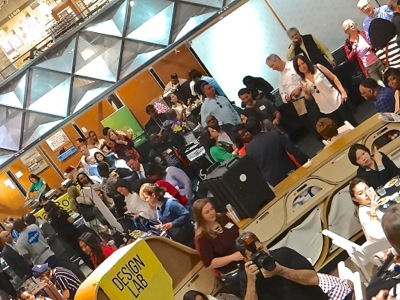 May 15, 2018 / Flushing Neighborhood / Queens Restaurants / Queens Neighborhoods / Queen Buzz NYC.
The 16th annual Queens Taste was held at the NY Hall of Science on Tuesday, May 1st. There were more than 50 vendors present and they served about 650 attendees. I attended the event and sampled a number of the items on display. Many represented ethnic cuisines for which Queens is well known and several of them were fairly young starts ups that had either come out of or were still using the Queens Economic Development Corporation [QEDC] kitchen in Astoria / LIC. The Queens Economic Development Corporation [aka QEDC] had organized the event.
It was a cool Spring evening as I disembarked from the #7 train at the Mets / Willets Point stop. The train had skipped 111th / Corona due to the trains getting out of their timing sequence, so they had to move this train up by skipping stops. I headed south into Flushing Meadows Corona Park as it was still light out and the Spring foliage was budding.
Queens Taste at NY Hall of Science Flushing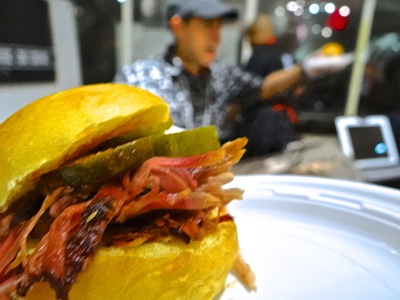 At the NY Hall of Science in the foyer I ran into Rob MacKay, QEDC Director of Marketing, Public Relations & Tourism and once in at the top of the stairs overlooking the event I saw Seth Bornstein, QEDC Executive Director. After a quick exchange of pleasantries with each, I made my way into the NY Hall of Science lower level where the event was being held.
The afro-latineers, a Latin jazz band, was playing on the upper level, and down below there was a crowd of people conversing and consuming the edible delights I was soon to experience.
Photos and report coming later this week.
---
PS1 MoMA Hosts Springtoberfest
A Night Showcasing the Micro Breweries in LIC & Queens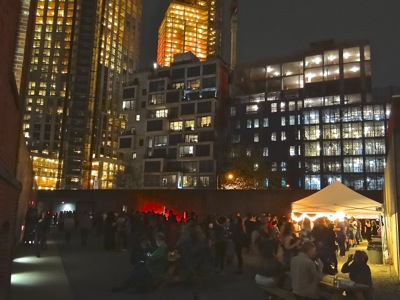 May 7, 2018 / LIC Neighborhood / Food & Beer in Queens / Queens Buzz NYC.
There are about a half dozen of micro breweries that have sprung up in LIC over the past half dozen years, and last Saturday evening they were all on display at the court yard at PS1 MoMA in LIC.
I arrived at the museum about a half hour after things had started. The courtyard was populated with people milling about, sipping beer in small mingling groups. There was a table for extra tickets along one wall and the brewery taps along another. In the distance were the PS1 MoMA back steps where people had already gathered to grab some of the good seats.
PS1 MoMA Court Yard Has a Different Feel This Year
The courtyard has changed over the years, as it has become a valley, surrounded by mountainous buildings, some of which are still under construction, like the behemoth multi-building franchise that was once the 5 Pointz graffiti mecca. The surrounding tall new buildings lend a heightened sense of drama to the street level space of the courtyard.
The crowd was a 20's, 30's and 40's something group of at least as many women as men. I had never met so many female beer enthusiasts in one place. Most everyone I spoke to was either from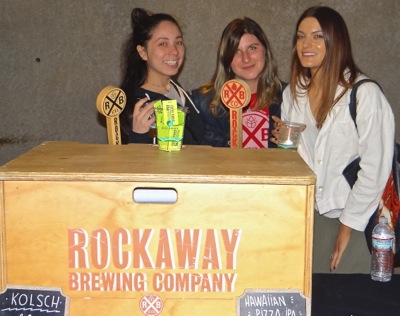 Queens or Brooklyn, so it was a neighborhood event, which was likely good for the brewers on exhibit at the museum this evening, as they are all located in Long Island City.
LIC Micro Breweries Exhibit at PS1 MoMA
There were seven brewers at the event, based on the four I sampled, and the press release, which listed three that I unfortunately missed. The ones I missed were the Big Alice Brewing Company, the LIC Beer Project and Blue Point. The ones I hit were the Rockaway Brewing Company, Transmitter Brewing, Fifth Hammer Brewing and Iconic Brewing Company.
My first stop was Rockaway where I sampled their famous Hawaiian Pizza IPA [Indian Pale Ale]. The beer had a cold fresh pineapple flavor, embedded in the hops flavor of beer. It was a surprisingly refreshing concoction with a 6.8% alcohol content. The tap tender was Lauren Rymic, who also illustrated the Hawaiian IPA label.
I have the rest of the story written, but I need to convert it to web format and add photos which I'll do Tuesday. Stay tuned.
---
Small Business Week in Queens
NYC Small Business Services Commissioner in Sunnyside
May 1, 2018 / Sunnyside Neighborhood / Queens Business / Queens Neighborhoods / Queens Buzz NYC.
Tuesday afternoon, the NYC Small Business Services Commissioner, Gregg Bishop, visited the Sunnyside Shines Business Improvement District [BID]. It was the SBS Commissioner's first visit in five years.
NYC City Council Member Jimmy Van Bramer, Sunnyside Shines Board Chairman John Vogt and Executive Director Jaime-Faye Bean were on hand to meet the Commissioner. Jaime welcomed Gregg to Sunnyside, noting the progress that has been made by the Sunnyside BID over the past year [see Sunnyside Shines BID story for details].
Jimmy Van Bramer spoke next, quipping that it's always sunny in Sunnyside, as the sun was out today and the temperatures hit 80 degrees. Jimmy went on to note that he's allocated taxpayer dollars to support the BID in its efforts to promote and aid small businesses in the area. He also mentioned that some improvements were coming to the iconic Sunnyside marquee that stands at 46th Street and Queens Blvd.
Gregg closed out the public comments, applauding the efforts by the BID organization and the councilmember in helping maintain a robust small business sector in Sunnyside in spite of macro trends weighing in against small business. He told us that there are 230,000 small businesses in New York City and that they employ 3.7 million people which using the last census figures constitutes 45% of all New Yorkers' employment.
The Sunnyside BID organizers then hosted the Commissioner on a whistlestop tour of a few of the nearby businesses so that he could hear more about the issues they are facing and learn more about how NYC Small Business Services can help.
In the photo above in the front row, NYC City Councilmember Jimmy Van Bramer is third from left, Sunnyside Shines Executive Director jamie Faye-Bean is fourth from left, NYC Small Business Services Commissioner Gregg Bishop is fifth from left. Sunnyside Shines Board Chairman John Vogt is in the second row standing between Gregg and Jaime.
---
5 Boro Bike Ride Returns Sunday
Bike New York Organizes NYC Bike Ride & Bike Expo New York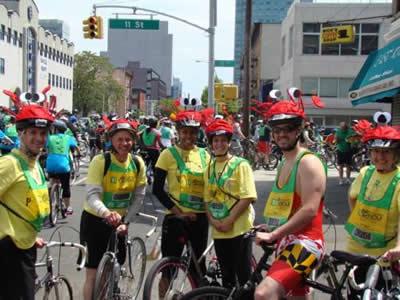 April 30, 2018 / Manhattan Neighborhoods / Bronx Neighborhoods / Queens Neighborhoods / Brooklyn Neighborhoods / Staten Island Neighborhoods / Gotham Buzz NYC.
This story includes information about the upcoming 5 Boro Bike Ride on Sunday, as well as the Bike Expo New York which precedes it on Friday & Saturday in Red Hook. As of this report, the temperatures are expected to be in the 60's and the chances of rain appear slim. But bear in mind that the forecast probability of 20% chance of rain last Friday, turned into rain on Saturday evening, so check the weather as we get closer in.
Bike New York 5 Boro Bike Ride Route
Since 1977, every first Sunday of May, Bike New York has organized and promoted the 5 Boro Bike Ride. The ride begins in lower Manhattan, sweeps northward across the Harlem River Bridge to the Bronx, circles back across the Third Avenue Bridge to Manhattan, where it begins its southward trek crossing the Queensboro Bridge into Queens, heading south to Brooklyn after a quick stop north to Astoria Park, and then comes down past the Brooklyn Navy Yards, continuing southward along the west side of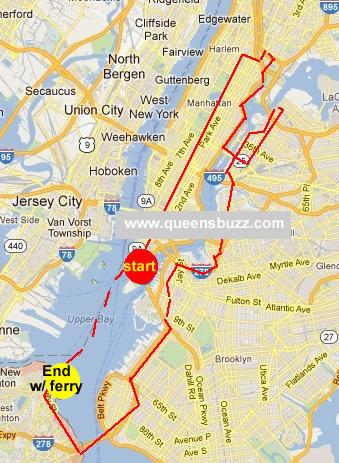 Brooklyn, to the Verrazano Narrows Bridge where it crosses over to the Fort Wadsworth neighborhood in Staten Island before terminating in the St. George neighborhood at the Staten Island Ferry.
Proceeds from Non-Profit New York Bike Ride go Toward Sustainable Transportation Efforts
The now famous bike ride was capped at 32,000 riders I believe sometime in the 1990's, where it still stands today. One report noted that the 5 Boro Bike ride is one of – if not the largest - non-profit bike rides in the nation. The proceeds go to Bike New York programs which are designed to teach people about sustainable transportation, most notably bicycle riding and bike maintenance and safety. Another report noted that the NYPD had considered [don't know the outcome] charging the organization $1 million for erecting, maintaining and terminating road closures during the New York 40 mile family-friendly bike ride.
Bike New York Bicyclist Outreach in all Five NYC Boroughs
Bike New York has offices in all five NYC boroughs. In 2015 their cyclist safety and bike maintenance programs reached 15,000 New Yorkers. And they are the organizers of the Bike Expo New York being held at Pier 12 in Brooklyn on Friday and Saturday [see details in rest of this story].
---
LIC Real Estate Breakfast
LIC Partnership Event Discusses How LIC is Evolving
April 23, 2018 / Long Island City Neighborhood / LIC Real Estate Queens / Queens Buzz NYC.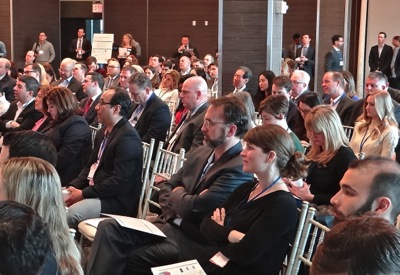 A bit over a week ago, I attended the LIC Partnership Real Estate Breakfast at the Ravel Hotel just south of the Queenboro Bridge at Vernon Blvd.
I've been attending the event since 2010 and it's been interesting to watch Long Island City's twists and turns during its incredibly rapid transformation. In 2010 large developers and big money were streaming in with critical mass, real estate prices were rising incredibly rapidly and large six and seven digit real estate transactions were happening periodically - if not more often - in spite of some of the hangover uncertainty left by the W. Bush financial crisis of the Fall of 2008.
The audience at the breakfast was still comprised of a fair number of familiar local faces as well as an increasingly large number of new interested parties.
The LIC Partnership executive level management changed in 2013 and 2014 and we started receiving fairly comprehensive data about units approved for construction, units under construction and units built. The numbers went from the low single digits THOUSANDS to the high single digit thousands, cresting last year at 9,000 new units that were expected to be built. This year it's 3,000 units.

During this time the audience began to attract vast numbers of outside interested parties, comprised of financiers and real estate developers and brokers, and less of the familiar local faces.
This year there was something of a settling down of the big business interest, and what I'd call the emergence of a new set of familiar local faces [see photo above right]. The familiar local faces of the past included artists and independent businesspeople, while the new locals are those working for some of the new businesses which have come into the Long Island City neighborhood.
I'll have more on the LIC Real Estate Breakfast including photos, later this week.
The photo above shows the LIC Partnership Real Estate Breakfast panelists [from left to right] including Chris Doeblin - Owner of Book Culture, James Orsini - COO Vayner Media, David Scharfstein - Co-Founder Fifth Hammer Brewing Company, Charlie Stewart - Co-President & CFO Altice USA and moderator David Brause - President Brause Realty.
---
Spring Has Arrived
The Trees are Blooming and Warmer Weather is on its Way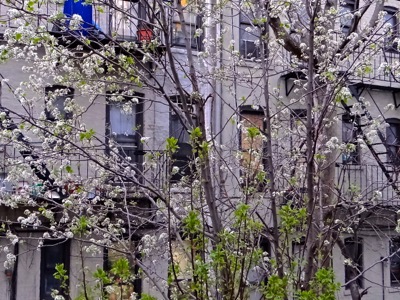 April 17, 2018 / NYC Neighborhoods / Queens Buzz NYC.
This weeks our deciduous trees have begun budding and flowering. We can see the bright pea green buds and the white tree blossoms popping out everywhere. This unique period of springtime lasts only a week or two, so enjoy the majestic beauty while it lasts.
The photo to your right shows what is a very ordinary view of a back wall of apartment windows in NYC, as it comes alive with nature's beauty. The budding trees add oxygen during the day and carbon during the night to our atmosphere. And provide shelter from the hot sun during the summer and some privacy between neighbors as well.
So enjoy these magical week(s) as nature blossoms and our deciduous trees awake from their wintry slumber.
---

---
How We Hear @ Rough Draft Theater Festival
New Play Explores the Changing Nature of our Political Dialogue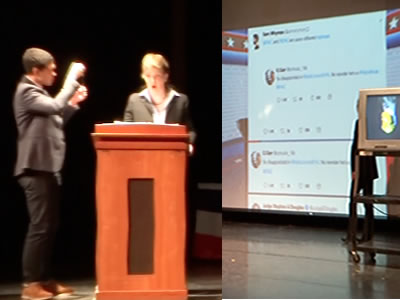 April 9, 2018 / Long Island City Neighborhood LIC / LaGuardia Performing Arts Center / Experimental Theater in Queens / Queens Buzz NYC.
Last weekend I had an opportunity to watch one of the new plays performed at the 5th Rough Draft Festival at the LaGuardia Performing Arts Center in LIC. The play was entitled How We Hear by Emily Lyon.
It was an exploratory exposition of what how the American national dialogue has changed over the past century and a half [158 years] and it was as much an experience, as it was a performance.
What Lyon did with the next hour and half of our time was an interesting journey through selected excerpts of our national debate. But even more importantly, Lyon took us on an exploratory journey - including some real time processing - of how new forms of mass media, with the incredible proliferation of information venues and access, impacts our ability to have a honest dialogue about important issues facing our society in a way that everyday Americans are able to process.
Lincoln Douglas Debates @ LaGuardia Performing Arts Center
I arrived shortly before the performance began and found a seat not far from the stage. The performance was given a short introduction by Handan Ozbilgin, the Rough Draft Festival Director and shortly thereafter, one of the seven Lincoln-Douglas debates of 1858 [August 21 – October 15] began. The debates were the first ever between two Senate candidates vying to for a U.S. Senate seat [Illinois]. They became an instant sensation, and became the forerunner of the platform upon which Lincoln would run for president in 1860. It's worth noting that at the time the Senators were elected by state legislatures – not by a direct tally of state citizens' votes.
How We Hear by Emily Lyon @ Rough Draft Festival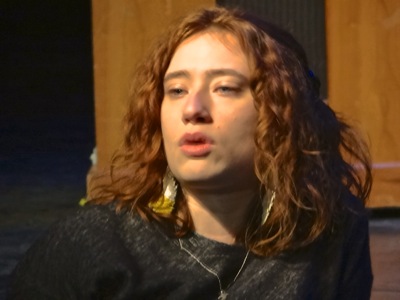 While Triney Sandoval, the Hispanic man who played Douglas, didn't resemble Stephen Douglas facially, he was an actor and orator of the first degree, and comported himself as one might imagine Douglas. His elocution and diction were very precise, cadenced and reminiscent of an earlier age. And his Hispanic heritage, in what was – over a century and a half ago – an Anglicized age, seemed purposeful in adding an ethnic layer and some complexity, to what was possibly a simpler time.
Sandoval, as Douglas, talked about the Lecompton Constitution, which was one of the hot issues of the time. The Lecompton Constitution which was a competing, pro-slavery, constitution for the state of Kansas induction into the United States, which also explicitly stated that only white males would have the right to vote.
Ironically, Stephen Douglas, a Democrat, helped the Republicans defeat the pro-slavery constitution by aligning with the other northern Democrats who were against it. The southern Democrats were supportive of it.
States Rights Vs Human Rights: Early American Hypocrisy or Dialectic?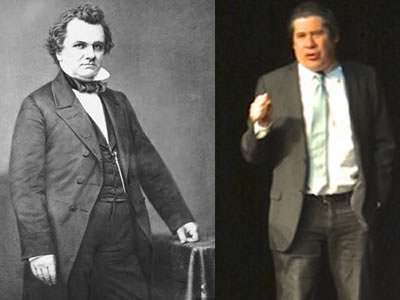 Sandoval, as Douglas, then went on to accuse Lincoln and the Republican Party of that time of being a northern political party – not a national political party like the Democrats were. Douglas then cited excerpts from speeches made by Lincoln which seemed at odds with each other, where it appeared Lincoln appealed to the anti-slavery sentiment while giving speeches in northern cities like Chicago while appealing to the racial prejudice of the south, while in southern Illinois cities like Charleston [which is about the same latitude as St. Louis, Missouri and Kansas City] by stating that he did not support allowing Black men to become whites equals, citing they weren't fit for the role of jurors and what not.
Stephen Douglas was a Democrat, but he wasn't pro-slavery per se. He was for the rights of states to decide for themselves what institutions to create and how they should conduct their business. He noted that all of the Founding Fathers had kept their slaves through the Revolutionary War. And Douglas reminded voters of Lincoln's speech in 1858 in Springfield, Illinois where he said that "A house divided against itself cannot stand." And that one day the United States would either be all slave or all free.
CLICK here to read the rest of our report of the LaGuardia Performing Arts Rough Draft Festival performance of How We Hear.
---
Taste of LIC & Queens Restaurants
An Established Event Tries out New Venue & Welcomes Newcomers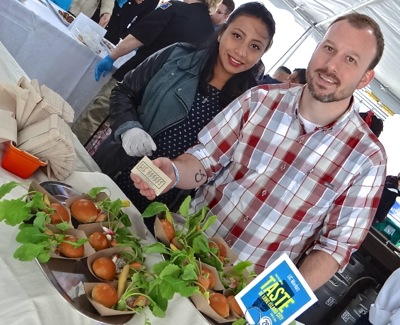 Updated April 2, 2018 / June 6, 2017 / LIC Neighborhood & Astoria Neighborhood / LIC Restaurants / Queens Restaurants / Queens Buzz NYC.
About a week ago, the Chocolate Factory Theater Company announced the 13th annual Taste of LIC would be returning in June. I attended the 12th annual Taste of LIC at the Kaufman Astoria Studios Lot on 35th Avenue at 36th Street in Astoria / LIC. This was the first year the event was held away from its original waterfront venue under the gantries in Gantry State Park along the East River.
Sheila Lewandowski, one of the co-Founders of the Chocolate Factory Theater Company, told me that they made the change because the chefs weren't allowed to cook in Gantry State Park. Now, on the Kaufman Astoria Studios Lot chefs can now do live performances of their cooking.
The Chocolate Factory Theater is an avant-garde dance and theater company that hosts live multi-media dance and theatrical performances in LIC. The non-profit theater company has organized the event since its inception. The proceeds help fund the organization's work. Brian Rogers is the co-Founder of the Chocolate Factory, who we'll meet a bit later in this report.
I arrived about on time for the general admission and made my way in, perusing the entire scene before starting to photograph and sample my way through the tent.
I bumped into Steven Hitt, the Executive Director of the LaGuardia College Performing Arts Center. Steven mentioned that the dance troupe, Rioult, was planning to move into Queens in early 2018, and that they were currently in the process of setting up office space and studios not far from where we stood. Later in the evening he introduced me to Amy Harrison, the Executive Director of Rioult. Steven mentioned that the Joffrey Ballet Company also moved one of its programs to LIC, and is periodically using the LaGuardia College Performing Arts Center as a facility.
It seems while many of the independent artists have left LIC over the past five or so years, many other groups from Manhattan and Brooklyn have been making their way in. The Joffrey and Rioult dance companies have chosen LIC in lieu of Manhattan, due in part to the affordability, convenience and accessibility of the LIC location. I was to learn more of such migratory movements, as the night wore on.
I'll have the rest of this report later this month, including numerous photos of the event.

---

---
Sunnyside Shines BID - Annual Meeting 2018
The Sunnyside BID Shines Brightly
Sunnyside Shines BID Holds Annual Meeting & Annual Recap
March 27, 2018 / Sunnyside Neighborhood / Queens Business / Queens Buzz NYC.
On Monday, Sunnyside Shines, the Business Improvement District organization serving Sunnyside held its annual meeting. The Sunnyside business improvement district includes Queens Blvd between 38th and 50th Streets and along Greenpoint Avenue from 50th to 42nd Streets and most points in between.
As you can see from the photo at right, the meeting was well attended. Somewhere in the neighborhood of fifty to one hundred people spent some time at the meeting, and I found it to be pretty informative regarding what's going on in the Sunnyside business community.
Sunnyside Shines BID Executive Director Jaime Faye-Bean & Board Chairman John Vogt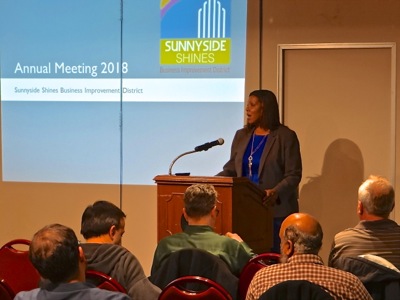 Sunnyside Shines BID Executive Director, Jaime-Faye Bean was there to present the BID's annual results and she,along with John Vogt, Chairman of the Sunnyside Shines BID also presented a number of awards to community members for their contribution to the business district.
One of the things that struck me as I watched the events of the evening unfold, was the holistic approach to business development that the Sunnyside Shines BID had undertaken this past year. It struck me not just because there were so many people in attendance, but because of their enthusiasm, their achievements and the BID achievements in building momentum for the business district as a whole. You'll see more clearly yourself as I describe the night.
I arrived a couple minutes late and Public Advocate Letitia James came to speak to the group about what her offices does and she encouraged the audience to contact her if they had any issues where they thought she and her office could help. According to Wikipedia, the NYC Office of Public Advocate,
"The Public Advocate is a non-voting member of the New York City Council with the right to introduce and co-sponsor legislation. … The Public Advocate also serves as an ombudsman for city government, providing oversight for city agencies, investigating citizens' complaints about city services and making proposals to address perceived shortcomings or failures of those services."
---

---
Queens World Film Festival 2018
Queens World Film Festival 2018 To Begin
The Queens World Film Festival Comes to the Museum of the Moving Image Astoria
March 12, 2018 / Astoria Neighborhood / Queens Neighborhoods / Film in Queens / Queens World Film Festival / Queens Buzz NYC.
The 8th annual Queens World Film Festival begins on Thursday, March 15th at the Museum of the Moving Image in Astoria. This year the festival will run eleven days, present 189 films, from 36 countries, in three screening rooms at the Museum of the Moving Image and the Zukor Screening Room at KAS in Astoria.
Tickets cost $15 per show, which you can obtain online at http://www.queensworldfilmfestival.com, and you may obtain a discount of $3 [$12 per ticket] by inputting the promo code qwff8.
The photo at right shows a scene from one of the films, entitled Lilly Riggs, by Brooklyn filmmaker Naman Gupta, which I'll tell you about later in this report while providing highlights about several films in the eleven day event. The information contained in this report was collected from the Queens World Film Festival website and in an interview with the Queens World Film Festival Artistic Director, Don Cato, and the Executive Director, Katha Cato.
Click here for an overview of the schedule and films for the Queens World Film Festival 2018.
---
Indie Cade 2018 at Museum of the Moving Image NYC
Museum of the Moving Image: Indie Cade 2018
MoMI Hosts Community of Evolving Video Art Gamers
February 26, 2018 / Astoria Neighborhood / Film & Video in Queens / Queens Neighborhoods / Queens Buzz NYC.
A week ago I attended the Indie Cade East gathering at the Museum of the Moving Image in Astoria. I had been to previous Indie Cade events at the Museum of the Moving Image, and each time I go I try to find something new and different.
It was a relatively balmy February day as I made my way to the Museum of the Moving Image along 35th Avenue at 36th Street. There were people milling about outside, discussing video games, as I entered the museum.
Memories of Astoria Video Mural
Along the left side of the entrance lobby, there was a video mural running along the wall, made by a Brooklyn artist, Ezra Wube, which showed painted scenes of the Astoria neighborhood. And directly in front of me, people were engaged in video games and hanging out on the benches adjacent to the snack bar. After checking in, I headed into the main theater to see what was playing as it was only a couple hours before closing time on Sunday afternoon.
There were people watching and discussing a black and white video, which was a combination of modern video art and representations of nature. The video continually morphing into and out of the real / surreal depictions, accompanied by rhythmic acoustical music, providing a mind bending experience if you gave it time and let it in. Given my time constraints, I decided to continue into the rest of the Indie Cade event, as delving more deeply into this work would likely consume the rest of my visit.
Museum of the Moving Image – Indie Cade East Exhibits
On the second level there was an interactive video that worked a bit like a game show. The player would be prompted by pick up lines / questions that the video game maker had collected, and then prompted for a multiple-choice response. Generally one of the questions was quite rude, and if you chose that one, the game ended more quickly. I suppose a bit like in real life : ) as some of the pick up men in the game would flee – which as one woman told me – isn't exactly like what happens in real life.
Within that exhibit space there was a video explaining how the game was made. I'm not sure if this is a part of the exhibit entitled Indie Cade Presents: A Decade of Design, so I'm not sure if it will remain at the Museum of the Moving Image as part of that exhibit which is scheduled to run through June 17th, 2018.
---
Click here for things to do on the Upper East Side UES, or things to do in Midtown Manhattan NYC, or things to do in the East Village and here for Whitestone hair salons.
---

---
Jessica Ramos Opens Campaign Office
IDC Member Jose Peralta Faces Serious Challenge This Year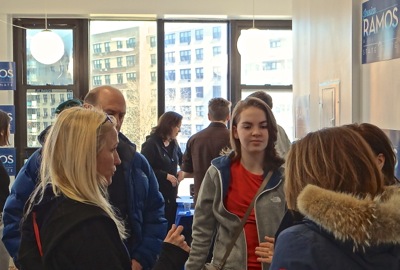 March 19, 2018 / Jackson Heights Neighborhood / Queens Politics / Queens Neighborhoods / Queens Buzz NYC.
It was a cool Sunday morning as I made my way over to the campaign office opening of Jessica Ramos in Jackson Heights. I parked my bike outside their 72nd and Broadway headquarters and began my march up to the fourth floor.
At the fourth floor landing the door opened into a very bright, sunlit room that seemed to reflect the mood of the people in it. Jessica Ramos, a former Ethnic Media & Outreach staff member of the de Blasio Administration, was staking out a position in what appears to be a serious challenge to NY Senator Jose Peralta.
IDC - Republicans Running as Democrats?
I was greeted warmly by the folks inside, who appeared to be a combination of Jessica Ramos's family, friends, neighbors and interested supporters. All of them, appeared to be interested in sending NYS Senator Jose Peralta home from Albany, as they opined how Peralta had betrayed not just them – but all Democrats – by becoming an Independent Democratic Caucus member. In January 2017 NYS Senator Jose Peralta joined the Independent Democratic Caucus [aka IDC] which has aligned itself with the Republicans in Albany, thereby giving the Republicans control of the NYS Senate.
In the photo at right, some of the folks who attended the campaign office opening of Jessica Ramos who is challenging Jose Peralta for the NYS Senate seat representing Jackson Heights, East Elmhurst, Elmhurst and Corona.
More to come later today or this week.
---
Queens Chamber Hosts Tax Seminar
Accountants From Mazars Provide Overview of Tax Changes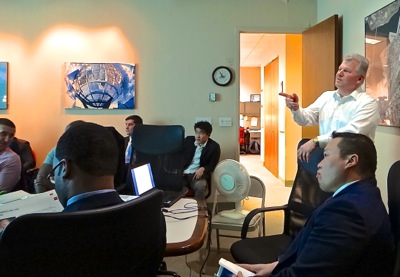 March 5, 2018 / Jackson Heights / Queens Neighborhoods / Queens Business / Queens Buzz NYC.
Last Thursday I headed over to the Bulova Corporate Center to attends a free tax seminar hosted by the Queens Chamber of Commerce. The seminar content was targeted toward small and medium sized businesses and their owners, in an effort to help folks navigate and plan their way through the new tax law changes.
The presenters included Mazars Partner James Wienclaw; and Senior Managers Donald Crotty and Michael Pappas. Mazars is an organisation specializing in audit, accountancy, tax, legal and advisory services. All three men are Certified Public Accountants [CPA's] and the presentation took about two hours, including questions.
Tax Reform Plan of 2017 Includes Many Changes
Per an audience member request, we started with the Individual Tax Provisions. Generally the tax reform plan, entitled the Tax Cuts & Jobs Act, kept the seven tax rate brackets, but generally lowered the tax rates for all brackets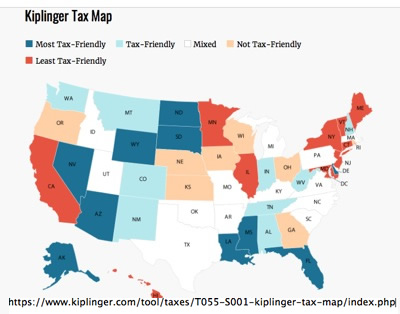 except the lowest bracket – which includes singles earning up to $9525. The plan did not extract the 3.8% tax which funds the Affordable Care Act [aka Obamacare].
To partially offset the tax rate reductions, many itemized deductions were scaled back. Perhaps one of the most significant changes in deductions was that they set a limit for deductions for state and local taxes at $10,000.
Based on research I had done around the time of the Tax Reform plan enactment, this part of the tax plan will most negatively impact taxpayers in Democratic states like New York and California - both of which already contribute more to the federal coffers than they receive.
Click this link to view the OpEd report we posted just prior to the passage of the Trump Tax Plan to see an Atlantic Monthly chart showing what every state receives back on each dollar sent to Washington, D.C. [scroll down, it's near the end of the story].
As you can see in the Kiplinger map at right, as a general rule the Republican states are the net recipients of federal government funding, while the Democratic states are the net contributors into the federal coffers. There's some irony there, as it's generally the Republicans who complain the most about welfare.
We'll post the rest of our report on this presentation later this week, and it's worth viewing as there were a number of major tax law changes.
---

---
Chinese New Year Parade - Flushing Queens NYC
Queens Chinese New Year Parade & Celebrations in Flushing
The Year 4716, or the Year of the Dog, has Begun
February 19, 2018 / Flushing Neighborhood / Queens Holidays / Flushing Chinese New Year Parade & Celebrations / Queens Buzz NYC.
On Saturday I made my way east to Flushing to watch the Chinese New Year parade in Flushing. The Flushing neighborhood of Queens rivals the Chinatown neighborhood in Manhattan for the leading center of Chinese culture in New York City and along the East Coast of the United States.
The photo at right shows a few of the 'dogs' celebrating the year of the dog in the Flushing Chinese New Year Parade.
Flushing Chinese New Year Parade 2018
The parade kicked off at 11 am just east of the Queens Crossing Mall at Main Street and 39th Avenue. They headed south along Union Street, west along Sanford Street, before heading north along Main Street terminating just after passing the Queens Crossing Mall.
Literally thousands participate in the parade itself and likely north of 10,000 spectators come out to watch the grand cultural celebration. Participants march in groups, dressed in traditional costumes, harking back to ancient times. And there were also many floats, which were generally associated with local businesses and organizations.
The Flushing Chinese New Year parade is an evolving cultural event as Korean and Japanese marchers and floats also participate in the parade. And in the last few years I've noticed westerners marching dressed in traditional costumes, possibly as cross cultural / Americanized couples and friends join in the fun.
---
Flushing Historic House Tour - Historic Sites Queens History NYC
Flushing History: Walking Through American Colonial History in Queens
America's Colonial History Comes Alive in the 30th Historic House Tour in Flushing Queens
December 12, 2017 / Flushing Neighborhood / Flushing History in American Colonial Queens / Queens Buzz NYC.
This past Sunday, six historic sites in Flushing and one in the Corona neighborhood of Queens, coordinated to host the 30th annual Holiday Historic House Tour. For four hours visitors were invited into Queens colonial, as well as 19th century [1800's] pasts, in the neighborhood of Flushing. The 20th century Louis Armstrong House in Corona, also participates in this event.
The map at right shows the Queens historic sites participating in the Holiday Historic House Tour in Flushing this past weekend.
It had snowed the day before, but it was only a few inches and by Sunday most of it had pretty much gone away. It was sunny with temperatures in the low 40's, so not a bad day for walking around Flushing. The group of historic sites has it set up so you can either buy the one ticket to see all seven sites, in advance, online [$15] – or purchase the ticket on the day of the event from any one of the historic sites wherever you start your self-guided historic tour [$20].
The first two stops are by far and away the two most significant sites, as together they represent one of the most important cornerstones of the Bill of Rights in the American Constitution – religious freedom. So let us delve into America's colonial past in Queens, starting with the Bowne House and the Friends Meeting House.
Click here to continue reading our report about our American colonial past in Flushing, as seen on the Queens History - Flushing Historic House Tour.
---

---
Queens Borough President State of the Borough Address 2018
Queens State of the Borough Address 2018
Katz Delivers Her Fourth State of the Borough Address
January 29, 2018 / Astoria Neighborhood / Queens Politics & Government / Queens Neighborhoods / Queens Buzz NYC.
I headed over to the Frank Sinatra School of the Arts High School on a rather balmy January morning last Friday. The temperatures were unseasonably high in the 50's and it was dry.
I arrived a bit late for the speech, so I watched it on Youtube over the weekend. The first eleven minutes included introductory performances and speeches, including the Pledge of Allegiance, a singing of the National Anthem, a brief thanks by Gideon Frankel the Principal of the Frank Sinatra School of the Arts High School, and a call out to the local pols in attendance by Deputy Borough President Melva Miller.
What U.S. Senator Chuck Schumer Didn't Say was Notable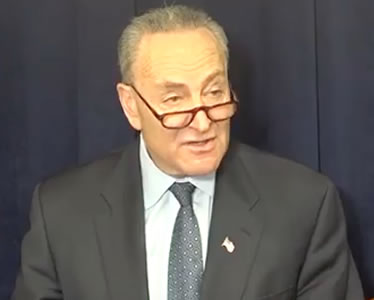 As far as I know, U.S. Senator Chuck Schumer was not given any advance billing as being one of the speakers today, but he came onto the stage and spoke to us. For a moment I thought we might hear why he had decided to take the Democrats into a showdown about a federal government shutdown with President Trump less than a week ago [Friday, January 19th], and why he then backed off that negotiating stance less than three days later, agreeing to reopen the government by midday Monday, January 22nd.
Democratic Senate Minority Leader Schumer Mentions Support for Dreamers & Immigrants, but Not a Word About the Government Shutdown Showdown
But U.S. Senator Chuck Schumer didn't say a word to us about the shutdown per se, less than a week after it had all gone down. I couldn't help but wonder why?
Was the shutdown: 1) a part of the growing theatrics of the federal government - as a bid to demonstrate Democratic solidarity with immigrants and Dreamers, or 2) a real effort to win concessions from the Republicans for immigrants, or 3) an ill-planned showdown that only took into account the bi-coastal Democratic leadership [Democratic Senate Minority Leader Schumer - NY & Democratic House Minority Leader Pelosi - CA] that represents densely populated urban areas with large immigrant populations, while ignoring the constituencies represented by Democrats who come from states that are more rural and suburban, and have small immigrant populations?
Schumer was on stage for a bit less than 15 minutes and in that time he told us about how he had cared for his elderly father who now lives in Queens. He referenced Melinda's second term in office as the 'peaceful passing of the torch' which didn't make a whole lot of sense because Katz is moving from her first to second term so there's no real torch passing going on. And he credited Katz with bringing ferry service to the borough, which I am sure she helped lobby, but which at its core was a Mayoral action. Schumer's visit was not hailed in advance, and he seemed a bit unprepared, so I wondered why he'd decided to speak, and whether he'd been rattled by the events of the prior week?
U.S. Senator Schumer concluded by telling us a story about how Ben Franklin and the framers of the Constitution were concerned about whether the people would actively participate in their own democracy, and whether a self governance system would attract honest candidates / office holders to serve. He then told us that he thought that the politicians on the stage, and the people in the audience today, were proof that both were working.
Queens Borough President Melinda Katz State of the Borough Address 2018
Queens Borough President Katz followed U.S. Senator Chuck Schumer. She talked about having recently completed ACL reconstructive surgery.
She said that during her first term the Community Board membership in Queens has undergone a huge transformation with 30% of the members being new.
There are three ways to view the significant change in the composition of the community boards: 1) it's a fresh influx of new blood that represents some of the demographic changes going on in the borough, or 2) a huge loss of experienced community board members, possibly replaced by political appointees, thus creating an easier path for real estate developers to obtain variance approvals, or 3) both.
I don't yet know which it is, but I reckon over time, it should become more clear to us all.
---

---
Mother's Day Restaurants In Queens
Mother's Day Restaurants In Queens
Mother's Day Restaurants in Astoria, LIC, Sunnyside, Woodside & Jackson Heights
Queens Restaurants / May. Mother's Day is less than one week away. It's a good time to let your loved one know you care. Flowers, gifts and brunch or dinner are always welcome, as is any thoughtful gesture that provides some measure showing your appreciation of your mother or the mother of your children. After all, without mothers, we would all cease to be.
It's best to book a restaurant reservation for Mother's Day brunch, as on Mother's Day in Queens, many restaurants are full. So if you're thinking about eating out at a restaurant this Mother's Day in Astoria, LIC, Jackson Heights, Sunnyside, Woodside or Flushing; it's best to do your research early, and call ahead to book Mother's Day restaurant reservations.
Mother's Day History - Restaurants In Queens
The origins of Mother's Day in the United States began with the efforts by Anna Jarvis in honor of her own mother. According to Wikipedia, Anna began the campaign in 1905 - the year her mother died - and in 1910 West Virginia was the first state to adopt it as a holiday. In 1914 Woodrow Wilson made the second Sunday in May as a national holiday to honor mothers.
Click this link to view a brief guide of Mother's Day restaurants in Queens 2016 where you will find links to Queens restaurants we've reviewed. The restaurants we've reviewed include a mix of high, medium and budget priced restaurants that are spread throughout the borough and offer a large variety of ethnic cuisines. Enjoy.
---

---
Astoria Furniture Stores Have It All - Queens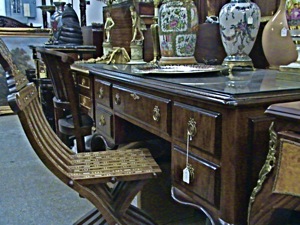 Astoria Shops / Astoria / Queens Buzz NYC.
The furniture stores located on the southern end of Steinway Street in the Astoria neighborhood of Queens seem to have something to offer to just about everyone. This part of Steinway is a furniture shopper's mecca, offering plenty of choices from classical colonial, to urban apartment living to bedding to suit nearly every spine.
I took a quick trip there, which is easily accessible via the N, W, G, R or V subway lines and within a sturdy walking distance from Long Island City, Astoria, Sunnyside and Woodside. Just up the street from Steinway is Broadway and two blocks further north is 30th Avenue, where you'll find a number of great Queens restaurants where after a good morning or afternoon of shopping, you can kick back in an enjoyable ambiance - or in the good weather along one of the sidewalk tables - ane enjoy a bit of coffee and some delicious food. Click here to learn more about the furniture stores in Astoria Queens.
---
Click for free checking in Queens or to buy eyeglasses Astoria, for Astoria hair salons, for Astoria wine stores, for Jackson Heights immigration lawyers, for Midtown dentists & Midtown Chiropractors, and for things to do in Queens. Eyeglasses in Jamaica NYC and bike stores Queens.
---
Mens Clothing Styles - Queens
Shopping Queens / Astoria Neighborhood / Queens Buzz NYC.
Esquire Men's Clothing Store continues to serve the greater Astoria and Queens area, as it has for over thirty years. The shop is owned and managed by Frank and Kevin Adhami, and their father, who is in his eighties, still visits the store on an almost weekly basis.
Esquire is located along Steinway Street between 30th and 31st streets. The store contains a wide selection of men's coats, suits, casual wear, shoes and men's accessories like belts and ties.
This story will provide some information about the store itself as well as fashion recommendations for the Spring and for job hunters.
Click this link to view a story written on Men's Clothing In Astoria Queens NY. Click here for men's clothing stores in NYC, and here to buy Stone Rose shirts in NYC, and here to buy Alberto pants in NYC, and here to buy Eton shirts and here to buy Hugo Boss sneakers in NYC. Click here for Astoria / LIC Queens tile stores serving Brooklyn, Greenpoint & Williamsburg or here for abayas in Queens & Brooklyn NYC and for hijabs in Queens & Brooklyn NYC.
---
Queens Farmers Markets
April 4, 2018 / Astoria Sunnyside Woodside Jackson Heights Long Island City LIC Flushing Jamaica / Queens Buzz NYC.
Jackson Heights was the first year 'round farmers market in Queens, Forest Hills was the second year 'round farmers market, and Sunnyside was the third year 'round farmers market in Queens. So now Queens has three farmers markets operating year 'round and nearly a dozen seasonal farmers markets.
Click the link below to see a listing of the Queens Farmers Markets operating during the rest of the 2018 season including links to maps. Click the other link below for an updated list of Queens Street Fairs schedule of 2018 through the first couple of months of the 2018 season, including dates and maps showing their locations. We will continue updating and adding to the street fair calendar throughout the season.
Click here for our updated posting of Queens Street Fairs - Queens NY. Click here for a listing of the Queens Farmers Markets. You will always find both street fairs and farmers markets for the current month in the Queens Events section of the site [see top tool bar for button / link]. Click here to view the map of the Jamaica farmers market. Click here for Bronx street fairs.
---
---
LIC Real Estate Boom Appears to be Slowing
A Near Doubling of New Units Coming on the Market this Year, so there Appears to be a Pause, as Investors see how Quickly the Market Adjusts to the new Inventory & new Interest Rates
March 28, 2017 / LIC Neighborhood / Queens Real Estate in LIC / Queens Buzz.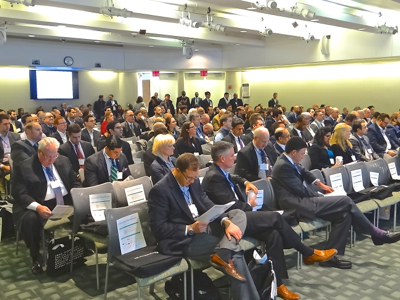 I attended the LIC Partnership Real Estate Breakfast just over a week ago. For the first time in a long while, I could actually find a seat. There had been a snowstorm the day before, so that may have contributed to my luck in finding a seat, but the event also did not appear to sell out as quickly as in prior years either.
This is not to say that LIC development is over ... and likely not by a long shot. But for the moment, the urgency seems to be abating as we all watch to see how things play out; while another 22,000 modern, fairly upscale apartment units come on the market.
According to the LIC Partnership, in the past decade nearly 12,000 new units have been created in LIC. Of those, less than 3,000 were sold to owners. In 2017 nearly 9,000 new units are coming into the market.
The principles of economics state that when supply goes up, if demand doesn't go up by an equal amount, then it is likely that prices will go down. So it's likely that a near doubling of new apartment supply in LIC this coming year could dampen rental prices for a while, and possibly sale prices too.
Interest rates are also rising. And again according to the principles of economics, when interest rates rise, generally the prices of high dollar value purchases decline, because interest rate increases add to the cost of the monthly payments associated with large purchases like real estate.
More regarding the discussion held at the LIC Partnership Real Estate Breakfast - which as always was very informative - at a later date.
---
Queens Real Estate
Real Estate in Astoria, Jackson Heights, Long Island City LIC, Sunnyside, Woodside, Flushing, Jamaica
Queens NY / 2017. These links will take you into sections & reports on the Queens real estate market in Queens beginning in 2009.
These reports include reviews of apartment rental prices, as well as condo, co-op and home prices and availability in the Queens market.
We have also done neighborhood specific reports about Astoria real estate, LIC / Long Island City real estate, Jackson Heights real estate, Woodside & Sunnyside real estate, Flushing Real Estate and Jamaica Real Estate. Click here to view Long Island City apartments for rent LIC.
While we found these neighborhoods mirrored / trailed many of the national trends, we found some interesting differences, including differences from neighborhood to neighborhood.
Click here to read the Queens Real Estate market analysis 2009. Click here for Jackson Heights realtors and Jackson Heights real estate.
---

---
Trump Tax Plan: A Morally Bankrupt President's Gift?
Are Billionaires Trump & Murdoch Bilking America's Unborn Babies?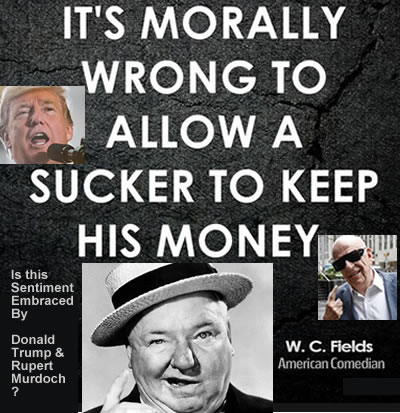 Updated 12/26/17 _ December 19, 2017 / New York City Neighborhoods / New York City Business / News Analysis & Opinion / Gotham Buzz NYC.
Like many of you, I have been watching the Trump Tax plan make its way through Congress. While Trump and his cohorts were whipping together the tax package, I was doing research on the possible implications of some of their tax policy proposals.
According to an October 20, 2017 PolitiFact report [based on the plan at that time, which has since been modified],
"... in the first year of changes, the top 1 percent are projected to draw a little over half the tax savings. The threshold of 80 percent going to the top 1 percent is projected for the tenth year."
While directionally this statement is likely to hold [meaning the plan is biased toward the rich], the exact numbers as to how biased the Trump Tax Plan will be for the wealthy - based on the final bill - remains to be calculated.
In this report we look at a number of tax cuts included in the final bill including repatriation of overseas profits, reduction of the estate tax, reduction of the corporate tax and the blue vs red state tax increase. We include a review questioning why the Trump Administration is pushing this deficit expanding / debt increasing fiscal stimulus package - when we're in a full employment economy with rising wages. We also include how the Trump Tax Cut Plan has been treated propagandistically by Rupert Murdoch's media outlets, as he appears to personally and corporately benefit immensely from the tax cuts.
But before we begin, we take you on a quick review at some key characteristics and prior dealings of the man behind the plan – Donald J. Trump.
---
Queens Buzz Voluntary Subscriptions
We work very hard to help keep you informed by providing you with independent news coverage, as well as information about events in the arts, culture and business in the borough.

You can help us continue to provide you with independent, first-person, fact-based, contextural reporting by purchasing an annual subscription. As it's voluntary, there are a variety of price options, one of which should fit within your budget.
Thanks for your encouragement & support.
---