Over a Century of Railroad History in Sunnyside Yards
Railroad Historian Dave Morrison Brings Back to Life the Glorious Past of the Queens Rail Yard & the Hell Gate Bridge at the Greater Astoria Historical Society
January 15, 2017 / Sunnyside Neighborhood / Astoria Neighborhood / Queens History / Queens Buzz.
On Saturday afternoon I attended a lecture and book signing event at the Greater Astoria Historical Society in the Quinn Building, only blocks from the Museum of the Moving Image. The book is entitled Sunnyside Yards and the Hell Gate Bridge and it was written by Railroad Historian Dave Morrison of Plainview, New York. The Greater Astoria Historical Society hosted the event as part of its Hell Gate Centennial commemoration efforts.
It didn't take Dave long to convince those of us in attendance that he was not only an expert in the subject, but also a passionate railroad history aficionado. Dave's presentation included photos from the book, as well as many other photos he'd collected which didn't make it into the book.
Dave began his story in Brooklyn, in the mid 1800's, when the residents of Brooklyn protested building a train rail yard in the borough because of all the noise, dirty coal steam and traffic it would bring to the fast growing, bustling borough.
Click here to read the rest of the story, including a photos, of the presentation made by Dave Morrison about the history of Sunnyside Yards and the Hell Gate Bridge.
---
Things To Do This Weekend in Queens
Martin Luther King Day Weekend, Plaxall Gallery Art Reception, Sunnyside Railyards History, One Act Plays, Robotics Competition, Dorsky Opening & Housing Seminar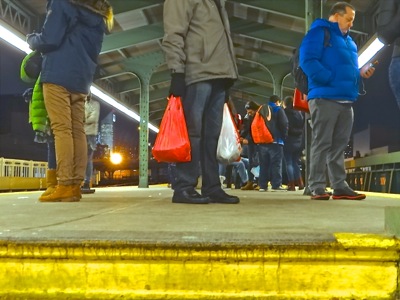 January 13, 2017 / Things To Do Queens / Queens Neighborhoods / Queens Buzz.
Weekend Weather - 1/13 - 1/15/17
The temperature highs will be in the mid 40's Friday, dropping to the mid 30's Saturday, and rising to the low 40's Sunday. The temperature lows will be around 30 degrees through the weekend. It will be partly cloudy this weekend with no precipitation in the forecast. Humidity will range between 40% and 50%. Winds will range from 5 - 15 mph the rest of the weekend.
Queens Subways. The 7, N, E, F, and G trains look to be operating normally, with some local stop issues where you have to backtrack, and the Q doesn't operate on weekends in Queens. Click here for details on the MTA Weekender.
Queens Plaza in January. The photo at right shows a nighttime view of the Queens Plaza subway stop following the holidays.
Friday & Weekend - Act One Plays, Art, Music
Afro Caribbean Culture. In the photo at right you can see images from performances last year at Thalia Theatre celebrating Afro Caribbean culture.
The Secret Theatre at 44-02 23rd Street in LIC features Act One: One Act which is 30 plays in four programs competing to win the audience vote. Most nights the shows starts at 7.30 pm, and on the weekends, there are multiple showtime which vary [theater / $18 / runs daily thru 1/28/17 - except 1/16 & 17].
*Flushing Town Hall at 137-35 Northern Blvd in Flushing is hosting TBD [music / x].
The Queens Museum exhibits this weekend include Mierle Laderman Ukeles: Maintenance Art [thru Feb 19] and onging exhibits including the NYC Panoramic map, the Tiffany glass collection and the World's Fairs [art - $8 / $4 / kids under 18 free].
Weekend. The Noguchi Museum on 9-01 33rd Road & Vernon Boulevard in LIC / Astoria hosts First Fridays [art].
Weekend. The Fisher Landau Center for Art at 38-27 30th Street in LIC has extended the exhibit entitled The Women's List featuring artworks by several artists [art / free - thru January 2017 & open Thurs - Mon 12 noon - 5 pm].
Saturday - Sunnyside Railyards History, Plaxall Art Gallery Reception, Robotics Competition, Housing Seminar
Queens Rail Lines. The photo at right shows a couple of train snaking through the tracks of western Queens.
Beginning at 1 pm there's an historical presentation of the book Sunnyside Yard and Hell Gate Bridge at the Astoria Historical Society at 35-20 Broadway, 4th Floor, in Astoria / LIC [history - free].
Robotics Competition in Fresh Meadows from 8 am to 5 pm at the Francis Lewis High School at 58-20 Utopia Parkway in Fresh Meadows [kids / sports].
The Anievas Studio is participating in the Plaxall Gallery Opening Reception from 6 to 8 pm at 5-25 46th Avenue in LIC [art - free]. Eddie.
There's a Housing Seminar at the Queens Public Library in Elmhurst from 3 to 4.30 pm [business / social]. dan.
The Secret Theater is hosting classes in the am [see Member Calendar].
PS1 MoMA at 22-25 Jackson Avenue has three exhibits - Sascha Braunig: Shivers, Projects 105: Cinthia Marcelle and Mark Leckey: Containers and Their Drivers [art / thru March 5].
Click to Queens Events Member Calendar to view a number of additional weekend events.
Sunday - Dorsky Opening Reception, Act One Theater, Robotics Competition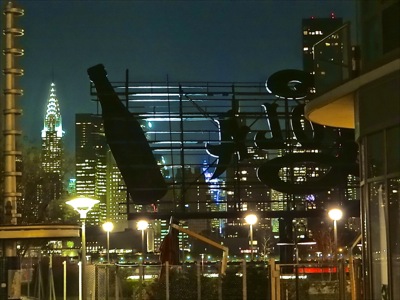 East River View. The photo at right shows the LIC East River waterfront near the Pepsi Sign.
Robotics Competition in Fresh Meadows from 8 am to 5 pm at the Francis Lewis High School at 58-20 Utopia Parkway in Fresh Meadows [kids / sports].
Disarming Geometries opens at the Dorsky Gallery | CP at 11-03 45th Avenue in LIC from 2 to 5 pm [art / free].
The Secret Theatre at 44-02 23rd Street in LIC features Act One: One Act which is 30 plays in four programs competing to win the audience vote. Most nights the shows starts at 7.30 pm, and on the weekends, there are multiple showtime which vary [theater / $18 / runs daily thru 1/28/17 - except 1/16 & 17].
*The Museum of the Moving Image at 36-01 35th Avenue in Astoria is hosting a screening of TBD [film - $15 / $11].
The Queens Museum exhibits this weekend include Mierle Laderman Ukeles: Maintenance Art [thru Feb 19] and onging exhibits including the NYC Panoramic map, the Tiffany glass collection and the World's Fairs [art - $8 / $4 / kids under 18 free].
Click here for stories about some shopping venues in Queens.

Also SEE FRIDAY & WEEKEND EVENTS ABOVE that run on Saturday & Sunday.
---
Queens Things To Do - Next Week
Martin Luther King Holiday Celebration & Historical Lecture, Painted People at Oceanus, LPAC Dance, Borough of Queens History Book Signing, Act One continues
Weather Forecast as of January 13, 2017 for week of 1/16 - 1/20/ 17
The temperature highs will be start the week at about 40 on Monday, rising to around 50 for the rest of the week. The lows will start in the mid 30's on Monday, rising from 40's on Tueday and through the week. There's an 70% chance of rain Wednesday and a 50% chance of rain on Friday. Winds range between 10 to 15 mph, and humidity will range from 60% to 80% through the week.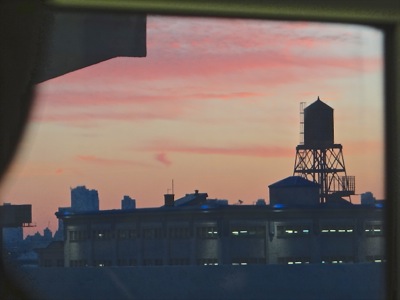 Disappearing Sight. The photo at right shows a water tower container associated with the engineering and construction of days gone by.
Monday - Federal Holiday, Martin Luther King Celebration & History
There's a holiday celebration, featuring local dance, music and arts groups, commemorating the Legacy of Dr. Martin Luther King Jr. beginning at 1 pm at the Jamaica Performing Arts Center at 153-10 Jamaica Avenue in Jamaica [history / culture / free].
At the Central Queens YM / YWHA at 67-09 108 Street, in Forest Hills, there's a talk by Mark Levy entitled The Civil Rights Movement is not over: Reflections of a Freedom Summer Volunteer beginning at 1.30 pm [history / $8 donation].
Tuesday - Painted People / Last Storm / Oceanus at the Secret
There's an art event, the screening of The Last Storm, where the Painted People ride again at the Secret Theatre at 44-02 23rd Street in LIC. The event is entitled "OCEANUS" which is an exploration of water in film, video, text and performance, focusing on the human condition through the lens of water featuring the contributions of over a half dozen artists, and I believe including Jeanne Wilkinson [art / free].
Wednesday - Act One: One Act
The Secret Theatre at 44-02 23rd Street in LIC features Act One: One Act which is 30 plays in four programs competing to win the audience vote. Most nights the shows starts at 7.30 pm, and on the weekends, there are multiple showtime which vary [theater / $18 / runs daily thru 1/28/17 - except 1/16 & 17].
Thursday - LPAC Dance - Sorry, Book Launch Party
The LaGuardia College Performing Arts Center at 31-10 Thomson Avenue opens the winter season with a modern multi-media dance performance entitled Sorry that begins at 8 pm Thursday, Friday & Saturday and next week 1/26 thru 1/28 [dance / $20].
Borough of Queens book launch party begins at 7 pm with a brief talk by historian / author / resident Geoffrey Cobb at the NY Irish Center at 1040 Jackson Avenue in LIC [history / culture].
Saturday - Theater Classes
The Secret Theatre in LIC is hosting theater classes beginning at 10 am [theater / kids / Queens events member calendar].
*The details for most of these events may be found on the Member Calendar for Queens Events which contains listings by arts, non-profits & community orgs.***
Also see events that run through the Weekend as noted above as well as clicking into the September events calendar which has a list ofvenues that have ongoing things to do. Click on the link above to go to the Member Events Calendar to view events. And click here tofind art, theater or film open calls, jobs openings, affordable housing, government sponsored classes & funding.
---
Shaving the Stache & Making the World a Better Place, One Human at a Time
Benefit for Quality Services for Autism Community [QSAC] at the Redken Saloon Salon in Astoria, featuring Art 4 Healing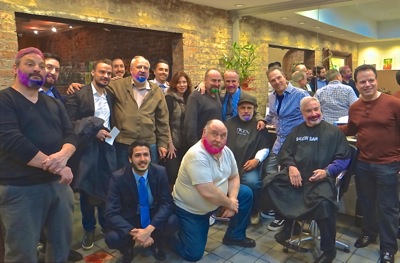 January 10, 2017 / Astoria Neighborhood / Queens Neighborhoods / Queens Buzz.
It was the first weekend night of the New Year, which after the relaxing holidays generally tends to be fairly low key. The streets were quiet on a clear, cold January evening as I made my way up 30th Avenue toward Steinway Street. I didn't really know what to expect at the Shave the Stache benefit at the Redken Saloon Salon, where the event has been hosted for the past five years.
Unlike the silent streets, the Redken Saloon Salon was bustling with life when I arrived. I was warmly greeted by members of the Quality Services for Autism Community [aka QSAC], as I made my way into the salon.
William Balash: Man About Town
One of the first people I met was William Balash. He's a big man, who at the time, was sporting a hearty crop of whiskers, which he told me he'd been growing since October. He introduced me to Patricio Barrientos, External Affairs Coordinator of QSAC, who provided me with a bit of background information about the group, including that it was founded in 1978 by Queens parents of children with autism who were searching for more productive ways to raise autistic children, than were currently available at the time. Today QSAC serves 2,100 people with autism in NYC and on Long Island.
In the photo at right are the men who had their whiskers shaved, alongside those who shaved them. Back row from left to right are: Mike Christoforotos, Spiro Aganastopoulous, Janos Kanta, Nicholas Halvatzis, Jerry Crisafis, Joe Vaccaro, Sofia [hair stylist], Ken Marzocco, and Paul Halvatzis. The two men kneeling are Nicholas Zikos and Bill Balash, while the two men seated are Steve Sirgiovanni and Larry Litwack, with Redken Saloon Salon owner Frank Arcabascio standing between them. Last, but not least, is Jim Halvatzis standing far right.
Art 4 Healing Obtains Art Donations for Benefit Auctions
William and Patricio introduced me to Katrizyna [aka Katrina] Kozena, of Art for Healing NYC. Katrina told me that the group was founded circa 2001 and gets artists to donate works which are auctioned off at fundraising benefits to help those in need. The proceeds from the auctioned art are shared by both non-profits and the artist receives free publicity. Art for Healing doesn't provide art therapy, which oftentimes includes interpretation of artworks after they've been completed; but rather Art 4 Healing uses art as a means of enabling people to emotionally connect with themselves in ways that may not be available in daily life.
Katrina showed me the work being auctioned off this evening, which was a wood painting by a Latin American artist. The artist's name is Angelo Romano who currently lives and works in NYC, but is a Spanish artist immigrant from Latin America. The work was a hand painted wooden totem pole – acrylic on wood. In the photo at right is Katrizyna Kozena of Art4Healing.org.
Click here a bit later today for the rest of the story including more photos and video about Shave the Stache benefit for QSAC in NYC.
---
The Road Ahead 2017
A Few Axioms To Keep In Mind Throughout The New Year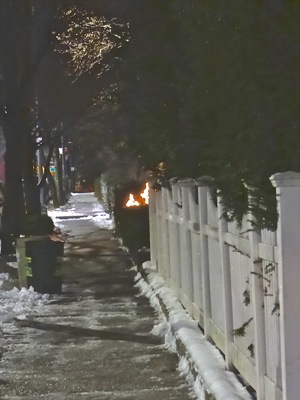 January 1, 2017 / Queens Buzz. For many of us, today starts the beginning of the new year.
I used to make new years resolutions that generally lasted a few days or few weeks. Over time I've given that up and have focused on a few guiding principles that I work toward throughout the year, every year.
The first guidepost is to keep things as simple as possible by letting things go, so you can change and evolve who you are. Over time it's important to learn to let go of the past which includes letting many of the people, projects and things - that were once so meaningful and relevant - fade away with time. This process involves discarding many of the things one collects, in order to open up life to make room for new possibilities.
The second guidepost is to take care of the vessel that carries one's being - meaning taking care of the body because it's the only one we'll ever get and it has to last an entire lifetime. This means consuming the foods that will enable the body to function properly and ward off disease, while recognizing that satisfying the mind is important too, as it's a part of the body. There are three elements to this guideline.
Try to maximize consumption of natural foods while managing consumption of the delicious processed foods that come in packages. Read the container nutrition labels which indicate the amount of fat, sugar, sodium and cholesterol consumed per serving. The balance of natural and processed foods will shift depending on what's going on in life.
Reduce consumption of toxins by first paying attention to the quantities consumed of them, and then by substituting the toxins with healthier options. For example dilute a soft drink with seltzer water [cuts sugar], or swap in a lemonade for a beer [cuts alcohol], or swap in pretzels for potato chips [cuts salt and fat]. Over the years these little substitutions can add up to some small measure of weight loss and can aid in maintaining generally good health. But also don't deprive yourself too much of some of the simple pleasures in life that keep one going - because when that's done, there's rebellion, and the program won't work.
The third element of this guidepost is to try to walk and bike whenever possible. It's a way to kill two birds with one stone by enabling you to get somewhere while also getting some exercise. And be sure to carve out the time each night, required for a proper rest.
The third guidepost is to try to move your life in the direction of your interests. This will likely take a great many years, as well as economic and other trade offs. But if successful, one can then spend most of their time doing the things that totally engage them. It's said that "when one is doing something they love, they'll never have to work another day in their life."
And the fourth guidepost is to keep on learning, because "luck is when preparation meets opportunity".
May your new year be filled with promise and possibilities.
---
New Years Eve Parties & Restaurants In Queens
New Years Eve Parties & Restaurants In Queens
Queens Restaurants / December 29, 2016. New Years Eve 2016 is upon us, when revelers ring in the New Year. If the night is done smartly, it includes sensible consumption of food and drink.
The origins of New Years Eve will be posted at a future date. Enjoy the evening.
Click this link to go to a brief guide of New Years Eve parties & restaurants in Queens, where you will find links to Queens restaurants we've reviewed. It's worth noting that most of these reviews are positive because we've selected some of the best restaurants in their categories in Queens. Enjoy.
Click for New Years Eve parties & restaurants in Queens.
---
Santa vs Trump: Who's the Better Businessman?
SPECIAL REPORT: Santa in Astoria & Queens
December 21, 2016 / Astoria Neighborhood / Fiction / Queens Buzz. The following video report continues our investigation to continued sitings of Santa in Astoria and Queens. This report looks into the business practices of Santa in six categories and compares them to those of billionaire businessman and president-elect Donald Trump. At the end of the video we announce the winner.
If you have an older browser you may need to click refresh to see the video box
Santa vs Trump: Who's the Better Businessman? from Queens Buzz on Vimeo.
---
Holiday Events In Queens
Christmas Tree Lightings, Hanukkah Menorah Lightings, & Kwanzaa Candle Lightings in Queens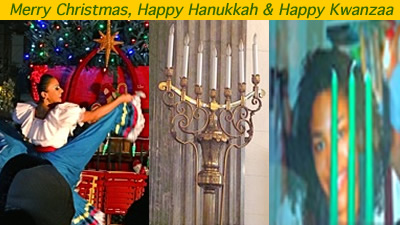 December 7, 2016 / Astoria / Long Island City LIC / Sunnyside / Woodside / Jackson Heights / Corona / Flushing / Jamaica / Whitestone / Queens Buzz.
Holiday lighting festivals and ceremonies have been on the rise in Queens in recent years. While some date back many years, most are traditions that started within the past five or ten years.
What does an increase in holiday lightings mean? It means you have ample opportunity to go yourself, or with friends, or to take your kids to one or more of them to learn a bit more about your own culture or the culture of others.
Each lighting is a bit different, as some are community and business-oriented, some are religiously oriented, a few have arts organizations behind them, and some are backed by non-religious cultural organizations. Please feel free to send us a notice of your holiday lighting event if it's not posted herein.
Queens Christmas, Hanukkah & Kwanzaa Holiday Events Begin in Earnest
This is not meant to be a complete list, but rather a list of the holiday lighting events, many of which I've attended one or more times since late 2007. The holiday lighting events are organized individually by each Queens neighborhood including Astoria, Long Island City LIC, Sunnyside, Woodside, Jackson Heights, Corona, Flushing, Jamaica and Whitestone. Many include the serving of some beverage like hot chocolate and generally something to munch on like cookies.
Click here for a schedule of the Xmas / Christmas Tree Lightings, Hanukkah Menorah Lightings, Kwanzaa Candle Lightings - Holiday events in Queens - Kwanzaa, Hanukkah & Christmas Queens.

---
Trump Election Victory Protests Continue
The Democratic Way to let off Steam, While Coming to Grips with an Unexpected Outcome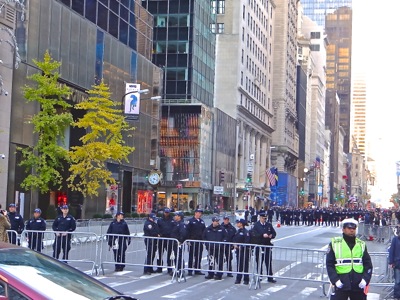 November 13, 2016 / Upper West Side Neighborhood UWS / Manhattan Politics / News Analysis & Opinion / Manhattan Buzz.
Like most folks, I had seen and heard the protests that sprung up around the city and country in defiance of the Trump election victory. On Saturday I received an email about the one of the upcoming protests from a number of small, civic-minded non-profit groups that wanted to make a statement in favor of respecting women and minorities, and immigrant rights. The protest was being held on Sunday at 2 pm at the Trump International Hotel on Columbus Circle near the Upper West Side, so I decided to attend it to get a closer look as to what was going on.
I came up from the subway in Midtown Manhattan and began making my way toward the Trump Hotel at 57th and 5th Avenue. At the Tiffany's corner there were marchers and protesters chanting and singing, while waving signs with slogans, and encouraging passing pedestrians to join in the effort.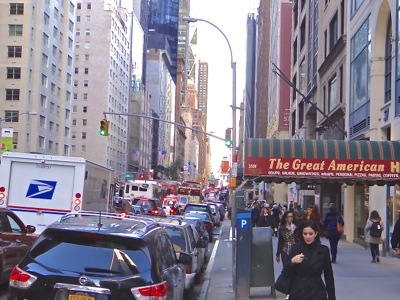 The NYPD seemed to have everything under control. They had their hands full with gnarly traffic and gated walkways, which herded holiday visitors and New Yorkers alike through snake-like pedestrian paths in Midtown. I asked one officer how things were going and he said they were going well enough. I asked him how long things had been this tied up and he said since Tuesday, the night of the election. I asked him how long he thought this would continue and he said until the protesters had let off enough steam.
On election night I had visited both the Trump campaign at the Hilton Hotel Ballroom in Midtown, and the Clinton campaign at the Javits Center. Trump appeared fully prepared for defeat, given the space he booked only accommodates about 1,000 or more guests; while Clinton appeared to be counting her chickens before they had hatched given she'd booked the Javits Convention Center where thousands had gathered in anticipation of seeing her announce to the world that females had finally broken through the ultimate glass ceiling. Clinton's expectations were dashed and Trump's never came to pass, as he is now destined to become the 45th President of the United States of America.
Trump Defeats Clinton - a Brief Explanation of What Happened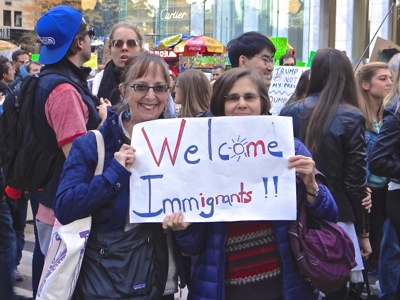 While plenty of pundits have weighed in on what happened, I'll give you a short snapshot from a man on the street. While more people voted AGAINST Trump than Clinton, it was by only a very narrow margin. And enough of those voters were from the more sparsely populated white rural and manufacturing states, which is what enabled Trump to claim the electoral college win and the presidency.
On my way out of the Javits Center election night, I spoke with a young man who was dumbfounded that Clinton had lost. He could not imagine what those who voted for Trump were thinking. I suggested he take a look at Michael Moore's video piece, created early this year, predicting a Trump win. In the piece Moore comments on the huge jobs losses and the general disenfranchisement felt by large swaths of the middle class. These were sentiments that both the Clintons and the national broadcast & print media, had largely ignored.
Click here to view more photos of the protests in NYC of the Trump election victory, as well as snippets from several conversations I had with people on the street.
---
Election 2016 Today - Please Vote
November 8, 2016 / Queens Neighborhoods / Queens Politics & Government / Queens Buzz.
The New York State general election is today, Tuesday November 8th.
The polling booths will be open from 6 am to 9 pm Tuesday.
To find your poll location click on the graphic at right, noting that after you input your address you have to click the small icon to get the results of the search.
The primaries to this election were held on Tuesday, September 13th.
---
Androgynous Dance or a Dream?
Venomous by BARE Dance Strikes LaGuardia Performing Arts Center
October 24, 2016 / Long Island City Neighborhood / Dance Performances in Queens / Queens Buzz.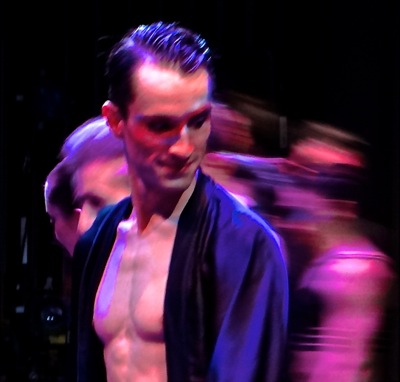 I was right on schedule as I bounded up the subway stairs. At the turnstile I learned that my commute might take 20 minutes longer than planned due to maintenance … but as the fates would have it … I arrived just in the nick of time.
I joined the last audience group as they diffidently entered the backstage area of the LaGuardia Performing Arts Center. We followed a wolf headed actor into the labyrinthine hallways where our first stop was a dressing room, where the cast began preparing us (the audience) for the show. I looked into the mirror at the actors and audience, and in the blue and pink theatrical light, it was difficult to discern the difference. The lines between performers and audience had already begun to blur.
The wolf headed man, sternly motioned us to follow him and then like a dog he led us onward through the shadowed hallways. We soon came upon another theatrical vignette … in the chamber of the freight elevator … where audience members were singled out for … ohmigod AAAAAAArrrgggghhhhh.
Click here to read the rest of our story including photos of the performance of Venomous by Bare Dance Company at LaGuardia College Performing Arts Center.
---
HORROR on Ditmars ends Ghoulishly in Astoria Park
The Astoria Family Halloween Parade Marches Down Ditmars to Astoria Park Halloween Celebration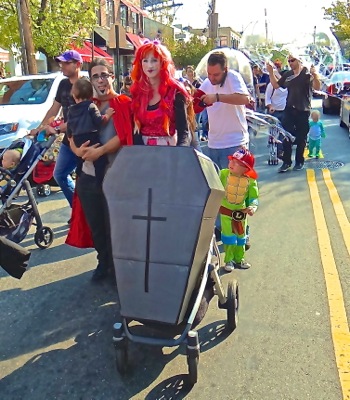 October 30, 2016 / Astoria Neighborhood / Holidays in Astoria Queens / Queens Buzz.
It was ghoulish, it was hairy and in fact it was just plain, downright SCARY. There's just no other way to describe the Astoria Family Halloween Parade.
There were ghosts, goblins, witches, monsters and people back from the dead. They came by the hundreds and in all sizes. They were tall, small and everything in between. There were likely over one thousand people who came to participate in the tenth annual Astoria Family Halloween Parade.
Yet, even though I was surrounded by all of these frightening monsters, I felt a certain calm. Why? Why so calm amidst all of this horror?
IT WAS SCARY, BUT ... thankfully there were plenty of Super Heroes Around
Because there were possibly even more superheroes in the crowd. Wonder Woman, Superman, Batwoman, Batman and how about those Ninja Turtles?
The ghouls, goblins and their parents congregated at Ditmars & 31st Street beginning at 11.30 am filling all four corners and then some with plenty of people decked out in full Halloween garb. The weather was amply cooperative climbing well into the 70's and I heard some of the monsters complain that they were overheating … but not the devils … they seemed to feel right at home – if not a bit chilly.
The police cordoned off one lane of Ditmars between 31st Street and Astoria Park and at noon, the families packed up and marched down to Astoria Park along the East River. The families came streaming down the Great Lawn and started taking their places on the grass in front of the stage erected by the Central Astoria Local Development Corporation also known as CALDC.
CALDC had organized a Halloween event, which they called the First Annual Batty Over Halloween Celebration. The free event included face painting, balloon twisting, a children's Halloween sing along, cotton candy and munchkin pumpkins giveaway.
All in all it made for a fun outing for the kids and parents of the neighborhood who embraced both the parade and the Halloween after party. The parade was started around 2006 and continues to be organized by the Astoria Moms Meetup Group and Queens Mamas.
Click here to view the Astoria Family Halloween Parade 2016 slide show.
---
Late Night Dining in Jackson Heights
BQE Billiards Serves Eclectic Mix of American, Greek & Latin Favorites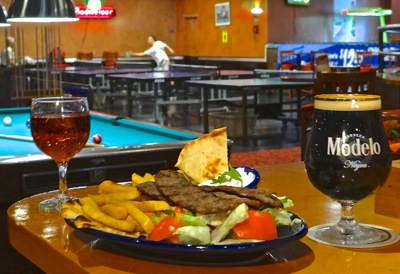 October 18, 2016 / Jackson Heights Neighborhood / Jackson Heights Restaurants / Queens Buzz.
I headed over to BQE Billiards and Bar for a photo shoot last week. They were working on developing a new website and I was helping them create the food photos. The side benefit of this excursion was that I was also able to partake in the feast that followed, where we all sat around and enjoyed sampling much of the food that was photographed. In the photo at right is the gyro plate sitting atop a counter space located within the pool area and overlooking the ping pong and arcade sections of BQE Billiards and Bar in Jackson Heights.
This story is going to include a review of some of the food I sampled, as well as delving into the history of one of Jackson Heights intrepid small businesses. BQE Billiards and Bar was founded 25 years ago by four partners, two of whom remain involved in the business today. So get comfy as we begin by traveling back in time, to the not-so-ancient Greece of the 1960's.
One of the founding partners, Nick, told me that as a boy he used to keep a watch in a Grecian winemaker's vineyard. As he grew older he was given the responsibility for tending a flock of sheep on the hills of Greece. Around the time he became a legal adult, Nick talked to his father about leaving the small town he grew up in, to seek out places and opportunities where he might be able to make a better go of things. His father, while reluctant to see his son depart, understood the calling of the young man, and sent him on his way.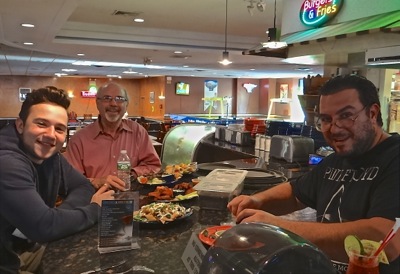 Nick sought work aboard a ship, the SS Andreas Panou. The ship ran into technical difficulties in the Greek port of Piraeus, so Nick and his crewmates were sent ashore to get a bite to eat, since the mess hall had no electricity. The foreman wanted the young lads to return before they had been able to get some food and they refused. The foreman and the Captain subsequently discharged Nick and his friend in October 1965.
Nick recalled how he sought and secured passage working aboard another ship. Less than six months later, in March of 1966, while on a transition in Vancouver, Canada; he noticed a newspaper written in Greek. Since he had not read anything in Greek for weeks, he bought the paper where he learned that the SS Andreas Panou had crashed off the coast of Spain.
In the photo at right, from left to right, are Andreas, Nick and Theo of BQE Billiards and Bar in Jackson Heights.
Click here to read the rest of our story about the history and the late night restaurant dining at BQE Blliards and Bar in Jackson Heights.
---
Columbus Day Parade in Astoria
Beautiful Day to Enjoy a Parade Along Steinway & 30th Streets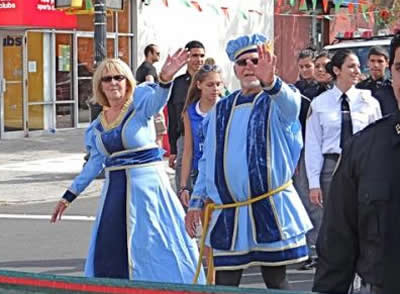 October 12, 2016 / Astoria Neighborhood / Holidays in Queens / Queens Buzz.
The 39th Annual Columbus Day Parade returned to Astoria last weekend. People lined the streets of Astoria to watch the parade which included a number of local Italian organizations including soccer groups, Italian clubs, school groups and floats.
A number of local government representatives also marched in the parade including NYC Councilman Constantinides, Assemblywoman Simotas and Senator Gianaris.
The weather cooperated, as it was in the 60's and sunny and dry. The parade commemorates Italian Christopher Columbus' discovery of America in 1492. And the parade was organized by the Astoria Chapter of the Federation of Italian Americans.
The photo above was taken in a prior year.
---
Sunnyside Shorts Film Festival Friday
Films Shorts from Queens & Around the World Describe a bit of the World Around Us
October 3, 2016 / Sunnyside Queens / Film Festivals in Queens / Queens Buzz.
On Friday and Saturday the Sunnyside Shorts Film Festival returns after going on hiatus in 2011. The films will be shown in the historic Sunnyside Reformed Church on 48th Street and Skillman Avenue in Sunnyside. We covered the festival in the past and you can find prior stories about it by clicking these links to the Sunnyside Shorts Film Festival in prior years.
History of Sunnyside Shorts Film Festivals in Queens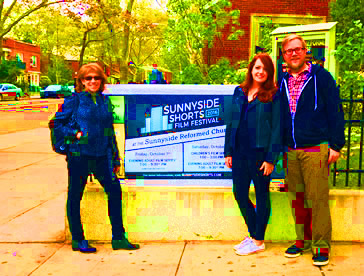 The first Sunnyside Shorts Film Festival was organized in 2001 by a visiting Japanese student at Hunter College. The Founder, Shinichi Murota, after running the first festival then returned Japan.
Theresa Ward & Sherry Gamlin were volunteers for the first festival and after the festival lied dormant for a few years, they decided to revive it in 2007. For five straight years the festival continued along with the help of another Sunnysider Susan Walsh - before going back on hiatus in 2011 when Sherry left Sunnyside to care for her mother. In the photo at right [from left to right] stand Sherry Gamlin along with Ashley and Bryan Brinkman in front of the Sunnyside Reformed Church where the Sunnyside Shorts Film Festival begins Friday.
Sherry's mother died in 2014 and a year later Sherry returned to Sunnyside which has been her home since 1975, and her Queens roots go back even further. Last Spring Sherry attended a concert at Sunnyside Reformed Church and she inadvertently found herself scouting out the church as a venue for the return of the festival. She spoke to Pastor Neil Margetson about the possibility of using the church as the film festival venue. Margetson liked the idea … and hence the Sunnyside Shorts Film Festival was born again.
Organizing Sunnyside Shorts Film Festival Queens 2016
Sherry told me that they had received 1255 film submissions from around the world, literally all six continents [none from Antarctica which is melting fast], citing films from South Africa, Zimbabwe, Latin America, Iran, India, Japan, China, Australia, Europe and North America / NYC / Queens. The photo at right is from the film Bionic Girl from France showing Friday night.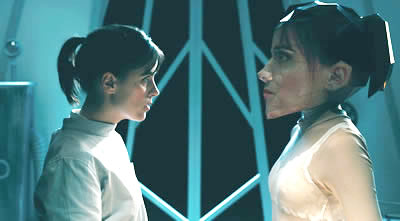 She received most of the submissions in May of 2016 and there were six people who reviewed the films including Bryan and Ashley Brinkman who had helped with the last Sunnyside Shorts Film Festival in 2011. Bryan Brinkman is a cartoonist animator for Jimmy Fallon and his wife Ashley Brinkman is a package designer for advertising company that does food products. Ashley did the poster [see photo below] and website, while Bryan helped review the films.
The four other reviewers were Kevin Keating, who Sherry described as a notorious film buff, Sandra Statner is an avid TV and old movies screener, Dr. Caryn Goldberg is a psychologist who regrets not going into stand-up comedy, and Matt Simnowitz was described as someone who knows everything there is to 'no' about filmmaking.
Screening the Films for Sunnyside Shorts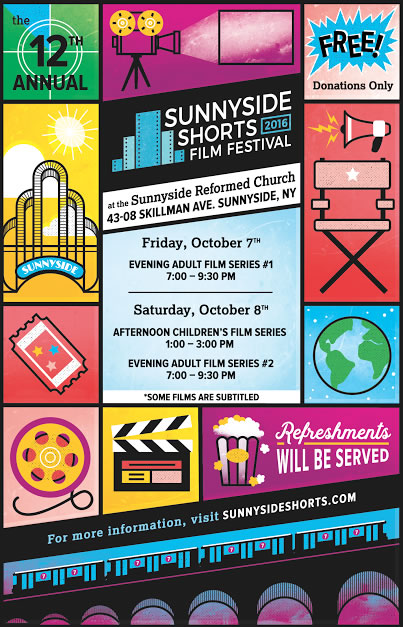 In reviewing the films, those that contained inappropriate content were quickly discarded, as were some that were just so bad. Sherry said the films allowed into the show were screened to be sure there wasn't anything demonic or distasteful. Sherry told me that she had inquired as to whether the Church guidelines would permit the showing of films with some cursing, and Pastor Margetson quipped, "I'm sure God has heard it all."
And while 1255 films sounds like a lot – which it is – they are short films, so 1 to 20 minutes in length means you can review 60 to 6 in the time it takes to watch one two-hour long film. What about themes I asked? "No themes" she said, "the festival is about nothing and it's about everything." There's drama, comedy, animation and documentaries. They are showing 13 films on Friday and 12 films on Saturday evenings beginning at 7 pm and showing 13 films for the kids on Saturday from 1 to 3 pm.
Why are you doing this, I asked. "Because I love all aspects of putting a film festival together" she replied.
Click here for a preview of many of the films that will be shown at the Sunnyside Shorts Film Festival this Friday and Saturday.
---
Floating Peace Lanterns
Harbor LAB Organizes Floating Peace Lantern Event on East River to Celebrate UN International Day of Peace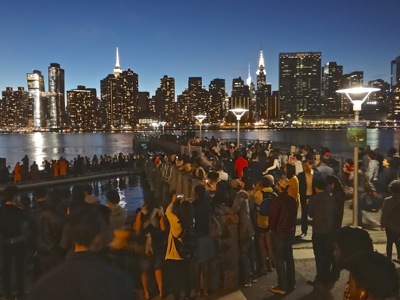 September 25, 2016 / LIC Neighborhood / Queens Social Events / Queens Buzz.
Last Sunday evening I made my way down to the East River waterfront in Gantry Park to observe a celebration of the UN International Day of Peace.
Harbor LAB [Learning / Adventure / Boating], an environmental educations non-profit whose activities center around East River & Newtown Creek kyaking and canoeing, had organized the event.
The celebration started in the afternoon along the East River waterfront at Gantry Park and lasted well into the evening. Activities began at 2.30 pm with public paddling of kyaks and canoes, while simultaneously there were meditations, yoga exercises and the preparing of the peace lanterns.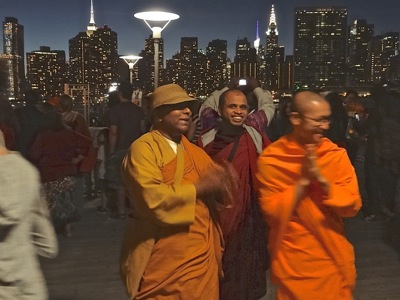 By sundown several speakers for interfaith and peace addressed the crowd before beginning the floating peace lanterns ceremony. The keynote speaker was Ambassador Anwarul K. Chowdhury High Representative for the United Nations, Retired UN Under-Secretary General.
The peace lantern event began with a drum beating by about a half dozen Buddhist monks dressed in traditional bright orange garb. Several hundreds lined up along the shoreline to observe the solemn ceremony and enjoy sunset along the East River.
The first such event was organized by Harbor Lab Founder Erik Bard in 2002. This year Harbor LAB organized the event in conjunction with the Buddhist Council of New York, and the Interfaith Center of New York, Global Movement for the Culture of Peace, and New York Office of Parks, Recreation and Historic Preservation.
---
MacKenzie Perpich-Hope is Crowned Miss Queens
Elegance & Grace Adorn the Stage at the Miss America Miss Queens / Miss Brooklyn Contests in Brooklyn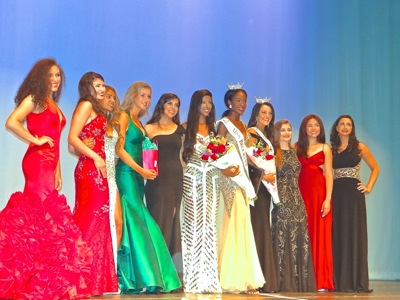 September 20, 2016 / Greenpoint Neighborhood in Brooklyn / Fashion Queens / Queens Neighborhoods / Queens Buzz.
Yes, it's true, MacKenzie Perpich-Hope was crowned Miss Queens and Britney Hollingsworth was crowned Miss Brooklyn in a twin-boroughs gala pageant of borough beauties. The two winners of the 3rd Annual Miss America Miss Queens / Miss Brooklyn were crowned Saturday night around 8 pm amid great enthusiasm.
As you can see in the photo shown at right there were a number of very lovely, charming young ladies all vying for the top spot - any of which I'm sure would have made the borough proud - but since there was only one crown per borough ... there were only two titleists.
We'll have more about the Miss Queens / Miss Brooklyn pageant a bit later tonight. And some breath-taking photos.
---
Update on the Steinway Mansion in Astoria Queens
Visionary Investor Makes Good on Development but Still no Announcement of his Plans for the Steinway Mansion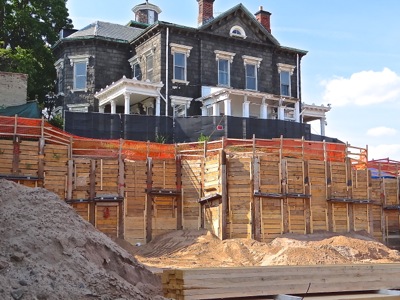 September 12, 2016 / Astoria Neighborhood / Astoria History / News Analysis & Opinion / Queens Buzz.
On May 3rd, 2014 the Halberian Family sold the Steinway Mansion to Steinway Mansion LLC for $2.65 million. In the two and a half years since, the new Steinway Mansion owner parceled the property into a eleven additional smaller lots and built eleven two story commercial buildings on each. We watched as the owner quietly developed the property, likely in line with his plans while making the investment.
Just over a year ago I visited the site and took some photos, which momentarily revealed the resplendent glory of the old mansion, overlooking the East River and distant Rikers Island and Bronx shores. The new owner had cut away most of what remained of the Steinway Mansion yard to make way for the new buildings at a height on a level with 42nd and 41st Streets. The construction site seemed well maintained and the historic mansion structure appeared to be treated respectfully both last year, and as I learned in my most recent trip, also since.
The photo above was taken in August of 2015.
Northern Ditmars Neighborhood Real Estate Development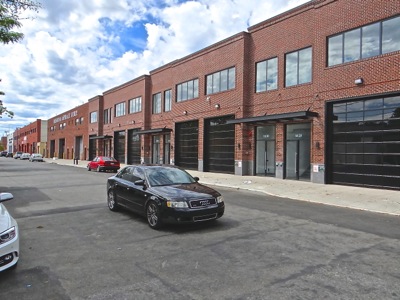 Last weekend I returned to the site to shoot photos and see what was happening. I came in along 42nd Street, and for a moment I wondered if I had gotten my coordinates wrong, as the street had been transformed. The emptiness on the street of the construction site of a year ago had been filled in with a number of spanking new buildings lined along the street with what appeared an exacting precision. The photo to your right shows roughly the same space in September 2016 as was shown in the August 2015 photo above.
A year ago, 42nd Street was an empty, slightly soiled, commercial industrial hub. But on my visit this year the street took on a wholly different appearance with the new buildings / storefronts. There were eight new buildings along 42nd Street, with red brick exteriors complemented by black trim and large floor-to-ceiling paned storefront windows, which I believe could also serve as garage doors. It almost seemed like these new edifices could as easily become art galleries, as manufacturing locales and / or storage facilities.
Click here to read the rest of our report about the Steinway Mansion real estate development in Northern Ditmars, Astoria.
---
Queens Library 'Scandal' - Where was the Beef?
Galante Seeks to Clear his Name as well as the Reputations of the Queens Library & Former Sacked Trustees
How Did Katz's, Stringer's & NY Daily News' Full Year of Accusations & Innuendo Fall So Far Short in Court?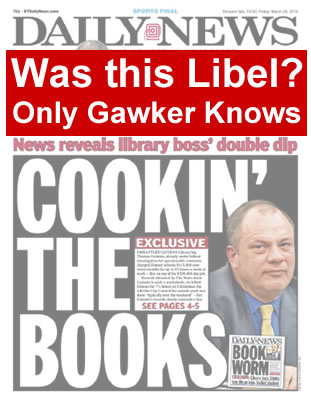 September 6, 2016 / Queens Neighborhoods / Queens Politics & Media / News Analysis & Opinion / Queens Buzz.
Throughout 2014, we witnessed Billionaire Mortimer Zuckerman's NY Daily News, NYC Comptroller Scott Stringer and Queens Borough President Melinda Katz publicly attack President Thomas Galante and the Board of Trustees of the Queens Library. They appeared to individually and collectively insinuate that there was unforgivable malfeasance going on at the Queens Library.
In late January of 2014, only a day after Juan Gonzales published an EXCLUSIVE muckraking story about the Queens Library President's renovations to his office, in Mortimer Zuckerman's NY Daily News, NYC Comptroller Scott Stringer announced an audit of the Queens Library.
Juan Gonzales included in the story what I believe was leaked CONFIDENTIAL INFORMATION of the Queens Library, such as the Queens Library President's salary and other confidential employment agreements. Former trustee(s) told me they believed that this information was leaked by Queens Borough President Melinda Katz's ex-Officio Board of Trustees representative on the board, in violation of their fiduciary obligation to the Queens Library [to date this is an unproven allegation].
Katz, Stringer & Zuckerman's NY Daily News Accusations - Appear to Damage Queens Library Reputation - with a Year Long Barrage of, as yet Unproven, Allegations
Queens Borough President Melinda Katz, NYC Comptroller Scott Stringer and Mortimer Zuckerman's NY Daily News then regaled us for the rest of the year [2014] with all kinds of incredible detail about alleged wrongdoing at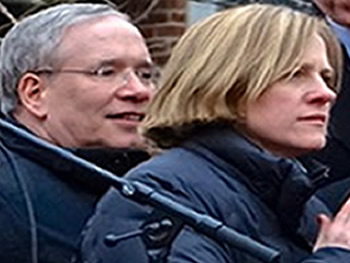 the Queens Library. Mortimer Zuckerman's NY Daily News published several editorials during the course of the year rousing Queens residents into a frenzy against Galante and the Queens Library trustees, while encouraging these two politicians / government officials to unleash their fury against the Queens Library President and Board of Trustees.
Queens Borough President Melinda Katz obliged by initiating legislation to change a state covenant with the library drafted by Andrew Carnegie over a century ago. Andrew Carnegie founded the library as part of his great philanthropic works. And NYC Comptroller Scott Stringer filed a lawsuit seeking complete access to the records of the private non-profit segment of the library, because he must not have found what he was looking for in the public portion representing 85% of the organizational budget. They appear to have done such a good job of damaging the reputation of the Queens Library, that in the following year [2015/ 2016] donations to the non-profit library fell by almost 40% or nearly $2 million.
Did NYC Comptroller Scott Stringer Break the Law & Slander Thomas Galante & the Former Queens Library Trustees?
NYC Comptroller Scott Stringer made a number of harsh statements during the course of the audit of the Queens Library alleging lies and theft. In a May 22, 2014 story published by the Queens Tribune, Stringer said,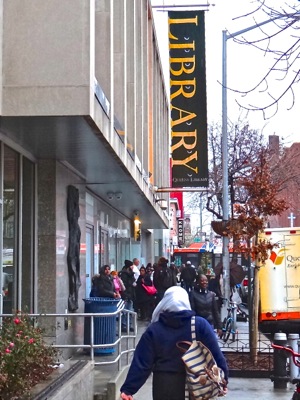 "For them [Queens Library Board of Trustees] to mislead the public and tell the public that they are, in fact, cooperating, is nothing more than a bold-faced lie."
In a July 8, 2015 story published in Newsday, Stringer charged Queens Library executives with using public funds as their
"personal piggy bank" ...
And later in the same story NYC Comptroller Scott Stringer says,
"As they were scaling back access to books, the Internet and vital programs and services, they were lining their own pockets."
These statements, if untrue, might constitute slander, particularly given the fact that many of the people NYC Comptroller Scott Stringer attacked are private citizens - not public officials like himself.
The title of his final audit report seems to negate his previously made assertions, as the title of the final NYC Comptroller's report is,
"REPORT OF THE COMPTROLLER'S INVESTIGATION INTO POSSIBLE MISCONDUCT REVEALED BY THE AUDIT OF THE QUEENS BOROUGH PUBLIC LIBRARY"
The operative word is possible and this is after likely one of the most intense, year and a half long audits, of any library in the city, ever.
NYC Comptroller Scott Stringer referred his findings to the IRS and other legal entities for follow up. This is following an investigation by the FBI, the NYC Department of Investigations, Scott Stringer's own office of the NYC Comptroller, and following the initiation of legislation by Queens Borough President Melinda Katz to change a 118 year old covenant between the Queens Library and the State of New York.
Lots of Smoke, but Still No Fire
As of this writing, nearly three years later, the allegations of wrongdoing by Thomas Galante have been all smoke and no fire.
So far, we've still heard nothing more than allegations and innuendo and possibly libelous and slanderous accusations by public officials and a billionaire NYC real estate developer's paper.
Under Galante the Queens Library was a Top Rated Library in the Nation with an Unblemished Financial Record
Each of the accusers rarely, if ever, mentioned that the Queens Library was considered by its peers to be one of the finest libraries in the nation. That the Queens Library had won national awards which confirmed the library's national standing. And the accusers never mentioned that in all the years that Thomas Galante had been President of the jeweled Queens Library, that it had been run fiscally responsibly with a balanced budget and never a hint of scandal ... until they came along, in their newly elected positions, ALLEGING one.
The accusers accounts did not jibe with what I personally knew about the Queens Library, so I set about drafting an alternative narrative to what appeared to be biased accounts provided by Juan Gonzales and other writers of Mortimer Zuckerman's NY Daily News.
Court Rules Against Accusers Katz & Stringer - but You'd Never Know it by Reading Mortimer Zuckerman's NY Daily News
On August 31, 2016, in the ruling of United States District Judge Allyne R. Ross, Thomas Galante got a first taste of what seemed to be a fair hearing. Judge Ross' ruling requires the Queens Library to pay Thomas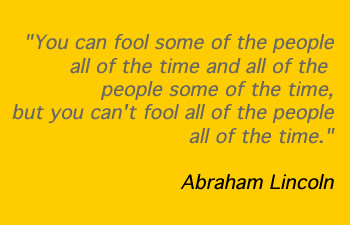 Galante's legal fees to defend himself against accusations by the Queens Library regarding his stewardship of the non-profit.
The newly reconstituted Queens Library Board of Trustees had filed a suit against Galante after he had filed a wrongful termination lawsuit against the library. One might interpret this as an intimidation tactic by the newly reconstituted Queens Library, as legal fees are very expensive and it will cost Galante hundreds of thousands (if not more) to enforce his rights. Galante will have to reimburse the Queens Library if the Queens Library's assertions against him hold up in court.
I wonder if the current members of the Queens Library Board of Trustees have to meet the same standard, in order to have the library pay for their legal fees.
It's worth mentioning that Mortimer Zuckerman's NY Daily News took the lead in most or all of the stories to date about the Queens Library - crafting the storyline narrative about Queens Library 'corruption'. And yet, when I did a search for award-winning journalist Juan Gonzales' & Mortimer Zuckerman's NY Daily News follow on story announcing Thomas Galante's recent court victory against Katz's & Stringer's Queens Library - there was none to be found. This sort of information omission / biased reporting by one of NYC's three daily newspapers is more akin to self-serving propaganda than American journalism.
If Galante Succeeds He Will Clear Not Only His Own Name, but also the Queens Library's & its Former Trustees'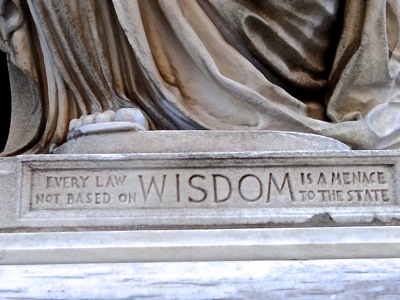 If Galante succeeds in clearing his own name, he will also succeed in restoring the stellar reputation of the Queens Library and the reputations of the former trustees sacked by current Queens Borough President Melinda Katz.
Did the Queens Library Reform Act Enable Pols to Morph the Queens Library into a Political Patronage Parking Lot?
It's also worth mentioning that a couple of years ago interested observers expressed concern that the Queens Library would be morphed into a Political Patronage Parking Palace for under-employed or unemployed party apparatchiks. It's been just over two years since Governor Andrew Cuomo signed the Katz-inspired legislation, entitled the Queens Library Reform Act, and it appears that this may already be happening.
Earlier this year, Queens Borough President Melinda Katz's newly reconstituted Board of Trustees appointed former NYC Schools Chancellor, Dennis Walcott, as the Queens Library President. Based on my research into Dennis Walcott's background, it appears that he has no formal higher education in library science, nor does he have any professional experience in it.
Quelle suprise.
Click here to view our complete coverage of the Queens Library 'corruption & scandals' accusing Thomas Galante of wrongdoing.
---
Panorama Music Fest on Randalls Island
Three Day Musical Festival Strikes a Grammy Chord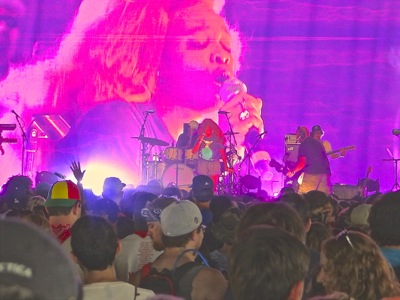 July 25, 2016 / Randall's Island near Queens / Music in Queens / Queens Buzz.
I attended the Panorama Music Festival on Randall's Island this past weekend. The music festival featured dozens of top and second tier bands and musicians with the event starting Friday and ending Sunday night. Some of the music festival headliners included award winning groups like Kendrick, Alabama Shakes and the return of LCD after a ten year hiatus. Panorama also featured a number of other highly regarded, well known groups - many of which are likely to continue gaining recognition.
In the photo at right, vocalist Sza, is performing in the Pavilion at the Panorama Music Festival on Randalls Island on Sunday.
The weather over weekend was a very seasonal hot, with temperatures hitting nearly 100 on Saturday [high 98], before descending into the low 90's on Sunday. But the island breeze coming across the East River on Randall's Island and not-too-high humidity, made strolling around the event campus not only doable, but enjoyable. There was also a public water station where you could refill your water bottle [free] and there was ample shade within the tree filled park.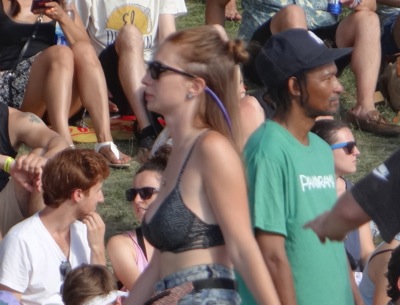 The crowd dressed for Panorama to beat the heat, more than anything else. This translated into a near beach-like scene for people-watching, with many youthful men and women enjoying the glow of their Adonis-like years. In 1992 there was a gender equality lawsuit, which contested women's right to go topless without being arrested - a right men enjoyed in this country since its founding. More than a decade later, in 2015, panhandlers in Times Square began asserting that right by painting their bare breasts with American flags and other designs, while soliciting tips from resident and tourist passers-by, for the pleasure of viewing them. These 'performance artists' were nicknamed the 'Desnudas'.
NYS and NYC Government officials found a way to reign in this practice - as it was creating quite a stir - by confining the solicitations to specified areas within the Times Square Plaza. Fast forward to 2016 and things continue to evolve, with women now wearing swimsuit / lingerie-like tops as fashion statements, some of which were on display at the Panorama Music Festival.
In the photo at right, a woman sports a fashionable swimsuit / lingerie-like top, at the Panorama Music Festival on Randall's Island.
We'll have a bit more later this summer, including video and a discussion of some of the art on exhibit at the Panorama Music Festival on Randall's Island in NYC.
---
Marty's Museum & Camera Repair Shop
Marty's been Helping Folks take Pictures & Videos for Decades
October 4, 2016 - MARTY'S CAMERA APPEARS TO HAVE CLOSED. The telephone number has been temporarily disconnected.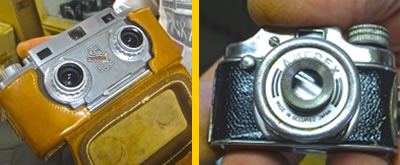 July 19, 2016 / Forest Hills Neighborhood / Queens Shopping / Queens Buzz.
I headed down to Marty's Camera a couple of weeks ago, with a camera that wasn't working well. I bounded up to the second floor shop and was greeted by a saleswoman who queried me about the problem while writing up a ticket. As she took the photographic patient into the operating room, she told me to call back at the end of the day to find out when to return to pick it up.
I did as instructed and returned the following day. When I arrived at the repair shop, Marty emerged from the operating room having successfully completed surgery on the photographic patient. We started talking about the problem [I dropped the camera and it wasn't focusing properly] and the conversation meandered onto the changing technologies in the image capturing business.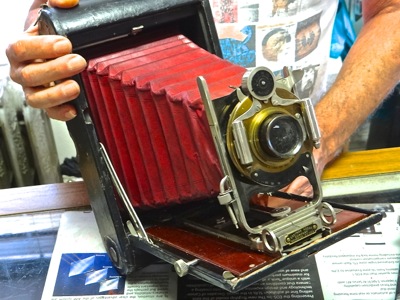 Marty told me that cameras were once mechanical miracles fullof delicate springs and levers, and today are even more miraculous, less delicate and full of a multitude of computer chip components and assemblages. The camera surgeon was tired that day, and said he'd like to give his brain a rest, so the conversation moved onto the history of cameras themselves.
I asked him about some of the more interesting cameras with which he'd comeinto contact. Marty wasn't at a loss when it came to camera history, and soon produced a Japanese made camera that contained the inscription "Made in Occupied Japan". He had another camera from the 1950's that was a 'stereo camera', which would take two photos simultaneously. I asked him if there were many of these made and he guessed that these weren't a big hit and might not have been in the market very long.
Marty had a collection of cameras, the prizes he cherished were the cameras made in New York. Possibly the crème de la crème was a1909 camera made in Rochester, New York that came in a dark black case and opened up with a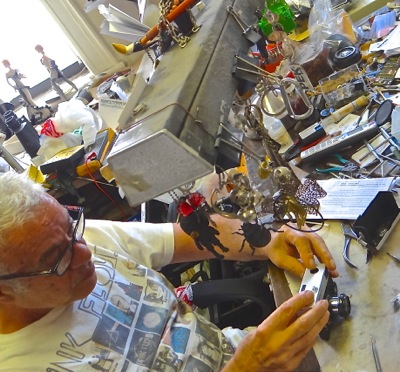 flashy, red-colored, old-fashioned funnel. It was likely state of the art over a century ago. I began to think of Marty's shop as something of a camera museum and Marty as its curator.
The conversation rolled onto the photographers and videographers and film makers Marty had met over the years. A number of photographers had given Marty samples of their work which he put on display in the waiting room of his office. Marty had started out in the late 1960's / early 1970's as a photographer himself, before become a camera doctor in 1973. He spent decades working in camera repair in Manhattan before leaving Photo Tech Manhattan in 1999, when he started out on his own in Forest Hills in the basement of a building across the street. He moved into the offices he now occupies over a decade ago and he continues to serve struggling, emerging and hobbyist photographers and filmmakers.
I knew as I was departing, that Marty had many more stories to tell. And although I don't want my cameras to break, I always look forward to visiting Marty in his camera repair shop which is located on the 2nd floor of 71-25 Austin Street in Forest Hills [just off the #7 subway].
---
Jamaica Just My Style Fashion Show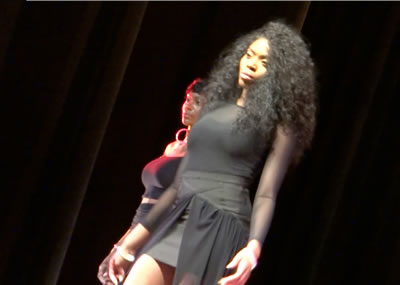 June 28, 2016 / Jamaica Neighborhood / Queens Fashion / Queens Buzz.
The following was a video shot at the Jamaica Just My Style Fashion Show on June 18th.
We had to pull the video because of copyright issues related to recording the music used in the show.
The show included a number of attractive models - of both genders who sported the clothing sold by Jamaica Avenue retailers, as well as designed by some of Queens own fashion designers.
Although Queens is not yet known as a fashion capital, it is the home to a number of up-and-coming fashion designers and models. Cazal eyewear is just one example of a raised in Queens fashion brand.
We'll have the full story later this summer.
---
Only in Queens
Muslims & Jews Organize Iftar Ramadan Dinner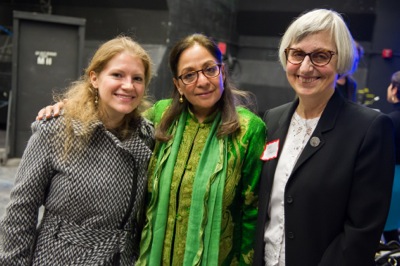 June 7, 2016 / Forest Hills Neighborhood / Religion & Culture in Queens / Queens Buzz.
Only in Queens. On Thursday June 9th, the Turkish Cultural Center and the Central Queens Y will break bread together at an Iftar Ramadan dinner beginning at sundown [7.30 pm] at the Central Queens Y at 67-09 108th Street in Forest Hills.
Ramadan is the ninth month of the Muslim year and the holiest month of the Islamic year. During this time Muslims pay special attention to praying, fasting and reflecting upon their lives. The Islamic Holy Month has similarities to the Christian Lenten season, as well as the Judaic Day of Atonement, Yom Kippur.
Islamic cultural traditions are based upon the lunar calendar, so the Ramadan Holy Month moves slightly around the solar calendar, from year to year. This year Ramadan began on June 5th and will end on July 5th. Attendees of all faiths are welcomed, as are families. The intent is to embrace a harmonious understanding of our shared planetary cultural identities, which the framers of the U.S. Constitution had envisioned centuries ago when they founded this nation.
The Iftar Dinner will be a dairy Middle Eastern meal catered by Meal Mart from Kew Gardens Hills. Meal Mart is Glatt Kosher and is under the supervision of the Vaad Harabonim of Queens. The meal costs $15 per adult and children under 12 are $5 each. Reservations may be made by registering online at www.cqy.org/tickets or you can call 718.268.5011 - ext 151, or email pkurtz@cqy.org.
---
---
---
The Garden School Jackson Heights - Private Schools in Queens
Cultivating Character at the Garden School
Jackson Heights Garden School Evolves with Community
July 17, 2016 / Jackson Heights / Schools in Queens / Queens Buzz.
This Spring I spent some time becoming better acquainted with the Garden School in Jackson Heights. The Garden School is a private,non-profit, neighborhood school that primarily serves the Jackson Heights and Queens community- and which has begun to pursue the growth in interest from the nearby boroughs of Manhattan and Brooklyn.
What makes the Garden School unique? The answer to that question is quite possibly as long, as the history of the school itself.
One of the first aspects of the school uniqueness I discovered, stood squarely in the midst of a photograph of its Founding Fathers of 1923. It turns out that Edward MacDougall, the Founder of the Queensboro Corporation, was one of the leading forces behind the creation of the Garden School. The Queensboro Corporation was the leading and largest real estate developer of the Jackson Heights neighborhood nearly a century ago.
In addition to investing in the erection of some of the highest quality residential buildings in all of Queens - and for that matter all of New York City - the Queensboro Corporation alsoinvested in developing the human infrastructure of the Jackson Heights community through the creation of the Garden School.
The photo at right was taken of a theatrical production, in the early days of the Garden School, in the playground thatlies adjacent to the school. This playground recently served a pivotal role in the Garden School history, and has emerged as an opportunity for both the school and the community to come into even more harmonious goal alignment.
Today, nearly a century later, the vision and the quality of a Garden School education endures. In some manner, one might say that the quality of a Garden School education has withstood the passage of time, as well as the high quality construction of the pre-war buildings of the Jackson Heights neighborhood. The high quality of the historic buildings in the Jackson Heights neighborhood remains head and shoulders above the construction quality of most of the other buildings of that time - and likely by an even a larger margin - way ahead of the quality of the glass and steel skyscrapers being erected today.
In some similar measure, the Garden School has maintained a standard of educational value that compares well with its public and private school peers. Amidst all of the turmoil surrounding the efficacy of the public school system, and when measured in value against the soaring costs of a private school education, the Garden School has thrived, survived and is beginning to grow again.
To be sure, nearly a century ago - the schools, the buildings and the real estate developers were different than they are today, which we will see as we journey back into the past, and return to the present, of the Garden School in Jackson Heights, Queens.
Click here to read the rest of our story about the Garden School in Jackson Heights, one of the oldest & most prestigious private schools in Queens.
---
---
Astoria International Cultural Festival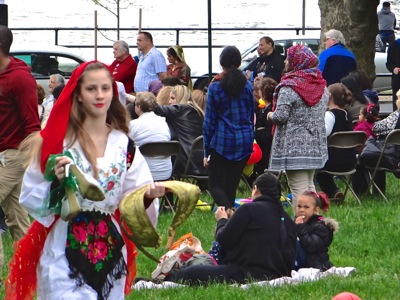 May 31, 2016 / Astoria Neighborhood / Ethnic Culture in Queens / Queens Buzz.
On Saturday May 21st from 1.30 until past 6 pm, there was a series of cultural performances held on the Great Lawn of Astoria Park. The event was hosted by the Central Astoria Local Development Coalition [CALDC] to showcase the multi-ethnicity of tne neighborhood.
Nearly a dozen local cultural groups performed, including Ballet Los Pampas representing Argentina, KUD Halaturko representing Bosnia, Croatian Franciscan Fathers Youth Club, Ayazamana Cultural Center representing Ecuador, Cretan Association representing Greece, NYC Bhangra representing India, McManus School of Irish Dance, The Braata Folk Singers representing the Caribbean / Jamaica, and the Korean Traditional Music and Dance Center.
There was a crowd that numbered in the hundreds over the course of the afternoon. Many brought lawn chairs and blankets to sit upon while they watched the show. The weather cooperated as the temperature was in the 60's and while at times cloudy, it was dry.
Several food vendors came out to augment the cultural celebration, now in its second year. As I came late in the afternoon, I had missed the prime time of that part of the event. In the photo at right you can see one of the performers walking up the Astoria Park Great Lawn after her performance.
Click here for a brief video of some of the 2016 International Culture Festival in Astoria Park.
---
---
5th Annual Queens Fashion Show
Jamaica Just My Style Hits the Runway Saturday 6/18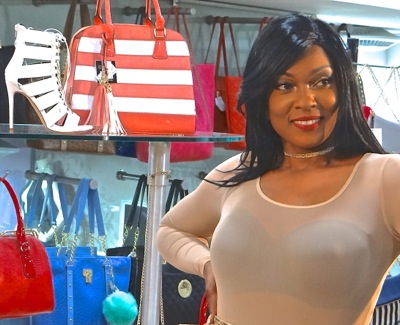 June 13, 2016 / Jamaica Neighborhood / Queens Fashion & Style / Queens Buzz.
The 5th Annual Jamaica Just My Style Fashion Show arrives Saturday at the Jamaica Performing Arts Center. Mrs. Queens, Nadine Grisby, will be headlining the event, which showcases local Jamaica and Queens designers, models and retailers.
I had an opportunity to get a small preview of some of the glitz and glamour in early May when the Jamaica Center BID [Business Improvement District] held a photo shoot at Pretty Women and Hotpoint Fashions, two leading women's clothing stores located along Jamaica Avenue near 165th Street.
It was a cool Spring day as I made my way to the photo shoot. The first photos were to be taken in the upstairs of Pretty Women, which is located in a large, spacious early 20th century store located along Jamaica Avenue just west of 165th Street.
Fashion Photo Shoot on the Ave - Mrs. Queens at Pretty Women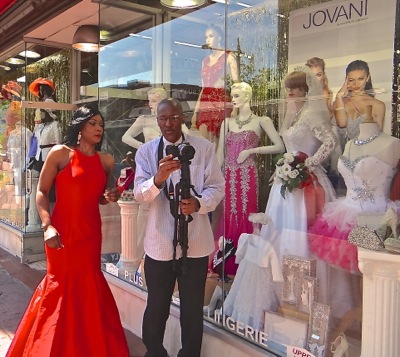 I walked up the steel framed staircase, appreciating the vintage beauty of the old department store. As I walked out onto the second story floor, the nearly century old wooden floorboards announced my presence. The flooboards provided an ever-so-soft reassuring cushion, like an old fashioned gymnasium allowing me to glide along toward the center of the store where Mrs. Queens, Nadine Grisby, was being photographed by Teddy Wilson. Jamaica Center Director of Business Services and Operations, Valerie Stevens, was also there facilitating the entire photographic event.
I joined in the festivities, photographing Nadine, as she danced and showered us with her theatrical persona. Pretty Women had arranged to have a few formals photographed for the shoot. In between the posing, while Mrs. Queens was changing outfits, I took a few photos of the store, which I've included in the video below.
Before departing I was introduced to Bert Salih, who has been operating the Pretty Women clothing store for 22 years on Jamaica Avenue. Pretty Women moved into this building only two years ago and has filled it with women's formals and evening wear for weddings, formals, proms and Quinsera, in sizes ranging from 2 to 24 and in names brands including Jovani, Colours, Serendipity and Mary's Bridal of Texas. He went on to tell me that this was the first time he had decided to participate in the Jamaica Just My Style Fashion Show, but that he was very excited to do so.
Click here to read the rest of the story about the Jamaica Just My Style Fashion Show in Queens, including links to prior years coverage, a video of some of the photo shoot, an interesting tale about Mrs. Queens and a link to free tickets to the show on Saturday.
---
---
Taste of Sunnyside 2016 Photos & Video
Serving Sunnyside a Taste
Neighborhood Businesses Provide Samplings of Beverages & Cuisine
May 24, 2016 / Sunnyside Neighborhood / Queens Food & Wine / Queens Buzz.
Lowerys Wine & Liquor Prepares for Taste of Sunnyside 2016
On Tuesday afternoon on my way home from a gig, I found myself stopping in at Lowerys Wine & Liquors for a brief hello. Lowerys has long been an institution serving the Sunnyside community, and I found Owner Anthony Lodati and Manager Janet Rios hard at work, preparing for the 7th Annual Taste of Sunnyside, which was to be held later in the day.
Along the casked walls there was an ample selection of wines, and I found Anthony moving about the store like a sommelier in pursuit of a mix of wines for the evening. Meanwhile, back in the office and staging area, I found Janet preparing party favors for the event, which were to be gifted at half-hour intervals, during the Annual Sunnyside Taste 2016.
As they were both pre-occupied, I shot a few photos and continued my journey home.
Later that afternoon, I headed over to the Taste of Sunnyside, for a few nibbles and sips. This year the Taste of Sunnyside featured seven beverage companies and 25 Sunnyside restaurants.
7th Taste of Sunnyside 2016 in Photos & Video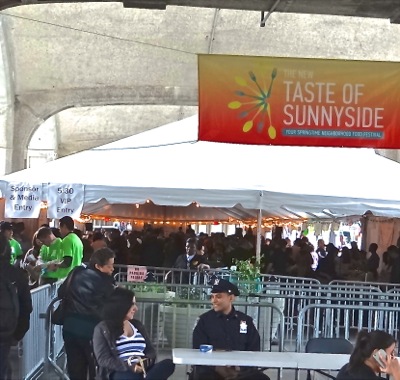 The Taste of Sunnyside 2016 is in its 7th year, the first of which started at Queens Boulevard and 39th Street in 2010. The intent of the Taste of Sunnyside event is to raise awareness of some of the restaurants and beverage companies serving the neighborhood, while simultaneously raising funds for the Sunnyside Shines Business Improvement District [BID].
The Sunnyside Shines BID's mission is to promote a specified commercial district of the neighborhood running from about 50th Street down to about 38th Street along Queens Blvd and the eastern section of Greenpoint Avenue through a combination of area maintenance and business enhancement services.
Click here to read the rest of the story about the Taste of Sunnyside 2016 with photos & video.
---
Click here for things to do on the Upper East Side UES, or things to do in Midtown NYC, or things to do in the East Village and here for Whitestone hair salons.
---
---
Corona History Comes Alive
Queens Authors Revive Over a Century of Vanishing History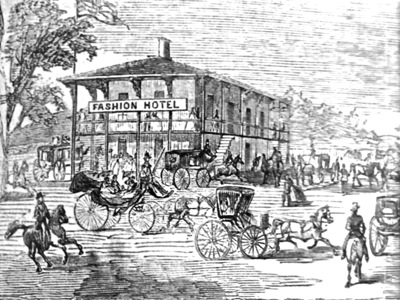 May 16, 2016 / Corona Neighborhood / Queens Historical Society in Bayside / Queens Buzz.
I spent an evening at the Bayside Historical Society at Fort Totten listening to two Queens historians recount the glorious past of what is now known as the Corona neighborhood. Historians Jason Antos and Constantine Theodosiou teamed up to research what I'd call 'ancient' Corona, which recounts the history of Corona prior to the first Worlds Fair in 1939.
The photo to your right is a print of The Fashion Hotel, which was adjacent to the Corona Race Track, on a race day.
The history was far more interesting than I had expected, as I had preconceptions that the history of Corona had been told in prior works about Jackson Heights and Flushing. But the two intrepid historians, whose ethnic affiliation dates back to Thucydides, one of the first great historians of the western world, unearthed a treasure trove of historical lore which brought the neighborhood back to life, as an entity in its own right.
Among their findings was the tale of Tiffanys, Typhoid Mary, homestead mansions, early country and suburban living, and what I came to think of as the forerunners of the Belmont and Aqueduct Race Tracks. There is also a section about an early modern Corona real estate development, which had a character and quality very different from what was going on in neighboring Jackson Heights.
The two authors will be presenting their book at the Queens Historical Society this coming Sunday, May 22nd from 2.30 to 4.30 pm where they will also be signing books.
---
Who's Behind NY Post's Media Hazing of Mayor?
Will Billionaire Rupert Murdoch Profit from NY POST's Attack Stories?
Updated May 13, 2016 / Manhattan Neighborhoods / Manhattan Politics / News Analysis & Opinion / Gotham Buzz.
The NY Post's incredible barrage of attack stories on NYC Mayor de Blasio this past month led us to believe that something was amiss.
Is the NY Post Disinforming the Public?
After a month of a barrage of negative attack (ads?) stories regarding the Mayor's campaign funding, someone reading the NY Post might come away believing that Mayor de Blasio had already been convicted of numerous counts of breaking the law. As you will see later in this story, this would not be the first time the Murdoch organization's audience was not uninformed - but rather disinformed.
That said, if they read a newspaper that generally conforms to the professional standards of American journalism, like the New York Times, they would know that,
"It is not clear how direct a role, if any, the mayor played in some of these matters." - NYT April 29, 2016
Infomercials Presented as News?
Given that some of what Murdoch's organization [includes NY Post, Fox News, the Wall Street Journal and hundred(s) more properties] publishes and broadcasts appears to make significant departures from the American professional standards of journalism - one has to wonder if Murdoch's organization hasn't found a way to skirt campaign finance laws - as some of their 'news reporting' looks more like long-winded political infomercials.
Just Because They Say it's So, Doesn't Mean it's So
The NYS Board of Elections says,
"Independent Expenditures Do Not Include Expenditures in Connection with... A written news story, commentary, or editorial or a news story, commentary, or editorial distributed through the facilities of any broadcasting station, cable or satellite, unless such publication or facilities are owned or controlled by any political party, political committee or candidate ..."
Has Murdoch's organization found a way to skirt campaign finance laws by making huge, undisclosed, payment-in-kind, independent media expenditures to support or attack political candidates and push an issue agenda by running infomercials as news stories?
Does this practice enable the Murdoch organization to become the STRING PULLER, who makes their candidates POLITICAL PUPPETS?
Rupert's NY Post Goes After Mayor like Rabid Dog
There were 80 stories published about the Mayor by Billionaire Media Mogul Keith Rupert Murdoch's NY Post in the first 24 days of April.
That's more than three stories per day - and not a single one was positive [a few were neutral]. The stories were authored by 20 reporters, some of whom shared the bylines. This is the equivalent of having the entire editorial staff of a medium-sized daily newspaper, working full time on publishing stories about just one government official.
I'm pretty sure that the Washington Post didn't dedicate this kind of resource to covering the Nixon Watergate scandal in the early 1970's. It seems like overkill, which is generally indicative that something is not right.
I say not right because it has been my experience that this kind of overzealous attack oftentimes reflects more upon the prosecutor than the prosecuted.
Abusive, Power-Hungry Media Moguls in Film - 1941 & 1997
What I found while working on this story had some parallels to the 1997 James Bond movie, Tomorrow Never Dies. In the movie, Eliot Carver is the Media Mogul, and he uses his presses and TV stations to hype a war between China and Britain. In 2002 the NYT did a piece which they entitled 'Mr. Murdoch's War' which was about Murdoch's urging the U.S. and Britain to go to war in Iraq, which we'll have more about later in this story.
During my research a character profile of Billionaire Murdoch began to emerge that was something right out of the film Citizen Kane, who was portrayed by Orson Welles in 1941. It's interesting to note that 1941 was the same year that the FCC capped TV media ownership by a single person / entity at 35%. And this FCC ownership limit was overturned, some say because of Media Mogul Rupert Murdoch, and this will also be covered in more detail a bit later in this story.
The image to your right shows a page out of The Guardian, one of Britain's most respected newspapers, about the culture of Billionaire Media Mogul Keith Rupert Murdoch's organization.
Consider The Source
I. Criminal Acts: Murdoch Declared 'Unfit'
In 2012, only four short years ago, Billionaire Media Mogul Keith Rupert Murdoch was declared "Not a Fit Person" to lead his company by a British public official who led a commission that investigated the criminal operations conducted by people working for Billionaire Mogul Murdoch's media empire.
Click Link & Scroll down for rest of story & Video
Murdoch's NY Post appears to be used as propaganda machine working to oust the NYC Mayor
---
---
Grand Central Atelier: Artists in our Midst
Classical Drawing, Painting & Sculpture Studios Participate in LICAO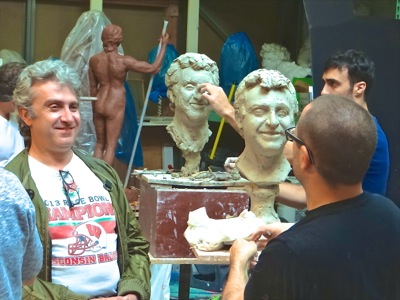 May 23, 2016 / LIC Neighborhood / Arts in Queens / Queens Buzz.
The 6th Annual LIC Arts Open [LICAO] ended yesterday evening. While the weather on Saturday was mixed, Sunday seemed to make up for it. The mission of the LICAO program is to provide a venue for local artists to showcase their studios and works.
A local writer and playwright, Joy Tomasko, has been involved with the Grand Central Atelier for a number of years. I first met her while attending a performance of a theatrical production of hers at the LaGuardia Performing Arts Center, where she was the Playwright in Residence at the time.
I found the play, entitled Surrender, to be deeply philosophical. It was an audience interactive production, which took us on a multi-dimensional journey - so when Joy announced she was doing an interactive art exhibit at Grand Central Atelier during the LIC Arts Open Weekend - I decided to check it out.
In the photo at right are sculptors at Grand Central Atelier creating a bust of an unknown man, who thousands of years from now, will become famous by virtue of the plentitude of busts depicting his personage.
We'll have more on this event later this summer.
---
Which Queens 'Democratic' Pols Support $8 Tolls?
Several Queens Officials Support $8 Tolls on Queensborough & Other East River Bridges & at 60th Street to Raise Capital for the MTA
Queens Democratic Party Chairman Joe Crowley & NYS Governor Cuomo Supported Congestion Traffic Pricing in the Past
March 29, 2016 / Queens Neighborhoods / Queens Politics / News Analysis & Opinion / Queens Buzz.

The new Congestion Traffic Pricing Plan has been making its way into the legislative process over the past year. Just last week NYS Assemblyman Robert Rodriguez, a Democrat from Manhattan introduced the bill on March 23, 2016. The Move NY Congestion Traffic Pricing Plan is being sold into the legislature as a means to raise revenue to fund MTA Capital projects.
Currently NYS Senator Jose Peralta, Cuomo's Deputy of Legislative Affairs Mark Weprin & CCM's Van Bramer, Richards & Reynoso publicly support installing $8 tolls on the Queensborough & other East River bridges to raise capital for the MTA.
Governor Cuomo's Words Are ...
Governor Andrew Cuomo supported the Congestion Pricing Plan put forth years ago, which wasn't popular with many of the voters in Brooklyn & Queens. The two boroughs have a combined population which rounds to 5 million or 25% of the 20 million people who live in New York State.
Cuomo was quoted as making the following statement by the Observer in an article published a year ago on March 15, 2015,
"It's not, 'Can I support it?' Will the people support it? Can you get it done? Can you get a congestion plan passed and we've gone through this a couple of times and it was an overwhelming 'no' and I haven't seen anything happen that would change my opinion,"

The Governor has essentially been repeating this position publicly ever since.
Inconsistent with Governor Cuomo's Staff Actions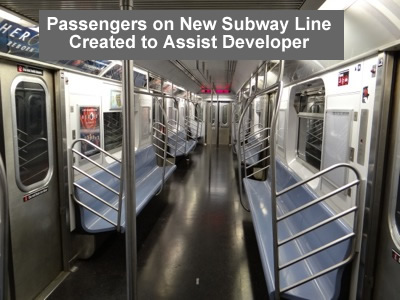 But while the Governor is publicly distancing himself from the measure which is unpopular in Queens and Brooklyn, former NY City Councilmember Mark Weprin, who is now Cuomo's Deputy of Legislative Affairs, has supported the Move NY Congestion Traffic Pricing Plan.
Weprin vehemently oppposed Congestion Traffic Pricing in 2008 when he was a NY City Councilmember, but in 2015 Weprin began publicly supporting the revised Congestion Traffic Pricing Plan as he transitioned from NY City Councilmember to becoming Cuomo's Deputy of Legislative Affairs. NYS Assemblyman David Weprin, Mark's brother, continues to publicly oppose the plan.
It's worth mentioning that the Weprins and the Cuomos have had close family political ties spanning two generations.
Congressman Crowley's Position Circa 2007
Queens Democratic Party Chairman, U.S. Congressman Joseph Crowley, supported the Congestion Traffic Pricing Plan backed by former Mayor Bloomberg, according to a June 11, 2007 report by the New York Times which quoted Crowley as saying,
"the overall [2007] plan — and congestion pricing is just a part of it — will make this a more livable city and make it easier to attract the best and the brightest not only from around the country but from around the world."
We've not yet seen any comments by Congressman Crowley on the current Move NY Plan which was recently introduced.
Move NY's 'New & Improved' Congestion Traffic Pricing Plan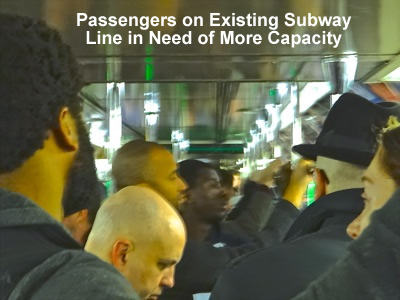 We studied the Move NY Traffic Congestion Pricing proposal by first taking a closer look at what groups are pushing the plan [follow the money]. Gridlock Sam Schwartz Consulting LLC is one of the primary promoters of the plan, and the consulting company is owned in part by a large, multi-national, transit infrastructure contractor. We also evaluated the assumptions they used to create the estimates provided in the plan, which we found to be inconsistent with fairly recent independent studies by respectable institutions, and we also looked at what happened in one of the other cities around the world that implemented the plan.
In essence the plan retrofits [re-prices] the fossil fuel infrastructure, by making a significant investment to install and operate tolling around the center of Manhattan. The remaining proceeds would then go to fund other MTA capital projects [in London this was about half the proceeds]. The pricing would require those who can't afford the $8 tolls [each way] to either use mass transit [recent NYC metro studies have shown this switching doesn't happen] or to cross the bridge at other times at which time the tolls would cost less. The proponents say this would enable those who can afford the tolls to cross the East River bridges and 60th Street more quickly and move around mid Manhattan more easily [less traffic congestion with the rest of the community priced out of their way]. How 'democratic' is this?
Previously MTA Invests Billion$ in New Subways Appearing to Accommodate Billionaire Manhattan Developer(s) & Now Pols Want Metro Residents & Employees to Fund a System to Toll Tax Them to Fund MTA Capital Budget
The MTA during the Bloomberg (Republican) Administration made approximately $8 billion in MTA capital investments for about 30 to 40 blocks of Manhattan subway lines. One line travels from Times Square to the Javits Center [$2.4 billion mostly paid by city] and the other, which was strongly supported by NYC Comptroller Scott Stringer, is expected to travel along Second Avenue from
about East 60th Street to about East 86th Street when it is completed [ran way past budget and time estimates - currently about $5.2 billion].
The latter subway line has been called the 'subway to nowhere', while the other isn't much different - as it terminates at the Javits Center and billionaire real estate developer Steven Ross' & Related Companies' new Hudson Yards development - without any other subway connections. Pundits have opined that one [new #7 Hudson Yards station] and possibly both of these multi-billion dollar investments were made to accommodate Manhattan real estate developers [such as Ross], more than to facilitate transit for commuters and residents of New York City.
When I confronted an MTA spokesperson with this perspective, they told me that the Q line extension would alleviate a considerable amount of the congestion on the north / south east side Manhattan subway line, but made no comment regarding the Hudson Yards station.
The photos above show no passengers on the Javits subway [at an admittedly random time and not long after it was installed], while the second photo shows the #6 subway along the Upper East Side, also at a random time [I have #7 photos that look the same, but didn't have time to find one]. The map to your right shows the new #7 subway line extension ending as an unconnected spur.
Perhaps if the MTA and the government officals who oversee MTA capital project spending were more judicious in their selection of multi-billion dollar projects and allocation of funds, they wouldn't need to make a huge investment of the public's money in the creation and operation of an expensive new tolling system which they plan to use to charge taxpayers $8 tolls to cross 60th Street and the East River Bridges.
This plan essentially aids the wealthy by making their lives easier, while economically discriminating against those with less wherewithal, by making their lives harder. This doesn't strike me as a solution that's 'democratic' at all. There must be less costly, more fair ways to raise additional revenue for transit that NYC commuters - not Manhattan real estate developers - really need.
CLICK HERE TO SCAN / READ THE FULL REPORT on the Move NY Congestion Traffic Pricing Plan.
---
---
Jamaica Jerk Festival Photos - Caribbean Cuisine in Queens
Jamaican Jerk Festival
Afro Caribbean Cultural Event In Queens
July / Jamaica Neighborhood / Ethnic Food in Queens / Queens Buzz. It was a warm, dry, sunny Sunday, as I made my way into Roy Wilkins Park in Jamaica. Today was the 2nd annual Jamaican Jerk Festival, that I'd been waiting in anticipation for over the past few weeks. The Jamaican Jerk Festival is a combination reggae concert and food festival.
I entered through the gates of Roy Wilkins Park in the southern Jamaica neightborhood of Queens, as a slight breeze willowed its way through the trees and crowd. There were retail vendor tents to my left, with displays of vibrantly colored clothing and fashion jewelry Afro Caribbean style. Caps, hats, dresses, shirts and scarves hung loosely in little white tents, as shoppers and merchants mingled and did business.
Click here to read our report and view photos of the Jamaican Jerk Festival.
---
---
---
Astoria Furniture Stores Have It All - Queens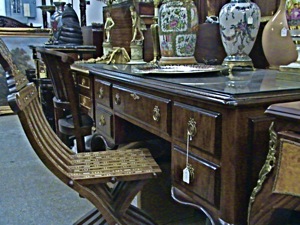 Astoria Shops / Astoria / Queens Buzz. The furniture stores located on the southern end of Steinway Street in the Astoria neighborhood of Queens seem to have something to offer to just about everyone. This part of Steinway is a furniture shopper's mecca, offering plenty of choices from classical colonial, to urban apartment living to bedding to suit nearly every spine.
I took a quick trip there, which is easily accessible via the N, W, G, R or V subway lines and within a sturdy walking distance from Long Island City, Astoria, Sunnyside and Woodside. Just up the street from Steinway is Broadway and two blocks further north is 30th Avenue, where you'll find a number of great Queens restaurants where after a good morning or afternoon of shopping, you can kick back in an enjoyable ambiance - or in the good weather along one of the sidewalk tables - ane enjoy a bit of coffee and some delicious food. Click here to learn more about the furniture stores in Astoria Queens.
---
Click for free checking in Queens or to buy eyeglasses Astoria, for Astoria hair salons, for Astoria wine stores, for Jackson Heights immigration lawyers, for Midtown dentists & Midtown Chiropractors, and for things to do in Queens. Eyeglasses in Jamaica NYC and bike stores Queens.
---
Mens Clothing Styles - Queens
Shopping Queens / Astoria Neighborhood / Queens Buzz. Esquire Men's Clothing Store continues to serve the greater Astoria and Queens area, as it has for over thirty years. The shop is owned and managed by Frank and Kevin Adhami, and their father, who is in his eighties, still visits the store on an almost weekly basis.
Esquire is located along Steinway Street between 30th and 31st streets. The store contains a wide selection of men's coats, suits, casual wear, shoes and men's accessories like belts and ties.
This story will provide some information about the store itself as well as fashion recommendations for the Spring and for job hunters.
Click this link to view a story written on Men's Clothing In Astoria Queens NY. Click here for men's clothing stores in NYC, and here to buy Stone Rose shirts in NYC, and here to buy Alberto pants in NYC, and here to buy Eton shirts and here to buy Hugo Boss sneakers in NYC. Click here for Astoria / LIC Queens tile stores serving Brooklyn, Greenpoint & Williamsburg or here for abayas in Queens & Brooklyn NYC and for hijabs in Queens & Brooklyn NYC.
---
Queens Farmers Markets
July 17, 2016 / Astoria Sunnyside Woodside Jackson Heights Long Island City LIC Flushing Jamaica / Queens Buzz. All of the seasonal farmers markets have opened.
The Sunnyside Farmers market on Skillman Ave & 43rd Street was approved to operate year 'round in 2014. The Sunnyside Farmers market became the third farmers market to operate year round. Jackson Heights was the first & Forest Hills was the second, so now Queens has three farmers markets operating year 'round.
Click the link below to see a listing of the Queens Farmers Markets operating during the 2016 season including links to maps. Click the other link below for a rolling update of Queens Street Fairs schedule of 2016 through the end of the year, including dates and maps showing their locations.
Click here for our updated posting of Queens Street Fairs - Queens NY. Click here for a listing of the Queens Farmers Markets. You will always find both street fairs and farmers markets for the current month in the Queens Events section of the site [see top tool bar for button / link]. Click here to view the map of the Jamaica farmers market.
---
---
New York City Economic Outlook 2016 - NYC Economy
Queens Economy - 2016 Outlook NYC
Currently Full Employment, Low Interest Rates, Low Inflation But Possible International Shocks
January 4, 2016 / Queens Neighborhoods / Queens Business / Queens Buzz.
We took a look into the crystal ball over the holiday break to see what may lie ahead for the NYC economy in the coming year. We studied the stats and facts put out by many of the national data producers at the Bureau of Labor Statistics, the Federal Reserve, the Treasury Department and the AIE. What follows is a brief summary of some of the statistics we gathered on the global, national and New York City economy including unemployment statistics by borough for 2015.
U.S. & NYC Economy Near / At Full Employment
Currently Queens and Manhattan are doing the best with respect to employment, with unemployment rates below 5%, which economists consider to be full employment as the 5% unemployed are viewed as normal 'friction' in the economy, accounting for people coming into, leaving and changing jobs within the labor force.
In 2009 - 2010, during the first two years of the Great Recession, the nation's unemployment rate hit 9.4%, while the unemployment rate for New York City hit 10.4%. The employment picture for the nation and the five boroughs of New York City has slowly but steadily improved since then, with unemployment trending lower, reaching full employment this year at 5% for the nation and 4.8% for New York City this fall.
Employment Impact / Relationship to Inflation
Employment affects inflation, as when everyone is fully employed, recruiting firms bid up the price of labor and workers feel secure enough to spend aggressively, bidding up the price of goods. The Federal Reserve attempts to reign in inflation - because it creates economic instability - by raising interest rates which increases the cost of capital needed to expand operations or make large purchases more expensive. On December 16, 2015, the Federal Reserve raised its key short-term interest rate by 25 basis points (0.25%) to begin to get ahead of potentially inflationary issues that may lie ahead. We'll look into a few of these later in this report.
Economists in one of the banking reports I received believe that there is still slack in the labor market that is not reflected in the numbers as many people have part-time jobs, while they would like full time jobs. Also the labor force participation rate fell during the Great Recession and it became more difficult to find work. Now with a full employment economy it is believed that some of those folks who gave up looking will try to re-enter the workforce. An example of the decline in participation rate might be a spouse who helped supplement household income but couldn't find the right work, and now starts looking again.
Click here to continue reading our report about the New York City NYC Economy Outlook 2016 which delves into full employment impact on inflation, interest rates, consumer debt levels, oil & commodity prices, domestic and international currencies & economic growth, the financial markets and how all of this may impact the different sectors of the Queens & New York City economy.
---
Queens Real Estate
Real Estate in Astoria, Jackson Heights, Long Island City LIC, Sunnyside, Woodside, Flushing, Jamaica
Queens NY / 2016. These links will take you into sections & reports on the Queens real estate market in Queens beginning in 2009.
These reports include reviews of apartment rental prices, as well as condo, co-op and home prices and availability in the Queens market.
We have also done neighborhood specific reports about Astoria real estate, LIC / Long Island City real estate, Jackson Heights real estate, Woodside & Sunnyside real estate, Flushing Real Estate and Jamaica Real Estate. Click here to view Long Island City apartments for rent LIC.
While we found these neighborhoods mirrored / trailed many of the national trends, we found some interesting differences, including differences from neighborhood to neighborhood.
Click here to read the Queens Real Estate market analysis 2009. Click here for Jackson Heights realtors and Jackson Heights real estate.
---
Queens Buzz Voluntary Subscriptions
We work very hard to help keep you informed by providing you with independent news coverage, as well as information about events in the arts, culture and business in the borough.

You can help us continue to provide you with independent, first-person, fact-based, contextural reporting by purchasing an annual subscription. As it's voluntary, there are a variety of price options, one of which should fit within your budget.
Thanks for your encouragement & support.
---