Things To Do in Queens This Weekend
Flushing Night Out, PS1 Warm Up Party, Kyaking, Clay Club LIC, Concert Jackson Heights, Voelker Orth Dance & Monday Eclipse of the Sun
August 18, 2017 / Things To Do Queens / Queens Neighborhoods / Queens Buzz NYC.
Click for Queens Weather.
Friday & This Weekend - Flushing Night Out, Finding Dory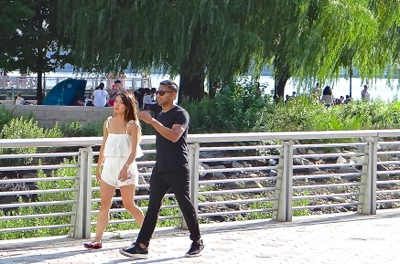 *The photo at right shows a young couple walking along the East River waterfront a bit north of Hunters Point South Park in LIC. There's a movie night tonight - see below.
*On Friday & Saturday from 6 pm - 11 pm - Flushing Night Out - At the Flushing Meeting House at 137-16 Northern Blvd in Flushing. Food and vendors in a communal atmosphere [free to enter / street fairs].
*At Hunters Point South Park along Center Blvd near Borden Avenue in LIC the film, Finding Dory, is being shown from about 8.30 to 10.30 pm [free / kids / film].
Saturday - Rhinoceros, Clay Club, PS1 Warm Up Party, Flushing Night Out & Dance at Socrates
*At Socrates Sculpture Park - Saturdays, August 5, 12 & 19, 2017 from 4 - 5.30 pm / Free - Dance at Socrates - "Norte Maar's Dance at Socrates returns for its 5th season ... Socrates is recognized for its large-scale sculpture and multi-media installations ... partners with Norte Maar who is renowned for their cross-disciplinary collaborative projects and shows dance as human sculpture in motion."
*In the photo at right stands Svea Schneider and a friend at Socrates Sculpture Park at Vernon Blvd and Broadway in Astoria / LIC. They organized InSitu, a dance festival in early July, where performances took place in Socrates Sculpture Park - as well as other parks along the East River waterfront.
*From 10 am - 2 pm there's the CLAY CLUB [formerly the LIC Block Party] - This was an LIC street fair that has moved back within the Sculpture Center at 44-19 Purves Street in LIC. The event features 2000 lbs of clay for people to use to make sculptures in addition to art, music, artists' market w/ affordable art objects and food and drink from local food vendors / restaurateurs [free / kids / art].
*On Saturday beginning at 4 pm on the Great Lawn in Astoria Park [under the train trestle between 19th Street & Shore Blvd at 22nd Road] there will be a final performance of the Eugene Ionescu's play Rhinoceros [free / theater].
*PS1 MoMA at 22-15 Jackson Avenue in LIC Warm Up Party begins at 12 noon and runs until 9 pm - featuring Daphni / John Maus / Delia Gonzalez / Moor Mother / Geng / DJ Haram [music / $14 / $18 / $25].
*On Friday & Saturday from 6 pm - 11 pm - Flushing Night Out - At the Flushing Meeting House at 137-16 Northern Blvd in Flushing. Food and vendors in a communal atmosphere [free to enter / street fairs].
Sunday - Kyaking, Impermanent Landscape Dance Voelker Orth Flushing, Jackson Heights Concert, St Fairs Astoria & Forest Hills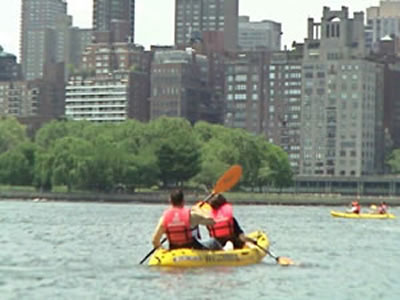 *From 12 noon to 4 pm there's free walk up kyaking at Anable Basin which is located at 5th Street and the North Basin Road along the East River - organized by the LIC Boathouse. Minors must be accompanied by an adult [sports / free].
*Beginning at 2 pm there's a dance performance by Dance Entropy entitled Impermanent Landscape at the Voelker Orth Museum at 149-19 38th Avenue in Flushing [$5 / dance].
*There's a Travers Park concert in Jackson Heights beginning at 4 pm - Piedmont Bluz (Blues).
*There are a number of street fairs this weekend - see link below.
*The photo at right shows LIC Boathouse walk up free paddling kyakers on the East River in LIC. See details above.
Monday - Eclipse of the Sun & 'Titanic'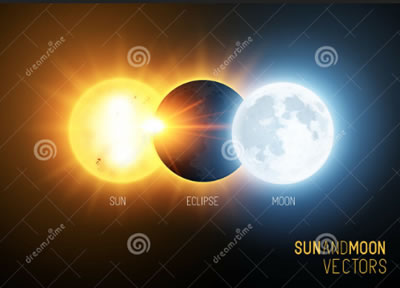 *On Monday there will be an eclipse of the sun, which of this nature hasn't occurred in decades. According to Brownstoner the eclipse will begin around 1.30 pm, peak at 2.45 pm and end at about 4 pm. Based on numerous accounts I've read, they report that you can ruin your eyes by looking directly into the sun for any real measure of time, so special eyewear is recommended - and sunglasses won't do.
*The graphic at right shows the moon passing between the sun and the earth in a graphical representation of the eclipse of the sun - coming to an outdoor everywhere theater this Monday afternoon. Stay tuned.
*In Astoria Park on the Great Lawn there will be a screening of the film Titanic beginning at 8.15 pm and ending about three hours later.
Queens Farmers Mkts, Street Fairs, Member Events Calendar
*Click here for stories about Queens street fairs, Queens farmers markets & some shopping venues in Queens.

Also see Friday & Weekend Events above and / or click to Queens Events Member Calendar to view a number of additional weekend events. And click here for free summer concerts in Queens, free summer movies in Queens and free things to do and free summer theater in Queens & things to do.
---
InSitu: Choreographed Communal Catharsis
InSitu Dance Festival Brings Dancing Dument to Waterfront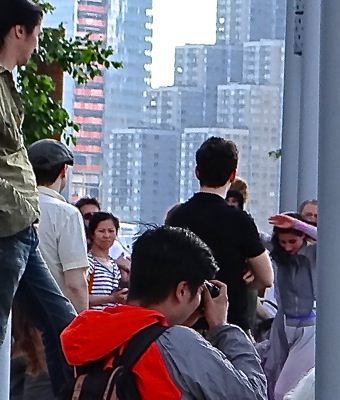 August 15, 2017 / LIC Neighborhood & Astoria Neighborhood / Dance & Choreography in Queens / Queens Buzz NYC.
It was a warm summer day as I made my way down to the Long Island City waterfront parks to witness the possibility of the dawning of a new age of dance along the East River waterfront. There were 24 local choreographers who had organized 75 performances to be given at four Queens parks along the East River waterfronts of Long Island City and Astoria.
InSitu Dance Time: Gantry State Park
I arrived at Gantry State Park in the late afternoon and made my way to the North Basin at the north end of the park. There was an audience gathered, watching the performance of Timepiece, Or: Another Imperfect Measurement by Melissa Riker and the Kinesis Project Dance Theater. The dance explores the measurement of time through the metaphor of sand being released through motion. And the soundtrack reverberates with the constant acoustics and vocal reminders of how trapped in time we have made ourselves.
InSitu Dance Gender: Queensbridge Park LIC
As the performance wound down, I hopped aboard my bike and made my way north along Vernon Blvd in search of the next InSitu dance performance in Queensbridge Park. I arrived early for this performance, which was scheduled to begin shortly after I arrived. Fragile, a piece choreographed and performed by Red House / Project 44 began with the dancers making their way up the park walkway, in some measure like small children clumsily learning how to walk. The piece explores male gender identity and how to enable masculinity and tenderness to coexist in the same man.
InSitu Founder & 'The Great Dictator' in Socrates Sculpture Park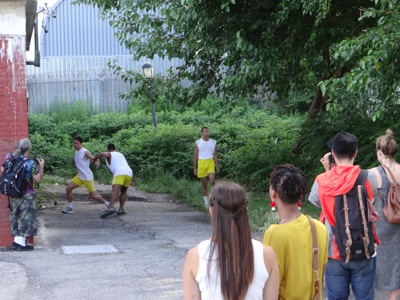 My next and last stop was Socrates Sculpture Park and Hallets Cove. There I met Svea Schneider, the driving force behind InSitu, as well as her urban dance company, Kinematik Dance. Svea was excited at how well the weekend had turned out both weather-wise and performance-wise. The first performance in Socrates Sculpture Park was underway, so I hurried over.
The performance was by the Blue Bus Project + Tyler Gilstrap, performing a piece entitled The Great Dictator. The piece references an old movie made in 1940 as WWII was breaking. It's satire about a Jewish boy who replaces the Great Dictator who is persecuting the Jews. Charlie Chaplin, who had a mustache cut similarly to Hitler's and representative of the times, played the star role and made a famous plea to humanity at the end of the film. The performance used the music of the time and the speech as the soundtracks which accompanied the dance.
InSitu Dance Ecology: Modern Dance at Hallets Cove & East River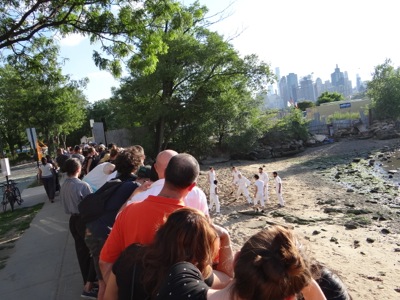 The next piece was performed along the Hallets Cove shore along the East River. This performance was by violetsound who did a piece they named Terroroir. In this piece they fabricate an allegorical exploration of who to blame for the earth's troubles, while unearthing underlying currents of human wonderment. People lined the rail along Vernon Blvd to watch the InSitu spectacle ... which would be the final performance of the day and weekend.
I departed the East River waterfront dance performances with plenty to contemplate. It was an interesting late afternoon, early evening of human sculptured art forms in motion. I shot some video along the way and hope to post it when I get the time to do it right.
InSitu was performed on Saturday and Sunday, July 8th & 9th, at Hunters Point South Park, Gantry State Plaza Park, Queensbridge Park and Socrates Sculpture Park. InSitu was a collaboration between the Jacob Riis Neighborhood Settlement and Kinematik Dance Theater.
---
Davenport & Sunnyside: The Bix Jazz Connection
Jazz Musician Bix Beiderbecke is an Evolving Link Between Davenport Iowa & Sunnyside Queens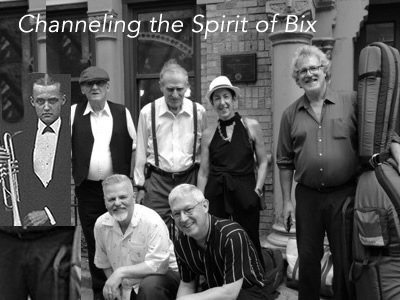 August 8, 2017 / Sunnyside Neighborhood / Jazz in Queens / Queens Buzz NYC.
So a week ago I took a walk 'On the Sunny side of the Street' as I ambled down to Queens Blvd at 46th Street to take in the music of the annual Bix Beiderbecke Concert. As I approached I could hear the music wafting through the hallowed halls of the #7 train tracks.
There was a full crowd at the 46th Street Plaza where kids were dancing to the jazzy tunes alongside a couple who knew their steps. The weather was nearly perfect, in the low 80's and not too humid.
In the photo at right, standing in front of the building on 46th Street in Sunnyside where Bix spent the last few months of his life, are [from left to right] drummer Paul Maringelli and trumpeter Jordan Sandke in the first row, and cornetist Bix Beiderbecke [brought back to life], clarinetist Joe Licari, pianist John E. Halsey, saxophonist Carol Sudhalter and bassist Fred Berman [Harvey Tibbs is not present] in the second row.
The Sunnyside Wolverines - Playing Bix Tunes Nearly 20 Years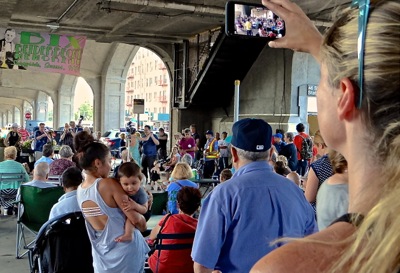 All of the musicians are accomplished in their own right. In addition to playing with the Sunnyside Wolverines - a band formed by drummer Paul Maingelli and named after Bix's band the Wolverines - each musician performs either individually or with other collaborators - quite frequently around the NYC metro area, as well as further afield. I'll include their contact information at the end of this report, in the event you're looking for (a) musician(s) to perform at a party or event.
On the Sunnyside of the Street was one of the last tunes played by the group on this balmy summer evening. The tune was first played as part of a 1930 Broadway Musical, just a year before Bix passed away on August 6, 1931. The group also played the tunes from the last of Bix's final recording session, which was made during the last year of his life.
Bix's life started in Davenport, Iowa in 1903. In his teens Bix taught himself how to play the cornet. He started performing for the public soon thereafter, including on Mississippi River boats which had become big entertainment venues. By the time he was 20, Bix had become a famous jazz musician performing in jazz towns like Chicago and Detroit.
In the photo above right you can see the crowd enjoying the Bix Beiderbecke concert which was sponsored by the Sunnyside Shines BID. In the photo below right you can see the Mississippi River near Davenport, Iowa where Bix grew up. The latter photo compliments of trumpeter Jordan Sandke.
Many Sunnyside Wolverine Band Members have a Bix Connection
While Bix was quite famous among jazz muscians and some of the general public while he lived, he became even more famous after he died. The Bix story was given new life in 1936 by a writer, Otis Ferguson, who wrote two stories about a 'Young Man with a Horn', which were published in the New Republic. In 1971, 40 years after Bix had died, the city of Davenport, Iowa started the Bix Beiderbecke Memorial Jazz Festival.
Saxophonist Carol Sudhalter, who performed with the Sunnyside Wolverines at the concert last week [and plays around the NYC metro area], is the sister of one of the two authors of Bix: Man and Legend which was nominated for the National Book Award within the year it was published. Carol told me that her brother Richard Sudhalter has passed away and it's worth noting that his co-author was Philip Evans.
In 1977 Bix's childhood home in Davenport, Iowa was added to the National Register of Historic places. This year, trumpeter Jordan Sandke who played with the Sunnyside Wolverines at the concert this evening, joined his brother in Davenport within the past couple weeks to join in the opening of the Bix Beiderbecke Museum - of which Jordan's brother is a founding board member. Jordan's brother is also a trumpeter and named his son Bix.
I suppose it wouldn't be fair not to again mention that the Bix Beiderbecke Memorial Concert was founded by Sunnyside Wolverines founder and drummer Paul Maringelli. Paul discovered around the turn of the 21st century that he lived across the street from the building on 46th Street where Bix had died. And that's when Paul Maringelli, became one of Queens' Paul Reveres, of the Bix Beiderbecke jazz legend.
Click on the photo at right to watch a short video of the concert.
Click on the video below. If it doesn't appear - Click the refresh arrow / curly cue at the top of your browser to refresh to get the video controls.
---
---
The Jazz Legend Continues in Sunnyside ...
Bix Beiderbecke Spent his Last Days in Sunnyside, but the Music Never Stopped Playing ...
July 25, 2017 / Sunnyside Neighborhood / Jazz in Queens / Queens Buzz NYC. Top two photos contributed by Jordan Sandke.
On August 6, 1931 - at the very young age of 28 - Bix Beiderbecke died of lobar pneumonia in his apartment on 46th Street off Queens Blvd in Sunnyside.
Bix Beiderbecke - Jazz Legend
Bix's great talent, troubled life and short lifespan, all contributed to his steady post-mortem rise to become one of the first great jazz legends. Bix composed and played jazzy tunes on the cornet and piano, and had learned how to play by teaching himself. Bix's life continues to capture the imagination of authors, film makers and musicians as he has become a sort of iconic, artistic martyr of the musical genre of jazz.
I first met Paul Maringelli in the spring of 2009. He told me about an upcoming concert that he was playing in, to commemorate the jazz legend Bix Beiderbecke who - he informed me - died about a block away from where we were standing. Honestly, I didn't know much about Bix at the time, except that he was a famous jazz player and his name had been used in numerous movies to support the notion of a jazz band.
Sunnyside Musicians Channel the Beiderbecke Spirit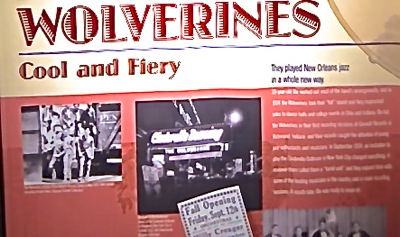 Paul Maringelli is a drummer and an artist, who has a natural curiosity for all things interesting. Back in 2001 he found out that Bix had lived in his building on a PBS Special produced by Ken Burns. Shortly after Paul gathered a small group of people together on August 6, 2001 in the courtyard of All Saints Church of 46th Street and a trumpet player played a tune, a candle was lit and a tradition began.
In 2007 Bix was mentioned in the first season of Madmen when one of Don Draper's girlfriends used Bix name as code for fun and spontaneous - but Don didn't get it at first - even though he did 'get it' later.
Maringelli, Sandke & the New Orleans - Davenport (Iowa) Mississippi Riverboat Connection
This year, in part through the community building efforts of Sunnyside Shines Director Jaime-Faye Bean, Paul and I started talking about the upcoming Bix concert scheduled for August 3rd from 5 - 7 pm. In the conversation Paul mentioned that one of the band members, Jordan Sandke, was traveling out to Davenport, Iowa for the opening of the Bix Beiderbecke Museum. Naturally that caught my interest as it opens up a whole new connection between Bix in Sunnyside and Bix in Davenport, providing us both with the opportunity to enhance the legend.
Jordan and I subsequently spoke about getting photos from the opening, many of which I will post as the week runs on. They include photos of the opening of the Bix Beiderbecke Museum in Davenport, photos of Bix's grave there too, and some of Bix relatives and memorabilia that is now housed in the museum.
Both Jordan and Paul will be playing at the concert on Thursday, August 3rd at Queens Blvd and 46th Street under the tracks.
I'll have more at a later date about the Davenport Museum opening and the upcoming Bix concert.
---
---
---
The Taste Shines in Sunnyside
Taste of Sunnyside Hits Another High Note
May 23, 2017 / Sunnyside Neighborhood / Sunnyside Restaurants / Queens Restaurants / Queens Buzz NYC.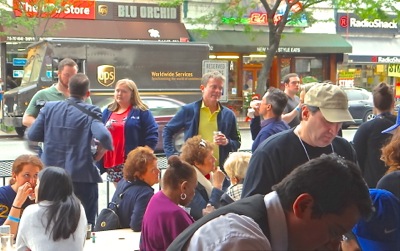 I had the opportunity to attend the eighth annual Taste of Sunnyside on Tuesday evening last week. I arrived right on time for the General Admission tickets and was soon let in under the big tent. Music was playing in the background as I started to make my way to the food and beverage tables lining the tent walls.
It was slightly dark inside the tent, but the walls along the side had been opened to allow guest diners to make their way to the picnic tables lining the outer perimeter of the tent. Unlike in prior years, this year groups of people started gathering at the tables in large, casual groups - possibly because the corridors leading to the tables were more apparent - and it seemed like there were more tables made available for guests. In the photo at right you can see Sunnysiders enjoying themselves along the outer perimeter of the Taste of Sunnyside tent, underneath the #7 subway line at Queens Blvd and 46th Street.
The great benefit of this was that it had the effect of opening up the crowd flow in a very favorable manner, and enabled more moving around from serving table to serving table to sample the food and beverages that the Taste of Sunnyside had to offer. It also enabled more mingling in between the samplings.
The extra space was a good thing too, because the local bands that came to perform made people want to move with the music. In the latter part of the evening there was a Latin Jazz band, the afro-latineers, that kicked up one helluva dance storm at the far end of the tent … or so it seemed.
The net, net of it all was good food and drinks and music and people - which translates into one helluva Sunnyside party. Naturally I met some people I knew, and also some people I didn't know ... until this night. In the photo at right you can see some of the food and beverage tables where people were sipping, munching and mingling.
To be continued later this week, with a photo slide show and a video.
---
Jamaica Just My Style Fashion Show Returning June 9th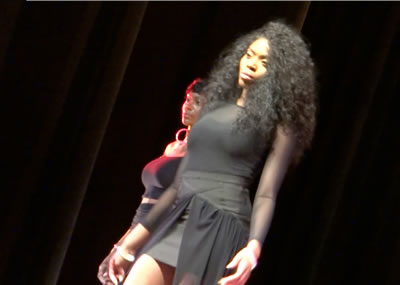 May 22, 2017 / Jamaica Neighborhood / Queens Fashion / Queens Buzz NYC.
The Jamaica Just My Style Fashion Show is returning to Queens for its sixth year. Attendance to the show is a free evening of food, fashion and fun, but you must rsvp for tickets at Eventbrite.
Here's the link for FREE TICKETS TO - Jamaica Just My Style Fashion Show.
The following was a video shot at the Jamaica Just My Style Fashion Show on June 18th, 2016.
We had copyright issues with the video, because we needed clearance for some of the music embedded into the recording of the show.
The show included a number of attractive models - of both male and female genders, who sported the clothing sold by Jamaica Avenue retailers, as well as some of the clothing which was designed by some of Queens own fashion designers.
Although Queens is not yet known as a fashion capital, it is the home to a number of up-and-coming fashion designers and models. Cazal eyewear is just one example of a born in Queens fashion brand.
Click here to view the video we shot last year which was released from a copyright hold - Jamaica Just My Style Fashion Show in Jamaica Queens.
---
Whistle Stop Tour: Asian, European, Latin & American Cuisines
Taste of Sunnyside: An Enticing Blend of Modern & Exotic Culinary Delights & Beverages
May 16, 2017 / Sunnyside Neighborhood & Woodside Neighborhood / Sunnyside Restaurants in Queens / Queens Buzz NYC.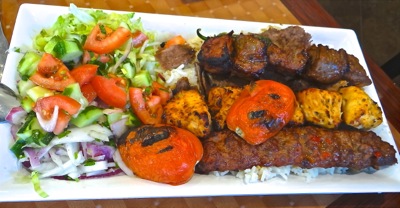 Late yesterday afternoon I joined writers from - the Queens Chronicle, the Sunnyside Post and Queens Eats - to sample some of the exotic cuisines and familiar foods that lie ahead …
On what might be called a whistle stop tour that we took through a few of the participating restaurants and beverage providers, who will be serving attendees at the Taste of Sunnyside 2017 next Tuesday, May 23rd.
As we all know, Sunnyside has been changing at a fairly rapid rate, and the neighborhood restaurants now represent of an even more eclectic mix of modern and ethnic cuisines, that is serving a steadily changing residential population as well. In the photo at right is a platter of lamb, beef and chicken kebobs served by Mangal Kebab on Queens Blvd near 47th Street.
Our Taste of Sunnyside Preview Includes Asian, Latin & American Fare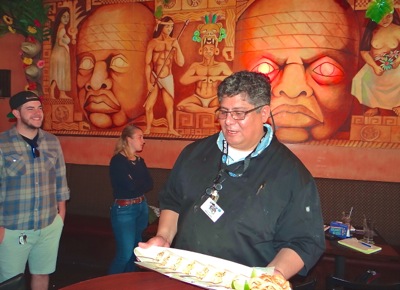 The Sunnyside Shines Business Improvement District [aka BID] is hosting its 8th annual Taste of Sunnyside to give longstanding and new residents an opportunity to sample the fare of some twenty of the new and well established restaurants participating in it, for the price of what it would cost to sample just one [$40 general admission & $70 for VIP]. The event also features seven beverage purveyors including some of the local micro-breweries, a vintner, a cider maker and the historic Lowerys Wine & Liquor store. And there will be live entertainment as well.
So All Aboard, as I take you along on an abbreviated preview tour to give you a sampling of some of what you might expect to encounter - should you climb aboard the culinary choo choo train next week. Sunnyside Shines BID Director, Jaime-Faye Bean was our hospitable hostess and conductor. In the photo at right is Luis Munoz serving a platter of fresh esquites at Arriba Arriba on Queens Blvd near 40th Street.
Our first stop was Old Mexico, the land of the Aztecs & Mayans, at the Arriba Arriba restaurant on Queens Blvd near the 40th Street / Lowerys subway stop. Click here for a sample preview of some of the tastes that will be served at Taste of Sunnyside 2017.
---
5 Boro Bike Tour Rides On ...
The 5 Boro Bike Ride has Become an NYC Cultural Institution
May 8, 2017 / Astoria Neighborhood / Bikes Bicycle Events in Queens / Queens Buzz NYC.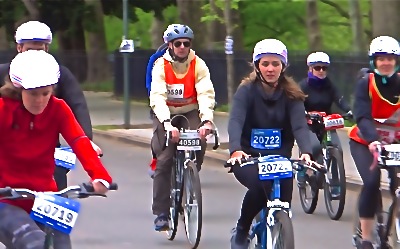 The 5 Boro Bike Tour pedaled through the five boroughs on Sunday, for its 40th year. I have been covering the event for nearly a decade, enjoying conversations with the riders as they make their way through the streets of New York City, without having to contend with hostile traffic. It's a family-friendly event and helps fund bike safety and repair programs designed to teach children and adults how to enjoying bicycling in an urban environment.
Brief History of the 5 Boro Bike Tour NYC
The following is a summary of the 5 Boro Bike Tour history, gleaned from the Bike New York website at www.bike.nyc.
The event began in 1977, starting with a conversation between Sal Cirami of the American Youth Hostels bicycle committee and Eric Prager of the NYC Board of Education. Sal was interested in creating more bicycle-friendly streets, while Prager had been asked to develop a bicyle safety program for NYC school children.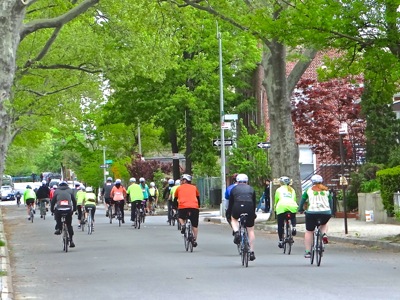 The program started with bicycle safety and repair, and the 5 Boro Bike Ride was to be the culminating event for the participants. Thus on June 10, 1977 Sal, Eric and 250 entrants - most of which also came from bicycle clubs - made their way from Flushing Meadows Corona Park in Queens, down through Brooklyn, over the Verrazano-Narrows Bridge to Staten Island, ferrying back over to Manhattan, and traversing up through Manhattan to the Bronx, before crossing over the Throggs Neck Bridge back to Queens, terminating at Flushing Meadows Corona Park. The streets weren't closed, but the riders were provided with an NYC police escort.
The next year, the newly-elected Mayor Koch, supported the idea of a 5 Boro Bike Tour with city resources. The ride was shortened to 40 miles and the NYPD shut down a moving 40 block long section of streets to pave the way for the cyclists to pass. That year the cyclist count rose to 3,000. Two years later, in 1980, the MTA subway workers went on strike and the 5 Boro Bike Tour participation swelled to 12,000 and then grew to 32,000 before the city capped the ride at that number where it has remained ever since.
5 Boro Bike Tour: Queens, Manhattan, Bronx, Brooklyn & Staten Island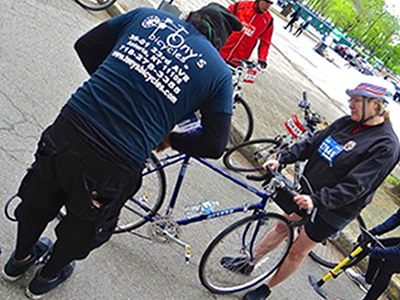 According to Bike New York, this year the 5 Boro Bike Tour attracted 32,000 participants from all 50 states and 65 countries. It was a cool, cloudy day with temperatures in the 50's and 60's. In the mid / late afternoon came a bit of drizzle, but by then I believe most - if not all - had completed the ride. I made my way up to the Astoria rest stop where vast crowds of cyclists converge beginning at between 8 and 9 am and which then continues for a couple of hours, before tapering down by around noon.
I arrived on the tail end of the ride, where I could watch the bicyclists who preferred to take the ride slowly, were streaming along northward along the eastern perimeter of Astoria Park. I made my way down to the rest stop, located in the parking lot just under the RFK / Triborough Bridge, where there were toilets, food and bike repair services available to the riders on their 40 mile journey.
One of the riders I conversed with later that afternoon told me it was exhiliarating to see New York City on bike and to be joined by so many other bicycle enthusiasts from around the city, nation and planet. The entrance fees [$100 for a standard ticket / packet] from the 5 Boro Bike Tour go to Bike New York which is a non-profit dedicated to teaching cyclists about bike repairs and bike safety. Registration generally starts the second week of January and closes out fairly quickly as the 5 Boro Bike Tour is limited to 32,000 cyclists. TD Bank was the sponsor this year as it has been for a number of years.
---
De Blasio & Van Bramer at Sunnyside LIC Town Hall
The Mayor & Majority Leader Talk about Issues Facing Queens Residents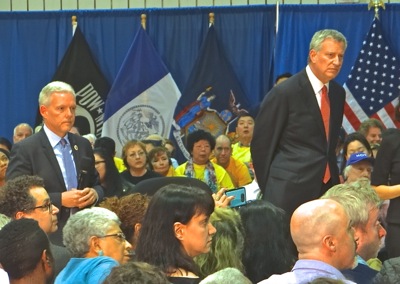 April 27, 2017 / Sunnyside Neighborhood / Queens Politics & Government / Queens Buzz NYC.
I attended a town hall given by Mayor de Blasio in tandem with NYC Councilmember Van Bramer. I had rsvp'ed for a ticket along with hundreds of other residents, to hear what the Mayor and the CCM had to say. I arrived a bit after the event had started, as CCM Van Bramer was concluding his introductory remarks.
Mayor de Blasio then took the spotlight, talking briefly about his Administration's successes in improving the public school system, increasing affordable housing, a continued low crime rate while nearly terminating stop 'n frisk, and a balanced budget [see Mayor de Blasio State of the City for details]. But the Mayor acknowledged that his Administration has miles to go before they can rest, in spite of making significant progress in these major areas.
Questions & Answers at Mayor de Blasio Town Hall Sunnyside
De Blasio kept his remarks short before opening up the town hall to questions by residents. The questions included queries about affordable housing. The Mayor noted that he lobbied Albany hard to get the 0% rent increases on stabilized apartments the past two years, and that his administration has made progress in creating new affordable housing units, but he acknowledged that many New Yorkers are still struggling to pay the rent. So he said there's more to do in adding affordable housing units and in creating decent paying jobs - including something already done, which is the raising of the minimum wage.
Another question was about the lagging investments the city has made in its transportation infrastructure for many years, noting that the MTA is running at near capacity on the #7 subway line during rush hours. The Mayor said they were trying to address the problem by adding bus service, and adding ferry service, but that the MTA is controlled by New York State, so he has significant influence, but that the Mayor's office is not in control. The city contributed $2.5 billion to the MTA budget last year.
Another question was about how one is supposed to handle the downside of gentrification, meaning the noise, filth and obstructions associated with a neighbor doing construction / renovations. The Mayor said there are laws which govern what people can and cannot do and that the city has an agency which looks into these issues / complaints. The woman said she'd contacted the agency [not sure whether it was the Department of Buildings - a good starting point is to dial 311 if you have such issues], but that she wasn't having much success. One of the people from that agency was there, so he talked a bit about what they can do and he followed up with her.
The town hall was scheduled to go on as long as people had questions, so I stayed only for a while to get the flavor of the event before departing.
---
Update: LaGuardia Airport Development Project
First Phase Moving Along with Second & Third Phases About to Begin
April 24, 2017 / Astoria Neighborhood / Queens Real Estate / Queens Buzz NYC.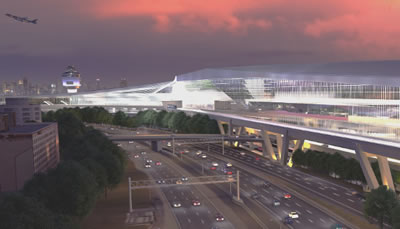 I attended a Community Board One meeting at the Astoria World Manor on Wednesday, April 19th. People representing the LaGuardia Airport development project were scheduled to provide the community with an update regarding several of the multi-billion dollar renovation projects associated with LaGuardia Airport, that are either currently in the works or nearing the end of the planning process.
The presentation was split into three parts: 1) LaGuardia Airport development project construction updates, 2) traffic mitigation efforts and 3) community outreach including job opportunities related to the projects.
Click here to read our report on the LaGuardia Airport development project & expansion, related job opportunities, its possible impact on travel times to the airport and the public hearing details on May 3rd, 2017 in Flushing. We have also included a small bit of history about the airport and the fight over the property and development in Flushing Meadows Corona Park. The graphic at right was created as part of the LaGuardia Airport development project.
---
Street Music in Jackson Heights
Viewers with Older Browsers may Need to Click Refresh to View Video
Inti & the Moon Jazz Band at 72nd & Roosevelt Subway Stn
April 2, 2017 / Jackson Heights Neighborhood / Jazz Musicians in Queens / Queens Buzz.
One of the great things New Yorkers experience almost daily, are the millions of cultural exchanges that take place every day in our city of world. Sometimes it's a discussion with a cab driver about where he grew up. Or about the ethnic food being served at a savory new or old restaurant. Or about an unusual design, color or cut of clothing that captures one's attention and curiosity in a store or on the street. Or a discussion about the origins of an unfamiliar accent at a bus stop or on the subway. Or an artwork depicting a foreign scene or point of view at an small art gallery exhibit opening.
... and then there's the wonderful music ... that one periodically encounters ... on the streets of NYC. It could be Asian classical, Middle Eastern or Hindi Rock, or Latin Fusion ... to name a few.
With the warming weather, the opportunities to hear the sounds from distant locales around the planet, multiplies. The NYC Parks Department, and organizations affiliated with many of the local parks, as well as the MTA, host cultural performances which make Queens and NYC the great tourist destination that it has become today.
The video above captures some of the Latin Fusion sounds of a small jazz band called Inti & the Moon that I came upon last Saturday. They occasionally play at the Jackson Heights subway station on the lower level where you transfer between the #7 line and the E, F or R. And they have a Facebook page by the same name, so if you're interested in them doing a gig, you can reach the band leader and lead guitarist, Geo at 646.427.0894.
---
LIC Real Estate Boom Appears to be Slowing
A Near Doubling of New Units Coming on the Market this Year, so there Appears to be a Pause, as Investors see how Quickly the Market Adjusts to the new Inventory & new Interest Rates
March 28, 2017 / LIC Neighborhood / Queens Real Estate in LIC / Queens Buzz.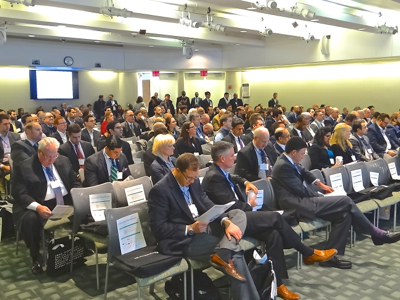 I attended the LIC Partnership Real Estate Breakfast just over a week ago. For the first time in a long while, I could actually find a seat. There had been a snowstorm the day before, so that may have contributed to my luck in finding a seat, but the event also did not appear to sell out as quickly as in prior years either.
This is not to say that LIC development is over ... and likely not by a long shot. But for the moment, the urgency seems to be abating as we all watch to see how things play out; while another 22,000 modern, fairly upscale apartment units come on the market.
According to the LIC Partnership, in the past decade nearly 12,000 new units have been created in LIC. Of those, less than 3,000 were sold to owners. In 2017 nearly 9,000 new units are coming into the market.
The principles of economics state that when supply goes up, if demand doesn't go up by an equal amount, then it is likely that prices will go down. So it's likely that a near doubling of new apartment supply in LIC this coming year could dampen rental prices for a while, and possibly sale prices too.
Interest rates are also rising. And again according to the principles of economics, when interest rates rise, generally the prices of high dollar value purchases decline, because interest rate increases add to the cost of the monthly payments associated with large purchases like real estate.
More regarding the discussion held at the LIC Partnership Real Estate Breakfast - which as always was very informative - at a later date.
---
U.S. Taxes & Budget: Trump is Whose Voice?
Stock Market adds Trillions & Working Middle Class Gets What?
March 6, 2017 / NYC Neighborhoods / NYC Business & Politics / News Analysis & Opinion / Gotham Buzz NYC.
Has Rupert Murdoch's Fox News mouthpiece, Sean Hannity, been pushing hard for tax reform because the Trump tax plan will be good for the working class people - one of which he appears to pretend to be? Or because the Trump Tax Plan will be good for mega multi-millionaires like Sean Hannity and mega multi-billionaires like Hannity's boss, Rupert Murdoch?
How Much a Phony is Fox News Sean Hannity?
Does he Pretend to be Working Class Guy ...
- So he can Dupe Fox News Viewers into Supporting a Tax Plan that Favors NOT them -
... but Mega-Millionaires like Him?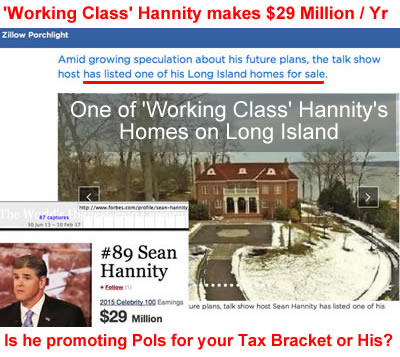 Hannity hasn't been a working class guy for in the neighborhod of two decades. In fact, according to Forbes in a 2015 survey Hannity is a very rich man. According to Zillow Hannity owns a palacial home on Long Island worth millions [see Zillow photo at right] and a second home located in a wealthy enclave in Naples, Florida.
Forbes published that Sean Hannity's earnings in 2015 were $29 million [see graphic at right]. So it's not implausible to guess that Hannity may have purchased the second home in Florida, so he could claim residency there in order to avoid NYS taxes, which Hannity has been publicly complaining about for years.
Which tax candidates and priorities do you think Sean Hannity is supporting - yours - or his own and Boss Murdochs?
Televangelist Hannity Preaches Gospel According to Murdoch
Fox News & Hannity Dictate Orders to Republicans ... Implied Threat is Suffer the Wrath of Murdoch's Propaganda Machine?
Hypocrisy & Half Truths on Hannity on Fox News Tonight?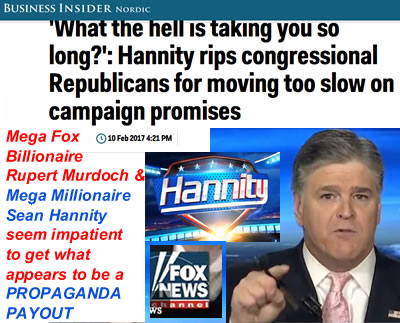 I'm using Fox News propagandist Sean Hannity as an example of what appears to be the incredible hypocrisy and misleading information regarding Trump and the Trump tax plan, being provided by Murdoch's Fox News, one of America's largest TV networks.
It appears Hannity lures unwitting viewers into believing he's a working class guy - when he isn't - so his viewers will take his advice when he labels political candidates and public issues in childly simplistic terms of 'US' vs 'THEM' and 'GOOD' vs 'BAD'. Hannity seems to use small words and incessantly repeats himself, instructing his viewers like they are a bunch of five year-old kids who don't have the contextual experience nor even the infantile analytical skills required to think for themselves.
Fox and Hannity oftentimes appear to make no attempt to find and disseminate the truth on issues or government officials, but instead appear to propagandistically promote or punish those who do not bend to their will, as exemplified in the Business Insider headline to your right. The implicit message to Republicans appears to be obey us - or suffer the consequences of losing your elected government post - because our audience believes us and will do what we tell them to do.
Fox News Hannity's pugnacious rhetoric sounds kind of Nazi-like. This seems to be an indication that the FCC has granted and entrusted these people with way too much power - and that they appear to be corrupting it to serve their own selfish interests.
Click here to continue reading this report about Fox News propaganda & Hannity, O'Reilly propagandists on Fox News which is a lead into a report about how it appears they will profit handsomely from their propaganda services.
---
---
Over a Century of Railroad History in Sunnyside Yards
Over a Century of Railroad History in Sunnyside Yards
Railroad Historian Dave Morrison Brings Back to Life the Glorious Past of the Queens Rail Yard & the Hell Gate Bridge at the Greater Astoria Historical Society
January 15, 2017 / Sunnyside Neighborhood / Astoria Neighborhood / Queens History / Queens Buzz.
On Saturday afternoon I attended a lecture and book signing event at the Greater Astoria Historical Society in the Quinn Building, only blocks from the Museum of the Moving Image. The book is entitled Sunnyside Yards and the Hell Gate Bridge and it was written by Railroad Historian Dave Morrison of Plainview, New York. The Greater Astoria Historical Society hosted the event as part of its Hell Gate Centennial commemoration efforts.
It didn't take Dave long to convince those of us in attendance that he was not only an expert in the subject, but also a passionate railroad history aficionado. Dave's presentation included photos from the book, as well as many other photos he'd collected which didn't make it into the book. In the photo at right, Dave Morrison signed a number of copies of his new book, Sunnyside Yards & the Hell Gate Bridge, following his presentation of excerpts from it at the Greater Astoria Historical Society.
Dave began his story in Brooklyn, in the mid 1800's, when the residents of Brooklyn protested building a train rail yard in the borough because of all the noise, dirty coal steam and traffic it would bring to the fast growing, bustling borough.
Click here to read the rest of the story, including a photos, of the presentation made by Dave Morrison about the history of Sunnyside Yards and the Hell Gate Bridge.
---
---
Queens World Film Festival
Queens World Film Festival 2017
Labor of Love on a Queens Corner
March 20, 2017 / Astoria Neighborhood / Cinema & Film in Queens / Queens Buzz.
I attended the 7th annual Queens World Film Festival on Sunday at the Museum of the Moving Image in Astoria. I chose to view the Queens Corner block of films, which showcased some of the films made in Queens and / or by Queens filmmakers.
Queens World Film Festival Opening Night
I had missed opening night, but so did most others, as the snowstorm shut down the Museum of the Moving Image that night. Don and Katha Cato, Founders of the Queens World Film Festival, improvised and held opening night at Armando's Restaurant in Jackson Heights. They showed the films on a screen at the bar and read subtitles, which were too small for the audience to read. Katha told me that it wasn't perfect, but with the food and wine served at Armando's – it was fun.
The Queens World Festival includes a mix of locally made films, as well as films made around the world. Don and Katha solicit the films via exchanges dedicated to facilitating film festivals and submissions – including using some websites from other parts of the world. Katha mentioned that people flew in from as far away as Nepal, Germany, Italy, England, Canada and other states such as California to participate in the festival.
QW Film Festival Attendance & Locales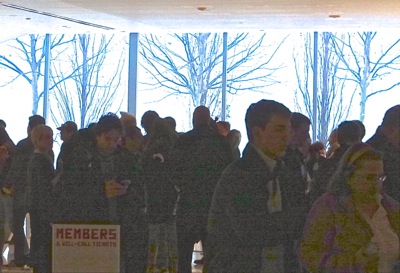 This year the Queens World Film Festival aka QWFF consolidated its viewing locations to the Museum of the Moving Image and the Zucker Theater in Kaufman Astoria Studios, which helped give the event more of a consolidated feel versus prior years when screenings were spread throughout Astoria, LIC and Jackson Heights. Both the Museum of the Moving Image and the Zucker Theater are within a block of one another. And the Astor Room, a restaurant located in a subterranean portion of Kaufman Astoria Studios, was used to host the awards ceremony and became an interim gathering space.
The festival attracted in the neighborhood of 5,000 visitors in 2016, and while the figures were not yet in, Katha thought they might not match the prior year due to inclement weather and the consolidation of screening rooms and locations this year.
QWFF Films Curated by Don Cato
The Queens World Film Festival is curated by Don, who is aided by Jennifer Griffith. They received about 500 films this year and narrowed the submissions down to 135. Of the 135 about 26 were made in or by Queens filmmakers. A number of the submissions also came from Brooklyn, Manhattan, Bronx and Staten Island, so New York City is well represented.
The film viewing blocks are arranged in an intuitive fashion. Don takes notes while reviewing the submissions and over time similarities, differences, subjects and themes emerge. Katha adds her two cents to the emerging categories while the couple is consolidating the choices and organizing the films into viewing blocks.
Don & Katha Cato Founders Queens World Film Fest
Don and Katha are pursuing a labor of love … literally … as the couple met while collaborating on a film / theater project many years ago. The couple continues to pursue their passion outside of the Queens World Film Festival as Katha is an actress and Don produces films. Don currently teaches at the Digital Film Academy in Manhattan.
Click here for the rest of our story including brief reviews and photos of some of the films I saw at the Queens World Film Festival in 2017.
---
---
NYC Crime Continues To Drop, Breaking Records
Mayor de Blasio & NYPD Discuss City Safety & Ongoing Improvements
February 7, 2017 / Crime in Queens Neighborhoods / Queens Government / Queens Buzz.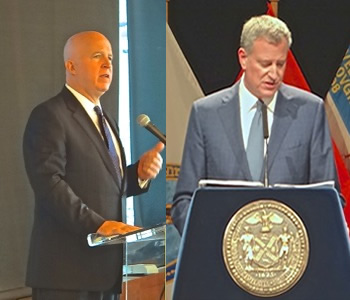 This just came in on the heels of our coverage of the Public Safety discussion below. Mayor de Blasio and NY Police Commissioner O'Neill spoke in the Bronx regarding ongoing efforts and results in improving safety in the city. The following are some of the crime statistics noted in their meeting taken directly out of a press release sent by them.
 
Chief of Crime Control Strategies Dermot Shea, NYPD: Thank you, Mr. Mayor. Good afternoon, everyone. As you've heard, we have begun a strong start to 2017 in terms of overall crime reduction. Strategies that have been put in place to address repeat offenders, illegal gun possession and gangs are having the desired effect. We're building on the momentum of the last few years.
So, some of the highlights for crime statistics from this January – overall index crime is down 0.2 percent for the month of January. When you carry it over to this morning, we are now down 2.7 percent in overall index crime in New York City.
To note – with the overall index crime, January marks the tenth consecutive month of reduced index crime. That's the momentum we've been talking about. Currently, four out of five boroughs in New York City – all but Queens – are down to start the year.
Homicides – we recorded 20 homicides in January. That's down two from 22. That 20, as the Mayor alluded to, is the lowest January that we have ever recorded going back a minimum into the 1960s.
Shooting incidents – down 1.7 percent in January. Last January we hit the modern mark with 59 shooting incidents. We came in with 58 this January.
Talking about momentum again – nine of the last 13 months we've had a reduction in shooting incidents. Nine of the last 13.
Three months in a row we've had a reduction in shooting incidents in New York City. We have now, when you look at New York City as a whole, we now have 24-hour periods where we do not record a shooting incident in New York City. That kind of thinking was impossible in the not too distant past.
This is the new normal. We want to build on it and we feel that we will build on it but there's still plenty of work to do.
Stabbings and slashings for January – down 7.2 percent.
Robberies – down 7.5 percent. Lowest January robbery number we've seen.
Felony assaults in New York City – down 5.4 percent.
Burglaries tied the lowest mark set last year.
Transit crime – down 1.4 percent.
And housing crime – not to be outdone – down 1.9 percent.
Clearly, a wide breath of crime across New York City – property and violent crime, down.
 
But there is, I alluded to, there is still work to do – three categories we saw increases in January.
Grand larceny, specifically, credit card related skimming and forging of checks – those two drove grand larcenies. And grand larceny was up for the month of January 4.7 percent.
And lastly, rounding out the crime totals – stolen vehicles which we have seen drop to unprecedented lows saw an increase of ten cars for January. So, that's 480 versus 470 – a two percent increase.
Commissioner O'Neill: Okay, thanks, Dermot. We'll take your questions.
 
Question: Do you think it's possible, really to keep driving crime down further at this point? And how could you achieve that?
O'Neill's response was yes, with some added context.
---
---
NYPD Commissioner O'Neill on Stop N' Frisk & Cybercrime
City & State Organizes Informative Program About Public Safety in NYC & Cybercrime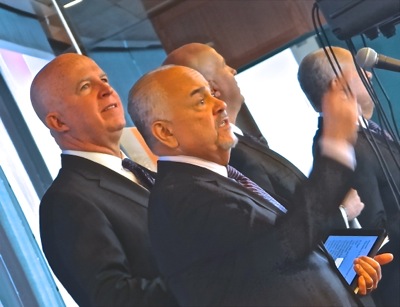 February 6, 2017 / Battery Park NYC / Crime & Safety in Queens NYC / Queens Buzz.
I attended a City & State program dedicated to exploring the many facets of community safety in New York City. The program started with a half hour speech by the new Police Commissioner, James O'Neill. He discussed his background which includes a long line of successive promotions in law enforcement, starting with the transit police in Brooklyn in 1983.
Background: NYPD Commissioner James O'Neill
O'Neill has held many positions, including taking charge as the commanding officer of the Vice, Narcotics and Fugitive Enforcement Divisions - each for a period of time. His most recent position was as Police Chief, during which time he oversaw the management of the neighborhood policing program. The neighborhood policing program was implemented in 2014, during Mayor de Blasio's first term, with the intent to build relations and trust between the police and the communities they serve. The concept is that if the community works with the police to ferret out and penalize the perpetrators, crime will continue to stay at all time lows.
Neighborhood Policing: Intelligent Approach to Safety That Works?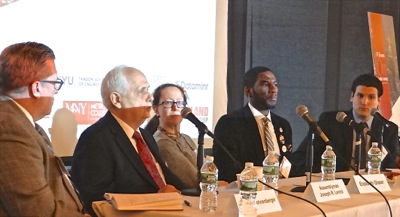 Part of the problem with past police / community relations is that most of those interactions with the police came with a negative connotation to them, for example as when being ticketed, or picked up for bad behavior.
The idea with neighborhood policing is to develop positive interactions by facilitating interactions between individual officers and individual members of the community, so that if and when the time comes, there's enough trust between the officer and community member to work collaboratively to round up and penalize law breakers.
O'Neill's speech was followed by a forum of four experts who have had some involvement in the governance of law enforcement in NYC. The panel included NYC Councilman Jumaane D. Williams of Brooklyn who is the Chairman of the Committee on Housing & Buildings, Elizabeth Glazer who is the Director of the NYC Mayor's Office of Criminal Justice, and NYS Assemblyman Joseph R. Lentol who is the Chairman of the NYS Assembly Committee on [criminal] Codes. The panel was moderated by City & State Features & Opinions Editor, Nick Powell, who has been covering crime in New York for many years.
Stop 'N Frisk - The Facts vs the NY Tabloid Hype?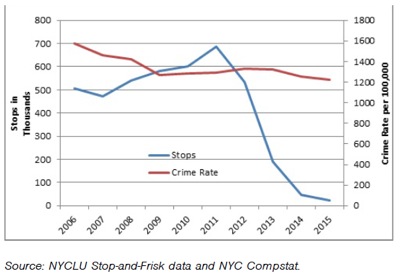 The panel explored numerous aspects of public safety in NYC, including a number of the successes NYC has been having with neighborhood policing, which is why the police / community clashes you see on the news are coming from other parts of the country - not NYC.
Needless to say, the job of the police force is never done, and challenges remain, but generally the forum had an upbeat tone due to the progress being made under Mayor de Blasio and Police Commissioners Bratton & O'Neill. One of the changes that's been helpful in community relations has been the drastic reduction in stop 'n frisk, which in spite of what the NYC tabloids purport, hasn't resulted in a spike in crime [see charts to right].
I did a bit of research, and found a couple of charts published in an April 11, 2016 report by the Brennan Center for Justice. The Brennan Center is a non-partisan, non profit research center at the NYU Law School. The two charts shown here graph the significant reduction in stop 'n frisk, while also showing no attendant spike in crime. In fact it is believed that over the long haul the reduction in unwarranted stop 'n frisk searches will have a positive impact on law enforcement community relations, as vast swaths of the populace that were searched with no result, will no longer feel that their privacy has been unnecessarily violated.
Cybercrime - Anonymous, Stealthy, Cross-Jurisdictional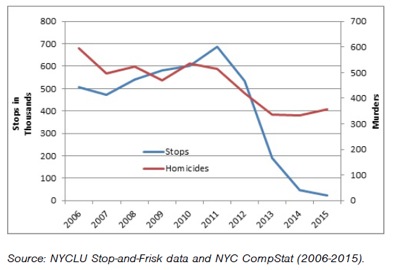 The second segment of the forum discussed some of the challenges facing the FBI with regard to reigning in cybercrime. The panel included Joel Stashenko who is the Albany Bureau Chief of the New York Law Journal, Nasir Memon who is a Professor of Computer Science & Engineering at NYU, Timothy Howard who is the Assistant U.S. Attorney and Cybercrime Coordinator for the NYS Southern District Office, and Prashanth Mekala who is the Supervisory Special Agent of the NY Field Office of the FBI.
The challenges facing law enforcement regarding cyber crime are different than most other criminal activity. For example cyber crime is generally anonymous, more insidious and hence more difficult to detect. And oftentimes the break-ins come through multiple legal jurisdictions which makes gaining access for tracking and prosecuting more challenging.
Budapest Convention of 2001 on Cybercrime Helping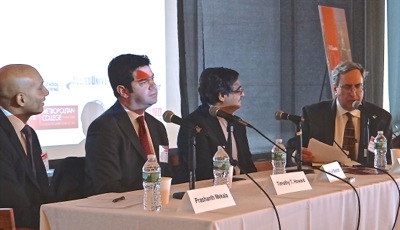 But progress is being made. There was a Budapest Convention on Cybercrime which was passed in 2001 and became effective in 2004. More nations are signing on, as the accords enable law enforcement to move more quickly in multiple jurisdictions in response to cybercrime events.
As in community policing, establishing trust between the victims and law enforcement is critical in enabling governments to catch the criminals. Oftentimes companies victimized by cybercrime are concerned the access they provide to law enforcement may be used against them in other regulatory and civil proceedings. One of the panelists told us that the information they seek is soley for the purposes of catching the criminals, not to share with other regulatory agencies or people. And that the less time between the breach of a system, and obtaining access to analyze it, the greater likelihood that law enforcement can track them down, because in cybercrime the 'digital fingerprints' oftentimes disappear.
Speed of Response Helps Law Enforcement Respond
What's happened recently is that company security has increasingly been delegated to the legal department of a firm, because the company is then protected from disclosures because of attorney client privilege.
But what then happens, because the lawyers seek to mitigate legal risk / blame, is that there's a slow response by the company to enabling law enforcement to do their jobs in track down the criminals. One panelist noted that oftentimes what companies are trying to keep secret [their blame / culpability] comes out in the wash anyhow.
One of the panelists noted that oftentimes the biggest threats come from within an organization. Someone is turned to the dark side, or is careless - resulting in the breach of security. Currently the NSA [National Security Agency], the CIA [Central Intelligence Agency], the DOD [Department of Defense] and the FBI [Federal Bureau of Investigation] are all working to mitigate the risks associated with cybercrime.
They had a third panel about mitigating disaster risk, like from terrorism or cataclysmic events such as hurricanes, but I didn't stay.
Organized by City & State Magazine, Website & Events
Many thanks to City & State, which is an informative magazine publisher and events organizer. Their work seems to be predominantly in the area of government, politics and social issues. You can visit their website at www.cityandstateny.com.
---
---
Sorry: A Work of Art ... a Masterpiece?
Modern, Multi-media Melange Explores Emotions of Misunderstanding
January 23, 2017 / Long Island City Neighborhood / Performing Arts in Queens / Queens Buzz.
I attended a performance of Sorry, a multi-media dance, poetry and theatrical work that came about from a two year residency at the LaGuardia Performing Arts Center in Long Island City. I went in expecting to see a modern dance performance, but experienced so, sooo much more.
I was instructed to arrive a bit early as there's free form dancing that begins about thirty minutes prior to the performance opening. When I arrived, I couldn't distinguish between the audience members and the cast, as some of the people in the crowd were quite good dancers.
The performance was held on the stage of the Main Theatre, which the LaGuardia Performing Arts Center has quite skillfully transformed into a modern dance / theatrical space - which is quite separate, but a subset of the original, traditional, Grecian auditorium style of the Main Theater itself.
After a while the performance began with an Islamic, American immigrant poetically recanting a mournful separation he was in the midst of experiencing with his girlfriend. One of the walls lit up with a life-size passing #7 subway train, as the orator took us with him on a current-day journey through the boroughs of New York City as witnesses to the angst in his life.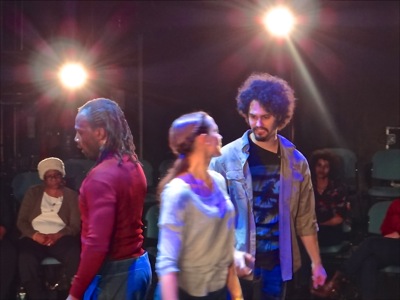 It was a bit like the movies, although so much more real, as we sat huddled in the ambient darkness of the theater, with life size video murals sweeping by, accompanied equally large still life photos and a three performer live cast. The music and choreographed dances allegorically captured the powerful troubled feelings of the characters portrayed.
The work explores the near universal, difficulty of human relationships in a modern, mixed, urban environment. Relationships complicated by gender roles, ethnicity and cultural learning - that are being sorted out simultaneously by all of us whether knowingly or not, as we travel through space and time in what may intermittently seem our lengthy, but short lives.
Later this week I'll continue this, including the addition of video and photos, but you only have a few days left to see it [Wednesday, Thursday & Friday at 8 pm] - and seating is limited [www.lpac.nyc - $20].
---
Click here for things to do on the Upper East Side UES, or things to do in Midtown Manhattan NYC, or things to do in the East Village and here for Whitestone hair salons.
---
---
Queens State of the Borough Address
Katz Delivers Her Third State of the Borough Address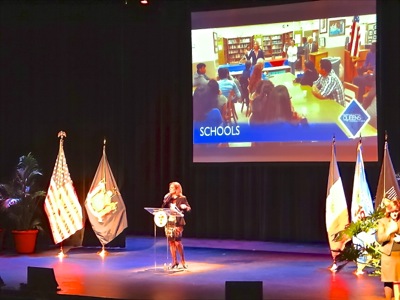 January 27, 2017 / Jamaica Neighborhood / Queens Politics & Government / Queens Buzz.
Last Friday I headed down to Jamaicatown to watch Queens Borough President Melinda Katz deliver her third State of the Borough Address at the Milton Bassin Performing Arts Center at York College.
I entered the auditorium shortly after she began her address where she was talking about her role in the good progress that the de Blasio Administration Education Department, headed by Carmen Farina, is having in moving the needle in enhancing both infrastructure and performance in the NYC Public School System.
As an example about of third of the trailers have been removed, with plans for another third to be removed this year. This means kids are back in regular classrooms - after possibly decades long neglect by prior Administrations [need to confirm this statment].
I'll have more on the Queens Borough President's State of the Borough Address sometime soon.
---
---
Late Night Dining in Jackson Heights
BQE Billiards Serves Eclectic Mix of American, Greek & Latin Favorites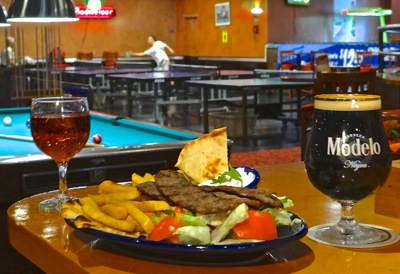 October 18, 2016 / Jackson Heights Neighborhood / Jackson Heights Restaurants / Queens Buzz.
I headed over to BQE Billiards and Bar for a photo shoot last week. They were working on developing a new website and I was helping them create the food photos. The side benefit of this excursion was that I was also able to partake in the feast that followed, where we all sat around and enjoyed sampling much of the food that was photographed. In the photo at right is the gyro plate sitting atop a counter space located within the pool area and overlooking the ping pong and arcade sections of BQE Billiards and Bar in Jackson Heights.
This story is going to include a review of some of the food I sampled, as well as delving into the history of one of Jackson Heights intrepid small businesses. BQE Billiards and Bar was founded 25 years ago by four partners, two of whom remain involved in the business today. So get comfy as we begin by traveling back in time, to the not-so-ancient Greece of the 1960's.
One of the founding partners, Nick, told me that as a boy he used to keep a watch in a Grecian winemaker's vineyard. As he grew older he was given the responsibility for tending a flock of sheep on the hills of Greece. Around the time he became a legal adult, Nick talked to his father about leaving the small town he grew up in, to seek out places and opportunities where he might be able to make a better go of things. His father, while reluctant to see his son depart, understood the calling of the young man, and sent him on his way.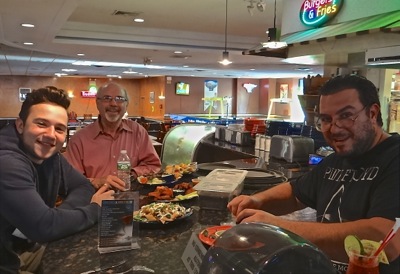 Nick sought work aboard a ship, the SS Andreas Panou. The ship ran into technical difficulties in the Greek port of Piraeus, so Nick and his crewmates were sent ashore to get a bite to eat, since the mess hall had no electricity. The foreman wanted the young lads to return before they had been able to get some food and they refused. The foreman and the Captain subsequently discharged Nick and his friend in October 1965.
Nick recalled how he sought and secured passage working aboard another ship. Less than six months later, in March of 1966, while on a transition in Vancouver, Canada; he noticed a newspaper written in Greek. Since he had not read anything in Greek for weeks, he bought the paper where he learned that the SS Andreas Panou had crashed off the coast of Spain.
In the photo at right, from left to right, are Andreas, Nick and Theo of BQE Billiards and Bar in Jackson Heights.
Click here to read the rest of our story about the history and the late night restaurant dining at BQE Blliards and Bar in Jackson Heights.
---
Mother's Day Restaurants In Queens
Mother's Day Restaurants In Queens
Mother's Day Restaurants in Astoria, LIC, Sunnyside, Woodside & Jackson Heights
Queens Restaurants / May. Mother's Day is less than one week away. It's a good time to let your loved one know you care. Flowers, gifts and brunch or dinner are always welcome, as is any thoughtful gesture that provides some measure showing your appreciation of your mother or the mother of your children. After all, without mothers, we would all cease to be.
It's best to book a restaurant reservation for Mother's Day brunch, as on Mother's Day in Queens, many restaurants are full. So if you're thinking about eating out at a restaurant this Mother's Day in Astoria, LIC, Jackson Heights, Sunnyside, Woodside or Flushing; it's best to do your research early, and call ahead to book Mother's Day restaurant reservations.
Mother's Day History - Restaurants In Queens
The origins of Mother's Day in the United States began with the efforts by Anna Jarvis in honor of her own mother. According to Wikipedia, Anna began the campaign in 1905 - the year her mother died - and in 1910 West Virginia was the first state to adopt it as a holiday. In 1914 Woodrow Wilson made the second Sunday in May as a national holiday to honor mothers.
Click this link to view a brief guide of Mother's Day restaurants in Queens 2016 where you will find links to Queens restaurants we've reviewed. The restaurants we've reviewed include a mix of high, medium and budget priced restaurants that are spread throughout the borough and offer a large variety of ethnic cuisines. Enjoy.
---
---
---
Astoria Furniture Stores Have It All - Queens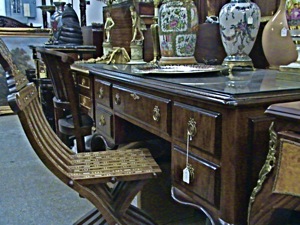 Astoria Shops / Astoria / Queens Buzz. The furniture stores located on the southern end of Steinway Street in the Astoria neighborhood of Queens seem to have something to offer to just about everyone. This part of Steinway is a furniture shopper's mecca, offering plenty of choices from classical colonial, to urban apartment living to bedding to suit nearly every spine.
I took a quick trip there, which is easily accessible via the N, W, G, R or V subway lines and within a sturdy walking distance from Long Island City, Astoria, Sunnyside and Woodside. Just up the street from Steinway is Broadway and two blocks further north is 30th Avenue, where you'll find a number of great Queens restaurants where after a good morning or afternoon of shopping, you can kick back in an enjoyable ambiance - or in the good weather along one of the sidewalk tables - ane enjoy a bit of coffee and some delicious food. Click here to learn more about the furniture stores in Astoria Queens.
---
Click for free checking in Queens or to buy eyeglasses Astoria, for Astoria hair salons, for Astoria wine stores, for Jackson Heights immigration lawyers, for Midtown dentists & Midtown Chiropractors, and for things to do in Queens. Eyeglasses in Jamaica NYC and bike stores Queens.
---
Mens Clothing Styles - Queens
Shopping Queens / Astoria Neighborhood / Queens Buzz. Esquire Men's Clothing Store continues to serve the greater Astoria and Queens area, as it has for over thirty years. The shop is owned and managed by Frank and Kevin Adhami, and their father, who is in his eighties, still visits the store on an almost weekly basis.
Esquire is located along Steinway Street between 30th and 31st streets. The store contains a wide selection of men's coats, suits, casual wear, shoes and men's accessories like belts and ties.
This story will provide some information about the store itself as well as fashion recommendations for the Spring and for job hunters.
Click this link to view a story written on Men's Clothing In Astoria Queens NY. Click here for men's clothing stores in NYC, and here to buy Stone Rose shirts in NYC, and here to buy Alberto pants in NYC, and here to buy Eton shirts and here to buy Hugo Boss sneakers in NYC. Click here for Astoria / LIC Queens tile stores serving Brooklyn, Greenpoint & Williamsburg or here for abayas in Queens & Brooklyn NYC and for hijabs in Queens & Brooklyn NYC.
---
Queens Farmers Markets
April 16, 2017 / Astoria Sunnyside Woodside Jackson Heights Long Island City LIC Flushing Jamaica / Queens Buzz.
Jackson Heights was the first year 'round farmers market in Queens, Forest Hills was the second year 'round farmers market, and Sunnyside was the third year 'round farmers market in Queens. So now Queens has three farmers markets operating year 'round and nearly a dozen seasonal farmers markets.
Click the link below to see a listing of the Queens Farmers Markets operating during the 2017 season including links to maps. Click the other link below for an updated list of Queens Street Fairs schedule of 2017 through June of this year, including dates and maps showing their locations. The second half of the season will be likely be updated in June of 2017.
Click here for our updated posting of Queens Street Fairs - Queens NY. Click here for a listing of the Queens Farmers Markets. You will always find both street fairs and farmers markets for the current month in the Queens Events section of the site [see top tool bar for button / link]. Click here to view the map of the Jamaica farmers market. Click here for Bronx street fairs.
---
---
Is Trump Pushing America into Arms Race with Itself?
Proposing $54 Billion Defense Budget Increase - Why?
February 28, 2017 / NYC Government / NYC Business / News Analysis & Opinion / Gotham Buzz NYC.
Tonight President Trump will address the nation regarding his plans for the U.S. One of the notable previews given by sources within the Administration is that Trump plans to increase Defense spending by $54 billion. I decided to take a quick look at some of the economic statistics to see if that appears warranted, especially vis a vis other priorities.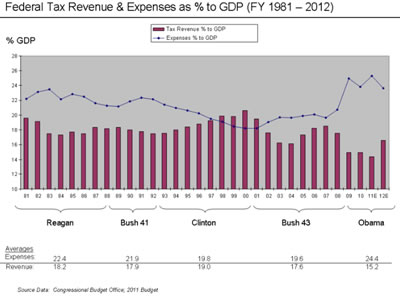 U.S. Government Deficits
The first chart [Congressional Budget Office] shows that the U.S. government has been spending more than it has been taking in. The gap widened in the wake of the September 2008 near financial meltdown, as tax receipts fell and fiscal stimulus [government spending] was needed to keep the economy going.
The higher levels of debt continued through the first term of the Obama Administration and then fell sharply back to Bush II era levels during the second term of the Obama Administration.
The net result is that near financial meltdown resulted in higher government deficits, which added to the overall U.S. government debt.
U.S. Government Debt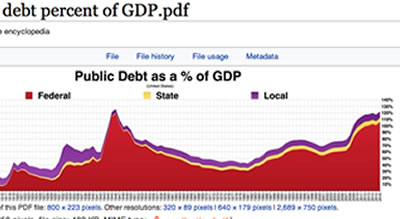 The second chart [Wikipedia] shows U.S. government debt relative to U.S. GDP. GDP is the acronym for Gross Domestic Product, which is a measure of the nation's economic output in goods and services.
The chart shows that the overall U.S. government debt relative to GDP rose significantly in the wake of the 2008 near financial meltdown. Currently the U.S. debt level is equal to about an entire year of U.S. economic output.
Many economists think that the U.S. has an unhealthy level of debt as it doesn't provide much slack for unforseen circumstances, like the 2008 near financial meltdown or prolonged involvement addressing international crises.
U.S. Defense Spending One Third of Global Total
About Equal to the Next 8 Nations Combined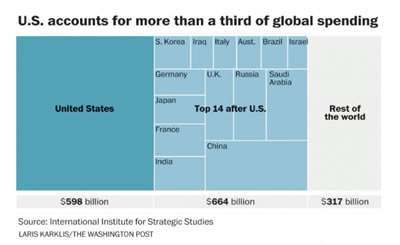 Currently the U.S. appears to overspend on military operations vis a vis the rest of the world. The U.S. military accounts for one third of defense spending in the world and its budget is roughly equal to the military budgets of the next EIGHT leading defense spenders in the world.
You can see this in the chart at right which was created by the Institute for Strategic Studies and published in the Washington Post.
U.S. Economy Less than a Quarter of Global Total
About Equal to Only the Next 3 Nations Combined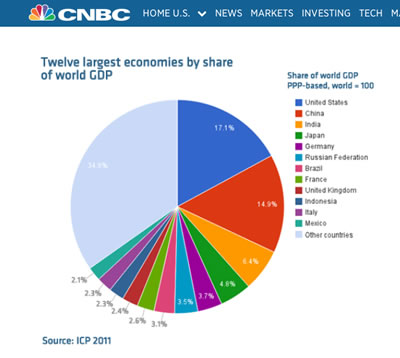 By contrast the U.S. economy represents less than a quarter of the global economy [versus a third of defense spending] and the U.S. economy is equal to the next THREE leading economies in the world [versus eight nations in military spending].
In the chart at right you can see the U.S. economy depicted in size versus the next eleven economies in the world. The chart was prepared by the International Comparison Program [ICP] which involves the World Bank in making its comparisons.
Does Trump Proposal to Increase Defense Spending $54 Billion Make Sense?
So my question is why is the president proposing to INCREASE defense spending, when we're spending so much more - relative to the size of our economy - than the entire rest of the world?
When private industry is asked to do so much more, with so much less, because it's possible with technology - does it really make sense to increase military spending?
It seems this sort of prolonged drain of resources - financed by borrowing from other nations on the backs of our children - actually weakens us, not strengthens us.
We'll find out how President Trump justifies this tonight. Next week I'll have more for you to consider about other national / economic priorities that the data indicates have far greater need for more resources than the U.S. military.
Isn't Trump the Greatest Negotiator in the World?
The Defense department spends well over a HALF TRILLION DOLLARS ANNUALLY. Is it possible that those in charge of our Defense spending are not good managers of the money they are given? Shouldn't former businessman President Trump teach them how to operate more leanly and better NEGOTIATE their contracts?
Aren't Security Risks Today Best Solved by Intelligence not Big Military?
It seems these days the real security risks are not so much military as they are terrorist. That would imply a change in strategy from spending on big hardware, to spending on intelligence. Unfortunately calm, thoughtful, intelligence appears to be in short supply at the White House these days.
---
Queens Real Estate
Real Estate in Astoria, Jackson Heights, Long Island City LIC, Sunnyside, Woodside, Flushing, Jamaica
Queens NY / 2017. These links will take you into sections & reports on the Queens real estate market in Queens beginning in 2009.
These reports include reviews of apartment rental prices, as well as condo, co-op and home prices and availability in the Queens market.
We have also done neighborhood specific reports about Astoria real estate, LIC / Long Island City real estate, Jackson Heights real estate, Woodside & Sunnyside real estate, Flushing Real Estate and Jamaica Real Estate. Click here to view Long Island City apartments for rent LIC.
While we found these neighborhoods mirrored / trailed many of the national trends, we found some interesting differences, including differences from neighborhood to neighborhood.
Click here to read the Queens Real Estate market analysis 2009. Click here for Jackson Heights realtors and Jackson Heights real estate.
---
Queens Buzz Voluntary Subscriptions
We work very hard to help keep you informed by providing you with independent news coverage, as well as information about events in the arts, culture and business in the borough.

You can help us continue to provide you with independent, first-person, fact-based, contextural reporting by purchasing an annual subscription. As it's voluntary, there are a variety of price options, one of which should fit within your budget.
Thanks for your encouragement & support.
---