Things To Do Queens
Chocolate Carnal Church, GS Dance Festival, Tribeca Film PS1 MoMA, Hindu Holi Celebration QM, Indonesian Food Fest, Red Noses & Cuckoo LIC Theatre, Astoria Heights Park Celebration WS, Shoreline Walking Tour, Bach Beethoven & Brahms Rdmr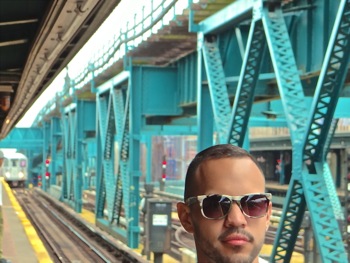 April 17, 2015 / Things To Do Queens / Queens Buzz.
Weekend Weather 4/17. Highs will be in the low 70's on Friday and Saturday, dropping to about 60 on Sunday. The lows will be between 45 and 55, with an 80% chance of rain Friday during the day and dry the rest of the weekend.
MTA. The #7 subway line will be operating normally until May 22nd. The E, F, N, Q and G subways also look pretty clear, with the exception of line work at a couple of specified stations in Jamaica and a number of specified stations along various lines in Manhattan.
Friday
The NY Irish Center is showing the film Philomena beginning at 7.30 pm [history / culture - $11 / $8].
Green Space in LIC is hosting its annual weekend long Spring Dance Festival GreenSpace Blooms begining at 8 pm [member calendar - $16/$12]. Also see Member events below.
The Secret Theatre is hosting performances of Red Noses through Sunday evening beginning at 8 pm each night with 3 pm matinees on Saturday and Sunday [theater - $18 / $15].
One Flew Over The Cuckoo's Nest begins at 8 pm on Friday and Saturday with 2 pm matinees on Saturday and Sunday at the Chain Theatre in LIC [theater - $18 / $15].
Saturday
On Saturday Astoria Heights Park pulls out all stops for a day-long block party that runs from 9 am - 4 pm. There will be a free tree giveaway.
The Jackson Heights Beautification Group is hosting a tree care event from 10 am - 1 pm which begins at 37th Avenue and 80th Street [social].
The Greater Astoria Historical Society is hosting a Walking Tour of the LIC / Newtown Creek Shoreline with Richard Melnick beginning at 11 am meeting at Hunters South Park at Borden Avenue and Center Blvd [history - $20 / $15].
Indonesian Foodie & Goodie fundraising food bazaar from 12 noon to 5 pm at the Presbyterian Church of Forest Hills at 70-35 112th Street [dining / food].
The Queens Museum is host to the Hindu Holi & Earth Day Celebration from 3 - 5.30 pm [kids - free w/ admission].
One Flew Over The Cuckoo's Nest begins at 8 pm on Friday and Saturday with 2 pm matinees on Saturday and Sunday at the Chain Theatre in LIC [theater - $18 / $15].
The Secret Theatre is hosting performances of Red Noses through Sunday evening beginning at 8 pm each night with 3 pm matinees on Saturday and Sunday [theater - $18 / $15].
Green Space in LIC is hosting its annual weekend long Spring Dance Festival GreenSpace Blooms begining at 8 pm [member calendar - $16/$12]. Also see Member events below.
The one evening existential performance event of carnal church by Luciana Achugar opens at the Chocolate Factory in LIC at 5-49 49th Avenue at 10 pm and runs until 2 am and it's free.
Sunday
PS1 MoMA in LIC hosts a showing of MA from the Tribeca Film Festival beginning at 4 pm [limited tickets at the door].
There's a concert of Bach, Beethoven and Brahms beginning at 6 pm at Church of the Redeemer in Astoria.
One Flew Over The Cuckoo's Nest begins at 2 pm at the Chain Theatre in LIC [theater - $18 / $15].
The Secret Theatre is hosting performances of Red Noses [21st century Patch Adams] through Sunday evening beginning at 8 pm each night with 3 pm matinees on Saturday and Sunday [theater - $18 / $15].
Green Space in LIC is hosting its annual weekend long Spring Dance Festival GreenSpace Blooms begining at 8 pm [member calendar - $16/$12]. Also see Member events below.
Block Party, Zen Crystals, Classical Music
Click to the Queens Member Calendar for other member posted events happening during the week.
See events above, plus there's a Terrarium class at Luludi in Astoria at 6 pm Friday for date night and at 12 noon Saturday using Zen crystals.
Also on Saturday Astoria Heights Park pulls out all stops for a day-long block party that runs from 9 am - 4 pm.
On Sunday there's a Toastmasters meeting beginning at 10 am in Jackson Heights. There's also a concert of Bach, Beethoven and Brahms beginning at 6 pm at Church of the Redeemer in Astoria.
Next Week - Member Events
Terrariums, Dance, Education & Theology
Weather Next week. Highs will range from the mid 50's to mid 60's and the lows will range from the mid 40's to mid 50's. There's an 80% chance of some rain Monday afternoon / evening and a 40% chance Tuesday morning. Click here for details on Queens Weather, National News & Horoscopes or use the links on the right side bar.
On Monday there's a 6.30 pm Transportation Alternatives Queens meeting at the Greater Astoria Historical Society [member calendar].
On Tuesday there are flamenco dance classes beginning at 6 pm at Sol in Astoria and modern dance classes beginning at 6.30 pm at Green Space in LIC. There's also a terrarium class in Astoria at 6 pm.
On Tuesday evening beginning at 6.30 pm, a Beyond Sacred event will be hosted at the Flushing Town Hall.
On Wednesday there's a terrarium class in Astoria at 6 pm. Also, the Garden School hosts an Open House beginning at 9 am in Jackson Heights. While the Sunnyside Reformed Church hosts a Bible Study beginning at 7.30 pm.
On Thursday and there are flamenco dance classes at 6 pm in Astoria and Salsa Dance Classes beginning at 7 pm at EC Squared Studio in Jacskon Heights.
Click on the link above to go to the Member Events Calendar to view events.
And click here to find art, theater or film open calls, jobs openings, affordable housing, government sponsored classes & funding.
Use the Business Directory to your right to find contact info, website links and maps for events posted herein; or the search function top left to find related stories, maps, restaurants or anything else on this site. And of course there's always an opportunity for shopping in Queens which you can find here, which we will update soon.
---
Real-Time. Off Line. Interactive. Online. Theater.
LaGuardia College Performing Arts Center Takes Center Stage With Rough Draft Festival
April 13, 2015 / Long Island City LIC / Queens Theater / Queens Buzz.
A bit more than a week ago I headed down to the LaGuardia College Performing Arts Center to watch / participate in one of the performances of the week-long Rough Draft Festival.
The Rough Draft Festival is the creation of Managing Director Steven Hitt and Assistant Director Handan Ozbilgin of LaGuardia College Performing Arts Center. The festival was the evolution of experimental dance and theatrical work the two had been collaborating on with Queens and New York City performing artists over a number of years. In 2013 they launched the first Rough Draft Festival to attract, audition, present and refine original choreographed and theatrical works probing themes relevant to the Queens community.
The work I would view today was entitled The Art of Hijab. Kohl Black and the Right Way to Pray. This production dovetailed with another project undertaken by the LaGuardia College Performing Arts Center dubbed Beyond Sacred, which is a grant-sponsored exploration of Islamic cultural identity.
Click here to read our report about the Rough Draft Festival at the LaGuardia College Performing Arts Center. Report.
---
Art imitates life ... and ...
television brings back 1960's style & culture
Mad Men Exhibit At The Museum Of The Moving Image In Astoria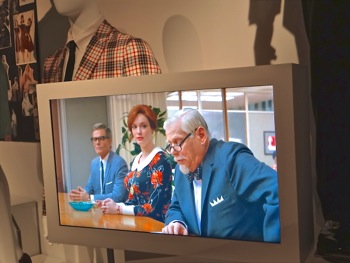 April 6, 2015 / Astoria NY / Film in Queens / Queens Buzz. Several weeks ago I attended the press preview of the Mad Men exhibit at the Museum of the Moving Image in Astoria.
Mad Men is the creation of writer Matthew Weiner who previously worked as a contributor on the HBO series, The Sopranos. Weiner enlisted Lionsgate Television to collaborate with him in producing the show, which was aired on cable channel AMC TV beginning in 2007.
The first pilot episode was filmed at SilverCup Studios in Queens, with subsequent episodes being produced in Los Angeles. The last show of the series aired on April 5, 2015.
Hence the Mad Men exhibit at the Museum of the Moving Image in Astoria was perfectly timed, and it will be on display until June of this year. In the photo at right is Don Draper, the proverbial star of the show, in his New York City advertising office on AMC TV's Mad Men.
So, relax, pour yourself a Scotch, pull a Cohiba cigar out of the humidor and click here to read on ... the Mad Men exhibit at MoMI Museum of the Moving Image in Astoria.
---
Sophocles Arrives In Athens Square Park
A History Of Athens Square Park In Astoria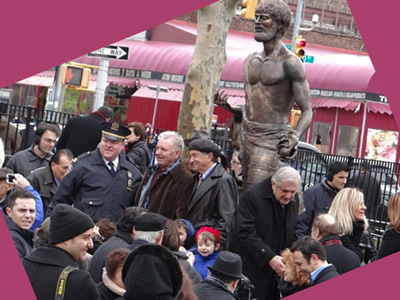 March 30, 2015 / Astoria Neighborhood / Ethnic & Religious Culture In Queens / Queens Buzz. A new statue of Sophocles arrived in Athens Square Park on Saturday. The statue was erected as part of the Greek Independence celebration festivities in Astoria last weekend.
But for some it was a day to bear witness to the completion of a thirty-one year community effort to complete the vision of the park as first set forth by former Athens Square Park Dennis Syntilas over three decades ago.
And it was a bittersweet day, as Dennis Syntilas passed away only three prior to this event, in January of 2015.
Standing in the photo at right [from left to right] is Captain Dennis Mullany of the 114 Precinct, George Alexiou former President of the Greek Homeowners Association, George Delis current President of Athens Square Park, Sophocles [statue], George Stamatiades a longtime supporter and Community Board Member, and the woman standing at street level with the wavy auburn hair is Rita Syntilas who is the widow of Dennis Syntilias the former President of Athens Square Park.
Click here to read our full report regarding the history of Athens Square Park in Astoria, and the erection of the Sophocles statue during the Greek Independence celebrations in NYC in March of 2015.
---
Sunnyside Yards: Finding Our Place In Space & Time
Part II. History Of Transit & Housing In Queens: Sunnyside Yards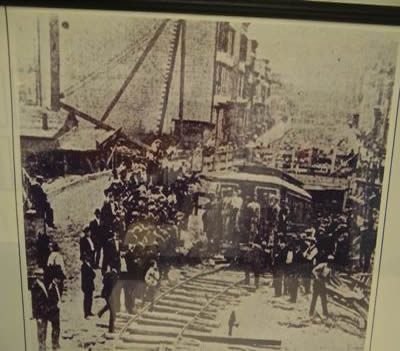 March 18, 2015 / Sunnyside / Queens Real Estate / News Analysis & Opinion / Queens Buzz.
In Part I of this report series about Mayor de Blasio's proposed development of Sunnyside Yards, we saw how Queens evolved from the rolling woods and farmlands of the early 19th century, into an industrial and manufacturing center along the East River waterfront in the second half of that century. In 1898 Queens became a part of New York City and the dawn of the 20th century had begun.
Work On The Steinway Tunnel Resumes & Begins The Era Of The Commute
In 1892 William Steinway [he died in 1896] began digging a tunnel underneath the East River between Queens and Manhattan. He had envisioned completing it to enable mass transit flows between Queens and Manhattan to enhance the value of his vast Astoria / Long Island City real estate holdings, but he died before that vision came to fruition. The Steinway Tunnel, which was named in his honor and which it carries to this day, is now the underground tunnel for the #7 subway line between Flushing Main Street in Queens, and Times Square in Manhattan. I shot the photo to right at LaGuardia Community College in LIC which shows a newspaper account of a 1907 test run of the line, three years after the completion of the Steinway Tunnel between Manhattan and Queens in 1904.
Large Scale Real Estate Development Begins In Queens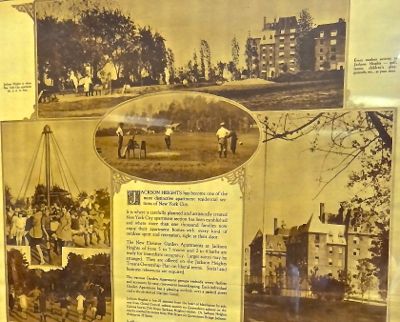 Following the creation of the interborough subway lines, affordable housing developments followed in Jackson Heights, Forest Hills and Sunnyside. The photo at right shows a 1922 real estate development in Jackson Heights built for the upwardly mobile growing middle class. I shot this photo at the Jackson Heights Beautification Group's Historic House [Garden] Tour Weekend.
We ended Part I talking about Public Housing that ultimately became low income housing, and which had systemic problems attributed to the civil rights struggle of the mid 20th century, and which was followed by social upheaval accompanied by narcotics. While remnants of the past remain with us, the most egregious aspects of these historical issues have been ameliorated.
And so we begin Part II by taking a deeper dive into the evolution of New York City's transportation system and housing development, with an eye toward how mass transit and the auto enabled the daily movement of millions of people / workers between their workplaces in Manhattan to their homes in the outer boroughs - most notably of Queens.
What follows is Part II of a deeper look into the Mayor's proposed development of the Sunnyside Yards.
---
Sunnyside Yards: Finding Our Place In Space & Time
Part I. A Closer Look Into The Many Dimensions Of The Mayor's Proposed Development Of Sunnyside Yards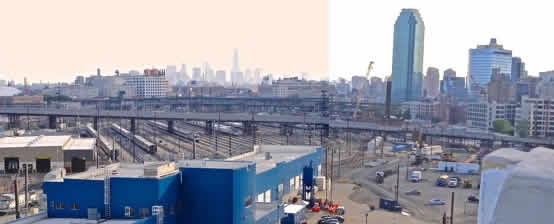 Updated March 18 / First Post March 8, 2015 / Sunnyside / Queens Real Estate / Queens Buzz. There's been plenty of talk about the proposed development of Sunnyside Yards since Mayor de Blasio first announced it as one of the top real estate development sites that could be used to mitigate New York City's current housing crisis.
I've been taking an informal poll about the proposed development, and generally have heard people voicing opposition to it, even though the proposal is still in its early stages. To be sure there are potential issues associated with the real estate development which one could easily construe to be negative [like the population density impact on infrastructure], but there are also opportunities associated with it, which one could see in a positive light [like tying funding for more transit to address the stress already on the #7 subway line].
What follows is a multi-dimensional look into the proposed development of the Sunnyside Yards.
---
Liberian President Visits York College
Women's Month: Ellen Johnson Sirleaf Is First Female President Of African Nation & 2011 Nobel Peace Prize Winner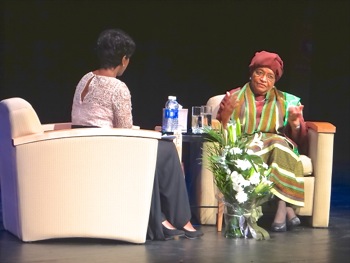 March 16, 2015 / Jamaica NY / Ethnic Culture / Queens Buzz. I had an opportunity to attend a public interview of President Ellen Johnson Sirleaf, the first female president of an African nation. President Johnson Sirleaf won the 2011 Nobel Peace Prize with two other African women for their non-violent work to provide safety to women on the African continent, and for their efforts to include women as full participants in the peace building process.
Author. President Johnson Sirleaf recently published a book entitled, This Child Will Be Great, which carries the message that you can grow up to be whatever you want to be, if you're willing to work at it. And I suppose Ellen Johnson Sirleaf's life serves as a case in point.
Parentage & Education. President Sirleaf grew up the daughter of mixed race, as her father was from a Pakistani / Indian tribe that settled in western Africa, and her mother was a mix of German and African blood. She was born in 1938 in Monrovia, the capital of Liberia, and married at the age of 17 in 1956. She attended college and in 1961, several years after her marriage, she moved to the U.S. with her husband where she attended the Madison Business College in Madison, Wisconsin. She also studied economics in Boulder, Colorado and earned a Master of Public Administration degree from the JFK School of Government at Harvard in 1971.
Click here to read the rest of our story about a Nobel Prize Winner's visit to Queens.
---
Through Rain, Snow, Sleet Or Hail ...
The St Pat's For All Parade Is Like The Mail
March Comes In Like A Lion In Sunnyside Queens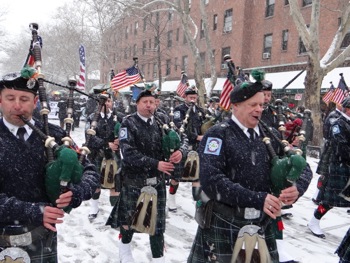 March 2, 2015 / Sunnyside / Ethnic Culture In Queens / Queens Buzz. A bit of snow was falling, and temperatures were just below freezing, as I made my way down to the 16th annual St. Patrick's Day Parade in Sunnyside. To add to the challenges on this day, the #7 subway line was out between Times Square in Manhattan and 74th Street / Broadway in Jackson Heights.
It was no surprise that the streets were fairly empty, and there was only a small gathering down near the podium at 46th Street on Skillman Avenue. The event was to begin at 1 pm, but that didn't happen today. Folks were milling about, so I started mingling.
The first Miss Queens [2015] of the Miss America pageant had arrived and posed wearing her tiara along the snowy walks along Sunnyside Gardens. Her name is Catherine Manett who is originally from Patchogue on Long Island and more recently of Whitestone in Queens. She will be competing in the Miss America New York pageant on Staten Island on June 6th - and if successful there - will go on to the Miss America finals in Atlantic City in September.
Given the cold temperatures and snow, it didn't seem to be a great day for a run. But that didn't stop several members of the intrepid WoodsideSunnysideRunners.com club. I found Paz Tanjuaquio, one of the Founders of Topaz Arts in Woodside, dressed in her running suit conversing with Woodside Sunnyside Runners club Founder Jay Radner and a third runner. They were resting after a short run up and down an empty Skillman Avenue and decided to enjoy the fine weather by staying to hear the speeches and view the parade. Jay told me that there are about 1,000 runners on his email list and that they do a run nearly every day. You can learn more about the club on their website www.woodsidesunnysiderunners.com.
Slan. Click here for Irish pubs / bars in Manhattan on St. Patricks Day 2015.
---
A Look Inside Renaissance Charter School
One Of The Finest & One Of The First NYC Charter Schools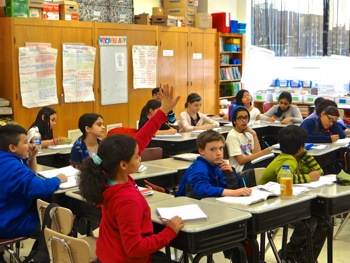 February 23, 2015 / Jackson Heights / Queens Schools / Queens Buzz.
I spent parts of a couple of days at the Renaissance Charter School in Jackson Heights recently. One of the visits was to hear testimony given by the community with respect to renewing the school's NYC Department of Education charter. The second visit was to tour through the school to view the classrooms, facilities and become aquainted with the curriculums. What follows is an account of these visits, supplemented by a bit of outside research into ongoing debate and battle about the role of charter schools in the NYC public school system.
I arrived around lunchtime and met Peggy Heeney of the Development & Outreach department of the school. After a brief orientation and discussion about the tour upon which we were about to embark, we headed toward the back of the building on the first floor of the school. The Renaissance Charter School is located just off 37th Avenue at 81st Street in Jackson Heights.
Peggy told me that the building was previously a department store and that the school had moved into it several years after its founding. She informed me that the Renaissance School actually preceded the incorporation of charter schools in the NYC public school system in the 1990's.
We'll have more later this year about the Renaissance Charter School in Jackson Heights.
---
Museum of the Moving Image Hosts Indie Cade
Indie Cade East Celebrates Third Year At MoMI
February 17, 2015 / Astoria Neighborhood / Film In Queens / Queens Buzz.
Indie Cade East came to the Museum of the Moving Image in Astoria last weekend. I believe it was the third or fourth year that the event was held at the Museum of the Moving Image in NYC. Indie Cade is an interactive expo about all things pertaining to video and gaming, and it attracts a decidedly youthful crowd.
In the photo at right a young man tries on a pair of video goggles to 'get in the game'.
We'll have more about Indie Cade at a later date.
---
Affordable Care Act Insurance Deadline
February 15th Is Final Day To Begin NYS Insurance Enrollment
Deadline For Enrollment Completion Extended To February 28th
Updated February 15 / February 12, 2014 / Manhattan Healthcare / Gotham Buzz.
New Enrollments For ACA Health Insurance Ends February 15, 2015. Those who have begun the enrollment process by February 15th will have until February 28th to complete them. The deadline is February 15th to begin an enrollment. We received reports that many folks were having difficulty in getting through to a telephone operator, so it looks like there was a spike in demand near the deadline, which also happened in 2014.
On Saturday, NY State of Health extended the enrollment deadline by two weeks to enable those who do not complete their enrollments by Sunday, February 15th. Hence, enrollees now have until February 28th to complete enrollments in the New York State health insurance plans associated with the Affordable Care Act. It's worth mentioning that the NY State Of Health does not have operators available on Sunday and that they are only available Saturday from 9 am - 1 pm.
Enrollment On Target With Government Incentives. According to recent national news services, there were already 9.5 million enrollees in the Affordable Care Act plan as of a few weeks ago [mid / late January 2015]. The total enrollment target nationally for this year is 10.5 million. Last year the New York State of Health - which runs the NYS Affordable Care Act enrollments - signed up nearly 371,000 people. There were reports in January 2015 that the number of NY State of Health enrollees has grown this year. We also understand that the folks who enrolled last year and are currently participants in a plan will be automatically renewed in their Affordable Care Act Health insurance, so they are not required to update their enrollment with the state. But that said, they must renew their status with their health insurance provider around the time of the anniversary of their enrollment.
One news site recommended that folks already enrolled in the plan ought to review and update their enrollment to make sure they want to stay with their present insurer, and that they fully understand the tax consequences of their healthcare choices.
Tax Penalties 2015. One report noted that the majority of Affordable Care Act enrollees get some measure of monetary incentive to enroll in the plan. In 2014 the tax penalty for not having health insurance was $95 per adult or 1% of household income. In 2015 the penalty rises to $325 per adult or 2% of income.
Click here to view the New York State of Health website.
---
MTA: Subway Fare Increases March 22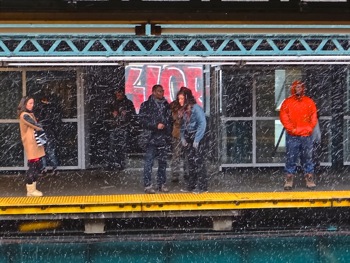 February 13, 2015 / Queens Neighborhoods / Queens Buzz.
The Board approved increasing the base fare for the subway, bus, and MTA Staten Island Railway by 25 cents to $2.75, while also more than doubling the bonus amount added to MetroCard® purchases of at least one round-trip.
The combination of the increased fare and the increased bonus creates an effective fare increase of 4.1%, or 10 cents, for the Bonus MetroCard, which is used for 43% of trips. The 30-Day Unlimited Ride MetroCard, which is used for 29% of trips, will increase 4% to $116.50. The 7-Day Unlimited Ride MetroCard, which is used for 21% of trips, will increase 3.3% to $31. The remaining 7% of trips are made using non-bonus MetroCards, cash on buses or Single Ride Tickets, which are largely purchased near major tourist destinations.
---
In Search Of A Civilization Lost By Mass Media
LaGuardia College Performing Arts Center Uses Theater & Art To Stimulate Cross Cultural Community Conversation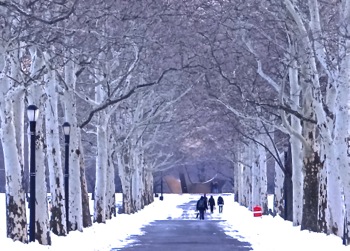 February 9, 2015 / Long Island City / Queens Theater / Queens Buzz. It was nearing sunset on Saturday evening as I made my way through a beautifully quiet Flushing Meadows Corona Park. The clean white snow glistened gently in the fading light, and the leafless trees along the road provided what felt like an ancient natural cathedral.
I checked in at the admissions desk and made my way to the second floor of the Queens Museum. The Queens Museum was once the home to the United Nations and hence provided the perfect context for this community conversational performance. The floor to ceiling windows looked out onto the landmarked Unisphere which emanated a universal vibe. In the long wide hallway a crowd was engaged in clustered conversations following the conclusion of four performances shown that afternoon. I had seen the performances at an event earlier in the season.
I began talking to Tasneem, a member of the audience who is shown in the photo at right standing alongside a photo taken by a friend of hers who is shown in the photo. Tasneem came from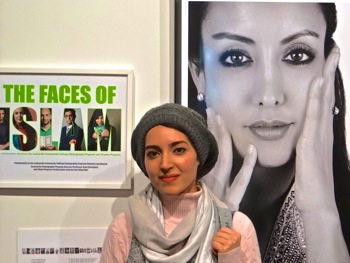 Jordan twelve years ago, only two years after 911. She said that it's important for the general populace of Muslims to stop being afraid of showing they're Muslim, because otherwise New Yorkers and the rest of America will be left with the picture of Islam as depicted by a few extremists which is amplified and continually repeated by the American mass media.
I couldn't deny it. It seems American television stations, radio stations, newspapers and magazines are obsessed with providing the Islamic terrorists all the publicity they want.
But here, tonight, in the Queens Museum; I would not see any of the faces shown by our mass media. I would see only the faces of everyday Islamic New Yorkers who generally receive no publicity at all. Muslims who hail from dozens of cultures around the world. And there wasn't a single terrorist among them. Hence - and likely not coincidentally - there also wasn't a single mass medium reporter covering this event.
Tasneem told me how she, like many other American Muslims, fears showing she's Muslim because of the stereotypes created by the terrorists and perpetuated and blown up by the American mass media. The notion of a silent majority came to mind.
It occurred to me that the gore of the Islamic extremists must be good for tabloids and TV ratings. And I pondered what it must feel like to be stereotyped by this relentless, distorted depiction of one's culture and people. Andy Warhol's characterization of the mass production of images came to mind.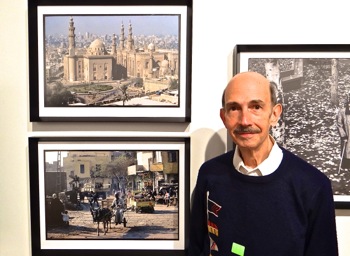 I thought about what it would be like if I lived somewhere else in the world where the nation's media mass produced stereotypes of Americans, depicting us as murderers, rapists and thieves. That could easily be done if a nation's media decided to portray Americans by solely covering the 5.6 million violent crimes and the 17.1 million property crimes that took place in this country in 2011 alone [source: Wikipedia / Bureau of Justice Statistics]. That just wouldn't be right ... would it?
And yet, it seems that this is exactly what's been happening to Muslims in America, because of the unbalanced coverage of Islam by the big American mass media companies. The TV and newspaper tabloids make a living by sensationalizing - spinning things out of context - but aren't the real journalists supposed to provide perspective by putting things back in context?
This seems generally not to have been done.
And so the LaGuardia Performing Arts Center applied for and received a grant to begin such an effort. An effort to provide exposure to the lives and contributions of the other billion Muslims who go peacefully and productively about their lives each day, just like most of the rest of us. An effort to create a community conversant with a deeper and broader understanding of a millenial and centuries old culture that is embedded in the lives of over a billion people on the planet. People who live in dozens of nations around the globe, and none of whom are terrorists - and hence generally not represented in the American mass media.
I met American born Charles Bernett of Rego Park who had traveled to Cairo in 1979. Thirty-five years ago he was about to embark on his second trip through Africa ... [see photo at right].
Click here to learn more about the LaGuardia Performing Arts Center exploratory, year-long, theater and arts, cultural endeavor entitled Beyond Sacred: Unthinking Muslim Identity.
---
LICP Seeks To Balance Community Growth
Effort Underway To Guide Neighborhood Evolution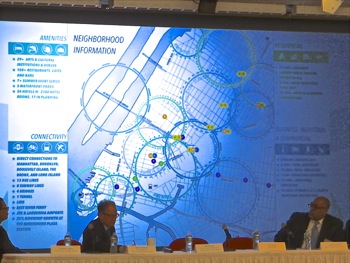 February 2, 2015 / Long Island City LIC / Queens Business / Queens Buzz. The LIC Partnership applied and received a grant to explore approaches through which government and business can work together to develop the LIC neighborhood in a communal way. This means somehow enabling the measured growth of multiple categories of human endeavor including residential growth, office growth, commercial growth, industrial growth and cultural growth. Based on some of the comments I heard at the workshop, I believe it may also include trying to maintain some measure of ethnic and income diversity within the community.
One of the panelists noted that generally what happens in real estate development is that everyone seeks to convert their real estate holdings to the highest price per square foot use. In NYC this is frequently the conversion of the current zoning to residential housing.
One of the problems that evolves over time is that the neighborhood loses some of its desirability as residents must start traveling longer and longer distances for basic amenities such as dry cleaning, groceries, recreational shopping and dining. Hence, to that end the LIC Partnership offered this workshop to help those working in the industrial and commercial real estate development categories to find government sponsored programs and financing designed to incent them to maintain, evolve or create space designed to maintain a diversified mix of real estate capacity within the Long Island City neighborhood.
Click here to read our report on the LIC Partnership Business Breakfast On Industrial & Commercial Incentives and Financing.
---
---
---
Queens Unemployment Continues To Best Metro Average
Drop In Unemployment Rate Continues Improving Trend
J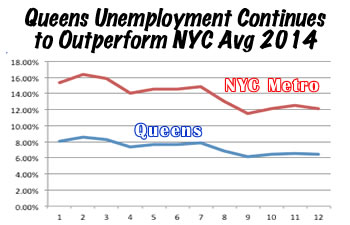 anuary 28, 2015 / Flushing Neighborhood / Queens Business / Queens Buzz. In January of 2013 Queens unemployment rate was 8.9% and by the end of the year it had fallen to 6.7%. In January of 2014 Queens unemployment rate was 6.7% and by December of 2014 it had fallen to 5.7%.
Queens overall employment picture was better than the overall average for the NYC metropolitan area. In January of 2013 the NYC unemployment rate was 9.7% and by the end of the year it had fallen to 7.5%. In January of 2014 the NYC unemployment rate was 8.1% and by December of 2014 it had fallen to 6.4%.
Queens has been emerging as a business and residential destination given its proximity to Manhattan and its robust public transportation network.
---
---
Snow Storm Skirts Queens & NYC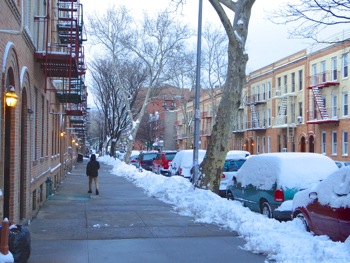 January 29, 2015 / Queens Neighborhoods / Queens Buzz. On Monday evening NYC's mass transit system was shut down. It was announced that NYC public schools would be closed. And everyone was advised to prepare for a snowstorm that might bring 24 to 36 inches of snow to the city.
On Tuesday morning, things looked quite a bit brighter. The city received far less than a foot of snow. In most places the inches of snowfall didn't even break the single digits. And so it was, a snow day without too much snow.
NYC has a long history of under reacting and over reacting to weather conditions. When government officials under react they generally lose some face. When they over react, the proverbial political storm blows over.
And so it was on Tuesday, January 27, 2015 that Queens enjoyed an unscheduled day off, with all the shopping done.
---
---
Choreo_Politics @ PS1 MoMA
Highly Intellectual Discussion About 21st Century Life, as Seen by Contemporary Activists & Early Modern Philosophers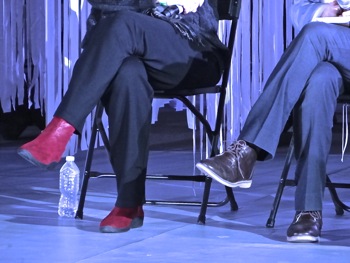 January 25, 2015 / LIC Neighborhood / Art in Queens / Queens Buzz. I attended the Choreo_Politics discussions on Sunday in the dome of the courtyard of PS1 MoMA in LIC. The event was hosted by Cristina Caprioli and included four panelists, including Peggy Phelan, Avital Ronell and Adham Hafez.
For the segment of the afternoon that I was in attendance, Peggy was the primary speaker. She appeared well read as she made numerous references to several of the late 19th and early 20th century German and French philosophers, including Nietzche, Kant and Bataille.
It was a deep philosophical discussion which included comments from the audience about finding meaning or trying to understand the life and times in which we now live. In one segment of the conversation Peggy talked about female gender roles and how being a woman affects one's persona. Some of the rhetoric included questions such as do women invite male aggression as a part of being a woman? Where is the boundary for a welcome advance versus an unwelcome push? Do women trip themselves up or are they suppressed by the male dominated environment? These aren't her exact words, but a facsimile of them, as I was distracted having just lost my notebook.
After a brief search for the lost notebook, I returned. Peggy was talking about communication. How gestures can undermine what we say. She said that we need to communicate because of our failure to communicate. She went on to talk about falling ... falling ill, falling in love and falling asleep. She was linguistically and philosophically aware, and seemed to have a sense of both the audience and her theatrical surroundings. I was sorry I hadn't arrived earlier.
I'll post a bit more including a photo slide show of this event later in the week.
---
---
QNS Collective: We Will Still Be Here
Local Artist Photographs Dutch Kills Real Estate Development For Posterity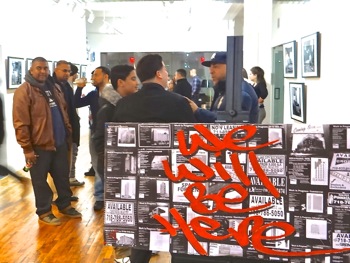 January 19, 2015 / Astoria & Dutch Kills LIC / Art Exhibits in Queens / Queens Buzz. It's not often one gets to see a bit of history in the making. But last Saturday evening I made my way to the QNS Collective in Astoria / LIC to see a bit of it.
The event was the opening reception of We Will Be Here, a photographic exhibit by Salvador Espinoza about the changes taking place in the Dutch Kills neighborhood of Long Island City. The exhibit included 13 framed photos hanging on the walls of the second floor of the QNS Collective, a modern new office space in Astoria / LIC. Another twelve will be rotated into the exhibit during the course of its showing which runs through February 6th.
Dutch Kills Neighborhood Changing Fast
The photos are a recent look at the changes taking place in the Dutch Kills neighborhood. The photos were shot in black and white over the past year, and provide a personal glimpse of the development of the Dutch Kills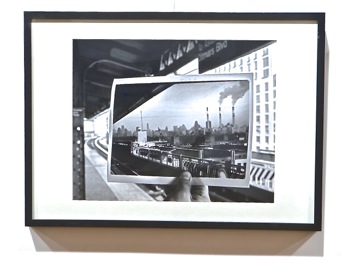 neighborhood by someone who grew up in it and has spent the better part of his life living there. The photo above shows Salvador standing in front of one of his photos where his brother held up a photo of a vista one would previously encounter while standing at the Queensboro Plaza subway station, which is now hidden behind a number of shiny new highrises.
Salvador told me that he moved out of the neighborhood for a few years [to Sunnyside] and he frequently returned to visit family and friends. He started noticing significant changes to the neighborhood occurring between each visit. He thought that someone should start recording the changes, because the neighborhood he grew up in, would soon vanish into the past. After giving the idea some thought, he concluded that perhaps he was the one to do it. So he reached out to the Queens Council on the Arts and they provided him with a small grant to pursue the project.
Salvador Espinoza Photographer, Director & Collaborator
Many years ago Salvador had been an amateur photographer, and when he took up this project, he began anew. Over the course of the past year he started taking photos of the neighborhood including some of the everyday houses that likely will soon be demolished and replaced by apartment buildings, as the value of Dutch Kills real estate h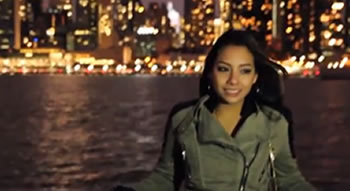 as skyrocketed in recent years.
Some of his photos include his neighborhood friends. I met Chris of EQ Lyrics, who is included in one of the photos of the exhibit. Chris had just completed a music video and tonight - as part of the exhibit opening - we were to witness the first public showing of Chris's music video. Salvador directed it and Chris plays the leading male role.
The lights dimmed, the crowd gathered around in a sort of amphitheater configuration, and the video began. The video is called A Beautiful Day and it's shot entirely in the LIC / Dutch Kills / Astoria neighborhood. The video takes us into Chris's life of getting drunk and banging chicks in the city [video still to your right]. We've embedded the video at the end of this story.
Click here to read the rest of our story about the photo exhibit We Will Still Be Here, about the changing face of Dutch Kills real estate, at the QNS Collective through February 6.

---
---
---
Battle For Public School Budget Underway
Constitutional Right To Education & Public School Funding
January 12, 2015 / Jackson Heights / Queens Schools / Queens Buzz News & Analyis. I attended a Town Hall Meeting entitled State Of Our Schools at PS 69 in Jackson Heights on Thursday evening. The town hall included a number of panelists who spoke about some of the top concerns and issues facing NYC and Queens public schools in the current round of budget negotiations currently underway in the NYS state capitol of Albany.
Cathy Nolan, NYS Assembly Chair of the Committee on Education, and Daniel Dromm, Chair of the NYC Council Education Committe, were joined by speakers representing The Alliance for Quality Education, Make The Road NY, Jackson Heights People For Public Schools, Community Education Council 30 and the Parent Association of PS 69.
The intent of the town hall was to inform residents about the issues currently being debated in the NYS State Capitol as the Assembly and Senate work on budget bills to fund public education in the state of New York.
Some of the issues discussed included every citizen's constitutional right to a quality public education, which was interpreted by the Courts to mean providing every citizen with the skills to compete in the 21st century economy and the capacity to function as a contributing member of society.
Other issues included discussion of the current tax cap bill - which would cap property taxes at 2.5% - and thus limit the money available for public education. Currently about 30% of NYC residents are property owners. Over the past decade an increasing percentage of city property has been acquired by large corporations known as Real Estate Investment Trusts. It's worth noting that one of the NYC tabloids, the NY Daily News, is owned by the billionaire founder of an NYC Real Estate Investment Trust.
Property owners say they already pay too much in taxes. One homeowner opined that government and school officials need to manage the funding more efficiently, and develop innovative / technological methods to achieve their educational goals. Many of the older, original charter schools were opened to do just that by exploring different approaches to educating the public.
Another initiative underway is to cap charter schools expansion. As mentioned above, many of the original charter schools were founded to explore different approaches to providing a quality public school education. In recent years some of the newer charter schools, particularly the charter school groups [Ed Note: such as Success Academy Charter Schools], have been seen as limiting the promise of an equal opportunity in public school education.
Charter School groups have been accused of targeting areas where they can attract high performing students away from the publicly run schools and then demand equivalent public funding per child. Charter school groups allegedly claim their test scores are attributable to their educational efforts, not the higher quality of their student enrollment [this alleged claim is at odds with independent studies]. As of this date only a small percentage of the charter schools have been audited as one of them - Success Academy - filed and won a lawsuit that prevented the NYS Comptroller from auditing them based on a NYS Supreme Court Justice Thomas Breslin ruling in June 2013. Its worth noting that Success Academy Charter Schools also reportedly receives funding from Hedge Fund b/millionaires who may also have stakes in Real Estate Investment Trusts.
Public educators note that the schools that service the broader based demographic population have higher per student funding requirements in order to assist students with special needs. They go on to note that standardized testing doesn't account for progress made with a broad based diversified student population that includes students with special needs such as: children with disabilities, children from troubled homes, children with less aptitude or less motivation, and children who need to learn English [English Language Learners ELL] in addition to the general curriculum. Additional resources are required to fund different approaches / programs designed to reach, motivate and develop these children's intrinsic abilities [eg. band students perform higher in math] and enable them to become contributing members to their families, their employers and the community.
A tax break for private education is also being debated at the state level. The tax break for private education was portrayed by one of the speakers as another tax break for those who already have the means and have chosen to send their children to non-public schools. Just as the property tax cap is expected to limit public education funding, so too the private school tax break is expected to limit the total funding available to educate those who attend public schools.
Families who send their children to private schools argue that they are reducing the strain on public school resources. They note that they are not asking for a total reimbursement [meaning total payback of private tuition] but rather a deduction, which would reduce their tax bill by some percentage of their private school tuition payments. It's worth mentioning that according to the 2012 Census update, the NYC Public School system paid over $20,000 per student per year, which is a far higher cost per student than any other public school system in the nation. The Boston public school system was a close second and the Washington DC public school system came in third.
This is just a summary of some of the challenges and issues discussed at the Town Hall related to NYS public school education funding. We'll delve into these in a bit more detail at a later date.
---
---
Role of Daily News Coverage In Queens Library Takeover
A Closer Look into Role of the Daily News Coverage in Takeover of Queens Library
Real Estate Billionaire Mortimer Zuckerman's Daily News Continuously Portrays the Fiscally Sound, Award Winning Queens Library Board of Trustees & CEO in a Negative Light

While Lauding the Brooklyn Public Library Trustees for Sale of Real Estate to Developer to Obtain Needed $40 Million Cash
The Queens Library has 62 Branch Locations Sitting Atop Some of the Best Real Estate in Queens Worth Hundred$ of Million$ or more

Queensborough President Melinda Katz Appears to have had Prior Relationship with Daily News Owner Mortimer Zuckerman's Boston Properties as Lobbyist
Updated December 20 / December 16, 2014 / Queens Library / Queens News Analysis & Opinion - Issues / Queens Buzz / By Michael Wood / Edited By Agnes Wood.
Please note that to date no public official have spoken about any development deals using Queens Library property.
Daily News Publication of Leaks with No Announcement of Real Wrongdoing - What Happened to Presumption of Innocence?
I'm going to work under the assumption that Queens Library CEO Thomas Galante is innocent of all charges until proven guilty. That is the way things are supposed to be done in America.
Many leaks of all kinds of confidential information about the Queens Library CEO have made their way into Real Estate Billionaire Mortimer Zuckerman's Daily News this year - including plenty of minutiae - but not a single word about any real wrongdoing.
Daily News Headlines Appear to Play Role in Queens Library Takeover - Urging Replacement of Governance Team
The Daily News appears to have done more than just report on the Queens Library crisis of confidence. In fact, the Daily News was the first to report the crisis - and they appear to have played a major role throughout it - as their organization urged the dismissal of Galante and the trustees who supported him on numerous occasions in the headlines alone. The following are some examples of headlines taken from stories in the NY Daily News:
March 31, 2014 - Headline reads: "Turn The Page On Tom / Why the Queens Library Chief can no longer be trusted"
June 27, 2014 - Headline reads: "Sack them all / Bye-bye to Queens Library chief Tom Galante — and the board members who enabled his reign of greed"
July 24, 2014 - Headline reads: "Sack Galante next / Incompetent Queens Library board being dismantled"
December 11, 2014 - Headline reads: "Fat city fathead / Thousands of reasons to fire Tom Galante"
The Daily News - Name Calling CEO Galante in its Editorial Coverage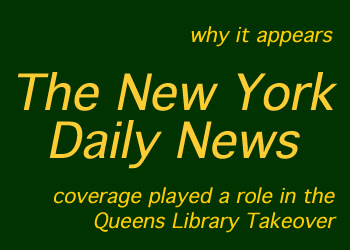 Last week, the Daily News provided the public with more details of Queens Library CEO Thomas Galante's expense reports over the past (few) year(s). Their presentation of the information appeared one-sided and cast Queens Library CEO in a negative light, as little effort seems to have been made to explain the business purpose or provide context for the expenditures.
The Daily News also published an editorial, which resorted to name-calling including calling Galante:
"fathead"
"little piggy"
"emperor"
and characterizing his spending as "preposterous"
This was not the first time they called him names in their publication this year.
We'll explore recent coverage by the Daily News in a more detail further down in this report, as it is reflective of their coverage of this crisis of confidence in the Queens Library all year. A crisis which the Daily News in fact began, with a series of exclusive reports earlier in the year.
Queens Borough President Melinda Katz Appears To Have Had Prior Relationship with Daily News Owner Mortimer Zuckerman's Boston Properties as a Lobbyist
According to a source, Queens Borough President Melinda Katz appears to have had prior relationship with Daily News Owner Mortimer Zuckerman's Boston Properties as a lobbyist working for Greenberg Traurig law firm in 2012.
A New York Observer story dated, April 10, 2012, states:
"... Still, Manhattan Borough President Scott Stringer has expressed skepticism toward the project, which he would like to see reduced in size, and the community panned the rezoning outright."
"To help makes its case, NYU recently retained Ed Wallace and Melinda Katz, two land-use attorneys who have helped shape a number of important development projects as they wended their way through public review—not least because both of them also once spent time as members of the City Council, the body that will have the ultimate say on NYU's rezoning."
And a bit later in the story.
"Mr. Wallace served as the councilman-at-large for Manhattan and chief of staff to the council president back in the old days of the Board of Estimate, after which he joined Mort Zuckerman's Boston Properties before moving over to Greenberg Traurig, the law firm where he is now co-managing partner of the New York office. Ms. Katz joined the firm in 2010 as a partner in the real estate division after serving two terms in the council, one of which was spent as chair of the influential land-use committee, where she oversaw a number of redevelopments similar to NYU's."
The NYC government maintains a website showing registered lobbyists' relationships with clients. We took this image from the NYC.gov website which shows that from March through December of 2012 - one year before she became Queens Borough President - Melinda Katz was a registered lobbyist working for the lawfirm of Greenberg Traurig, with a client relationship with Mortimer Zuckerman's Boston Properties.

Click here to read our report regarding the Queens Library controversy and the Daily News reporting of it.
---
---
---
Restaurants for Valentines Day In Queens
Valentine's Day Restaurants & Dinners In Queens
Queens Restaurants / January 2015. Valentine's Day is less than three weeks away. It's a time when lovers far and wide enjoin in the great romantic dinner at a nice romantic Queens restaurant, for a night out on the town. If the night is done amorously, it comes with a thoughtful card, a small box of candies and /or her favorite flowers; followed by a nice romantic dinner in Astoria, LIC, Jackson Heights, Sunnyside, Woodside, Flushing or Jamaica.
The origins of Valentine's Day are not well documented. It's believed to have been named after Saint Valentine who was apparently a Catholic martyr who died over 1500 years ago. Today the holiday is not associated with religion so much as flowers, candies, cards and dinners. And the holiday spokesperson is now Cupid, a Roman god of desire, and from what we hear, quite a mischief maker.
Click this link to go to a brief guide of Queens restaurants for Valentine's Day where you will find links to fun or romantic Queens restaurants we've reviewed. It's worth noting that most of these reviews are positive because we've selected some of the best restaurants in their categories in Queens. It's also worth noting that most of these restaurants do not currently advertise on this site, so there wasn't any quid pro quo. Perhaps one day we will begin selling them onto the site, because we have a large discerning dining audience like you. Enjoy.
---
---
---
---
Astoria Furniture Stores Have It All - Queens
Astoria Shops / Astoria / Queens Buzz. The furniture stores located on the southern end of Steinway Street in the Astoria neighborhood of Queens seem to have something to offer to just about everyone. This part of Steinway is a furniture shopper's mecca, offering plenty of choices from classical colonial, to urban apartment living to bedding to suit nearly every spine.
I took a quick trip there, which is easily accessible via the N, W, G, R or V subway lines and within a sturdy walking distance from Long Island City, Astoria, Sunnyside and Woodside. Just up the street from Steinway is Broadway, where you'll find the Omonia Cafe where after a good morning or afternoon of shopping, you can kick back along one of the sidewalk tables ane enjoy a bit of coffee and some delicious baked goods. Click here to learn more about the furniture stores in Astoria Queens.
---
Click to buy eyeglasses in Queens / opticians in Queens, for hair salons in Astoria, for Midtown dentists & Midtown Chiropractors, sales on small business Saturday in Queens and for things to do in Queens. Eyeglasses in Jamaica NYC.
---
Mens Clothing Styles - Queens
Shopping Queens / Astoria / Midtown Buzz. Esquire Men's Clothing Store continues to serve the greater Astoria and Queens area, as it has for nearly thirty years.
The shop is owned and managed by Frank and Kevin Adhami, and their father, who is in his eighties, still visits the store on an almost weekly basis.
Esquire is located along Steinway Street between 30th and 31st streets. The store contains a wide selection of men's coats, suits, casual wear, shoes and men's accessories like belts and ties.
This story will provide some information about the store itself as well as fashion recommendations for the Spring and for job hunters.
Click this link to view a story written on Men's Clothing In Astoria Queens NY. Click here for men's clothing stores in NYC, and here to buy Stone Rose shirts in NYC, and here to buy Alberto pants in NYC, and here to buy Eton shirts and here to buy Hugo Boss sneakers in NYC.
---
Three Queens Farmers Markets Open Year Round
Astoria Sunnyside Woodside Jackson Heights Long Island City LIC Flushing Jamaica / Updated April 12, 2015 / Queens Buzz. The Sunnyside Farmers market on Skillman Ave & 43rd Street was approved to operate year round in 2014. The Sunnyside Farmers market becomes the third farmers market to operate year round. Jackson Heights was the first & Forest Hills was the second - now Queens has three farmers markets operating year 'round.
Click the link below to see a listing of the Queens Farmers Markets 2014 including links to maps. Click the other link below for a listing of the preliminary draft of the Queens Street Fairs schedule of 2015 through May including dates and maps showing their locations.
Click here for our updated posting of Queens Street Fairs - Queens NY. Click here for a listing of the Queens Farmers Markets. You will always find both street fairs and farmers markets for the current month in the Queens Events section of the site [see top tool bar for button / link]. Click here to view the map of the Jamaica farmers market.
---
---
Queens Real Estate
Real Estate in Astoria, Jackson Heights, Long Island City LIC, Sunnyside, Woodside, Flushing, Jamaica
Queens NY / 2015. These links will take you into sections & reports on the Queens real estate market in Queens beginning in 2009.
These reports include reviews of apartment rental prices, as well as condo, co-op and home prices and availability in the Queens market.
We have also done neighborhood specific reports about Astoria real estate, LIC / Long Island City real estate, Jackson Heights real estate, Woodside & Sunnyside real estate, Flushing Real Estate and Jamaica Real Estate.
While we found these neighborhoods mirrored / trailed many of the national trends, we found some interesting differences, including differences from neighborhood to neighborhood.
Click here to read the Queens Real Estate market analysis 2009.
---
Queens Buzz Voluntary Subscriptions or Payments
You can help us continue and possibly expand our coverage, by voluntarily subscribing to

Queens Buzz. Click button for details & for New Years & Valentines Special Ad offer for Restaurants.
---