Thanksgiving - America's Communal Holiday
The Pilgrims Legacy: Love, Sharing & Community Empowerment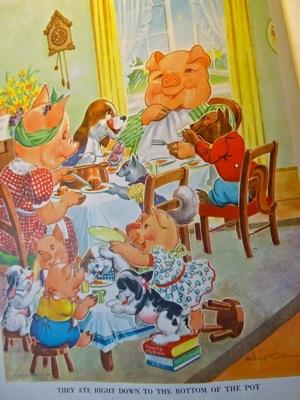 November 23, 2020 / NYC Neighborhoods / Thanksgiving Holidays in NYC / Gotham Buzz NYC.
A couple of years ago, I happened upon a childhood book of fables and fairytales that I had saved since I was a first grader. I was young enough to still like fairytales and old enough to be learning and loving to read.
The book, A Gateway to Storyland, by Platt & Munk Co, was given to me around the holidays, and the book still gives me a warm, loved feeling when I periodically open it to browse through the fairytales and fables containing little nuggets of age old wisdom about how to conduct onesself [see photo at right / the book is still in print]. I read it numerous times immediately upon receiving it, as the illustrations fed my imagination, and lessons embedded in the words resonated with timeless sagacity.
Unselfish Parental Love Manifested by Empowering Progeny
Love comes in many forms, but the purest form is unselfish love. The love of truly giving something with no thought of anything in return. That love is oftentimes given intergenerationally - from grandparents to parents to children.
Perhaps the greatest gifts are those that cost us nothing but our time. Like the gift of teaching someone something that they will be able to put to good use throughout their lives. Parents do this all the time, when they help their children develop skills, and impart some knowledge and learning ... just as my parents did many years ago, by giving me a well illustrated fairytale book to encourage my interest in reading, while sharing the time tested insights of the ages, handed down through storytelling.
I. A Brief Thanksgiving History
The Pilgrims Shared Communal Resources to Actualize a Dream
At Thanksgiving time we commemorate one of America's first settlements, founded by the risk-taking, resource-pooling, hardworking, spiritual community of Pilgrims.
The Pilgrims were early English settlers who arrived on American shores in the early 17th century [1600's]. They came here because they wanted a measure of freedom and self-determination that they were forbidden in Europe or what was called the 'old country'. The Pilgrims wanted to practice their faith, unencumbered, in a way that differed from the established Church of England. They pooled their money to obtain a ship, the Mayflower, to cross the Atlantic in mid September of 1620, landing on America's shores at Plymouth Rock in Massachusetts on November 9, 1620. Think of it. It took about a month and a half to travel a distance we can now traverse in about five hours.
The Pilgrims Receive Help from the Native People of a Strange Land
Per Wikipedia, the Piligrims survived a hard winter in 1621 with the help of the Wampanoag, an American Indian tribe. The Pilgrims were the immigrants, and the first Americans, the Indian natives, welcomed them. The Wampanaog taught the Pilgrims how to catch eels, and how to grow and harvest corn. Thus the Pilgrims ended 1621 with a good harvest which they celebrated and shared with their new friends, expressing their gratitude to a higher power, aka God, for the success of their endeavors.
Thus it was that the first Thanksgiving celebration happened in America ... or did it?
The Weekend Before Thanksgiving NYC
Less Than a Week Away, Thanksgiving Provides an Opportunity to Start Pivoting to a Better Place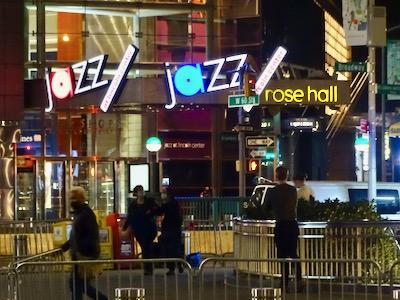 November 20, 2020 / NYC Neighborhoods / Things To Do NYC / News Analysis & Opinion / Gotham Buzz NYC.
The evil dictator wannabe appears to have been soundly defeated by a far more capable, trustworthy and honest man.
And, in spite of numerous attempts on Trump's part to steal the election - which he ignominiously accuses Biden of doing - it seems we may be approaching the end of what seems his blatant, corrupt, phony drain-the-swamp attempts to stay in power, like a dictator.
Biden has shown incredible restraint and patience, allowing the hedonistic, self-centered bigot to throw a presidential sized tantrum by firing staff, making drastic policy changes, and inciting the dumbest people in America to parrot his false claims of election fraud.
I'm looking forward to turning on the TV, without having to be subjected to Trump's ignorance in the form of racist, sexist tweets, rambling, say-nothing-meaningful on Fox friendly interviews, or the inane and insane comments repeated and amplified by the broadcast TV networks in order to get viewers to tune in to their stations to boost their money-grubbing quest for ratings.
While that may not happen in time for Thanksgiving or the holidays. I'm pretty sure we're going to have a qualified, experienced, level headed American president in place for Presidents Day 2021 - following a four yeaer hiatus.
Macy's Thanksgiving Day Parade Goes Virtual
The Macy's Thanksgiving Day Parade goes virtual this year. It will be the fourth time in its 96 year history [started 1924], that the parade doesn't go marching through Manhattan. During WWII there was reportedly a helium shortage which is required to send the balloon aloft.
This year the parade will go virtual, with much of the activity centered around Macy's Herald Square, where there will be performances by Broadway theater groups, as well as professional NYC dance, musical and cultural groups. The NYPD band will be there, as will the West Point Marching Band. I suppose a rendition of what's becoming a new America, in the age where we try to achieve the promise of the U.S. Constitution, in the wake of the fall of the Donaldocraczy.
There will also be a couple of dozen performances by musical stars including Patti LaBelle Miss America Camille Schrier, Sesame Street muppets, Dolly Parton and .... Santa Claus.
The parade will be broadcast on NBC from 9 am until 12 noon, and we understand parade viewing will also be available online. Generally about 50 million people watch the parade on Thanksgiving morning.
Yabba dabba dooo.
While the Parade is Good News, We're Still Dealing w/ CoVid
Responsible government officials and health experts are advising folks to try to simplify their Thanksgiving holiday this year. The CoVid pandemic has reportedly entered its second wave, which is already worse than the first. The number of people testing positive has hit new highs, as has hospitalizations and deaths. I suppose the silver lining in the data is that the death rate has remained steady, even as the number of total deaths has risen.
I saw a report which indicated that 80% of CoVid transmission is done via airbone droplets by asymptomatic or pre-symptomatic people. That's why wearing the masks is so important. If you're going to do only one thing, that's the thing to do. Socially distancing is helpful, as is hand washing and keeping surfaces clean, and the obvious one - which should have been done even pre-CoVid - is stay home if you're not well.
As mentioned in the last post, two CoVid vaccines with reported efficacy rates of about 95% are nearing approval by the FDA. These were rushed through in record time [less than a year] beating the last record for a workable vaccine [polio in 1954], which took four years. If I'm not mistaken the first attempt at the polio vaccine didn't work, so where we're at still carries some measure of uncertainty.
NYC Schools Close Per UFT Union Deal - Was that Necessary?
In NYC the public schools have been closed to onsite learning as the city has risen above 3% testing positive. Online learning goes into effect and the Catholic and private schools remain open. The Governor suggested the Mayor and the Teachers Union revisit the terms first agreed upon for a shutdown [citywide testing positive at 3%], and adopt a micro cluster strategy, wherein only schools testing positive at 3% close down, as NYC public school tests show an incredibly low CoVid testing positive rate of about 0.2%. That's more than ten times less than the overall city.
I believe the Mayor and the United Federation of Teachers Union President, Michael Mulgrew are looking at it. A change to their prior agreement will take time to work through, as the NYC United Federation of Teachers [UFT] union membership is comprised of approximately 135,000 members who will have to weigh in on any changes to the prior deal.
Testing will be required to get the kids back in school. I've noticed long lines for CoVid testing at City MD clinics around the boroughs including Queens, Brooklyn and the Bronx.
MTA Service Cuts May be Coming Our Way
The MTA is short about $12 billion in operating funds. They're talking about drastic cuts to cover the gap by reducing frequencies and possibly routes. One has to ask why they were so slow in adapting to the huge loss of riders when the pandemic began? I recall seeing car upon car pass me by nearly empty for the first couple of months of the pandemic, without any / much change by way of frequency or number of cars per train. The notion of providing big handouts with nothing gained, seems like rewarding incompetence.
An old boss of mine used to say, "There's got to be a better way."
First Afro Latino Gay Congressman Hails From the Bronx
Ritchie Torres won the Congressional seat in the 15th District in the Bronx, in spite of Congresswoman Alexandria Ocasio-Cortez's endorsement of a competitor, Samelys Lopez in the Democratic primary. That doesn't fit the corporate broadcast media's superficial news narratives of the Ocasio-Cortez 'movement', so they don't spend much time acknowledging what's really going on.
What's really going on, you ask? Few really know until after it's happened.
But if Ocasio-Cortez isn't winning in her own Bronx backyard, perhaps the 'movement' isn't about her, or even socialism, as the media outlets owned by corporations [former] and Australian born billionaire Rupert Murdoch [latter - Fox News / NY Post / WSJ] would have you believe.
I think what's going on is about us, as a people, evolving into the vision set forth by the Founding Fathers. A beautiful, blended, exotic mix of races, genders, religions and cultures functioning in an exciting, combative and eventually cohesive manner - pushing the envelope for human interactions bounded by fair, decent and transparent rules of engagement. Chinese racism and repression, as exemplified by Xi Jinping's regime's treatment of the Uighurs and Hong Kong, is just about the opposite of this.
Open Museums & Rockefeller & Bryant Park Skating Rinks
The following museums are open, but be advised the world has changed and you're strongly encouraged to make a reservation online or you may not get in. Also the usual CoVid precautions are generally in place including temperature testing, masks and social distancing.
In Manhattan there's the Jewish Museum and Guggenheim Museum on Fifth Avenue on the Upper East Side, the Intrepid Sea, Air & Space Museum at Pier 86 at West 46th Street in Midtown, and the International Center of Photography at 79 Essex Street and the New Museum at 235 Bowery on the Lower East Side.
In Queens there's the Noguchi Museum at 9-01 33rd Road in Astoria, the Queens Museum in Flushing Meadows Corona Park, and PS1 MoMa at 22-25 Jackson Avenue in Long Island City. All open with shortened hours.
The Rockefeller Center Skating Rink opens on Saturday, November 21 and runs through January 17th, 2021. The skating rink at Bryant Park at between 40th and 42nd Streets and 5th and 6th Avenues opened on October 30th and runs through March 7, 2021. They're running shortened hours vs last year so check their websites for details and to rsvp as capacity is limited - www.rockefellercenter.com and www.bryantpark.org.
CoVid NYC Economic Update
NYC Hotels, Restaurants & Entertainment Continue to Feel the CoVid Pain, Also Real Estate & Construction but Less so, and Things Should Gradually Improve in 2021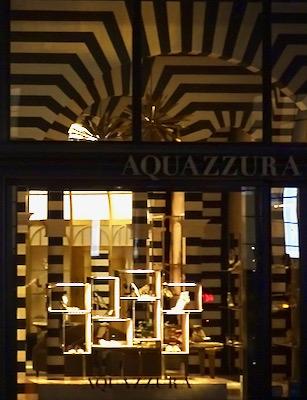 November 16, 2020 / NYC Neighborhoods / Business & Real Estate NYC / News Analysis & Opinion / Gotham Buzz NYC.
CoVid & Donald Continue Raging
So the CoVid pandemic is raging wildly in the nation, while the Demento in the White House is raging with reckless false claims about the 'rigged election'. The Donald also made these same false claims four years ago, when he won the electoral college contest, but failed to win the popular vote.
This time America's biggest loser lost both the electoral college vote contest and popular vote [by nearly six million], but the fraudster President has found his false claims of a stolen election, is a great way to raise funds from our nation's morons, who somehow still believe his lies. As the saying goes,
"We're all born ignorant. But you have to try really, really hard to remain so."
I consider Donald Trump losing the White House, to be the one silver lining coming out of the CoVid pandemic.
Meanwhile back in NYC, we continue to fare far better than the rest of the nation vis a vis CoVid, perhaps having learned our lessons last Spring. When I look at the CoVid map of the United States, I'm beginning to interpret it as a sort of national I.Q. test. Those places where it's raging most - almost a year since the pandora came out of the box - are states with slow learning media, slow learning government officials and slow learning populations. Otherwise, why would CoVid be raging again, after all that we have learned in the past year?
Economic Update - Post Election NYC
So the rest of this is a sort of catch up, post election, of some of the business news, in the same manner as I caught us up on some of the things to do changes in the prior weekend post.
Pfizer and Moderna, both pharmaceutical companies working on CoVid vaccines, announced far higher efficacy rates for their clinical trial test drugs, at 90% and 94% efficacy respectively. This is good news, as sometime over the course of the coming year, we might be able to mostly beat this thing. But like most things, seeing is believing.
Due to the increase in new CoVid cases, NYS has suspended all future jury and grand jury trials, pending better containment of the virus. Those trials already in process will continue. Bench trials and court trials will transition to virtual, but in-person court conferences will continue in person, with CDC Guidelines intact.
The Rockefeller Christmas tree arrived this past weekend from Oneota, NY. The tree stands 75 feet tall, 45 feet wide and weighs 11 tons. It will be lit on Thursday, December 2nd.
NYC normally averages about five million visitors each month and that has dropped to close to zero.
As of October, about 200 of 700 NYC hotels had closed or at least not reopened. The low point of the occupancy rate was about 10%, meaning that nine of ten rooms were open. So room prices fell from an average or median price of $336 to $136 / per room per night. The current NYC hotel occupany rate is estimated to be about 40%.
The Roosevelt Hotel, which opened in 1929, less than a block away from Grand Central Station, closed its doors on October 31, 2020. It is owned by Pakistan International Airlines, which said the CoVid pandemic drop in business made operating the hotel no longer feasible. The hotel has 18 floors and over 1,025 rooms.
Only about 20% - 25% of Chase white collar workforce had returned to their offices as of October. Citibank began inviting 5% of its workers back in July, and it was estimated that about 10% of its workforce had returned as of October. Building realtors now estimate that office space tenants may be able to reduce space needed by 10% to 20% by having staff work from home. According to an October 13, 2020 report by Reuters, a survey by Piper Sandler & Company showed that about 75% of employees believe they'll be working from home more often, compared with 59% saying so in July.
In a September Douglas Elliman report, they noted that the residential vacancy rate in Manhattan is 5.75% compared to a normal of 1.5%, so prices were declining and incentives being offered. In some instances we've seen price drops of 11% or more. It's a buyers' rental market compared to normal, which is very expensive.
The theater industry in NYC has been decimated. The industry generates $14.7 billion in revenue and employs about 97,000 people - most of whom have been unemployed since the pandemic outbreak here in mid March. As mentioned in the prior report, Broadway doesn't expect to reopen until June 2020.
According to NYC Councilmember Van Bramer there are 257,000 people employed in culturally related businesses in NYC. In addition to Broadway theater, the numbers include music, arts, history and other cultural venues. And about 70% of them have been inactive since the pandemic began.
The NY Philharmonic cancelled their entire 2020 - 2021 season in mid October. The cancellation amounts to losing an estimated $20 million in ticket sales.
AMC Theaters, the largest theater chain in the nation, was generating revenue of $3.5 million per week [down 85%] in mid October 2020. They said they can't continue operating on such small revenue beyond the end of the year. Governor Cuomo opened up movie theaters in all parts of NYS except NYC, with restrictions to the lower of 25% capacity / or limited to 50 people [since revised downward to 10?].
NYS construction is expected to be down 8% this year from $60 billion last year to $55 billion this year.
In mid October NYC Public Schools did 1751 CoVid tests and only 6 came back positive. That's a 0.3% positivity rate - well below the NYS and NYC norm.
New jobless claims have been declining, but remain at stubbornly high rates, but below one million.
One or more of the airlines tell us that their air is recycled and scrubbed every six minutes, making flying CoVid free 99.99% effective. United Airline had a $1.8 billion loss in Q3, but had $20 billion in cash on hand - probably from the federal government bailout funds. Do you think Trump's PPP stimulus bill was money intelligently spent?
Retail sales have been up beginning with a strong resurgence in May and June, but then followed by gains between 0.5% - 2% in the third quarter. October retail sales will be reported Tuesday, November 17.
Yelp reports that over 4,000 businesses in NYC have permanently closed their doors and Bloomberg reports that bankruptcies are up 40% to 610 in the third quarter according to a September 29, 2020 CNBC report. A third of restaurants in NYC may not survive the pandemic.
NYC Holiday parties plans are rumored to be down 90% vs year ago. Sad, but true, but not surprising. We're living through troubled times. There may be good news on the way next year.
NYS uses 23 BILLION plastic bags each year. On October 18, 2020 the plastic bag ban went back into effect. So far it seems unevenly enforced - at best.
The 1 - 3% of a Million Man March / Republicans Reclaim House Seat on Staten Island
The Donald oversold his 'Steal the Election' march, calling it a Million Man March. Reports of the actual crowd sized ranged from 5,000 to 10,000 - with one somewhat unreliable outlier claiming 30,000 in attendance. As noted in a prior report, the Donald appears to be trying to use his phony claims of election fraud, to raise money to help him pay off his debts, as he'll no longer have the power of the office of the president for his family to exploit in their business dealings.
On Staten Island Nicole Malliotakis defeated Max Rose for a congressional seat he won two years ago from decades long domination by Republicans. The Rose campaign didn't just run against Malliotakis, he also ran against Mayor de Blasio, which seems a questionable campaign strategy.
I hope your week is off to a good start.
This Weekend Things To Do
November 12, 2020 / NYC Neighborhoods / Things To Do NYC / News Analysis & Opinion / Gotham Buzz NYC.
Weather. On Friday and Saturday the temperature highs will be in the low 50's, rising to 60 on Sunday. The temperature lows will in at or in the low 40's. There's a 90% chance of about a quarter inch of rain Friday morning ending about 1 pm. Saturday will be clear, but on Sunday there's a 90% chance of about a third of an inch of rain beginning around noontime and lingering into the evening. The winds will be about 5 mph Friday, about 10 mph Saturday and about 15 mph Sunday. Humidity will be between 70% and 90% Friday, dropping to 50% to 60% Saturday and settling around 60% on Sunday.
Thank You for being respectful of each other. In the photo at right, are the masked up subway riders on the MTA last weekend. In the cars I rode in, either 100% or over 90% of all riders were not just wearing their masks, they were wearing them correctly. Thank you New Yorkers and guests.
The CoVid Trumpster Fire Continues to Burn
It's nice to begin edging away from the political universe, after over three months of total immersion. But politics, like the CoVid pandemic, isn't going away, so we'll continue to try to keep you abreast of things as we identify important changes.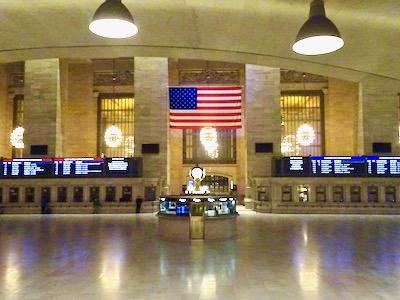 To that end, New York State has a CoVid testing positive rate of over 3% for the first time since May. Western New York State is experiencing numbers double that, while New York City continues to remain a hair below 3% at 2.9%, and with a weekly average of 2.3% [so it's rising here]. Staten Island is leading the city with rates at or above 6%. Brooklyn, which had experienced a significant outbreak, has made progress in reducing its CoVid rates by 50% according to the Governor.
Good behavior vis a vis CoVid - meaning social distancing, wearing masks, washing hands and staying home when you're sick - is rewarded with more communal flexibility, and CoVid bad behavior - which means not following the CDC guidelines - is penalized with lockdowns. If the CoVid positivity rate continues above 3% for a week or more, the NYC public school system will cease in classes learning. If the CoVid Positivity rate exceeds 5 - 6%, then more draconian lockdowns will ensue. New Jersey has seen a quicker and deeper resurgence so far, and thus there's been a tightening of some of the guidelines. FYI to white men, a study found that we are least likely to wash our hands.
And then there are the upcoming holidays and the coming colder weather - both of which don't bode well for our struggle with CoVid as people spend more time together, indoors, and possibly fail at socially distancing.
Meanwhile the rest of the nation seems to be back on CoVid fire. Trump's Cabinet Secretaries, White House Staff and 49 of the 50 states in the union are experiencing CoVid growth, including hospitalizations, and deaths. As of Thursday there were 10.5 million who tested positive and 243,000 CoVid deaths in the U.S.
So by comparison, we in New York are still not doing too badly. So keep on keeping on, and try to do your best to keep yourself and loved ones safe, as a vaccine appears on the horizon.
Pfizer Announces that its Vaccine Efficacy May Exceed Initial Projections - 90%
This was the first good news on the CoVid front in a long time. The estimated efficacy rates of CoVid vaccines was previously estimated to be between 50% and 75% - leaving somewhere between 50% and 25% of the population still exposed to catching CoVid even post vaccine. At a 90% efficacy rate, only 10% of the population would be vulnerable to CoVid, so this is good news.
Things To Do NYC - Catching Up on October & November - Veterans' Day Parade, NYC Marathon goes Virtual, Lackluster Halloween, Museum Openings, Broadway to Remain Closed thru 5/31/21 & Movie Theaters
There was a very, very dialed down Veterans Day Parade on Wednesday, November 11th beginning with the wreath laying ceremony at Madison Square Park at 6 am. It was followed by a vintage car parade down 5th Avenue and an event at the Intrepid Sea, Air & Space Museum later in the day. This year marked the 75th anniversary of the end of WWII.
The NYC Marathon went virtual, by providing an app for marathoners to use while doing their run this year.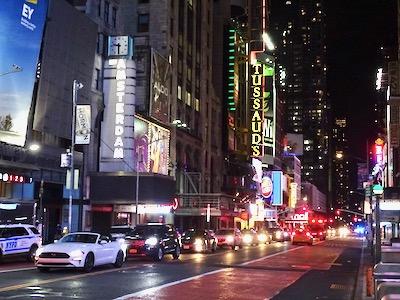 Halloween this year was sure to have been disappointing for the youngsters. I saw some out with their parents trick or treating with their parents - but in far smaller numbers than normal and without the excitement and energy that usually accompanies the holiday.
The Snug Harbor Cultural Center on Staten Island reopened on October 3rd. The South Street Seaport Museum and the Museum of the Chinese American continue to remain closed. On October 9th an association of Broadway theaters announced that Broadway will remain closed through May 31, 2020.
And NYS opened movie theaters on October 23rd outside of NYC, at 25% of capacity. This was a relief to AMC the nation's largest theater chain. But the second largest chain, Regal Cinemas, which had reopened many of its theaters in the U.S., decided to close again on October 9th due to low attendance and the delay of new movie releases.
The Upcoming Holiday Season & First CoVid Joke
New CoVid Restrictions. Governor Cuomo announced new CoVid restrictions, including limiting private, in-home gatherings to ten people. Also, effective today, Friday, November 13th there's a 10 pm curfew for restaurants, bars and bowling alleys that serve liquor. And team sports activities have been suspended for a couple of weeks.
I heard that holiday party bookings are down 90%.
I heard my first CoVid joke a couple of weeks ago. What's worse than the CoVid pandemic? The CoVid pandemic during the holidays. I reckon gallows humor like this, is a sign of our times, but 2021 looks like it should be a far better year than 2020. Let's hope.
Is Trump Using the Federal Government to Enable a Scam?
Secretary of State Mike Pompeo, Attorney General William Barr, Press Secretary Kayleigh MacEnany & Republican Senate Majority Leader McConnell Appear to Enable a Trump Fundraising Scam - using False Claims of Election Fraud - to Motivate Donations he can use to Pay off his Debts
Emoluments Clause: Using False Claims of Voter Fraud & Government Offices to Raise Money to Pay off Trump Debts?
November 10, 2020 / NYC Neighborhoods / U.S. Politics / News Analysis & Opinion / Gotham Buzz NYC.
I'm relieved that the Donald lost the election. I'm not relieved, knowing that there are 71 million people who voted for him. They obviously don't know what a super slick con man looks, talks and walks like.
A Presidential Con Man to the End
The Art of the Con should have been the name of Trump's book. And it appears, with only two months left to his presidency, that he's using the Executive branch of government and all the president's lackeys to commit one last Trump scam.
Secretary of State Pompeo Uses Office to Support What Seems a Trump's Scam of Republican Donors
In the photo at right, Secretary of State Mike Pompeo, appears to enable what seems like a scam by Donald Trump to bilk his supporters of millions of dollars in donations by seemingly supporting Trump's claims that there was election fraud - a claim which appears unfounded according to both Democratic and Republican state government officials.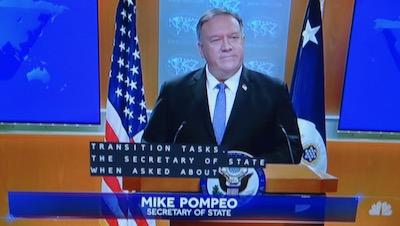 According to CNBC, on November 10, 2020 Pompeo said that there would be
"... a smooth transition to a second Trump Administration ... "
That statement, by a cabinet level member of the Executive branch of the U.S. government, appears more like a propagandistic statement of an authoritarian's sycophant. This corruption of the Office of the Secretary of State was done previously, during the RNC Convention, when Pompeo was videocast from Israel while on taxpayer funded official business.
Are Taxpayers Paying a Trump Campaign Propagandist to Facilitate a Fundraising Scam on Ignorant Trump Republicans?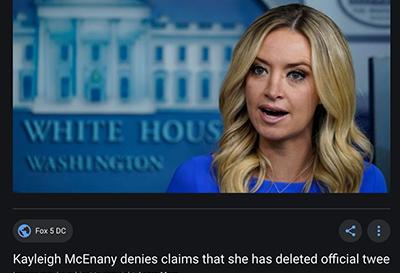 So Kayleigh Mc Inaney [it's not her real name, but a play on it], who is supposed to be the White House Spokesperson - not a Trump campaign PR person - said on November 3, 2020 that a "Landslide is afoot". Yesterday, November 9, 2020, even the Fox propaganda channel couldn't bear to allow McEnany to continue spewing it's Nazi-like propaganda of voter fraud, so they cut away from her.
Is McEnany, a federal government employee, enabling the Donald's efforts to raise [scam?] millions from his supporters under seemingly false pretenses to pay off some of his debts?
Why are the American people paying the salary of a Trump campaign propagandist? This is one of many such personalizations of power - aka corrupt use of government resources for private purposes - done by the corrupt 'Drain the Swamp' Trump Administration. McEnany is allegedly 'cleaning up' her Twitter feed instead, which is also a record of the corrupt Trump Administration lies put forth by the inane McEnany.
Bill Barr - Is America's Top Law Enforcement Official, using his Office to Aid & Abet a Scam, by Helping Legitimize the False Pretenses of Election Fraud, so Trump Donors will Contribute to a Fiscally Reckless Billionaire, so he can Pay Off his Debts?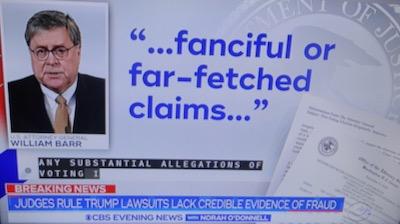 On Monday, Attorney General William Barr broke with a 40 year policy of non-interference by the Department of Justice in election squabbles until certification of the results. On November 10, 2020 Barr ordered prosecutoirs to look for 'wrongdoing' in what seems an authoritarian / Nazi-resembling action. The CNN report tells us,
"... Richard Pilger, director of the elections crimes branch in the Justice Department's Public Integrity Section, told colleagues in an email that the attorney general was issuing "an important new policy abrogating the forty-year-old Non-Interference Policy for ballot fraud investigations in the period prior to elections becoming certified and uncontested." Pilger also forwarded the memo to colleagues in his resignation letter..."
It seems there is no end to the depths of the Donald's depravity, and by association and enablement, Bill Barr's. Barr's actions lend credence to Trump's false claims of election fraud, and thus enable the Donald's efforts to raise money to clean up his balance sheet.
Perhaps the Department of Justice should investigate what appears to be Trump's and Barr's efforts to scam Trump's supporters into donating on the pretense of fighting election fraud, when in fact their donations are going to be used to clean up the Donald's debts.
Con Alled Trump - A Presidential Sized Scammer to the End?
The Donald, appears to be America's worst president but also one of America's greatest con men. Hence it seems, in recognition of his loss, he is now feverishly working to clean up his balance sheet while he still has access to the trappings of the Oval Office and the bully pulpit and what appears a phony patch of patriotic lies.
As with Trump Casino, where investors lost millions, and with Trump Airline, Trump University, Trump Charity, and Trump condominiums, the Donald doesn't give a crap who he seems to scam. This time it seems a scam of his ridiculous faith filled supporters - who god knows where they live, or what media they trust [Fox / Breitbart / NY Post?], that they don't by now know who he really is.
A November 10, 2020 report in The Guardian, a newspaper based in Britain, identified the apparent scam. They report that they found this on two websites related to Trump and the RNC,
"Please contribute ANY AMOUNT IMMEDIATELY to the Official Election Defense Fund and to increase your impact by 1,000%!" [The Guardian notes that "It is unclear who matches the donations." and then they go on.]
"On Trump's personal fund, it [the website] dictates that of all donations raised ... 50% of each contribution ... [will] be designated toward DJTFP's 2020 general election account for general election debt retirement ..." and ... On his joint fund with the RNC, the donations work as follows: "60% of each contribution first to Save America, up to $5,000/$5,000, then to DJTP's recount account, up to a maximum of $2,800/$5,000. [And] 40% of each contribution to the RNC's operating account, up to a maximum of $35,500/$15,000."
How Foolish or Gullible are Trump Supporters?
So it seems the Donald is using his apparently phony cries of election fraud to raise money from an ignorant, manipulated Republican base, in order to save himself from being crushed by all the debt he's racked up. And he's using his Administration's spineless sycophants, including Senate Republican Mouse Majority Leader Mitch McConnell, to lend legitimacy to his claims.
When are the Republican working class folks going to wake up to the incredible manipulations of these very wealthy rich people who seem to attack their opponents as 'the elites'? When will Republican working class folks realize they are being manipulated to donate and vote against their own self interest, in favor of the interests of the above named billionaire and millionaire? This is why the rich get richer and the rest of us get screwed.
The First Supreme Court Justice, John Jay warned us when he said,
" ... I consider knowledge to be the soul of a republic, and as the weak and wicked are generally in alliance, as much care should be taken to diminish the number of the former as of that latter ..."
Trump supporters bristle at being called ignorant. Yet when I engage them in conversations, they try to shut down the conversations when I start talking the facts. Others say, that they don't care what the facts are, they support him anyway. And those working class people who donate money to a man who has reportedly conned people like themselves - including contractors, employees, investors, lenders, contributors and enrollees - to help him pay off his billionaire debts, under the illusion that they're 'fighting to defend our nation's elections' ...
Well, that's where I draw the line. They're more than just ignorant.
McConnell - A Man Who ALWAYS Does What's Right ... for Mitch
Senate Republican Majority Leader Mitch McConnell is a highly predictable player. McConnell talks the talk of doing what's right for the American people - while McConnell always walks the walk of doing what's right for Mitch McConnell.
So today was no surprise when McConnell seemed to support Trump's false election fraud claims, because McConnell doesn't seem to give a crap about anything or anyone but himself - just like the Donald.
None of the above named seem to care about us. None of them seem to care about the civility of American governmental traditions. None of them seem to care about - or even seem to believe in - our democracy. Which is why we must stay vigilant and informed and involved in the government by, for and of the People - because if the people aren't involved - our democracy will cease to be.
And remember, being involved doesn't just involve registering and voting - people also have to pay attention to the actions and deeds of the people they are voting for, as well as to those they entrust to tell them the truth about who is who and what's going on.
Election 2020: When Will it be Over?
The Presidential Polls Were Mostly Right - The Race was Not Too Tight - the Donald Shows no Grace so the End is not Yet in Sight - Progressives & Moderates Need Learn how to Cooperate - Not Fight, Write?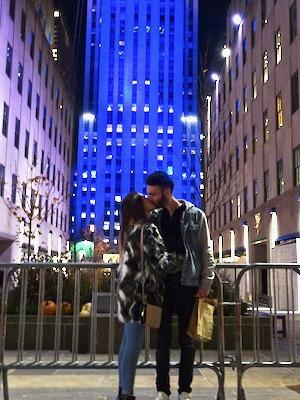 November 9, 2020 / NYC Neighborhoods / U.S. Politics / News Analysis & Opinion / Gotham Buzz NYC.
This past Saturday I went into Manhattan following the announcement that Joe Biden had won the presidency, wresting it away from a very handsy, clutching Donald Trump. I had seen and heard of partying in the city that afternoon, as folks celebrated the end of the Trump presidency.
But when I arrived in the evening, it seems things had calmed down, and it was a mostly low key Saturday evening, at least on the Upper West Side and north Midtown. More people were out than I had seen in a while, and many folks seemed somewhat cheerful, but since the pandemic began, I've yet to see any sort of real frothiness.
In the photo at right I met a couple out on election night in front of Rockefeller Center. She's from Italy and he's from Philadephia ... Story?
The Presidential Polls Were Mostly Correct - Biden Won & He Won Most of the Swing States They Predicted He Would
Following the election, as early results came in, many news outlets proclaimed that the pollsters got it wrong. But over the weekend I checked the Real Clear Poll of Polls and found that mostly what they had predicted, came true, especially when you factor in the margin of error.
Biden won the presidency, winning a popular vote of over 75 million, to Trump's 71 million. And Biden won the swing states the polls forecast he would, including Wisconsin, Michigan, Pennsylvania, Arizona, Nevada, Minnesota, Maine, New Mexico, Colorado, Virginia, New Hampshire and Maine. Trump won Florida, North Carolina, Ohio, Iowa and Texas - also in line with the poll of polls forecasts. Only Georgia didn't end up as the polls forecast it would and I'm going to call that the Stacey Abrams effect.
Only Georgia Doesn't End as Polls Predict - The Stacey Abrams Effect?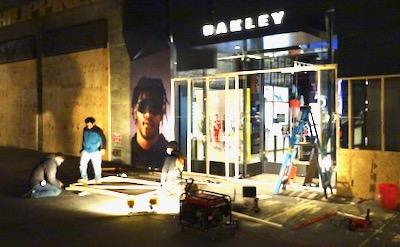 In 2018 Stacy Abrams narrowly lost her bid for Governor, by 1.4% or 55,000 votes, in what seemed a sort of rigged election. Brian Kemp, her opponent, was the Secretary of State overseeing the election. According to a March 1, 2020 report in the Atlanta Journal Constitution,
" ... A report from the Democratic-led U.S. House Oversight Committee on Wednesday attacked Kemp's handling of voter registration purges, poll closures, conflicts of interest and an unfounded accusation that his opponents were trying to hack a voter database just before Election Day in 2018. At the time, Kemp, a Republican, was overseeing elections as secretary of state at the same time he was running for governor..."
Stacey didn't lie down and roll over. She got back up and focused her energy on correcting what she saw as an injustice. And so, today, Governor Brian Kemp who calls himself a 'Trump Republican' can take a bit of credit for the Trump loss - in Georgia anyway.
The photo at right shows retailers in Midtown Manhattan boarding up their windows as a cautionary measure on election night. Mayor de Blasio thought the efforts weren't necessary - which turned out to be true - but he also acknowledged retailers' right to do so and that he understood their rationale.
Record High Turnout & Biden Wins by Nearly 5,000,000 Votes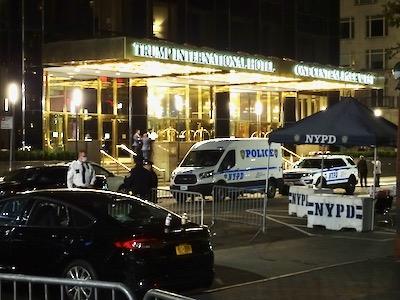 It appears that voter turnout reached a record high of somewhere between 66% - 72% of the population. Voter turnout was 59% in 2016. And I checked Wikipedia which showed a chart going back to the beginning of the republic, with increasing turnout as time went on. Part of that growth in turnout as a percentage of the population is attributable to African Americans and women winning the right to vote.
As of today, it appears Biden is leading Trump in the popular vote with 75.7 million votes versus Trump's 71.1 million votes - so Biden won by nearly 5 million votes. As of today, Biden is also leading Trump in electoral votes with 290 electoral college votes versus Trump's 214 electoral college votes, with 34 votes remaining to be decided.
Of the 34 remaining votes, Biden is favored to win Georgia [leading by 11,000], while Trump is favored to win Alaska [leading by 55,000] and North Carolina [leading by 76,000].
In the photo at right, you can see a small portion of a sizeable contingent of the NYPD, standing guard outside one of his lordship's palaces. Wonder why?
Election Fraud or a Fraudulent Outgoing Cry Baby President?
The Donald has filed a number of lawsuits, most of which reportedly appear to be baseless.
This seems not unlike similar election fraud claims made by the Donald in 2016, when he won, but didn't like that he only won the electoral college - not the popular vote. In 2017 after becoming president, the Donald initiated an investigation into election fraud. The investigation fizzled / disappeared when nothing was found.
Some Blame the Progressive Democrats for the Dashed Democratic Expectations in Election Results
But Pelosi Keeps House Majority in Spite of Gerrymandered Districts, While Schumer's Senate Efforts Fall Very Short ... Again
Everyone seems to be hyped up and amped up these days, which was one of the hallmark characteristics of the Trump era. So while the results were still being tabulated, some pols and pundits opportunistically took pot shots at the progressive democrats for what they perceived as the underperforming elections results.
In the House, the votes are still being counted, but it looks like the Democrats are going to keep their majority. The only question is by how much. So Pelosi seems to have done her job, because the congressional districts are reportedly heavily gerrymandered in the Republicans' favor.
But Chuck Schumer appears to have failed pretty miserably in shepherding the senate to a majority. The Democrats' senate hopes could possibly be saved by the Stacey Abrams Effect - as Georgia has two senate seats heading to a runoff, which if won by the Democrats would provide them with control.
In the photo above right, stands Lincoln Center, in all of its calm, exquisite architectural and design beauty. It's a reminder that we live in a modern age, that we inhabit one of the world's leading cultural centers and that there is still much for which we are thankful.
Senate Democrats Significantly Underperform Expectations - Either the Polls Were Way off or Schumer Played a Weak Game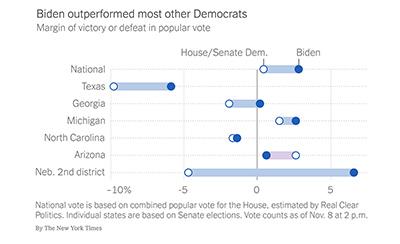 In 2018 Democrats lost seats a couple of seats in the Senate, but they also had more seats to defend that year, which helps explain why. But that same year the Democrats swept the House in what appeared a landslide, in spite of many gerrymandered districts.
This year it seems the Democrats underperformed in the Senate again, and especially because they had far fewer seats to defend. There were numerous vulnerable Republican Senators - but the Democrats failed to pick up even many of the most vulnerable.
The graphic at right shows how badly some democratic senate candidates fared vis a vis Biden.
Let's see how many senate seats the Democrats were forecast to win and fell short. There was Maine against Susan Collins, North Carolina against Thom Tillis, and Iowa against Joni Ernst - all of these were forecast to go Democratic as flips - but failed. The Democrats did flip Arizona against McSally, and Colorado against Cory Gardner, while the Republicans flipped Alabama, ousting Doug Jones who had won only a couple of years ago, in a deep red Alabama against Roy Moore, who was accused in an underage sex scandal.
But the Democrats failed to pick up senate seats in Montana where they had an ex-Governor [Bullock] challenging an incumbent [Daines]. And North Carolina no longer looks promising, so winning the Senate [to 50 / 50 where the Vice President casts the deciding vote] is now entirely dependent on Georgia, where it's uncertain whether the Stacey Abrams Effect can win the day, with the presidential contest in the rearview mirror.
This appears to be a horrible result, as the Republicans had 23 seats to defend, while the Democrats only had 12 open seats. Chuck Schumer is reportedly a champion fundraiser, but he seems an uninspiring Senate spokesperson [sounds like an undertaker]. And Schumer appears to lack the necessary talent in strategy and tactics, as Mitch McConnell has continually outmaneuvered Schumer since Schumer became the Senate Minority Leader four years ago in January 2017.
State Legislatures - Not Much Movement
As for the state legislatures, in 2020 there was little movement. So why are some Democrats blaming the progressives? It seems it's not because of the facts. But rather because those Democrats playing the 'blame game' may be spinning the news narratives in pursuit their own opportunistic agendas.
Rigged Election: Who's Trying to Steal it?
Trump is Battling the Election Results Like He's Battled CoVid, his Trump-Sized Budget Deficit & Climate Change - Ignore the Facts & Change the Perception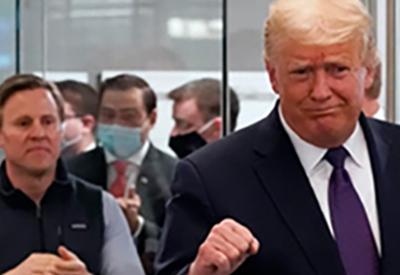 November 6, 2020 / NYC Neighborhoods / U.S. Politics / News Analysis & Opinion / Gotham Buzz NYC.
A Sore Loser, Poor Sport & a Rich Old Man's Tantrum?
Donald Trump has never comported himself with any dignity or decency befitting the presidency - so why would anyone expect his presidency to end with it?
Except the low information, no information and disinformation voters who cling to him like he's some sort of savior.
We saw this same sort of phenomena occur in the 1930's and 1940's in Germany. That was a story that didn't end well for that nation - and it would have been far, far worse - were it not for the decency and generosity of the American people.
By all accounts, Biden is the likely victor of the 2020 presidential race. He leads in electoral college votes and it appears he needs to close only one or two more states to finish the race, which in most remaining states and by most accounts, seem to be trending in his favor.
America's Top Fixer, Rudy Schmooliani, Fresh Out of Improv Role in Borat2, Returns to Star Role in the TV Presidency of DJT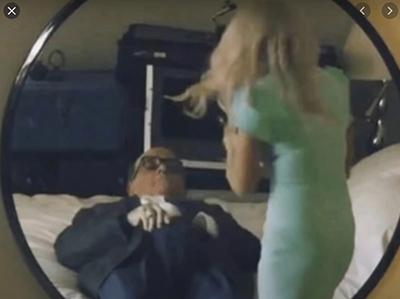 The Trump Campaign began pulling out all stops to halt the fair part of the American electoral process, by summoning America's Fixer, Rudy Giuliani, to lead the litigation publicity program.
Schmooliani had just finished filming his cameo role in Borat 2, but wasted no time in zipping up his pants again, before departing for Philadelphia to make an important stage appearance in the Epilogue segment of the TV Presidency of DJT.
In the photo at right, a still shot taken from the film Borat 2, shows Rudy Giuliani making 'an adjustment to his microphone'. I do hope Rudy washed his hands after tampering with his 'microphone', as these days one can never be sure of what kind of bacterial or viral germs one might be exposed to by touching things.
Strike 1 - Withhold American Taxpayers' Money to Extort Real or Fabricated Dirt on Opposition
The saying goes, if you're not cheating, you're not trying hard enough.
Thus nobody is accusing the Trumps of not trying hard enough in the 2020 campaign.
In 2019 America's top fixer, Giuliani, who was once a respected former Mayor, appeared to try to extort the president of Ukraine, in an effort to either dig up dirt or create allegations of dirt on Biden's son which Giuliani would have undoubtedly spread like manure, on Rupert Murdoch's Fox Fake News Machine [includes the NY Post & WSJ].
Giuliani had been successful in doing something similar to this in 2016, when he appeared to have ferreted out the computer of Anthony Weiner containing Hillary Clinton emails that Murdoch's Fox Fake News, NY Post and probably WSJ hyped and amplified, with insinuations of something criminal, repeatedly until the election. After the election - poof - all those front page stories on Fox News, the NY Post and WSJ just disappeared. That's how the Murdoch mind manipulation machine works.
This year Giuliani's first election manipulation effort at the Biden smear didn't go well, and ended up with Trump's impeachment. Strike One.
Strike 2 - Sabotage the United States Postal Service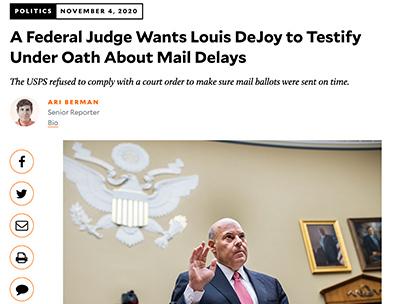 Seeming not to be deterred from stealing the election away from the American People, the Donald devised a plan to sabotage the voting by mail process.
In this phase of the steal-the-election effort, the Donald appointed Louis 'Louie' DeJoy to be Post Master General. Louie seemed to set about to destroy the efficiency and timeliness of the United States Postal Service, by dismantling the organization's mail collection and sorting infrastructure.
The purpose of this appears to be an outright attempt to sabotage the election and will of the American people, by slowing down the mail enough to prevent tons of mailed ballots from arriving in time to be included in the count. The use of mail ballots is strongly favored by Democrats, and thus favors Biden.
Louie got caught - but only after some good measure of the USPS had been impaired. Thus, reportedly hundred(s) of thousands of ballots never made it to their intended destination in time. Mail ballots strongly favor Biden. In a Herculean effort, Louie DeJoy, even ignored a court order to sweep post offices for ballots on election day, and deliver them to the Election Boards. Strike Two.
Strikes Not Included in the Strike Count. See story on July 20, 2020 where Trump appeared to try to use the Department of Homeland Security to stoke tensions and inflame social unrest so he could portray himself as the 'Law & Order President'. It's another strike, but I'm not even going to count that one here. And I have not included in the strike count the reported Trump efforts to help Kanye West launch a separate bid for president in an effort to draw votes in the African American community away from Biden. According to an August 13, 2020 report in Politico,
" ... West's quixotic White House bid has drawn scrutiny in recent weeks amid efforts by some Trump supporters and Republican operatives to help him organize and get on the ballot in battleground states.
Kushner, too, has become mired in controversy among critics who argue his potential boosting of West's campaign to benefit Trump could constitute an illegal act..."
Strike 3 - Repeat the Smear Campaign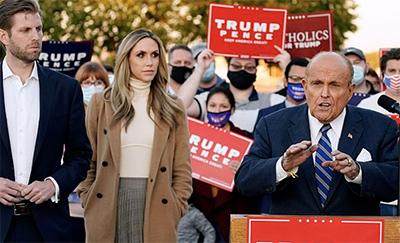 When henchman Louie was caught red handed rigging the USPS in August, the Donald had to come up with another sabotage-the-election plan in what appears to be multiple efforts by him to rig the election.
Rigging the election is something he keeps accusing others of doing, when in fact he seems the king de rigueur of election rigging. He also accuses others of being sleazeballs and slimeballs - when based on our research of his past dealings - those labels seem to fit him about as well or even better than anyone else. See our Trump section on Gotham Buzz for details.
So, late in the game, Rudy Giuliani appears to have dug up / manufactured more dirt on Biden's son, which has been rumored to have come from the Russians. Reputable news organizations refused to publish and amplify Giuliani's findings, like they had done four years earlier when they published and broadcast the allegations and innuendo regarding the Hillary Clinton emails - a story in which Giuliani also appeared to play a role in manufacturing. But that didn't stop Murdoch's Fox Fake News and NY Post from doing their best to disinform their audiences, which they appear to manipulate daily. But the audiences of Murdoch media are already a big part of Trump's base, so preaching to the gullible who trust Murdoch's Fox Fake News didn't change anything. Strike Three.
So Trump has already struck out - but he's claiming Executive Privilege - which Bill Barr always seems to enable. Trump appears to keep trying to rig the election in his favor in complete disrespect of all of our American democratic institutions.
Strike 4 - Claim the Election was Rigged Like in 2016 & Try Litigating Your Way to Victory
Of course when all else fails, start lying and litigating.
America's Top Fixer, Rudy Guiliani, was summoned back into action, fresh off the improv set of Borat 2. But Giuliani, like Trump himself, is hardly a credible figure anymore.
Now Trump keeps repeating his attacks, accusing the Democrats of stealing the election - when the reality is that that's exactly what Trump appears to have been doing all year.
Media Malfunctions Before Finally Hitting the Mute Button
Why aren't the TV Networks doing a better job of pushing back on Trump's claims, by exposing his attempts to cheat the American people out of their choice for president?
For the past five years the TV Networks have been laboriously slow in figuring out how to report the real news, instead of repeating the Trump fake news. They developed a five year old crutch of repeating everything Trump says or tweets, and then expressing their outrage or debunking it.
Why post, publish or broadcast his nonsense at all?
Ratings.
Both the Network News, as well as the Biden campaign, need to do a better job of making the American people aware of who's really trying to rig the election, by citing all of Trump's previous and current attempts.
To their credit, on Thursday evening November 5, 2020 the networks finally hit the mute button on 'president' Trump as 'in a press conference' he ranted, raved, whined and threw what seemed a presidential cry baby tantrum, tossing a plethora of false accusations all around the room. Strike Four.
Strike 5 - Murdoch's Fox News Early Call of Arizona for Biden Distracts, Keeping Biden & the Media Away
Are Trump & DeJoy Busy Rigging the Mail Ballots?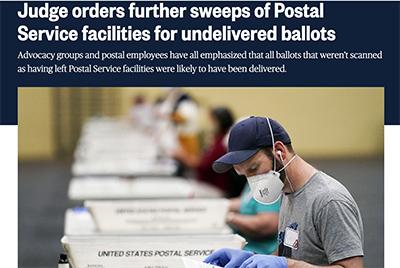 Louie DeJoy's sabotaging of the mail ballot using the USPS seemed to begin with crippling delivery. One has to ask what else these seeming criminals will do to win the election? The Trump team is probably working on their next election rigging surprise and the above headline and narrative below are just one of a long list of possible hypotheticals.
Arizona and Nevada are out of the 'watchful eye' of the NYC dominated media, and rather under the 'watchful eye' of the local press - much of which is controlled by Trump allies Sheldon Adelson in Nevada, Sinclair Broadcasting, and Rupert Murdoch's Fox News.
The local news may be susceptible to following the [fake?] news leads of the outlets controlled by these two billionaires and mega millionaire. The lead narratives started by Fox Fake News - which were repeated by their competitors - went on for a long time here in NYC. Iit appears the other TV Networks have finally wised up, as they seem more careful in checking before repeating the contrived narratives coming out of Fox Fake News, the NY Post and even the WSJ.
Is the Mail Vote Ballot Box [USPS] Controlled by a Saboteur?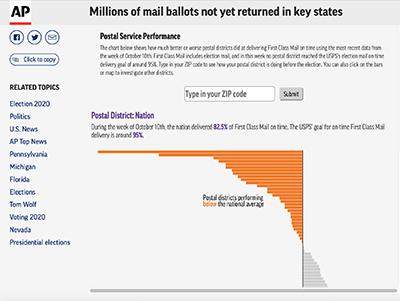 Louie DeJoy has control of the mail-in / USPS ballot box. Thus far it seems he has done everything within his power to rig the election in Trump's favor, regardless of the law [see contempt of a court order on election day in the graphic above]. So when Trump talks about ballot boxes being dumped at the Boards of Elections, maybe he's foreshadowing what he's planning to do. And because the TV Networks keep refuting his false claims, they might be hard pressed to accuse the Trump campaign of doing just that.
So everyone should not only keep a watchful eye for possible mail ballots malfeasance, but stick to demanding that every LEGAL vote is counted - not every vote. Unfortunately our system is a game of sorts, and playing by the rules is important. Hence rule of law.
But ballots that don't arrive on time because they were held up by the Trump's and DeJoy's USPS, in an attempt to manipulate the election, would seem to fall in a litigation area.
Perhaps the FBI or state government / law enforcement officials in Arizona, Nevada, Georgia, Pennsylvania, Michigan, Wisconsin and North Carolina should open up investigations of Louie DeJoy's misuse of the USPS using DeJoy's contempt of court on election day, as a just cause. Trump and DeJoy may still possibly steal the election - not just from Biden and the Democrats - but from the American People.
If it's a Rigged Election - Its Been Rigged by the People Making the Accusations
It seems a rigged election alright - rigged by the people who are making all of the accusations.
But Trump's behavior comes as no surprise. The Donald's former lawyer, Michael Cohen, warned us in February of 2019 when he said,
"... I fear Trump won't peacefully give up the White House if he loses the 2020 election ..."
Keep your fingers crossed. We're still in need of a bit of luck.
Election Day 2020
In Spite of Record Early Voting, There Were Long Lines at Polls on Election Day. Dare I Say This Seems ... to Point to a Biden Landslide ... or Not?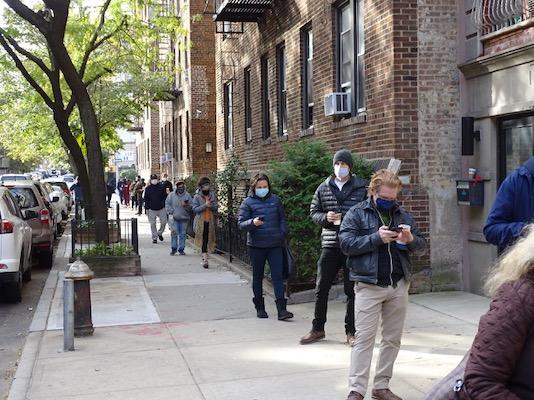 November 3, 2020 / NYC Neighborhoods / U.S. Politics / News Analysis & Opinion / Gotham Buzz NYC.
Forecasting anything is always, at best, a precarious endeavor, so the above headline is not a forecast - but rather an honest question.
The ballots referred to in the prior report, which were either lying on folks' tables at home or stuck in the mail - may have ultimately been lying on folks' tables at home.
But we won't know until late tonight or later this week or even later than that.
I'm no fan of the Donald. I think he's disrespectful to women, disrespectful to minorities and pretty much disrespectful to everyone else too. I think his parents did about as lousy a job of raising him, as any parents possibly could - especially given they were so rich. He's dishonest, and he's not just selfish - but unbelievably so. He's uneducated, even though he managed to fanagle a degree from a respectable college. He's uncouth, a liar, a cheat and an alleged thief by numerous contractors.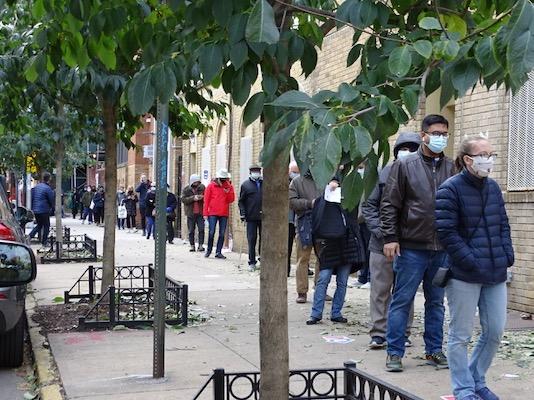 And he's been a terrible president, which is why I'm hoping, in this election, the American people fire him for doing such an incredibly bad job. So bad that the damage he's done is almost unbelievable.
Trump's accomplishments include adding $6 trillion in debt in four short years including an historic record annual deficit - beating the prior by at least two times. And this financial mess doesn't include the $3 trillion the Federal Reserve injected into the economy to provide liquidity following the outbreak of the CoVid pandemic. His promise of repeal and replace should have been repeal - as he spent four years trying to repeal - including a court case pending before the Supreme Court. And the Republicans have yet to offer a plan. Trump has alienated our allies, emboldened our adversaries, stoked social divisions and doubled our unemployment.
This makes his ridiculous campaign slogan - Make America Great Again - promoted by easily the worst president in American history, even topping George W. Bush and Herbert Hoover, almost a mockery of his own Administration.
I won't miss Trump's incessant nonsensical yapping and tweeting, that the broadcast media kept repeating, and thus amplifying. I won't miss an unrelenting stream of his ignorance, fed to us daily by the teleprompter readers on Network TV, especially Fox 'News' - which is controlled by a seemingly Goebbels' like protege - Rupert Murdoch.
And I won't miss that White House, white trash, privileged family of his - who have fed and fanned the flames of his egomaniacal, narcissitic behavior into a public bonfire of his vanities. Nor will I miss his Stepford wife, whose cynical anti-bullying campaign 'Be Best' seemed a mockery of the role of First Lady. And whose sweat shirt fashion statement - I Don't Care Do U - worn while visiting the immigrant children locked in detention centers on our southern border, showed an incredible insensitivity not unlike Queen Marie Antoinette. Antoinette's husband, Louis XVI lost his head, in part because of her disdain of the French people. Luckily for the Trumps, the guillotine has given way to the ballot box, as a means of nations ridding themselves of unpopular leaders.
So while I know it ain't over until it's over, I'm cautiously optimistic that enough intelligent and well informed people made it to the polls to outnumber the low information, no information and disinformation voters or those audience members who hold racist and sexist attitudes which make them susceptible to the manipulations of a demagogic press [like Murdoch's Fox News, NY Post and increasingly WSJ seem to be], who still buy into the Con-Man-in-Chief's apparent lawless, rule breaking cheats and deceits.
While Bush was president, I traveled / worked in Europe on short gigs. At the time, Europeans told me they could understand Americans making the mistake of electing Bush the first time around, but they could not understand how Americans could re-elect him - as by then we should have known how badly he governed. I believe that same perspective applies to Donald Trump.
So to those who voted for Trump, I respect your right to do so, even though I disagree with your choice, as the bombastic blowhard you favor, doesn't appear to share that same value of respecting voters' rights or other American democratic values ... including that he might try to create a mini-crisis prior to the peaceful transference of the great powers of the American presidency.
So I am praying our five year nightmare is over, and while the signs are promising, the final outcome is yet to come. Stay tuned.
Will the U.S. Postal Service Deliver?
Tens of Millions of Ballots That Were Issued Haven't Been Received
Too Late for Mail - See Options Below for Absentee / Mail Ballots

October 30, 2020 / NYC Neighborhoods / U.S. Politics / News Analysis & Opinion / Gotham Buzz NYC.
The unofficial motto of the United States Postal Service is "Neither snow nor rain nor heat nor gloom of night stays these couriers from the swift completion of their appointed rounds".
While that may be true, the motto says nothing about whether the USPS will be able to continue making the swift completion of their appointed rounds, in spite of efforts by the new Postmaster General Bill DeJoy that appear intended to delay them.
Louis DeJoy Seems a Corrupt Choice for Postmaster General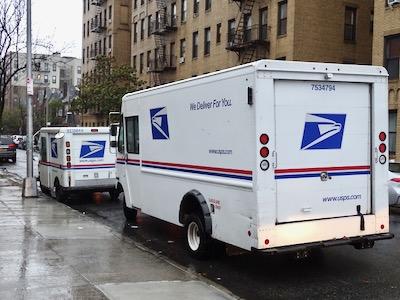 Louis DeJoy, was a $1.2 million dollar contributor to the 2020 Trump campaign, who a seemingly corrupt President appointed Postmaster General in June of this year. It was the first time in a couple of decades that someone from outside of the organization was appointed to the Postmaster General position. 
According to Wikipedia, DeJoy's background is in logistics, and upon taking the job, he divested his holdings in UPS and Amazon, but held onto his
"$30-$75 million equity stake in XPO, a subcontractor for USPS."  
They also report that since DeJoy became Postmaster General just over four months ago, the USPS has increased its business with XPO. We've seen this sort of conflict of interest / corruption in numerous cases at the Cabinet Level in the Trump Administration.
Louis DeJoy & Donald J. Trump Election Interference?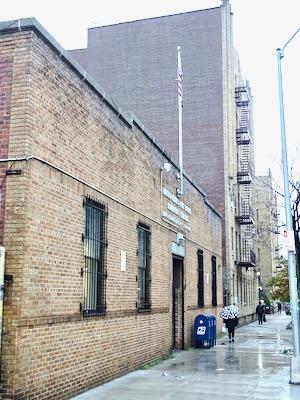 Wikipedia reports that,
"… On August 7, 2020, DeJoy announced he had reassigned or displaced 23 senior USPS officials, including the two top executives overseeing day-to-day operations … "
If you wanted to sabotage an organization and an election, it seems this would be the way to do it.
"… on August 13, 2020, DeJoy confirmed reports of delays in mail delivery, and called them "unintended consequences" of changes that eventually would improve service. At the same time that he was taking measures that postal workers and union officials said were slowing down mail delivery, President Trump told a TV interviewer that he himself was blocking funds for the postal service in order to hinder mail-in voting…"
This seems a lot like July 27, 2016 when Trump, in a nationally televised broadcast, publicly encouraged Russia to hack Hillary Clinton's emails [and by association the election].
Attorney Generals of 20 States File Lawsuit to Stop Impedance
On August 22, 2020 the House brought forth legislation to provide funding for the USPS along with demands to stop the changes that were slowing the mail.  Republican Senate Majority Leader Mitch McConnell said that the Senate would not pass a similar bill thus blocking the House effort – not unlike how McConnell stopped funding to ensure safe and fair 2020 elections [stop Russian election interference].  So when McConnell says he's doing for the American people – remember that it seems that oftentimes McConnell's really doing a lot of things TO the American people – not for them.
In an August 18, 2020 report by NPR, a statement made by House Speaker Nancy Pelosi included the following,
"… necessary but insufficient first step in ending the President's election sabotage campaign … This pause only halts a limited number of the Postmaster's changes, does not reverse damage already done, and alone is not enough to ensure voters will not be disenfranchised by the President this fall… "
Twenty States Attorney Generals filed lawsuit against the Trump Administration protesting the changes to cripple the USPS.  I believe these lawsuits are still pending, as the cuts to mail collection and processing infrastructure had not been restored.  Postmaster DeJoy said he would put any further changes on hold until after the election.
A Patriotic Billionaire, Media Corp, Social Org or PAC Needs to Offer a Bounty / Reward for Info Leading to Conviction of Those Involved in Mail Delays, Dumping or Tampering
The efforts by the States and the House doesn't change the fact that the USPS is currently operating under a new Trump allied Postmaster General and his 23 new daily operational officers.  And who knows of what they're capable of.
I suggest the media, because catching these people in the act, would be a great story that would be good for ratings and advertisers – and because in the process they would be protecting the Will of The People. What's more patriotic than that?  And what's more a betrayal of democracy than those trying to thwart people from casting their votes?
Drop Off Your Vote - It's Too Late to Mail it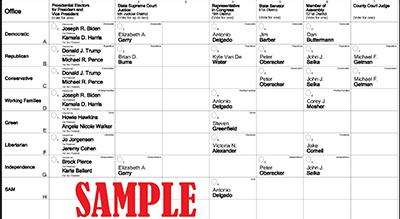 Anecdotally, I heard one man's story about mailing in his vote two weeks ago, and he kept calling the Board of Elections until it just arrived today.  According to various reports, Postmaster DeJoy seems to have succeeded in screwing up or at least slowing up the USPS delivery times [see below].
In the meantime, if you haven't yet returned your absentee ballot – you have a few options: 1) bring it to the board of elections site in your borough during their office hours [see vote.nyc], 2) bring it to an early voting site where you can drop it off [there are extended hours this weekend – but early voting ends Sunday] and 3) you can drop it off at your poll site on election day.
How Broken is the USPS & Will The Organization Enable or Thwart 'The Will of The People' ?
I'm going to return with some of the data on how the mail service has been impaired, the delivery times slowed, and a look at the tens of millions of absentee / mail votes still outstanding. The question is whether these votes are stuck in the mail system or whether the voters who have requested them have not yet acted.
Here are some of the threads to this emerging story. Copy & paste into your browser. The first report, by the Associated Press, has a nifty interactive program where you can enter your zip to see how timely your mail has been of late.
https://apnews.com/article/mail-ballots-not-returned-key-states-114bea9e50052452cf4f793c1b6d5912
https://www.usatoday.com/story/news/investigations/2020/10/21/election-2020-mail-in-absentee-ballots-could-see-long-waits/5992494002/
https://www.washingtonpost.com/politics/2020/10/28/mail-ballots-postal-service/
https://www.theguardian.com/us-news/2020/oct/15/mail-in-ballot-tracker-us-election-2020
https://www.nytimes.com/2020/10/29/us/politics/post-office-mail-voting-2020-election.html
https://www.cnbc.com/2020/10/27/2020-elections-nearly-67-million-votes-cast-in-trump-biden-race-.html
https://www.msn.com/en-us/news/politics/voters-encouraged-to-hand-deliver-ballots/ar-BB1awi8N?li=BBnb7Kz
What's Wrong with Network TV News?
As you can see above, a number of the real news organizations are tracking this story - but unfortunately the majority of ignorant of Americans rely on Network TV for their news. They think that after 22 minutes of watching and listening to a half hour broadcast [includes at least 8 minutes of commercials], that they know what's going on. When in fact the reality is far different.
Rupert Murdoch's Fox Fake News appears to be a real Goebbels-like propaganda machine designed and operated to manipulate its audience's view of politicians, government officials and issues. It seems the intent is to get them to vote for Murdoch's favored pols, who seem to give him what he wants - as the implied threat seems to be that he could use his machine to manipulate the views of his massive audience against them.
The broadcast TV Networks and the two other major cable TV Networks don't appear to be quite so evil, but instead somewhat clueless. They look good, they read the teleprompter real well, but it's a ratings driven, glamor gobbling business full of lightweight journalists (?) whose superficial reading of the news unfortunately leaves their audiences feeling informed, when they appear to be anything but ... which is, in part, why we are where we are today. It's not enough to show up and vote, Americans have to do their homework so they'll know who they are voting for.
Are the Missing Tens of Millions of Votes the Big Story of the 2020 Election?
The missing votes may be the big story of the 2020 election, especially if the Network TV news organizations don't start tracking down what's happened to the tens of millions of ballots not returned. Like in 2016, they'll be surprised with the election day result, and report the 'news' after it's fait accompli.
I watched the Network TV news shows last night, and they were busy reporting about the long lines, and about a guy who's standing in line for people for money, and about the possibility of protests AFTER the election. But NOT ONE OF THEM said anything about the 'missing ballots'. If they're reporting about things after they happen, then they're clueless and pretty much useless. And if you're relying on clueless for your news, you might want to consider reallcoating your time / finding better news sources - like those referenced above.
These days, in the post newspaper world, you have to go to the internet to find out what's going on.
Is Broadcast Media Misleading Voters About Mail Ballots?
OLD Public Service Announcements? Lastly on Friday, October 30th, Hot 97 [radio] and NBC TV both broadcast notices that told their audience to mail in their votes - with only four days prior to election day. All mail and absentee ballots must be postmarked on or before the election day of November 3rd, and in New York State they must be received by November 10th. Mail ballot regulations vary by state, but it's worth noting that ballots NOT RECEIVED by election day, won't be counted in 29 of the 50 states, and the deadline varies for the other 21 states. Given the importance of this election, make sure your vote is counted. And the broadcast media would be well advised to pay attention to the timeliness of their ads and announcements.
NYC Halloween CoVid Style?
Trick or Treating Permitted Outside in NYC but Not in Apartment Complexes as CoVid Resurges & Election Day Nears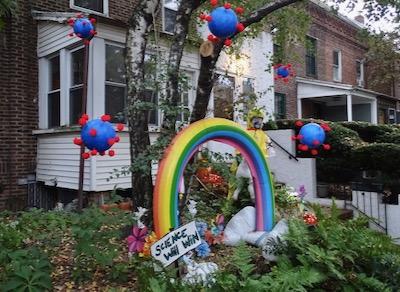 October 26, 2020 / NYC Neighborhoods / Things To Do NYC / Gotham Buzz NYC.
"These are the times that try [wo]men's souls", so wrote Thomas Paine on December 23rd, 1776.
The American colonists had declared their independence from King George V only six months before he wrote this - as not all colonists were on board with the break from the British crown.
Election day is Tuesday, November 3rd, which is only about a week away. And early voting began Saturday and ends Sunday - thereafter you have to vote at your normal polling place. For details, see - https://vote.nyc/
The photo at right shows a Halloween decoration, which in keeping with the times, features the new disrupter in chief - CoVid 19.
Frighteningly Beautiful - The Lady in Black
I encountered this woman, on her way to a photo shoot, who posed for this photo.
Coming a bit later today, some news updates and things to do. But the preview is that it's definitely going to be a dialed down Halloween, as the entire nation continues to struggle to contain and beat back the resurgent pandemic.
Just Frightening - 'The President' &Murdoch's 'Newspaper'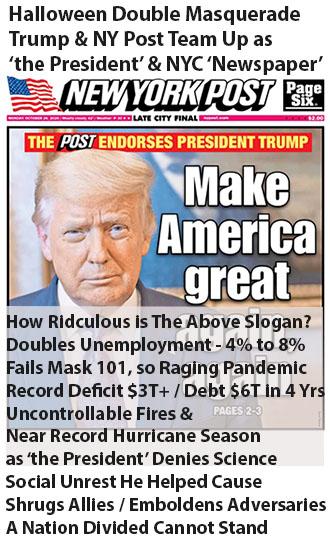 Rupert Murdoch's NY Post made a 'surprise' announcment that it's endorsing Donald Trump for president. Why do they bother? The NY Post and Murdoch's other propaganda outlets including Fox News and the Wall St Journal appear to have been running promotional stories on Trump for the past five years, and attack stories on Biden since Biden started his campaign for president.
You'd have to be a moron not to know that. But then many - not all - Fox News viewers and NY Post readers are. So I guess that makes sense.
In the graphic at right, Trump plays 'the president' in a TV reality show, and one of Australian born billionaire Rupert Murdoch's propaganda outlets, the NY Post, poses as a newspaper making an endorsement.
This would be funny if it weren't so real.
Kentucky Insanity: Voting Repeatedly for Mitch McConnell & Expecting Things to Change
Kentucky Has the 6th Highest Poverty Rate, Ranks 46th in Healthcare, 44th in Education & 45th in Income While
McConnell's Leadership Enriches Him & his Taiwanese Born Wife, so that Mitch is Now in the Top Ten Wealthiest Senators Club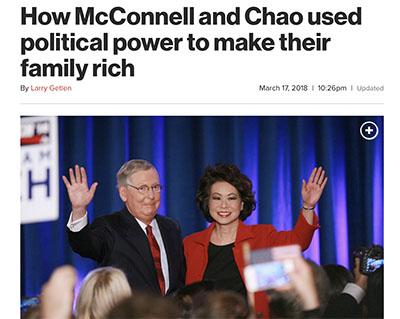 October 21, 2020 Updated & Greatly Expanded from 10/13/20 / NYC Neighborhoods / U.S. Politics / News Analysis & Opinion / Gotham Buzz NYC.
Monday night Republican Majority Leader Mitch McConnell squared off against challenger former Lieutenant Colonel Amy McGrath. She, along with another woman, were the first females assigned to the Marine All Weather Attack Squadron.
Televised debates these days, seem to shed little light on the candidates or issues. This may be in part due to the format of them, as well as the failure of the debate moderators to hold the candidates' feet to the fire by pressing them on tough questions, and the current climate of conversational corruption where politicians pretty much say whatever the hell they want to say ... regardless of the truth.
So I did some of my own digging to learn more about Mitch McConnell. What I found surprised me, given how deep the rabbit hole goes and yet how little attention has been given to one of the most powerful men in Washington. So it may surprise you too.
DEFINITION OF INSANITY - Repeatedly Doing the Same Thing Expecting a Different Result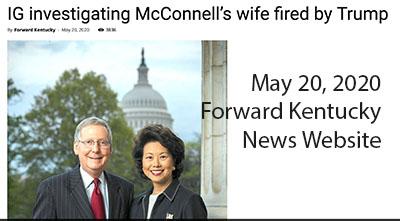 The definition of insanity is doing the same thing over and over again and expecting a different result.
The image at right was found in a web magazine, Forward Kentucky earlier this year. Donald Trump fired FIVE inspectors and among them was one investigating McConnell's wife.
What are they afraid of ... the truth?
And that is exactly what Kentuckians appear to have been doing for decades, having reportedly voted for Mitch in various elections approximately THIRTY TIMES in a row.
Let's take a look.
RICH MITCH - McConnell is the Longest [Self?] Serving Republican Leader in Senate History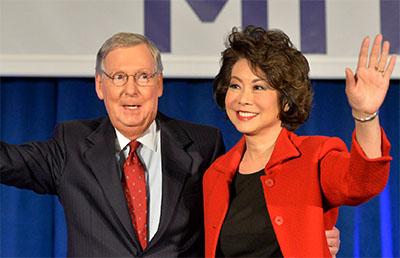 In June 2018, Mitch McConnell became the longest 'serving' Senate Republican Leader in the history of the Senate.
McConnell has been a Kentucky Senator for nearly 36 years, having first taken office in January 1985.
He's been the Republican Senate Majority Leader for nearly six years - since January 2015, and the Republican Senate Minority Leader since January 2007 – another eight years and Republican Senate Majority Whip from 2003 - 2007.
And he's been 'serving' Kentucky as a senator since 1985.
POOR KENTUCKY - Kentucky Ranks Near the Bottom in Education, Healthcare and Income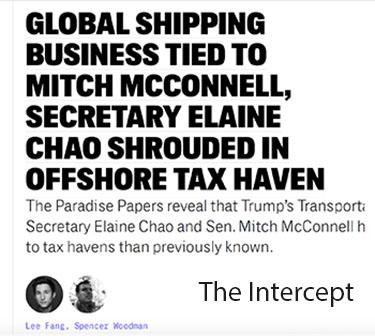 And yet Kentucky has little to show for Mitch's length of service – even though Mitch McConnell keeps telling them how good is for them, as he's been a member of the elite Republican Leadership for decades.
But McConnell he likes to tell Kentuckians - he's the only top federal political leader who is not from one of the big urban centers on the coasts, even though he's been living in Washington, D.C. for one helluva lot longer than he ever lived in Kentucky. And he's married to a Taiwanese born millionairess who has never lived in Kentucky, per se, during the nearly three decades of their blissful married life.
So what difference does it make where Mitch McConnell claims he is from, if he's not representing the people of Kentucky? But rather … representing the big corporate and foreign interests that appear to fund his campaigns and enrich – not the state of Kentucky – but their chosen one, their 'representative' Senate Majority Leader Republican Mitch McConnell.
NOT A NATIVE KENTUCKIAN - Why Alabama Born McConnell May not Care About Kentucky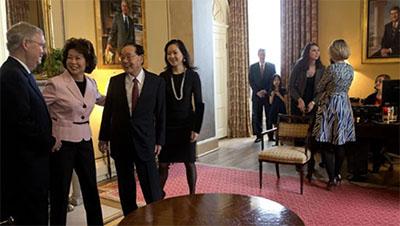 I suspect part of the reason that Mitch McConnell doesn't care that much about Kentucky, is because he wasn't born there, and he mostly did not grow up there. McConnell was born in ALABAMA in 1942, and then – by way of GEORGIA – arrived in KENTUCKY in 1956 at age 14. I think it's worth mentioning that McConnell's great, great grandparents – on both sides - were Alabama slave owners, which we'll get to shortly.
In 1968 McConnell left Kentucky for the big city, Washington, D.C., for a couple of years. He returned to Kentucky to run for office in 1971, but failed to meet the Kentucky residency requirement. In 1974 McConnell left Kentucky again for Washington, D.C. to work in the Ford Administration. Gerald Ford lost the election in 1976, so McConnell returned to Kentucky to run for office again. This time Kentuckians cut him a break and elected him the Jefferson County Executive, an office he held until he was elected in 1984 to 'represent' them as a senator, at which time he departed Kentucky for Washington, D.C. where he's been ever since.
So all tolled, McConnell only spent about 24 years in Kentucky [1984-1956=28-2-2=24], which is not even a third of his 78 years of life. And McConnell has spent 36 years 'representing' Kentuckians in the big city of Washington, D.C. – where he has lived half again as much time, as he has lived in Kentucky. So while Mitch doesn't appear to represent Kentuckians – one has to ask how could he - given he has spent so little time there and it was what seems a lifetime ago?
McConnell Received Educational Deferment from Military, Followed by Medical Exemption for Optic Neuritis – Not Polio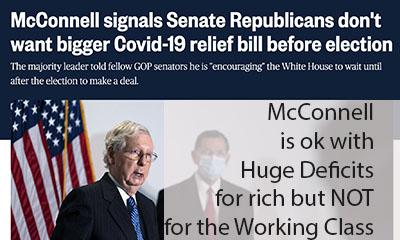 According to Wikipedia, after McConnell's educational deferment from the military expired in 1967, McConnell 'served' about a month. The same report tells us McConnell was diagnosed with optic neuritis – a temporary inflammation in the eye that can cause temporary blindness. According to a few Google searches, optic neuritis is a common eye problem that self resolves in about four to 12 weeks. There are severe cases of it, but given McConnell is 78 years old and we've heard nary a word of it since his getting out of military service, I suspect his case was 'mild', not unlike Trump's CoVid case. McConnell is also said to have contracted polio, but apparently escaped any significant long term impairment, as we see him walking up and down the halls of the Capitol without a problem.
MONEY BAGS MITCH - McConnell Supported by Chinese, Russian & Australian Immigrants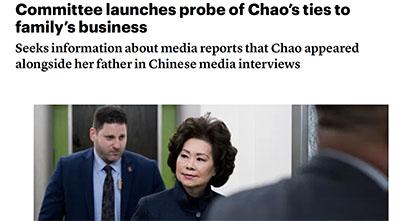 In 1984 McConnell became a Kentucky Senator. And while most Kentuckians don't like him and neither do most Americans – Australian born billionaire Rupert Murdoch's soon to be media executive, Roger Ailes, ran McConnell's first campaign. Murdoch seems to have been influential in rolling back media regulations beginning around that time, so it wouldn't be a big leap to assume that McConnell helped Murdoch feather his nest through regulatory rollbacks, while Murdoch helped keep McConnell in place as an enabler in hacking through the regulatory environment which had previously held large media corporations in check. Murdoch controls Fox News, the NY Post, the Wall St Journal and in 2019 became the largest shareholder of Disney / ABC in an inverted takeover.
We'll zoom in on why the rich Chinese and Russian born immigrants started backing Mitch McConnell a little further in the story.
McConnell Sells Out or Trades in his Old Kentucky Home?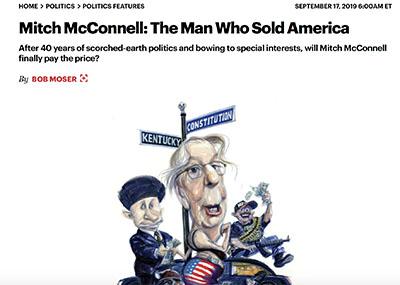 McConnell was married to a Kentucky woman, Sherrill Redmon, from 1968 [around the time of his military deferment] to 1980 [around the time he was re-elected but a few years before he hit the big time as a senator beginning in 1984]. In the early years in Kentucky McConnell was considered a liberal leaning moderate [his ex-wife and one or more of his daughters still seem to lean more toward the middle, having oppposed the Brett Kavanaugh SCOTUS confirmation].
But McConnell's views seemed to quickly change after he hired Roger Ailes, [who later became Fox News CEO], to run his 1984 Senate campaign. This was followed by McConnell 's social climbing upward mobility when he met and married his new Chinese American wife, who connected his campaign to a multi-million dollar money train. Taiwanese born Elaine Chao's mega millionaire father is well connected to the Chinese Communist Party Leadership, owns a Chinese American Shipping Company, and he and her family have donated millions to McConnell, as well as his and Republican PACs.
The Decade McConnell Went From Kentucky Mitch to Shanghai Mitch
Following the 1984 election Rolling Stone story reports McConnell,
"As I always say," McConnell wrote in his book, "the three most important words in politics are 'cash on hand.' "
Is Trump Using Taxpayer Dollars to Fund his Campaign & the DHS to Work for Him for Free?
Thursday Afternoon 10/15 in an NYC Neighborhood, Boxes of Food were Distributed with a White House Letter from Trump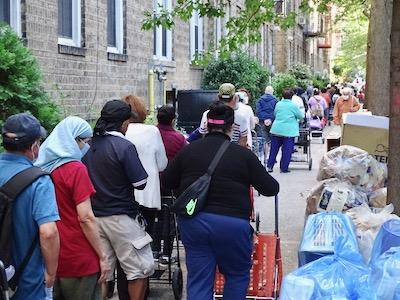 October 15, 2020 / NYC Neighborhoods / U.S. Politics / News Analysis & Opinion / Gotham Buzz NYC.
I fell upon a food distribution event at the corner of 43rd Avenue between 46th and 47th Streets on Thursday, October 15th. It was being distributed by what appears to be a non-denominational church group - Mosaic Church and Community Center of 46-01 43rd Avenue in Sunnyside.
So I took a few photos of what seemed an ordinary event these days, until I asked them to allow me to photograph the contents in the boxes, where I found a letter from Donald Trump, in what appears to be a possible use and abuse of taxpayer dollars to fund his cash strapped re-election bid.
Letter on White House Stationery Signed by Trump
The contents of the letter are as follows and a photo of the letter in English is shown at right. The letter was also written in Spanish on the reverse side.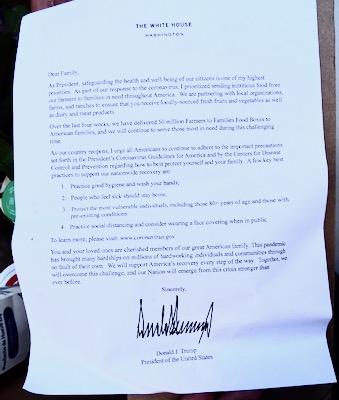 The White House
Washington
Dear Family,
As president, safeguarding the health and well being of our citizens is one of my highest priorities. As part of our response to the coronavirus, I prioritized sending nutritious food from our farmers to families in need throughout America. We are partnering with local organizations, farms and ranches to ensure that you receive locallly-sourced fresh fruits and vegetables as well as dairy and meat products.
Over the past four weeks, we have delivered 50 million Farmers to Families Food Boxes to American families, and we will continue to serve those most in need during this challenging time.
As our country reopens, I urge all Americans to continue to adhere to the important precautions set forth in the President's Coronavirus Guidelines for America and by the Centers for Disease Control and Prevention regarding how to best protect yourself and your family. A few key best practices to support our nationwide recovery are:
1. Practices good hygience and wash your hands.
2. People who feel sick should stay home.
3. Protect the most vulnerable individuals, including those 80+ years of age and those with pre-existing conditions
4. Practice social distancing and consider wearing a face covering when in public
To learn more, please visit www.coronavirus.gov.
You and your loved ones are cherished members of our great American family. This pandemic has brought many hardships on millions of hardworking individuals and communities through no fault of their own. We will support America's recovery every step of the way. Together, we will overcome this challenge, and our Nation will emerge from this crisis stronger than ever before.
Sincerely,
Donald J. Trump
President of the United States
The New Non-Denominational Church Group Distributing the Food Boxes is About a Year Old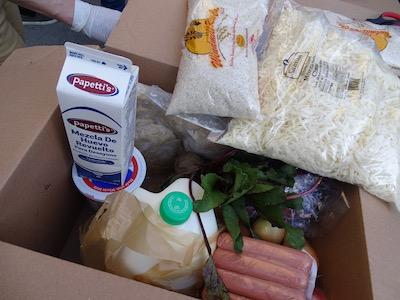 The church group that was distributing these boxes with the letter enclosed, have been serving food boxes to the community since late March when the pandemic began. I did a cursory search and it appears the Church isn't a traditional one, per se, but rather a new, non-denominational one that began operating in the area about a year ago.
Per the letter noted above, the Donald's insertion of himself into this food distribution process only began four weeks ago, but with the Donald, one can never be sure of what the real facts are.
It Reminded me of an Encounter I had During the 2016 Election
Four years ago, outside of my post office, there was a Communist group that had set up a stand with posters bashing Hillary Clinton that included something to do with wars and oil. At the time I engaged them in conversation to try to understand who they were, and what they were about. The guy I spoke to told me that they were doing these pop ups every day, but couldn't tell me where the next one would be. They also didn't have any hand out literature, and he reluctantly verbalized a website name which I never bothered to check.
But what surprised me was that they were bashing Clinton - not Trump - as communists historically had been associated with the left. But real efforts at communism died a long time ago, and communism in most traditional cultures like Russia and China, morphed back into the authoritarian regimes that they were, that are associated with the far right. I ignored all this at the time, but once the Russian collusion investigation got underway, the whole incident seemed to make more sense.
Did the DHS Illegally Steer Funds into a Trump Campaign Effort?
Because this letter was issued on White House stationery without a campaign pitch - per se - I am guessing that this was possibly illegally funded by the Department of Homeland Security using taxpayer dollars.
Chad Wolfe is currently acting in an illegal capacity in the position of Secretary because the Constitutional limit for acting Cabinet level Secretaries is six months - which for Chad Wolfe expired in June 2020. This appears yet another case of Mitch McConnell failing in his fiduciary duties to the American people, in order to serve himself.
If I am correct, this may well be an illegal use of taxpayers' dollars to bolster the reportedly cash strapped Trump re-election Campaign. That's likely why Trump has also been using the White House as campaign headquarters and for Trump rallies, which if not illegal - should be - as it is use of public property for private purposes. Maybe Trump found a technical loophole, or maybe he just doesn't care because he'll just fire anyone who tries to enforce compliance like he's done to five Inspector Generals this year alone. But it certainly looks corrupt, as the Trump Campaign / DHS appear to have bypassed the state and local government in the distribution.
The church group, hasn't returned my phone call, and the Trump Campaign hasn't responded to my email.
I also called the Department of Homeland Security, which first said they didn't have anything to do with the U.S. CoVid response, and that that was the FDA's responsibility. Then I asked what about the economic emergency / disaster response, specifically relating to food distribution, and they directed me to FEMA. I contacted FEMA who gave me an email address, where I sent them a link to this report asking for clarification. As of this posting I haven't received a response. Perhaps local and state government officials and the corporate news organizations will do some follow up.
It Looks Like Trump is going to Try to Lie, Cheat & Steal this Election Until Biden is Inaugurated
This year numerous efforts appear to have been initiated by Trump and Republicans in an effort to cheat their way to victory. In California Republicans apparently installed what appeared to be phony ballot drop boxes to 'harvest' Democratic votes. Earlier this summer Bill Joy, a Trump campaign donor and newly appointed Post Master General, started removing the postal service infrastructure needed to collect and process mail ballots in a timely manner. That was preceded by another Trump effort where, allegedly Rudy Giuliani and others, threatened to withhold U.S. foreign aid [taxpayer dollars] to pressure the Ukrainian government to release any kind of dirt [real or imagined] on Biden's son Hunter [again the use / abuse of taxpayer money to fund a Trump re-election bid]. And this summer Trump appeared to illegally use the Department of Homeland Security as a national police force in what seemed an effort to provoke violence in cities like Seattle and Portland. And he seems to be urging his supporters to show up at polling stations to intimidate voters. And Rupert Murdoch's NY Post published [one of ?] Murdoch's traditional October Surprise story[ies], which Murdoch appeared to try to amplify on his Fox News and his Wall St. Journal, but which was deleted on Twitter and Facebook because it didn't appear to be supported by the facts [they ought to delete more of Murdoch's stuff than just that one story - for the same reasons]. And so on and so forth.
I suppose if Trump cheats enough, he might still pull off an upset, as he's surely not going to win in a fair race.
How Much Ignorance can America Democracy Withstand?
According to Merriam Webster / Oxford ignorance is defined as "lacking awareness, knowledge or intelligence". My own definition is ignorant people are those who ignore things that shouldn't be ignored.
I have talked to many Trump supporters over the past four years and generally I have found them to ignore quite a bit of information that rounds out the full picture of Donald Trump. They shut down when presented with the facts they don't want to hear, which is why so many of them seem to watch Fox News - because Fox News often enough doesn't present a fair nor balanced nor full account of politicians, issues and events.
The Germans who voted for Adolph Hitler ignored his foibles, until they could no longer do anything about them. I hope Americans don't allow the same to happen here. German Chancellor / Dictator Adolph Hitler, in talking about lying, cheating or stealing an election, said,
"If you win, you need not have to explain... if you lose you should not be there to explain."
See below for other reports I've done comparing our current situation in America to 1920's and 1930's Germany.
Census Deadline Thursday Night, October 15th
Each Person Counted in the Census Represents $30,000 - $40,000 of Federal Funds over the Coming Decade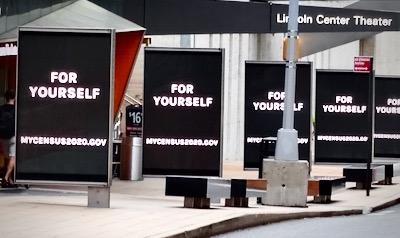 CLICK PHOTO AT RIGHT TO FILL OUT THE CENSUS NOW.
The judicial wrangling in the courts about the census deadline is over. The FINAL date with which you can fill out the Census is THURSDAY NIGHT 10/15.
I wouldn't wait - if you haven't already filled out the census - CLICKING THE PHOTO AT RIGHT.
It takes 10 minutes literally, asks for information you should generally know about yourself, and is worth between $30,000 and $40,000 in government spending per person over the next ten years.
If you don't fill it out, we - the city and state - lose that funding, as well as representation in Washington, D.C.
You do not have to be a citizen to fill out the census and your personal information - by law - does not become accessible for a generation.
For Whom does Mitch McConnell Really Work?
Carpet Baggers McConnell & Chao Net Worth Grows by Tens of Millions
While Kentucky Continues to Lag Nation in Income, Education & Healthcare
Insanity - Voting for the Same People & Expecting Things to Change

October 13, 2020 / NYC Neighborhoods / U.S. Politics / News Analysis & Opinion / Gotham Buzz NYC.
THIS IS A WORK IN PROCESS. Consider these allegations until I can tighten up the narrative and add in my sources.
Last night Republican Majority Leader Mitch McConnell squared off against challenger former Lieutenant Colonel Amy McGrath. She, along with another woman, were the first females assigned to the Marine All Weather Attack Squadron.
Televised debates these days, seem to shed little light on the candidates or issues. This may be in part due to the format of them, as well as the failure of the debate moderators to hold the candidates' feet to the fire by pressing them on tough questions, and the current climate of conversational corruption where politicians pretty much say whatever the hell they want regardless of the truth.
Mitch McConnell's Failure to Tell Voters the Truth
And Mitch McConnell is well versed in saying things that are convenient at the time, and then saying the complete opposite, when it suits his purposes. Four years ago, in 2016, McConnell told the people of Kentucky and America that the Senate was going to wait on judiciary hearings on a Supreme Court candidate - because McConnell said that he wanted to let the American people weigh in on the decision, as an election was only eight months away. This year, in 2020, with less than a month away from the election, he doesn't give a rat's ass about what Kentuckians or the American people have to say.
McConnell wrote an editorial in the Washington Post last year railing against proposed changes to enable voter matching funds for campaign contributions. Here again McConnell seemed to distort the truth telling people that the government would be giving money to politicians. But that's not the full story, and half stories are often lies. The full story is that the government would be giving voters back some of their hard earned tax dollars by matching [usually by multiples] the donations they - the voters - made to candidates and political campaigns. So really the government is giving back voters some of their tax dollars so they too can compete for candidates' attention and thus support in Washington - as at present - the voters have little power, and get little consideration from politicians like McConnell, except around election time when all those big corporation / wealthy individual campaign contributions buy voter ignorance in the form of televised and social media ads that distort the truth.
The Truth - McConnell's Ancestors were Alabama Slave Owners
Not one - but both of Mitch McConnell's great great grandfathers were Alabama slave owners - see NBC report. Does McConnell take that same exploitative approach to voter suppression in Louisville, Kentucky where there are a lot of African Americans? Louisville is one of the two largest cities in Kentucky and yet there is reportedly only ONE polling booth.
Does Mitch Carry on the McConnell's Family History of Exploitation?
It appears that McConnell has been deceiving Kentuckians on healthcare, as the Trump Administration is pitching the Supreme Court to strike it down - including the exemption for pre-existing conditions. McConnell tells Kentuckians it's repeal and replace - and yet all of the effort of the Republican party these past four years has been on repeal and we have neither seen nor heard anything about what is to replace it. I think we know the honest answer to question.
steering money waway from miners pensions and healthcare and into a Russian Oligarch aluminum company.
And Elaine Chao reportedly looked the other way on low wages, health and safety regulations in Kentucky coal mines as Secretary of Labor during the Bush Administration. This was as her father's company, Foremost, was shipping a lot of coal into China.
McConnell has been in a leadership role in the Senate at a time when the Republican party has had most of the power and yet Kentuckians still rank near the bottom of the states in healthcare, income and education. Why do you think that is? Is that because they watch and actually believe Fox News, run by another carpet bagger - Australian born billionaire Rupert Murdoch - who like the McConnell's seems to profit by keeping people ignorant of the truth.
Judges - nominated and approved because of abortion - or is that a cover for the nomiated judges who favor the wealthy people who have selected them - like the Koch Brothers and the Heritage Foundation?
Elaine Chao: How Corrupt is McConnell & His Wife?
In 2014 Colombian authorities found 90 lbs of cocaine aboard one of James Chao's ships. Chao's father is Chairman of the Foremost Shipping Company, which ships mostly under foreign flags which according to the December 12, 2016 report deprives the U.S. of tax revenue and Americans of jobs.
McConnell's wife reportedly tried to steer money away from American shipping, ports and shipbuilders to help Elaine Chao's father who has quite a bit of access to the top members of the Chinese Communist party. Many, if not most, of James Chao's Foremost ships are built by the Chinese, and many are financed by them as well, with low interest rate loans.
It's unclear if and / or how much wealth McConnell and Chao may have stashed in off shore tax havens, in a manner not unlike that done by many shipping companies. See Intercept report on February 5, 2018. Paradise Papers of 2017.
Elaine Chao's failure to divest her holdings in Vulcan Materials - a roadbuilding materials company - when she became Secretary of Transportation. She eventually divested the holdings in June 2019 [three and a half years later] after it was reported by a news organization.
Who Does Mitch McConnell Serve?
McConnell appears to be deceitful on who he and his wife serve. McConnell was self serving on CoVid - staying away from the White House since August 6th because he didn't like the cavalier approach to CoVid taken by the Trump Administration. And yet McConnell only came forward with that honest assessment more than two months later, on October 8th, after dozens of White House staffers tested positive. That's Mitch McConnell in a nutshell - looking out for #1. And that's why Kentucky ranks in the mid 40's of 50 states on education, healthcare and income. Mitch is too busy taking care of himself to be bothered with looking out for Kentucky.
More coming later this week. Including a closer look into what appear the nefarious deals done by Mitch McConnell's wife Elaine Chao.
Columbus Day Weekend News Update
Broadway Won't Re-Open until June 2021, CoVid Cases Spike in Queens & Brooklyn Neighborhoods, Shootings Still Up - but Growth Slowing, Real Estate Listings Increase as Prices Fall & Early Voting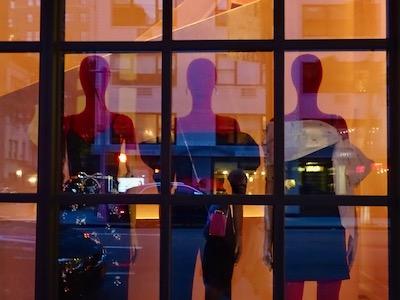 October 10, 2020 / NYC Neighborhoods / NYC Things To Do / News Analysis & Opinion / Gotham Buzz NYC.
Weather. The temperature highs will be in the mid 70's Saturday, mid 60's Sunday and high 50's Monday. The temperature lows will be in the low 60's Saturday, dropping to the mid to high 50's on Sunday and Monday. There's little chance of rain until Sunday evening around 9 pm, when rain is expected to begin falling through Monday, dropping an estimated two inches. The wind will be about 10 mph Saturday and Sunday, rising to about 15 mph Monday. Humidity will range from 50 - 75 on Saturday and Sunday, rising to 85 - 90% range on Monday.
Broadway theaters announced they won't be reopening until after May 31st, 2021. The group of over 40 theaters made this announcement yesterday. This is a blow to the NYC economy and many of the 97,000 theater employees and contractors, who have been out of work since mid March 2020. Theater generates about $15 billion in revenue annually.
NYC tourism has taken and likely will continue to take big hits from the CoVid global pandemic. Tourism generates about $70 billion in economic activity in NYC each year. Since the pandemic about 200 of the over 700 large hotels operating in the city remain closed. Those who are open are operating at an estimated 40% of capacity this month, compared with about 90% last year. And the prices have fallen considerably, providing great deals for those who wish to visit, as prices for a room fell from about $335 per room last year to about $135 this year.
Regal Cinema closed its 663 theaters again this week. Regal is the second largest movie theater chain in the U.S. following AMC. They cited a lack of new films, as a number of new releases were pushed back again including the James Bond 007 movie, and they pleaded with the Governor to let them resume operating in NYS.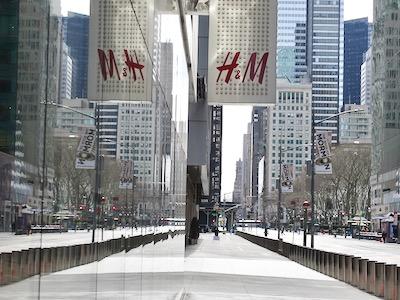 The NYC real estate market isn't doing so well right now either. Rental prices continue to fall, while rental listings continue to rise in Manhattan, Brooklyn and Queens according to the Douglas Elliman September report. Given that only about 10% of white collar workers have reportedly returned to their offices, combined with sagging tourism and dining and hotel stays, and slower production of entertainment product and release as noted above, things aren't likely to snap back anytime soon, unless there's a 'CoVid cure', which at present doesn't seem likely. But people, businesses and government have shown fairly healthy adaptability to the ongoing pandemic, so over time things will eventually get back on track.
There's been a significant spike in CoVid cases in Brooklyn and Queens neighborhoods, many of which are home to significant populations of Orthodox Jews who appear to have been skirting the public health laws regarding CoVid social distancing, mask wearing in close proximity to others, and limitations on the size of indoor gatherings. A bit of violence broke out this week, when a journalist was beaten for photographing a group of people in violation of the law.
Governor Cuomo has asked the NYPD to step up law enforcement in these areas, where to date there haven't been any arrests or tickets issued by the NYPD for the CoVid violations. The Orthodox Jewish community went to court to argue that their civil liberties were being violated. The court ruling said the laws didn't prohibit the Orthodox Jews from practicing their faith, and that the laws applied equally to all religious groups. The Brooklyn Catholic Archdiocese filed a lawsuit similar to the one filed by the Orthodox Jews, even though the Catholic Archdiocese has not been reported to be violating the law.
As you know, crime in the city has risen this year, owing in some part to the unusuallly disruptive nature of the year with the pandemic, the economic downturn and the social unrest arising from what appear to be rogue policemen killings of unarmed African Americans. After an initial lull in crime when the pandemic first broke, shootings spiked in the summer, rising 177% in June, 166% in August, and 127% in September. So, as you can see by the numbers, the Mayor and NYPD Police Commissioner Dermot Shea have been focused on bringing this down - and they appear to have made some progress on bringing those numbers back down - albeit slowly. But it's worth mentioning that their progress is being made in spite of budgetary challenges, police reforms and ongoing social turbulence - all seeming to have been exacerbated by the pandemic.
Columbus Day parades and Indigenous People's events have largely been cancelled or gone online. See things to do for Columbus Day Weekend last year, noting that outdoor activities - except the large cultural events - are available. And restaurants are operating again too, including indoor seating at 25% of capacity. Also, most of the major cultural sites in Manhattan are now open, again noting that they are open at reduced capacity and they ask you to make a reservation online to ensure entry. Many of the outer borough cultural sites remain closed. And, as noted above, both Broadway theaters and movie theaters remain closed.
The Donald has been a disaster and his campaign theme of 'Make America Great Again' seems like a cynical joke. Is doubling the unemployment, enabling a raging pandemic, inciting social division and social unrest, failing to act on climate change, a record breaking deficit, no action on healthcare - except an unrelenting effort on the repeal part - and absolutely nothing on the replace part, racking up $6 trillion in new debt for seemingly nothing in return, while alienating our allies and emboldening our adversaries making America great? Donald Trump has been a bad joke on the American people thanks in part to Australian born billionaire Rupert Murdoch's Fox News, Wall St. Journal and NY Post.
Early Voting. New York now offers early voting, which enables you to cast your ballot in person, prior to November 3rd. Early voting begins Saturday, October 24th from 10 am - 4 pm daily, through Sunday, November 1. If you don't make early voting, your can vote on election day, Tuesday, November 3rd between the hours of 6 am - 9 pm. To find the early voting poll site for your address either visit vote.nyc or specifically - https://vote.nyc/page/early-voting-information / you can also call 311 for help.
Enjoy your Columbus Day and Indigenous Peoples Day Weekend. We are on a slow path to recovery, but getting a new president and senate next January should help reduce - if not eliminate - the incredible dysfunctionality we've seen these past four years, and thus help us move things along.
Was Trump's Hospital Visit a Made-for-TV Hoax?
Much Ado About Nothing Fed to American People via Corporate TV Nets
Was a Free, Live & Staged TV Program Provided by the Donald?

October 5, 2020 / NYC Neighborhoods / U.S. Politics / News Analysis & Opinion / Gotham Buzz NYC.
The lines between 'reality TV' which seems staged reality on TV, and the real reality on TV seem to have disappeared. Occasionally I hear people complain about the authenticity of the information they get on the internet or social media - but from where I sit you can easily add the things you see on television - even network news - to the list of questionable sources.
The photo at right shows Trump saluting from the White House balcony after he was returned home from his trumped up hospital visit to Walter Reed Medical Center in Washington, D.C. It's unclear why he's saluting the White House lawn except for theatrics since he didn't speak.
TV News Seems Corrupted by the Ratings of the Things they Cover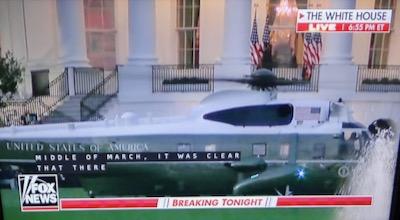 The reason I say this is because the beautiful, well dressed teleprompter actors and actresses who read you your highly scripted nightly bedtime news stories, rely on teams of well paid, ratings driven writers. Most of these readers and writers are not the hard scrabble, cynical, hard nosed, been around the block, highly inquisitive journalists of what seems a bygone era of American journalism.
They may work for corporations who own and leverage the same well known, once trusted brands - but when you look under the hood of these corporations at the people who are currently running things and how they are running things - oh, my, how things have changed.
And then there's Rupert Murdoch's Fox News, NY Post and Wall St Journal which seem a well oiled, outright propaganda machine.
The same is true of American government and politics. There was a time when the halls of Washington, D.C. were filled with people who believed in some things - like representing the people who voted for them, the U.S. Constitution and the guiding Englightment era philosophy behind it all. But today, the numbers of these kinds of folks in Washington, D.C., are few and far between. Far too many of them are beholden to wealthy individuals and large corporations for the funds needed to run their campaigns every election cycle.
So why does this matter? Because we have a vapid media and a vacuous Senate and [far less so] House that seem to do whatever, for the whoever, highest bidder. And Donald Trump and his co-conspirator (?) Australian born billionaire Rupert Murdoch know this. And they seem to exploit these failings every day. Like this past weekend.
Why Did the Donald Appear to Stage his CoVid Hospitalization?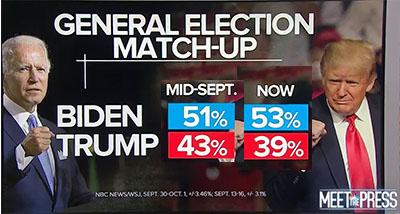 Last week Donald Trump had possibly one of the worst weeks ever - and even in these strange times that's VERY VERY BAD.
Last week: 1) news of the Donald's 'success' in not paying his fair share of taxes came out, 2) alongside the fact that he appears to owe $421 million in debt coming due after the election, that his current businesses aren't generating the profits required to enable payment [and to whom he owes the money remains a mystery], 3) that one of his campaign staffers / consultants - Brad Pascale - was alleged to be contemplating suicide having distributed $112 million in Trump Campaign cash to a myriad of LLC's [corruption?], 4) and the Donald turned in probably one of the worst debate performances in American History where in an hour and a half, as a sitting president, he said that he: a) wouldn't rebuke an alleged White Supremacist group - the Proud Boys - telling them to stand back and stand by, b) wouldn't agree to peacefully give up the office of the presidency of the United States unless he wins a second term and c) behaved on stage in a manner one might expect of a juvenile delinquent.
By creating a ruckus about his health, the Donald managed to bury an incredible amount of bad news, by distracting the glamorous TV dunces into focusing their coverage and the conversation about his health. And he managed to fit it fairly tightly into the weekend news cycle, so that little real campaign time was lost.
Based on the comments the Donald made coming out of his 'hospitalization' stage, it looks like he's going to use what seems a campaign staged event - to change the conversation going into the rest of the election. Change? You ask. Yes, change by using his personal hospitalization experience with CoVid to dismiss the threat of it, by telling people it's no big deal. I reckon the pitch will be something like, re-elect the Donald and CoVid will just 'disappear' ... [what they won't say is that it will disappear] from the news ...
The Timeline of Trump's Mild CoVid Infection Case - Thursday / Friday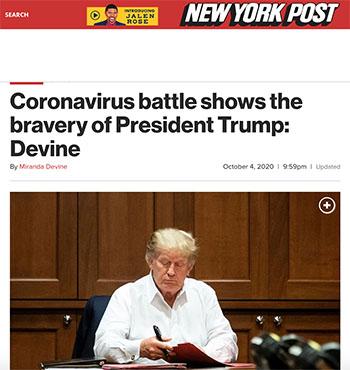 On Wednesday night, September 30th Hope Hicks, a Trump Aide, reported she was feeling CoVid symptoms on the plane ride home from a Trump 'Make America Great Again' rally in Minnesota. She tested positive for CoVid Thursday morning, October 1st. White House Chief of Staff, Mark Meadows, said the administration learned of Hicks' illness Thursday afternoon, as Marine One was preparing to lift off for the president's fundraiser at his golf course in Bedminster, New Jersey. But that didn't stop them from going on with the fundraising event, nor did they inform the donors in attendance, of the possible contagion by the CoVid Denier in Chief [Editor's Note: in a report filed over a week following the event, about contact tracing by the State of New Jersey, it appeared nobody contracted CoVid at the event].
At right Murdoch's NY Post propaganda outlet uses what seems an unnecessary / phony hospitalization to lionize the Donald in order to change the pre-election narrative of his rude behavior and poor performance at the debate, his tax avoidances, and his insulting comments about people who serve in the military.
By 1 AM Friday morning, October 2nd, the Donald's schedule had been completely revised for the coming day. Later Friday morning, it was reported that the Donald and Melania had both tested positive for CoVid 19 the day before. Between 5 pm and 6 pm Friday, October 2nd, the Donald had announced he was on his way to Walter Reed Medical Center "out of an abundance of caution".
Did the White House & Murdoch's Propaganda Machine Spin Trump's Mild CoVid Infection into an Unnecessary Hospitalization - Friday / Saturday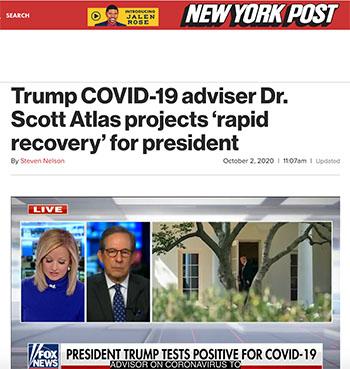 The Non Reasons for Moving Trump to the Hospital. Sometime beginning Friday evening and Saturday morning [October 2nd & 3rd], the spin doctors began narrating what seems a questionable tale, the theme of which they appeared to bungle in real time. The only reason given for moving the Donald from the White House to the Walter Reed Medical Center was that the Donald felt fatigued and they briefly put him on oxygen. Who hasn't felt fatigued these days? And getting an oxygen dose is like taking aspirin for some people - it's a big nothing. I've noted above what I believe to be the real reasons for Trump's trip to the hospital.
On Friday, October 2, 2020 Murdoch's NY Post is already predicting a rapid recovery - even though 'the president' wasn't flown to nor yet admitted into Walter Reed Medical Center until about 6 pm that day. I suspect they knew that while Trump may have tested positive, he wasn't very [really?] ill.
TV News & the Propaganda Network. I also suspect Australian born billionaire Rupert Murdoch, who controls more major American media brands than anyone else [controls Fox News, WSJ & NY Post and largest shareholder in ABC], suggested directly or indirectly that Trump shake up the conversation from the disastrous media week he'd just come through, and change the conversation by having himself hospitalized. As noted in a prior post, British Prime Minister Boris Johnson's popularity rose by 6 points following his CoVid hospitalization. And as here, so to in Britain, where Murdoch controls the largest share of privately owned mass media.
Was Trump's CoVid Hospitalization a Big Ratings Grabbing Made for TV Hoax?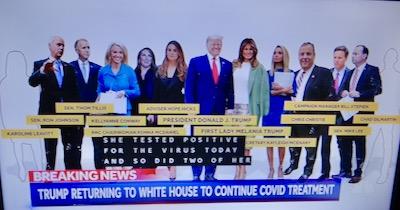 On Saturday, October 3, 2020 in a report by CNN, the President's physician, Dr. Sean Conley was quoted as follows,
" ... [Trump] "is not on oxygen right now."
" When he was asked if the President received it at all, Conley would not directly answer just saying "He has not needed any this morning, today at all." Asked if he had ever on been on supplemental oxygen as part of his Covid-19 treatment, Conley said "right now he is not," adding "yesterday and today, he was not on oxygen."  
Now, if Trump wasn't on oxygen after he was admitted on Friday and didn't need oxygen on Saturday which was the first full day of his admission, and Trump was qualified to be discharged on Sunday, but decided to leave Monday instead - then I think the real question is was this a Trump CoVid Hospitalization Hoax? The same analysis applies to the absence of a fever measure by the staff at Walter Reed Medical Center since Trump's admission there on Friday.
Where's the Fever? Trump's CoVid Appears to have been Very Mild
According to Stat News [the timing of which seemed to be confirmed in a Tuesday 10/6 report posted by the BBC], on the afternoon of Monday, October 5, 2020, Conley said that the president hadn't had any fever in over 72 hours. So working backwards, that means Trump didn't have a fever Sunday afternoon, Saturday afternoon and probably none on Friday evening when he was admitted. So one has to ask did Trump ever have a fever? I suspect not.
Mark Meadows Narrative Used to Cover Up Conley's Truths?
White House Chief of Staff Mark Meadows seemed to realize that someone might catch on to what seems a staged, political fraudulent event [he needn't have worried because none of the TV teleprompter readers did]. So, I surmise that Meadows quickly mixed up the narrative claiming Trump had used oxygen a couple of times on Saturday.
And Meadows then seemed to oversee a follow up press conference by Dr. Sean Conley [see photo at right], where Conley seemed to refute his own account of Trump not being on oxygen Saturday and to confirm Meadows' account that Trump was on oxygen a couple of times on Saturday. Conley explained he was reporting things [originally] to be in collaboration with 'the Trump team'. But I suspect his original account was correct, and his corrected account was false as Conley is not an accomplished liar like the rest of the seasoned Trump team. That seems the Trump modus operandi since he took office in 2017.
It's worth mentioning that Dr. Sean Conley is not just a doctor, but also a U.S. Navy Officer and as such the President - who is the armed forces commander in chief - is his boss in the military line of command. So as a military man he likely is required to submit to conform to the contradictory b.s. spin put out by Mark Meadows about the 'dire condition' of the president on Saturday - if ordered to do so.
Melania Trump, in a White House Letter, Says Son Barron Asymptomatic & She Healed Naturally
Like so much of what this president does, his hospitalization seemed to be in total defiance of reality, as Melania and countless others were simultaneously infected with mild cases of the virus - and as far as I know, with the exception of Chris Christie, who also checked himself into the hospital - they recovered at home. Christie has multiple underlying condtions including asthma and obesity.
On October 14, 2020 Melania wrote a letter that was published on the White House website where she told us her son Barron "exhibited no symptoms". She went on to tell us that her "diagnosis came with minimal symptoms" and that she "... experienced body aches, a cough and headaches, and felt extremely tired most of the time ... ", but that she "... chose to go a more natural route in terms of medicine, opting more for vitamins and healthy food ...". So Barron and Melania, who live with the Donald, were asymptomatic and required no real medical care, respectively.
By Sunday, October 11, 2020, NPR reported that Trump's physician, Sean Conley, said that Trump was,
"no longer a transmission risk to others," and that there was "no longer evidence of actively replicating virus."
The gestation period for CoVid is estimated at up to fourteen days. But Donald Trump "recovered" from it, along with his family, in about eleven days - based on what we know.
American Corporate TV News - Took Hook, Line & Sinker?
It's my contention that the Donald's trip to the hospital was totally unnecessary from a medical perspective. And Murdoch's branded media propagandists on Fox News, the Wall Street Journal and the NY Post, seemed to provide media cover for Trump's hyped up, fake news trip to the hospital.
The other corporate TV brands seemed to fall for it hook, line and sinker too - at first. They all 'worried' about the state of the president's health, and conjectured that the confusion in the reports of the actual events leading up to 'the president's' move, were being hidden to shield the American public from what they seemed to regard as Trump's more serious health condition. When in fact - it seems just the opposite - and that the Donald wasn't seriously ill at all.
Was the Administration of Drugs a Deception or Real Therapy or a Means of Dismissing / Diminishing the Threat of CoVid?
The Donald is said to have taken a number of drugs. Three in particular - Remdesivir, an antibody cocktail and dexamethazine. I may add a bit more at a later date about what each therapy does and how the dull witted numbskull analysts of the mainstream media intrepreted what the administration of each drug implied. While Murdoch's propaganda machine outlets seemed to hype Trump's 'recovery' as something of a miracle in what appeared to be an effort to dimiss or diminish the CoVid threat.
The corporate TV networks seemed not to suspect that they were possibly being manipulated by the Donald and Murdoch's Fox News, Wall St. Journal and NY Post - to report the story exactly as they covered it. Instead they thought that the Donald was covering up a greater illness, rather than staging and hyping a mild illness. Wouldn't you think that after five years of covering "the president" that they would have learned something?
If true, it seems criminal that Donald Trump has tried to use a mild CoVid infection, to turn around what's now looking like his landslide loss re-election bid. And to mislead the American public about an illness that has had fatal consequences for over 210,000 Americans seems especially cold - even for Donald Trump. More people died from CoVid than from the Vietnam War [58,000], WWI [116,000], the Korean War [40,000] and if the Donald somehow cheats his way to a second term, we're sure to surpass the casualties for WWII [291,000].
Think about this.
It's truly disgusting - not fake staged TV disgusting.
https://www.washingtonpost.com/nation/2020/10/10/coronavirus-denier-sick-spreader/?arc404=true
NYC News Update & a Few Things To Do
Voting Registration Online, The Census Payout, CoVid Updates, the Economy & Events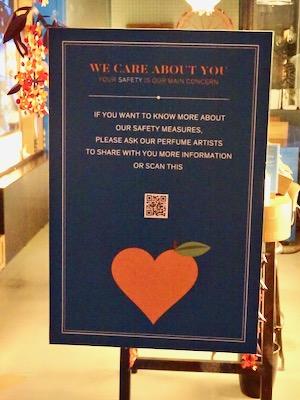 October 2, 2020 / NYC Neighborhoods / U.S. Politics / News Analysis & Opinion / Gotham Buzz NYC.
Weather.  The temperature highs will be in the high 60's and lows in the low to mid 50's.  There's a 10% chance of a tiny amount of rain Sunday.  Humidity will be between 50% and 60%.  And winds will be about 5 mph.  All in all not a bad fall weekend.
Check Your Voter Registration / Or Register Online Using Link
The last day to register to vote in NYC / NYS is October 9, 2020.  If you're uncertain you are registered to vote use this link to check - https://voterlookup.elections.ny.gov/
And if you find you're not registered or need to change your voter registration [for example if you recently moved] then use this link to register - https://dmv.ny.gov/more-info/electronic-voter-registration-application
I recommend voting in person if you're at all able, as nearly one in ten mail in votes are disqualified on technical grounds.  If you're at risk for CoVid or can't vote in person for any other reason, then vote by mail, making sure you follow all of the guidelines to the letter including sending it in as soon as possible.  There was a huge mail ballot snafu in Brooklyn, so if you live in Brooklyn and received a mail ballot with an incorrect name on either the ballot or envelope, contact the Board of Elections for a new one.
Fill in the Census: We're Lagging the Nation so We Could Lose a Lot of Federal Funding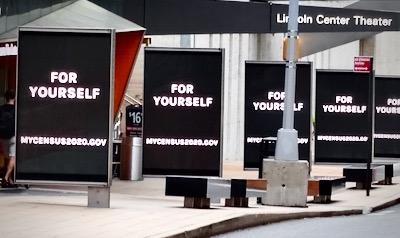 There's been a struggle over lengthening the time allowed for census takers to obtain census information.  The original deadline was July 31st, which was extended to October 31st, which was shortened to September 30th, which was stayed until Sunday, October 4th.  And today it was re-extended to October 31st. Given the back and forth I recommend filling it out right now, if you haven't already.
Each person counted in the census is worth about $30,000 to $40,000 per person in federal funding for schools, hospitals, mass transit, law enforcement and social services.  And it only takes ten minutes, which you can do now by clicking the photo at right.  It's the most amount of money you'll likely ever make for the time expended in your life, so please do it for yourself, your family and / or your community.
NYC and NYC lag the rest of the nation in filling out the census, which means we won't get a proper share of funds and representation in Washington if folks don't fill out the census and quickly.  Currently just under 64% of New Yorkers have filled out the census, while in the state of Utah just under 71% have filled out the census.  That's a lot of cash in federal funding we're leaving on the table.
Events & Things To Do in NYC & Cancellations
The International Center of Photography opened its doors on Thursday, October 1st with a new photo exhibit about CoVid.  The exhibit uses photographs collected from around the boroughs, the state, the nation and around the world.  You have to rsvp a spot online at icp.org and adherence to CoVid guidelines is required.
In October a number of normally huge events have gone online including the following. 
The NY Film Festival at Lincoln Center went online beginning September 17th and runs through October 11th - https://www.filmlinc.org/nyff2020/ 
Comic Con has gone online for the weekend of October 8th – 11th.
Swimming at indoor pools is now possible effective Wednesday, September 30th at 33% capacity and with CoVid guidelines in place. 
The Rockettes Holiday kickoff and season of performances has been cancelled for this year.  They will participate in some manner in the blended online / staged Macy's Thanksgiving Day Parade.
Real Hoax: Is Hospitalizing the Donald for CoVid 19 an October Surprise?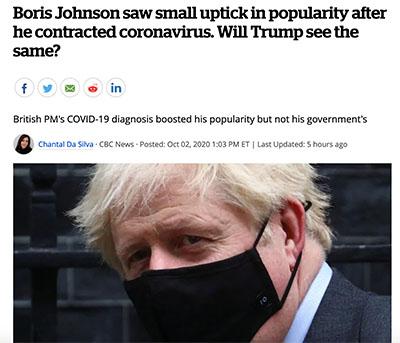 Earlier today it was announced that both the Donald and Melania contracted mild cases of the Corona Virus. By the end of the day, the Trump Administration notified us that he was being moved to Walter Reed Medical Hospital "out of an abundance of caution". A phrase that was reportedly repeated numerous times to reporters.
Biden suspended attack ads on the Donald, pending further information on his condition, and Nancy Pelosi muttered something about the changing prospects for a stimulus deal. But the Donald was well enough to walk from the White House to the Marine One chopper on his own, and I did not see any photos of Melania accompanying him.
This Administration has been so dishonest and deceitful in its words, that I cannot help but wonder whether this is another one of their made for TV political theater stunts, to manipulate voters' perceptions / sympathies in order to gain a campaign advantage for an alleged sociopath who just disgusted the majority of Americans by his Neanderthal debate performance.
I've been researching how the Third Reich came to be, as I have found many parallels between 1920's and 1930's Germany and 2010's & 2020's America. Adolph Hitler is alleged to have staged 'political theater' to effect such ends while campaigning to be German Chancellor and thereafter. About such matters, Hitler said,
"If you win, you need not have to explain... if you lose you should not be there to explain."
This year alone Trump gasses peaceful protesters on the Washington, D.C. mall to to hold up a Bible and make the sales pitch that he's the law and order president. He then sent the Department of Homeland Security to Portland in what seemed an effort to stoke social tensions. In the debate he told the Proud Boys, an alleged White Supremacist group, to "stand back and stand by", which certainly shocked at least half or more of the nation.
So why wouldn't Trump use a ploy to gain sympathy to help restore people's perception of him? It seemed to help Boris Johnson in Britain, and as we know, Rupert Murdoch - who controls more media in Britain than anyone else - has been talking to or advising Trump through his pundits, media outlets and reportedly directly as well. A Canadian Broadcasting Company report on October 2, 2020 told us the following about how Boris Johnson's popularity SURGED SIX POINTS in the wake of Johnson going to the hospital for CoVid.
" ... However, after his [Boris Johnson's] hospitalization on April 5, Johnson's popularity surged again, rising from 54 per cent to 60 per cent, according to a YouGov poll ..."
But Donald Trump would never stoop to such cheap tricks ... would he?
CoVid Pandemic Stats, Therapies, Genetics & Health Safety Statutes & Fines
Nationwide.  There are approximately 31,000 Americans currently hospitalized for CoVid, which is down from August levels, but trending up from mid September.  About 45,000 tested positive yesterday, which is trending up about 4% versus a week ago.  About 8% who have tested positive are under the age of 17.
NYS.  New York State has seen a significant uptick in new CoVid cases in the past week or so.  Most of the uptick is coming from about a dozen neighborhoods, mostly in Brooklyn, Queens and surrounding NYC Long Island and Westchester suburbs.  Governor Cuomo is pressuring local law enforcement officials to start ticketing violators for non-compliance with mask wearing statutes and social distancing, which have the force of law per Public Health Law, Sections 201 & 206 and Executive Order 202.14.
Moderna announced yesterday that it's vaccine would not likely be available to the public in production quantities before the Spring of 2021, assuming its test results are successful.
Regeneron announced preliminary CoVid dual antibody cocktail test results from a Phase II trial consisting of 275 patients.  For patients with mild symptoms, it seemed to generate an immune response, but it was unclear whether it would be helpful for those who are hospitalized.  The stock market was underwhelmed by the results.
The Okinawa Institute of Science and Technology (OIST) Graduate University
Published a study indicating that people with some Neanderthal genetics in their system don't appear to fare as well and have more complications from CoVid than those without the gene strain - https://www.sciencedaily.com/releases/2020/09/200930094758.htm
Effective September 14, 2020 there will be a $50 fine for those using MTA buses and subways who do not wear a mask.  In the Spring the Governor instituted a $1000 fine for those failing to practice social distancing.  Note that failure to observe health safety protocols could get expensive, so do your part, as a public service, to do your best to follow the mask wearing, social distancing and other NYS CoVid health safety statutes which went into effect on July 9, 2020 - https://regs.health.ny.gov/volume-1a-title-10/content/section-66-32-face-coverings
Economy – Restaurants, Hotels, Retail and Theater Continue to Suffer
In August it was reported that about 87% of restaurateurs couldn't pay full rent.  Not sure what the number is for September.  Tourists continue to stay away - internationally because of a failure at the national level to contain the virus so we're banned - and at the state / national level NYS has its own quarantine restrictions which limit incoming visitors from states that fail to effectively control CoVid in their jurisdictions.  Thus, the travel, dining, hotel and retail businesses – along with the theater industry as noted below – will continue to suffer for some time to come, as new CoVid cases are back on the rise.
The theater industry reportedly employs about 97,000 people in NYC, who have been out of work since the CoVid pandemic began.  The theater industry reportedly generates about $15 billion in economic activity and it's unclear whether that estimate includes indirect revenue including travel, hotels, retail and dining.
The National Restaurant Association issued a report on September 14, 2020 noting that about 100,000 restaurants have closed nationwide since the pandemic began and that about 40% of them don't expect to survive beyond the next six months without government relief.
Economy – Real Estate & Eviction Protections
Only 10% of white collar workers are back in their offices in Manhattan.   
In a survey of Chief Executives at over 300 companies found that 80% expected some sort of work from home would continue indefinitely, while another 20% thought that things would return to pre-CoVid conditions in time.  On October 2, 2020 the Bureau of Labor Statistics reported that about 22.7% of people teleworked in September, down from 24.3% in August.
The median prices for single family homes have seen good price growth, hitting $315,000 in September.  Commercial real estate isn't faring as well, in spite of near record low interest rates, because of the demographic trend noted above related to folks teleworking from home.
Eviction protection for tenants in NYS has been extended to January 1, 2021.  Eviction protection for small businesses has been extended to October 20, 2020.
Economy – Unemployment, Demographics Hit Hardest & October Layoffs
ADP reported payrolls grew in September at 749,000 new jobs, showing the continued slower job growth as we saw in July [167k} and August [428k], following what at first appeared to be a V shaped recovery in May [3.3 million] and June [4.3 million]. 
Unemployment could rise again, as the PPP expires and municipal and state governments begin to make cuts because the federal stimulus deal isn't likely until after the election, which is now less than five weeks away.
It's unclear how October is going to end up, as the PPP requirement to retain workers through September 30th expires and a number of large firms have already announced their intentions to lay off tens of thousands this month.
The down economy appears to be hitting women and minorities hardest.  A survey of 314 companies showed that about 25% of women are reconsidering their lives / lifestyles and may exit their jobs.  And unemployment for youths aged 16 – 24 is trending at double normal at 18%.
Big October Lay Off Announcements & Amazon / Fed Ex Hiring
Disney announced it would be laying off 28,000 employees.  United announced it would be laying off 13,000 employees and American Airlines announced it would be laying off 19,000 employees.  The PPP stimulus requirement of keeping folks on the payroll through September 30th expired, so the layoffs could get worse.
Joseph Bank, a men's clothier, announced that it is closing 500 stores.
Ralph Lauren announced that it will make cuts totalling $200 million in savings per year.  They didn't specify precisely from where the cuts would come.
Marathon Oil announced its planning layoffs and in the fossil fuel industry, likely many more coming.
A number of cities and states, and countries such as Finland are divesting fossil fuels from their portfolios in an effort to mitigate climate change and accelerate the transition to renewable energy.
As mentioned in a prior post, Amazon and Federal Express are hiring.
Consumer Sentiment & Consumer Confidence: How are You Feeling?
According to the University of Michigan Consumer Sentiment Index, future expectations were up about 5 points generally.  Sentiment is usually an indicator of future spending.
The Consumer Confidence Board, a Nielsen Company, showed stronger future expectations in September jumping 17 points.
Consumer spending won't become available until the end of October, but a September 18, 2020 report by CNBC indicates that folks have begun pulling back in the absence of more stimulus and the possibility of more layoffs in the wake of the PPP September 30, 2020 employee retention requirement.
The Donald Quacks in First Debate of 2020
Trump Takes Time Off From "Making America Great" to Debate Biden
September 30, 2020 /NYC Neighborhoods / U.S. Politics / News Analysis & Opinion / Gotham Buzz NYC.
If it weren't so real, it would have been very funny.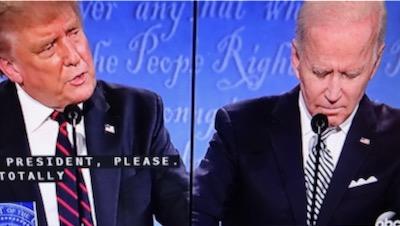 A sitting president, who campaigned on the theme that he would Make America Great Again, is responsible for record breaking debt, a record breaking deficit, one of the worst economies since the Great Recession and Great Depression, failing to mitigate a still out of control raging pandemic, unable to calm racist induced social unrest for which it seems only fair to credit him with helping cause.
No. But wait - there's more. Then there are vast fires still raging on the west coast, and we're not yet completely through one of the worst hurricane seasons ever.  The abnormal size and amount of fires and hurricanes appear to have been caused in part by climate change – the reality of which 'the president' denies.
No. But wait - there's more. And this depiction doesn't include what he's done to our foreign policy, by shirking our allies and cottoning up to dictators, while overseeing near record trade deficits. 
If all this isn't 'Making America Great Again', then please tell me, what will? Come on, this would be really, really funny - if it were reality TV - not just plain old REALITY. 
In the photo at right, moderator Chris Wallace is begging President Trump to please quit interrupting former Vice President Biden.
Reality vs Reality TV: What's Real Depends on Who You Are & Who You Trust
We may not be so rich that we don't know how to spend the money, as Trump seemed to promise us while campaigning in 2016.  But maybe Trump wasn't speaking to us out in the audience, but rather directing his comments and promises to his multi-millionaire TV hosts on Fox 'News'.  That might be why Sean Hannity keeps telling us promises made and promises kept despite a litany of Trump failures on healthcare, the deficit, law and order, the debt, the wall, the economy and so forth. The people living in the Trump bubble, like the enabling multi-millionaire pundits on Fox TV, are doing just fine.
The debate last night is hard describe, other than to say it was emetic.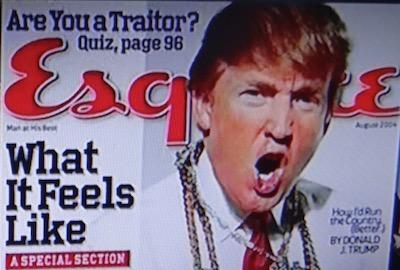 The Donald behaved like a rich, spoiled, petulant nine year old, who knows he's about to have his toys taken away.  He was so angry, that he came out onto the stage – not as a president – but as the uneducated, uncouth, uncivilized, beast of the man that he is.  I guess that's what the Trumpster fans love about him.  That he's an animal.  Aaaayyyyyoooooo.
Perhaps that's why Melania treats the Donald like her dog. She spanks his hands down, when he paws her in public, kind of reminiscent of the 1962 movie "If a Man Answers", where a French mother teaches her daughter that the trick to handling men is to treat them like man's best friend. It's rumored that in some instances, the mammalian I.Q.s are comparable.
The Esquire magazine cover at right portrays an angry showman, the Donald, who like Adolph Hitler in the late 1920's and early 1930's, seems to have channelled the anger and frustration of many in the working class. But like Hitler, the public persona seems an act, covering up the more sinister side of an allegedly sociopathic personality.
The 'Substance' of the First Presidential Debate 2020 in a Nutshell
The debate was hard to watch.  Horrifying even, as it hinted at the monster of the angry, dictatorial and oh, so, tiny man we would certainly see, if we allow him to steal a second term. Trump couldn't keep his mouth shut.  He couldn't stop himself from repeatedly interrupting.  He didn't exercise even the slightest modicum of self control, let alone good manners.  He's a presidential shock jock, who has made his living by making racist rants and raves, assailing respect for one's fellow[wo]men, as well as good behavior and good manners. 
Trump, in tandem with the Murdoch Ministry of Propaganda, labels good behavior, respectful behavior – as politically correct – in an effort to diminish or dismiss it. And they argue in favor of misogynistic and racist speech as 'free speech' - which may be true - but at its core, surely not in accordance with the Founding Fathers' intentions.
Biden's notable comments included that Donald Trump is the worst president this nation has ever seen, that Trump has accomplished nothing good, that Biden is [represents] the Democratic Party and that Trump should "shut up" - which seems good advice to a president whose mouth is perennially open.
Donald the Dictator or the Trump Royal Family - Fox News Says 'You Decide'
The notable comments made by Trump have been cited by the mainstream media, including that the Donald wouldn't denounce white supremacist groups like the Proud Boys nor instruct them to accept the results of the election if he doesn't win.  Instead he said they should "stand back and stand by".  He also indicated he wouldn't accept the election results unless they showed him the winner. And it's worth reminding people that Trump believes he's entitled to a third term because the Russian investigation distracted him and protests erupted as his first term began. And Bloomberg News reports that in an upcoming book to be released in October, Trump wanted his daughter Iskanka to be his running mate in 2016. Trump dismisses the allegation as 'ridiculous'. Is this the dawn of the post Constitution American Royal Family?
The graphic at right shows magazines and newspaper accounts of the numerous business failures of Donald Trump, which I found on a PBS documentary. It seems the reality of the house of cards built by the Donald, used the millions he inherited from his rich father - some of which are alleged to have been obtained illegally - as well as by his tax avoidance, which may prove to be a tax fraud, valued at $100 million.
Fox News says 'You Decide', which like its 'Fair & Balanced' slogan, seems a mockery of the ignorant people who trust them as their primary source of information. Murdoch's audience decides using Murdoch's distorted, reality-alterring and oftentimes racist, presentation of people, policies and events.
Our Democratic Republic Appears Under Siege by a Couple of Con Men
To anyone who cares about our American democracy, comments like these, by a sitting president, are very troubling to say the least. What you are witnessing is how freedoms are eroded, how hundreds of millions of people lose their voice and access to a free and fair due process. One need not look far, nor wide to see that most people around the world aren't respected by the people who govern them.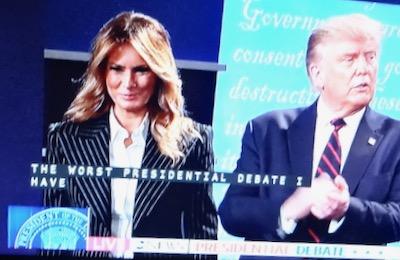 In other parts of the world people seem unable to voice their opinions or protest without being locked up indefinitely [Hong Kong / Philippines], nor do they appear to have access to free and fair elections [Belarus / Turkey], and anyone who opposes them is either detained or poisoned [Russia / North Korea]. Things don't change in societies that are ruled from top, because change comes from below, by the people who aren't wealthy or comfortable.
The Trumps and the multi-millionaires and billionaires at the Fox News propaganda machine are very satisfied with their wealth, their station in life and the status quo. This is why Murdoch's Foxholes and the Trumps won't let go of the power unless the American people truly assert themselves and make sure their voices are heard in this election. Make no mistake about it, our democratic republic is more threatened now than possibly ever before in its history.
At right the happy couple, celebrating another TELEVISED example of bad behavior. Melania Trump's theme for the past four years has been an anti-bullying program entitled Be Best. She seems to be cynically mocking America and its democratic institutions, as her husband is nothing - if not a crass bully. And her 'Be Best' program wasn't even named using proper English.
It's worth mentioning that Melania's father was reportedly a member of the League of Communists of Slovenia. Do you think Melania is a Russian asset? Murdoch reportedly accused his longtime wife, Wendi Deng, of being a Chinese spy.
If We Don't Allow the Con Men to Steal It
The American People & Biden are Likely the Winners of Election 2020
At this point – regardless of what Murdoch's Fox News, NY Post, Wall St Journal, Barrons and MarketWatch might tell you - given the stability and size of the gap in the Biden Trump poll numbers, INCLUDING IN THE SWING STATES - Biden is sure to win. This assumes the voting apparatus isn't hacked [this includes the post office], and the votes are fully and fairly tabulated.
I include Australian born billionaire Rupert Murdoch and his mendacity machine as a possible co-conspirator of a Trump stolen election. Why? Because stealing elections in English speaking democracies like Britain, Australia and the U.S. seems a Murdoch area of expertise. In America, Murdoch seemed to stage a media coup d'etat in 2000 when the election appeared to be stolen in the middle of the night from Al Gore by Murdoch's Fox News and NY Post. In 2004 it was Fox News that kept replaying the Dean Scream which was an alterred recording of Democratic front runner Howard Dean at a campaign rally. In 2016 Murdoch's Wall St Journal and Murdoch / Trump henchman Rudy Giuliani were the ones who released the seemingly phony, hyped story alleging the Wiener computer may have had something new related to Hillary Clinton's emails. The whole Clinton email 'scandal' was a Murdoch magnified mirage that went - POOF - immediately after Murdoch's propaganda asset, Donald Trump, won the election.
The debate was a horrifying spectacle, and is not expected to change voter's choices much, as most folks have already made up their minds, and in the early voting states, many have already begun casting their ballots.
Voter Registration, Voting In Person & $100,000 Reward?
Voter registration for the election in NYS is October 9th. Please register today - https://www.ny.gov/services/register-vote. I advise voting in person, if at all possible or walking your ballot down to the court house [call to find where], as Trump's Postmaster General doesn't seem an impartial administrator.
I'd also be surprised if there weren't at least a few Trump loyalists working at the U.S. Postal Service, who might consider shirking their fiduciary responsibility to the public, in favor of loyalty to the Donald. Why doesn't the DNC or a wealthy patriotic American offer a $10,000 or $100,000 reward to anyone who provides unique critical information leading to the arrest and conviction of anyone destroying, delaying or tampering with ballots handled by the U.S. Postal Service prior to November 3rd election, as well as in the days following the election, during which time the votes are still eligible to be counted?
Stay tuned, because this won't be over until the fat lady sings, and the hedonistic president is thrown out of office. 
NYC News Briefs & Things to do This Weekend
CoVid Outbreaks in Queens & Brooklyn Neighborhoods, NYCC Speaker Corey Johnson Drops Out of NYC Mayoral Race, Census Deadline is 9/30 but Challenged to Extend to 10/31, Mayor Extends Week Long Furloughs for 9,000 More Non Union City Employees, Macy's Thanksgiving Day Parade & New Years Eve Ball Drop 2021 to be Virtualized, Hotels Hurting & TSQ Hilton Closes, Yom Kippur Sunday, Metropolitan Opera Cancels Entire 20-21 Season, In Door NYC Restaurants Begins 9/30 & Outdoor Dining Permissible Year Round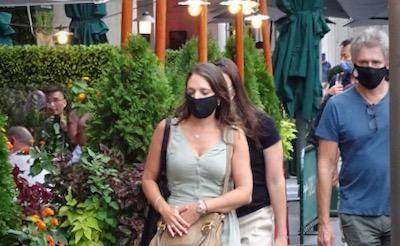 September 25, 2020 / NYC Neighborhoods / Things To Do NYC / Gotham Buzz NYC.
As you can see from the headlines above, there seems little abatement in the adjustments / crises created by the CoVid pandemic - unseating the Donald as the Disrupter in Chief - for the first time in four years.
Weather. The temperature highs will be in the 70's and the lows in the high 60's. There's a 20% chance of a small amount of rain, and winds will be between 5 - 10 mph. Humidity will remain high at about 80%.
NYC News Updates for Week Ending September 25th - City Furloughs & Layoffs, Mayor's Race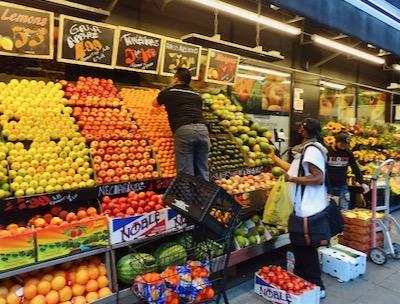 On Wednesday, September 23, NYC Mayor Bill de Blasio announced week long furloughs for an additional 9,000 NYC managerial employees who are not members of the unions. This is in addition to week long furloughs for 500 members of the Mayor's Office announced last week. Together the effort will save an estimated $22 million, which is one of numerous efforts the Mayor is making to delay the layoff of 22,000 of the 300,000 city employees.
The layoffs were originally expected to begin in early September, as New York City may not borrow money without permission of the NYS legislature, which was a deal cut between the city and state in the 1970's when NYS bailed NYC out of possible bankruptcy. There's talk of allowing NYC to borrow a couple of billion, but that also would fall short of the estimated $9 billion tax revenue shortfall expected over the next two years.
On Thursday, September 24, NY City Council Speaker Corey Johnson suspended his campaign for Mayor in 2021.
Please Fill Out the Census - It Represents $30,000 - $40,000 of Federal Funds / Person over the Coming Decade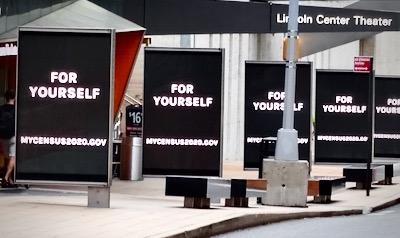 CLICK PHOTO FOR CENSUS LINK.
Also on Thursday, a U.S. District Judge in California, issued a preliminary injunction requiring census takers to continue their efforts to get an honest count of the nation's population through October 31, 2020.
Attorney General BillBarr's 'Justice' Department on Friday signaled it will contest the injunction as they want to meet the deadline of December 31, 2020. The census deadline was extended from September 30 to October 31st in April of this year, after the pandemic disrupted census taking efforts. In July the Trump Administration changed that back to September 30th, at which time it went to court, as the change was deemed capricious.
I wouldn't wait - if you haven't already filled out the census - DO IT NOW BY CLICKING THE PHOTO ABOVE. It takes 10 minutes literally, asks for information you should generally know about yourself, and is worth between $30,000 and $40,000 in government spending per person over the next ten years. If you don't fill it out, we - the city and state - lose that funding, as well as representation in Washington, D.C. You do not have to be a citizen to fill out the census and your personal information - by law - does not become accessible for a generation.
Going Virtual: Thanksgiving Parade & New Years Times Square
The Macy's Thanksgiving Day Parade is going virtual. Details to follow later.
The New Years Eve celebration in Times Square is going virtual. Details to follow later.
CoVid Casualties: NYC Hotels, Times Square Hilton Closes & Airlines
The U.S. has been blacklisted because of its failure to contain the virus. The U.S. topped 200,000 CoVid related deaths this week, accounting for over 20% of the world total [America First] in spite of the fact that our population represents only 4% of the world total.
NYC generally accommodates about 65 million tourists each year. But because of pandemic travel bans, cancelled events and health precautions taken by the general population, tourism has plummeted to not a helluva lot above zero. This has been devastating to hoteliers, restaurants and airlines [and Manhattan retail too].
Thus the Hilton Times Square announced this week that it's closing. A separate report told us that some 25,000 people in NYC who worked in the hotel business, have been out of work for six months or longer.
And United and American Airlines continue to warn that without additional CoVid Stimulus, they expect to layoff 13,000 and 17,000 employees respectively, by October 1, 2020. Airline travel is still running at about 30% of what they did year ago [-70%].
Yom Kippur - Jewish Day of Atonement begins Sunday Evening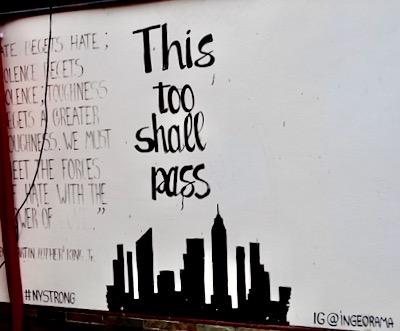 Yom Kippur begins Sunday, September 27th at sunset and ends on Monday evening. Yom Kippur is the Jewish day of atonement, when Jews around the world repent and ask forgiveness for their sins. Most major religions include a process of atonement and repentance. In the Catholic faith it is done during the sacrament [ritual] of Confession.
Metropolitan Opera Cancels Entire 2020 - 2021 Season
This is certainly a disappointment for opera lovers. The announcement was made this week.
Biden - Trump Presidential Debate Tuesday Evening
The Trumpsters are expecting a TKO of Biden by the Liar in Chief Tuesday evening in the first of three debates between the Democratic and Republican candidates for president. They're not even sure whether all of Trump's shouting will be enough to wake up 'Sleepy Joe'.
Voter registration for the election in NYS is October 9th. Please register today - https://www.ny.gov/services/register-vote
Indoor Dining Resumes in NYC on September 30th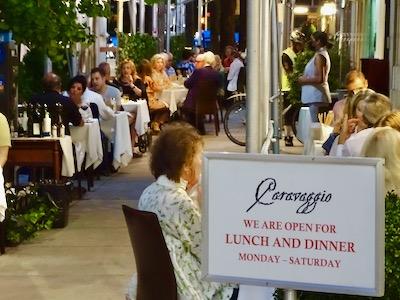 Restaurants to reopen for indoor dining at 25% capacity on Wednesday, September 30th. Because of the capacity limitation, government officials also extended the authorization for outdoor dining through the winter. Many restaurateurs are expected to use heaters to continue to enable outdoor dining where the fresh air circulates more freely. Also I believe restaurants will be required to close at midnight and cannot offer bar service. These restrictions seem sensible, given that the primary means of CoVid transmission appears to be by air, and that subway transit between 1 am - 5 am has been suspended.
CoVid Cases Spike in Select Neighborhoods in Brooklyn & Queens
People testing positive for CoVid has jumped from 2% to 6% in select NYC neighborhoods including Williamsburg, Mapleton and Bensonhurst in Brooklyn and Kew Gardens & the Far Rockaways in Queens. There are anecdotal reports that many folks in these neighborhoods haven't been wearing masks. The NYC Health Commissioner Dr. Dave Chokshi traveled to these neighborhoods offering masks, and was rebuked by some of the locals. The Donald is certainly failing to set a good example.
The Mirage of the 'Trump Economy' Part II
Australian born Billionaire, Rupert Murdoch Seems to use the Wall St Journal, NY Post & Fox News to Create the Illusion that Trump has Some Sort of Economic Magic Touch, but the Truth is $6 Trillion in New Debt & $3 Trillion in Federal Reserve Bond Purchases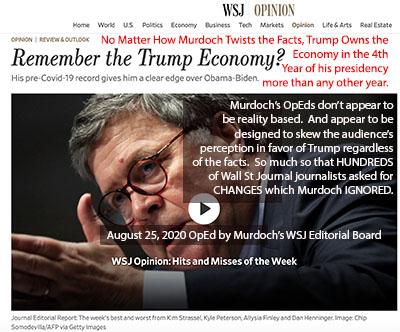 September 21, 2020 / NYC Neighborhoods / Things To Do NYC / News Analysis & Opinion / Gotham Buzz NYC.
Few real journalists - if any - have ever honestly accused Rupert Murdoch and most of the large media brands he controls in our nation, of being bastions of truth. In fact, it would seem, quite the opposite - including by some of the people who work for him.
When Murdoch purchased the Wall Street Journal in 2007 [fact check], there were concerns that he would turn it into another one of his propaganda rags. Shortly after the acquisition, a number of Wall Street Journal reporters fled to Bloomberg News. In fact dozens of them. Those journalists that remained at the Wall Street Journal, had to learn how to operate for an Australian born billionaire who seems to delight in misleading the masses - rather than informing them - in order to profit from the audience's ignorance, to which Murdoch media appear to contribute greatly. Murdoch is kind of like a street hustler whose propagandists do sleight of tongue [hand] tricks, while his political accomplices [puppets like Trump & McConnell] pick the pockets of the audience [Americans].
Not Your Father's Wall Street Journal - A Murdoch Propaganda Rag?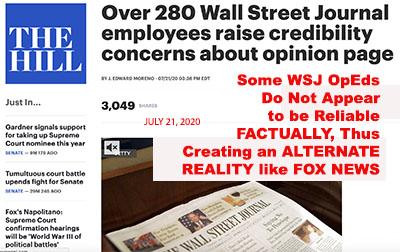 This summer over 280 journalists at the Wall Street Journal, became concerned that Herr Murdoch - like Nazi propagandist Herr Goebbels before him - was corrupting the Wall Street Journal into a propaganda outlet, in advance of the election this November. While Murdoch's distortion of the truth in the Wall Street Journal appears to have been going on for years, the event that immediately precipitated the letter, was a misleading - even deceptive - Op Ed by Vice Presidential candidate Mike Pence.
In the letter they had a few simple requests. A July 21, 2020 report in the Wall St Journal states,
"... [The WSJ's] Opinion's lack of fact-checking and transparency, and its apparent disregard for evidence, undermine our readers' trust and our ability to gain credibility with sources ..."
" ... The letter cites several examples of concern, including a recent essay by Vice President Mike Pence about coronavirus infections ... "
".. [and that] WSJ journalists should not be reprimanded for writing about errors published in Opinion ..."
"... suggests removing opinion pieces from the "Most Popular Articles" and "Recommended Videos" lists on the website, and creating a separate "Most Popular in Opinion" list..."
" ... letter highlighted was an opinion article titled "The Myth of Systemic Police Racism," which the letter's authors said was one of the paper's most read articles in June. The article argued that the "charge of systemic police bias was wrong during the Obama years and remains so today." The letter says the piece "selectively presented facts and drew an erroneous conclusion from the underlying data..."
i have reported on similar truth distortions by Rupert Murdoch's media, including Fox News, the NY Post and many other media outlets controlled by him in our section about Rupert Murdoch and the Rise of the 21st Century Propaganda Press, which you can find by clicking this link.
Murdoch's Propaganda for Profit Machine
A Stateless Hostile Foreign Power Operating in Our Midst
Their concerns were ignored at best or beaten back. But apparently they were justified, as the Wall St Journal seems to have become another Murdoch mass media manipulation machine, albeit the propaganda is proffered in a slightly more insidious manner than the demagogic sledge hammer that Fox News and the NY Post use.
The Wall St Journal Op Ed letters written by well known and respected experts appear to be fact based - while those provided by what seems the Murdoch's anti-truth squad [aka the WSJ Editorial Board], appear to be written in pursuit of an Australian born billionaire's agenda, which is frequently either in support of a Murdoch propaganda asset, or to attack or undermine a challenger to a Murdoch supported propaganda asset. I've come to think of Rupert Murdoch as a stateless hostile foreign power. Will Bill Barr consider Murdoch for charges of sedition, because undermining our political system seems to be what he's doing.
Murdoch's media have long labeled the American economy the 'Trump Economy' and the NYSE, NASDAQ and S&P 500 the 'Trump Stock Market' as they were rising, even though the real reasons behind the economic growth have as much to do with the $3 trillion plus that the Federal Reserve has splashed into the economy, and the $5 trillion in BORROWED tax cut funds and federal stimulus payments that were also splashed into the economy. That's $8 trillion in stimulus [for those who keep track of these things I know the $2.5 trillion in tax cuts was for ten years, but I'm not adding the $2 trillion in deficits racked up in the first three years of the Trump presidency so this should cancel out]. This is the largest single set of transfer payments made by a president from American children to some of the richest people on the planet, in such a short period of time.
Reality by the Numbers - Wasted Trillions?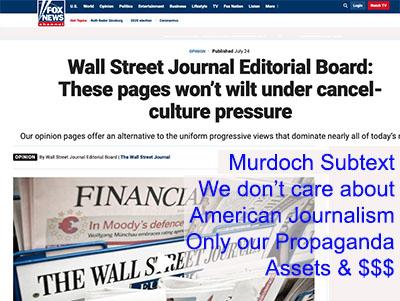 The U.S. economy averaged $20.5 trillion the past three years and is on track to be smaller this year at $19.5 trillion. So if you divide the amount of stimulus payments, tax cuts and Federal Reserve corporate bond purchases [$2.5 + $2.5 +$3=$8] into $81 trillion for the full four years, get about 10%. So if Americans got full bang for the buck, the U.S. economy should have been up 10% per year - not about flat with what is was the first year Trump took office.
What did we, America, get for all of that debt and Federal Reserve increase in liabilities? Little to nothing it seems. German Chancellor Angela Merkel negotiated for equity in the Lufthansa for the bailout of the German airline, and yet Trump - who appears to claim to be one of the world's greatest deal makers - apparently got nothing for taxpaying Americans in return for all those trillions in cash.
Does Rupert Murdoch Fool Some of the People All of the Time?
The whole thing seems one big con, where billionaires like Rupert Murdoch and Donald Trump walk away far richer, while the rest of the nation finds itself deeper in debt. Have Murdoch's Wall Street Journal readers, combined with his Fox News, NY Post, Barron's and MarketWatch audiences, been misled into thinking that Trump is some kind of economic genius, when in reality it seems that he - like Murdoch himself - are just very good con men?
The following quote is attributed to Lincoln, who reportedly included it in a speech, but according to Quote Investigator it was first published in 1684 by Jacques Abbadie, a French author.
"You can fool some of the people all of the time [believers of Murdoch's Fox News, NY Post, WSJ & Donald Trump?],
and all of the people some of the time.
But you can't fool all of the people all of the time."
The question in the parentheses above is mine. More coming later.
Weekend Update - Happy Rosh Hashana, Back to School, Economy, Social Unrest, Real Estate, Transit & Masks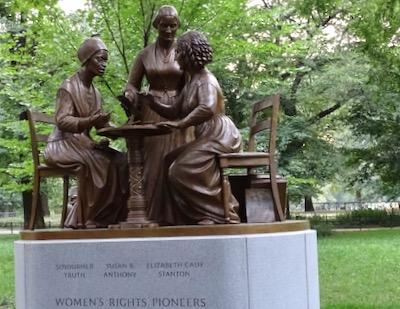 September 17, 2020 / NYC Neighborhoods / Things To Do NYC / Gotham Buzz NYC.
Rosh Hashana begins tonight at sundown and ends Sunday at sundown. Happy New Year.
EVENTS & SPORTS - U.S. Open, Virtual Boston Marathon, NJ Theaters & Restaurants & NYC Cultural Sites Reopen
U.S. Open ended and Dominic Thiem of Austria won the men's singles, while Naomi Osaka of Japan won the women's singles.
The Boston Marathon is going virtual with a starting gun, national anthem and cheers. I think there's an app to go with it as folks participate from around the globe.
Theaters opened in NJ to 25% capacity, as did indoor dining. In NYS bowling alleys at 50% capacity with some other restrictions [9/4].
The NY Aquarium in Brooklyn reopened 8/27. Think this was previously mentioned, as was MoMA free / or donation until 9/27. And the American Museum of Natural History on the Upper West Side opened on 9/9. And on September 11th, the 911 Museum reopened.
BACK TO THE SCHOOLS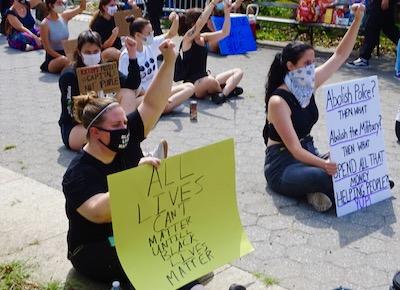 NYC began back to public school virtually on Thursday, September 17, 2020. Everyone starts virtually Monday, September 21st and the in person / in classroom part will be phased in beginning next week through early October to give the city more time to meet the NYC teachers' union demands for safety. Part of what happened is that the initial demands were done on paper, and a secondary set followed once the schools were opened operationally.
Some teachers tested positive – like 22 0f 22,000 [or so]. The testing percentage was lower than the general population rate of the city which is still below 1%.
Governor Cuomo said that swimming, field hockey and soccer sporting activity would be permissible at schools effective Monday, September 21. Football still on hold. Ice hockey and wrestling (?) open October 10 or 19 [still checking]?
LAW ENFORCEMENT / SOCIAL UNREST
Homicides in America's twenty largest cities are up 37% in.a period from May through June. An August 6, 2020 U.S. News report suggested four theories as to why the spike in violent crime. One of the reasons was that crime plummeted following the initial lockdown for the CoVid pandemic, and skyrocketed as things reopened.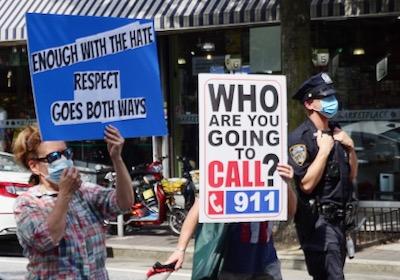 A second theory was that the police initially curtailed some policing activities because of CoVid concerns, and that morphed into anger and a continued pull back in the wake of the George Floyd protests, budget cuts and police reforms. Police reforms and / or police frustration with them are also cited as a possible cause [but not in article].
A third theory is that communities pulled back from trusting and working with the police as a reaction to the George Floyd protests, and that unemployment and healthcare issues exacerbated the situation. And the last theory, doesn't really explain the increase per se, except that homicides do tend to rise and fall with the seasons and temperatures.
The police union challenged legislation that would make complaints against the police, corrections officers and firemen public. They argued that the publication of complaints - even unverified complaints – would be unfair to the people working in these positions. The courts delayed the publication of complaint records, pending further review.
About 1189 NYPD officers have resigned or retired this year, and another 1489 are planning to do so, pending decisions on pensions et al. Police Commissioner Dermot Shea was concerned that this was a loss of some experience, but it's important to note that the NYPD police department is comprised of 55,000 employees, of which 36,000 are active duty police officers – so while departures / resignations are higher than last year – it's less than 6% turnover.
PANDEMIC - Revenue Shortfall & City Layoffs
The CoVid pandemic has wreaked havoc on the city, state and national economy. In the city there's been a sharp reduction [close to zero] of the 65 million tourists that visit NYC every year due to the cancellation of large sports events like the Marathon, fun events like Comic Con, like numerous parades and festivals, as well as other cultural and artistic events.
Because of the loss of tourism, and an exodus of white collar workers who are telecommuting from the suburbs and beyond, there's been a substantial loss of city tax revenue. The NYC Mayor isn't allowed to have the city borrow money, owing to laws passed in the 1970's when the state bailed out the city from bankruptcy after the federal government presided over by Gerald Ford said no to a federal bailout. And the second large stimulus package deal being talked about in Washington, D.C. is still just being talked about [but some news may be coming forthwith]. So the Mayor has to cut staff and other expenditures. He's been working with the unions to avoid the layoff of 22,000 municipal employees – but eventually he may have to do it.
As part of the Mayor's effort to avoid layoffs, nearly 500 employees of the top levels of the NYC government are taking unpaid furloughs of one week to help close a huge budget gap. It's not going to solve the multi-billion dollar shortfall, but every bit helps, and it is a show of a good faith effort.
REAL ESTATE - Economic Ups & Downs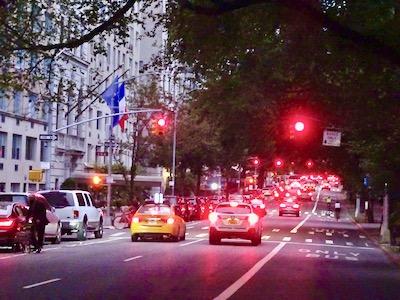 In August the economy slowed as the stimulus funds dried up. Consumer confidence is the lowest it has been in six years. I hope to add economic updates on ISM and unemployment in the next week or two, but in the meantime …
Nationwide, new housing starts of multi-family dropped / were flat, while single family new home sales were up 4%.
Meanwhile, an August 18, 2020 report in the NYT states that Manhattan real estate rental prices are down 10% versus last year and that the vacancy rate has risen to over 4%. They note that it is the highest vacancy rate in fourteen years. Manhattan real estate sales were reported to be down 56% in one of the summer months according to an August 30, 2020 report in the New York Times, while real estate sales in the suburbs has risen 44%.
In Queens, the LIC Post notes that rents in western Queens are down 6%. People appear to be moving out of the city looking for more space / greener pastures, as the corporate pandemic lockdowns continue.
It's believed that white collar office workers won't be back until July 2021. The director of the CDC said he did not expect any vaccine to be widely administered so things could return to any kind of normal before late second quarter / early third quarter 2021, which contradicts the rosier picture painted by the Donald and his media allies - Fox News, the WSJ and the NY Post - which are controlled by Australian born billionaire Rupert Murdoch. This white collar demographic trend will continue to have a dampening effect NYC shopping, restaurants and real estate.
EVICTION MORATORIUM - for Tenants & Small Businesses
The eviction moratorium for tenants was extended by Governor Cuomo through October 1, 2020. The Governor said he wouldn't allow evictions to proceed while we're in the middle of a pandemic, but it's unclear exactly how one defines 'middle of a pandemic'. Eviction protections were supposed to expire on 9/4 for tenants and to 9/22 for small businesses.
RESTAURANTS, HOSPITALITY - have been & will remain hard hit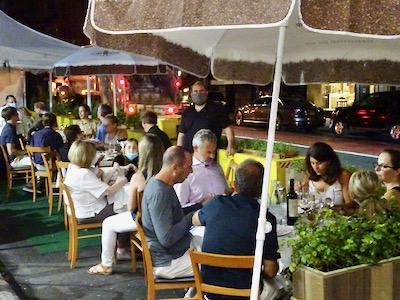 Restaurants in NJ went first, opening for inside dining on 9/4 and theaters were also opened at 25% capacity - both with additional CoVid safety precautions mandated.
On Wednesday, September 30th, NYC and NYS restaurants will resume Indoor dining at 25% capacity, rising to 50% if things go well. A bill allowing a 10% dining surcharge was passed on September 16, 2020 - which will remain in effect until after the pandemic - to aid restaurants. The surcharge must be clearly communicated on the menu and identified as NOT THE SERVICE CHARGE / TIP. The goal is to aid struggling restaurateurs with a means to increase profitability.
According to an August 13, 2020 NY Eater report, about 1,000 restaurants have closed their doors permanently. According to a July 28, 2020 NYT report about 3,000 NYC small businesses have closed permanently since the pandemic began. In a June 2020 U.S. Chamber of Commerce survey, only about 25% of small businesses expect things to get better in the next six months.
It's believed that office workers won't be back until July 2021. As mentioned above, the head of the CDC thought it wouldn't be until late Q2 or early Q3 that a CoVid vaccine would be generally available in the U.S. and that this demographic trend will continue to have a dampening effect NYC shopping, restaurants and real estate.
According to a September 16, 2020 NorthStar Meetings Group report, there are over 61,000 hotel rooms in NYC [58%] that remain unavailable. According to the report at least a couple of thousand are expected to remain permanently closed. Another report, on September 3, 2020 by Commercial Observer noted that 44% of restaurant, hotel and bar jobs – about 440,000 jobs in that industry – have been lost in NYC. This compares to an average 24% comparable loss in the rest of the nation. NYC is a high operating cost tourist destination / mecca. The hospitality industry in NYC depends far more heavily on tourism and business travel than other parts of the nation - and both categories are all but shut down - so this should help explain the difference between NYC hospitality losses vis a vis the rest of the nation.
PANDEMIC ECONOMIC IMPACT - Likely to Continue
The economy is being propped up by the Federal Reserve who reportedly has purchased $3 trillion in corporate debt to keep the market liquid. A reporter on Democracy Now said that a good measure of that was the purchase of fossil fuel company bonds. The Federal Reserve has also lowered the real interest rate to ZERO to help the ailing Trump economy which is running an unemployment rate of over 8%, but the real unemployment rate is believed to be much higher [11% according to CNBC - see report reference in prior story below]. The second stimulus package remains stalled amid haggling, but there are signs the impasse may be ending, as Trump needs to money splash to help bolster his 'Trump Economy' reelection campaign theme.
Bricks and mortar retail were already having trouble before the pandemic made things worse. Retailers have been working through their financial woes, although it's unclear how much that's going to help. So there's a bit of good news that follows the following bad news.
On September 10, 2020 the funky fashion discount retail chain, Century 21, announced that it is closing 11 stores in New York, New Jersey, Pennsylvania and Florida [it also owns two in Canada and their fate remains unclear]. Century 21 began in Brooklyn in 1961, but is best known for its downtown Manhattan store. About 1,400 jobs will be lost.
A Childrens' Place is closing 300 stores over the next 20 months, including 200 this year. Most of the planned store closings locations are in malls.
Nieman Marcus is closing 17 of its off-price Nieman Marcus Last Call stores, as well as five Nieman Marcus stores. The 116 year old retailer is working through a deal with creditors that involves removing $4 billion of $5.5 billion in debt. The bankruptcy included some drama, as a financier reportedly threatened another bidder to drop its bid on a Nieman Marcus property involved in the bankruptcy proceedings.
J. Crew came out of bankruptcy around September 10, 2020 after reaching a deal to swap $1.6 billion in credit for equity. Brooks Brothers, an American men's clothier went into bankruptcy shortly after the start of the pandemic, but found a buyer who is expected to pay $325 million for the retailer. The buyer is the Simon Property Group, the largest mall operator in the nation. There have been reports that nationwide it's estimated that about 25,000 stores could close before year end – mostly in malls. Simon Property Group is traded on the NYSE.
L'Oreal is expected to layoff 1,500 – 2,000 people due to revenue losses associated with the CoVid pandemic as cosmetic sales are down because people are staying home and wearing masks.
Generally, transportation has been slow to come back. United and American airlines are expected to layoff or furlough 16,000 and 19,000 workers, respectively, by October 1, 2020. Air travel is reportedly still down 70% versus prior year.
Both Fed Ex and Amazon are on hiring sprees as more people shop online and take deliveries at home.
PUBLIC TRANSIT Fares, FEMA Cuts, Potential Service Cuts & Window Smashing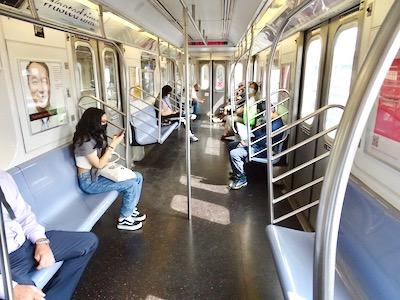 Bus fares reinstated on Monday, August 31, 2020.
Acting Department of Homeland Security secretary Chad Wolfe reportedly directed FEMA to make cuts to blue cities including NYC, WDC, Portland and Seattle. Wolfe has illegitimately / unconstitutionally occupied that cabinet level post as an acting secretary beyond the six months permitted by the U.S. Constitution. It seems Wolfe's illegitimacy could be used to challenge the funding change – at least temporarily.
The MTA said it's losing $200 million per week and would have to cut service by 40% to make ends meet if it doesn't receive $12 billion to $16 billion in bailout aid. The MTA reduced the frequency of trains [8 minutes] and buses [15 minutes] in order to conserve cash as no federal bailout has been agreed upon. The money for the extra cleanings stopped this past week too.
Ridership is still down about 75%, and the unions are fighting layoffs at nearly every level of government these days, as the city and state are running out of time / funds to make ends meet. Staggered, in-class schooling begins next week and will be rolled out through early October. Students riding public transit should increase MTA usage.
At least three people have been smashing subway windows, two of whom have focused their criminal efforts on the #7 subway line [70 windows at cost of $300,000]. One person was apprehended doing the same in Manhattan. The cost to the MTA and its riders is hundreds of thousands of dollars. You have to wonder what's wrong with these people. I think it clearly shows that there's a fine line between the criminal and the mentally ill / mentally disturbed, which has been one of the primary issues in the police funding reallocation debate.
This week I saw a number of uniformed police at a couple of the stations in Queens. It seems to me plains clothes policing might work better in catching the culprits than easily identifiable police officers milling about. I believe the use of plainsclothes police officers is also one of the issues in the law enforcement debate.
MISCELLANEOUS – Masks, Cosmetics, Plastic Surgeries, Plastic Bags & Voting
Deadline to register to vote in NYS is 10/9 and 10/13 in NJ.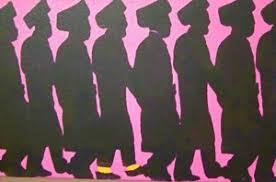 As previously mentioned, the ban on plastic bags at grocery stores took effect Wednesday, August 27th. Enforcement is likely to begin by the end of this month or early next month – if not already begun - so remember to bring your own bag(s) to the grocery store.
According to an August 7, 2020 report by Business Standard, there's been a plastic surgery boom. The pandemic induced downtime, coupled with reduced spending on shopping and dining, are said to have contributed to the boom. And patients can hide their temporary lacerations behind the mask.
The sales of cosmetics fell with the onset of the pandemic. As noted above, cosmetics maker L'Oreal, is planning layoffs. But there have been winners in the cosmestics category as while lipstick sales have fallen, eye makeup and nail care products have risen.
Zoro and the Benefits of a Mask. You don't have to shave or put on makeup, you can get away with bad breath if you can tolerate your own and social distance, and masks hide pimples, cold sores and double chins - which may be why people think someone wearing a mask looks better than that same person looks without wearing one.
Have a nice weekend and Happy Rosh Hashana. Let's hope that the Jewish new year 5781 is better than 5780.
* Donald Trump & Violence in America 2020
The Presidency is as Much a Behavioral Exemplary Pulpit as a Bully Pulpit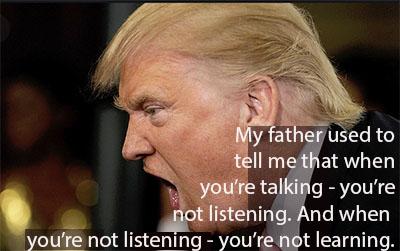 September 14, 2020 / NYC Neighborhoods / U.S. Politics / News Analysis & Opinion / Gotham Buzz NYC.
Nobody could honestly accuse Donald Trump of bringing dignity to the presidency. In fact just the opposite, as the Donald's monosyllabic vulgarity has - if anything - diminished the office.
The Donald reportedly struck a music teacher when he was a youth. According to his neice's book, he also paid someone to take his SAT exam so he could gain access to a good college - not by merit - but by trickery. And ever since the Donald left school [graduated?], he's threatened to sue anyone who publishes or discloses his academic transcript. That bad?
But we don't need to dig into ancient history to know that the Donald is a poor student, a poor listener, someone who doesn't do his homework, someone who thinks he knows more than anyone and everyone else in the room, regardless of who's in the room and regardless of the subject under discussion.
Talk is cheap. God knows, we've heard a lot of it over the past four years primarly from the Murdoch's Fox Fake News, NY Post and Wall St. Journal. But events are real. And the consequences of actions or inactions are also very real as we are seeing played out before our very eyes.
The CoVid pandemic remains out of control, the economy nosedived before stabilizing because of a multi-trillion stimulus bailout, coupled with even more trillions in Federal Reserve splashing money into the economy and lowering the real interest rate to zero, there are raging forest fires that to date have burnt an area the size of Connecticut and there is considerable turmoil and social unrest in how some rogue police officers treat people of color and who subsequently appear to be 'protected' - even in what appear murder cases - by some of the police unions around the nation, including our own NYPBA.
Unfortunately, amidst all these crises, we seem to be led by an ignorant president, who was unqualified for the job to begin with, seems incapable of learning, appears self serving in his motives, and appears to either disregard science or even be contemptuous of it, because the facts won't bend to his will, like the countless obsequious sycophants surrounding him.
Again, unfortunately for us, when the Donald is questioned about any of these four crises, he seems clueless - not just of the solutions, but of the contextual facts of the matters. We can collectively thank Australian born billionaire Rupert Murdoch's Fox Fake News for that, because that seems to be where Trump primarily gets his information.
For example while Trump's mishandling of the pandemic has been slow and ineffective - he gloriously outdid himself by failing to wear a mask and set an example for the rest of the nation - apparently because of his vanity. Trump's failure to provide an example seems to have politicized the wearing of a mask with many of his followers who appear ignorant. Many of them also seem to be fed their daily, weekly or monthly doses of disinformation via Rupert Murdoch's Fox Fake News.
The Donald inherited a fine economy, and yet today - because of the botched U.S. federal government pandemic response - unemployment has more than doubled versus when the Donald came to office. And these unemployment numbers exclude another ten million or 6% who seem to be rotating in and out of the unemployment offices around the nation. See our prior report to see how the Donald has tried to gin up the economy in hopes of fooling the electorate that he has some kind of magic touch in order to get reelected [I call it stealing from America's children by dumping debt on them in order to enrich the rich].
And then there are the forest fires raging out of control on the west coast in what will be one of the worst - if not the worst fire year on record. Both Trump and Murdoch's Fox Fake News are in denial that this and the near / record hurricane / tornado / storm season are possibly (or even likely) the direct result of climate change. Trump pulled America out of a global effort to combat climate change [the Paris Accords], and he has been unwinding / deregulating environmentally friendly federal government policies - apparently in an effort to win ' fossil fuel friends' to fund his flailing reelection campaign.
Again, unfortunately, the Donald seems not to care about America's or the planet's ecological future, perhaps because he likely won't be around when things get really, really bad. Mary Trump, a clinial psychologist, said her uncle had sociopathic tendencies. I'm no clinical psychologist, but based on what I've seen, Trump's friend and media ally, Rupert Murdoch, also seems to exhibit many of the same sociopathic tendencies as Trump.
* Lastly, but not least, we're going to delve into Trump's and Fox 'News' mishandling of social unrest in America, in what appear to be their fascist and possibly violent tendencies. More later.
Buglisi Dance Theatre Company at Lincoln Center 911
Weekend Events & Update Coming Later Today
September 11, 2020 / NYC Neighborhoods / Things to do NYC / News Analysis & Opinion / Gotham Buzz NYC.
This is a video of one of the rehearsals for the Table of Silence performance this morning at Lincoln Center, commemorating the 19th anniversary of 911. We'll have the weekend events and some news updates later today.
Things To Do This Weekend NYC
While there are - Shortened Hours, Limited Capacity & (Food) Services, Face Masks, Social Distancing & Some Temperature Check Requirements - NYC is Nearly Fully Reopened
As previously mentioned, the 911 Museum in downtown Manhattan reopens today, and the NY Historical Society on the Upper West Side did too.
On Wednesday, September 9 the American Museum of Natural History on the Upper West Side reopened its doors to the general public after opening a week earlier to members. You're advised to purchase tickets at their website at www.amnh.org before visiting and their new hours are 10 am - 5.30 am but last entry is at 4.30 pm. Like most places these days there are CoVid requirements.
The Whitney Museum of American Art in the West Village reopened last week on Thursday, September 3 and is offering 'pay what you want' until September 28th.
As previously mentioned, the Museum of Modern Art in Midtown opened on Thursday, August 27th and the Metropolitan Museum on the Upper East Side opened on Saturday, August 29th, but as of Saturday, September 12th the Cloisters in Washington Heights will also reopen its doors.
Bowling Alleys and gyms opened in mid August. In mid August Governor Cuomo said that Movie theaters will remain closed in NYC indefinitely. I've not heard, any further word, since.
NYC Parks beaches have closed for the season, but some beaches on Long Island are expected to remain open through the end of September.
NYS & NYC Restaurants to Move to Indoor Dining on 9/30/20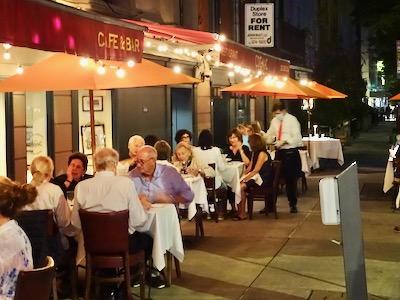 A couple of days ago, Governor Cuomo announced that restaurants may open their doors to indoor dining beginning Wednesday, September 30th. Like everything else that's reopened since the pandemic began, the opening comes with CoVid related limitations including face masks, distancing, operating at 25% capacity [could move to 50% in November [1] if all goes well], close by midnight, no service at the bar, temperature checks, contact tracing where needed and there are some requirements related to air ventilation. And in the meantime the piazza style dining seems to be working pretty well around the city, except in Hell's Kitchen in Manhattan, where they're having a homeless problem.
The NFL Football Season Started & So Did the Kneeling Controversy
The National Football League played its first game of the 2020 season on Thursday, September 10th to a live audience. The players on both teams knelt while the national anthem was being played. It's important to remember that kneeling is a sign of respect as it's done in church, at funerals and when one is being knighted by a king, queen or organization. But kneeling during the anthem is also not an American tradition, as traditionally one would stand and salute.
But that was the point of Colin Kaepernick's taking a knee - to be respectful of our nation - while drawing attention to the fact that we, collectively, have not yet achieved the promise of the U.S. Consitution regarding equal opportunity in life, liberty and the pursuit of happiness. He did it to draw attention to his ethnic group, which is very real, as we've seen this past year on videos of unarmed African Americans being slain by rogue police officers. But the inequities go beyond that - and encompass other groups like women, Latinos and rural whites - many of whom in some measure have also not had access to opportunities matching their potential. There's enough here for all of us, it just needs to be divvied up more equitably.
Plenty of Outdoor Activities at NYC Parks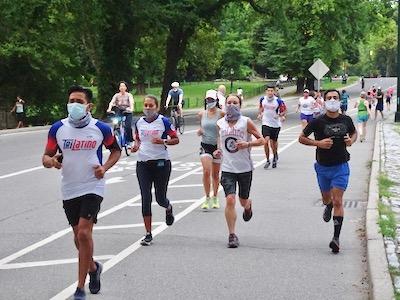 I walked through Central Park this week and noticed tons of people out and about enjoying the nice weather we had. There were cyclists, a yoga class, joggers, volleyball players, dancers, strollers, people on scooters, pedestrians and a newly wed couple.
In the outdoor dining areas on both the upper west and upper east side there were dozens upon dozens of diners, enjoying the balmy evening in their own coiffed, culinary and accoutrement laden way.
The Grocery Plastic Bag Ban Finally Went into Effect on Wednesday, August 26th
As you may recall, right around the time of the CoVid pandemic outbreak [March / April 2020], NYC was in the midst of implementing a transition away from grocery store plastic bags which make up a lot of the landfill. Government officials kept postponing the transition in recognition that most folks were having enough difficulty coping with the pandemic and related economic fallout. Now, about a month after we fell below the 1% infection rate where we have since stayed [congratulate yourself, your friends & family], we're ready to move forward with saving the planet.
So, I don't see stores universally or consistently implementing the changeover, but the official date was Wednesday, August 26th, and I suspect that by the end of September they'll start enforcing it - if they haven't already. So while you're trying to remember to take your mask with you, remember to also grab some sort of bag to take along which you can use to carry your groceries home.
Job Growth Shows Signs of Stalling & Other Shoe to Drop?
By mid August new unemployment claims had dipped below one million, which is at least twice as high as 'normal'. Since then the number of newly unemployed seems to have stalled, staying at about that rate since. And ongoing unemployment claims continued at elevated levels of over 13 million [8% unemployment], versus about 8 million [5% unemployment] for a normal fully functioning economy. One pundit on CNBC seems to think the real unemployment rate is higher [11%] in part because people aren't looking for work at the moment.
The next wave of economic news could be a lackluster performance in the third quarter, because the trillions in stimulus ended only one month [July] into this quarter. And then the next couple of shoes could drop, including 1) layoffs at the end of September / early October due to the expiration of the funds of the PPP program, 2) layoffs by states and municipalities who've been sucked dry fighting the CoVid pandemic and 3) all of the dominoes associated with the eviction moratorium expirations that could impact landlords, banks and real estate related businesses.
I'll have more later. Have a nice weekend.
Was the 'Trump Economy' a Couple of Con Men's Mirage?
Did the Donald, with the Help of Rupert Murdoch's Wall St Journal, Fox Business & NY Post, Successfully Convince Americans into Thinking that the Donald was Responsible for an Economy that has Since Disappeared?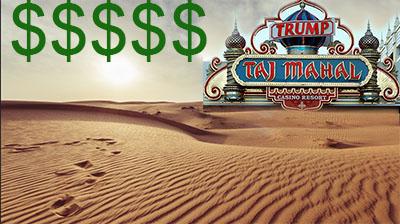 September 8, 2020 / NYC Neighborhoods / NYC Economic News / News Analysis & Opinion / Gotham Buzz NYC.
Donald Trump is nothing, if not one of the greatest con men in the world. He allegedly - duped donors with the Trump Charity, duped enrollees of Trump University into thinking he would teach them the magic of his 'money making miracles', duped investors and bankers alike about the magic of the Trump Taj Mahal casino, duped contractors into thinking he would pay his bills, duped law enforcement vis a vis his money laundering scheme [they eventually caught him], duped Trump SoHo buyers about some of the facts related to the real estate they were buying.
But the greatest con the Donald may have ever done, wasn't getting voters to choose him in lieu of Hillary Clinton in 2016 - as Hillary need be given some of the credit for that - but was the convincing of nearly half the nation to believe that the Donald has some kind of magic touch vis a vis the 'Trump economy'. An economy which Trump then proceeded to crash by his stupefying mismanagement of the CoVid pandemic and subsequent public-pay-a-lot-and-get-nothing-back stimulus bills. What the Donald and Murdoch's Fox & Fake News seem to omit from the narrative of the magic of the 'Trump Economy' is the trillions in debt that they have dumped upon America's children. And they seem to give scant credit to the free wheeling multi-trillion dollar machinations of the Federal Reserve, which have kept interest rates low and liquidity available in an economy presided over by a seemingly corrupt man with a history of six bankruptcies.
Republican Deceit & Phony Fiscal Conservatism
I'm going to start with recent history to show how the Donald has robbed America's children by piling on public debt in order to give the super wealthy tax breaks, and subsequently doled out generous taxpayer funded stimulus checks, in order to gin up the economy to prop up his ailing reelection odds. And then I am going to work my way back to the early 1980's, so we can debunk the myth that Republicans are fiscal conservatives - because the last fifty years shows that they are not.
Republicans are talking point fiscal conservatives who scream about it as it suits their campaign convenience, and this includes their mid semester Washington, D.C. play-acting theatrics which are sometimes used to showcase their phony fiscal conservatism. Neither party seems fiscally conservative, and only one president in the past fifty years has run a federal government budget surplus [Democrat Bill Clinton in tandem with a Republican Congress]. So I'm asking you to not let them fool you, because fooling the public is the one skill at which the politicians in the Senate, House and Executive Branches of government seem most adept.
Triumph of The [Rupert's] Will: How Murdoch Manipulates Voter's Perceptions & Public Policy
Australian born Billionaire Appears to use his Media Outlets to Shape Voter's Views, Loading them with Misconceptions, So They'll Elect Compromised Fox Nation Pols, Who Upon Assuming Office, Seem to Reward Murdoch's Media Support, by Crafting Public Policy to Conform to Murdoch's Will, Favoring his Business Interests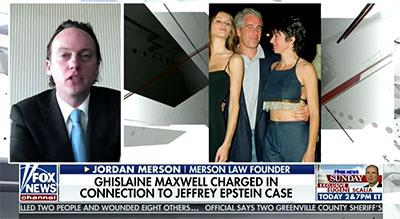 September 4, 2020 / NYC Neighborhoods / U.S. Politics / News Analysis & Opinion / Gotham Buzz NYC.
As mentioned previously, I've been doing a fairly deep dive into learning as much about the Third Reich and Nazi Germany as time permits, in order to more fully understand what's happening in present day events.
Media Manipulation for Fun & Profit
I began noticing similarities between Australian born billionaire Rupert Murdoch's manipulative use of his large share of Amerian media in 2016, to what Joseph Goebbels, the Reich Minister of Propaganda for the Nazis, did beginning in the 1920's until his end in 1945. On May 1, 1945 Goebbels poisoned his children, his wife and himself as the Allied forces neared his home. Hitler and his companions had committed suicide the day before, as Allied forces invaded Berlin. None of them had the courage to stand trial for their crimes against humanity ... although like Mussolini, they may not have made it to court.
1. Did Fox 'News' Attempt to Protect the Reputation of a Propaganda Asset via Omission?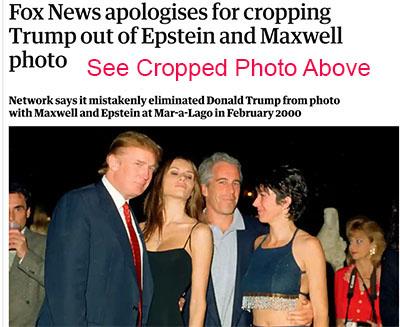 So today, we're going to look at just a few of Murdoch's media manipulations made in just the past couple of months - and I'm nearly certain that this is just the tip of the iceberg. Unfortunately, I don't have the resource to fact check what is the largest misleading news content producing organization in the nation, and possibly the free world.
Let's start with the first two photos on this page. This story broke in the Guardian on July 7, 2020.
The first photo shows Fox News 'reporting the news' regarding the sexcapades of Jeffrey Epstein and Ghislane Maxwell. In the first photo, Fox News conveniently cropped out Donald Trump. In the second photo [at right] we have the 'full picture' aka the truth.
The man who calls everyone else a 'sleezeball' is seen with Melania 'being best', and two of the people alleged to be among some of the sleeziest on the planet [Jeffrey Epstein and Ghislane Maxwell]. Do birds of a feather flock together?
So we must ask why Rupert Murdoch would crop Donald Trump out of the photo? Is it to avoid portraying the Donald in a negative light in order to keep him - a Murdoch asset - in office?
Trump appears to have been a boon to billionaire Murdoch through massive billionaire tax cuts funded by debt to be paid for by America's children and unborn? Or is because Trump's actions in the Middle East vis a visIsrael seemed to serve to legitimize Murdoch's investment in Genie Energy in the illegally occupied Syrian Golan Heights? Or was it because Trump loosened up the FCC ownership limits for mega media companies like Murdoch's thus allowing the few to control our media, which givens them the power to influence the national democratic conversation - and in Murdoch's case - it seems the power to corrupt it in order to profit from it. Or was it because Trump famously fired all U.S. Attorneys, including Preet Bharara - who was investigating Murdoch's companies for sexual harrassment and phone hacking - less than 24 hours after Sean Hannity on Fox News told him to do just that? Perhaps most importantly, Trump's Attorney General Bill Barr, greenlighted the merger of Disney / ABC, which was an inverted takeover resulting in Rupert Murdoch becoming Disney / ABC's largest shareholder.
Things To Do Labor Day Weekend
NYC Schools to Re-Open Monday 9/21, MTA Resumes Collecting Bus Fares, Theaters Open, Museums Open, Swimming Pools Open thru Labor Day 9/7, Shopping, Outdoor Dining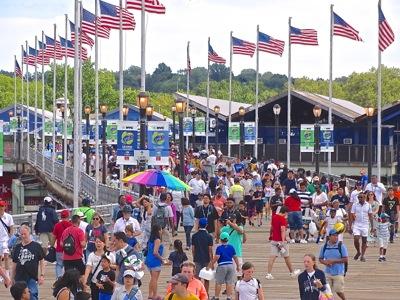 September 1, 2020 / NYC Neighborhoods / Things To Do NYC / Gotham Buzz NYC.
Weather. The temperatures highs will be in the low to mid 80's, while the lows will be in the mid to high 60's all weekend. There's a 20% chance of rain on Friday and Monday, and less than that on Saturday and Sunday. Winds will be 5 - 10 mph all weekend. Humidity will be in the 50% - 70% range.
The photo at right was taken at the U.S. Open in a prior year.
New Yorker CoVid Tests, Deaths & Requirements to Visit Public & Private Places
We've come a long way since NYS and NYC went into a lockdown in March of 2020. For over three weeks NYS has had less than 1% of CoVid positive tests, while testing a record number of people. Deaths have also dropped below ten a day. To date 439,000 New Yorkers tested positive, so over two percent of us. And 32,541 New Yorkers have died from CoVid, so 7% of those who tested positive died.
Attendance to NYC Public Schools will require some testing and masks. Masks and hand sanitizer will be available but try to bring your own. Call 311 or visit the schools.NYC.gov website for full CoVid school details.
Masks and social distancing are also required to ride the MTA buses, subways and to enter any business. If you forget your mask, you might be able to secure one through an MTA booth or a nearby business. The museums generally ask visitors to secure tickets in advance, as capacity threshholds have been lowered, so the ticketing is a way to ensure you'll be admitted. Sick people may be barred from entry.
NYC Postpones Schools Reopening to Monday 9/21 & MTA Buses Resume Fare Collection
Mayor de Blasio, in an effort to avert a teachers' strike, has postponed the reopening the NYC public schools until Monday, September 21st in order to address outstanding teacher work safety concerns.
The MTA buses discontinued charging fares on March 23rd, boarding passengers through the back door to protect drivers. Effective Monday, August 31st the MTA began collecting fares again.
NYC Beaches Open in Four Boroughs
The NYC public park beaches at Coney Island in Brooklyn, in the Rockaways in Queens, Orchard Beach in the Bronx and South Beach and Midland Beach on Staten Island are all open this weekend.
The Republican National Convention - Where Trump 'Reality' TV Mixes with Murdoch's Fox Fake News
The Donald's Deceit, Disrespect & Demagoguery were on Full Display
Has Trump Taken America from 'Reality' TV to Staged Fiction?
August 28, 2020 / NYC Neighborhoods / U.S. Politics / News Analysis & Opinion / Gotham Buzz NYC.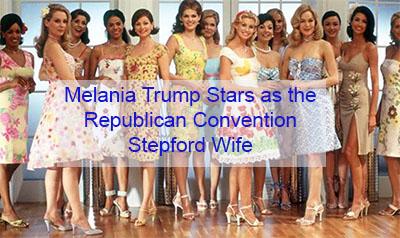 It was a garish experience, watching the Republican Convention on TV this past week.  The scripted and repetitive misleading and false statements, combined with what appeared outright lies, were delivered by different genders and colors of people so as to seem like it wasn't the choreographed theatrical production that it was.  This is very much like what Rupert Murdoch's Fox News seems to do every night, and what Joseph Goebbels did for over a decade as the minister of propaganda for the Third Reich.
Has Trump Taken America from 'Reality' TV to Staged Fiction?
What I found interesting about the Republican Convention, was how it showcased women and people of color, who were representing what has essentially been a nearly All White Male Administration. Of the 22 cabinet level positions, only four [18%] are filled by women [Education, Transportation, CIA & Small Business] and only one [5%] person of color [Housing]. 
But you'd never, ever know that by watching the Trump RNC mirage this week, as women were showcased between a third and half the time [rough estimate is 40%] and there were at least three people of color [9%] – meaning the Republican Convention didn't look anything like the reality of the Trump Administration.
Trump Republicans of the Fox Nation Share Similarities to the Nazis of Goebbels Germany
I've been researching Goebbels, Hitler and the Third Reich since 2016.  While investigating how Rupert Murdoch seemed to use his 'news' outlets as one big propaganda machine, I kept stumbling across references to all of them. Eventually I quit ignoring the references that popped up, and began following those threads, which have since led me to believe that the parallels between 1933 Nazi Germany and present day America are inescapable.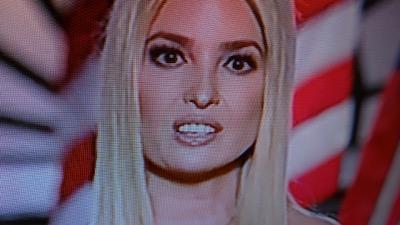 Fox News is comprised of seven hours of seemingly demagogic, even racist, propaganda programs including party line speeches and pseudo interviews by Sean Hannity, Tucker Carlson, Laura Ingraham, The Five, Fox & Friends as well as numerous Pinocchio pundits such as Jeanine Pirro, Greg Gutfield, Steve Hilton, and even Maria Bartiromo on Fox Business These 'news personalities' seem to deviate from a fair and balanced reporting of the facts far too often. Here's a link to what appears to be a distorted, even racist, report of the shooting of an African American in Georgia by Tucker Carlson.
Some of the other shows appear biased, but I haven't had the time to really tune into analyze them, as the primetime propaganda machine is already far more than I can stomach, of what seems Murdoch's continuous demagogic deceit.
To legitimate the propaganda machine, Murdoch provides an hour of real news, the Special Report with Bret Baier weekdays, as well as Fox News Sunday which is another hour of real news hosted by Chris Wallace.  Murdoch reportedly fired Shep Smith after Attorney General Bob Barr was sent on a Trump campaign errand to tell Murdoch to pull Smith because Smith wasn't towing the Trump train party line.  Murdoch appeared to oblige and Shepard Smith has remained silent.
I. Murdoch's Demagogic Press Manipulates People's Perceptions to Deliver Votes at the Polls - Goebbels Shaped Germans' Perceptions to Align with the Fuhrer's
Usurpation of power is the point of the propaganda machine posing as a news organization.  If people know it to be a source of false information, it would be discredited and not believed.  But by disguising it, by combining the propaganda with real news, Fox News is able to believably portray the world the way Rupert Murdoch wants his audience to see it. 
In this manner he can deliver millions upon millions of Americans, Brits and Australians into the voting booth loaded with his propaganda machine's manipulated perceptions of events and candidates, so that his audience will vote for those pols he favors and from which he, and by virtue of payola – his propaganda pundits - will profit.  Since Trump became president, multi-millionaire Sean Hannity cut a favorable multi-million dollar low interest government loan deal with HUD Secretary Ben Carson related to Hannity's $90 million property holdings.
Both Trump and Murdoch are demagogues which Merriam Webster defines as,
"… a leader who makes use of popular prejudices and false claims and promises in order to gain power …"
Hitler and Goebbels were also demagogues and that is how they usurped and retained so much power in Nazi Germany in the 1930's and 1940's, which is why when I was doing my research, Hitler, Goebbels and the Third Reich kept showing up in my searches.
II. Trump Disrespects American Traditions & the American People by Personalizing Government Power - Hitler did the Same
The background for the Republican National Convention was a couple of taxpayer funded sites – the White House and Fort McHenry in Baltimore, Maryland.  This represents yet another Trump break with American tradition of respect for the rule of law.  Trump is using these taxpayer funded public sites for free, to accumulate more power.  Not paying for the use of the White House lawn as a Convention site isn't the worst of it – it's the politicization of the public's property – and the seat of power that I find most disturbing.
Again, Hitler did something similar after he was elected Chancellor of Germany in 1933.  He started personalizing the buildings of the German republic by adorning them with Nazi flags.  That was the beginning of the personalization of power, which culminated in Hitler becoming the sole decision maker for the entire nation on everything, on whatever level he wanted.  Earlier this year I identified Trump's abusive use of the Department of Homeland Security as a national police force as a disturbing parallel. Click this link a story detailing how Donald Trump has been personalizing the power of the U.S. government.
Our Founding Fathers instituted a system of checks and balances in the U.S. Constitution in order to prevent someone from personalizing power.  The personalization of power, if left unchecked, leads right back to an authoritarian regime, which is exactly what the American War of Independence was all about.  Kings are dictators, who have personalized all of the state power.
CLICK here to read the rest of our report on the Republican National Convention 2020 - where the Donald's deceit, disrespect and demagoguery were on display where 'reality' TV morphed into televised illusion.
Democracy in Action: Blue Lives, Black Lives, All Lives Matter in Queens & NYC
A Blue Lives Matter Parade Met by a Black Lives Matter Protest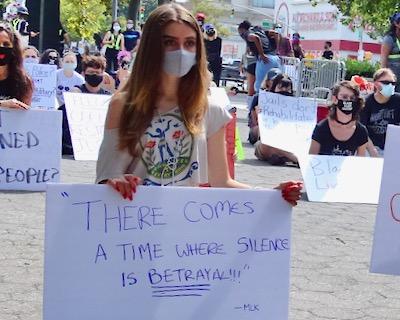 August 23, 2020 / NYC Neighborhoods / Social Issues NYC / News Analysis & Opinion / Gotham Buzz NYC.
On Saturday morning around 11 am a Blue Lives Matter parade began on Greenpoint Avenue and 39th Street in Sunnyside Queens.  I arrived shortly after it began and followed it up to Joseph Sabba Park where several people were to give speeches to the parade participants and attendees.
As the parade arrived at Joseph Sabba Park they were met by a group of Black Lives Matter protesters who were kneeling on the sidewalk holding placards making Black Lives Matter statements.  The Blue Lives Matter parade participants paused as they came in direct contact.  As I sat there video recording the 'confrontation' I wondered whether things might take a turn for the worse and go badly.
Blue Lives Matter Parade & Speakers Queens NYC
Whoever was leading the Blue Lives Matter parade, wisely led the Blue Lives Matter parade around the Black Lives Matter protesters - rather than risking walking through them - where someone on one side or another might have escalated the tension to a higher level.
The Blue Lives Matter parade participants and attendees settled in the middle of Joseph Sabba Park and the speeches began.  The first speaker, whose name I didn't catch, spoke supportively of the police and the important work they do in the community.  He struck a human chord, noting that the men and women who serve in the police force are dedicated to serving the community, among whom are their own families and children.  He ended saying we're all human.
The second speaker struck a more passionate Blue Lives Matter tone, remarking that the 'Diaphragm' Law hindered police from doing their jobs. The Diaphragm Law allows police officers to be subject to a misdemeanor if they constrict a person's diaphragm in the process of making an arrest.
What I recorded of both of these speeches will be shown in the video.
The signs of the Blue Lives Matter parade participants also showed a range of thoughts and emotions, ranging from striking a supportive and yet harmonious chord, while others were defiantly in support of the police – seeming to ignore the validity of the Black Lives Matter social unrest.  They included Enough with the hate, respect goes both ways, to Reform is for criminals, drug addicts and sex offenders.
The Battle for the Soul of America Begins
Democrat Joe Biden Puts Forth a Bipartisan Convention & Makes a Strong Case for Uniting America Again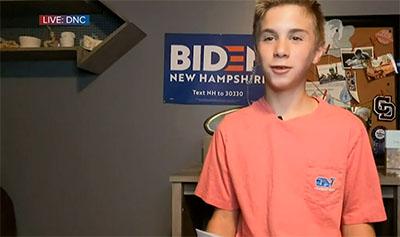 August 21, 2020 / NYC Neighborhoods / Dysfunctional Presidency of Donald J Trump / News Analysis & Opinion / Gotham Buzz NYC.
This week the virtual Democratic Convention took place across the nation beginning Monday and ending Thursday. I tuned in for a look / see on Monday, and found the convention of greater interest than I had expected. Each night I tuned in a bit more, ending last night watching most of the show.
Missing were the bells and whistles of major party conventions of prior years. The theatrical embellishments, large audiences and drama were also missing. But what came forth were four days of a well choreographed presentation for why the American people need to make a change in November.
In the photo at right is Braydon Harrington, a 13 year old stutterer featured in the Democratic National Convention. Harrington, like Biden, has a stutter handicap which is a neurological disorder that makes it difficult to get out certain words. Biden's father told Joe not to let his handicap define him.
Monday - Republican Governors, Bernie Sanders & Michelle Obama
The first night was hosted by Eva Longoria one of the stars of Suburban Housewives.
The program started on Monday and included New Yorkers Governor Cuomo and former Republican Congresswoman Susan Molinari. Molinari wasn't the only Republican to participate in the first night of the Democratic Convention. Two former Republican Governors - Christie Todd Whitman of New Jersey and John Kasich of Ohio - also participated, giving speechs at the Democratic virtual Convention.
One might ask why are Republicans giving speeches at the Democratic Convention. Both former Governors answered that question very clearly - they are concerned about the future of the American Democratic Republic if Trump's presidency doesn't end this year. Former New Jersey Republican Governor Whitman, a self described lifelong Republican, made the following statement which was published in an August 18, 2020 report by the New Jersey News Network,
"This isn't about a Republican or a Democrat. It's about a person ... A person decent enough, stable enough, strong enough, to get our economy back on track. A person who can work with everyone, Democrats and Republicans, to get things done. Donald Trump isn't that person Joe Biden is."
According to an August 17, 2020 report on Cleveland.com former Ohio Republican Governor Kasich, said he was proud of his Republican heritage, citing his party as the party of Lincoln, of unity and of a higher purpose. The Cleveland.com report said that,
"... Kasich ... [has] known Biden for 30 years, calling Biden a man of integrity"
They continued quoting Governor Kasich as follows,
" ... Yes, there are areas where Joe and I absolutely disagree. But that's OK because that's America … Because whatever our differences, we respect one another … no one person or party has all the answers … But … we know … we can do better than what we've been seeing today for sure."
First Lady Michelle Obama advocated for Joe Biden's candidacy recommending that the American people replace a president "who is in over his head".
Senator Bernie Sanders delivered the most damning assessment of the Donald's four years in office, citing the CoVid pandemic infection and death rates, the pandemic economic fallout, and Trump's mismanagement of racial tensions which erupted in the wake of George Floyd's death. Sanders went on to call Trump a fraud citing Trump's promise to stand with working families before he won the office, and who after taking office gave huge tax breaks to the wealthy, tried removing discriminatory protections currently in place for people with pre-existing health conditions, and proposed massive cuts to Social Security, Medicare and Medicaid.
Likely many of Trump's supporters aren't aware of the issues discussed in Sanders remarks, because information that doesn't portray the president in a positive light seems rarely [ever?] reported on Rupert Murdoch's Fox News, NY Post and Wall Street Journal.
Murdoch's Fox News Racism Revealed
Tucker Carlson Omits Key Facts of African American Deaths by Police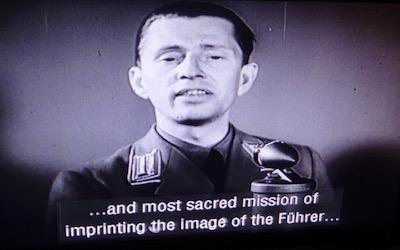 August 18, 2020 / NYC Neighborhoods / Rupert Murdoch & Fox Fake News Special Section / News Analysis & Opinion / Gotham Buzz NYC.
As far as I know, nobody has ever accused Rupert Murdoch of running an unbiased news operation. In fact, it's seems just the opposite, as countless people have found countless significant reporting errors by his mammoth news operation, which in the U.S. alone represents about half the large corporate branded news content viewed by Americans including Fox News, the Wall St Journal, the NY Post, Barron's, MarketWatch and increasingly ABC News where Murdoch is the largest shareholder.
What is most disturbing, is how the pinocchio propagandists on some Murdoch media outlets appear to omit key facts, in order to put forth narratives that are at odds with the truth, which are then imprinted on the minds of the millions upon millions of viewers who watch and believe what they see and hear on Fox News.
Manipulating what ends up in people's minds is exactly what Joseph Goebbels did as the Minister of Propaganda in Nazi Germany in the 1930's and 1940's. As in Nazi Germany, Herr Murdoch's propaganda ministry in the U.S., appears to use the media to favor some people or groups at the expense of other people and groups in its reporting. Oftentimes the groups Murdoch appears to favor break along race and economic class lines. We're going to look at how Tucker Carlson appears to have put forth a false Fascist narrative that further victimizes the African American victims of unnecessary violence at the hands of rogue policemen, whose errant behavior is defended far too often by the police unions.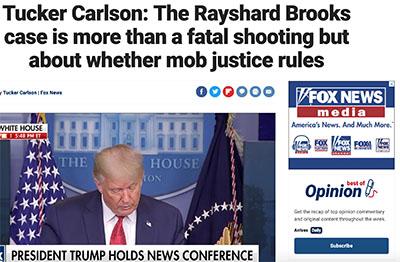 To be sure, those who fall prey to such mass media manipulation, are also responsible for their own ignorance and subsequent behaviors, including their voting.
Thomas Jefferson said,
"Ignorance of the law is no excuse in any country. If it were, the laws would lose their effect, because it can always be pretended."
We saw this pretension of ignorance and denial of responsibility by many Germans following World War II, including from those operating in influential posts with access to top levels of the Nazi high command. They pretended their ignorance, but generally the truth wills out.
I'll make my case regarding Murdoch's Fox News and Tucker Carlson's reporting of African Americans appearing to be victimized by rogue policemen on Fox News Tucker Carlson's nationally televised show. I identified a couple of shows, which were broadcast over American airwaves using a high number of FCC licenses, reaching millions upon millions of Americans who appear to have been disinformed in what seems a systematic effort by Australian born billionaire Rupert Murdoch's media to provide distorted reporting with respect to incidents of police brutality vis a vis the African American community.
Fox News & Tucker Carlson Twist the Facts to Make a Trap for Fools?
The first incident we're going to review, is Tucker Carlson's Fox News coverage of the Rayshared Brooks shooting in Atlanta on Friday, June 12th, 2020. Rayshard Brooks was a 27 year old African American and father of three who was found misparked in a Wendy's parking lot, apparently sleeping. He was found to have a blood alcohol of nearly .11 which is above the legal limit for driving of .08. Brooks was not stopped while driving, but rather after he had misparked his car in a Wendy's drive thru queue.
Weekend Things To Do - NYC Near Summer's End
Cuomo Gives Greenlight to Opening of Schools, Gyms, Bowling Alleys & Low Risk Cultural Sites, de Blasio Announces Schools Reopening Plan, Real Estate Market Changing & Events Happening (& Not) this Fall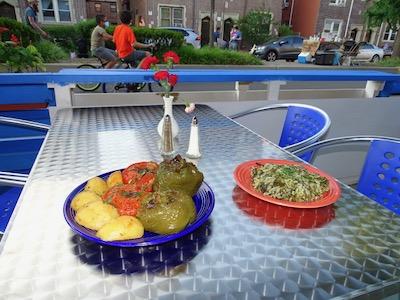 August 14, 2020 / NYC Neighborhoods / NYC CoVid 19 Special Section / News Analysis & Opinion / Gotham Buzz NYC.
Weekend Weather.  The temperature highs will be in the mid 80's on Friday and Saturday, dropping to the mid 70's on Sunday.  The temperature lows will be around 70.  It will be partly cloudy with the winds about 10 mph all weekend.  There's a small chance of a small amount of rain on Friday and then a 50% chance of some small amount of rain on Sunday beginning early afternoon and lasting through the day.
Governor Cuomo Expands Reopenings to Indoor Cultural Sites, Gyms & Bowling Alleys
Today the Governor said that bowling alleys, gyms and low risk cultural sites can reopen. Specific protocols were provided for bowling alleys, which are set to reopen Monday, August 17th. Cuomo said that gym protocols and the reopening date for them would be made public on Monday. And other low risk cultural sites are set to reopen Monday, August 24th, with a number of CoVid safety protocols put in place including social distancing, masks, cleaning regimens and capacity limitations.
Mayor & NYC Public Schools Post Reopening Plan for September
A week ago, on Friday, August 7th, Governor Cuomo gave the greenlight for public school districts in New York State to reopen their doors this fall.  During the press briefing, the Governor cited New Yorkers ongoing success in thwarting the spread of the Corona Virus as only about 1% of the tens of thousands tested daily, were testing positive, and the deaths attributed to the Corona Virus in NYS had fallen to five.
Mayor de Blasio has been working hard with NYC Public Schools Chancellor Richard Carranza and Michael Mulgrew of the United Federation of Teachers union to come up with a palatable plan for the 1.1 million students who attend NYC public schools.  Although not yet announced officially, the NYC public schools will likely reopen Thursday, September 10th, following the Labor Day Weekend.  This is in line with the normal opening date for NYC public schools.
Depending on which survey or data set one uses, the number of parents in favor of sending their kids back to school in NYC is within the range of 60% - 75%.  That's roughly 700,000 to 800,000 kids for the Fall enrollment.
Census: It's Time for NYC & NYS to Step Up
Current Census Participation Rate is 53% & 56% for NYC & NYS Respectively - Will New Yorkers Give Up $347 Billion Instead of Ten Minutes of Their Time?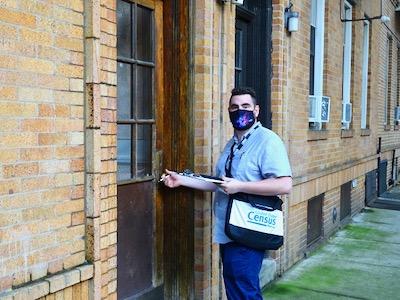 August 10, 2020 / NYC Neighborhoods / NYC CoVid 19 Special Section / News Analysis & Opinion / Gotham Buzz NYC.
In the midst of all the chaos, the census must go on. The census deadline was pushed back to October 31st, before it was pulled forward to September 30th.
That leaves New York City and New York State only 51 days to complete the census.
What's at stake? Mostly money and representation in government, as federal program funding is allocated to the states based on the census - and this lasts ten years. So we're talking a possible loss of billions in funding annually for the city and state if we collectively don't step up and fill out the census.
The census is designed to count every person LIVING in the city and state - NOT JUST CITIZENS.
By law this information cannot be shared, on an individual basis, with any other government agency for over 70 years. The aggregate information is shared so that decisions, like allocating funding, can be made using the best information available.
I'll have plenty more detail later today, including statistics that indicate that $1.3 trillion in federal funding is allocated annually based on the census data. That's likely over $13 trillion in the course of the next ten years. There are 330 million people in the U.S. so that translates to $40,000 per person over the next ten years. The share of this money that NYS should receive is $788 billion if everyone filled out the census [assumes a population of 20 million for NYS]. At the current census participation rate New Yorkers are giving up $347 BILLION in federal funding.
Please click here to fill out the census now. It literally takes less than ten minutes.
Weekend Wondering NYC
NYS Eviction Moratorium Extension, is Unemployment Rate 10% or 20% & Other News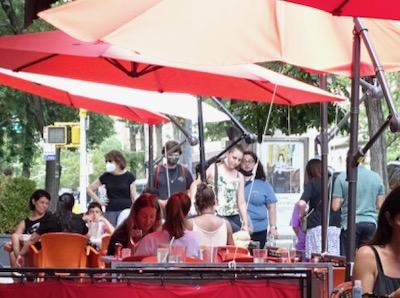 August 7, 2020 / NYC Neighborhoods / NYC CoVid 19 Special Section / News Analysis & Opinion / Gotham Buzz NYC.
Rent Moratorium Extension
Well this is good news for far more people than for who it will be bad news. Governor Cuomo has extended the eviction moratorium in NYS for another month [technically until September 4, 2020], and possibly longer, as he seeks to give those who are rent challenged in the midst of this pandemic, an opportunity to turn things around or find other housing.
Mayor de Blasio had simultaneously stepped in to help those facing eviction, telling New Yorkers to call 311 for help from an attorney funded by NYC. There are reportedly 14,000 NYC evictions pending with the City Marshall.
Nationally, the Republicans can't seem to agree on a follow on the terms of the next stimulus bill, which would include extending the eviction moratorium nationally. So it seems - like the handling of the Corona Virus itself - the Governors of each state will have to make their own rent moratorium decisions.
Many NYC Restaurateurs are also Rent Challenged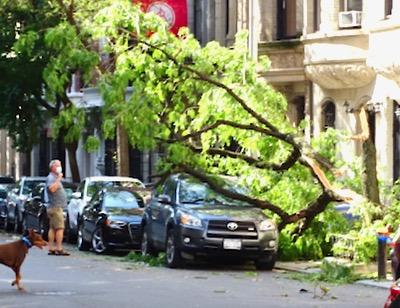 An August 3, 2020 report in Eater New York informs us that the NYC Hospitality Alliance did a survey of 471 bars / restaurants and found that 83% weren't able to make the full rent, and that included a whopping 37% weren't able to pay any rent. The silver lining in the report was that for 30% of them, their landlords didn't require full rent, and in many cases giving them a temporary 50% off price. The curbside / street dining program implemented by the Mayor seems to be helping, as I see a fair amount of business being done daily, in spite of the weather.
Total Unemployed and the Unemployment Rates
In another Trump first, GDP broke all historic records in the second quarter, sinking 9.5% [at an annual rate of 33%], beating George W. Bush's record in the fourth quarter of 2008, during the financial meltdown.
Jobless claims continued to come in at over a million plus this week [1.18 million], continuing to set records for the longest string of million plus unemploymenbt claims since the end of March / beginning of April of this year, when the pandemic began impacting the economy. The silver lining in this news is that it is the lowest number of new unemployment claims, since mid March.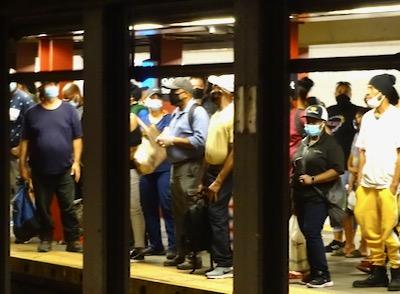 On June 15th I pointed to the discrepancy between the unemployment rate reported by the Bureau of Labor Statistics [around 12% - 13%] and the headlines / news reports of some 30 million plus unemployment claims, which would put the unemployment rate at closer to 19%. An August 6, 2020 report by CNBC did the best job of clearing up why there's such a huge discrepancy between the reported unemployment claims of 32 million which translates into an unemployment rate of 20%, and the lower figure that the Bureau of Labor Statistics has been reporting of about 10 - 12%. The CNBC report stated the following,
"... The four-week moving average, which smooths volatility in the numbers, fell by 413,250 to 16.6 million. But the damage to the labor remains deep and this was the 20th consecutive week that claims have run above 1 million. The total of those claiming benefits, which lags the current data by two weeks, rose to 32.1 million as of July 18, an increase of 1.3 million from the previous week... "
The ADP payroll report was up 167,000 jobs in July, way below the 4.3 million gains made in June.
Isaias Rips thru NYC Leaving 210,000 Powerless
About Half of Outages have Already been Restored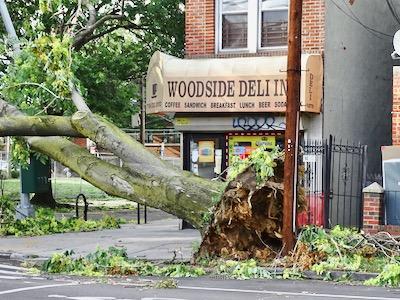 August 4, 2020 / NYC Neighborhoods / NYC CoVid 19 Special Section / News Analysis & Opinion / Gotham Buzz NYC.
The Tropical Storm Isaias ripped through the five boroughs of NYC with winds ranging from 40 mph in Manhattan and Brooklyn to high winds topping 70 mph in Jackson Heights in Queens and topping 60 mph on Staten Island according to a National Weather Service report posted today.
Bronx wasn't mentioned in the report, but winds topped 60 mph in nearby Westchester, so that's likely a good benchmark.
The visit by Tropical Storm Isaias to NYC was a fairly quick and brief one, arriving enmasse around 11 am and well on its way out of here by 4 pm. Perhaps Isaias had heard prior to its visit, that there's a pandemic raging in the U.S., and thus decided to cut its stay short? There was concern prior to the arrival of Isaias that heavy rain would accompany the storm, and flooding would ensue. But as of this report there appears to have been relatively light rainfall for a tropical storm and little real flooding in the NYC area.
Mayor de Blasio said that the Tropical Storm Isaias was primarly about high winds. The winds appear to have wreaked havoc with Con Edison's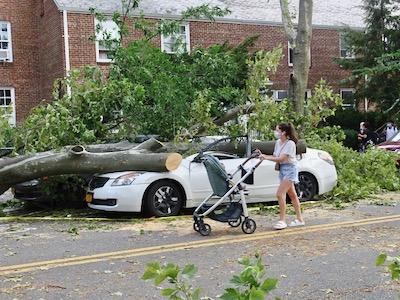 power network, as at its peark 210,000 were without power in the five boroughs of NYC. Around the time of this writing about 130,000 people were still without power. Manhattan was relatively unscathed, while nearly 100,000 residents in Staten Island and Queens were left without power, and about half that in Bronx and Brooklyn.
Because this storm was not accompanied by a lot of water I'm going to take an educated guess that power will be restored in less time than usual, following a big storm like this, even though Con Edison informs us that this is the second highest number of people left without power in NYC in its history.
The NYC Parks Department lost no time in rolling out its clean up of the fallen trees, as within hours many of the fallen branches and trees had been identified and cut through to enable the smooth flow of traffic and pedestrians, awaiting pick up sometime later this week.
I found little difficulty in finding a number of fallen trees, and so included a couple photos of them which accompany this report.
Joe Biden & Michelle Obama?
Appointing a Woman or Minority to the Democratic Ticket Adds Risk, but so does Not Adding One
July 30, 2020 / NYC Neighborhoods / NYC CoVid 19 Special Section / News Analysis & Opinion / Gotham Buzz NYC.
No woman was ever on a ticket that won the presidency.  Hillary Clinton came close, but failed to win the electoral vote.  No ticket with a woman on it ever won, even when the woman was a vice presidential candidate. Geraldine Ferraro and Walter Mondale can attest to that.  And the only minority candidate ever elected into the presidential suite was Barack Obama. 
So running with a woman or a non-white on the ticket greatly increases the risk of the ticket as we approach one of the most important elections of our lifetimes.
But the converse is also true.  Both women and minorities are large, key constituencies of the Democratic party.  So both of these gender and ethnic groups need to be energized to get out and vote, particularly in a politicized pandemic atmosphere.  So running without a woman and without a minority also increases the risk of the Biden / Democratic ticket.
So what to do?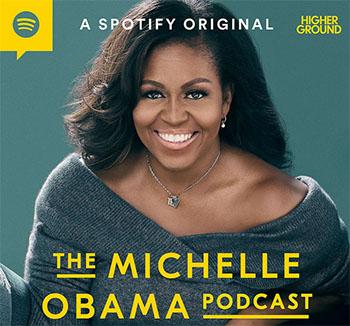 Run with someone who is both a woman and an ethnic minority.  A number of women who can check both of those boxes have been mentioned, but some have never campaigned for public office, some have never held very high offices, and the few who have been elected and held high office, come with some baggage that inevitably accompanies holding those offices.  And none have undergone the intense scrutiny to which anyone who runs for the executive branch of government is subjected.
That is - save one person - who's generally not been mentioned as a potential Vice Presidential contender.
Michelle Obama.
Michelle Obama eliminates the risk of adding both a woman and a minority to the ticket, while having the potential to energize both of these constituencies.
She adds no risk as a minority because she was the First Lady during the Obama Administration, and based on the 2018 and 2019 Gallup polls, a majority of the American people like and trust her. 
She is one of the most educated First Ladies, as like Hillary Clinton and her husband Barack, Michelle Obama has a law degree [from Harvard University].
She adds no baggage to the ticket as she would be defending the same record Biden is – that of the Obama Administration.
Michelle Obama has been named the 'most admired woman' in the world, for last two years running, in the Gallup poll.
She has personality, class - and like Biden - she's very likeable and a uniter.
Biden could trust her, and god forbid, should a President Biden pass away during his presidency, she would be qualified to carry on his work.
Michelle Obama would be an exciting, energizing, Solomon-like choice for the Vice Presidential position on the Democratic party ticket.
As for Michelle and the Obama family, this is a request to them to return to public service, as it seems the nation needs them now. Michelle is uniquely qualified to ascend into this position at this time and in this place.
Michelle and her family wouldn't have to hang in there very long [four years], as the primary objective of this nomination would be to create a winning ticket to displace Donald Trump who seems a threat to the American democratic republic itself. I see both Michelle Obama and Joe Biden as reluctant candidates, as they both seem to realize that there's more to life than money and power, which is very much unlike the Donald.
Based upon my understanding of American history, no other president has ever brought upon the American people the combination of misery, debt and divisiveness in such a short period of time, as has the Donald. 
And the Donald appears to have no respect for rule of law and the U.S. Constitution. So as the bicycling protesters in the video say, "Hey, hey, ho, ho Donald Trump has got to go."
The Evolution of an Interesting Year
Interesting Doesn't Connote Good or Bad, but Rather One About which the Grandkids will Inquire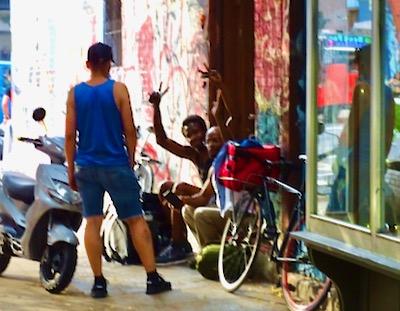 July 28, 2020 / NYC Neighborhoods / NYC CoVid 19 Special Section / News Analysis & Opinion / Gotham Buzz NYC.
The CoVid pandemic for most of us began just over four months ago in mid March. In the early stages the Governor and Mayor seemed a bit alarmist, but as events unfolded, they began to appear wise.
New York City is one of the world's great cities and thus one of the great global gathering places. So it's not surprising that NYC was one of the first American cities hit, and because of the city population density, we were hit hard.
The photo at right shows a few guys relaxing at the end of the day in Greenpoint Brooklyn.
But here we are four months out and - knock on wood - we seem to be operating at one of the higher functional levels, vis a vis other states and other nations. But as both the Mayor and Governor caution us - the pandemic is still alive and well and still being transmitted - and not likely to depart anytime soon. It will remain a threat for some time, for the same reasons it first arrived here, which is that we are a national and global destination / gathering place. And so we must continue to manage the viral threat by continuing to take the same precautionary steps we did to flatten the curve and beat the virus back.
George Floyd Protests, the Police, CoVid & the Economy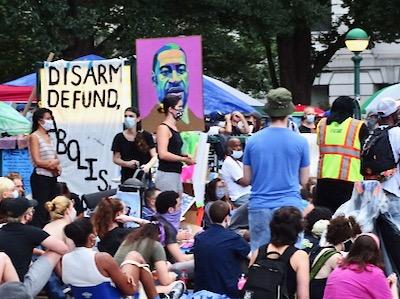 The year was further discombobulated by the death of George Floyd in the hands of the Minneapolis Police.  The video of what could be a murder, went viral and caused a national outrage at the use of excessive force in a situation that didn't appear to necessitate it.  A single incident of this nature likely wouldn't have caused a national outrage on its own. But because Floyd's untimely death seems to reflect a pattern of use of excessive force by individual policemen [repeated many times over the past couple of decades, in multiple locales, and captured and disseminated on video] that the death of George Floyd was the spark that ignited what seems to be national outrage at this sort of abuse of power by individual members of police forces around the nation.
The good news is that the demonstrations were generally peaceful, in recognition that it's not the police departments per se, but rather bad actors within the police departments around the nation - who time and again seem to be protected by the police unions. Many of the policemen involved in these sorts of incidents, are reported to have histories of repeated failures to perform their fiduciary responsibilities in a proper manner, and yet are kept on the police force. This makes it possible for these bad actors to become repeat offenders.
The photo at right was taken of the protesters encamped outside of City Hall earlier this month, not long before the Mayor moved them out.
So I keep asking myself where are we now?
We're in the midst of a raging pandemic, with social unrest vis a vis law enforcement, and then the Donald seems to exacerbate the situation by deploying the Department of Homeland Security to Portland, Oregon in what seems an effort to provoke protesters, not de-escalate the situation. The Donald has been accused of trying to inflame the situation in an effort to land bigger headlines and create the perception – with the help of mass media manipulator Rupert Murdoch's Fox News, Wall St Journal and NY Post – that the world is on fire and America needs an authoritarian strong man who will use decisive force to quell the masses.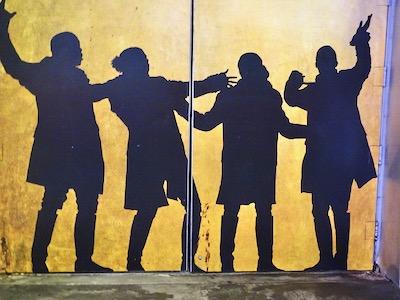 Trump has also been accused of attempting to use the DHS deployment to Portland as a distraction from the Administration's failed response to the pandemic, his failure to respond to reports that Russian President Vladimir Putin has paid bounties for the heads of U.S. G.I's in Afghanistan and a rallying cry to get the Donald (aka Rupert Murdoch's choice) re-elected in November - in spite of what can only be described as the Administration's horrific record of dysfunctionality over the past four years.
The photo at right is a mural on the Richard Rodgers Theater near Times Square in Midtown Manhattan.
What Trump Administration dysfunctionality am I talking about?  In addition to the colossal failed response to the CoVid pandemic, there's a near record of unemployment which the BLS appears to be consistently understating (the BLS says 12% unemployment, but that doesn't jibe with the fact that some 30 million are collecting unemployment insurance out of a labor force of 160 million aka 19% unemployment), America's worst deficit ever by a country mile [in the month of June alone Trump racked up an $864 BILLION federal deficit], failure to effect any meaningful healthcare reform, stagnating or worsening reading and math scores by America's students, the alienation of our closest trading and military allies, and the list could go on.  Those are the failures of the Trump Administration and unfortunately for both Trump and America there's little to offset their failures with any meaningful accomplishments.
But despite these enormous failures at the federal level, life does go on. Thanks in part to the leadership of local government officials.
Law Enforcement, the Economy, but First Home Sweet Home?
Is Home is Where the Heart is or Where We Sleep?
July 20, 2020 / NYC Neighborhoods / NYC CoVid 19 Special Section / News Analysis & Opinion / Gotham Buzz NYC.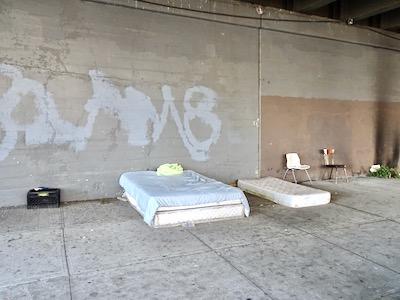 There's no doubt we're living in an unusual time.  At least when compared to the times of the last hundred years or so.  There's a pandemic raging across the nation, which has resulted in over 140,000 Americans' deaths, and approaching four million infections in America alone.
The economic fallout seems to be in its nascent stages, as businesses struggle to stay open, unable to adapt sufficiently and quickly enough, to keep on keepin' on. And furloughed workers, once under the assumption they would be called back into service in a few weeks or few months, are coming to the realization that the position they once held, may no longer exist.
I believe the photo at right shows the 'home' of a few people who seem to periodically return at night.  When I pass by this abode, I think about their lifestyle, living by their hard work and / or wits, with little to no worldly possessions or real comforts. I started mentally writing an ad for this living space. 
The ad goes something like this. This 2BR with spacious Living Rm is pre-furnished with a couple of chairs, a couple of beds, great ventilation, including plenty of space to move around.  There's no kitchen, no air conditioning or heat, no security [but there's nothing to steal] – and depending on how willing you are to stretch things, either no bathroom - or at the very least - not a private one. But the limited utilities and rent are free, so this living space is workable for any budget, and there's plenty of ambient sunlight.
The ad is a humorous look at what's a very poignant situation, but then my thoughts take me further ... These people are still struggling to survive. They're making do with the little they have. They're very organized and pretty clean. And occasionally they give me a friendly wave when I pass. That is the power, strength and resilience of the human spirit.
Law Enforcement, the Economy, but First Home Sweet Home?
Is Home is Where the Heart is or Where We Sleep?
July 20, 2020 / NYC Neighborhoods / NYC CoVid 19 Special Section / News Analysis & Opinion / Gotham Buzz NYC.
Casino Royale:  Will the Donald Bankrupt America with Trillions in Spending?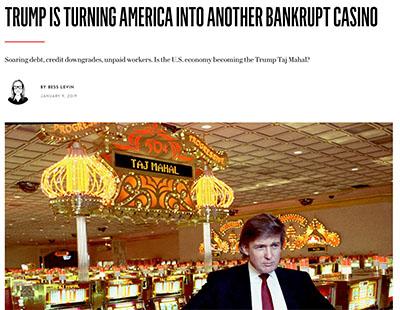 The Administration, meanwhile, seems terribly out of touch with reality.  Their retarded response to the CoVid pandemic paved the way for the viral explosion.  One of their greatest mistakes was that they politicized Americans' choice to defend themselves from the virus by wearing a mask, and they squandered away trillions of the public's money – with the enabling help of the Democrats – to keep businesses functioning, without obtaining much in the way of concessions from them.
If the Donald is a great negotiator, then he's negotiating away American's future, in exchange for a junkie boost to his reelection prospects, and self-enrichment [there was a $160 billion tax break given to real estate developers like Trump and his son-in-law Jared Kushner and he fired five Inspector Generals within the six weeks that the largest spending bills in American history were passed totallying $3 trillion].
In Germany, Chancellor Angela Merkel obtained an equity stake of 20% - 25% from Lufthansa, in exchange for the German government bailout of that airline. And now the Donald and Republican Senate Majority Leader Mitch McConnell are in discussions to throw away another trillion or more in added stimulus - again without obtaining any concessions from those who will receive it. 
The image at right shows the headline of a January 9, 2019 report in Vanity Fair. This report was published over a year before the $3 trillion in stimulus spending done in March / April of 2020.
Bread Crumbs for the Masses & Melania's "I Don't Care Do U?"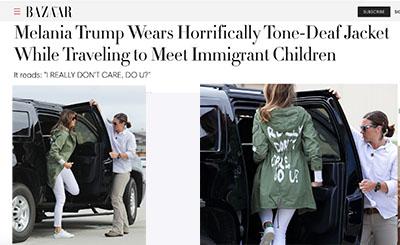 There was $3 trillion in stimulus spending bills passed in late March and early April of 2020.  But the money that working class Americans [161 million people] received in the form of U.S. Treasury $1,200 checks amounts to only $193 million [161 x $1,200] of the $3 trillion stimulus spending done to date.  And then there was the extra $600 per week in added stimulus payments - which paid many unemployed workers more than they had been making and reportedly cost the American taxpayer over $15 billion per week according to a July 17, 2020 CNBC report. 
The CNBC report noted that 25.6 million were on this $600 per week government payout program.  According to the report the reason the total pandemic relief recipients are higher than the unemployed is because the package includes people who are,
"… business owners, self-employed Americans, gig workers and independent contractors who are not typically eligible for unemployment."
So a rough estimate of the cost of this $600 per week program is 13 weeks x $600 per person per week x 26 million = $203 million.  If you add the payments from these two payout programs together then the total payout to working Americans was [$203 billion plus $193 billion] was $396 billion or 13% of the stimulus spending. Thus it seems - a relatively small number of mega millionaire and billionaire real estate developers like Donald Trump, son-in-law Jared Kushner and their [industry segment] friends - collected over a third as much as what all working classs Americans collectively received in stimulus handouts.
This self dealing doesn't seem to be anything new for the Trumps. And the Trump insensitivity to those who less fortunate than they are, appears equally legendary. As you can see in the June of 2018 Bazaar report above, Melania Trump demonstrated an incredible insensitivity during a visit to the Texas border detention centers for immigrant children, when she wore a jacket that had the words "I don't care do u" on it.
Things To This Weekend & Phase IV NYC Reopening
Governor's Island Opened 7/15, Statue of Liberty Island Opens 7/20 while Ellis Remains Closed, Subway Series this Weekend w/ o Fans, Evolving CoVid Science Update & More Economic News
July 17, 2020 / NYC Neighborhoods / NYC CoVid 19 Special Section / News Analysis & Opinion / Gotham Buzz NYC.
Well another CoVid influenced weekend in NYC has arrived.  It's the weekend before the NYS Phase IV reopening of the economy, which is happening on Monday, July 20th – but with an important modification.  The important modification is that indoor cultural centers and shopping will remain on hold indefinitely. 
CoVid Droplets Can Linger in Air for up to 16 Hours
The rationale is that CoVid 19 appears to be transmitted significantly – if not primarily – via the air droplets of infected people who may or may not be symptomatic.  In the outdoor environment, the droplets are diffused by the planetary volume of air, while in the indoor environment they can linger for up to 16 hours.  It was previously believed that the droplets could linger for up to three hours.
In the photo at right is Congresswoman Alexandria Ocasio-Cortez handing out food bags at Our Lady of Sorrows Church in Corona, Queens. The Congresswoman's campaign raised funds to put together 250 food bags for the folks in the community. Our Lady of Sorrows Church has been the locale for a number of such prior distributions by various donors, including by the Catholic Charities Built In Queens.
Things To Do NYC / Events This Weekend
Mets host Yankees at 7.10 pm Saturday at Citi Field and Yankees host Mets at 7.05 pm at Yankee Stadium Sunday.  No attendees will be allowed, but the games will be shown on the Yes Network on TV and WFAN radio.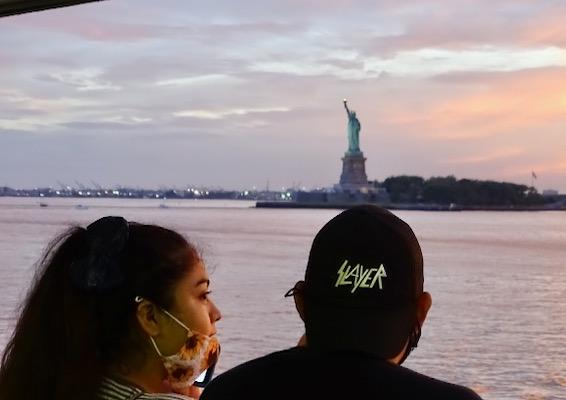 The Statue of Liberty island will open on Monday, July 20th.  The statue itself will remain closed, but there will be limited souvenir and food shopping along with restrooms.  The Ellis Island and the Liberty Museums will remain closed at this time. Both sites are part of the National Parks System.  There are also new rules for a visit - https://www.nps.gov/stli/
St. John the Divine opened its doors to visitors from 7.30 am – 1 pm daily.  No word yet on when services will resume.   https://www.stjohndivine.org/
St Patrick's Cathedral reopened on June 28th for two daily services at 25% capacity on weekdays and two to three services daily on the weekend. They are suffering a $4 million revenue shortfall as a result of the Corona Virus pandemic - https://saintpatrickscathedral.org/
The piazza style dining in cordoned off streets continues on weekends beginning 5 pm Friday and at noon on Saturday and Sunday – ending at 11 pm each night.  New streets and restaurants continue to be added to the original list, as clusters of restaurants apply and receive authorization for piazza style dining on their blocks / streets.
https://www1.nyc.gov/html/dot/html/pedestrians/openstreets-restaurants.shtml
The implementation of the curbside / sidewalk dining by local restaurants has been well received and appears to be a success. Thus this week the Mayor announced that it will be extended through October 31st.
Just over a week ago, on Thursday, July 9th, the Mayor extended the ban on large events requiring a city permit, through September 30th.  The rationale for this extension is that states like Florida and Texas have seen surges due to large scale gatherings, where social distancing and mask norms were difficult to enforce and hence violated, leading to huge surges of the number of CoVid infections in those states.  This ban extension includes NYC street fairs.
Things to do This Weekend in NYC
Bit by Bit NYC Emerges from the CoVid Pandemic Shock ...
... but it's Increasingly Looking Like It Will be a Slow Recovery
July 10, 2020 / NYC Neighborhoods / NYC CoVid 19 Special Section / News Analysis & Opinion / Gotham Buzz NYC.
Weather. The temperature highs will be in the high 70's Friday, rising to about 90 degrees on both Saturday and Sunday. There's a 100% chance of inches of rain throughout the day Friday, with some rain – about an inch - in the late morning / early afternoon on Saturday, and then clear on Sunday. Humidity will be in the 90% plus range on Friday, dropping to 80% on Saturday and down to 65% on Sunday. There will be wind gusts of up to 20 – 26 mph on Friday, settling down to 5 – 10 mph on Saturday and Sunday.
We began to return to some measure of normalcy this week as NYC moved into Phase III of the reopening. Restaurants sprung back to life with sidewalk and curbside seating which seemed to fill up pretty well in the first week of opening. Rain will dampen that enthusiasm today and through mid afternoon tomorrow, but I expect seatings to resume later in the day Saturday.
Things to do in NYC This Weekend
The Mayor also announced the opening of 22 European piazza style dining streets in all five boroughs [scroll down to July 2nd post for a listing of them]. Some of these NYC 'piazzas' opened last weekend. I visited the one on Restaurant Row in Manhattan and it looked to be a success – see photo.
While things haven't returned to normal, and likely won't for some time, they are becoming more normal from week to week. And there's more to do these days, than there has been for a long while, for those who want to get out and about.
New openings this past week include:
Crime & Punishment and Racism & Reparations
But First a Video of the Fireworks & From the Streets on July 4th
July 7, 2020 / NYC Neighborhoods / News Analysis & Opinion / Gotham Buzz NYC.
Here's a video of the Fireworks, which includes some street activity and commentary & music. Click the box in the lower right corner to max it up to the full screen for best view. Hit the escape key (esc) to exit the full screen view.
More coming about the evening later this week. Enjoy.
July 4th Weekend NYC: The New Normal is About Adjustment & Simplicity
The NYC Budget, NYC Events, the Economy & CoVid Update
July 2, 2020 / NYC Neighborhoods / NYC CoVid 19 Special Section / News Analysis & Opinion / Gotham Buzz NYC.
George Floyd Protests, the NYPD and other NYC Budget Cuts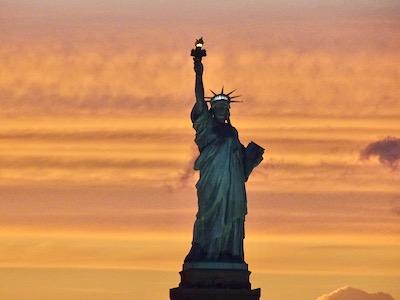 The George Floyd protests seem to have abated, over a month after his death.  The new NYC budget does cut about a billion from the NYPD budget by reducing the staff from 36,000 to 34,000 employees, cancelling the most current class of new cadets, and reallocating school security to the Department of Education and homeless engagement to social services units. About 5,000 people work in the school security program and that will be transferred over a period of time to make sure it works properly.  Another$160 million was allocated to summer youth programs [$115 million], as well as to address food insecurity [$33 million] and housing [$8 million]. 
The overnight Staten Island Ferry service was also cut for the time being.  That affects about 4,250 riders per night based on 2019 statistics.  Other cuts included in the NYC budget include an $800 million cut for schools, a 5% - 7% cut to all departments, some labor savings [$1 billion].  The labor savings could result in NYC layoffs in the Fall if other solutions aren't found. The cuts were due to a mix of actual and expected NYC revenue shortfall of about $8 – $9 billion. City Councilmember Helen Rosenthal of the Upper West Side tells us that about $4 billion of the shortfall will be made up by the Mayor's rainy day fund, which de Blasio had prudently set aside to address unexpected events.
The Mayor also announced that NYC public schools would be reopening in the Fall.  He said he was working with the unions to implement safe plans which would include social distancing measures which would possibly take larger classes online, stagger schedules to fill the school with fewer students at any given time, implement cleaning efforts and staggered lunchtimes.  The Governor noted that ultimately it's his call on school reopenings.  Nonetheless, the Mayor said that NYC was working to submit a plan by late July / early August.
NYC Moving to Phase III Monday but Indoor Dining on Hold
Because of the upturn in CoVid infections in other states as noted below, the Governor and Mayor have put indoor dining in NYC on hold.  Nonetheless, the rest of Phase III will continue as planned on Monday, July 6th. Phase III also includes the opening of personal care businesses such as tanning, waxing & nail salons and spas.
Piazza Style Dining to come to 22 Streets in all Five Boroughs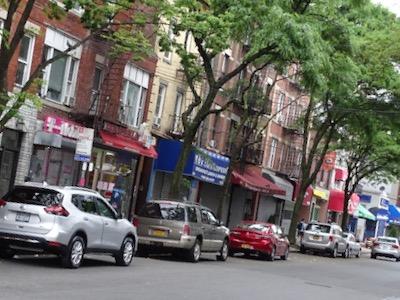 The Mayor announced efforts to mitigate the impact of the delay of the opening of restaurants indoor areas by further opening the streets to restaurateurs over the weekends beginning Friday evenings -  in what was described as piazza style dining.  Expanded dining areas are planned for 22 streets around all five boroughs in the city including Restaurant Row in the Hell's Kitchen neighborhood of Manhattan, Mulberry Street in the Little Italy neighborhood of Manhattan, and streets in Chinatown at Doyers Street, the East Village at Broome and Orchard Street, Harlem at 101st Street and Lexington, Gansevoort & 13th in the West Village, Broadway and 25th in the Flatiron District.
In the outer boroughs there's Arthur Avenue in the Little Italy / Belmont neighborhood of Bronx [7/10], New Dorp at Hylan Blvd in the New Dorp neighborhood of Staten Island, Bell Blvd in the Bayside neighborhood of Queens, and in Brooklyn a number of streets in DUMBO between the Brooklyn and Manhattan Bridge near the water in Brooklyn, 5th Avenue in the Park Slope neighborhood of Brooklyn, at Reed Street and Van Brunt near the Fairway in the Red Hook neighborhood of Brooklyn. And speaking of Fairway – they're planning to close three stores as a result of the pandemic including the one in Red Hook, another in Harlem and one on Long Island.
In Phase II NYC had started to clear the way for restaurants to occupy the curbside parking spaces in front of their dining / drinking establishments to allow the serving patrons outdoors.  This appears to have worked well, with – thus far – no attendant substantive increase in CoVid cases.  This is even though many to most of the folks I see dining and drinking outside aren't wearing masks.  This is understandable as it's hard to eat and drink with a mask on, as I tried it a week ago and didn't like it.
But for the people who are most susceptible to severe illness - and even death - due to CoVid, they are advised to continue to exercise caution, even in the outdoor dining and drinking setting, as the consequences for them are too severe to take the risk.
July 4th Week - NYC Events & Happenings
City Restaurants Turned Inside Out, NYC NYPD Protests Continue, Broadway Cancels Fall Season, Major League Sports Update, Elections Results Still Unknown with Lessons for the Fall & July 4th Fireworks Begin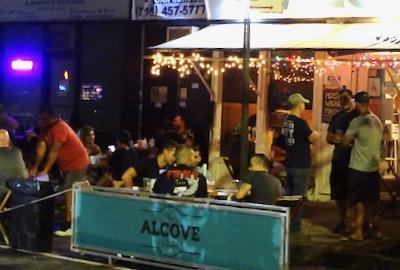 June 29, 2020 / NYC Neighborhoods / NYC CoVid 19 Special Section / News Analysis & Opinion / Gotham Buzz NYC.
NYC entered Phase II of its economic reopening a week ago.  As part of that phase, restaurants were allowed to serve customers on the sidewalks in front of their establishments.  Over the past week or so, more and more people have returned to enjoying a restaurant meal in a social milieu.  Now when I'm returning home around or after dinner time I feel as if I'm walking right through the center of several restaurants.
Restaurants Turned Inside Out
It's kind of interesting, because I get to see the entire clientele without having to enter the restaurant and I can also see what the food looks like. I reckon the downside is that while it seems generally the customers have masks which I see lying on the tables, they take them off or pull them down while there. This makes sense as eating and drinking with the mask on is not feasible. The downside is that while I used to walk around the neighborhood without wearing the mask [it's ok out of doors when distancing six feet ], I've started wearing my mask out of doors while I'm walking through these restaurant seating areas ... just to be safe. The photo above was taken in Sunnyside Queens this week.
Phase III is expected to begin next week, and on Wednesday the Governor and Mayor will announce whether or not restaurants will be allowed to serve customers inside. There's reluctance to do so, as it is believed that the in house social interactions are one of the leading contributors to others states now seeing a surge in CoVid cases.
Week & Weekend Update of Events in NYC
Planned Openings & Fireworks, Phase II & III Economic Reopening, Life in the City & Primary Election Results Remain Open Due to Large Mail in Vote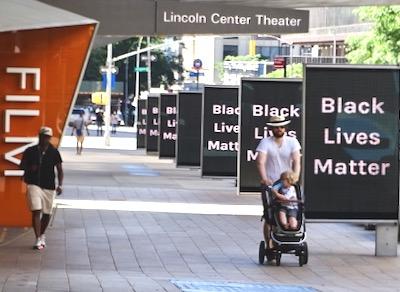 June 26, 2020 / NYC Neighborhoods / NYC CoVid 19 Special Section / News Analysis & Opinion / Gotham Buzz NYC.
On Monday NYC entered Phase II of the economic reopening, which among other things included curbside restaurant service, limited office openings and limited capacity retail.  That put a lot of people back to work and seemed to give the city more of a normal feel.  The Mayor quipped that it was the first time in a while that he got caught in a traffic jam.
NYC Plans Move to Phase III on 7/6/20
Assuming New Yorkers maintain their CoVid protocol vigilance, we'll be moving to Phase III on Monday, July 6th.  This includes the reopening of Personal Care services such as nail salons, gyms, as well as limited capacity in restaurant dining.
A Word of Caution - CoVid Resurgences in Reopened States
But it's worth making a note of caution, as other states – such as Texas, Florida, California and Arizona which beat us to the punch in reopening their economies – have sparked a huge resurgence of new CoVid infections.  Texas, Florida and Arizona have put their economic re-openings on hold. Florida beat its previous high rate of CoVid infections on Thursday, nearly reaching 9,000 new infections in a single day. And an increasing share [about half] of these infections have been found in people between the ages of 25 – 45.
NYS Primary Elections Today
The Presidential and Congressional Primaries are Today
June 23, 2020 / NYC Neighborhoods / News Analysis & Opinion / Gotham Buzz NYC.
The long delayed NYS primary election is today. On the ballot is the presidential primary featuring Joe Biden and I believe others - but the others have suspended their campaigns and Joe Biden has already won enough electoral votes to secure the nomination. So in the presidential primary you can strengthen Biden's hand by casting your vote for him, or strenghten someone else's hand in influencing the Democratic platform that Joe will run on.
There are also a number of congressional races which I'll have more on by or before 12 noon today. See Manhattan Buzz, Queens Buzz, Bronx Buzz, Staten Buzz and Brooklyn BLVD for details.
Click the link for the poll finder website, so you can easily find where to vote in your neighborhood. Remember this is the land of the free and the home of the brave and many of our ancestors died for our right to vote. So try to be brave, but also be careful.
The New York City election is Tuesday June 23rd and polls are open from 6 am - 9 pm.
NYC Life: Juneteenth, Summer Begins, Fathers Day, NYC Phase II, Atlanta Shooting & Election
The NYC Boroughs Showing Increasing Signs of Economic Life, but …
June 19, 2020 / NYC Neighborhoods / News Analysis & Opinion / Gotham Buzz NYC.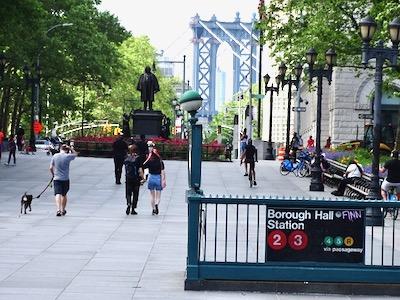 The Mayor announced we're moving to Phase II of the economic reopening beginning Monday. According to a missive by Councilmember Van Bramer, Phase II means that restaurants can resume serving people on sidewalks, at curbside, in opens streets and plazas and in backyard seating – but they need permits which may be obtained at nyc.gov and he notes that restaurateurs do not need to apply separately for the liquor permit.
Retailers can now serve people in their shops by limiting capacity, while following mask, [barrier?] and cleaning protocols.  The same is true for hair salons and barber shops. And realtors and auto dealers can resume working with clients, as can commercial building operations and offices on a case by case basis.
The photo at right was taken near Borough Hall in Brooklyn earlier this month.
On June 19, 1865 the Last Texas Slaves Were Freed
Juneteenth Celebrates the End of Slavery in the U.S.
Juneteenth is the date when the Union Army arrived in Galveston, Texas and informed all of the slaves there, that they were free.  Abraham Lincoln had issued the Emancipation Proclamation in January 1, 1863 – but rumor has it that word didn't reach Texas slaves until two and a half years later.
On Wednesday, June 17th, Governor Cuomo signed an Executive Order making today a holiday for NYS employees.  There are also a number of marches and rallies to celebrate Juneteenth in all five boroughs, most beginning between 12 noon and 4 pm, which you can find by doing a search for 'juneteenth nyc'.
Where We At?
These Certainly are Crazy Times & this is a Brief Update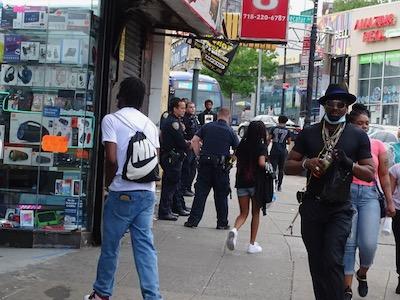 June 15, 2020 / NYC Neighborhoods / NYC CoVid 19 Special Section / News Analysis & Opinion / Gotham Buzz NYC.
In mid March we slammed up against a CoVid pandemic and NYS Paused in order to thwart the rapid spread of the sometimes deadly disease.  Then, after we appeared to slow the virus spread, and we were slowly re-opening economic activity - a new crisis of conscience and societal awakening - was layered atop the pandemic. 
The social outrage, at what appears to be the murder of a man at the hands of a Minneapolis policeman, sparked protests across the nation and around New York City at what appears to be unnecessary municipal police violence and brutality targeting racial minorities, acted upon by a few members of the police forces around the nation.
We have covered both of these stories in prior reports and what follows is a bit of a catch up of the past couple of weeks and look forward into the next couple of weeks.
CoVid Science Update
A number of reports have provided updates into the nature of the Corona Virus.  These include what impact wearing the masks has, how the disease spreads via air and via surfaces, and the contagiousness of asymptomatic CoVid carriers on the general population.  I think it's important to remind folks that we're not even a year into the spread of the sometimes deadly disease, so look at all of what follows as still being somewhat preliminary.
CoVid Science Update – Wearing Masks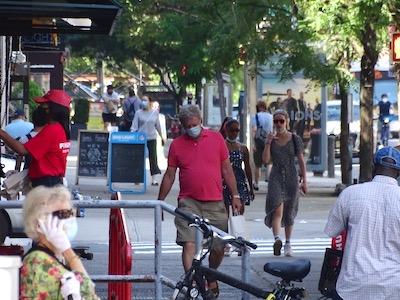 The wearing of the masks does appear to help, but it is most helpful in containing the spread by limiting the airborne virus by infected carriers.  Defensively it also appears to help, but substantially less so, if you're in close quarters with an infected person.  According to a May 17, 2020 report in the South China Morning Post a study using hampsters,
"… found the rate of non-contact transmission – in which the virus was transmitted via respiratory droplets or airborne particles – dropped by as much as 75 per cent when masks were present."
The study was done in a room, which is important to note because out of doors, this same study has not been replicated.  So wearing masks appears generally good.  But it's important to point out that the reason it's good goes back to the original WHO [World Health Organization] and CDC [Center for Disease Control] guidance, which is that it is most effective in containing the spread by an infected carrier.  Wearing masks has been found to be less effective in preventing the spread if the carrier is not wearing a mask even if the potentially infected is.
George Floyd Protest Cinematography, Music & Narrative
June 12, 2020 / NYC Neighborhoods / NYC Social Issues & Crime / News Analysis & Opinion / Gotham Buzz NYC.
The video below is an interpretive depiction of a protest event in McCarren Park early last week. The piece is  meant to be savored - like food, music and cinematography.
George Floyd & Pink Floyd
Trying to Make Sense in a Senseless World
May 28, 2020 / NYC Neighborhoods / CoVid in NYC Special Section / News Analysis & Opinion / Gotham Buzz NYC.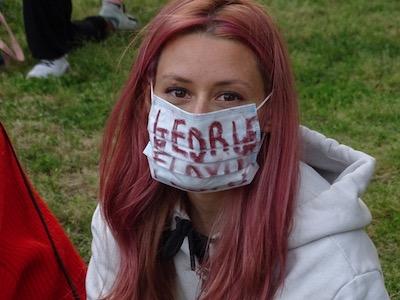 I watched the George Floyd protests unfold on the nightly TV newscasts for a couple of days before venturing out myself to see what I might learn. The protests began on Friday, May 29th in NYC, following the death of George Floyd, an African American who was asphyxiated, apparently due to a Minneapolis policeman holding a knee over George Floyd's neck for nearly nine minutes which was caught on video.
TV News Appears to Sensationalize More than Inform 
On Saturday night Fox News ran and reran the same footage multiple times of a car burning, seeming to hype and sensationalize the footage into a full blown 'riot'. The a lot of the Fox footage was taken from the air, in a helicopter which they lease (reportedly) for millions annually, which again repeatedly showed video of the crowd below, which appeared to be mostly our men in blue. So given little good video, they talked about groups dallying into the police and back again – but really didn't seem to have any video to support their claims. The next day Mayor de Blasio reported that there were no deaths and no serious injuries to members of the NYPD or the crowd. But there was some looting.
An NBC news account made the situation seem far more chaotic than it was by shaking the camera, providing the appearance of chaos. And so on.
More Photos & Video Coming Wednesday
Covering the George Floyd Protests in NYC from the Ground - Not from a Cushy Corporate Media Chopper   
The 'crisis' seemed to be more manufactured by the TV news, than by what was actually happening on the streets, which is why I decided I needed to cover this myself. Second hand TV news seems increasingly like garbage news, but before I could make such a claim, I had to see for myself.
Having grown up in a newspaper family, I've been watching the news and presentation of it all of my life, beginning with the Kennedy assassination, which my father made all of us watch as he said it was history in the making. Back then the news was owned by dozens, if not hundreds of independent newspapermen and broadcasters, so like social media, there was a variety of news presentations and you could pick from them.
Today large multi-billion dollar corporations control most of the news we see, and it seems their focus is largely centered around profit driven ratings instead of a fair and balanced presentation of the news. This is why they seem to hype, sensationalize and distort Americans' perceived reality in order to keep them glued to the tube. And the hyping and sensationalizing is not getting better – it's getting worse.
No longer can you turn on the TV to be informed, but rather to be scared, angered and far too often – to become disinformed.
Unemployment Rises to 40 Million, Trump Fires FIVE Inspectors General Overseeing his Handling of the Largest Stimulus Bill in History & Life on the Ground in NYC
May 28, 2020 / NYC Neighborhoods / CoVid in NYC Special Section / News Analysis & Opinion / Gotham Buzz NYC.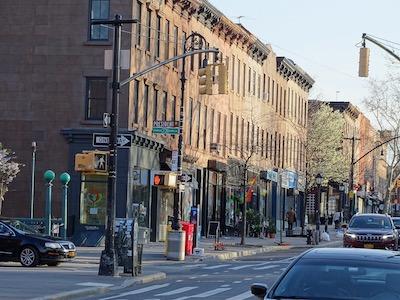 If things appear to be chaotic these days, that's because they are.
America First - #1 in CoVid & Record Breaking Unemployment
Since the CoVid Pandemic began, new unemployment claims have risen by 40 million in the nation.  That's out of an estimated American workforce of 158 million – meaning that 25% of Americans have lost their jobs since the pandemic began. 
The April unemployment was reported at nearly 15%, while the May unemployment report is expected to rise to in the neighborhood of 20% - 23%.  And according to the Federal Reserve, the  June numbers could come in a bit worse than May.  As a point of reference, during the worst days of the Depression, unemployment came in just under 25% before the American people fired Herbert Hoover.
Trump's Litany of Distractions, Enabled by Network TV Boobcasts
But the Donald isn't talking about the pain Americans are suffering from the pandemic, where over 1.7 million have been infected and over 100,000 have died.  Nor is he talking about the pain and anxiety that is being felt by the 40 million Americans who have lost their jobs.
Nor is he willing to talk about the firings of five Inspector Generals who had been charged with overseeing the integrity of the largest stimulus package in American history – funded by America's babies and unborn children.  It's like taking candy from a baby, only this time it's money – and lots of it. 
The five Inspector Generals include one from  Health & Human Services, Department of Defense, State Department, Intelligence Community and the Department of Transportation.  Australian billionaire Rupert Murdoch's Goebbels-like  propaganda machine - including his Fox News, Wall St Journal and NY Post appeared to support the firings. I wonder what Rupert's share of the predatory propaganda plunder is?         
So what is the Donald talking about, repeated nightly on the TV News broadcasts, who I've come to view as the great enablers, and now think of as the nightly news boobcasts ?  Anything else. 
This week the list of TV News amplified Trump outrages included: 1) Twitter exercising its freedom of speech by putting suggestions that Trump Twitter followers get off their lazy bums to click into fair and balanced information checks of the Donald's disinformational tweets.  2) Prior to that Trump attacked the Governor of North Carolinafor following the CDC guidelines vis a vis reopening the economy.  The reason?  The Donald appears to want a jam packed media extravaganza at the Republican National Convention that was scheduled to be held in Charlotte, North Carolina in August.  3) Another of the shock jock president's distractions was his insinuation  that mail ballots are fraudulent – WHICH MIGHT COME TRUE IN November as Trump is replacing the outgoing Postmaster General with a Trump donor / businessman from North Carolina.    4) And the most incredulous of the distractions was Trump's allegations having to do with MSNBC commentator Joe Scarborough and a decade(s) old death of someone who worked for him.
CoVid Vaccine Update, Gauging Timeline for Return to the New Normal,   Economic Snapshot  & ...  
May 25, 2020 / NYC Neighborhoods / CoVid in NYC Special Section / News Analysis & Opinion / Gotham Buzz NYC.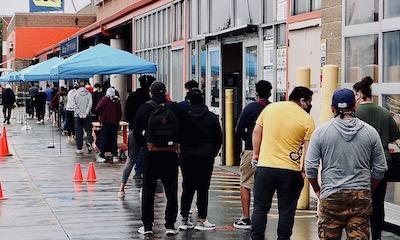 Memorial Day was a beautiful sunny day, with temperatures into the 70's, and dry. Given the month of May is nearly over, I thought I'd do a recap of what has transpired during the month to gauge how far we've come and how far we have to go to return to the new normal.
Let's start with a quick update on the CoVid virus itself. As we entered the month of May, new CoVid hospitalizations were running about 800 per day. As of Governor Cuomo's last few reports, the number of new hospitalizations is running at between 200 – 300 per day. The net daily intubations have been running negative [meaning more people coming off than going on] for most of the last couple of months ranging from close to zero [meaning folks coming off intubations were about equal to those going on] to nearly 150 more coming off than going on.
As we exited April, NYC and NYS were closing the popup hospitals located primarily around the city, as the existing facilities were moving into a position where they were able to handle the sick patients entering the healthcare system. Overall both NYC and NYS have freed up a considerable amount of hospital and respirator capacity, so that most parts of the state will be economically open in the Phase I stage by this coming week – with the exception being NYC. NYC has met six of the seven metrics required to enter Phase I of the reopening of the economy.  The seventh metric is to free up enough hospital capacity [30% available capacity is the target] in order to reopen safely, according to the guidelines outlined by NYS Governor Cuomo.       
It's important to remind folks that NYC, with a population of about 8.5 million, represents nearly half of the approximately 19.5 million population of NYS – and that we're far more densely packed into a far smaller space than likely anywhere else in the nation. I mention this to help folks understand that we, in NYC, have the highest hurdle to transcend to move toward the new normal. But that said both the Mayor and the Governor believe that if the trends continue, NYC should be in a position to move into Phase I sometime within the first two weeks of June.
Phase I allows for construction, manufacturing and curbside retail to resume.
In prior reports we've identified the people most at risk of dying from the disease should they contract it. These folks still need to tread cautiously, as well as the folks who surround them, as no cure is in sight – regardless of what you may hear on the ratings-driven TV news or from a flailing president who oftentimes seems more concerned about the impact of the virus on his re-election chances, than on Americans' health.
Scientists and pharmaceutical organizations around the world on working on numerous different therapies which may help speed recoveries. There are eight new vaccines that are in some stage of clinical trials, and a reported 110 vaccines in the works. The eight in clinical trials are only in the early stages of clinical trials, which are used to determine the efficacy and safety profile of a drug.
Governor Cuomo to End NY Pause on 5/15 but ...
NYS Regions Must Meet Guidelines to Re-Open & While Some NYS Regions Qualify - We in NYC are Not Yet There
May 11, 2020 / NYC Neighborhoods / NYC CoVid 19 Special Section / Gotham Buzz NYC.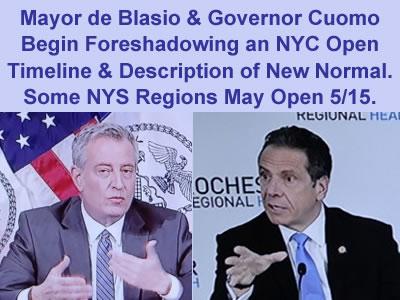 As of May 15th the NY Pause program put in place by Governor Cuomo in mid March will come to an end. NY Pause was essentially a state-wide lockdown of residents and businesses deemed 'non-essential'. We'll have been in lockdown for two months.
NYS Regions Must Meet the Following Guidelines Prior to Re-Opening
But once the statewide lockdown ends on Friday, regional / municipal lockdowns will continue until such time as each region meets seven guidelines outlined by the Governor. The seven metrics that a region must meet are a two week decline in: 1) total hospitalizations, 2) new hospitalizations, 3) hospitalized deaths, and must have a 30% available share of 4) hospitalized beds and 5) Intensive Care Unit beds, and must have testing capacity / implementation of 6) 30 people per thousand monthly, and 7) 30 contact tracers per thousand in alignment with being able to follow up on potentially infected people.
CoVid Back to Work NYC – Part III
Mayor & Governor Attempt a Balancing Act Worthy of the Flying Wallendas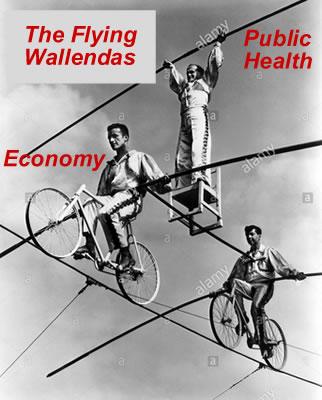 May 3, 2020 / NYC Neighborhoods / NYC CoVid 19 Special Section / News Analysis & Opinion / Gotham Buzz NYC.
Well, at least we had a pleasant weather weekend. People were out and about again in greater droves than they have been in about a month and a half. It was just nice to stretch one's legs, soak in a bit of sunshine and see people again … albeit at a social distance.
Looking ahead the Mayor and Governor are in a tight spot, as people's economic needs begin to weigh heavily upon them, given a second month of rent and other payments have come due. Thus these two intrepid leaders need to work out a path to economic recovery, while not letting up on keeping the evil CoVid virus in check. My intent here is to add my two cents in hopes of stimulating dialogue and actions in that direction.
Putting Things In Perspective
Let's start with what has happened this past week. NYS CoVid Hospitalizations had skyrocketed to about 19,000 the week of April 13th, 2020. By this past weekend they had fallen to about 10,000 – nearly half of the peak.
At the time the Governor and Mayor, with federal government assistance, had put in place plans to accommodate the skyrocketing infected numbers, which as of April 13th had hit 195,000 people in New York State and about 107,000 in New York City. Today the cumulative totals for New York State are 318,000 and for New York City 177,000.
Brief History Of How Covid 19 Started In NYC & NYS
The first person identified with the CoVid virus, was a Manhattan healthcare worker who had picked it up overseas. She tested positive or it became publicly known on March 1st, 2020. A week and a half later, on March 10, 2020, Governor Cuomo set up a containment area in New Rochelle where there was a significant outbreak. The Governor's NY Pause – essentially shutting down non-essential business – began evolving shortly thereafter.
Many NYC Farmers Markets are Open
Farmers Markets are Essential Businesses, Provide Fresh Food & a Nice Outing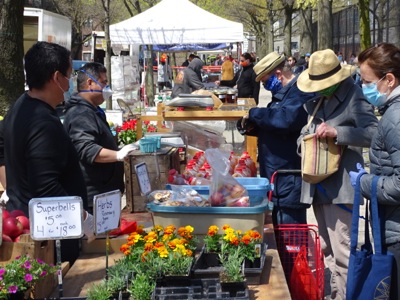 May 1, 2020 / NYC Shopping / NYC Neighborhoods / Gotham Buzz NYC.
Last weekend, on Saturday, I ventured out to enjoy the beautiful weather. I was not alone, as for the first time in a month and a half there were a number of people moving about the neighborhood.
I headed down to the farmers market to see what that looked like under the new normal. The food looked fresh, and there was plenty of it - although this was in mid morning.
The experience wasn't much different than what you'd expect. People wore face masks and there were lines created by social distancing. I was glad to see that farmers markets are essential businesses, as it augments a strained food supply chain, and provides folks with an opportunity to get out of the house in about as safe an environment as you can get. Here's a link to the dates, times, locations and selection of the 2020 Queens farmers markets, Staten Island Farmers Markets, Brooklyn Farmers Markets, Manhattan Farmers Markets and Bronx Farmers Markets.
I can't say people were smiling, not just because their faces were covered by masks, but there's been a gradual mood deterioration as we pass the second rent due date of the CoVid pandemic. Many people aren't standing in the farmers market social distancing line, but rather standing in food pantry lines. And for many, their economic fates are up for grabs, as we collectively try to navigate our way back to work. Many believe that economic activity is likely to be dampened by the CoVid pandemic for some time to come.
On the bright side, the Governor and the Mayor announced plans to begin daily sanitization of the MTA subway system beginning Wednesday, May 6th. The plan is to close the terminal stations of the subway lines from 1 am to 5 am, daily - providing shuttle buses to and from the last stop for passengers. And then, in those four wee hours of the morning, the NYPD and NYC social services will swoop into clear out the homeless population that has started making the subway their new home. It seems a good and humane plan.
Sanitizing the subway lines should go a long way toward preparing us to get back to the new normal by helping to dampen - if not eradicate - the transmission of the CoVid virus. This collaborative effort by both the Mayor and the Governor will help all of us to get back to work and play. So things are moving in the right direction, albeit not at a viral pace.
Have a nice weekend. The weather is going to be in the 70's during the day and 50's at night. And no rain, but some clouds.
Through Wind, Snow, Rain, Sleet & CoVid - Education Goes On
Or … the Wild and Whacky World of Online Learning in the Age of CoVid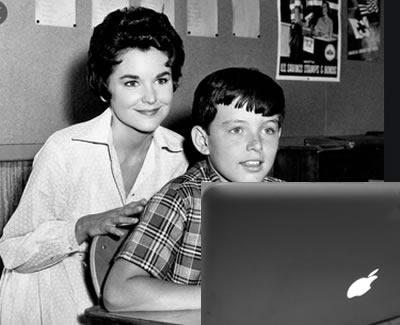 April 27, 2020 / Corona Virus in NYC & NYS CoVid 19 / NYC Neighborhoods / News Analysis & Opinion / Gotham Buzz NYC.
As we anxiously await the return to the new normal, being bombarded by repetitious daily TV newscasts, the Donald's Daily Disinformation Show, and what seems Rupert Murdoch's unending propaganda in the Wall Street Journal and on Fox News, there are a few bright spots, but you have to look for them.
I thought the migration from school classrooms might be one of them, so I set out to find out what that experience felt like to both educators and students at the elementary, high school and college levels. As I interviewed only two students and two teachers, this is an anecdotal report about the migration from classroom to computer.
The mass migration began the week beginning March 9th, 2020. College students around the nation, including the CUNY and SUNY systems, were told their classes were being discontinued and they were instructed to pack their things and return home. By the start of the next week, beginning March 16th, NYC public elementary and high schools were also closed. Private schools more or less closed their doors in tandem with the public schools.
During that week of disbandment, the world of education began a mad scramble to figure out how to continue the education process – without classrooms, schools and interpersonal contact. This was not a mean feat.
Nonetheless, educators scrambled, ramped up to speed using interactive platforms like Zoom and Google Hang Out, which includes Google Meet & Chat, and Google Docs. The educators also started figuring out how replace lectures and moderated classroom discussions by using videos and presentations / documents.
Based on the four interviews I conducted, it seems there wasn't any one formula used, but rather a whole slew of different approaches. Teachers used more different approaches to online learning – depending not just on the subject matter - but also on the audience aka the class.
College Professor's Experience Migrating Online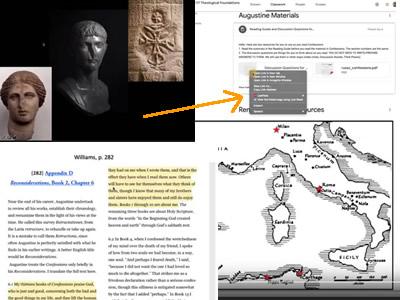 Thomas Bolin is a religious studies professor at a small liberal arts college. He teaches three classes – one is about American Evangelicalism, which examines the changing face of religion in America. He teaches two classes of Ancient Wisdom, which examines Biblical, Roman and Egyptian philosophies. This course ends with each student creating their own personal philosophy.
Professor Bolin said he started by taking a technology inventory of his students including computer and internet access. The real technological issue wasn't access to devices as nearly everyone has a smart phone and computer but rather access to internet with enough bandwidth at the times needed.
After he'd completed the technology inventory, he set out devising a teaching game plan. To that end he began developing videos, which he posted so that the students could access asynchronously – meaning on their timeframe. His reasoning was that as some of his students lived in different time zones, and some had issues accessing high speed internet at home because of shared bandwidth and devices, this would enable all to keep pace with their classroom peers.
He said he receives a slew of student emails after each video post, which he answers personally. He said he also checks in with each of his students at least once per week.
Professor Bolin also said that he began creating reading guides for many of the assigned readings to initiate interaction, circular discussions and he paired student to interact.
I asked him if he was working more or less these days. He said more … that the five day week had become a continuous stream of seven day weeks … that work filling his days has become like gas filling a room.
He noted that it's far more difficult to tell how plugged in each student is to the subject matter. He said that it was likely for that reason that Princeton went to Pass / Fail when they initiated the migration from in class to online. He opined that in spite of the additional work he's had to do, the students were likely getting a reduced educational experience. And hence, he reasoned, the pass / fail is a means of acknowledging the reduced expectations.
I'm paraphrasing but he said something like, "Education is learning about and through community, interpersonal interactions, which ultimately lead to growth. That's not something that can be well replicated online."
CoVid Crisis – Back to Work Part II
Jury Rigging / Do It Yourself Methods to Get Back to Work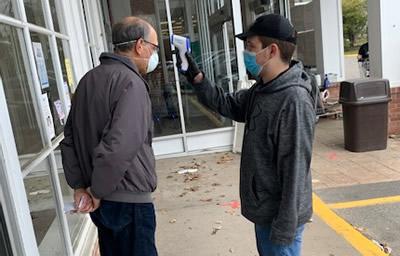 April 24, 2020 / Corona Virus in NYC & NYS CoVid 19 / NYC Neighborhoods / News Analysis & Opinion / Gotham Buzz NYC.
NY Pause Continues Through May 15th Pending an Update
First a couple of announcements were made the past couple of weeks which hint at when we will begin returning to the new normal. With hospitalizations declining / stabilizing and intubations and new positives declining, Governor Cuomo extended NY Pause to May 15th, which keeps open essential businesses, but closes the non-essential businesses until such time as there's enough slack in the healthcare system / hospitals to accommodate any sort of resurgence in Corona Virus patients that may occur as a result of the re-opening.
Governor Cuomo told the Donald NYC and NYS wouldn't need the USNS Comfort any longer, as the emergency crisis has subsided. As noted in an earlier report, the build out at the Brooklyn Cruise Terminal was put on hold, pending a more definitive direction in the CoVid hospitalization numbers. The photo above shows a retailer temperature screening customers before they enter the store [photo credit Dantanyan].
Large Public NYC Events Cancelled thru May
Biggest Events in June Aren't Likely to Occur & NYC Public Pools will Likely Remain Closed Through the Summer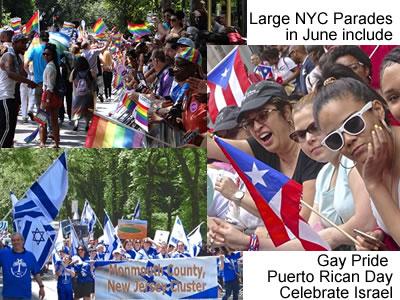 As mentioned previously, Mayor de Blasio seemed to think that the NYC public school system will remain closed through the end of this school year. The Mayor also said that large public gatherings won't resume until at least June 1st, and even after, that the three largest public events in NYC in June [the Israel Parade, the Puerto Rican Parade and the Gay Pride Parade in both Manhattan and Queens] aren't likely to take place this year - but no final decision has yet been made. Other large public events including street fairs and other parades will not take place through May and there will be an update before then about what happens beginning in June.
The Mayor also said that NYC public pools will likely not open this summer because of the challenges of keeping people socially distanced / safe from the spread of the Corona Virus. Also, the Plastic Bag ban enforcement was pushed back to May 15th some time ago. As of this report, that enforcement date still stands, but like so much related to the CoVid 19 crisis, the date could be extended further. And the special election for Queens Borough President was cancelled and will be held in tandem with the NYS primary and general election. Lastly, the Macy's 4th of July Fireworks are still planned, but like everything this Spring, is still subject to change.
Back to Work Part I: Understanding the CoVid 19 Enemy
Review SARS-CoV-2 Characteristics – Function & Contagion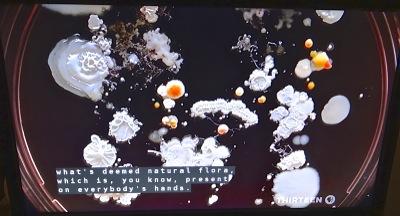 April 17, 2020 / / Corona Virus in NYC & NYS CoVid 19 / NYC Neighborhoods / News Analysis & Opinion / Gotham Buzz NYC.
As noted in my last report, we've moved from emergency management to crisis management. That is simultaneously the good news and the bad news. I expect the crisis in one form or another will be with us for some time to come. But forecasting what the future looks like is at best a precarious endeavor.
Everyone is now trying to figure out a way back to the new normal, which means living with a incurable virus in our midst, until such time as therapies, cures or vaccines are found and proven to be successful.
So what does the path forward look like?
The image at right was created by Brooklyn artist Craig Ward of bacteria he collected on the subway and made into artistic renditions.
Governor Cuomo Begins Sketching a Back to Work Plan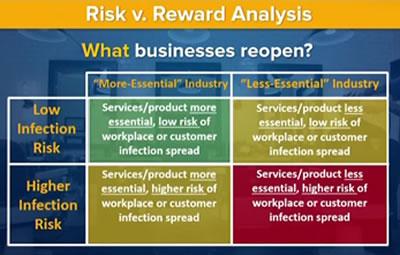 For starters Governor Cuomo extended NY Pause through May 15th. NY Pause is the directive to close social gathering places and venues, schools and non-essential businesses. Within the past week Mayor de Blasio said the NYC Public School system would not reopen this school year.
Governor Cuomo laid out a sketch of a conceptual plan, which likely came from one of the consultant groups, as it looked a lot like the growth share matrix devised by Boston Consulting Group. The growth share matrix was designed for companies to use to evaluate the businesses they are in, to determine whether to continue investing in them or to begin cashing out of them. The divisions in high growth businesses that are profitable are the ones to keep backing, while the companies in the low growth low profitability businesses are the ones to sell, close or grind out every last dollar.
Governor Cuomo's matrix axes [plural for axis] has high and low infection rates along the y axis and more essential / less essential along the x axis. The more essential and less potential infection the quicker you're back to work. The less essential and the higher the potential infection, the longer before you're back to work.
Cuomo, de Blasio & YOU have been doing Great
New Yorkers Appear to Turn Corner on the Corona Virus Crisis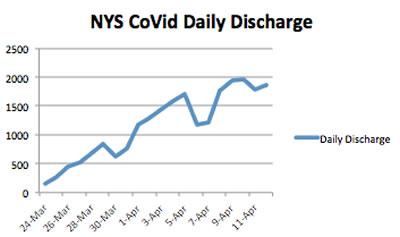 April 12, 2020 / Corona Virus in NYC & NYS CoVid 19 / NYC Neighborhoods / News Analysis & Opinion / Gotham Buzz NYC.
I hope you had a good Easter / Passover weekend.
Based on what I observed, albeit with very limited movement and anecdotally, New Yorkers appeared to stay at home, self isolating over the holiday weekend.
This sort of compliance with government guidance is what has enabled us to stem the spread of the - at times lethal - Corona Virus. And the levelling happened none too soon, as parts of the NYC hospital system were operating at full capacity - and in some cases over capacity.
Most of the metrics for the virus have been levelling off or even going down, while the only positive metric - daily discharges - continues to rise.
We appear to be transitioning from emergency management, to crisis management, and government officials are now even beginnning to look ahead at transitioning us back to what will be the new normal.
NYS & NYC New CoVid 19 Cases Level - Even Show Signs of Falling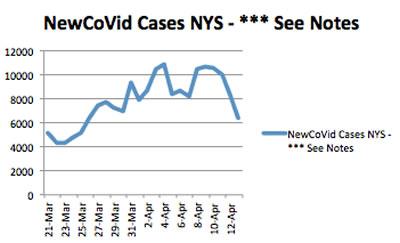 New CoVid 19 cases in NYS were down fairly sharply yesterday, based on the numbers presented by Governor Cuomo. But the drop may be due to weekend reporting discrepancies. In any case the number of new cases appears to have levelled off in both New York state and in New York City.
The key statistics that the Governor and the Mayor have been closely monitoring include new and net hospitalizations, new and net admissions to the Intensive Care Unit, and new and net intubations aka use of respirators. As you can see from the graphs, all have been falling. This data was collected from the Governor's daily press briefing, as well as from other media outlets such as the New York Times, on the days when the Governor didn't present all of the key metrics in his press briefing.
Riding the Rails During the CoVid Pandemic in NYC
Observations of a Blogger While Covering the CoVid Story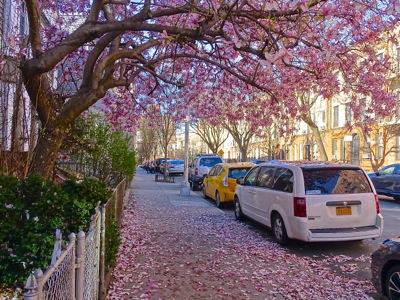 April 9, 2020 / Corona Virus in NYC & NYS CoVid 19 / NYC Neighborhoods / News Analysis & Opinion / Gotham Buzz NYC.
I've been covering the CoVid Pandemic since it began in NYC, starting in the first half of March. At first my attention was focused on the closures by the Governor and Mayor as they began shuttering social events, social interactions and ultimately the economy.
It wasn't long before I shifted my attention to the growing numbers of people testing positive for the Corona Virus in NYC and NYS. This was followed by photographing the efforts by the NYC Mayor and the NYS Governor to build out additional healthcare capacity, to accommodate the projected growth of sick people, resulting from the spreading pandemic. They had a very limited time frame to complete this build out, before the influx of new Corona Virus patients overwhelmed the existing NYC and NYS healthcare capacity.
Most recently I've turned my attention to the economic hardships currently being borne by New Yorkers, particularly in small businesses and the folks working in essential services.
I've witnessed many people thanking the folks working in essential services - including healthcare, public transit, grocery and pharmacy outlets, and first responders - and I want to add my own thanks for all of the work they do, to keep the rest of us moving.
The photo above was taken about a week ago. A little bit of natural beauty helps keep things in perspective.
Reporter Travelogue - Startling Beginning With Closures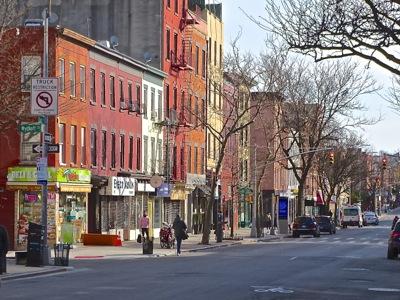 This is a travelogue about riding the MTA rails, along with essential workers, to do my part by providing independent first hand reports and context regarding what's happening here in NYC vis a vis the Corona Virus pandemic. Most of what I report is either not reported by the sensationalist, ratings-driven TV network news, or it's diminished in their reported accounts because it's contextual - not shocking.
The pandemic first hit my radar while I was covering a theater event at the LaGuardia Performing Arts Center. At that time I first heard that the Governor had started instituting surprising - and what at the time seemed draconian - measures designed to stymie the growing tide of CoVid 19 infections. In short order these actions were followed by the Mayor and it included shutting down restaurants and non-essential services.
The photo at right shows shuttered businesses along Court Avenue in Brooklyn during the NYC CoVid lockdown.
At the moment these governmental measures appear to be working, but I suspect maintaining discipline during the Passover and Easter holidays will be challenging. Afterall we have now spent over a month in communal isolation. But if people don't comply with the guidance provided by government officials, the pandemic will quickly resurge, and lengthen the time before we can all get back to the new normal. The Governor cited several examples from around the world including Italy, Hong Kong, Singapore and the Influenza pandemic of 1918 in the U.S..
NYC Hospitals Operating at Capacity, CoVid 19 Curve Flattening, BUT ...
The Next Battle is to Stay Disciplined to Avoid a Resurgence
Will New Yorkers Comply during Passover & Easter Week?
April 6, 2020 / Corona Virus in NYC & NYS CoVid 19 / NYC Neighborhoods / News Analysis & Opinion / Gotham Buzz NYC.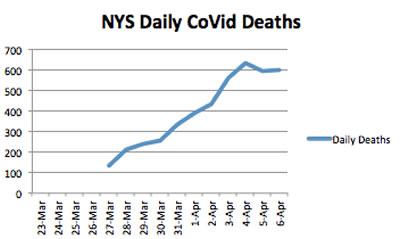 Many NYC Hospitals are reportedly operating at full capacity, and in some cases operating at capacity plus.
The good news is that the supply chain of personal protective equipment [PPE], respirators and gowns has been holding - albeit on a tight supply. And there are still anecdotal reports, generally by the alarmist TV networks, that indicate there are a few spot shortages. If true, these shortages are the result of distribution issues, rather than any out-of-stocks by the city and state.
Nonetheless, the needs for protective gear and life saving equipment remain high priorities for both the Governor and the Mayor, as the supply chain is on a tight turnaround and the CoVid pandemic continues, albeit at a slackening pace, in the city and parts of the state.
The good news, as previously reported, is that we may be approaching the apex. The social distancing appears to have thwarted the worst case scenario, and may even have contained the spread from reaching the middle case scenario.
But the danger persists.
The chart at right shows the daily CoVid deaths stabilizing. But a number of the morgues are over capacity, and some of the bodies reportedly had to be stored in refrigerated trucks, which are affectionately referred to as mobile morgues.
The Real Challenge this Week is Getting Through Passover & Easter without Breaking the NYC & NYS Healthcare System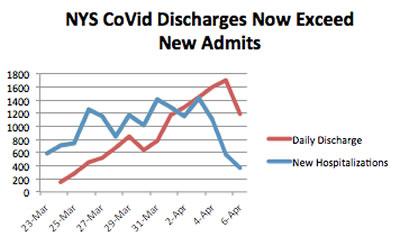 And the real test of it comes this week as both Passover and Easter come to play, when people generally come together to celebrate these traditional religious holidays.
To discourage people coming together in large numbers the Governor doubled the fine for violations of social distancing from $500 to $1000. Cuomo also extended the non-essential store closure policy for another two weeks - through the end of April.
In the Governor's daily press conference, he called upon local law enforcement to give tickets to people regardless of their religious affiliation, if they violate the call for social distancing. In doing so, Cuomo noted that not only are those who gather in such a manner putting themselves and their communities at risk, but they are also adding to the pandemic crisis, by putting first responders including FDNY, the NYPD, the MTA workers and the NYC / NYS Healthcare system workers at risk. A risk, which in many cases, ends up in death.
And given the hospital / healthcare system is operating at full capacity, if people start to break formation and begin disregarding the government social distancing guidance, they could potentially tip the balance of what seems a well managed pandemic crisis, into an all out disaster.
The chart above shows some good news, whereby the NYS daily CoVid hospitalizations are exceeded by the number of CoVid patients leaving the hospital. Remember - these numbers are driven up or down by our behavior as a whole community.
CoVid Testing Now Widespread, Growth Continues but doesn't Accelerate, Severe Cases Appear to be Levelling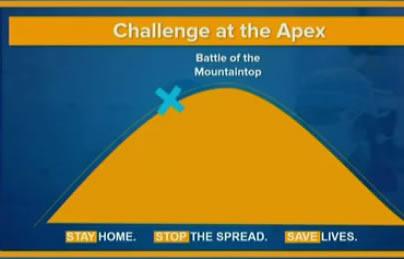 April 4, 2020 / Corona Virus in NYC & NYS CoVid 19 / NYC Neighborhoods / News Analysis & Opinion / Gotham Buzz NYC.
It's been a while since we've had much good news. At right is a graph shown by Governor Cuomo at a press conference today. Over the past week or so, Andrew Cuomo appears to be moving toward one of the more optimistic scenarios. He expects that we may POSSIBLY hit the Apex sometime next week.
Mayor de Blasio also seemed focused on the immediate needs of next week, but the Mayor has not yet adjusted his long term view of what's needed. Perhaps the Mayor hasn't yet received 'the memo'.
New Daily Discharges Exceed New Daily Hospitalizations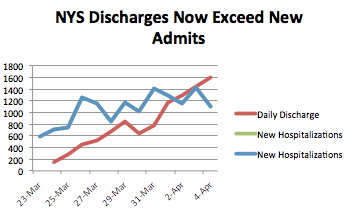 As you can see from the graph presented at right, the daily discharges at hospitals now exceeds the number of new daily admissions to the hospitals. Obviously that's a good sign, as more capacity is being freed up, as is being committed, providing breathing room for the entire system, which has been under some significant stress the past week or so.
Now be advised, the Network TV personalities are paid on the basis of their ratings performance - not keeping you properly and contextually informed - which is why you've been hearing that the sky is falling these past couple ofweeks.
To be sure, some hospitals that are under great duress. Elmhurst Hospital in Queens has been one of them, and I've heard, but haven't visited, Mount Sinai in Queens and Jacobi in the Bronx. But other hospitals aren't making the news because they're operating just fine. So bear in mind when you watch TV news you aren't necessarily getting the full picture - you're getting the ratings driven network TV news picture.
The bubbleheads on TV news seem to be paid on how well they read teleprompters, not on their intellectual or journalistic acumen.
NYC Curve Appears to be Flattening, NYS Numbers are Still Rising
Hospitalizations, ICU Patients, Intubations & Discharges
April 2, 2020 / Corona Virus in NYC & NYS CoVid 19 / NYC Neighborhoods / News Analysis & Opinion / Gotham Buzz NYC.
Well, there seems to be some good news, and Governor Cuomo has started hinting at it in his daily CoVid press conferences. A week ago, the Governor was talking about NYS hitting the apex of the curve in 21 days, which is in late April. This week the Governor started hinting that we may hit the top of the curve within the week. The Mayor, meanwhile has been saying that next week could be the start of the apex / wave.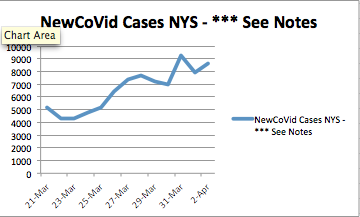 My assessment differs from both the Governor's and the Mayor's. And while it's based on information provided by the Governor, I'm drawing a different, more optimistic conclusion. Part of that may be that I haven't been able to talk to anyone from the Governor's office who knows precisely what's in / not in the numbers the Governor has been providing. And it's also worth noting that both the Governor and the Mayor don't have the luxury of planning for the optimistic scenario.
Assumptions for the Analysis in this Report - Beware the Hype & Distortions of Anecdotal Reporting
Assuming the numbers hold and New Yorkers' behavior holds, NYC may have already hit its apex of the CoVid pandemic. Note that those are big assumptions, but they're assumptions based on current numbers and behaviors.
As I am sure you can appreciate, that's good news, as some NYC hospitals had reached their capacity in terms of beds and / or Intensive Care Unit beds with / without respirators. But while maxing out the capacity at some of the eleven hospitals that are run by the NYC Health & Hospital System - like Elmhurst Hospital in Queens and possibly Jacobi Hospital in the Bronx - it is not true for the privately run hospitals that represent a significant portion of the medical infrastructure of NYC. One exception may be Mount Sinai in Astoria, Queens which today was reporting that they're handling a lot of CoVid patients.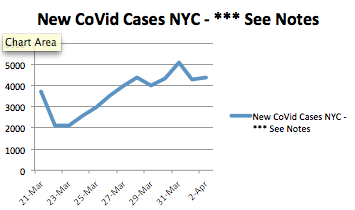 On Monday afternoon, March 30th, I spoke very unofficially to professionals from both Mount Sinai and also at Memorial Sloan Kettering - both in Manhattan - who told me at that time, that the operations at both of these hospitals were pretty much functioning somewhat normally.
So I think it's important for people to bear in mind, a shortage or over-capacity in one hospital, doesn't mean there's a shortage system-wide. The flip side of that coin is that we may have more capacity and supplies than is needed - but it might not be available in the places where it's most needed.
The CoVid Curve Appears to be Flattening
Growth in Daily Hospitalizations & ICU Patients Appears to Slow
March 31, 2020 / Corona Virus in NYC & NYS / NYC Neighborhoods / Corona Virus in NYC & NYS CoVid 19 / News Analysis & Opinion / Gotham Buzz NYC.
Please note I tried to contact the Governor's Office for comment on this and have not yet heard back from them. I know they're busy, and we're not from the MainStream Media.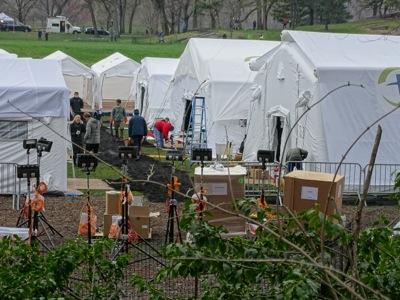 Nearly three weeks ago, Governor Cuomo issued an order for social distancing, by initially limiting social gatherings to fifty people or less. Mayor de Blasio supported the move that same day. As such most of the cultural venues in New York City suspended normal operations and events pending further notification or some future date. That was nearly three weeks ago.
That action was subsequently followed by further actions, limiting social gatherings to ten people and eventually just immediate households. On March 15, 2020 Mayor de Blasio issued an order asking bars and restaurants to close their doors except for deliveries / take out. That was more than two weeks ago.
A week ago while I was out photographing the empty, eerie NYC landscape, I noticed somewhat casually that somewhere between 10% - 25% of retail outlets were still open in Manhattan / Queens. Just a few days ago, while making another sweep through a couple of neighborhoods, the percent of those open had dropped to ghost town levels of 10% and less.
The bad news is that there's been a near stop to 'non-essential' life here and that there's an economic reckoning most folks are facing tomorrow on April 1st as bills come due.
The good news is that I've been tracking the numbers provided by Governor Cuomo and the curve does appear to already be flattening. The Governor has hinted at this by noting that the hospitalization rate had gone from doubling every 2 - 3 days at the outset a few weeks ago, to doubling every six days as of about a day ago.
But the good news goes beyond that. A couple of days ago, the Governor changed what numbers he was releasing to the public.
It's a Corona Virus Weekend NYC III
CoVid 19 Pandemic Continues to Keep Life in NYC & NYS on Hold
The Following Includes a Compendium of Closures & Expected Activity Resumption Dates [Subject to Change]
Updated March 29, 2020 from 3/27/20 / NYC Social Issues / NYC Neighborhoods / Corona Virus in NYC & NYS CoVid 19 / News Analysis & Opinion / Gotham Buzz NYC.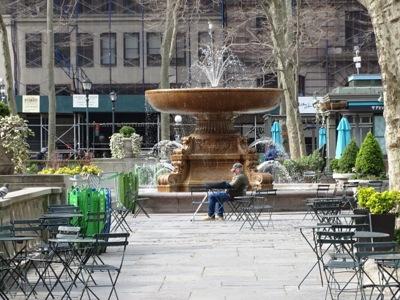 Weather. The Temperature highs will be in the high 60's Friday, dropping to 50 on Saturday and rising a bit to the mid 50's on Sunday. The temperature lows will be in the mid to high 40's all weekend. There is an 80% - 100% chance of a half inch of Rain on Saturday mid to late afternoon [3 - 5 pm] and a bit more than a half inch early Sunday morning [before 7 am]. Winds will be 5 - 10 mph all weekend. The Humidity will be rise from the mid 20% range Friday, to 60% Saturday and 80% Sunday. Click for NYC Weather.
MTA / Public Transit / Click here for the MTA Weekender.
The photo at right shows a man in Bryant Park last weekend enjoying a rare moment of solitude in the middle of a very densely populated city during the CoVid 19 shutdown.
On Thursday, March 26th, I headed toward CitiField to photograph it on what was supposed to be opening day. Major Leaugue Baseball was to begin that day with the Mets playing Washington at home, while the Yankees were to play Baltimore away.
Elmhurst Hospital is the Epicenter of Queens, which is Epicenter of NYC, which is Epicenter of NYS, which is Epicenter of the America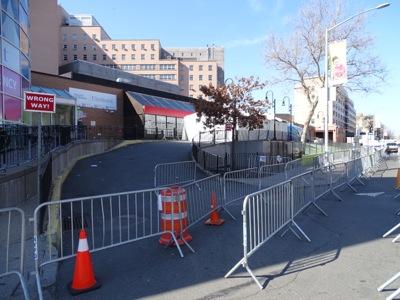 On my way I stopped to visit Elmhurst Hospital which had been labeled the CoVid epicenter of Queens that same day. Queens had become the epicenter of NYC by reporting the most cases in the city, and New York City is the epicenter of NYS, which is the epicenter of the U.S.
I visited Elmhurst Hospital just as they had closed the testing tents, which ran from 6 am - 4 pm. I spoke to one of the healthcare professionals there, inquiring as to whether they thought that there had been an overreaction to the spreading virus.
I was told that the virus was new, mutating, very contagious, and more lethal than the flu - so it should be taken seriously and managed in accordance with the general health risks it poses. Within the prior 24 hours thirteen people had died at Elmhurst Hospital.
On the subway the number of people wearing masks over their faces had grown significantly. I also noticed, for the first time, that a number of people were also wearing plastic gloves. Not long from now, everyone will be wearing Hazmat suits.
Well, at least it was easy to get a seat, and even easy to maintain the social distancing.
The photo above shows the testing tent outside of the Elmhurst Hospital in Queens on Thursday. In the prior 24 hour period 13 people reportedly died.
Small Businesses Have Closed or are Closing - Nothing's Moving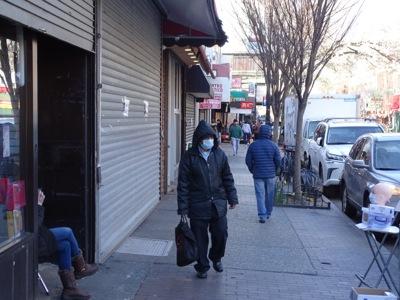 On my way home I stopped at a few small businesses I generally frequent. One had completely closed its doors for the past couple of days because business had been softening. I imagine staying open just wasn't worth the effort and expense. Another small business had shortened their hours, as business there had also softened, but there was still business moving. And at the third place I stopped, the owner told me they were going to close for a while, until things started moving again, as there just wasn't much / any business moving.
When I arrived at my own personal self quarantine station - which I used to think of as my apartment - I flipped on the tube. There in front of me were so many people, talking endlessly and saying so, so little. So I turned it off to restore a sense of calm.
What follows is a compendium of some of the major closings and announcements made over the past couple of weeks, as well as the anticipated time they plan to resume activity, but all subject to change.
The photo at right shows the business district on 82nd Street in Jackson Heights Queens during the middle of the day. As you can see, most businesses had closed.
CoVid - The Virus Everyone is Talking About
Ghost Town: One of Every 200 New Yorkers has been Tested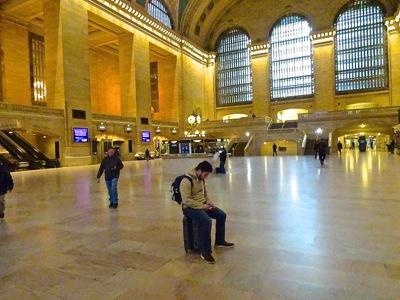 March 23, 2020 / NYC Social Issues / NYC Neighborhoods / Corona Virus in NYC & NYS CoVid 19 / News Analysis & Opinion / Gotham Buzz NYC.
Last weekend I headed into Manhattan to take a few photos of what I expected to be a ghost town. While some folks were moving about - relative to normal activity - Manhattan seemed empty. With this report are a few of the photos. I'll include more of them in the upcoming weekend update.
I've also been fairly closely following Governor Cuomo's daily press briefing. The numbers, as mentioned in my last report, that I've been keeping a close eye on are the number of infections vis a vis the number of tests completed. The reason for this is that I have not yet heard anyone explain how they can truly ascertain the transmission rate, without being able to separate out the growth in the number of people who have tested positively, from the growth in the number of people they have tested.
NYC & NYS CoVid 19 Testing Metrics vs Infected Numbers

So I put together a chart, in which I had to make a few estimates using the data the Governor provided, as I had not captured all of it. Friday, March 20, 2020 is the starting point, where Cuomo reported 32,427 tests completed in NYS, of which 44% or 14,386 were completed in NYC. At that time there were 7102 and 4408 infected in NYS and NYC respectively, which means that 22% of those tested in NYS were infected, while 31% of those tested in NYC were infected.
In the briefing today, Tuesday, March 24, 2020 there were an estimated [my copy of Cuomo's NYS total number was unreadable] 94,289 tests completed in NYS, of which 41% or 38,390 were completed in NYC. At this time there were 25,665 infected in NYS, of which 14,904 of the infected were found in NYC. This translates to 27% of those tested in NYS being infected, while 39% of those tested in NYC were infected.
What does this mean? Actually since this virus is new, we don't really know for sure. What we do know is that about 26,000 people in NYS are infected, of which 15,000 of them live in NYC. And, according to Cuomo on Monday, the testing per capita in NYS is higher than anywhere else in the world including South Korea [see fact check correction below].
It's a Corona Virus Weekend NYC II
Even more than Last Week, the Corona Virus Pandemic Shuts Down NYC
* March 20, 2020 / NYC Social Issues / NYC Neighborhoods / Corona Virus in NYC & NYS CoVid 19 / News Analysis & Opinion / Gotham Buzz NYC.
* Weather. The Temperature highs will be in the mid 70's on Friday, dropping to 50 on Saturday and the mid 40's by Sunday. The temperature lows will be in the mid 40's on Friday, dropping to the mid 30's Saturday, rising a bit to the high 30's on Sunday. There is a 40% chance of a minuscule amount of Rain on Friday afternoon, for which the peaking probability is at 5 pm. Then no rain for the rest of the weekend, but cloudy Saturday morning. Winds will be 10 - 15 mph all weekend. The Humidity will be around 70 on Friday dropping to the mid 40% range for the rest of the weekend. Click for NYC Weather.
* MTA / Public Transit / Click here for the MTA Weekender.
A Racist President Applies a Demagogue Label to CoVid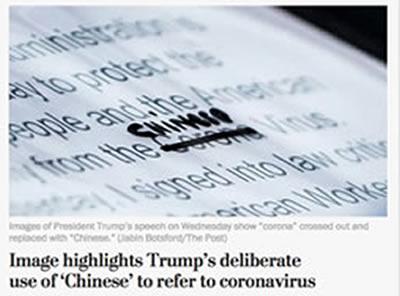 Unfortunately we have a president, who oftentimes makes situations worse, because of his ignorant and childish behavior. The Donald seems to be trying to label the Corona Virus the China virus and quite frankly, is doing more to confirm some of the labels given to him - like he's a racist - than convincing anyone other than his Fox 'News' toadies - to go along with his not-helpful-in-addressing-the-CoVid-crisis ploy.
It seems that our babyman president, won't even act like an adult, even in the midst of what appears to be the world's worst pandemic in this millenia.
A demagogue is
"a political leader who seeks support by appealing to the desires and prejudices of ordinary people rather than by using rational argument."
MTA Sanitizes Subway Cars and Buses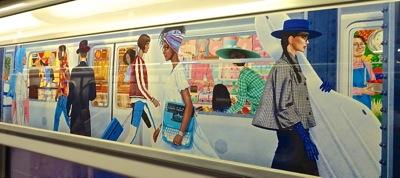 The NYC MTA moves between four and six million people daily. That's a mind boggling figure when you think about it. But last week ridership began falling significantly. And by this week, about a million or more people, had found some other way to get around, or were staying home. Thus the MTA is seeking federal funding to the tune of about $4 billion to help it shore up the lost revenue. And the ridership reductions are expected to continue for a while.
The MTA stepped up its cleaning regimen effective March 3, 2020. It now santizes its subway cars and buses on a rotating schedule every three days. Have the subways ever been so clean? In spite of the effort folks are still encouraged to practice social distancing meaning keeping six feet apart from others when possible. Anyone who is ill is asked to stay home.
The photo above right shows a placard on the subway, artistically depicting the diversity of our city. We live at the crossroads of the world, which means we are both the beneficiaries of that intellectual and cultural diversity, but also carry risks which are associated with that openess, because of our societal exposure. Like everything in life, we must strive to find the right balance of cultivating our openess, while managing and minimizing the associative risks. Data, science, education and discipline can help us strike the right balance.
***************
Election 2020: Which Queens Borough President Candidate?
Five Pols are on the Ballot and Three Appear in Contention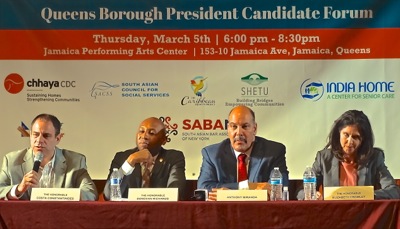 June 17, 2020 / Queens Neighborhoods / Queens Politics & Government / News Analysis & Opinion / Queens Buzz NYC.
On Tuesday, June 23rd, we go to the polls to exercise our hard fought right to choose those who will represent us in the halls of power.  The majority of the people around the world have not yet won this right, and their governments don't respect them enough to allow them a voice in the debate of public policy, let alone a seat at the table.
I attended a couple of Queens Borough President candidate forums, to try to make an assessment of the pros and cons associated with each of the candidates running for this office.  Following the debates I did a bit of research to add to my perspective.  The following is a brief synopsis of what I learned. The photo at right was taken at a March Queens Borough President Forum - seated left to right Constantinides, Richards, Miranda and Crowley. Yin was not in attendance.
There are five pols who will be listed on the ballot, as former Queens Assistant District Attorney James Quinn suspended his campaign sometime around the arrival of the CoVid pandemic, which coincided with the postponement of the election.  The candidates are Dao Yin, Anthony Miranda, Donovan Richards, Elizabeth Crowley and Costa Constantinides.
Funding & Support: Who's Really in the Running?
I started by researching their endorsements and campaign contributions.  According to a June 16, 2020 report in City & State recently shows that of the five candidates, two of them – Dao Yin and Anthony Miranda – each raised less than $100,000 in private contributions.  Neither of these two candidates has held publicly elected office, and neither of them appears to have significant community / organizational support.  So votes for them may send some kind of message, but they are both long shots to win.
That leaves us with three highly competitive candidates: Donovan Richards, Elizabeth Crowley and Costa Constantinides.  Richards and Constantinides each raised close to $300,000 from private contributions, while Crowley raised nearly $500,000 in contributions. A closer look begins to hint at what kind of Queens Borough Presidents each will be.
Elizabeth Crowley - Backs Amazon Billion$ Tax Breaks
For example Crowley has the backing of a number of construction related unions because she appears to support a real estate development agenda.  She's been pushing for new rail lines in Queens and she was also very supportive of the proposed Amazon deal which would have given a $ billion plus in tax breaks to one of the largest corporations and one of the richest men in the world.  The deal was done behind closed doors. Crowley is also the cousin of former Queens Democratic Party Chairman Joe Crowley, who endorsed his cousin and likely has been advocating her candidacy with these construction unions who used to endorse him.
Donovan Richards - Backs Amazon Billion$ Tax Breaks
Donovan Richards fundraising kicked up a bit later in the game, as likely the Democratic Party Machine, which has endorsed Richards moved into action.  Richards has the backing of a number of Queens Democratic Machine allied unions.  Richards has worked with real estate developers in his district for many years, taking credit for the real estate developers doing things 'for' the community as they began erecting new buildings and improving the infrastructure.  Like Crowley, Richards was also supportive of the closed door, tax break laden, Amazon deal.  And like Crowley, he too appears to be a pro-development candidate.
Folks in the Jamaica neighborhood are likely in the 'sweet phase' of gentrification, when the community gets all sorts of upgrades for 'free'. But they should beware, because there's no such thing as a free lunch as the folks in western Queens found out. After the freebies ended in western Queens, the rents skyrocketed and landlords have reportedly been making attempts to harass rent stabilized tenants out of their apartments - even though it is illegal to do so.
Costa Constantinides - Stands up to Amazon & Developers
And then there's Costa. Unlike the two primary Queens Borough President candidates above, Costa's support doesn't come from organized groups who appear to be positioning themselves to profit from a candidacy, but rather from non-profit groups attempting to address community issues and causes, focusing their efforts on improving the opportunities and quality of life in the communities they serve.   These include groups like the National Association of Social Workers, the Stonewall Democrats [LGBTQ], the Hispanic American Voters Association, the South Asian American Voters Association, the New Queens Democrats [younger], the Muslim Entrepreneurs Association and a host of Progressive government officials around the city.
Costa wasn't one of the leading voices opposing the Amazon deal - but unlike the two candidates referenced above, he did oppose the deal - which was best explained in a November 14, 2018 Democracy Now interview. In that interview Queens Assemblyman Ron Kim accused Governor Cuomo of bypassing the legislature in order to allocate billion(s) of taxpayer funds, to a company controlled by the wealthiest man in the world. Kim went on to correctly predict that the Governor was subsidizing expansion plans that likely would have occurred with or without the subsidies. [Editor's Note: Amazon has since made significant investments in growing its footprint in NYC, but without the billions in taxpayer funded credits and grants].
Renters vs Land Lords and Developers?
A Washington Post November 13, 2018 report [the Post is owned by Amazon founder Jeff Bezos] outlined who were expected to be the winners and losers. The 'winners' would have been [western Queens] property owners and developers and highly skilled workers, while the 'losers' would have been renters, low income residents, commuters due to increased transit volume, some small businesses and rival tech companies.
Winners and losers is a competitive description of what's going on right now. Those who look out for their own interests and act to enhance or preserve them generally win - and those who don't - eventually end up losing. In the case noted above, the 'winners' actually lost and the 'losers' actually won because the would be 'losers' took swift and decisive action with the aid of local pols to thwart the behind closed doors giveaways . Other pols who came out to fight against what seemed an unnecessary billionaire tax break included Congresswoman Alexandria Ocasio Cortez, NYS Assemblyman Ron Kim, NYS Senator Michael Gianaris and NYC Councilmember Jimmy Van Bramer.
So, on Tuesday, if you back tax breaks for billionaires and real estate developers, you may want to vote for Donovan Richards or Elizabeth Crowley. But if you want pols to negotiate tougher deals, you might want to cast your vote for Costa Constantinides.
As this is an oversimplification, here are links to our coverage of the Queens Borough President forum in January and the Queens Borough President Forum in March, which will give you added insight into each of the candidates' positions.
Click the link for the poll finder website, so you can easily find where to vote in your neighborhood. Be brave, but also be careful. Many of our ancestors died for our right to vote. Remember this is the land of the free and the home of the brave.
The New York City election is Tuesday June 23rd and polls are open from 6 am - 9 pm.
Queens Farmers Markets / Green Markets In Queens, Astoria, Long Island City, Jackson Heights, Sunnyside, Woodside, Corona, Flushing, Jamaica, Forest
Queens Farmers Markets
May 7, 2020 / Queens Neighborhoods / Queens Buzz.
See HOURS, MAPS, ITEMS / SELECTION of the 18 BEST Farmers Markets / Green Markets in Queens, w/ savvy shoppers' tips. This report includes the Astoria Farmers Market, Sunnyside Farmers Market, Jackson Heights Green Market, LIC Long Island City Green Market, Flushing Farmers Market, Corona Farmers Market, Jamaica Farmers Market, Forest Hills farmers markets and in between.
Click here for dates, times, locations of the Queens Farmers Markets.
---
Mother's Day Restaurants In Queens
Mother's Day Restaurants In Queens
Mother's Day Restaurants in Astoria, LIC, Sunnyside, Woodside & Jackson Heights
May 8, 2020 / Queens Neighborhoods / Queens Restaurants / Queens Buzz NYC.
Mother's Day is this weekend. It's a good day to let your wife or mother or daughter know you appreciate her efforts in the most important role of her life. Flowers, gifts and brunch or dinner are always welcome, as is any thoughtful gesture that provides some measure showing your recognition of her efforts in her role as mother of some children. After all, without mothers, we would all cease to be.
Normally it's best to book a restaurant reservation for Mother's Day brunch, as on Mother's Day in Queens, many restaurants are full. So if you're thinking about eating out at a restaurant this Mother's Day in Astoria, LIC, Jackson Heights, Sunnyside, Woodside or Flushing; it's best to do your research early, and call ahead to book Mother's Day restaurant reservations - BUT this year reservations, per se, are not an option. But delivery and take out are.
Mother's Day History - Restaurants In Queens
The origins of Mother's Day in the United States began with the efforts by Anna Jarvis to honor her own mother. According to Wikipedia, Anna began the campaign in 1905 - the year her mother died - and in 1910 West Virginia was the first state to adopt Mothers Day as a holiday. In 1914 Woodrow Wilson made the second Sunday in May as a national holiday to honor mothers.
Click this link to view a brief guide of Mother's Day restaurants in Queens 2020 where you will find links to Queens restaurants we've reviewed. The restaurants we've reviewed include a mix of high, medium and budget priced restaurants that are spread throughout the borough and offer a large variety of ethnic cuisines.
We've identified over a half dozen Queens restaurants that are doing take out / delivery on Mother's Day in Queens. Enjoy.
---
Things To Do Memorial Day Weekend In Queens
Things To Do Memorial Day Weekend in Queens
Things To Do In Queens Over The Memorial Day Weekend of 2020
May 14, 2020 / Things To Do Queens NY / Queens Buzz NYC.
This is a report containing things to do in Queens over the Memorial Day Weekend.
I know Memorial Day Weekend is fully a week away, but given it's such a changed landscape due to the CoVid pandemic, I thought you might want more time to think about how you're going to spend the weekend.
Weather. As of this posting the weather forecast is as follows. The Temperature highs will be in the low to mid 70's and the temperature lows will be around 60 all three days of the long weekend. There's a 20% chance of rain all weekend. Winds will range between 5 - 10 mph all weekend. The Humidity will be around 50% throughout the weekend. Click for an up-to-date forecast of Queens Weekend Weather.
Normally the things to do in Queens, include art exhibitions, theater, live music, comedy, dance, shopping, outdoor activities such as soccer, kyaking, baseball, parades, street fairs, museums and dining in the Astoria, Jackson Heights, Elmhurst, Long Island City, LIC, Sunnyside, Woodside, Jamaica, Forest Hills, Flushing, Corona neighborhoods in Queens NY.
But this year - as you know - is very different, because we're in the beginning or middle of the CoVid pandemic. So while we'll show you a full listing of Memorial Day events, we'll note which are available this year.
Be sure to check our Memorial Day Weekend things to do post mid afternoon Friday of Memorial Day Weekend.
Brief History of the Memorial Day Holiday in Queens
Memorial Day first started out as Decoration Day in Waterloo, New York on May 30, 1866 - a year after the Civil War - to honor those who fought in it. In the 1880's the day came to be known as Memorial Day.
According to a May 25, 2012 report in Time Magazine, ten states - Texas, Louisiana, Mississippi, Alabama, Georgia, Florida, North and South Carolina, Virginia and Tennessee also officially observe some version of a Confederate Memorial Day, sometime between late April and early June [in Texas it's in January]. It's been reported that unofficially most of the former Confederate states still commemorate it, but not without some controversy as to the former Confederate diaspora it's to honor their ancestors, while to the former diaspora of the slaves it seems a remnant of these states racist past.
About ten percent of the nation travels more than 50 miles over the weekend. Memorial Day differs from Veterans Day which is held on November 11th of each year. Veterans Day began by honoring those who fought in World War I which ended on the 11th hour, of the 11th day of the 11th month of 1918. Both honor those who served in the U.S. Military. Veterans Day coincides with a similar holiday in Europe for the same reason, which is called Remembrance Day and Armistice Day.
Memorial Day Events In Queens 2020
According to a March 27, 2020 report in Military News the U.S. Navy cancelled Fleet Week due to the CoVid pandemic. The annual celebratory week in NYC was originally scheduled to run from Wednesday, May 20 to Tuesday, May 26, 2020.
Unfortunately this year attending the Memorial Day Parade in Douglaston - Little Neck that normally begins between 11 am - 12 noon, as well as the Queens street fairs in Queens NYC, don't appear to options due to the CoVid pandemic. That's not the only activity that will not be available to us, as attending Queens parades NYC, watching theater, visiting the Queens art museums NYC, and eating out at one of the Queens restaurants NYC also won't be available come Memorial Day Weekend.
But things are slowly moving in the right direction. For example you can obtain restaurant food via delivery or carry out - we posted some of the restaurants performing this service as of Mother's Day in our Mother's Day Restaurants in Queens report.
Unfortunately shopping in Queens, will also be limited to groceries, pharmacies and home improvement stores [aka essential services], but local Queens farmers markets in Queens NYC are classified as an essential service, so that provides another outing option.
You can also go bicycling around Queens so be mindful to observe the rules of the road [click link]. The 5 Boro Bike Ride 2020 was cancelled and unfortunately could not be re-scheduled, so we'll all have to wait until 2021 [hopefully].
So there are some things happening right here in our favorite borough - Queens. Click here to obtain information about things to do Memorial Day Weekend 2020 in Queens. This events calendar is updated monthly with about 100 different Queens fun / cultural events. Visit the front page of Queens Buzz on Friday for updates.
Queens Public & Private Parks & Swimming Pools
Queens has a number of New York City Parks, most of which will be open, including the restrooms which will be cleaned daily with disinfectants.
But the normal park service options aren't available during the CoVid pandemic. These include no barbeques, no team sports and both the public swimming pools and the playgrounds will remain closed. But the beaches in other boroughs will be open, although no swimming will be allowed and the beaches will only be open for limited periods - generally from 10 am - 6 pm. NYS public marinas are open for non-commercial activities.
Queens has one of the best collection of parks and golf courses in the NY Metro area, if not the best. Queens has at least 17 great parks. Click here for a listing of the Queens Parks 2020 including maps showing their locations along with a bit of park history.
Golfing In Queens - Currently Closed due to CoVid 19
Queens has four golf courses and NORMALLY all of them are open over the Memorial Day Weekend - but not this year [May 2020]. Click here for details about Queens Golf Courses 2020 including maps and links to the operators' websites. Brooklyn also has two golf courses, and both Staten Island and the Bronx each have three golf courses - again normally they're open over the Memorial Day Weekend - but as of this posting they'll be closed.
Click here to view the rest of our report of things to do Memorial Day Weekend in Queens. And we'll have more to add by Friday.
---
- farmers / mom / mem
Things To Do in Queens This Weekend
This Weekend Many Events Cancelled & Many Institutions Closing Doors for a Couple of Weeks due to the Corona Virus Pandemic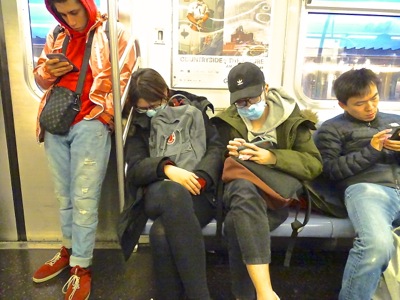 March 13, 2020 / Things To Do Queens / Queens Neighborhoods / Queens Buzz NYC.
Weather. The Temperature highs will be in the high 60's on Friday, dropping to the high 50's on Saturday and low 50's by Sunday. The temperature lows will be around 40 on Friday & Saturday, dropping to the low 30's by Sunday. Rain is in the forecast for Friday ONLY, likely gone by 11 am. It will be cloudy later in the day on Saturday only. Winds will be 15 mph on Friday, dropping to between 5 - 10 mph for the rest of the weekend. The Humidity will be around 70 on Friday dropping to about 40% for the rest of the weekend. Click for Queens Weather.
MTA / Public Transit / Click here for the MTA Weekender.
The photo at right shows some folks riding the subway this week who've taken the precaution of wearing surgical masks to prevent getting infected by the Corona Virus - see details below.
Corona Virus - A Brief History of Growing Awareness
The Corona Virus outbreak was first reported by the World Health Organization on December 31, 2019 in Wuhan in China.
By January 30, 2020 the World Health Organization declared the Corona Virus a Public Health Emergency of International Concern.
On Saturday, March 7, 2020 Governor Cuomo called a NYS State of Emergency in an effort to get out ahead of what at the time was the Corona Virus epidemic, as there was a rapid spike in the number of reported cases in NYS. At the time NYC had reported about a dozen known cases.
On March 10, 2020 Governor Cuomo ordered a quarantine of a neighborhood in New Rochelle.
On March 11, 2020, Mayor de Blasio followed suit, and declared NYC in a State of Emergency in an effort to get out ahead of what was called a pandemic by the World Health Organization on the same day.
And today, March 13, 2020, last but not least, Donald Trump declared a State of Emergency in the United States in order to accelerate the nation's slow response to the evolving public health crisis.
Corona Virus Precautions - Cleanliness is Next to Godliness
By now you'd have to be blind, deaf and mute not to have heard that you should thoroughly wash your hands and not touch your face without having cleaned your hands.
In a March 11, 2020 report, the Sacramento Bee, which is a well respected news outlet run by McClatchy Newspapers, informed us that the National Institute of Health conducted a study that shows that the Corona Virus can remain alive for up to three days on some surfaces under the right conditions.
As such you should also step up your cleaning practices, specifically with respect to things and places that you touch regularly - like the TV clicker or your mouse and keypad and cell phone and keys.
Corona Virus Transmission by Air
And that same National Institute of Health Study also showed that the virus could remain alive in the air for a few hours. This discharge would have to come from an infected person, most likely with a cough, but I reckon just talking and breathing could do it too.
This is why scientists recommend we keep some distance - some six feet - from one another. Especially people coughing and that is why ill people are advised to remain home until they feel better - so that they don't infect the rest of us. But that said, infected people may take between two and fourteen days to show signs of the illness and thus realize it. The median incubation period for the Corona Virus is five days, 98% of the people who contract it show signs by 12 days, so by 14 days it is believed that those who have contracted the Corona Virus will show it. This is why most places have been shuttered for two weeks at a minimum.*
Some say masks won't necessarily prevent infection, because the masks aren't built to filter out the micro organisms one might inhale and the masks are not tightly fastened to the face. They may be correct, but the masks can't hurt and may reduce what you breathe in. There's a secondary problem with the masks in that some folks have been hoarding them, making it more difficult for health professionals who are working on the front line of this crisis, to obtain them.*
The disease is believed to be highly transmittable, with conflicting reports on whether it is more or less transmittable than the flu. Live Science, states that it's more than two times more transmittable than the flu, while another source says it's not as transmittable as the flu. This discrepancy may be due to the fact that there are two strains.*
The Corona Virus is Potentially Lethal - but Skews Older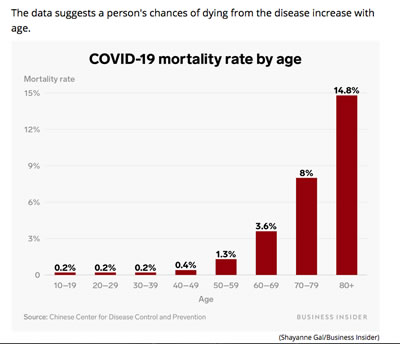 At present, it is estimated to have a 2.3% death rate versus something like a 0.1% death rate for the flu. So that means it's over 20 times more lethal than the flu, and at present without any existing cure nor vaccine. Which is why there's so much concern.
But that said, to put this in context, a March 7, 2020 Live Science report informs us that,
" ... So far, the new coronavirus has led to more than 100,000 illnesses and more than 3,000 deaths worldwide. But that's nothing compared with the flu, also called influenza. In the U.S. alone, the flu has caused an estimated 34 million illnesses, 350,000 hospitalizations and 20,000 deaths this season, according to the Centers for Disease Control and Prevention (CDC) ... "
According to the Chinese Center for Disease Control and Prevention statistics show that the risk for people varies according to age, as it is believed people who are ill, have pre-existing conditions or compromised immune systems are most likely to die from the disease - see chart at right.
Living Your Life in the Age of the Corona Virus
So, as part of the NYS State of Emergency both the Governor and the Mayor are in agreement that all events of 500 or more people are presently banned. Governor Cuomo also issued an order to close CUNY and SUNY effective March 18, 2020 for the rest of the semester.
The Mayor and Governor have decided to keep the primary and secondary public school system open, but advise anyone who is not feeling well to stay home. While tests reportedly show that children can contract the disease as easily as adults, you can see by the chart above, that children don't die from it at anywhere near the same rate as older people. I know - not dying from a disease - isn't exactly comforting.
But, unlike better resourced private institutions, the students attending public school aren't as able to 'go remote' and conduct classes and homework electronically. Another part of this equation is that these students parents aren't in a position to stay home with them, and many of their parents are critical to the healthcare, educational, law enforcement, fire and emergency response and transportation infrastructure.
I've provided the above information to help folks better understand the complexiities the Governor and Mayor are dealing with in making these decisions. And this doesn't include how badly the small business entities are getting hit, which closing things only makes worse. This affects them paying the rent, paying their employees - all of whom have to make ends meet ... somehow.
Things to Do This Weekend in Queens?
Not much really. Here's a link to the things to do in Queens last weekend, which contains a number of web addresses, should you want to look for yourself, but most institutions are taking the position of exercising an abundance of caution and thus have closed.
Farmers Mkts, Holiday Markets & Member Events Calendar
March 2020 - Click here for here for Queens holiday markets & shopping and here for Queens holiday events / holiday things to do in Queens, Queens farmers markets, or here for Queens Events Member Calendar or click for reports about Queens street fairs and other weekend events. Also click here for free summer concerts in Queens, free summer movies in Queens and free things to do and free summer theater in Queens & things to do.
CLICK here for Queens Christmas, Hanukkah and Kwanzaa holiday events and click here for Queens New Years parties and here for shopping venues in Queens.
WORK IN PROCESS. ASTERISKED events above have NOT been updated.
psmoma qtip
Queens Borough President Forum - Chhaya at Jamaica Performing Arts Center
Queens Borough President Candidates Forum
Queens Boro President Candidates Discuss the Issues
March 6, 2020 / Queens Politics & Government / Queens Neighborhoods /Queens Buzz NYC.
On Thursday evening I headed down to Jamaica town to watch and listen to four candidates vying for the office of Queens Borough President. The forum was hosted by Chhaya Community Development Corporation in tandem with several other South Asian and Indo-Caribbean community non profits seeking to enable their groups to become better informed regarding the candidates vying for the important office of Queens Borough President. I have included the names of these organizations at the end of this report.
In the photo at right are the Queens Borough President candidates [left to right]: Costa Constantinides, Donovan Richards, Anthony Miranda and Elizabeth Crowley.
Queens Borough President Budget is About $70 Million
The Queens Borough President Office controls a budget of approximately $70 million. The budget is a % allocation of the total revenue taken in by the NYC municipality. The money is used to fund improvements and programs in the parks, schools, libraries, as well as healthcare and cultural institutions. The Queens Borough President also has use of the 'bully pulpit' - a phrase coined by President Theodore Roosevelt – meaning that when someone at the bully pulpit talked, people listened / took notice.
It was a sort of balmy early March evening with temperatures near 50 as I rode the subway down to Jamaica town. Riders were a bit on edge, keeping their distance amid fears of contagion from the CoronaVirus. One man held the subway pole with a newspaper, others wore gloves in spite of the unseasonably warm temperatures, and at the end of the ride a subway maintenance man, wearing a surgical mask and gloves, did a bit of cleaning.
CLICK here to read the rest of our report which includes some video of the Queens Borough President Forum hosted by Chhaya and held at the Jamaica Performing Arts Center.
Early voting begins Saturday, March 14th and the election is on Tuesday, March 24th, 2020.
---
Identity Crisis Theater Opening, at Brick Theater BK
Identity Crisis Theater Opens at the Brick in Greenpoint
The Event Included a Preview of a Performance Coming to The LaGuardia Rough Draft Festival 3/16 & Another of a Play Returning to the Brick Theater Beginning May 28th
March 2, 2020 / Queens Neighborhoods / Queens Theater / Queens Buzz NYC.
In early February I attended the opening of a new theater ensemble - Identity Crisis Theater - at the Brick Theater in the Greenpoint neighborhood of Brooklyn.
The theater group is comprised of three NYC artists, some of Turkish descent, who will "... feature English translations of works from Turkey, the Balkans, the Middle East and surrounding Mediterranean cultures." Their goal is to develop "... a platform for exploration, conversation, revelation and the celebration of our common humanity."
It was a cold, wet, miserable night outside, as I made my way to the Brick, which is located only a couple of blocks from the G line Metropolitan subway stop. As I stepped inside, the atmosphere changed to warm and dry as I took my place amongst a crowd filled with anticipation. The audience had packed the theater in advance to view performances by some of NYC's emerging dance, musical and theatrical artists.
I met the Brick Theater management team comprised of Ryan Downey and Theresa Buchheister. This past year they took over the operation of the Brick Theater, after years of working there. They seemed to have the theater production well in hand, as there are events and performances at this warm, rustic Greenpoint Brooklyn theater every week, and quite often every day.
Identity Crisis Theater Presents 'Triggerman' at the Brick Theater in Greenpoint BK
On the stage at the back of the theater, a performance had just begun. The piece was entitled Triggerman and it was about the step-by-step planning of an assassination, alongside the moral struggle of a young man, trying to wrest himself free from the anger and hate, being imposed on him by a few members of his own ethnic tribe.
---
Queens St Patrick's Day Bars, Restaurants & Irish pubs In Queens NYC
St Patrick's Day Bars, Restaurants, Irish Pubs in Queens
St Pat's Day Irish Pubs & Restaurants in Astoria, LIC, Sunnyside, Woodside, Jackson Heights & Flushing
February 25, 2020 / Queens Neighborhoods / Queens Restaurants & Bars / St Pat's Parade Queens NYC / Queens Buzz NYC.
Here's a listing of some of the fun Irish pubs open on St. Patrick's Day in Queens.
There are a lot of celebrations planned for St Pat's Day in Queens. There are a at least three St Patrick's Day Parades in Queens, but they are generally held on the weekends before or after the actual St. Patrick's Day feast on March 17th.
The photo to your right was taken on St. Patrick's Day weekend in 2019 at Donovan's Pub in Woodside.
This report contains a number of brief suggestions for St. Patrick's Day bars, restaurants and Irish pubs in Queens, including in Astoria, Long Island City, Sunnyside, Woodside [near Jackson Heights], Bayside [near Flushing], the Rockaways [near Jamaica] and in Maspeth / Ridgewood which are near Kew Gardens and Forest Hills. At the end of the report we've included links to St. Patrick's Day celebrations in other boroughs.
Please drink responsibly and let someone else drive if you're impaired. St. Patrick's Day is a bit like New Years Eve, in that the amateur consumers of alcohol of all ethnicities come out to celebrate, and if they are not properly managed / or cared for, accidents may occur, and some of them with life changing consequences.
---
Things To Do Presidents Day Weekend - Queens Events Presidents Day Weekend Queens NYC
Things To Do Presidents Day Weekend Queens
Things To Do In Queens Over The Presidents Day Weekend
February 10, 2020 / Things To Do Queens NY / Queens Buzz NYC.
Presidents Day Weekend Weather. The Temperature highs will be in the mid 30's on Friday, dropping to the high 20's on Saturday and rising into the 40's on Sunday and Monday. The temperature lows will be in the low teens Friday, the mid 20's on Saturday, rising into the 30's Sunday and Monday. Precipitation - There's a small chance [30%] of a small amount of precipitation [way under an inch] later Sunday and early morning Monday. Winds will be around 15 mph Friday, dropping into the single digits for the rest of the long weekend. The Humidity will be in the high 30% range on Friday & Saturday, rising to about 60% on Sunday and Monday. Click for Queens Weather.
The photo at right was taken at Four Freedoms Park on Roosevelt Island which commemorates Franklin Delano Roosevelt's 1941 speech declarating the inalienable rights of all people. The four freedoms are 1) Freedom of Speech, 2) Freedom of Worship, 3) Freedom of Want and 4) Freedom of Fear.
Presidents Day is a time to reflect on the performance of our current presidents and legislators, and how they stack up against their historical peers. And in that reflection it's worth asking ourselves what we've done to contribute or detract from the national conversation.
Brief History of Presidents Day Holiday in NYC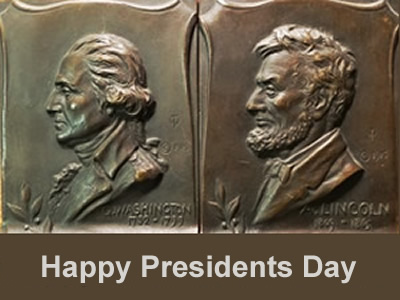 A day commemorating Lincoln's birthday was first passed in Buffalo, New York in the early 1870's. Presidents Day originated as Washington's Birthday which was a holiday narrowly prescribed for federal government offices in Washington, D.C. in 1879. The holiday was dedicated to honoring the memory of the first American president, George Washington who was born on February 22, 1732.
In 1885 the holiday was expanded to include all federal government offices around the nation. In 1951 there was a push to create a Presidents Day holiday [vs a George Washington's birthday holiday] to include President Lincoln whose birthday is February 12, 1809 and was also celebrated by localities, but it didn't pass.
In 1971 the holiday was moved off of George Washington's birth date to being the third Monday in February. Thus while it never falls upon Washington's birthday 2/22, the official name of the holiday remains Washington's Birthday. But today, most folks refer to it as Presidents Day and to recognize the presidents who honored the U.S. Constitution and served the interests of the people.
---
Queens Romantic Restaurants for Valentines Day - Queens NYC
Valentine's Day Restaurants & Events in Queens
Romantic Restaurants For Dinner in Astoria, LIC, Sunnyside, Woodside, Jackson Heights & Flushing
February 4, 2020 / Queens Restaurants / Queens Neighborhoods NYC / Queens Buzz NYC.
Valentine's Day is a week away. It's a good time to let your loved one know you care. Flowers, gifts and dinner are always welcome treats, and / or some thoughtful gesture that shows that the lady [or man] you're with still means a lot to you.
It's generally hard to make restaurant reservations on short notice at a romantic Queens restaurant on Valentine's Day, and sometimes it's difficult to make them for the weekend of Valentine's Day. So if you're thinking about doing something this Valentine's Day for dinner in Astoria, LIC, Jackson Heights, Sunnyside, Woodside or Flushing; it's best to do your research early, and call a week or at least a few days ahead to make the reservations.
Valentine's Day Brief History - Queens Romantic V Day Restaurants
The origins of Valentine's Day are not well documented. It's believed to have been named after Saint Valentine who was apparently a Catholic martyr who died over 1500 years ago. Today the holiday is not associated with religion so much as flowers, candies, cards and romantic dinners. And the holiday spokesperson is now Cupid, a Roman god of desire, and quite a mischief maker.
The restaurants we've reviewed include a mix of high, medium and budget priced restaurants that are spread throughout the borough and offer a large variety of ethnic cuisines. Click this link to view a brief guide of Valentine's Day restaurants in Queens / V Day events & romantic restaurants Queens NYC where you will find links to Queens restaurants we've reviewed. Enjoy.
---
Rikers Island Closing Queens & Bronx - Neighborhood Jails in Brooklyn Bronx Manhattan Queens & not Staten Island
Closure of Rikers Island Moves Another Step Forward
In Oct 2019 NYC Council Designated Neighborhood Jail Locations in Four Boroughs
Community Board One in Astoria Only Approved the Closure of Rikers Island
January 26, 2020 / Bronx Neighborhoods / Queens Neighborhoods / Queens Politics / Bronx Politics & Government / Queens Buzz NYC & Bronx Buzz NYC.
A week ago, on Tuesday, January 21st I attended the Community Board One meeting at the Astoria World Manor where the board was asked to approve the closing of the Rikers Island Detention Facility effective sometime before the end of the year 2026.
The photo at right was taken from an airplane while landing at LaGuardia in a prior year. Rikers Island Correctional Facility is a stone's throw away from LGA.
Queens Community Board One in Astoria Votes on Rikers Closure
The presentation consisted of two slides. One highlighted the social / moral blight that Rikers Island had become. The second slide simply proposed the request in very limited terms - the closing of Rikers Island and the conversion of it to a 'public place'. The presentation to the Committee was done by a team lead by Dana Kaplan, Deputy Director of the NYC Mayor's Office of Criminal Justice.
So please note that the Community Board had no role in the placement of neighborhood jails, nor did they sign off on anything that may become of Rikers Island going forward. They only approved the closing of the Correctional Facility and the allowance of use for it as a "public place".
I spoke with CB1 District Manager Florence Kolouris after the meeting about what exactly that meant. She told me that there isn't any definition, per se, given for public place – but a couple of examples of prior public places include Lincoln Center, Fort Totten and Queens Borough Hall.
The Community Board approved the measure with a recommendation that CB1 be kept in the loop throughout the closing process, including any demolition. Plenty of questions followed regarding what would become of the 400 acre island. Nothing concrete was proposed at this time, but the audience was assured that any changes would have to come through the Community Board via the ULURP process [Uniform Land Use Review Procedure].
The Bronx & Queens - Rikers Island Community Jurisdiction & Prison Population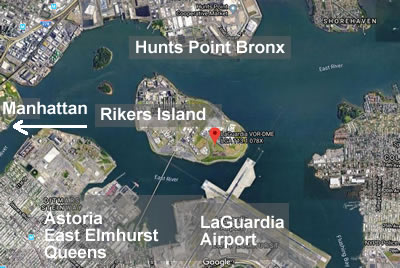 It's worth noting that technically Rikers Island is a part of the Bronx – not Queens – even though the only road traveling onto the island originates in the Astoria / East Elmhurst neighborhoods of Queens. In addition to Queens Community Board One, Bronx Community Board Two, representing the Hunts Point neighborhood, also has influence over the island. Since the Dinkins Administration in the 1990's, there's been a floating barge facility that's docked in Hunts Point, that is considered a part of the Rikers Island Correctional Facility.
Currently there are an estimated 7,000 plus inmates on Rikers Island. At its height, in 1991, Rikers Island held an estimated overcapacity inmate population of nearly 22,000. By the time the facility is to be closed in 2026, the inmate population is expected to have declined to between 3,000 and 4,000.
The photo at right shows the Rikers Island Correctional Facility which will be closed by the end of 2026.
---
Van Bramer Ends QBP Campaign
January 21, 2020 / Sunnyside Neighborhood / Queens Politics / Queens Buzz NYC.
We received this missive today from the Van Bramer campaign, which explains why he didn't attend the Queens Borough President Forum in Jamaica on Sunday [see related report below].
Dear Friends,
 
I love serving the people of Queens as a Council Member, which is why I was excited to continue that work as Queens Borough President. 
 
My family is the reason I love this borough and its residents; they are the ones who instilled Queens values in me and inspired me to be an advocate for working families. But family circumstances have been weighing on me for some time, causing me to reconsider the timing and feasibility of this campaign. 
 
Prioritizing my responsibilities as a son and brother is where my attention needs to be right now. And so I am ending my campaign today. While this is a difficult decision, this is the right one for me and my family at this time. 
 
I will, of course, continue to fight for the working people of our borough and city every day on the New York City Council and beyond. 
 
I want to thank all of you -- our campaign's amazing supporters, volunteers, and donors for your faith in me and our shared vision to build a brighter future for Queens.
 
Sincerely yours,
 
Jimmy
Queens Borough President Candidates - Queens BP Office Election 2020
First Impressions: Queens Borough President Forum
Costa Constantinides, Elizabeth Crowley, Danniel Maio, Anthony Miranda, Donovan Richards & James Quinn
January 19, 2020 / Jamaica Neighborhood NYC / Queens Politics NYC / Queens Buzz NYC.
On Sunday I went down to Jamaica town to watch the candidates for Queens Borough President talk about themselves, their qualifications and their take on the issues facing Queens. The following is an account of what I saw and heard.
The photo at right shows six of the nine Queens Borough President candidates [from left to right] - Costa Constantinides, Elizabeth Crowley, Danniel Maio, Anthony Miranda, Donovan Richards & James Quinn - at a forum in Jamaica on Sunday.
Queens Boro President Candidates Forum in Jamaica
The event was held at the Harvest Room, which is on 160th Street just off Jamaica Avenue and adjacent to the Jamaica Market. The forum was moderated by NYS Senator John Liu and an attorney Soma Syed, and organized by the Community Alliance Group and the American Pakistani Advocacy Group. The moderators, John Liu and Soma Syed, are shown in the photo below.
Queens Borough President Office Election is on March 24th, 2020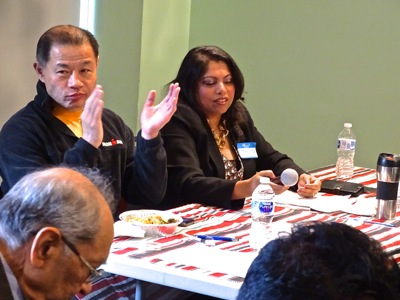 They started the forum about an hour late, as they postponed the start time, while waiting on some of the candidates' arrivals. There are currently nine people running for the Queens Borough President Office, and the election is scheduled for Tuesday, March 24th, 2020. Of the nine candidates, six participated in the forum. Notably absent was one of the leading Progressive candidates, NYC Councilmember Jimmy Van Bramer, as well as two far lesser known candidates, Dao Yin and Everly Brown.
The 2020 Queens Borough President Candidates in Attendance at the Forum
Those participating included: 1) former NYC Councilmember from Ridgewood and former Queens Democratic Party Chairman Joe Crowley's cousin, Elizabeth Crowley, 2) Progressive NYC Councilmember Costa Constantinides of Astoria, 3) Democratic Party Machine favorite NYC Councilmember Donovan Richards of Jamaica, 4) former map maker and the only Republican in the running Danniel Maio, 5) former Assistant District Attorney James Quinn, and 6) former NYPD Sergeant Anthony Miranda.
Queens Borough President Candidates Introductions
I stayed for about 90 minutes, which covered the candidate introductions and six major questions. I didn't stay for the short answer questions, nor for the audience questions, which sometimes can be the best.
---
Things To Do Martin Luther King Day Weekend in Queens
Things To Do MLK Day Weekend Events Queens
Things To Do In Queens Over The Martin Luther King Day Weekend
January 14, 2020 / Things To Do Queens NY / Queens Buzz NYC.
Weather. The Temperature highs will range between 30 and 40 throughout the three day weekend. The temperature lows will be in the low 20's throughout the weekend - except on Saturday when the low will be in the high 30's. Rain or Snow is forecast on Saturday, but NOT on Friday, Sunday & Monday. Winds will range from 10 - 15 mph all weekend. The Humidity will be around 50% throughout the weekend, except on Friday when it will be in the low 30% range. Click for Queens Weather.
Brief History of Martin Luther King Holiday in NYC
Martin Luther King, Jr. was a Baptist Minister who became the leading voice for African Americans' non-violent civil rights movement beginning in the mid 1950's through to his assassination in 1968. In 1983, the third Monday of every year was set aside to honor Martin Luther King for his service to the nation. The third Monday was chosen, as it was the nearest Monday to the anniversary of King's birthday, which was January 15, 1929.
Martin Luther King Day has grown to take on an even larger meaning, as it is oftentimes referred to as a day on, versus a day off. Organizations around the city and nation have used the day to call people into action to address the needs of the community through volunteering and service.
Martin Luther King Holiday Special Events in Queens NYC
The Queens College Student Association is organizing a week long bus tour of many of the most famous civil rights movement sites in the southern U.S. The tour is entitled In the Footsteps of Dr. King and begins on Sunday, January 19, 2020 and ends on Thursday, January 23rd. For more information about the trip email - Rabbi Moshe Shur at footsteps@qc.cuny.edu.
On Monday beginning at 11 am the Greater Allen AME Cathedral, which is an African Methodist Episcopal Church located at 110-13 Merrick Blvd in the Jamaica neighborhood of Queens, will host a luncheon followed by a theatrical performance by the Shades of Truth Theatre entitled The Day Harlem Saved Dr. King. The show follows the luncheon and begins about 12 - 12.30 pm [just after noon]. Tickets cost $35 and may be purchased through the Allen AME Cathedral at 718.206.4600.
On Monday generally starting around 9 am and running until 12 noon, the NYC Parks Department in tandem with local groups is organizing a day of service to clean up a few of the NYC neighborhood parks. In Queens the only park mentioned as of this post was the Forest Park near the Forest Hills neighborhood in central Queens. Cut and paste this link for details - https://www.nycgovparks.org/events/mlk-day-of-service.
On Monday from 6 - 10 pm there are a number of visual arts exhibits and performances organized by 39th Avenue Arts N' Performance at 38-12 30th Avenue in Long Island City. Tickets cost $5 online at Eventbrite or $10 at the door. Of special note is that Dr. King's I Have a Dream speech will be performed.
The venues below may also have MLK Day programs, or other cultural and historic programs.
---
Michael Bloomberg's Real Record as NYC Mayor
This Contains the Part of Bloomberg's Record You Won't See in His Ad Campaign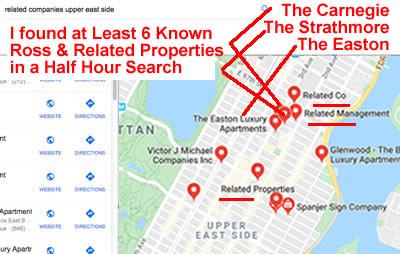 December 16, 2019 / NYC Neighborhoods / NYC Politics & Government / News Analysis & Opinion / Gotham Buzz NYC.
I started reporting for Queens Buzz in the second half of 2007, in anticipation of the website opening in 2008. At the time, politics wasn't in the docket. But over time, as I watched government and political events unfold, I couldn't ignore the huge gap between what was happening - versus what was reported to be happening.
Thus over time I began reporting on NYC, NYS and eventually national politics, doing in-depth research along the way, so that I could provide our readers with a fresh point of view, based on facts and knowledge, with scant pandering to the politicial spin.
While I only began tuning into NYC politics as a reporter during Michael Bloomberg's third term, I had picked up information about him prior to that as an aware NYC resident / voter. My first glimpse into Republican Mayor Michael Bloomberg's anti-democratic tendencies came about in 2004, during the Republican Presidential Convention, when Bloomberg appeared to illegally lock up people protesting the wars and policies of then president George W. Bush. But before I delve into that aspect of Bloomberg's performance, I want to highlight a few others.
Disdains Democracy: Overturns Mayoral Term Limits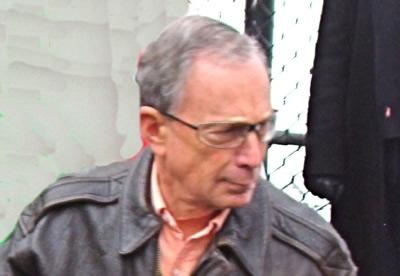 In 2008, just a year before former Mayor Michael Bloomberg was about to be term limited out of the Mayor's Office, he convinced the NYC City Council to override the plebiscite that term limited his time in office as the Mayor.
Thus Michael Bloomberg sought and won a third term - which he essentially bought - by funding his campaign with nearly $100 million of his own money, to defeat an relatively unknown candidate, retiring City Comptroller Bill Thompson.
Thompson was not given much support by the Democratic Party in that election, likely because they didn't believe he would do anywhere near as well as he did, and they were competing with a billionaire who could / would and did greatly outspend the competition. The final vote was 50.7% for Bloomberg and 46.3% for Thompson.
Did Former Mayor Bloomberg Override Term Limits in Order to Cash In NYC's Municipal Real Estate Holdings?
The deals on the Bronx Terminal Market, Hudson Yard, Hunters Point South & Flushing Meadow Corona Park were all begun in 2007. So were the two multi-billion dollar [each] subway line extension projects - the Q and the #7.
All of the real estate developments and the two major subway infrastructure projects seemed to greatly benefit one person - Stephen Ross and his privately held Related Companies. Stephen Ross went from not being counted as a billionaire at the beginning of Bloomberg's Mayoralty, to becoming the richest real estate developer in New York City within a couple of years after he took office.
It's worth noting that Bloomberg's net worth during this period shot up too. And that Bloomberg LLP, the company he founded, also operates in NYC and is also privately held.
Former Mayor Michael Bloomberg's Real Record as Mayor
The Real Record of Mike Bloomberg's Accomplishments as Mayor - Doubling of Homelessnes, Taxpayer Funded but Privately Owned Luxury Apartments, Massive Public Land Giveaways to Friendly Developer, Massive Public Transit Spending Benefitting Same Developer, Privatization / Profitization of Many Public Schools, Failure to Negotiate with Unions, City Time Scandal & Racist Stop N' Frisk Policing Program
The report includes: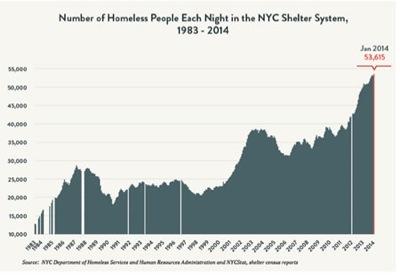 1) HOMELESSNESS: Bloomberg had a horrendous record on homelessness which broke all records & doubled during his Mayoralty.
2) AFFORDABLE HOUSING: Bloomberg sold the public on funding 'affordable' apartments that rented for $48,000 per year. These were publicly funded but privately owned apartment units that Bloomberg sold to the public as 'affordable' in order to gain passage of the bills authorizing them.
3) PUBLIC LAND GRAB. Four huge real estate developments appeared to be given to Stephen Ross & Related Companies which are now worth billions. The public lands reportedly sold for $1 apiece include Hudson Yard, Hunters Point South and the still pending Flushing Meadows Corona Park development. I'm not sure but Bronx Terminal was also transferred in a sweet deal to the real estate developer Stephen Ross & Related Companies.
4) PUBLIC SPENDING BENEFITTING FRIENDLY DEVELOPER. Bloomberg pushed two subway line extensions that seemed to disproportionately benefit Stephen Ross & Related Companies. The subway line extensions were 1) the #7 subway line extension that supported Stephen Ross & Related Companies Hudson Yard development and 2) the Q subway line extension which greatly enhanced the value of Stephen Ross and Related Companies Upper East Side properties.
5) PRIVATIZATION OF PUBLIC SCHOOLS. Bloomberg's privatization of a significant portion of the NYC public school system which appeared to tear apart the NYC public school system by enabling for profit private charter schools, disproportionately favoring Eva Moskowitz and Success Academy, to recruit the best students of the NYC public school system, while leaving the rest behind in the hands of the public and unions;
6) UNION BUSTER? Bloomberg's failure to sign a single major union contract during his 12 year administration and the
7) GIULIANI / BLOOMBERG CORRUPTION. City Time corruption scandal.
8) RACIST POLICING POLICY. Presided over racist Stop N' Frisk policing policy.
CLICK here to read the rest of our report on the part of the Mike Bloomberg's record of Mayor. The part of the Bloomberg record you won't see in his $33 million ad campaign to convince Democrats to vote for him. Billionaire Bloomberg, like the billionaire President, seems to have an inclination to distort the truth.
New Years Eve Parties & Restaurants In Queens
New Years Eve Parties & Restaurants 2020 Queens
Fun Restaurants For Dinner in Astoria, LIC, Sunnyside, Woodside & Jackson Heights on New Years Eve
December 30, 2019 / Queens New Years Eve Parties & Restaurants / Queens Buzz NYC. New Years Eve 2020 is almost upon us.
It's generally hard to make restaurant reservations on short notice for New Years Eve. And sometimes it's difficult to make them for the New Years Eve parties in Queens. So if you're thinking about going to dinner or to a party this New Years Eve in Astoria, LIC, Jackson Heights, Sunnyside or Flushing; it's best to do your research early, and call a week or at least a few days ahead to make the reservations.
New Years Eve Parties & Restaurants In Queens
The origins of New Years Eve celebrations will be referenced at a later date.
Click this link to view a brief guide of New Years Eve parties & restaurants in Queens where you will find links to Queens restaurants we've reviewed. The restaurants we've reviewed include a mix of high, medium and budget priced restaurants that are spread throughout the borough and offer a large variety of ethnic cuisines. Enjoy.
---
Holiday Events In Queens - Christmas, Hanukkah & Kwanzaa Events Queens
Holiday Events In Queens
Christmas Tree Lightings, Hanukkah Menorah Lightings, & Kwanzaa Candle Lightings in Queens
December 15, 2019 / Astoria Neighborhood / Long Island City LIC Neighborhood / Sunnyside Neighborhood / Woodside Neighborhood / Jackson Heights Neighborhood / Corona Neighborhood / Flushing Neighborhood / Jamaica Neighborhood / Queens Neighborhoods NYC / Queens Things To Do Holidays / Queens Buzz NYC.
Holiday lighting festivals and ceremonies have been on the rise in Queens in recent years. While some date back many years, most are traditions that started within the past five or ten years.
What does an increase in holiday lightings mean? It means you have ample opportunity to go yourself, or with friends, or to take your kids to one or more of them to learn a bit more about your own culture or the culture of others.
Each lighting is a bit different, as some are community and business-oriented, some are religiously oriented, a few have arts organizations behind them, and some are backed by non-religious cultural organizations. Please feel free to send us a notice of your holiday lighting event if it's not posted herein.
Queens Christmas, Hanukkah & Kwanzaa Holiday Events Begin in Earnest
This is not meant to be a complete list, but rather a list of the holiday lighting events, many of which I've attended one or more times since late 2007. The holiday lighting events are organized individually by each Queens neighborhood including Astoria, Long Island City LIC, Sunnyside, Woodside, Jackson Heights, Corona, Flushing, Jamaica and Whitestone. Many include the serving of some beverage like hot chocolate and generally something to munch on like cookies.
---
Something New & Strange at the Tiny Box Theater
December 6, 2019 / Long Island City Neighborhood / Theater in Queens NYC / Queens Buzz NYC.
This weekend only, there's the performance of an avante garde theatrical production entitled The House We Never Lived In at the Tiny Box Theater which is performing at the 11th Street Arts Center in Long Island City Friday, Saturday & Sunday.
The production is something totally interactive, meaning we were guided through the play by our hosts - CoDirectors Joy Tomasko and Sarah Murphy - but each of us embarked on our own unique journey wearing headsets and making choices which would ultimately determine how the play ended ... for us ... alone ... or shared - but only shared if others had made the same choices that we did. If you're not totally understanding this, that's ok, because until it was over, neither did I.
The photo at right shows several members of the audience in the foreground, pursuing their own journey in the play, while the Co-Directors, Joy Tomasko at left and Sarah Murphy at right in the background, look on.
The play takes us on a journey from a tiny apartment in NYC, to purchasing a fixer upper home upstate, and then going there ...
You will need a fully charged cell phone to attend the play, as that will be plugged into your headset which they provide. The cell phone is then used to scan the recordings you'll hear, which are chosen based upon the choices you make, which you then use as a guide - along with the assistance of the Co-Directors, into a world that is new and strange.
The play is well written [or at least based on the choices I made], containing a number of near poetic insights, and the experience is reality ... virtually ... ? ... dunno ... as I'm still processing it.
This weekend only - performances at 4.30 pm, 6 pm, 7.30 and 9 pm on Friday and at 3 pm, 4.30 pm and 6 pm on Saturday and Sunday. Tickets cost $20 and you can purchase them at www.tinyboxtheater.com. And remember to bring a fully charged cell phone.
Seating is very limited, so if you want to see this play, waiting isn't an option. This play was funded in part through a grant from the Queens Council on the Arts.
Conversational Baseball: Mets End Season on High Note
The Mets Won Their Last Game, Yet Missed a Playoff Berth, But the Season Wasn't a Total Loss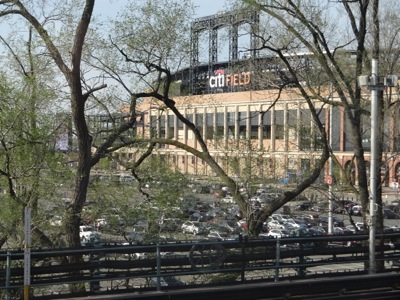 October 1, 2019 / Things To Do Queens / Queens Neighborhoods / Queens Buzz NYC.
On Sunday, September 29th, the NY Mets played their last game of the 2019 Major League Baseball season. The Mets came in third in the National League East, behind the Atlanta Braves [#1] and the Washington Nationals [#2]. Their record of 86 wins and 76 losses represented a solid improvement over the 2018 season, where they won 77 and lost 85 coming in fourth place that year.
The Mets new slugger Pete Alonso, broke the rookie home run record on the second to the last game of the season on Saturday 9/28/19. Pete Alonso hit his 53rd home run of the season against the starting pitcher [Mike Foltynewicz] for the National League East Champion Atlanta Braves, besting the record set by Yankee Aaron Judge in 2017. Aaron had hit 52 home runs that season.
The Mets Pitcher Jacob Degrom also had another good year, after a slow start, and seems to be a favored contender for the Cy Young Award for the second year running. Jacob Degrom has been with the Mets since 2014, having picked him in the 9th round draft.
And Mets Manager Mickey Callaway's fate is apparently undecided at this point in the season. Mickey Callaway became the Mets Manager in October 2017, and had a disappointing first season after the strongest start that season, in Mets' history. The 2019 season was much better at .531 vs .475 in 2018.
So while the Mets season may be over, the Yankees are still in it. The Yankees enter the post season with some handicaps [lost a pitcher due to domestic abuse allegations], but that said they've been fighting handicaps all season. Stay tuned.
Sunnyside Yard Development - SS Yard Real Estate Development LIC Queens Astoria Sunnyside NYC
Sunnyside Yard Plan Moving Ahead
The Whopper of All 21st Century Real Estate Developments in NYC
September 25, 2019 / Sunnyside Neighborhood / Long Island City Neighborhood / Astoria Neighborhood / Queens Real Estate / News Analysis & Opinion / Queens Buzz NYC.
I attended the Sunnyside Yard Master Planning meeting last week at Aviation High School in Sunnyside / LIC. Given the significance of the real estate development being planned - at the nexus of Astoria, Long Island City and Sunnyside - I was surprised by the low turnout of members in the community. Perhaps it's because the NYC EDC didn't seem to do a very good job of notifying the community that there would be a meeting.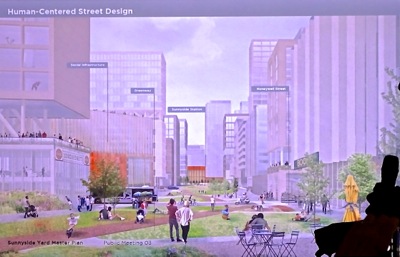 The illustration at right shows how a Sunnyside Yard development might look sometime in the foreseeable future.
There was a protest group there, possibly comprising somewhere between a quarter and half of those who attended during the second [of two] sessions that I attended. The sessions were held in a regular sized classroom, which contained an overflowing crowd, and most of the protesters, who were fairly disruptive, were also kept outside.
Exploring the possibility of the Sunnyside Yard real estate development project began a number of years ago [I've seen documents that indicate work began in 2014]. The concept was first presented to the public in Mayor de Blasio's first State of the City Address in 2015. Governor Cuomo seemed to try to upstage the Mayor earlier that same day, by pre-emptively mentioning it, only hours before the Mayor gave his Address.
The photo below right shows how the Sunnyside Yard looks today.
Much has been done since then, both in planning and in preparing the site for development. So if you want a say in how the 180 acres of space that is adjacent to Long Island City, Astoria and Sunnysideis going to be developed, you'd best begin ramping up to speed now - and fast - because the first pass at a relatively concrete Master Plan is expected this winter. The proverbial train is about to leave the station - or in this case the Sunnyside Yard.
---
Queens District Attorney Candidates - Queens DA Office Election
Why do Real Estate Developers Favor Katz for Queens District Attorney?
Tenants Pay Heed: Katz Became a Real Estate Development Lobbyist for Greenberg Traurig After Chairing the Land Use Committee in the NYC Council
This report covers campaign tricks, the phony Queens Library 'corruption scandal', the alleged Curtis Sliwa affair and something about a Katz Fundraiser at restaurant with Alleged Mob ties ...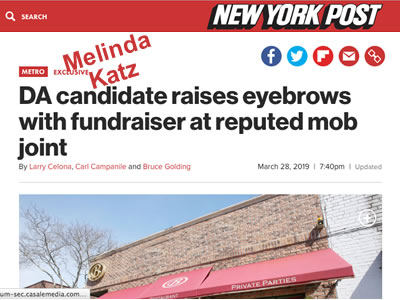 June 17, 2019 / Queens Neighborhoods / Queens Politics NYC / News Analysis & Opinion / Queens Buzz NYC.
We're a week away from Election Day for the Queens District Attorney Office. Melinda Katz, whose candidacy was once believed to be a shoo-in - based on her Borough-wide name recognition and the unmitigated support of the Queens Democratic machine.
Is Melinda Katz Candidacy for District Attorney Faltering?
It now appears that her candidacy may be in jeopardy as the Queens Democratic machine called upon Governor Cuomo to help raise funds to either stop or slow Katz's accelerating slide in the polls. It's worth mentioning that the Cuomo's June 10th fundraiser was not held in Queens – where it should have been – but rather in Manhattan [where the real estate developers are?].
IT'S NOT FUNDING - The Real Estate Cash has been Pouring In
Is Melinda Katz's Candidacy Faltering Because she doesn't have the Qualifications or Because she has shown little interest in Criminal Justice until she Began Running for the Queens DA Office?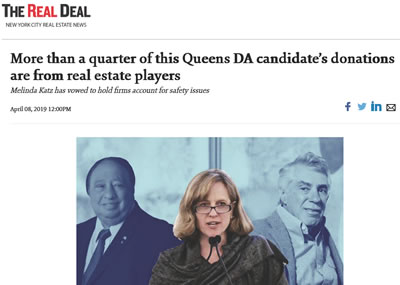 But it's not funding that Katz needs help with. It's her lack of criminal justice education, her complete lack of experience in the criminal justice system, and her lack of interest in criminal justice issues over her entire career until about six months ago.
As a point of contrast it's worth noting that Queens District Attorney candidate and NYC Councilmember Rory Lancman also lacks a criminal justice degree and experience – but at least he served on committees that focused on the topic and dealt with the issues – which Melinda Katz has not. The focus of Katz's early political career was on women's and health issues, and the rest of her public career largely centered on Land Use / real estate development, as she was Chair of the Standing Committee on Land Use during her time as a NYC Councilmember.
Both she and Lancman are in term limited positions which expire at the end of 2021, which in political terms, is just around the corner. The Queens District Attorney Office is not term limited and the last Queens DA, Richard Brown, served in that position nearly three decades [28 years]. Richard Brown recently died, at age 86, at home on May 3, 2019.
Real Estate Development Lawsuits in Queens
In recent years there have been a myriad of lawsuits involving real estate developers in Queens. These center around harassment, contested evictions and around safe work practices for contractors and employees. Unfortunately I don't have time to enumerate them, but you can do a search on this yourself using the search string 'Queens real estate developers lawsuits'.
---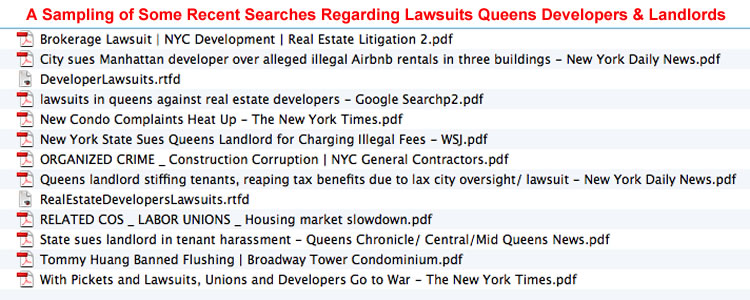 ---
Queens Voters have a Couple of Other Very Qualified Candidates – One Conservative & One Liberal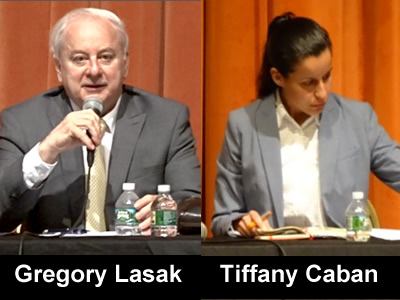 The two leading candidates with criminal justice degrees and experience are former Judge Gregory Lasak and Public Defender Tiffany Caban. Former Judge Gregory Lasak has a career spanning more than three decades working in the criminal justice system, and Tiffany Caban has spent seven years working in the criminal justice system as a Legal Aid Society attorney and Public Defender. The choice here is pretty clear as Judge Lasak is a go-slow advocate of reform, while Tiffany Caban is a passionate advocate of reform. But at least both of these candidates have qualifications that fit the job.
There's an old saying in business that goes something like this, "You can't manage a process you don't understand. And you can't understand a process unless you've done it."
Melinda Katz runs as both the Establishment & Reform Candidate
FLIP FLOPS: Is Katz Really the Candidate of Developers & Landlords?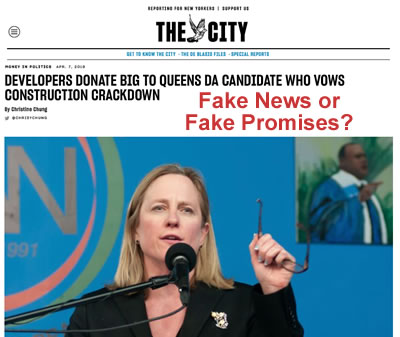 As for Katz's message – it's unclear for what she really stands. At times she claims she's a reformer, but we've seen little in the way of reform initiated by Katz over the past decade - and likely far longer - possibly ending in the late 1990's or early 2000's when she became a City Councilmember on the Land Use committee.
Not that long ago she reportedly backed capital punishment. And up until recently she backed cash bail, reportedly flip flopping on the issue particulars. And while she has said she supports the closing of Rikers Island and replacing it with borough centric jails [so the inmates can maintain their connections to family and community while awaiting trial], she appears to have taken the position of "not in my backyard" as the proposed replacement in Queens would be near Borough Hall where there's already a jail. To help put this in perspective it's worth noting that Bronx Borough President Ruben Diaz Jr. submitted a request that that is where the Bronx replacement facility for Rikers be placed.
Melinda Katz becomes a Real Estate Lobbyist at Greenberg Traurig in 2010

In 2010 Katz took a lobbyist at Greenberg Traurig, working on real estate development deals, which seemed to strengthen her ties to the real estate development community in general, and Boston Properties controlled by billionaire real estate developer and [at the time] the NY Daily News Publisher Mortimer Zuckerman in particular. Essentially she helped clients navigate their way through city and state government bodies [some of which she had previously worked on as a representative of the public] in order to get the real estate development deals deals done.
CLICK for the rest of our report on Melinda Katz - Queens DA candidates - the report covers 'dirty tricks', the phony Queens Library 'corruption scandal', the alleged Curtis Sliwa affair and something about a mob restaurant.
---
Queens District Attorney Debate
Includes Video of Highlights from the Debate in Jamaica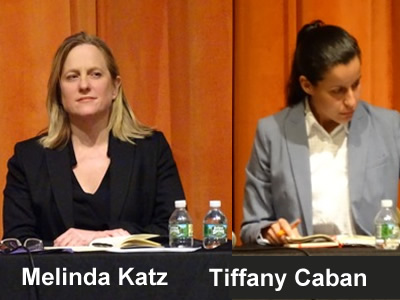 June 11, 2019 / Queens Neighborhoods / Queens Politics & Government / News Analysis & Opinion / Queens Buzz NYC.
In May I had the opportunity to attend the Queens District Attorney debate at the Jamaica Performing Arts Center. It was the second event, featuring the candidates running for the Queens District Attorney's office, that I attended. This time I focused more intently how well versed each candidate was on the issues to be addressed by the person winning that position, and what qualifications, experience and vision they might bring to the office.
I have noted my first impressions below, which were gleaned while attending a forum in April, to which all candidates were invited to participate at the Jackson Heights Jewish Center. In the second debate, some of these impressions were altered and some of them were confirmed.
The photo above shows the two leading candidates [based on endorsements] running for the Queens District Attorney office -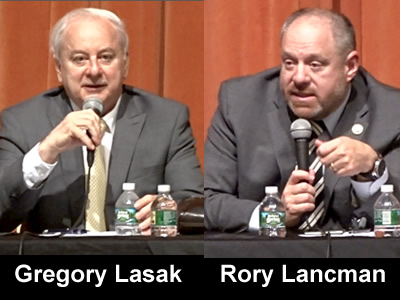 Melinda Katz and Tiffany Caban. The photo below shows the other two leading candidates running for the Queens District Attorney office - Gregory Lasak and Rory Lancman.
Tiffany Caban has, by far, received donations from more small contributors than any of the candidates. Melinda Katz leads in fundraising, with strong support from the real estate development community for which she spent years [2009 - 2013] working as a lobbyist.
Gregory Lasak and Rory Lancman have also been competitive fundraisers - but neither matching Tiffany Caban's small donor support, nor Melinda Katz's big donor support.
The following video captures about 17 minutes of highlights from the three hour long debate. I decided not to give equal time because many of the statements made were either repetitive or laden with platitudes. Thus former Justice Gregory Lasak and Public Defender Tiffany Caban received the most air time, as they provided real world anecdotes, as well as real world insights into how our criminal justice system functions and how it can be reformed.
Plans for Sunnyside Yard Moving Along
Window of Opportunity Closing for Residents' Input into Likely the Single Most Important Real Estate Development in Queens in a Lifetime
May 14, 2019 / Queens Neighborhoods / Queens Real Estate / Queens Buzz NYC.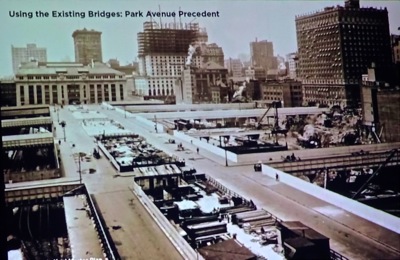 The Sunnyside Yard development effort began on February 9, 2015, when Mayor Bill de Blasio presented a vision for the development of Sunnyside Yard in his first State of the City Address. The first effort in the project was a Feasibility Study, which began soon thereafter.
Two years ago, on April 18, 2017, I attended a session where the NYC Economic Development Corporation presented the results of the Feasibility Study to the Community Board in Sunnyside regarding the building of a deck over Sunnyside Yard, in a fashion similar to what was done over a century ago, when the rail lines heading north from Grand Central Station were decked over and Park Avenue was paved over them. Click here to read our series on the History of Sunnyside Yard.
The photo to your right shows Park Avenue between 1910 - 1920, being decked up above NYC infrastructure.
Sunnyside Yard Public Meetings: Moving Along the Development Curve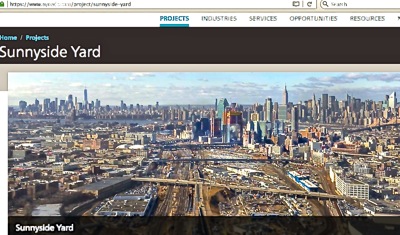 Last year, on October 24, 2018, the NYC Economic Development Corporation hosted an estimated 375 people at the NYCEDC's first Public Meeting at La Guardia Community College in Long Island City. I was told that they had modified the process and expanded the venue there in order to accommodate the community interest. The goal of the meeting was to obtain community input on how to utlize, the largest publicly controlled space in New York City, likely to be developed in our lifetimes.
The photo at right shows some of the elevated roads traversing Sunnyside Yard, in the same manner as some of the east / west roads traversed Park Avenue in the early 1900's. The plan is to deck it over to make use of the nearly 180 acres that encompass the space.
And on March 26, 2019 the NYCEDC held their second Public Meeting at PS 166Q Henry Gradstein Elementary School in Astoria. At this meeting the NYCEDC and the committee presented the findings of the first Public Meeting, and then oversaw breakout sessions by topic for anyone interested in contributing input into the direction of the Sunnyside Yard development project.
Sunnyside Yard Development & Community Input: Three Categories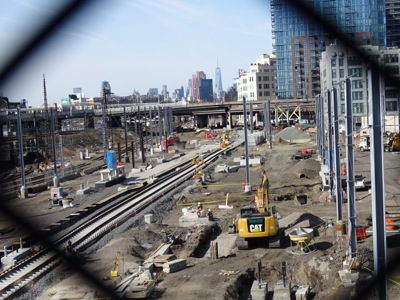 The breakout sessions centered around three primary topics: 1) Urban Design, 2) Transportation and 3) Open Space. I chose to attend the transportation session, as it represents the underlying infrastructure - but I must admit that I would have also liked the opportunity to sit in on the two other sessions, as each has its own set of opportunities and costs.
More coming later today. I also placed a request earlier this morning with the NYCEDC as to the timing of next steps, as the information was not available on their website.
NYS Rent Regulations up for Renewal
NYS Assembly and NYS Senate to Strengthen, Renew or let Expire NYS Rent Regulation Laws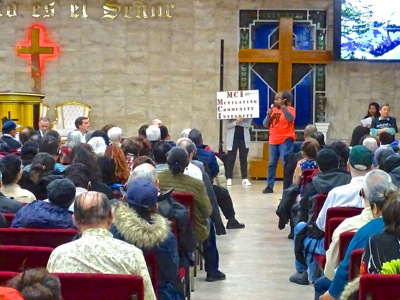 March 19, 2019 / Queens Neighborhoods / Queens Government & Politics / Queens Buzz NYC.
On Saturday I attended an event discussing the upcoming legislation pending in the NYS government in Albany concerning NYS rent regulations. Currently about 2 million of the 8.5 million people who live in NYC will be affected.
The primary topic of the event was MCI or Major Capital Improvements, which is a loophole in rent regulations that allows landlords to initiate projects within their buildings and then pass along the project costs to their tenants, in such manner as to provide the landlord with an incremental revenue increase that lasts into eternity, and which encourages landlords to get creative in originating projects in an effort to raise the rents of their regulated apartments at an accelerating speed in order to grow the monthly rent beyond the legal limit of regulation.
What happens then, is that a significant number of longstanding tenants in regulated housing, are priced out of their homes and neighborhoods. Some of the displaced tenants even become homeless. This is why homelessness nearly doubled under former Mayor Michael Bloomberg - who looked the other way as NYS rent regulations were being renewed.
The event was held in the Corona neighborhood of Queens, where hundreds - if not a thousand - people came to particpate in the discussion.
I'll have more on this at a later date.
St Pat's For All Parade History & Evolution - Irish Culture in Queens NYC
Who is the St Pat's 'For All' Parade for, Really?
St Patrick's Day Parade in Sunnyside Continues Hitting High Notes
March 3, 2019 / Sunnyside Neighborhood NYC / Arts & Culture in Queens NYC / Queens Buzz NYC.
It was a beautiful sunny day in Sunnyside, as I made my way over to Skillman Avenue to watch the annual St. Pat's For All parade. The speeches had started at noon, but I didn't arrive until after 1 pm, so I missed them [bummer].
When I arrived, the parade was out in a full march, and behind the first banner there were about a dozen government officials including NYC Councilman Danny Dromm [Jackson Heights / Elmhurst], Congresswoman Carolyn Maloney [Manhattan / Queens], NYC Council Speaker Corey Johnson [Manhattan] who's likely planning a run for Mayor, NYS Attorney General Letitia James, Congresswoman Alexandria Ocasio-Cortez [Queens / Bronx], NYS Assemblyman David Weprin [Jamaica Estates / Richmond Hill] and the St. Pat's For All parade co-founders Kathleen Walsh D'Arcy and Brendan Fay. A few pols who marched in their own groups, including Queens Borough President Melinda Katz and NYS Senator Michael Giannaris.
Jimmy Van Bramer Reportedly Threatened & Crowley Resigns as Queens Democratic Chair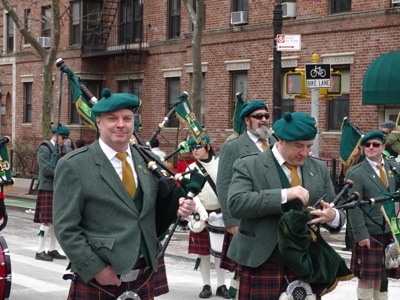 Notably absent [at least I didn't see either of them] were NYC Councilmember Jimmy Van Bramer and former Congressman Joe Crowley. I reckon Crowley had his reasons, as just last week he resigned as the Queens County Democratic Party Leader. And I reckon Van Bramer had his reasons as well, as this week he was reportedly threatened by a restaurateur who was upset that the Amazon deal fell through. According to Newsweek, the restaurateur texted a message to Van Bramer that included this, "… you can be at the back of the parade or in front of the firing squad …" We posted a couple of reports on the Amazon deal on the two announcements – we're coming / we're not coming, which you can read by clicking these links. Amazon coming to LIC Queens NYC / Amazon not coming to LIC Queens NYC.
Origins & History of the St. Pat's For All Parade in Sunnyside Queens
The St. Pat's For All parade started because the Manhattan St. Patrick's Day Parade wouldn't allow gays, like Brendan Fay, to march openly. So he, along with Kathleen Walsh, rounded up a rag tag band of Irish folks, along with their friends and began the St. Pat's For All parade in the year 2000. The 'For All' became the moniker and rallying cry, because as mentioned previously, the LGBTQ folks were banned from marching in the large Manhattan St. Patrick's Day parade in Manhattan.
---
Jumaane Williams Wins Public Advocate Election
Williams Bests 16 Other Candidates to Take Second in Succession to Mayor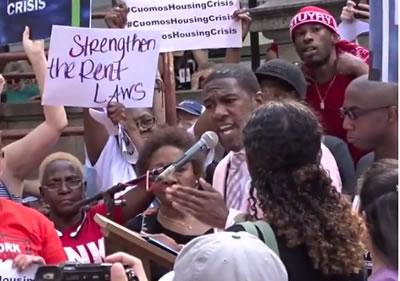 February 26, 2019 / NYC Neighborhoods / NYC Politics & Government / Gotham Buzz NYC.
Jumaane Williams appears to have won the election for Public Advocate. According to Ballotpedia, with 88% of the precincts reporting, Williams had received 120,000 or 33% of the vote.
The sole Republican, Eric Ulrich, received 70,000 votes or 19%, which was the second highest total of votes. The other Democrats included former NYC Council Speaker, Melissa Mark-Viverito, who received 40,000 or 11% of the votes, was followed by Michael Blake with 29,000 or 8%, Ydanis Rodriguez with 22,000 or 6%, Dawn Smalls with 15,000 or 4%, Rafael Espinal 12,000 or 3%, Ron Kim 11,000 or 3%, Daniel O'Donnell 11,000 or 3% and the others each had less than 10,000 votes with 88% of the precincts reporting.
Jumaane Williams is shown in the photo at right in June 2018, campaigning on the steps of the New York Public Library in Midtown Manhattan, for Lieutenant Governor. Williams lost that election in November, but quickly rebounded, winning the position for NYC Public Advocate in February of 2019.
According to a NY Times report Jumaane has eight months before he's up for election again, as this special election - to replace Tish James because she was elected NYS Attorney General - only lasts until the next regularly scheduled election. Congratulations Jumaane.
Chinese New Year of the Pig in Queens
Year of the Pig Celebrated in Flushing Chinese New Year Parade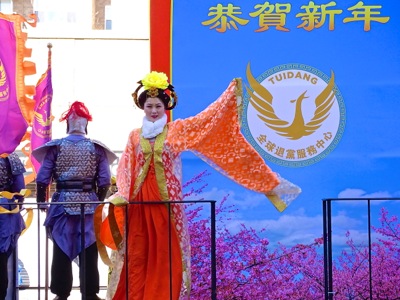 February 10, 2019 / Things To Do Queens / Queens Neighborhoods / Queens Buzz NYC. By Michael Wood.
On Saturday I made my way east to Flushing to watch the Chinese New Year Parade. It was a nice sunny day with temperatures in the 30's, and a fair wind blowing, adding to the chill. But that doesn't seem to dampen the enthusiasm of the large crowds that come to attend and witness one of the world's most ancient cultures on full theatrical display.
The sidewalks in Flushing along Main Street had been widened this past year, enabling a far better flow of pedestrian traffic than in prior years. I headed south toward the Flushing branch of the Queens Library, to find an opening into the street where I could - for the first time - take video of the colorful, musical parade.
I'll post the video later today.
Sunnyside Yard Inches Closer to Development
The Wheels have been in Motion Ever Since Mayor de Blasio First Unveiled his Vision for Sunnyside Yard in 2015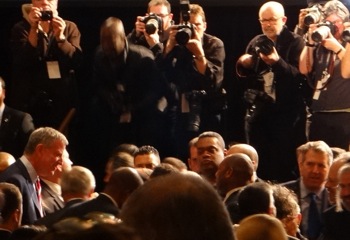 January 7, 2018 / Sunnyside Neighborhood / Long Island City Neighborhood / Queens Neighborhoods / Queens Real Estate LIC Astoria Sunnyside / Queens Buzz NYC.
On Tuesday, February 3rd, 2015 - in Bill de Blasio's first State of the City Address in Manhattan - the Mayor unveiled a vague vision for for the development of Sunnyside Yard in Queens. Following Mayor de Blasio's announcement, the city initiated a feasibility plan to investigate the issues associated with developing the space atop what is now the open space of Sunnyside Yard. Sunnyside Yard lies near the eastern side of Long Island City and the western side of the Sunnyside neighborhood.
Prior to the Mayor's announcement, and continuing to this day, western Queens - but most specifically Long Island City - has been under siege by real estate developers. They have bid up the prices on old buildings and empty lots, and following the purchase of them, have then erected tall skyscraper buildings at a rapid, mind-boggling pace. By the early 2020's, NYC real estate developers will have added tens of thousands of residential units to the Long Island City neighborhood alone, in less than a decade and a half.
In the photo at right, Mayor de Blasio talking to members of the press and audience, following his first State of the City Address in 2015 in Manhattan.
A Changing & Evolving Landscape in Queens
Like all change - there are winners and losers and there are good things and bad things - that come of any change. I've tried to capture a bit of both in my reporting of Long Island City's growth over the past decade or so, but for the purpose of this report, I will leave a discussion of the many issues associated with change, here.
In October of 2018 there was a community meeting at LaGuardia Community College regarding future plans for Sunnyside Yard. Over 300 people came to watch the slide show, view the exhibits, and interact with the NYC Economic Development [EDC] team that is spearheading the effort to include community sentiment and address community issues in any future development of Sunnyside Yard.
This is the beginning of an 18 month long process to engage the community in identifying and managing issues associated with the development of Sunnyside Yard.
In the photo at right are various members of the Queens community who came out to view the exhibits and slide show put together by the NYC EDC regarding the future development of Sunnyside Yard.
WORK IN PROGRESS - more to come later this week.
USPS Service Alert for December 5, 2018
December 4, 2018 / Queens Neighborhoods / Queens Business / Queens Buzz NYC.
Donald Trump proclaimed Wednesday, December 5, 2018, as a National Day of Mourning for former President George H.W. Bush.  Out of respect for the 41st President of the United States ... and consistent with the Presidential Proclamation, the United States Postal Service will suspend regular mail deliveries, retail services and administrative office activity on December 5, 2018. 
The U.S.Postal Service informs us that they,
"will provide limited package delivery service on that day to ensure that our network remains fluid and we do not experience any impacts to our package delivery operations that might negatively affect our customers or business partners during the remainder of our busy holiday season."
World Maker Faire at the NY Hall of Science
Ye Old World Maker Faire was Everything but … old
September 24, 2018 / Corona & Flushing Neighborhoods in Queens / Queens Things To Do / Queens Buzz NYC.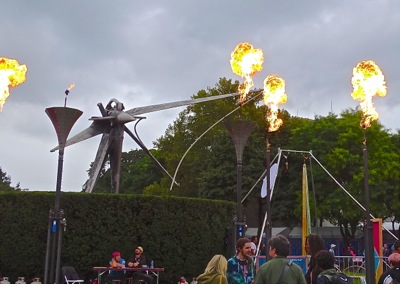 The 7th annual World Maker Faire was held last weekend at the NY Hall of Science in Flushing Meadows Corona Park. I had been meaning to attend the festival since it had first opened years ago, but never quite squared away the time. Thankfully, that was not the case this year.
The World Maker Faire is billed as a fair of, "invention, creativity, and curiosity [that] showcases … more than 600 projects … focused on making for social good, health, technology, electronics, 3D printing & fabrication, food, robotics, art …".
The faire really surprised me on the upside. While I had heard of it for years now, I had the impression that it was a bit of a nerd fest. And while there's certainly some of that embedded in the program, it goes way beyond that. It was like attending an old time county fair, but instead of seeing rides, rodeo contests and animal exhibits, we saw robotics contests, robotics exhibits and feats of mechanical / AI prowess. A bit nerdy, perhaps, but as you will see from the video below – far, far more than that.
One of the first exhibits to catch my attention was a good old-fashioned cock fight – where the roosters were replaced with robots. It seemed kind of an adolescent use of all those majestic brainwaves, but I have to admit that I, along with the rest of a large crowd, found it pretty entertaining.
The Flushing BID Hosts Shopping Market
Flushing Hosts Open Air Market with Food & Shopping
September 18, 2018 / Flushing Neighborhood / Queens Restaurants / Queens Shopping / Queens Buzz NYC.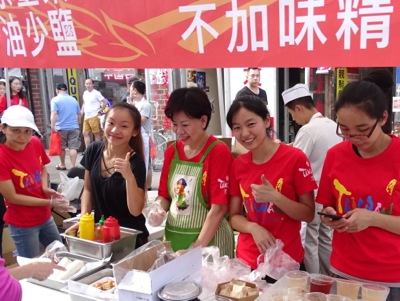 Last Saturday was a great day to be out and about. The temperatures had finally cooled down a bit and the humidity had subsided. The Business Improvement Districts of Jackson Heights and Flushing were prepared to take full advantage of the changing seasons with event programming designed to draw crowds into their shopping and dining districts.
I arrived at the Flushing BID fair on a two block stretch that included Prince Street and 40th Road off of Main Street and Roosevelt Avenue. Like many things in Flushing Queens Chinatown, it was crowded with all sorts of people – from the very old to the very young.
The very young were enjoying themselves inside inflated romp a rooms, while the adults were busy shopping or grabbing a quick bite to eat. I made my way up Prince Street past many of the shopping stalls and then headed east along 40th Street to take a closer look at many of the offerings.
Behind all the activity are a few of the restaurants serving the Chinese food for which Flushing is well known, but on today's outing, I forewent that pleasure in favor of the open air.
Perhaps what caught my eye most on this trip was the variety of shopping options, more than the food. I had expected the event to be more food oriented, as other events done by the Flushing BID were. But today it was the shoppers who appeared to have won out, as there was a myriad of offerings, from pots and pans, to fishing gear, to cosmetics, clothing, various foods and all sorts of unique Chinese and Asian objects.
It was a little like traveling through a real Chinese market, complete with sounds and smells, that was only a subway ride away.
Viva La Comida in Jackson Heights
Food & Entertainment Festival at 82nd Street & Roosevelt Ave
September 18, 2018 / Jackson Heights Neighborhood / Queens Restaurants / Queens Shopping / Queens Buzz NYC.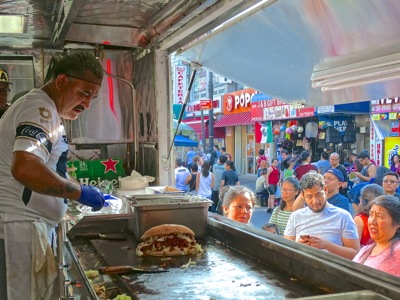 My next stop was the Viva La Comida Festival at Dunningham Triangle at 82nd Street in Jackson Heights. This event had originated as a food truck event about a half dozen years ago, and has continually been morphing into something more.
Each year the configuration changes and this year they had sprinkled picnic tables throughout the venue to enable folks to sit and enjoy the food fare after purchasing it. In prior years the picnic tables were not as plentiful and as I recall many standing in the same area.
The benefit was a more accommodating eating venue, as well as a more integrated social one. There was a cost, and that was that that the foot traffic didn't move as quickly as the picnic table occupied some of the space. All tolled it seemed a good trade.
As I made my further in, there was music coming from a stage near the Triangle. I had arrived about 5 pm and the Salsa Marsala was entertaining one of the biggest crowds I had seen at this event. Again part of this was owing to a better configured use of the space. And over the years the event has also become a showcase for Jackson Heights performance talent.
While listening to the Salsa Marsala I met a man from the Queens Council for the Arts. He told me how the QCA organization had helped the band with a grant, as well as in providing the group with some of their arts and cultural organization expertise. The band is about to release a new album this fall called Jackson Heights Block Party.
As mentioned above, Viva La Comida has evolving and includes a number of cultural offerings. There was a booth there run by the Queens World Film Festival, with founders Katha and Don Cato on hand to talk about all of the programs that their organization has undertaken.
Also, not far from the stage, there were a couple of booths associated with the John Lennon Bus Tour. Last year they did an event in Travers Park, and this year they were doing it in conjunction with the Viva La Comida festival. The John Lennon Bus Tour brings along buses that have a lot of equipment that their staff introduces to kids interested in pursuing an arts or cultural occupation.
As I made my way back to the subway I was disappointed I couldn't stay longer. Perhaps next year.
Farmers Mkts, Street Fairs & Member Events Calendar
* Click here for reports about Queens farmers markets, Queens street fairs, shopping venues in Queens and / or click to Queens Events Member Calendar to view a number of additional weekend events.

* Also see Friday & Weekend Events above and click here for free summer concerts in Queens, free summer movies in Queens and free things to do and free summer theater in Queens & things to do.
BOOK REVIEW NEXT WEEK: Under the Mets Grandstands by Seymour Butz.
Jamaica Just My Style Fashion Show
JJMS Runway Hits ... Delight the Audience Again
June 19, 2018 / Jamaica Neighborhood / Fashion in Queens / Queens Buzz NYC.
I attended the Jamaica Just My Style Fashion Show last Friday at the Jamaica Performing Arts Center in Queens. The show highlights some of the great shopping opportunities in downtown Jamaica as it is organized and hosted by the Jamaica Center Business Improvement District [BID].
In the lobby there was food and shopping opportunities, and in the auditorium there was a show not to be missed, featuring the clothing and designs offerred by about a dozen downtown Jamaica retailers which are listed at the end of the video below, along with the Jamaica Center sponsors.
There wasn't any multi-media going on in the background as in previous years, which at first I thought might be a liability. But I found instead, that I soon lost myself in an undistracted focus on the models and the clothing coming down the runway.
There were also about a dozen and a half models, about two thirds of which were female, and all of whom did a great job of keeping our attention on their sculpted forms, theatrical poses and dancer flair. Click the video below to feast your eyes on fashion, form and function and a bit of show biz, provided by rapper Roxanne Chante. A photo of entertainer Destiny Johnson is also included at the end of the video.
Break a leg.
Jamaica Just My Style Fashion Show Preview
June 12, 2018 / Jamaica Neighborhood / Queens Fashion NYC / Queens Buzz NYC.
I traveled down to Jamaica town on Tuesday afternoon to see a short preview of the upcoming Jamaica Just My Style Fashion Show. The show is organized by the Jamaica Center BID and Executive Director Whitney Barrat was on hand to talk about the upcoming show. The gracious Barrat talked about the vibrancy of the downtown Jamaica business district, the excitement of the upcoming show, and commended Jamaica Center BID Associate Valerie Stevens for her efforts in organizing the event. The designs by Michele Walden Mcphee were alluring, complementing the models' shapely figures in an artistic display of finely chosen fabric.
The show begins at 6 pm Friday at the Jamaica Performing Arts Center on Jamaica Avenue at 153rd Street. There will be food, music and plenty of fashion not just on the stage but in the crowd as well. It's free but you must rsvp at the Jamaica Center BID website - using the link below.
CLICK - Jamaica Just My Style Fashion Show Friday, June 15 at 6 pm to rsvp for a free ticket.
Small Business Week in Queens
NYC Small Business Services Commissioner in Sunnyside
May 1, 2018 / Sunnyside Neighborhood / Queens Business / Queens Neighborhoods / Queens Buzz NYC.
Tuesday afternoon, the NYC Small Business Services Commissioner, Gregg Bishop, visited the Sunnyside Shines Business Improvement District [BID]. It was the SBS Commissioner's first visit in five years.
NYC City Council Member Jimmy Van Bramer, Sunnyside Shines Board Chairman John Vogt and Executive Director Jaime-Faye Bean were on hand to meet the Commissioner. Jaime welcomed Gregg to Sunnyside, noting the progress that has been made by the Sunnyside BID over the past year [see Sunnyside Shines BID story for details].
Jimmy Van Bramer spoke next, quipping that it's always sunny in Sunnyside, as the sun was out today and the temperatures hit 80 degrees. Jimmy went on to note that he's allocated taxpayer dollars to support the BID in its efforts to promote and aid small businesses in the area. He also mentioned that some improvements were coming to the iconic Sunnyside marquee that stands at 46th Street and Queens Blvd.
Gregg closed out the public comments, applauding the efforts by the BID organization and the councilmember in helping maintain a robust small business sector in Sunnyside in spite of macro trends weighing in against small business. He told us that there are 230,000 small businesses in New York City and that they employ 3.7 million people which using the last census figures constitutes 45% of all New Yorkers' employment.
The Sunnyside BID organizers then hosted the Commissioner on a whistlestop tour of a few of the nearby businesses so that he could hear more about the issues they are facing and learn more about how NYC Small Business Services can help.
In the photo above in the front row, NYC City Councilmember Jimmy Van Bramer is third from left, Sunnyside Shines Executive Director jamie Faye-Bean is fourth from left, NYC Small Business Services Commissioner Gregg Bishop is fifth from left. Sunnyside Shines Board Chairman John Vogt is in the second row standing between Gregg and Jaime.
5 Boro Bike Ride Returns Sunday
Bike New York Organizes NYC Bike Ride & Bike Expo New York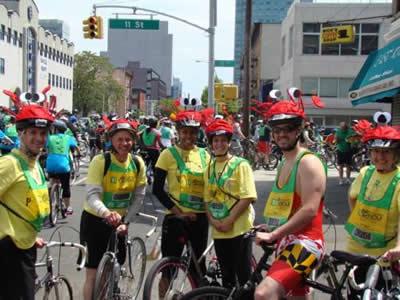 April 30, 2018 / Manhattan Neighborhoods / Bronx Neighborhoods / Queens Neighborhoods / Brooklyn Neighborhoods / Staten Island Neighborhoods / Gotham Buzz NYC.
This story includes information about the upcoming 5 Boro Bike Ride on Sunday, as well as the Bike Expo New York which precedes it on Friday & Saturday in Red Hook. As of this report, the temperatures are expected to be in the 60's and the chances of rain appear slim. But bear in mind that the forecast probability of 20% chance of rain last Friday, turned into rain on Saturday evening, so check the weather as we get closer in.
Bike New York 5 Boro Bike Ride Route
Since 1977, every first Sunday of May, Bike New York has organized and promoted the 5 Boro Bike Ride. The ride begins in lower Manhattan, sweeps northward across the Harlem River Bridge to the Bronx, circles back across the Third Avenue Bridge to Manhattan, where it begins its southward trek crossing the Queensboro Bridge into Queens, heading south to Brooklyn after a quick stop north to Astoria Park, and then comes down past the Brooklyn Navy Yards, continuing southward along the west side of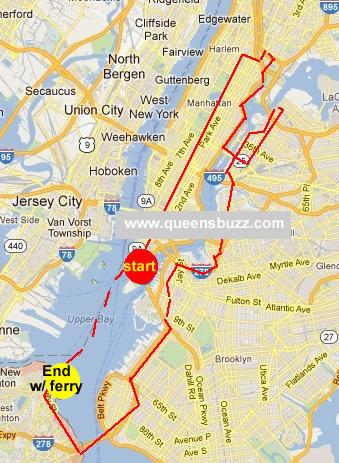 Brooklyn, to the Verrazano Narrows Bridge where it crosses over to the Fort Wadsworth neighborhood in Staten Island before terminating in the St. George neighborhood at the Staten Island Ferry.
Proceeds from Non-Profit New York Bike Ride go Toward Sustainable Transportation Efforts
The now famous bike ride was capped at 32,000 riders I believe sometime in the 1990's, where it still stands today. One report noted that the 5 Boro Bike ride is one of – if not the largest - non-profit bike rides in the nation. The proceeds go to Bike New York programs which are designed to teach people about sustainable transportation, most notably bicycle riding and bike maintenance and safety. Another report noted that the NYPD had considered [don't know the outcome] charging the organization $1 million for erecting, maintaining and terminating road closures during the New York 40 mile family-friendly bike ride.
Bike New York Bicyclist Outreach in all Five NYC Boroughs
Bike New York has offices in all five NYC boroughs. In 2015 their cyclist safety and bike maintenance programs reached 15,000 New Yorkers. And they are the organizers of the Bike Expo New York being held at Pier 12 in Brooklyn on Friday and Saturday [see details in rest of this story].

test

TBD

Indie Cade 2018 at Museum of the Moving Image NYC
Museum of the Moving Image: Indie Cade 2018
MoMI Hosts Community of Evolving Video Art Gamers
February 26, 2018 / Astoria Neighborhood / Film & Video in Queens / Queens Neighborhoods / Queens Buzz NYC.
A week ago I attended the Indie Cade East gathering at the Museum of the Moving Image in Astoria. I had been to previous Indie Cade events at the Museum of the Moving Image, and each time I go I try to find something new and different.
It was a relatively balmy February day as I made my way to the Museum of the Moving Image along 35th Avenue at 36th Street. There were people milling about outside, discussing video games, as I entered the museum.
Memories of Astoria Video Mural
Along the left side of the entrance lobby, there was a video mural running along the wall, made by a Brooklyn artist, Ezra Wube, which showed painted scenes of the Astoria neighborhood. And directly in front of me, people were engaged in video games and hanging out on the benches adjacent to the snack bar. After checking in, I headed into the main theater to see what was playing as it was only a couple hours before closing time on Sunday afternoon.
There were people watching and discussing a black and white video, which was a combination of modern video art and representations of nature. The video continually morphing into and out of the real / surreal depictions, accompanied by rhythmic acoustical music, providing a mind bending experience if you gave it time and let it in. Given my time constraints, I decided to continue into the rest of the Indie Cade event, as delving more deeply into this work would likely consume the rest of my visit.
Museum of the Moving Image – Indie Cade East Exhibits
On the second level there was an interactive video that worked a bit like a game show. The player would be prompted by pick up lines / questions that the video game maker had collected, and then prompted for a multiple-choice response. Generally one of the questions was quite rude, and if you chose that one, the game ended more quickly. I suppose a bit like in real life : ) as some of the pick up men in the game would flee – which as one woman told me – isn't exactly like what happens in real life.
Within that exhibit space there was a video explaining how the game was made. I'm not sure if this is a part of the exhibit entitled Indie Cade Presents: A Decade of Design, so I'm not sure if it will remain at the Museum of the Moving Image as part of that exhibit which is scheduled to run through June 17th, 2018.
---
Click here for things to do on the Upper East Side UES, or things to do in Midtown Manhattan NYC, or things to do in the East Village and here for Whitestone hair salons.

test

Chinese New Year Parade - Flushing Queens NYC
Queens Chinese New Year Parade & Celebrations in Flushing
The Year 4716, or the Year of the Dog, has Begun
February 19, 2018 / Flushing Neighborhood / Queens Holidays / Flushing Chinese New Year Parade & Celebrations / Queens Buzz NYC.
On Saturday I made my way east to Flushing to watch the Chinese New Year parade in Flushing. The Flushing neighborhood of Queens rivals the Chinatown neighborhood in Manhattan for the leading center of Chinese culture in New York City and along the East Coast of the United States.
The photo at right shows a few of the 'dogs' celebrating the year of the dog in the Flushing Chinese New Year Parade.
Flushing Chinese New Year Parade 2018
The parade kicked off at 11 am just east of the Queens Crossing Mall at Main Street and 39th Avenue. They headed south along Union Street, west along Sanford Street, before heading north along Main Street terminating just after passing the Queens Crossing Mall.
Literally thousands participate in the parade itself and likely north of 10,000 spectators come out to watch the grand cultural celebration. Participants march in groups, dressed in traditional costumes, harking back to ancient times. And there were also many floats, which were generally associated with local businesses and organizations.
The Flushing Chinese New Year parade is an evolving cultural event as Korean and Japanese marchers and floats also participate in the parade. And in the last few years I've noticed westerners marching dressed in traditional costumes, possibly as cross cultural / Americanized couples and friends join in the fun.
---

test

Queens Romantic Restaurants for Valentines Day - Queens NYC
Valentine's Day Restaurants & Events in Queens
Romantic Restaurants For Dinner in Astoria, LIC, Sunnyside, Woodside, Jackson Heights & Flushing
February 4, 2020 / Queens Restaurants / Queens Neighborhoods NYC / Queens Buzz NYC.
Valentine's Day is a week away. It's a good time to let your loved one know you care. Flowers, gifts and dinner are always welcome treats, and / or some thoughtful gesture that shows that the lady [or man] you're with still means a lot to you.
It's generally hard to make restaurant reservations on short notice at a romantic Queens restaurant on Valentine's Day, and sometimes it's difficult to make them for the weekend of Valentine's Day. So if you're thinking about doing something this Valentine's Day for dinner in Astoria, LIC, Jackson Heights, Sunnyside, Woodside or Flushing; it's best to do your research early, and call a week or at least a few days ahead to make the reservations.
Valentine's Day Brief History - Queens Romantic V Day Restaurants
The origins of Valentine's Day are not well documented. It's believed to have been named after Saint Valentine who was apparently a Catholic martyr who died over 1500 years ago. Today the holiday is not associated with religion so much as flowers, candies, cards and romantic dinners. And the holiday spokesperson is now Cupid, a Roman god of desire, and quite a mischief maker.
The restaurants we've reviewed include a mix of high, medium and budget priced restaurants that are spread throughout the borough and offer a large variety of ethnic cuisines. Click this link to view a brief guide of Valentine's Day restaurants in Queens / V Day events & romantic restaurants Queens NYC where you will find links to Queens restaurants we've reviewed. Enjoy.
---
Queens St Patrick's Day Bars, Restaurants & Irish pubs In Queens NYC
St Patrick's Day Bars, Restaurants, Irish Pubs in Queens
St Pat's Day Irish Pubs & Restaurants in Astoria, LIC, Sunnyside, Woodside, Jackson Heights & Flushing
February 25, 2020 / Queens Neighborhoods / Queens Restaurants & Bars / St Pat's Parade Queens NYC / Queens Buzz NYC.
Here's a listing of some of the fun Irish pubs open on St. Patrick's Day in Queens.
There are a lot of celebrations planned for St Pat's Day in Queens. There are a at least three St Patrick's Day Parades in Queens, but they are generally held on the weekends before or after the actual St. Patrick's Day feast on March 17th.
The photo to your right was taken on St. Patrick's Day weekend in 2019 at Donovan's Pub in Woodside.
This report contains a number of brief suggestions for St. Patrick's Day bars, restaurants and Irish pubs in Queens, including in Astoria, Long Island City, Sunnyside, Woodside [near Jackson Heights], Bayside [near Flushing], the Rockaways [near Jamaica] and in Maspeth / Ridgewood which are near Kew Gardens and Forest Hills. At the end of the report we've included links to St. Patrick's Day celebrations in other boroughs.
Please drink responsibly and let someone else drive if you're impaired. St. Patrick's Day is a bit like New Years Eve, in that the amateur consumers of alcohol of all ethnicities come out to celebrate, and if they are not properly managed / or cared for, accidents may occur, and some of them with life changing consequences.
---

Astoria Furniture Stores Have It All - Queens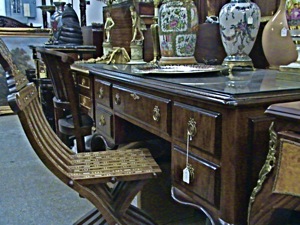 Astoria Shops / Astoria / Queens Buzz NYC.
The furniture stores located on the southern end of Steinway Street in the Astoria neighborhood of Queens seem to have something to offer to just about everyone. This part of Steinway is a furniture shopper's mecca, offering plenty of choices from classical colonial, to urban apartment living to bedding to suit nearly every spine.
I took a quick trip there, which is easily accessible via the N, W, G, R or V subway lines and within a sturdy walking distance from Long Island City, Astoria, Sunnyside and Woodside. Just up the street from Steinway is Broadway and two blocks further north is 30th Avenue, where you'll find a number of great Queens restaurants where after a good morning or afternoon of shopping, you can kick back in an enjoyable ambiance - or in the good weather along one of the sidewalk tables - ane enjoy a bit of coffee and some delicious food. Click here to learn more about the furniture stores in Astoria Queens.
---
Click for free checking in Queens or to buy eyeglasses Astoria, for Astoria hair salons, for Astoria wine stores, for Jackson Heights immigration lawyers, for Midtown dentists & Midtown Chiropractors, and for things to do in Queens. Eyeglasses in Jamaica NYC and bike stores Queens.
---
Mens Clothing Styles - Queens
Shopping Queens / Astoria Neighborhood / Queens Buzz NYC.
Esquire Men's Clothing Store continues to serve the greater Astoria and Queens area, as it has for over thirty years. The shop is owned and managed by Frank and Kevin Adhami, and their father, who is in his eighties, still visits the store on an almost weekly basis.
Esquire is located along Steinway Street between 30th and 31st streets. The store contains a wide selection of men's coats, suits, casual wear, shoes and men's accessories like belts and ties.
This story will provide some information about the store itself as well as fashion recommendations for the Spring and for job hunters.
Click this link to view a story written on Men's Clothing In Astoria Queens NY. Click here for men's clothing stores in NYC, and here to buy Stone Rose shirts in NYC, and here to buy Alberto pants in NYC, and here to buy Eton shirts and here to buy Hugo Boss sneakers in NYC. Click here for Astoria / LIC Queens tile stores serving Brooklyn, Greenpoint & Williamsburg or here for abayas in Queens & Brooklyn NYC and for hijabs in Queens & Brooklyn NYC.
Queens Farmers Markets
March 25, 2019 / Astoria Sunnyside Woodside Jackson Heights Long Island City LIC Flushing Jamaica / Queens Buzz NYC.
Jackson Heights was the first year 'round farmers market in Queens, Forest Hills was the second year 'round farmers market, and Sunnyside was the third year 'round farmers market in Queens. So now Queens has three farmers markets operating year 'round and nearly a dozen seasonal farmers markets.
Click the link below to see a listing of the Queens Farmers Markets operating during the 2019 season including links to maps. Click the other link below for an updated list of Queens Street Fairs schedule of 2019 through the first couple of months of the 2019 season, including dates and maps showing their locations. We will continue updating and adding to the street fair calendar throughout the season.
Click here for our updated posting of Queens Street Fairs - Queens NY. Click here for a listing of the Queens Farmers Markets. You will always find both street fairs and farmers markets for the current month in the Queens Events section of the site [see top tool bar for button / link]. Click here to view the map of the Jamaica farmers market. Click here for Bronx street fairs.
Queens Real Estate
Real Estate in Astoria, Jackson Heights, Long Island City LIC, Sunnyside, Woodside, Flushing, Jamaica
Queens NY / 2017. These links will take you into sections & reports on the Queens real estate market in Queens beginning in 2009.
These reports include reviews of apartment rental prices, as well as condo, co-op and home prices and availability in the Queens market.
We have also done neighborhood specific reports about Astoria real estate, LIC / Long Island City real estate, Jackson Heights real estate, Woodside & Sunnyside real estate, Flushing Real Estate and Jamaica Real Estate. Click here to view Long Island City apartments for rent LIC.
While we found these neighborhoods mirrored / trailed many of the national trends, we found some interesting differences, including differences from neighborhood to neighborhood.
Click here to read the Queens Real Estate market analysis 2009. Click here for Jackson Heights realtors and Jackson Heights real estate.

test
Queens Buzz Voluntary Subscriptions
We work very hard to help keep you informed by providing you with independent news coverage, as well as information about events in the arts, culture and business in the borough.

You can help us continue to provide you with independent, first-person, fact-based, contextural reporting by purchasing an annual subscription. As it's voluntary, there are a variety of price options, one of which should fit within your budget.
Thanks for your encouragement & support.