Queens Bronx Builders Association
Building Businesses Slowly Improving - Builders Cautiously Optimistic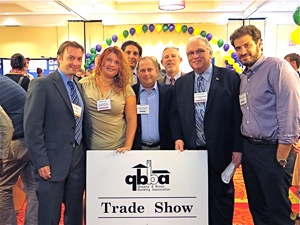 October 25, 2012 / Jackson Heights / Queens Business / Queens Buzz. I attended the Queens Bronx Builders Association Trade Show at the LaGuardia Marriott this evening. The show included between two and three dozen exhibitors showing just about everything and anything you might need to erect and finish a building. I went to get some sense of the mood of the building trades, given the economy has been the focus of many folks' attention since the financial debacle of 2008.
The sense I got from most of the exhibitors was that, while things are not great like they had been before the bust, they appeared to have 'hit bottom', and appear to be steadily improving. Most of the folks I conversed with were cautiously optimistic; saying they had been having some really good days, but also some really slow days. A few of the people I spoke to were downright bullish. Only two people told me that things were still very rough out there.
As you know, this is not a scientific survey, but the generally upbeat mood of the trade fair left me with the sense that things in the construction business were improving.
Click here to read our report about the Queens Bronx Building Association Trade Show in Queens.
---
Queens Bronx Builders Association
Building Trades Improving in Queens & City
October 25, 2012 / Jackson Heights / Queens Business / Queens Buzz. Continued. I arrived at the Queens Bronx Building Association Trade Show at the LaGuardia Airport Marriott at 102-05 Ditmars Blvd in East Elmhurst shortly after the trade show had opened.
The show had a wide range of exhibitors ranging from real estate and financial service companies, to windows, tiles, stairways, flooring, HVAC [heating, ventilation, air conditioning] providers, fuel companies, appliance dealers, elevator companies, as well as some more arcane building materials – some of the detail of which I'll provide later in this report.
Landscaping in Queens - Garden Works of Astoria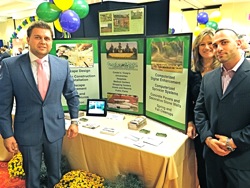 My first stop was to visit one of Queens landscapers, Garden Works 43-11 19th Avenue in Astoria. Garden Works provides a portfolio of landscaping services from landscape design / architecture, to installations and enhancements for both commercial and residential contractors, architects, builders and individuals.
Garden Works of Astoria Queens has done work on wetlands, green roofs, irrigation and general landscaping. Their clients include shopping centers, medical facilities, universities and homes. Some of their services include digital visualizations, decorative stone walls, computer managed sprinkler systems as well as spring and fall clean ups.
Windows & Doors in Queens & NYC - Crystal Window & Door Systems
I stopped by one of Queens premier window and door manufacturers, Crystal Windows of 31-10 Whitestone Parkway in Flushing. Crystal Windows provides a full suite of doors and windows, and a couple of years ago entered the solar panel business. They also serve both commercial and residential contractors, architects, builders and individuals.
Crystal Window & Door Systems of Flushing, Queens offers a wide range of price / product choices in their product lines which are made of aluminum, vinyl and glass. And the windows and doors come in a variety of colors, styles and contain various features. As mentioned above, Crystal also does solar panels, which also use silicon. Click here to read a prior report we did about manufacturing at Crystal Windows in Flushing Queens.
Fenestration Products in Queens & NYC - Gamco Corp of Flushing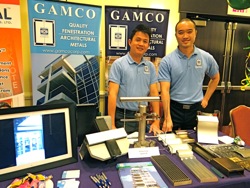 The Gamco Corporation is located at 131-10 Maple Avenue in Flushing. Gamco is a provider of fenestration products. I had always thought of fenestration in regard to windows, but it's actually it refers to building openings, and generally fenestration products refer to building openings to outside of the building.
It appears Gamco Corp Fenestation Products emphasize the commercial work [they do homes too], and much of the fenestration products appear to relate to custom work using metal and glass. Openings include windows, store or building entrances and skylights. They sell to contractors, architects, builders and individuals.
Precast Concrete in Queens & NYC - Oldcastle Precast in NYC
I spent some time at the exhibit of Oldcastle precast. Oldcastle precast is a subsidiary of the British firm CRH, which is a large multi-national building materials company. Oldcastle, its U.S. subsidiary, makes 'the building blocks' for many modern structures seen rising quickly around the nation. The Old Castle Precast Concrete exhibit at the Queens Bronx Builders Trade Show is shown in the photo to your left.
The building blocks are made of concrete, enhanced with insulation materials and manufactured to be held together by the large steel rods one frequently sees at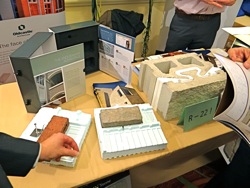 building sites. Beautiful natural stone exteriors are attached to the concrete blocks to provide an aesthetic appeal.
Oldcastle does not have offices in Queens, so the nearest Old Castle Precast Concrete office is about 50 miles east out on Long Island at 114 Rocky Point Road in Middle Island, NY. In the photo to your right you can see some of the engineering that goes into the creation of Old Castle precast concrete which enables builders to quickly erect a building. Decades ago, it took a builder or contractor far longer to erect a high rise because materials such as those used today were not available.
Building Materials Superstores in Brooklyn / Queens - Marjam Supply Company
The Marjam Supply Company started in the Greenpoint neighborhood of Brookyn in 1979. Today they operate 33
building materials superstores primarily in the northeast, Florida and a couple of deep southern states.
The Marjam Supply Company building material offerings include drywall, adhesives, acoustical electrical and tile, floor coverings / related materials; hardware, insulation, lumber, plumbing, plywood, siding, gutters, windows, bathroom and moulding, among other things. The nearest superstore in at 20 Rewe Street in Brooklyn. And they sell to builders, contractors, architects among others.
Stairway Specialists in Queens, Long Island, Brooklyn NYC - Deer Park Stairs
Deer Park Stairs is a family run business that specializes in stairs. They custom work on stairs, rails and turnings. And they do custom millwork including curves and spirals to create unique stairways.
Deer Park Stairs is based on Long Island and works with clients ranging from single homeowners, to contractors to builders. Deer Park Stairs is located about 40 miles out on Long Island at 51 Kennedy Avenue in Bluepoint NY. The business started circa 1960.
Residential & Commercial Elevator Companies in Queens & NYC - All Ways Elevator Co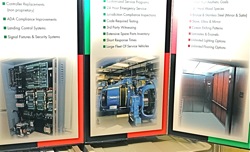 The All Ways Elevator Company is located at 62-26 Myrtle Avenue in the Glendale neighborhood of Queens. They started out in Bohemia on Long Island and offer a full range of elevator related installations and services to individuals and commercial enterprises.
All Ways commercial elevator line includes passenger and freight elevators, dumb waiters and various lifts. Their home product line includes the installation of home elevators, stair chair lifts, wheel chair lifts and dumbwaiters. They also provide 24 / 7 maintenance and repair services. The family business started circa 1980 and they sell to builders, contractors, architects and individuals.
Home Appliances & Builders Appliances in Queens - P.C. Richard & Son Builder Division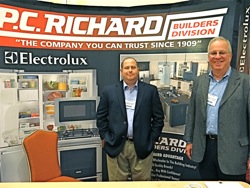 The P.C. Richard Builders Division had an exhibit, so I visited them to find out what products and services they were offering at the show. Their product literature informed me that they are the largest builder distributor of appliances in the U.S. and have over 1 million square feet of warehouse. Their product line includes a variety of stoves, refrigerators, washers, dryers from a wide selection of good to top quality brand name manufacturers.
The P.C. Richard and Sons large warehouse capacity enables them to keep items in stock and claim next day delivery to a job site and they have a team of designers and certified installers. They also have a service operation to support the installations. The nearest P.C. Richard Builder Division location is at 150 Price Parkway in Farmingdale, NY.
General Electric Appliances in Queens, Brooklyn & Long Island - GE
General Electric Appliances also had an exhibit booth. They were offering a more limited selection of their own Hotpoint appliances like P.C. Richard.
General Electric Appliances for builders in Queens also had a brochure entitled GE Sustainable Solutions which included: 1) indoor / outdoor lighting; 2) HVAC and electrical control and monitoring systems designed to improve efficiency; 3) security systems; 4) water heating, cooling and filtering systems; and 5) transportation and energy systems for municipalities. The office of the GE exhibitor is located at 859 Sheldon Avenue on Staten Island. The GE exhibitor is shown in the photo to your left with the brochure mentioned above.
Building Trades Directory & Network in Queens - The Blue Book NYC
Representatives of The Blue Book were on hand to give me a short history of the construction trades in the NYC metro area. They informed me that in 2013 they celebrate their 100th anniversary as a business. The Blue Book has been the business directory / network for the "commercial construction industry including General Contractors, Subcontractors, Suppliers, Architects, Engineers, Building Owners, Transportation and Utilities Professionals, Real Estate Developers and Property Managers and Government Agencies."
The Blue Book helps clients find suppliers, and helps suppliers find clients. The Blue Book has offices in Lake Success and Jefferson Valley, NY. They reported that activity was up significantly in 2012, after a slower years in 2011 and 2010. The Blue Book staff at the Queens Bronx Builders Association Trade Show is shown in the photo to your right.
Laura Heim Architect Sunnyside - Home Crafts Chimneys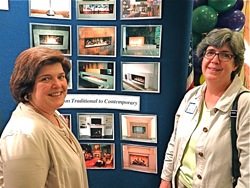 I bumped into Laura Heim who is a Sunnyside architect who seeks to "create architecture, which is sensitive to the circumstances of the site", while I was admiring the displays in the Home Crafts booth. She informed me that she had used their products in one of the projects she'd completed, so I asked to take a photo of her along with the exhibitors. Laura Heim, Sunnyside Queens architect, is shown at right, in the photo to your right, in front of the Home Crafts exhibit at the Queens Bronx Builders Association.
Home Crafts is a family-run company that specializes in prefab chimneys and smokestacks. The family run business has been around almost 70 years. They informed me that they stock a large inventory of the products they sell, so they can quickly satisfy architects and builders deadlines. Home Crafts has been working with engineers, architects, contractors and builders since 1945. Home Crafts is located at 760 Railroad Avenue in West Babylon, NY. Some of the folks who own, manage and work for Home Crafts are shown in the photo to your left in front of their exhibit at the 2012 Queens Bronx Builders Association Trade Show in Queens.
Contractors in Queens - Mega Contracting of Astoria
Mega Contracting, Inc. is located at 22-60 46th Street in Astoria, NY. They offer a portfolio of services including general contracting, construction management, and property development services for residential and commercial clients. Mega Contracting has been in business since 1990 and has a team that includes various types of engineers, architects and LEED Certified personnel.
Kitchen & Bath Products & Mortgages in Queens - Davis & Worshow & DE Capital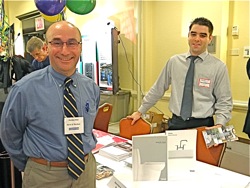 Davis & Worshow offer 'elegance in kitchen & bath'. They carry a number of brand name kitchen and bathroom fixtures which they sell to architects, developers, interior designers and individuals. Their Queens office is located at 57-22 49th Street in Maspeth.
DE Capital, is a financing joint venture between Douglas Elliman and Wells Fargo. Wells Fargo, DE Capital's new partner; was also exhibiting separately in another booth. The Wells Fargo folks are located at 72-12 Austin Street in Forest Hills and DE Capital is located at 205 East 42nd Street in NYC.
Biofuels, Natural Gas, Fuel Oil & Services in Brooklyn Queens NYC - Ferrantino Fuel Corporation FFC
Before preparing to leave I stopped by the FFC or Ferrantino Fuel Corporation exhibit at 180 9th Street in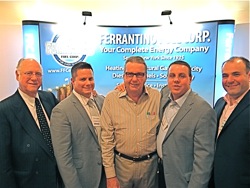 Brooklyn, NY. The company is family run and has been in business since 1935. It seems the 17 year-old daughter of an Italian immigrant inherited her father's ice and coal delivery service, which she transformed into a fuel corporation before she reached 20 years of age.
The man I spoke to was Rodger Laughlin, Sr. who had married the founder's daughter and had been working in the business since the 1960's. Rodger told me that while the company offered a full line of modern products and services including biofuels, natural gas and equipment services; that FFC continued to practice business the old fashioned way by focusing on service. He went on to tell how he repaired the boiler of a 103 year-old customer one day on an emergency house call.
House Magazine & Builder & Remodeler Magazine Serves Queens, Brooklyn, Long Island & NYC
I also visited the exhibit of House Magazine, which is a magazine about home design, architecture and antiques. They also publish Builder & Remodeler which is a building trade magazine serving the tri-state area.
I took sample copies of each magazine home where I read each of them. I found both magazines to have well written stories, quality photographs of matters of interest to those in the industry and an assortment of related advertising. The publishers of House Magazine and Builder & Remodeler have offices in Remsenburg, NY.
Building Supply Trades in Queens - Directory of Suppliers & Contractors
There were other exhibitors including purveyors of floor materials and installers, plumbing supply companies, environmental consultants, a number of building specialists, and supply companies like purveyors of acoustical ceilings, sheet rock, lumber. But unfortunately my time had run out and it was time to go. The Queens Bronx Builders Association has a directory through which you can get in contact with their other members.
Queens Bronx Builders Association - The Building Trades in Queens Brooklyn Long Island & NYC
Before I left I spent a bit of time with the Trade Show host: the Queens Bronx Builders Association [QBBA]. June Petrone, Executive Director of the Queens Bronx Builders
Association, provided me with a bit of history about the association. She told me that the Queens Bronx Builders Association was founded in 1967 and is the only association to represent all 40 trades in the NYC metro area.
The Queens Bronx Builders Association has about 300 members and provides a variety of functions including lobbying efforts for the trades with respect to building legislation that may affect the trades. The Queens Bronx Builders Association holds monthly meetings and sponsors a trade show annually in addition to sponsoring other networking functions like golf and ski outings. The Queens Bronx Builders Association members include all sorts of individuals and organizations associated with the building trades in the Queens Bronx boroughs, including [but not limited to the trades shown above] such as architects, builders, banks, insurance companies, and materials and service providers. The Queens Bronx Builders Association is located at 16-66 Bell Boulevard in Bayside, NY.
Our thanks to all of the Queens Bronx Builders Association Trade Show exhibitors above, for providing us with information about their companies.
---
Jackson Heights / Elmhurst Related Info
Click this link for promotions, discounts and coupons in Jackson Heights, Corona and Queens.
Click this link to go to the Jackson Heights & Elmhurst Neighborhood News / Jackson Heights Restaurants / Jackson Heights & Elmhurst Shopping.
---
Site Search Tips. 1) For best results, when typing in more than one word, use quotation marks - eg "Astoria Park". 2) Also try either singular or plural words when searching for a specific item such as "gym" or "gyms".
Click this link to search for something in our Queens Business Directory.
---
Click the log in link below to create an ID and post an opinion.
Or send this story to a friend by filling in the appropriate box below.
---