Late Night Dining in Jackson Heights
BQE Billiards Serves Eclectic Mix of American, Greek & Latin Favorites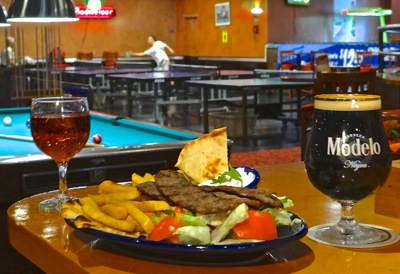 October 18, 2016 / Jackson Heights Neighborhood / Jackson Heights Restaurants / Queens Buzz.
I headed over to BQE Billiards and Bar for a photo shoot last week. They were working on developing a new website and I was helping them create the food photos. The side benefit of this excursion was that I was also able to partake in the feast that followed, where we all sat around and enjoyed sampling much of the food that was photographed. In the photo at right is the gyro plate sitting atop a counter space located within the pool area and overlooking the ping pong and arcade sections of BQE Billiards and Bar in Jackson Heights.
This story is going to include a review of some of the food I sampled, as well as delving into the history of one of Jackson Heights intrepid small businesses. BQE Billiards and Bar was founded 25 years ago by four partners, two of whom remain involved in the business today. So get comfy as we begin by traveling back in time, to the not-so-ancient Greece of the 1960's.
One of the founding partners, Nick, told me that as a boy he used to keep a watch in a Grecian winemaker's vineyard. As he grew older he was given the responsibility for tending a flock of sheep on the hills of Greece. Around the time he became a legal adult, Nick talked to his father about leaving the small town he grew up in, to seek out places and opportunities where he might be able to make a better go of things. His father, while reluctant to see his son depart, understood the calling of the young man, and sent him on his way.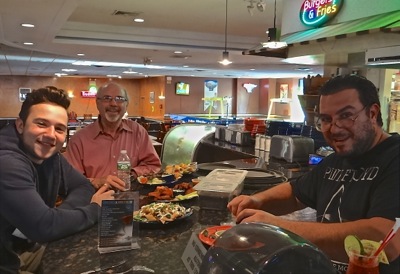 Nick sought work aboard a ship, the SS Andreas Panou. The ship ran into technical difficulties in the Greek port of Piraeus, so Nick and his crewmates were sent ashore to get a bite to eat, since the mess hall had no electricity. The foreman wanted the young lads to return before they had been able to get some food and they refused. The foreman and the Captain subsequently discharged Nick and his friend in October 1965.
Nick recalled how he sought and secured passage working aboard another ship. Less than six months later, in March of 1966, while on a transition in Vancouver, Canada; he noticed a newspaper written in Greek. Since he had not read anything in Greek for weeks, he bought the paper where he learned that the SS Andreas Panou had crashed off the coast of Spain.
In the photo at right, from left to right, are Andreas, Nick and Theo of BQE Billiards and Bar in Jackson Heights.
Click here to read the rest of our story about the history and the late night restaurant dining at BQE Blliards and Bar in Jackson Heights.
---
The Garden School Jackson Heights - Private Schools in Queens
Cultivating Character at the Garden School
Jackson Heights Garden School Evolves with Community
July 17, 2016 / Jackson Heights / Schools in Queens / Queens Buzz.
This Spring I spent some time becoming better acquainted with the Garden School in Jackson Heights. The Garden School is a private,non-profit, neighborhood school that primarily serves the Jackson Heights and Queens community- and which has begun to pursue the growth in interest from the nearby boroughs of Manhattan and Brooklyn.
What makes the Garden School unique? The answer to that question is quite possibly as long, as the history of the school itself.
One of the first aspects of the school uniqueness I discovered, stood squarely in the midst of a photograph of its Founding Fathers of 1923. It turns out that Edward MacDougall, the Founder of the Queensboro Corporation, was one of the leading forces behind the creation of the Garden School. The Queensboro Corporation was the leading and largest real estate developer of the Jackson Heights neighborhood nearly a century ago.
In addition to investing in the erection of some of the highest quality residential buildings in all of Queens - and for that matter all of New York City - the Queensboro Corporation alsoinvested in developing the human infrastructure of the Jackson Heights community through the creation of the Garden School.
The photo at right was taken of a theatrical production, in the early days of the Garden School, in the playground thatlies adjacent to the school. This playground recently served a pivotal role in the Garden School history, and has emerged as an opportunity for both the school and the community to come into even more harmonious goal alignment.
Today, nearly a century later, the vision and the quality of a Garden School education endures. In some manner, one might say that the quality of a Garden School education has withstood the passage of time, as well as the high quality construction of the pre-war buildings of the Jackson Heights neighborhood. The high quality of the historic buildings in the Jackson Heights neighborhood remains head and shoulders above the construction quality of most of the other buildings of that time - and likely by an even a larger margin - way ahead of the quality of the glass and steel skyscrapers being erected today.
In some similar measure, the Garden School has maintained a standard of educational value that compares well with its public and private school peers. Amidst all of the turmoil surrounding the efficacy of the public school system, and when measured in value against the soaring costs of a private school education, the Garden School has thrived, survived and is beginning to grow again.
To be sure, nearly a century ago - the schools, the buildings and the real estate developers were different than they are today, which we will see as we journey back into the past, and return to the present, of the Garden School in Jackson Heights, Queens.
Click here to read the rest of our story about the Garden School in Jackson Heights, one of the oldest & most prestigious private schools in Queens.
---
Corona History Comes Alive
Queens Authors Revive Over a Century of Vanishing History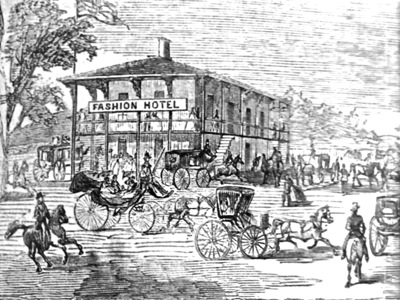 May 16, 2016 / Corona Neighborhood / Queens Historical Society in Bayside / Queens Buzz.
I spent an evening at the Bayside Historical Society at Fort Totten listening to two Queens historians recount the glorious past of what is now known as the Corona neighborhood. Historians Jason Antos and Constantine Theodosiou teamed up to research what I'd call 'ancient' Corona, which recounts the history of Corona prior to the first Worlds Fair in 1939.
The photo to your right is a print of The Fashion Hotel, which was adjacent to the Corona Race Track, on a race day.
The history was far more interesting than I had expected, as I had preconceptions that the history of Corona had been told in prior works about Jackson Heights and Flushing. But the two intrepid historians, whose ethnic affiliation dates back to Thucydides, one of the first great historians of the western world, unearthed a treasure trove of historical lore which brought the neighborhood back to life, as an entity in its own right.
Among their findings was the tale of Tiffanys, Typhoid Mary, homestead mansions, early country and suburban living, and what I came to think of as the forerunners of the Belmont and Aqueduct Race Tracks. There is also a section about an early modern Corona real estate development, which had a character and quality very different from what was going on in neighboring Jackson Heights.
The two authors will be presenting their book at the Queens Historical Society this coming Sunday, May 22nd from 2.30 to 4.30 pm where they will also be signing books.
---
Going For Baroque?
New Ensemble Plays to Sold Out Crowds in Jackson Heights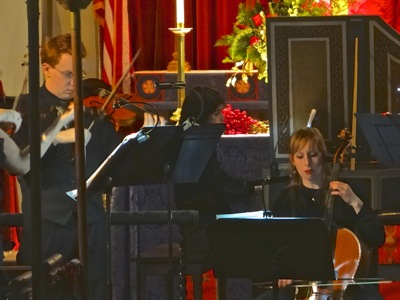 April 9, 2016 / Jackson Heights Neighborhood / Fashion Film & Music in Queens / Queens Buzz. Last December, around the holidays, I attended a performance of classical music at St Mark's Church in Jackson Heights. It turned out to be a very special evening, as the acoustics of the beautiful, near century-old church, lent themselves well to the centuries old classical music.
The concert was given by the Queens Consort, which is a new baroque ensemble based in Queens. The Queens Consort inaugural concert was given in October of 2015. The Yuletide Celebration Concert, which I attended was subsequently given in December. The new classical chamber music group will conclude their first season with two concerts later this month - one of which will be given in Manhattan and the other in Queens.
The Queens concert will take place on Saturday, April 30 at 7 pm at St. Mark´s Church in Jackson Heights. The parish has shown a keen interest in classical music as there's a spiritual element that accompanies it. The concert will be comprised of English Baroque music to celebrate spring, and entitled Flora Gave me Fairest Flowers. On the program are works by John Wilbye, Thomas Morley, Matthew Locke, John Dowland, Henry Purcell and Thomas Arne.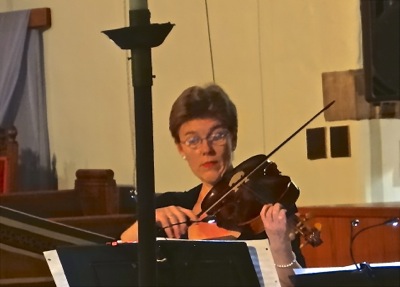 The Queens Consort will be joined by guest artist soprano, Amanda Sidebottom, who will accompany the Queens Consort group which is comprised of Co-Founder Claire Smith Bermingham playing Baroque Violin, Co-Founder Margrét Hjaltested playing Baroque Viola, and Daniel McCarthy playing Baroque Violin, Anneke Schaul-Yoder playing Baroque Cello and Aya Hamada playing the Harpsichord. The professional musical group plays on period instruments and its mission is to bring Baroque chamber music programs to the community of Queens.
The upcoming concert is an hour in length with no intermission, followed by a festive reception. Tickets available at the door $15/10. For more information on the program, please visit www.queensconsort.com.
Sometime in the future you'll be able to click here to view / listen to a short video of the Yuletide concert held at St. Marks Church in Jackson Heights.
---
Click the drop down menu to submit events [ID required] into the Member Calendar. Free for arts groups / non-profits and community orgs, except fundraising events.
Click here to obtain a Free Queens Buzz Membership.
Member Calendar
---
People Power & Queens Public Schools
Group Self Organizes to Improve Neighborhood Public Schools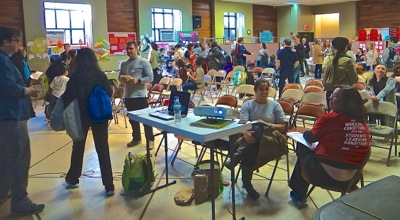 April 4, 2016 / Jackson Heights Neighborhood / Queens Public Schools / Queens Buzz.
On the afternoon of March 12th, I attended a series of workshops organized by the Jackson Heights People for Public Schools at the Community United Methodist Church. As I entered the building there was a swirling of human activity ranging from youngsters to not-so-old parents.
The purpose of the workshops was to engage not just parents, but anyone interested in helping make Jackson Heights public schools better. The group had reached out to several municipal and state government officials for help, but I was informed that only NY City Council Member Daniel Dromm responded affirmatively to their solicitation for help.
What will follow later today is a report about some of the issues addressed at the Jackson Heights Schools workshop, as well as a deeper dive into some of the issues facing the Jackson Heights, Queens and NYC public school system including the Core Curriculum, testing and the charters versus public schools debate.
---
American Poolplayers Association Tourney
APA Leagues Gear Up For Spring & Summer Championships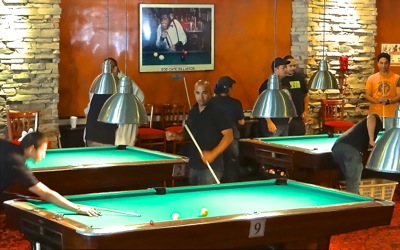 February 11, 2016 / Jackson Heights Neighborhood / Restaurants in Jackson Heights / Queens Buzz.
Last Fall I attended one of the Brooklyn Queens Bronx APA League Tournaments at BQE Billiards & Bar in Jackson Heights. It was an all day event wherein 270 pool players competed as teams, vying for top spot placements in the league, in order to move on to compete for the APA Championship in Las Vegas.
I was surprised by the friendly comraderie of the competitors. I thought they would regard each other more adversarially than they did. In conversing with a number of them I began to get the sense that, at the neighborhood league level, poolplayer leagues are more a community than a competition. Players are generally quite familiar with one another and each other's playing level, in the same manner as other intramural and league sports where the competition is real, but so is the comraderie.
We'll have more at a later date, including a video of league play and interviews.
---
Mayor de Blasio in Jackson Heights & Schools Chancellor Farina In Jackson Heights
Mayor de Blasio & Chancellor Farina in Queens
Mayor & Chancellor in Queens Town Hall about Public Schools
November 16, 2015 / Jackson Heights Neighborhood / Queens Public Schools / Queens Buzz.
There was a town hall at PS 69 in Jackson Heights Thursday evening where NYC Mayor Bill de Blasio and NYC Public Schools Chancellor Carmen Farina talked about what they are doing to reform the NYC public school system to improve both teachers' and students' performance.
I arrived a bit late, following the coverage of a gig nearby. There was a small crowd of a couple dozen people waiting to get in because the auditorium had been filled to a standing room only crowd. Over the course of the evening all the folks who waited long enough were able to enter, as I confirmed this with the police contingent on my way out.
As I entered the auditorium they had just completed the presentation portion of the program [I think about a half hour, possibly less] and they were moving on to taking questions and answers from the audience.
I video recorded most of the session, and then edited down as much as I could to shorten the viewing time required to get the gist of what they've done and are planning for the future.
All in all it was a very interesting and very informative session. I spoke to quite a few folks after the town hall and generally they were pretty positive, including a number of folks who did not vote for de Blasio. Essentially most believed that the Mayor and Chancellor were trying to correct the failings of the system and that they were taking an intelligent approach. Several mentioned that the Mayor seemed pretty honest in his assessments of things.
For me, one of the most important things I learned tonight, was why getting universal Pre-K was so important. Essentially the thinking goes that the earlier you are able to start working with these kids, the more you will be able to prepare them for school, and hopefully reap the benefits of teaching them the joy of learning throughout their stay in the public school system.
Click here to read our full report including a segmented video about Mayor de Blasio on NYC public schools with Schools Chancellor Carmen Farina and NYC Councilmember Daniel Dromm.
---
LaGuardia Airport - Airplane Noise - LGA NYNJPA FAA
LaGuardia Airport - Airplane Noise
Jackson Heights, Corona & Queens Voice Concerns Regarding LGA Airplane Noise
FAA Considering Extension of LaGuardia Airport Hours & Other Changes
October 19, 2015 / Jackson Heights Neighborhood / Queens Issues LaGuardia Airport Noise LGA / Queens Neighborhoods / News Analysis & Opinion / Queens Buzz.
I attended a town hall meeting about the airplane noise coming from LaGuardia Airport at PS 69 in Jackson Heights. The town hall had been organized by NYS Senator Peralta's office and the panel of speakers included local government officials and representatives of the Federal Aviation Administration [FAA] and the New York New Jersey Port Authority [NYNJPA].
Standing Room Only at PS 69
The auditorium was packed and there were people lined up along the walls as well as standing in the back of the auditorium. Airplane noise has emerged as a big issue for Jackson Heights due to a couple of construction projects going on at the airport – both of which will be completed at the end of November.
Cynical Audience Member's Point of View
The timing of the town hall meeting, only six weeks before the construction was to end, led one of the local pundits to cynically suggest that this was merely political theater, rather than an effort to accomplish anything substantive.
There was an earlier town hall meeting organized about two years ago by NYC City Councilmember Dromm, to tackle the problem in its early stages, and while it was happening - not after it was all over - which is what we're close to today.
But that said, these town hall meetings are not just political theater, although inevitably that is some of it, which you will see in the video. And while the immediate problem will subside, we discovered that there a number of efforts either underway or in the planning stages, in which the community has a vested stake in the outcomes.
Not Said In Meeting: Federal Register States That Consideration Is Being Given To Extending LGA's Operational Hours & Slots
In doing follow up research I found a piece on the Federal Register government website that informed me that the FAA is considering changing the operational hours and slots for LaGuardia Airport. This was not discussed at the town hall [click into story for additional detail]. We also found other things that were either scarcely touched upon or not addressed, which we included in this report.
Click here to read the rest of this report about LaGuardia Airport Airplane Noise and the NYNJPA & FAA in Queens. The report includes video presentations, including some audience interaction, and a photo slide show and other information about FAA air traffic changes, airplane noise and what you can do about it.
---
---
---
Chatpati Mela Jackson Heights - Chhaya's South Asian Indian Bangladeshi Celebration
Chatpati Mela
Chhaya's Celebration Of South Asian Food, Fashion & Cultures
September 21, 2015 / Jackson Heights Neighborhood / Ethnic Culture In Queens / Queens Buzz.
It was a beautiful day as I made my way to 78th Playstreet in Jackson Heights to attend the 5th Annual Chatpati Mela Festival. Each year the festival seems to enhance its dimensions through food, performance, cultural costumes and wares.
They had a number of vendor tents lined up along the 78th Playstreet corridor [it ceased being a city throughway years ago], as well as food tents. Toward the northern end of the street there was a stage where musical and dance performances were in session.
Click here to see the food, fashion and a video of the music and dance performances at Chatpati Mela in Jackson Heights.
---
Colombian Festival of Flowers Parade
Celebration of Colonial Past & Current Colombian Floral Industry
July 13, 2015 / Jackson Heights Neighborhood / Queens Parades / Queens Buzz.
I attended the Colombian Festival of Flowers Parade on Sunday in Jackson Heights. The parade started at 12 noon at 69th Street on Northern Blvd and marched up to 86th Street. It was a three hour parade with a full coterie of floats, dancers, musicians and marchers - many of which were dressed in classical couture or costume.
The Festival of Flowers originated in the city Medellin in Colombia nearly 60 years ago.
Based on what I could gather [but not confirm] the parade has been morphing and evolving over the years. When it originated, the festival was focused on flowers and was celebrated in May in with some association with a feast celebrating the Christian Jesus' Mother Mary.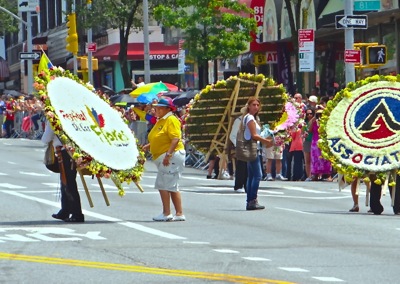 In recent years it has been celebrated in August [in Colombia] and associated with the independence of the Colombian state in which Medellin is located. Somewhere along the way classic autos became a part of the parade in Colombia, and we also saw a number of classical autos in the parade in Jackson Heights.
Another feature of the parade is the depiction of the silleros. The silleros were the human pack bearers of the Spanish during colonial times. Oftentimes carrying loads of 50 to 100 lbs across treacherous jungle or mountain terrain. These peasant people are celebrated in the parade by people who bear large floral arrangements which show a crest [and today large corporate brands] in an emblematic arrangement.
It's worth noting that in late July the Colombian Independence Parade marches along the same route in Jackson Heights next week.
---
Albany Legislative Session 2015
Final Bills: Public School Funding & Rent Stabilization Law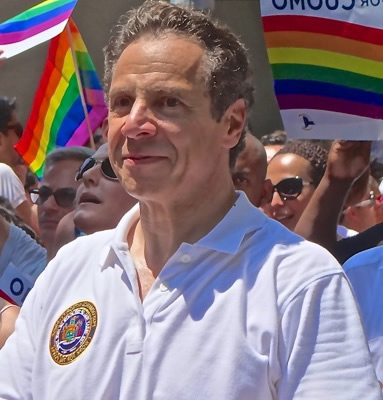 June 15, 2015 / Queens Neighborhoods / Queens Politics / Queens Buzz.
There are two important bills expected to be finalized by the New York State Legislature this week: 1) one having to do with taxation and funding for the public schools and 2) the second having to do with NYC rent stabilization law.
I've been paying some modest measure of attention to both of these bills, and the following is a brief snapshot of a critical talking point in each bill.
Use Public Money To Fund Private Education?
From what I can gather, perhaps the most contentious item in the public education funding bill is the provision for sizeable tax deductions for those who choose to send their children to private, not public schools.
As I understand it, these tax deductions would be included as part of the funding for the public schools budget and therefore will reduce what's left for the NYS / NYC public school systems.
It's worth noting that private school tuition in NYC can cost in the range of about $5,000 to $30,000 per year per student. And that there are about 900 private schools in NYC alone, so depending on how these proposed deductions are ultimately structured, the funds reallocated from the public schools to private individuals would be in the tens to hundreds of millions of dollars and possibly more.
You might want to contact Governor Cuomo's office at 1.518.474.8390 to let him know you support or oppose the measure, since we understand that he's been the major force pushing for this public school funding change. You can also send him an email via the Governor's contact form.
Albany & Expiring Rent Stabilization Laws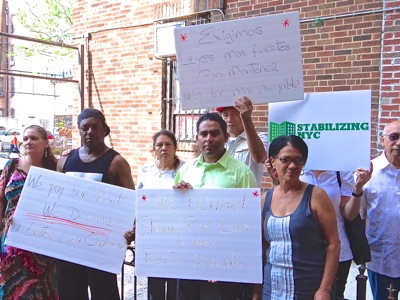 The Rent Stabilization Laws are due to expire tonight, June 15, 2015.
There was talk earlier this year that there would be a push to expand or strengthen the Rent Stabilization Laws given the rapid growth in homelessness in New York City. The NYC homeless population is currently estimated at over 60,000 or nearly 1% of the entire NYC population. About 70% of New York City residents are renters, of which about two million of less than eight and a half million residents, live in rent stabilized apartments.
Over the past decade or so, the Rent Stabilization Laws have been curtailed in the favor of the free market and landlords. The curtailment of rent price control legislation is believed to have spurred additional real estate development investment, as the profits of most new buildings are no longer affected by rent stabilization laws.
Much of the rapid growth in homelessness over the past decade is believed to be the result of tenants losing their rent stabilized apartments, as new owners of buildings have found ways to circumvent the laws. A recent NYU Furman Center Study has shown the loss of over 330,000 unsubsidized affordable apartments since 2002, due in part to the rent stabilization legislative changes referenced above.
NYS legislative insiders told me that tenants rights supporters were hoping to make legislative gains this year, but that the NYS Assemblypeople and NYS Senators opposing the changes, were going to allow the rent stabilization laws to expire as a negotiating tactic.
Vicki Been, Commissioner of NYC Department of Housing Preservation and Development, informed us that the current rent stabilization laws remain in effect through the term of existing leases and leases up for renewal that are already in the hands of the tenants. She also said that tenants should call 311 with any questions or problems.
Cuomo & NYS Officials - Quinnipiac Poll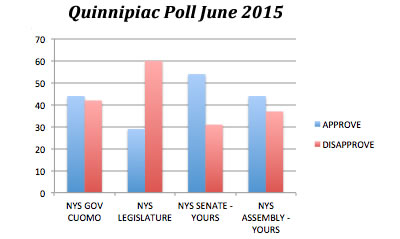 On June 3, 2015 Quinnipiac released a poll showing voters are feeling negatively about the NYS Legislature as a whole, while continuing to favor their local representatives. In the poll Governor Cuomo has only a 2% margin of those favoring him.
Governor Cuomo had a 44% approval rating versus 42% disapproval rating, as voters are not satisfied with his handling of the corruption scandals that have plagued Albany this year. In February 2015 Assembly Speaker Sheldon Silver [Democrat Manhattan] was indicted on federal corruption charges. And in May 2015 NYS Senate Leader Dean Skelos [Republican Long Island] was indicted by a federal Grand Jury.
Less than a year ago, NYS gubernatorial candidate Zephyr Teachout, a law professor at Fordham University surprised polls by garnering nearly 2 votes for every 3 won by the governor in the NYS Democratic primary. Ms. Teachout did not have much in the way of significant private backing or union support, but won nearly 40% of the vote waging an online campaign.
According to the Quinnipiac poll, voters by a margin of 52% - 32% said that with respect to Albany's corruption problem:
"... the Governor is part of the problem, not part of the solution."
As for the NYS Assemblymembers and NYS Senators the Quinnipiac Poll reported the following:
"Voters disapprove 60 - 26 percent of the job the State Legislature is doing, but approve 44 - 37 percent of their own Assembly member and approve 54 - 31 percent of their own state senator."
"At the same time, 45 percent of voters say their state senator should be thrown out in a general house-cleaning, while 40 percent say their senator deserves reelection."
"Voters are divided 41 - 41 percent on whether their Assembly member should be reelected or thrown out."
As you can see, the sentiments collected in the Quinnipiac poll seem a bit contradictory, as the answers received depend on how the questions are stated. Nonetheless, this looks to be an interesting legislative week as things wind down in Albany, and as the 2016 election cycle begins to ramp up.
---
A Look Inside Renaissance Charter School
One Of The Finest & One Of The First NYC Charter Schools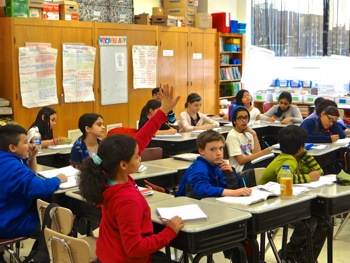 February 23, 2015 / Jackson Heights / Queens Schools / Queens Buzz.
I spent parts of a couple of days at the Renaissance Charter School in Jackson Heights recently. One of the visits was to hear testimony given by the community with respect to renewing the school's NYC Department of Education charter. The second visit was to tour through the school to view the classrooms, facilities and become aquainted with the curriculums. What follows is an account of these visits, supplemented by a bit of outside research into ongoing debate and battle about the role of charter schools in the NYC public school system.
I arrived around lunchtime and met Peggy Heeney of the Development & Outreach department of the school. After a brief orientation and discussion about the tour upon which we were about to embark, we headed toward the back of the building on the first floor of the school. The Renaissance Charter School is located just off 37th Avenue at 81st Street in Jackson Heights.
Peggy told me that the building was previously a department store and that the school had moved into it several years after its founding. She informed me that the Renaissance School actually preceded the incorporation of charter schools in the NYC public school system in the 1990's.
We'll have more later this week about the Renaissance Charter School in Jackson Heights.
---
Battle For Public School Budget Underway
Constitutional Right To Education & Public School Funding
January 12, 2015 / Jackson Heights / Queens Schools / Queens Buzz News & Analyis. I attended a Town Hall Meeting entitled State Of Our Schools at PS 69 in Jackson Heights on Thursday evening. The town hall included a number of panelists who spoke about some of the top concerns and issues facing NYC and Queens public schools in the current round of budget negotiations currently underway in the NYS state capitol of Albany.
Cathy Nolan, NYS Assembly Chair of the Committee on Education, and Daniel Dromm, Chair of the NYC Council Education Committe, were joined by speakers representing The Alliance for Quality Education, Make The Road NY, Jackson Heights People For Public Schools, Community Education Council 30 and the Parent Association of PS 69.
The intent of the town hall was to inform residents about the issues currently being debated in the NYS State Capitol as the Assembly and Senate work on budget bills to fund public education in the state of New York.
Some of the issues discussed included every citizen's constitutional right to a quality public education, which was interpreted by the Courts to mean providing every citizen with the skills to compete in the 21st century economy and the capacity to function as a contributing member of society.
Other issues included discussion of the current tax cap bill - which would cap property taxes at 2.5% - and thus limit the money available for public education. Currently about 30% of NYC residents are property owners. Over the past decade an increasing percentage of city property has been acquired by large corporations known as Real Estate Investment Trusts. It's worth noting that one of the NYC tabloids, the NY Daily News, is owned by the billionaire founder of an NYC Real Estate Investment Trust.
Property owners say they already pay too much in taxes. One homeowner opined that government and school officials need to manage the funding more efficiently, and develop innovative / technological methods to achieve their educational goals. Many of the older, original charter schools were opened to do just that by exploring different approaches to educating the public.
Another initiative underway is to cap charter schools expansion. As mentioned above, many of the original charter schools were founded to explore different approaches to providing a quality public school education. In recent years some of the newer charter schools, particularly the charter school groups [Ed Note: such as Success Academy Charter Schools], have been seen as limiting the promise of an equal opportunity in public school education.
Charter School groups have been accused of targeting areas where they can attract high performing students away from the publicly run schools and then demand equivalent public funding per child. Charter school groups allegedly claim their test scores are attributable to their educational efforts, not the higher quality of their student enrollment [this alleged claim is at odds with independent studies]. As of this date only a small percentage of the charter schools have been audited as one of them - Success Academy - filed and won a lawsuit that prevented the NYS Comptroller from auditing them based on a NYS Supreme Court Justice Thomas Breslin ruling in June 2013. Its worth noting that Success Academy Charter Schools also reportedly receives funding from Hedge Fund b/millionaires who may also have stakes in Real Estate Investment Trusts.
Public educators note that the schools that service the broader based demographic population have higher per student funding requirements in order to assist students with special needs. They go on to note that standardized testing doesn't account for progress made with a broad based diversified student population that includes students with special needs such as: children with disabilities, children from troubled homes, children with less aptitude or less motivation, and children who need to learn English [English Language Learners ELL] in addition to the general curriculum. Additional resources are required to fund different approaches / programs designed to reach, motivate and develop these children's intrinsic abilities [eg. band students perform higher in math] and enable them to become contributing members to their families, their employers and the community.
A tax break for private education is also being debated at the state level. The tax break for private education was portrayed by one of the speakers as another tax break for those who already have the means and have chosen to send their children to non-public schools. Just as the property tax cap is expected to limit public education funding, so too the private school tax break is expected to limit the total funding available to educate those who attend public schools.
Families who send their children to private schools argue that they are reducing the strain on public school resources. They note that they are not asking for a total reimbursement [meaning total payback of private tuition] but rather a deduction, which would reduce their tax bill by some percentage of their private school tuition payments. It's worth mentioning that according to the 2012 Census update, the NYC Public School system paid over $20,000 per student per year, which is a far higher cost per student than any other public school system in the nation. The Boston public school system was a close second and the Washington DC public school system came in third.
This is just a summary of some of the challenges and issues discussed at the Town Hall related to NYS public school education funding. We'll delve into these in a bit more detail at a later date.
---
Jackson Heights Halloween Parade Photos
Parade More Like A Community Costume Party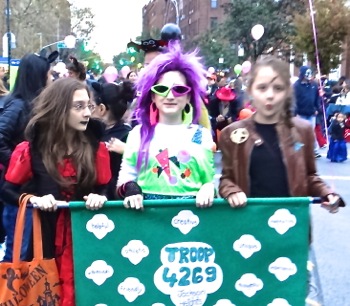 November 3, 2014 / Jackson Heights Neighborhood / Queens Parades / Queens Buzz. I attended the annual Jackson Heights Beautification Group's Kids Halloween Parade on Friday evening. I arrived shortly after it began and started photographing all of the parents and children in costume.
Unlike other parades, given this one was dedicated to the kids, there didn't seem to be the boundaries between parade marchers and the parade audience that one normally encounters. Those in the parade interacted with the audience, many of whom were family, friends and neighbors. And the parade more meandered than marched, with the kids in charge. It kind of felt like one big mega block party / Halloween costume ball.
We took many photos like the one you see to your right. It seems the Girl Scouts dress a bit differently than they did when I was that age. We'll post a photo slide show later today. And I have to give kudos to many of the parents, who seemed to embrace the holiday as much - or more than - their children.
---
---
Bolivian Parade In Jackson Heights NYC
Parade Showcases Bolivian Culture In Queens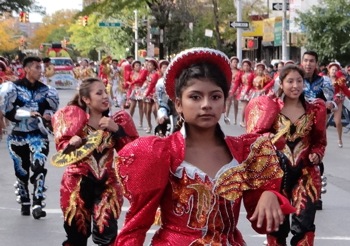 October 20, 2014 / Jackson Heights Neighborhood / Ethnic Culture In Queens / Queens Buzz. Jackson Heights is the home away from home for many cultures around the world. On numerous occasions throughout the year the community is provided an opportunity to celebrate and enjoy the pageantry showcasing many different cultures from Latin America, Asia and a bit of modern day Americana.
On Sunday, the Bolivians showcased their culture by providing a panoply of dancers and musicians in costumes of eras gone by. It was a cool day and the performers used that to their advantage by performing a number of synchronized dance steps to the great amusement of the parade audience standing on the sidewalks along 37th Avenue.
We'll have a bit more to add at a later date including a photo slide show.
---
Viva La Comida
Jackson Heights Celebrates Queens Food & Culture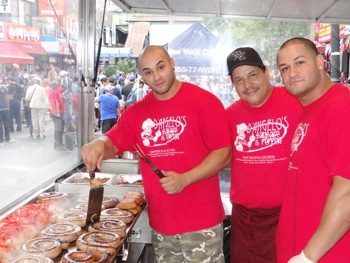 September 22, 2014 / Jackson Heights Neighborhood / Jackson Heights Restaurants / Queens Buzz. Saturday afternoon I headed over to Dunningham Triangle at 82nd Street & Baxter in Jackson Heights. The third annual Viva La Comida Festival had begun earlier in the day and I decided to check it out.
They had blocked off 82nd Street between Roosevelt Avenue and Baxter and had converted the short one block adjacent to Dunningham Triangle into a performance area - complete with elevated stage.
Along 82nd Street there was a musical / dance performance going on with a distinctly Latin flavor, reflecting the indigenous roots of many of Jackson Heights and neighboring Corona residents. My first stop was the D'Angelo food truck for a spicy Italian handmade sausage with sauteed peppers and onions on a fresh semolina bread. It tasted even better than it sounds. We'll have more about D'Angelo's later in the story, including a couple more photos of the sandwich I devoured.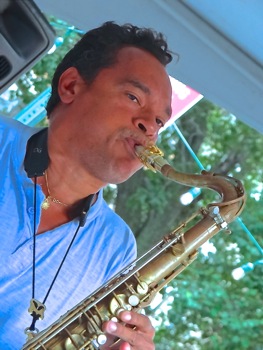 I headed over to the main stage to see what was going on. By late afternoon the Jay Rodriguez Trio had taken the stage and began playing some really good Latin flavored jazz tunes. They played their instruments like jazz magicians, deftly transitioning the melodious rhythm from one musician to another in a string of rhythmic solos that had the audience jamming to the beat.
I started photographing them doing their thing and came up with a separate photo slide show which will show them gettin' down. I visited the Jay Rodriguez website and the music on the site, is a bit more artsy and esoteric than what they played for us at Viva La Comida.
Special thanks goes to outgoing 82nd Street Partnership Executive Director Seth Taylor, as well as iwantmorefood curator Jeff Orlick. We'll have more about both of them and their past and future endeavors in the full report later this day / week.
Buena Salud.
---
---
---
Ecuador Independence Parade Photos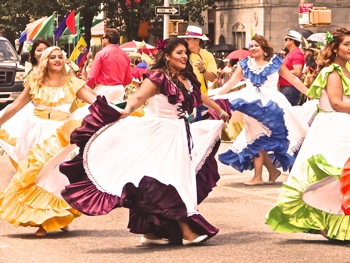 August 2014 / Jackson Heights / Queens Parades / Queens Buzz. I attended the Ecuador Independence Parade a couple of Sundays ago in Jackson Heights & Corona. Ecuador achieved its independence from Spain in 1822 during a time when many of its Latin American neighbors were also fighting for, and winning their independence. These wars for independence took place in the second and early part of the third decades of the 1800's, which was not long after the United States won its war for independence against Great Britain in the late 1700's.
Simon Bolivar was instrumential in leading these rebellions against those in power [Spanish royalty]. Bolivar enlisted English support in these wars for independence from Spain, just as Ben Franklin had enlisted French support in the American War for Independence. In both cases they got it, as France wanted to undermine the English in the late 1700's just as the English wanted to undermine the Spanish in the early 1800's.
In Ecuador the Spanish and the native South American Indians mixed racially, so that today about two thirds of the 12.5 - 14.5 million population is of mixed Spanish and Indian blood. The remainder of the population is a mix of Indian, AfroEcuadorian and Caucasian [primarily Spanish]. Spanish is the official language, but it's estimated that about 15% of the population can speak or understand Quichua, which is the native Indian language of the South American Incas. Ecuador uses American currency as its official currency.
We'll post a slide show at a later date, including the Mayor's late arrival, which corresponded to ours.
---
Making Vision Zero Happen
Corona Residents Respond To Call To Action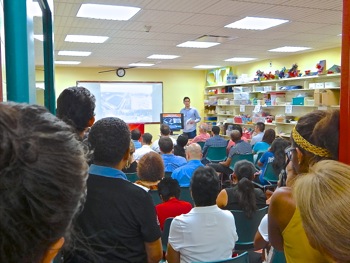 July 27, 2014 / Jackson Heights & Corona Neighborhood / Queens Issues / Queens Buzz. I attended a Vision Zero Workshop at the Corona Library on July 16th. The event was sponsored by Transporation Alterantives in conjunction with a host of other organizations and some local government officials, all of whom I will name at the end of this story when I complete it.
As you can see from the photo, there was no shortage of interest in the effort, as Jackson Heights and Corona are one of the 'Ground Zero' places where pedestrians are being killed or injured by motorists.
The effort had a number of components to it including education, law enforcement and untangling a road, biking and pedestrian system that was put together piecemeal instead of as a holistic approach to human movement ... like dance.
We'll post more about this at a later date including photo slide show.
---
Queens Schools - NYC Public Education Issues
People For Public Schools – In Jackson Heights
Dromm Discusses Educational Issues & What Can Parents Do To Help
May 28, 2014 / Jackson Heights / Queens Schools / Queens Buzz. I attended what was essentially a communal sit down dialogue Daniel Dromm, Chair of the NYC City Council Education Committee. He met with a six-month-old group that goes by the name of the Jackson Heights People For Public Schools. And together they discussed the plethora of issues being grappled with by educators, policymakers, parents and pupils in the wake of the Bloomberg Administration's departure.
I consider myself to still be in the learning mode of trying to understand all of the issues faced by those managing public education so what follows is essentially a partial record of the discussion.
As background based what I do know from prior coverage in the Queens educational arena, the Bloomberg Administration embarked on an effort that appeared in some respects to favor de-unionizing and privatizing the NY Public School system via the closing of public schools which were staffed with generally experienced, unionized teachers; and opening privately run charter schools, generally run by fairly new teachers who worked for non-union wages. The Bloomberg Administration also moved toward splitting schools into smaller entities.
Click here to read more about a dialogue with Daniel Dromm, NYC City Council Chair of the Education Committee, about education & public schools in Queens.
---
Affordable Healthcare Deadline Tonight
Enrollment Trending Toward 7 Million Target
New York State Of Health Surpasses 1.1 Million Applicants & 782K Enrollees
March 31, 2014 / Jackson Heights / Queens Healthcare / Queens Buzz. Get ready for an endless spin game about the enrollment numbers of the Affordable Healthcare Act aka Obamacare.
It appears the Administration is on target to achieve the first target they had set, prior to running into innumerable problems in October 2013 with the federal healthcare insurance website - healthcare.gov - when enrollments first began. Following the opening website debacle, the Administration lowered the enrollment targets from seven million to six million. They hit the six million number last week and the application and enrollment activity has spiked during the final week to submit an application.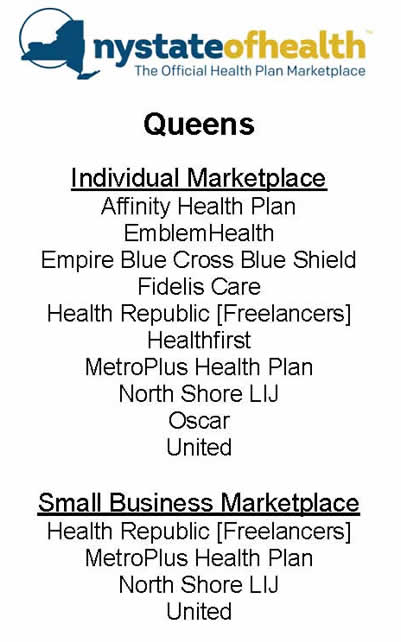 There are 36 states participating in the rollout of the national health insurance plan and 14 states which have opted out of the plan. New York state is one of the 36 participants and as of Sunday night, New York State had received over 1.1 million applications and nearly 800,000 people had enrolled. These numbers are up significantly versus three weeks ago, when applications were at about 900,000 and enrollment at about 500,000. As of early March, we were informed that about 70% of the enrollees were people who had not previously had health insurance. Hence by that metric the plan appears to be achieving its goal in New York State.
According to national reports, it also appears that the late applicants are skewing younger, which was another important metric for the Administration. The composition of young and older ages is needed to enable insurance company participants / healthcare plan providers make the financials work.
Opponents of the Affordable Care Act [ACA], essentially the entire Republican Party, say that the enrollment numbers are inflated, as the enrollment numbers don't take into account enrollees making their first payments. And many Democratic proponents of the Affordable Healthcare Act have run from it because of the early website problems.
We've attended a number of sessions on it and the regular folks attending these sessions have made statements saying that they are no longer locked into jobs they don't like because of health insurance, that the Affordable Care Act has significantly lowered their healthcare costs and that they are relieved to finally be covered by health insurance.
Applications must be submitted no later than 11.59 pm Monday night, March 31st. We understand that applicants will have another 7 days to provide documentation for application submissions that fail to meet the application criteria.
---
Queens School Changes
Educational Infrastructure Lags Population Growth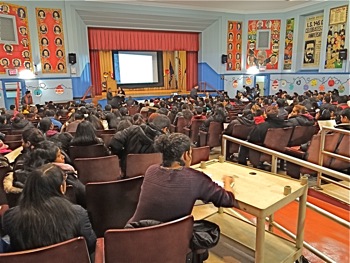 January 28, 2014 / Jackson Heights & Woodside Neighborhood / Queens Schools / Queens Buzz. I attended a Department of Education meeting to discuss the proposed changes scheduled for Intermediate Schools 230 and 145 in Jackson Heights. The plan calls for adding new space to I.S. 230, and then redrawing the district map for the two schools, so that going forward some children who would have attended I.S. 145 will enroll in I.S. 230. The children currently attending I.S. 145 will not be affected.
The intent of the plan is to alleviate the overcrowding in I.S. 145 which is operating above capacity. The overcrowding would be addressed by redrawing the school district maps following the completion of the new building at I.S. 230, so that fewer students would enroll in I.S. 145 going forward. The meeting was well attended as the I.S. 145 auditorium was fairly full when I arrived.
About half or better of the attendees were spanish language speakers and the Department of Education had not brought enough Spanish translation headsets to conduct the meeting bilingually without having the English presentation followed by a Spanish translation by a volunteer in attendance. A couple of community leaders drew my attention to this, and one of whom - an educator himself - was very irate. He explained that by not having enough headsets, the meeting would now accomplish about half as much in the same time period because of the time consumed in explaining things first in English and then in Spanish. With the headsets, the explanations would be been communicated simultaneously. He also noted that the translator was a volunteer and there wasn't any mechanism in place to ensure that the volunteer's translations were correct.
I.S. 145 recently suffered a tragic loss, as a student was killed by a motorist only blocks away from the school. Within the past six months three school age children living in the Jackson Heights vicinity have been killed by motorists, and the safety plan for the new building was one of the many concerns on the agenda. We'll post more about the meeting, and include an update about some of the proposed changes to address overcrowding in a Woodside school as well.
It seems that Queens schools, like other aspects of Queens public infrastructure [the #7 subway line / mass transit] and affordable housing, are lagging well behind Queens population growth and private development.
---
Jackson Heights Beautification Group - JHBG
JHBG Celebrates 25 Years Of Service
Jackson Heights Beautification Group Celebrates 25
September 30, 2013 / Jackson Heights Neighborhood / Queens Issues / Queens Buzz News. I had the pleasure of spending some time at the celebration of the 25th anniversary of the Jackson Heights Beautification Group's existence. During the course of the evening I had the opportunity to talk to a number of members, many of whom had been with the organization for decades. And during the course of these conversations I came away having learned something about their collective accomplishments, and in some senses, the early to modern history of Jackson Heights.
Some of the JHBG's Accomplishments
The Jackson Heights Beautification Group [also known as JHBG] started when a group of residents decided to 'take back the neighborhood' from vandals doing property damage [grafitti], real estate developers knocking down high quality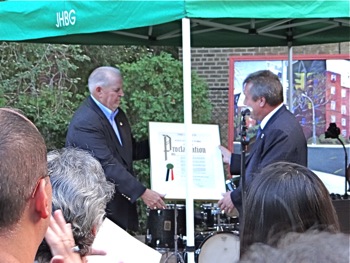 historic buildings, people breaking sanitation laws [doggie doo], and developers trying to obtain zoning variances that would downgrade the neighborhood. But the community organization was not just about participating in the governance process and ensuring that the city laws and ordinances were enforced; they also sought to enhance the quality of neighborhood life.
Hence the Jackson Heights Beautification Group sought funding for summer concerts, helped bring a farmers market to Jackson Heights, worked collaboratively to create more public parkland [78th Playstreet & the Garden School Athletic Field], and most recently helped start an orchestra. They will be the first to tell you that they didn't do these things by themselves, but however modest, they did play an important role.
In the photo above City Councilmember Daniel Dromm gives an award to Jackson Heights Beautification Group President Edwin O'Keefe Westley honoring the neighborhood group's service to the community.
And so you may click here to learn a bit about the formation and history of the Jackson Heights Beautification Group, as well as a bit about the 20th century life in Jackson Heights as told by those who lived it.
---
Jackson Heights History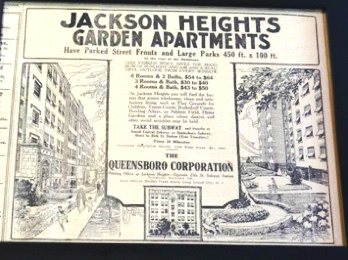 June 10, 2013 / Jackson Heights Neighborhood / Jackson Heights History / Queens Buzz. I dropped in on the Jackson Heights Beautification Group's annual historic house lecture, exhibit and tour program this past weekend. The event has been hosted by the group for about two decades and serves to inform the public about the history and architecture of the Jackson Heights neighborhood.
The lecture spans about a century, beginning with the Queens Boro Corporation's acquisition of huge plots of farmland [estimated 350 acres for about $3.8 million] that preceded the development of the neighborhood. The lecture is given by author, historian and realtor, Daniel Karatzas and the exhibit is owned by the Jackson Heights Beautification Group, a community non-profit organization. The exhibit contains old marketing brochures, newspapers, post cards and photos of the Jackson Heights neighborhood. At a later date, we'll post more about the historic weekend lecture and exhibit.
---
Health Fair: The How To's Of Maintaining The Human Machine
June 4, 2013 / Jackson Heights Neighborhood / Queens Healthcare / Queens Buzz. I attended a Health Fair in Jackson Heights on Saturday at the Lexington School for the Deaf. It was held outside in the playground, which was a large grassy field not far from the Bulova Building.
Inside the yard there were booth set up where you could have your lungs tested for things like asthma, have your heart rate and blood pressure measured, get a bone density reading to see if you're at risk of osteoporosis, have your glucose and cholesterol measured, and get a body mass index reading - all for free. For those folks who are managing their health without the benefit of insurance, it's a good one stop shop to get some sort of reading on a number of your vitals.
There were other, less health focused booths there too. For example a couple of booths provided coffee, bagels and fruit - like the Port Authority of NY / NJ and the NYC Department of Corrections. And some were set up to entertain the kids with balloons, dancing to music, yoga and the like. The event is hosted annually by Mt Sinai Queens and the United Civic Community Association. We'll post more later.
---
Queens World Film Festival
Queens World Film Festival
Queens Film Festival Begins
March 9, 2013 / Astoria, LIC & Jackson Heights / Film in Queens / Queens Buzz. I attended the 3rd annual Queens World Film Festival opening Tuesday night at the Museum of the Moving Image in Astoria. As I arrived, independent film producers, directors, writers, actors and actresses mingled in the lobby.
A local TV film crew was interviewing one of the festival participants as I started mingling with the crowd. I met one man who has film showing Friday, another with a film showing Thursday, and a Belgian couple who co-produced a thirty second short that was to be shown at the opener tonight [they're shown conversing with City Councilmembers Dromm and Van Bramer].
It wasn't long before the festivities began, which included several speeches by sponsors [some are listed at the end of this report] and the Queens World Film Festival founders, Don and Katha Cato of Jackson Heights.
---
---

---
Jackson Heights News & Corona News - Briefs
Passover in Jackson Heights
Kehillat Tikvah Celebrates 5th Passover in Queens
October 19, 2016 / Jackson Heights / Judaism in Queens / Queens Buzz.
On March 26th I attended the fifth annual Kehillat Tikvah Tuesday evening at St. Mark's Episcopal Church in Jackson Heights. This Passover was hosted by Kehillat Tikvah, which is a relatively new community of hope, located in Jackson Heights. Rabbi Laurie Gold led the evening of festivities.
I arrived around 6 pm as the organizers were finishing up last minute details for the event. A U shaped table formation in the middle of the large room had been set, and there were containers of warm food laid out along a long table in front of the kitchen. People within the community were conversing, and without much effort I was drawn into a conversation with the folks sitting next to me.
Click here to read the rest of our report on the Kehillat Tikvah Passover in Jackson Heights later this month and click here for other Jackson Heights News briefs.
---
Viva La Comida - 82nd Street Partnership Jackson Heights
Viva La Comida - 82nd Street - Jackson Heights
82nd Street Partnership Hosts Festival At Dunningham Triangle
September 24, 2012 / Jackson Heights / Food in Queens / Queens Buzz. On Friday evening the 82nd Street Partnership hosted Viva La Comida at Dunningham Triangle on 82nd Street at Baxter in Jackson Heights. The event was a fun, quirky preamble to the Hispanic Month activities that officially began on Sunday with the Hispanic Day Parade [click for Hispanic Day Parade report & photos].
I arrived while it was still light out. City Councilman Danny Dromm, Seth Taylor and City Councilmember Julissa Ferreras were standing for photos sandwiched between two men who's names I will try to obtain and post at a later date. A performance by the youngsters from the Mestizo Art Center followed, much to the delight of the warm and enthusiastic crowd.
I made my way over to the food trucks where I tasted some delicacies and met interesting people … click here to read the rest of our report on Viva La Comida festival hosted by the 82nd Street Partnership in Jackson Heights. The photo to your left was taken from the inside of the Solber Pupusa food truck at the Viva La Comida festival on 82nd Street in Jackson Heights.
---
---
Click to quick scroll down to:
---
---
---

---
---
---

Restaurants In Jackson Heights - Arunee Thai Restaurant
Restaurants In Jackson Heights
Arunee Thai Restaurant
Jackson Heights Neighborhood / Jackson Heights Restaurants / Queens Buzz. Tonight I ventured out to a Thai restaurant in Jackson Heights that I had discovered on pure happenstance. I arrived at the restaurant around 7.30 pm on an cool overcast Saturday evening. More than half of the sixty seats had already been filled and it seemed the waiting staff had fallen a bit behind. As I sat there waiting, I began to doubt my choice.
As I surveyed the restaurant I noted that many of the customers were Thai, which I took to be a good sign, as I was looking for real Thai food, not some Americanized version of it. Within the next five to ten minutes, things completely turned. The waiting staff turned up the energy and within minutes it seemed that everyone who had been waiting now had a drink or appetizer sitting in front of them … myself included. Click here to read the full review of Arunee Thai restaurant including photos.
---
Restaurants In Jackson Heights - La Portena Argentine Steakhouse
Restaurants In Jackson Heights
LaPortena Argentine Steakhouse
Jackson Heights Neighborhood / Jackson Heights Restaurants / Queens Buzz. La Portena Argentinian Steakhouse isn't exactly the kind of restaurant that would come to mind when you think of Jackson Heights ... that is unless you live there. La Portena Argentinian Steakhouse is located at 74th Street and 37th Avenue in Jackson Heights. It's quite a popular restaurant which is what first caught my attention. While Indian, Bangladeshi, Thai and Nepalese restaurants first come to mind when thinking about Jackson Heights / Elmhurst restaurants, there's an entire Latin American flavor to the restaurant mix in the neighborhood - and the food and service are both very good. Click here to read a the full review of La Portena Argentinian Steakhouse, including more photos.
---
---
---

---
Jackson Heights Elmhurst Shopping Map - Queens NY
Shopping Jackson Heights Shops
This is the 37th Avenue Shopping District in Jackson Heights as well as the Queens Center Mall on Queens Blvd. The former is easily traveled to via the E, F, G, R, V and #7 subway lines from Manhattan and eastern Queens, while the latter can be reached by taking the G, V or R and getting off at the Woodhaven stop. Insert the street names in our site search engine to obtain a partial listing of the stores along these streets or in the surrounding area in Jackson Heights Queens NYC.
Click here for shops & shopping in Jackson Heights.
---
---
---

---
Chhaya Hits A Home Run
4th Annual Home Buyer Fair in Jackson Heights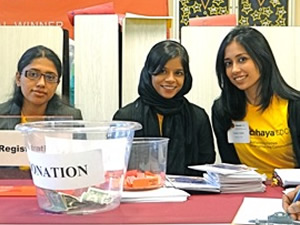 January 28, 2013 / Jackson Heights / Queens Business / Queens Buzz. The more I get to know about Queens, and the more familiar I become with the many immigrant communities to which Queens is called home, the more impressed I become with the intelligence of the American system and the immigrants who fuel the American dream.
One of the American dreams is to own your own home. To that effect Chhaya [pronounced chi - ya], a non-profit organization in Jackson Heights, helped facilitate that effort at its fourth annual Home Buyer Fair on Saturday. Attendance of the Home Buyer Fair was at an all time high of several hundred, up from about 30 attendees at the first one, just four years ago.
The Home Buyer Fair featured a number of brand name lenders in the morning, and a whole host of non-profit / community minded organizations in the afternoon. The fair was open to everyone [we posted it in our Queens Events calendar in the business section], and provided attendees with a whole host of avenues for purchasing a home. Click here later today to read the rest of our report about the Chhaya Home Buyer Fair.
---
Condos & Co-ops Forum Jackson Heights
Forum - Condos & Co-ops In Jackson Heights
December 7, 2010 / Jackson Heights / Queens Buzz. City Council Member Daniel Dromm, NYS Senator Peralta in tandem with ACCO [Alliance of Condo & Co-op Owners] organized a forum in Jackson Heights to inform people about their rights and responsibilities as condo and co-op owners.
In addition to the councilman and senator, the panel included two lawyers and the president of ACCO. About two hundred people showed up for the event, packing the Jewish Center of Jackson Heights. See photos in our report of the large crowd that attended this forum.
The panel informed condo and co-op owners in Jackson Heights & Queens about their rights, and discussed new state legislation which has been introduced to more clearly define the processes through which a tenant / owner can assert their rights. Click here to read the rest of our report about the forum for owners of Jackson Heights condo / co-ops in Queens.
---
---
Jackson Heights En Espanol
Desfile Colombiano 2012 & Fotos en Jackson Heights Queens
Desfile Colombiano de 2012 en Queens
Desfile Colombiano Aclamado Por Miles
23 de julio 2012 / Jackson Heights / Queens Cultura / Queens Buzz. Asistí al desfile colombiano en Jackson Heights el domingo. Resultó ser uno de los desfiles más emocionantes que he asistido en Queens.
En algún lugar entre cinco y diez mil personas asistieron al desfile, muchos de los cuales tienen sus raíces precolombinas. El desfile fue emocionante, porque el entusiasmo de la multitud de las carrozas y actuaciones esplendorosas muchos disfrazados dadas por los participantes del desfile que conocían personalmente.
El desfile comenzó a las 12 horas en la 69th Street y Northern Blvd, y déjame decirte que nunca he visto Northern Blvd. ven tan bien. Haga clic aquí más tarde hoy para ver una presentación de diapositivas de fotos y leer el resto de nuestro informe sobre el Desfile de Colombia en Jackson Heights.
---
---
Site Search Tips. 1) For best results, when typing in more than one word, use quotation marks - eg "Astoria Park". 2) Also try either singular or plural words when searching for a specific item such as "gym" or "gyms".
Click this link for promotions by advertisers in Queens.
Click this link to search for something in the Jackson Heights Business Directory containing over 1,000 listings. Click here to view Charms & Glitters a fashion joyeria en Jackson Heights.
---
Click the log in link below to create an ID and post an opinion. Or send this story to a friend by filling in the appropriate box below.
---