The Lent Riker Homestead
The Jackson Heights Jewel ... Home of Art, Theater & History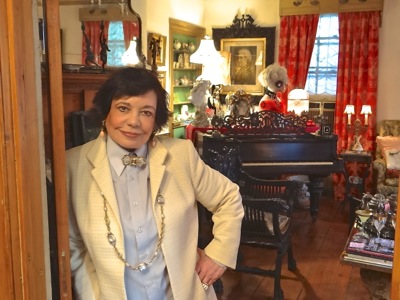 November 12, 2017 / Jackson Heights Neighborhood & Astoria Neighborhood / Jackson Heights & Astoria History Queens / Queens Buzz NYC.
On a Saturday afternoon in late October I made my way north to the Lent-Riker-Smith Homestead on 19th Road near 77th Street which is a stones throw from LaGuardia Airport. Most folks think of the home as being in historic Jackson Heights, but technically it's located in the East Elmhurst neighborhood.
I had arranged to meet Marion Duckworth Smith, the owner and historic curator of the 1656 American Colonial home. The home, and an expansive yard which includes a family cemetery, is tucked away behind a wall of nature which gives the effect of passing through a time warp when you enter into the yard / home.
Marion provides a sort of genteel colonial charm which is both aristocratic and democratic in the same sitting. After brief introductions we started talking about the Rikers, the trials and joy of living in an historic home and pretty much everything else. In the photo above right stands Marion Duckworth Smith in the doorway leading to the main parlor in the historic, American Colonial, Lent-Riker-Smith Homestead.
The Lent-Riker-Smith Homestead & Marion Duckworth Smith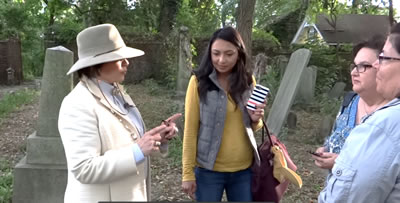 Marion was a photographer and a "Funny Face" model who met Michael Smith in the 1970's. They started dating in 1979 and on the second date Michael introduced Marion to a home he had purchased from a Riker descendant, which dated back to pre-revolutionary colonial times. Marion and Michael married and the home had finally attracted someone willing to give it the attention and care needed following what was possibly a century or more of neglect.
Marion became a combination of urban archeologist, Riker / Colonial historian and historic home / museum curator over the next four decades. And since her husband Michael's death on November 21, 2010, she added historic actress / colonial tour guide to her repertoire.
Marion and I sat in the main parlor for a bit talking about how she'd first come to the home and about her journey of discovery surrounding it ever since. While we talked, descendants of the Riker family were on their way to join us, having come from Texas to visit the home.
The Lent-Riker-Smith Homestead & Harriet Ottenstein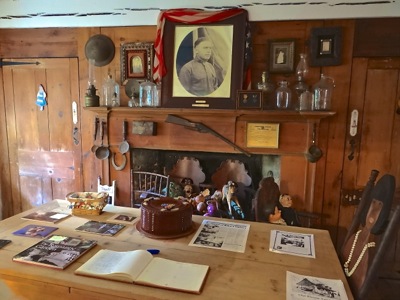 I met Harriet Ottenstein, who is a descendant of Abraham Van Lent Rycke who is her 7th great grandfather and connection to the homestead. Harriet is certified as one of the Daughters of the American Revolution, as one of her relatives [Jacob Lent who is her 3rd great grandfather] was a member of the American Revolutionary guard of George Washington. She showed me the medallion, which she noted was very hard to obtain, as you had to prove all of the familial links.
In the photo above right is Marion Duckworth Smith [left], owner and curator of the Lent-Riker-Smith Homestead, and Harriet Ottenstein [second from right] who is a Lent Riker descendant. Standing in between them in the photo is Harriet's daughter and on the far right is Nancy Circelli, who is a cousin. They are standing in the cemetery of the Lent-Riker-Smith Homestead where many of Harriet's colonial ancestors are buried.
Harriet grew up in New Jersey, and was raised by a Jewish father, Nathan Ottenstein. She recently published a book entitled, Memories of a Jewish Childhood, which captures the flavor of growing up in a Jewish neighborhood near Newark, New Jersey. That said, so as not to confuse, her Rikers lineage is Dutch, not Jewish. Harriet is also a graduate of the Manhattan School of Music with a Masters in Piano Performance and a licensed Registered Nurse.
The photo above right is of the main dining room in the Lent-Riker-Smith Homestead just north of Jackson Heights and east of Astoria in Elmhurst.
The Rikers and the Lent-Riker-Smith Homestead
American & NYC History in Queens
Marion began to tell us about her many discoveries while fixing up and inhabiting the Lent-Riker-Smith Homestead. She found old accounting records in the attic, covered wooden beams in the kitchen, and relics in the basement.
I'll have more at a later date, including more about the early Dutch Colonial family that built the house, and for whom Rikers Island was named, as well as a video of Marion reciting poetry in the cemetery. Marion gives tours of the house on a regular basis, but you must rsvp for a spot on one of the tours. She can be reached via her website at www.rikerhome.com
The photo at right shows a rear view of the historic Lent-Riker-Smith Homestead in East Elmhurst Queens.
More to follow as we get closer to the holidays.
Music Party - John Lennon Educational Tour Block Party
John Lennon & Musicians' Creativity is Celebrated in Jackson Heights
October 10, 2017 / Jackson Heights Neighborhood / Queens Buzz NYC.
Jackson Heights John Lennon Educational Tour Bus Block Party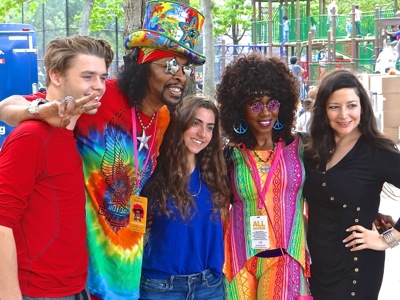 I headed up to Jackson Heights to see what the John Lennon Educational Tour Block Party was all about. The party was scheduled from 12 noon to 5 pm along 78th Playstreet off 34th Avenue in Jackson Heights. Live music, free food and giveaways were part of the appeal, and a good crowd had turned out.
There was a large bus equipped with a portable production studio where visitors were being taught how to create music for a demo tape. As I understand it, the intent of the John Lennon Bus Block Parties is to show kids and adults how they can make music for those who might be interested in making a career in music as well as for those interested in making music for their recreational pleasure.
There was a large stage at the end of the street, where music was playing and where later in the afternoon Bootsy Collins would perform. I briefly met Bootsy and his wife and took a few photos. They were dressed like they'd just stepped out of the Yellow Submarine and were headed down Abbey Road.
I found a perch atop one of the large stones in Playstreet and shot a video to the tunes coming from the soundsystem. I will try to post it in the near future. The music is good and the crowd was interesting, which is what the video was about. I bumped into Michael Mallon from City Councilmember Danny Dromm's office and we talked about the event. He told me that this was the second year it was hosted at 78th Playstreet in Jackson Heights, but that the John Lennon Educational Tour Bus had been hosting block parties for about two decades.
There was some literature and interactive workshops available in the booths where I could see kids and their parents enjoying the possibility of becoming media mavens. On my way out I sampled a couple of small donuts from the Doughnuttery, which has outlets in Manhattan, but not Queens ... least not yet.
All in all it looked like an enjoyable way to spend the afternoon. Bootsie was to play around 3 pm, while the workshops and bus would stay open until about 5 pm.
Viva La Comida
Jackson Heights Hosts Culinary & Cultural Celebration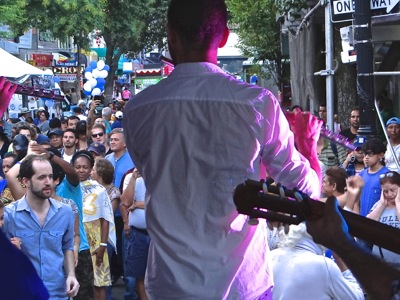 September 25, 2017 / Jackson Heights Neighborhood / Food & Wine in Jackson Heights Queens / Queens Buzz NYC.
A weekend ago [9/16], I had an opportunity to attend the annual Viva La Comida Festival in Jackson Heights. The festival originated in 2011 or 2012 as a sort of mini Vendy Awards festival for local food trucks and vendors who mostly served the Jackson Heights and nearby neighborhoods in Queens. They were accompanied by a whole host of local entertainers who were featured on the stage at Dunningham Triangle.
Delicious Ethnic Food Trucks & Latin Jazz
Today, six or seven years later, the basic tenets of the festival have held fast, but it has evolved into a more holistic celebration of Jackson Heights culture, including the food ... but with fewer trucks. This year there were two trucks, which was down from about six trucks back during the program inception. Although I hasten to add, that several food carts were added offsetting some of the decline of the food trucks.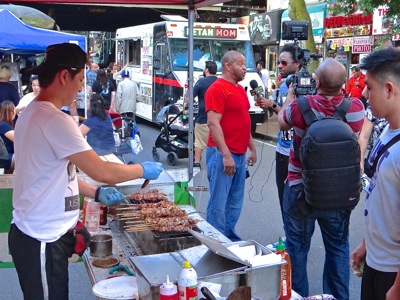 On the entertainment side, the event has blossomed, featuring numerous local musicians, dancers and theatrical performances. One of the most enjoyable aspects I experienced this year at Viva La Comida was an incredible Latin jazz band called Los Macheros. I'm not sure, but the name - which appears to have been invented - could be mixing the meanings of macho [male] and hacheros [axes] to mean something very loosely translated as the 'male axes' or a take off on the word mecheros which means [cigarette] lighter.
Los Macheros are a seven member Latin jazz band that includes a talented vocalist, two guitarists, two percussionists, and while I was there I enjoyed a very talented duel between the flautist and the violinist which you can see below on the video when I post it. The music moved people to dance and numerous couples were swinging to the jazzy tunes the entire time I was there.
Jackson Heights Cinema has been Demolished
One of the great disappointments I encountered while attending the event was seeing that the beautiful building that once housed the Jackson Heights Cinema on 82nd Street just south of Roosevelt had been demolished. There's a less impressive, but still significant old world theater at Diversity Plaza, which I imagine might eventually meet the same fate.
While campaigning for Queens Borough President four years ago, QBP Melinda Katz had promised that she would put in place a process designed to help preserve some of Queens great historical relics. As far as I know, to date, that is an unfulfilled campaign promise, as nothing has come of it in the intervening four years.
This is the second big historical / cultural loss in the borough in the past four years. The first being the Steinway Mansion which was sold to a real estate developer. But the outside of the Steinway Mansion was landmarked, so it cannot lawfully be destroyed. Others might insist there are more buildings of some historical / architectural / cultural significance that have been destroyed in Queens in recent years, but I digress.
82nd Street Partnership Promotes Jackson Heights
I ran into Leslie Ramos, the Executive Director of the 82nd Street Partnership which organized the event. She was surrounded by folks enjoying themselves, which naturally brought a big wide smile to her face. She provided some of the information reported above and talked about how Jackson Heights continued to evolve as a multi-cultural destination with significant representation of Latins, Asians and Caucasians. She said that this festival was designed to promote the neighborhood by bringing everyone together.
I walked around a bit, taking photos of some of the food offerings, which I will add to the end of the video. I didn't get a chance to sample any food this year, but if you click the link below, you'll get a sense of what was offered, as a number of the vendors I featured in the early years of the event have been returning annually to participate in the program.
Click here to view a report about the Viva La Comida in Jackson Heights during its early years.
The Solar Eclipse of 2017 in NYC
The Solar Eclipse: A Shared American Communal Experience
August 21, 2017 / Queens Neighborhoods / Manhattan Neighborhoods / Gotham Buzz NYC.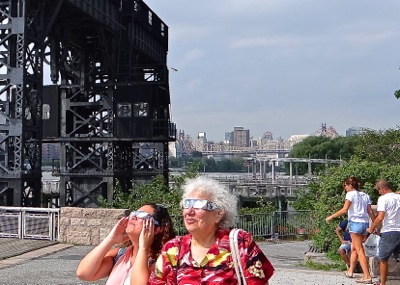 I set about to experience the solar eclipse of 2017, departing for Manhattan at about 1.30 – a bit after the eclipse was to begin. As I made my way to the subway, I met a woman who was heading to Hunters Point South Park to do the same. She offered me the use of her eclipse glasses, which I examined but it was far to early to really use.
The eclipse glasses were opaque and I couldn't see through them. Apparently they only work when you're looking at the sun. The glasses this woman had were sponsored by Cisco Systems through a science camp in Rochester, NY. Consumers were advised to be careful about which eclipse glasses to use, as apparently some would not filter out the harmful, eye-damaging rays of the sun. One eclipse audience member told me that the glasses were being sold online – ten for $100. I'll have more about the protective glasses a bit later as I used the glasses to take what I would call 'meaningful' photos.
There were many reports published about how one can damage their eyes by looking directly at the sun. The Washington Post noted that the damage can begin in as little as one and a half minutes, and that looking at the sun in a sequence of little peaks at a time, may not prevent you from doing real damage. It's worth noting that one can also damage their camera by pointing it directly at the sun for a long period of time. The New York Times noted that the longest the full eclipse will last, is less than three minutes, and that in many places in America it will last less than a minute.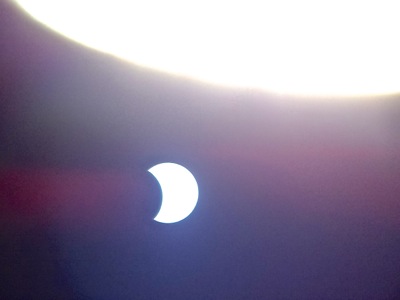 Historically, it's worth noting that the moon eclipsing the sun happens every 18 months, but most eclipses happen over the oceans which cover about two thirds of the planet earth surface. According to the New York Times, the last time America experienced a full solar eclipse was in 1918, a full 99 years ago, so few if any who are old enough to experience the eclipse this time, are likely to see it again.
The eclipse began along the west coast in Oregon at about 1.15 pm, the peak was at about 2.45 pm and the final was at about 4 pm. I'll note a few of my times as we run through the rest of this report.
Anyhow, I arrived at Lexington and 77th Street about 2 pm, about 45 minutes before the peak of the eclipse. A few folks were standing in the street looking up, so I shot a photo of the sun at that time, but it didn't look like much at the blinding rays of light blocked any real photo clarity.
Rest of story with plenty more photos coming later Tuesday 8/22.
Update: LaGuardia Airport Development Project
First Phase Moving Along with Second & Third Phases About to Begin
April 24, 2017 / Astoria Neighborhood / Queens Real Estate / Queens Buzz NYC.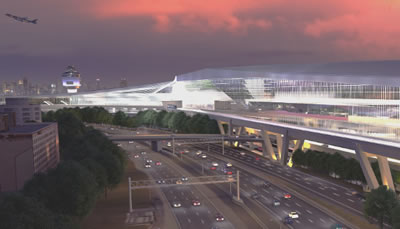 I attended a Community Board One meeting at the Astoria World Manor on Wednesday, April 19th. People representing the LaGuardia Airport development project were scheduled to provide the community with an update regarding several of the multi-billion dollar renovation projects associated with LaGuardia Airport, that are either currently in the works or nearing the end of the planning process.
The presentation was split into three parts: 1) LaGuardia Airport development project construction updates, 2) traffic mitigation efforts and 3) community outreach including job opportunities related to the projects.
Click here to read our report on the LaGuardia Airport development project & expansion, related job opportunities, its possible impact on travel times to the airport and the public hearing details on May 3rd, 2017 in Flushing. We have also included a small bit of history about the airport and the fight over the property and development in Flushing Meadows Corona Park. The graphic at right was created as part of the LaGuardia Airport development project.
Queens World Film Festival
Queens World Film Festival 2017
Labor of Love on a Queens Corner
March 20, 2017 / Astoria Neighborhood / Cinema & Film in Queens / Queens Buzz.
I attended the 7th annual Queens World Film Festival on Sunday at the Museum of the Moving Image in Astoria. I chose to view the Queens Corner block of films, which showcased some of the films made in Queens and / or by Queens filmmakers.
Queens World Film Festival Opening Night
I had missed opening night, but so did most others, as the snowstorm shut down the Museum of the Moving Image that night. Don and Katha Cato, Founders of the Queens World Film Festival, improvised and held opening night at Armando's Restaurant in Jackson Heights. They showed the films on a screen at the bar and read subtitles, which were too small for the audience to read. Katha told me that it wasn't perfect, but with the food and wine served at Armando's – it was fun.
The Queens World Festival includes a mix of locally made films, as well as films made around the world. Don and Katha solicit the films via exchanges dedicated to facilitating film festivals and submissions – including using some websites from other parts of the world. Katha mentioned that people flew in from as far away as Nepal, Germany, Italy, England, Canada and other states such as California to participate in the festival.
QW Film Festival Attendance & Locales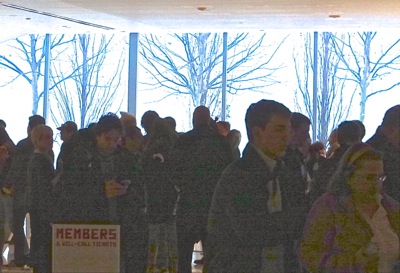 This year the Queens World Film Festival aka QWFF consolidated its viewing locations to the Museum of the Moving Image and the Zucker Theater in Kaufman Astoria Studios, which helped give the event more of a consolidated feel versus prior years when screenings were spread throughout Astoria, LIC and Jackson Heights. Both the Museum of the Moving Image and the Zucker Theater are within a block of one another. And the Astor Room, a restaurant located in a subterranean portion of Kaufman Astoria Studios, was used to host the awards ceremony and became an interim gathering space.
The festival attracted in the neighborhood of 5,000 visitors in 2016, and while the figures were not yet in, Katha thought they might not match the prior year due to inclement weather and the consolidation of screening rooms and locations this year.
QWFF Films Curated by Don Cato
The Queens World Film Festival is curated by Don, who is aided by Jennifer Griffith. They received about 500 films this year and narrowed the submissions down to 135. Of the 135 about 26 were made in or by Queens filmmakers. A number of the submissions also came from Brooklyn, Manhattan, Bronx and Staten Island, so New York City is well represented.
The film viewing blocks are arranged in an intuitive fashion. Don takes notes while reviewing the submissions and over time similarities, differences, subjects and themes emerge. Katha adds her two cents to the emerging categories while the couple is consolidating the choices and organizing the films into viewing blocks.
Don & Katha Cato Founders Queens World Film Fest
Don and Katha are pursuing a labor of love … literally … as the couple met while collaborating on a film / theater project many years ago. The couple continues to pursue their passion outside of the Queens World Film Festival as Katha is an actress and Don produces films. Don currently teaches at the Digital Film Academy in Manhattan.
Click here for the rest of our story including brief reviews and photos of some of the films I saw at the Queens World Film Festival in 2017.
---
---

Events, Attractions, Restaurants, Schools, Parades, Shopping & Real Estate
Click to quick scroll down to:

Click the drop down menu to submit events [ID required] into the Member Calendar. Free for arts groups / non-profits and community orgs, except fundraising events.
Click here to obtain a Free Queens Buzz Membership.
Calendar: Member Calendar
Click here
to subscribe to "Member Calendar" and receive an email whenever a new event is created
If the ICAL logo above does not work,
right click
here, copy the URL, and paste it into your favorite calendar application.
Member Calendar


Restaurants In Jackson Heights - Arunee Thai Restaurant
Restaurants In Jackson Heights
Arunee Thai Restaurant
Jackson Heights Neighborhood / Jackson Heights Restaurants / Queens Buzz. Tonight I ventured out to a Thai restaurant in Jackson Heights that I had discovered on pure happenstance. I arrived at the restaurant around 7.30 pm on an cool overcast Saturday evening. More than half of the sixty seats had already been filled and it seemed the waiting staff had fallen a bit behind. As I sat there waiting, I began to doubt my choice.
As I surveyed the restaurant I noted that many of the customers were Thai, which I took to be a good sign, as I was looking for real Thai food, not some Americanized version of it. Within the next five to ten minutes, things completely turned. The waiting staff turned up the energy and within minutes it seemed that everyone who had been waiting now had a drink or appetizer sitting in front of them … myself included. Click here to read the full review of Arunee Thai restaurant including photos.
---
Viva La Comida - 82nd Street Partnership Jackson Heights
Viva La Comida - 82nd Street - Jackson Heights
82nd Street Partnership Hosts Festival At Dunningham Triangle
September 24, 2012 / Jackson Heights / Food in Queens / Queens Buzz. On Friday evening the 82nd Street Partnership hosted Viva La Comida at Dunningham Triangle on 82nd Street at Baxter in Jackson Heights. The event was a fun, quirky preamble to the Hispanic Month activities that officially began on Sunday with the Hispanic Day Parade [click for Hispanic Day Parade report & photos].
I arrived while it was still light out. City Councilman Danny Dromm, Seth Taylor and City Councilmember Julissa Ferreras were standing for photos sandwiched between two men who's names I will try to obtain and post at a later date. A performance by the youngsters from the Mestizo Art Center followed, much to the delight of the warm and enthusiastic crowd.
I made my way over to the food trucks where I tasted some delicacies and met interesting people … click here to read the rest of our report on Viva La Comida festival hosted by the 82nd Street Partnership in Jackson Heights. The photo to your left was taken from the inside of the Solber Pupusa food truck at the Viva La Comida festival on 82nd Street in Jackson Heights.
---
Late Night Dining in Jackson Heights
BQE Billiards Serves Eclectic Mix of American, Greek & Latin Favorites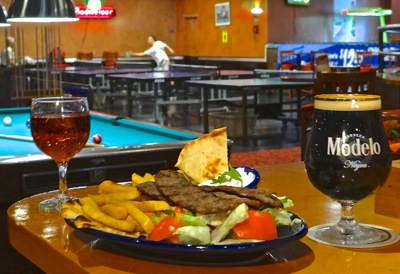 October 18, 2016 / Jackson Heights Neighborhood / Jackson Heights Restaurants / Queens Buzz.
I headed over to BQE Billiards and Bar for a photo shoot last week. They were working on developing a new website and I was helping them create the food photos. The side benefit of this excursion was that I was also able to partake in the feast that followed, where we all sat around and enjoyed sampling much of the food that was photographed. In the photo at right is the gyro plate sitting atop a counter space located within the pool area and overlooking the ping pong and arcade sections of BQE Billiards and Bar in Jackson Heights.
This story is going to include a review of some of the food I sampled, as well as delving into the history of one of Jackson Heights intrepid small businesses. BQE Billiards and Bar was founded 25 years ago by four partners, two of whom remain involved in the business today. So get comfy as we begin by traveling back in time, to the not-so-ancient Greece of the 1960's.
One of the founding partners, Nick, told me that as a boy he used to keep a watch in a Grecian winemaker's vineyard. As he grew older he was given the responsibility for tending a flock of sheep on the hills of Greece. Around the time he became a legal adult, Nick talked to his father about leaving the small town he grew up in, to seek out places and opportunities where he might be able to make a better go of things. His father, while reluctant to see his son depart, understood the calling of the young man, and sent him on his way.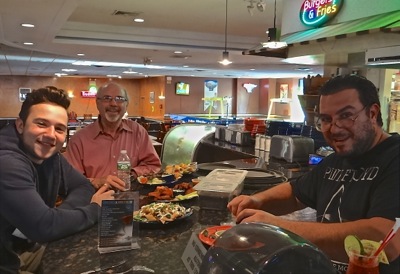 Nick sought work aboard a ship, the SS Andreas Panou. The ship ran into technical difficulties in the Greek port of Piraeus, so Nick and his crewmates were sent ashore to get a bite to eat, since the mess hall had no electricity. The foreman wanted the young lads to return before they had been able to get some food and they refused. The foreman and the Captain subsequently discharged Nick and his friend in October 1965.
Nick recalled how he sought and secured passage working aboard another ship. Less than six months later, in March of 1966, while on a transition in Vancouver, Canada; he noticed a newspaper written in Greek. Since he had not read anything in Greek for weeks, he bought the paper where he learned that the SS Andreas Panou had crashed off the coast of Spain.
In the photo at right, from left to right, are Andreas, Nick and Theo of BQE Billiards and Bar in Jackson Heights.
Click here to read the rest of our story about the history and the late night restaurant dining at BQE Blliards and Bar in Jackson Heights.

---
Chhaya Hits A Home Run
4th Annual Home Buyer Fair in Jackson Heights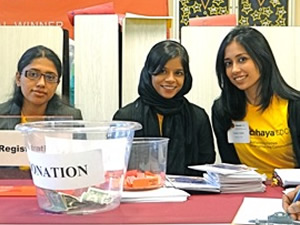 January 28, 2013 / Jackson Heights / Queens Business / Queens Buzz. The more I get to know about Queens, and the more familiar I become with the many immigrant communities to which Queens is called home, the more impressed I become with the intelligence of the American system and the immigrants who fuel the American dream.
One of the American dreams is to own your own home. To that effect Chhaya [pronounced chi - ya], a non-profit organization in Jackson Heights, helped facilitate that effort at its fourth annual Home Buyer Fair on Saturday. Attendance of the Home Buyer Fair was at an all time high of several hundred, up from about 30 attendees at the first one, just four years ago.
The Home Buyer Fair featured a number of brand name lenders in the morning, and a whole host of non-profit / community minded organizations in the afternoon. The fair was open to everyone [we posted it in our Queens Events calendar in the business section], and provided attendees with a whole host of avenues for purchasing a home. Click here later today to read the rest of our report about the Chhaya Home Buyer Fair.
---
Jackson Heights Real Estate - Jackson Heights Realtors
Jackson Heights Real Estate & Realtors
Jackson Heights / Queens. This is a report about the Jackson Heights real estate market. The report includes discussion about price trends, apartment and home inventory availability and demographic changes in the Jackson Heights neighborhood of Queens. We have also included links to a Queens real estate market report as well as an Astoria real estate market report, related realtor home pages and real estate classifieds.
Click here to read our report on Jackson Heights real estate and realtors.
---
Condos & Co-ops Forum Jackson Heights
Forum - Condos & Co-ops In Jackson Heights
December 7, 2010 / Jackson Heights / Queens Buzz. City Council Member Daniel Dromm, NYS Senator Peralta in tandem with ACCO [Alliance of Condo & Co-op Owners] organized a forum in Jackson Heights to inform people about their rights and responsibilities as condo and co-op owners.
In addition to the councilman and senator, the panel included two lawyers and the president of ACCO. About two hundred people showed up for the event, packing the Jewish Center of Jackson Heights. See photos in our report of the large crowd that attended this forum.
The panel informed condo and co-op owners in Jackson Heights & Queens about their rights, and discussed new state legislation which has been introduced to more clearly define the processes through which a tenant / owner can assert their rights. Click here to read the rest of our report about the forum for owners of Jackson Heights condo / co-ops in Queens.
---

Hispanic, Colombian, LGBT, Ecuadorian, Bolivian Parades in Jackson Heights & Corona

Private and Public Education in Jackson Heights
Jackson Heights Schools - Private Public Education Jackson Heights
Jackson Heights Public & Private Schools - Section
January 15, 2018 / Jackson Heights Neighborhood / Queens Schools / Queens Buzz NYC.
This section is dedicated to covering private and public schools in Jackson Heights and Corona. The section also includes a number of reports which address issues universal to public education in Queens and NYC as a whole, due in part to the fact that Jackson Heights NYC Councilmember Daniel Dromm had been the Chair of the NYC Council Education Committee from 2013 - 2017 and hosted a number of events dedicated to helping the public understand the issues facing public educators and the system as a whole.
---
Jackson Heights En Espanol
Desfile Colombiano 2012 & Fotos en Jackson Heights Queens
Desfile Colombiano de 2012 en Queens
Desfile Colombiano Aclamado Por Miles
23 de julio 2012 / Jackson Heights / Queens Cultura / Queens Buzz. Asistí al desfile colombiano en Jackson Heights el domingo. Resultó ser uno de los desfiles más emocionantes que he asistido en Queens.
En algún lugar entre cinco y diez mil personas asistieron al desfile, muchos de los cuales tienen sus raíces precolombinas. El desfile fue emocionante, porque el entusiasmo de la multitud de las carrozas y actuaciones esplendorosas muchos disfrazados dadas por los participantes del desfile que conocían personalmente.
El desfile comenzó a las 12 horas en la 69th Street y Northern Blvd, y déjame decirte que nunca he visto Northern Blvd. ven tan bien. Haga clic aquí más tarde hoy para ver una presentación de diapositivas de fotos y leer el resto de nuestro informe sobre el Desfile de Colombia en Jackson Heights.
---
HISTORY / VIVA LA COMIDA / TBD
Corona History Comes Alive
Queens Authors Revive Over a Century of Vanishing History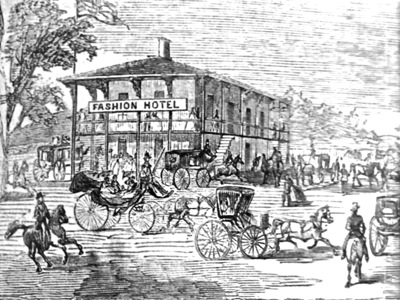 May 16, 2016 / Corona Neighborhood / Queens Historical Society in Bayside / Queens Buzz.
I spent an evening at the Bayside Historical Society at Fort Totten listening to two Queens historians recount the glorious past of what is now known as the Corona neighborhood. Historians Jason Antos and Constantine Theodosiou teamed up to research what they called Corona: The Early Years, which recounts the history of Corona prior to the first Worlds Fair in 1939.
The photo to your right is a print of The Fashion Hotel, which was adjacent to the Corona Race Track, on a race day.
The history was far more interesting than I had expected, as I had preconceptions that the history of Corona had been told in prior works about Jackson Heights and Flushing. But the two intrepid historians, whose ethnic affiliation dates back to Thucydides - one of the first great historians of the western world - unearthed a treasure trove of historical lore which brought the neighborhood back to life, as an entity in its own right.
Among their findings was the tale of Tiffanys, Typhoid Mary, homestead mansions, early country and suburban living, and what I came to think of as the forerunners of the Belmont and Aqueduct Race Tracks. There is also a section about an early modern Corona real estate development, which had a character and quality very different from what was going on in neighboring Jackson Heights.
The two authors will be presenting their book at the Queens Historical Society this coming Sunday, May 22nd from 2.30 to 4.30 pm where they will also be signing books. Books may also be purchased online from Arcadia Publishing at www.arcadiapublishing.com.
American Poolplayers Association Tourney
APA Leagues Gear Up For Spring & Summer Championships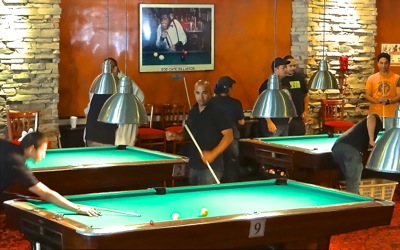 February 11, 2016 / Jackson Heights Neighborhood / Restaurants in Jackson Heights / Queens Buzz.
Last Fall I attended one of the Brooklyn Queens Bronx APA League Tournaments at BQE Billiards & Bar in Jackson Heights. It was an all day event wherein 270 pool players competed as teams, vying for top spot placements in the league, in order to move on to compete for the APA Championship in Las Vegas.
I was surprised by the friendly comraderie of the competitors. I thought they would regard each other more adversarially than they did. In conversing with a number of them I began to get the sense that, at the neighborhood league level, poolplayer leagues are more a community than a competition. Players are generally quite familiar with one another and each other's playing level, in the same manner as other intramural and league sports where the competition is real, but so is the comraderie.
We'll have more at a later date, including a video of league play and interviews.
LaGuardia Airport - Airplane Noise - LGA NYNJPA FAA
LaGuardia Airport - Airplane Noise
Jackson Heights, Corona & Queens Voice Concerns Regarding LGA Airplane Noise
FAA Considering Extension of LaGuardia Airport Hours & Other Changes
October 19, 2015 / Jackson Heights Neighborhood / Queens Issues LaGuardia Airport Noise LGA / Queens Neighborhoods / News Analysis & Opinion / Queens Buzz.
I attended a town hall meeting about the airplane noise coming from LaGuardia Airport at PS 69 in Jackson Heights. The town hall had been organized by NYS Senator Peralta's office and the panel of speakers included local government officials and representatives of the Federal Aviation Administration [FAA] and the New York New Jersey Port Authority [NYNJPA].
Standing Room Only at PS 69
The auditorium was packed and there were people lined up along the walls as well as standing in the back of the auditorium. Airplane noise has emerged as a big issue for Jackson Heights due to a couple of construction projects going on at the airport – both of which will be completed at the end of November.
Cynical Audience Member's Point of View
The timing of the town hall meeting, only six weeks before the construction was to end, led one of the local pundits to cynically suggest that this was merely political theater, rather than an effort to accomplish anything substantive.
There was an earlier town hall meeting organized about two years ago by NYC City Councilmember Dromm, to tackle the problem in its early stages, and while it was happening - not after it was all over - which is what we're close to today.
But that said, these town hall meetings are not just political theater, although inevitably that is some of it, which you will see in the video. And while the immediate problem will subside, we discovered that there a number of efforts either underway or in the planning stages, in which the community has a vested stake in the outcomes.
Not Said In Meeting: Federal Register States That Consideration Is Being Given To Extending LGA's Operational Hours & Slots
In doing follow up research I found a piece on the Federal Register government website that informed me that the FAA is considering changing the operational hours and slots for LaGuardia Airport. This was not discussed at the town hall [click into story for additional detail]. We also found other things that were either scarcely touched upon or not addressed, which we included in this report.
Click here to read the rest of this report about LaGuardia Airport Airplane Noise and the NYNJPA & FAA in Queens. The report includes video presentations, including some audience interaction, and a photo slide show and other information about FAA air traffic changes, airplane noise and what you can do about it.
---
Chatpati Mela Jackson Heights - Chhaya's South Asian Indian Bangladeshi Celebration
Chatpati Mela
Chhaya's Celebration Of South Asian Food, Fashion & Cultures
September 21, 2015 / Jackson Heights Neighborhood / Ethnic Culture In Queens / Queens Buzz.
It was a beautiful day as I made my way to 78th Playstreet in Jackson Heights to attend the 5th Annual Chatpati Mela Festival. Each year the festival seems to enhance its dimensions through food, performance, cultural costumes and wares.
They had a number of vendor tents lined up along the 78th Playstreet corridor [it ceased being a city throughway years ago], as well as food tents. Toward the northern end of the street there was a stage where musical and dance performances were in session.
Click here to see the food, fashion and a video of the music and dance performances at Chatpati Mela in Jackson Heights.
---
Albany Legislative Session 2015
Final Bills: Public School Funding & Rent Stabilization Law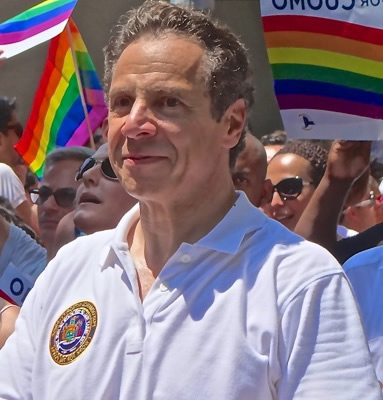 June 15, 2015 / Queens Neighborhoods / Queens Politics / Queens Buzz.
There are two important bills expected to be finalized by the New York State Legislature this week: 1) one having to do with taxation and funding for the public schools and 2) the second having to do with NYC rent stabilization law.
I've been paying some modest measure of attention to both of these bills, and the following is a brief snapshot of a critical talking point in each bill.
Use Public Money To Fund Private Education?
From what I can gather, perhaps the most contentious item in the public education funding bill is the provision for sizeable tax deductions for those who choose to send their children to private, not public schools.
As I understand it, these tax deductions would be included as part of the funding for the public schools budget and therefore will reduce what's left for the NYS / NYC public school systems.
It's worth noting that private school tuition in NYC can cost in the range of about $5,000 to $30,000 per year per student. And that there are about 900 private schools in NYC alone, so depending on how these proposed deductions are ultimately structured, the funds reallocated from the public schools to private individuals would be in the tens to hundreds of millions of dollars and possibly more.
You might want to contact Governor Cuomo's office at 1.518.474.8390 to let him know you support or oppose the measure, since we understand that he's been the major force pushing for this public school funding change. You can also send him an email via the Governor's contact form.
Albany & Expiring Rent Stabilization Laws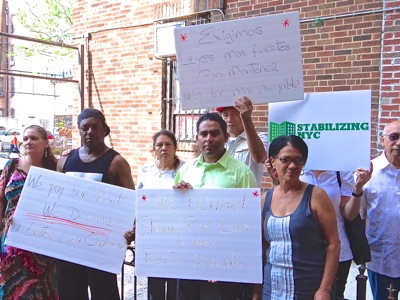 The Rent Stabilization Laws are due to expire tonight, June 15, 2015.
There was talk earlier this year that there would be a push to expand or strengthen the Rent Stabilization Laws given the rapid growth in homelessness in New York City. The NYC homeless population is currently estimated at over 60,000 or nearly 1% of the entire NYC population. About 70% of New York City residents are renters, of which about two million of less than eight and a half million residents, live in rent stabilized apartments.
Over the past decade or so, the Rent Stabilization Laws have been curtailed in the favor of the free market and landlords. The curtailment of rent price control legislation is believed to have spurred additional real estate development investment, as the profits of most new buildings are no longer affected by rent stabilization laws.
Much of the rapid growth in homelessness over the past decade is believed to be the result of tenants losing their rent stabilized apartments, as new owners of buildings have found ways to circumvent the laws. A recent NYU Furman Center Study has shown the loss of over 330,000 unsubsidized affordable apartments since 2002, due in part to the rent stabilization legislative changes referenced above.
NYS legislative insiders told me that tenants rights supporters were hoping to make legislative gains this year, but that the NYS Assemblypeople and NYS Senators opposing the changes, were going to allow the rent stabilization laws to expire as a negotiating tactic.
Vicki Been, Commissioner of NYC Department of Housing Preservation and Development, informed us that the current rent stabilization laws remain in effect through the term of existing leases and leases up for renewal that are already in the hands of the tenants. She also said that tenants should call 311 with any questions or problems.
Cuomo & NYS Officials - Quinnipiac Poll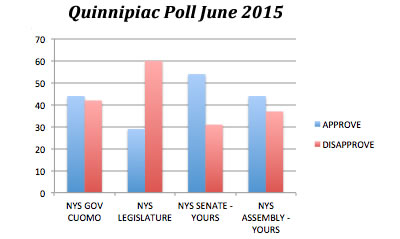 On June 3, 2015 Quinnipiac released a poll showing voters are feeling negatively about the NYS Legislature as a whole, while continuing to favor their local representatives. In the poll Governor Cuomo has only a 2% margin of those favoring him.
Governor Cuomo had a 44% approval rating versus 42% disapproval rating, as voters are not satisfied with his handling of the corruption scandals that have plagued Albany this year. In February 2015 Assembly Speaker Sheldon Silver [Democrat Manhattan] was indicted on federal corruption charges. And in May 2015 NYS Senate Leader Dean Skelos [Republican Long Island] was indicted by a federal Grand Jury.
Less than a year ago, NYS gubernatorial candidate Zephyr Teachout, a law professor at Fordham University surprised polls by garnering nearly 2 votes for every 3 won by the governor in the NYS Democratic primary. Ms. Teachout did not have much in the way of significant private backing or union support, but won nearly 40% of the vote waging an online campaign.
According to the Quinnipiac poll, voters by a margin of 52% - 32% said that with respect to Albany's corruption problem:
"... the Governor is part of the problem, not part of the solution."
As for the NYS Assemblymembers and NYS Senators the Quinnipiac Poll reported the following:
"Voters disapprove 60 - 26 percent of the job the State Legislature is doing, but approve 44 - 37 percent of their own Assembly member and approve 54 - 31 percent of their own state senator."
"At the same time, 45 percent of voters say their state senator should be thrown out in a general house-cleaning, while 40 percent say their senator deserves reelection."
"Voters are divided 41 - 41 percent on whether their Assembly member should be reelected or thrown out."
As you can see, the sentiments collected in the Quinnipiac poll seem a bit contradictory, as the answers received depend on how the questions are stated. Nonetheless, this looks to be an interesting legislative week as things wind down in Albany, and as the 2016 election cycle begins to ramp up.
Viva La Comida
Jackson Heights Celebrates Queens Food & Culture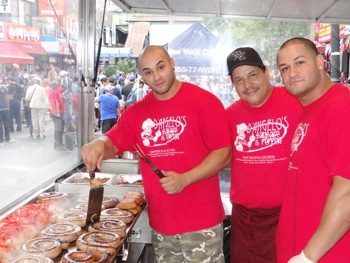 September 22, 2014 / Jackson Heights Neighborhood / Jackson Heights Restaurants / Queens Buzz. Saturday afternoon I headed over to Dunningham Triangle at 82nd Street & Baxter in Jackson Heights. The third annual Viva La Comida Festival had begun earlier in the day and I decided to check it out.
They had blocked off 82nd Street between Roosevelt Avenue and Baxter and had converted the short one block adjacent to Dunningham Triangle into a performance area - complete with elevated stage.
Along 82nd Street there was a musical / dance performance going on with a distinctly Latin flavor, reflecting the indigenous roots of many of Jackson Heights and neighboring Corona residents. My first stop was the D'Angelo food truck for a spicy Italian handmade sausage with sauteed peppers and onions on a fresh semolina bread. It tasted even better than it sounds. We'll have more about D'Angelo's later in the story, including a couple more photos of the sandwich I devoured.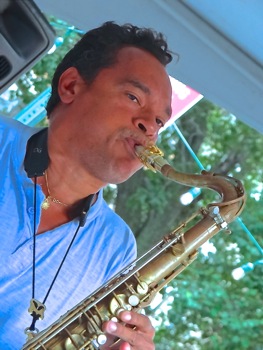 I headed over to the main stage to see what was going on. By late afternoon the Jay Rodriguez Trio had taken the stage and began playing some really good Latin flavored jazz tunes. They played their instruments like jazz magicians, deftly transitioning the melodious rhythm from one musician to another in a string of rhythmic solos that had the audience jamming to the beat.
I started photographing them doing their thing and came up with a separate photo slide show which will show them gettin' down. I visited the Jay Rodriguez website and the music on the site, is a bit more artsy and esoteric than what they played for us at Viva La Comida.
Special thanks goes to outgoing 82nd Street Partnership Executive Director Seth Taylor, as well as iwantmorefood curator Jeff Orlick. We'll have more about both of them and their past and future endeavors in the full report later this day / week.
Buena Salud.
Making Vision Zero Happen
Corona Residents Respond To Call To Action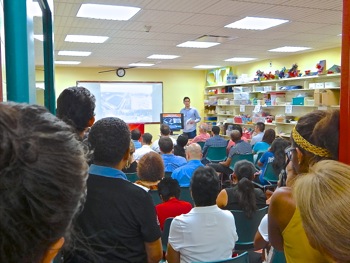 July 27, 2014 / Jackson Heights & Corona Neighborhood / Queens Issues / Queens Buzz. I attended a Vision Zero Workshop at the Corona Library on July 16th. The event was sponsored by Transporation Alterantives in conjunction with a host of other organizations and some local government officials, all of whom I will name at the end of this story when I complete it.
As you can see from the photo, there was no shortage of interest in the effort, as Jackson Heights and Corona are one of the 'Ground Zero' places where pedestrians are being killed or injured by motorists.
The effort had a number of components to it including education, law enforcement and untangling a road, biking and pedestrian system that was put together piecemeal instead of as a holistic approach to human movement ... like dance.
We'll post more about this at a later date including photo slide show.
Affordable Healthcare Deadline Tonight
Enrollment Trending Toward 7 Million Target
New York State Of Health Surpasses 1.1 Million Applicants & 782K Enrollees
March 31, 2014 / Jackson Heights / Queens Healthcare / Queens Buzz. Get ready for an endless spin game about the enrollment numbers of the Affordable Healthcare Act aka Obamacare.
It appears the Administration is on target to achieve the first target they had set, prior to running into innumerable problems in October 2013 with the federal healthcare insurance website - healthcare.gov - when enrollments first began. Following the opening website debacle, the Administration lowered the enrollment targets from seven million to six million. They hit the six million number last week and the application and enrollment activity has spiked during the final week to submit an application.
There are 36 states participating in the rollout of the national health insurance plan and 14 states which have opted out of the plan. New York state is one of the 36 participants and as of Sunday night, New York State had received over 1.1 million applications and nearly 800,000 people had enrolled. These numbers are up significantly versus three weeks ago, when applications were at about 900,000 and enrollment at about 500,000. As of early March, we were informed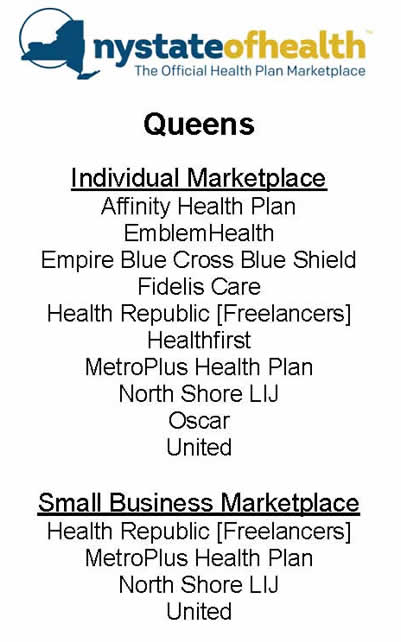 that about 70% of the enrollees were people who had not previously had health insurance. Hence by that metric the plan appears to be achieving its goal in New York State.
According to national reports, it also appears that the late applicants are skewing younger, which was another important metric for the Administration. The composition of young and older ages is needed to enable insurance company participants / healthcare plan providers make the financials work.
Opponents of the Affordable Care Act [ACA], essentially the entire Republican Party, say that the enrollment numbers are inflated, as the enrollment numbers don't take into account enrollees making their first payments. And many Democratic proponents of the Affordable Healthcare Act have run from it because of the early website problems.
We've attended a number of sessions on it and the regular folks attending these sessions have made statements saying that they are no longer locked into jobs they don't like because of health insurance, that the Affordable Care Act has significantly lowered their healthcare costs and that they are relieved to finally be covered by health insurance.
Applications must be submitted no later than 11.59 pm Monday night, March 31st. We understand that applicants will have another 7 days to provide documentation for application submissions that fail to meet the application criteria.
Jackson Heights Beautification Group - JHBG
JHBG Celebrates 25 Years Of Service
Jackson Heights Beautification Group Celebrates 25
September 30, 2013 / Jackson Heights Neighborhood / Queens Issues / Queens Buzz News. I had the pleasure of spending some time at the celebration of the 25th anniversary of the Jackson Heights Beautification Group's existence. During the course of the evening I had the opportunity to talk to a number of members, many of whom had been with the organization for decades. And during the course of these conversations I came away having learned something about their collective accomplishments, and in some senses, the early to modern history of Jackson Heights.
Some of the JHBG's Accomplishments
The Jackson Heights Beautification Group [also known as JHBG] started when a group of residents decided to 'take back the neighborhood' from vandals doing property damage [grafitti], real estate developers knocking down high quality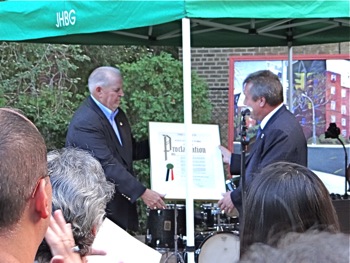 historic buildings, people breaking sanitation laws [doggie doo], and developers trying to obtain zoning variances that would downgrade the neighborhood. But the community organization was not just about participating in the governance process and ensuring that the city laws and ordinances were enforced; they also sought to enhance the quality of neighborhood life.
Hence the Jackson Heights Beautification Group sought funding for summer concerts, helped bring a farmers market to Jackson Heights, worked collaboratively to create more public parkland [78th Playstreet & the Garden School Athletic Field], and most recently helped start an orchestra. They will be the first to tell you that they didn't do these things by themselves, but however modest, they did play an important role.
In the photo above City Councilmember Daniel Dromm gives an award to Jackson Heights Beautification Group President Edwin O'Keefe Westley honoring the neighborhood group's service to the community.
And so you may click here to learn a bit about the formation and history of the Jackson Heights Beautification Group, as well as a bit about the 20th century life in Jackson Heights as told by those who lived it.
---
Jackson Heights History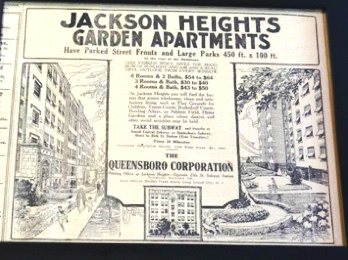 June 10, 2013 / Jackson Heights Neighborhood / Jackson Heights History / Queens Buzz. I dropped in on the Jackson Heights Beautification Group's annual historic house lecture, exhibit and tour program this past weekend. The event has been hosted by the group for about two decades and serves to inform the public about the history and architecture of the Jackson Heights neighborhood.
The lecture spans about a century, beginning with the Queens Boro Corporation's acquisition of huge plots of farmland [estimated 350 acres for about $3.8 million] that preceded the development of the neighborhood. The lecture is given by author, historian and realtor, Daniel Karatzas and the exhibit is owned by the Jackson Heights Beautification Group, a community non-profit organization. The exhibit contains old marketing brochures, newspapers, post cards and photos of the Jackson Heights neighborhood. At a later date, we'll post more about the historic weekend lecture and exhibit.
---
Health Fair: The How To's Of Maintaining The Human Machine
June 4, 2013 / Jackson Heights Neighborhood / Queens Healthcare / Queens Buzz. I attended a Health Fair in Jackson Heights on Saturday at the Lexington School for the Deaf. It was held outside in the playground, which was a large grassy field not far from the Bulova Building.
Inside the yard there were booth set up where you could have your lungs tested for things like asthma, have your heart rate and blood pressure measured, get a bone density reading to see if you're at risk of osteoporosis, have your glucose and cholesterol measured, and get a body mass index reading - all for free. For those folks who are managing their health without the benefit of insurance, it's a good one stop shop to get some sort of reading on a number of your vitals.
There were other, less health focused booths there too. For example a couple of booths provided coffee, bagels and fruit - like the Port Authority of NY / NJ and the NYC Department of Corrections. And some were set up to entertain the kids with balloons, dancing to music, yoga and the like. The event is hosted annually by Mt Sinai Queens and the United Civic Community Association. We'll post more later.
Queens World Film Festival
Queens World Film Festival
Queens Film Festival Begins
March 9, 2013 / Astoria, LIC & Jackson Heights / Film in Queens / Queens Buzz. I attended the 3rd annual Queens World Film Festival opening Tuesday night at the Museum of the Moving Image in Astoria. As I arrived, independent film producers, directors, writers, actors and actresses mingled in the lobby.
A local TV film crew was interviewing one of the festival participants as I started mingling with the crowd. I met one man who has film showing Friday, another with a film showing Thursday, and a Belgian couple who co-produced a thirty second short that was to be shown at the opener tonight [they're shown conversing with City Councilmembers Dromm and Van Bramer].
It wasn't long before the festivities began, which included several speeches by sponsors [some are listed at the end of this report] and the Queens World Film Festival founders, Don and Katha Cato of Jackson Heights.
---
Site Search Tips. 1) For best results, when typing in more than one word, use quotation marks - eg "Astoria Park". 2) Also try either singular or plural words when searching for a specific item such as "gym" or "gyms".
Click this link for promotions by advertisers in Queens.
Click this link to search for something in the Jackson Heights Business Directory containing over 1,000 listings. Click here to view Charms & Glitters a fashion joyeria en Jackson Heights.
Click the log in link below to create an ID and post an opinion. Or send this story to a friend by filling in the appropriate box below.