The Steinway Mansion
Special Section Dedicated To Our Coverage Of The Steinway Mansion In Astoria.
---
Steinway Mansion SOLD
Steinway Mansion LLC Purchases Mansion For $2.65 Million
May 5, 2014 / Astoria Real Estate / Steinway Mansion / Queens Buzz. On Friday May 3rd, 2014, the Steinway Mansion was sold for $2.65 million. The mansion went on the market in August of 2010 and was handled by a number of brokers - including Southebys International Realty, Halvatzis Realty Astoria and Prudential Douglas Elliman - before being turned over to Amorelli Realty of Astoria, which closed the deal.
At present, we understand that the land parcel remains intact, which last we heard was between one and two acres. This acreage is down from the 700 acres that Benjamin Pike, the original owner, purchased in the mid 1800's [circa 1858]; and the 70 acres owned in tandem with the mansion by the Steinways [circa 1870]. The most recent owners, the Halberians, held about a two acre lot in tandem with the mansion, which includes the grounds with which those who have visited the mansion in modern times are familiar.
The Steinway Mansion is currently zoned as residential and we were told that - as of this date - that nothing was underway to change that. Rumors have been circulating for months that the mansion would be turned into a restaurant, but we could not find anyone close to the owners who could confirm that.
Bob Singleton of the Greater Astoria Historical Society and Friends of the Steinway Mansion said that those two organizations continue to have an interest in helping preserve the Steinway Mansion an historic jewel for Astoria, Queens and NYC.
As we understand it, the Steinway Mansion is landmarked at federal, state and city levels, which means the outside of the structure may not be alterred nor may it be torn down. We were informed that Steinway Mansion LLC is a locally owned company, but the names of the owners have not yet been made public.
The realtors who closed the deal include Lauren Cornea, Christina Halvatzis and Paul Halvatzis - all of Amorelli Realty.
---
Exclusive Coverage Of The Steinway Mansion Sale
March 8, 2014 / Astoria / Queens Buzz. Queens Buzz didn't expect to become so engrossed in one issue so soon in its development. But the sale of the Steinway Mansion represents the preservation of perhaps the most important remaining remnant of 19th century Queens, and is attached to the legacy of a family that was influential in shaping the borough of Queens.
The more we dig, the more we find, so stay tuned as this section will likely double in size sometime in 2011. And in following the stories we write, you'll obtain greater insight into Queens history, the Steinway & Sons legacy and the emergence of the borough of Queens to become the largest borough in New York City. These stories are presented chronologically, starting with the most recent posting.
---
Steinway Mansion Under Contract
Steinway Mansion Under Contract To Private Buyer
Historic Mansion Was Built By Early NYC Technologist & Later Bought By Renaissance Man
Last Chance For Queens Officials To Act On Their Speeches About Historic Preservation, Nurturing Culture & Tourism
March 12, 2014 / Astoria Neighborhood / Real Estate In Queens / News & Opinion. Queens Buzz. Well, the saga is almost over. NYC and Queens government officials are about to let slip into private hands, the greatest historical relic of the 1800's in Queens. And what could have been - and could still be - one of the greatest historic sites / historic tourist attractions of Queens. The Steinway Mansion is under contract to be purchased by a private buyer.
It's not that Queens and NYC government officials haven't had a chance to save it. The historic mansion, which was landmarked for its historic signficance decades ago [landmarking prevents changes to outside of the structure], came on the market in August of 2010. The asking prices has been between $2 and $4 million, which given that far smaller homes with no significance are already selling for over $1 million in the Astoria neighborhood, it seemed like a reasonable asking price.
Click here to read the rest of our report about the Steinway Mansion Under Contract. The story includes photos and links to other stories we've done over the years about the Steinway Mansion and it's inhabitants and their endeavors. The story also includes the business case for taking the Steinway Mansion public and transforming it into a museum / cultural destination for all of Queens, NYC & the world.
---
Steinway Mansion - Astoria Real Estate
Steinway Mansion - Astoria Real Estate
Lincoln Era Mansion & Queens History To Be Sold
Astoria / August 20, 2010 / Queens Buzz. On Wednesday afternoon I set to work on this story after returning from a fascinating four hour visit with Michael Halberian, owner and whose family occupied, the Steinway Mansion for the past 82 years. The mansion is located in Astoria, just north of 19th Avenue on 41st Street [map link provided at end of story].
I felt like I'd stepped through a time warp, back into the late 19th and early 20th centuries. The visit connected me to one of the legendary centerpieces of Queens history - the Steinway family and the mansion they occupied during their golden years ... but the mansion's history neither starts nor ends there.
Michael regaled me with anecdotal tales supported by the many books off his shelves, or by pointing to numerous remnants of the past, kept in pristine shape in this beautiful old Astoria mansion on the hill overlooking the East River.
Click here to read more about the Steinway Mansion For Sale In Astoria Queens.
---
Who Was Benjamin Pike?
Who Was Benjamin Pike?
Steinway Mansion Builder Made A Mint
April 17, 2011 / Astoria / History Of Queens / Queens Buzz. I had a rare opportunity to meet someone who was well acquainted with the story of Benjamin Pike Jr. Benjamin Pike Jr. was the man who built the mansion that was lived in for over fifty years by the Steinways of Steinway & Sons Piano in Astoria. During my efforts to report this story, I had here-to-fore found it very difficult to find much published about Benjamin Pike. Hence you can imagine my delight when I met Deborah Jean Warner, who had once curated an exhibit dedicated to the Steinway Mansion founder, at the Smithsonian Institution.
Deborah has curated many exhibits about the history of physical sciences and is the author of several books. Deborah's work in 19th century scientific instruments lead her to curate the Pike exhibit. When it comes to selling scientific instruments in America in the 19th century, Benjamin Pike Jr. was an innovator who loomed large.
Click here next week to read our full report about Benjamin Pike Jr., the founder and owner of the Pike Mansion, which later came to be known as the Steinway Mansion in Astoria.
---
Steinway Mansion Contents Auctioned
Will The Historic Site In Astoria Be Next?
April 23, 2011 / Long Island City & Astoria / History / Steinway Mansion / Queens Buzz. I attended the Steinway Mansion contents auction on Saturday, March 27th, down at Capo Auction on Queens Blvd in Long Island City. It was the first of two auctions wherein the contents of the Steinway Mansion, collected over a lifetime by Michael Halberian, were to be auctioned off. The second auction is Saturday, April 30th starting at 11 am and going well into the afternoon.
On March 27th there were over 600 items auctioned, where bidding started in the hundreds to thousands of dollars. In addition to the hundred or so buyers who appeared at the auction house, bids were also taken over the internet.
The photo to your right is of the Indian statue that once stood on the grounds of the Steinway Mansion, with the bidders shown through the doors while the auction was in session in March.
---
---
Michael Halberian - Steinway Mansion Owner - Dies
Michael Halberian: 1927 - 2010
Steinway Mansion Owner Dies
December 30, 2010 / Astoria / Queens Buzz. Michael Halberian, owner of the Steinway Mansion in Astoria, died Monday evening around 7 pm. We have unofficial reports that he died of cardio obstruction pulmonary disorder. Michael turned 83 in November.
Michael is survived by two children, Michele Kazarian and John Halberian [wife Stephanie]; his sister, Rosemary; five grandchildren including Jackie and Katie Kazarian and Christopher, Meg and Jack Halberian; and neices and nephews.
Services will be held at 2 pm at the Armenian Church of the Holy Martyrs in Bayside. The church is located on the corner of Horace Harding Expressway [LIE] and Oceania Boulevard.
Later this weekend we'll post more about the life of Michael Halberian and the historical Steinway Mansion for which he so loved and cared. Michael is shown standing in front of the Steinway Mansion in the photo above circa the 1930's.
---
Steinway Hall New York City
Queens History Is New York's History
19th Century Queens Pioneers With Big Ideas
Steinway & Sons Legacy Permeates NYC & Queens
Manhattan NYC & Astoria / December 7, 2010 / Queens Buzz. In our effort to inform Queens Buzz readers about the full historical significance of the Steinway Mansion, we traveled into one of Queens' outerboros: Manhattan.
We visited Steinway Hall, which is located on 57th Street between 6th and 7th Avenues, and which is owned by Steinway & Sons pianos - some 85 years later. Once again, I stepped through a time warp, similar to the one into which I stepped when I visited to the Steinway piano factory and more recently the Steinway Mansion, both of which are located in Astoria in Queens.
Steinway Hall was built by Steinway & Sons piano company in 1925, following the erection of Carnegie Hall, which had just supplanted the old Steinway Hall located on 14th Street, as NYC's cultural centerpiece. Click here to read more about Steinway Hall in NYC including numerous photos, or click this link to visit the Steinway Mansion section of Queens Buzz.
---
Steinway Mansion III Party - Astoria Queens
Enchanted Evening At The Mansion
Steinway Mansion Strikes Resonant Chord
Astoria / October 20, 2010 / Queens Buzz. It was a cool quiet moonlit evening as I made my way down the lonely street leading up to the Steinway Mansion. As I passed through the century old Italian wrought iron gates, I found white Japanese paper lanterns lit by candles leading into the yard. I followed them around the side of the house, and eventually right up to the front porch. But I couldn't go in, at least not yet.
The mansion looked so serene and quiet, even as over one hundred people enjoyed the cocktail party going on inside. The grey granite exterior soaked in the silvery moonlight, as the white trim glowed luminously. I stood there for a while, just breathing in each moment ... until someone came up behind me and said, "We really should buy this for ourselves." We then laughed, knowing that that would never happen.

But there was a yearning in my heart that the Steinway Mansion would be bought by some level of government, so that I, along with everyone else in Queens, could continue to enjoy this beautiful home, for the rest of our days. It dawned on me later, that perhaps I'd caught the Jack Halberian fever, and fallen in love with a 19th century Queens home and legacy that have no peers.
Click this link to view our report, along with quite a number of photos taken at the cocktail party dedicated to The Save The Steinway Mansion movement.
---
Steinway Mansion II - Astoria Queens
Mayor Invited To Cocktail Party At Steinway Mansion
Vallone Invites Mayor To Visit Mansion Before Making Decision
October 7, 2010 / Astoria / Queens Buzz. What an evening! It started with an interesting journey through some of the Steinway & Sons history by local historian Bob Singleton and was followed by a rousing speech by City Council Member Peter Vallone. Then the mansion was opened up to some 70 or 80 people who had been invited to 'Help Save The Steinway Mansion'. The photo to your left shows Peter Vallone and historian Bob Singleton standing on the steps of the Steinway mansion talking to community members who wish to preserve the Steinway mansion.
It's been said that President Grover Cleveland visited this historic treasure in the 1880's as a guest of Henry Steinway. And Mayor Ed Koch made a visit to the Steinway Mansion as guest of Michael Halberian. Click here to read more about Mayor Bloomberg's invitation to the Steinway Mansion in Astoria later this month.
---
Vallone Urges City To Purchase Steinway Mansion
Van Bramer Supports The Measure With 2nd Letter
Astoria & Sunnyside / Updated October 2, 2010 / Queens Buzz. On Friday, September 17th, City Councilman Peter Vallone visited owner Michael Halberian at the Steinway Mansion which is currently up for sale. According to Kim Parshley, one of the realtors handling the sale of the home, Peter was so impressed by the historic significance of the mansion and the countless historic artifacts pertaining to NYC collected by Halberian, that he has made a request to the city to purchase the site for posterity.
On September 30th City Councilman Jimmy Van Bramer, who represents nearby Sunnyside publicly supported the measure and followed up by sending a letter of his own to the Mayor, urging the Steinway Mansion purchase.
Click here to read our first report on the history of the Steinway Mansion.
---
Help Save The Steinway Mansion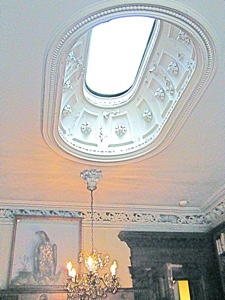 Astoria / Queens Buzz. The Steinway Mansion is up for sale. It was built in the 1850's, is made of granite, has 27 rooms on four floors [counting the crows nest or basement] and contains over 150 years of Queens and NYC history.
The Steinways of Steinway Piano & Sons were leading Queens citizens who at one time owned the property that is now LaGuardia Airport, began a tunnel under the East River that is now the tunnel for NYC subway lines, and essentially put the neighborhood of Astoria on the map via their piano factory company town. The Steinway Mansion is already a landmark. The Steinway piano factory already attracts hundreds, if not thousands of visitors annually.
Purchasing this landmark would not only preserve an important piece of our history, but also has the potential to increase tourism in Queens by enhancing its attractiveness as an historic and cultural center - all of which is also good for commerce. Click this link to read our report / view our photos of the Steinway Mansion For Sale in Astoria Queens. The photo above is of a skylight in the study of the Steinway Mansion.
Help Peter, Michael & Jimmy Save The Steinway Mansion For Queens NYC
Please email City Councilman Peter Vallone at vallone4ny@gmail.com and Jimmy Van Bramer at jvanbramer@council.nyc.gov to let them know you support their efforts to Save The Steinway Mansion.
Please copy the following government officials on the email: Councilman Daniel Dromm at dromm@councilnyc.gov; City Council Speaker Christine Quinn at quinn@council.nyc.ny.us and Queens Borough President Helen Marshall at info@queensbp.org.
You may also call 311 to register your interest in having the Steinway Mansion preserved by the city for the people of Queens and everyone else.
---
Steinway & Sons Piano Factory - Astoria NY
Steinway & Sons Piano Factory
Model Business Still Going Strong 100 Years Later
Astoria Queens. While some businesses may be folding, others like the Steinway & Sons Piano Factory in Astoria are still going strong, after over a century in business. In some respects the factory is a sort of living museum, as the piano makers are really craftsmen and artesans, rather than factory workers in a 20th century sense.
So what keeps this pillar in the community going strong after so many years? Its unrelenting commitment to quality and innovation. Click here to read / view the rest of the story about the Steinway & Sons Piano Factory in Astoria Queens NY. In the photo above, the sound board is being fitted into the piano body / casing.
---
---
---
Astoria Neighborhood Links
Click on these advertisements for promotions, discounts and coupons by retailers and restaurateurs in Astoria and nearby Queens.
Click this link to go to the:
Astoria Neighborhood or Astoria Business Directory
Astoria Real Estate or Events & Things To Do In Astoria
Restaurants In Astoria or Astoria Shops & Shopping
---
Site Search Tips. 1) For best results, when typing in more than one word, use quotation marks - eg "Astoria Park". 2) Also try either singular or plural words when searching for a specific item such as "gym" or "gyms".
Click this link to search for something in our Queens Business Directory.
---
Click the log in link below to create an ID and post an opinion.
Or send this story to a friend by filling in the appropriate box below.
---