---
Steinway Mansion - Real Estate Development in Astoria
Update on the Steinway Mansion in Astoria Queens
Visionary Investor Makes Good on Development but Still no Announcement of his Plans for the Steinway Mansion
September 12, 2016 / Astoria Neighborhood / Astoria History / News Analysis & Opinion / Queens Buzz.
On May 3rd, 2014 the Halberian Family sold the Steinway Mansion to Steinway Mansion LLC for $2.65 million. In the two and a half years since, the new Steinway Mansion owner parceled the property into a eleven additional smaller lots and built eleven two story commercial buildings on each. We watched as the owner quietly developed the property, likely in line with his plans while making the investment.
Just over a year ago I visited the site and took some photos, which momentarily revealed the resplendent glory of the old mansion, overlooking the East River and distant Rikers Island and Bronx shores. The new owner had cut away most of what remained of the Steinway Mansion yard to make way for the new buildings at a height on a level with 42nd and 41st Streets. The construction site seemed well maintained and the historic mansion structure appeared to be treated respectfully both last year, and as I learned in my most recent trip, also since.
The photo above was taken in August of 2015.
Northern Ditmars Neighborhood Real Estate Development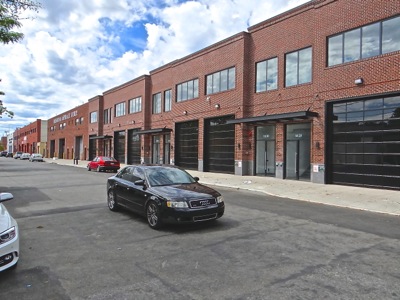 Last weekend I returned to the site to shoot photos and see what was happening. I came in along 42nd Street, and for a moment I wondered if I had gotten my coordinates wrong, as the street had been transformed. The emptiness on the street of the construction site of a year ago had been filled in with a number of spanking new buildings lined along the street with what appeared an exacting precision. The photo to your right shows roughly the same space in September 2016 as was shown in the August 2015 photo above.
A year ago, 42nd Street was an empty, slightly soiled, commercial industrial hub. But on my visit this year the street took on a wholly different appearance with the new buildings / storefronts. There were eight new buildings along 42nd Street, with red brick exteriors complemented by black trim and large floor-to-ceiling paned storefront windows, which I believe could also serve as garage doors. It almost seemed like these new edifices could as easily become art galleries, as manufacturing locales and / or storage facilities.
Click here to read the rest of our report about the Steinway Mansion real estate development in Northern Ditmars, Astoria.
---
Traffic Fatality at 21st Street - Hit & Run at 30th Road
Person of Interest
'Irrelevant' Person Dead, 'Relevant' Person Still at Large
April 11, 2016 / Long Island City Neighborhood LIC / Astoria Neighborhood / Queens Community Issues / News Analysis & Opinion / Queens Buzz.
On Wednesday, April 6th shortly before 11 pm an unidentified motorist traveling south on 21st Street hit a pedestrian near 30th Road.
According to PIX11 News,
"The driver traveled a half a block with the victim on the hood of the car, slammed on the brakes, leaving the victim to fall on the roadway before fleeing the scene, according to a police source."
PIX11 News also noted that the car may have been a Toyota [guess for yourself by watching the video], of a dark or red color, and that there was glass on the road, indicating that the car may have been damaged in the fatal hit & run. As of Monday noon, police had still not released the name of the dead man, pending family notification. The man was crossing 21st Street outside of the painted crosswalk lines.
This was a real homicide, but not pre-meditated murder, like the crimes that Harold Finch, John Reese and Detective Lionel Fusco attempt to solve before they happen in the CBS television series Person of Interest. But like the crimes pursued by the citizen heroes of the CBS television miniseries, there's some reasonable probability that this hit and run homicide along 21st Street could have been prevented. In fact we documented the members of TA Queens trying to stop this fatality before it happened, wherein they assumed roles with moral parallels to the leading characters in the show Person of Interest.
Let's examine the evidence. Click here to read the rest of our report about the hit and run fatality on 21st Street in Astoria / LIC at 30th Road including a graphic NYPD video of the collision.
---
Bohemian Hall & Beer Garden - Astoria History Bohemian Hall NYC
Bohemian Hall & Beer Garden
Holiday Tree Lighting & Celebration in Astoria
Updated w/ Videos & Photos December 15, 2015 / Astoria Neighborhood / Astoria History / Queens Buzz.
On Friday night the Bohemian Hall and Beer Garden in Astoria celebrated the advent of Christmas with its traditional Christmas Party. The holiday event was favored with unusually warm weather, somewhere in the high 50's.
As I approached the Bohemian Hall and Beer Garden I could easily see it from a distance, as it was festively adorned with hundreds of lights. There was a holiday market along the beer garden wall, which among other things, had Christmas trees of all sizes for sale.
Outside the gate there was a very large snowman and inside the beer garden a big jolly Santa riding high in his big wooden sleigh, behind a tall wooden reindeer. Santa was taking the kids for an imaginary ride into the wild blue yonder … "Ho, Ho, Ho ... Merry Christmas" bellowed the Big Man. The attending parents were provided with plenty of opportunities to take photos of Santa with their children and / or themselves.
A bit further into the beer garden there was a beautifully decorated Christmas tree, which had just been lit for the first time by Bohemian Hall and local government officials who had come to join the celebration. I arrived about a half hour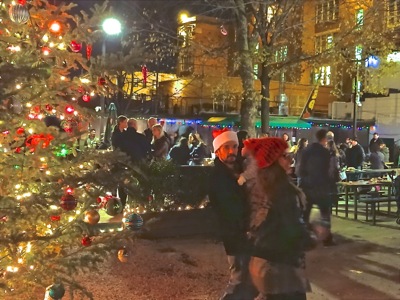 after the official starting time, so while there was still a good sized crowd present, many of the local officials had departed. I spotted NYC City Councilmember Costa Constantinides relaxing with his family, and I later heard that NYS Assemblywoman Aravella Simotas had also been there.
The Bohemian Hall and Beer Garden had done nothing less than a marvelous job of providing the perfect holiday playground for young and old alike. Of course, this isn't usually possible in Astoria in early December, because the temperatures are generally about 20 to 30 degrees cooler. But it was warm this year, so the Bohemian Hall & Beer Garden took advantage of the weather, and the visiting crowd was quick to adapt to enjoying the warmer clime of the great outdoors.
Click here to read the rest of our report, including a video, of the holiday celebration and tree lighting at the Bohemian Hall & Beer Garden - one of the leading beer gardens in Queens.
---
Astoria in the 1980's: Contemporary History of Astoria at the Greater Astoria Historical Society
Two Guys From Astoria: Astoria in the 1980's
Greater Astoria Historical Society Hosts a Contemporary History
February 1, 2016 / Astoria Neighborhood / Astoria History / Queens Buzz.
I attended a program presented by Joseph Cicchelli and Steven Fella entitled Two Guys From Astoria, which was hosted by the Greater Astoria Historical Society. The program was in essence a contemporary history of Astoria presented by 'two guys from Astoria'.
The two guys, Joseph Cicchelli and Steven Fella, were neighbors in the Astoria section of Queens during the 1980's at a time when Astoria, Queens was in the midst of a much different kind of transition than ithe neighborhood is going through today. It was a time when an earlier wave of the Queens melting pot had become 'Americanized' while the next wave of immigration was in full bloom. Queens has a history of welcoming immigrants from around the globe, whose children grow up together culturally, as fellow Americans and fellow human beings.
But the story told by Cicchelli and Fella is a nostalgic look back at Americana as seen through the youthful eyes of two young Astorians who still are old neighborhood friends. The narrative takes place on the streets of Astoria numbered in the 40's around 30th Avenue. The Two Guys From Astoria presentation was delivered first-person, blog-style, bringing back to life many of the local and national icons of the time. Suped up cars, Pink Floyd, leather jackets and 'broken' fire hydrants, during the long hot summer days - were all a part of the narrative.
Click here to read the rest of a contemporary history of Astoria presented by Joseph Cicchelli and Steven Fella at the Greater Astoria Historical Society on January 11, 2016.
---
Hell Gate Horror - Halloween Houses in Queens
Hell Gate Horror was ... well ... horrifying ..
Neighborhood Halloween House Includes Plenty of Theater & Imagination
October 24, 2015 / Astoria Neighborhood / Ethnic & Religious Culture & Holidays in Queens / Queens Buzz.
It was a hauntingly calm evening as I dared to return to the haunted Hell Gate Horror of Astoria. It was a century ago that the Hell Gate Bridge was nearing completion over the East River and the thought of what happened last year had raised the hair on my back as I approached.
This year I decided to take along a video camera so that what I might miss with my own eyes might be captured in the video. But alas, it was so dark, that even the camera couldn't keep pace with the spirits and ghosts hovering under the Hell Gate Bridge on this haunted horrifying evening.
They say a picture says a thousand words, so with that I'll let you take the journey into the Hell Gate Horror of Astoria yourself. If you click into the story we did last year and compare it to the video this year, you'll see they freshen it up with new themes, back drops and costumes. Boo.
Click here to see the video of the Hell Gate Horror Halloween House of Astoria.
---
Astoria Music Now - Photos & Video
Astoria Music Now
Astoria Arts & Music Hosts 7th Annual Astoria Musical Festival
September 16, 2015 / Astoria Neighborhood / Live Music Queens / Queens Buzz.
On Saturday, August 29th I headed over to Astoria Park to attend the 7th Annual Astoria Music Now music festival. It was a near perfect day with the temperatures in the 80's, plenty of sun and not too much humidity.
There were three stages on the Great Lawn - one at the top of the hill, a second one near the foot of one of the towers of Hell Gate Bridge and the third along the East River along the western perimter of the Great Lawn. In this manner one could choose from three performances, and once chosen, listen out of earshot of the other two stages.
Before I settled in to listen to the music I decided to take a walk along the waterfront there were a number of art galleries / exhibits in tents lining the waterfront.
Click here to read the rest of the story, view photos and a video of Astoria Music Now.
---
Athens Square Park History - Astoria
Sophocles Arrives In Athens Square Park
A History Of Athens Square Park In Astoria
March 30, 2015 / Astoria Neighborhood / Ethnic & Religious Culture In Queens / Queens Buzz. A new statue of Sophocles arrived in Athens Square Park on Saturday. The statue was erected as part of the Greek Independence celebration festivities in Astoria last weekend.
But for some it was a day to bear witness to the completion of a thirty-one year community effort to complete the vision of the park as first set forth by former Athens Square Park Dennis Syntilas over three decades ago.
And it was a bittersweet day, as Dennis Syntilas passed away only three prior to this event, in January of 2015.
Standing in the photo at right [from left to right] is Captain Dennis Mullany of the 114 Precinct, George Alexiou former President of the Greek Homeowners Association, George Delis current President of Athens Square Park, Sophocles [statue], George Stamatiades a longtime supporter and Community Board Member, and the woman standing at street level with the wavy auburn hair is Rita Syntilas who is the widow of Dennis Syntilias the former President of Athens Square Park.
Click here to read our full report regarding the history of Athens Square Park in Astoria, and the erection of the Sophocles statue during the Greek Independence celebrations in NYC in March of 2015.
---
Brooklyn Grange & Edible Queens Host Butcher Paper Dinners
Relaxing Rooftop Repast On The Grange
Edible Queens Hosts Farm Fresh Dining Days @ Brooklyn Grange
FYI - STILL A WORK IN PROCESS
May 25, 2014 / Astoria LIC & Sunnyside / Food, Beer & Wine In Queens / Queens Buzz. I just returned from a very relaxing Memorial Day Weekend afternoon, spent out in the country, on a farm, enjoying a farm fresh dinner with a very laid back Queens crowd from many different walks of life.
I didn't leave the city. I didn't even leave Queens. And in fact, I barely left Sunnyside. But I felt like I had gone many, many miles away; into the rolling green farmlands and golden sunshine of … well … rooftop Queens.
I took the elevator up to the Brooklyn Grange, high atop the Standard Motor Lofts Building along Northern Blvd in LIC. It was like entering a tele-porter, that took me up and away from the city into Queens farm country.
Edible Queens, a quarterly magazine about dining & culture, organized the dinner which is one of a series they've entitled Butcher Paper Dinners. They have planned and scheduled five more of these afternoon / evening dinners between now and October so you'd best rsvp if you're interested because once word gets out about these dinners, tickets are likely to go fast.
The afternoon consisted of sipping unique blends of local beers made in LIC and crisp golden Reisling wines grown and made in upstate New York; while sampling freshly cooked tasso beignets and boiled crawfish by one of NYC's celebrated chefs.
Click here to read more about the Edible Queens dinners at the Brooklyn Grange rooftop farm in Queens.
---
Independent Film Production Queens NYC
My Father My Don - Hollywood East
A Son's Journey From Organized Crime To Sobriety
On The Scene At Halvatzis Astoria Studio
January 14, 2014 / Astoria Neighborhood / Film in Queens / Queens Buzz. I had an opportunity to watch the filming of a new indie in the making. The film is based on the book, My Father My Don, by Tony ['Tony Nap'] Napoli.
The story is an autobiographical account of Tony Napoli's life which began in 1935. But the book reaches back into the 1880's in recounting how Tony's father 'Jimmy Nap' began his life of crime. Jimmy Nap ran one of the biggest illegal gambling operations in America in the 1970's and 1980's. Jimmy Nap's gambling operations, which he ran for the Genovese Crime Family, is believed to have grossed many, many hundreds of millions of dollars.
Tony was the son of this infamous Brooklyn mobster, who among other things, did bootleg runs for Al Capone in his early years. Tony's story is one of redemption, as he used to be a mob enforcer, making sure people paid up on their numbers and other gambling debts. He worked for his father, his don [don means boss]; and eventually took to the bottle to numb the pain.
In the photo above we see the film crew in action at the offices of Halvatzis Realty on Ditmars Blvd in Astoria [aka Halvatzis Astoria Studio]. In this scene Tony's father, Jimmy, is called into Al Capone's office after finishing a bootleg run.
Producer Hussain Ahmed wrote and is directing the 20 minute short film in Queens. Click here to read the rest of our report, including a photo slide show of the production of the independent film, My Father, My Don in Queens NYC, and a brief interview with Tony Napoli, the author and resident of Forest Hills in Queens.
---
Friends of the Steinway Mansion
Queens Next Great Museum?
Friends of Steinway Mansion Begin Their Journey
October 8, 2013 / Astoria Neighborhood / Queens History / Queens Buzz. They reminded me a bit of George Washington's rag tag band, scurrying from pitched battle to pitched battle, never really winning ... until the end ... because of their unyielding will and their relentless pursuit of the greater good. This is a story about the Friends of the Steinway Mansion.
In 2010 Michael Halberian, the longest living inhabitant of the Steinway Mansion, put it on the market, likely knowing at the age of 83, that his time here on the planet was limited. After a flurry of publicity and verbal support for preserving the Steinway Mansion by Queens government officials, interest in it died down shortly after Michael's death in December of 2010.
But not everyone lost interst ... click here to read our report on an effort to preserve the Steinway Mansion by its Friends and transform it into a world class museum.
---
---
---
Things To Do - Astoria Attractions Archive
---
Site Search Tips. 1) For best results, when typing in more than one word, use quotation marks - eg "Astoria Park". 2) Also try either singular or plural words when searching for a specific item such as "gym" or "gyms".
Click this link for promotions by advertisers in Queens.
Click this link to search for something in our Queens Business Directory containing over 1,000 listings.
---
Click the log in link below to create an ID and post an opinion. Or send this story to a friend by filling in the appropriate box below.
---