Two Guys From Astoria: Astoria in the 1980's
Greater Astoria Historical Society Hosts a Contemporary History
February 1, 2016 / Astoria Neighborhood / Astoria History / Queens Buzz.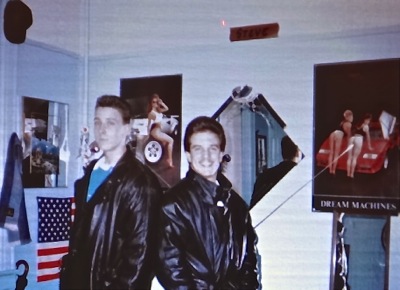 I attended a program presented by Joseph Cicchelli and Steven Fella entitled Two Guys From Astoria, which was hosted by the Greater Astoria Historical Society. The program was in essence a contemporary history of Astoria presented by 'two guys from Astoria'.
The two guys, Joseph Cicchelli and Steven Fella, were neighbors in the Astoria section of Queens during the 1980's at a time when Astoria, Queens was in the midst of a much different kind of transition than ithe neighborhood is going through today. It was a time when an earlier wave of the Queens melting pot had become 'Americanized' while the next wave of immigration was in full bloom. Queens has a history of welcoming immigrants from around the globe, whose children grow up together culturally, as fellow Americans and fellow human beings.
But the story told by Cicchelli and Fella is a nostalgic look back at Americana as seen through the youthful eyes of two young Astorians who still are old neighborhood friends. The narrative takes place on the streets of Astoria numbered in the 40's around 30th Avenue. The Two Guys From Astoria presentation was delivered first-person, blog-style, bringing back to life many of the local and national icons of the time. Suped up cars, Pink Floyd, leather jackets and 'broken' fire hydrants, during the long hot summer days - were all a part of the narrative.
Click here to read the rest of a contemporary history of Astoria presented by Joseph Cicchelli and Steven Fella at the Greater Astoria Historical Society on January 11, 2016.
---
Two Guys From Astoria: Astoria in the 1980's
Greater Astoria Historical Society Hosts a Contemporary History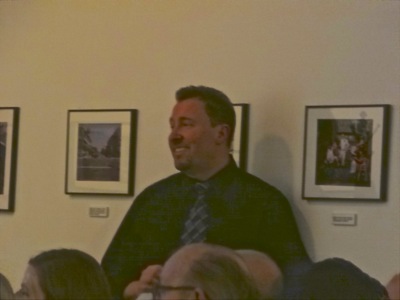 February 1, 2016 / Astoria Neighborhood / Astoria History / Queens Buzz. Continued.
This look back at Astoria was, in a sense, a derivative of a prior Greater Astoria Historical Society program held in the Fall of 2015 which did the same. The original look back at Astoria was more of a top down look at Astoria as the program included government officials who talked about how Astoria had changed. Their perspective was primarily from a legislative point of view, discussing things like parking law changes and the creation of Athens Square Park.
Steve Fella attended the event and following the presentation began talking with Bob Singleton, Executive Director of the Greater Astoria Historical Society, about the Astoria he had experienced growing up in the neighborhood in the 1980's. Bob encouraged Steve to put together a presentation about his life growing up in Astoria and I reckon you could say that the rest is history.
Astoria Neighborhood Near Steinway Street & 30th Avenue Circa 1980
Joseph and Steve lived on the same block on 44th Street back in the 1980's. They were a year and a half apart in age, which when you're younger makes some difference, as a year is a far greater percentage of your age and also separates you in school grades. Both men, as boys, attended the same schools, including St. Joseph Catholic Academy, PS 70 and Monsignor McClancy Memorial High School. And perhaps, more importantly, they were and still are, close friends.
The Greater Astoria Historical Society was hosting a full house tonight. The presentation started by offering this as background, placing our storytellers in time and space. They were also both of some Italian parentage, with Steve being all Italian and Joseph being a mix of Italian and some German. Astoria in recent times has been predominantly Greek and Italian, but a century ago is was predominantly a German immigrant company town, overseen by the Steinways.
Astoria Neighborhood History
Joseph and Steve didn't live too far from the Woodside Houses public housing projects which contain 20 six story buildings, about 1358 apartments which are populated with about three and a half thousand people. They ventured into the projects - which at that time were likely dangerous - with friends they met through school and in Joe's case, sometimes to deliver pizza.
In the early 80's both men were boys approaching the teen years, playing skellies using bottle caps. And by the end of the decade they were on their way to exiting their teen years and were playing with cars.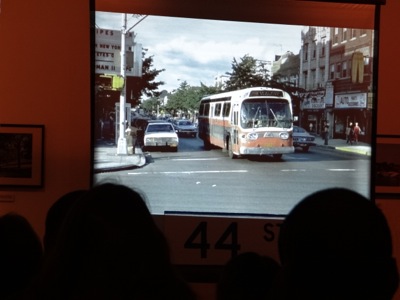 In between they took us through the eighties. We were introduced to the bottle cap game and everyone was given a bottle cap to take home as a souvenir. I'm too old to understand exactly how it was played, but it had something to do with playing with matches and melting crayons – both of which were accessible to young boys - and then playing the game.
Steinway Street in the 1980's
Joe and Steve took us to the movies at the United Artists theater on Steinway Street and 30th Avenue where they watched ET, Return of the Jedi, Rocky II, the Terminator, Superman and Escape From NY. After the movies they would treat themselves to a bite to eat at Rizzo's Pizzeria, or Gaudio's Restaurant & Pizzeria – both of which are still here.
Life in the hood was a shared life. Steve told us how they knew their neighbors, like the 'Cat Lady'. There were also teen gangs in the neighborhood, but they weren't branded gangs. The 1980's were a period in American history when the nation was recovering from the trauma of Vietnam, and the affiliated social unrest stemming out of African Americans' and women's push for more equal rights. The neighborhood gangs' activities largely centered around stealing radios out of parked cars to buy pot.
Fast Cars & Fast Woman: Fashion & Cars in Astoria Circa 1980's
As they grew up, Joe got a job working for Astoria Pizza, a nearby pizzeria which is no longer there. The teen years lead to an interest in girls. And meeting and talking to girls lead to taking a keener interest fashion and attire. Black leather jackets were in vogue – a timeless style perhaps. Joe recalled them buying black leather jackets and then hopping in his Delta 88 (babe magnets) to go cruising along the East River near Astoria Park. There was humor dispersed throughout the presentation, and a solid showing in the audience by friends and families.
Astoria Park was, at the time, considered a bit dangerous as well. Like nearly everywhere in America, street drugs and drug abuse was still a significant social problem. The policing initiatives implemented by Giuliani Administration Police Commissioners Raymond Kelly and William Bratton had yet to be implemented. But nonetheless, Astoria Park was also the place to see and be seen for teens - especially those with cars.
Celebrating the 4th of July Astoria Style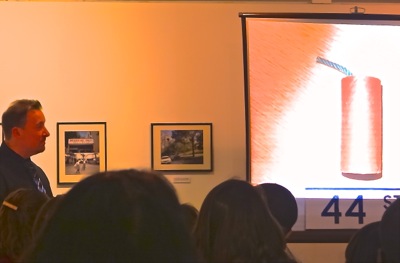 The fourth of July in Astoria was apparently celebrated much like it was this past year. There were illegal firecrackers and Roman candles lit to celebrate our nation's birthdays. As both men are Italian, the traditional Italian family food feasts were kept intact by their families.
Joe describes his father as a traditional old line Italian father, who was a hard working construction worker. And his mother was described as caring and one who kept a watchful eye on her son's activities. Joe told us a childhood tale about his sister, that seems to indicate that she was as adventurous as he.
A Bronx Tale Shot in Astoria 1993
And so the 1980's ended. Joe threw in an 1990's addendum about the film: A Bronx Tale. The film was directed by Robert De Niro and shot right in the heart of Joe and Steve's Astoria neighborhood in 1993. The story is about a father / son relationship in an Italian neighborhood in the Bronx, where mob crime is a part of the storyline. The police cleared the streets for what seemed like months on end, to shoot the movie.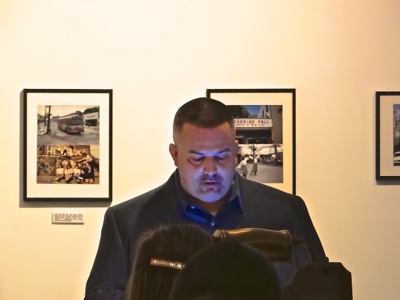 Steve's family had lived in Astoria for four generations. Steve left the neighborhood in the mid 1990's. Joe's grandparents had immigrated here from Italy. Joe left the Astoria neighborhood in the late 1990's. His parents left only a few years ago in 2011.
The GAHS Working to Capture Contemporary Astoric / LIC History
Both men look back nostalgically at those years growing up in the Astoria neighborhood. They periodically return to see how things have changed. Now both men live with their respective families in more suburban areas, living a far more comfortable life, but they still miss the hubbub of city life.
The past disappears behind us ... as do the people, places and possibilities. I suppose the message here is to be sure to live in the moment, because life is fleeting - and one day we'll all be history.
Many thanks to Joseph Cicchelli, Steve Fella, Bob Singleton and the Greater Astoria Historical Society for treating us to a Nostalgic look back at Astoria in the 1980's.
---
Queens Buzz Voluntary Subscriptions
We do our best to provide independent coverage of news, dining, events, arts & culture.

You can help us provide you with first source, balanced, contextual and independent coverage of Queens by making a purchase for as little as $5 [less than the price of one copy of a print magazine].
Click the button for details on how to keep these posts coming.
---
$element(adman,groupad,NhoodAstoria)$
Astoria Neighborhood Links
Click on these advertisements for promotions, discounts and coupons by retailers and restaurateurs in Astoria and nearby Queens.
Click this link to go to the:
Astoria Neighborhood or Astoria Business Directory
Astoria Real Estate or Events & Things To Do In Astoria
Restaurants In Astoria or Astoria Shops & Shopping
---
LIC Neighborhood - Long Island City Links
$element(adman,groupad,Catgry Foodwine)$
Click on these advertisements for promotions, discounts and coupons by retailers and restaurateurs in Long Island City LIC and nearby Queens. Click here for a related story about the hotels & restaurants in Dutch Kills section of Queens.
Click this link to go to the:
Long Island City Neighborhood or LIC Business Directory
Long Island City Real Estate or Events & Things To Do In LIC
Restaurants In Long Island City or LIC Shops & Shopping
---
$element(adman,groupad,Catgry Queens)$
Site Search Tips. 1) For best results, when typing in more than one word, use quotation marks - eg "Astoria Park". 2) Also try either singular or plural words when searching for a specific item such as "gym" or "gyms".
$element(bwcore,insert_search,N)$
Click this link to search for something in our Queens Business Directory.
---
$element(adman,groupad,Sectional2 Ad)$
---
Click the log in link below to create an ID and post an opinion.
Or send this story to a friend by filling in the appropriate box below.
---