A Taste Of The World At Citi Field
Flushing / April 21, 2009. On Tuesday night the Queens Economic Development Corporation [QECD] hosted its seventh annual 'A Taste Of Queens' food festival in the Caesar's Club restaurant and lounge inside Citi Field Stadium. The event was a fund raiser for the government agency. The event included raffles, auctions, speeches by local officials, a mariachi band and food from sixty Queens restaurants.
Caesar's Club At Citi Field - A Taste Of The World
The event was held at the new bar and restaurant which is housed on the fifth floor just beneath the Citi Field entrance sign you see from the number seven subway entrance. It's a vast dining / entertainment space, complete with numerous monitors, a long expansive bar and a sort of circular configuration - at least for this event.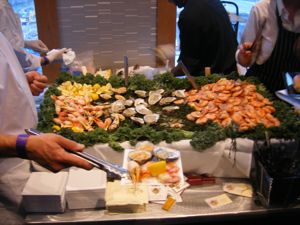 The food was generally quite good, even though it was served buffet style. We had sampling of a tender marinated steak from Ovelia of Astoria, a delicious mix of oysters, shrimp and some very tender lobster from London Lennies of Rego Park, a very pleasant crabcake from O Lavrador of Jamaica, a flavorful seafood soup from Mellie's of Flushing, a sinful minced beef puff from the Sheraton in Flushing, and a couple of light seaweed and green tea cookies from Sun Mary Bakery of Flushing. We may try to add a couple of photographs to go with these descriptions at a later date, but don't wait for it. To your left is an arrangement of seafood prepared by London Lennies.
Shea Stadium Demolition
We tracked the Shea Stadium demolition, and what is left to be done looks a bit like garbage in the parking lot as you can see from the photo to your left. Shea is no longer.
Shea / Citi Field / Flushing Queens NY - Related Links
Click this link to read / view a story about the last Mets baseball games played in Shea Stadium in Flushing Queens NY. Click here for a map showing the location of Citi Field Stadium in Flushing Queens NY. Click this link to obtain the contact info and website url for the New York Mets in Flushing Queens NY.
Click this link to go to the Flushing & Corona Neighborhood News / Flushing & Corona Neighborhood Guide and Map / Flushing & Corona Restaurants Guide & Map / Flushing & Corona Shops Guide & Map / Queens & Flushing & Corona Events / Flushing Business Directory / Flushing & Corona Shop Announcements.
RETURN LINK TO Queens Buzz Front Page.