Dumplings From Five Distant Cultures
Flushing Town Hall Hosts 'Round The World' Dumpling Tour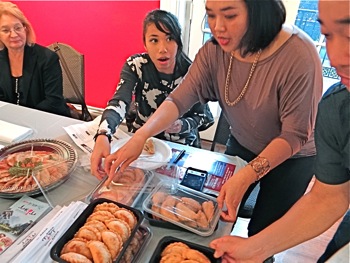 November 18, 2013 / Flushing / Ethnic Food In Queens / Flushing Restaurants / Queens Buzz. This past weekend I attended a workshop entitled Harvesting Our Diversity at Flushing Town Hall. They had invited five restaurateurs to come to discuss and present the dumplings indigenous to their homelands which they serve in their Flushing restaurants. The presenters would first talk a little about the history of the dumpling in their culture and then provide us with a sample dumpling made in their restaurants.
In the photo to your right the audience is being served samples of Indonesian, Korean and Chinese Korean dumplings at Flushing Town Hall.
The Harvesting Diversity event was designed to take us around the world on a dumpling tour, where we would sample dumplings made by the Italians, the Indians, the Indonesians, the Puerto Ricans / Latin Americans and the Koreans / Chinese. Click here to read the rest of our report on a world tour of dumplings at Flushing Town Hall - served by Flushing restaurants.
---
Dumplings From Five Distant Cultures
Flushing Town Hall Hosts 'Round The World' Dumpling Tour
November 18, 2013 / Flushing / Ethnic Food In Queens / Flushing Restaurants / Queens Buzz. Continued. I arrived a bit early and was greeted by Gabrielle Hamilton, Director of Education & Public Programs at Flushing Town Hall. She introduced Emily Griffin Sheahan and John Choe who are both active members of the Flushing CSA. The Flushing CSA is one of a number of CSA's or Community Supported Agriculture organizations in Queens. The Flushing CSA provides its members with cost effective access to fresh natural and organic produce for a couple of seasons each year. We've posted more about the Flushing CSA down below near the end of this report.
Flushing Restaurateurs Present Dumplings At Flushing Town Hall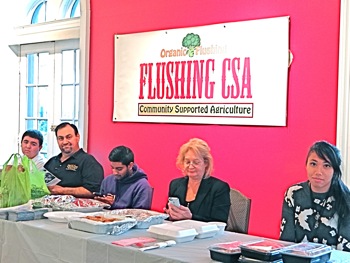 John Choe then became our emcee for the rest of the program. He introduced the Flushing restaurant chefs and representatives: 1) Sal & Sebastian of Phil & Sons Pizzaria, 2) Sushma Thukral of the New Asia Restaurant, 3) Martha Flores-Vasquez a former city council candidate and passionate empanada cook, 4) Nina Igusti and Merlah Ambrose (not shown - she was taking photos of her own) formerly of the family that owned and managed the Pinisi Bakery on East 4th Street in Manhattan [now part time caterers 347.678.5995], and 5) Taehoon Kim friend and representative of Da Hua Restaurant (also not shown in the photo at right). Both Merlah Ambrose and Taehoon Kim are shown in photos below and in the slide show.
Italian Restaurants In Flushing - Calzones by Phil & Sons Pizzeria
Sal would take us back in time to rural Italy. Sushma would take us into vegetarian Asia. Martha would take us into the Pan Latin American cuisine. Nina and Merlah would take us into the archipelago of Indonesian islands in southeast Asia. And Taehoon Kim would take us into the historic culinary relationship between China and neighboring Korea. But we were on a timed trip, so we only had a chance to step off the imaginary airline, meet and greet the locals, sample some of their delicious dumplings, snap a couple of photos before being whisked away to another foreign land.
Sal told us that he has been a Flushing resident since he was eight years old. He's been working at Phil & Sons Pizzeria for thirty-six years [Phil is his father] and his apprentice and son, Sebastian, was on hand to assist, while learning the ropes of the marketing role of the small businessman / entrepreneur. Phil & Sons Pizzaria is located at 57-29 Main Street in Flushing [718.961.0263], south of the Queens Botanical Gardens and just south of New York Hospital Queens.

Sal told us that calzones are the Italian dumplings. They're generally made on Italian farms and date back to who knows when. They have a cheese / dairy component to them as Sal inserts a light but flavorful dash of fresh mozarella and ricotta cheese into the wrap. He told us that he makes them with his famous pizza dough and that they can be made with an assortment of ingredients like beef, chicken, vegetables - but that today we were being served fresh pork.
We were served the calzones after he spoke and they were simply delicious. The pocket exterior was a flavorful baked dough and inside there were moist bits of pork ever-so-lightly mixed with the cheese.
Indian Restaurants In Flushing - Samosas by the New Asian Restaurant
Sorahb of the New Asian Food Restaurant [newasianfoodny.com] was up next. He was presenting dumplings made at his family's Indian restaurant located at 140-13 Cherry Avenue in Flushing, which is south and east off Kissena, past the Queens Library, in the Indian section of Flushing. The 'New' Asia Food Restaurant was recently renamed to reflect changes made to the decor and menu, but its owners remain the same.
Sorahb, his mother Sushma and family have been working in the all vegetarian restaurant for eighteen years now. The food they serve is strictly vegetarian meaning no meat or eggs. The dumplings, or samosas as they are called by the Indians, were made of a soft and crunchy dough exterior and contained potatoes, peas and a number of Asian spices which added a slightly hot flavor to them.
We were shown how the samosas were made. They cut them into a triangle, create a pocket and fill the pocket with the ingredients. They can be fried or baked and make a great snack or appetizer or possibly even a full meal.

Indonesian Caterers In Queens - Formerly Pinisi Bakery NYC
Nina Igusti and Merlah Ambrose are a neice and aunt team that also includes Nina's mother Laurency who was not present. They told us that the Indonesian pastels originated in Portugual and were brought to Indonesia when the Portuguese sailed to the orient in the 16th century in search of conquests and trade.

The Indonesians added a bit of their home grown spices to flavor the Portuguese pastels. The pastels we were treated to came from a family recipe handed down by the grandmother. The dough is mixed with butter and rolled flat and can then be filled with an assortment of ingredients. The pastels we were served included sauteed onions, garlic, beef, carrots and potatoes. They then added nutmeg, clove, cinnamon, coriander and kumen. The pastels have a slightly sweet flavor and they reminded me of the French pasties sold in Canada and northern parts of the U.S.
Korean & Chinese Dumplings In Flushing by Da Hua Restaurant
Dua Hua Restaurant at 36-26 Union Street and the San Soo Kap San Restaurant at 38-13 Union Street in Flushing were represented by Taehoon Kim, who presented himself as a friend of the owners. Taehoon showed us two different kinds of Korean mandus [dumplings] - one was the traditional Korean dumpling and the other was the Chinese influenced rice mandu.
Taehoon explained that the Chinese rice dumplings made by Da Hua Restaurant are much thicker because rice doesn't have the same characteristics as wheat in holding together as a bread or crust. The Korean rice mandus are rather moist and sticky and are filled with cabbage, pork, garlic, onions and scallions.
The traditional Korean mandus / dumplings made by San Soo Kap San Restaurant were made of wheat. They are flatter and drier and filled with an assortment of ingredients. Today they came filled with a taste of pork, with cabbage and scallions. The mandus were accompanied by a soy sauce with vinegar, diced scallions, garlic and chili pepper.
Puerto Rican & Latin American Empanadas in Queens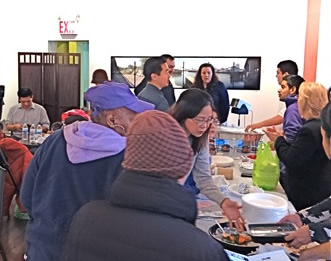 Our last presenter was Martha Flores-Vazquez. She has been a caterer since her college days and continues to dabble in the culinary arts of her homeland Puerto Rico.
She presented us with chicken and beef empanadas. The outer bread was made with Goya dough. She added cilantro, ajacito which is a Latin American green pepper, recao and the meats. She mixes it all up in a blender before inserting it into the empanada.
Mmm. By this time I had become distracted and must apologize as I did not photograph the empanadas opened. They went right past my camera and into my mouth, where the savory breaded exterior and the moist chicken and beef satiated my taste buds before heading south for the duration.
Salute, Acchī Sehat Ke Lie, Tos Jaya, Wihayeo and Salud [Cheers in Italian, Hindi, Indonesian, Korean and Spanish].
Flushing CSA Participant Of Event - CSA's in Queens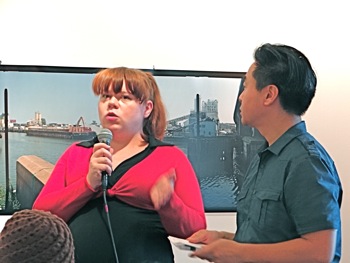 The Flushing CSA delivers fresh natural and organic produce based on what's grown and seasonally available. The winter 'shares' are still open as of this writing, but closing before the Thanksgiving holiday. Winter shares cost $150 apiece, run for between five and seven weeks over the winter, and you get about six to eight pounds of fresh produce which you must pick up on a specified day [this season it's Thursdays] at the drop point, which is Flushing Town Hall.
As the progrm started Emily had informed us that the winter produce includes primarily root vegetables such as potatoes, sweet potatoes, Kale, rutabaga [large turnips] and other goods. Naturally the spring / summer and fall seasons provide a wider selection of fresh vegetables, but it's nice to cook with fresh root vegetables in the winter.
Emily Griffin Sheahan and John Choe of the Flushing CSA are shown in the photo above. Click this link to to view their contact info along with the contact info for most Queens CSA's.
---
Ethnic Foods In Queens - Photos From Flushing Town Hall
All in all it was a fun and delicious tour of dumplings from around the world. Our thanks to Flushing Town Hall and the participating restaurateurs and culinary enthusiasts included on the panel. We also want to thank the participating Flushing CSA.
Click this link or watch the following slide show containing photos of the dumplings served by Flushing Restaurants at Flushing Town Hall.
$element(ophoto,photo_slideshow,251,660,,5.00,fade)$
---
Flushing / Corona Related Info
$element(adman,groupad,Catgry Rest)$
Click here to go to the Art Exhibits, Galleries & Museums section of this site.
Click these links for promotions by advertisers in Queens.
Click this link to go to the Flushing Neighborhood.
---
$element(adman,groupad,Catgry Wedding)$
Site Search Tips. 1) For best results, when typing in more than one word, use quotation marks - eg "Astoria Park". 2) Also try either singular or plural words when searching for a specific item such as "gym" or "gyms".
$element(bwcore,insert_search,N)$
Click this link to search for something in our Queens Business Directory.
---
$element(adman,groupads,Sectional Ad)$
---
Click the log in link below to create an ID and post an opinion.
Or send this story to a friend by filling in the appropriate box below.
---