Festival of Herbal Tonic Soup
Asian Cooking In Flushing Queens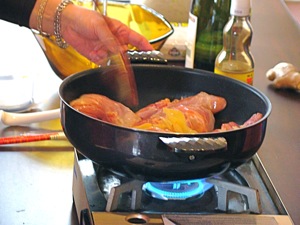 February 11, 2012 / Food & Wine / Flushing / Queens Buzz. I attended an herbal tonic soup class arranged by Dr. Hsing-Lih Chou at Flushing Town Hall. Dr. Chou presents one Asian cooking class each year at the same location, featuring some aspect of traditional Asian home cooking. This year he introduced us to two Asian cooking aficionados: Madame Hwei-Yun Hsieh and Mr. Kelby Leow.
Ms. Hsieh was to treat us to a lesson on how to cook her famous Chinese Sesame Oil Ginger Chicken Soup, while Mr. Leow would introduce us to his famous Korean Ginseng Chicken Soup. Dr. Chou explained that he had selected these two soups in order to 'balance' each other, as one had a robust flavor and the other had a more subtle flavoring.
Click here to read more about how to cook Chinese and Korean herbal chicken soups - Asian cooking in Flushing Queens.
---
Festival of Herbal Tonic Soup In Queens
Asian Cooking In Flushing
Continued. February 11, 2012 / Food & Wine / Flushing / Queens Buzz. There were about a dozen of us in attendance at the Flushing Town Hall cultural center on an overcast Saturday in February. Hanging on the room walls were the antique Chinese windows and doors collection of Thomas Chen of Crystal Windows. Flushing Town Hall was a perfect setting for such a class and there were seven Asians and six non-Asians in attendance of the class.
Chinese Cooking Theory & Chinese Healing Theory
Dr. Chou opened up the session by talking about traditional Chinese cooking theory, which is closely aligned with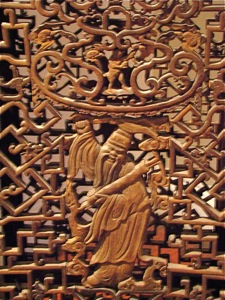 traditional Chinese healing theory, which is aligned with the five ancient Chinese elements. The five Chinese elements are fire, wood, earth, metal and water.
In the Chinese tradition the five tastes: bitter, sour, sweet, spicy and salty are aligned not only with the elements encountered in life, but also with the five organs of ancient Chinese medicine. The five organs in relative order of the tastes mentioned above are: heart, liver, spleen, lung and kidney.
Yin Yang - The Positive And Negative Elements Bring Balance
Dr. Chou went on to explain that these organs are part of the yin and yang duality of life. Yin and yang in eastern thought represent the positive and negative charges in life. In the modern western world, the analogy would be the positive and negative charges of the proton and electron of an atom. Hence corresponding to these positively charged organs there were five hollow organs [negatively charged] which in corresponding order to the positive organs mentioned above are: small intestine, gall bladder, stomach, large intestine and bladder.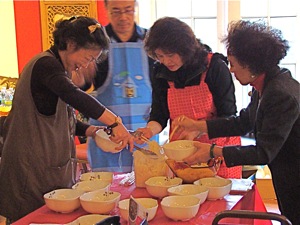 Ancient Chinese medicine treated health and the body as a whole system. Generally it was believed that ill health was a manifestation of a system out of balance in its energy. I had read long ago that the Chinese definition for pain was the 'interruption of the body's energy flow'.
Hungering Tastes Signal Body Needs
The tastes, and one's hankering for them, generally was an indication of what ailed a patient. Hence a hankering for sweets might indicate something was wrong with the spleen or stomach, which are the organs corresponding to that taste / element. The goal in Chinese health maintenance was to keep the system in general balance.
Another passage I had read long ago was that in ancient China, doctors were paid as long as the patient remained healthy. Payments to the physician stopped if the patient became ill because the doctor had not done his job, and patients would not resume payments until they became healthy again.
Chinese Sesame Oil Ginger Chicken Soup - Flushing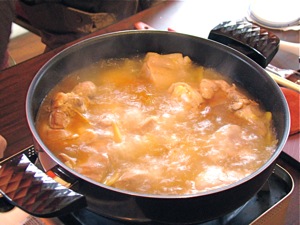 Madame Hwei-Yun Hsieh came to the forefront and began preparing her famous herbal soup. Dr. Chou did some translating, talking about the ingredients which consisted of four de-skinned chicken thighs and legs, a sliced chunk of ginger about 4 – 5 inches long, rice wine [she used about 2/3 of a 1.5 liter bottle of Japanese sake which has 16.5% alcohol so the amount of this should be managed if you are feeding children] and about a half cup of sesame oil.
Into the wok went the oil, which was heated with a high flame. Once you can smell the sesame, insert the sliced ginger and gently stir until you can smell the ginger. Put in the chicken and cook until the outside of the chicken has been cooked. Then pour in the sake and cook at a medium heat until the de-skinned chicken easily comes off the bone or to your own tastes.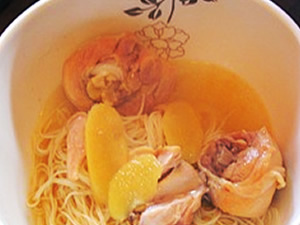 The prep and the cooking together may take about 30 minutes, and then perhaps another 20 – 30 minutes of simmering time. We were then served the Chinese herbal soup.
The soup consisted of a strong flavorful broth and a hearty meal of chicken and noodles. The ginger spiced up the entire mix, while the succulent chicken fell right off the bone. And the broth of the sesame oil and the sake was a delicious mix of an enthralling pungent flavor.
As I finished the dish, I quietly thought to myself that "our next cooking aficionado is going to have a very hard time even keeping up with this … the Madame just knocked it out of the park".
Korean Ginseng Chicken Soup - Flushing Queens
Mr. Kelby Leow started talking about Korean cooking. He introduced us to the various ingredients for his favorite recipe for a Ginseng Chicken Soup which is a Korean favorite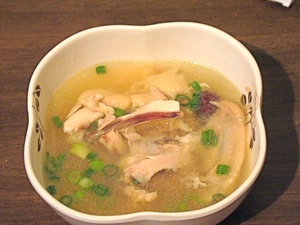 and classic. The recipe includes ginseng which he informed us is grown in Wisconsin and a major export to distant parts of Asia. Other ingredients included about a 1/3 cup of sweet rice, which he informed us is different from the packaged American rice such as Uncle Ben's. He also included a couple of three year old ginseng roots, a couple of chestnuts, a few jujubes [these taste like dates], green onion sliced to taste and add few garlic cloves again to your taste. Garlic, we were told, is a Korean favorite and Korea consumes more garlic per capita than any other nation in the world. Lastly, of course, is six cups of chicken stock and the 1.5 lb Cornish game hen.
Unlike the Sesame recipe, which called for skinning the chicken, this recipe did not. All of the ingredients are stuffed into the cavity of the hen, which is then needled or tied closed. He recommended starting with the rice, which should be inserted into the chicken cavity all balled up [like stuffing a Thanksgiving turkey]. Then insert the chicken into a crock pot, add the chicken stock and bring to a boil. Lower the heat to a simmer and let cook for an hour and a half.
Great Cooking Class At Flushing Town Hall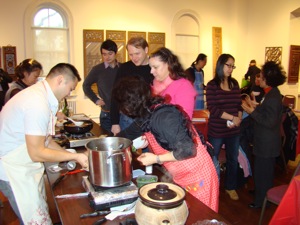 As I sat down to sample this soup, I was admittedly skeptical. I soon learned that the chicken added to my soup was intended more to flavor it, than to satiate my appetite for it as had done in the prior soup. Once I understood this, I found the light subtle soup to be very charming and delicious.
The chicken broth was lightly seasoned with onions and garlic. And it provided some delightful surprises as I came upon the texture and taste of the chestnut and the sweet flavor of the jujube. I soon dispensed with the chicken and began drinking the soup, spooning in the rice as it became available.
The two plus hours flew by and soon the class was over. I had been introduced to a couple of healthy herbal Asian soups to enhance health, happiness and balance in the year of the lucky dragon. I asked Dr. Chou if he had considered doing more classes. He remarked that others had asked the same, but left no indication of his intentions in this regard.
---
Flushing / Corona Related Info
$element(adman,groupad,NhoodFlush)$
Click here to go to the Art Exhibits, Galleries & Museums section of this site.
Click these links for promotions by advertisers in Queens.
Click this link to go to the Flushing Neighborhood.
---
$element(adman,groupad,Catgry Foodwine)$
Site Search Tips. 1) For best results, when typing in more than one word, use quotation marks - eg "Astoria Park". 2) Also try either singular or plural words when searching for a specific item such as "gym" or "gyms".
$element(bwcore,insert_search,N)$
Click this link to search for something in our Queens Business Directory.
---
$element(adman,groupads,Sectional Ad)$
---
Click the log in link below to create an ID and post an opinion.
Or send this story to a friend by filling in the appropriate box below.
---