How We Hear @ Rough Draft Theater Festival
New Play Explores the Changing Nature of our Political Dialogue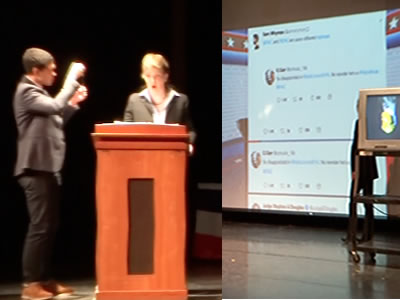 April 9, 2018 / Long Island City Neighborhood LIC / LaGuardia Performing Arts Center / Experimental Theater in Queens / Queens Buzz NYC.
Last weekend I had an opportunity to watch one of the new plays performed at the 5th Rough Draft Festival at the LaGuardia Performing Arts Center in LIC. The play was entitled How We Hear by Emily Lyon.
It was an exploratory exposition of what how the American national dialogue has changed over the past century and a half [158 years] and it was as much an experience, as it was a performance.
What Lyon did with the next hour and half of our time was an interesting journey through selected excerpts of our national debate. But even more importantly, Lyon took us on an exploratory journey - including some real time processing - of how new forms of mass media, with the incredible proliferation of information venues and access, impacts our ability to have a honest dialogue about important issues facing our society in a way that everyday Americans are able to process.
Lincoln Douglas Debates @ LaGuardia Performing Arts Center
I arrived shortly before the performance began and found a seat not far from the stage. The performance was given a short introduction by Handan Ozbilgin, the Rough Draft Festival Director and shortly thereafter, one of the seven Lincoln-Douglas debates of 1858 [August 21 – October 15] began. The debates were the first ever between two Senate candidates vying to for a U.S. Senate seat [Illinois]. They became an instant sensation, and became the forerunner of the platform upon which Lincoln would run for president in 1860. It's worth noting that at the time the Senators were elected by state legislatures – not by a direct tally of state citizens' votes.
How We Hear by Emily Lyon @ Rough Draft Festival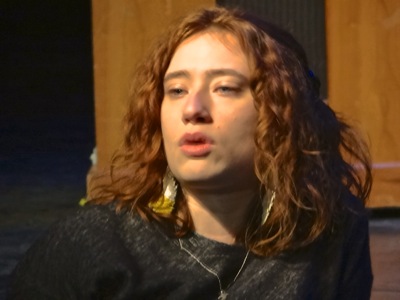 While Triney Sandoval, the Hispanic man who played Douglas, didn't resemble Stephen Douglas facially, he was an actor and orator of the first degree, and comported himself as one might imagine Douglas. His elocution and diction were very precise, cadenced and reminiscent of an earlier age. And his Hispanic heritage, in what was – over a century and a half ago – an Anglicized age, seemed purposeful in adding an ethnic layer and some complexity, to what was possibly a simpler time.
Sandoval, as Douglas, talked about the Lecompton Constitution, which was one of the hot issues of the time. The Lecompton Constitution which was a competing, pro-slavery, constitution for the state of Kansas induction into the United States, which also explicitly stated that only white males would have the right to vote.
Ironically, Stephen Douglas, a Democrat, helped the Republicans defeat the pro-slavery constitution by aligning with the other northern Democrats who were against it. The southern Democrats were supportive of it.
States Rights Vs Human Rights: Early American Hypocrisy or Dialectic?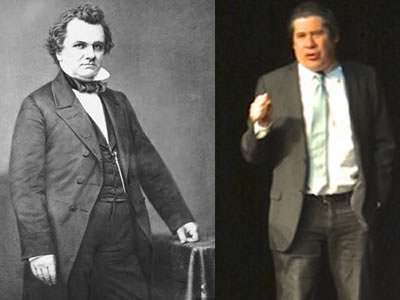 Sandoval, as Douglas, then went on to accuse Lincoln and the Republican Party of that time of being a northern political party – not a national political party like the Democrats were. Douglas then cited excerpts from speeches made by Lincoln which seemed at odds with each other, where it appeared Lincoln appealed to the anti-slavery sentiment while giving speeches in northern cities like Chicago while appealing to the racial prejudice of the south, while in southern Illinois cities like Charleston [which is about the same latitude as St. Louis, Missouri and Kansas City] by stating that he did not support allowing Black men to become whites equals, citing they weren't fit for the role of jurors and what not.
Stephen Douglas was a Democrat, but he wasn't pro-slavery per se. He was for the rights of states to decide for themselves what institutions to create and how they should conduct their business. He noted that all of the Founding Fathers had kept their slaves through the Revolutionary War. And Douglas reminded voters of Lincoln's speech in 1858 in Springfield, Illinois where he said that "A house divided against itself cannot stand." And that one day the United States would either be all slave or all free.
CLICK here to read the rest of our report of the LaGuardia Performing Arts Rough Draft Festival performance of How We Hear.
---
How We Hear @ Rough Draft Theater Festival
New Play Explores the Changing Nature of our Political Dialogue
April 9, 2018 / Long Island City Neighborhood LIC / LaGuardia Performing Arts Center / Experimental Theater in Queens / Queens Buzz NYC. Continued.
As an aside, it's worth noting that the importation of slaves was made illegal in 1807 and enacted in 1808, which was the earliest date made possible in the Constitution [Google]. And that in the 20 years between when that statement was embedded in the Constitution, and the time when importing slaves became illegal, about 20% of all slaves over the prior two centuries were imported into the United States [Wikipedia].
Mr. Lincoln was played by Lindsay Tanner, who had yet to speak. And while she did not look like Abraham Lincoln, she was a worthy elocutionist.
Kennedy Nixon TV & Radio Debates of 1960 @ LaGuardia Performing Arts Center
We were then whisked forward a full century through space and time, into a Washington, D.C. NBC television studio on October 7, 1960, where the second ever televised broadcast of two presidential candidates was held [the first was held on September 26th 1960 at WBBM-TV in Chicago]. The first Kennedy-Nixon debate of 1960 [there were four debates in total] turned out to be a popular sensation, just like the Senatorial debates a bit over a century earlier, between Lincoln and Douglas.
Lindsay Tanner, a woman, played John F. Kennedy and she gave his opening statement. In her / his statement, Kennedy harked back to the Lincoln-Douglas debates where the question was will the United States be a nation with slavery or a nation free of slavery. He then framed the debates in 1960 as one where the question of whether we will be a free world or a totalitarian controlled Communist world. Kennedy's speech included making a case for SOCIAL RESPONSIBILITY in addition to INDIVIDUAL RESPONSIBILITY. And part of doing the socially responsible thing was to make sure the promises embedded in the U.S. Constitution, weren't just empty words.
Juxtaposing Different Races & Genders on Historical Figures
Nixon was played by an African American Reynaldo Piniella. Nixon responded to Kennedy's push to do more / do better, by telling listeners that the economy under the Eisenhower Administration, which he [Nixon was VP] was a part of, had grown the economy faster than the prior Democratic Administration led by Harry S. Truman. He said that he and Ike had a record not to stand on, but to build on and that he believed Senator Kennedy and he agreed upon what was good for the nation, but differed on how they planned to get there.
Nixon went on to advocate for more federal money to help integrate schools, that Negroes had a right not just to buy in stores, but also to have a coke at the snack shops there, and that the workers had a right to strike. He also accused Kennedy of tailoring his message to northern and southern states, which Nixon said he did not do that himself. He said that the United States shouldn't let Russia succeed in dividing America based on race.
Kennedy continued on the offensive noting the huge disparities in educational attainment, employment, housing based on race. He said that the president needs not just to exert government leadership, but also moral leadership.
The Trump Clinton TV & Twitter Debate of 2016
Once again we were whisked forward through time and space to Hofstra University in September of 2016 when Hillary Clinton and Donald Trump squared off. We watched a short clip of that debate, of Obama & Bill Clinton in commercials, and a video clip of Trump doing his World Wrestling Federation takedown of CNN.
After the clips the actors play themselves discussing how to proceed characterizing the politics [mess?] of today. Once again ethnicity and gender are juxtaposed upon the historical figures. First Lindsay played Donald Trump who has a reputation as a lecher. Then Triney played Donald Trump who also has a reputation as a racist. Reynaldo then Triney play Lester Holt jumping in between the two candidates.
Things were getting confusing as to who was who. The pace of the speech had picked up considerably from the slower, more civil, more respectful debates of prior centuries.
Civil discourse turned into one disrespectful interruption after another. Now the candidates – Hillary & Donald - are talking about trade exports, deregulation and cutting taxes in a bickering style reminiscent of an old cranky couple who have spent their entire lives picking at each other. No boundaries. No respect. No listening to one another – just grandstanding and talking past each other and – quite possibly – the audience too.
Where Are We Now? Trying to Make Sense of a Chaotic World
Tweeting and the social media arrive on the scene in full force.
The actors regroup as themselves again trying to find their way forward. There's so much audio, visual crap coming off the stage that it has become a cacophony of political feces … kind of like where we are today. Trying to separate the myriad of sound bytes and narratives coming at us from all sides in a continual overdose of unreliable idiocy.
Analyzing Turning Points in American Political Discourse in the Context of New Technologies
The actors, again resume their roles as actors trying to figure out where to go with this play, regroup. They talk about how FDR used the radio to reach American voters because it was the medium of the day. That the press respectfully did not show photos of him in a wheelchair to the American public even though FDR had contracted polio years earlier and had great difficulty walking.
They talked about how Nixon was perceived to have won the first 1960 Presidential debate by those who had heard it on radio, while those who had watched it on television [65 million] felt that Kennedy had won the debate because Nixon was sweating under the bright hot lights of the television studio.
And then they started talking about today. How Trump had effectively used Twitter to bypass the filtering press to go directly to the American people. They opined that this was instrumental in helping Trump win the presidency – but you should read our series on Rupert Murdoch and the Rise of the 21st Century Propaganda Press for an alternative view.
They discussed listening, versus watching, versus seeing social media. Someone said it's hard not to watch Trump, but it's easier not to listen to him. There was something about the messages being tailored for different parts of the nation – of which both Nixon and Douglas had accused Kennedy and Lincoln. They noted that politics appears to have become more entertainment than any kind of serious discussion about public policy.
Lindsay then returned to her Lincoln character and started giving her speech of 1858. Meanwhile the TV, sound system and tweets kept flowing in the background. The torrents of the unrelenting, ubiquitous, so utterly annoying cacophony of American politics had finally succeeded in tuning me out. I didn't hear a word she said. I didn't want to.
Whew. It was over.
The Audience Weighs in ... Just as they do Today Using Social Media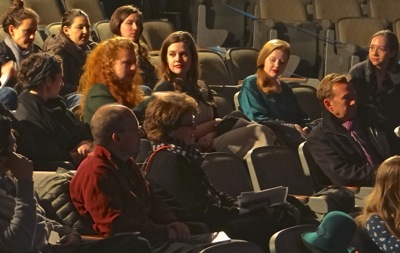 As I said, this play was an experience. And a very, very relevant and important one. Most of the audience stayed after to discuss what they'd seen, heard and experienced. Handan returned with the Creator and Director Emily Lyon for a discussion of this new play.
Some of the discussion talked about whether we would ever return to the more cadenced conversation of an earlier age or if we were going to be subject to this relentless torrent of sound bytes and tweets.
I opined that people can choose. Both are available to everyone over the internet if they to cut the umbilical cord to the mainstream media and go looking for alternate sources of information. They are there.
Experiential Theater - Living Thru the Cacophony of Multi-Media
Someone noted that this was as much an experience as a play.
Another mentioned the recent stories about how Sinclair Broadcasting has been employing the propagandistic practice of requiring the performance of narratives by local television news people.
Somebody talked about how the gender and ethnicity swapping by the actors and the characters they played was a bit disorienting. Discombobulating if you will.
Somebody said there are now so many mediums, and likely more to come.
And someone said something about people trying to determine what they heard versus what they themselves think.
All in all there was plenty of food for thought. And Emily Lyon certainly picked an important and very current topical theme.
Many Thanks to the LaGuardia Performing Arts Center & All Those Who Contributed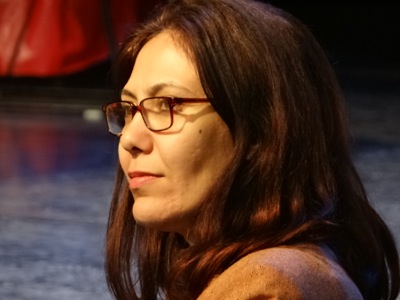 Kudos to Emily Lyon and the cast of Reynaldo Piniella, Triney Sandoval and Lindsay Tanner. Also to Handan Ozbilgin, Rough Draft Festival Director, and Steven Hitt, the LaGuardia Performing Arts Center Artistic Producing Director for a fifth season of an engaging, informative and entertaining season.
There are two more weeks remaining to the Rough Draft Festival at the LaGuardia Performing Arts Center in Long Island City. Go to http://lpac.nyc for further info.

---
LIC Neighborhood Related Info
Click here to go to the LIC real estate section of this site.
Click these links for promotions by advertisers in Queens.
Click this link to go to the LIC Neighborhood.
---
Site Search Tips. 1) For best results, when typing in more than one word, use quotation marks - eg "Astoria Park". 2) Also try either singular or plural words when searching for a specific item such as "gym" or "gyms".
Click this link to search for something in our Queens Business Directory.
---
---
Click the log in link below to create an ID and post an opinion.
Or send this story to a friend by filling in the appropriate box below.
---