Androgynous Dance or a Dream?
Venomous by BARE Dance Strikes LaGuardia Performing Arts Center
October 24, 2016 / Long Island City Neighborhood / Dance Performances in Queens / Queens Buzz.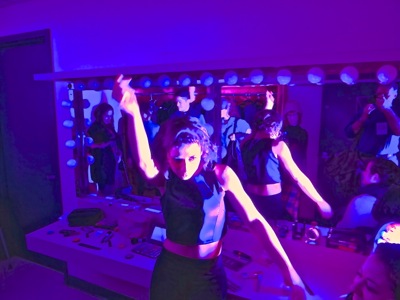 I was right on schedule as I bounded up the subway stairs. At the turnstile I learned that my commute might take 20 minutes longer than planned due to maintenance … but as the fates would have it … I arrived just in the nick of time.
I joined the last audience group as they diffidently entered the backstage area of the LaGuardia Performing Arts Center. We followed a wolf headed actor into the labyrinthine hallways where our first stop was a dressing room, where the cast began preparing us (the audience) for the show. I looked into the mirror at the actors and audience, and in the blue and pink theatrical light, it was difficult to discern the difference. The lines between performers and audience had already begun to blur.
The wolf headed man, sternly motioned us to follow him and then like a dog he led us onward through the shadowed hallways. We soon came upon another theatrical vignette … in the chamber of the freight elevator … where audience members were singled out for … ohmigod AAAAAAArrrgggghhhhh.
Click here to read the rest of our story including photos of the performance of Venomous by Bare Dance Company at LaGuardia College Performing Arts Center.
---
A Disambiguated Dance or Dream?
Venomous by Bare Dance Strikes LaGuardia Performing Arts Center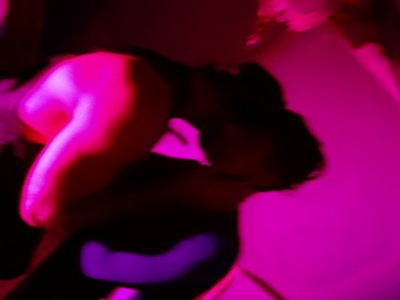 October 24, 2016 / Long Island City Neighborhood / Dance Performances in Queens / Queens Buzz. Continued.
Onward we journeyed, stalked by performers who seemed neither friendly, nor menacing. But in the strangeness and the darkness of the narrow back hallways, we remained unsure. Again, some audience members were singled out by the performers. Were these audience members planted among us? Were they really actors? Nobody knew. We were sure of only one thing … and that is that we didn't know what would happen next.
Moments later, we came upon another scene. This time we found ourselves peering inside a dressing room of one of the stars. French music was playing in the background and again someone in our group became the chosen one. The one to be taken hostage … for a makeover … or something …
At last we were led onto the main stage of the LaGuardia Performing Arts Center where we found a large audience of 20's, 30's and 40's somethings. I believe all of the Bare Dance performances had sold out, so the seats were full. In
fact, I may have been seated in the last one. The curtains on the stage were drawn open and through them we could see the large amphitheater which felt like wide open space.
But it was not empty.
In the distance there were performers moving about. Most of the theater was dark, save a few lights that shone brightly in several locations, providing us with only glimpses of naked visibility amidst the blanket of shadows and darkness.
I would say the performance soon began, but in truth it had begun long ago, when we first entered the backstage hallway. It was at that moment that my senses became transformed, put on high alert to the sights, sounds and movement of the eerie space and the strangely dressed beings around me.
Out in the theater there was a mélange of scattered individuated humanity moving about in asynchronous but simultaneous rhythm. It was challenging to describe exactly what I saw, because there were so many different actions - and the small bare naked lights interspersed amidst the darkness – enabled me to catch only scattered fragments of sporadic movements, just shards of the totality of what was really happening.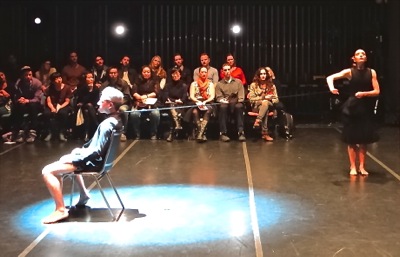 Is this an allegory I wondered? I thought to the 2016 presidential election, which this year seems to be more theater than politics. Where - through the video, print and web reporting - we see only glimpses of the real movements by the actors on the national political stage. Like the bare lights in the amphitheater, which provided only fragmented illumination, while most of the dancers' movements were hidden in the shadows.
Two dancers appeared before us on the main stage. A man was sitting on a chair with a leash around his neck. The leash was held by a woman. Was this a metaphor for male / female relationships? And then the back and forth tug of war began … which not long after morphed into a communal struggle.
Men, women, limbs moving, synchronously, asynchronously, the music, the motion and the massive medley of humanity ... Order. Chaos. Life as we know it? The dancers came at us, one by one, a relentless, churning, swirling, twisting burst of human energy …
Their physical movements were indelibly impressed into my own electro-magnetic, existential field of resting electrons, protons and neutrons. The melodies and their movements captured by my mind's eye, absorbed, and sent tunneling deeply into the twisted pathways that make up my memory.
Venomous? Strangely, it didn't feel poisonous. It felt powerful, probing, prompting me to ponder the chaos and the questions of life.
The Venomous dance struck me as a dance of embedded indifference, like nature, or gravity, or the planetary movements that are omnipresent ... forever moving ... and always there ...
Forces we cannot see that must be reckoned with either by fighting them or harnessing them or submitting to them … and if you resist they will wear you down and destroy you. Because nature's movement never stops, never ceases, never gives up, because part of nature's essence is that at its core, it's very being, is that it can't stop and won't stop
... moving ...
even long after the human race is long gone … like the dinosaur of hundreds of millions of years ago.
Venomous? Like a snake, the ideas kept slithering through my mind. Shaken loose by the maddening, at times near frenetic energy of the dancers onstage.
The dance segued into a duet as two men are joined in a rhythmic jungle beat. More men come to the fore, and they are enthralled with each other in a primitive dance. The muscular males with their coifed hair and beards; and their black and somewhat minimalist attire, revealing small shards of masculine flesh - but only for a flash. The tall, short, blonde and brunette wear red, white and blue make up around at least one of their eyes. The color scheme is American - but the designs are original.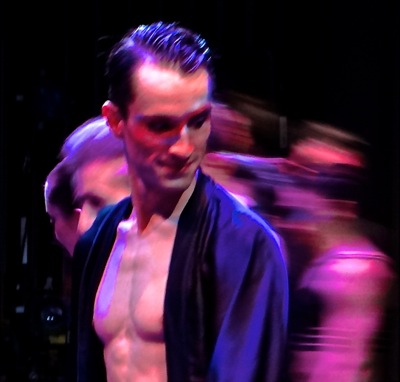 All of the dancers, men and women, are dressed fairly androgynously. It's mostly difficult to tell the dancers apart by gender.
There's a piece where one of the men becomes entangled in a dance with a woman and then in a dance with another man. We see these short dance vignettes showing the displays and struggles of attraction, done in different segments throughout the performance. As a whole they provide a deeply confusing, chaotic, querying probe of gender identity. What role does gender identity play? The answers we are given in the dance are different every time the dancers, music and situations change.
In this dance it seems all of life is stirred into a venomous, miasmic, medley of gender as the dancers probe the choreographer's deep philosophical questions about gender, about society, and ultimately about the nature of human life.
In the scenes that followed, Choreographer Mike Esperanza, had me contemplating human social interactions at all levels. How we interact at parties, who we find ourselves attracted to, how we go through struggles with individuals and entire groups to find our place in the human tribe.
The dance seemed all encompassing. Sometimes the dancers seemed to be working in collaboration and sometimes they appeared in dire conflict. There were times when it seemed a mob or herd mentality took over, and at other times a very tight, repressive militaristic order, and at least one vignette of what seemed an enlightened human collaboration ... or was that a dream?
The performance of Venomous seemed to probe the primordial aspect of human sexuality, which lies just beneath the surface in our civilized society. We are all sexual animals, but over time, with evolution and perhaps age, our higher instincts have enabled us to contain and, at least on some level, control our more primitive desires.
The dance ends as one of the performers takes center stage and each of the other dancers places a tether to the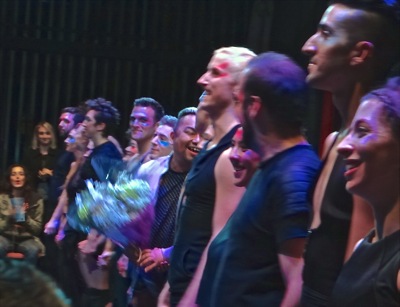 collar he wears. The main dancer moves to one side and then another, moving the whole of those attached with him. He falls pulling them down, and they lift him up and he soars.
To me this seemed like an allegorical depiction of the web of life. We are all connected. Some people occupy the center of many lives – like the presidential candidates this past year – and we, along with others, swirl around them ... rising and falling with their victories and defeats. But we are only supporting characters – outliers if you will – so we are never as dramatically impacted as those who occupy center stage.
Mike Esperanza – Choreographer & Founder of BARE Dance Company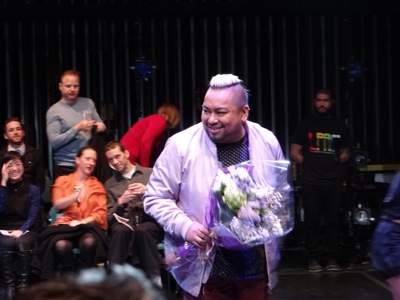 After the show I had a chance to speak to Venomous choreographer Mike Esperanza, who is the founder of the BARE Dance Company. Mike was born in Manila in the Philippines and grew up in California.
In 2012 Mike moved to New York where he met Steven Hitt, Creative Director for the LaGuardia Performing Arts Center. In 2014 Steven commissioned Mike to create the work, Venomous, in tandem with the CUNY Dance Initiative. The CUNY Dance Initiative seeks to enable creative new dance works to help expand social and cultural awareness.
Mike told me that he used the amphitheater seating to create a mix of real and fantasy via the light and shadows in the larger landscape which was intended to provide the
audience with depth perception. He told me that Artistic Director Steven Hitt had provided him with general guidelines in commissioning the piece and that both men take a philosophical approach to creative work, knowing that it's curiosity that drives the process, and it's passionate, total immersion in the journey that determines the outcome. Mike said, he always looks at all of his art, as works in progress.
Steven Hitt – Artistic Producing Director of LPAC
I also had an opportunity to speak with LPAC's Artistic Producing Director Steven Hitt. Steven told me that he had kept in touch with Mike Esperanza since first commissioning the piece and decided to bring the work back to the LaGuardia Performing Arts Center this season.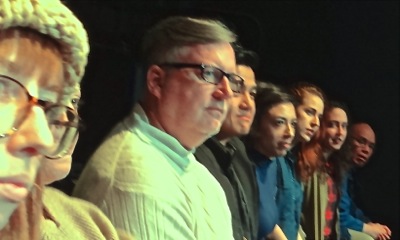 In the ten years since Steven has been the Managing Director of the LaGuardia Performing Arts Center, he and his staff have greatly expanded LPAC's programmatic offerings. There are now four residency programs including LPAC Lab, the CUNY Dance Initiative, the Global Exchange and the Impact Residency. The performance I saw today was part of the CUNY Dance Initiative. The Global Exchange, which is led by Assistant Artistic Director Ozbilgin, is a five year exploration of cultural issues in cultures primarily in Eastern Europe. And the Impact Residency is a theatrical production residency.
Deadline: Impact Residency at the LaGuardia Performing Arts Center
The deadline for the next Impact Residency is November 10th, and you can check their website at www.lpac.nyc for details regarding the other programs, requirements and deadlines.

The Fall 2016 Season started so you find out more about it by visiting the LPAC website at www.lpac.nyc. The website also includes more information about the programs described above.
Much of the funding / support for these programs is provided by non-profits that sponsor the arts. LPAC's sponsors and collaborators include Carnegie Hall, Brooklyn Academy of Music (BAM), The Public Theater, The Chocolate Factory Theatre, Ballet Hispanico, Flux Factory, NYC Opera, Queens Theatre in the Park, and Queens Council on the Arts and others.
---
LIC Neighborhood Related Info
$element(adman,groupad,NhoodLIC)$
Click here to go to the LIC real estate section of this site.
Click these links for promotions by advertisers in Queens.
Click this link to go to the LIC Neighborhood.
---
$element(adman,groupad,Catgry Realestate)$
Site Search Tips. 1) For best results, when typing in more than one word, use quotation marks - eg "Astoria Park". 2) Also try either singular or plural words when searching for a specific item such as "gym" or "gyms".
$element(bwcore,insert_search,N)$
Click this link to search for something in our Queens Business Directory.
---
$element(adman,groupads,Sectional Ad)$
---
Click the log in link below to create an ID and post an opinion.
Or send this story to a friend by filling in the appropriate box below.
---