De Blasio Presence @ St Pat's Day Parade ...
Creates Media Frenzy As New Mayor Makes A Statement About Inclusion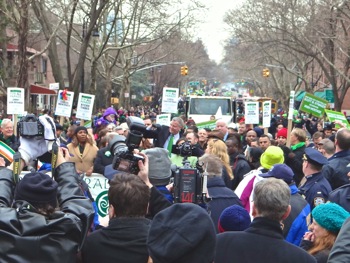 March 2, 2013 / Ethnic Culture in Queens / Sunnyside & Woodside / Queens Buzz. I attended the St Pat's For All Parade in Queens on Sunday afternoon. It was an overcast day, with temperatures in the 30's. Speeches and an Irish cultural celebration began at 1 pm, followed by the parade which was to begin at 2 pm, but didn't get going until about 2.45 pm.
This year I skipped most of the pre-parade show and, like many in the crowd, awaited the presence of Mayor Bill de Blasio. De Blasio is the first Mayor of NYC to politely decline to march in the Manhattan St Patrick's Day Parade because it bans gays from marching in it.
The Mayor's presence included an increase in the presence of NYC elected officials who attended the parade. This included the new Queens Borough President, Melinda Katz, which is worth noting since it's the first time a Queens Borough President has attended this parade since I began covering it in 2008.
Click here to read our report about and view photos of the St Pat's Parade in Queens, including a photo slide show.
---
De Blasio Presence @ St Pat's Day Parade ...
Creates Media Frenzy As New Mayor Makes A Statement About Inclusion
March 2, 2013 / Ethnic Culture in Queens / Sunnyside & Woodside / Queens Buzz. Continued. The St. Pat's For All Parade began some 15 years ago in the year 2000. The parade was the brainchild of Brendan Fay and Kathleen Walsh. The Manhattan St. Pat's Parade had refused to allow gays from marching in it, so they started the St. Pat's For All Parade in Sunnyside / Woodside. The Sunnyside & Woodside neighborhoods had once been an Irish enclave and where the Irish continue to have a significant presence today.
In the early years the St Pat's For All was something of a rag tag parade. Attracting the local Irish who wanted such a parade in Queens, as well as Irish gays and gays of all ethnicities who supported the political statement. Over the years it has grown in both size and stature as the alternative St Pat's Parade in NYC, as the St. Pat's Parade in Manhattan continues to ban gays from marching in their parade. Former Mayor Bloomberg had attended this parade, in addition to attending the Staten Island St. Pat's Parade - which also bans gay participation. He was able to do this by helicoptering from one parade to the other within a few minutes. Bloomberg also attended the Manhattan St Pat's Parade.
Ethnic Inclusion - Statement By NYC & NYS Officials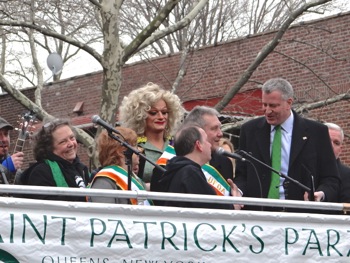 Bill de Blasio [Italian], who ran for NYC Mayor on a platform of inclusion, diversity and tolerance - took the decisive step to not march in the Manhattan St. Pat's Parade this year. Today, while on the platform prior to marching in the parade, he said that NYC has always been a place of inclusion - not exclusion - and he supported the efforts of those who channeled their energies in that direction.
These sentiments were echoed by an extensive panoply of NYC government officials including: NYC City Council Speaker Melissa Mark-Viverito [Hispanic], NYC Councilmembers Dromm [Irish], Van Bramer [Irish & Dutch descent], Weprin [Jewish], NYC Public Advocate Letita James [African American], NYS Senator Giannaris [Greek], NYC Comptroller Stringer [Jewish], Congressman Crowley [Irish], Congresswoman Meng [Chinese], Congresswoman Maloney [Jewish] and Queens Borough President Katz [Jewish]. One of the speakers said that, "Today we are all Irish".
I photographed an elderly woman who was watching the parade from the sidewalk, holding placards expressing a difference of opinion. She showed a sort of courage by expressing her own beliefs, amongst a crowd in which she was vastly outnumbered. It's this same courage that the gays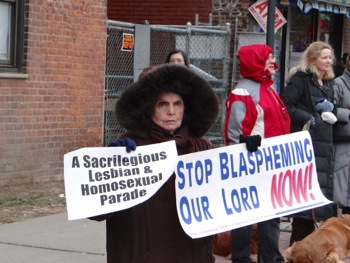 who 'came out of the closet' in the 1960's - 1990's had shown, when they were vastly outnumbered by the far more hostile forces around them. Those in the parade first acknowledged and then showed a benign neglect toward her, while she held her signs high and quietly observed them passing by.
Our nation's Founding Fathers understood that by allowing the free exchange of ideas, over time rational people will arrive at an evolving consensus, thus enabling change to happen without violence or revolution. Bill de Blasio's statement today is a part of that evolving consensus. He told us that NYC is a city of inclusion, tolerance and respect, and that we should embrace - not run from - our differences.
Mayor de Blasio was photographed with a drag Queen, which I suspect the traditional media will play up because of its visual shock value. De Blasio appears not to be distracted that sort of hyped media coverage and perhaps may have learned to use it [see photo above left and a couple more in the slide show].
Evolution Of A Cultural Tradition - St Pat's For All Parade Woodside & Sunnyside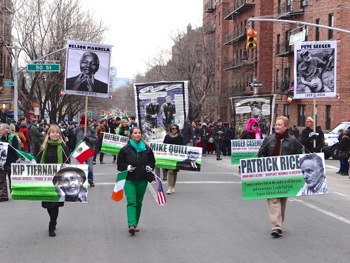 The Sunnyside / Woodside St. Pat's Parade in Queens has been evolving into something even bigger than what it started out as - which was an alternative St. Pat's Parade where Irish gays could march. The St. Pat's Parade For All has become something of a political statement and platform for those feeling disenfranchised, and who are given an opportunity to publicly express their point of view and perhaps frustration.
Over the years people of Spanish descent, Asian descent, African American descent and most recently of Asian Indian descent - have all come to march in the parade to support the notion that we are all one people. This sentiment was included in the American Declaration of Independence which states that all people should have a chance at "life, liberty and the pursuit of happiness".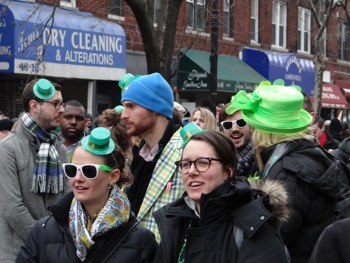 Speaking of happiness, you can see by the outfits, sunglasses, hats and costumes [see slide show photos below for more] that those who attended the St. Pat's For All Parade had not just come to listen to the issues of the day. I suspect most came to enjoy a bit of fun and frivolity. Mayor de Blasio mentioned that one of the Woodside Bars is named Saints & Sinners, and that they serve a mean Irish coffee, which on the cold day like today, might be a welcome respite. There are a number of other Irish bars, like Murphy's in Sunnyside, which also serve a heart warming traditional Irish coffee.
And so the beat goes on. Unfortunately I wasn't able to photograph some of the latter part of the parade. And as they say in Ireland, Slainte, which means good health / be safe in Gaelic.
St Pats Parade in Queens Photos - 2014 Slide Show
Click here to view the slide show containing photos of the St. Pat's Parade in Queens. The Sunnyside & Woodside parade is the inclusive St Pat's Parade in Queens.
---
Sunnyside Neighborhood / Woodside Neighborhood Links
Click on these advertisements for promotions, discounts and coupons by retailers and restaurateurs in Woodside, Sunnyside and nearby Queens.
Click this link to go to the:
Sunnyside & Woodside Neighborhood
Sunnyside Business Directory or Woodside Business Directory
Sunnyside & Woodside Real Estate or Events & Things To Do In Sunnyside & Woodside
Restaurants In Sunnyside & Woodside or Sunnyside & Woodside Shops & Shopping
---
Site Search Tips. 1) For best results, when typing in more than one word, use quotation marks - eg "Astoria Park". 2) Also try either singular or plural words when searching for a specific item such as "gym" or "gyms".
Click this link to search for something in our Queens Business Directory. Also check out Taste of Sunnyside.
---
Click the log in link below to create an ID and post an opinion.
Or send this story to a friend by filling in the appropriate box below.
---