St Patricks Day Parade
St Pat's For All Parade in Sunnyside Enters a New Era
March 7, 2016 / Sunnyside / Parades in Queens / Queens Buzz.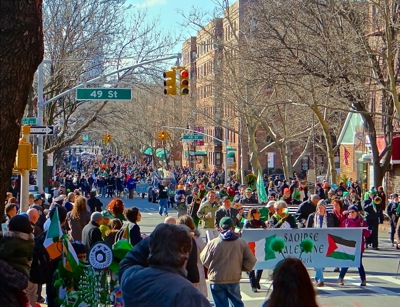 I attended the St Pat's For All Parade in Sunnyside on Sunday. I came too late to hear much of the speeches, but one of the announcements made was that the Mayor will be marching in the annual St. Patrick's Day Parade in Manhattan on March 17th as the dispute regarding LGBT marchers has ended.
Manhattan St Pat's Parade Ends LGBT Ban
The Sunnyside / Woodside St. Pat's For All Parade began in protest to the ban of LGBT Irish to fully participate [free expression / come out] in the Manhattan parade many years ago, and since its inception the parade has grown to become something of a Queens event institution.
Previously, LGBT Ban Attributed to Church Doctrine
Conservative Catholics, including the Conservative Irish, believe it's against the Christian Church doctrine to permit / tolerate LGBT behavior, based on interpretations of the Bible. Hence the Irish in charge of the St. Pat's Parade in Manhattan embraced the Conservative Catholic point of view, and up until this year, banned LGBT people from full participation in the parade.
The Bible is a collection of religious writings created about 2,000 years ago, which constitutes the core of the Christian Faith. The first half of the Bible, called the Old Testament, includes Hebrew stories handed down through oral traditions dating back centuries [and / or far longer] before the time of Christ. The New Testament was written by the followers of Jesus Christ, recording his life and teachings. Christians believe that Jesus Christ was the son of God, the Almighty Creator of the heavens and planet Earth.
Response to LGBT Ban was Widening Boycott of Manhattan St Pat's Day Parade
In 2015 Manhattan St Pat's Day Parade sponsors, including Guinness which is a not only an Irish beer-like drink, but also a defacto Irish institution - pulled out of the parade in protest of the LGBT ban. Just one year earlier, in 2014, Mayor de Blasio declined an invitation to march in the parade because of the LGBT ban. In 2013, in spite of the LGBT ban, Mayor Bloomberg continued the mayoral practice of marching in the Manhattan St Patrick's Day Parade.
New Pope, Head of Catholic Faith, takes a more Tolerant View of Human Sexuality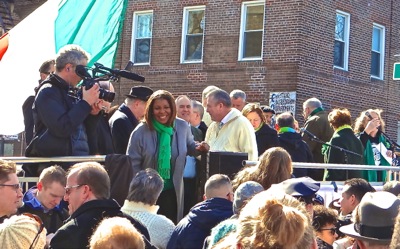 Pope Francis, the Catholic Pope since March 2013, has taken a different approach to the issue of LGBT sexuality than his predecessors. Instead of citing church doctrine to embrace intolerance and exclusion, he has referred to other Biblical and Christian Church teachings which advocate love and respect for your fellow human beings. In doing so Pope Francis as head of the Catholic Church, and President Obama at the federal government level, have ushered in a more tolerant - if not accepting - approach to LGBT sexuality.
On the Manhattan St Patricks Day Parade website we found the following statement,
"When asked about his stand on gay priests, Pope Francis did not stray from the Church's doctrine, but told reporters,"
"If someone is gay and he searches for the Lord and has good will, who am I to judge?"
We researched the LGBT topic back in 2010 and posted this report regarding the science and history of gay rights in NYC.
New Era for the St Pat's For All Parade in Queens
Hence the Sunnyside / Woodside St Pat's For All Parade enters a new era, as it's no longer a protest parade per se, but rather a Queens St Pat's Parade embracing the American philosophy of inclusion, respecting all people, as stated in the American Pledge of Allegiance which is as follows,
"I pledge allegiance to the Flag of the United States of America, and to the Republic for which it stands, one Nation under God, indivisible, with liberty and justice for all."
According to Wikipedia, the Pledge was created in 1887 by a colonel, revised in 1892 by an author, adopted by Congress as the official pledge in 1942 and last revised in 1954 when the words "under god" were added. Both the Christian Church and the U.S. government have changed over time. And more than one pundit has opined that both institutions have survived as long as they have, because they adapted and changed.
My father used to tell me that,
"adaptability is a sign of intelligence"
and FDR said,
"Worthy institutions can only be conserved by adjusting them to the changing time."
Parades as Cultural Preservation & Performance Venues
So with these changes in mind, I decided to video record the parade with a focus on the musical, dance & cultural performances by the groups participating in the parade. The recording includes a number of bagpipers, the group names of which I didn't catch because they don't really display their names, the Brian Fleming Band playing fiddling Irish music, the McManus Irish Dance Company practicing a little marching number while they were waiting, but which is best done while moving which you'll see after the parade resumed marching, the Rude Mechanical Orchestra playing a jazzy tune and PS123 Sapphire Dance Line & the Marching Cobras from Harlem doing a catchy dance and music routine.
It will be interesting to see how the St Pat's For All Parade evolves going forward, following their successful protest of the now-defunct, excusionary practices of the St Patrick's Day Parade in Manhattan, which only last week ended the LGBT ban.
Click here to watch the St Pat's For All Parade 2016 Sunnyside Queens video. Happy St Patrick's month.
The photo above shows the speakers on the podium [front row left to right] which include Public Advocate Letitia James, NYS Comptroller Thomas DiNapoli, CCM Daniel Dromm, NYC Council Speaker Melissa Mark-Viverito, Brendan Faye, a parade co-Founder [back turned to us], and to the far right Kathleen Walsh D'Arcy also one of the parade co-Founders of the event. Behind them you can find [but you have to look hard / left to right] NYC Comptroller Scott Stringer, CCM Jimmy Van Bramer, Congressman Crowley and NYC Mayor de Blasio.
---
---
Queens Buzz Subscriptions
We work very hard to help keep you informed by providing you with independent news coverage, as well as information about events in the arts, culture and business in the borough.

You can help us continue to provide you with independent, first-person, fact-based, contextural reporting by purchasing an annual voluntary subscription, which we've priced to accommodate all budgets.
Thanks for your encouragement and support.
---
$element(adman,groupad,NhoodSSWS)$
Sunnyside Neighborhood Links
Click on these advertisements for promotions, discounts and coupons by retailers and restaurateurs in Astoria and nearby Queens.
Click this link to go to the:
Sunnyside & Woodside Neighborhood
Sunnyside Business Directory or Woodside Business Directory
Sunnyside & Woodside Real Estate or Events & Things To Do In Sunnyside & Woodside
Restaurants In Sunnyside & Woodside or Sunnyside & Woodside Shops & Shopping
---
LIC Neighborhood - Long Island City Links
$element(adman,groupad,Catgry Foodwine)$
Click on these advertisements for promotions, discounts and coupons by retailers and restaurateurs in Long Island City LIC and nearby Queens. Click here for a related story about the hotels & restaurants in Dutch Kills section of Queens.
Click this link to go to the:
Long Island City Neighborhood or LIC Business Directory
Long Island City Real Estate or Events & Things To Do In LIC
Restaurants In Long Island City or LIC Shops & Shopping
---
$element(adman,groupad,NhoodLIC)$
Site Search Tips. 1) For best results, when typing in more than one word, use quotation marks - eg "Astoria Park". 2) Also try either singular or plural words when searching for a specific item such as "gym" or "gyms".
$element(bwcore,insert_search,N)$
Click this link to search for something in our Queens Business Directory. Also check out Taste of Sunnyside.
---
Click the log in link below to create an ID and post an opinion.
Or send this story to a friend by filling in the appropriate box below.
$element(adman,groupads,Sectional2 Ad)$
---