Business & Real Estate In
Jackson Heights & Elmhurst
---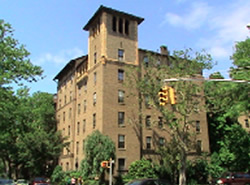 Jackson Heights NY is located in the north west / central section of Queens. It is commutable via the #7, E and F subway lines. There are approximately 65,000 residents in this section of Queens and this section is also one of the most ethnically mixed neighborhoods of the world. In addition to Indians, Bangladeshis, Nepalese and Pakistanis, there are a significant number of Latin Americans and European descendants.
Jackson Heights was one of the first developed urban communities modeled along an English model. Hence apartments frequently have large public areas enclosed within blocks which serve as a block courtyards / playgrounds. This section is also home to the Victor Moore Bus Terminal on 74th Street which is one of the largest convergence of subways and buses in Queens [some of which go to LaGuardia Airport]. The business districts are largely found along Roosevelt Ave, Northern Blvd and along 37th Avenue and at 74th and 82nd Streets.
---
Click to view the Jackson Heights neighborhood
---
Forum - Condos & Co-ops Jackson Heights
Condos & Co-ops Forum - Jackson Heights
December 7, 2010 / Jackson Heights / Queens Buzz. City Council Member Daniel Dromm, NYS Senator Peralta in tandem with ACCO [Alliance of Condo & Co-op Owners] organized a forum in Jackson Heights to inform people about their rights and responsibilities as condo and co-op owners.
In addition to the councilman and senator, the panel included two lawyers and the president of ACCO. About two hundred people showed up for the event, packing the Jewish Center of Jackson Heights. See photos in our report of the large crowd that attended this forum.
The panel informed condo and co-op owners in Jackson Heights & Queens about their rights, and discussed new state legislation which has been introduced to more clearly define the processes through which a tenant / owner can assert their rights. Click here to read the rest of our report about the forum for Jackson Heights condo / co-op owners in Queens.
---
Queens Builders & Contractors - Queens Bronx Builders Assn Trade Show
Queens Bronx Builders Association
Building Businesses Slowly Improving - Builders Cautiously Optimistic
October 25, 2012 / Jackson Heights / Queens Business / Queens Buzz. I attended the Queens Bronx Builders Association Trade Show at the LaGuardia Marriott this evening. The show included between two and three dozen exhibitors showing just about everything and anything you might need to build a building. I went to get some sense of the mood of the building trades, given the economy has been the focus of many folks' attention since the financial debacle of 2008.
The sense I got from most was that, while things are not great like they had been before the bust, they had 'hit bottom', and things appeared to be steadily improving. Most of the folks I spoke to were cautiously optimistic, saying they had some really good days but they also had some really slow days. A few of the people I spoke to were downright bullish. Only two people told me that things were still very rough out there.
As you know, this is not a scientific survey, but the joking around left me with the sense that what I had been told was somewhere in the reality ballpark.
Click here to read a report about the Queens Bronx Building Association Trade Show in Queens.
---
Garden Apartments - Jackson Heights NY
Jackson Heights Garden Apartments
Jackson Heights is the home to the garden apartment building, where it first originated in the nineteen twenties. The Jackson Heights neighborhood has evolved into one of the most integrated communities in the world, comprised of residents whose families originated in Asia, Latin American, Europe and Africa. This is a brief introduction into the neighborhood housing stock. Click here to view the full story on the Jackson Heights Garden Apartments.
---
Queens Real Estate
Queens Real Estate
Market Analysis Of Real Estate In Queens
Queens NY / December 7, 2009. This is a report on the Queens real estate market. The report covers the latter half of 2009. This analysis includes looking at apartment rental prices, as well as condo, co-op and home prices and availability. This Queens real estate market analysis focuses on the Astoria, LIC / Long Island City, Jackson Heights, Sunnyside and Woodside neighborhoods. While we found these neighborhoods mirrored or trailed many of the national trends, we found some interesting differences, including differences from neighborhood to neighborhood. Click here for our second half 2009 market analysis of Queens Real Estate.
---
Home Improvement & Construction In Queens
---
Banks & Loans In Jackson Heights & Queens
---
Retail & Shopping In Jackson Heights
---
Wholesale & Manufacturing In Queens
---
Restaurants In Jackson Heights
---
---
Government & Employment In Queens
---
Queens Unemployment - Employment in Queens NYC & NYS
Queens Employment Rate Continues To Best NYC Metro
September 23, 2015 / Queens Neighborhoods / Queens Business / Queens Buzz.
Queens County continued its streak of besting three of the other four boroughs in New York City with respect to low unemployment. In the July period unemployment fell to 4.9%, which is slightly below what is generally considered a full employment unemployment rate of 5%.
Queens Employment Fueled By Building Boom
Queens is currently experiencing a building boom, with the epicenters in the neighborhoods of Long Island City, Astoria, Flushing and to a lesser extent Jamaica. In addition to the creation of temporary construction jobs which end when the building has been completed, some of the new commercial developments have targeted white collar office space, which has then been used to lure large commercial tenants from other boroughs, into Queens. Bloomingdales was one such recent company to announce a large move [a return] into Queens.
Click here to read the rest of our report on employment and unemployment in Queens, NYC and NYS.
---
Transportation In Jackson Heights & Queens
---
---
Jackson Heights / Elmhurst Real Estate Related Info
Click this link for promotions, discounts and coupons in Jackson Heights / Elmhurst and Queens.
Click this link to go to the Jackson Heights Elmhurst Neighborhood / Things To Do In Jackson Heights - Attractions / Jackson Heights Events / Jackson Heights Maps - Quick / Jackson Heights Maps / Jackson Heights Shops - Quick.
Site Search Tips. 1) For best results, when typing in more than one word, use quotation marks - eg "Astoria Park". 2) Also try either singular or plural words when searching for a specific item such as "gym" or "gyms".
---
Archives - TBD
---
Click this link to search for something in our Queens Business Directory.
---
Click the log in link below to create an ID and post an opinion.
Or send this story to a friend by filling in the appropriate box below.
---