Centenarians in Elmhurst / Jackson Heights Queens NYC
Dorothy Katz Centennial in Jackson Heights Today
Freddie Katz Mother Celebrates 100 Years of Life - One Family's Oral History
May 28, 2019 / Jackson Heights Neighborhood / Queens Neighborhoods / Queens Buzz NYC.
Dorothy Katz moved into an Elmhurst apartment near Jackson Heights in 1956. Little did she know, that she would live there for another 63 years and counting …
Her son, Freddie Katz, a touring guitarists, sound engineer and producer at Sierra Sound NYC, sent me an email with the following missive, "…I've heard that in the UK people who reach their centennial receive a postcard from the Queen, so I think that in
lieu of that, Mom at least should get a sendup from the local newspaper."
Well, being neither a Queen, nor a member of the royal family, nor even the operator of a local newspaper – Freddie and I set to work on a little write up for Dorothy Katz's 100th birthday – which is today.
Freddie wrote down and provided me with, what was once an oral history, of some of his Mother's and Father's lives which follows below. I helped by doing a bit of editing. Dorothy Katz is shown at right, in a photo taken in 1956, shortly after she had married Murry.
Dorothy & Murry Katz - A Brief Family History
Freddie tells us that his parents weren't really big on sharing tons of personal info ... it's just the way they were. And now that his Mother is past the point of being able to remember a lot of specifics, the following is what he can tell us about the lives of Dorothy & Murry Katz.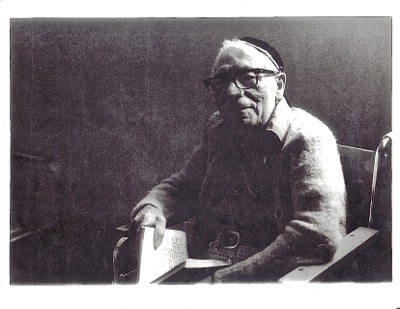 Dorothy Katz was born on May 28th, 1919 at Lebanon Hospital in the Bronx. Her mother's name was Fanny and her father's name was Abraham. The family name was Rosoff. I was named Fredric Avram Katz, after my maternal grandfather, and it's worth noting that Avram is Hebrew for Abraham.
Katz Family Oral History of Surviving WWII
Freddie said that Dorothy's mother Fanny was reportedly one of the only members of her family from Poland to survive the Holocaust. Fanny came over when she was a teenager, maybe with another relative. Most of the remaining family is believed to have died in Poland. In the photo at right is Max Katz, Freddie's paternal grandfather.
---
Lent Riker Homestead Jackson Heights - Colonial Houses Homes in Queens NYC
The Lent Riker Homestead
The Jackson Heights Jewel ... Home of Art, Theater & History
November 12, 2017 / Jackson Heights Neighborhood & Astoria Neighborhood / Jackson Heights & Astoria History Queens / Queens Buzz NYC.
On a Saturday afternoon in late October I made my way north to the Lent-Riker-Smith Homestead on 19th Road near 77th Street which is a stones throw from LaGuardia Airport. Most folks think of the home as being in historic Jackson Heights, but technically it's located in the East Elmhurst neighborhood.
I had arranged to meet Marion Duckworth Smith, the owner and historic curator of the 1656 American Colonial home. The home, and an expansive yard which includes a family cemetery, is tucked away behind a wall of nature which gives the effect of passing through a time warp when you enter into the yard / home.
Marion provides a sort of genteel colonial charm which is both aristocratic and democratic in the same sitting. After brief introductions we started talking about the Rikers, the trials and joy of living in an historic home and pretty much everything else. In the photo above right stands Marion Duckworth Smith in the doorway leading to the main parlor in the historic, American Colonial, Lent-Riker-Smith Homestead.
The Lent-Riker-Smith Homestead & Marion Duckworth Smith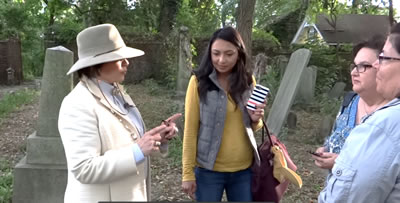 Marion was a photographer and a "Funny Face" model who met Michael Smith in the 1970's. They started dating in 1979 and on the second date Michael introduced Marion to a home he had purchased from a Riker descendant, which dated back to pre-revolutionary colonial times. Marion and Michael married and the home had finally attracted someone willing to give it the attention and care needed following what was possibly a century or more of neglect.
Marion became a combination of urban archeologist, Riker / Colonial historian and historic home / museum curator over the next four decades. And since her husband Michael's death on November 21, 2010, she added historic actress / colonial tour guide to her repertoire.
Marion and I sat in the main parlor for a bit talking about how she'd first come to the home and about her journey of discovery surrounding it ever since. While we talked, descendants of the Riker family were on their way to join us, having come from Texas to visit the home.
---
Chatpati Mela Jackson Heights - Chhaya's South Asian Indian Bangladeshi Celebration
Chatpati Mela
Chhaya's Celebration Of South Asian Food, Fashion & Cultures
September 21, 2015 / Jackson Heights Neighborhood / Ethnic Culture In Queens / Queens Buzz.
It was a beautiful day as I made my way to 78th Playstreet in Jackson Heights to attend the 5th Annual Chatpati Mela Festival. Each year the festival seems to enhance its dimensions through food, performance, cultural costumes and wares.
They had a number of vendor tents lined up along the 78th Playstreet corridor [it ceased being a city throughway years ago], as well as food tents. Toward the northern end of the street there was a stage where musical and dance performances were in session.
Click here to see the food, fashion and a video of the music and dance performances at Chatpati Mela in Jackson Heights.
---
Passover Celebrations In Queens
Passover in Jackson Heights
Kehillat Tikvah Celebrates 6th Passover in Queens
April 14, 2014 / Jackson Heights / Judaism in Queens / Queens Buzz. On March 26th of last year I attended the fifth annual Kehillat Tikvah Tuesday evening at St. Mark's Episcopal Church in Jackson Heights. This Passover was hosted by Kehillat Tikvah, which is a relatively new community of hope, located in Jackson Heights. Rabbi Laurie Gold led the evening of festivities.
I arrived around 6 pm as the organizers were finishing up last minute details for the event. A U shaped table formation in the middle of the large room had been set, and there were containers of warm food laid out along a long table in front of the kitchen. People within the community were conversing, and without much effort I was drawn into a conversation with the folks sitting next to me.
Click here to read the rest of our report on the Kehillat Tikvah celebration of Passover in Jackson Heights.
---
Queens World Film Festival
Queens World Film Festival
Queens Film Festival Begins
March 9, 2013 / Astoria, LIC & Jackson Heights / Film in Queens / Queens Buzz. I attended the 3rd annual Queens World Film Festival opening Tuesday night at the Museum of the Moving Image in Astoria. As I arrived, independent film producers, directors, writers, actors and actresses mingled in the lobby.
A local TV film crew was interviewing one of the festival participants as I started mingling with the crowd. I met one man who has film showing Friday, another with a film showing Thursday, and a Belgian couple who co-produced a thirty second short that was to be shown at the opener tonight [they're shown conversing with City Councilmembers Dromm and Van Bramer].
It wasn't long before the festivities began, which included several speeches by sponsors [some are listed at the end of this report] and the Queens World Film Festival founders, Don and Katha Cato of Jackson Heights.
---
Queens World Film Festival
Queens World Film Festival
Queens World Film Festival 2013
February 12, 2013 updated from February 29, 2012 / Jackson Heights / Film in Queens / Queens Buzz. The 2013 Queens World Film Festival runs March 5th through March 10th 2013. Check the March events calendar in the Things To Do section of this site [see top tool bar] - for films, viewing times and location - as the event approaches.
I visited the home of Don and Katha Cato this past weekend. Don and Katha are the duo that are organizing the second annual Queens World Film Festival, which opens Thursday night, March 1st at the Museum of the Moving Image – and then returns to its home in Jackson Heights for the remainder of the weekend.
I spent hours talking to Don mostly about the films, and talking to Katha about film as well as various aspects of planning and organizing the film festival [they are shown in the photo to the right]. The following report includes a general overview of the Queens World Film Festival logistics, as well as many previews of the films that will be shown. The festival includes about twenty films by Queens based film makers. And who knows, perhaps one day one of them will be receiving their Oscar from the Academy in Hollywood.
Click here to read our report about the Queens World Film Festival 2012.
---
What's Playing At 78th Playstreet - Jackson Heights
What's Playing At 78th Playstreet?
Closed Street Quickly Becomes Intrinsic Part Of Park
August 5, 2011 / Jackson Heights Neighborhood / Queens Buzz. I went to check out Friday Night At The Movies, which spontaneously began the last week in July on 78th Playstreet next to Travers Park in Jackson Heights. Don and Katha Cato, organizers of the Queens World Film Festival, came up with the idea. And they implemented it with the help of a few friends, notably Elliott and Elena Madison of the Jackson Heights Green Alliance.
The weekly Friday Night At The Movies on 78th Playstreet will continue Friday, August 12th beginning at dusk [between 8 and 9 pm] at 78th Playstreet, which is adjacent to Travers Park and provides additional recreational space for families and kids living nearby in Jackson Heights.
Recycling Indie Films – New Green Initiative
The films being aired are from the first Queens World Film Festival. The films shown the night I attended included 38 minutes of shorts, and … Click here to read more about Friday Night At The Movies At 78th Playstreet.
---
Immigrant Movement - Where Art & Culture Meet
How To Start A Cultural Movement
Where Art & Culture Meet Immigrant Movement
May 1, 2011 / Jackson Heights & Corona / Ethnic & Religious Culture / Queens Buzz. I was out covering one story when I caught wind of another. The other was the Immigrant Movement which is an art / social experiment going on this year in the Corona neighborhood of Queens.
I happened upon it in late April when I noticed a large crowd standing outside of the Immigrant Movement building in Corona Queens. The crowd had an artsy look - a look I have happened upon in Corona only occasionally ... so far.
It seems the Immigrant Movement is a three party collaboration, lead by performance artist / social activist Tania Bruguera of Cuba. The project is funded by the Queens Museum Of Art which periodically takes avante garde art initiatives, as well as by Creative Time which is a modern art organization in the metro NYC area. This creative approach to art and culture was provocative enough to capture my curiosity, so I stepped through the doorway to find out more.
Click here to read more about the Immigrant Movement in Corona Queens.
---
---
---
Jackson Heights Attractions Archives
---
Site Search Tips. 1) For best results, when typing in more than one word, use quotation marks - eg "Astoria Park". 2) Also try either singular or plural words when searching for a specific item such as "gym" or "gyms".
Click this link for promotions by advertisers in Queens.
Click this link to search for something in our Queens Business Directory containing over 1,000 listings.
---
Click the log in link below to create an ID and post an opinion. Or send this story to a friend by filling in the appropriate box below.
---