Long Island City Artists LICA
In The Eye Of The Beholder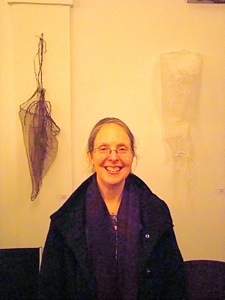 March 4, 2011 / Long Island City / Queens Buzz. Continued / If needed, use the search function to find the story introduction.
The artwork I'm talking about was created by Priscilla Stadler. Her creations were made of cloth, hanging loosely from the walls of Space Realty which is one of the two sites hosting the LICA art exhibit. When I arrived at Space Realty, she was front and center in the room and she waved. It seemed like she was waving to me, so I waved back before realizing she was waving to somebody else.
Priscilla was one of the first people I asked to photograph next to her work. And then I went on to photograph many of the other artists alongside their works, all of which on a physical plane, I found far more visually stimulating. In the photo to your right Priscilla Stadler is standing in between two of her works hanging from the wall.
Eye Of The Beholder - Curated By Karen Fitzgerald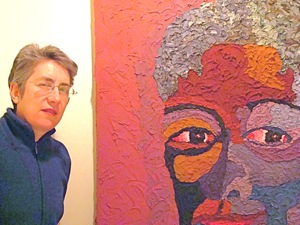 Near the end of the photo shoot, I sat down with Karen Fitzgerald in the bar of the Holiday Inn [the other site of the art exhibit]. Karen is the curator of the exhibit whom I'd met before. I asked her about the exhibit theme: Eye Of The Beholder. She told me that she omitted 'beauty' from the phrase because it's so overused. She asked the LIC artists who participated to submit works that would fit into that theme. In the photo to your left is curator Karen Fitzgerald who I photographed standing next to the art work of Ana Sanchez entitled Many Sided.
LIC Artists - So Many Journeys, So Little Time
I started mentally running through the photos I'd taken. It's interesting how an exhibit can take on a whole new dimension after you begin to understand it. I started recalling what each of these artists had said to me as I photographed them next to their work.
I've always found the narrative that accompanies art to deepen my appreciation for it. In my own life this includes understanding the social and pyschological subtleties embedded in Degas paintings to the social commentary on mass production and mass media by Warhol. Artists help us adapt to the world we inhabit, by providing works that either challenge or support our views, or allow us to aesthetically escape them.
Understanding Modern Art - Attend Opening Receptions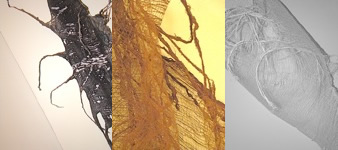 I asked Karen about the cloths, because they were notably different from the other works I'd seen [they were the only works in that medium]. Priscilla was standing nearby and Karen invited her over to answer my questions. My opening question was to ask Priscilla what she called her three works. She told me Untitled Cloth 3, 6 and 7. Hmm, I thought .. that didn't help. Untitled Cloths 3, 6 and 7 by Priscilla Stadler are shown in the photo to your right.
She detected my confusion and added that she'd also just come back to working with cloth. She said that she was working with the concepts of consciousness, what we think we know and why, and that she had begun exploring this theme in a variety of media.
LICA - Eye Of The Beholder - Explores Another Dimension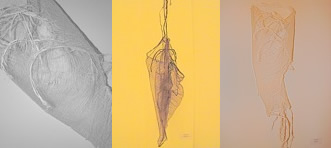 I asked her what she was trying to convey with these works. She said that part of her exploration included divination and oracles. And she began to talk about the history of the spiritualist movement that began around the turn of the 20th century. Untitled cloths by Priscilla Stadler are shown in the photo to your left.
Back a century ago, the Spiritualists believed that one could be visited by the spirits of others and that their presence would be manifested by the appearance of ectoplasm. Ectoplasm was believed to be the material manifestation of the spirit and would come emanating from one's nostrils or mouth. "The pictures you see of this .. It's gross", she said.
Understanding Modern Art - Talk To The Artists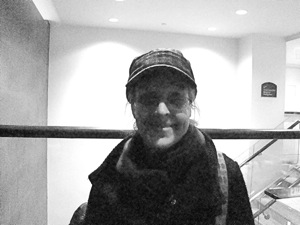 She told me that her work is about belief systems. I asked her who she was thinking about as she created these works. She informed me that the answer to this question was too personal. She told me that who she was focusing on really shouldn't matter to anyone seeing the work. She finished by telling me that she hadn't really thought through how she would talk about her work.
I found this all very interesting. It was an engaging narrative that motivated me to return to view her work again. This time I was armed with some knowledge of what I was going to see and what I was to experience ... if I dare. Priscilla Stadler is shown in the black and white photo above as well as in the color photo below.
Art In Queens - Exploring Other Worldly Dimensions
The spirit world is invisible. Like the forces of gravity, magnetism, electricity and radiation; we can't see these forces and we can't touch them, we can only feel them. As I re-entered Space Realty to look at them again, I found something very ethereal about Priscilla's work. The white piece seemed very fragile, like the skeleton of an ancient mummy. The dark piece had the appearance of a human cell, like the kind one would see in a biology class. And the brown piece was the one with the most dimension, and it seemed to me to bear some resemblance to a fishing net.
I decided to walk home. Walking and thinking seem to work well together. It was a cool night and high in the sky there was a new moon.
LICA Art Exhibit - Viewing Times & Locations
In The Eye Of The Beholder runs through May 25th at Space Realty Group on 39th Avenue and the Holiday Inn across the street. The hours are Monday through Friday from 10 am to 6 pm at Space and 24/7 at the Holiday Inn in the lobby and downstairs. All of the artists are members of the Long Island City Artists association and their website is licartists.org. Photographer Adele Shtern is shown alongside her photos in the exhibit of In The Eye Of The Beholder.
LICA Art Show Photos - Slide Show - In The Eye Of The Beholder
We photographed the following artists next to their artwork, and Karen Fitzgerald alongside the work of Ana Sanchez. 1) Lillian R. Engel [DSC04184], Priscilla P. Stadler [DSC04185], 3) Paul Johnson [DSC04288], 4) Adele Shtern [DSC04189], 5) Mihai Stancescu [DSC04191], 6) Leonara Retsas [DSC04193], 8) Amy Geller [DSC04191 & 5],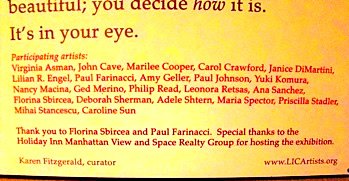 9) the work of Ana Sanchez [DSC04196 & 7], 10) the work of John Cave [DSC04201], 11) Caroline M. Sun [DSC04205], 12) Philip Read [DSC04208], 13) Paul Farinacci [DSC04209], 14) Janice DeMartini [DSC04213 - 4219], 15) the work of Yuki Komura [DSC04220], 16) Priscilla Stadler [DSC04226 & 7], 17) Karen Fitzgerald who I photographed alongside Ana Sanchez painting [DSC04228] and 18) the work of Priscilla P. Stadler [DSC04229 - 4245].
Many thanks to Karen Fitzgerald and Steffan Olausson Partridge for inviting me to the opening and to all of the LICA artists above who allowed me to photograph them with their work. Use the arrows on the control panel of the slide show below to page through the exhibit at your own pace or click here to go directly into the photo gallery of In The Eye Of The Beholder by the Long Island City Artists.
---
$element(ophoto,photo_slideshow,121,520,,5.00,fade)$
---
Long Island City LIC Queens Related Info
$element(adman,groupad,Promo Buttons)$
Click this link for promotions and discounts by merchants in Long Island City LIC and Queens.
Click this link to go to the Long Island City LIC Neighborhood News / Long Island City LIC Restaurants / Long Island City LIC Shopping.
$element(adman,groupad,NHoodLIC)$
Site Search Tips. 1) For best results, when typing in more than one word, use quotation marks - eg "Astoria Park". 2) Also try either singular or plural words when searching for a specific item such as "gym" or "gyms".
$element(bwcore,insert_search,N)$
Click this link to search for something in our Queens Business Directory.
---
$element(adman,groupads,Sectional Ad)$
---
Click the log in link below to create an ID and post an opinion.
Or send this story to a friend by filling in the appropriate box below.
---