Public & Private Lives Converge in Urbanity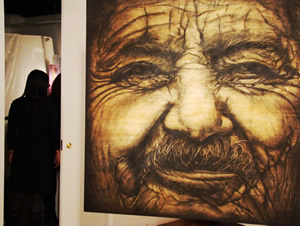 December 12, 2011 / Flushing / Art Exhibits in Queens / Queens Buzz. I visited the Crossing Art Gallery in Flushing Saturday for their opening of Personal.Spaces. The exhibit theme is about personal space in public places. An example of such is shown in the artwork to your right, where countless people are sharing public space, close enough to touch one another, but all living very separate lives. Living within their Personal.Spaces.
The Flushing art gallery did a nice job of dimensionalizing the theme through a number of different works from a multitude of artists, many of whom either work or live within the NYC area. Click here to view a brief report, including photos of the Personal.Spaces art exhibit at the Crossing Art Gallery in Flushing.
---
Public & Private Lives Converge in Urbanity
Continued. December 12, 2011 / Flushing / Art Exhibits in Queens / Queens Buzz. The following is a brief description of most of the works I saw at the exhibit. We have also included larger photos in the slide show and photo album. Enjoy.
Flushing Art Galleries - Crossing Art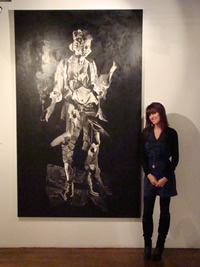 Chambliss Giobbi created Portrait of Alice O'Malley2 which is a collage and beeswax on tycore. The woman is portrayed through a series of photo segments, assembled to represent the dynamic, multi-dimensionality of a human, which is this case is Alice O'Malley. The black and white mutes out some of the background noise so that you can focus on the complexity of the person within. Photos of all exhibits discussed herein are also shown in the photo slide show below. Maria Boobis, Assistant Director of the Crossing Art Gallery in Flushing is shown standing beside Alice O'Malley2.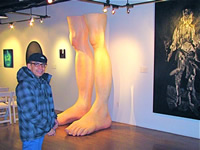 Hans van Meeuwen created A Man's Height from Styrofoam, plaster-cast, tile-adhesive, resin, wood and paint. A naked foot and knee the size of an entire human being. The sculpture makes one think about that personal part of us and, in this case, how much space it occupies. But it begs the question when do we see our foot? When do we notice it enough to think about it? Are you thinking about your foot and leg now? Queens artists Hector Canoge is standing in the foreground with A Man's Height exhibit shown behind him.
Modern Art Curated, Exhibited and Sold In Flushing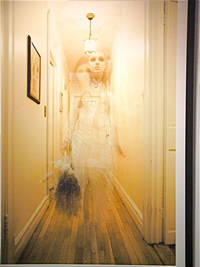 Brian T. Silak created The Hall, which is an illustrated photographic print on archival bamboo paper. The image conjures up the idea of ghosts or spirits occupying personal spaces along with its living inhabitants [see photo].
Francine LeClerq created Narcissus' Knee using oil and resin on canvas. In this work, the knee becomes to focal point of one's attention, so aptly named after Narcissus [see photo DSC00771].
Niv Rosenberg created Automonument #5 which is a digital print that captures the symmetry of a modern skyscraper. Patrick Regan, Director of the Crossing Art Gallery, points out that the space within the skyscraper is personalized by its inhabitants as reflected in the windows [see photo below].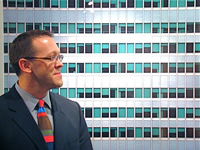 Kathy Levine created City Cells using photo transfers and acrylic on recycled cast paper and plywood. Each of these tiles reflects some personal part of the artist, as portrayed by body part impressions, a photo or acrylic paint [see photos DSC00759-62].
Adrian Viajero Roman created one of the dominating exhibits in the gallery. It was made of wood on the outside and mixed media on the inside - a sort of mini-installation of a man's head box [see photo shown in story introduction]. The face depicts an old man, who seems to be of good cheer. I was taken behind the face where I was able to walk inside of his head and literally see what was on his mind. See the photo slide show for a closer look including old photos, fishing trips, girlfriends, letters and the like. What space could be more personal than the inside of one's mind?
Historically An Emphasis On Asian Artists & NYC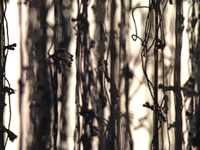 Hyo Jeong Nam created Cell I with knotted thread. This is a series of knotted threads, each representing a unique individual, all hanging from the ceiling. Together hanging in space, but separated by space. Allowing each to have its personal.spaces [photo to right].
Shi Yang and Vicki Yang created Touch, edition 5 which shows two bellies dancing side by side [see photo DSC00744 in slide show].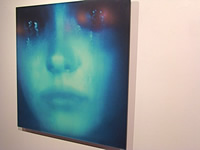 Laura Hughes' work Untitled #14 from the Blue Series is a combination of digital photography and graphic art. This work evokes a combination of horror and sympathy [see photo].
June Kim created Fur Box, which was made with found glass, dog fur and metal. The concept behind the 'fur box' is that there's an animal trapped inside all of us [see photo DSC00763].
Soo Im Lee - People Bank - Crossing Art Gallery In Flushing Queens
One of my favorites of the exhibit was Soo Im Lee's wall hanging entitled People Bank. It was a sumi ink on paper, creating a mostly black and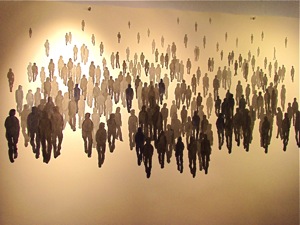 white effect of shadows of people walking in a well spaced crowd. Much like people leaving a rock concert or major league sports event after the initial throng has left
I started the story by mentioning this artwork. It's one that well captures that we're together in the same space and yet living very separate lives. It reminded me of my childhood, when my older sister Mary wrote a graffiti inscription along the top of one of the walls in the house that said, "I'm Alone. You're Alone. We're All Alone Together."
She was in her teens at the time, and I was much younger, but it stuck with me because I thought that it was a very profound inscription. My parents must have been struck by the lucidity of it as well, for they never bothered to remove it. The Crossing Art Gallery in Flushing presents about one new exhibit each month and hosts other events. Check our Queens Events calendar in the art section for current events
Click here to view the album containing photos of the Personal.Spaces art exhibit at the Crossing Art Gallery in Flushing.
---
Flushing / Corona Related Info
Click here to go to the Green Queens / Eco-friendly Queens section of this site.
Click these links for promotions by advertisers in Queens.
Click this link to go to the Flushing Neighborhood.
Site Search Tips. 1) For best results, when typing in more than one word, use quotation marks - eg "Astoria Park". 2) Also try either singular or plural words when searching for a specific item such as "gym" or "gyms".
Click this link to search for something in our Queens Business Directory.
---
---
Click the log in link below to create an ID and post an opinion.
Or send this story to a friend by filling in the appropriate box below.
---