King Manor Brings Dead Back To Life
Spirits Of Dutch & Colonial Queens Reawakened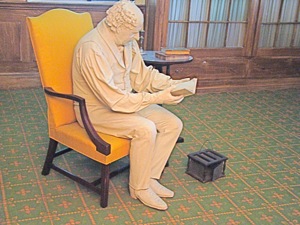 October / Jamaica Neighborhood / Queens History / Queens Buzz. It's easy to forget Queens colonial past some 200 - 400 years ago, as so much has happened since then. But October is the time to reawaken long lost spirits and I'm happy to report I witnessed just such a reawakening at King Manor in King Park in the Jamaica neighborhood of Queens this past weekend.
New York Open House and the Historic House Trust got together this year and held their annual weekend extravaganza this past weekend, with food as the historic theme. So King Manor put together a program celebrating Dutch cuisine and its influence on American fare, and in the process gave us a tour and an education about one of the signers of the U.S. Constitution and a strong, outspoken advocate against slavery.
Click here to read our report about King Manor and Rufus King in Jamaica Queens.
---
King Manor Brings Dead Back To Life
Spirits Of Dutch & Colonial Queens Reawakened
Continued. October / Jamaica Neighborhood / Queens History / Queens Buzz. Scroll down if you're just interested in the donuts story. King Manor had set up a program for this weekend that was a savory medley of delightful foods, ancient crafts and historic insights.
King Manor Museum In Jamaica Queens
I arrived on a beautiful warm October day. The front of King Manor was stirring with colonial activities, as I had never seen before. My first encounter was the colonial crafts table where a number of youngsters and their parents were making corn husk dolls with the help of a King Manor volunteer who was well versed in the ancient art. The dolls are simple flexible figures that I'm sure their owners brought to life in times past, and perhaps today.
Dutch Foods / Dutch Cuisine in Jamaica NY
One of the great highlights of the day were the treats offered from the cupboard of Diane Fish. She was dressed in colonial Dutch attire, playing the role to the hilt. Along the table were bowls containing a number of delectable Dutch foods, served buffet style, just as if we were about to celebrate the harvest with old Peter Stuyvesant, himself. You can read more about the Dutch foods prepared by Ms. Fish in our adjunct report about the influence of Dutch cuisine on American fare.
After sampling the foods, full of subtle flavors and textures, of which only a culinary artist is capable, I went inside King Manor to take a tour of the house.
Rufus King Had a Long List of Accomplishments
Signer of U.S. Constitution, Ambassador to Great Britain, U.S. Senator from New York & Early Human Rights Activist
Tahsin Promi was our King Manor tour guide. She started the tour in one of the main front rooms of the house. She tells of Rufus' past. Rufus was born in 1755 and originally from the Maine section of Massachusetts [Maine being spun off as a separate state in 1820]. Rufus is educated at Harvard and begins practicing law following a two year stint in the American Revolutionary War [1776 – 1783].
Rufus becomes a delegate from Massachusetts to the Constitutional Convention, where he worked on part of it with Alexander Hamilton. He becomes a signer of the U.S. Constitution and then the first ambassador to Great Britain.
The History of King Manor – Jamaica Queens NY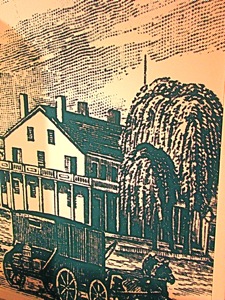 At Hamilton's urging, Rufus eventually moves to New York. In 1805 Rufus King bought what was then a large farm house from the estate of Christopher Smith. The house that was to become King Manor, was first owned by Justice Joseph Oldfield in 1726. Oldfield gave, what at the time was a small farm house, to his daughter, who becomes widowed in 1732. She sells the house to Rev Thomas Colgan, the new minister of Grace Episcopal Church in 1732.
Colgan marries Mary Reade, the daughter of a wealthy Manhattan merchant, has six children and they expand the house and property. Following the Colgan's death in 1755 and Mary's death in 1776, the enlarged house and estate is passed on to one of Mary's daughters and her husband Christopher Smith. It's worth noting that at the time, women were not allowed to own property. As mentioned above, Rufus King purchases the house in 1805, which settled the Smith estate.
King Manor – Tours of the Museum
In the King Manor room we observe a portrait of Rufus King [see portrait above], which was painted by Gilbert Stuart who painted the portrait of George Washington that is used on the American one-dollar bill. The portrait was done while Rufus was one of the U.S. senators from the state of New York, serving from 1789 – 1796 and again from 1813 - 1825.
There's a forte piano in the room, which is over 200 years old and doesn't have any pedals. The King Manor Museum offers a concerts of classical music on a periodic basis as part of its events programs. These provide intimate settings to enjoy classical music in a colonial historic context. See the Queens Buzz monthly events calendar for current listings of these events in the live music or history sections, or possibly in the Member Calendar. A picture of the forte piano is shown along with our tour guide Tahsin Promi.
Rufus King's Library Had 3,500 Colonial Era Books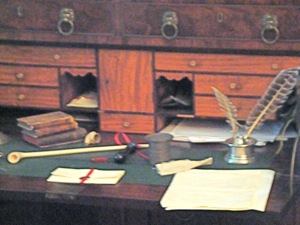 Our next stop was Rufus King's library. There's a life sized statue of Rufus sitting in a chair reading. I noticed that there's a fireplace in each of the rooms, which at one time were the source of heat during the cold winters. Rufus had over 3,500 books in his library, so he was a man of letters or a rather learned man for his time.
He studied five languages, including Greek and Latin, as well as French and German. And his books included the Koran and a translated bible of the Indians.

Rufus King of King Manor – Anti-Slavery Advocate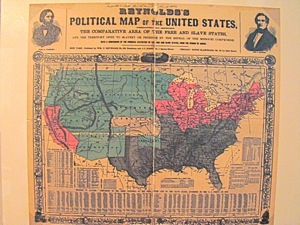 While Rufus is known for his work as Ambassador, and in the Constitutional Congress, Rupert is best known for his three impassioned speeches before the U.S. Senate during the debate over the Missouri Compromise of 1820.
Rufus King argued from the Senate floor that slavery was a convention that went against the laws of nature and against the will of god. For his impassioned speech he received a written death threat sent from Charleston, S.C. with a short note and a drawing of a noose with 'Rufus King' hanging from it. Missouri went on to become a slave state. And it wasn't until 1827 that New York made slavery illegal.
The Parlor & Servants' Quarters @ King Manor
Shortly after Rufus acquired the house, he expanded it by adding a kitchen and by making modifications to the upstairs bedrooms. He enhances the stature of the home by creates a semi-circular drive in the front of the house and by tending the grounds with an eye toward horticulture and aesthetics. With these additions and changes, the house became what it continues to be today – King Manor.
We walked over to the parlor where the servants did much of their work. Some of their functions included spinning, dairying, cleaning candlesticks and oil lamps, laundering and ironing. There is a back stairwell which leads up to the servants quarters. These rooms were part of the original section of the farm house. See diagram to your right.
The Kitchen @ King Manor
Our last significant stop was the kitchen. This room was tidy and well kept. There's a beautifully preserved stove embedded along the back brick wall of King Manor. And there's an inset place where bread was baked, similar to some of the pizza ovens of today. During our tour we were told about butter churning – wherein one has to continually turn / churn the butter in the same direction for about 35 minutes. We learned about cooking meats in a steel contraption. And a few other things as well. A corner of the full kitchen is shown in the photo to your left.
The Kings – Mary Alsop & John Alsop King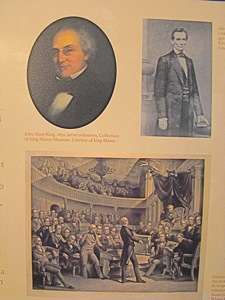 At the age of 31 years, Rufus married Mary Alsop in 1786. Mary was the 17 year old daughter of a wealthy merchant. Little is known about her as only eight of her letters survive. Mary was mother to six children, two of which died. Mary died of a long illness at age 50 in 1819. Rufus died in 1827. Mary and Rufus are buried in the cemetery at the Grace Episcopal Church along Jamaica Avenue.
One of their sons went on to carry on Rufus King's legacy of fighting against slavery. John Alsop King became a U.S. Congressman [1849 – 1851] and later the Governor of the state of New York [1857 – 1859]. John King was an outspoken opponent of slavery and one of the founders of the Republican party and supporter of its candidate for president in 1860: Abraham Lincoln. John Alsop King and Abraham Lincoln are shown in the photo to your left.
---
Jamaica NY & Related Info
$element(adman,groupad,Catgry Green)$
Click this link to go to the Jamaica Neighborhood News / Jamaica Restaurants Guide & Map / Jamaica Business Directory / Jamaica Shopping Center and Map.
$element(adman,groupad,NHoodJamaica)$
Site Search Tips. To find restaurants, shopping or other things to do in any of the neighborhoods, use the search function: 1) For best results, when typing in more than one word, use quotation marks - eg "Astoria Park". 2) Also try either singular or plural words when searching for a specific item such as "gym" or "gyms".
$element(bwcore,insert_search,N)$
Click this link to search for something in our Queens Business Directory containing over 1,000 listings.
---
$element(adman,groupads,Sectional Ad)$
---
Click the log in link below to create an ID and post an opinion.
Or send this story to a friend by filling in the appropriate box below.
---