Queens Democratic Party Machine & District 23
Queens Politics & The Democratic Party Machine
A Closer Look At The NYC City Council Race In Queens District 23
August 30, 2015 / District 23 Queens Neighborhoods / Queens Politics / News Analysis & Opinion / Queens Buzz.
On Thursday, August 27, 2015 I headed down to listen to the candidates vying for the 23rd District election seat recently vacated by Mark Weprin. There are six candidates in the Democratic primary vying for NYC City Council District 23, a seat that has been held by the Weprin family for 14 years. David Weprin first won the office in 2001. He was followed by his brother Mark who won the office in 2009, who recently left the position for a job working for Andrew Cuomo as Deputy Secretary for Legislative Affairs.
NYC Council Race Venues: District 23 Queens
The candidate forum was held at Hillside Banquet at 206-12 Hillside Avenue [at 206th Street]. The event was organized by 12 non-profit / community organizations that serve various ethnic populations in the NYC City Council 23rd District – many of which are South Asian. Winning a majority of the constituents of these organizations could result in a win for the ethnic population, and a possible upset for the Queens Democratic Party Machine, which has held this seat for four decades and likely longer.
Neighborhood Composition: NYC City Council Queens District 23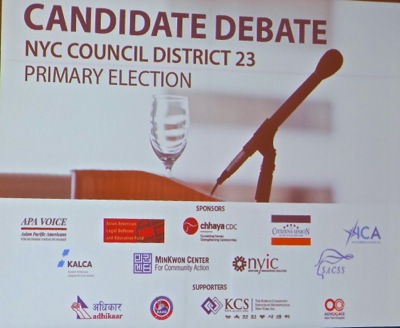 NYC City Council District 23 is comprised of all or parts of the following neighborhoods: Bayside, Bellerose, Douglaston, Floral Park, Fresh Meadows, Glen Oaks, Hollis, Hollis Hills, Little Neck, Oakland Gardens and Queens Village. And apparently a small part of New Hyde Park, most of which is located in Nassau County of Long Island, is also a part of the 23rd District and of Queens.
Sponsors Of NYC Council Candidates Forum
The sponsoring organizations include: Chhaya CDC, Asian Pacific Association Voice, Asian American Legal Defense and Education Fund, Citizens Union, Indo-Caribbean Alliance, Korean American League for Civic Action, Minkwon Center for Community Action, New York Immigration Coalition and the South Asian Council for Social Services.
New York City Council Candidates In Queens District 23
The candidates included: Celia Dosamantes, Bob Friedrich, Barry Grodenchik, Rebecca Lynch and Ali Najmi. One of the Democratic candidates, Satnam Parhar, was not present nor was the Republican candidate Joe Concannon.
Queens District 23 City Council Issues & Answers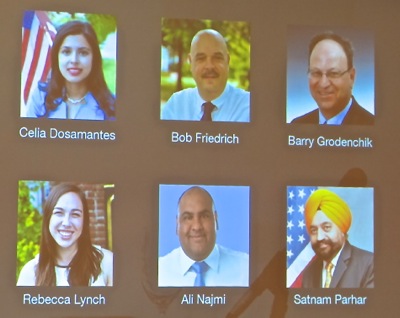 The following is a summary of the questions posed and the answers given by the candidates. The moderators of the forum were Richard S. David, Co-Founder of the Caribbean Alliance and Linda Lee, Executive Director of Korean Community Services of Metropolitan New York.
1. Do the candidates approve of a Creedmor Church development [not sure I have this right]? All candidates answered yes.
2. Are the candidates for participatory budgeting? All candidates answered yes, except Friedrich who said it's a gimmick.
3. Are the candidates for establishing uniform standards for Community Boards? All answered yes, if they could agree on what those standards would be [they allowed themselves plenty of wiggle room here].
4. Are the candidates for the ranking by voters of candidates on the ballot to avoid costly runoff elections? All answered yes.
5. Are they for giving non-citizen residents an opportunity to vote on local issues / local candidates only? I think Dosamantes, Friedrich and Grodenchik said no, while Lynch and Najmi said yes.
Click here to learn more about the Queens Democratic Party Machine and the NYC City Council race in District 23 in Queens.
---
Nobel Prize Winner Visits Queens - Nobel Laureate Speaks At York College
Liberian President Visits York College
Women's Month: Ellen Johnson Sirleaf Is First Female President Of African Nation & 2011 Nobel Peace Prize Winner
March 16, 2015 / Jamaica NY / Ethnic Culture / Queens Buzz. I had an opportunity to attend a public interview of President Ellen Johnson Sirleaf, the first female president of an African nation. President Johnson Sirleaf won the 2011 Nobel Peace Prize with two other African women for their non-violent work to provide safety to women on the African continent, and for their efforts to include women as full participants in the peace building process.
Author. President Johnson Sirleaf recently published a book entitled, This Child Will Be Great, which carries the message that you can grow up to be whatever you want to be, if you're willing to work at it. And I suppose Ellen Johnson Sirleaf's life serves as a case in point.
Parentage & Education. President Sirleaf grew up the daughter of mixed race, as her father was from a Pakistani / Indian tribe that settled in western Africa, and her mother was a mix of German and African blood. She was born in 1938 in Monrovia, the capital of Liberia, and married at the age of 17 in 1956. She attended college and in 1961, several years after her marriage, she moved to the U.S. with her husband where she attended the Madison Business College in Madison, Wisconsin. She also studied economics in Boulder, Colorado and earned a Master of Public Administration degree from the JFK School of Government at Harvard in 1971.
Click here to read the rest of our story about a Nobel Prize Winner's visit to Queens.
---
The Jamaica Collection - Jamaica Performing Arts Center
Jamaica: Queens Emerging Fashion District
Jamaica Collection Showcases Fashion & Culture in Queens
June 1, 2013 / Jamaica NY Neighborhood / Fashion in Queens / Queens Buzz. I attended the Jamaica Collection Fashion Show Saturday evening at the Jamaica Performing Arts Center in the Jamaica neighborhood of Queens. It was a beautiful summer evening as I approached the center, and people were standing outside, enjoying the calm cooling end of daylight.
This is the second year that the Jamaica Center BID organized this event - designed to highlight the bustling business district of downtown Jamaica - the backbone of which runs from east to west along Jamaica Avenue.
Jamaica is one of the more fascinating neighborhoods of Queens, rich in history as an agricultural and trading center dating back to colonial times; and rich in the modern multi-culturalism of 21st century Queens as well as being a significant metropolitan transportation hub. The Jamaica Center BID seems intent on nurturing the embedded community assets by showcasing them; and while they did a very nice job of it last year, this year they kicked things up another notch.
Click here to read the rest of our report on the Jamaica Collection Fashion Show in Queens.
---
Rent - York College Performing Arts Center
Rent At York College Performing Arts Center
May 4, 2012 / Jamaica NY / Dance & Theater in Queens / Queens Buzz. The York College Performing Arts Center is hosting performances of the musical, Rent, through May 13th. I had the opportunity to attend a performance of it last weekend, which includes an all-star cast of eighteen actors and actresses, most of whom have affiliations with York College.
The play is scripted along the same lines as the century old Italian opera, La Boheme. La Boheme is based upon a French novel entitled Scenes of the Bohemian Life, which was about the life of 'starving artists' living on the left bank of Paris during the tuberculosis epidemic of the late 1800's. Rent is an updated version of that storyline - about starving artists living in the east village of New York City during the AIDS epidemic of the 1990's.
Click to the Queens Events calendar and then click the theater link to obtain performance times and ticket information. And click here to view our review and photo slide show of Rent at the York College Performing Arts Center.
---
The Wedding - York College Performing Arts Center
The Wedding ... Community Theater With Redemptive Theme
Can One Marry A Billionaire And Still Keep Their Sense of Self?
December 12, 2011 / Jamaica / Theater in Queens / Queens Buzz. Saturday afternoon I made my way to the York Performing Arts Center in the Jamaica neighborhood of Queens to see a new play entitled The Wedding.
The play was written by Beverly Morrison Caesar for Arts in Christian Theatre [ACT] which is associated with the Pentecostal Church on Guy Brewer Blvd. Beverly's plays contain a redemptive message and are performed by volunteers from the church and surrounding community.
I spoke to Beverly about how the play originated and how she combined theater, pantomime and a fashion show all in one grand performance. Click here to read more about The Wedding at the York Performing Arts Center in Jamaica Queens.
---
Come To Fashion Show - Fashion In Jamaica Queens
Fashionable Clothing in Queens
Come To Fashion Show Features Local Designers & Models
April 30, 2012 / Jamaica NY / Fashion in Jamaica Queens / Queens Buzz. On April 21st the first annual Come To Fashion show stepped out into the fashion world in the Jamaica section of Queens. The fashion show featured local fashion designers, models and retailers doing business in Jamaica Queens.
When I arrived at the Jamaica Performing Arts Center, I was pleasantly surprised by unique set design for the show. Jamaica Center, the Jamaica BID, had hired a designer to create an original venue through which to present the models and the designers' clothing.
Click here to view photos and read our report about the Come To Fashion show - fashionable clothing & fashions in Jamaica Queens.
---
Jamaica JAMS & the Cultural Collaborative in Queens
Jamaica JAMS - Queens Largest Street Festival
Jamaica JAMS Satiates Visitors' Thirst For Music, Food & Things
August 2012 / Jamaica NY / Shopping in Queens / Queens Buzz. I headed down to Jamaica this afternoon, Jamaica New York that is. I was on my way to attend the largest street music festival and street fair in Queens. The JAMS event attracts upwards of 10,000 visitors by offering a mix of musical and dance performances, a wide array of street vendor foods and numerous vendor booths selling everything but houses, autos and the kitchen sink.
Click here to read our report and view photos of the Jamaica JAMS music festival and street fair in Jamaica NY.
---
Black Wall Street at York College Performing Arts Center
Black Wall Street At York College PAC
Coming To Grips With The Whole Of Our Nation's Past
January 7, 2013 / Jamaica NY Neighborhood / Performing Arts in Queens / Queens Buzz. I attended the theatrical production of Black Wall Street at the York College Performing Arts Center on Saturday. The play is about the prosperous, African American Greenwood neighborhood of Tulsa, Oklahoma in 1921; and based on a historical book entitled Death in the Land of Promise.
The play centers around an incident in an office building elevator which lead to a white attack on the Greenwood neighborhood of Tulsa, leaving somewhere between 30 and 300 dead [some of whom were shot in the back] and most homes in the neighborhood were burnt to the ground. After two days of house burning, gunfire and looting, the Governor of Oklahoma stepped in and declared martial law. But it was too late. The damage had already been done.
The play is a production of Shades of Truth Theatre Company, which produces and performs original works that tell largely untold tales of the African American experience. Click here for our report and slide show of Black Wall Street.
---
Jamaica JAMS Festival
Jamaica JAMS
Good Music, Food, Variety & A Good Time
August 6, 2011 / Jamaica Neighborhood / Live Music / Queens Buzz. The folks in Jamaica sure know how to throw a party. I enjoyed Jamaica JAMS this year far more than last year, because the weather was much more comfortable and the streets weren't quite so crowded. This year I went in the late afternoon of the second day of the two-day event.
Jamaica JAMS is a big Street Musical Festival and Shopping Fair. There were somewhere between a half dozen and dozen musical acts performing Saturday afternoon / evening and hundreds of vendors.
Click here to view a slide show and read more about the Jamaica JAMS Street Music Festival in Jamaica.
---
Jamaican Jerk Festival - Jamaica NY
Jamaican Jerk Festival Fiery Hot
Festival Provides Spicy Mix Of Food, Fashion, Music & Dance
July 24, 2011 / Jamaican Neighborhood / Fashion & Music / Food & Wine / Queens Buzz. I traveled down to the first annual Jamaican Jerk Festival having only an approximate idea of what to expect. I'd read about other Jamaican Jerk festivals and decided that the first one in Queens would be a good opportunity to check it out.
Roy Wilkins Park is on the southern edge of the Jamaica neighborhood, accessible via the LIE or via the subway to Jamaica Station and then the number 5 or 85 bus down along Merrick Blvd. They had situated the festival around the southern edge of the park, where there are trees which provided much needed shade.
My first stop was the cultural stage, where there music was played, models walked and wore new designs, and I saw Afro-Carribean dances performed. Jamaican jerk is a spicy hot culinary treat, generally added while the chicken or pork is simmering on the grill. Later this week you can click here to read more about the Jamaican Jerk Festival, including a slide show of photos.
---
---
Jamaica / Queens Member Events Calendar
1. Click the icon to your left to view the Queens Events Calendar.
2. To submit an event to the member calendar set up a member ID in the COMMUNITY section of the site along the left side bar. Then click into the Member Calendar link in the same section to post the event. To start posting a member event you must first click the drop down arrow to select the member calendar. Event postings are FREE to community organizations, arts groups and non-profits.
---
News Briefs - From The Neighborhood
Click into this article to view prior news brief reports
---
Jamaica News - Brief Reports About Jamaica NY
King Manor Makes Merry
January 2013 / Jamaica News / Queens Buzz. King Manor Museum hosted some old fashioned holiday festivities just before the Christmas holiday. They set up a workshop in the back room where families and kids could come to create tree decorations out of the materials used back in the days of Rufus King.
We participated in the workshop, making stringers out of popcorn, cranberries and the like.
And click here to read more Jamaica News briefs.
---
---
Jamaica News Archives
---
Site Search Tips. 1) For best results, when typing in more than one word, use quotation marks - eg "Astoria Park". 2) Also try either singular or plural words when searching for a specific item such as "gym" or "gyms".
Click this link for promotions by advertisers in Queens.
Click this link to search for something in our Queens Business Directory containing over 1,000 listings.
---
Click the log in link below to create an ID and post an opinion. Or send this story to a friend by filling in the appropriate box below.
---