The Astoria LIC Film Festival
Film Festival Showcases Local Film & Musical Talent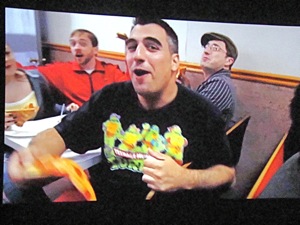 October 16, 2011 / Long Island City Neighborhood / Fashion, Film & Music / Queens Buzz. I attended some of the weekend long second annual Astoria LIC Film Festival. The Astoria LIC Film Festival presented 54 new films, including documentaries, comedies, shorts and super shorts; and thirteen music videos. Dennis Cieri and Bonnie Rush are the founders and driving forces behind the event.
The opening and closing parties were held at the Z Hotel, which is one of the new hotels in Long Island City offering both a subterranean bar downstairs from the lobby, and a rooftop bar with a panoramic view of the city.
The films were shown several blocks away, at the Secret Theatre and the E-garage, which are in the same complex; as well as at the Variety Boys & Girls Club of LIC. I attended the music videos segment of the festival, which was curated and hosted by an LIC musician, Gus Rodriguez, Sunday night at the E-garage.
Click here to read the rest of our report on the second annual Astoria LIC Film Festival, including a review of many of the music videos, and excerpts from interviews with founder, Dennis Cieri and some of the festival producers, directors and actors.
---
The Astoria LIC Film Festival
Film Festival Showcases Local Film & Musical Talent
October 16, 2011 / Long Island City Neighborhood / Fashion, Film & Music / Queens Buzz. As mentioned in the introduction, Gus Rodriguez had curated and hosted the music video portion of the event. Gus is a well known and well connected musician who had also curated the event last year. This year he had selected 13 new music videos produced, directed, written and / or acted in by residents primarily from or with connections in the Queens & Brooklyn neighborhoods.
Music Videos Produced In Queens NY
While I enjoyed the show last year, I thought that the music videos shown this year revealed a sort of coming of age for the music scene in Queens and Brooklyn. The videos ranged from silly rock, to tearful vocals, to urban country and classic rock. We've included a few of the links to some of the musicians' web presences.
Fly By Annie Dressner - Bring a Hankie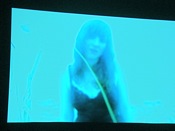 Gus opened the show with a video by Annie Dressner entitled 'Fly'. Annie sings in a beautiful, melodic voice about being away from or losing a loved one. It's likely the loss experienced in a break up, but it could be conjectured to be other situations. The video focuses primarily on Annie's face, from different angles, with different filters and zooming in and out. A relaxed intensity comes through in the simplicity of the video, through Annie's eyes and feeling, complemented by her voice, hauntingly asking, questions like "how am I supposed to be now" and "who will answer all the things you did" and "I'll look for you in me". It was a tear jerker and I noticed the woman sitting next to me wipe away a tear. Bravo Annie.
Squeeze Rock In Astoria / Long Island City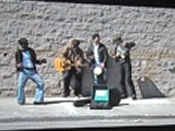 Next up was 'Look At That' by Squeeze Rock. The video is about an accordion player who meets a girl and how he feels like a lucky guy. Then he loses her. Kind of a fun video, with some interesting musical transitions. Gus conducted short interviews between some of the videos, which is from where comes, some of the info conveyed here.
Little Embers @ Astoria LIC Film Festival
Little Embers played 'Raise The Dead'. This is a classic rock group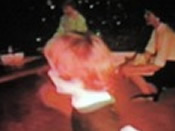 that has a lot of talent. It has a strong female vocalist, a great electric guitar player and drummer who perform in a pretty tight and disciplined manner. I'd have loved to see them play cameos within the piece, letting each musician let loose taking center stage, because each of these musicians is capable of holding the audience on their own [oops, getting off my soap box]. Click here to listen to Little Embers on Reverb Nation.
Pizza Party By Joey Summa & Liam Baum
Pizza Party by Joey Summa was greeted with a bit of the raucousness it generates on its own. It's a fun little number, with a silly theme – pizza party – that a couple of guys worked up after watching the Rebecca Black video. They said they wanted to make the song even 'cheesier' than hers. It dawned on them that a pizza theme, just might fill the bill … and hence a legend was born ... party on Garth ... toga party … no stupid, it's a PIZZA PARTY !!!!! EDITORS NOTE: I searched around on the web and there are several pizza party videos, none of which is the one I saw.
Gustavo Rodriguez and the gang were hitting their stride. As I sat taking it all in, it just swept over me that these are classic times in Queens, NY.
The Sarge by Casey Black & Molly Morgan
Well, after every great party, there's a hangover. And that phrase applies to any war … at least for many of those who are drawn into it. And so it was, that the video 'Sarge' which was filmed using toy soldiers ala G.I. Joe struck a resonant chord about a guy who fought in Iraq and ended up coming home with his hippocampus severed so that he can't remember anything any more. It's a sad tale about where one man's patriotism landed him. It's based on a true story. Click here to listen to Casey Black at Reverb Nation.
Call Him Out by Jeannine Hebb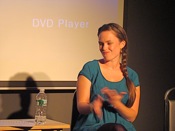 Call Him Out is one woman's song about post break up loneliness. She sings a short [two minutes] song in a girlie voice using Manhattan as the back drop. She wants someone to 'call out' her boyfriend. Gus interviewed her and she told us that everyone has a lot to say about the bad boy before she broke up with him, but nobody called him out when it was over. It was a cute video, but the interview left me wondering what ever happened to woman's lib?
Be The Man by Jo Williamson & Chris Allen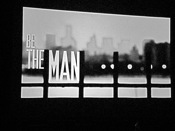 Be The Man was a very thoughtful, engaging video about a woman letting her man 'be the man'. In these days of gender and role confusion, I found it to be an interesting take about giving one's partner room to move in a relationship. Jo Williamson sings in a very feminine, gentle voice [she's obviously letting him be the man] with poetic imagery. The video was shot in Queens with NYC in the background in black and white and mostly of facial close ups. Very engaging. Click here to listen to Jo Williamson on her website.
Never Go by Jeneen Terrana & Ryan O'Toole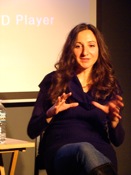 Jeneen Terrana sang a country and western hit of her own entitled 'Never Go'. This video was a nice single, with clear simple vocals, backed by a guitar, the piano and some percussion. It's about relationships where she's cautious and he's not .. Click here to listen to Jeneen Terrana on her website.
Many thanks to Gus for finding and selecting these many talented musicians. I confess I made the mistake of leaving before the program ended, looking to cover something that was going on simultaneously, so I missed the last five videos, one of which won the Astoria LIC Film Festival award: Dirty Wings video entitled 'Scott Walker Mother F*****'.
Astoria LIC Film Festival Founders - Dennis Cieri & Bonnie Rush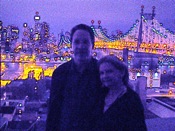 I also attended some of the Astoria LIC Film Festival after party. While there I had the opportunity to catch up with Dennis Cieri and Bonnie Rush, the husband and wife couple who founded the festival and organized it this year. Dennis told me that they're due to have a baby any minute now, so the weekend contained a bit of extra pressure. He went on to inform me that attendance was down a bit versus year ago, likely for reasons of economy, and perhaps because their energy was diverted by the imminent arrival of a newborn. Click here to visit the Astoria LIC Film Festival website.
Z Hotel LIC- Astoria LIC Film Festival After Party
But the show must go on, and go on it did. The Z Hotel provided a nice venue for the pre and post party, although the weather made using the roof top bar suboptimal. Dennis introduced me to some of the producers, directors, writer and actors and the following are a couple of excerpts.
Astoria LIC Film Festival - Meet Some Of The Players
We met Martin Ewens, the director of SynchroNYCity. Martin came to NYC from Birmingham, England sixteen years ago, with a band called the Beatles*, and stayed. He's been doing a variety of acting gigs, such as parts on 'Law and Order' and he's in a commercial starring Jerry Seinfeld. This was his first go at directing and he had a spot in the film.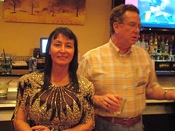 The film, SynchroNYCity, is a parody about the incredible mediocrity of today's celebrity. It's about a guy's new found fame, and how he and his vapid friends 'do something with it'.
I also had the opportunity to meet both the producer and director of 'The Great American Moon Caper'. This is a husband and wife team who have started their own web based TV station in Houston, home of a NASA Space Center. The drama based on the real life story of a couple of brilliant idiots who stole $1 million in moon rocks from NASA and then tried to sell them on ebay.
Marlene Sarres and Wes Linnenbank [in photo above left] talked about the thrills and challenges of getting a great film out to the masses and how the web and local film festivals are beginning to change that. They cited two other films shown at the Astoria LIC Film Festival that they thought should be on everyone's A list: Bulletcam and The End of Something. Like myself, they admitted to only being able to see some of the festival as there were three venues running simultaneously through the weekend.
The photo above is of a number of actors and starlets attending the Astoria LIC Film Festival in Long Island City in the subterranean bar at the Z Hotel.

---
LIC Neighborhood - Long Island City Links
$element(adman,groupad,NHoodLIC)$
Click on these advertisements for promotions, discounts and coupons by retailers and restaurateurs in Long Island City LIC and nearby Queens.
Click this link to go to the:
Long Island City Neighborhood or LIC Business Directory
Long Island City Real Estate or Events & Things To Do In LIC
Restaurants In Long Island City or LIC Shops & Shopping
---
$element(adman,groupad,Catgry Rest)$
Site Search Tips. 1) For best results, when typing in more than one word, use quotation marks - eg "Astoria Park". 2) Also try either singular or plural words when searching for a specific item such as "gym" or "gyms".
$element(bwcore,insert_search,N)$
Click this link to search for something in our Queens Business Directory.
---
$element(adman,groupad,Sectional2 Ad)$
Click the log in link below to create an ID and post an opinion.
Or send this story to a friend by filling in the appropriate box below.
---