Columbus Day Parade - FIAO
The Federation Of Italian Americans In Queens
October 11, 2011 / Astoria Neighborhood / Ethnic Culture in Queens / Queens Buzz. I attended the Columbus Day Parade in Astoria on Saturday. The parade is organized by the Federation of Italian Americans or FIAO in Queens, an organization that celebrates its 40th anniversary this year.
There were about 1,500 people who marched in the parade which is one of the biggest parades in Queens. As I covered the parade, many of the folks watched the pageantry from along Steinway Street and from cafés along 30th Avenue. It was a sunny, spectacular Indian summer day, with temperatures in the low 80's and little humidity.
Click here to read our account of the Columbus Day Parade in Astoria Queens, including a photographic slide show and an account of two Italians [Christopher Columbus and Amerigo Vespucci] contributions to the discovery of the Americas.
---
Columbus Day Parade in Astoria - FIAO
The Federation of Italian Americans In Queens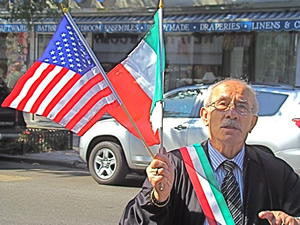 Continued. October 8, 2011 / Astoria Neighborhood / Ethnic Culture in Queens / Queens Buzz. The parade included classic cars, marching bands, and numerous groups from around the neighborhood that came out to march in the celebration of Columbus' discovery of America. Click here for details regarding the upcoming Columbus Day Parade 2012 in Astoria.
One of the leading men in the parade was dressed in a Christopher Columbus outfit. And quite a number of state and city government officials, including Peter Vallone, John Liu, Aravella Simotas, Michael Gianaris and Jimmy Van Bramer joined in the festivities [see photos below]. One of the marchers was from one of the Italian organizations in the federation that is celebrating its 100th anniversary this year [more about this later].
Columbus Day Parade In Queens – Origins & History
This was the 32nd annual Columbus Day parade in Queens. The parade was started in 1979 by the Federation of Italian Americans Organization of Queens [also known as FIAO]. FIAO Queens opened its doors in Nov 1971.
Federation of Italian Americans Organization Queens - FIAO
FIAO is an umbrella organization that interacts with 35 independent groups and societies in Queens. The FIAO organizations current membership encompasses about 15,000 people.
The Federation of Italian Americans Organization originally started as a means of providing Italian Americans with a unified voice in government. But over time the non-profit organization evolved into a community service agency which continues to help Italians, but has also evolved into helping the general public as well. In fact 95% of the immigration work performed by FIAO is for non-Italians. Angie Markham, Executive Director of FIAO is shown in the photo above.
FIAO - Social Services & Astoria Soccer Fields
In addition to assisting people with their immigration issues, FIAO helps people collect their foreign service pensions, helps with section 8 housing and sponsors language classes. FIAO also maintains and manages the schedule for the soccer field at Con Edision.
Given NY and City budget cutbacks, FIAO has had to charge fees for the use of the soccer field, because the agency no longer receives grant money for its maintenance. Generally the field is used for soccer games and training. There are numerous classes / camps to license soccer referees, and to teach soccer coaches and players of all ages.
Roughly 22 different organizations use the field for practice and home sports games. Among the organizations are St John's Prep Boys and Girls Schools, St Demetrios and Aviation High School all of which use the field for their home sports team games. Pan Ciprians and St Francis of Assisi use the field for soccer games for over 100 kids. And there are a number of soccer clubs that use the field as well. Among them are the Astoria Sports Club and the Ischia Sports Club. One of the teams using the field for soccer won the national championship last year in soccer for ages under ten group.
Christopher Columbus & Amerigo Vespucci
Italian Contributors To The Birth Of America
In October 1492, an Italian named Christopher Columbus set foot on the Bahamas, due east of the North American continent. Columbus continued sailing across the Atlantic over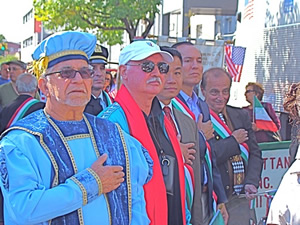 the course of the next few years, on four separate trips, discovering numerous Caribbean Islands such as Puerto Rico, as well as Central America. What makes Christopher Columbus famous is that while others, such as the Norwegian Leif Ericson, had reached the American shores 500 years earlier, it was Christopher Columbus who brought the western hemisphere to Europe's attention. In the photo to your left is a man dressed as Christopher Columbus, along with a number of Queens government officials including John Liu and Peter Vallone Jr.
Christopher Columbus was originally from Genoa, Italy. He approached the King of Spain with the idea that he would find a faster route to India and the orient by sailing due west and help the Spanish Crown capture a larger share of the lucrative spice trade. At the time the only route to India and the orient was a long arduous route around the southern tip of Africa and across the Indian .
Columbus Sets Sail For India & Lands In America
Columbus set sail for India and the orient with three ships, the Santa Maria, the Pinta
and the Nina. On the three trips following his maiden voyage, Columbus continued to look for India, insisting that he'd reached Asia, not an undiscovered land. Many believe that this is why the new world was not named after him. In the photo to your right you can see Columbus' three ships atop an SUV moving down 30th Avenue in Astoria.
America was named after another Italian by the name of Amerigo Vespucci. Vespucci was a cartographer who was also sent by the King of Spain. Amerigo sent a couple of letters after a couple of trips to the western hemisphere. These letters were used by others to spread the word of the new world, and when one of the first new world maps was published, the lands were named the Americas based on Amerigo's account.
Astoria Parades - Italian Culture in Queens
Meanwhile back in Astoria Queens in the 21st century, the Columbus Day Parade started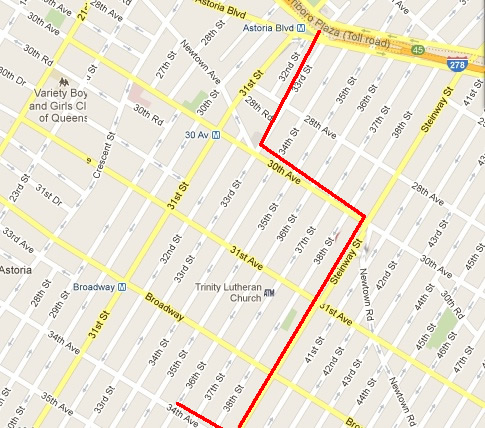 at Kaufamn Astoria Studios, wound its way up Steinway Street [named after Steinway & Sons Pianos of Astoria], headed west along 30th Avenue before making its way north – ending at Columbus along 31st Street and Astoria Blvd.
In recent years the holiday has evolved to become a day of celebrating Italian Americans. Many thanks to Angie Markham, Executive Director of FIAO, for providing some of the information contained in this report [see photo above]. And many thanks to the Federation of Italian Americans Organization or FIAO of Queens for organizing this event. Joseph DiPietro is the president of the FIAO Queens.
Lastly, the Societa Gioventu Quagliettana is celebrating its 100th anniversary this November 5th beginning at 6 pm at Leonard's of Great Neck, NY. The mayor and judges of the small town in the Avellino province of Italy from whence the founders of this society first came, will be in attendance. Buon Giorno y Ciao.
$element(ophoto,photo_slideshow,152,660,,5.00,fade)$
---
Astoria Neighborhood Links
$element(adman,groupad,NHoodAstoria)$
Click on these advertisements for promotions, discounts and coupons by retailers and restaurateurs in Astoria and nearby Queens.
Click this link to go to the:
Astoria Neighborhood or Astoria Business Directory
Astoria Real Estate or Events & Things To Do In Astoria
Restaurants In Astoria or Astoria Shops & Shopping
---
$element(adman,groupad,Catgry furnitur)$
Site Search Tips. 1) For best results, when typing in more than one word, use quotation marks - eg "Astoria Park". 2) Also try either singular or plural words when searching for a specific item such as "gym" or "gyms".
$element(bwcore,insert_search,N)$
Click this link to search for something in our Queens Business Directory.
---
$element(adman,groupad,Sectional2 Ad)$
Click the log in link below to create an ID and post an opinion.
Or send this story to a friend by filling in the appropriate box below.
---