Kingsland Homestead - History Of Queens NY
Also Home to Queens Historical Society Exhibitions & Offices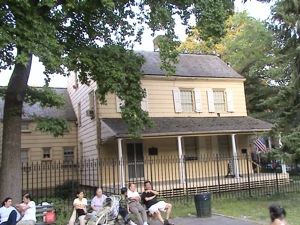 December 13, 2009 / Flushing / Queens History / Queens Buzz NYC.
The Kingsland Homestead is a part of early American history. Today it is the home of the Queens Historical Society which sponsors a number of programs designed to continuously educate the public about Queens and the nation's past.
Click here to learn a bit more about the Kingsland Homestead and Queens history.
---
Kingsland Homestead - Queens History
Also Home to Queens Historical Society Exhibitions & Offices
December 13, 2009 / Flushing / Queens History / Queens Buzz NYC. Continued.
The Kingsland Homestead was built in 1785 by Charles Doughty, a Quaker. The house was saved from demolition in 1968 by the Historic House Trust and moved from a location a couple of miles away, to its current location in Weeping Beech Park. It derives its name from the husband of one of Doughty's daughters whose last name was King. The family lived in the house until the 1920's.
Kingsland Homestead - Early American Home In Flushing
The Kingsland Homestead was moved about a mile or two from its original location near the freeways, to save it from being torn down. It is now in Flushing off a lovely park, near the Bowne House and many other colonial and nineteenth century American historic sites.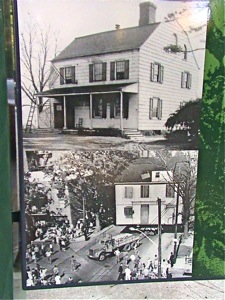 Queens Historical Society Offices In Flushing NY
The house is now home to the Queens Historical Society [QHS]. QHS is dedicated to the preservation of historic artifacts in Queens, as well as to the education of the public about Queens history. They have been the sponsors of a number of programs upon which Queens Buzz has reported including a visit to the Steinway Piano Factory.
Thanks to Marisa Berman and Queens Historical Society for some of the information contained herein.
---
Kingsland Homestead Is Queens History - Related Links
TBD. Click on this link to view the location where the Kingsland Homestead is located in Flushing Queens. And click here to obtain the Kingsland Homestead contact info.
Flushing History in Queens NYC Related Links
---
Flushing / Corona Related Info
Click here to go to the Art Exhibits, Galleries & Museums section of this site.
Click these links for promotions by advertisers in Queens.
Click this link to go to the Flushing Neighborhood and Flushing Restaurants.
---
Site Search Tips. 1) For best results, when typing in more than one word, use quotation marks - eg "Astoria Park". 2) Also try either singular or plural words when searching for a specific item such as "gym" or "gyms".
Click this link to search for something in our Queens Business Directory.
---
---
Click the log in link below to create an ID and post an opinion.
Or send this story to a friend by filling in the appropriate box below.
---