Sunnyside Real Estate & Woodside Real Estate
Sunnyside & Woodside Real Estate - Demographics & Description
Sunnyside & Woodside. Sunnyside and Woodside have a population of 26,000 and 90,000 respectively. These communities historically were the home to many Irish and German immigrants during the early to middle part of the 20th century. Then, beginning in the last two decades of the last century, there was a growing influx of Asians, largely from India, Bangladesh and Pakistan. And most recently, many new residents have come from Brooklyn and Manhattan and other states.
The Sunnyside and Woodside real estate market shares a border with the eastern end of Long Island City - LIC. It's just south and to the east of Astoria, along Northern Blvd and 50th street. Elmhurst and the two Calvary Cemetaries [along the Long Island Expressway] represent the southern border. The housing stock is a rich mix of single and multi-family dwellings, as well as numerous low rise apartment buildings. Much of the construction is from the 1920's through the 1960's. If you're looking to find a home with parking, this is a good bet.

Homes For Sale - Sunnyside & Woodside Real Estate
Home sales in Sunnyside and Woodside have, as in the rest of the nation, slowed. We understand that the slowdown and the price declines came to Sunnyside and Woodside later than they did in the rest of the nation. For the country, prices peaked in 2005 - 2006 and then continued declining. But the Sunnyside / Woodside real estate market didn't slow until a year or two after that. Nonetheless, the Woodside / Sunnyside real estate home prices still remain well above the levels found earlier in the decade.
Part of the reason Sunnyside home values have retained a good portion of their value is because gentrified owners and real estate investment companies have invested in upgrading and updating their property. Signs of this have been visible throughout the decade. The Sunnyside and Woodside neighborhoods are also easy commutes into Manhattan and there are several neighborhood shopping districts, reasonably good schools and a nice selection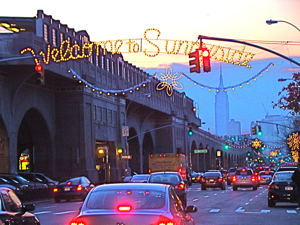 of ethnic restaurants. Because of that home sales continue to move, albeit at a much slower pace. Part of the issue is that financing is more difficult to obtain because lending standards have tightened. "There's a lot more paperwork" we were informed.
Condos For Sale / Apartments For Rent - Woodside & Sunnyside Real Estate
Condominiums and apartments the Woodside and Sunnyside real estate market are tighter than one would expect. This is due to large investment companies coming in and buying many of the large buildings. Also, the influx of families with professional wage earners could be indicate that many of these new residents intend to stay. That said, it is still a buyers' market with regard to prices, just not as much inventory as you'd expect to see. Because of the tight inventory prices have been holding a bit better than the national trends.
Woodside & Sunnyside Real Estate - Apartments & Apartment Rentals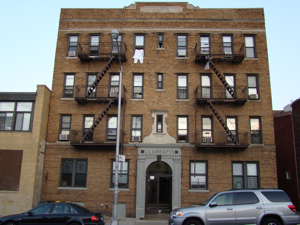 Apartment rentals in the Sunnyside and Woodside real estate market continue to move, although the demand has declined since the heyday market of just a couple of years ago. This is true around the rest of the borough, as the influx from Brooklyn and Manhattan has declined, likely due to falling rental prices in those markets. We see a lot of rental inventory available, so for anyone looking to rent, it's a renters' market. The prices appear to be competitive with Astoria, so it's really a matter of finding the right apartment and type of neighborhood in which you want to live. Prices range from below $1000 for a studio to about $2000 for a three bedroom.
Click here to view our coverage of the Woodside / Sunnyside Neighborhood, including neighborhood events, restaurants and shopping.
---
Sunnyside Real Estate - Related Stories
Click here to view a story about Queens Real Estate in general with links to stories about Jackson Heights real estate, LIC / Long Island City real estate, and Astoria real estate. And click here to go to the Queens Real Estate section of our site.
---
Site Search Tips. To find restaurants, shopping or other things to do in any of the neighborhoods, use the search function: 1) For best results, when typing in more than one word, use quotation marks - eg "Astoria Park". 2) Also try either singular or plural words when searching for a specific item such as "gym" or "gyms".
$element(bwcore,insert_search,N)$
Click this link to search for something in our Queens Business Directory containing over 1,000 listings.
Send this story to a friend by filling in the appropriate box below.