Queen Of Angels Art Fair
Sunnyside Fair Becoming Established Art Sales Venue

June 18, 2011 / Sunnyside / Art Exhibits / Queens Buzz. It was a warm sunny afternoon in Sunnyside as I made my way down to the Queen Of Angels Church to view the work of about 30 artists. I went late in the afternoon, as last year there was a large crowd at the opening [after Sunday mass], and the numbers didn't taper off until the end of the afternoon.
This art fair, like a fine wine, continues to evolve. The fair includes exhibitors from the Sunnyside, Woodside and other Queens neighborhoods, as well as from Brooklyn. The artwork on display is for sale, making it interactive so-to-speak, and it seemed like there was a fair amount of sales this year, although I can't tell whether it's because I know the artists better - and they feel more comfortable telling me such things - or because they sold more. In any case it's for a good cause, as some of the proceeds also go toward the Queen of Angels Church. The eye shown in the photo to your left is the work of Casey Concelmo.
Cick here to read more about and view photos of the Queen Of Angels Art Fair in Sunnyside.
---
Queen Of Angels Art Fair
Sunnyside Fair Becoming Established Art Sales Venue

June 18, 2011 / Sunnyside / Art Exhibits / Queens Buzz. Continued / If needed, use the search function to find story introduction. I talked to many of the artists, photographing them alongside their work. Photos of all of the artists I conversed with are shown in the slide show below, and the following is a casual account of some of what I saw and heard at the fair. Erin Treacy, an artist at the fair, is shown with her work in the photo to your left.
Art For Sale & Art You Can Live With - In Sunnyside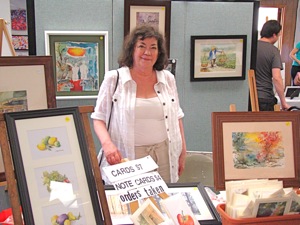 Erin Treacy's work was mostly oils and acrylic with a range of offerings that stretched from impressionistic canvases representing nature to abstract art. Her choice of colors seemed designed to brighten the walls of one's home.
Lorraine Varleyis a longtime Sunnyside resident and member of the Jackson Heights Art Club. She offered a mix of paintings and greeting cards, less some of both, which had been sold earlier in the day. Lorraine works primarily in watercolors and she chooses a mix of natural and urban subjects. Lorraine is shown amidst her works in the photo to your right.
Eye Catching Art At Queen Of Angels Art Fair
Casey Concelmo's work included eye catching sketches of the physical orifices of our senses such as the eyes, nose, ears and mouth. And as you will see by his smile in the slide show photo, there's mischievousness to him, which comes out in some of his work. The eye shown in the photo in the introduction to this story, is the work of Casey Concelmo.
Luke Schumacher is a first rate sculptor who works with metals. The smoothed, angular, enameled piece that stood atop his table has an aesthetic appeal that is at once soothing and interesting. We played around with it a bit in the photos, more of which you can view below. Superhero Luke Schumacher is shown modeling one of his enameled metallic sculptures in the photo to your right.
Western Theme & Caricatures - Art In Sunnyside
Lawrence had a number of interesting works on display, one of which was a western caricature of a man who looks a lot like Clint Eastwood. He also had a large painting done mostly in shades of blue of a man sitting on a tree fishing in a river. Lawrence is shown in the photo to your left dueling with Clint Eastwood at the Art Fair in Sunnyside.
Bridy Crawford told me that she uses oil based paints, such as those purchased in hardware stores. The theme of her work appears to be nature and she uses a Jackson Pollock overlay which she told me she does using household paint and chopsticks - see Bridy and her work in the slide show below.
Art Fair - Art For Sale In Sunnyside & Queens
All of the artists mentioned in this report are shown in the slide show below. Lisa O'Hara is a scenic painter, while Amelia Andrzejewska chooses dogs as her objets d'arte. Based on my walks through the Sunnyside neighborhood, both Lisa and Amelia appear to be painting themes that one would expect to have great appeal in a scenic neighborhood of dog owners.
At the end of the slide show Simon Donikian casts a comic pose in front of one of his works, while Patricia Dorfman wore a matching outfit to complement hers.
In the photo to your right a woman is shown perusing the works of one of the artists at the Queen of Angels Art Fair in Sunnyside.
Art Fair Supported By Sunnyside Chamber Of Commerce & Queens Art Express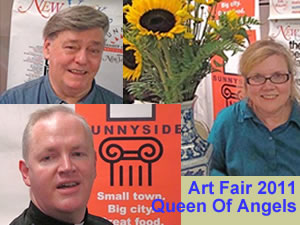 The Sunnyside Chamber of Commerce was supportive of the art fair, with Becky Barker and Luke Adams diligently working behind the scenes in numerous capacities, including publicity and organization. The Queen Of Angels Art Fair event was also a part of the QAX [Queens Art Express] weekend. Luke Adams, Becky Barker and the Reverend Brian P. Dowd are shown clockwise in the photo to your left.
Lastly, there was a raffle, announced by Reverend Brian P. Dowd wherein three $35 certificates from DeMole, dinner for two at Dazies, a watercolor by Ellen Mandelbaum and a print by Bridy Crawford were given to winners.
Photos Of Queen Of Angels Art Fair
Use the arrow on the control panel to move through the slide show at your own pace or click here to go to the photo album showing photos of the Queen Of Angels Art Fair 2011 in Sunnyside.

Names of People In Slide Show:
All of the following are artists except as noted. Valerie Mendelson [DSC09069], Lorraine Varley [DSC09070], Don Soules [DSC09072], Bebeloosh [DSC09075], Erin Treacy [DSC09076], Casey Concelmo [DSC09082-3], Luke Schumacher [DSC09086-7], Unknown [DSC09089], Mihai Stancescu [DSC09095], Lawrence[DSC09100-2], Bridy Crawford [DSC09104], Virginia Asman [DSC09114], Braden Ruddy [DSC09117], Doug Condon [DSC09120], Lisa O'Hara [DSC09129], Amelia Andrzejewska [DSC09130], Lenora Retzas [DSC09131], Scott Dodson [DSC09134], Simon Donikian [DSC09138], Patricia Dorfman [DSC09139], Luke Adams - Sunnyside Chamber of Commerce [DSC09141], Becky Barker – president of the Sunnyside Chamber of Commerce [DSC09143], Reverend Brian P. Dowd of the Queens Of Angels Church [DSC09146], Memo Salazar film maker of the documentary American Meat [DSC09147].
---
Sunnyside Neighborhood / Woodside Neighborhood Links
Click on these advertisements for promotions, discounts and coupons by retailers and restaurateurs in Woodside, Sunnyside and nearby Queens.
Click this link to go to the:
Sunnyside & Woodside Neighborhood
Sunnyside Business Directory or Woodside Business Directory
Sunnyside & Woodside Real Estate or Events & Things To Do In Sunnyside & Woodside
Restaurants In Sunnyside & Woodside or Sunnyside & Woodside Shops & Shopping
---
Site Search Tips. 1) For best results, when typing in more than one word, use quotation marks - eg "Astoria Park". 2) Also try either singular or plural words when searching for a specific item such as "gym" or "gyms".
Click this link to search for something in our Queens Business Directory. Also check out Taste of Sunnyside.
---
Click the log in link below to create an ID and post an opinion.
Or send this story to a friend by filling in the appropriate box below.
---