Sunnyside Shorts Film Festival Friday
Films Shorts from Queens & Around the World Describe a bit of the World Around Us
October 3, 2016 / Sunnyside Queens / Film Festivals in Queens / Queens Buzz.
On Friday and Saturday the Sunnyside Shorts Film Festival returns after going on hiatus in 2011. The films will be shown in the historic Sunnyside Reformed Church on 48th Street and Skillman Avenue in Sunnyside. We covered the festival in the past and you can find prior stories about it by clicking these links to the Sunnyside Shorts Film Festival in prior years.
History of Sunnyside Shorts Film Festivals in Queens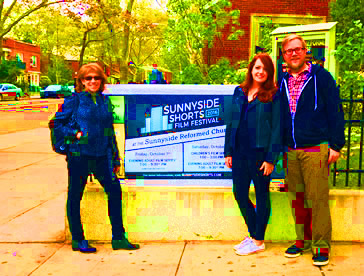 The first Sunnyside Shorts Film Festival was organized in 2001 by a visiting Japanese student at Hunter College. The Founder, Shinichi Murota, after running the first festival then returned Japan.
Theresa Ward & Sherry Gamlin were volunteers for the first festival and after the festival lied dormant for a few years, they decided to revive it in 2007. For five straight years the festival continued along with the help of another Sunnysider Susan Walsh - before going back on hiatus in 2011 when Sherry left Sunnyside to care for her mother. In the photo at right [from left to right] stand Sherry Gamlin along with Ashley and Bryan Brinkman in front of the Sunnyside Reformed Church where the Sunnyside Shorts Film Festival begins Friday.
Sherry's mother died in 2014 and a year later Sherry returned to Sunnyside which has been her home since 1975, and her Queens roots go back even further. Last Spring Sherry attended a concert at Sunnyside Reformed Church and she inadvertently found herself scouting out the church as a venue for the return of the festival. She spoke to Pastor Neil Margetson about the possibility of using the church as the film festival venue. Margetson liked the idea … and hence the Sunnyside Shorts Film Festival was born again.
Organizing Sunnyside Shorts Film Festival Queens 2016
Sherry told me that they had received 1255 film submissions from around the world, literally all six continents [none from Antarctica which is melting fast], citing films from South Africa, Zimbabwe, Latin America, Iran, India, Japan, China, Australia, Europe and North America / NYC / Queens. The photo at right is from the film Bionic Girl from France showing Friday night.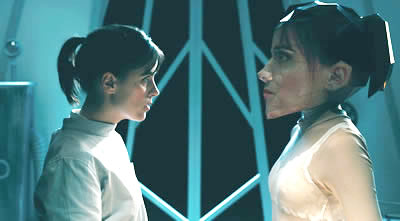 She received most of the submissions in May of 2016 and there were six people who reviewed the films including Bryan and Ashley Brinkman who had helped with the last Sunnyside Shorts Film Festival in 2011. Bryan Brinkman is a cartoonist animator for Jimmy Fallon and his wife Ashley Brinkman is a package designer for advertising company that does food products. Ashley did the poster [see photo below] and website, while Bryan helped review the films.
The four other reviewers were Kevin Keating, who Sherry described as a notorious film buff, Sandra Statner is an avid TV and old movies screener, Dr. Caryn Goldberg is a psychologist who regrets not going into stand-up comedy, and Matt Simnowitz was described as someone who knows everything there is to 'no' about filmmaking.
Screening the Films for Sunnyside Shorts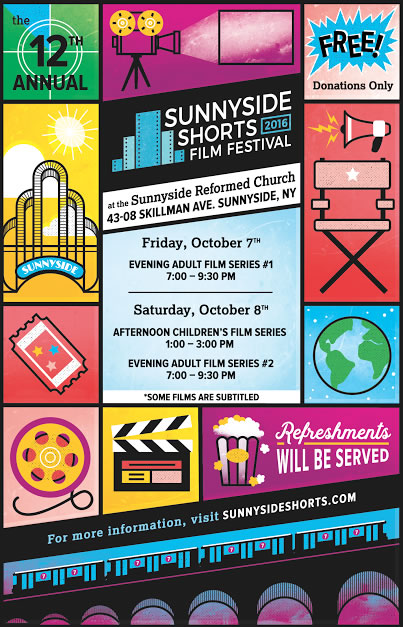 In reviewing the films, those that contained inappropriate content were quickly discarded, as were some that were just so bad. Sherry said the films allowed into the show were screened to be sure there wasn't anything demonic or distasteful. Sherry told me that she had inquired as to whether the Church guidelines would permit the showing of films with some cursing, and Pastor Margetson quipped, "I'm sure God has heard it all."
And while 1255 films sounds like a lot – which it is – they are short films, so 1 to 20 minutes in length means you can review 60 to 6 in the time it takes to watch one two-hour long film. What about themes I asked? "No themes" she said, "the festival is about nothing and it's about everything." There's drama, comedy, animation and documentaries. They are showing 13 films on Friday and 12 films on Saturday evenings beginning at 7 pm and showing 13 films for the kids on Saturday from 1 to 3 pm.
Why are you doing this, I asked. "Because I love all aspects of putting a film festival together" she replied.
Click here for a preview of many of the films that will be shown at the Sunnyside Shorts Film Festival this Friday and Saturday.
---
Sunnyside Shorts Film Festival Friday
Films Shorts from Queens & Around the World Describe a bit of the World Around Us
October 3, 2016 / Sunnyside Queens / Film Festivals in Queens / Queens Buzz. Continued.

FRIDAY - Sunnyside Shorts Film Festival
Friday evening the films include a film entitled Tiger Hoods produced by a Queens Filmmaker named Sandra Lopez-Monsalve and by Jack D'Isidoro both of whom have been featured on PBS.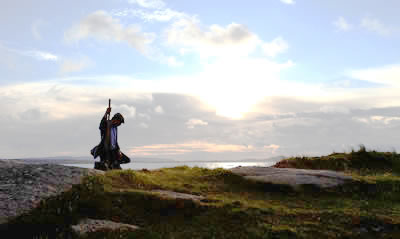 There's an Irish film entitled This is my Son by Director John Corcoran who is coming from Ireland and will be at the screening Friday evening. The Irish film is set in Ireland in 1949 and is about couple losing child before being baptized a Catholic [see photo at right].
A sleek dramatic film entitled Bionic Girl was produced by Stephanie Cabdevila, which Sherry described as a very French esoteric existentialist film [see film above in the introduction].
The English - not to be outdone - will be represented by a film entitled, Bill & Barbara, which is a film about an elderly couple who both have narcolepsy, but at different times.
And from Brooklyn, there's a video entitled Slow Wave, by Andy Kennedy, a Brooklyn Director / Musician.
The screenings Friday night also include a documentary entitled, Suffering is the Easy Part, which is a story about rape by Jaime Ekkens who was born in S. Korea, but lives in NYC. And there's a comedy from Egypt entitled No Seats For Old Men, that Sherry described as hysterical.
SATURDAY - Sunnyside Shorts Film Festival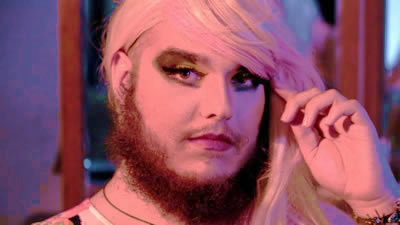 On Saturday the films include one by Bryan Brinkman entitled, The Good Life, which is an animated short. The Italians will be represented by a film entitled Selfieish, which is a comedy.
There are several documentaries, including one from Brazil entitled Beyond the Looking Glass which has an LGBT theme [see photo at right].
Another documentary, done by an American, is entitled, The Complete Circle, which is about adoptions which I was told includes some interesting animation by Jaime Ekkens of NYC. Also produced in America is a film entitled Man- Kind by New Yorker Ron Rivera who participated in the film entitled A Bronx Tale, which was partly filmed in Astoria. Man-Kind is about a subway hold-up where something most unusual happens.
SATURDAY MATINEE FOR KIDS - Sunnyside Shorts Film Festival

All of the kids films are animated. I was told that they include adventure and family-friendly themes. One of the films is entitled Little Snowboarder by a young director from South Dakota which apparently has some beautiful animation that captures an epic adventure on a mountain that include mirth.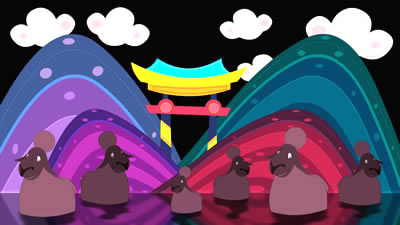 There's a film entitled Seventh Heaven by an Israeli Producer, Or Tilinger, who is also an award-winning children's book illustrator. The story is set somewhere in faraway China, where a shepherd is living on edge of cliff with his sheep. After an earthquake he must find way home which includes deciding whether to try to keep the sheep [see photo at right].
Also from Israel is a film entitled, Where's Jimmy, by Koby Hadour who is an indie artist and animator. The film is about the adventures of Michael the Squirrel in quest to locate his friend Jimmy the rabbit-turtle.
From Germany comes a film entitled Pawo by Antje Heyn which I was told was beautifully done. Pawo is the Tibetan word for being brave and it's about a magical adventure of a toy figure in curious world.
Each screening includes about 1.5 to 2 hours of watch time, followed by Q&A with Sunnyside Shorts Film Festival aficionados, as well as one or more of the creators / directors / producers after the screening. Refreshments will also be served at a brief intermission and after the show so folks have a chance to meet other film lovers.

Admission is free but a donation of $10 is suggested. And the Sunnyside Shorts Film Festival is at the Sunnyside Reformed Church at 48th Street and Skillman on the northeast corner. No rsvp's so come early for good seats.
---
Queens Buzz Subscriptions
We work very hard to help keep you informed by providing you with independent news coverage, as well as information about events in the arts, culture and business in the borough.

You can help us continue to provide you with independent, first-person, fact-based, contextural reporting by purchasing an annual voluntary subscription, which we've priced to accommodate all budgets.
Thanks for your encouragement and support.
---
$element(adman,groupad,NhoodSSWS)$
Sunnyside Neighborhood Links
Click on these advertisements for promotions, discounts and coupons by retailers and restaurateurs in Astoria and nearby Queens.
Click this link to go to the:
Sunnyside & Woodside Neighborhood
Sunnyside Business Directory or Woodside Business Directory
Sunnyside & Woodside Real Estate or Events & Things To Do In Sunnyside & Woodside
Restaurants In Sunnyside & Woodside or Sunnyside & Woodside Shops & Shopping
---
LIC Neighborhood - Long Island City Links
$element(adman,groupad,Catgry Foodwine)$
Click on these advertisements for promotions, discounts and coupons by retailers and restaurateurs in Long Island City LIC and nearby Queens. Click here for a related story about the hotels & restaurants in Dutch Kills section of Queens.
Click this link to go to the:
Long Island City Neighborhood or LIC Business Directory
Long Island City Real Estate or Events & Things To Do In LIC
Restaurants In Long Island City or LIC Shops & Shopping
---
$element(adman,groupad,NhoodLIC)$
Site Search Tips. 1) For best results, when typing in more than one word, use quotation marks - eg "Astoria Park". 2) Also try either singular or plural words when searching for a specific item such as "gym" or "gyms".
$element(bwcore,insert_search,N)$
Click this link to search for something in our Queens Business Directory. Also check out Taste of Sunnyside.
---
Click the log in link below to create an ID and post an opinion.
Or send this story to a friend by filling in the appropriate box below.
$element(adman,groupads,Sectional2 Ad)$
---