Queens Real Estate & Realtors
& Mass Transit & Transportation In Queens
---
Real Estate, Realtors, Condos & Apts In Queens
Except For The First Report(s), These Are Organized By Neighborhood
---
City Withdraws Plans To Use Eminent Domain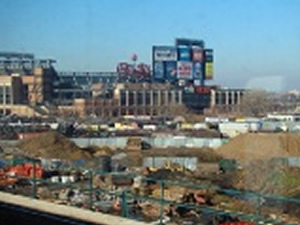 May 11, 2012 / Flushing / Queens Buzz. The Bloomberg Administration withdrew its threat to use eminent domain to condem the properties of the remaining Willets Point property-owners who did not want to sell their land. This statement was issued just prior to the beginning of court proceedings by the remaining holdouts, contesting the city's use of eminent domain.
The city had planned to remove the final holdouts and clear the way for a large new development that would include residential, commercial and office space, and parking. The city now owns 90% of the land in Willets Point, having bought out most of the prior owners.
Click here for a prior report about the Willets Point development in Flushing.
---
---
Astoria Real Estate / Realtors
---
Click here to view the home page about Astoria real estate by one of the leading realtors in Astoria.
---
Flushing Real Estate / Realtors
---
---
Jackson Heights Real Estate / Realtors
---
---
Jamaica NY Real Estate / Realtors
---
---
LIC Long Island City Real Estate / Realtors
---
LIC Partnership Real Estate Breakfast
LIC Partnership Breakfast
Prices Rising, Inventory Tight & Bullish About The Future
April 27, 2015 / LIC Neighborhood / LIC Real Estate / Queens Buzz. It was a beautiful Spring day as I headed down to the Con Ed Learning Center along the East River. The sun was shining, the air was cool and breezy and blossoms were making their way back out, after a long winter.
I arrived shortly after the opening remarks had been made, where a summary had been given about where things are at in the LIC real estate market. The snapshot included a count of what development has already come to market and what will come to market with respect to office space, and commercial and residential real estate units in Long Island City. Click here to view a report published earlier this year which provides a summary of the LIC real estate market development.
The opening remarks were followed by a panel of professionals to talk about the Long Island City real estate market. The panel consisted of [seated from left to right in the photo above right] 1) Matthew Baron, President of Simon Baron Development; 2) Jon Caplan, Vice Chairman of New York Capital Markets Group of Jones Lang LaSalle; 3) David Dishy, President of Development and Acquisitions for L + M Development; and 4) Seble Tareke Wiliiams, Managing Director of NYC Interboro Fund, Emmes Asset Management Company.
The panelists represent well funded corporate groups, all of whom have made multi-million dollar investments in the Long Island City real estate market. And based on what I had heard today - and in prior real estate / financial coverage in LIC, Queens and Manhattan - this looks like it is just the beginning of a growing interest in the neighborhood.
Click here for the rest of our report about the LIC Partnership Real Estate Breakfast.
---
Click here for the home page about LIC real estate by one of the LIC realtors.
---
WS / Sunnyside Real Estate / Realtors
---
Phipps Houses Real Estate Development Sunnyside Queens - Proposal
Phipps Proposed Real Estate Development in Sunnyside
October 26, 2015 / Sunnyside Neighborhood / Sunnyside Real Estate / Queens Buzz.
I attended a town hall regarding a real estate development proposal put forth by the Phipps Houses organization. The Phipps Houses organization is a non-profit dedicated to building and managing affordable housing. They have a number of sites including the Phipps Houses in Sunnyside and they are partners with the Related Companies in the real estate development at Hunters Point South.
The meeting was a voluntary first step taken by the Phipps Houses organization to gather community feedback and engage with the neighborhood regarding a proposal to use the land they own that is across Barnett Street behind the Phipps Houses in Sunnyside. The strip of land is currently occupied by a parking lot which stands adjacent to the LIRR railway tracks.
The proposal is in its early stages and at this point in time we were told that nothing is in the works formally - meaning no proposal has yet been officially submitted for government review. To build the 200 unit apartment complex, they need to request a zoning change from the city and thus would have to go through the Uniform Land Use Review Procedure [ULURP] which can be lengthy and fraught with tension if the neighborhood is not, in some measure, on board.
What follows is an account of the presentation and discussion that took place Monday night October 26th, 2015 at the Phipps Houses in Sunnyside. The report includes a 7 minute video with highlights from the meeting which includes imporant points, some tensions, and a bit of laughter.
Click here to view the rest of our report on the proposed Phipps Houses real estate development in Sunnyside Queens.
---
Sunnyside Yards: Rail Yards & Building Platforms
Sunnyside Yards: Finding Our Place In Space & Time
Part III. A History Of Building Over Rail Yards In New York City
April 20, 2015 / Sunnyside / Queens Real Estate / News Analysis & Opinion / Queens Buzz.
Click here to view our first report about Sunnyside Yards which provides a brief history of the development of transportation and real estate in Queens in the 19th and 20th centuries. Click here to read our second report about Sunnyside Yards which provides a far more in-depth history of the real estate development and transportation in the 20th century.
On this leg of the journey in our report series on Mayor de Blasio's proposed development of Sunnyside Yards, we take a more in-depth view of the history of real estate development of the air rights of rail yards in New York City. So with no further ado, let's continue.
The photo to your right shows the vision of
William J. Wilgus who coined the phrase "taking wealth from the air" as it was he who first proposed monetizing the air rights of New York Central and Hudson River Rail yards, which ran north along what is Park Avenue today.
This was an example of the ingenious thinking of the time, as he leveraged a new technologies, by electrifying the rail system, lowered the rail tracks and built platforms over them. I took the photo above right, of what I believe to be a 1902 graphic of his vision, which I found at a public exhibit in Midtown.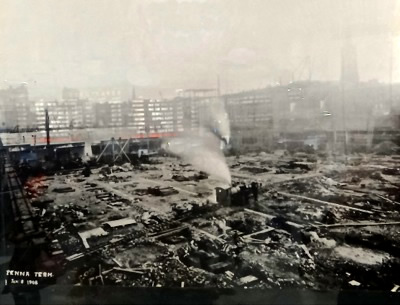 We return to the dawn of the 20th century, when horses and carriages were still one of the primary modes of inner urban transit, but this transportation mode would relatively quickly be replaced by the expansion of the trolley car system and eventually subway system in New York City. In 1900, according to historian Dave Lawyer, there were only 8,000 automobiles in the entire nation.
Overland transit between cities was a mix of horses and carriages and the rail roads, but over the course of the 19th century rail roads had become the most reliable means of long distance overland transit. Lawyer says that in 1900 there were 200,000 miles of steam rail and 14,000 miles of electric rail ways which were primarily for street cars and rail ways serving urban areas.
Transportation by water, which for millenia had been the most viable means of long distance travel between states and towns, continues to this day to play a role in long distance transit - although these days primarily of the transportation of goods.
The photo at right shows the Penn Station rail yards circa January 1908 as plans for its erection over the rail yards were getting underway. Pennsylvania Rail Road built Penn Station which was opened to the public two years later in September 1910. The station, one of the great New York City landmarks, was demolished amidst much public furor beginning in late 1963.
We'll continue with our report series about Mayor de Blasio's proposal to develop the air rights over Sunnyside Yards a bit later today or in the week.
---
---
Transportation In Queens
---
Jet Blue LIC - Airlines In Queens NY
Jet Blue Operations in Queens
Behind The Scenes At Jet Blue LIC
May 19, 2012 / Long Island City / Queens Business / Queens Buzz. I decided to take a look behind the airline ticket counter to see what goes on behind the scenes of a scrappy competitive airline upstart. That description best describes the Queens hometown airline - Jet Blue - which recently relocated within the borough, moving from Forest Hills [and Darien, CT] to the Met Life Building off Queens Plaza in Long Island City.
Jet Blue officially opened its Long Island City location on April 3rd, 2012. They had been moving folks into the building in waves, after about a year of preparations. The first wave came on March 9th, and the last wave came on April 4th, 2012. There are currently about 1,000 Jet Blue employees working out of the Long Island City facility.
In this report I focused on their operations center which handles many of the behind-the-scenes logistics. This report will give you a close up look at what goes on behind the scenes every day at Jet Blue as it prepares, schedules, executes and monitors an airline that has a fleet of between 150 - 200 planes, about 2,000 pilots, about 3,000 flight attendants, and an LIC operations crew of about 250 that runs 24/7 every day of the year. The Jet Blue Operations Center is shown looking through an aquarium, in the photo above.
Click here to read our report about Jet Blue in Long Island City LIC Queens.
---
Queens DOT Study - Jackson Heights Pedestrian Mall
Queens DOT Study - Traffic Makeover in Jackson Heights
DOT Finds Inexpensive Fixes To Congestion
February 22, 2011 / Jackson Heights Neighborhood / Queens Buzz. The Department of Transportation unveiled a traffic study, complete with proposed solutions, that look to ease some of the traffic congestion in Jackson Heights. The study area roughly includes the areas from Roosevelt Ave to Northern Blvd and from 72nd Street to 84th Street.
The plan includes changing traffic flows, modifying a couple of bus routes, specifically allocating spots and times for freight parking, reallocating parking spaces and adjusting meter rates in high demand / low availability parking locations. All in all it looked like a workable plan which incorporated a significant amount of input from the community, including this past go 'round wherein they presented the plan to the community for final feedback before implementing it.
Click here to read more about the Department of Transportation DOT traffic plan for Jackson Heights.
---
East Side Access Project - Queens
East Side Access Project Moving Along
How Will This Project Affect Queens Real Estate?
Queens Real Estate / October 4, 2010 / Queens Buzz. Progress on the East Side Access Tunnel project has been visible in Queens since early Spring 2010. The MTA has been busy drilling a new tunnel under the East River from LIC / Astoria, using the Sunnyside Railway Yard as its staging grounds. The photo to your left shows the view of the new tunnel being built underneath the East River from an Astoria / LIC perspective. The tunnel connects into Manhattan around 63rd Street.
Meanwhile in the Sunnyside railway yards, many of the buildings that once dotted the landscape have been demolished. Thankfully this doesn't include an old train station which has been around for many years [see photos in rest of story / slide show]. They've also cleared away a number of old warehouse and garage like structures along 43rd Street between Northern Blvd and 39th Avenue.
Click here to get an update on the East Side Access Project impact on Queens real estate.
---
---
Queens Real Estate / Realtors - Neighborhood Maps
---
Shops, Restaurants & Cultural Attractions Maps
---
Queens Real Estate
Queens Real Estate
Market Analysis Of Real Estate In Queens
Queens NY / December 7, 2009. This is a report on the Queens real estate market. The report covers the latter half of 2009. This analysis includes looking at apartment rental prices, as well as condo, co-op and home prices and availability. This Queens real estate market analysis focuses on the Astoria, LIC / Long Island City, Jackson Heights, Sunnyside and Woodside neighborhoods. While we found these neighborhoods mirrored or trailed many of the national trends, we found some interesting differences, including differences from neighborhood to neighborhood. Click here for our second half 2009 market analysis of Queens Real Estate.
---
Condos & Co-ops Forum Jackson Heights
Forum - Condos & Co-ops In Jackson Heights
December 7, 2010 / Jackson Heights / Queens Buzz. City Council Member Daniel Dromm, NYS Senator Peralta in tandem with ACCO [Alliance of Condo & Co-op Owners] organized a forum in Jackson Heights to inform people about their rights and responsibilities as condo and co-op owners.
In addition to the councilman and senator, the panel included two lawyers and the president of ACCO. About two hundred people showed up for the event, packing the Jewish Center of Jackson Heights. See photos in our report of the large crowd that attended this forum.
The panel informed condo and co-op owners in Jackson Heights & Queens about their rights, and discussed new state legislation which has been introduced to more clearly define the processes through which a tenant / owner can assert their rights. Click here to read the rest of our report about the forum for owners of Jackson Heights condo / co-ops in Queens.
---
---
Site Search Tips. 1) For best results, when typing in more than one word, use quotation marks - eg "Astoria Park". 2) Also try either singular or plural words when searching for a specific item such as "gym" or "gyms".
Click this link to search for something in our Queens Business Directory containing over 1,000 listings.
---
Queens Realtors - Links
Click here to go to the home page of Halvatzis Realty in Astoria and here for the homepage of Beaudoin - Realtors in Jackson Heights.
Queens Real Estate - Related Links
Click here to go to the home page of Ponce De Leon Bank for Mortgages In Astoria & Queens. Or click here for free checking in Queens at Flushing Bank.
Click here to go to the home page of an MetLife insurance agency for Home Insurance In Astoria & Queens.
---
Click the log in link below to create an ID and post an opinion. Or send this story to a friend by filling in the appropriate box below.
---