Business & Real Estate In
Jamaica NY
---
Jamaica NY is located in central Queens. There are approximately 90,000 residents in Jamaica, comprised of African Americans, Indians, Asians and European descendants.
Jamaica is home to a large train station through which connections may be made between the E, F and M subway lines, the LIRR, the Airtrain to JFK Airport and bus services throughout southern and eastern Queens. York College, King Manor and JCAL are a few of the cultural institutions in the area. Jamaica also offers another interesting array of food and shopping along Sutphin Blvd and Jamaica Avenue.
---
Click to view the Jamaica neighborhood
---
Banks & Loans In Jamaica & Queens
---
Jamaica Real Estate In Queens NYC
Jamaica Real Estate - The Art Of Selling
Jamaica Center BID & The Greater Jamaica Development Corporation Talk About The Re-Emergence Of A Vibrant Commercial Center
Updated May 3, 2014 / December 3, 2013 / Jamaica NY Real Estate / Jamaica NY / Queens Buzz. Earlier this month I attended an event hosted by the Jamaica Center BID to talk about real estate and commercial opportunities in the Jamaica neighborhood of Queens.
Jamaica is one of the largest and most vibrant commercial areas in Queens, and the event was designed to talk about Jamaica in that light.
I arrived a bit early and met with Felicia Tunnah, the new Executive Director of the Jamaica Center BID [Business Improvement District]. It seems the weather, traffic congestion and the subways had conspired to delay speakers, attendees and possibly the event, but it wasn't too long of a wait before the meeting began.
The delay gave all of us a bit of time to enjoy the food and beverages being served by local restaurants and a caterer. City Ribs, a small chain started by a locally raised entrepreneur served ... well ... ribs. Sangria Catering served a fresh salad and chicken dish and Applebee's served dessert.
Click here to read more about real estate in Jamaica NY and click here to read the rest of our report including photo slide show of the meeting about real estate in Jamaica Queens NYC.
---
Queens Real Estate & Business
Queens Real Estate & Business
October 2016 / Queens Business & Real Estate / Queens Neighborhoods / Queens Buzz. This section contains reports about lending, employment, manufacturing, retail, real estate & development, home improvement, construction and transportation in Queens. The focus of these reports will be in the neighborhoods of Astoria, Long Island City, Sunnyside, Woodside, Jackson Heights, Elmhurst, Corona, Flushing, Forest Hills and Jamaica NY.
Click here to view the Queens Real Estate & Business section of this site.
---
---
BOC - Business Outreach Network In Queens
Small Business Financing In Queens NYC
SBA In Queens & Business Outreach Center In Corona
January 31, 2012 / Corona / Queens Business / Queens Buzz. Last summer I decided to take Queens Buzz through the SBA process to raise capital to raise capital and to provide a description of the process that a new or struggling enterprises must go through in order to obtain non-traditional funding.
Over the course of the past decade, government and non-profit organizations have increasingly become aware of the importance and value of helping new and small businesses survive and thrive as a means of retaining and creating jobs within communities. In the current economic environment, helping these small companies is critical to accelerating the current economic recovery.
I entered the process of seeking a loan in July of 2011 ... click here to read more about the Business Outreach Center in Corona Queens. The photo above was taken at a 2012 seminar sponsored at the Business Outreach Center in Corona Queens entitled Financing Your Business.
---
Retail & Shopping In Jamaica
---
Wholesale & Manufacturing In Queens
---
Titan - Greek Food In Astoria Queens
A Titan In Our Midst
Titan & Optima Foods - Greek Food In Astoria Queens
Astoria / Queens Buzz. Astoria has long been known as the Greek section of Queens and NYC. And for nearly 30 years Titan Foods has been serving the Greek section of Queens and NYC with imported Greek food. In 1991 Optima Foods, which is owned by the same folks as Titan, began operating as a mid sized importer and since that time has grown to become one of the leading distributors of Greek food along the eastern seaboard of the United States.
Click this link to read the full story about Titan Foods - Greek food stores in Astoria Queens.
---
Cassinelli Food Products - Fresh Pasta Queens
Fresh Pasta Made Daily In Queens NY
Cassinelli Food Products Company
Astoria & Queens used to be heavily populated with Italian immigrants, particularly in the first half of the 20th century. They brought with them their knowledge and skills about food and wine, the products of which became, in time, a part of the American culture.
This is a report about the Cassinelli Food Products company. It's one of the last old world Italian pasta making companies in Queens. The Cassinelli pasta company makes fresh pasta in the Astoria neighborhood of Queens daily.
Click here to read the full report about fresh pasta in Astoria Queens NYC.
---
Restaurants In Jamaica
---
Jamaica Jerk Festival Photos - Caribbean Cuisine in Queens
Jamaican Jerk Festival
Afro Caribbean Cultural Event In Queens
July / Jamaica Neighborhood / Ethnic Food in Queens / Queens Buzz. It was a warm, dry, sunny Sunday, as I made my way into Roy Wilkins Park in Jamaica. Today was the 2nd annual Jamaican Jerk Festival, that I'd been waiting in anticipation for over the past few weeks. The Jamaican Jerk Festival is a combination reggae concert and food festival.
I entered through the gates of Roy Wilkins Park in the southern Jamaica neightborhood of Queens, as a slight breeze willowed its way through the trees and crowd. There were retail vendor tents to my left, with displays of vibrantly colored clothing and fashion jewelry Afro Caribbean style. Caps, hats, dresses, shirts and scarves hung loosely in little white tents, as shoppers and merchants mingled and did business.
Click here to read our report and view photos of the Jamaican Jerk Festival.
---
Jamaica Restaurants - Jamaica NY
Jamaica Restaurants - Restaurants In Jamaica NY
Jamaica / Queens Buzz. The Jamaica Restaurants section includes reports about restaurants in the Queens neighborhood of Jamaica NY. Jamaica is known for its Caribbean, African and Indian cuisines.
Click here to view the Jamaica restaurants section.
---
---
Government & Employment In Queens
---
State of the Borough Address
Queens Borough President Melinda Katz Gives Her First Address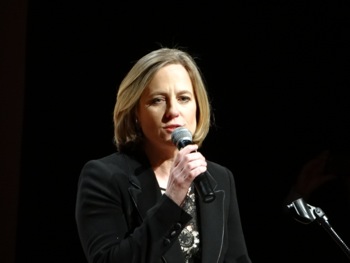 January 22, 2015 / Flushing / Queens Government & Politics / Queens Buzz. I arrived at the Colden Auditorium at Queens College around 11 am to hear Queens Borough President Melinda Katz deliver her first State of the Borough Address.
To my surprise the auditorium was filled to capacity. I spoke to several members of the audience afterwards to learn a bit more about who had come. Based on a small sample size, many of folks in attendance had affiliations with either community organizations or the unions.
Queens Borough President Melinda Katz's address was preceded by a number of traditional ceremonies including the presentation of colors, the Pledge of Allegiance, the singing of the National Anthem and introductory remarks by City Councilmember Julissa Ferreras of Corona and Dr. Felix V. Matos Rodriguez, President of Queens College. These ceremonies were followed by a musical performance by some of the students from the Frank Sinatra School of the Arts of Astoria.
Before Queens Borough President Melinda Katz arrived on stage in person, we were shown a video of her by her office talking about Queens and family.
---
Queens Economy On The Mend
Overall Employment Up, Unemployment Down & ... more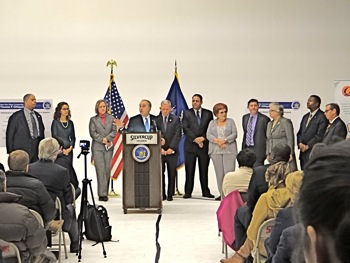 December 16, 2013 / Long Island City LIC / Queens Business / Queens Buzz. On Friday I attended the presentation of an Economic Snapshot of Queens by State Comptroller Thomas DiNapoli at Silver Cup Studios in Long Island City.
There was a large contingent of Queens government officials in attendance of the presentation - ranging in office from Borough President-elect, to City Councilmembers, to State Assemblypersons, to State Senators [see photo].
The news was good of course, as the Queens economy is on the mend. Unemployment is down, in spite of a growing labor force. And total jobs in Queens are estimated to be up 12,000 to about 882,000; while the private sector employment in Queens represents over a half million of that number. The event was sponsored by the Queens Economic Development Corporation.
We'll post more about the changes in the Queens economy later this week / month - including some contrarian points of view we picked up on the street. In the meantime you can click into a report we did about the different categories of Queens employment we did in March 2011, or into an update of Queens unemployment picture which we did in December 2012. And just last week we posted an update on Queens current unemployment statistics versus NYC and prior year. Enjoy.
---
Transportation In Jamaica & Queens
---
NYC Congestion Pricing - Move NY Congestion Pricing Plan
Which Queens 'Democratic' Pols Support $8 Tolls?
Several Queens Officials Support $8 Tolls on Queensborough & Other East River Bridges & at 60th Street to Raise Capital for the MTA
Queens Democratic Party Chairman Joe Crowley & NYS Governor Cuomo Supported Congestion Traffic Pricing in the Past
March 29, 2016 / Queens Neighborhoods / Queens Politics / News Analysis & Opinion / Queens Buzz.

The new Congestion Traffic Pricing Plan has been making its way into the legislative process over the past year. Just last week NYS Assemblyman Robert Rodriguez, a Democrat from Manhattan introduced the bill on March 23, 2016. The Move NY Congestion Traffic Pricing Plan is being sold into the legislature as a means to raise revenue to fund MTA Capital projects.
Currently NYS Senator Jose Peralta, Cuomo's Deputy of Legislative Affairs Mark Weprin & CCM's Van Bramer, Richards & Reynoso publicly support installing $8 tolls on the Queensborough & other East River bridges to raise capital for the MTA.
Governor Cuomo's Words Are ...
Governor Andrew Cuomo supported the Congestion Pricing Plan put forth years ago, which wasn't popular with many of the voters in Brooklyn & Queens. The two boroughs have a combined population which rounds to 5 million or 25% of the 20 million people who live in New York State.
Cuomo was quoted as making the following statement by the Observer in an article published a year ago on March 15, 2015,
"It's not, 'Can I support it?' Will the people support it? Can you get it done? Can you get a congestion plan passed and we've gone through this a couple of times and it was an overwhelming 'no' and I haven't seen anything happen that would change my opinion,"
The Governor has essentially been repeating this position publicly ever since.
Inconsistent with Governor Cuomo's Staff Actions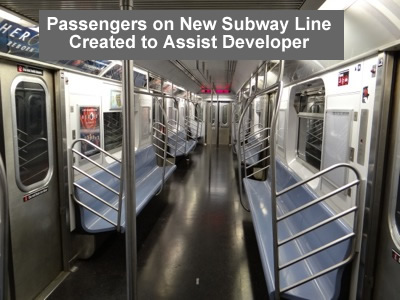 But while the Governor is publicly distancing himself from the measure which is unpopular in Queens and Brooklyn, former NY City Councilmember Mark Weprin, who is now Cuomo's Deputy of Legislative Affairs, has supported the Move NY Congestion Traffic Pricing Plan.
Weprin vehemently oppposed Congestion Traffic Pricing in 2008 when he was a NY City Councilmember, but in 2015 Weprin began publicly supporting the revised Congestion Traffic Pricing Plan as he transitioned from NY City Councilmember to becoming Cuomo's Deputy of Legislative Affairs. NYS Assemblyman David Weprin, Mark's brother, continues to publicly oppose the plan.
It's worth mentioning that the Weprins and the Cuomos have had close family political ties spanning two generations.
Congressman Crowley's Position Circa 2007
Queens Democratic Party Chairman, U.S. Congressman Joseph Crowley, supported the Congestion Traffic Pricing Plan backed by former Mayor Bloomberg, according to a June 11, 2007 report by the New York Times which quoted Crowley as saying,
"the overall [2007] plan — and congestion pricing is just a part of it — will make this a more livable city and make it easier to attract the best and the brightest not only from around the country but from around the world."
We've not yet seen any comments by Congressman Crowley on the current Move NY Plan which was recently introduced.
Move NY's 'New & Improved' Congestion Traffic Pricing Plan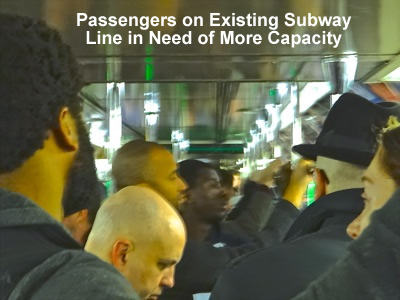 We studied the Move NY Traffic Congestion Pricing proposal by first taking a closer look at what groups are pushing the plan [follow the money]. Gridlock Sam Schwartz Consulting LLC is one of the primary promoters of the plan, and the consulting company is owned in part by a large, multi-national, transit infrastructure contractor. We also evaluated the assumptions they used to create the estimates provided in the plan, which we found to be inconsistent with fairly recent independent studies by respectable institutions, and we also looked at what happened in one of the other cities around the world that implemented the plan.
In essence the plan retrofits [re-prices] the fossil fuel infrastructure, by making a significant investment to install and operate tolling around the center of Manhattan. The remaining proceeds would then go to fund other MTA capital projects [in London this was about half the proceeds]. The pricing would require those who can't afford the $8 tolls [each way] to either use mass transit [recent NYC metro studies have shown this switching doesn't happen] or to cross the bridge at other times at which time the tolls would cost less. The proponents say this would enable those who can afford the tolls to cross the East River bridges and 60th Street more quickly and move around mid Manhattan more easily [less traffic congestion with the rest of the community priced out of their way]. How 'democratic' is this?
Previously MTA Invests Billion$ in New Subways Appearing to Accommodate Billionaire Manhattan Developer(s) & Now Pols Want Metro Residents & Employees to Fund a System to Toll Tax Them to Fund MTA Capital Budget
The MTA during the Bloomberg (Republican) Administration made approximately $8 billion in MTA capital investments for about 30 to 40 blocks of Manhattan subway lines. One line travels from Times Square to the Javits Center [$2.4 billion mostly paid by city] and the other, which was strongly supported by NYC Comptroller Scott Stringer, is expected to travel along Second Avenue from
about East 60th Street to about East 86th Street when it is completed [ran way past budget and time estimates - currently about $5.2 billion].
The latter subway line has been called the 'subway to nowhere', while the other isn't much different - as it terminates at the Javits Center and billionaire real estate developer Steven Ross' & Related Companies' new Hudson Yards development - without any other subway connections. Pundits have opined that one [new #7 Hudson Yards station] and possibly both of these multi-billion dollar investments were made to accommodate Manhattan real estate developers [such as Ross], more than to facilitate transit for commuters and residents of New York City.
When I confronted an MTA spokesperson with this perspective, they told me that the Q line extension would alleviate a considerable amount of the congestion on the north / south east side Manhattan subway line, but made no comment regarding the Hudson Yards station.
The photos above show no passengers on the Javits subway [at an admittedly random time and not long after it was installed], while the second photo shows the #6 subway along the Upper East Side, also at a random time [I have #7 photos that look the same, but didn't have time to find one]. The map to your right shows the new #7 subway line extension ending as an unconnected spur.
Perhaps if the MTA and the government officals who oversee MTA capital project spending were more judicious in their selection of multi-billion dollar projects and allocation of funds, they wouldn't need to make a huge investment of the public's money in the creation and operation of an expensive new tolling system which they plan to use to charge taxpayers $8 tolls to cross 60th Street and the East River Bridges.
This plan essentially aids the wealthy by making their lives easier, while economically discriminating against those with less wherewithal, by making their lives harder. This doesn't strike me as a solution that's 'democratic' at all. There must be less costly, more fair ways to raise additional revenue for transit that NYC commuters - not Manhattan real estate developers - really need.
Click here for the rest of our story about the Move NY Congestion Traffic Pricing Plan as we explore in greater detail a connected web of people, lobbyists and organizations behind Move NY Congestion Traffic Pricing Plan and their possible motivations. We critique the plan including a review of the assumptions, and a closer look at independent studies done with regard to motorists response to toll prices and changes.
---
---
Home Improvement & Construction In Queens
---
Jamaica NY Real Estate Related Info
Click this link for promotions, discounts and coupons in Jamaica and Queens.
Click this link to go to the Jackson Heights Elmhurst Neighborhood / Things To Do In Jackson Heights - Attractions / Jackson Heights Events / Jackson Heights Maps / Jackson Heights Maps / Jackson Heights Shops.
Site Search Tips. 1) For best results, when typing in more than one word, use quotation marks - eg "Astoria Park". 2) Also try either singular or plural words when searching for a specific item such as "gym" or "gyms".
---
Archives - TBD
---
Click this link to search for something in our Queens Business Directory.
---
Click the log in link below to create an ID and post an opinion.
Or send this story to a friend by filling in the appropriate box below.
---