---
St Pats Parade in Queens
St Pat's Day Parade In Queens
St Pat's For All Parade & Political Pageantry
March 5, 2013 / Ethnic Culture in Queens / Sunnyside & Woodside / Queens Buzz. I attended the St Pat's For All Parade in Queens on Sunday afternoon. It was a crisp Spring day, with temperatures in the 40's, and even warmer in the ample sunshine. They had scheduled an Irish cultural celebration to begin at 12.30 pm, followed by the parade which was to begin at 2 pm.
The celebration included a number of Irish dances performed by Niall O'Leary's School of Irish Dance and Caroline Duggan and the Keltic Dreams of PS 59 in the Bronx [see photo]. There were also musical performances by several groups, including the Brian Fleming Band which has been a regular performer at the St Pat's For All Parade for years.
And of course there were speeches ... click here to read the rest of our report about, and view our photos of the St Pat's Parade in Queens, including a photo slide show.
---
Turkish Cooking In Sunnyside Queens
Turkish Cooking Classes in Queens
Cooking Class Mixes Culture, Cuisine & Comedy In Cool Klatch
February 6, 2013 / Sunnyside / Food in Sunnyside / Queens Buzz. I attended an evening cooking class offered by the Turkish Cultural Center in Queens. They offer one cooking class each month, wherein they teach Turkish cuisine. Seating is limited to about fifteen; and you don't have to be a member or Turkish to attend. In fact almost all of the people in attendance were not Turkish, and there were a couple of males in attendance too.
My interest in Turkish cuisine has grown over the past few years, as Sunnyside and western Queens has become a small magnet for Turkish immigrants. Turks have a long history of culinary achievement and a number of them have opened grocery stores and restaurants which have become quite popular in their neighborhoods [see review of the Turkish Grill restaurant in Sunnyside].
Click here for our report with photos of Turkish cooking classes in Queens.
---
---
Click to quick scroll down to:
---
---

---
Sunnyside News / Woodside News
St Pat's For All Parade on March 3rd
February 19, 2013 / Sunnyside & Woodside / Ethnic & Religious Culture / Queens Buzz. This weekend on March 3rd, the St Pat's For All - St Patricks Day Parade, marches through Sunnyside and Woodside. The festivities begin at 12.30 pm, with speeches by an Irish novelist and historian as well as by city government officials. The parade begins at 2 pm.
The parade route is the same as last year. The festivities will be held at 47th Street and Skillman Avenue and the parade marches uphill into Woodside to 58th Street. Click here to view a map of the St Pats For All Parade route.
Check back here on Monday March 5th for photos and a report about the St Pats For All parade in Sunnyside / Woodside Queens. Click here to read more Sunnyside News & Woodside News briefs.
---
---
---
---

---
Noah's Pudding - Turkish Culture In Queens
Turkish Cultural Center Celebrates Ashura
Noah's Pudding Commemorated
January / Sunnyside / Queens Buzz. I just returned from an evening at the Turkish Cultural Center in Sunnyside, where I joined them in celebrating Ashura or Noah's Pudding. Ashura is an ancient Turkish tradition that commemorates the landing of Noah's Ark following the great flood. According to the Book Of Genesis, Mount Ararat in Turkey is where Noah's Ark finally touched dry land. A photo of Mount Ararat is shown in the photo to your right.
Mount Ararat is located in eastern Turkey along the Iranian border. The mountain is a dormant volcano that stands nearly 17,000 feet tall and is the highest point in that region of the Middle East.
Click here to learn more about the Turkish Cultural Center in Sunnyside and about the ancient tradition of celebrating Noah's Pudding. This report also includes photos of the event which was held at the center.
---
Sunnyside Chamber of Commerce
Sunnyside Chamber Honors The Givers
Sunnysider of the Year 2012 Goes To Catholic Priest
November 5, 2012 / Sunnyside Neighborhood / Queens Business / Queens Buzz. My father once told me that the world is made up of two kinds of people: the givers and the takers. On Monday evening the Sunnyside Chamber of Commerce honored one of its givers: Father Brian Dowd, the Catholic priest of Queen of Angels Church.
The award was the brainchild of Chamber member Patricia Dorfman, and named in honor of Luke Adams, who has been a Sunnyside community giver since the 1970's. The dinner was sponsored by the Sunnyside Chamber of Commerce at Dazies Italian restaurant on Queens Blvd.
Click here to read more about the second annual Luke Adams award given by the Sunnyside Chamber of Commerce.
---
---
---
---
Bike Lanes In Queens
Bike Forum - Bike Lanes In Queens
Bicyclists & Others Meet To Discuss Bike Lanes In Queens
Spring / Sunnyside / Biking in Queens / Queens Buzz. I attended a bike forum at the Sunnyside Community Services Center on a warm, wet Saturday in March. I noticed quite a few bikes locked to signs and poles outside the center as I entered. Inside there were between 50 – 75 people in attendance, most of who were bicycle enthusiasts, although I was informed that some were not.
The forum had been organized as a collaboration of Community Board Two [hereafter referred to as CB2], City Councilmember Jimmy Van Bramer and the Queens Department of Transportation [hereafter referred to as QDOT]. Evan O'Neil and Emelia Crotty of CB2 opened up the session wherein they outlined the history of bike lanes in western Queens and the current state of bike lanes and bike parking. This was to put things in context, so that the bike forum attendees could spend their time planning for the future in the breakout sessions.
Click here to read our report about the bike forum in Queens, including a history of bike lanes in Queens, NYC and in other parts of the world, and a slide show of the bike forum presentation and participants.
---
Thalia Theatre - Spanish Theater In Sunnyside
Thalia Theatre Bridges Cultural Divide
Sunnyside / Fall & Winter. I enjoyed a dance performance by the Mestizo Dance Company last Friday evening at the Thalia Theatre in Sunnyside. The show, which runs weekends through December 6th, is a panoply of colorful costumes, music by an accomplished eight piece band, all in support of an impressive performance by a full troupe of talented dancers. All tolled they performed nearly twenty dances from various parts of Latin America which the audience seemed to greatly enjoy.
Click here to view a story about the Best Of The Mestizos at Thalia Spanish Theatre in Sunnyside Queens.
---
---
---
---
---
---
---
---

---
Taste of Woodside & Local Restaurants
The Food Show Goes On In Spite Of The Weather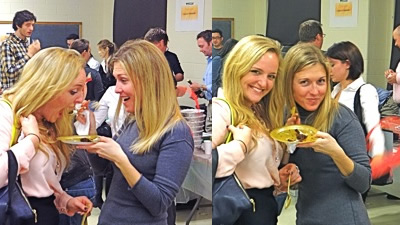 November 7, 2012 / Woodside Neighborhood / Restaurants in Queens / Queens Buzz. I attended the first annual Taste of Woodside tonight, in spite of the snow that began falling late this afternoon.
Naturally the weather, particularly in the wake of Hurricane Sandy, dampened the turnout. But it also left more food and space for those of us who did attend to horse around; like the two charming young women shown in the photos above.
The proceeds of the Taste of Woodside event go to Woodside On The Move, the event sponsors. Woodside On The Move is a non-profit community based organization dedicated to improving the lives of the people living within the Woodside neighborhood - and sometimes beyond – such as in the case of their Hurricane Sandy relief effort.
Over twenty restaurants, cafes and bars had signed up to participate in the event. But eight of the restaurants were unable to make it, due to issues related to the inclement weather. I'm happy to report that I managed to taste the food from nearly all of the participating restaurants [missed two of them].
Click here to read our report and view photos of the Taste of Woodside 2012 which will be posted sometime within the next couple weeks.
---
Taste Of Sunnyside - Sunnyside Restaurants
Taste of Sunnyside
Food, Fun & Fanfare at Taste of Sunnyside 2012
October 15, 2012 / Sunnyside / Sunnyside Restaurants / Queens Buzz. It was a rainy evening as I headed down to the third annual Taste of Sunnyside at the Sunnyside Community Service Center on 39th Street. I looked forward to seeing what new restaurants and people I would encounter - as the restaurants that participate in the Taste of Sunnyside change from year to year.
The main hall seemed less crowded than last year, due in part because the large sit down tables had been moved out to make more space. This had the effect of allowing people more room to mingle; but you pretty much had to stay on your feet throughout most of the event. The crowd that had gathered was ethnically diverse, somewhat youthful and hungry.
Click here to view our report on the Taste of Sunnyside Restaurants.
---
---
---
---

---
New & Used Car Dealerships - Queens
New & Used Car Dealerships In Queens
Sunnyside, Woodside & LIC / Queens Buzz. This report is about new and used car dealerships in Queens NY. There are about twenty new and used car dealerships just minutes away from Manhattan NYC and most parts of Queens via subway or bus. The car dealerships are located along Northern Blvd starting in LIC [Long Island City] on the Astoria border at the intersection of Steinway Street. The car dealerships include new and used cars as well as pre-owned vehicles. The dealerships are also near Sunnyside, Woodside and Jackson Heights, but are easily accessible by car throoughout the Tri-state area via the BQE and LIE.
This report is about buying new and used cars at dealerships in Queens, including information about car prices and dealership locations in Queens.
---
---
---

---
Zoning Sunnyside & Woodside - Real Estate in Queens
Sunnyside & Woodside Zoning Plan
Proposal Moving Through The Process – Timetable Set
April 13, 2011 / Sunnyside & Woodside / Sunnyside Real Estate / Queens Buzz. Queens Borough president Helen Marshall highlighted the effort to re-zone Sunnyside and Woodside in her State of the Borough Address this winter. Following the release of the proposed zoning changes on February 28th, I spent time studying the proposal to re-zone the Sunnyside and Woodside neighborhoods and followed up with a representative of the NYC Department of City Planning to be sure I properly understood the proposed changes. It's worth mentioning that the rezoning changes were recently approved by Community Board 2, about two weeks ahead of deadline.
The thrust of the Sunnyside Woodside rezoning effort appears to be to standardize construction regulations within these neighborhoods in order to prevent out-of-character development, reduce commercial overlays, enhance street life through the allowance of sidewalk cafes and to set height limits on new buildings which is not specified in the existing zoning. Current Sunnyside and Woodside zoning only specifies how much you can build by way of limiting the Floor Area Ratio [FAR] – and doesn't set limits on specific building dimensions, most notably building height.
Click here to view the timetable of the Sunnyside & Woodside zoning proposal and to read the rest of our report, which includes a brief zoning history, and a summary of existing and proposed zoning changes including diagrams and photos.
---
MTA East Side Access Project - Impact On Queens Real Estate
East Side Access Project Moving Along
How Will This Project Affect Queens Real Estate?
Queens Real Estate / October 4, 2010 / Queens Buzz. Progress on the East Side Access Tunnel project has been visible in Queens since early Spring 2010. The MTA has been busy drilling a new tunnel under the East River from LIC / Astoria, using the Sunnyside Railway Yard as its staging grounds. The photo to your left shows the view of the new tunnel being built underneath the East River from an Astoria / LIC perspective. The tunnel connects into Manhattan around 63rd Street.
Meanwhile in the Sunnyside railway yards, many of the buildings that once dotted the landscape have been demolished. Thankfully this doesn't include an old train station which has been around for many years [see photos in rest of story / slide show]. They've also cleared away a number of old warehouse and garage like structures along 43rd Street between Northern Blvd and 39th Avenue.
Click here to get an update on the East Side Access Project impact on Queens real estate.
---
---
Site Search Tips. 1) For best results, when typing in more than one word, use quotation marks - eg "Astoria Park". 2) Also try either singular or plural words when searching for a specific item such as "gym" or "gyms". Click here for the Sunnyside / Woodside Business Directory.
Click this link for promotions by advertisers in Queens.
Click this link to search for something in the Woodside / Sunnyside Business Directory containing over 1,000 listings. Click here to view the home page of one of the leading bakeries in Sunnyside area.
---
---

---
Click the drop down menu to submit events [ID required] into the Member Calendar. Free for arts groups / non-profits and community orgs, except fundraising events.
Click here to obtain a Free Queens Buzz Membership.
Calendar: Member Calendar
Click here
to subscribe to "Member Calendar" and receive an email whenever a new event is created
If the ICAL logo above does not work,
right click
here, copy the URL, and paste it into your favorite calendar application.
---
Click the log in link below to create an ID and post an opinion. Or send this story to a friend by filling in the appropriate box below.