Business & Real Estate In
Flushing
---
Flushing NY is located in northcentral Queens. Flushing is commutable via the #7 subway line. Flushing has a population of about 215,000 which is comprised primarily of Chinese and Koreans, as well as European descendants, Indians, Latin Americans and African Americans.
Flushing is home to a number of Queens landmarks, some of which are located in the historic district and others in the Flushing Corona Park. Flushing's Main Street and side streets offer a colorful street market experience for both food and other items. And Northern Blvd is also home to a number of businesses.
---
Click to view the Flushing neighborhood
---
Sterling Equities & Related Companies Lose A Court Battle
Plans to Build Shopping Mall on Flushing Meadows Corona Park Land Reversed on Appeal, but Legal Wrangling will Continue
July 6, 2015 / Flushing Neighborhood / Queens Real Estate / / News Analysis & Opinion / Queens Buzz. This report is based on an Associated Press report dated July 2, 2015 and a Queens Tribune story dated August 28, 2014.
In August of 2014, New York State Supreme Court Judge Manuel Mendez decided in favor of Related Companies / Sterling Equities by throwing out a lawsuit filed by the City Club of New York and NYS Senator Tony Avella.
The plaintiffs alleged that billionaire Stephen Ross's Related Companies, the real estate developers of Hunters Point South and the Hudson Yards, and the Sterling Equities which was co-founded by the NY Mets owners, mega-millionaires Saul B. Katz and Fred Wilpon, had not gone through the NYS legislature for the approval of the transfer of the parkland as required by law.
The lawsuit, filed in February 2014, alleged that the transfer of 47 acres of Flushing Meadows Corona Park land that currently represents the western part of the Mets parking lot, was done without following the procedure for a proper public review [see photo above right]. The City had proposed transferring the 47 acres to Related Companies / Sterling Equities who had planned to build a 1.4 million square foot shopping mall next to Citifield.
The NY City Council and the billionaire former Mayor Bloomberg approved the project in October 2013, but the proposal never went to Albany for a vote. According to the Queens Tribune report one of the plaintiffs said that the Judge Manuel Mendez's ruling goes against the Public Trust Doctrine, ignores longstanding case law history, and bestows too much power that was formerly the purview of the Board of Estimate in one person: the NYC Mayor.
On Thursday, July 2nd, 2015, the four-judge Appellate Court overturned Judge Mendez's decision and ruled that the Willets West Mall Project was illegal because the land is a part of Flushing Meadows Corona Park, in spite of its current paved over status as a parking lot [see 2009 photo above].
And because it is a part of the public parkland of the people, it may not be turned over to the real estate developers without approval of the NY State Legislature. The judges rejected the ruling in favor of the mall development made by Judge Manuel Mendez, wherein Mendez sided with the wealthy real estate developers who argued that the 54 year old, 1961 law authorizing the construction of Shea Stadium, also included a mall.
The photo above shows the Citifield parking lot in 2009, as it was being paved over following the demolition of Shea Stadium which was authorized in 1961. The new Citifield stadium built to replace Shea, is smaller.
According to the Associated Press report, a spokesman for the real estate developers said that they would appeal the decision.
---
Real Estate Lending & Mortgages - CAREA In Queens
Real Estate Lending & Mortgages
CAREA / Chinese American Real Estate Assn - Flushing
May 22, 2010 / Flushing / Queens Buzz. On Saturday in Flushing there was a Real Estate Expo event hosted by the Chinese American Real Estate Association [CAREA] in Flushing. This expo is an evolution of the Home Buyers Expo, which was an event they had hosted last year with a private sponsor. The Home Buyer Expo had focused on issues such as how to find a house, how to take the house into contract and how to close on the house. Last year there were ten vendors at the expo offering financial, real estate and legal services.
Real Estate Lending - Home Buying In Queens
We visited the expo in search of information about the state of mortgage lending in Queens. Given the Asians seem to be America's financiers, we thought this expo might be a good place to research this question. The following story is focused providing some background about CAREA and its events, as well as on the current state of mortgage lending in Queens.
This year the CAREA event scope was expanded and it attracted about 40 - 50 vendors. The expo focus changed from buying a home, to buying and managing a home. Hence this year vendors included tax services, energy services, remodeling services as well as vendors offering financial, real estate and legal services.
Click here to read our full report about real estate finance and mortgage lending in Queens based on information gathered at the CAREA Real Estate Expo in Flushing.
---
Queens Real Estate
Queens Real Estate
Market Analysis Of Real Estate In Queens
Queens NY / December 7, 2009. This is a report on the Queens real estate market. The report covers the latter half of 2009. This analysis includes looking at apartment rental prices, as well as condo, co-op and home prices and availability. This Queens real estate market analysis focuses on the Astoria, LIC / Long Island City, Jackson Heights, Sunnyside and Woodside neighborhoods. While we found these neighborhoods mirrored or trailed many of the national trends, we found some interesting differences, including differences from neighborhood to neighborhood. Click here for our second half 2009 market analysis of Queens Real Estate.
---
Home Improvement & Construction In Queens
---
Banks & Loans In Flushing & Queens
---
Retail & Shopping In Flushing
---
Wholesale & Manufacturing In Queens
---
St Pat's For All Parade - St Patricks Day Parade Queens
St Patricks Day Parade
St Pat's For All Parade in Sunnyside Enters a New Era
March / Sunnyside / Parades in Queens / Queens Buzz.
I attended the St Pat's For All Parade in Sunnyside on Sunday. I came very, very late for the speeches, but one of the announcements made was that the Mayor will be marching in the annual St. Patrick's Day Parade in Manhattan on March 17th as the dispute regarding LGBT marchers has ended. The Sunnyside / Woodside St. Pat's For All Parade began in protest to the ban of LGBT Irish to fully participate [free expression / come out] in the parade.
Conservative Catholics, including the Conservative Irish, believe it's against the Christian Church teachings to permit / tolerate LGBT behavior, based on interpretations of Biblical teachings. The Bible is a collection of religious writings created about 2,000 years ago, the first half of which includes stories handed down through oral traditions dating back centuries prior to the time of Christ - if not longer. Hence the Irish in charge of the St. Pat's Parade in Manhattan embraced the Conservative Catholic point of view, and up until this year, banned LGBT people from full participation in the parade.
In 2015 Manhattan St Pat's Day Parade sponsors, including Guinness which is a not only an Irish beer-like drink, but also a defacto Irish institution - pulled out of the parade in protest of the LGBT ban. Just one year earlier, in 2014, Mayor de Blasio declined an invitation to march in the parade because of the LGBT ban. In 2013, in spite of the LGBT ban, Mayor Bloomberg continued the mayoral practice of marching in the Manhattan St Patrick's Day Parade.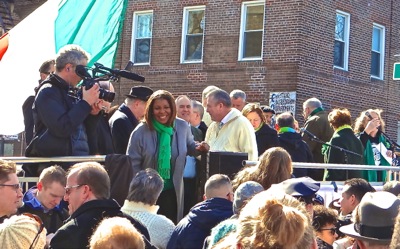 Pope Francis, the Catholic Pope since March 2013, has taken a less dogmatic and less conservative approach to the issue of LGBT sexuality than his predecessors. Instead of embracing intolerance and exclusion, he has cited other Christian Church teachings which advocate love and respect for your fellow human beings, and hence has ushered in a more tolerant - if not accepting - position by the Catholic Church. On the Manhattan St Patricks Day Parade website we found the following statement,
"When asked about his stand on gay priests, Pope Francis did not stray from the Church's doctrine, but told reporters,
"If someone is gay and he searches for the Lord and has good will, who am I to judge?" "
We researched the LGBT topic back in 2010 and posted this report regarding the science and history of gay rights in NYC.
Hence the Sunnyside / Woodside St Pat's For All Parade enters a new era, as it's no longer a protest parade per se, but rather a Queens St Pat's Parade embracing the American philosophy of inclusion, respecting all people, as stated in the American Pledge of Allegiance which states,
"I pledge allegiance to the Flag of the United States of America, and to the Republic for which it stands, one Nation under God, indivisible, with liberty and justice for all."
We may not all be Irish, but we are all Americans.
So this year I video recorded the parade, with a focus on the musical, dance & cultural performances by the groups participating in the parade. The recording includes a number of bagpipers, the names of which I didn't catch because they don't really market their names, the Brian Fleming Band playing fiddling Irish music, the McManus Irish Dance Company practicing a little marching number while they were waiting, but it's best done while marching which you'll see after the parade resumed moving, the Rude Mechanical Orchestra playing a jazzy tune and PS123 Sapphire Dance Line & the Marching Cobras from Harlem doing a great dance and music routine.
I cannot think of a better place for an Irish-hosted, multi-cultural parade than Queens, which may be what the St Pat's For All begins to evolve into, having successfully protested the former, excusionary practices of the St Patrick's Day Parade in Manhattan.
Click here to watch the St Pat's For All Parade 2016 Sunnyside Queens video. Happy St Patrick's month.
The photo above shows the speakers on the podium [front row left to right] which include Public Advocate Letitia James, NYS Comptroller Thomas DiNapoli, CCM Daniel Dromm, NYC Council Speaker Melissa Mark-Viverito, Brendan Faye, a parade co-Founder [back turned to us], and to the far right Kathleen Walsh D'Arcy also one of the parade co-Founders of the event. Behind them you can find [but you have to look hard / left to right] NYC Comptroller Scott Stringer, CCM Jimmy Van Bramer, Congressman Crowley and NYC Mayor de Blasio.
---
Restaurants In Flushing
---
---
Government & Employment In Queens
---
Transportation In Flushing & Queens
---
---
Flushing Real Estate Related Info
Click this link for promotions, discounts and coupons in Flushing and Queens.
Click this link to go to the Jackson Heights Elmhurst Neighborhood / Things To Do In Jackson Heights - Attractions / Jackson Heights Events / Jackson Heights Maps / Jackson Heights Maps / Jackson Heights Shops.
Site Search Tips. 1) For best results, when typing in more than one word, use quotation marks - eg "Astoria Park". 2) Also try either singular or plural words when searching for a specific item such as "gym" or "gyms".
---
Archives - TBD
---
Click this link to search for something in our Queens Business Directory.
---
Click the log in link below to create an ID and post an opinion.
Or send this story to a friend by filling in the appropriate box below.
---