News Briefs about Jamaica NY sometimes done by / or with the help of the audience community
---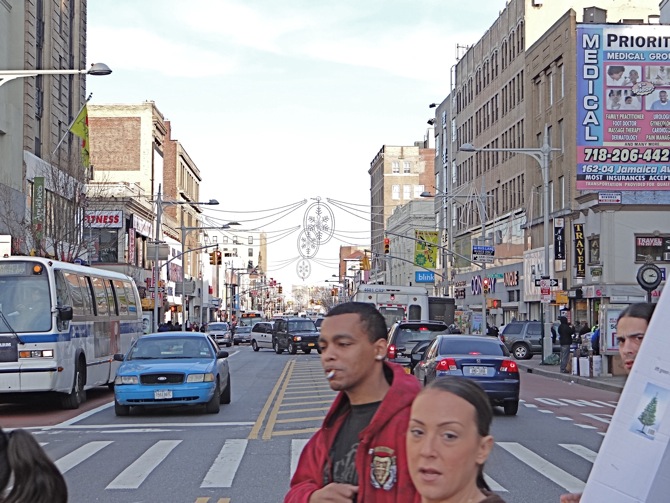 February 19, 2013 / Jamaica Neighborhood News / Queens Buzz. This photo shows the shopping district along Jamaica Avenue in the Jamaica section of Queens.
---
---
Click any of these links to scroll down to view the Jamaica News briefs from prior years.
---

---
Holiday Celebrations At King Manor
December 2013 / Jamaica News / Queens Buzz. King Manor Museum hosted some old fashioned holiday festivities just before the Christmas holiday. They set up a workshop in the back room where families and kids could come to create tree decorations out of the materials used back in the days of Rufus King.
We participated in the workshop, making stringers out of popcorn, cranberries and the like.
---
Jamaica Farmers Market Open Thru Mid Nov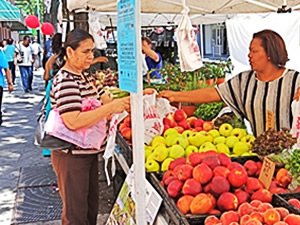 June 2012 / Jamaica NY / Jamaica News Briefs / Queens Buzz. Community Markets Farmers Market in Jamaica opened this month. The farmers market provides local residents with an opportunity to purchase fresh vegetables, produce, eggs, poultry and meats raised by local New York / New Jersey farms. Many of the items sold also qualify as all natural and a few of the items are organic.
The market also accepts food stamps, so you can cash your food stamps using your EBT card to get tokens you may use to purchase items sold at the farmers market. The market is open every Friday and Saturday from 8.30 am to 4 pm. The market will be open through mid November [11/16 & 11/17 is the last weekend]. Click here to view a complete report on farmers markets in Jamaica & Queens.
---
---
---
---
Queens Reggae Festival Cancelled
7th Annual Irie Jamboree - On Hiatus Until 2011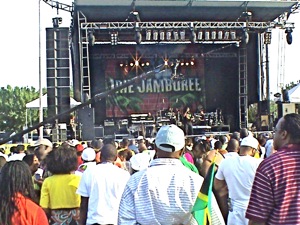 July 2010 / Jamaica / Queens Buzz. Queens most popular annual reggae festival has been cancelled this year. The seventh annual Irie Jamboree will NOT occur in Roy Wilkins Park on Labor Day Weekend 2010. Event organizers cited several reasons, but it appears the most significant was economic / sponsorship funding. Event organizers exhausted potential options, before reaching the decision to cancel the event this year. They also asked us to communicate thanks to all of those who worked on, and / or supported the reggae festival, which they intend to revive Labor Day Weekend of 2011. The photo shown is of a performance given at the Irie Jamboree in 2009 and contains a link to our coverage of the Irie Jamboree.
---
Jamaica JAMS Festival Attracts Thousands
Ten Thousand Come To Queens' Largest Street Fair
August 8, 2010 / Jamaica / Queens Buzz. The JAMS Street Festival covers over 15 blocks and is one of the largest street fairs in Queens. We counted three stages upon which numerous live bands played a wide range of music including the Motown sound, Reggae, Afro-Caribbean, jazz and rock.
Meanwhile the crowd consisted of a spicy mix of Caribbean, Afro-American, Indian and Middle Easterners. There were a number of street shoppers / browsers of European descent too. It has been estimated that over 10,000 people visit this street fair.
---
Reggae & World Music Awards
York College Performing Arts Center Hosts Show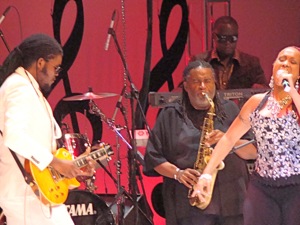 May 2, 2010 / Jamaica / Queens Buzz. The International Reggae & World Music Awards [IRAWMA] were held last night at York College in Jamaica. Many of the world's most renowned reggae musicians attended the event lingering along the red carpet where reporters had the opportunity to mix with them in conversational interviews.
This was my third venture into the reggae world and with each foray I become a little better versed in the music and the movement which aspires to inspire others to strive to reach their full potential. We will post a more complete report at a later date including photos of the event.
---
---
---

---
Barack Obama Inauguration In Jamaica Queens
This report was filed the day of Barack Obama's Inauguration as the first African American president of the United States of America. I went down to Jamaica, which is an African American and Caribbean American section of Queens, to witness the enthusiasm and joy of having finally achieved an important benchmark of equality in a nation into which most African Americans came not as a free people, but as slaves.
It was an achievement that all citizens of the nation could take pride in, having put some of the legacy of the nation's immoral treatment of other human beings, behind us.
---
1st Non-Caucasian Becomes President of U.S.
Obama Inauguration Day
In Jamaica Queens
Jamaica Queens / January 20, 2009. Today was an historic day with the first African American president being sworn in as the 44th president of the United States Of America. Barack Hussein Obama took the oath in front of a record crowd in attendance, estimated to number between one and two million. Worldwide television and web coverage also translated into hundreds of millions of people from around the planet witnessing this event.
African Americans In Jamaica Queens
I went down to the Jamaica section of Queens to witness the interest, pride and charm of our fellow African Americans in the community. My first stop was the Queens Central Library, which had made a public invitation to all to come watch the inauguration in its screening room in the library basement. The room seats about 300 – 500 and I would guesstimate that it was half to two thirds full. I was not allowed to take photos except from the back of the room, so after taking a couple of photos I soon departed. Click this link for Obama Inauguration In The Jamaica Section Of Queens NY including more photos.
---
Jamaica NY Related Info
Click this link for promotions, discounts and coupons in Jamaica and Queens.
Click this link to go to the Jamaica Neighborhood News / Jamaica Restaurants Guide & Map / Jamaica Business Directory / Jamaica Shopping Center and Map.
---
Site Search Tips. 1) For best results, when typing in more than one word, use quotation marks - eg "Astoria Park". 2) Also try either singular or plural words when searching for a specific item such as "gym" or "gyms".
Click this link to search for something in our Queens Business Directory.
---
---
Click the log in link below to create an ID and post an opinion.
Or send this story to a friend by filling in the appropriate box below.
---