Election Day Here
Today We're The 'Deciders'
Sunnyside / November 4th, 2008 at 12 noon. Well, after almost two years of campaigning, decision day 2008 is finally here. Now it's our turn to decide who the 'decider' will be. Local, state and federal elections are being held Tuesday November 4th.
Poll Site Locator
To find your poll site, click the following New York City poll site locator. I was disappointed that on Monday, November 3rd the city's helpline - 311 - was unable to answer our calls for voting information. I suppose the upside is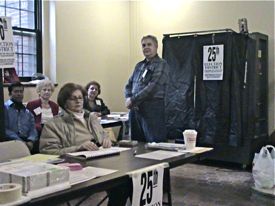 that they attributed their inadequacy to higher than average call volume. The polls are open from 6 am to 9 pm on election day.
Heading For Record Voter Turn Out
The borough and the nation appear to be headed for record voter turnout. Lines at all of the polling places in Queens that we visited were reporting much higher than average participation. Lines started early in the morning and continued into midday [see photos below]. While the polls didn't open until 6 am, people started lining up at 5.30 am in the 25th District in Sunnyside. A senior woman commented that she'd "never seen itlike this". While she's been around here a lot longer than I, my sentiments were the same.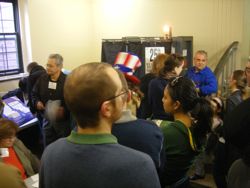 Primary Vs General Election
Last Spring when I went to the polls after the morning rush, I took a photo of the election workers who, along with me, were the only people present. Note the 'before' phot taken during the Primary in February of 2008 [above] and the 'after' photos taken during this general election on November 4th [photo to the left and below]. This section of the story was written the morning of the election. The next section was written the evening of the election.
---
Long Lines Formed Early, Then Tapered Off As Record Numbers Voted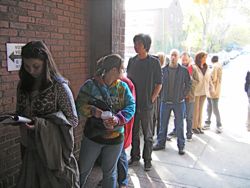 Sunnyside / November 4th 2008 at 6 pm and 10 pm.
While it was quite busy this morning, the voter lines seemed to have tapered off this evening. We did a quick swing around the Sunnyside and Woodside neighborhoods at both 6 pm and 9 pm and the voter waiting lines didn't appear to be very long. When we queried poll workers, they said it had been busy and steady all day long.
So if you hadn't voted early, you wouldn't have had to worry about long lines later. It seems people voted early and steadily through the day. The photos on this page were taken at the 25th and 26th precincts in the morning.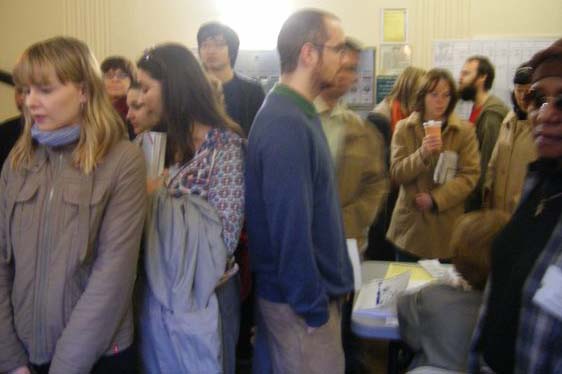 ---
Queens Buzz Subscriptions
We work very hard to help keep you informed by providing you with independent news coverage, as well as information about events in the arts, culture and business in the borough.

You can help us continue to provide you with independent, first-person, fact-based, contextural reporting by purchasing an annual voluntary subscription, which we've priced to accommodate all budgets.
Thanks for your encouragement and support.
---
Sunnyside Neighborhood Links
Click on these advertisements for promotions, discounts and coupons by retailers and restaurateurs in Astoria and nearby Queens.
Click this link to go to the:
Sunnyside & Woodside Neighborhood
Sunnyside Business Directory or Woodside Business Directory
Sunnyside & Woodside Real Estate or Events & Things To Do In Sunnyside & Woodside
Restaurants In Sunnyside & Woodside or Sunnyside & Woodside Shops & Shopping
---
LIC Neighborhood - Long Island City Links
Click on these advertisements for promotions, discounts and coupons by retailers and restaurateurs in Long Island City LIC and nearby Queens. Click here for a related story about the hotels & restaurants in Dutch Kills section of Queens.
Click this link to go to the:
Long Island City Neighborhood or LIC Business Directory
Long Island City Real Estate or Events & Things To Do In LIC
Restaurants In Long Island City or LIC Shops & Shopping
---
Site Search Tips. 1) For best results, when typing in more than one word, use quotation marks - eg "Astoria Park". 2) Also try either singular or plural words when searching for a specific item such as "gym" or "gyms".
Click this link to search for something in our Queens Business Directory. Also check out Taste of Sunnyside.
---
Click the log in link below to create an ID and post an opinion.
Or send this story to a friend by filling in the appropriate box below.
---