Davenport & Sunnyside: The Bix Jazz Connection
Jazz Musician Bix Beiderbecke is an Evolving Link Between Davenport Iowa & Sunnyside Queens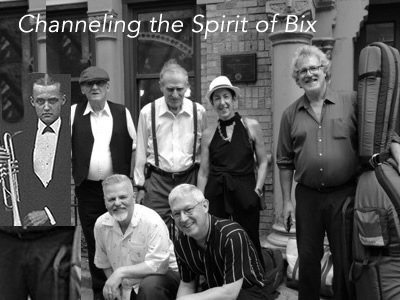 August 8, 2017 / Sunnyside Neighborhood / Jazz in Queens / Queens Buzz NYC.
So a week ago I took a walk 'On the Sunny side of the Street' as I ambled down to Queens Blvd at 46th Street to take in the music of the annual Bix Beiderbecke Concert. As I approached I could hear the music wafting through the hallowed halls of the #7 train tracks.
There was a full crowd at the 46th Street Plaza where kids were dancing to the jazzy tunes alongside a couple who knew their steps. The weather was nearly perfect, in the low 80's and not too humid.
In the photo at right, standing in front of the building on 46th Street in Sunnyside where Bix spent the last few months of his life, are [from left to right] drummer Paul Maringelli and trumpeter Jordan Sandke in the first row, and cornetist Bix Beiderbecke [brought back to life], clarinetist Joe Licari, pianist John E. Halsey, saxophonist Carol Sudhalter and bassist Fred Berman [Harvey Tibbs is not present] in the second row.
The Sunnyside Wolverines - Playing Bix Tunes Nearly 20 Years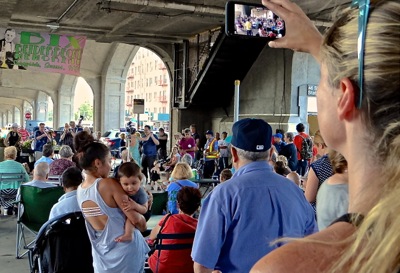 All of the musicians are accomplished in their own right. In addition to playing with the Sunnyside Wolverines - a band formed by drummer Paul Maingelli and named after Bix's band the Wolverines - each musician performs either individually or with other collaborators - quite frequently around the NYC metro area, as well as further afield. I'll include their contact information at the end of this report, in the event you're looking for (a) musician(s) to perform at a party or event.
On the Sunnyside of the Street was one of the last tunes played by the group on this balmy summer evening. The tune was first played as part of a 1930 Broadway Musical, just a year before Bix passed away on August 6, 1931. The group also played the tunes from the last of Bix's final recording session, which was made during the last year of his life.
Bix's life started in Davenport, Iowa in 1903. In his teens Bix taught himself how to play the cornet. He started performing for the public soon thereafter, including on Mississippi River boats which had become big entertainment venues. By the time he was 20, Bix had become a famous jazz musician performing in jazz towns like Chicago and Detroit.
In the photo above right you can see the crowd enjoying the Bix Beiderbecke concert which was sponsored by the Sunnyside Shines BID. In the photo below right you can see the Mississippi River near Davenport, Iowa where Bix grew up. The latter photo compliments of trumpeter Jordan Sandke.
Click here to read the rest of the story, including photos from Davenport, Iowa where Biz was born, and a short video of the Bix Beiderbecke concert in Sunnyside, Queens.
---
Davenport & Sunnyside: The Bix Jazz Connection
Jazz Musician Bix Beiderbecke is an Evolving Link Between Davenport Iowa & Sunnyside Queens
August 8, 2017 / Sunnyside Neighborhood / Jazz in Queens / Queens Buzz NYC. Continued.
Many Sunnyside Wolverine Band Members have a Bix Connection
While Bix was quite famous among jazz muscians and some of the general public while he lived, he became even more famous after he died. The Bix story was given new life in 1936 by a writer, Otis Ferguson, who wrote two stories about a 'Young Man with a Horn', which were published in the New Republic. In 1971, 40 years after Bix had died, the city of Davenport, Iowa started the Bix Beiderbecke Memorial Jazz Festival.
Saxophonist Carol Sudhalter, who performed with the Sunnyside Wolverines at the concert last week [and plays around the NYC metro area], is the sister of one of the two authors of Bix: Man and Legend which was nominated for the National Book Award within the year it was published. Carol told me that her brother Richard Sudhalter has passed away and it's worth noting that his co-author was Philip Evans.
In 1977 Bix's childhood home in Davenport, Iowa was added to the National Register of Historic places. This year, trumpeter Jordan Sandke who played with the Sunnyside Wolverines at the concert this evening, joined his brother in Davenport within the past couple weeks to join in the opening of the Bix Beiderbecke Museum - of which Jordan's brother is a founding board member. Jordan's brother is also a trumpeter and named his son Bix.
I suppose it wouldn't be fair not to again mention that the Bix Beiderbecke Memorial Concert was founded by Sunnyside Wolverines founder and drummer Paul Maringelli. Paul discovered around the turn of the 21st century that he lived across the street from the building on 46th Street where Bix had died. And that's when Paul Maringelli, became one of Queens' Paul Reveres, of the Bix Beiderbecke jazz legend.
Click on the photo at right to watch a short video of the concert.
Click on the video below. If it doesn't appear - Click the refresh arrow / curly cue at the top of your browser to refresh to get the video controls.
---
---
The Jazz Legend Continues in Sunnyside ...
Bix Beiderbecke Spent his Last Days in Sunnyside, but the Music Never Stopped Playing ...
July 25, 2017 / Sunnyside Neighborhood / Jazz in Queens / Queens Buzz NYC. Top two photos contributed by Jordan Sandke.
On August 6, 1931 - at the very young age of 28 - Bix Beiderbecke died of lobar pneumonia in his apartment on 46th Street off Queens Blvd in Sunnyside.
Bix Beiderbecke - Jazz Legend
Bix's great talent, troubled life and short lifespan, all contributed to his steady post-mortem rise to become one of the first great jazz legends. Bix composed and played jazzy tunes on the cornet and piano, and had learned how to play by teaching himself. Bix's life continues to capture the imagination of authors, film makers and musicians as he has become a sort of iconic, artistic martyr of the musical genre of jazz.
I first met Paul Maringelli in the spring of 2009. He told me about an upcoming concert that he was playing in, to commemorate the jazz legend Bix Beiderbecke who - he informed me - died about a block away from where we were standing. Honestly, I didn't know much about Bix at the time, except that he was a famous jazz player and his name had been used in numerous movies to support the notion of a jazz band.
Sunnyside Musicians Channel the Beiderbecke Spirit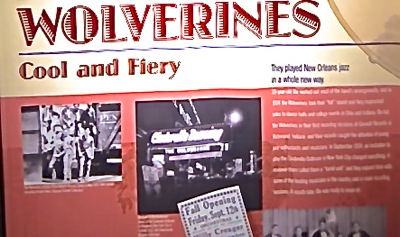 Paul Maringelli is a drummer and an artist, who has a natural curiosity for all things interesting. Back in 2001 he found out that Bix had lived in his building on a PBS Special produced by Ken Burns. Shortly after Paul gathered a small group of people together on August 6, 2001 in the courtyard of All Saints Church of 46th Street and a trumpet player played a tune, a candle was lit and a tradition began.
In 2007 Bix was mentioned in the first season of Madmen when one of Don Draper's girlfriends used Bix name as code for fun and spontaneous - but Don didn't get it at first - even though he did 'get it' later.
Maringelli, Sandke & the New Orleans - Davenport (Iowa) Mississippi Riverboat Connection
This year, in part through the community building efforts of Sunnyside Shines Director Jaime-Faye Bean, Paul and I started talking about the upcoming Bix concert scheduled for August 3rd from 5 - 7 pm. In the conversation Paul mentioned that one of the band members, Jordan Sandke, was traveling out to Davenport, Iowa for the opening of the Bix Beiderbecke Museum. Naturally that caught my interest as it opens up a whole new connection between Bix in Sunnyside and Bix in Davenport, providing us both with the opportunity to enhance the legend.
Jordan and I subsequently spoke about getting photos from the opening, many of which I will post as the week runs on. They include photos of the opening of the Bix Beiderbecke Museum in Davenport, photos of Bix's grave there too, and some of Bix relatives and memorabilia that is now housed in the museum.
Both Jordan and Paul will be playing at the upcoming Bix concert on Thursday, August 3rd at Queens Blvd and 46th Street under the tracks.
---
Queens Buzz Subscriptions
We work very hard to help keep you informed by providing you with independent news coverage, as well as information about events in the arts, culture and business in the borough.

You can help us continue to provide you with independent, first-person, fact-based, contextural reporting by purchasing an annual voluntary subscription, which we've priced to accommodate all budgets.
Thanks for your encouragement and support.
---
$element(adman,groupad,NhoodSSWS)$
Sunnyside Neighborhood Links
Click on these advertisements for promotions, discounts and coupons by retailers and restaurateurs in Astoria and nearby Queens.
Click this link to go to the:
Sunnyside & Woodside Neighborhood
Sunnyside Business Directory or Woodside Business Directory
Sunnyside & Woodside Real Estate or Events & Things To Do In Sunnyside & Woodside
Restaurants In Sunnyside & Woodside or Sunnyside & Woodside Shops & Shopping
---
LIC Neighborhood - Long Island City Links
$element(adman,groupad,Catgry Foodwine)$
Click on these advertisements for promotions, discounts and coupons by retailers and restaurateurs in Long Island City LIC and nearby Queens. Click here for a related story about the hotels & restaurants in Dutch Kills section of Queens.
Click this link to go to the:
Long Island City Neighborhood or LIC Business Directory
Long Island City Real Estate or Events & Things To Do In LIC
Restaurants In Long Island City or LIC Shops & Shopping
---
$element(adman,groupad,NhoodSSWS)$
Site Search Tips. 1) For best results, when typing in more than one word, use quotation marks - eg "Astoria Park". 2) Also try either singular or plural words when searching for a specific item such as "gym" or "gyms".
$element(bwcore,insert_search,N)$
Click this link to search for something in our Queens Business Directory. Also check out Taste of Sunnyside.
---
Click the log in link below to create an ID and post an opinion.
Or send this story to a friend by filling in the appropriate box below.
$element(adman,groupads,Sectional2 Ad)$
---