Click the heading above to view ethinic & religious events this month in Queens. Click the following links to go directly into one of these Queens Neighborhoods: Astoria, Flushing, Jackson Heights, Jamaica, Long Island City and Sunnyside. You may also click here to go to our Queens Parades section or to our ethnic, religious & holidays in Queens section.
---
Holiday Events In Queens - Christmas, Hanukkah & Kwanzaa Events Queens
Holiday Events In Queens
Christmas Tree Lightings, Hanukkah Menorah Lightings, & Kwanzaa Candle Lightings in Queens
Upated December 14, 2018 / Astoria Neighborhood / Long Island City LIC Neighborhood / Sunnyside Neighborhood / Woodside Neighborhood / Jackson Heights Neighborhood / Corona Neighborhood / Flushing Neighborhood / Jamaica Neighborhood / Queens Neighborhoods NYC / Queens Things To Do Holidays / Queens Buzz NYC.
Holiday lighting festivals and ceremonies have been on the rise in Queens in recent years. While some date back many years, most are traditions that started within the past five or ten years.
What does an increase in holiday lightings mean? It means you have ample opportunity to go yourself, or with friends, or to take your kids to one or more of them to learn a bit more about your own culture or the culture of others.
Each lighting is a bit different, as some are community and business-oriented, some are religiously oriented, a few have arts organizations behind them, and some are backed by non-religious cultural organizations. Please feel free to send us a notice of your holiday lighting event if it's not posted herein.
Queens Christmas, Hanukkah & Kwanzaa Holiday Events Begin in Earnest
This is not meant to be a complete list, but rather a list of the holiday lighting events, many of which I've attended one or more times since late 2007. The holiday lighting events are organized individually by each Queens neighborhood including Astoria, Long Island City LIC, Sunnyside, Woodside, Jackson Heights, Corona, Flushing, Jamaica and Whitestone. Many include the serving of some beverage like hot chocolate and generally something to munch on like cookies.
---
The Road Ahead 2018
A Few Axioms To Keep In Mind Throughout The New Year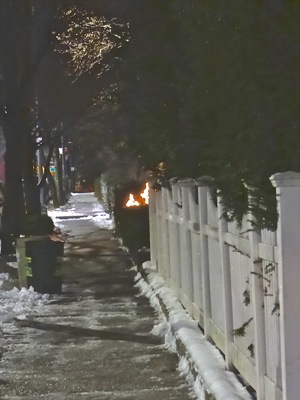 January 2, 2018 / Queens Neighborhoods / Queens Holidays / Queens Buzz NYC.
For many of us, yesterday started the beginning of the new year.
I used to make new years resolutions that generally lasted a few days or few weeks. Over time I've given that up and have focused on a few guiding principles that I work toward throughout the year, every year.
1. The first guidepost is to keep things as simple as possible by letting things go, so I can change and evolve who I am. Over time it's important to learn to let go of the past which includes letting many of the people, projects and things - that were once so meaningful and relevant - fade away with time. This process involves discarding much of what one collects, in order to open up life to make room for new possibilities.
2. The second guidepost is to take care of the vessel that carries one's being - meaning taking care of the body because it's the only one we'll ever get, and it has to last an entire lifetime. This means consuming the foods that will enable the body to function properly and ward off disease, while recognizing that satisfying the mind is important too, as it's a part of the body. There are three elements to this guideline.
a _ Try to maximize consumption of natural foods while managing / minimalizing consumption of the delicious processed foods that come in packages. Read package container nutrition labels which indicate the amount of fat, sugar, sodium and cholesterol consumed per serving. The balance of natural and processed foods will shift depending on what's going on in life.
b _ Reduce consumption of toxins by first paying attention to the quantities consumed of them, and then by substituting the toxins with healthier choices. For example dilute a soft drink with seltzer water [cuts sugar], or swap in a lemonade for a beer [cuts alcohol], or swap in pretzels for potato chips [cuts salt and fat]. Over the years these little substitutions can add up to some fair measure of weight loss, and can aid in maintaining generally good health. But it's also important not to deprive oneself, too much, of some of the simple pleasures in life that keep one going - because my experience has been that whenever I'm too draconian, there's a subconscious rebellion, and the program doesn't work.
c _ The third element of this guidepost is to try to walk and bike whenever possible. It's a good way to kill two birds with one stone as it enables getting somewhere, while also getting some exercise. And be sure to carve out enough time each night, for a proper rest.
3. The third guidepost is to try to move your life in the direction of your interests. This will likely take a great many years, as well as needing to make a good number of economic and other trade offs. But if successful, one can then spend most of their time doing the things that totally engage them. It's said that "when someone is doing something they truly love, they'll never have to work another day in their life."
4. And the fourth guidepost is to keep on learning, because "luck is when preparation meets opportunity". So the more you learn, and the more experience you get, the better prepared you'll be ... come what may.
May your new year be filled with promise and possibilities. Best wishes for a happy and successful 2018.
Queens Holiday Events Underway
Woodside on the Move Tree Lighting & Caroling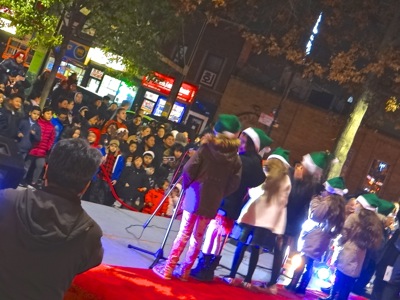 Posted December 5th / December 2, 2017 / Woodside Neighborhood / Queens Holiday Events / Queens Buzz NYC.
There's been a surge of holiday activities - which began just shortly before Thanksgiving Day - and which this past weekend went full throttle. And there's more to follow.
The temperatures were unseasonally balmy, with the mercury level near 60 degrees on late Saturday afternoon, as I headed down to Woodside to cover the Woodside on the Move annual Christmas tree lighting. As I approached Sohcke Square I could see a crowd gathered along Woodside Avenue just east of 58th Street where the street had been blocked, and a stage had been erected. I shot a few photos while listening to the speaker and surveying the crowd.
After a while I heard a marching band in the distance, and wondered how they fit into this event, as over the past decade a marching band had not been previously included as a part of the performances. As it turns out, there was a separate group celebration, which had put together a sidewalk parade, that included people dressed like the Biblical Mary and Joseph, who were followed by other marchers dressed up and carrying flowers followed by a sizeable marching band. I'll post a bit of video late today or on Wednesday.
The children of PS 11, PS 151, PS 152 & PS 361 were scheduled to give musical performances, so I recorded a brief video of one of them, which I'll include with the video mentioned above. Anyhow, the kids and the parents all seemed to be enjoying themselves and the tree looked really good, possibly better than ever. The moon was shining high in the sky, as I made my way west to Sunnyside to view the festival on Skillman Avenue.
Halloween Parties In Queens
Halloween Parties Queens 2018
Halloween Parties in Astoria, LIC, Sunnyside, Woodside, Jackson Heights & Flushing
October 21, 2018 / Queens Neighborhoods / Queens Restaurants & Bars / Queens Buzz NYC.
Here's a listing of some of the Fun Parties Open To Public In Queens.
There are a lot of parties planned for Halloween Weekend and Halloween Day of 2018. There are costume parties and live music for adults, and parades and parties for the kids. This report will provide you with a sampling of party opportunities around the borough of Queens for adults on Halloween Weekend 2018, which is a little more than two weeks away, and this page also includes links to the kids Halloween parties page, and Halloween parties in other boroughs.
The photo to your right was taken of a Halloween party crowd in Queens in an earlier year. Halloween allows the latent artist and theatrical actor in us all, to come out of its inhibition. In earlier times it was said that masquerade events were to give the upper and lower classes a chance to mingle without being scandalized - as everyone was in costume.
Click here to read about Halloween Parties In Queens this year.
---
Kids Halloween Parties In Queens
Halloween Parties For Kids In Queens 2018
Fun Kids Halloween Parties Open To Public In Queens
October 22, 2018 / Queens Neighborhoods / Queens Things To Do / Queens Buzz NYC.
There are quite a few events and Halloween parties planned for kids in Queens this year. Costume Parties, mask making, parades and entertainment abound for kids in Queens.
This report will focus on the kids Halloween parties and events, giving you a sampling of possible Halloween party venues and events around the borough of Queens on Halloween and Halloween Weekend 2018.
In the photo to your right is a scene from the Halloween party at either the Queens Museum [woman with painted face] or from the Astoria Halloween Parade [with the page preview only].
Click here to read our report on things to do with kids for Halloween in Queens. Also see our related report on Halloween parties in Queens for adults.
---
Fiery Dragon Heats Up Boat Festival
August 2017 / Flushing Neighborhood / Part Fiction & Part Fact / Chinese Culture in Queens / Queens Buzz NYC.
It was a warm weekend at the Hong Kong Dragon Boat Festival in the Flushing neighborhood of Queens. But not too warm to prevent the legendary fiery dragon, a symbol of good fortune, to grace the Hong Kong Dragon Boat Festival with his presence [see photo to right].
The fiery dragon came rampaging through the festival lawn, seeming to blow flames from its mouth, out into the hot air. Thankfully Meadow Lake was nearby.
Is this a fictitious tale you may ask? Only the dragon knows for sure.
The 27th Annual Hong Kong Dragon Boat Festival was held in Queens on Meadow Lake. Meadow Lake is located in the southern end of Flushing Corona Meadows Park, well past the Unisphere and roller rink. The races were held on both Saturday and Sunday during the day. There were reportedly over 2,000 participants in the races, which included serious racers and racers just out to have a fun time. And many thousands of spectators.
Things To Do In Queens - Labor Day Weekend 2018
Things To Do Labor Day Weekend Queens
Things To Do In Queens Over The Labor Day Weekend
August 31, 2018 / Things To Do Queens NY / Queens Buzz NYC.
Labor Day Events In Queens
Click here to obtain information about things to do Labor Day Weekend in Queens. This events calendar is updated monthly with about 100 different Queens fun / cultural events.
U.S. Open - August 27 - September 9
The U.S. Open is being played out in Flushing Meadows Corona Park at the U.S.T.A complex.
Queens Public & Private Parks
Queens has one of the best collection of parks and golf courses in the NY Metro area, if not the best. Queens has at least 17 great parks. Click here for a listing of the Queens Parks including maps showing their locations along with a bit of park history.
Golfing In Queens
Queens has four golf courses and all of them are open this weekend. Click here for details about Queens Golf Courses including maps and links to the operators' websites.
---
HORROR on Ditmars ends Ghoulishly in Astoria Park
The Astoria Family Halloween Parade Marches Down Ditmars to Astoria Park Halloween Celebration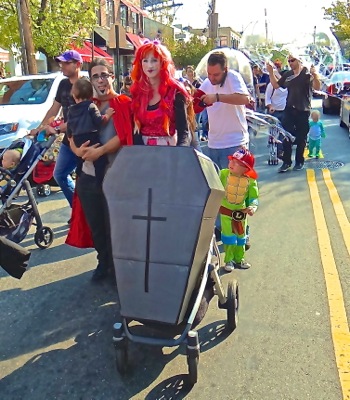 October 30, 2016 / Astoria Neighborhood / Holidays in Astoria Queens / Queens Buzz.
It was ghoulish, it was hairy and in fact it was just plain, downright SCARY. There's just no other way to describe the Astoria Family Halloween Parade.
There were ghosts, goblins, witches, monsters and people back from the dead. They came by the hundreds and in all sizes. They were tall, small and everything in between. There were likely over one thousand people who came to participate in the tenth annual Astoria Family Halloween Parade.
Yet, even though I was surrounded by all of these frightening monsters, I felt a certain calm. Why? Why so calm amidst all of this horror?
IT WAS SCARY, BUT ... thankfully there were plenty of Super Heroes Around
Because there were possibly even more superheroes in the crowd. Wonder Woman, Superman, Batwoman, Batman and how about those Ninja Turtles?
The ghouls, goblins and their parents congregated at Ditmars & 31st Street beginning at 11.30 am filling all four corners and then some with plenty of people decked out in full Halloween garb. The weather was amply cooperative climbing well into the 70's and I heard some of the monsters complain that they were overheating … but not the devils … they seemed to feel right at home – if not a bit chilly.
The police cordoned off one lane of Ditmars between 31st Street and Astoria Park and at noon, the families packed up and marched down to Astoria Park along the East River. The families came streaming down the Great Lawn and started taking their places on the grass in front of the stage erected by the Central Astoria Local Development Corporation also known as CALDC.
CALDC had organized a Halloween event, which they called the First Annual Batty Over Halloween Celebration. The free event included face painting, balloon twisting, a children's Halloween sing along, cotton candy and munchkin pumpkins giveaway.
All in all it made for a fun outing for the kids and parents of the neighborhood who embraced both the parade and the Halloween after party. The parade was started around 2006 and continues to be organized by the Astoria Moms Meetup Group and Queens Mamas.
Click here to view the Astoria Family Halloween Parade 2016 slide show.
Columbus Day Parade in Astoria
Beautiful Day to Enjoy a Parade Along Steinway & 30th Streets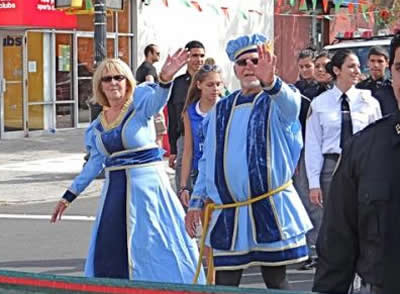 October 12, 2016 / Astoria Neighborhood / Holidays in Queens / Queens Buzz.
The 39th Annual Columbus Day Parade returned to Astoria last weekend. People lined the streets of Astoria to watch the parade which included a number of local Italian organizations including soccer groups, Italian clubs, school groups and floats.
A number of local government representatives also marched in the parade including NYC Councilman Constantinides, Assemblywoman Simotas and Senator Gianaris.
The weather cooperated, as it was in the 60's and sunny and dry. The parade commemorates Italian Christopher Columbus' discovery of America in 1492. And the parade was organized by the Astoria Chapter of the Federation of Italian Americans.
The photo above was taken in a prior year.
---
Only in Queens
Muslims & Jews Organize Iftar Ramadan Dinner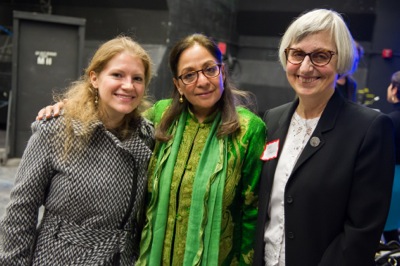 June 7, 2016 / Forest Hills Neighborhood / Religion & Culture in Queens / Queens Buzz.
Only in Queens. On Thursday June 9th, the Turkish Cultural Center and the Central Queens Y will break bread together at an Iftar Ramadan dinner beginning at sundown [7.30 pm] at the Central Queens Y at 67-09 108th Street in Forest Hills.
Ramadan is the ninth month of the Muslim year and the holiest month of the Islamic year. During this time Muslims pay special attention to praying, fasting and reflecting upon their lives. The Islamic Holy Month has similarities to the Christian Lenten season, as well as the Judaic Day of Atonement, Yom Kippur.
Islamic cultural traditions are based upon the lunar calendar, so the Ramadan Holy Month moves slightly around the solar calendar, from year to year. This year Ramadan began on June 5th and will end on July 5th. Attendees of all faiths are welcomed, as are families. The intent is to embrace a harmonious understanding of our shared planetary cultural identities, which the framers of the U.S. Constitution had envisioned centuries ago when they founded this nation.
The Iftar Dinner will be a dairy Middle Eastern meal catered by Meal Mart from Kew Gardens Hills. Meal Mart is Glatt Kosher and is under the supervision of the Vaad Harabonim of Queens. The meal costs $15 per adult and children under 12 are $5 each. Reservations may be made by registering online at www.cqy.org/tickets or you can call 718.268.5011 - ext 151, or email pkurtz@cqy.org.
---
Astoria Park - International Culture Festival
Astoria International Cultural Festival
May 31, 2016 / Astoria Neighborhood / Ethnic Culture in Queens / Queens Buzz.
On Saturday May 21st from 1.30 until past 6 pm, there was a series of cultural performances held on the Great Lawn of Astoria Park. The event was hosted by the Central Astoria Local Development Coalition [CALDC] to showcase the multi-ethnicity of tne neighborhood.
Nearly a dozen local cultural groups performed, including Ballet Los Pampas representing Argentina, KUD Halaturko representing Bosnia, Croatian Franciscan Fathers Youth Club, Ayazamana Cultural Center representing Ecuador, Cretan Association representing Greece, NYC Bhangra representing India, McManus School of Irish Dance, The Braata Folk Singers representing the Caribbean / Jamaica, and the Korean Traditional Music and Dance Center.
There was a crowd that numbered in the hundreds over the course of the afternoon. Many brought lawn chairs and blankets to sit upon while they watched the show. The weather cooperated as the temperature was in the 60's and while at times cloudy, it was dry.
Several food vendors came out to augment the cultural celebration, now in its second year. As I came late in the afternoon, I had missed the prime time of that part of the event. In the photo at right you can see one of the performers walking up the Astoria Park Great Lawn after her performance.
Click here for a brief video of some of the 2016 International Culture Festival in Astoria Park.
---
St Pat's For All Parade - St Patricks Day Parade Queens
St Patricks Day Parade
St Pat's For All Parade in Sunnyside Enters a New Era
March / Sunnyside / Parades in Queens / Queens Buzz.
I attended the St Pat's For All Parade in Sunnyside on Sunday. I came very, very late for the speeches, but one of the announcements made was that the Mayor will be marching in the annual St. Patrick's Day Parade in Manhattan on March 17th as the dispute regarding LGBT marchers has ended. The Sunnyside / Woodside St. Pat's For All Parade began in protest to the ban of LGBT Irish to fully participate [free expression / come out] in the parade.
Conservative Catholics, including the Conservative Irish, believe it's against the Christian Church teachings to permit / tolerate LGBT behavior, based on interpretations of Biblical teachings. The Bible is a collection of religious writings created about 2,000 years ago, the first half of which includes stories handed down through oral traditions dating back centuries prior to the time of Christ - if not longer. Hence the Irish in charge of the St. Pat's Parade in Manhattan embraced the Conservative Catholic point of view, and up until this year, banned LGBT people from full participation in the parade.
In 2015 Manhattan St Pat's Day Parade sponsors, including Guinness which is a not only an Irish beer-like drink, but also a defacto Irish institution - pulled out of the parade in protest of the LGBT ban. Just one year earlier, in 2014, Mayor de Blasio declined an invitation to march in the parade because of the LGBT ban. In 2013, in spite of the LGBT ban, Mayor Bloomberg continued the mayoral practice of marching in the Manhattan St Patrick's Day Parade.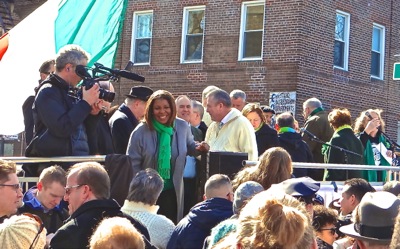 Pope Francis, the Catholic Pope since March 2013, has taken a less dogmatic and less conservative approach to the issue of LGBT sexuality than his predecessors. Instead of embracing intolerance and exclusion, he has cited other Christian Church teachings which advocate love and respect for your fellow human beings, and hence has ushered in a more tolerant - if not accepting - position by the Catholic Church. On the Manhattan St Patricks Day Parade website we found the following statement,
"When asked about his stand on gay priests, Pope Francis did not stray from the Church's doctrine, but told reporters,
"If someone is gay and he searches for the Lord and has good will, who am I to judge?" "
We researched the LGBT topic back in 2010 and posted this report regarding the science and history of gay rights in NYC.
Hence the Sunnyside / Woodside St Pat's For All Parade enters a new era, as it's no longer a protest parade per se, but rather a Queens St Pat's Parade embracing the American philosophy of inclusion, respecting all people, as stated in the American Pledge of Allegiance which states,
"I pledge allegiance to the Flag of the United States of America, and to the Republic for which it stands, one Nation under God, indivisible, with liberty and justice for all."
We may not all be Irish, but we are all Americans.
So this year I video recorded the parade, with a focus on the musical, dance & cultural performances by the groups participating in the parade. The recording includes a number of bagpipers, the names of which I didn't catch because they don't really market their names, the Brian Fleming Band playing fiddling Irish music, the McManus Irish Dance Company practicing a little marching number while they were waiting, but it's best done while marching which you'll see after the parade resumed moving, the Rude Mechanical Orchestra playing a jazzy tune and PS123 Sapphire Dance Line & the Marching Cobras from Harlem doing a great dance and music routine.
I cannot think of a better place for an Irish-hosted, multi-cultural parade than Queens, which may be what the St Pat's For All begins to evolve into, having successfully protested the former, excusionary practices of the St Patrick's Day Parade in Manhattan.
Click here to watch the St Pat's For All Parade 2016 Sunnyside Queens video. Happy St Patrick's month.
The photo above shows the speakers on the podium [front row left to right] which include Public Advocate Letitia James, NYS Comptroller Thomas DiNapoli, CCM Daniel Dromm, NYC Council Speaker Melissa Mark-Viverito, Brendan Faye, a parade co-Founder [back turned to us], and to the far right Kathleen Walsh D'Arcy also one of the parade co-Founders of the event. Behind them you can find [but you have to look hard / left to right] NYC Comptroller Scott Stringer, CCM Jimmy Van Bramer, Congressman Crowley and NYC Mayor de Blasio.
---
Chinese New Year Parade Flushing Queens
Chinese New Year Parade Queens
Chinese New Years Parade In Flushing Queens With Photos
Flushing / February 10, 2010.
This story includes links to current info about the Chinese New Year Parade in Flushing 2010 & 2009. It also includes reports about the parade in recent years to provide you with a sense of what to expect as well as a link to a story providing viewing times, locations and Chinese New Year Parade map. The stories include photos of the Chinese New Year Parade in Flushing Queens which showcases a mix of costumed parade participants as well as the large crowd.
Generally there are in the neighborhood of 10,000 people who come out to see the Chinese New Year cultural extravaganza in Flushing. The parade was followed by a number of cultural events given by both traditional Chinese and Korean performers.
Click here to read our reports about the Chinese New Year Parade in Flushing, including a slideshow and photo album.
---
Bohemian Hall & Beer Garden - Astoria History Bohemian Hall NYC
Bohemian Hall & Beer Garden
Holiday Tree Lighting & Celebration in Astoria
Updated w/ Videos & Photos December 15, 2015 / Astoria Neighborhood / Astoria History / Queens Buzz.
On Friday night the Bohemian Hall and Beer Garden in Astoria celebrated the advent of Christmas with its traditional Christmas Party. The holiday event was favored with unusually warm weather, somewhere in the high 50's.
As I approached the Bohemian Hall and Beer Garden I could easily see it from a distance, as it was festively adorned with hundreds of lights. There was a holiday market along the beer garden wall, which among other things, had Christmas trees of all sizes for sale.
Outside the gate there was a very large snowman and inside the beer garden a big jolly Santa riding high in his big wooden sleigh, behind a tall wooden reindeer. Santa was taking the kids for an imaginary ride into the wild blue yonder … "Ho, Ho, Ho ... Merry Christmas" bellowed the Big Man. The attending parents were provided with plenty of opportunities to take photos of Santa with their children and / or themselves.
A bit further into the beer garden there was a beautifully decorated Christmas tree, which had just been lit for the first time by Bohemian Hall and local government officials who had come to join the celebration. I arrived about a half hour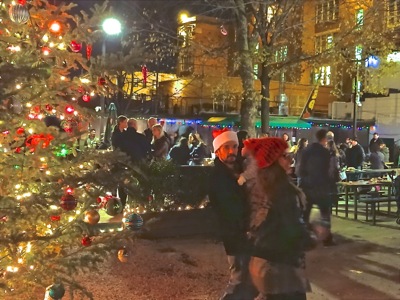 after the official starting time, so while there was still a good sized crowd present, many of the local officials had departed. I spotted NYC City Councilmember Costa Constantinides relaxing with his family, and I later heard that NYS Assemblywoman Aravella Simotas had also been there.
The Bohemian Hall and Beer Garden had done nothing less than a marvelous job of providing the perfect holiday playground for young and old alike. Of course, this isn't usually possible in Astoria in early December, because the temperatures are generally about 20 to 30 degrees cooler. But it was warm this year, so the Bohemian Hall & Beer Garden took advantage of the weather, and the visiting crowd was quick to adapt to enjoying the warmer clime of the great outdoors.
Click here to read the rest of our report, including a video, of the holiday celebration and tree lighting at the Bohemian Hall & Beer Garden - one of the leading beer gardens in Queens.
---
Hell Gate Horror - Halloween Houses in Queens
Hell Gate Horror was ... well ... horrifying ..
Neighborhood Halloween House Includes Plenty of Theater & Imagination
October 24, 2015 / Astoria Neighborhood / Ethnic & Religious Culture & Holidays in Queens / Queens Buzz.
It was a hauntingly calm evening as I dared to return to the haunted Hell Gate Horror of Astoria. It was a century ago that the Hell Gate Bridge was nearing completion over the East River and the thought of what happened last year had raised the hair on my back as I approached.
This year I decided to take along a video camera so that what I might miss with my own eyes might be captured in the video. But alas, it was so dark, that even the camera couldn't keep pace with the spirits and ghosts hovering under the Hell Gate Bridge on this haunted horrifying evening.
They say a picture says a thousand words, so with that I'll let you take the journey into the Hell Gate Horror of Astoria yourself. If you click into the story we did last year and compare it to the video this year, you'll see they freshen it up with new themes, back drops and costumes. Boo.
Click here to see the video of the Hell Gate Horror Halloween House of Astoria.
---
FIAO - Federation of Italian Americans - Columbus Day Parade Astoria
Astoria Columbus Day Parade
38th Annual Parade Celebrates Italian's Discovery of the New World
October 12, 2015 / Astoria Neighborhood / Ethnic Culture Queens / Queens Buzz.
It was a near perfect day as I made my over to Steinway and 30th Streets to watch the Columbus Day Parade. The parade formed in the lot at Kaufman Studios, then marched north along Steinway Street, west along 30th Avenue before making its way north again along 33rd Street before terminating at Columbus Triangle at Astoria Blvd.
Federation of Italian Americans in Astoria [FIAO]
The Federation of Italian Americans organizes the parade each year, to commemorate Columbus's discovery of America. FIAO [The Federation of Italian Americans] has organized the Astoria Columbus Day Parade since 1978.
Columbus set sail in early August of 1492 and is said to have spotted land on October 12th of that same year, which is why we celebrate Columbus Day on the second Monday of October every year. The land Columbus had discovered was actually an island in the Caribbean and Columbus believed it to be a part of Asia. Columbus's voyage had been funded by the King and Queen of Spain, as they were beginning to compete with other European nations for overseas trade.
That's Mrs. Columbus standing just right of members of her security detail.
Click here to learn a bit more about Columbus's historic voyages, the naming of America, as well as a photo slide show of the Federation of Italian Americans FIAO Columbus Day Parade and the Columbus Triangle in Astoria.
---
Colombian Festival of Flowers Parade
Celebration of Colonial Past & Current Colombian Floral Industry
July 13, 2015 / Jackson Heights Neighborhood / Queens Parades / Queens Buzz.
I attended the Colombian Festival of Flowers Parade on Sunday in Jackson Heights. The parade started at 12 noon at 69th Street on Northern Blvd and marched up to 86th Street. It was a three hour parade with a full coterie of floats, dancers, musicians and marchers - many of which were dressed in classical couture or costume.
The Festival of Flowers originated in the city Medellin in Colombia nearly 60 years ago.
Based on what I could gather [but not confirm] the parade has been morphing and evolving over the years. When it originated, the festival was focused on flowers and was celebrated in May in with some association with a feast celebrating the Christian Jesus' Mother Mary.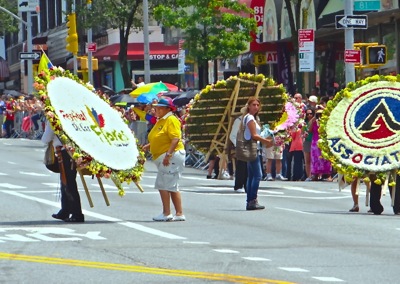 In recent years it has been celebrated in August [in Colombia] and associated with the independence of the Colombian state in which Medellin is located. Somewhere along the way classic autos became a part of the parade in Colombia, and we also saw a number of classical autos in the parade in Jackson Heights.
Another feature of the parade is the depiction of the silleros. The silleros were the human pack bearers of the Spanish during colonial times. Oftentimes carrying loads of 50 to 100 lbs across treacherous jungle or mountain terrain. These peasant people are celebrated in the parade by people who bear large floral arrangements which show a crest [and today large corporate brands] in an emblematic arrangement.
It's worth noting that in late July the Colombian Independence Parade marches along the same route in Jackson Heights next week.
Roosevelt Island - Four Freedoms Park
July 4th At Four Freedoms Park Roosevelt Island
Macy's Expands NYC Fireworks Celebration Along East River
July 6, 2015 / Queens Neighborhoods / Queens Holidays / Queens Buzz.
It was a near perfect evening as I made my way toward the East River to watch the Macy's 4th of July fireworks display. The first Macy's fireworks display was in 1976 for the second bi-centennial celebration.
The photo at right shows the Queens audience along the East River and northern tip of Gantry Park in Long Island City on Saturday night July 4th, just after the fireworks ended.
Last year Mayor de Blasio urged Macy's to return the fireworks display to the East River, as it had been moved to the Hudson in 2008 in celebration of the 400th anniversary of Henry Hudson's discovery of the river named after him. Macy's continued to host it there until 2014.
There were six barges along the Hudson in 2008, which was reduced to three barges surrounding the Brooklyn Bridge in 2014. This year they added two barges which were positioned further north along the East River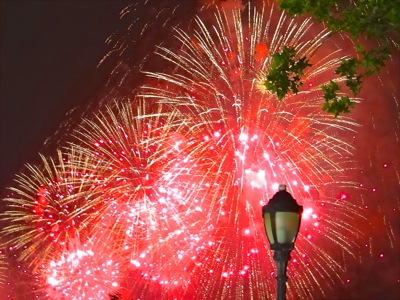 making it possible to enjoy the display from many parts of western Queens along the East River.
We had identified many of the best places to watch the July 4th fireworks in Queens in an earlier posting, but given the changes, it was difficult to determine how far north along the East River one could go and still enjoy a good fireworks show.
So with that in mind I made my way toward the Queensboro Bridge as I was pretty certain it would be closed, but it would have been the perfect place from which to photograph the fireworks. As expected there were two police officers standing at the Queens entrance to the bridge and they informed me that it would not be open until 10.30 pm, or about a half hour after the fireworks display.
The photo at right shows the July 4th fireworks display from Four Freedoms Park on Roosevelt Island.
Click here for the rest of our story about the 4th of July fireworks display as seen from Four Freedoms Park on Roosevelt Island.
---
4th of July Queens
Happy Birthday America
Musings About the 4th of July in Queens
July 1, 2015 / Astoria Neighborhood & Long Island City Neighborhood / Queens Culture / Opinion Column / Queens Buzz.
It seems every six months or so, I get a chance to reflect on life. Since the July 4th holiday will soon be upon us, I'm going to expand that reflection to encompass the "life, liberty and the pursuit of happiness" put forth in the Declaration of Independence.
It seems the older folks who surrounded me in my youth were right. They told me that as you get older, the years will pass by more quickly. As a youngster I thought, "How can that be?" And while technically my youthful query was correct - perceptually it was not.
When I was ten years old, a year represented a tenth of my life. At 25 it represented only 4% of my life, and at 39 it's a mere 2.5% [heh]. So the years do spin by more quickly, perhaps because they represent less and less a portion of the whole.
Julius Caesar, Mahatma Ghandi & American Independence
One might use this approach to looking back at things as a method to put in perspective so much else that has passed through time. Julius Caesar was said to have ruled the world, when in fact he primarily ruled the parts of Europe and the Middle East surrounding the Mediterranean Sea. And while he presided over a population that was about a fifth of the world's population at the time, today the Roman Empire headcount is less than the population of Mexico.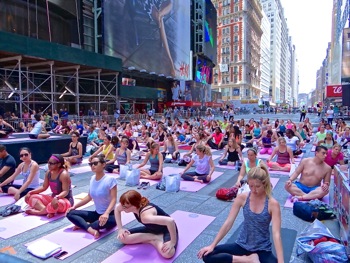 Fast forward to the 20th century and compare the legend of Julius Caesar to the legacy of Mahatma Ghandi. Ghandi was instrumental in organizing and freeing ten times as many people from British Empire rule, as lived under the rule of Julius Caesar in the Roman Empire. And Ghandi helped free his Indian people without the use of a single arrow, sword or gun.
About two centuries prior to Ghandi's effort - in 1776 - the thirteen American colonies declared themselves free of British Empire rule. These colonies today comprise the states along the eastern seaboard of the United States, excluding Florida, but including a few of the states' inland neighbors, such as Pennsylvania.
The population of the American colonies, at the time the colonists declared their independence, was about 2.5 million or only a few hundred thousand more people, than the number of people that currently reside in Queens NYC today.
God, Home & Country
When I was a boy, I was taught to hold God, Home and Country in the highest regard. What each of these concepts meant to me at that time has changed over the years, as I accumulated knowledge and experience about the world, which challenged many of the assumptions taught to me in my youth.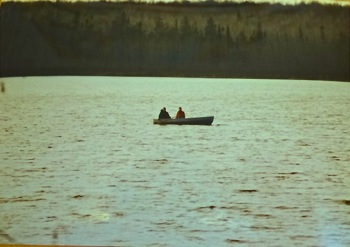 Some measure of what I learned growing up, was in a sense, what anthropologists call tribal knowledge. It was a body of information / understandings / perspectives about the world that the community shared that had been passed from generation to generation.
The 'tribal knowledge' teachings were assumed to be fact – by all of us in the 'tribe' – even though the teachings were essentially a narrative developed by those in charge, interpreted by the tribal scribe, and based upon the group's understanding of the world / universe at the time. The narrative included messages about what's important, how to properly conduct oneself and in some measure our communal identity.
The written 'tribal' narrative evolves in tandem with the 'tribal' culture and it is reinforced, and at times reinterpreted, by the communal elders and institutions through ritual, ceremonies and celebrations. Celebrating our American independence on July 4th is one such 'tribal' cultural ritual and every year it gives us pause to reflect upon where we have come from, discuss who we are and think about where we are going.
Our 'tribe' has grown to be a nation that spans from sea to shining sea, and is home to nearly 320 million people.
Click here to read the rest of our story about 4th of July in Queens.
---
4th of July Fireworks Queens
Astoria Park Fireworks Celebration Tonight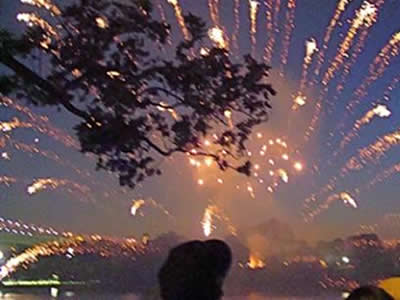 June 30, 2015 / Astoria Neighborhood / Queens Culture / Queens Buzz.
Tonight there's an independence fireworks celebration in Astoria Park beginning at 7.30 pm. It's a near perfect night for them as the highs today will be around 80 and the lows in the mid 60's, with scant chance of any rain.
The festivities will begin with a concert on the Great Lawn. The West Point Band of the U.S. Military Academy will be performing a number of classical American tunes along with 19th century classical music.
Around dusk which has generally been around 9.30 pm, but is sometimes sooner because of cloud cover, the fireworks by the Grucci Brothers begins.
The fireworks are some of the best 4th of July fireworks in the city and generally last about a half hour. And then ... it's over. The community event is organized by the Central Astoria Local Development Corporation [aka CALDC].
On July 4th Queens will have a second opportunity to watch the fireworks, sponsored by Macy's, which are on the East River. Enjoy.
Memorial Day With Chief Joseph
A Conversation in First Calvary Cemetery in Queens
May 24, 2015 / Woodside & Maspeth Neighborhoods / Queens Culture / Queens Fiction / Queens Buzz.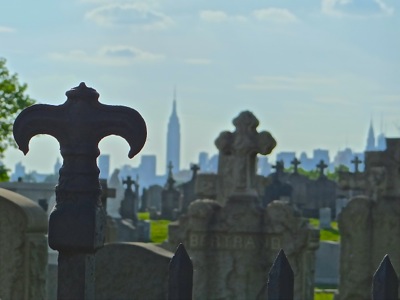 On Memorial Day, I decided to make a trip to the First Calvary Cemetery to visit the graves of those who gave their lives defending this nation where the founding charters promise all [wo]men the right to life, liberty and the pursuit of happiness. They fought for a noble cause I thought as I made my way, on a beautiful day, to the Calvary cemetery in Queens.
The First Calvary cemetery opened in the late 1840's [circa 1847 – 1848] and was located only a short ferry ride away from Manhattan, up Newtown Creek. A couple more cemeteries were opened as the 19th century wore on, as most of Queens was still rural farmlands and woodlands. Many of the burials of the first century of operation were of Catholic Irish, Italian and Polish immigrants - including many children. And many soldiers had been buried here as well, most of whom were from the Civil War era.
As I was viewing a collection of the tombstones, reflecting on the lives sacrificed in the war over slavery, as well as the more recent wars that pulled nearly the entire planet into battle, a human figure in the distance caught my attention. A man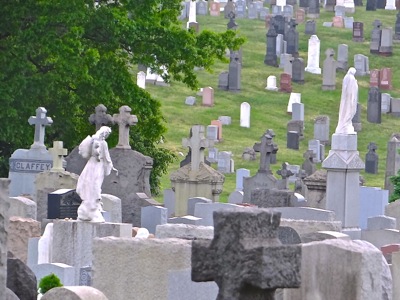 appeared to be making his way toward me, in this lonely empty section of the cemetery. I pulled out of my musings, and began to focus on his emerging presence as he made his way up the hill.
He was an old man, of medium height, with long black and grey hair and a weathered, leathery skin. He was wearing an old work shirt and dark trousers and beaten leather shoes. No, they were mocassins.
His countenance resembled that of a legendary Indian: Chief Joseph. Chief Joseph was a tribal leader of the Nez Perce tribe in the Wallowa Valley in northeast Oregon. Chief Joseph was born in 1840, only years before this cemetery was founded. And he had visited New York City in 1897 to march alongside Buffalo Bill in a Wild West Parade.
He slowly raised his right arm, palm open and fingers standing straight up like a Boy Scout, and in a deep full voice he said,
"How."
I stood a bit at attention as I returned the greeting.
"Hi. How are you doing?"
He spoke again, this time in a language I did not understand.
"Mumba goycha tay."
I looked at him and shook my head back and forth indicating that I did not understand what he'd just said.
The Memorial Day fiction in Calvary Cemetery in Queens to be continued at a later date.
---
Liberian President Visits York College
Women's Month: Ellen Johnson Sirleaf Is First Female President Of African Nation & 2011 Nobel Peace Prize Winner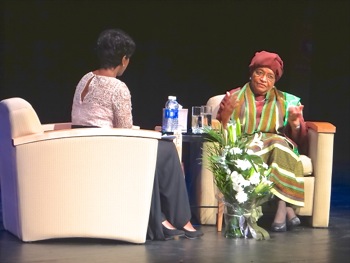 March 16, 2015 / Jamaica NY / Ethnic Culture / Queens Buzz. I had an opportunity to attend a public interview of President Ellen Johnson Sirleaf, the first female president of an African nation. President Johnson Sirleaf won the 2011 Nobel Peace Prize with two other African women for their non-violent work to provide safety to women on the African continent, and for their efforts to include women as full participants in the peace building process.
Author. President Johnson Sirleaf recently published a book entitled, This Child Will Be Great, which carries the message that you can grow up to be whatever you want to be, if you're willing to work at it. And I suppose Ellen Johnson Sirleaf's life serves as a case in point.
Parentage & Education. President Sirleaf grew up the daughter of mixed race, as her father was from a Pakistani / Indian tribe that settled in western Africa, and her mother was a mix of German and African blood. She was born in 1938 in Monrovia, the capital of Liberia, and married at the age of 17 in 1956. She attended college and in 1961, several years after her marriage, she moved to the U.S. with her husband where she attended the Madison Business College in Madison, Wisconsin. She also studied economics in Boulder, Colorado and earned a Master of Public Administration degree from the JFK School of Government at Harvard in 1971.
Click here to read the rest of our story about a Nobel Prize Winner's visit to Queens.
---
Jackson Heights Halloween Parade Photos
Parade More Like A Community Costume Party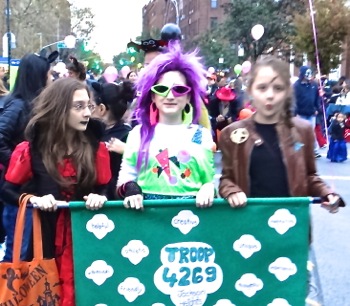 November 3, 2014 / Jackson Heights Neighborhood / Queens Parades / Queens Buzz. I attended the annual Jackson Heights Beautification Group's Kids Halloween Parade on Friday evening. I arrived shortly after it began and started photographing all of the parents and children in costume.
Unlike other parades, given this one was dedicated to the kids, there didn't seem to be the boundaries between parade marchers and the parade audience that one normally encounters. Those in the parade interacted with the audience, many of whom were family, friends and neighbors. And the parade more meandered than marched, with the kids in charge. It kind of felt like one big mega block party / Halloween costume ball.
We took many photos like the one you see to your right. It seems the Girl Scouts dress a bit differently than they did when I was that age. We'll post a photo slide show later today. And I have to give kudos to many of the parents, who seemed to embrace the holiday as much - or more than - their children.
Bolivian Parade In Jackson Heights NYC
Parade Showcases Bolivian Culture In Queens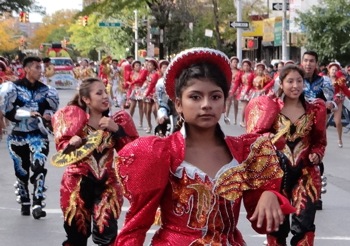 October 20, 2014 / Jackson Heights Neighborhood / Ethnic Culture In Queens / Queens Buzz. Jackson Heights is the home away from home for many cultures around the world. On numerous occasions throughout the year the community is provided an opportunity to celebrate and enjoy the pageantry showcasing many different cultures from Latin America, Asia and a bit of modern day Americana.
On Sunday, the Bolivians showcased their culture by providing a panoply of dancers and musicians in costumes of eras gone by. It was a cool day and the performers used that to their advantage by performing a number of synchronized dance steps to the great amusement of the parade audience standing on the sidewalks along 37th Avenue.
We'll have a bit more to add at a later date including a photo slide show.
---
Ecuador Independence Parade Photos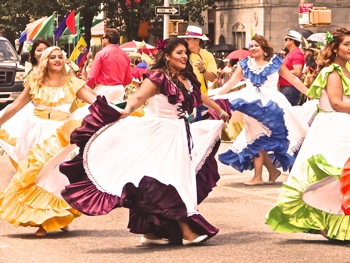 August 2014 / Jackson Heights / Queens Parades / Queens Buzz. I attended the Ecuador Independence Parade a couple of Sundays ago in Jackson Heights & Corona. Ecuador achieved its independence from Spain in 1822 during a time when many of its Latin American neighbors were also fighting for, and winning their independence. These wars for independence took place in the second and early part of the third decades of the 1800's, which was not long after the United States won its war for independence against Great Britain in the late 1700's.
Simon Bolivar was instrumential in leading these rebellions against those in power [Spanish royalty]. Bolivar enlisted English support in these wars for independence from Spain, just as Ben Franklin had enlisted French support in the American War for Independence. In both cases they got it, as France wanted to undermine the English in the late 1700's just as the English wanted to undermine the Spanish in the early 1800's.
In Ecuador the Spanish and the native South American Indians mixed racially, so that today about two thirds of the 12.5 - 14.5 million population is of mixed Spanish and Indian blood. The remainder of the population is a mix of Indian, AfroEcuadorian and Caucasian [primarily Spanish]. Spanish is the official language, but it's estimated that about 15% of the population can speak or understand Quichua, which is the native Indian language of the South American Incas. Ecuador uses American currency as its official currency.
We'll post a slide show at a later date, including the Mayor's late arrival, which corresponded to ours.
St Pats Parade in Queens - Section
St Pats Parade in Queens - Section
St Patrick's Day Parade in Queens - Times, Festivities & Route
January 16, 2018 / Sunnyside & Woodside / Queens Buzz.
Click here for the time, festivities, route map and history of the St Pats For All Parade in Queens neighborhoods of Woodside and Sunnyside.
The 2014 St Pat's For All Parade in Queens starts at 2 pm, but is preceded by festivities that begin at 1 pm. The St Pat's Parade begins at Skillman Avenue at 47th Street and runs up the hill to Skillman Avenue at 58th Street. There are many Irish Pubs and other ethnic restaurants and bars in the neighborhood which will be locales of celebrations to follow.
---
Queens Parades - Greek Orthodox Holy Friday Procession with Epitafios Astoria - April 2014
Astoria Park Fireworks - June 2012
Columbus Day Parade Astoria - FIAO - October 2011
St Markella Festival Astoria - September 2011
Greek Independence Parade NYC - April 2013
St Markella Holy Friday Astoria - April 2013
Greek Orthodox Easter Astoria - April 2011
Astoria's Greek Radio Station - Jan 2011
---
Ethnic & Religious Culture in Astoria
Ramadan, The Islamic Faith & Muslims In Queens
Greek Orthodox Holy Friday At St Demetrios In Astoria
Columbus Day Parade In Astoria Queens
Greek Orthodox Easter In Astoria
Wedding Dresses, Cakes, Flowers & Halls In Queens
---
Chinese New Year Parade 2012 Flushing
Chinese New Year 2012 in Flushing
Flushing Town Hall - Building Cultural Bridges
January 25, 2012 / Flushing / Ethnic & Religious Culture / Queens Buzz. I attended the opening ceremony at the Flushing Town Hall celebrating the Chinese new year. Flushing Town Hall is a neighborhood and Queens borough cultural center, which has easily become one of the leading places in Queens and NYC, where one can familiarize themselves with authentic Asian cultures.
Flushing Town Hall presents many exhibits and programs, which nurture an environment of cross cultural understanding. They are also an important location for innovative theater performances, jazz, and world music, of which you can read more about by using the search function on this site.
One of the reasons for Flushing Town Hall's emergence as an Asian cultural center is that Flushing is the home to the largest Chinese community in New York, equaling – if not surpassing - Chinatown in Manhattan. And New York City is home to the largest Chinese community outside of China.
This year is 2012 AD in the western world, but to the Chinese this is the lunar year 4709 and the year of the lucky dragon. Steve Chen of Crystal Window & Door Systems in Flushing [current exhibit sponsors], speaks about the Antique Chinese Windows and Doors collection currently on exhibit at Flushing Town Hall.
Click here to read more about the upcoming Chinese New Year Parade 2012 in Flushing Queens and Chinese Culture.
---
Queens Parades - Chinese New Year Parade - Year of the Horse - February 2014
Chinese New Year Parade Flushing - February 2013 / 2014
Queens Parades - Moon Parade & Asian Harvest Festival - Flushing 2013
Chinese New Year Parade 2011 Photos
Chinese New Year Parade 2011 Photos
Parade Moved Quickly In Flushing Queens
February 14, 2011 / Flushing / Queens Buzz. First of all I would like to wish everyone a Happy Valentine's Day. May your loved ones make you happy this day and every day.
We attended the Chinese New Year Parade in Flushing over the weekend and, as usual, it didn't disappoint. We understand that over 5,000 people participated in the parade, wearing fun, colorful, mythological costumes.
Click here to see the photos of the Chinese New Year Parade 2011 in a photo slide show of the event.
---
Queens Public High Schools - Flushing International
Flushing International High School
America's Melting Pot - Alive & Well In Flushing
January 3, 2011 / Flushing / QueensBuzz. I had occasion to witness the success that one of the public high schools in Queens is having in helping the children of new immigrants adapt to their new homeland. Flushing International High School only accepts children of immigrants who have generally been living in the country less than two years and who do not speak the English language very well, if at all.
Within four years, about 65% of these students graduate, speaking fluent English. The graduation rate throughout the rest of the city for comparable schools is 35%. We visited Joseph Luft [Principal] and Lara Evange [Assistant Principal] to take a closer look at what has contributed to their success.
Click here for the rest of the story, including photos, of a report on one of the public high schools in Queens.
---
Ethnic & Religious Culture in Flushing & Corona
Ganesha Temple - Indians & Hinduism in Flushing Queens
Free Synagogue in Flushing - Jewish Faith In Queens
Latin Cultural Festival at Queens Theatre In The Park
Chinese New Years Parade in Flushing 2010
Contemporary Indian Art of the Diaspora at the Queens Museum Of Art
The Flushing Remonstrance forerunner to the Constitution
---
LGBT Parade In Jackson Heights 2011 & Photos
LGBT Parade In Jackson Heights
Report & Photos Of LGBT Parade 2011
June 5, 2011 / Jackson Heights / Ethnic Culture / Queens Buzz. I went to photograph the LGBT Parade in Jackson Heights Sunday morning. The parade started at noon along 37th Avenue around 88th Street. It was a beautiful day, with temperatures in the 70's and a gentle breeze blowing through.
The streets were packed. There were easily thousands in attendance. And it was the one of the longest parades I've seen in Queens this year, lasting well in excess of an hour and a half.
Click here to view photos of the LGBT Parade in Jackson Heights and to read more about it.
---
Immigrant Movement - Where Art & Culture Meet
How To Start A Cultural Movement
Where Art & Culture Meet Immigrant Movement
May 1, 2011 / Jackson Heights & Corona / Ethnic & Religious Culture / Queens Buzz. I was out covering one story when I caught wind of another. The other was the Immigrant Movement which is an art / social experiment going on this year in the Corona neighborhood of Queens.
I happened upon it in late April when I noticed a large crowd standing outside of the Immigrant Movement building in Corona Queens. The crowd had an artsy look - a look I have happened upon in Corona only occasionally ... so far.
It seems the Immigrant Movement is a three party collaboration, lead by performance artist / social activist Tania Bruguera of Cuba. The project is funded by the Queens Museum Of Art which periodically takes avante garde art initiatives, as well as by Creative Time which is a modern art organization in the metro NYC area. This creative approach to art and culture was provocative enough to capture my curiosity, so I stepped through the doorway to find out more.
Click here to read more about the Immigrant Movement in Corona Queens.
---
Ethnic & Religious Culture in Jackson Heights & Elmhurst
Hispanic Day Parade Jackson Heights - September 2012
Colombian Parade Jackson Heights Queens - July 2012
LGBT Parade Jackson Heights Queens - June 2012
Mardi Gras Celebration in Jackson Heights
Wat Buddha Thaithavornvanaram - Buddhist Temples In Queens
Lesbian, Gay, Bi-sexual, Transgender - LGBT Parade in Jackson Heights
911 Memorial Services In Queens
Folk Music Festival In Jackson Heights
---
Kwanzaa In Jamaica Queens
Kwanzaa Celebration In Jamaica Queens
January. The Afrikan Poetry Society sponsored a free viewing of the now famous Kwanzaa film entitled 'The Black Candle'. The film is a documentary about the origins of Kwanzaa in the U.S. and around the world. The film shows how African Americans began to reconstruct their culture following four centuries of enslavement and discrimination in this country. The celebration contains many universal guidelines to be used by groups, even nations, struggling to regain their lost freedoms and self-direction. There are lessons in this film for everyone.

Click here to view our report on Kwanzaa in Jamaica Queens.
---
Irie Jamboree 2009 - Jamaica NY Queens - Reggae Festival
Irie Jamboree Reggae Rocks
Jamaica / September 7, 2009. The seventh annual Irie Jamboree rocked Queens this past Sunday. There were some twenty of the top reggae musicians from all over the country and Caribbean who came to play at this increasingly popular concert. Thousands of Queens residents flocked to the concert to enjoy a great day of warm sun, great music and delicious food. The concert was held on the York College Campus in the Jamaica section of Queens ['Jamaica' does seem like a fitting place for a reggae concert]. Spice is shown on the big screen at the Jam. Click here to view a full report and Irie Jamboree 2009 photos. Needless to say, a good time was had by all.
---
Ethnic & Religious Culture in Jamaica
Holiday Lightings Queens Hanukkah Candle Lighting Jackson Heights & Kwanzaa Candle Lighting Jamaica - December 2013
Jazz at Jamaica Center For Arts & Learning JCAL
Jamaica Center For Arts & Learning
---
NY Irish Center
New York Irish Center In LIC
Brings A Bit Of The Old Country To The New One
January 15, 2011 / Long Island City LIC / Queens Buzz. I went to hear Ashley Davis and Cormac De Barra perform at the NY Irish Center in Long Island City. It was my first visit to the center in a while, and the first time I'd attended a cultural event there.
Harpist Cormac De Barra hails from Ireland, while singer, songwriter and guitarist Ashley Davis hails from Kansas. I became fascinated with the Irish harp, as this was my first experience listening to a harpist outside of a major classical concert hall. The Irish harp has long been a symbol associated with Ireland, along with pixies, fairies and Irish tales. The photo to your left shows Cormac playing the Irish harp.
Click here to read more about the Ashley Davis & Cormac De Barra performance at the NY Irish Center in Long Island City, Queens. The report also includes information about the Irish harp, the NY Irish Center and its programs, and a slide show of Cormac playing the Irish harp along with story photos.
---
Societa Sant' Amato Di Nusco
Societa Sant' Amato Di Nusco
Century Old Italian Community In Long Island City LIC Queens
November 7, 2010 / Long Island City / Queens Buzz. For some time now I've been wanting to do a story about the Societa Sant' Amato di Nusco in Long Island City. I've ventured into the clubhouse on more than one occasion, asking permission as I arrived, to do a story sometime in the future. I've always been treated respectfully, but never got the story. But as fate would have it, today was different.
While covering the NYC Marathon in Long Island City, I wandered into the Societa Sant' Amato di Nusco. There were people of all ages moving about the Societa's clubhouse. As the Societa is a private club, everyone there knew that I wasn't a member, so I was greeted by Frank Stagliano, Secretary of the Club, and Michael Bicchetti, the Maitre D'.
It took a few moments for it to register, but I had met them before and we soon picked up on our past conversations about the society, its origins and its mission today … and that is what this report is about: The Societa Sant' Amato di Nusco of Long Island City in Queens.
---
Ethnic & Religious Culture in LIC Long Island City
Christmas Tree Lighting in LIC
Christmas Celebration in LIC 2009
---
Bliss On Bliss - Cultural Centers in Sunnyside
New Cultural Center in Sunnyside
Bliss on Bliss Studio Begins to Take Root
February 20, 2012 / Sunnyside / Art in Queens / Queens Buzz. I attended the February exhibit opening reception and musical performances of Bliss on Bliss Studio in Sunnyside. It was my first visit to the studio which opened in October of 2011.
Ged Merino and Carolina Morales are the husband and wife team that run the studio. They met while working at the Metropolitan Museum, married, and are now sharing their bliss with the rest of us who live near Blissville.
The moniker of Blissville predates Sunnyside, and comes from the name of an early 19th century farm owned by Neziah Bliss. The farm was located along the southern edge of the neighborhood. But I digress.
At the February opening reception for its new exihibit, Bliss on Bliss was featuring ten photographers and two groups of musicians. Click here to read more about Bliss on Bliss Studio in Sunnyside.
---
Sunnyside Christmas Tree Lighting 2011
Sunnyside Christmas Tree Lighting 2011
T'is The Season To Be Jolly
November 28, 2011 / Sunnyside Neighborhood / Queens Buzz. It's hard to believe another year has gone by. On Tuesday, the Queens Chamber of Commerce held its annual Christmas tree lighting ceremony at Sabba Park on Queens Blvd and 50th Street, marking such an occasion.
It was a warm, wet night, with temperatures in the 60's. The rain came down lightly and intermittently, but just enough to ward off any sort of large gathering, like the one that had assembled last year.
Click here to view our report and photo slide show of the Sunnyside Christmas Tree Lighting of 2011.
---
St Sebastians - Woodside
St Sebastian's Catholic Grade School - Woodside
One Of The Leading Grade Schools In Queens
Woodside / June 14, 2010 / Queens Buzz. I just returned from a tour of St Sebastian's grade school in the Woodside neighborhood of Queens. The school is one of about 55 Catholic grade schools in Queens. St Sebastian's has an enrollment of between 400 and 450 students from nursery through the eighth grade. And the school's student body scores highly compared with the nation on standardized education tests covering math, reading comprehension and writing.
In this report we provide a brief history of St Sebastian's, an overview of it's academic, athletic and other programs, and include related information pertaining to Catholic grade schools in the Queens area. Included in this report is information about St Sebastian's tuition, enrollment fees and a summary time line of the enrollment application process [scroll down / scan the headlines to find the information you're seeking].
Click this link to read the rest of the story and view the photos of St Sebastian's Catholic Grade School in Woodside.
---
Ethnic & Religious Culture In Sunnyside & Woodside
Holiday Tree Lighting Sunnyside - November 2012
Ramadan Celebration Sunnyside Queens Turkish Cultural Center - August 2012
Memorial Day Parade Woodside Queens - May 2012
St Pats Parade Sunnyside Queens - March 2012
Queens Parades - Flag Day Parade Sunnyside - June 2011
St Pat's Day Parade in Sunnyside, Woodside Queens
Noah's Pudding - Turkish Culture In Sunnyside Queens
Turkish Cultural Center in Sunnyside Queens
Christmas Tree Lighting in Sunnyside & Woodside 2010
Thalia Spanish Theater in Sunnyside Queens
---
---