---
Queens Holidays & Ethnic & Religious Cultural Events
Cultural Events in Astoria, Sunnyside, Jackson Heights, Corona, Flushing & Jamaica
This section shows many of the parades in Queens, including the neighborhoods of Astoria, LIC, Sunnyside, Woodside, Jackson Heights, Corona, Flushing and Jamaica. Click here to view our section on parades in Queens or here for our section about religious & ethnic culture in Queens.
---
* Astoria Holidays - Ethnic Cultural Events
---
$element(bwcore,article_picker,1078-1099,Y,N,page_title_home,N)$
$element(adman,groupad,NhoodAstoria)$
$element(adman,groupad,NhoodLIC)$
---
* Flushing Holidays - Ethnic Cultural Events
---
Hong Kong Dragon Boat Race Festival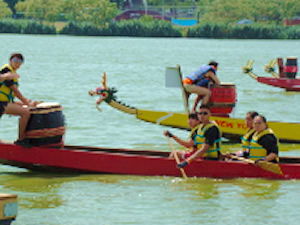 August 14, 2011 / Flushing Neighborhood / Queens Buzz. The 21st Annual Hong Kong Dragon Boat Festival was held in Queens on Meadow Lake which is located in the southern end of Flushing Corona Meadows Park. The races were held on both Saturday and Sunday from 10 am - 4 pm. There were over 2,000 participants in the races which included serious racers and racers just out to have a fun time.
On Sunday morning torrential rains interrupted the festival and a number of the cultural activities were cancelled, but the racing continued Sunday afternoon after the skies had cleared ... somewhat. We'll have more on this race next year, including a slide show.
---
* Jackson Heights Holidays - Ethnic Cultural Events
---
Durga Puja Ends
Hindu Celebration Of The Goddess Mother Of Life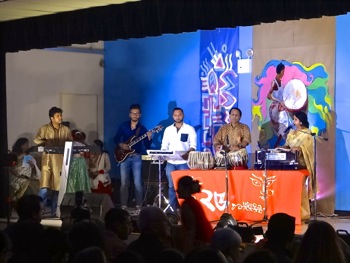 October 13, 2014 / Queens Neighborhoods / Queens Ethnic Culture / Queens Buzz. Sunday evening I was walking home along Queens Boulevard in Sunnyside. Near 42nd Street one of the buildings was all lit up and a small group of people were standing outside conversing. I could tell by some of the signage that this was the Hindu celebration of Durga Puja so I asked if I might take a few photos and talk to some of the people. And the folks from the Bangladesh Puja Samiti of New York cordially invited me in.
There were two floors of activity. On the top floor there was a musical performance in process. It was a Bangladeshi group playing traditional Hindu music with a female vocalist singing the beautiful operatic songs similar to those heard in the Hindu movies. The room was filled to capacity, with entire families sitting together enjoying the music. There were hundreds or more in attendance.
I made my way back to the front of the building and Das Gupta, President of the Bangladesh Puja Samiti of New York, invited me to visit the shrine downstairs and to break bread with them. We headed downstairs ... more to come about Durga Puja in Sunnyside - including photo slide show - at a later date.
---
* Jamaica Holidays - Ethnic Cultural Events NY
---
Liberian President Visits York College
Women's Month: Ellen Johnson Sirleaf Is First Female President Of African Nation & 2011 Nobel Peace Prize Winner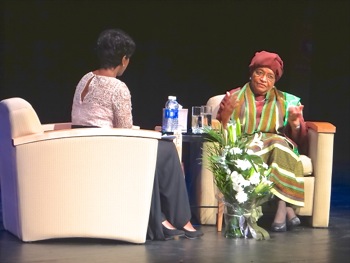 March 16, 2015 / Jamaica NY / Ethnic Culture / Queens Buzz. I had an opportunity to attend a public interview of President Ellen Johnson Sirleaf, the first female president of an African nation. President Johnson Sirleaf won the 2011 Nobel Peace Prize with two other African women for their non-violent work to provide safety to women on the African continent, and for their efforts to include women as full participants in the peace building process.
Author. President Johnson Sirleaf recently published a book entitled, This Child Will Be Great, which carries the message that you can grow up to be whatever you want to be, if you're willing to work at it. And I suppose Ellen Johnson Sirleaf's life serves as a case in point.
Parentage & Education. President Sirleaf grew up the daughter of mixed race, as her father was from a Pakistani / Indian tribe that settled in western Africa, and her mother was a mix of German and African blood. She was born in 1938 in Monrovia, the capital of Liberia, and married at the age of 17 in 1956. She attended college and in 1961, several years after her marriage, she moved to the U.S. with her husband where she attended the Madison Business College in Madison, Wisconsin. She also studied economics in Boulder, Colorado and earned a Master of Public Administration degree from the JFK School of Government at Harvard in 1971.
Click here to read the rest of our story about a Nobel Prize Winner's visit to Queens.
---
$element(adman,groupads,Sectional Ad)$
* Long Island City Holidays - Ethnic Cultural Events LIC
---
Hanukkah Celebration in LIC
Menorah Lighting Symbolizes Continued Good Acts
December 10, 2012 / Long Island City LIC / Queens Buzz. On Sunday I attended the Chabad LIC Menorah Lighting in Gantry Park. The event was preceded by donut making and latkes; and a trumpeter, Anna Garcia, played a few pieces which were celebrated by the gathering.
Rabbi Zev Wineberg had organized the event, which he told me had started as a celebration of an historic victory thousands of years ago. Every Friday Orthodox Jews light candles in the privacy of their homes, but on Hanukkah, they light them in a public space.
The first night proclaims the miracle of the historic event, when after the victory, an small amount of oil lasted eight days. It also symbolizes one act of doing good, when the light [good] sends the darkness [bad] away. The second night symbolizes a second act of goodness, when light returns and sends darkness away, because the darkness always returns. The multiple acts of goodness, no matter how small, help banish evil.
And so the lighting of the Menorah will continue through next Saturday evening. The next public lighting by Chabad LIC will take place tonight along Vernon Blvd. Happy Hanukkah.
---
4th Of July Fireworks In Queens 2011
Astoria Park Fireworks, Macy's Fireworks & Fireworks In Queens & NYC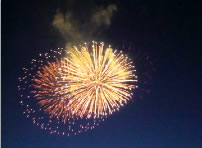 June 27, 2011 / Queens Fireworks / Queens Buzz. Probably the best fireworks in Queens is offered every year along the East River in Astoria Park. This year the 2011 Fourth of July Fireworks Display in Queens is being held on Thursday evening June 30th, beginning with a concert [as usual] which starts around 7 - 7.30 pm. The 2011 fireworks display in Queens is being performed by theworld famous Grucci Brothers, along the East River waterfront around dusk, which they generally begin between 9 and 9.30 pm.
Macy's Fireworks On July 4th 2011 Along Hudson River
Queens used to be treated to two fireworks displays. The second fireworks display was held on the 4th of July itself, and also by the Grucci Brothers, compliments of Macy's. These fireworks were also shown along the East River, although far further south, with LIC being the northern most point from which to view them.
Astoria Park Fireworks Display 2011 On June 30th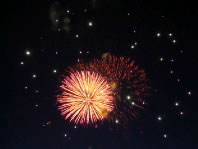 But in recent years [since 2009], Macy's has elected to show the fireworks along the Hudson River, leaving those of us who live in Queens and Brooklyn to fend for ourselves. Thankfully, the Central Astoria Local Development Corporation sponsors great fireworks in Astoria Park, providing an equally good show, while providing the Queens audience with a far more comfortable and accessible locale. Astoria Park is an easy subway ride along the #7 and N / W with a moderate walk.
NYC 4th Of July 2011 Weather Forecast Good
Currently the forecast for Thursday is dry with temperatures in the 80's. Click here to view prior reports on July 4th Fireworks in Queens in prior years. And click here for a map showing the location of Astoria Park 4th of July Fireworks 2011 in Queens & NYC.
---
Rosh Hashanah LIC Queens - September 2012
Rosh Hashanah & Yom Kippur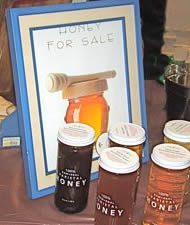 October 3, 2011 / Long Island City LIC / Queens Buzz. On Thursday night at sundown, September 29th, Rosh Hashanah, the Jewish New Year began. I visited a new Jewish community center in Long Island City comprised mainly, but not entirely, of orthodox Jewish families to learn more about the religious and cultural background of this occasion.
Zev Wineberg is the rabbi of the new community center. He and his wife have spent the past five years working to build a community in Long Island City. They held services in PS 78 along Center Blvd in Long Island City to celebrate the new year.
The photo to your left is of honey. Honey and apples are a traditional Jewish food this time of year as they signify the sweetness of the coming new year. We'll post more about this holy day sometime in the future.
---
* Sunnyside Holidays - Ethnic Cultural Events
---
Giving Thanks In Queens
Sunnyside Reformed Church Hosts Communal Feast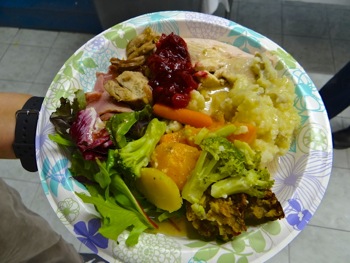 November 24, 2014 / Sunnyside Neighborhood / Queens Culture / Queens Buzz. I attended the fourth annual Thanksgiving Dinner hosted by the Sunnyside Reformed Church. The purpose of the feast is to commemorate the Thanksgiving holiday and to celebrate community.
Reverend Neil Margetson and his wife, Gretchen, hosted the event along with the help of the Elder Vice President Marie Joyce and many others in the community [see slide 8 of the photo slide show]. The culinary crew, creators of the repast, included Chris and Karen Demarecaux who were ably helped by David Feffer [see slide 6 of the photo slide show]. There were a host of other helpers who set up the chairs and tables and attended the serving line. Reverend Margetson remarked that "Folks just chipped in and it all came together".
In the neighborhood of one hundred and fifty people came to celebrate the holiday, enjoy a good meal, and to socialize with others in the community. It was a record turnout for the event. The reverend started the feast with a prayer and the dinner was followed with spirited conversation. In the past the dinner has been followed by story telling and / or musical performance.
The next event is the ecumenical tree lighting on Thursday December 4th at 7 pm starting outside the church with a procession down to Queen of Angels Catholic Church followed by an appearance by Santa with hot chocolate and cookies. It's ecumenical because five neighborhood churches will be participating including All Saints Episcopal, the Grace Fellowship Presbyterian and the Christ Lutheran Church in Woodside. Reverend Margetson said that the Sunnyside Reformed Church is working to build a spiritual community through the hosting of cultural events.
Click here to view a slide show of the Thanksgiving Dinner photos at the Sunnyside Reformed Church. And click here to read a story about the Sunnyside Reformed Church.
---
SS Oktoberfest Draws Large Crowd
Through Rain & Cold Oktoberfest Goes On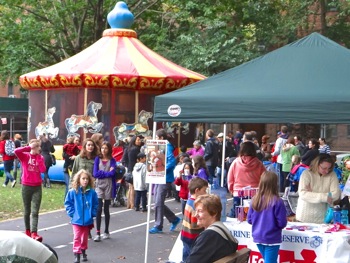 October 13, 2014 / Sunnyside Neighborhood / Queens Buzz. On Saturday afternoon I headed into Sunnyside Gardens Park to attend their annual Oktoberfest. As the neighborhood continues to attract younger families the event has grown in size and attendant events and facilities. This year seemed to be a continuation of that trend, as new rides were added alongside some of the old ones.
It was a cold damp overcast day. The temperatures were hovering around 60 accompanied by an intermittent drizzly rain. But the weather didn't seem much to dampen the Oktoberfest attendance nor the spirits of those who attended.
In addition to the rides, which this year included a kiddy ferris wheel, there was a beer bar, a number of arts and crafts vendors and a number of performers who entertained many of the kids and their parents.
A photo slide show will be posted at a later date.
---
Not Laboring On Labor Day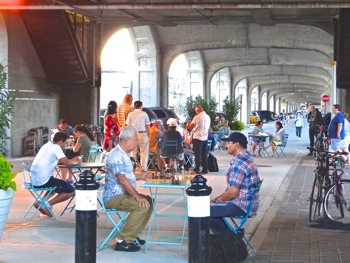 September 1, 2014 / Sunnyside Neighborhood / Queens Buzz. Labor Day was signed into law by Grover Cleveland in 1887. The day was designed to commemorate the achievements of the American working class.
At the time Labor Day was made a holiday, the union labor movement was growing in strength due to the abuses of laborers by their employers. At the time the nation was emerging as an economic powerhouse and mining, agriculture and manufacturing were the primary sources of jobs. Long hours, child labor and poor working conditions fed the desire of workers to unite to bargain collectively with their employers.
Things have changed quite a bit since then, and agriculture which accounted for half the jobs and mining and manufacturing which accounted for another third of them, now collectively account for about 15 - 20% of the entire economy. America has become a nation of white collar and service workers.
Unions lost a lot of popularity in the latter part of the last century - not just because of the changing nature of employment - but also because union pay was invariably much higher than that of non-union workers, and many of the union jobs were paid for directly or indirectly by the government [eg. government employees, teachers, air traffic controllers, highway & other public construction, law enforcement, military gear manufacturers]. Perhaps more significant was that as international trade tariffs were decreased or abolished; American companies began exporting American jobs to other nations where worker compensation was far lower, and workers' rights and collective bargaining were not well established.
In the photo above a number of folks enjoy time off at a recently refurbished plaza underneath the subway line along Queens Blvd and 46th Street in Sunnyside.
---
Thanksgiving Filipino-American Style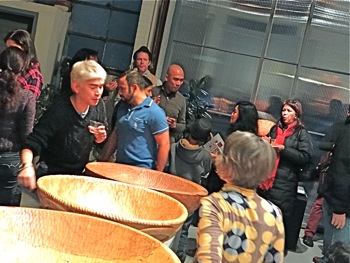 December 1, 2013 / Sunnyside Neighborhood & Woodside Neighborhood / Ethnic Culture In Queens / Queens Buzz. On Saturday I attended a fundraiser co-hosted by Bliss On Bliss Studio of Sunnyside with Topaz Arts in Woodside. The proceeds of the benefit were to go to the Filipino survivors of the Typhoon Halyon / Yolanda. The event was scheduled for the Thanksgiving Weekend.
A donation of $25 was made at the door and there was a table of light fare and beverages provided along the far wall. Inside Topaz Arts were wooden sculptures on display from Mamerto Tindogan's solo exhibit entitled Unearthing The Magic, which ended this weekend. Mamerto is a native carver from the island of Luzon in the Philippines and I would soon see him perform an ancient chanting ritual.
Click here a bit later in the week to view the rest of our report, including a photo slide show, of the collaboration by Bliss on Bliss & Topaz Arts to raise funds for the survivors of the Typhoon Halyon / Yolanda.
---
* Queens Holidays - Ethnic Cultural Events
---
Triple Header Holiday Week
Hanukkah Ends Tuesday, Christmas is Thursday & Kwanzaa Begins Friday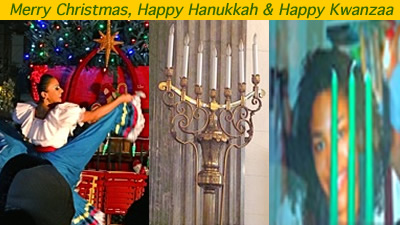 December 22, 2014 / Queens Culture / Queens Buzz. The holiday season began nearly a week ago with Hanukkah, continues with the celebration of Christmas this Thursday and is followed by Kwanzaa on Friday which ends on New Years Day.
Each culture has its own traditions, which share some similarities and differ too. But the general thrust of each is toward envisioning a more humane world.
The following are links to stories posted in the past on holiday cultural celebrations, including some look into the history or meaning of them. Click here to read a report we did on Kwanzaa in Queens, click here to read a report we did on Hanukkah in Queens and click here to read a report about one of the many Christmas tree lightings in Queens.
---
Holidays In Queens
Tree Lighting In Astoria Park Thursday, Kwanzaa In Corona Saturday, Winter Celebration Including Hanukkah Sunday In Flushing
December 8, 2014 / Queens Buzz. Alas, I missed a whole slew of holiday lightings last week - three of which were in Sunnyside, one in Woodside, two in Long Island City and one of which was in Corona at the Louis Armstrong House.
But there are more celebrations to come.
There's a tree lighting in Astoria Park at 19th Street & 23rd Avenue beginning at 6.30 pm on Thursday. And there's a Kwanzaa celebration at the Langston Hughes Library & Cultural Center in Corona on Saturday from 11 am to past 5 pm. The Kwanzaa celebration includes a libation and a number of musical performances and a workshop. And there's a Winter Celebration [Hanukkah, Christmas and Kwanzaa] at Flushing Town Hall on Sunday from 1 pm to 4 pm wherein stories of each culture will be told. The program also includes art workshops to capture some of the storytelling of menorahs and dreidels as well as a crafts workshops designed to create wreaths to be donated to seniors.
The Jackson Heights Beautification Group also generally hosts a multi-cultural lighting in front of the Post Office on 37th Avenue and we are awaiting confirmation of the time and date assuming there is one and that we haven't already missed it.
The photo to your right shows the Woodside On The Move Christmas tree in Sohncke Park at 58th Street & Roosevelt Avenue in Woodside.
---
Best Wishes For New Year 2014
The Party's Over .. Turn Out The Lights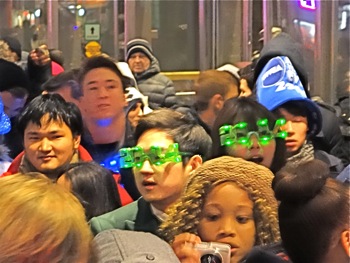 January 1, 2014 / Queens Buzz. We went to Times Square last night to ring in the New Year. It was cold, but tolerable, and there were - as usual - large crowds of folks in their 20's, 30's and 40's and to a lesser extent, on up.
The police had cordoned off the area using wooden horses, and steel gates. All of the streets leading into Times Square were blocked by large contingents of the police force.
The crowds were massive and really only a few people seemed ready to cause trouble or had too much to drink, but they were severely outnumbered by those ready to bring them back into line. Generally things were well under control, but as gates opened and closed, one could see how things could quickly go awry ... but they didn't.
It was a calm crisp night and the NYC skyline was looking good after the ball dropped and we headed home. The party was over and it was time to turn out the lights. Best wishes for the new year.
---
Twas The Night Before Christmas and All Through the House ...
not a creature was stirring .. not even a mouse ..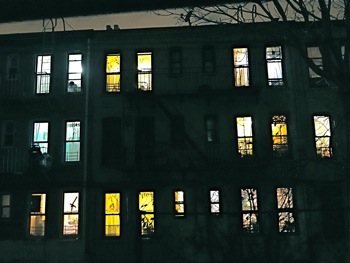 December 24, 2013 / Queens Buzz.
Not so says the man with the white beard and red suit. Flying through the skies, delivering fresh fruit.
Dancer and Prancer and Rudolph to be sure, treading the superhighways in the skies, presently clear.
At home the family and friends congregate. Most arrive early, but one always arrives late.
There are greetings and laughter and tales from afar. Some from the holy churches and others from the bar.
Most leave their worries behind at the door. For now is the time to say, "pumpkin pie? I'll have more".
We live in a place where we're generally blessed. It's worth remembering that and reminding the rest.
It's easy to complain, but now's not the time. Retell an old joke, have another glass of wine.
Regale your companions with nonsensical gold, that all will remember years after it's been told.
For the time we spend with each other now, will not pass again, no matter how ...
.. hard we try, sometimes, to relive the past. But time flies away like the minutes that just passed ..
.. and these rhymes can't last .. have a Merry Christmas Queens.
---
$element(bwcore,article_picker,1099,Y,N,page_title_home,N)$
$element(adman,groupad,Catgry Wedding)$
$element(adman,groupad,Catgry Queens)$
---

Click the drop down menu to submit events [ID required] into the Member Calendar. Free for arts groups / non-profits and community orgs, except fundraising events.
Click here to obtain a Free Queens Buzz Membership. Click here to visit our parades in Queens section or here to visit our Queens Ethnic & Religious culture [& celebrations] section.
$element(calendar,calendar_select)$
$element(calendar,large_calendar,6)$
---
---
Site Search Tips. 1) For best results, when typing in more than one word, use quotation marks - eg "Astoria Park". 2) Also try either singular or plural words when searching for a specific item such as "gym" or "gyms".
$element(bwcore,insert_search,N)$
Click this link to search for something in the Astoria Business Directory containing over 1,000 listings.
---
Click the log in link below to create an ID and post an opinion. Or send this story to a friend by filling in the appropriate box below.
---