---
Click the heading above to view environment & eco-friendly events this month in Queens. Click the following links to go directly into one of these Queens Neighborhoods: Astoria, Flushing, Jackson Heights, Jamaica, Long Island City and Sunnyside.
---
The Solar Eclipse of 2017 in NYC
The Solar Eclipse: A Shared American Communal Experience
August 21, 2017 / Queens Neighborhoods / Manhattan Neighborhoods / Gotham Buzz NYC.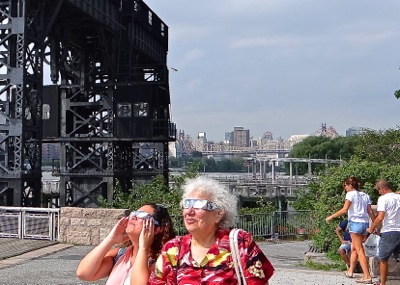 I set about to experience the solar eclipse of 2017, departing for Manhattan at about 1.30 – a bit after the eclipse was to begin. As I made my way to the subway, I met a woman who was heading to Hunters Point South Park to do the same. She offered me the use of her eclipse glasses, which I examined but it was far to early to really use.
The eclipse glasses were opaque and I couldn't see through them. Apparently they only work when you're looking at the sun. The glasses this woman had were sponsored by Cisco Systems through a science camp in Rochester, NY. Consumers were advised to be careful about which eclipse glasses to use, as apparently some would not filter out the harmful, eye-damaging rays of the sun. One eclipse audience member told me that the glasses were being sold online – ten for $100. I'll have more about the protective glasses a bit later as I used the glasses to take what I would call 'meaningful' photos.
There were many reports published about how one can damage their eyes by looking directly at the sun. The Washington Post noted that the damage can begin in as little as one and a half minutes, and that looking at the sun in a sequence of little peaks at a time, may not prevent you from doing real damage. It's worth noting that one can also damage their camera by pointing it directly at the sun for a long period of time. The New York Times noted that the longest the full eclipse will last, is less than three minutes, and that in many places in America it will last less than a minute.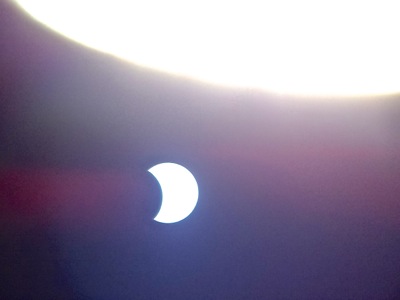 Historically, it's worth noting that the moon eclipsing the sun happens every 18 months, but most eclipses happen over the oceans which cover about two thirds of the planet earth surface. According to the New York Times, the last time America experienced a full solar eclipse was in 1918, a full 99 years ago, so few if any who are old enough to experience the eclipse this time, are likely to see it again.
The eclipse began along the west coast in Oregon at about 1.15 pm, the peak was at about 2.45 pm and the final was at about 4 pm. I'll note a few of my times as we run through the rest of this report.
Anyhow, I arrived at Lexington and 77th Street about 2 pm, about 45 minutes before the peak of the eclipse. A few folks were standing in the street looking up, so I shot a photo of the sun at that time, but it didn't look like much at the blinding rays of light blocked any real photo clarity.
Rest of story with plenty more photos coming later Tuesday 8/22.
---
Floating Peace Lanterns
Harbor LAB Organizes Floating Peace Lantern Event on East River to Celebrate UN International Day of Peace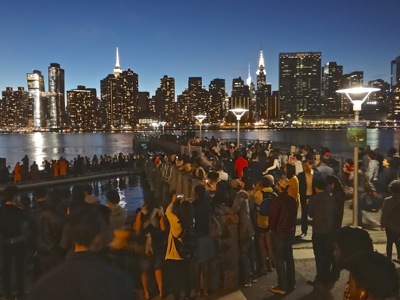 September 25, 2016 / LIC Neighborhood / Queens Social Events / Queens Buzz.
Last Sunday evening I made my way down to the East River waterfront in Gantry Park to observe a celebration of the UN International Day of Peace.
Harbor LAB [Learning / Adventure / Boating], an environmental educations non-profit whose activities center around East River & Newtown Creek kyaking and canoeing, had organized the event.
The celebration started in the afternoon along the East River waterfront at Gantry Park and lasted well into the evening. Activities began at 2.30 pm with public paddling of kyaks and canoes, while simultaneously there were meditations, yoga exercises and the preparing of the peace lanterns.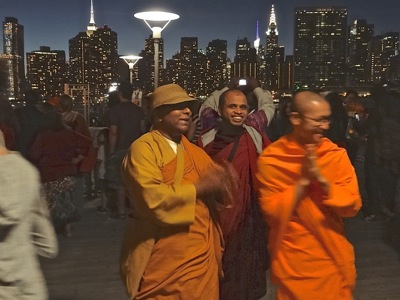 By sundown several speakers for interfaith and peace addressed the crowd before beginning the floating peace lanterns ceremony. The keynote speaker was Ambassador Anwarul K. Chowdhury High Representative for the United Nations, Retired UN Under-Secretary General.
The peace lantern event began with a drum beating by about a half dozen Buddhist monks dressed in traditional bright orange garb. Several hundreds lined up along the shoreline to observe the solemn ceremony and enjoy sunset along the East River.
The first such event was organized by Harbor Lab Founder Erik Bard in 2002. This year Harbor LAB organized the event in conjunction with the Buddhist Council of New York, and the Interfaith Center of New York, Global Movement for the Culture of Peace, and New York Office of Parks, Recreation and Historic Preservation.
---
Saving Jamaica Bay Documentary Film - Queens World Film Festival
Saving Jamaica Bay
Local Documentary Film At The Queens World Film Festival
March 21, 2016 / Astoria Neighborhood / Jamaica Neighborhood / Queens in Film / Queens Buzz.
I attended the 6th annual Queens World Film Festival on Thursday where I had an opportunity to view a film that's been years in the making by a local filmmaker, Dan Hendrick. The film is entitled Saving Jamaica Bay and it's an hour and 16 minute documentary about the ecosystem of New York City's Jamaica Bay.
The film storyline and cinematography capture the juxtaposition and the intensifying struggle, between man and nature. The beauty of the bay is captured on film, showing us that the fair maiden is in distress. But she's being rescued, or at least fought for, by a naturalist and former manager of the National Park Service Jamaica Bay Wildlife Refuge in tandem with a retired fireman and his son, who've taken upon themselves the mission of protecting what was shown to us to be an area of great urban abuse and refuse, but even greater beauty.
Click here to see more still photos and a review of the film entitled Saving Jamaica Bay at the Queens World Film Festival in March. The film is scheduled to be shown at other film festivals throughout the year, a few of which will be listed at the end of this report.
---
---
The Great Evaporation - An Ozone Hole Parable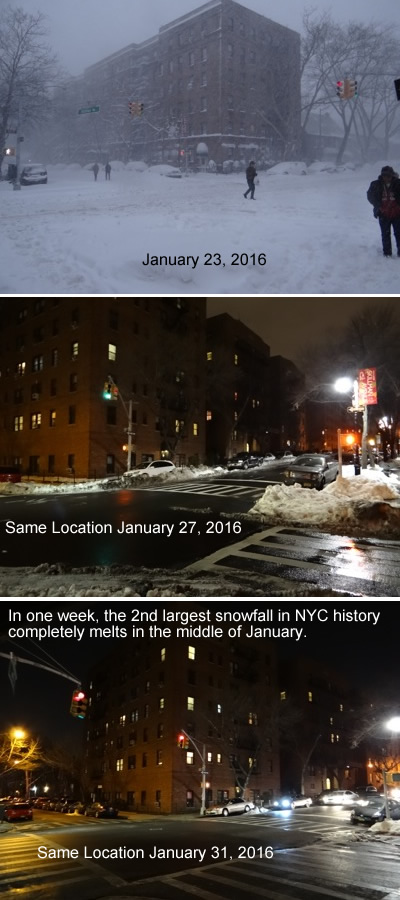 Short Story Fiction.
Once Upon a time ... on Another Planet
... in another solar system, there was a paradise that resembled planet Earth. Over a long period of time a certain species was blessed with the intellect and the physical capability of manipulating the world around them. In time this species came to completely rule the planet, although they were never quite able to put in place the methods and processes to rule themselves.
During the height of their planetary supremacy, there were ruling elites who controlled the primary sources of energy for the planet. An insidious by-product of using that energy, was that it began to change the environmental balance that enabled that species, and those species with which they co-existed, to originate and thrive.
What's Going On?
The general population of the ruling species began to realize that imbalances were occuring in their ecosystem, and some scientists on the planet began to make the case that one of the primary causes of the changes was the primary fuel sources used on the planet.
But the powerful ruling energy elite was able to stall the arrival of a general consensus to corrrect the problem, by leveraging their influence in efforts to conceal and discredit the evidence that linked the use of their energy products to the life-threatening, planetary environmental damage. Nonetheless, over time, the general population slowly began to realize what was really happening.
Private Profits Trump Communal Well Being
There were prior examples of similar ruling elites on this planet concealing health information from their customers, so they could sell their products to make more money. They concealed this information in spite of the fact that their products significantly shortened the life span of their customers. Thus, on this planet, it wasn't an unusual practice for some ruling elites to sacrifice the lives of others in order to enrich themselves.
The Great Evaporation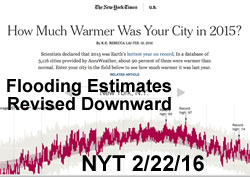 The ruling elites knew that they would lose a lot of money if the planetary population woke up to the fact that over time the planetary warming wouldn't just melt the planetary polar ice caps and wreak havoc with the weather patterns, but that it would ultimately lead to the Great Evaporation, wherein within years after the polar ice caps melted, all of the planetary bodies of water would quickly evaporate into thin air.
You see, the melting polar ice caps were releasing huge amounts of moisture into the eco-system, which hid the fact that the Great Evaporation was already well underway. Without the moisture from the melted polar ice caps, the plantary desiccation would have become more apparent, more quickly, to the planetary scientists and general population. And while the scientists continued predicting a wetter world, with huge rains and flooding, over time they continued to lower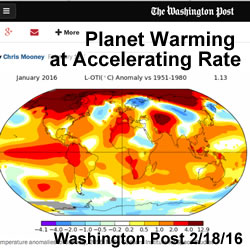 their estimates of higher sea levels, because their models failed to include a metric for the Great Evaporation that was going on simultaneously with the polar ice cap melting.
Over time the general population woke up to the fact that the evaporating planetary water no longer condensed, and thus didn't gain mass, and hence didn't return to the planet via planetary gravity - like it normally did. Instead the vapors became permanently dispersed or exited through the ozone hole. And so it was, that in time, the water evaporated and never returned because the ruling energy elites had warmed the planet too much, and concealed the problem for far too long. By the time the general population took notice and started to act, it was too late to fix the problem, which could have been corrrected by migrating the planetary energy sources to renewables.
The Great Desiccation
Nature recycles everything, but this species did not learn that lesson in time. As anyonewho's traveled in the desert knows - it's very hard to stop water from evaporating, especially on a planetary scale.
No Fairytale Ending
Thus our story has an unhappy ending as the surface of this planet dried up. It wasn't long after the Great Evaporation that this planet's surface looked very similar to its barren dry moon and nearby deserted planets.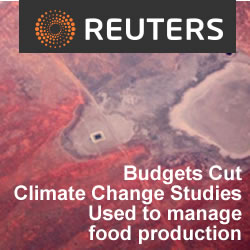 The Great Desiccation followed the Great Evaporation. As food cannot be grown without water, most of the creatures on the planet perished due to starvation and dehydration and asphyxiation - as all of the planetary vegetation was destroyed.
Of course some of the ruling elites that had caused this terrible planetary genocide survived, but they had to move into controlled air and water environments, similar to the ones found at some of the Texas conference centers.
The End.
by Michael Wood - (c) Copyright 2016 / All Rights Reserved
The last four graphic images link to four different stories by highly respected information sources about the changing ecological system of planet earth. And here's another just in 3/4/16 NYT
One has to ponder whether continuing our current practice of using non-renewable energy sources, is worth the risk of possibly being wrong about what can happen.
I hope you enjoyed this little planetary parable.
---
Transportation Alternatives Queens - TA Queens Tackles 21st Street LIC & Astoria
TA Queens Tackles 21st Street
Working to Bring Attention & Solutions to Pedestrian-Challenged Crossings On Long Island City & Astoria Streets
October 10, 2015 / Long Island City Neighborhood / Astoria Neighborhood / Traffic Safety Issues Queens / Queens Buzz.
I was invited to attend / witness a Halloween themed street performance by volunteers of Transportation Alternatives Queens [aka TA Queens] to improve pedestrian safety along the 21s Street corridor, which connects Astoria and Long Island City. The street serves as the major conduit inside the Astoria and Long Island City neighborhoods between the RFK / Triborough Bridge and the EK Queensboro Bridge.
As I arrived at 21st Street and 31st Road, I took note that there are public housing projects along the eastern side of the street and a shopping center along the west side of the street, where the group had convened. Since I had come from the east I had to cross 21st Street to meet with the TA Queens petitioners, and making that crossing on a Saturday afternoon supported their cause as this street is challenging to cross at best, and treacherous for youngsters to cross on a simple shopping errand.
The TA Queens volunteers quickly described the problem in a couple of minutes and they made some recommendations for potential solutions - all of which is contained on the full report rendered in both print and on video on the following page. This is a snippet from their release.
"According to data from the New York State Department of Transportation, New York State Department of Motor Vehicles and the New York Police Department, traffic on this mere 1.8 mile stretch of 21st Street between the two bridges [EK Queensboro & RFK Triborough] caused seven deaths and left 102 people with serious injuries from 2002 to 2011. From 2012 to 2015 alone, 105 pedestrians and 34 cyclists have been injured along the corridor."
Click here to learn more about how TA Queens is trying to help the Mayor reach his Vision Zero Queens goal, by identifying safety challenged hotspots along 21st Street in the Long Island City neighborhood & Astoria. We also included several photos of the Haunted Halloween TA Queens volunteers.
---
NYC Congestion Pricing - Move NY Congestion Pricing Plan
Which Queens 'Democratic' Pols Support $8 Tolls?
Several Queens Officials Support $8 Tolls on Queensborough & Other East River Bridges & at 60th Street to Raise Capital for the MTA
Queens Democratic Party Chairman Joe Crowley & NYS Governor Cuomo Supported Congestion Traffic Pricing in the Past
March 29, 2016 / Queens Neighborhoods / Queens Politics / News Analysis & Opinion / Queens Buzz.

The new Congestion Traffic Pricing Plan has been making its way into the legislative process over the past year. Just last week NYS Assemblyman Robert Rodriguez, a Democrat from Manhattan introduced the bill on March 23, 2016. The Move NY Congestion Traffic Pricing Plan is being sold into the legislature as a means to raise revenue to fund MTA Capital projects.
Currently NYS Senator Jose Peralta, Cuomo's Deputy of Legislative Affairs Mark Weprin & CCM's Van Bramer, Richards & Reynoso publicly support installing $8 tolls on the Queensborough & other East River bridges to raise capital for the MTA.
Governor Cuomo's Words Are ...
Governor Andrew Cuomo supported the Congestion Pricing Plan put forth years ago, which wasn't popular with many of the voters in Brooklyn & Queens. The two boroughs have a combined population which rounds to 5 million or 25% of the 20 million people who live in New York State.
Cuomo was quoted as making the following statement by the Observer in an article published a year ago on March 15, 2015,
"It's not, 'Can I support it?' Will the people support it? Can you get it done? Can you get a congestion plan passed and we've gone through this a couple of times and it was an overwhelming 'no' and I haven't seen anything happen that would change my opinion,"
The Governor has essentially been repeating this position publicly ever since.
Inconsistent with Governor Cuomo's Staff Actions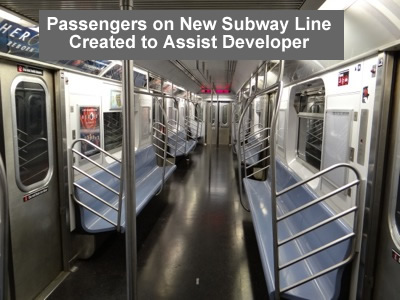 But while the Governor is publicly distancing himself from the measure which is unpopular in Queens and Brooklyn, former NY City Councilmember Mark Weprin, who is now Cuomo's Deputy of Legislative Affairs, has supported the Move NY Congestion Traffic Pricing Plan.
Weprin vehemently oppposed Congestion Traffic Pricing in 2008 when he was a NY City Councilmember, but in 2015 Weprin began publicly supporting the revised Congestion Traffic Pricing Plan as he transitioned from NY City Councilmember to becoming Cuomo's Deputy of Legislative Affairs. NYS Assemblyman David Weprin, Mark's brother, continues to publicly oppose the plan.
It's worth mentioning that the Weprins and the Cuomos have had close family political ties spanning two generations.
Congressman Crowley's Position Circa 2007
Queens Democratic Party Chairman, U.S. Congressman Joseph Crowley, supported the Congestion Traffic Pricing Plan backed by former Mayor Bloomberg, according to a June 11, 2007 report by the New York Times which quoted Crowley as saying,
"the overall [2007] plan — and congestion pricing is just a part of it — will make this a more livable city and make it easier to attract the best and the brightest not only from around the country but from around the world."
We've not yet seen any comments by Congressman Crowley on the current Move NY Plan which was recently introduced.
Move NY's 'New & Improved' Congestion Traffic Pricing Plan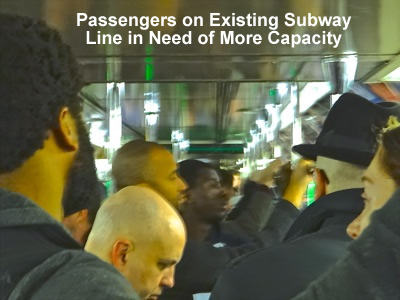 We studied the Move NY Traffic Congestion Pricing proposal by first taking a closer look at what groups are pushing the plan [follow the money]. Gridlock Sam Schwartz Consulting LLC is one of the primary promoters of the plan, and the consulting company is owned in part by a large, multi-national, transit infrastructure contractor. We also evaluated the assumptions they used to create the estimates provided in the plan, which we found to be inconsistent with fairly recent independent studies by respectable institutions, and we also looked at what happened in one of the other cities around the world that implemented the plan.
In essence the plan retrofits [re-prices] the fossil fuel infrastructure, by making a significant investment to install and operate tolling around the center of Manhattan. The remaining proceeds would then go to fund other MTA capital projects [in London this was about half the proceeds]. The pricing would require those who can't afford the $8 tolls [each way] to either use mass transit [recent NYC metro studies have shown this switching doesn't happen] or to cross the bridge at other times at which time the tolls would cost less. The proponents say this would enable those who can afford the tolls to cross the East River bridges and 60th Street more quickly and move around mid Manhattan more easily [less traffic congestion with the rest of the community priced out of their way]. How 'democratic' is this?
Previously MTA Invests Billion$ in New Subways Appearing to Accommodate Billionaire Manhattan Developer(s) & Now Pols Want Metro Residents & Employees to Fund a System to Toll Tax Them to Fund MTA Capital Budget
The MTA during the Bloomberg (Republican) Administration made approximately $8 billion in MTA capital investments for about 30 to 40 blocks of Manhattan subway lines. One line travels from Times Square to the Javits Center [$2.4 billion mostly paid by city] and the other, which was strongly supported by NYC Comptroller Scott Stringer, is expected to travel along Second Avenue from
about East 60th Street to about East 86th Street when it is completed [ran way past budget and time estimates - currently about $5.2 billion].
The latter subway line has been called the 'subway to nowhere', while the other isn't much different - as it terminates at the Javits Center and billionaire real estate developer Steven Ross' & Related Companies' new Hudson Yards development - without any other subway connections. Pundits have opined that one [new #7 Hudson Yards station] and possibly both of these multi-billion dollar investments were made to accommodate Manhattan real estate developers [such as Ross], more than to facilitate transit for commuters and residents of New York City.
When I confronted an MTA spokesperson with this perspective, they told me that the Q line extension would alleviate a considerable amount of the congestion on the north / south east side Manhattan subway line, but made no comment regarding the Hudson Yards station.
The photos above show no passengers on the Javits subway [at an admittedly random time and not long after it was installed], while the second photo shows the #6 subway along the Upper East Side, also at a random time [I have #7 photos that look the same, but didn't have time to find one]. The map to your right shows the new #7 subway line extension ending as an unconnected spur.
Perhaps if the MTA and the government officals who oversee MTA capital project spending were more judicious in their selection of multi-billion dollar projects and allocation of funds, they wouldn't need to make a huge investment of the public's money in the creation and operation of an expensive new tolling system which they plan to use to charge taxpayers $8 tolls to cross 60th Street and the East River Bridges.
This plan essentially aids the wealthy by making their lives easier, while economically discriminating against those with less wherewithal, by making their lives harder. This doesn't strike me as a solution that's 'democratic' at all. There must be less costly, more fair ways to raise additional revenue for transit that NYC commuters - not Manhattan real estate developers - really need.
Click here for the rest of our story about the Move NY Congestion Traffic Pricing Plan as we explore in greater detail a connected web of people, lobbyists and organizations behind Move NY Congestion Traffic Pricing Plan and their possible motivations. We critique the plan including a review of the assumptions, and a closer look at independent studies done with regard to motorists response to toll prices and changes.
---
Queens Green Drinks Is Back
Grass Roots Eco-Socials Come Out Of Hibernation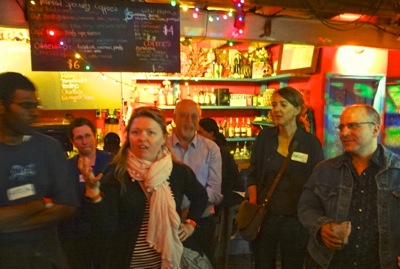 May 4, 2015 / Jackson Heights Neighborhood / Environment & Ecology in Queens / Queens Buzz. Last week there was a Queens Green Drinks social at Terraza 7 just off Roosevelt Avenue in Jackson Heights.
Gathered within were several dozen people who had come from many parts of the borough to have a drink or two and to socialize. The attendees were generally interested or involved in community efforts to create a more sustainable lifestyle in Queens and NYC.
The event was organized by Katie Ellman of GreenShoresNYC, in tandem with Angela Stach Co-Chair of Transportation Alternatives Queens, and Len Maniace the President of the Jackson Heights Beautification Group and Publisher of PlanetNYC.com. Katie is shown with scarf at front, Len Maniace is standing behind her and Angela Stach is shown with name badge at right. Phillip Papas, an avid cyclist, is shown standing on the far right.
Queens Green Drinks is a non-profit grassroots idea that went viral and went global over a decade ago. The intent of it was simple, to organize socials where people interested in a more sustainable lifestyle could meet and get to know each other. That was it. What came of those new relationships was up to those involved in them.
Helen Ho, of Queens was the first to pick up the torch and begin organizing Queens Green Drinks events at various locales around the borough. She kept Queens Green Drinks going for a number of years and through her efforts a community evolved of people who were involved in things like: East River kyaking, cycling in Queens, urban tree and tree bed planting, public park space advocates and defenders, organic food folks, urban farmers, green energy, green architects and green government officials ... to name just a few.
But organizing these get togethers, especially as they were held monthly, was a time commitment and personal effort that can't last forever. In time Helen reduced the frequency of the socials, and eventually the events went on hiatus ... until Wednesday, April 29th when Katie Ellman picked up the "torch of a new generation" and held the first event at Terraza 7 in Jackson Heights.
---
Air Beam: What Are You Breathing?
Adventurous Bike Ride With TA Queens ... On The Road To Find Out
November 10, 2014 / Queens Neighborhoods / Biking Queens / Queens Buzz. I just returned from a bike ride that began at the Central Park Boathouse and ended in Jackson Heights at 34th Street and the BQE Expressway. Celia Castellan, who is the organizer for Transportation Alternatives Queens [aka TA Queens] collaborated with me on this story which is about Queens & Manhattan air quality and also about biking. Celia is shown in the photo to your right, atop the Queensboro Bridge around 6 pm Monday night as we bike commuted from Manhattan to Queens.
It was a beautiful night with clear, dry air and temperatures around 60. Our mission was to test the Air Beam, a new device designed to enable people to measure the air quality, and then map the information to a public website, so that the public can begin to see what's going on with the air they breathe. The Air Beam is a blue, slightly-larger-than-a-cell-phone device, that you wear to measure the air [quality].
We began the ride in Central Park. We were on our way after receiving only a couple minutes of instruction. The device is brand-spanking new and must be sync'ed to an Android cell phone. The inventors work for a non-profit and are trying to raise a bit of money to mass produce it.
I'm going to take you on the rest of the ride, including a sampling of the air quality readings along the way, and provide some photos of the Queensboro Bridge bicycle commute a bit later this week. In the meantime, check out the Air Casting website and if you want to help, there are a few more days left on their Kickstarter campaign.
---
NYC Cyclists Rights - Bicycle Laws NYC & NYS - NYC Bike Laws
Cyclists Rights In NYC / Queens
Knowing Your Rights & Responsibilities As An NYC Cyclist
Updated Spring 2015 / Long Island City Neighborhood / NYC Cylists Rights In Queens / Queens Buzz. By Philip Papas. The introduction to the Cyclists' Rights Forum was given by Christina Vassallo, Executive Director, Flux Factory. She told us that the event came about after she and a friend were stopped for cycling violations, which they thought were not illegal, or had erroneously been applied as violation points to their motor vehicle driver's license. As a result she saw the need for a forum to clarify laws, rights and proper procedures for cyclists to follow.
Click here to read our full report about NYC Bike Laws / Cyclists' Rights Forum in Queens at the Flux Factory in LIC.
---
NY Power Authority Deconstructs Poletti Power Plant
Poletti Power Plant Deconstruction
NY Power Authority Works To Safely Remove Materials
March 11, 2013 / Astoria / Queens Neighborhoods / Queens Buzz. I attended a meeting on Thursday evening about the de-construction of the Poletti Power Plant, which is situated on the NY Power Authority site in the northwest section of Astoria. The meeting was sponsored by the United Community Civic Association [aka UCCA] and the event was held at the Augustana Lutheran Church on Ditmars Blvd in Astoria Heights.
The bottom line is that current plans call for the de-construction of the old Poletti Power plan to be completed by December 31, 2014. Current planning is underway to figure out how to approach the removal of the old plant materials. Some of the issues include routing of them via trucks through Astoria or via barge on the East River.
We were told that the plant is not being demolished, but rather de-constructed in a manner similar to reverse construction. The New York Power Authority, a government agency, is managing the project.
Click here for the rest of our report, including photos of the NY Power Authority & Poletti Power Plant de-construction. By Michael Wood.
---
Astoria News - News About Astoria NY
Panorama Music Fest on Randalls Island
Three Day Musical Festival Strikes a Grammy Chord
April 2018 / Randall's Island near Queens / Music in Queens / Queens Buzz.
This leads into our Astoria NEWS BRIEFS SECTION.
I attended the Panorama Music Festival on Randall's Island this past weekend. The music festival featured dozens of top and second tier bands and musicians with the event starting Friday and ending Sunday night. Some of the music festival headliners included award winning groups like Kendrick, Alabama Shakes and the return of LCD after a ten year hiatus. Panorama also featured a number of other highly regarded, well known groups - many of which are likely to continue gaining recognition.
In the photo at right, vocalist Sza, is performing in the Pavilion at the Panorama Music Festival on Randalls Island on Sunday.
The weather over weekend was a very seasonal hot, with temperatures hitting nearly 100 on Saturday [high 98], before descending into the low 90's on Sunday. But the island breeze coming across the East River on Randall's Island and not-too-high humidity, made strolling around the event campus not only doable, but enjoyable. There was also a public water station where you could refill your water bottle [free] and there was ample shade within the tree filled park.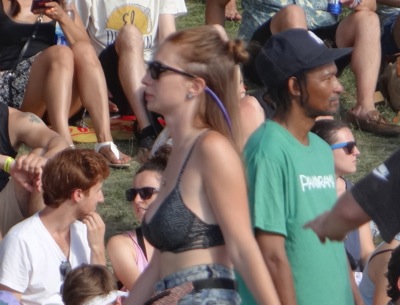 The crowd dressed for Panorama to beat the heat, more than anything else. This translated into a near beach-like scene for people-watching, with many youthful men and women enjoying the glow of their Adonis-like years. In 1992 there was a gender equality lawsuit, which contested women's right to go topless without being arrested - a right men enjoyed in this country since its founding. More than a decade later, in 2015, panhandlers in Times Square began asserting that right by painting their bare breasts with American flags and other designs, while soliciting tips from resident and tourist passers-by, for the pleasure of viewing them. These 'performance artists' were nicknamed the 'Desnudas'.
NYS and NYC Government officials found a way to reign in this practice - as it was creating quite a stir - by confining the solicitations to specified areas within the Times Square Plaza. Fast forward to 2016 and things continue to evolve, with women now wearing swimsuit / lingerie-like tops as fashion statements, some of which were on display at the Panorama Music Festival.
In the photo at right, a woman sports a fashionable swimsuit / lingerie-like top, at the Panorama Music Festival on Randall's Island.
We'll have a bit more later this summer, including video and a discussion of some of the art on exhibit at the Panorama Music Festival on Randall's Island in NYC.
---
1939 Worlds Fair - NYC World's Fair 1939 - 1940
NYC World's Fair - 1939 - 1940 in Flushing Queens
Part I - Out of the Ashes Rises the Phoenix
Battle for the Heart of a Park …
... and the Soul of a Borough
January 12, 2013 / Queens Neighborhoods / Queens Issues / Queens Buzz. Over the past six months we've been watching with interest as events have been unfolding regarding the building of a 25,000 seat soccer stadium right in the heart of Flushing Meadows Corona Park. There are also a number of other proposals working their way through the political process / local government, which calls for the cessation of public lands to build private enterprises on various sections of Flushing Meadows Corona Park.
Currently four separate proposals are in process for planned developments in Flushing Meadow Corona Park. They include: 1) a chain store shopping mall / complex in the southwest corner of the Citifield parking lot [pink], 2) a housing / condominium / hotel complex on the lands the city acquired in its use of eminent domain to develop Willets Point [blue], 3) the expansion of the USTA facilities in the northwest section of the USTA franchise in the park [orange] and 4) the erection of a thirteen plus acre stadium / sports complex in the middle of Flushing Meadows Corona Park [yellowish green].
The graphic above was provided by one of the community groups opposed to the Flushing Meadow Corona Park developments. It's worth noting that most of the colored areas already have pavement or structures covering the land. The exception is that of the proposed Stadium & Concert venue [yellowish green], which would be a completely new development, replacing water vessels which were created for the Worlds Fair. See the map in the header of this series [top of page] where the dark red square represents the approximate acreage and location of the proposed stadium / concert venue.
Queens Buzz has put together a series of reports, which we will run in the coming days about the proposed developments in Flushing Meadow Corona Park. This report starts with a bit of the history of the park, which began around the turn of the last century when Flushing Meadows Corona Park was just an ashpile. The focus of this report is the 1939 NYC World's Fair which was held in Flushing Meadow Park as it was then called. Story & photos by Michael Wood.
---
LIC Boathouse Calls For Help On Queens Water Quality
LIC Boathouse Calls For Help on Water Quality
LIC Kayakers Call For DEP Water Quality Investigation on the East River
September 17, 2012 / Long Island City / Sports in Queens & Queens Issues / Queens Buzz. I stopped by Hallets Cove to visit the LIC Boathouse kayakers to see how the season had gone.
I spoke with Victoria Olson, the LIC Boathouse Chairperson, and Ted Gruber, Chairman Emeritus about the LIC Boathouse East River kayaking season. As you can see in the photo, they were plenty busy having averaged about 200 people each summer weekend, over about a four to five hour afternoon period, during which they host free kayaking along the East River waterfront off Hallets Cove in LIC / Astoria in Queens.
As it turns out, the LIC Boathouse has identified a possible water quality issue, which it believes needs public awareness and support, in order for the Department of Environmental Protection [DEP] to take the appropriate action required to investigate and remedy what appears to be either an ongoing and possibly growing pollution problem.
Click here to read more about free kayaking along the East River in Queens and the ongoing / emerging sewage / bacteria / water quality problem along the East River in Queens. By Michael Wood.
---
Queens Parks - Things To Do In Parks In Queens
Queens Parks - Public Parks In Queens
July 6, 2012 / Queens Parks / Queens Buzz. This report provides info on Queens parks, swimming pools [we still need to add Fisher, Liberty and Fort Totten], various fields and courts for athletic games and picnic and open space areas for your relaxation. Use the search function to find golf courses and the horse race tracks as they are not included them here.
Click here to view our report on Queens Parks.
---
Newtown Creek Clean Up In Queens
Remediation Of Newtown Creek Begins In Queens & Brooklyn
After 150 Years Of Environmental Destruction, Remediation Of Newtown Creek Begins
January 21, 2012 / Long Island City, Sunnyside, Maspeth & Brooklyn / Green in Queens / Queens Buzz. Every good process begins with information gathering, so that the decision makers have all of the relevant information they need to make sound decisions. After the information gathering / research is done, and the decisions are made, then the actual execution of the [clean up] process begins.
And so it was that on October 27, 2011, I visited the Newtown Creek Superfund Public Meeting – Queens at LaGuardia Community College in Long Island City. There were more than ten representatives, largely from various departments within the EPA, on hand to answer questions and provide information to the public about how the federal government process to clean up Newtown Creek.
Click here to learn more about the history and EPA clean up of Newtown Creek which shapes the border between Queens and Brooklyn.
---
WQCI At Brooklyn Grange
Compost Solstice: Oh, Home On The Grange …
... no deer or antelope seen playing on Queens' Brooklyn Grange
September 30, 2011 / Long Island City LIC / Green Queens / Queens Buzz. I took a quick trip out to the country Friday night, boarding the 747 elevator at 37-18 Northern Blvd in LIC [bordering Astoria & Sunnyside], and landing on the building rooftop where there's a large spread of land used for urban farming called the Brooklyn Grange [we'll tell you more about the name later in the story].
The occasion for my foray up to the rooftop farm was the Western Queens Compost Initiative's [WQCI] first annual Compost Solstice. The fundraising event had been postponed a week due to the inclement weather last Friday. The WQCI is a program started by Stephanos Koullias with the help of some Con Ed money [won as a settlement from the 2006 blackout] and the support of Build-It-Green, which is a home improvement business in Astoria. Build-It-Green acquires and then sells / recycles building materials.
Click here to read our report on the Western Queens Compost Initiative's Compost Solstice at the Brooklyn Grange.
---
Greening Western Queens - Free Trees In Queens
Greening Western Queens
Summers in Sunnyside / Sunnyside / Eco-friendly In Queens / Queens Buzz. I went to check out the Greening Western Queens event which was held in Sunnyside on Saturday morning. I went, not knowing what to expect, and found the event provided a tree-mendous opportunity to learn more about what trees do for us, how to get involved in identifying places to have trees planted, as well as how to care for them.
The Con Ed blackout in 2006 hit areas like Astoria and Sunnyside rather hard. Following the blackout there were financial settlements made with Con Ed, one of which was a $7.8 million fund that went to NorthStar for the purposes of building more sustainable – and thus energy efficient – infrastructure in these neighborhoods.
I wasn't aware that these two neighborhoods have far less tree coverage than the city average [which is 14% tree coverage] and hence require far more air conditioning to keep cool in the summer.
Click here to learn more about Greening Western Queens - including info about tree types, tree insects, tree mapping and tree care certification in Queens. You will also learn how you can become involved in selecting public and private tree planting locations in Queens.
---
---
Queens Gold Coast - Vision Plan
Waterfront Vision Plan Unveiled For Public Recreation Along East River
June 20, 2011 / Astoria & Long Island City LIC / Eco-Friendly Queens / Queens Buzz. Last Thursday Green Shores NYC and the Trust For Public Land unveiled a sketch of what could one day be called Queens Gold Coast. The Waterfront Vision Plan was put together through a series of town hall meetings held last summer in the communities along the East River in Astoria and Long Island City in Queens. During these meetings volunteers gathered input from local residents regarding what issues they currently encounter in using the parks along the East River and what enhancements they would like to see.
Hundreds of people participated in the event and following a summer of gathering information, the Green Shores NYC volunteers and the Trust for Public Land spent the next nine months editing the work into a coherent framework with actionable recommendations to submit to city officials.
Later today you can click here to read more about the Waterfront Vision Plan for Queens Gold Coast.
---
Green Queens - Environmental Efforts In Queens
People-Powered Green Symposium
Fourth Annual Going Green In Queens
April 12, 2011 / Flushing / Green & Natural / Queens Buzz. The fourth annual 'Going Green In Queens' environmental symposium was held on Saturday, March 26th, at the Al Oerter Center in Flushing Meadows Corona Park.
Hundreds of people, possibly more than a thousand, visited the green booths set up by a number of community organizations that are working to build a more sustainable / regenerative environment in Queens.
Booths included urban composters, community parks organizations, a solar panel provider, energy saving devices / alternative energy providers, an organic food group, sailing and bicycling groups .. and more.
Click here to view our report on Going Green In Queens 2011.
---
American Meat - Indie Food Film
American Meat - Unfinished Film
Documentary About Current State Of Food & Farming
Film Making in Queens / Sunnyside Neighborhood / Food & Wine / Queens Buzz. I managed to obtain an invitation to a screening of American Meat, which is an unfinished documentary film, at Cafe Marlene in Sunnyside. The screening was sponsored by Queens Harvest Co-op, which is an organization working to build an organic food cooperative in Queens.
The film is a rather eye opening look into how the economics of food / meat production in this country have taken us down an unsustainable path. A path which not only has significant health implications, but possibly even more dire consequences. The film provides an intelligent, behind-the-scenes look at how economics have been driving: 1) food production methods, 2) the composition of what's in the meat being sold at the grocery store, and 3) what we're feeding our children and ourselves.
The film was envisioned and began production in the spring of 2007 and the producers are hoping to finish it in 2011. Click here to view our preview of the unfinished documentary film entitled American Meat independent film at Cafe Marlene in Sunnyside and hosted by Queens Harvest Co-op.
---
Solar Panels & Energy Systems In Queens
Solar Panels & Energy In Queens
LICBDC Seminar - Solar Energy Tax Incentives 2011
March 20, 2011 / Long Island City / Queens Buzz. I just returned from a seminar detailing government incentives for installing solar on residential and commercial buildings in 2011. Based on what was presented in the seminar, anyone contemplating this sort of investment, might want to think about doing it in 2011.
The federal, state and city government are all offering tax incentives which add up to significant savings and shorten the payback period over which a building owner could recoup their investment in a solar energy system. Solar is a hedge against increases in oil prices, and demand for such systems is likely to grow. Given the tax incentives it's possible, that as we approach the end of the year, companies selling solar energy systems might become quite busy. The photo to your left shows a roof top solar energy system.
Click here to read our report about the tax incentives for solar energy in Queens NY in 2011.
---
Queens CSA's - CSA's in Queens
Queens CSA's
Community Supported Agriculture In Queens
CSA's in Astoria, Douglastion, Glendale, Flushing, Forest Hills, Jackson Heights, Sunnyside, Woodside & Ozone Park
Queens Neighborhoods / Updated Spring 2015 / Queens Buzz. Spring is here and the planting season will soon be upon us. Living in the city we're less attuned to mother nature's cadence than the farmers we rely upon who produce our food supply. But the planting / growing seasons will soon begin and hence the local CSA [Community Supported Agriculture] groups are in the process of selling shares.
Unbeknownst to many of Queens denizens there are a number of CSA's which are currently in the process of signing up members to participate in this years harvest. Essentially the way CSA's work, is to enroll participants for weekly fresh food deliveries for about five months, in exchange for a flat fee and [in some cases] for a few hours of volunteer work. But there's a bit more to the story than that, including different food options, share options, community events and CSA history. Click this link to learn more about Queens CSA's including Astoria, LIC, Jackson Heights CSAs, as well as in Flushing, Woodside, Sunnyside, Ozone Park, Forest Hills and Douglaston. The report below tells where and how to participate in one - including links to CSA websites.
---
---
Green & Natural In Astoria
---
Leaf Fest 2010 - Astoria Park
Astoria Leaf Fest 2010
December 4, 2010 / Astoria / Queens Buzz. Leaf Fest 2010 is the annual harvest of fallen tree leaves in Queens parks along the western shorefront. Thanks to environmental activist and Leaf Fest correspondent, Jules Corkery, we have a full report about the Leaf Fest 2010 effort in Astoria Park, along with a couple of photos she provided.
Click here to read the report and view the second photo about the Leaf Fest 2010 in Astoria Park.
---
Recycle Fest - Astoria Queens NY
Recycle Fest In Astoria Environmental Activism In Astoria Queens
This is a rolling summary of brief reports about green activities in Astoria and along the East River waterfront of Queens NY. To date we have a story about Queens Green Drinks and one about the Recyclefest held in Astoria in Spring 2009. Transportation Alternatives and government agencies will also be covered in this section as well as in separate reports.
---
Queens Green Drinks Events - Astoria Queens NY
Queens Green Drinks Event In Astoria 2008
Queens Green Drinks started hosting monthly events in the borough in May of 2008. Helen Ho picked up the mantle after attending one such event sponsored at the Queens Botanical Garden in September of 2007. She schedules six months of events in advance, many of which will be posted on this site each month. The following is the story of one such event, held on October 25th, 2008 at Build It Green in Astoria.
---
Eco-Friendly In Flushing & Corona
---
Waterpod Floating Barge - Flushing Harbor Flushing Queens NY
Waterpod: A Good Idea That Floats
Flushing / September 26, 2009. Today, amidst all the reasons for cynicism and despair, I found a refreshing glimmer of hope in, of all things, a waterpod. It's a waterpod that contains within it a couple of beings, which if properly funded could spread a good idea like appleseeds across the land, perhaps the globe, and enable all of us to help shape the future of the world in which we live.
Mary Mattingly and Ian Daniel are modern day, Ghandi-like activistics. They have guided the good ship Waterpod into and out of eight different harbors along the New York City network of waterways, carrying with them an art performance eco-friendly message that makes a huge statement in very small ways ... but in every moment of each one of their days.
Click here to read the rest of the story on The Waterpod in Queens. Scroll down to the next two stories to read the weekend events postings and / or click into the Queens Events section of this site.
---
Queens Botanical Garden - Flushing NY Queens
Queens Botanical Garden
This story describes the Queens Botanical Garden in the Flushing neighborhood of Queens NY. The Queens Botanical Garden is run by the municipality and is located along Main Street in the Flushing Queens.
---
Queens Botanical Garden - Flushing NY - Aphrodisiac Class
Queens Botanical Gardens
Aphrodisiac Class & Other Plant Classes @ Botanical Gardens
Flushing / Queens Buzz. This is a report on a class taught at the Queens Botanical Garden in the Flushing neighborhood of Queens NY. The class was intended to enhance one's understanding of the nature, effect and care of herbs which may be used as aphrodisiacs.
---
---
Green & Natural In Jackson Heights & Elmhurst
---
Green Agenda For Jackson Heights
How To Create A Green Agenda For Jackson Heights?
Jackson Heights / November 7, 2009. How can a handful of people, say twenty or so, create a Green Agenda for Jackson Heights? This is a quest undertaken by a vibrant and growing group of community activists in Jackson Heights, but which has also caught the attention and garnered some support from around the borough. What exactly the agenda will be won't be known until next Spring, but if you're interested in having your voice heard, now is the time. This report is about their first meeting and includes links to their home page. Click here to read a full report about the Green Agenda for Jackson Heights.
---
MulchFest 2010 Queens - Photos
MulchFest 2010 In Jackson Heights Queens
January 9, 2010 / Jackson Heights NY. MulchFest 2010 appeared to be off to an auspicious beginning Saturday morning, as in spite of the freezing cold temperatures and a blustery wind chill of some 15 degrees, many hardy Queens residents came out to Travers Park, their tree in tow, to make a contribution to the MulchFest 2010 ... and to the long term health of the planet.
We spent a bit of time inquiring who was involved and watched the mulching taking place, compliments of the Queens division of the NYC Parks Department. Representatives of the JHBG and Queens Botanical Gardens were also there serving hot chocolate, having previously publicized the event through their organizations. Click here to read the full story of MulchFest 2010 in Queens with photos.
---
Eco-Friendly In Jamaica
---
Green & Natural In Long Island City LIC
---
Photos Of Snowfall In Queens
Queens Takes 2nd Snowfall In Stride
January 12, 2011 / Long Island City LIC & Sunnyside / Queens Buzz. Last night approximately seven inches of snow fell in Queens. The snowfall in Queens was of the light fluffy kind, as the temperatures remained below freezing through the early part of the morning. The snow had quit falling in the wee hours of the morning, providing plenty of time for the sanitation department and Queens residents to dig themselves out.
One of our intrepid reporters arose early today to capture Queens digging out and dusting off the snow as they set out for work today. Click here to read the rest of our report as well as to view numerous photos of the snowfall in Queens taken in Long Island City and Sunnyside.
---
Queens Eats - Queens Harvest Food Co-op - LIC
Queens Eats For Local Food Co-op
November 18, 2010 / Long Island City LIC / Queens Buzz. Wednesday night hundreds of foodies, environmentalists and the local intrepid converged at the Foundry on 13th Street in LIC where the Queens Harvest Coop hosted Queens Eats, a fundraiser. Guests were treated to hors d'oeuvres, or what one chef once described to me as grazing food. In addition to the food, there was wine and a generous number of raffle prizes; the proceeds of which will go toward starting a natural food co-operative in Long Island City sometime in 2011.
The photo to your right is looking up toward the second floor / skylight at the Foundry LIC, with the moon and neighboring vine laden brick wall in the background.
Click this link to view a slide show and obtain a bit more info about the Queens Eats / Queens Harvest Co-op event. Salud.
---
Eco-Friendly In Queens
---
Biking Queens 2011
Biking Queens
Bicycling Queens in 2011
Queens Neighborhoods / Queens Buzz. The good weather has arrived and bicycling is about to begin in earnest. Queens is blessed with one of the most interesting arrays of biking trails in the NYC metro area and provides the added pleasure of not being so crowded ... yet.
But there are pitfalls too. Queens Blvd is one of the most dangerous streets in all of the city as some motorists seem to drive it more like a highway than the city street that it is. So caution is always important to bear in mind, but that is true for any sport, be it swimming, football or skiing.
In our soon to be posted report we'll provide you with a view of the biking landscape in Queens. We'll highlight the key biking events, show you a rough outline of Queens biking trails and finish up with a few biking maintenance tips including links to neighborhood bike stores in Queens. Stay tuned, the full story will be posted later this week.

Click here to view our report about biking / bicycling in Queens 2011.
---
Queens Parks - Things To Do In Parks In Queens
Queens Parks - Public Parks In Queens
July 6, 2012 / Queens Parks / Queens Buzz. This report provides info on Queens parks, swimming pools [we still need to add Fisher, Liberty and Fort Totten], various fields and courts for athletic games and picnic and open space areas for your relaxation. Use the search function to find golf courses and the horse race tracks as they are not included them here.
Click here to view our report on Queens Parks.
---
Queens Farmers Markets / Green Markets In Queens, Astoria, Long Island City, Jackson Heights, Sunnyside, Woodside, Corona, Flushing, Jamaica, Forest
Queens Farmers Markets 2022
April 19, 2022 / Queens Neighborhoods / Queens Buzz.
See HOURS, MAPS, ITEMS / SELECTION of the 18 BEST Farmers Markets / Green Markets in Queens, w/ savvy shoppers' tips. This report includes the Astoria Farmers Market, Sunnyside Farmers Market, Jackson Heights Green Market, LIC Long Island City Green Market, Flushing Farmers Market, Corona Farmers Market, Jamaica Farmers Market, Forest Hills farmers markets and in between.
Click here for dates, times, locations of the Queens Farmers Markets.
---
Green & Natural In Sunnyside & Woodside
---
Farmers' Market 2008 - Sunnyside NY
Farmers Market In Sunnyside Queens
The Farmers' Market in Sunnyside opened in April 2008 for the Spring, Summer and Fall seasons. At the market they sell freshly caught fish and other seafood, fresh produce and meat, and baked goods.
Click here to view the Sunnyside Farmers Market story.
---
Queens Green Drinks Events - Sunnyside NY
Queens Green Drinks Events In Sunnyside NY
Queens Green Drinks Springs Into 2010
April 26, 2010 / Sunnyside / Queens Buzz. After about a six month hiatus, Queens Green Drinks has resumed making the rounds. The first event was co-sponsored by Queens Harvest Food Coop and held at the Claret Wine Bar in Sunnyside. Helen Ho, environmental activist, eco-super model and academic was on hand to greet the newly energized group of offline environmental social networkers. You can find more about Helen in other stories such as the Queens Is Green Fashion Show [sorry MIA], prior Green Drinks events, the Tour De Queens and other eco-friendly events, by using the search function at the end of each story or in the upper left corner of the site. Click here to view the first of the Queens Green Drinks events in 2010.
---
Queens Snowfall - Sunnyside NY
Snowfall In Queens NY
There are two stories on snowfalls in the Sunnyside section of Queens NY. Both of them occurred in February - but one in 2009 and one in 2008.
---
---
---
Queens Related Info
Click this link for promotions, discounts and coupons in Woodside, Sunnyside and Queens.
Click this link to go to the Astoria Neighborhood / Long Island City LIC Neighborhood / Sunnyside Woodside Neighborhood News / Jackson Heights Elmhurst Neighborhood / Flushing Corona Neighborhood / Jamaica Neighborhood.
---
Site Search Tips. 1) For best results, when typing in more than one word, use quotation marks - eg "Astoria Park". 2) Also try either singular or plural words when searching for a specific item such as "gym" or "gyms".
---
Archives - TBD
---
Click this link to search for something in our Queens Business Directory.
Click the log in link below to create an ID and post an opinion.
Or send this story to a friend by filling in the appropriate box below.
---