Flushing Historic House Tour - Historic Sites Queens History NYC
Flushing History: Walking Through American Colonial History in Queens
America's Colonial History Comes Alive in the 30th Historic House Tour in Flushing Queens
December 12, 2017 / Flushing Neighborhood / Flushing History in American Colonial Queens / Queens Buzz NYC.
This past Sunday, six historic sites in Flushing and one in the Corona neighborhood of Queens, coordinated to host the 30th annual Holiday Historic House Tour. For four hours visitors were invited into Queens colonial, as well as 19th century [1800's] pasts, in the neighborhood of Flushing. The 20th century Louis Armstrong House in Corona, also participates in this event.
The map at right shows the Queens historic sites participating in the Holiday Historic House Tour in Flushing this past weekend.
It had snowed the day before, but it was only a few inches and by Sunday most of it had pretty much gone away. It was sunny with temperatures in the low 40's, so not a bad day for walking around Flushing. The group of historic sites has it set up so you can either buy the one ticket to see all seven sites, in advance, online [$15] – or purchase the ticket on the day of the event from any one of the historic sites wherever you start your self-guided historic tour [$20].
The first two stops are by far and away the two most significant sites, as together they represent one of the most important cornerstones of the Bill of Rights in the American Constitution – religious freedom. So let us delve into America's colonial past in Queens, starting with the Bowne House and the Friends Meeting House.
Click here to continue reading our report about our American colonial past in Flushing, as seen on the Queens History - Flushing Historic House Tour.
---
Fiery Dragon Heats Up Boat Festival
August 2017 / Flushing Neighborhood / Part Fiction & Part Fact / Chinese Culture in Queens / Queens Buzz NYC.
It was a warm weekend at the Hong Kong Dragon Boat Festival in the Flushing neighborhood of Queens. But not too warm to prevent the legendary fiery dragon, a symbol of good fortune, to grace the Hong Kong Dragon Boat Festival with his presence [see photo to right].
The fiery dragon came rampaging through the festival lawn, seeming to blow flames from its mouth, out into the hot air. Thankfully Meadow Lake was nearby.
Is this a fictitious tale you may ask? Only the dragon knows for sure.
The 27th Annual Hong Kong Dragon Boat Festival was held in Queens on Meadow Lake. Meadow Lake is located in the southern end of Flushing Corona Meadows Park, well past the Unisphere and roller rink. The races were held on both Saturday and Sunday during the day. There were reportedly over 2,000 participants in the races, which included serious racers and racers just out to have a fun time. And many thousands of spectators.
Update: LaGuardia Airport Development Project
First Phase Moving Along with Second & Third Phases About to Begin
April 24, 2017 / Astoria Neighborhood / Queens Real Estate / Queens Buzz NYC.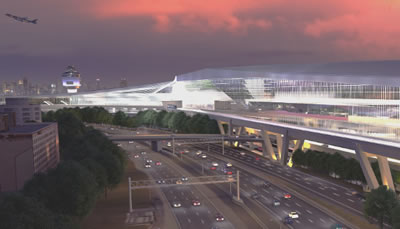 I attended a Community Board One meeting at the Astoria World Manor on Wednesday, April 19th. People representing the LaGuardia Airport development project were scheduled to provide the community with an update regarding several of the multi-billion dollar renovation projects associated with LaGuardia Airport, that are either currently in the works or nearing the end of the planning process.
The presentation was split into three parts: 1) LaGuardia Airport development project construction updates, 2) traffic mitigation efforts and 3) community outreach including job opportunities related to the projects.
Click here to read our report on the LaGuardia Airport development project & expansion, related job opportunities, its possible impact on travel times to the airport and the public hearing details on May 3rd, 2017 in Flushing. We have also included a small bit of history about the airport and the fight over the property and development in Flushing Meadows Corona Park. The graphic at right was created as part of the LaGuardia Airport development project.
NYC Crime Continues To Drop, Breaking Records
Mayor de Blasio & NYPD Discuss City Safety & Ongoing Improvements
February 7, 2017 / Crime in Queens Neighborhoods / Queens Government / Queens Buzz.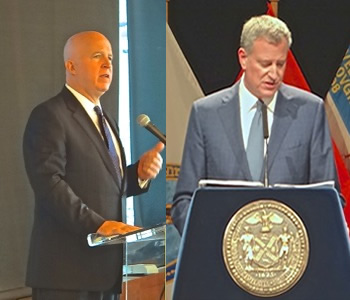 This just came in on the heels of our coverage of the Public Safety discussion below. Mayor de Blasio and NY Police Commissioner O'Neill spoke in the Bronx regarding ongoing efforts and results in improving safety in the city. The following are some of the crime statistics noted in their meeting taken directly out of a press release sent by them.
 
Chief of Crime Control Strategies Dermot Shea, NYPD: Thank you, Mr. Mayor. Good afternoon, everyone. As you've heard, we have begun a strong start to 2017 in terms of overall crime reduction. Strategies that have been put in place to address repeat offenders, illegal gun possession and gangs are having the desired effect. We're building on the momentum of the last few years.
So, some of the highlights for crime statistics from this January – overall index crime is down 0.2 percent for the month of January. When you carry it over to this morning, we are now down 2.7 percent in overall index crime in New York City.
To note – with the overall index crime, January marks the tenth consecutive month of reduced index crime. That's the momentum we've been talking about. Currently, four out of five boroughs in New York City – all but Queens – are down to start the year.
Homicides – we recorded 20 homicides in January. That's down two from 22. That 20, as the Mayor alluded to, is the lowest January that we have ever recorded going back a minimum into the 1960s.
Shooting incidents – down 1.7 percent in January. Last January we hit the modern mark with 59 shooting incidents. We came in with 58 this January.
Talking about momentum again – nine of the last 13 months we've had a reduction in shooting incidents. Nine of the last 13.
Three months in a row we've had a reduction in shooting incidents in New York City. We have now, when you look at New York City as a whole, we now have 24-hour periods where we do not record a shooting incident in New York City. That kind of thinking was impossible in the not too distant past.
This is the new normal. We want to build on it and we feel that we will build on it but there's still plenty of work to do.
Stabbings and slashings for January – down 7.2 percent.
Robberies – down 7.5 percent. Lowest January robbery number we've seen.
Felony assaults in New York City – down 5.4 percent.
Burglaries tied the lowest mark set last year.
Transit crime – down 1.4 percent.
And housing crime – not to be outdone – down 1.9 percent.
Clearly, a wide breath of crime across New York City – property and violent crime, down.
 
But there is, I alluded to, there is still work to do – three categories we saw increases in January.
Grand larceny, specifically, credit card related skimming and forging of checks – those two drove grand larcenies. And grand larceny was up for the month of January 4.7 percent.
And lastly, rounding out the crime totals – stolen vehicles which we have seen drop to unprecedented lows saw an increase of ten cars for January. So, that's 480 versus 470 – a two percent increase.
Commissioner O'Neill: Okay, thanks, Dermot. We'll take your questions.
 
Question: Do you think it's possible, really to keep driving crime down further at this point? And how could you achieve that?
O'Neill's response was yes, with some added context.
Queens Borough President NYC
Queens State of the Borough Address
Katz Delivers Her Third State of the Borough Address
January 27, 2017 / Jamaica Neighborhood / Queens Politics & Government / Queens Buzz.
Last Friday I headed down to Jamaicatown to watch Queens Borough President Melinda Katz deliver her third State of the Borough Address at the Milton Bassin Performing Arts Center at York College.
I entered the auditorium shortly after she began her address where she was talking about her role in the good progress that the de Blasio Administration Education Department, headed by Carmen Farina, is having in moving the needle in enhancing both infrastructure and performance in the NYC Public School System.
As an example about of third of the trailers have been removed, with plans for another third to be removed this year. This means kids are back in regular classrooms - after possibly decades long neglect by prior Administrations [need to confirm this statment].
I'll have more on the Queens Borough President's State of the Borough Address sometime soon.
---

Events, Attractions, Restaurants, Shopping & Real Estate
Click to quick scroll down to:
Flushing News & Corona News - Queens News NYC
Flushing News Briefs
January 15, 2018 / Flushing Neighborhood / Flushing News Briefs / Queens Buzz NYC.
This section contains news briefs about the Flushing neighborhood dating back to 2008. The news briefs include stories about the U.S. Open, neighborhood zoning, religious and cultural events including Judaism, Islamic, Hindu, Chinese and Korean cultures. There are also history briefs and so forth.
Click here to view our section dedicated to Flushing News.
---

Click the drop down menu to submit events [ID required] into the Member Calendar. Free for arts groups / non-profits and community orgs, except fundraising events.
Click here to obtain a Free Queens Buzz Membership.
Calendar: Member Calendar
Click here
to subscribe to "Member Calendar" and receive an email whenever a new event is created
If the ICAL logo above does not work,
right click
here, copy the URL, and paste it into your favorite calendar application.
Member Calendar
---


Flushing Restaurants - Korean, Chinese, Italian, Indian, Indonesian & Latin American Dumplings At Flushing Town Hall
Dumplings From Five Distant Cultures
Flushing Town Hall Hosts 'Round The World' Dumpling Tour
November 18, 2013 / Flushing / Ethnic Food In Queens / Flushing Restaurants / Queens Buzz. This past weekend I attended a workshop entitled Harvesting Our Diversity at Flushing Town Hall. They had invited five restaurateurs to come to discuss and present the dumplings indigenous to their homelands which they serve in their Flushing restaurants. The presenters would first talk a little about the history of the dumpling in their culture and then provide us with a sample dumpling made in their restaurants.
In the photo to your right the audience is being served samples of Indonesian, Korean and Chinese Korean dumplings at Flushing Town Hall.
The Harvesting Diversity event was designed to take us around the world on a dumpling tour, where we would sample dumplings made by the Italians, the Indians, the Indonesians, the Puerto Ricans / Latin Americans and the Koreans / Chinese. Click here to read the rest of our report on a world tour of dumplings at Flushing Town Hall - served by Flushing restaurants.
---
Joes Shanghai Restaurant - Chinese Restaurants In Flushing
Joe's Shanghai Restaurant - Flushing
Chinese Restaurants In Flushing Queens NY
Flushing Neighborhood / Flushing Restaurants / Queens Restaurants / Queens Buzz.
I've passed by Joe's Shanghai in Flushing on many occasions. Without a miss, every time I walk by there's a good crowd inside, and sometimes a few groups waiting outside the door. I reckon, as they say, that that is about as good advertising as one can get. But that kind of trade doesn't happen overnight and it doesn't happen without a lot of hard work.
I arrived a bit past the rush hours, which generally run from about 7 to 9 pm. I was greeted and seated by Keith Yip [see photo to left], who is the restaurant manager and also a relation to Joe. Like the customers around me, I was instantly waited on and served tea. I perused the menu and decided to try the signature dishes recommended by Keith. You might want to take this review with you next time you head into Flushing, because everyone of these dishes was a hit.
---
NY Fashion Week: Giorgio's Hair Salon Whitestone, Carina Boutique Wedding Dresses, Trattoria Neo Italian Restaurants Whitestone
Fashion Week In Queens
Miss Queens, Giorgio's Hair Salon & Carina Boutique Showcase Queens Style
September 15, 2014 / Whitestone Neighborhood / Queens Fashion / Queens Buzz. In early September, as New York Fashion Week was walking down the runway, I spent a fun evening at Giorgio's hair salon in Whitestone. The Whitestone neighborhood is easily accessible by car via the Whitestone and Cross Island expressways and by public transit via buses.
Jessenia Vargas, Miss Queens, headlined the Whitestone Queens fashion show. Jessenia is a Queens native who is scheduled be featured on a Women's Entertainment [WE] TV show called America's It Girl. The show is a 12 episode series that features enterprising young women competing to become the first America's It Girl.
Click to view a photo slide show of the Whitestone Fashion Show and to learn more about Miss Queens Jessenia Vargas, WE TV's show America's It Girl, and the fashion show at Giorgio's hair salon featuring Carina Boutique dresses & Trattoria Neo's Italian food in Whitestone Queens.
---

Real Estate In Flushing - Development
Real Estate In Flushing
Real Estate Development In Flushing Continues
April 14, 2011 / Flushing Neighborhood / Real Estate Development In Flushing / Queens Buzz. This winter I attended the state of the borough address given by Queens Borough president Helen Marshall and another given by NYC deputy mayor of economic development, Robert K. Steel. This report captures some of their comments about Flushing Commons condominium and retail complex which is a large-scale real estate development projects in Queens. The graphic shown to your right is a depiction of the Flushing Commons when it is completed.
Following their speeches, we did some investigation and research to find out more about this and other Flushing real estate development projects. The Flushing Commons retail and condominium project begins in 2011 and is expected to be completed by 2013. Advocates of the project hail the addition of new facilities, while detractors question whether the city has made sufficient provision for infrastructure in an area that is one of the most traversed outside of Manhattan.
Click here to read more about real estate development in Flushing Queens.
---
Willets Point - Flushing Real Estate
Real Estate In Flushing - Willets Point
April 14, 2011 / Flushing Neighborhood / Flushing Real Estate / Queens Buzz. This winter I attended the State of the Borough Address given by Queens Borough president Helen Marshall and a month later I attended a speech given by NYC deputy mayor of economic development, Robert K. Steel. This report captures their brief comments about Willets Point condominium and retail development project, as well as a considerable amount of research I did following those two presentations.
In the following report we provide you with a history of the effort to transform the Willets Point area and an outline of the proposed plans and including a detailing of some of the issues associated with the proposed development. A graphical depiction of the Willets Point development is shown above.
Click here to read more about Willets Point real estate development project - controversy in Flushing Queens. Story & photos by Michael Wood.
---
Sterling Equities & Related Companies Lose A Court Battle
Plans To Build Shopping Mall On Flushing Meadows Corona Parkland Reversed On Appeal
July 6, 2015 / Flushing Neighborhood / Queens Real Estate / Queens Buzz. This report is based on an Associated Press report dated July 2, 2015 and a Queens Tribune story dated August 28, 2014.
In August of 2014, New York State Supreme Court Judge Manuel Mendez decided in favor of Related Companies / Sterling Equities by throwing out a lawsuit filed by the City Club of New York and NYS Senator Tony Avella. The plaintiffs alleged that the Related Companies, real estate developers of Hunters Point South and the Hudson Yards, and the Sterling Equities which was co-founded by the NY Mets owner, Fred Wilpon, had not gone through the NYS legislature for the approval of the transfer of the parkland as required by law.
The lawsuit, filed in February 2014, alleged that the transfer of 47 acres of Flushing Meadows Corona Park land that currently represents the western part of the Mets parking lot, was done without following the procedure for a proper public review [see photo above right]. The City had proposed transferring the 47 acres to Related Companies / Sterling Equities who had planned to build a 1.4 million square foot shopping mall next to Citifield.
The NY City Council and the Mayor approved the project in October 2013, but the proposal never went to Albany for a vote. According to the Queens Tribune report one of the plaintiffs said that the Judge Manuel Mendez's ruling goes against the Public Trust Doctrine, ignores longstanding case law history, and bestows too much power that was formerly the purview of the Board of Estimate in one person: the NYC Mayor.
On Thursday, July 2nd, 2015, the four-judge Appellate Court overturned Judge Mendez's decision and ruled that the Willets West Mall Project was illegal because the land is a part of Flushing Meadows Corona Park, in spite of its current paved over status as a parking lot [see 2009 photo above]. And because it is a part of the public parkland of the people, it may not be turned over to real estate developers without approval of the NY State Legislature. The judges rejected the ruling in favor of the mall made by Judge Manuel Mendez, wherein the real estate developers argued that the 54 year old, 1961 law authorizing the construction of Shea Stadium, also included a mall.
The photo above shows the Citifield parking lot in 2009, as it was being paved over following the demolition of Shea Stadium and the erection of Citifield.
According to the Associated Press report, a spokesman for the developers said that they would appeal the decision.
NYS Government & Politics - New York State Governors Office, Attorney General, Comptroller
Albany Legislative Session To End Friday
Pending Bills: Public School Funding & Rent Stabilization Law
June 15, 2015 / Queens Neighborhoods / Queens Politics / Queens Buzz.
There are two important bills expected to be finalized by the New York State Legislature this week: 1) one having to do with taxation and funding for the public schools and 2) the second having to do with NYC rent stabilization law.
I've been paying some modest measure of attention to both of these bills, and the following is a brief snapshot of a critical talking point in each bill.
Use Public Money To Fund Private Education?
From what I can gather, perhaps the most contentious item in the public education funding bill is the provision for sizeable tax deductions for those who choose to send their children to private, not public schools.
As I understand it, these tax deductions would be included as part of the funding for the public schools budget and therefore will reduce what's left for the NYS / NYC public school systems.
It's worth noting that private school tuition in NYC can cost in the range of about $5,000 to $30,000 per year per student. And that there are about 900 private schools in NYC alone, so depending on how these proposed deductions are ultimately structured, the funds reallocated from the public schools to private individuals would be in the tens to hundreds of millions of dollars and possibly more.
You might want to contact Governor Cuomo's office at 1.518.474.8390 to let him know you support or oppose the measure, since we understand that he's been the major force pushing for this public school funding change. You can also send him an email via the Governor's contact form.
Albany & Expiring Rent Stabilization Laws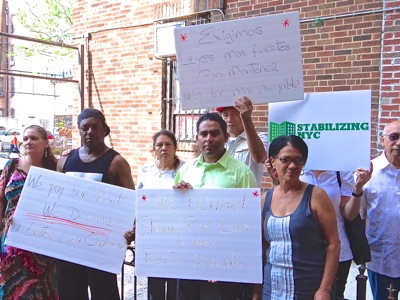 The Rent Stabilization Laws are due to expire tonight, June 15, 2015.
There was talk earlier this year that there would be a push to expand or strengthen the Rent Stabilization Laws given the rapid growth in homelessness in New York City. The NYC homeless population is currently estimated at over 60,000 or nearly 1% of the entire NYC population. About 70% of New York City residents are renters, of which about two million of less than eight and a half million residents, live in rent stabilized apartments.
Over the past decade or so, the Rent Stabilization Laws have been curtailed in the favor of the free market and landlords. The curtailment of rent price control legislation is believed to have spurred additional real estate development investment, as the profits of most new buildings are no longer affected by rent stabilization laws.
Much of the rapid growth in homelessness over the past decade is believed to be the result of tenants losing their rent stabilized apartments, as new owners of buildings have found ways to circumvent the laws. A recent NYU Furman Center Study has shown the loss of over 330,000 unsubsidized affordable apartments since 2002, due in part to the rent stabilization legislative changes referenced above.
NYS legislative insiders told me that tenants rights supporters were hoping to make legislative gains this year, but that the NYS Assemblypeople and NYS Senators opposing the changes, were going to allow the rent stabilization laws to expire as a negotiating tactic.
Vicki Been, Commissioner of NYC Department of Housing Preservation and Development, informed us that the current rent stabilization laws remain in effect through the term of existing leases and leases up for renewal that are already in the hands of the tenants. She also said that tenants should call 311 with any questions or problems.
Cuomo & NYS Officials - Quinnipiac Poll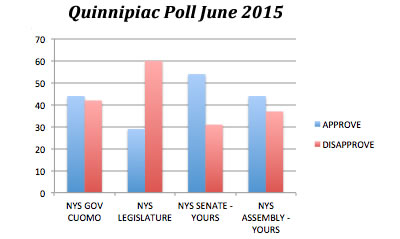 On June 3, 2015 Quinnipiac released a poll showing voters are feeling negatively about the NYS Legislature as a whole, while continuing to favor their local representatives. In the poll Governor Cuomo has only a 2% margin of those favoring him.
Governor Cuomo had a 44% approval rating versus 42% disapproval rating, as voters are not satisfied with his handling of the corruption scandals that have plagued Albany this year. In February 2015 Assembly Speaker Sheldon Silver [Democrat Manhattan] was indicted on federal corruption charges. And in May 2015 NYS Senate Leader Dean Skelos [Republican Long Island] was indicted by a federal Grand Jury.
Less than a year ago, NYS gubernatorial candidate Zephyr Teachout, a law professor at Fordham University surprised polls by garnering nearly 2 votes for every 3 won by the governor in the NYS Democratic primary. Ms. Teachout did not have much in the way of significant private backing or union support, but won nearly 40% of the vote waging an online campaign.
According to the Quinnipiac poll, voters by a margin of 52% - 32% said that with respect to Albany's corruption problem:
"... the Governor is part of the problem, not part of the solution."
As for the NYS Assemblymembers and NYS Senators the Quinnipiac Poll reported the following:
"Voters disapprove 60 - 26 percent of the job the State Legislature is doing, but approve 44 - 37 percent of their own Assembly member and approve 54 - 31 percent of their own state senator."
"At the same time, 45 percent of voters say their state senator should be thrown out in a general house-cleaning, while 40 percent say their senator deserves reelection."
"Voters are divided 41 - 41 percent on whether their Assembly member should be reelected or thrown out."
As you can see, the sentiments collected in the Quinnipiac poll seem a bit contradictory, as the answers received depend on how the questions are stated. Nonetheless, this looks to be an interesting legislative week as things wind down in Albany, and as the 2016 election cycle begins to ramp up.
Click to view our section on - New York State Politics & Government NYS.
---
LaGuardia Airport - Airplane Noise - LGA NYNJPA FAA
LaGuardia Airport - Airplane Noise
Jackson Heights, Corona & Queens Voice Concerns Regarding LGA Airplane Noise
FAA Considering Extension of LaGuardia Airport Hours & Other Changes
October 19, 2015 / Jackson Heights Neighborhood / Queens Issues LaGuardia Airport Noise LGA / Queens Neighborhoods / News Analysis & Opinion / Queens Buzz.
I attended a town hall meeting about the airplane noise coming from LaGuardia Airport at PS 69 in Jackson Heights. The town hall had been organized by NYS Senator Peralta's office and the panel of speakers included local government officials and representatives of the Federal Aviation Administration [FAA] and the New York New Jersey Port Authority [NYNJPA].
Standing Room Only at PS 69
The auditorium was packed and there were people lined up along the walls as well as standing in the back of the auditorium. Airplane noise has emerged as a big issue for Jackson Heights due to a couple of construction projects going on at the airport – both of which will be completed at the end of November.
Cynical Audience Member's Point of View
The timing of the town hall meeting, only six weeks before the construction was to end, led one of the local pundits to cynically suggest that this was merely political theater, rather than an effort to accomplish anything substantive.
There was an earlier town hall meeting organized about two years ago by NYC City Councilmember Dromm, to tackle the problem in its early stages, and while it was happening - not after it was all over - which is what we're close to today.
But that said, these town hall meetings are not just political theater, although inevitably that is some of it, which you will see in the video. And while the immediate problem will subside, we discovered that there a number of efforts either underway or in the planning stages, in which the community has a vested stake in the outcomes.
Not Said In Meeting: Federal Register States That Consideration Is Being Given To Extending LGA's Operational Hours & Slots
In doing follow up research I found a piece on the Federal Register government website that informed me that the FAA is considering changing the operational hours and slots for LaGuardia Airport. This was not discussed at the town hall [click into story for additional detail]. We also found other things that were either scarcely touched upon or not addressed, which we included in this report.
Click here to read the rest of this report about LaGuardia Airport Airplane Noise and the NYNJPA & FAA in Queens. The report includes video presentations, including some audience interaction, and a photo slide show and other information about FAA air traffic changes, airplane noise and what you can do about it.
---
Grodenchik Wins District 23 Primary
Defeats Friedrich, Lynch, Parhar, Najmi & Dosamantes in Democratic Primary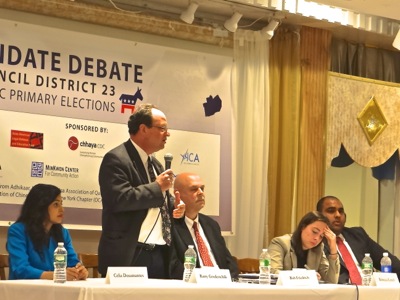 September 10, 2015 / Queens Politics / Queens Neigbhorhoods / News & Analysis. Queens Buzz. The special election for the Queens District 23 City Council seat was won by the Democratic party backed candidate, Barry Grodenchik.
Grodenchik (26%) edged out Bob Friedrich in a crowded field, with less than 30% of the vote. Friedrich was a close second (22%), followed by Lynch (20%), Parhar (17%), Najmi (10%) and Dosamantes (4%).
The ethnic vote - represented by the tallies of the last three candidates - represented over 30% of the vote. If the ethnic vote had been unified, an ethnic candidate would have been able to win the primary. That said, the non-ethnic vote as represented by the tallies of the first three candidates, was also split among three candidates, and represents two thirds of those who showed up to cast votes. About 6,300 votes were cast in total. This report is based on the vote tallies reported by the Queens Tribune and the New York Observer.
Grodenchik will go on to face Republican Joe Concannon on November 3rd in what many pundits believe is only a formality, given that the Queens Democratic electorate in the last Mayoral election [2013] represented nearly 90% of the Queens vote in the primary, and about 70% of the Queens vote in the general election.
Naturally political affiliation can vary by district, and there are a few pockets of Queens held by Republicans, but based on the general voting history of Queens District 23, it does not appear to be one of them. Click here to read an earlier report on the Queens District 23 NYC City Council candidates which includes a video of one of the forums.
Queens Politics & The Democratic Party Machine
A Closer Look At The NYC City Council Race In Queens District 23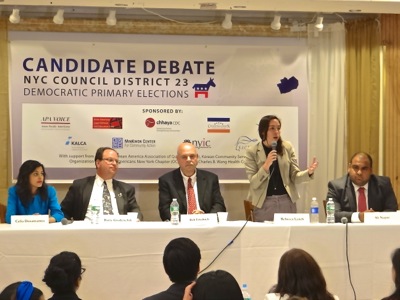 August 30, 2015 / District 23 Queens Neighborhoods / Queens Politics / News Analysis & Opinion / Queens Buzz.
On Thursday, August 27, 2015 I headed down to listen to the candidates vying for the 23rd District election seat recently vacated by Mark Weprin. There are six candidates in the Democratic primary vying for NYC City Council District 23, a seat that has been held by the Weprin family for 14 years. David Weprin first won the office in 2001. He was followed by his brother Mark who won the office in 2009, who recently left the position for a job working for Andrew Cuomo as Deputy Secretary for Legislative Affairs.
NYC Council Race Venues: District 23 Queens
The candidate forum was held at Hillside Banquet at 206-12 Hillside Avenue [at 206th Street]. The event was organized by 12 non-profit / community organizations that serve various ethnic populations in the NYC City Council 23rd District – many of which are South Asian. Winning a majority of the constituents of these organizations could result in a win for the ethnic population, and a possible upset for the Queens Democratic Party Machine, which has held this seat for four decades and likely longer.
Neighborhood Composition: NYC City Council Queens District 23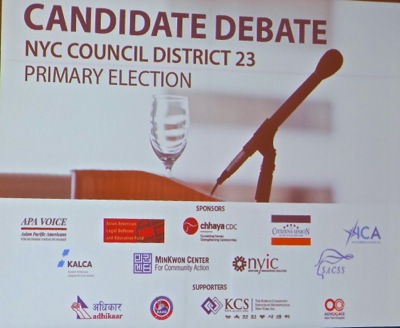 NYC City Council District 23 is comprised of all or parts of the following neighborhoods: Bayside, Bellerose, Douglaston, Floral Park, Fresh Meadows, Glen Oaks, Hollis, Hollis Hills, Little Neck, Oakland Gardens and Queens Village. Contrary to at least one candidate's assertion, New Hyde Park in Nassau County on Long Island, is not a part of the 23rd District nor even a part of Queens.
Sponsors Of NYC Council Candidates Forum
The sponsoring organizations include: Chhaya CDC, Asian Pacific Association Voice, Asian American Legal Defense and Education Fund, Citizens Union, Indo-Caribbean Alliance, Korean American League for Civic Action, Minkwon Center for Community Action, New York Immigration Coalition and the South Asian Council for Social Services.
New York City Council Candidates In Queens District 23
The candidates included: Celia Dosamantes, Bob Friedrich, Barry Grodenchik, Rebecca Lynch and Ali Najmi. One of the Democratic candidates, Satnam Parhar, was not present nor was the Republican candidate Joe Concannon.
Queens District 23 City Council Issues & Answers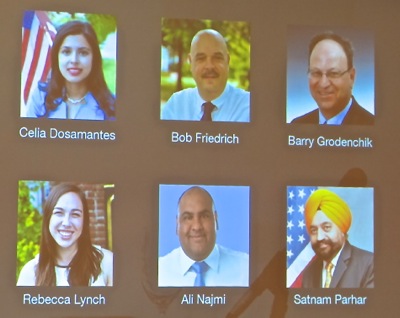 The following is a summary of the questions posed and the answers given by the candidates. The moderators of the forum were Richard S. David, Co-Founder of the Caribbean Alliance and Linda Lee, Executive Director of Korean Community Services of Metropolitan New York.
1. Do the candidates approve of a Creedmor Church development [not sure I have this right]? All candidates answered yes.
2. Are the candidates for participatory budgeting? All candidates answered yes, except Friedrich who said it's a gimmick.
3. Are the candidates for establishing uniform standards for Community Boards? All answered yes, if they could agree on what those standards would be [they allowed themselves plenty of wiggle room here].
4. Are the candidates for the ranking by voters of candidates on the ballot to avoid costly runoff elections? All answered yes, except Dosamantes who answered no.
5. Are they for giving non-citizen residents an opportunity to vote on local issues / local candidates only? I think Dosamantes, Friedrich and Grodenchik said no, while Lynch and Najmi said yes.
Click here to learn more about the Queens Democratic Party Machine and the NYC City Council race in District 23 in Queens.
---
In Search Of A Civilization Lost By Mass Media
LaGuardia College Performing Arts Center Uses Theater & Art To Stimulate Cross Cultural Community Conversation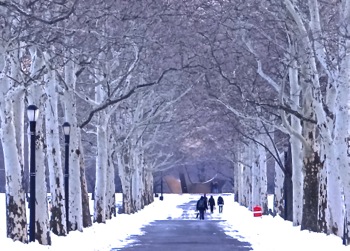 February 9, 2015 / Long Island City / Queens Theater / Queens Buzz. It was nearing sunset on Saturday evening as I made my way through a beautifully quiet Flushing Meadows Corona Park. The clean white snow glistened gently in the fading light, and the leafless trees along the road provided what felt like an ancient natural cathedral.
I checked in at the admissions desk and made my way to the second floor of the Queens Museum. The Queens Museum was once the home to the United Nations and hence provided the perfect context for this community conversational performance. The floor to ceiling windows looked out onto the landmarked Unisphere which emanated a universal vibe. In the long wide hallway a crowd was engaged in clustered conversations following the conclusion of four performances shown that afternoon. I had seen the performances at an event earlier in the season.
I began talking to Tasneem, a member of the audience who is shown in the photo at right standing alongside a photo taken by a friend of hers who is shown in the photo. Tasneem came from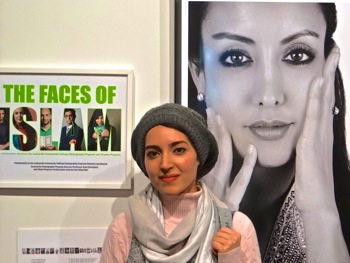 Jordan twelve years ago, only two years after 911. She said that it's important for the general populace of Muslims to stop being afraid of showing they're Muslim, because otherwise New Yorkers and the rest of America will be left with the picture of Islam as depicted by a few extremists which is amplified and continually repeated by the American mass media.
I couldn't deny it. It seems American television stations, radio stations, newspapers and magazines are obsessed with providing the Islamic terrorists all the publicity they want.
But here, tonight, in the Queens Museum; I would not see any of the faces shown by our mass media. I would see only the faces of everyday Islamic New Yorkers who generally receive no publicity at all. Muslims who hail from dozens of cultures around the world. And there wasn't a single terrorist among them. Hence - and likely not coincidentally - there also wasn't a single mass medium reporter covering this event.
Tasneem told me how she, like many other American Muslims, fears showing she's Muslim because of the stereotypes created by the terrorists and perpetuated and blown up by the American mass media. The notion of a silent majority came to mind.
It occurred to me that the gore of the Islamic extremists must be good for tabloids and TV ratings. And I pondered what it must feel like to be stereotyped by this relentless, distorted depiction of one's culture and people. Andy Warhol's characterization of the mass production of images came to mind.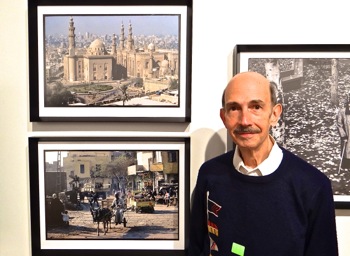 I thought about what it would be like if I lived somewhere else in the world where the nation's media mass produced stereotypes of Americans, depicting us as murderers, rapists and thieves. That could easily be done if a nation's media decided to portray Americans by solely covering the 5.6 million violent crimes and the 17.1 million property crimes that took place in this country in 2011 alone [source: Wikipedia / Bureau of Justice Statistics]. That just wouldn't be right ... would it?
And yet, it seems that this is exactly what's been happening to Muslims in America, because of the unbalanced coverage of Islam by the big American mass media companies. The TV and newspaper tabloids make a living by sensationalizing - spinning things out of context - but aren't the real journalists supposed to provide perspective by putting things back in context?
This seems generally not to have been done.
And so the LaGuardia Performing Arts Center applied for and received a grant to begin such an effort. An effort to provide exposure to the lives and contributions of the other billion Muslims who go peacefully and productively about their lives each day, just like most of the rest of us. An effort to create a community conversant with a deeper and broader understanding of a millenial and centuries old culture that is embedded in the lives of over a billion people on the planet. People who live in dozens of nations around the globe, and none of whom are terrorists - and hence generally not represented in the American mass media.
I met American born Charles Bernett of Rego Park who had traveled to Cairo in 1979. Thirty-five years ago he was about to embark on his second trip through Africa ... [see photo at right].
More to come later. Type LPAC in the search box in the header above to learn more about the LaGuardia Performing Arts Center exploratory, year-long, theater and arts, cultural endeavor.
---
Shakespearean 'Titan' In The Park
First Play By 'Theatre Company In Residence' At Queens Theatre In The Park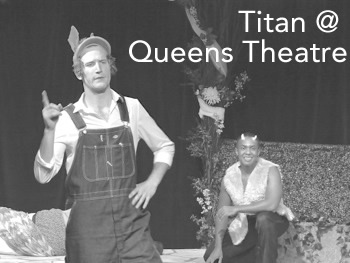 October 6, 2014 / Flushing Neighborhood / Queens Theater & Theatres / Queens Buzz. I made my way into Flusing Meadows Corona Park to preview Titan Theatre Company's production of the Shakespearean comedy A Midsummer Night's Dream. The play is an adapted version of the old bard's work.
In the adaptation Titan Theatre Company added a dash of 'gay-eity' to it and also edited down the play in both verbiage and performance time. The intent of the adaptation is to make performances of the 400 year old play more modern and appealing to present-day audiences.
I sat down in the little theatre of Queens Theatre In The Park shortly after the show had begun. Puck, the fairy, was administering the love potion - per his master Oberon's orders. But alas - Puck makes a mistake - and a string of comedic errors is set into motion.
In the photo at right is Bottom, one of the actors in the play-within-the-play, who's been transformed into an ass by a fairy Puck. Seated in the background is the devlish Puck who administered the magical serum.
We'll have more about Titan Theatre Company's performance at Queens Theatre In The Park, including a photo slide show, at a later date.
U.S. Open Begins
All Queens Tennis Tournament In Flushing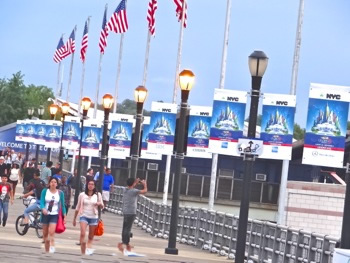 August 25, 2014 / Sports in Queens / Queens Buzz. The U.S. Open began Monday, August 24th with its usual bit of fanfare and stylistic splash. The tennis tournament features mens and womens singles and doubles, mixed doubles and juniors.
The U.S. Open is held at the Billie Jean King USTA National Tennis Center in Flushing Meadows Corona Park. The tournament will last two weeks, ending on September 8th. The number 7 subway line is one of the primary conduits for transporting people from Manhattan to the tournaments and back again. So you can expect to see an influx of new faces amidst your public transit travels.
The U.S. Open has been held at the USTA in Flushing Meadows Corona Park since 1978. The tournament is the last of the Grand Slam tournaments - the Austrailian & French Opens & Wimbledon comprise the rest. And the U.S. Open is one of the oldest tennis tournaments in the world. The tournament began as the U.S. National Tennis Championship - the forerunner of the U.S. Open - and it was first played in 1861 by men only.
So who's favored in the Men's & Women's Singles? Men's Singles. Djokovic was upset the past couple weeks and Nadal is injured, so it appears the Men's Singles championship is wide open. A few of those mentioned as the next champion include Federer, Wawrinka and Murray as a long shot. Women's Singles. Serena Williams is the most formidable contestant, but she's had some issues this year. Agnieszka Radwanska, Sloane Stephens, Petra Kvitova and Maria Sharapova will be the others to watch with an interesting and winding road ahead for most of them.
You can find updates and live play at usopen.org.
Fireworks Commemorate 50th Anniversary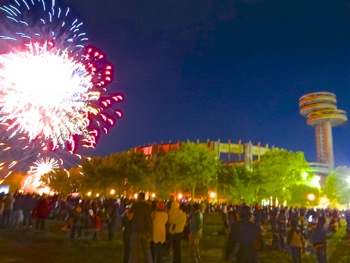 May 19, 2014 / Flushing / Queens History / Queens Buzz. I attended the fireworks display in Flushing Meadows Corona Park on Sunday night. There were thousands there to view them standing in front of the New York State Pavilion [see photo at right].
The fireworks were part of a day long program of events commemorating the 50th anniversary of the 1964 World's Fair. The program included a rare opportunity to walk through the NYS Pavilion and a bandshell had been set up to accommodate the musicians, which included a group playing Beatles tunes and the pre-fireworks celebration ended with the Queens Symphony Orchestra playing the Stars & Stripes.
We'll post a slide show of the fireworks and the crowds, most of which appeared to be from surrounding neighborhoods. Several Manhattanites did make the journey as I met a couple on the subway.
Caught In The Act - The 13 Most Wanted
Queens Museum Opens Incredible Art Exhibit Grounded In History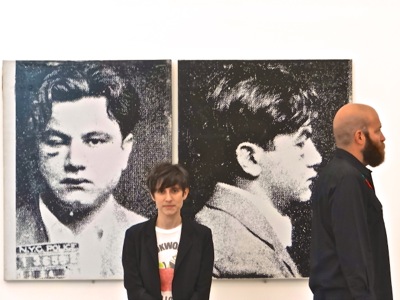 April 28, 2014 / Flushing Neighborhood / Art In Queens / Queens Buzz.
I visited the Queens Museum [they dropped 'of Art' from the name] this past weekend to view their new exhibit - The 13 Most Wanted Men.
The exhibit is a tie into the 50th anniversary of the opening of the 1964 World's Fair and the preservation of the New York State Pavilion in Flushing Meadows Corona Park.
Andy Warhol was one of several celebrity artists of the day, invited to create an artwork to post on the wall of the Theaterama [now Queens Theatre In The Park] which was one of the structures of the New York State Pavilion. It was a real honor as the work would be seen by tens and likely hundreds of thousands who would pass by it during the 1964 World's Fair.
Warhol decided to post the mug shots of the 13 Most Wanted Men in America. One can never know exactly what he was thinking, but it was an artwork designed to get people's attention, shock them and get them to think, perhaps a bit differently, about some of the things going on at the time.
The powers-that-be decided having 13 large mug shots of thirteen criminals in the midst of a fun family fair wasn't a good idea. So they whitewashed it off the building [sound familiar? - see our story about the Whitewash art exhibit in LIC]. This is the quick and dirty report of what happened, which the Queens Museum in a collaboration with the Warhol Museum of Pittsburgh, did an incredible job of presenting in an exhibit which is both art and history.
In the photo above is Curator, Larissa Harris, and Director of External Affairs, David Strauss. David is also one of the troika managing the Queens Museum while they search for a replacement for former Executive Director, Tom Finkelpearl. Tom was recently appointed New York City Cultural Affairs Commissioner.
We'll post our full report at a later date.
New York State Pavilion - Photos & Opening
The New York State Pavilion Opens For 3 Hours
Philip Johnson's 1964 World's Fair Relic Comes Back To Life
April 22, 2014 / Flushing Neighborhood / Queens History / Queens Buzz. The New York State Pavilion was reopened for three hours in commemoration of the 50th anniversary of the 1964 - 1965 World's Fair ... and thousands came to see it. An announcement that the structure was named to the National Trust For Historic Preservation was made at the opening.
I had an opportunity to view the NYS Pavilion during the three hours it was open on April 22nd 2014. As mentioned above, the date marked the 50th anniversary of the opening of the 1964 - 1965 World's Fair. The NY State Pavilion was a structure commissioned for the Fair, which was held in Flushing Meadows Corona Park. The New York State Pavilion was built to honor and celebrate all things of New York State.
The complex encompasses three categorical elements: 1) the three observation decks shown in the background of the photo, 2) the Tent of Tomorrow - the inside from which this photo was taken, and 3) the Theaterama, which is shown in the background on the right. The Theaterama had been converted into Queens Theatre In The Park some time ago, and was renovated in 2008.
Interest in the NYS Pavilion began with a pilot project by the NYC Parks Department in 2007. The project was intended to explore its restoration / restore some of it [urban archeology]. And in 2009 a couple of guys decided they wanted to bring it back to life by [re]painting it. Since then, interest in the NYS Pavilion has been gradually gathering steam. Most recently a film maker crowd sourced funding to make a movie about it. And today it was named into the National Trust For Historic Preservation.
Click here for the story about the NYS Pavilion, including many details and a slide show containing photos of the New York State Pavilion.
---
Queens Community Boards
CB Application Deadline Is January 31st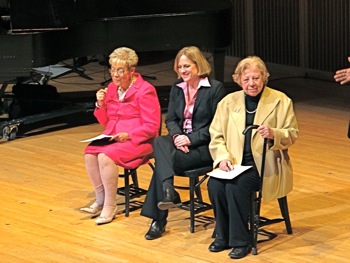 January 13, 2014 / Queens Politics / Queens Buzz. The new Queens Borough President, Melinda Katz, was sworn in on Thursday, January 9th. During her campaign and since she was elected, Ms. Katz indicated her top priority is going to be economic / real estate development in the borough, including borough infrastructure.
In reviewing Melinda Katz's background, it appears she has spent her entire life preparing to be Queens Borough President, with an eye toward economic / real estate development.
Melinda has worked with Community Boards as a liaison for a previous administration, chaired the Land Use Committe as a member of City Council, and took a position as a development lobbyist for a large international law firm in Manhattan. Melinda stated during her campaign and since taking office that she's very interested in bringing new economic and real estate developments to the borough.
New development will create new construction and service jobs, and increase demand for private goods and services; as well as public services such as private and public transit, parking space, open space / parks and schools. Hence, there are a wide variety of considerations that must be taken into account as new developments move through the governmental process.
Community Boards are the primary mechanism in the governmental process for the provision of community input. For decades they have played, and will continue to play, a key role in community development.
The deadline to apply for a position on a Queens Community Board is January 31st. Click this link to obtain an application from the Office of the Queens Borough President. Community Board members are selected by the Queens Borough President and the City Councilmember of the District. The new Community Board terms begin April 1, 2014.
Flushing Food Festival Hits The Spot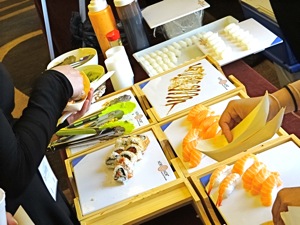 June 3, 2013 / Flushing Neighborhood / Queens Restaurants / Queens Buzz. I attended the Flushing Food Festival on Saturday afternoon. I arrived a bit late and to my chagrin, most of the food had already gone. It's no surprise as there was a record turnout of approximately 400 people who were served by 15 participating Flushing restaurants.
But, as luck would have it, a couple of restaurateurs were still serving, so I had an opportunity to sample some of the wares, and was invited by one of them to visit her restaurant where I did a bit of a review. The food shown above was served by Noori Japanese restaurant in Flushing. We'll post more later.
Indian Lifestyle in Queens & Hinduism
Celebration of Swaminarayan Jayanti & Lord Rama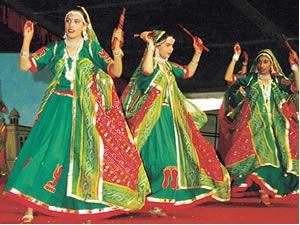 April 28, 2013 / Flushing / Indian Culture in Queens / Queens Buzz. I attended the BAPS Center or Shri Swaminarayan Mandir this past weekend, to partake in one of the most important Hindu celebrations of the year – that of Swaminarayan's birthday as well as Lord Rama's.
Hinduism is to Indian culture, what Judaism, Christianity and Islam are to the west. What I mean by this is that Hinduism is the aggregate moniker for a wide variety of religions, which evolved in Indian culture over the past five millennia ... and even longer.
The BAPS Center [Bochasanwasi Shri Akshar Purushottam Swaminarayan Sanstha] is located at 43-31 Bowne Street in Flushing. It was founded in 1974 in the basement of a house which once stood near the current Mandir. Mandir is the name of the building in which the Swaminarayan religion is practiced, similar to a church in the Christian faith, a synagogue in the Jewish faith or a mosque in the Muslim faith. The BAPS Mandir in Flushing was erected in 1977 and has been evolving ever since.
The mandir contains a murti, which has some similarities to an altar. We'll have more about Hinduism in Queens and the celebration of the Swaminarayan's jayanti at a later date.
---
CB Votes Split On USTA Expansion Plan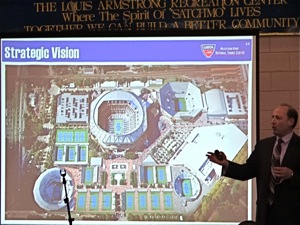 March 14, 2013 / Flushing Corona / Issues Facing Queens / Queens Buzz. The USTA has asked the city of New York to give it .68 of an acre of Flushing Meadows Corona Park so that it can proceed with an expansion plan. The expansion plan is estimated to increase the sports complex capacity for the U.S. Open by about a third, while increasing the USTA footprint in the park by .68 of an acre. The USTA informed the audience attending the Community Board 3 meeting that this will result in more jobs in Queens. They also talked about the positive estimated annual $784 million economic impact that the USTA has had on NYC - according to a study done by a private consulting firm named AKRF, Inc.
The detractors informed the audience that this is the first step in a much larger effort toward a massive privatization of Flushing Meadows Corona Park by several large, well-funded corporate interests. The opponents talked about three other proposals which were not a part of the USTA plan. These other proposals to develop private interests on public parkland include the development of a shopping mall by a private investment group in tandem with the owners of CitiField; 2) a condominium / hotel complex done by another group of private investors; and 3) a 13 acre soccer stadium by Major League Soccer, which is also a privately held corporation.
Community Board Tally & Boro Prez Candidates Positions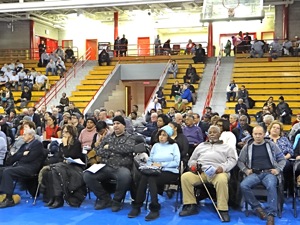 In the end Community Board 3 voted against the expansion plan, citing among other things, promises not kept when the USTA asked to expand its footpint in 1993. All six Community Boards have now voted on the USTA Expansion proposal, with three voting for it and three voting against it. We'll post a far more complete report on this Community Board Meeting at a later date.
While I was attending the Community Board 3 Meeting in Corona, all six Queens Borough Presidential candidates were attending a forum about the issues facing Queens at the Greater Astoria Historical Society in Astoria. The issue of turning over public parkland to private interests came up during the forum. To date only City Councilmember Tony Avella has come out against giving up public parkland to private interests. NY Senator Jose Peralta is the only other candidate to take a stance on the issue, but only on one of the proposed developments, namely the erection of the MLS Soccer Stadium on 13 acres of FMC Parkland [which he conditionally supports if MLS fulfills all of their promises]. All four other candidates have taken a wait-and-see stance on the issue.
Click here to read our past reports related to the proposed development plans for Flushing Meadows Corona Park. The first report provides an early history of Flushing Meadows Corona Park I and the second report provided an intermediate history of Flushing Meadows Corona Park II which included a number of relevant historic lessons related to sports complex developments in FMCP as well as NYC.

Queens Museum of Art Renovations
Queens Museum Of Art
Photos of Renovated Museum & Queens International 2013
November 10, 2013 / Flushing Neighborhood / Art Museums in Queens / Queens Buzz. I attended the re-opening weekend of the newly renovated Queens Museum of Art on November 9th & 10th of 2013. As I came strolling up toward the Unisphere, from the #7 subway stop, I could see the new façade of the museum in the distance. The warm golden light shone through the large floor to ceiling windows of the two main floors along the eastern side of the museum. Only a year ago, this entire side of the building was nearly all cement, interspersed with a few far smaller windows.
Inside there was a plethora of activity. Just beyond the ticketing area, was a large open space into which I stepped down into the open space. Much of this area had been in place prior to the renovation, but the area was difficult to access and was used more as a backroom, than as the showcase into which it had been recently transformed.
And ahead, just off to the right, was the Museum's first claim to fame, the miniaturized replica of the City of New York. Click here to read the rest of our report about the newly renovated Queens Museum of Art in Flushing Queens. The report includes numerous photos of the newly remodeled museum and the Queens International 2013 which went on display in November 2013.
---
Chinese New Year Parade - Flushing Queens
Chinese New Year Parade Flushing NYC
Queens Chinese New Year Parade & Flushing Asian Community
February 10, 2016 / Flushing / Queens History / Queens Buzz. This report provides a brief overview of the Chinese New Year Parade in Flushing & Queens. The year is 4710 and it is the year of the Snake.
The Chinese New Year Parade times, route and viewing locations are included in this report for your convenience, along with photos from prior years as well as links to reports from prior years. You'll also find related information such as info about Flushing shopping and Queens restaurants.
Click here for our report about the 2016 Chinese New Year Parade in Flushing Queens. Story & photos by Michael Wood.
---

Green Queens - Environmental Efforts In Queens
People-Powered Green Symposium
Fourth Annual Going Green In Queens
April 12, 2011 / Flushing / Green & Natural / Queens Buzz. The fourth annual 'Going Green In Queens' environmental symposium was held on Saturday, March 26th, at the Al Oerter Center in Flushing Meadows Corona Park.
Hundreds of people, possibly more than a thousand, visited the green booths set up by a number of community organizations that are working to build a more sustainable / regenerative environment in Queens.
Booths included urban composters, community parks organizations, a solar panel provider, energy saving devices / alternative energy providers, an organic food group, sailing and bicycling groups .. and more.
Click here to view our report on Going Green In Queens 2011.
---
Colleges & Universities In Queens - Queens College
Queens College In Flushing
NYC Educators Making Things Happen
January 26, 2011 / Flushing / Queens Buzz. The following report is about a recent visit to Queens College in Flushing. The school is public, but only receives one third of its funding from the state. And so the school has sought help from alumni of the college who have supported many of the college's efforts to enhance its facilities and programs through private donations.
The result is that Queens College provides NYC & Queens residents with a very good college education at affordable prices.
Click here to read our full report about Queens College in Flushing including a look at the Colden Auditorium, LeFrak Concert Hall and the Godwin-Ternbach Museum.
---
Flushing News & Events Archive
Site Search Tips. 1) For best results, when typing in more than one word, use quotation marks - eg "Astoria Park". 2) Also try either singular or plural words when searching for a specific item such as "gym" or "gyms".
Click this link for promotions by advertisers in Queens.
Click this link to search for something in the Flushing Business Directory containing over 1,000 listings.
Click the log in link below to create an ID and post an opinion. Or send this story to a friend by filling in the appropriate box below.