NYC Marathon Photos In Queens
Great Photos Of The NYC Marathon In Queens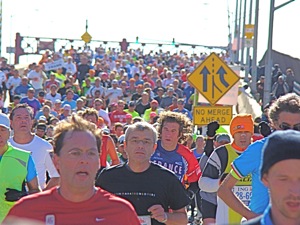 Continued / November 5, 2011 / Long Island City / NYC Marathon in Queens / Queens Buzz. Their hearts were pounding hard, the sweat was dripping down, their lungs were huffing and puffing as they chugged along one by one. Muscles taut, arms moving to and fro, as these intrepid runners tested their own endurance. Men and women alike, generally dressed in T-shirts ran alongside one another. The old and the young. The rich and the poor? Who knows. And people in wheel chairs and handcycles - all straining to complete the 26 mile course. All tolled over 43,000 participants out on a beautiful November day. The photo to your left is of the NYC Marathon runners arriving from Brooklyn over the Pulaski Bridge into Queens.
Men's & Women's Results / Winners
In the Men's category, Gebre Gebremariam of Ethiopia clocked in at 2:02:14. In the women's Edna Kiplagat of Kenya clocked in at 2:28:20. As mentioned in the introduction to this report, the USA's Shalane Flanigan came in second in the Women's at 2:28:40. In the Men's Wheel Chair division David Weir of Great Britain came in first with a time of 1:37:39 while in the Women's Wheelchair division Tatyana McFadden of the USA won the Women's with a time of 2:02:22. And in the Handcycle division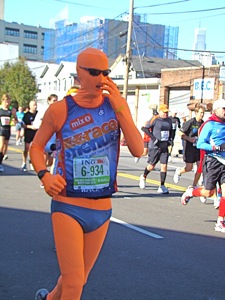 Dane Pilon of the USA won with 1:21:23. We're not sure, but we believe Helene Hines of the USA won the Women's Handcycle with a time of 2:02:16. The photo above is of runners coming down 44th Drive in Long Island City in Queens.
Photos Of NYC Marathon Runners In Long Island City & Queens
It was a relaxed delightful day. People were more enthusiastic this year than I recall them being in prior years. It was like a street party in Long Island City. Screaming, bells clanging, clapping and cheering. People jumping up and down. Smiles on thousands out enjoying one of Queens most magnificent days.
Long Island City - Beauty & The Beast
The vistas were generally breathtaking, although there remain a few remnants of the past. I've grown a bit fond of them, knowing that they're not long for this world. We've posted over one hundred photos for you to enjoy. You can click here to go directly into the photo album where you can max up the size of any of the photos or view the slide show from there. Click here for NYC Marathon 2010 photos in Queens.
$element(ophoto,photo_slideshow,97,550,,5.00,fade)$
---
NYC Marathon In Long Island City / LIC / Queens
Click the following links to view prior reports about the NYC Marathon. These reports include photos as well as some of the history of the NYC Marathon. Click here for the NYC Marathon in Queens 2010, NYC Marathon in LIC in 2009, NYC Marathon in Queens photos in 2009, NYC Marathon in Long Island City in 2008 with photos.
LIC Neighborhood - Long Island City Links
$element(adman,groupad,NHoodLIC)$
Click on these advertisements for promotions, discounts and coupons by retailers and restaurateurs in Long Island City LIC and nearby Queens.
Click this link to go to the:
Long Island City Neighborhood or LIC Business Directory
Long Island City Real Estate or Events & Things To Do In LIC
Restaurants In Long Island City or LIC Shops & Shopping
---
$element(adman,groupad,Catgry Rest)$
Site Search Tips. 1) For best results, when typing in more than one word, use quotation marks - eg "Astoria Park". 2) Also try either singular or plural words when searching for a specific item such as "gym" or "gyms".
$element(bwcore,insert_search,N)$
Click this link to search for something in our Queens Business Directory.
---
$element(adman,groupad,Sectional2 Ad)$
Click the log in link below to create an ID and post an opinion.
Or send this story to a friend by filling in the appropriate box below.
---