Secret Theatre Act V - Original Works
January 8, 2010 / LIC Long Island City. I went to see Act V at the Secret Theatre in LIC Friday night to sample their series of five original one act plays. They're doing two programs, one this week, one next week and the 'best of' as voted for by the audiences of the first two weeks during week three.
Before I review the acts, these performances overall make for a rich and enjoyable night out. Original theatre in this borough isn't easy to find, and while it was admittedly a bit uneven, I would have been very surprised if it wasn't, because that's the nature of creating new material. In any case there were some truly funny moments.
Secret Theatre LIC - New Addition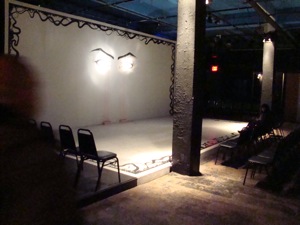 I arrived at the theatre a bit before the performances were to begin. The new theatre has a lobby, and in addition to tickets there was a bar serving Yeungling beer to which the audience seemed to take a shine. The audience was primarily comprised of hip thirty somethings, give or take a few years, and on this particular night the crowd seemed to skew a bit toward the female gender.
I took a glance inside the new theatre to see what it was like, and it's definitely an upgrade, although Titus Andronicus was performing on that stage, so back to the original Secret Theatre we went. Ah, nothing like an old shoe to slip into on a cold Friday night. The performance was sold out and after a bit of shuffling, we started late at about 8.15 pm.
Kiss Today Goodbye - Act V Secret Theatre
The first Act was entitled 'Kiss Today Goodbye' was set in Sarah Palin's bedroom about a year and a half ago, where she and Todd discuss the governor's dream which had been about becoming vice president.
It turned out to be a sort of reiteration of all of the things we'd learned about governor Palin's qualifications for national office during the campaign of 2008. I suppose it was meant to be comedic, perhaps because we were in Sarah's bedroom, but to me it seemed a repeat of a bad performance I'd seen unfold on the national stage only a year before, and it took a distinctly ideological perspective.
Moor's Petard - Act V Secret Theatre LIC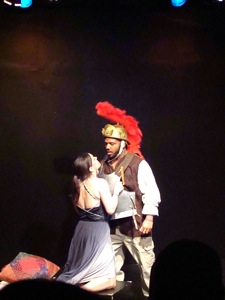 The second act, was entitled 'Moor's Petard'. This act was set in historical times, but as to which historical times, we were left guessing. It involved a general, dressed in a great Roman helmut, but since the Roman helmut or some variation thereof was used for over 1,000 years, it remained difficult to grasp where in those thousand plus years we were. Perhaps the audience was expected to know the subtleties of Roman helmut design, so that a telltale marking might have indicated our precise temporal whereabouts.
In the act the general was fighting the Turks, giving us another clue regarding in which historical time period we were. But since the Romans and the Turks battled each other sporadically over the course of some 2,000 years, it was still too vague.
This act had some interesting possibilities to it, as it placed a 20th century woman's sexuality and point of view, in an historical time. My difficulty with the sketch was that the historical time period, locale, personality and historical milieu were not well developed. The result was that by not giving the historical time frame much credence, the overlay of a modern point of view never really seemed that out of place - and hence comedic. The idea for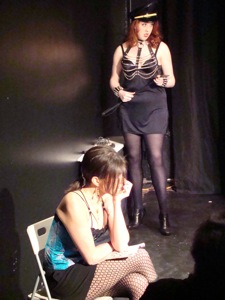 the act contains many interesting possibilities, but at this stage in its development I left thinking it needed more work.
Dogboy & Justine
This act was set in a whorehouse. It's about a caller who's retarded who calls in to be treated like a dog 'because everyone likes dogs'. I can't really comment much on it because I honestly didn't get it. I checked with a few fellow audience members and they told me that they weren't quite sure what to make of it either. There were a few laughs, so you'll have to judge for yourself.
Intermission At The Secret Theatre In Long Island City
Intermission lasted long enough time to recycle the first Yeungling and refresh the next. It seemed the timing was nearly perfect.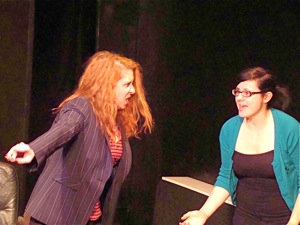 Winners - Queens Players In LIC
This is a little gem about a few office mates who play the lottery together. It begins by one co-worker asking them, "What would you if you won the lottery?"
What I liked about this act is that the writer developed the characters, the director or producer cast the actors as such, and the sequence played out with fresh humor, not overworked themes or cliches. The result was it was an entertaining joyride on a winning lottery ticket.
Fallout - Fun Comedy Piece
This act was a bit preposterous from the start, taking me off balance and then continuing on its silly way. All three characters did a nice job of
acting their characters and lines and provided the sequence with an enjoyable comedic cadence. Again, like in the act above, there were hints of fresh comedic insights which entertained and delighted the audience.
Epilogue - Review of Act V Secret Theatre Queens
Act V is well worth the $15 admission fee to see some fresh work. The Queens Players did a fine job of performing the vignettes, and the writers and directors came up with some interesting original work. Program two starts the week of January 11th, which will have five completely different one act plays and in week three beginning January 18th, the best five of ten will be performed.
This program runs through January 23rd, but remember they sold out the first night, so you might not want to wait until the end. Click here to go to our Queens Events calendar for details in the Theater section.
---
LIC - Long Island City Queens - Secret Theatre Related Links
Click this link to view a map showing the location of the Secret Theatre / Queens Players in LIC - Long Island City. Click this link to view another story about the Secret Theatre in LIC - Long Island City.
Click this link to go to the LIC - Long Island City Section / LIC - Long Island City Restaurants / LIC - Long Island City Shopping Center & Map.
Site Search Tips. 1) For best results, when typing in more than one word, use quotation marks - eg "Astoria Park". 2) Also try either singular or plural words when searching for a specific item such as "gym" or "gyms".
$element(bwcore,insert_search,N)$
Click this link to search for something in our Queens Business Directory containing over 1,000 listings.
Send this story to a friend by filling in the appropriate box below.
---