Jamaica Real Estate - The Art Of Selling
Jamaica Center BID & The Greater Jamaica Development Corporation Talk About The Re-Emergence Of A Vibrant Commercial Center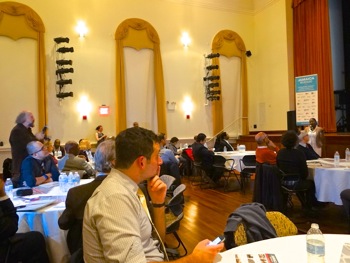 Updated May 3, 2014 / December 3, 2013 / Jamaica NY Real Estate / Jamaica NY / Queens Buzz. Earlier this month I attended an event hosted by the Jamaica Center BID to talk about real estate and commercial opportunities in the Jamaica neighborhood of Queens.
Jamaica is one of the largest and most vibrant commercial areas in Queens, and the event was designed to talk about Jamaica in that light.
I arrived a bit early and met with Felicia Tunnah, the new Executive Director of the Jamaica Center BID [Business Improvement District]. It seems the weather, traffic congestion and the subways had conspired to delay speakers, attendees and possibly the event, but it wasn't too long of a wait before the meeting began.
The delay gave all of us a bit of time to enjoy the food and beverages being served by local restaurants and a caterer. City Ribs, a small chain started by a locally raised entrepreneur served ... well ... ribs. Sangria Catering served a fresh salad and chicken dish and Applebee's served dessert.
Click here to read more about real estate in Jamaica NY and click here to read the rest of our report including photo slide show of the meeting about real estate in Jamaica Queens NYC.
---
Jamaica Real Estate - The Art Of Selling
Jamaica Center BID & The Greater Jamaica Development Corporation Talk About The Re-Emergence Of A Vibrant Commercial Center
Updated May 3, 2014 / December 3, 2013 / Jamaica NY Real Estate / Jamaica NY / Queens Buzz. Continued.
There were several government officials present to lend support to the development of the Jamaica neighborhood. Among them were former City Councilman Leroy Comrie who had just been appointed Deputy Borough President [earlier in the day] by Queens Borough President-elect Melinda Katz. New York State Assemblyman William Scarborough also got up to make a few remarks. And I had an opportunity to shoot photos of the venue, audience, government officials as well as the event organizers including the new Jamaica Center BID Executive Director, Felicia Tunnah.
Katie Mirkin talked about how downtown Jamaica was on a path of downtown urban renewal with respect to retail and restaurants. Over the course of the past decade, in spite of the national and NYC metro slump, downtown Jamaica has begun attracting investment into the commercial area. National brand chain stores and restaurants have begun taking root and local restaurateurs and businesses are also opening shop. To be sure, we were told, there's more work to be done, but the area appears to be on the right path.
I mingled with some of the audience before hand and their presence corroborated Katie's words. Many of those in attendance were either building owners or realtors, some of whom represented large and Manhattan based firms.
Greater Jamaica Development Corporation - Commercial Jamaica Real Estate
Justin K. Rodgers of the Greater Jamaica Development Corporation was next up at the podium and he presented a number of cogent arguments for further investments in the Jamaica commercial real estate market. A selection of his slides are shown below DSC02127 - 34. The gist of the argument is that Jamaica is the largest transportation hub in Queens. Eleven plus Long Island Railroad Lines run through the Jamaica station, four subways terminate there, the Air Train shuttles folks back and forth to JFK Airport, one of the busiest in the nation and 40 bus lines run through the downtown area.
He showed how recent transactions have brought in a large new department store retailer, a new hotel and a mixed use building. These added up to over 1,000 new jobs in the area. And he finished by noting that the downtown Jamaica area still has plenty of parking.
NYC Business Solutions - Helping Businesses in Downtown Jamaica NYC
Paula Libreros of NYC Business Solutions gave a presentation on some of the ways NYC Business Solutions can help businesses get started in downtown Jamaica. Some of the slides of her presentation are shown in the slide show below. We'll post more about this meeting at a later date.
Photos of the Jamaica Real Estate Meeting Dec 2013
Click here to view photos of the meeting about Real Estate in Jamaica Queens NYC held at the Jamaica Performing Arts Center in Jamaica Queens NY, or you can view the photos below at your own pace by clicking on the arrows below.
$element(ophoto,photo_slideshow,263,660,,5.00,fade)$
---
Jamaica NY Related Info
$element(adman,groupad,NhoodJamaica)$
Click this link for promotions, discounts and coupons in Jamaica and Queens.
Click this link to go to the Jamaica Neighborhood News / Jamaica Restaurants Guide & Map / Jamaica Business Directory / Jamaica Shopping Center and Map.
---
$element(adman,groupad,Catgry Entertain)$
Site Search Tips. 1) For best results, when typing in more than one word, use quotation marks - eg "Astoria Park". 2) Also try either singular or plural words when searching for a specific item such as "gym" or "gyms".
$element(bwcore,insert_search,N)$
Click this link to search for something in our Queens Business Directory.
---
$element(adman,groupads,Sectional2 Ad)$
---
Click the log in link below to create an ID and post an opinion.
Or send this story to a friend by filling in the appropriate box below.
---