---
Financing & Incentives For Business in Queens
LIC Partnership Hosts Panel of NYS & NYC Commercial & Industrial Incentive Experts
February 22, 2016 / Long Island City Neighborhood / Queens Banks Financing & Mortgages / Queens Business / Queens Buzz.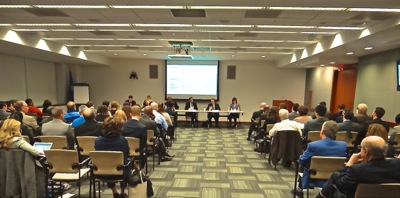 I attended a breakfast panel of New York State [NYS] and New York City [NYC] government incentives and financing experts. The panel included: Bryan Doxford, NY Business Development Corporation [NYBDC], Donald Giampietro, NYC Department of Small Business Services [NYC SBS], Jeffrey Lee, NYC Economic Development Corporation [NYCEDC], Jean Tanler, Business Outreach Center and Joseph Tazwell, of Empire State Development. The panel was moderated by Elizabeth Lusskin, President of the LIC Partnership, which hosted the event.
The purpose of the breakfast panel was to raise awareness of the municipal and state incentive programs and financing options available to the Long Island City business community. The programs are directed toward owners, managers and operators of local businesses with the intent of creating or enhancing jobs creation in the Long Island City neighborhood. Many of the programs are also available in other geographies in New York City and New York State.
Each panelist began by providing us with a summary of the incentives and financing with which their agencies or organizations can generally assist. This was followed by a brief Question & Answer session, and then a networking period.
You can search for the entities named above and contact them for further details about what programs they offer that might help you finance / save money while developing your business.
---
New York City Economic Outlook 2016 - NYC Economy
Queens Economy - 2016 Outlook NYC
Currently Full Employment, Low Interest Rates, Low Inflation But Possible International Shocks
January 4, 2016 / Queens Neighborhoods / Queens Business / Queens Buzz.
We took a look into the crystal ball over the holiday break to see what may lie ahead for the NYC economy in the coming year. We studied the stats and facts put out by many of the national data producers at the Bureau of Labor Statistics, the Federal Reserve, the Treasury Department and the AIE. What follows is a brief summary of some of the statistics we gathered on the global, national and New York City economy including unemployment statistics by borough for 2015.
U.S. & NYC Economy Near / At Full Employment
Currently Queens and Manhattan are doing the best with respect to employment, with unemployment rates below 5%, which economists consider to be full employment as the 5% unemployed are viewed as normal 'friction' in the economy, accounting for people coming into, leaving and changing jobs within the labor force.
In 2009 - 2010, during the first two years of the Great Recession, the nation's unemployment rate hit 9.4%, while the unemployment rate for New York City hit 10.4%. The employment picture for the nation and the five boroughs of New York City has slowly but steadily improved since then, with unemployment trending lower, reaching full employment this year at 5% for the nation and 4.8% for New York City this fall.
Employment Impact / Relationship to Inflation
Employment affects inflation, as when everyone is fully employed, recruiting firms bid up the price of labor and workers feel secure enough to spend aggressively, bidding up the price of goods. The Federal Reserve attempts to reign in inflation - because it creates economic instability - by raising interest rates which increases the cost of capital needed to expand operations or make large purchases more expensive. On December 16, 2015, the Federal Reserve raised its key short-term interest rate by 25 basis points (0.25%) to begin to get ahead of potentially inflationary issues that may lie ahead. We'll look into a few of these later in this report.
Economists in one of the banking reports I received believe that there is still slack in the labor market that is not reflected in the numbers as many people have part-time jobs, while they would like full time jobs. Also the labor force participation rate fell during the Great Recession and it became more difficult to find work. Now with a full employment economy it is believed that some of those folks who gave up looking will try to re-enter the workforce. An example of the decline in participation rate might be a spouse who helped supplement household income but couldn't find the right work, and now starts looking again.
Click here to continue reading our report about the New York City NYC Economy Outlook 2016 which delves into full employment impact on inflation, interest rates, consumer debt levels, oil & commodity prices, domestic and international currencies & economic growth, the financial markets and how all of this may impact the different sectors of the Queens & New York City economy.
---
Queens Unemployment - Employment in Queens NYC & NYS
Queens Employment Rate Continues To Best NYC Metro
September 23, 2015 / Queens Neighborhoods / Queens Business / Queens Buzz.
Queens County continued its streak of besting three of the other four boroughs in New York City with respect to low unemployment. In the July period unemployment fell to 4.9%, which is slightly below what is generally considered a full employment unemployment rate of 5%.
Queens Employment Fueled By Building Boom
Queens is currently experiencing a building boom, with the epicenters in the neighborhoods of Long Island City, Astoria, Flushing and to a lesser extent Jamaica. In addition to the creation of temporary construction jobs which end when the building has been completed, some of the new commercial developments have targeted white collar office space, which has then been used to lure large commercial tenants from other boroughs, into Queens. Bloomingdales was one such recent company to announce a large move [a return] into Queens.
Click here to read the rest of our report on employment and unemployment in Queens, NYC and NYS.
---
Queens Unemployment Continues To Best Metro Average
Drop In Unemployment Rate Continues Improving Trend
J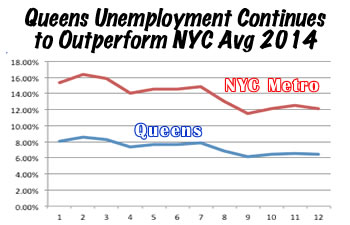 anuary 28, 2015 / Flushing Neighborhood / Queens Business / Queens Buzz. In January of 2013 Queens unemployment rate was 8.9% and by the end of the year it had fallen to 6.7%. In January of 2014 Queens unemployment rate was 6.7% and by December of 2014 it had fallen to 5.7%.
Queens overall employment picture was better than the overall average for the NYC metropolitan area. In January of 2013 the NYC unemployment rate was 9.7% and by the end of the year it had fallen to 7.5%. In January of 2014 the NYC unemployment rate was 8.1% and by December of 2014 it had fallen to 6.4%.
Queens has been emerging as a business and residential destination given its proximity to Manhattan and its robust public transportation network.
---
Queens Economy On The Mend
Overall Employment Up, Unemployment Down & ... more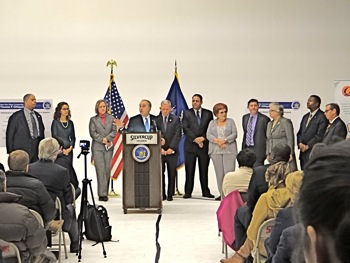 December 16, 2013 / Long Island City LIC / Queens Business / Queens Buzz. On Friday I attended the presentation of an Economic Snapshot of Queens by State Comptroller Thomas DiNapoli at Silver Cup Studios in Long Island City.
There was a large contingent of Queens government officials in attendance of the presentation - ranging in office from Borough President-elect, to City Councilmembers, to State Assemblypersons, to State Senators [see photo].
The news was good of course, as the Queens economy is on the mend. Unemployment is down, in spite of a growing labor force. And total jobs in Queens are estimated to be up 12,000 to about 882,000; while the private sector employment in Queens represents over a half million of that number. The event was sponsored by the Queens Economic Development Corporation.
We'll post more about the changes in the Queens economy later this week / month - including some contrarian points of view we picked up on the street. In the meantime you can click into a report we did about the different categories of Queens employment we did in March 2011, or into an update of Queens unemployment picture which we did in December 2012. And just last week we posted an update on Queens current unemployment statistics versus NYC and prior year. Enjoy.
---
Queens Adds 12,000 New Jobs vs 2012
Unemployment Down & Labor Force Size Up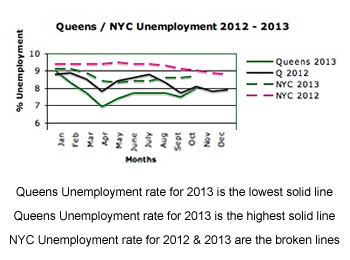 December 8, 2013 / Queens Business / Queens Buzz. Queens County continues to beat NYC handily with respect to having a lower unemployment rate. Queens had an unemployment rate of 8.0% in October 2013 versus an unemployment rate of 8.7% in NYC as a whole. Both of these numbers are improved versus 2012 when the NYC rate was 9.0% and the Queens County unemployment rate was 8.1%.
You can see in the chart to your right that the unemployment rates for both NYC [broken lines] and Queens [solid lines] in 2013 are lower than in 2012.
While the unemployment rates remain high relative to historic norms, part of the reason is that the labor force is growing again as people enter or re-enter the workforce in search of jobs in an improving economy. In NYC as a whole, employment has grown by nearly 65,000 positions versus October of 2012, and now stands at 3.7 million jobs. Queens employment is up about 12,000 new jobs and now stands at approximately 882,000 positions. Queens makes up about a quarter of the workforce of NYC.
LIC Real Estate - Apartments, Condos & Office Rentals & Sales
LIC Real Estate: New Face of a Changing Borough
Real Estate Development Continues, Spreading North & East
October 1, 2013 / Long Island City Neighborhood / LIC Real Estate / Queens Real Estate / Queens Buzz. I, like many in the borough, have been watching in near amazement at the rapid pace of real estate development in Long Island City. On September 18th of 2013, I attended the Grand Opening of 4545 Center Blvd, the fifth of the six TF Cornerstone buildings to go up along the Long Island City waterfront.
As you will see from the photos in the slide show at the end of the story, the apartments are beautiful. The new high rise is an airy, modern building with amenities, and apartments that have breathtaking views of the Manhattan skyline and the Queensboro Bridge. I saw a studio and corner two-bedroom apartment, which rent for about $2,300 and $5,500 per month respectively – so it's not only the views that are breathtaking, but the rents as well. Five of the six TF Cornerstone buildings along Center Blvd in LIC are rentals, and only the condominiums in The View [the only building TF Cornerstone named] were for sale.
Click here for a story about LIC real estate including a bit of the history of TF Cornerstone, Rockrose Real Estate and real estate development in the LIC neighborhood of Queens.
---
---
---
How The Other Half Lives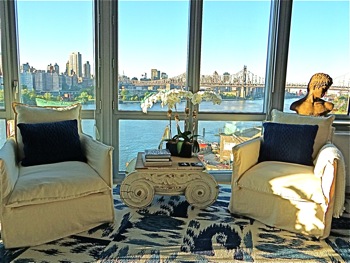 September 23, 2013 / Long Island City Neighborhood / Queens Real Estate / Queens Buzz. I attended a reception hosted by TF Cornerstone in late September to celebrate the official opening of their fifth property. The building had been completed earlier this year and the first tenants had moved in sometime in May. I understand they've rented about 70% of the units, so they've been moving briskly.
I visited a couple of the units for rent, including a studio that started at about $2,300 per month and a two bedroom corner that likely rented for something like $5,000 per month [give or take several hundred]. To those of us who live in Queens, these are expensive units, but to those who live in Manhattan - given the views and amenities - these are good value. Like the headline says : )
We'll have more in late September / early October, including a photo slide show, of some of the new properties currently lining the LIC waterfront.
---
---
---
Queens Businss News - Brief Reports About Business in Queens
Legislative Agendas For Western Queens
March 9, 2013 / Long Island City / Queens Business / Queens Buzz. I attended a Legislative breakfast hosted by the Long Island City Partnership on Friday. NYS Senator Michael Gianaris and NYC Councilmember Jimmy Van Bramer were on hand to talk about what is going on legislatively in Albany and downtown at city hall.
EDUCATION & QUEENS SCHOOLS. Education and school closings were discussed with both government officials opposing the approach being taken by the Mayor to close Queens high schools. It was noted that Senator Gianaris graduated from LIC H.S. and then went onto graduate from Harvard, that Assemblywoman Nolan graduated from Ridgewood H.S. and went onto graduate from NYU and that NYC Councilmember Van Bramer graduated from Bryant H.S. and went onto graduate from St. John's College. All three of these high schools were on the chopping block in Spring of 2012 [click here for our Spring 2012 report on Queens high school closings].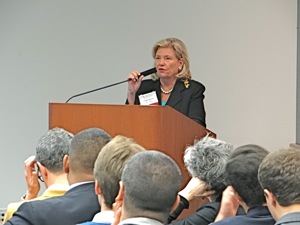 School construction was also discussed. Currently the facilities at many Queens schools are at, near or even over capacity. Hence school construction is something these government officials believe is important going forward, given the growth of the borough.
HIGH TECH JOBS / TAX BREAKS. They talked about the pending development of a high tech college campus on Roosevelt Island in the coming decade. They saw this as a potential source of good jobs in the area, given Queens proximity to the campus and talked about the possibility of using tax breaks to incent start ups to stay in NYC. They cited the TV Film Industry Tax breaks given several years ago as being good for the TV film industry in Queens.
POWER INDUSTRY IN QUEENS. They also talked about the power industry in Queens. Queens is the source of 60% of all of NYC's power generation. The old Poletti Power Plant is in the process of being de-constructed, and the newer power plants have been able to continue to provide power without disruption.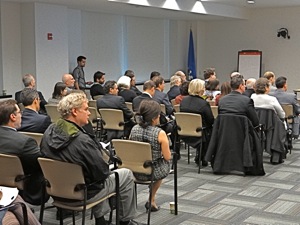 PARKING IN LIC. Lastly, but not least, Michele Beaudoin of BRG Realty in LIC inquired about future plans for managing the parking situation in LIC. Unbeknownst to most folks, LIC remain the only neighborhood that does not have alternative side parking regulations, which are used to eliminate 'car storage' on city streets, while simultaneously enabling street cleaning. LIC is also the only neighborhood in NYC that does not receive street cleaning services.
We were told that the Department of Transporation is not interested in building any new city parking lots. And that the LIC community is deeply divided on this issue, but that something must be done, as the parking congestion in LIC continues to grow.
Click here to read other brief reports containing Queens Business News.
---
Chhaya Hits A Home Run
4th Annual Home Buyer Fair in Jackson Heights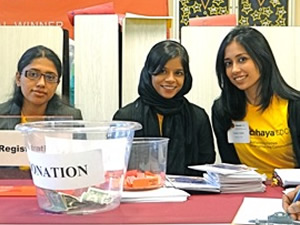 January 28, 2013 / Jackson Heights / Queens Business / Queens Buzz. The more I get to know about Queens, and the more familiar I become with the many immigrant communities to which Queens is called home, the more impressed I become with the intelligence of the American system and the immigrants who fuel the American dream.
One of the American dreams is to own your own home. To that effect Chhaya [pronounced chi - ya], a non-profit organization in Jackson Heights, helped facilitate that effort at its fourth annual Home Buyer Fair on Saturday. Attendance of the Home Buyer Fair was at an all time high of several hundred, up from about 30 attendees at the first one, just four years ago.
The Home Buyer Fair featured a number of brand name lenders in the morning, and a whole host of non-profit / community minded organizations in the afternoon. The fair was open to everyone [we posted it in our Queens Events calendar in the business section], and provided attendees with a whole host of avenues for purchasing a home. Click here later today to read the rest of our report about the Chhaya Home Buyer Fair.
---
Economic Forecast For Queens 2012 - Queens Economy
Economic Outlook 2012 - Queens Economy
Federal Reserve Economist Discusses 2012 Outlook At LIC Partnership Breakfast
February 13, 2012 / Long Island City / Queens Business / Queens Buzz. I attended a lecture given by New York Federal Reserve Economist Rae Rosen at the LIC Partnership breakfast in Long Island City. In the lecture the economist talked about many of the critical factors that would play a role in the outcome of how the economy would perform in 2012. How these factors play out will ultimately impact the kind of economic year Queens, NYC and NYS will have in 2012.
U.S. Economic Performance in 2012 Vs Averages
The U.S. economy grew 2.8% in the fourth quarter, ending the 2011 year on a strong note, after a slow beginning. For 2012 the consensus forecast is between 2.5% to 3%, with the highs above 3% and the lows just above 1% which still implies a growth year. The U.S. average growth rate since the end of WWII has been about 3.28%. According to one report I read, the probability the U.S. will slip back into recession has fallen to 23%.
Click here for our report of the lecture given by Federal Economist Rae Rosen at the LIC Partnership breakfast in February 2012 - Queens Economic Forecast 2012.
---
BOC - Business Outreach Network In Queens
Small Business Financing In Queens NYC
SBA In Queens & Business Outreach Center In Corona
January 31, 2012 / Corona / Queens Business / Queens Buzz. Last summer I decided to take Queens Buzz through the SBA process to raise capital to raise capital and to provide a description of the process that a new or struggling enterprises must go through in order to obtain non-traditional funding.
Over the course of the past decade, government and non-profit organizations have increasingly become aware of the importance and value of helping new and small businesses survive and thrive as a means of retaining and creating jobs within communities. In the current economic environment, helping these small companies is critical to accelerating the current economic recovery.
I entered the process of seeking a loan in July of 2011 ... click here to read more about the Business Outreach Center in Corona Queens. The photo above was taken at a 2012 seminar sponsored at the Business Outreach Center in Corona Queens entitled Financing Your Business.
---
---
Economy & Business In Queens - Feds
NY Federal Reserve In Queens
Current Economic Conditions In Queens
March 11, 2011 / Flushing / Queens Buzz. I attended a presentation by the New York Federal Reserve president and CEO William C. Dudley. His purpose was to supplement the research done at the Fed with visits into 'the field' to see what's going on. A visit by one of his staff to Crystal Window & Door Systems was a part of that effort [use the search function to find related stories].
Dudley first talked about the role of the Federal Reserve, which is to manage the nation's money supply. The Fed pursues a 'dual mandate' which is to purse the highest level of employment consistent with price stability. Dudley talked about the importance of the NY Federal Reserve in overseeing Wall Street and in helping the Federal Reserve execute monetary policy. Then he turned his remarks to the current state of the U.S. / NY economy.
Click here to read more about the Federal Reserve talk about the economy and business - Queens.
---
Small Business Loans In Queens
Small Business Loans - Queens Credit
Business Loans In Queens - Banking In Queens
March 21, 2011 / Jackson Heights / Queens Buzz. I had occasion to attend a NYC Credit Fair at the Bulova Corporate Center in Jackson Heights. The credit fair was sponsored by the New York City Council, the New York Bankers Association [NYBA], the New York Business Development Corporation [NYBDC] and NYC Small Business Services.
And while I missed most of the credit fair, the literature I picked up on my visit was excellent. The fair occurred the morning of January 26, 2011 which was the morning of one of the numerous snowstorms we had this winter and it likely negatively impacted attendance.
This report contains information about how to obtain financial and technical assistance to: 1) make your business creditworthy, 2) make a successful loan application, and 3) find alternative sources of credit / loans for small businesses in Queens.
Click here to learn more about how to obtain small business loans in Queens.
---
Auto Insurance In Queens & Astoria
Auto Insurance In Queens
Things To Look For & Consider When Buying Auto Insurance
December 15, 2010 / Queens NY / Queens Buzz. This report is to identify some of the things to think about and look for when purchasing auto insurance in Queens. One of the insurance professionals I interviewed while working on this report provided me with some colorful comments. Perhaps the most memorable was the most instructive. He explained to me that when it comes to buying auto insurance – or for that matter any insurance, he said, "Most people don't know what they bought, and they don't find out until they're filing a claim." When I was a bit younger, this statement would easily have applied to me.
Click here to read our report about things to think about / look for when buying auto insurance in Queens.
---
Home Insurance In Queens & Astoria
Home Insurance In Queens
Buying Home Insurance In Astoria, LIC, Sunnyside, Woodside, Jackson Heights, Corona, Flushing & Jamaica
April 12, 2011 / Queens Business / Queens Buzz. I did a bit of research into some of the things to think about when buying home insurance, condo insurance or renters insurance in Queens neighborhoods. This class of insurance is known as property & casualty. It covers assets, such as homes and autos from damage or loss for various events.
Insurance Underwriters – Home Insurance In Queens
We've all heard the term underwriter, but many people don't know exactly what that means. The underwriter is the institution that essentially 'takes the bet' that they're going to benefit more from the receipt of your insurance premiums than they're going to pay out in losses. On some of their policies this will not be true, but on average it will be – otherwise they wouldn't be in business.
Click here to read more about things to consider while buying home insurance, condo insurance or renters insurance in Queens.
---
Real Estate Lending & Mortgages - CAREA In Queens
Real Estate Lending & Mortgages
CAREA / Chinese American Real Estate Assn - Flushing
May 22, 2010 / Flushing / Queens Buzz. On Saturday in Flushing there was a Real Estate Expo event hosted by the Chinese American Real Estate Association [CAREA] in Flushing. This expo is an evolution of the Home Buyers Expo, which was an event they had hosted last year with a private sponsor. The Home Buyer Expo had focused on issues such as how to find a house, how to take the house into contract and how to close on the house. Last year there were ten vendors at the expo offering financial, real estate and legal services.
Real Estate Lending - Home Buying In Queens
We visited the expo in search of information about the state of mortgage lending in Queens. Given the Asians seem to be America's financiers, we thought this expo might be a good place to research this question. The following story is focused providing some background about CAREA and its events, as well as on the current state of mortgage lending in Queens.
This year the CAREA event scope was expanded and it attracted about 40 - 50 vendors. The expo focus changed from buying a home, to buying and managing a home. Hence this year vendors included tax services, energy services, remodeling services as well as vendors offering financial, real estate and legal services.
Click here to read our full report about real estate finance and mortgage lending in Queens based on information gathered at the CAREA Real Estate Expo in Flushing.
---
---
Finance - Banks & Loans In Queens Related Info
Click this link for promotions, discounts and coupons in Queens.
Click this link to go to the Astoria Neighborhood / Long Island City LIC Neighborhood / Sunnyside Woodside Neighborhood News / Jackson Heights Elmhurst Neighborhood / Flushing Corona Neighborhood / Jamaica Neighborhood.
Archives - TBD
---
Site Search Tips. 1) For best results, when typing in more than one word, use quotation marks - eg "Astoria Park". 2) Also try either singular or plural words when searching for a specific item such as "gym" or "gyms".
---
Click this link to search for something in our Queens Business Directory.
---
Click the log in link below to create an ID and post an opinion.
Or send this story to a friend by filling in the appropriate box below.
---