Flushing Remonstrance Returns Home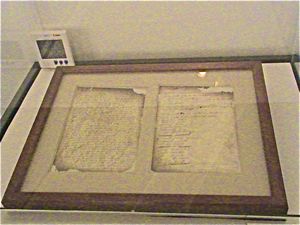 Flushing Queens NY / December 5, 2007. The Vlishing Remonstrance, as it was called back in 1657, has returned home for its 350th anniversary. The document is one of the early forbears to the freedom of conscience and religion in this country as outlined in the U.S. Constitution. The Remonstrance was signed on December 27, 1657 by the inhabitants of Vlishing / Flushing, Long Island as a response to efforts by Peter Stuyvesant's order barring Quakers from the town.
The Remonstrance was delivered to Stuyvesant and the whereabouts of the original copy is unknown. This copy was made around the same time and in the same handwriting as by whomever kept the town meeting minutes.
The document has been exhibited publicly only thirteen times since 1945, six of which occured after 1986. The document made its way back to Flushing from Albany for the 350th anniversary and on January 7th of 2008 it was returned to Albany.
The photo above shows the document in an enclosed glass case in which the temperature and humidity are controlled. There was a reception for the opening of this exhibit at the Queens Library in Flushing. A number of local notables gave speeches and there was a wine and hors d'oevres reception.
At the reception I had the opportunity to speak with one of the descendants of one of the signers. He was of Dutch parentage and only discovered that he was in fact related to one of the signers by doing some research into the family tree. He knew his family originated from Flushing, but he grew up in New Jersey. The signer descendant is a colon and rectal surgeon. The photo shows guests at the reception the night of the opening event at the Queens Library.
Flushing Remonstrance At The Queens Library In Flushing Queens NY - Related Links
Click here for a map showing the location of the Queens Public Library in Flushing NY. Click this link to obtain the contact info and website url for the Queens Public Library in Flushing Queens NY. Click here to go to the Flushing Queens NY archive where you can scroll through other stories about Flushing and Queens history.
Click this link to go to the Flushing & Corona Neighborhood News / Flushing & Corona Neighborhood Guide and Map / Flushing & Corona Restaurants Guide & Map / Flushing & Corona Shops Guide & Map / Queens & Flushing & Corona Events / Flushing Business Directory / Flushing & Corona Shop Announcements.
RETURN LINK TO Queens Buzz Front Page.