Fireworks In Queens - July 4th
Long Island City Queens NY / July 4, 2008. In Long Island City Queens just across from the Waters Edge on 44th Place and the East River, we were able to get some photos of the fireworks display sponsored by Macy's. The photo to your right shows the boats in the East River awaiting the display. These photos were taken at the Long Island City Sailing Club across from the restaurant.
Queens Fireworks - Fireworks Along East River
These pictures were taken on the Queens side of the East River thanks to the LIC Sailing Club for permitting us to shoot these photos from their dock. The LIC Sailing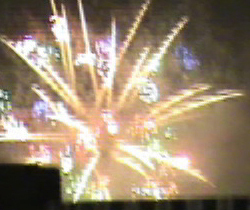 Club and the Waters Edge Restaurant both offer pretty good, although not ideal, viewing locations. Perhaps the best spots aredown in Gantry Park along the dock or at Water Taxi Beach, but like getting a good spot in Times Square for the New Years ball to drop, you have to go early to save a good spot.
Macy's Fireworks Display In Queens NY
It was a warm muggy night, with some light rain. The temperature was in the eighties and it was humid. Nonetheless there was a good turnout from all sections of Queens. The fireworks started between 9.20 pm and 9.30 pm and were finished by around 10 pm.
This last photo looks something like an impressionist painting of the fireworks display. This masterpiece was done in the style of Georges-Pierre Serrat circa 2008. Or was that just the French wine speaking to me?
Fireworks In Queens 4th of July Fireworks - Related Links
Click this link to view a map of the Queensbridge Park in Long Island City, and a map of Gantry Park in Long Island City. Click this link to go to the Long Island City Neighborhood News / Long Island City Neighborhood Guide and Map / Long Island City Restaurants Guide & Map / Long Island City Shops Guide & Map / Queens & Long Island City Events / Long Island City Business Directory / Long Island City Shop Announcements.