Louis Armstrong House
Hanging Out With Satchmo In His Home
The Louis Armstong House - Corona Queens
Corona / Queens Buzz. I took a time capsule back into the Corona of the sixties, fifties and beyond during a visit to the Louis Armstrong House Museum. Louis and Lucille Armstrong lived in this Corona house from 1942 until his death in 1971. Louis's wife, Lucille was originally from Corona. She lived in Corona all of her life, and in this house until her death in 1983. Thankfully for us the house and a bit of Louis and Lucille has been kept frozen in time ever since.
Louis Armstrong House Museum - Corona Queens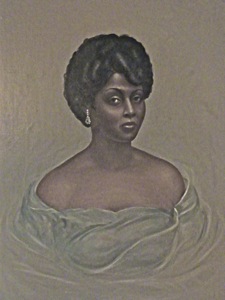 The original house was erected in 1910 and owned by an Irish family by the name of Brennan. Following their marriage and some time on the road, Lucille found the house in 1942 and soon after they purchased it they moved in. Since Lucille was a Queens native, specifically from the Corona area, it made sense that they would live here. Lucille, was a rather beautiful woman, and was a dancer at the famous Cotton Club in Harlem, where she and Louis first met.
We started the tour in the Armstrong living room. It had a fifties / sixties decor peppered with some thirties / fourties objects. It contained all sorts of artifacts from all around the world, which Louis picked up as he toured the globe. He was already a worldwide traveler in the thirties. And by the forties he had become one of the first global 'rock stars' as he traveled and performed around the world. Given the racism and segregation in this country and in other parts of the world at the time, becoming one of the first truly global 'jazz stars' was quite a remarkable feat. He had also become a millionaire in his own right by this time as well.
Louis Armstrong House - Things To Do In Queens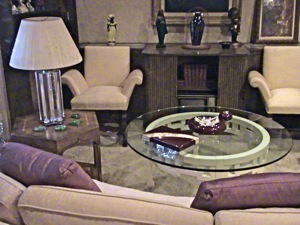 In the living room [in photo to left] there's a very retro coffee table complete with a maroon enamel art deco ash tray, cigarette case and lighter. The artwork in the house includes a print of Toscanini the famous conductor and a contemporary of Louis's, a LeRoy Neiman painting of a well known jazz saxaphonist Gerry Mulligan who helped inspire 'cool jazz' in the late forties, a large portrait of Lucille [in photo above] as well as quite a few more interesting items and paintings, including a painting of Louis's hands on the trumpet with a handkerchief. There are also a number of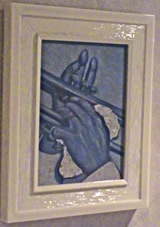 comfortable sofas as well as a piano, although neither Louis nor Lucille played. It's surmised that the Armstrong's friends would come over and would play the piano, while Louis knocked out some of his famous notes on the trumpet. Remember, this was in the nineteen forties and fifties and sixties. No wonder the Armstrongs were so popular, and like jazz, thought to be soo kkoooll.
Louis Armstrong House Museum - Famous People In Queens NY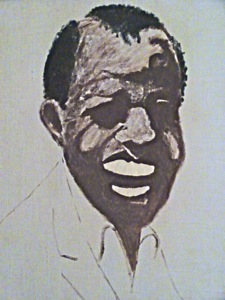 There are a number of white buttons scattered throughout the house which trigger recordings made by Louis which MacKerrow Talcott, our guide, played for us. This provided a sort of aural dimension to 'being there' as Louis would converse with Lucille. They include reminiscences, talk about music, and a bit of banter between Louis and Lucille.
Louis comes across as a very relaxed, friendly, easy going guy. He had a quick wit and it seems he would have been fun to hang with as he was conversant and insightful on a wide range of topics. When we arrived in his den and I saw his liquor cabinet, I could see he wasn't just a professional entertainer, but also a private one as well. I

could vision myself there on a hot lazy afternoon, kicking back with Satchmo and Lucille. Sitting in his den, or living room or out in the yard, sipping Tullamore Dew while swapping stories, trading jokes and listening to some tunes while having a smoke or two. Aaahhh ... I could get used to to visiting here.
Louis Armstrong House Museum - Queens Is The Home To Jazz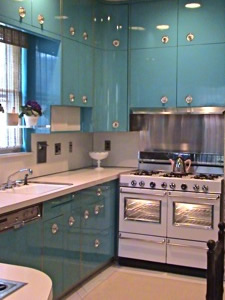 The kitchen had a fifties / sixties deco influenced look to it. It's filled with blue laminated cabinetry adorned with steel drawer handles, and contains a well preserved Crowne gas stove that was custom built for "Mr and Mrs Louis Armstrong". It has six burners on the top and I could easily see Lucille and her friends cooking up quite a feast when they had friends over. And by the looks of things, I imagine that that was quite often, as one can only imagine how folks must have loved to get an invite to the Armstrong house.
The upstairs contained a surprise as the bed is actually two twins pushed together. Across from the beds is an alcove with some sitting chairs and a sort of place to wind down or start up. The upstairs bathroom is large, certainly by the standards of the time and contained a nice walk in closet. The downstairs bathroom, with all of its mirrors, was the one that really kind of floors you. When you walk in there, it's a bit startling, as if you've walked out on stage because everything shows.
Louis Armstrong House Museum - Jazz Legends / Famous People From Queens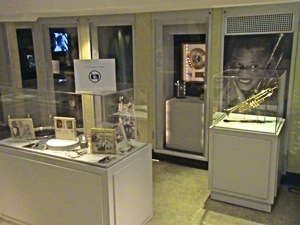 Down in the basement, adjacent to the gift shop, in what used to be Satchmo's rec room, there now lies an number of museum like casings which contain various exhibits related to the King of Jazz. While I was there, they included his hand made / home made collages, as well as a golden trumpet given to him by King George V of England.
It seems Louis was a collector of sorts, returning from his travels around the nation and around the world with little treasures, including media clippings from magazines and newspapers. The collection also includes container packaging, many of which feature him or notable people of the time. Louis also did a lot of home recording, keeping a sort of autobiographical aural journal using his reel to reel tape machine. Many of these recordings are archived by the museum at another location and, as previously mentioned, some are played at the house during the tour.
Louis Armstrong House - Jazz Concert Series / Live Music In Queens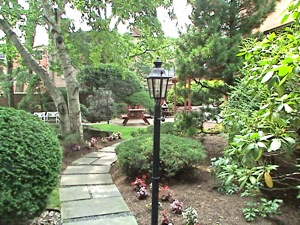 Lastly there is the yard and the Japanese gardens. These were added late during their years in the house. Here the Louis Armstrong House Museum sponsors events and concerts, several of which will be held this August. More info and details about these concerts is provided at the end of this story.
I want to thank Deslyn Dyer [in photo below - center] for granting permission to photograph and publish these pictures and for arranging my tour. I also want to recommend the gift shop, which is home to many fun memorabilia commemorating Satchmo, and for which the proceeds go toward funding museum operations. The house may only be seen via a guided tour which run hourly and which come highly recommended [it's the only way you're allowed to view the house]. The tour guides are excellent and mine did a marvelous job of bringing Louis and Lucille back to life.
Louis Armstrong House - Summer Outdoor Concerts In Queens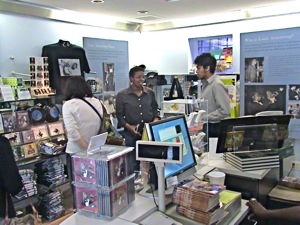 Summer Concert Series / Specifically the Jazz Mobile & Street Fair on August 11th, 2009, as they close the block on 107th Street in front of the house and hold a block party, replete with accomplished jazz musicians. There are also two 'Hot Jazz / Cool Garden' concerts which are planned for August 1st and on August 22nd from 1 pm to 3.30 pm. See Queens Events Calendar for other things going on in Queens. Click here for a map to the Louis Armstrong House in Corona Queens NY. To send this story to a friend scroll down and use the forwarding function provided below.
$element(bwcore,insert_search,N)$
---
Click this link to go to the Flushing & Corona Neighborhood News.